Decorated Life is reader-supported. When you buy through links on our site, we may earn an affiliate commission. Learn More
Dover White by Sherwin Williams Paint Color Review
Have you ever had the pleasure of sitting down to a fresh breakfast at a farmhouse? A full spread: eggs, bacon, sausage, home fries, toast, orange juice and milk. Maybe a bowl of berries and cream, or some oatmeal or grits. And gathered around the weathered wooden table, the people you love most, snug and cozy, enjoying it all together.
If that scene had a color, it would be Dover White. It's a fresh and creamy white that looks like it came right off the walls of a classic farmhouse. Let's take a look at this warm and cozy color together!
What Color is Dover White?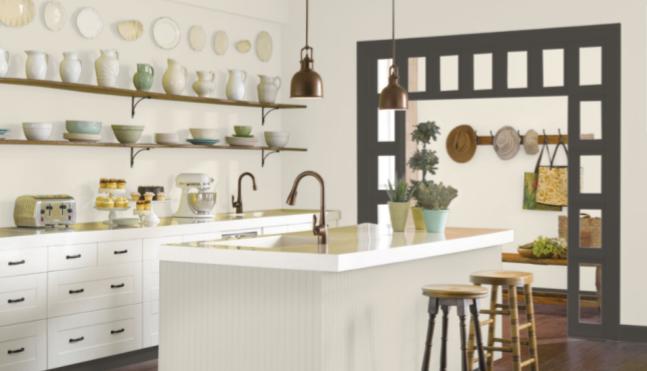 Dover White is a light, creamy off-white. It has a slight golden tone, and it could also be described as an extremely light beige. If you want your white with just a hint of color and warmth, look no further than Dover White.
LRV of 83
Dover White has a light reflectance value (LRV) of 83. This makes it a very light color. Off-whites have their own segment of the LRV range from about 73 to 82. Typically, once you get past 82, those colors are so light that they appear to be completely white. Even though Dover White is just a smidge past that off-white cutoff, it has enough color in it to be an off-white rather than a pure white.
What Undertones Does Dover White Have?
Dover White has golden yellow undertones that make it an off-white or cream color. It can also look light beige. Due to how light it is, though, Dover White will often simply look, well, white!
Is Dover White a Warm Color or a Cool Color?
Dover White is a warm color, thanks to its creamy undertones. This makes it a little different from neutral whites or cool whites, and you have to be more careful about which colors you choose to partner with it.
Where Can I Use Dover White?
Dover White is light enough to use anywhere you'd like. It's a popular color for exteriors. Dover White is also great for rooms that you'd like to feel cozy in, thanks to the warm glow it gives. You'll see Dover White pop up in kitchens, dining rooms, and bedrooms again and again, because everyone loves to feel warm and comfortable when it comes to food and sleep!
Let's take a look at Dover White in action and get inspired!
Exterior
This modern farmhouse uses Dover White and black trim to create a clean and simple look for all seasons.
This brick ranch house gets a major transformation from drab to uplifting with Dover White and natural brown trim. See how under different lighting conditions Dover White does not appear pure white?
Living Room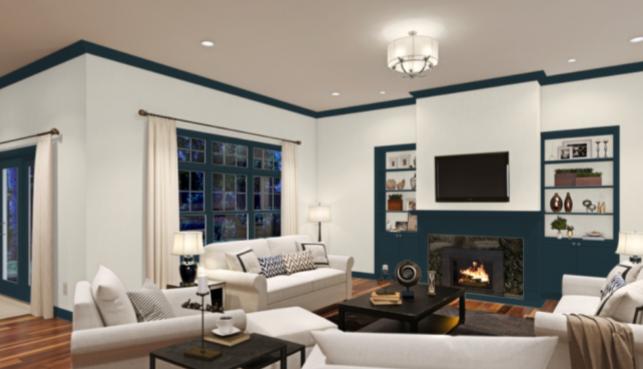 Dark Night trim in this living room shows off the glowing Dover White walls to advantage.
The warm tones in Dover White complement the handsome dark woods in this living room.
Kitchen
This kitchen partners Thunderous with Dover White to complement the existing tile. This is a budget-friendly way to update a room.
The homeowner chose Dover White for this kitchen's cabinets in order to complement the vintage decor.
Dining Room
This light and airy dining room achieves harmony by balancing Dover White with a light gray color. By using delicate metalwork, a glass table, and gossamer curtains, this room gives the impression we're about to be carried off into the clouds.
Dover White helps this dining room achieve a rustic farmhouse look with both the walls and the table.
Bedroom
Dover White is a perfect backdrop for this neutral bedroom, but it's also a great partner for the touch of gold at the top.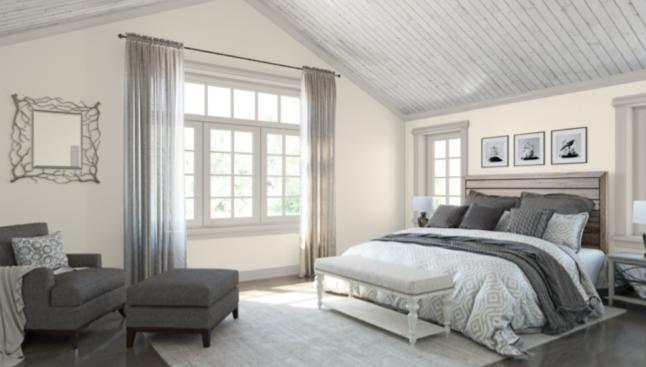 Gossamer Veil and Dover White keep this bedroom soft and restful.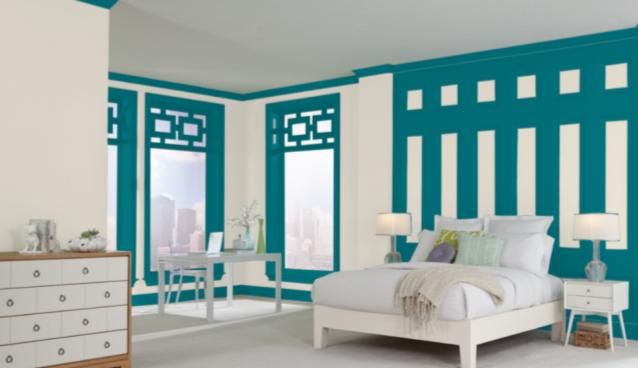 Perky Intense Teal is a bright and fun companion for Dover White in this bedroom.
Bathroom
This glamorous bathroom ups the luxe factor with lots of gold fixtures, then partners Dover White with Agreeable Gray to make everything glow.
Dover White's creamy side is the perfect complement to the warm woods in this rustic farmhouse bathroom.
Dover White Coordinating Colors
There are a wide range of colors you can explore with Dover White. For starters, Sherwin Williams suggests Dakota Wheat and Waterloo. Both of these options bring out Dover White's lovely golden qualities.
Grays are all the rage now, and they pair well with Dover White because they provide a cool balance and contrast. Blues also fit that bill nicely, and a rich navy blue really brings out Dover White's creaminess.
You can't get more classic than black and white, and any of your favorite black paints are great for modern or traditional styles with Dover White. Other members of the neutral family, especially warm browns, are great picks.
A surprising pick for Dover White is plum and violet purples, but they're actually a beautiful choice, and especially great for romantic and French cottage styles.
Here are some coordinating color ideas for Dover White to inspire your design process:
How Does Dover White Compare With Other Colors?
Dover White vs Alabaster by Sherwin Williams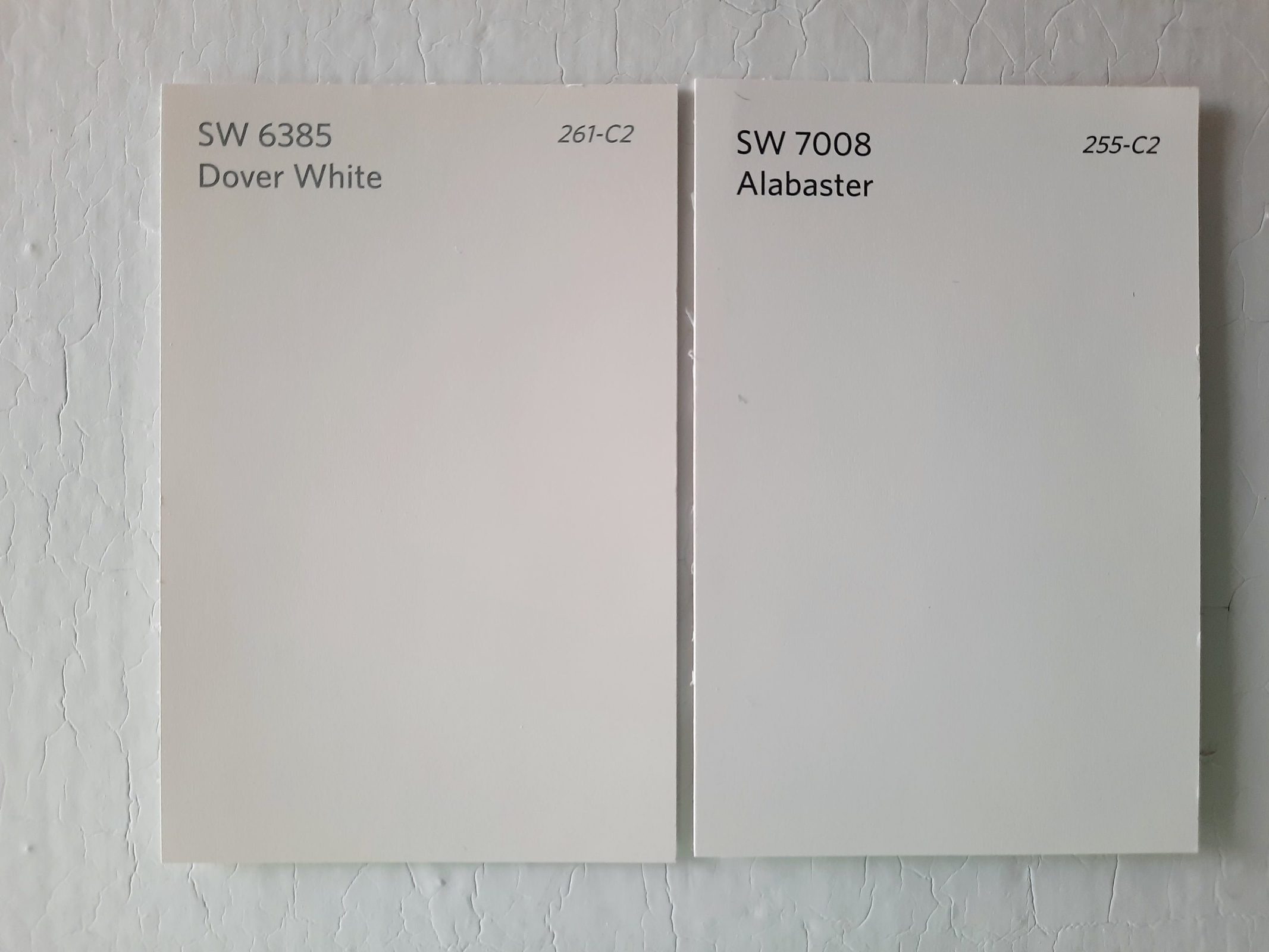 Alabaster is a popular off-white from Sherwin Williams, with a LRV of 82 that is comparable to Dover White's 83. Putting the two colors side-by-side will show you that Alabaster looks significantly whiter than Dover White, despite their similar brightness, because it lacks those creamy undertones. 
Dover White vs Shell White by Sherwin Williams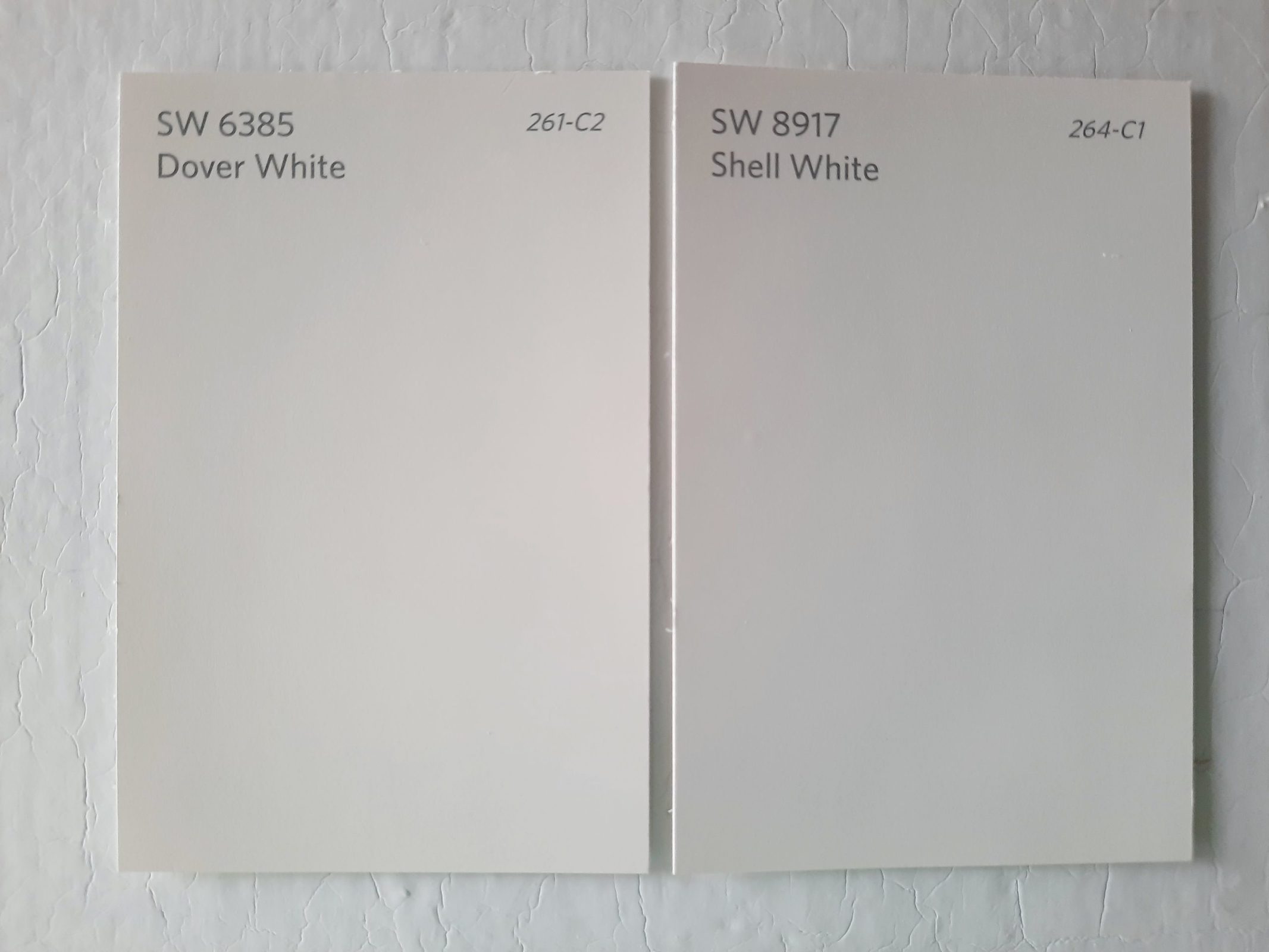 Shell White is a very light pastel pink, or an off-white that is tinted a very light peachy pink. Its LRV of 83 is identical to Dover White's. Their difference comes down entirely to which color peeks through in their undertones. Dover White has yellow undertones and Shell White has pink.
Dover White vs Cloud Cover by Benjamin Moore
Cloud Cover is a paint color from Benjamin Moore that's very similar to Dover White. It's an off-white color with yellow undertones. Cloud Cover's LRV is just a notch dimmer than Dover White at 81.8. Cloud Cover also has a touch of gray that Dover White doesn't have.
Dover White vs White Dove by Benjamin Moore
White Dove is an incredibly popular white paint from Benjamin Moore. At a LRV of 85.38, it falls into the pure white part of the spectrum, but it is ever-so-softly shaded. The biggest difference between these two is Dover White's golden undertones, which White Dove does not have.
Final Thoughts
Dover White is a warm, light, and creamy off-white that can be used anywhere in the home, including on the exterior or as an all-over interior color. It's great for a variety of decorating styles, and is especially suited to farmhouse and rustic styles. If you want a pure neutral white, this isn't your color, but if you're looking for warmth and a golden tint, Dover White is a great pick for you.