Decorated Life is reader-supported. When you buy through links on our site, we may earn an affiliate commission. Learn More
Benjamin Moore Stonington Gray Paint Color Review
Sometimes it seems like the design world just can't get enough gray. But it's such a useful color! Grays are incredibly versatile neutrals. They go with almost any color, and they can be part of any decor style, traditional or contemporary.
If you too are tapped into the incredibly useful gray, I've got one for your toolbox. Let's check out Stonington Gray from Benjamin Moore.
What Color is Stonington Gray?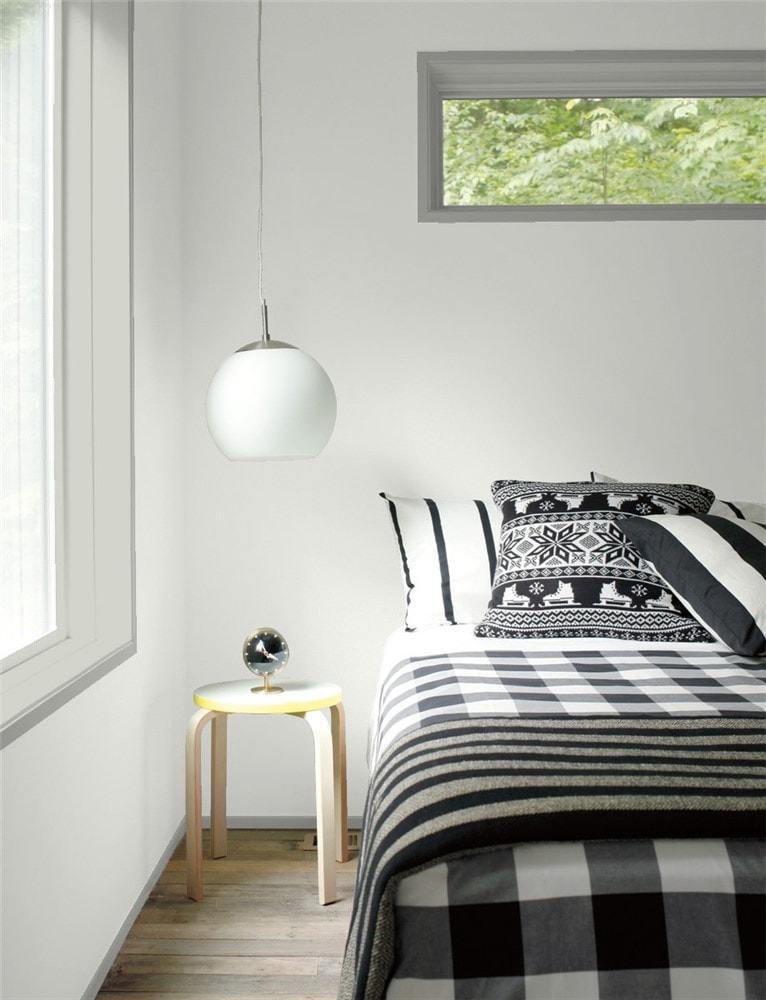 Stonington Gray is a balanced, medium-to-light gray color. That balance is the key to this color's versatility and usefulness. Stonington Gray has quite the fan following, and it's part of Benjamin Moore's popular Historic Color Collection.
LRV of 59.75
Stonington Gray has a light reflectance value (LRV) of 59.75. LRV is a scale designed to measure the brightness of a color. It runs from 0, which is absolute black, to 100, which is sheer white. Stonington Gray is a mid-range color that leans to the light side of the scale.
What Undertones Does Stonington Gray Have?
Like all grays, Stonington Gray can display the cool color undertones of blue, purple, and more rarely, green. The one that you're going to see the most often is the blue.
Is Stonington Gray a Warm Color or a Cool Color?
Stonington Gray is a cool gray color, thanks to its blue undertones. This isn't a greige color, so it hasn't got any of those warm tones in its makeup that would come from a beige blend.
Where Can You Use Stonington Gray?
Stonington Gray is a mid-range gray. It's light enough for many lighting situations, but it's just a little shy of the ideal LRV range of 62-64. That means that in darker or smaller rooms, Stonington Gray might be a little too dark to be the wall color or all-over color.
Gray colors are great for complementing metalwork and appliances. This makes them a natural choice for rooms like kitchens, bathrooms, home offices, and laundry rooms.
Grays are also excellent for rooms where you want a more restful atmosphere. Stonington Gray can help tone down nearby colors and make a room feel more neutral and relaxed.
This is a popular color with a lot of fans, so you'll find examples of it in every room of the home. Let's take a look at how others have used Stonington Gray and get inspired!
Entryway
Stonington Gray echoes the natural beach vibes of driftwood and oyster shells in this coastal entryway.
Living Room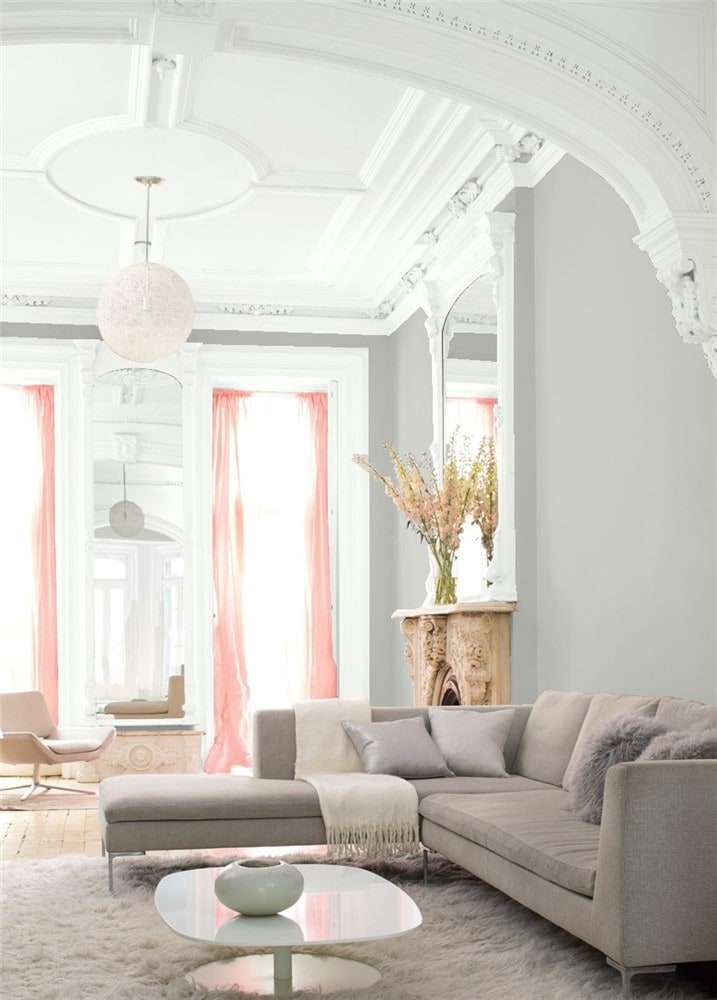 Stonington Gray with pinks, whites, and soft fabrics gives this living room a romantic, feminine feel.
Kitchen
Stonington Gray kitchen cabinets offer just the right tint to set off the metalwork in this chic modern kitchen.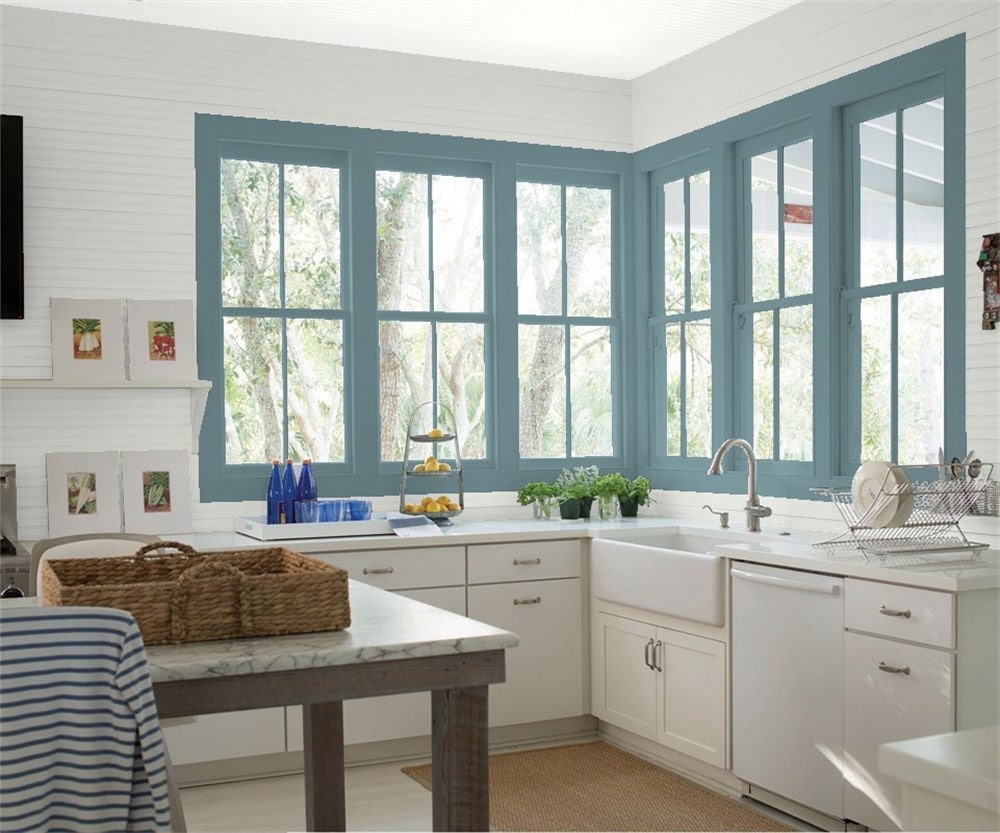 Stonington Gray and Blue Echo team up to give this kitchen a touch of country charm.
Dining Room
This dazzling transitional dining room uses Stonington Gray to make the blues in the chairs and mirror wall leap out and catch your eye.
Home Office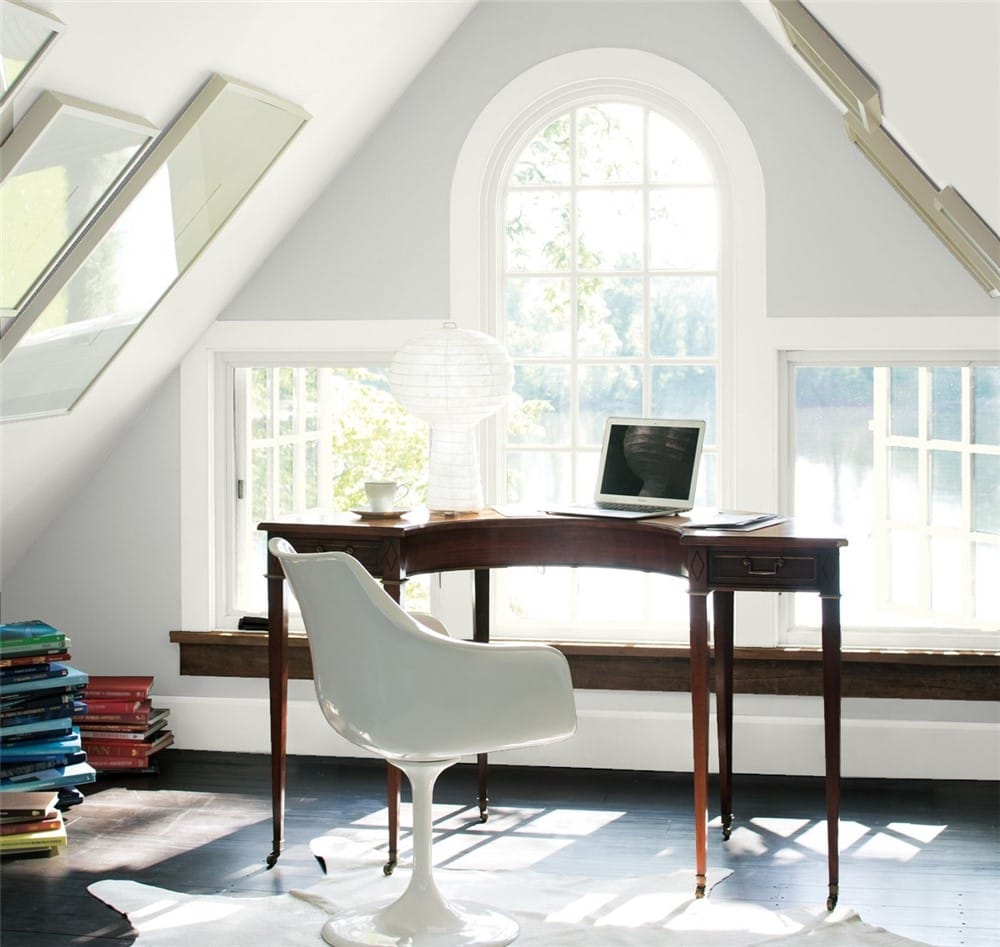 Stonington Gray brings a moment of peace into any hectic day, as it does with this casual home office.
Bedroom
This soothing neutral bedroom is built on a palette of natural tones centered around Stonington Gray.
Stonington Gray and Simply White are coordinating colors that can't miss. You can use them in any style of room.
Bathroom
Dark charcoal grays will look sharp and draw the eye when paired with Stonington Gray.
This luxe bathroom uses Stonington Gray for cabinets that are able to handle the lighting conditions without troubling undertones.
Laundry Room
Stonington Gray is the perfect complement to the wood flooring in this simple and relaxed laundry room.
Stonington Gray Coordinating Colors
Grays are neutrals, which is great news for color lovers, because they're easy to coordinate with all kinds of colors. Medium-toned grays like Stonington Gray are strong enough to contrast with whites and light colors, but light enough to pair comfortably with dark favorites like navy blue and charcoal gray too.
You can partner any of your cool family favorites with grays, such as blues, greens, purples, and of course other grays. Blues are especially luscious with any gray, and you can even have great success with blue-greens and teals.
I can hardly talk about pair-ups for gray without bringing up the classic combination of black, white, and gray. These three together instantly up the chic factor in any space and never go out of style.
To get you started on your own color palette, here are some coordinating color ideas for Stonington Gray:
How Does Stonington Gray Compare to Other Colors?
Stonington Gray vs Conventry Gray by Benjamin Moore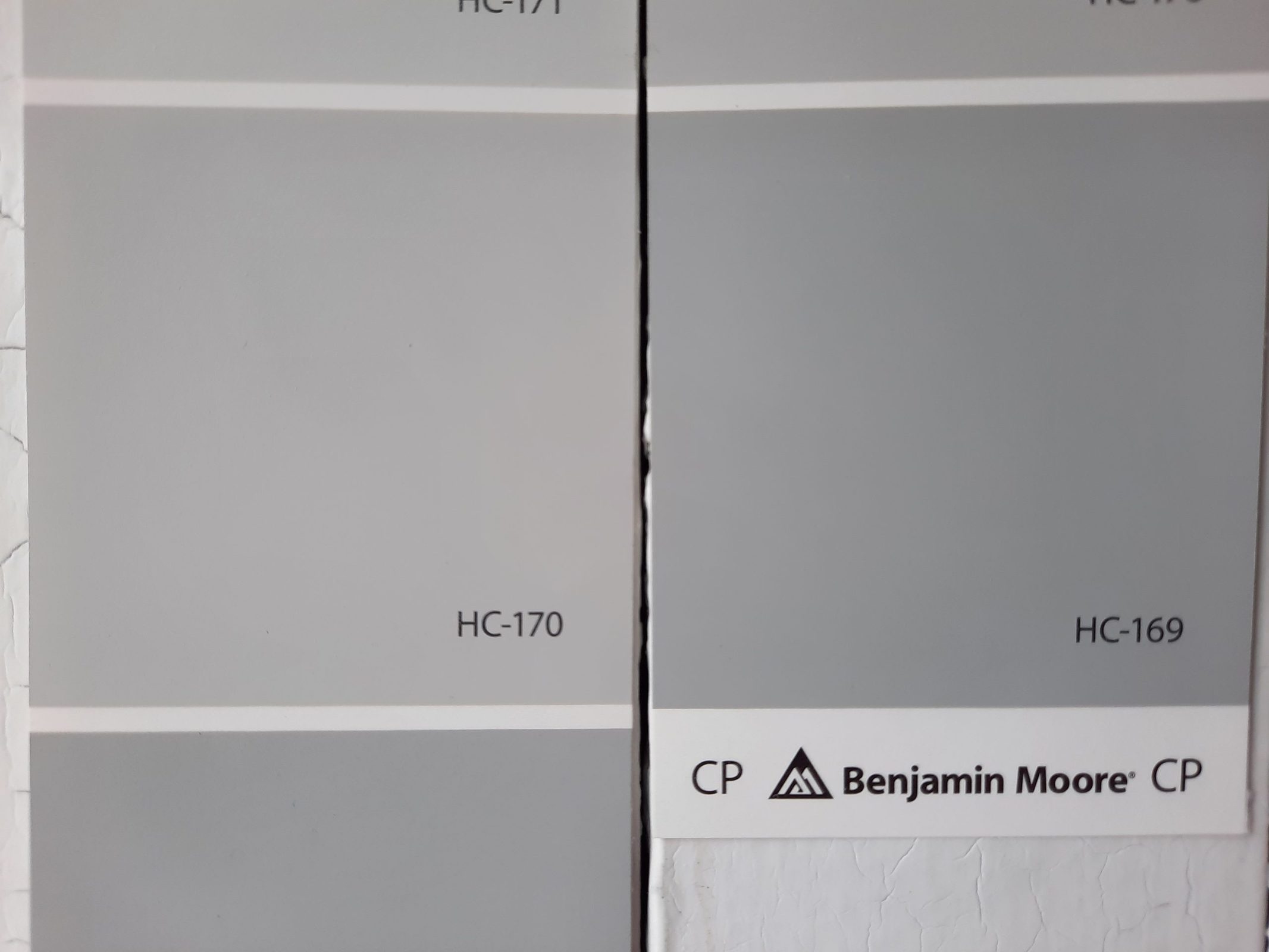 It's not surprising that people would want to compare Stonington Gray and Coventry Gray, since these two colors are neighbors on the same paint chip. Unsurprisingly, these two grays are very similar. Coventry Gray is darker than Stonington Gray. It has a LRV of 48.35.
Stonington Gray vs Gray Owl by Benjamin Moore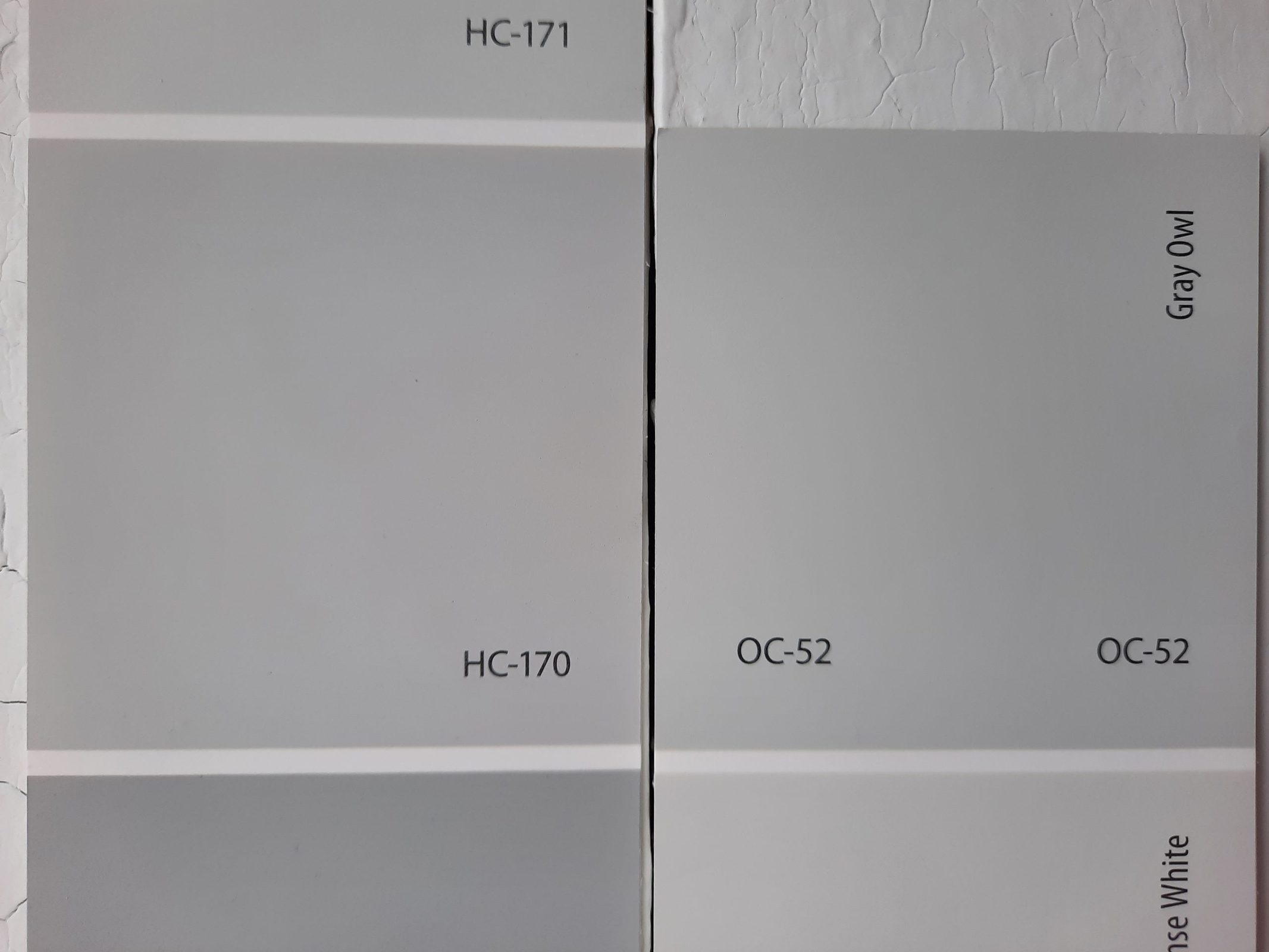 Gray Owl is a popular and versatile light gray that is very close to Stonington Gray. Gray Owl is the lighter color, with a LRV of 65.77.
Stonington Gray vs Revere Pewter by Benjamin Moore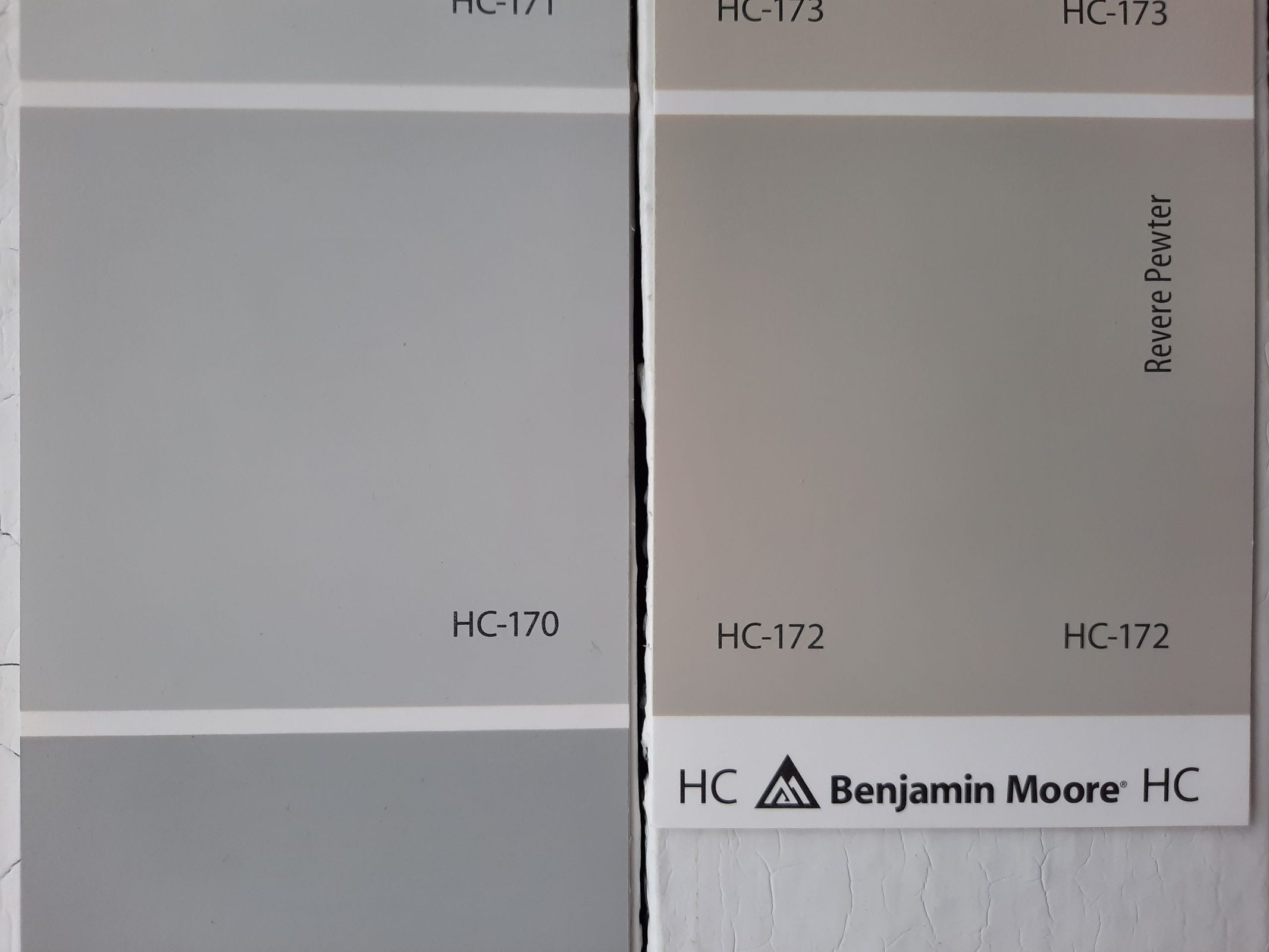 Revere Pewter is a greige color that's got quite a fan following. Since it's not just gray, it's pretty different from Stonington Gray–it's got that beige side, and it's a warm color. These two are fairly similar in brightness; Revere Pewter has a LRV of 55.51.
Final Thoughts
If you want the power of neutral grays to be yours, Stonington Gray is ready to help. This well-balanced color can hold its own, whether in light rooms or against bold colors. While it's not ideal for every lighting situation, it will work for most. Its lack of prominent undertones makes it easy to add to your palette.