Decorated Life is reader-supported. When you buy through links on our site, we may earn an affiliate commission. Learn More
Revere Pewter Benjamin Moore Paint Color Review
Benjamin Moore's best selling color, Revere Pewter, is definitely on the short list of anyone looking for a fantastic greige.
Although it's been a decorator's favorite for years, this time-tested classic color is still incredibly popular. You can easily update its look by choosing contemporary coordinating colors to join it on your palette.
Let's pop open the paint can and find out why everyone is so excited about Revere Pewter!
What Color is Revere Pewter?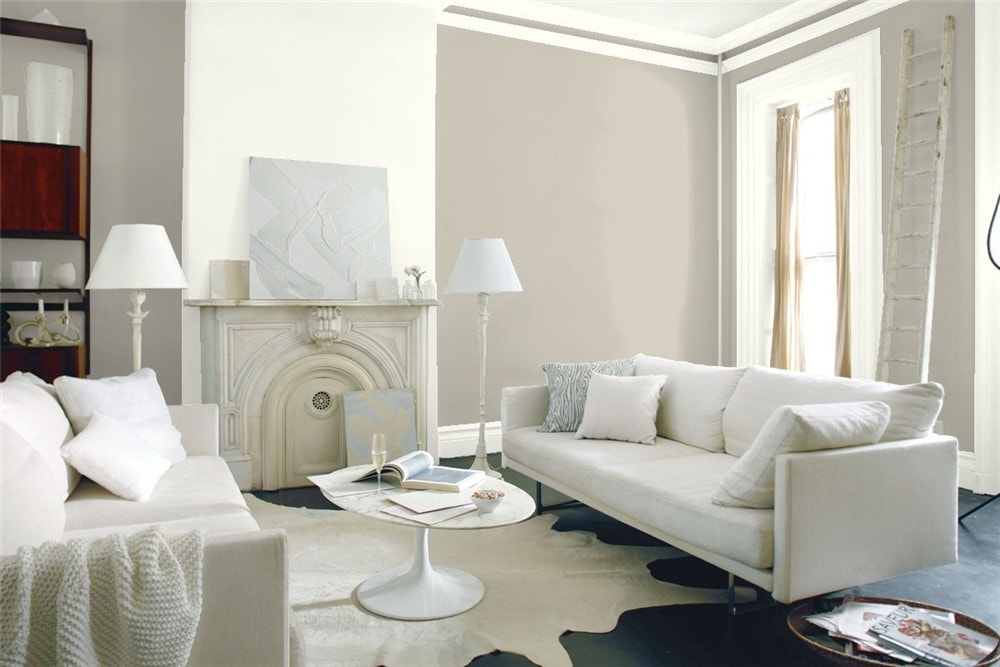 Revere Pewter is a neutral light gray. It's actually a member of the greige family, being a harmonious blend of gray and beige. Maker Benjamin Moore says this color "creates a unifying look that calms and restores". It's easy to see that in its comfortable, earthy look.
Greiges like Revere Pewter are treasured for their ability to take part in any palette. Neutral, warm, or cool, Revere Pewter is going to make friends and go places with whatever other colors you'd like to use.
Does Revere Pewter Have Any Undertones?
Revere Pewter shows its gray side with green undertones. But thanks to the fact that it's a greige color, these are warmer green undertones. Due to Revere Pewter being so neutral, you may not notice these undertones; it depends on your lighting conditions.
Is Revere Pewter Warm or Cool?
Revere Pewter is a warm greige, thanks to the beige presence in this color. Revere Pewter's warmth lends it an earthiness that makes spaces feel natural and inviting. But it's also a great transitional color, thanks to the excellent balance of warm and cool tones in its makeup.
LRV of 55.51
Revere Pewter has a light reflectance value (LRV) of 55.51. This is right in the middle of the scale, meaning that it's neither particularly bright nor particularly dark.
Where to Use Revere Pewter
Revere Pewter is a fantastically versatile color, which is a big part of why it continues to be so popular. There are really no bad choices in where to go with it. You can dress it up in a more traditional decor scheme, or dress it down for a more relaxed and casual space.
Let's take a look at Revere Pewter in a variety of settings to see what it can do!
Living Room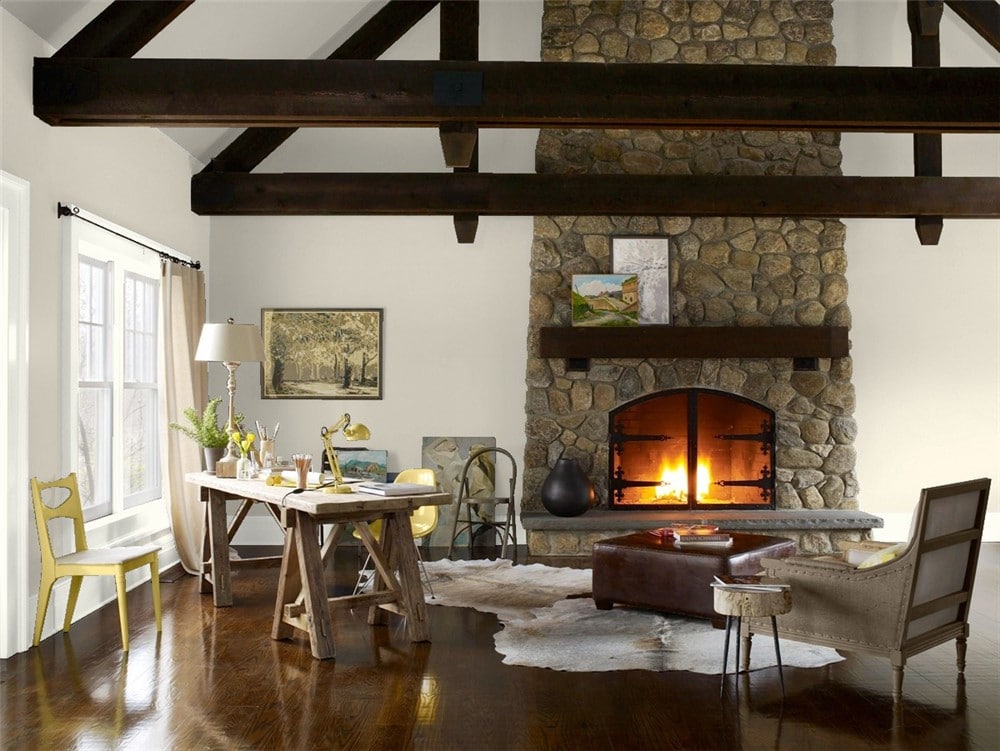 Revere Pewter works well with the handsome wood, stone, and leather in this rustic living room. The trim is White Dove, another popular color from Benjamin Moore that partners nicely with Revere Pewter.
Bedroom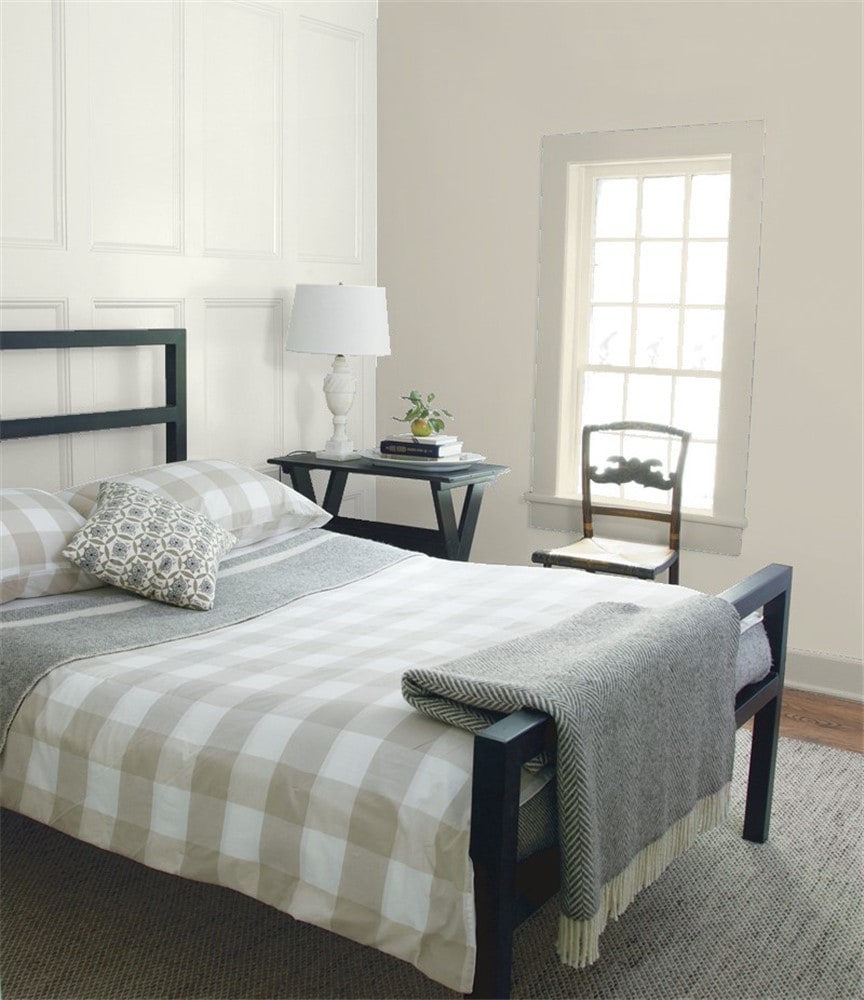 A peaceful and quiet bedroom with Revere Pewter and white paneling. This is a very natural look.
In this bedroom, Revere Pewter serves as an accent wall and grounds the space, echoing back some colors from the bed.
Bathroom
Uplift even a small bathroom with the fresh contrast of whites against Revere Pewter. The lightness of the room helps it feel more spacious.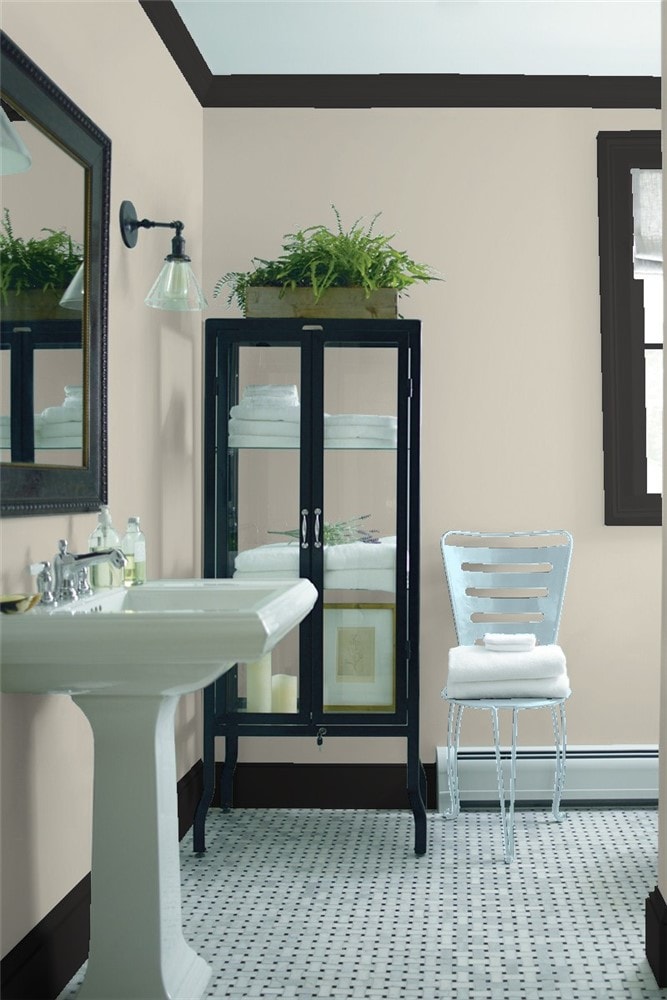 This bathroom is warmed up by Revere Pewter for a more comfortable feel.
Kitchen
The Revere Pewter wall in this farmhouse kitchen complements the appliances and brings out all that lovely white shiplap and cabinetry.
In the designer's words, the Revere Pewter cabinets in this kitchen form a "magical combination" with black countertops and a white oak island. This is a great example of how a classic color can still be used in ways that are completely modern.
Exterior
Revere Pewter can serve just as well outdoors as it does inside. This exterior has a harmonious balance between the dark shingles, white trim, and the Revere Pewter.
Revere Pewter Coordinating Colors
The fun of a great all-around neutral like Revere Pewter is that you can use it as the foundation for any color palette.
Are you a fan of popular neutrals? Revere Pewter is a greige family heavyweight champion. It looks great alongside its gray and beige siblings, as well as with blacks, whites, and browns, including woodwork.
I'd be remiss if I didn't mention an extremely popular and beautiful combination with Revere Pewter, and that is White Dove, another best-selling color by Benjamin Moore. These two colors are best friends forever!
Want to explore the lush and soothing cool side of the color wheel? Revere Pewter has green undertones that suit it nicely. A very natural-looking direction to take is a warmer green, such as a fern green.
Any shade of navy blue is a great companion for Revere Pewter. You can even get adventurous and go for a bold teal or turquoise. Revere Pewter will really make those blues pop!
But Revere Pewter has even more tricks up its sleeve, because you can totally take it in a warm direction too. Coral shades are fun to try, and coordinate well with other grey colors.
Here are some coordinating colors you can try with Revere Pewter:
How Does Revere Pewter Compare with Other Colors?
Revere Pewter vs Agreeable Gray by Sherwin Williams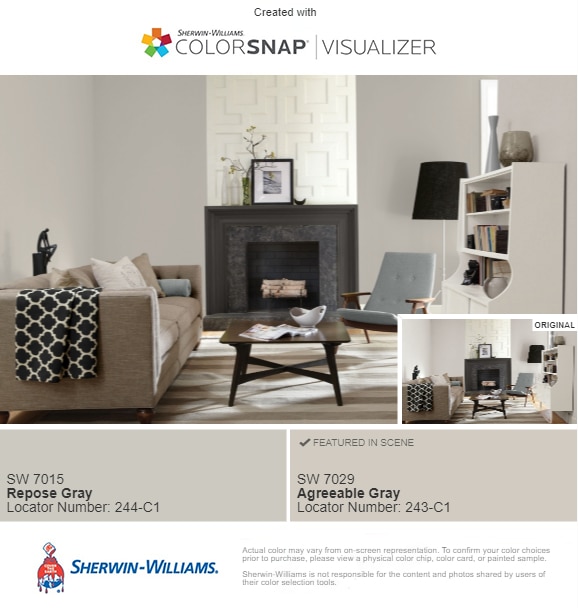 It's a clash of the titans as these two top greige contenders face off! What are the differences between them? Revere Pewter is closer to the beige side of the greige spectrum while Agreeable Gray is more on the gray side. Agreeable Gray is just slightly brighter at an LRV of 60 to Revere Pewter's LRV of 55.51. Revere Pewter is a little warmer; Agreeable Gray is a little cooler.
Revere Pewter vs Edgecomb Gray by Benjamin Moore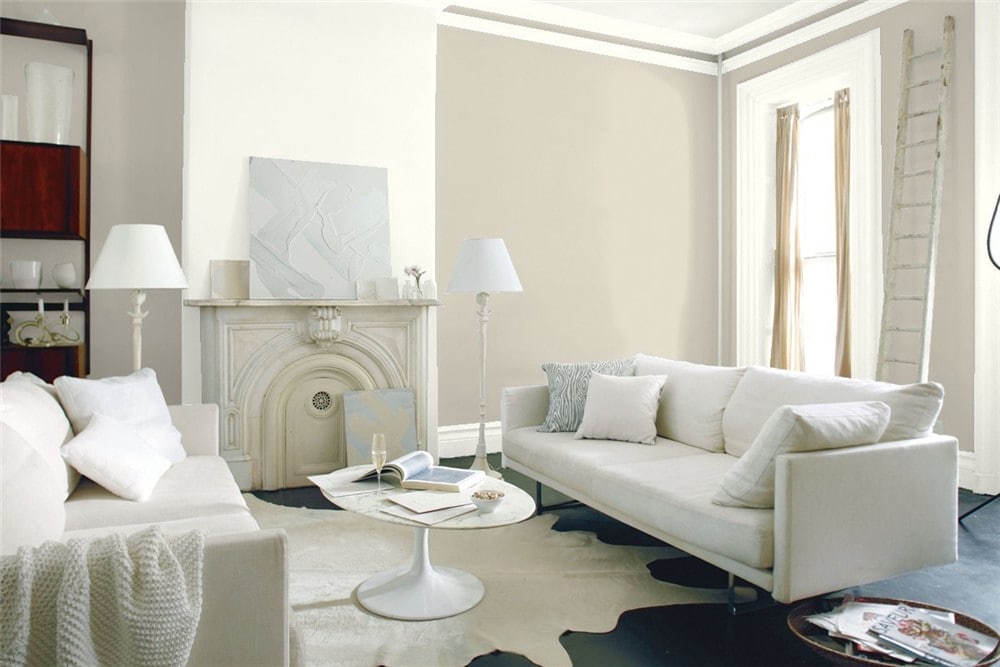 Edgecomb Gray is a mid-tone light gray. It's such a close neighbor to Revere Pewter that they literally sit side by side on the same paint chip. So as you can imagine, these two colors have a lot in common. However, Edgecomb Gray, with an LRV of 63.88, is meaningfully brighter than Revere Pewter. It has a slight yellow tint when compared to Revere Pewter as well.
Revere Pewter vs Smokey Taupe by Benjamin Moore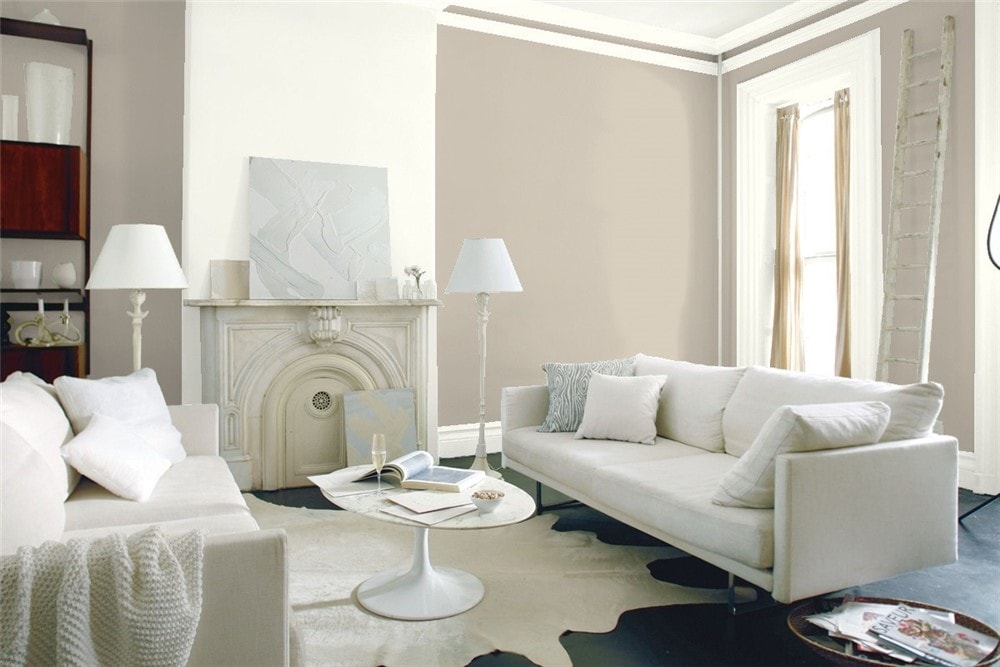 Smokey Taupe is a greige that is warmer than Revere Pewter. You'll definitely see more beige undertones from Smokey Taupe. Their light reflectance values are almost identical; Smokey Taupe sits at 55.22.
Final Thoughts
Revere Pewter has a well-earned title as king of the greiges. This versatile, popular color has been credited with transforming entire homes and even selling houses faster. Whether you're using it all over or just as an accent or trim, Revere Pewter will play nicely with any palette. You can be sure that this time-tested classic is going to remain in style for years to come.