Decorated Life is reader-supported. When you buy through links on our site, we may earn an affiliate commission. Learn More
10 of the Best Benjamin Moore Bedroom Paint Colors
The ideal bedroom color has a lot to live up to. It needs to be soothing and relaxing, but also revitalizing and nurturing. You want a color that's going to be easy on the eyes, one that won't interfere with sleep. Even better would be a color that can help you get the rest you need.
The best colors for a bedroom are those on the cool side of the spectrum. These include blues, greens, purples, and grays. These colors have a calming effect that you can feel as soon as you look at them. They're refreshing and soothing.
Neutrals like whites and greiges are also great choices because they're not distracting, and they have a gentle, balanced energy. These colors promote a meditative and quiet atmosphere.
I've gathered the best colors Benjamin Moore has to offer for bedrooms to inspire your soothing retreat. Whether you want to float among the clouds, dip into a cool spring, or surround yourself with lush greenery, there's a bedroom color here that's perfect for you.
White Dove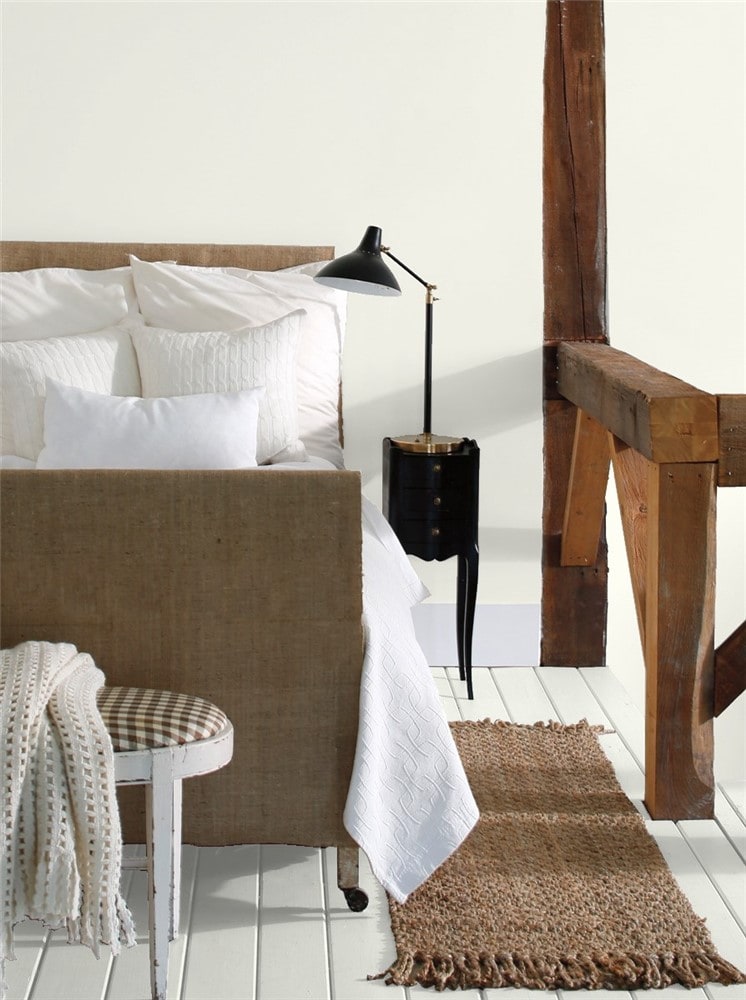 White Dove is a beautiful luminous white with a soft shading that really takes it to the next level. This wildly popular white is so versatile because it creates a gentle glow without being yellowish or stark. White Dove will make a bedroom feel airy and open, but still lend warmth and coziness. It has a LRV of 85.38.
White Dove Coordinates Perfectly with Wood
Pale Oak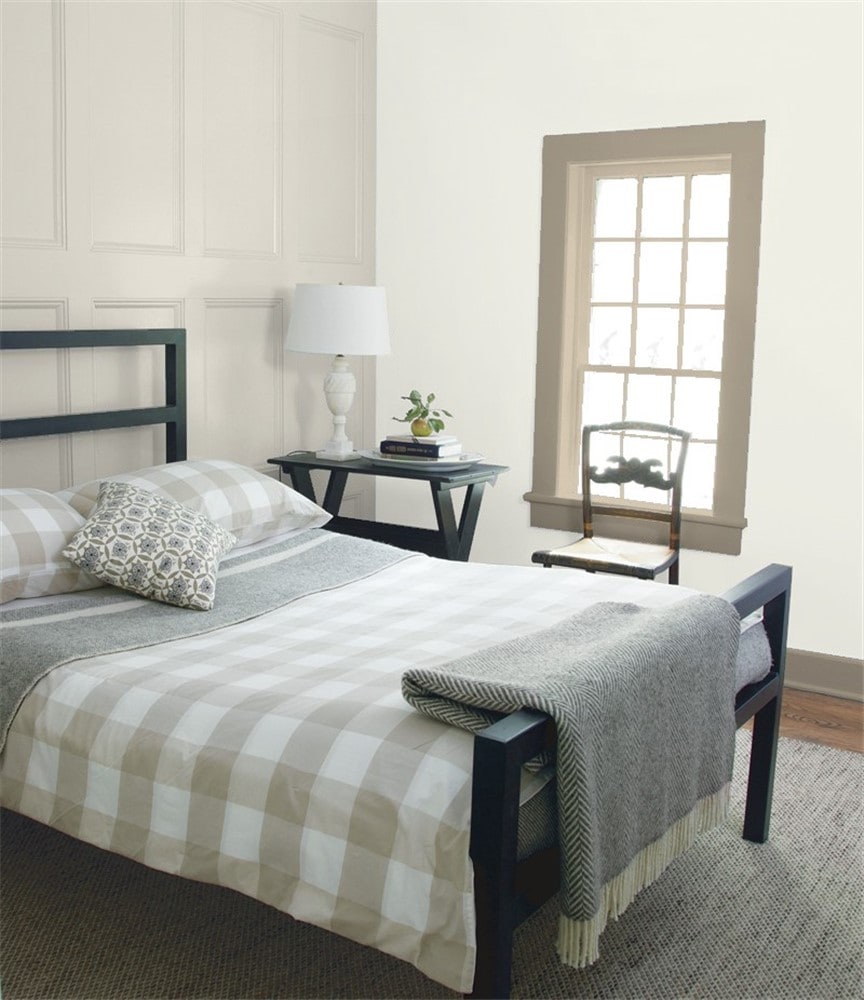 Pale Oak is a light and gentle greige, with a LRV of 69.89. This soothing neutral brings an earthy and balanced feeling to a bedroom, and offers a soft contrast to clean whites.
Pale Oak is Beautiful on Board and Batten
Gray Owl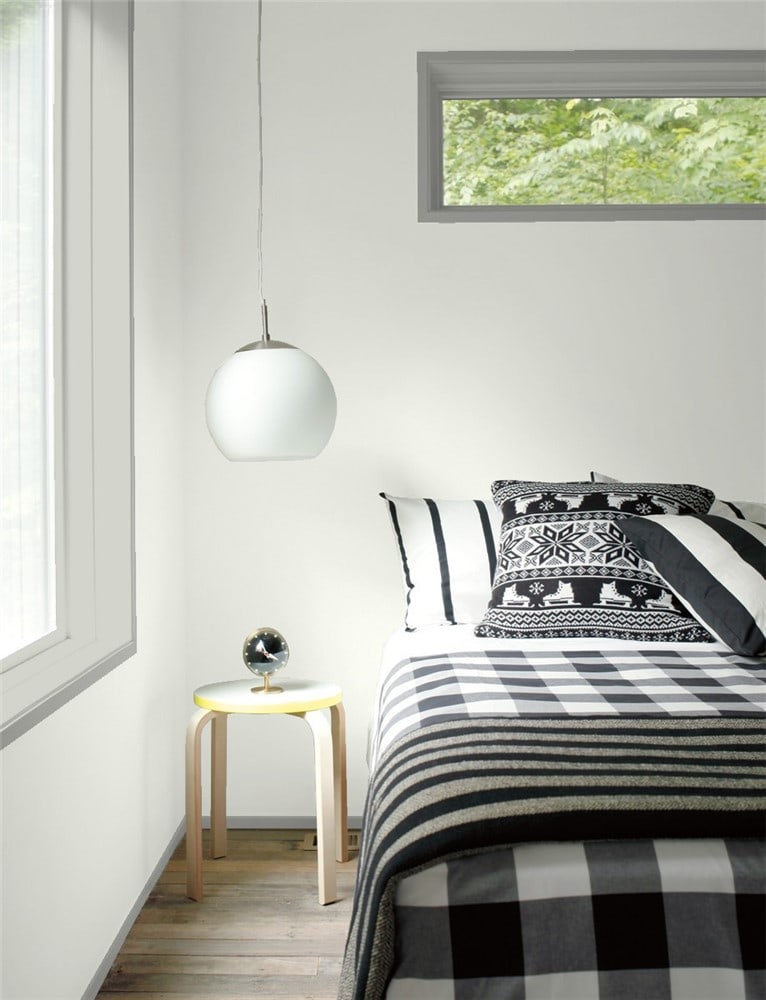 Gray Owl is a cool gray that's light enough to let a room breathe. It can support white trim or dark trim colors equally well; lighter colors will give a dreamier look while dark colors can bring out a chic or dramatic side. Gray Owl has a LRV of 65.77.
Gray Owl Cools Down a Room
Chelsea Gray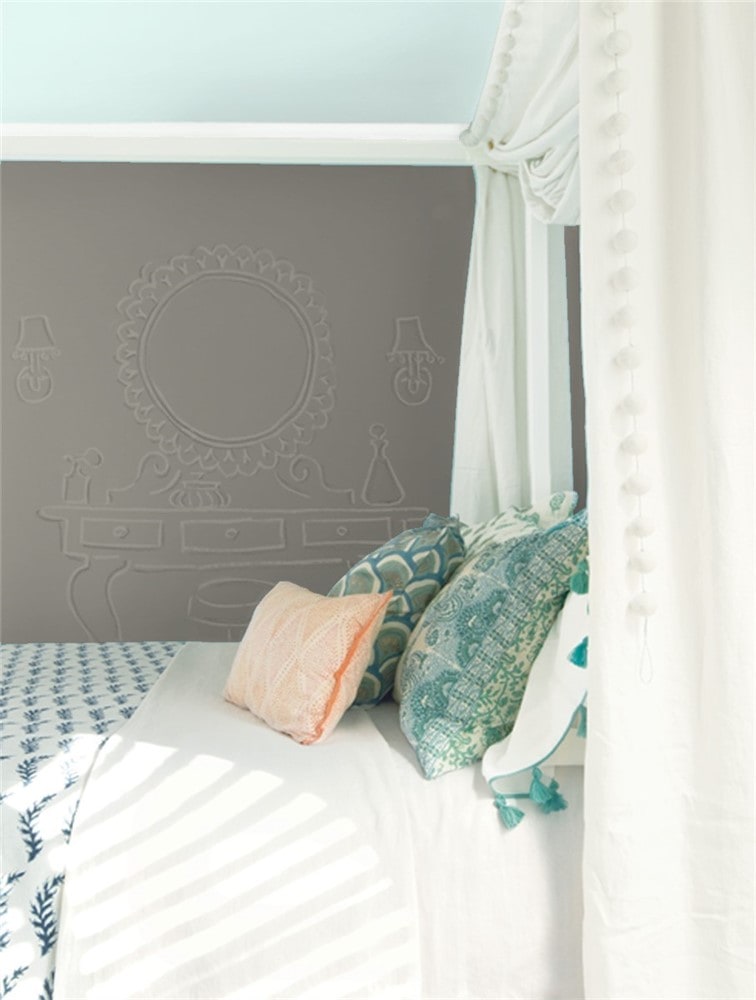 Chelsea Gray is a bold and stylish charcoal gray that creates instant sophistication. You can play up that look by pairing it with white, gold, and silver, lighter grays, and even black. To balance this strong color, consider using it for accent walls and trim alongside lighter colors.
Chelsea Gray is Perfect for Accent Walls
Mt. Rainier Gray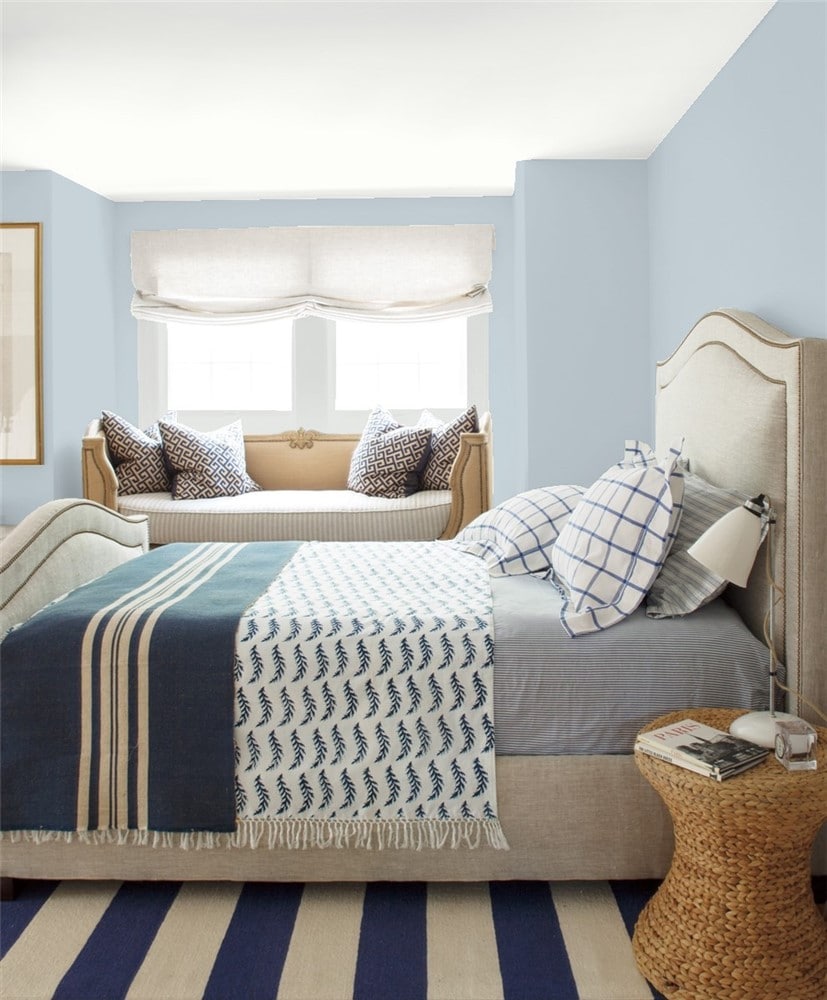 Mt Rainier Gray is a misty blue-gray that creates a tranquil atmosphere. It's a lighter color, with a LRV of 60.3. Cool colors like Mt. Rainier Gray are perfect for sleep and relaxation, although if you find this color too cool you can always balance it with whites or warmer neutrals.
Mt. Rainier Gray Creates Tranquility
Palladian Blue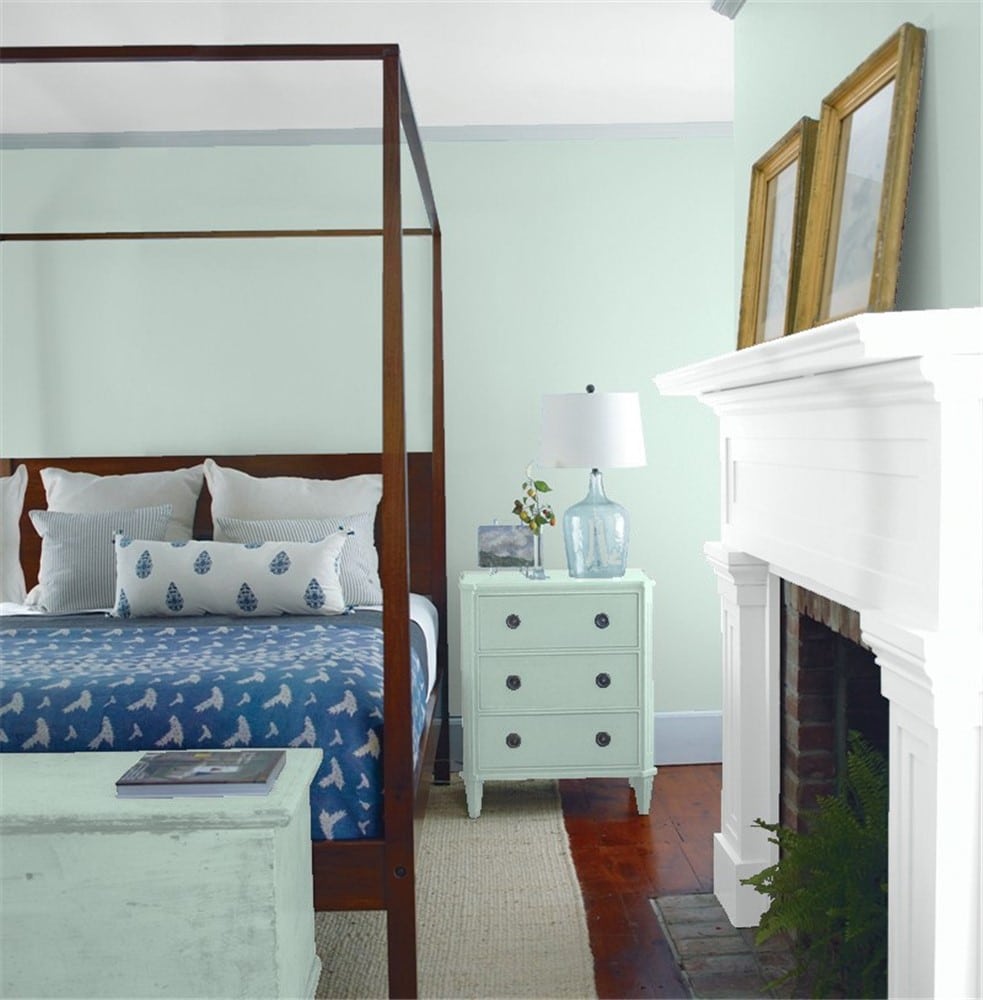 Palladian Blue is a pearlescent fountain blue that can soothe next to whites and grays, or have fun with pinks and greens. I think it's that touch of pearl that's its real secret, because Palladian Blue has an air of mystery to it that makes it feel timeless. Palladian Blue has a LRV of 61.17, making it ideal for many types of lighting situations.
Palladian Blue is Great in Any Light
Aegean Teal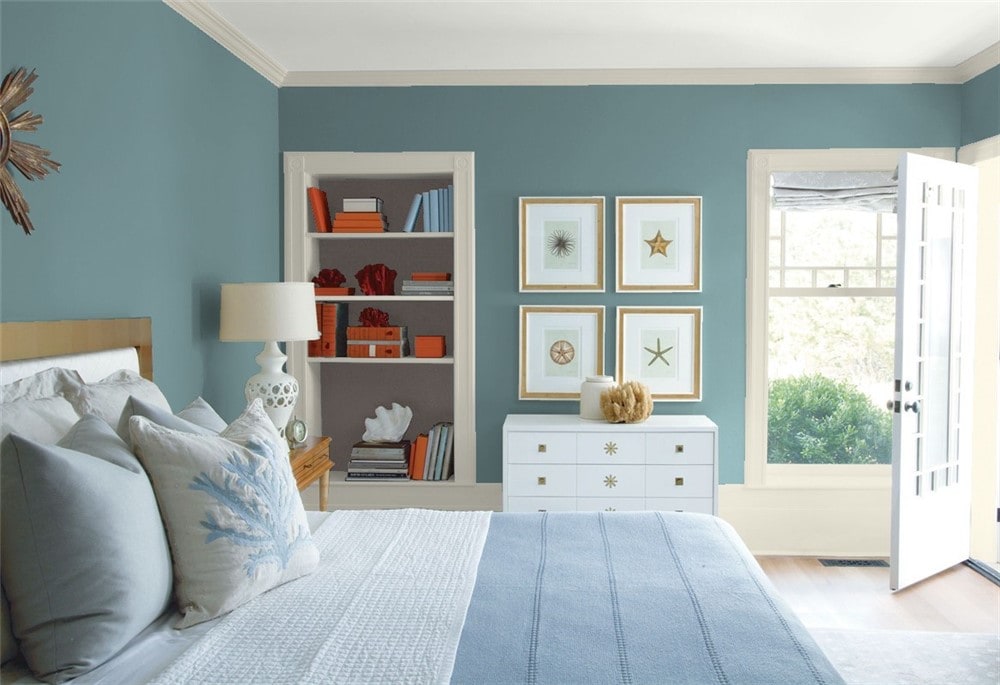 If you've ever wanted your own personal seaside retreat, Aegean Teal is the deep, cool ocean blue that can create that dream right in your very own bedroom.
Even if the waves aren't your theme, this color can do amazing things with creams, linens, and browns. Aegean Teal was Benjamin Moore's 2021 Color of the Year, and they note that it "creates natural harmony", which is a fantastic summary of what you want in a bedroom! Aegean Teal has a LRV of 23.96.
Aegean Teal is Excellent for Coastal Decor Styles
Silken Pine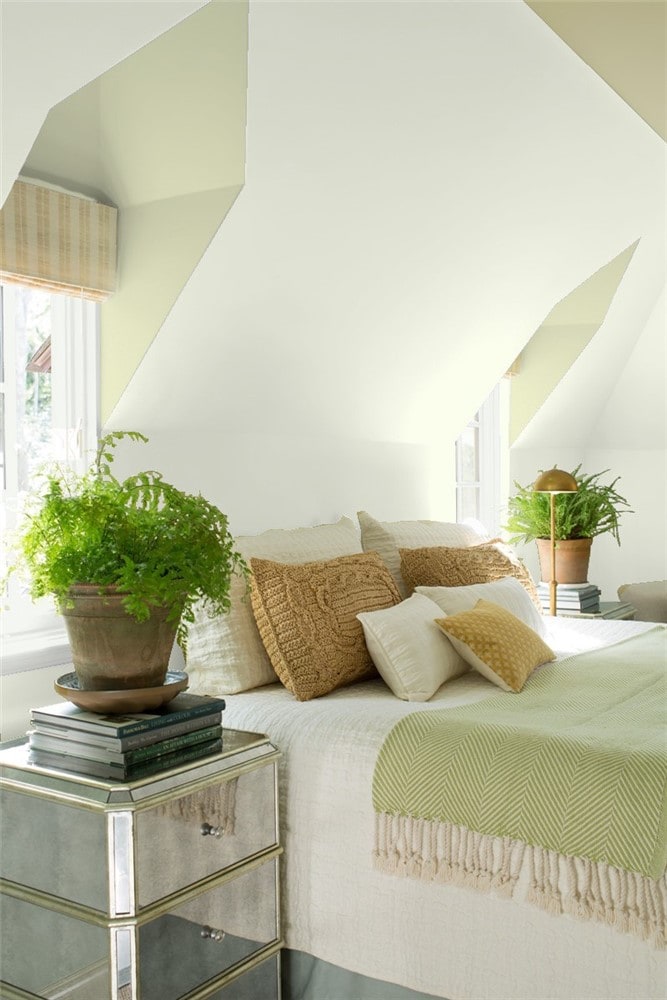 Silken Pine is a color for somebody with a truly refined color sensibility. It offers a whisper of the outdoors to help you create some indoor serenity.
This gentle green-gray is soft and relaxing, and it looks absolutely amazing next to a dark gray like Chelsea Gray or Kendall Charcoal. Silken Pine has an extra-light LRV of 75.38.
Silken Pine Brightens Up a Room
Healing Aloe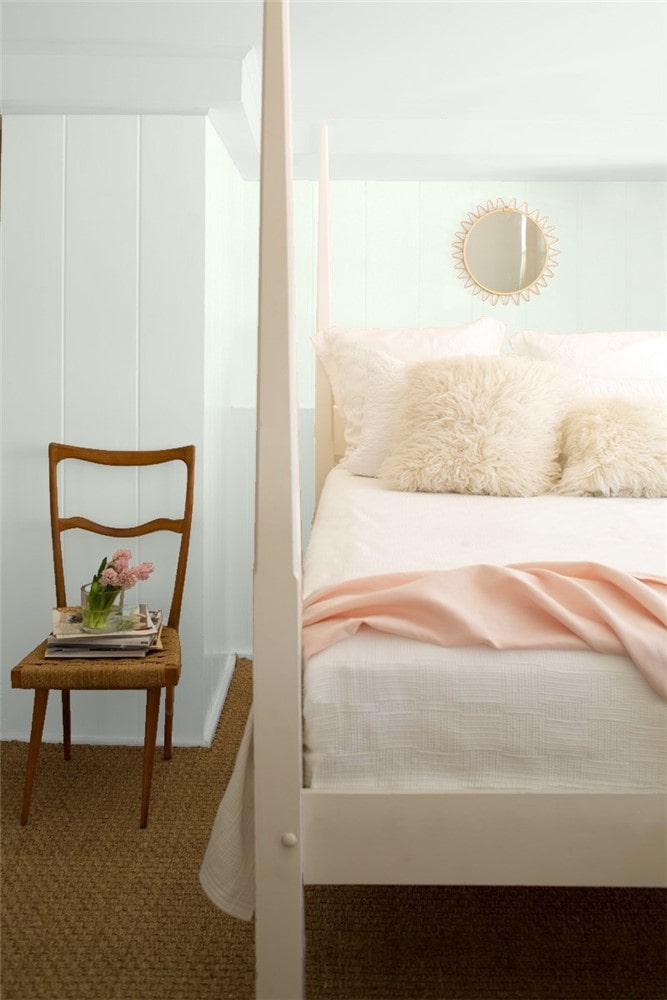 What wish could be better for a bedroom than healing? Healing Aloe embodies that quality in your room so that you can experience it every time you lay down to sleep. This is another light and gentle green, with a LRV of 69.66. However, it's cooler and grayer than Silken Pine.
Healing Aloe is Best for Warmly-Lit Rooms
Hint of Violet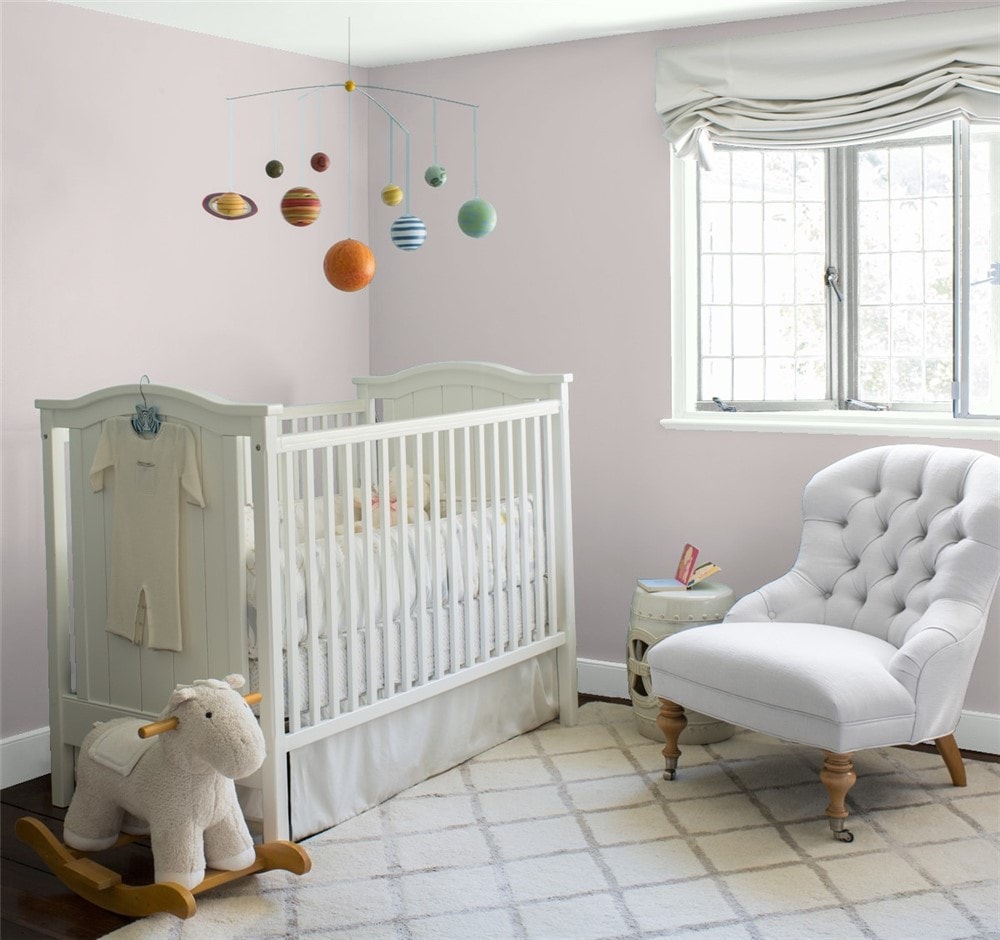 Purple was once a color reserved for royalty, so what could be better for a bedroom than such a luxurious color? Hint of Violet offers the luxury without the overwhelm that purples can sometimes give a room. It also keeps the room airy and bright, with a LRV of 67.56. Hint of Violet would be "magnifique" with French Country decor!
Hint of Violet Offers Serene Luxury
Final Thoughts
Choosing a bedroom color palette is incredibly personal, and your emotional response to the colors is your most important guide to success.
Just keep in mind that you'll want to stick to the cool, relaxing side of the color spectrum, and that in general lighter, softer colors are less distracting when it comes to falling asleep. As always, don't forget to sample under your real lighting conditions to make sure you know how a color will perform in your space. Sweet dreams!