Decorated Life is reader-supported. When you buy through links on our site, we may earn an affiliate commission. Learn More
Benjamin Moore Gray Owl Paint Color Review
Grays are such wildly popular neutrals, it's hard to imagine they'll ever go away. Even though palettes are trending warmer and some have called for the grays and their trendy greige siblings to be replaced, grays have proven staying power.
Today we'll look at one gray that has outshone the others: Gray Owl from Benjamin Moore.
Gray Owl is one of Benjamin Moore's most popular colors, ranking among favorites such as Revere Pewter and Stonington Gray as a bestseller. It's also a timeless classic, proving its enduring popularity with oceans of social media posts from devoted fans. 
What makes this color so well-liked? Let's take a flight with Gray Owl and learn more.
What Color is Gray Owl?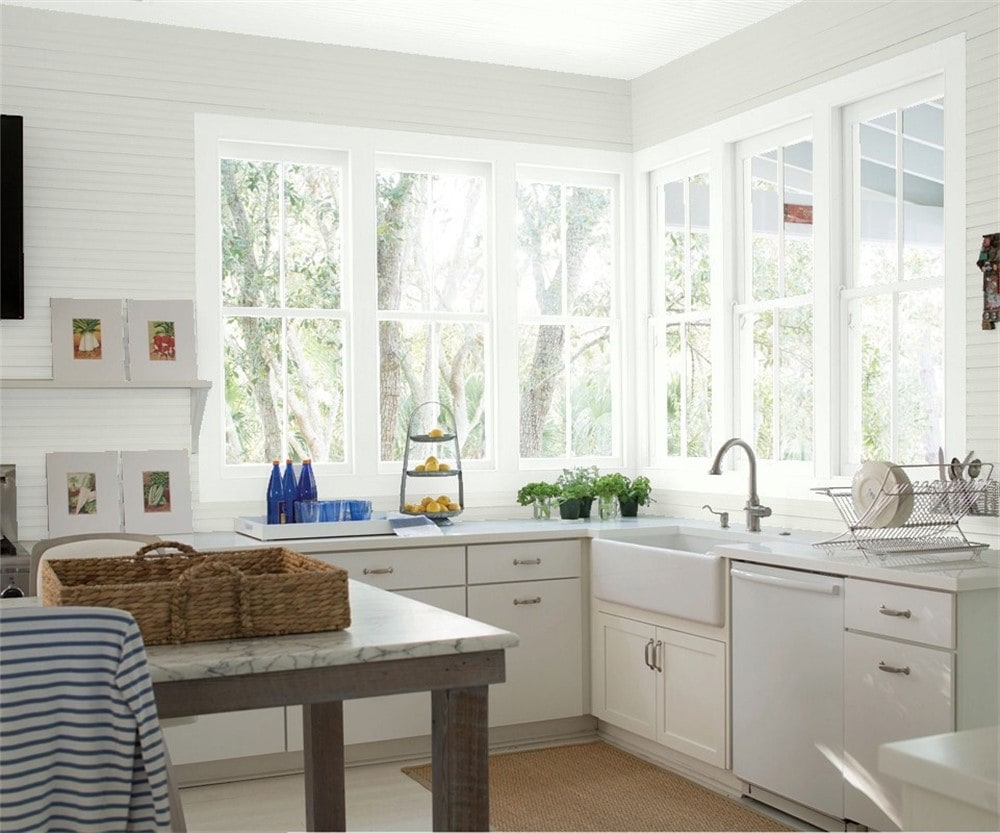 Gray Owl is a refreshing light gray that really suits what comes to mind when you think of the color gray–a classic and traditional color. 
Does Gray Owl Have Any Undertones?
Gray Owl primarily has subtle blue undertones. More rarely, it can show a hint of green undertones. This is pretty typical for any members of the gray family, especially the cooler grays.
Is Gray Owl Warm or Cool?
Gray Owl is a pale, cool gray color. It's not going to look as outright blue as some cool grays do, but this color is definitely not a greige! Benjamin Moore calls Gray Owl a "crisp" color, and that's a good way to describe its coolness–it's cool in the way a white color is cool, rather than cold like a blue.
LRV of 64.51
Gray Owl has a light reflectance value (LRV) of 64.51. It's a medium-to-light color, suitable for a wide range of uses.
Light reflectance value is a scale designed to measure how bright a color is, and ranges from absolute black at 0 to sheer white at 100. The higher the number, the brighter the color. Many decorators consider a LRV of 60 to 62 to be ideal because of its ease of use in a wide variety of lighting situations.
Where Can You Use Gray Owl?
Gray Owl is a cool neutral with a close-to-ideal LRV, and that makes it easy to use anywhere in the home. While your most cavernous spaces might benefit from pairing Gray Owl with some cozier colors, there's nowhere
Kitchen
Gray Owl cabinets bring out the beauty of the metalwork and appliances in this sleek modern kitchen.
Bringing out Gray Owl's cool side with charcoal grays is a handsome and sophisticated-looking option.
Dining Room
Gray, black, and white is a combination that is always in style.
Balancing Gray Owl with white makes this dining nook feel more spacious while also keeping it grounded.
Living Room
Gray Owl is light enough to pick up on blues and greens in the decor of this living room.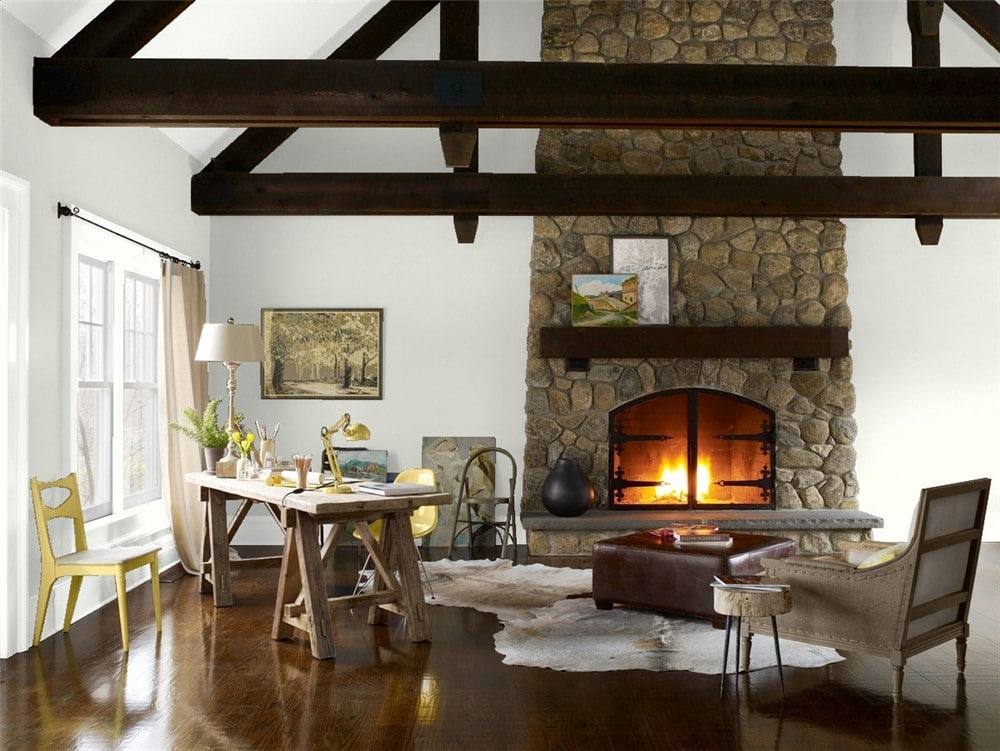 Gray Owl can highlight the beauty of natural materials, like the stone hearth, wood floors, and rich leather in this rustic living room.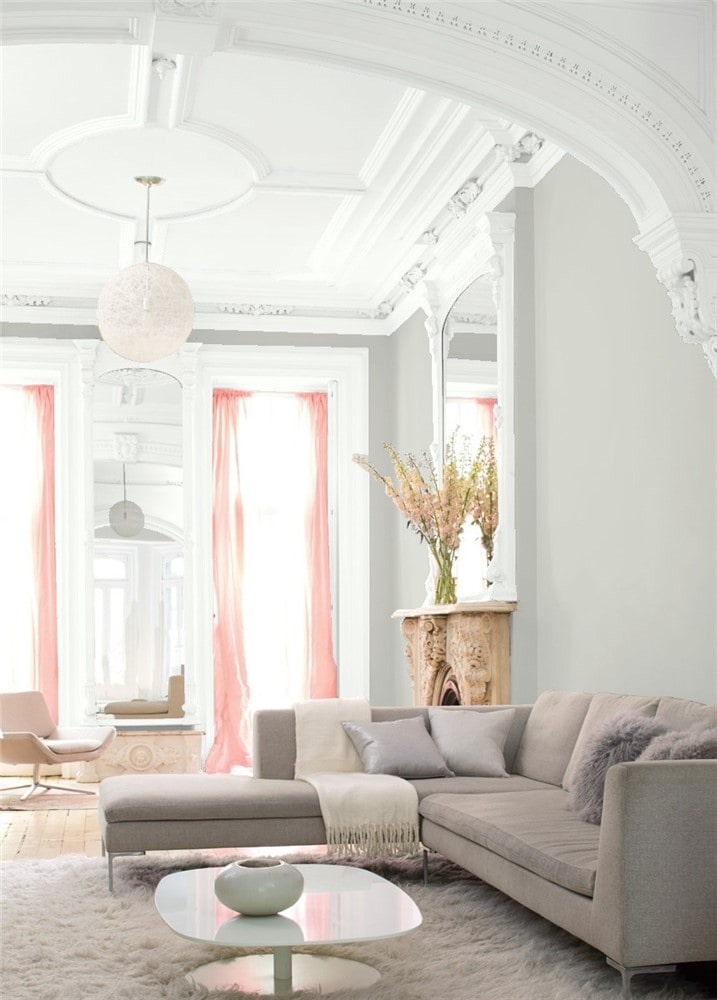 Gray Owl takes on a soft and elegant character in this romantic living room, paired with Chantilly Lace.
Bathroom
Gray Owl's coolness brings out the creaminess of warm whites, upping the coziness factor of a room.
Gray Owl is chic and modern in this refreshingly simple bathroom.
Gray Owl plays well with a monochrome palette in this bathroom refresh.
Bedroom
Gray Owl is fresh and lovely with soft rose pinks in this calming bedroom.
This Gray Owl focal wall is light but impactful thanks to its geometric design and careful styling.
Home Office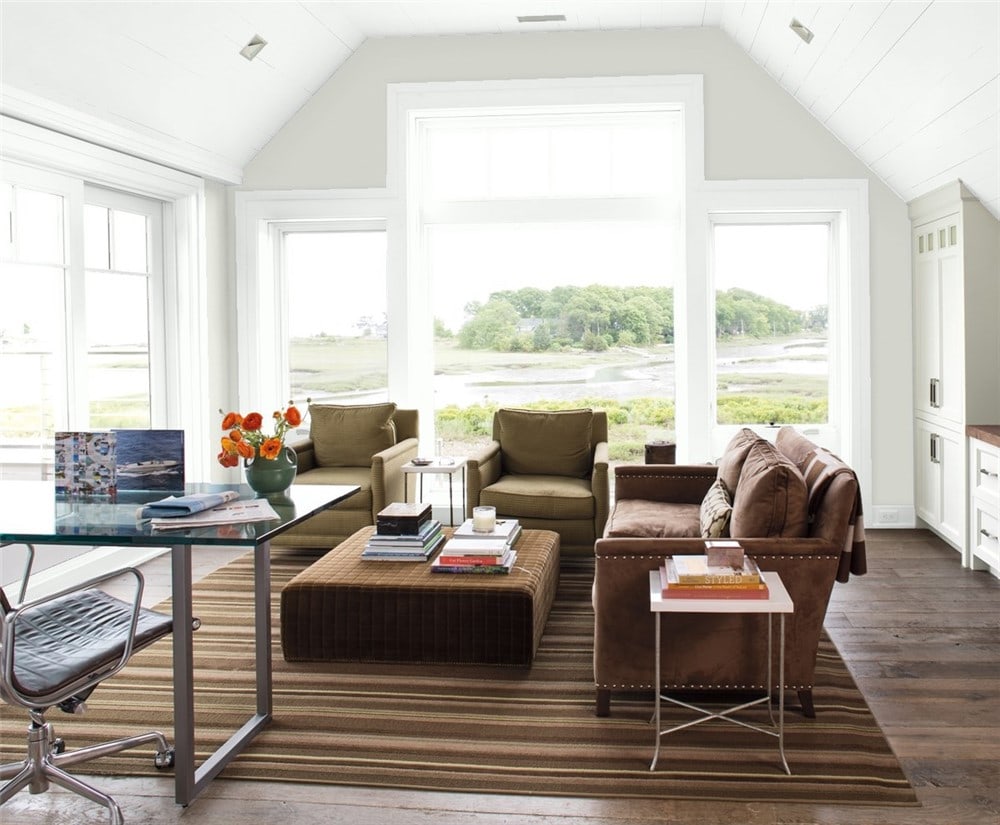 Gray Owl is cool but it can still partner with warm neutrals like brown, tan, and taupe.
Laundry Room
Gray Owl is light enough to expand and uplift this tiny laundry room.
Whole Home
As an enduringly-popular neutral, Gray Owl is a great choice for an all-over wall color.
Exterior
Gray Owl, black, and white give a polished finish to this exterior.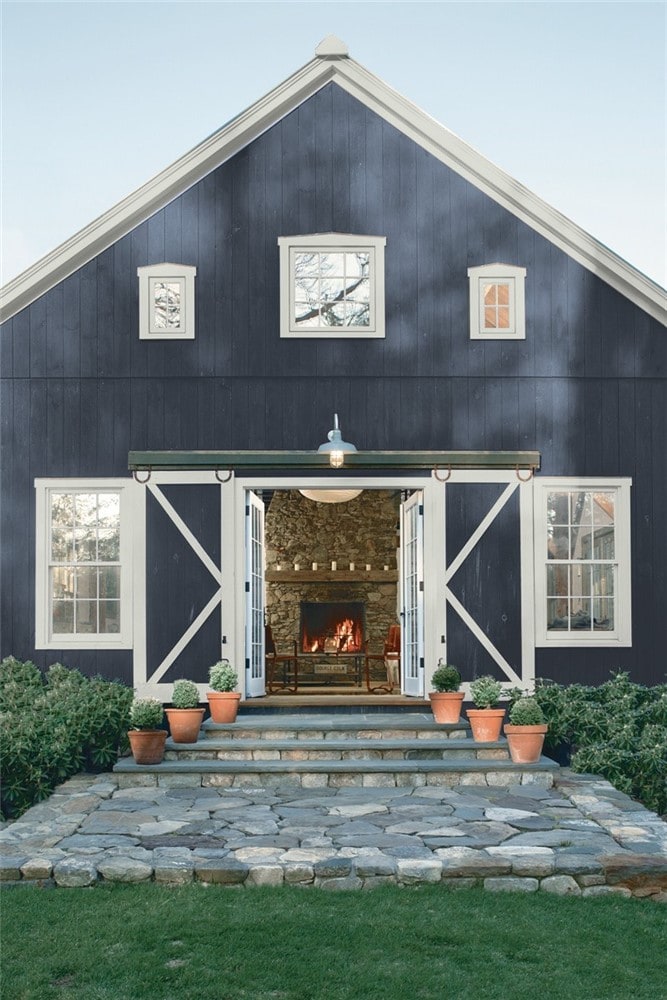 Gray Owl is light enough that it's also an option for trim, as it is with this Hale Navy exterior.
Coordinating Colors for Gray Owl
Gray Owl is a classic neutral that's easy to coordinate with other colors. It works beautifully with other cool colors, including blues, greens, purples, and its fellow grays.
Gray Owl is especially beautiful next to darker blues, such as navy blue, smoky blue, or even teal.
Brighter contrast colors like wheat, gold, and yellow really pop next to Gray Owl, and can accent a Gray Owl and blue palette.
A classic combination you can turn to again and again is black, white and gray. This trio will always look chic and sophisticated. To go elegant, accent with gold. For a fun twist, accent with pink or purple.
Rather than black, you can pair Gray Owl with your favorite dark or charcoal gray, for a moody look with depth and interest.
If you're looking to pair a white with Gray Owl, look for clean, balanced whites for a refreshing contrast and a great trim color.
There's lots of ways you can take this versatile neutral, but if you're looking for a place to start, here are some coordinating color ideas for Gray Owl:
How Does Gray Owl Compare to Other Colors?
Gray Owl vs Stonington Gray by Benjamin Moore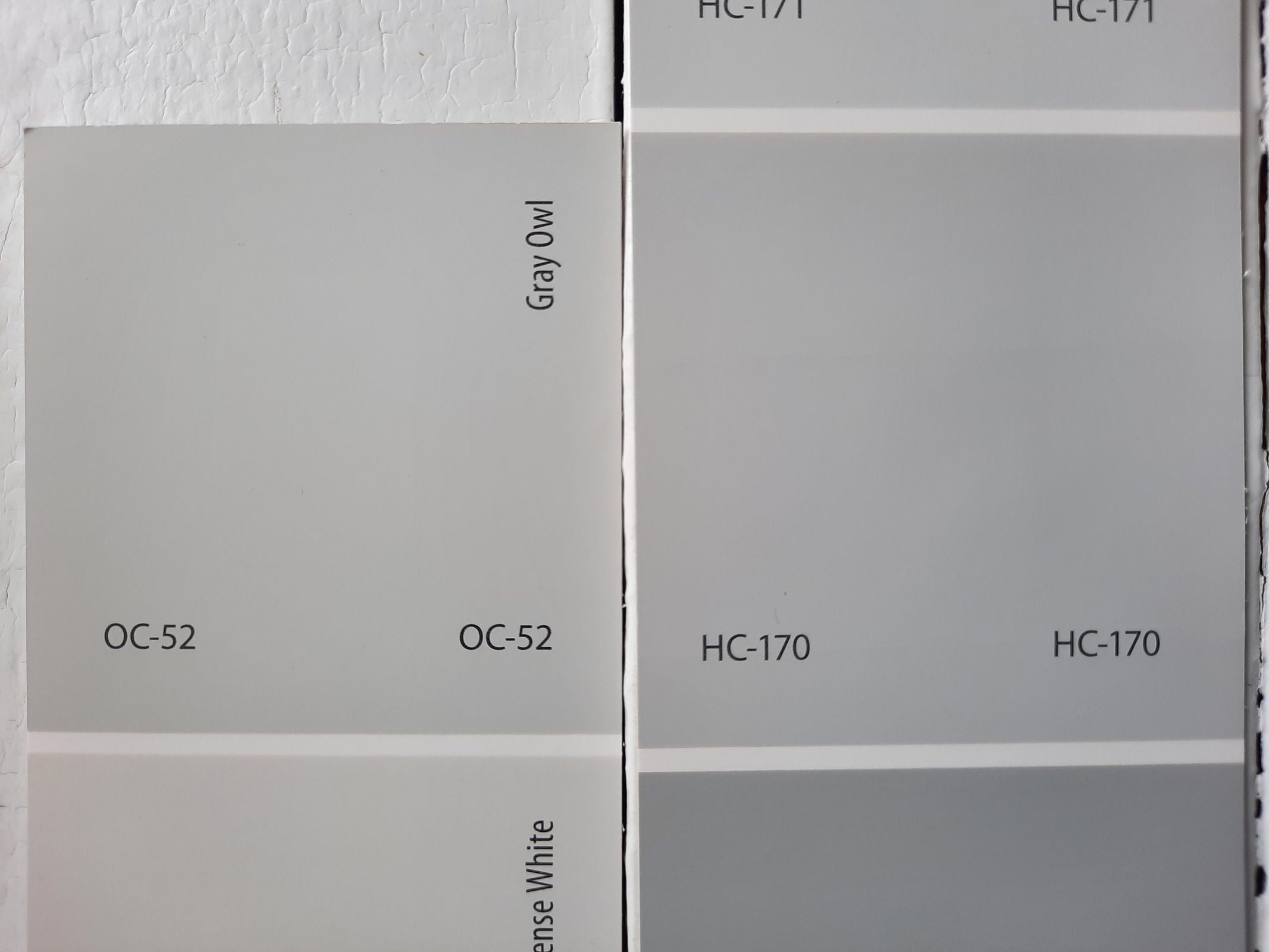 Stonington Gray is a moody, medium gray with blue undertones, in the same family as Gray Owl.
The primary difference between the two is that Stonington Gray is a little darker, with a LRV of 59.36. Stonington Gray is also a bit cooler than Gray Owl.
Gray Owl vs Classic Gray by Benjamin Moore
Classic Gray is a pale greige color that can also work as an off-white. It's light and refreshing like Gray Owl, but its greige tint makes it warmer. It's also the lighter of the two, with a LRV of 73.67.
Gray Owl vs Agreeable Gray by Sherwin Williams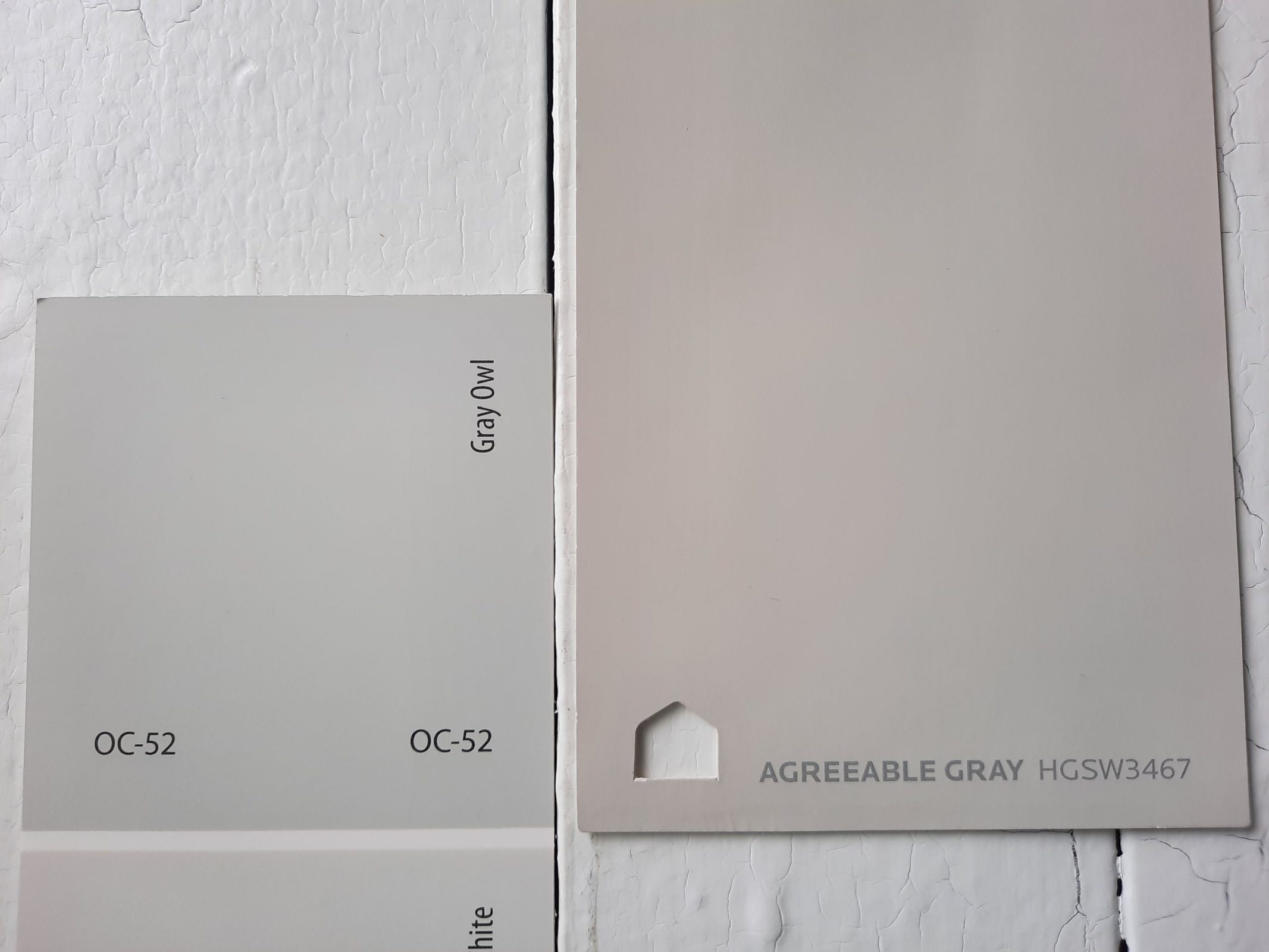 Despite the similar name, Agreeable Gray is a rather different color from Gray Owl. It's a medium-toned greige that reads a lot warmer, thanks to its beige component–something Gray Owl doesn't have. Their LRVs aren't that far apart; Agreeable Gray's LRV is 60.
Gray Owl vs Passive by Sherwin Williams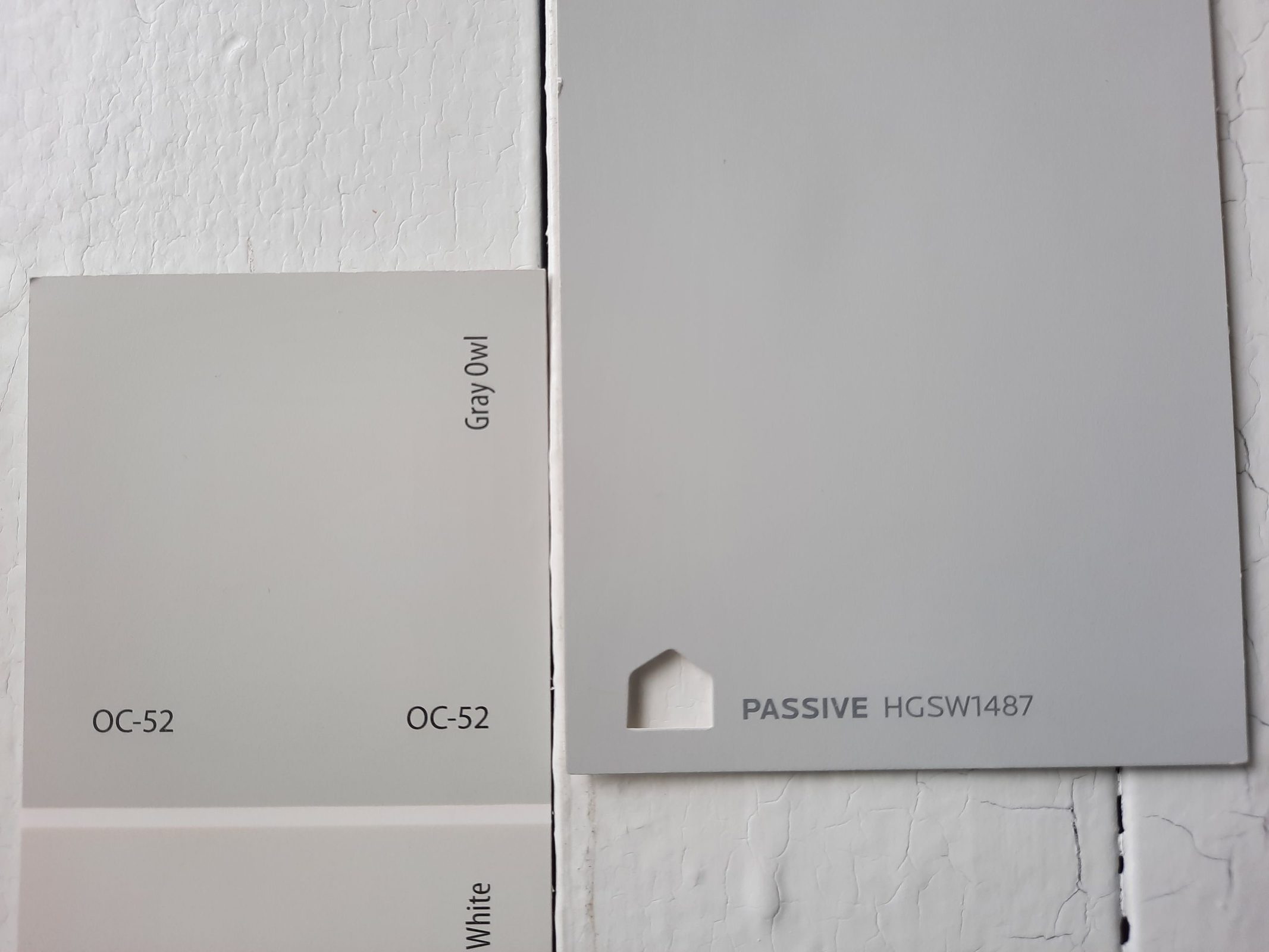 Passive is a light cool gray that's similar to Gray Owl. However, Passive is cooler and bluer than Gray Owl, which is easy to see when they're side-by-side. Like Agreeable Gray, Passive also has a LRV of 60.
Final Thoughts
Gray Owl owes its enduring popularity to its refreshing crispness, which it achieves without going too blue, and its balance, which it achieves without going into brown or beige.
It's also popular because of its user-friendly brightness that's suited to any room in the home. Thanks to all this adaptability, Gray Owl is a favorite that's going to continue to have many fans for years to come. Will you be one of them?