Decorated Life is reader-supported. When you buy through links on our site, we may earn an affiliate commission. Learn More
11 Best Benjamin Moore Greige Paint Colors
If you've been checking out design blogs or scrolling through houses on Instagram, chances are you've come across greige.
What on earth is greige? It's the happy marriage between gray and beige that gives you the best of both worlds. Gray brings its depth and cooling influence. Beige brings its warmth and its ability to complement every color.
The result is a versatile neutral that has been used just about everywhere you can imagine, even in doctors' offices and restaurants. Greige colors are so popular that they fill up the best-selling colors lists with all the top paint companies.
With all that greige love out there, it might be difficult to know where to begin. In this article, I've rounded up the best greige paint colors Benjamin Moore has to offer. We'll look at their most popular greiges, as well as a few fresher finds.
Let's get inspired!
Revere Pewter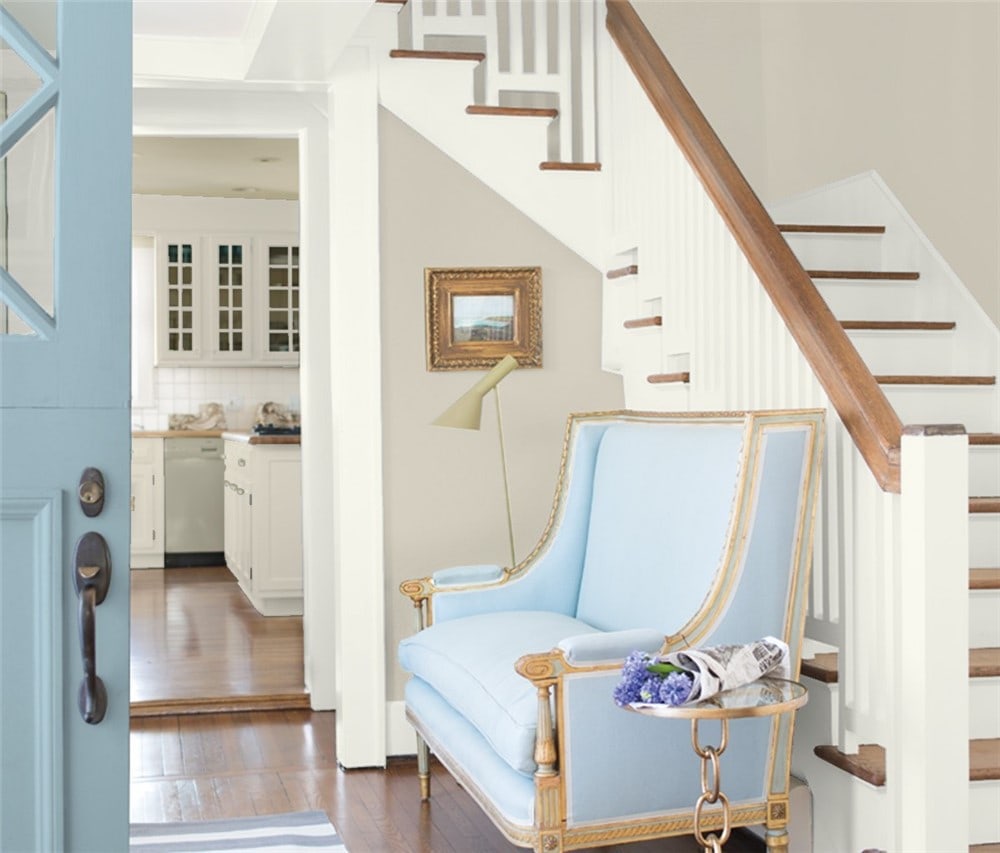 It's appropriate to start this list with Revere Pewter, because this is Benjamin Moore's most popular greige, if not their best-selling paint color of all time. This beloved greige leans into its beige side, and is dark enough to lend depth to your palette. Revere Pewter has a LRV of 55.51.
Revere Pewter is a Favorite for Kitchens
Edgecomb Gray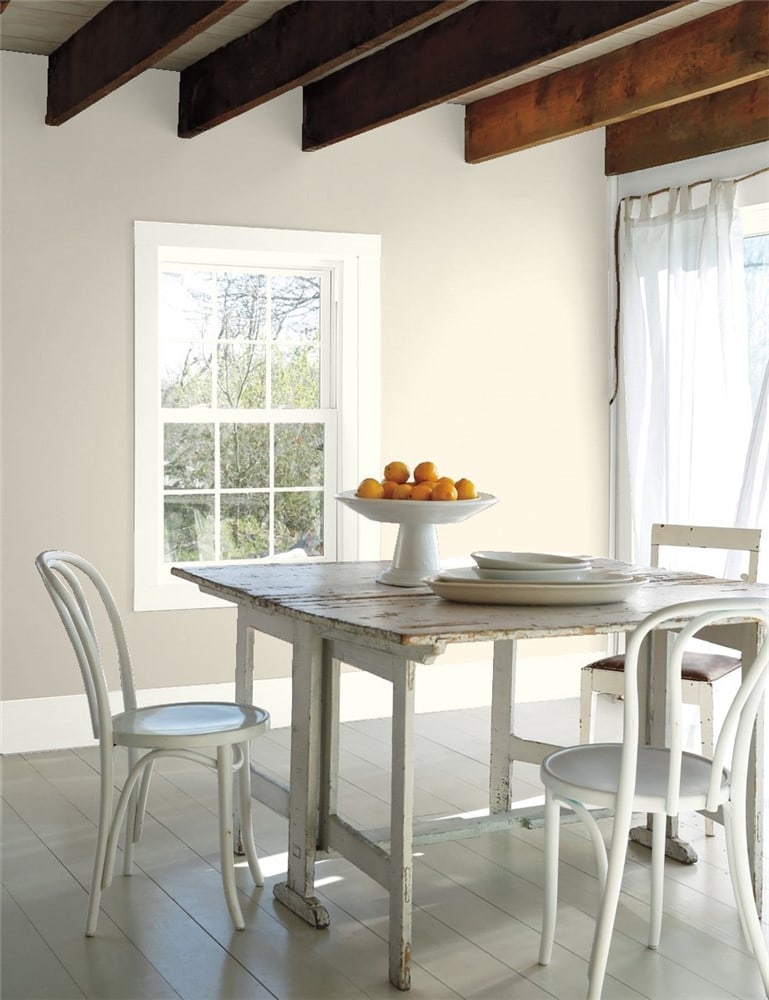 Edgecomb Gray is Revere Pewter's sibling from the same paint chip. It's lighter, so it comes across as more earthy and less gray than Revere Pewter. This is another wildly popular best-seller for Benjamin Moore, with a can't-miss LRV of 63.88. 
Edgecomb Gray is a Great Wall Color
Balboa Mist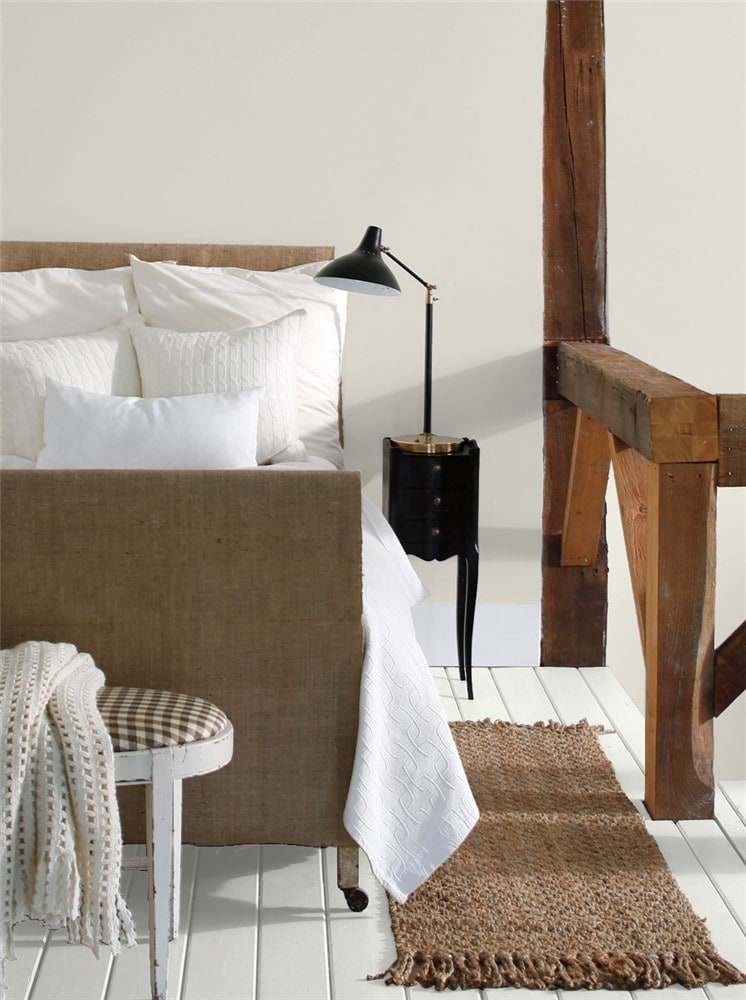 The hits just keep coming with Balboa Mist, another bestselling greige. This color is more gray than beige, but lighter than many greige colors, which helps it to remain versatile. Balboa Mist has a LRV of 67.37.
Balboa Mist is Cool and Soothing
Wish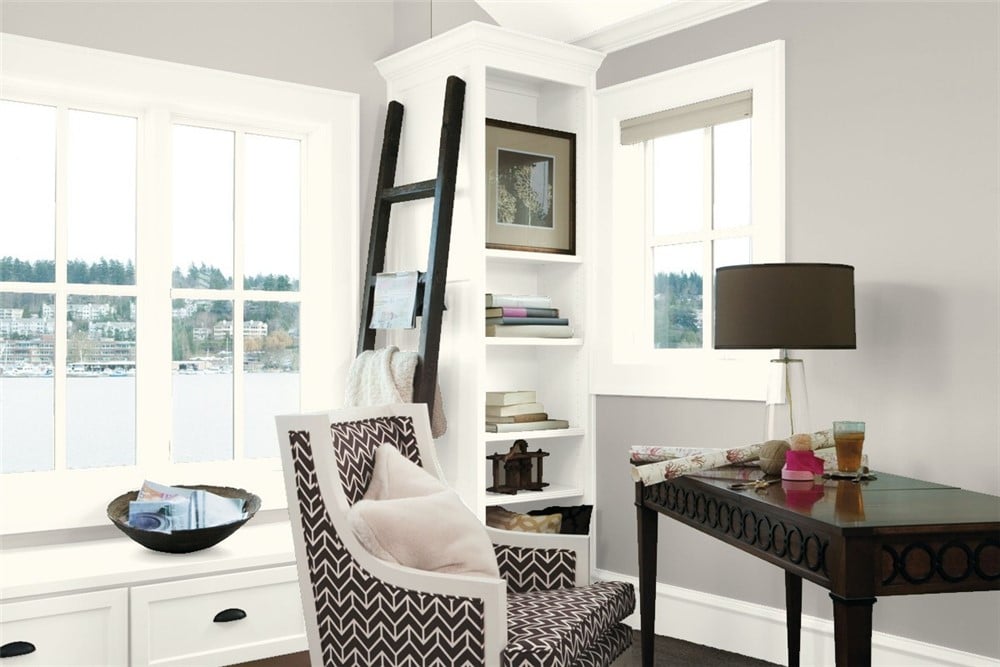 Wish is a hidden gem of the greige family. Cooler and grayer than both Revere Pewter and Edgecomb Gray, this is a relaxing color that still brings the neutrality of greige to a palette. Its
LRV of 59.7 lends depth and contrast without being too dark.
Wish is a Well-Balanced Neutral
Thunder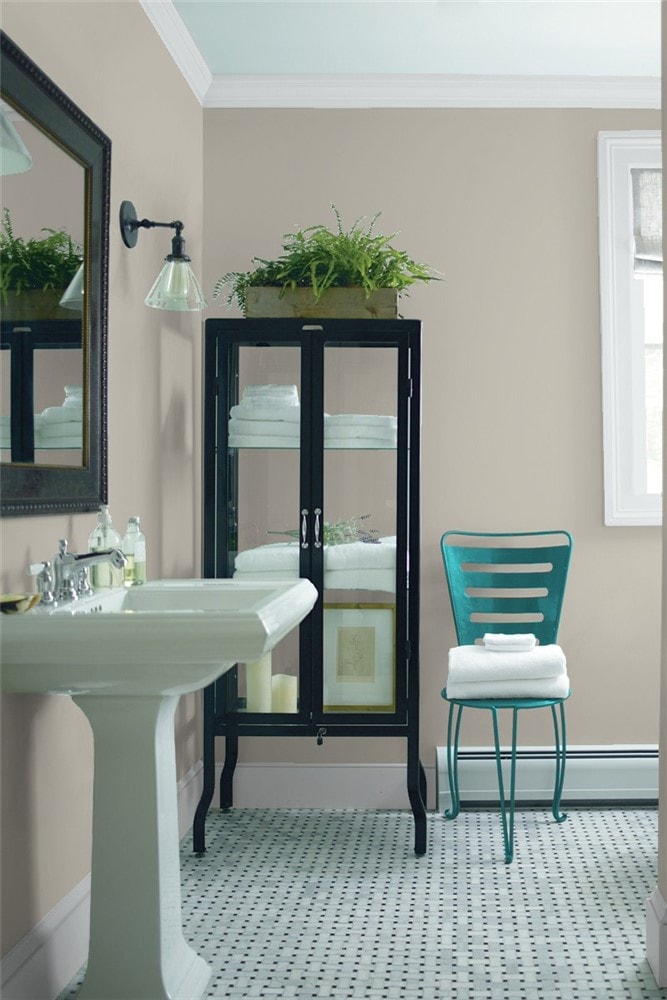 Thunder is a deeper, moodier choice than other greiges, but that depth doesn't make it cold–this color still brings earthy coziness to a room. This almost clay-like undertone works beautifully with blues, greens, and teals. Its lower LRV of 48.05 allows Thunder to offer a stronger contrast than the average greige.
Thunder is a Dramatic Greige
Pale Oak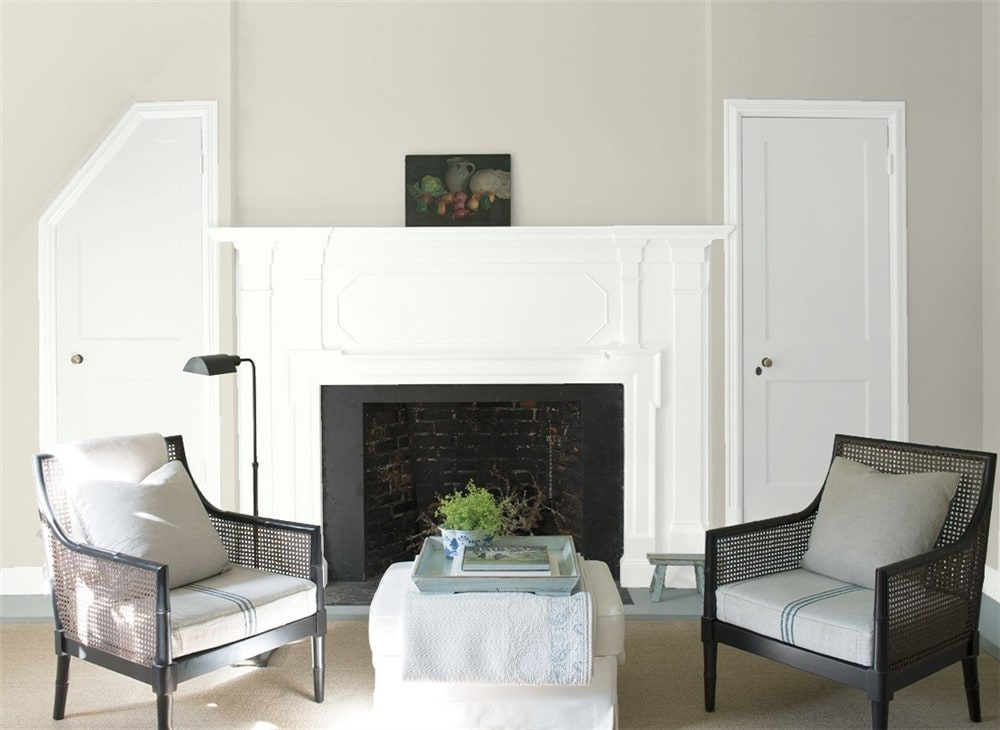 We travel back towards the lighter side of the LRV spectrum to find Pale Oak, another best-seller for Benjamin Moore. This gentle greige has a LRV of 69.89. It will still contrast with pure whites, but rooms painted with Pale Oak will retain a lighter look. 
Pale Oak is Great with Whites
Natural Cream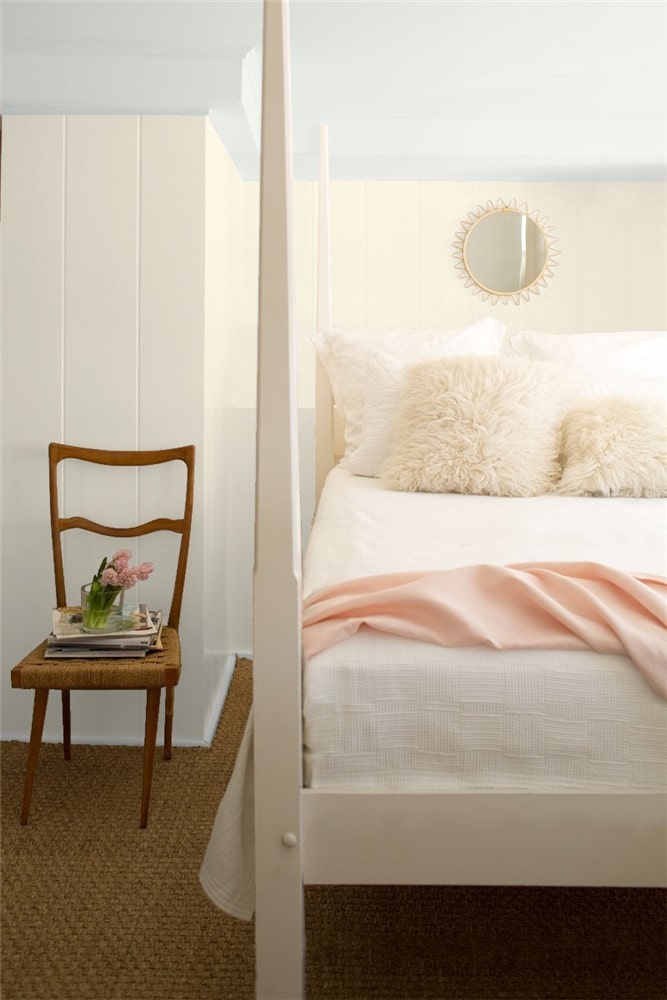 It may not seem like it in some settings, but Natural Cream is actually a greige color. This color has a buttery glow under bright light, but placing it next to clean whites for comparison will show you its character. This color's gift is its glow, so use it in settings where it will receive enough light to perform for you. Natural Cream has a LRV of 66.26.
Natural Cream is Perfect for Bright Rooms
Collingwood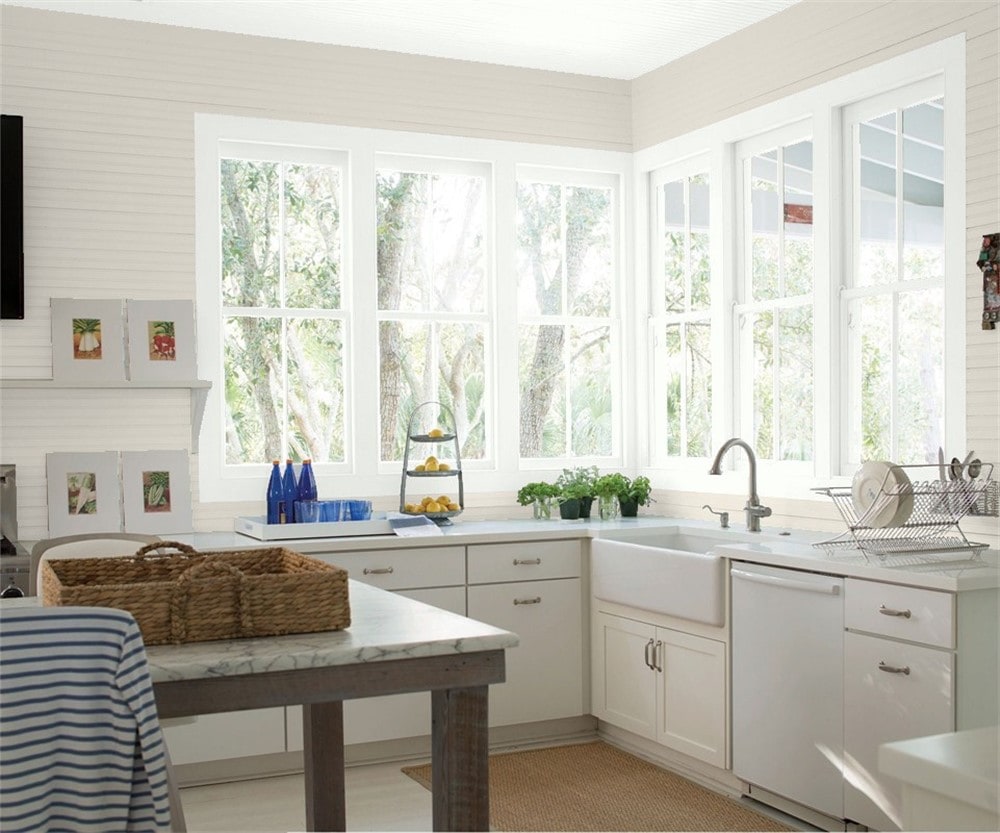 Collingwood may not quite crack the bestseller list, but this color receives a lot of attention online. This is a cooler greige with a LRV of 62.14, which is smack dab in that designer's favorite range. Perhaps the best point of this mid-tone greige is that it doesn't display blue or green undertones like most grays, making it easier to coordinate with other colors and decor.
Collingwood Takes it Easy on Undertones
Halo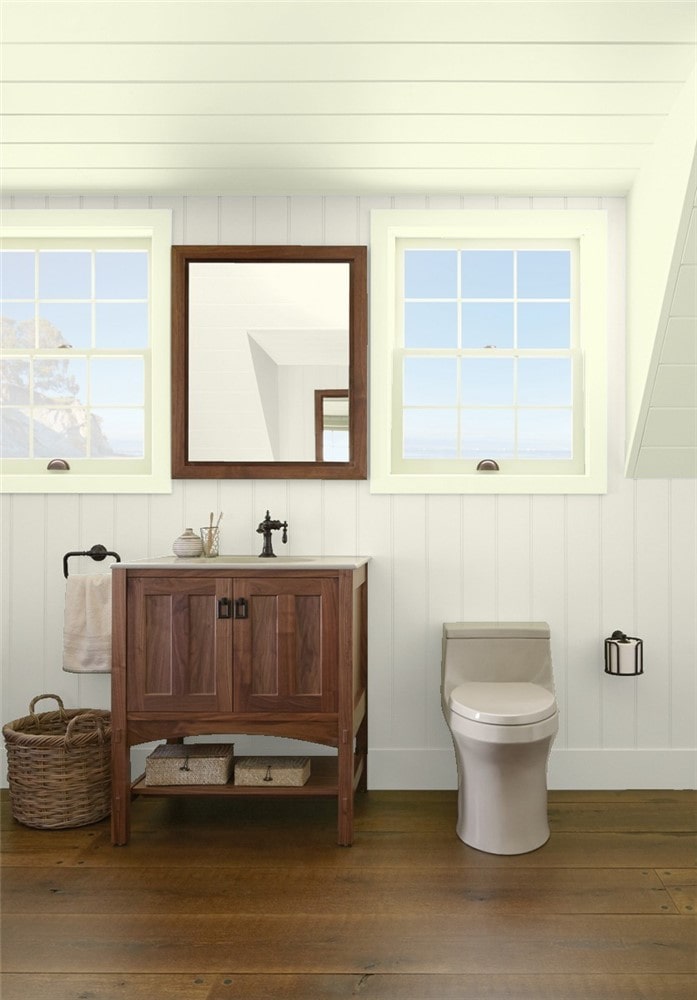 Halo is a light greige that straddles the divide between griege and off-white, with a LRV of 73.1. This is a warm and welcoming color that can offer a bit of contrast to a crisp white.
Halo is an Alternative to Plain White
Dove Wing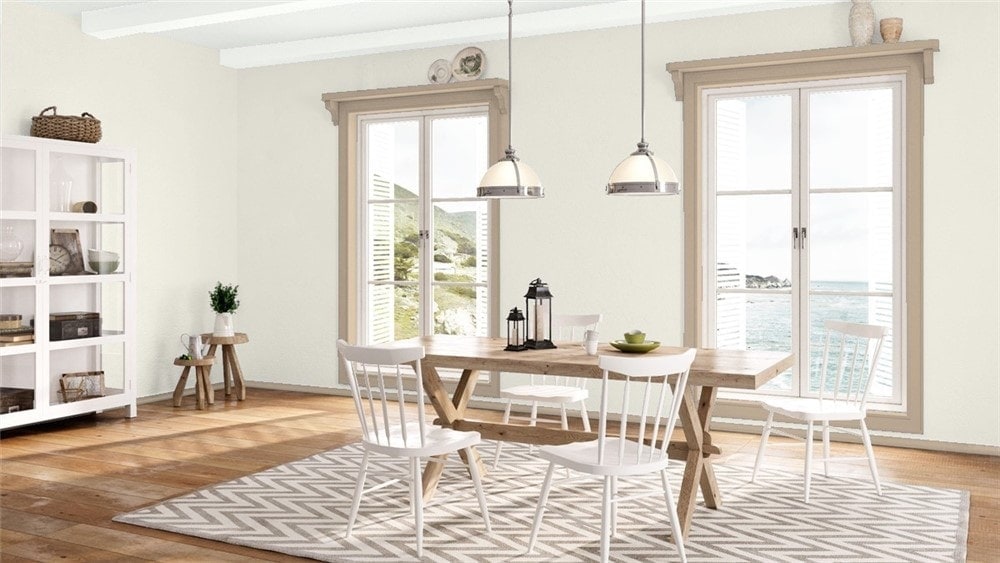 Dove Wing is an especially light greige choice, firmly in the realm of off-white colors with its LRV of 79.2. This is a color that will invite light into a room and help it feel larger, as you can see in the living room transformation below.
Dove Wing Brightens Up a Room
Cloud Cover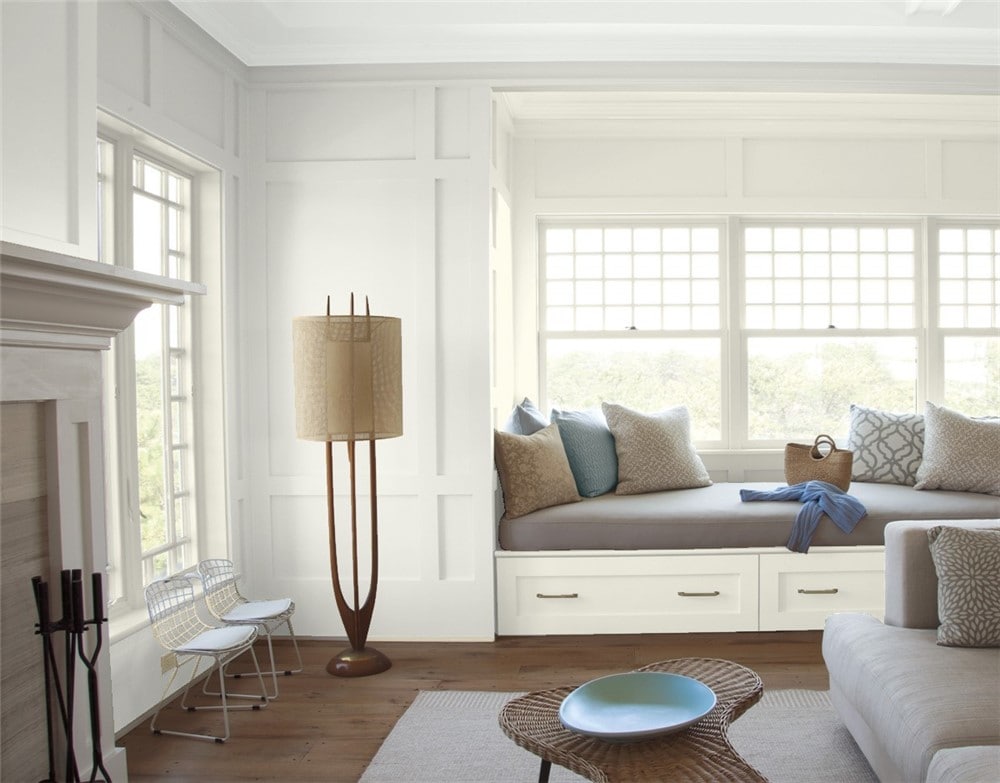 The award for brightest greige on our list goes to Cloud Cover, a greige so light it nearly becomes a true white, with its LRV of 81.8. Cloud Cover is a gently shaded greige, which you can see when you look at this color next to Halo (alcove) in the living room picture above. In the kitchen below, Cloud Cover cabinets create a magical glow next to Edgecomb Gray walls.
Cloud Cover is Elegant on Cabinets
Final Thoughts
Greige owes its enduring popularity to the fact that it's so easy to use. It's a versatile blend that can fit in with many decor styles, and partner virtually any coordinating colors you can dream up. With that in mind, you can choose any color from this list and be off to a great start with your next project.