Decorated Life is reader-supported. When you buy through links on our site, we may earn an affiliate commission. Learn More
Benjamin Moore Edgecomb Gray Review
When you're considering new paint colors for your home, you may be leaning towards one of the most popular colors – gray. But if you've reached this decision, the hard work isn't over yet.
Now, it's time to narrow down your choice to a specific shade of gray, such as a lovely Benjamin Moore Edgecomb Gray. Read on to look at this attractive greige (gray and beige), including the color's LRV, where to use it in your home, complementary colors, and color comparisons with other shades of Benjamin Moore grays.
What Color is Benjamin Moore Edgecomb Gray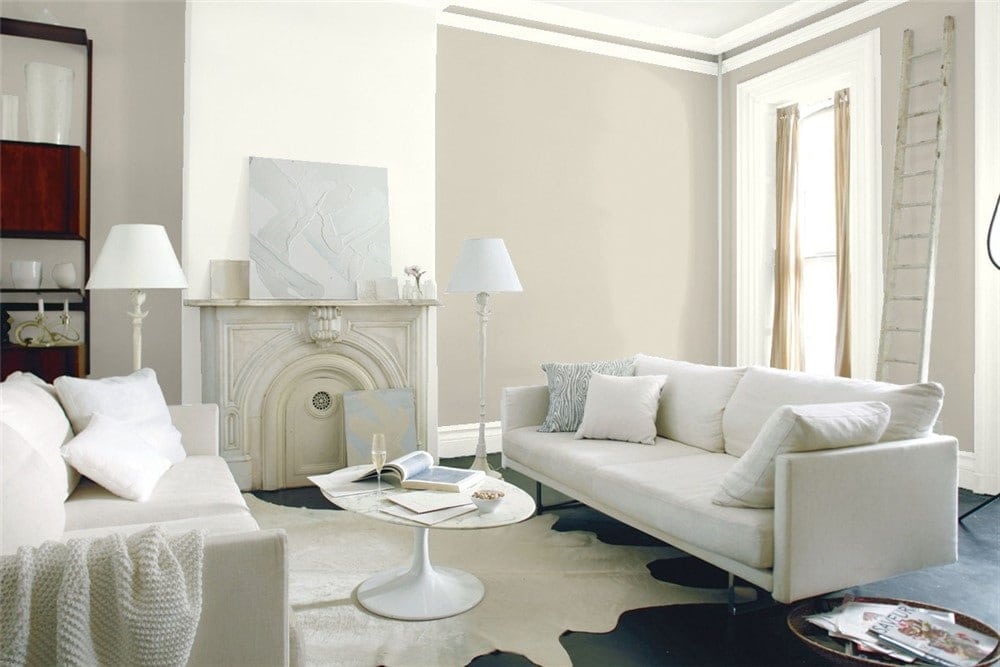 Benjamin Moore HC 173 – more commonly known as Edgecomb Gray or Baby Fawn, is a warm neutral shade that falls directly in the middle of gray and beige (hence the greige hues).
The greige component means Edgecomb gray undertones are minimal. So you may notice a slight pink hue or minimal green undertones in some light. But Baby Fawn always retains its gray base.
When Edgecomb Gray starts to look too beige, there may be ways you can make it look more like its natural color. Consider these factors:
Exposure (western afternoon sunshine)
Light bulbs
Too much green in the room (due to the pink and green undertones of greige, the colors can look more robust when you use too much green)
Cream or yellow-based colors used on the trim or walls (can make your paint look pink)
Edgecomb Gray looks more like a cool gray in north-facing light, while southern-facing or late afternoon sunlight coming from the west can make this color more on the beige side.
The more lit a room is, the brighter and lighter the Edgecomb Gray will look. But too much direct bright light can cause this color to look washed out.
Benjamin Moore Edgecomb Gray LRV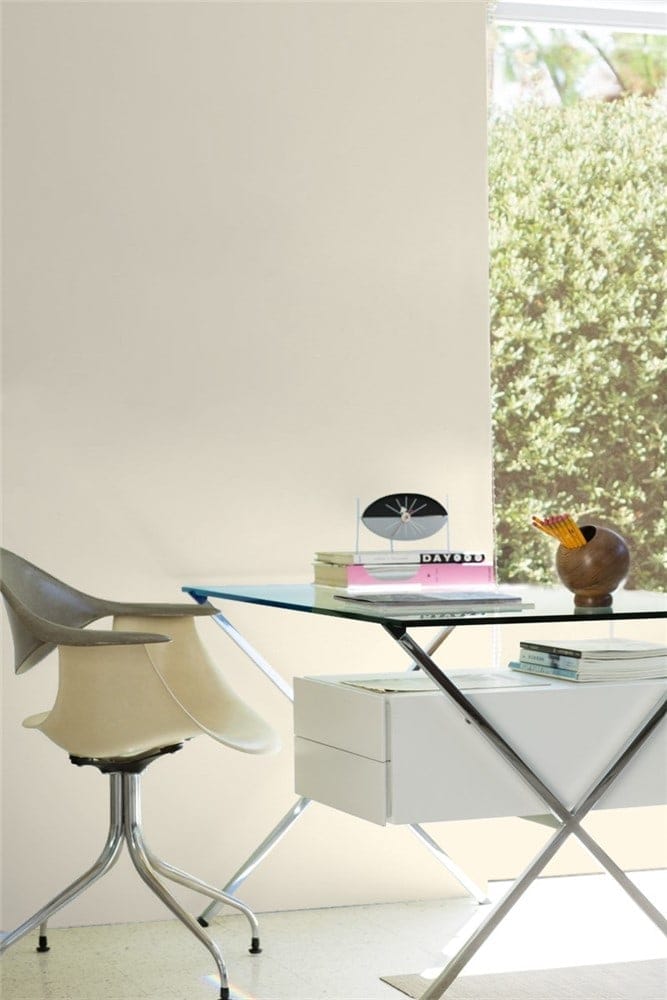 Benjamin Moore Edgecomb Gray has an LRV – light reflective value – of 63, making it more reflective. Colors get an LRV rating based on the color's ability to reflect light into the room rather than absorbing.
Standard white has an LRV of 100, while standard black has an LRV of 0. The higher the LRV, the more the color will reflect light, making your space look brighter and airier.
So, how does LRV affect how your walls will look? Edgecomb Gray's higher LRV means that the color won't make a room look too dark if low lighting. But if the room doesn't have decent artificial or natural light, Edgecomb Gray can look dingy.
Where Can You Use Benjamin Moore Edgecomb Gray
Grays like Benjamin Moore Edgecomb can look fabulous anywhere in your house or outdoors too. This color is a fantastic choice for color throughout the whole house, especially when you're trying to sell your home. Let's look at some of the best places to use BM Edgecomb Gray.
Love Your Living Room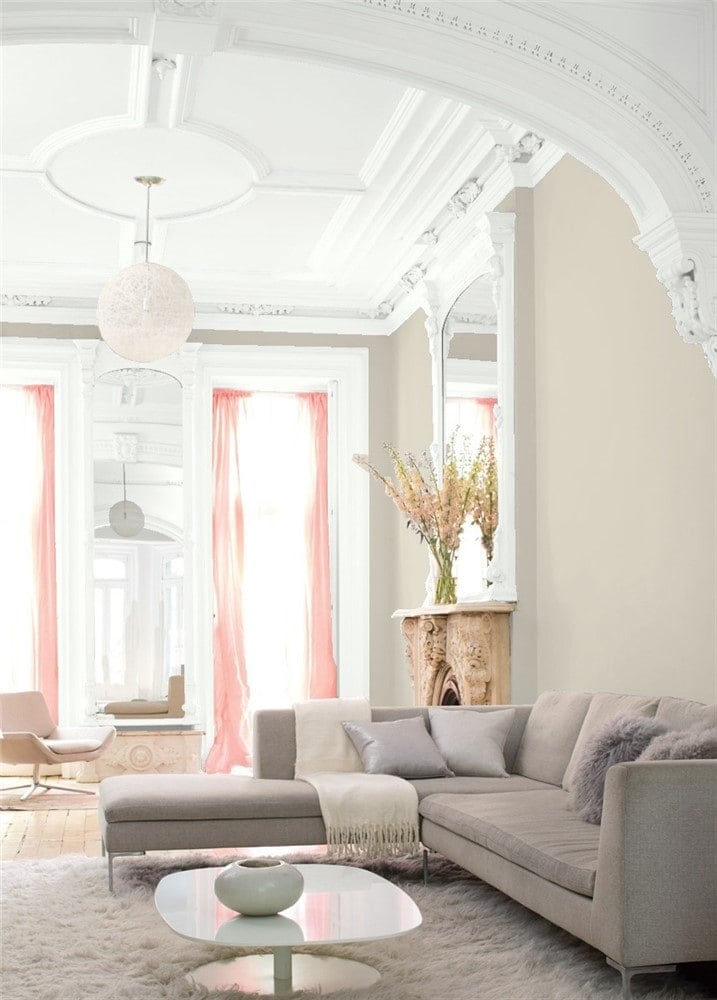 Painting the walls in your living room Edgecomb Gray can create the perfect space for enjoying family time with your spouse and kids, a night of binge-watching your favorite tv shows, or just curling up with a good book next to a crackling fire.
Go bright with your ceiling and trim (check out OC-65 – Chantilly Lace) and balance the look with some subtle colored furniture and accents. And finish the design by adding a bright pop of color with your window curtains.
Create a Blissful Bedroom Retreat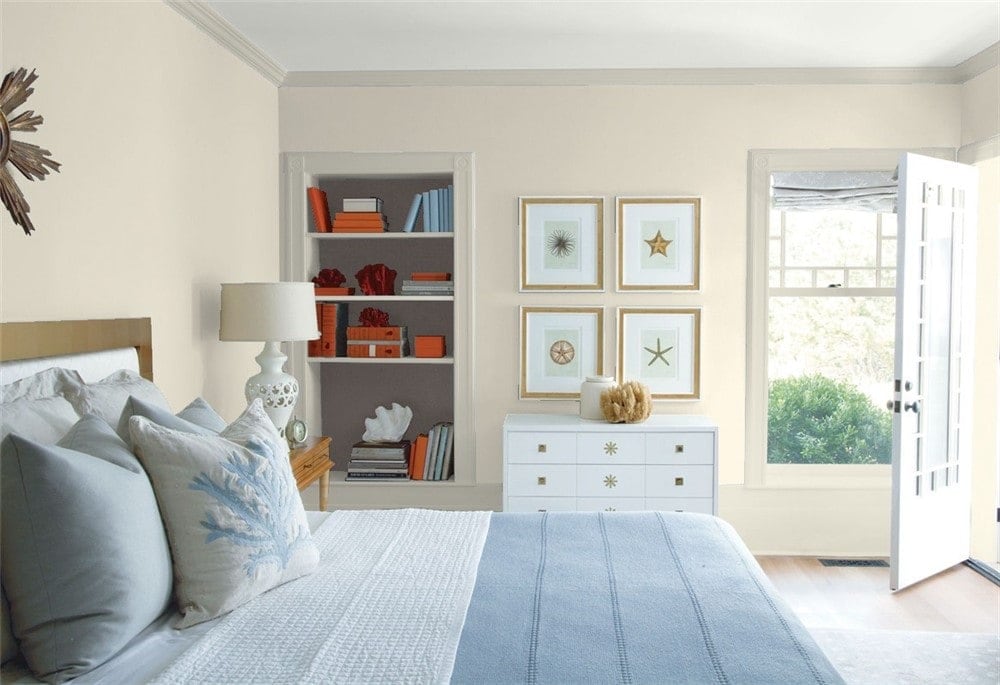 Your bedroom walls are the perfect canvas for the soft, relaxing (and dare we say romantic) aura of Edgecomb Gray. Layer with white trim, light-colored furniture, and accent with subtle colors to create a private retreat worthy of classifying as a bedroom escape from the world.
BTW, this shade is perfect for a coastal vibe when there's lots of natural light to wash the walls with a faint dusky pink hue that dazzles during the sunsets and cools once the moonlight bathes through sheer curtains.
Make a Serene Bathroom Escape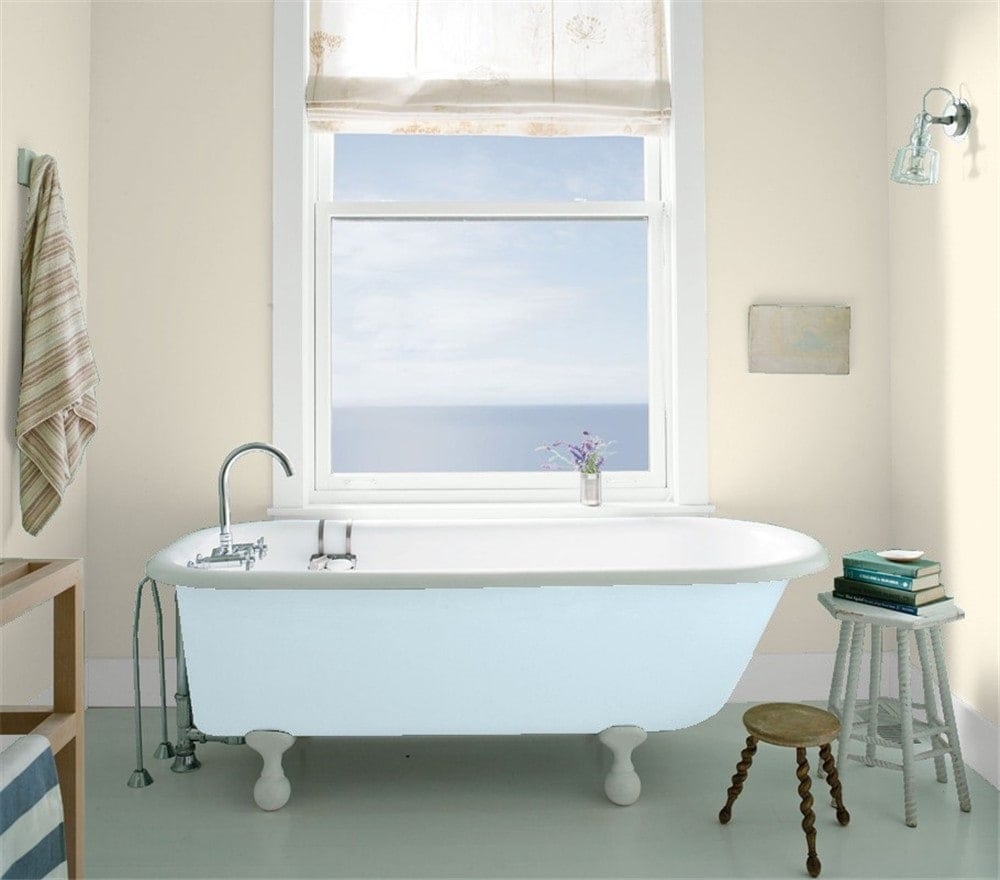 Adding Edgecomb Gray to your bathroom walls creates a serene ambiance that soothes your mind while easing the tension from your body. So whether you're indulging in a long luxurious bath, enjoying a hot shower, or going through your routine at the sink, this soft, warm color will wrap you in subtle serenity.
Exterior Elegance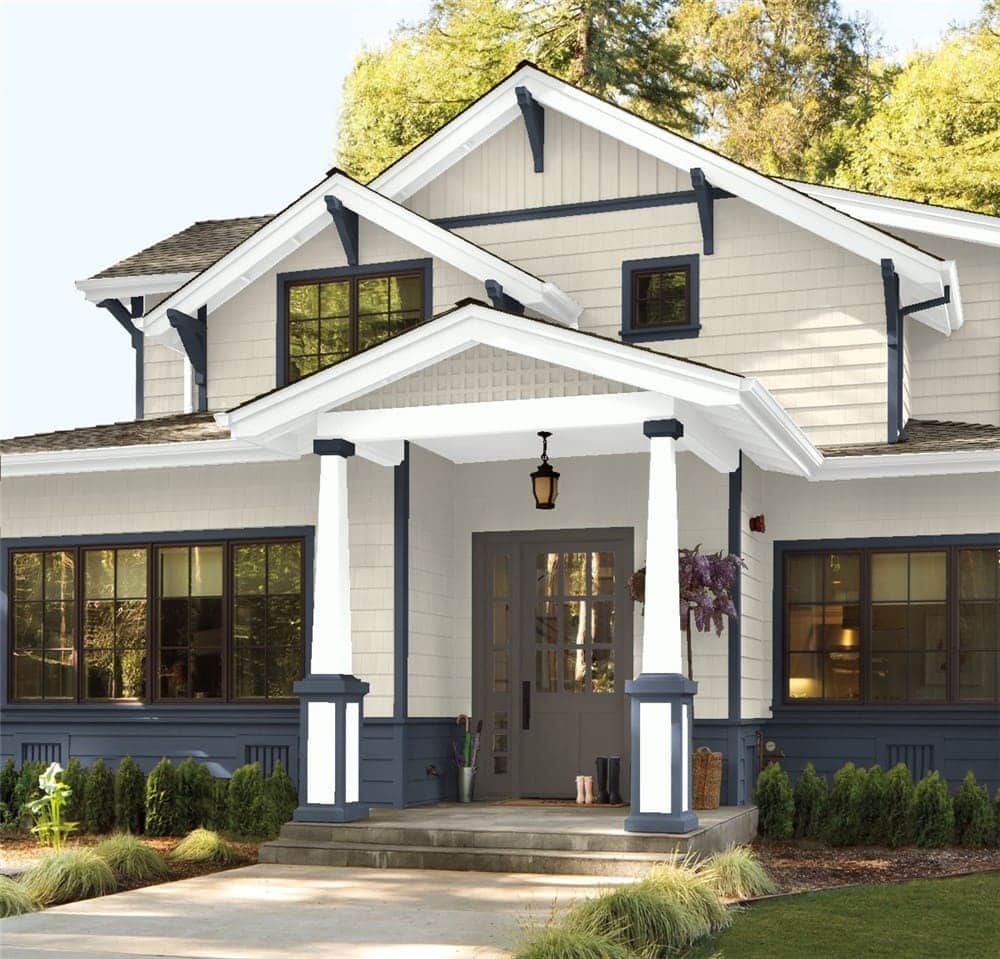 Using a gray like Edgecomb may seem like a safe, boring choice for your home's exterior, but it's the perfect backdrop for some drama to make a powerful design statement. Choose HC 173 for your siding for a subtle touch of color.
Then go for a big statement by going with a fresh light bright trim (2124-70 – Distant Gray), dark accents (try BM HC 154 – Hale Navy), and a dramatic dark gray door (we love BM 2134-20 – Midsummer Night).
Cozy Kitchen Creation
Create a cozy, welcoming kitchen with Edgecomb gray walls, light trim, and a bold ceiling. Go subtle with light cream cabinets, white marble countertops, a white porcelain farm sink, and a simple wood frame butcherblock iland.
A simple light-colored subway or mosaic tile backsplash, some windows that bring in natural light, and a few small decor pieces to add pops of color can turn your kitchen into a glamorous and inviting showpiece.
Elevate Your Entryway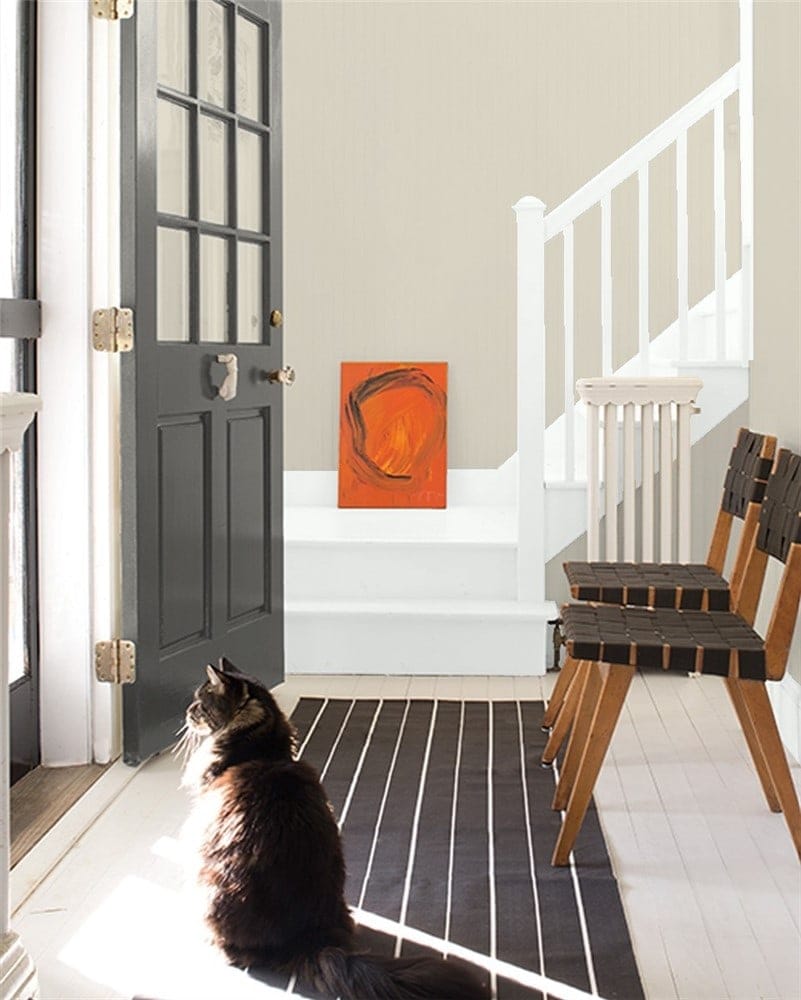 When people walk into your home, you want them to feel welcomed and relaxed. So you can get an inviting yet calming entryway using Edgecomb Gray on the walls, a cool white (2123-70) for the trim and ceiling, and a darker charcoal shade for the doors (HC-166).
Rich, warm-toned hardwood floors and simple decor keep your entryway free of clutter while still looking stylish and charming. Or go with a color palette of a light blue for your door (Tranquility), a delicate white trim (Simply White), and a darker gray ceiling (Revere Pewter) for a brighter entryway.
Edgecomb Gray Complementary Colors
The great thing about using colors that go with Edgecomb gray is that it can work with almost any color palette or theme. Try these Edgecomb gray coordinating colors to achieve a stylish decor scheme.
Chelsea Gray
Ashley Gray
Nickel
Hale Navy
White Chocolate
Kendall Charcoal
Revere Pewter
Edgecomb Gray Comparison with Other Colors
While Edgecomb gray is an attractive greige that can look stylish in any room, you may prefer a gray with different undertones. See how Edgecomb Gray compares to other shades of gray by checking out these similar shades.
Benjamin Moore Edgecomb Gray vs. Revere Pewter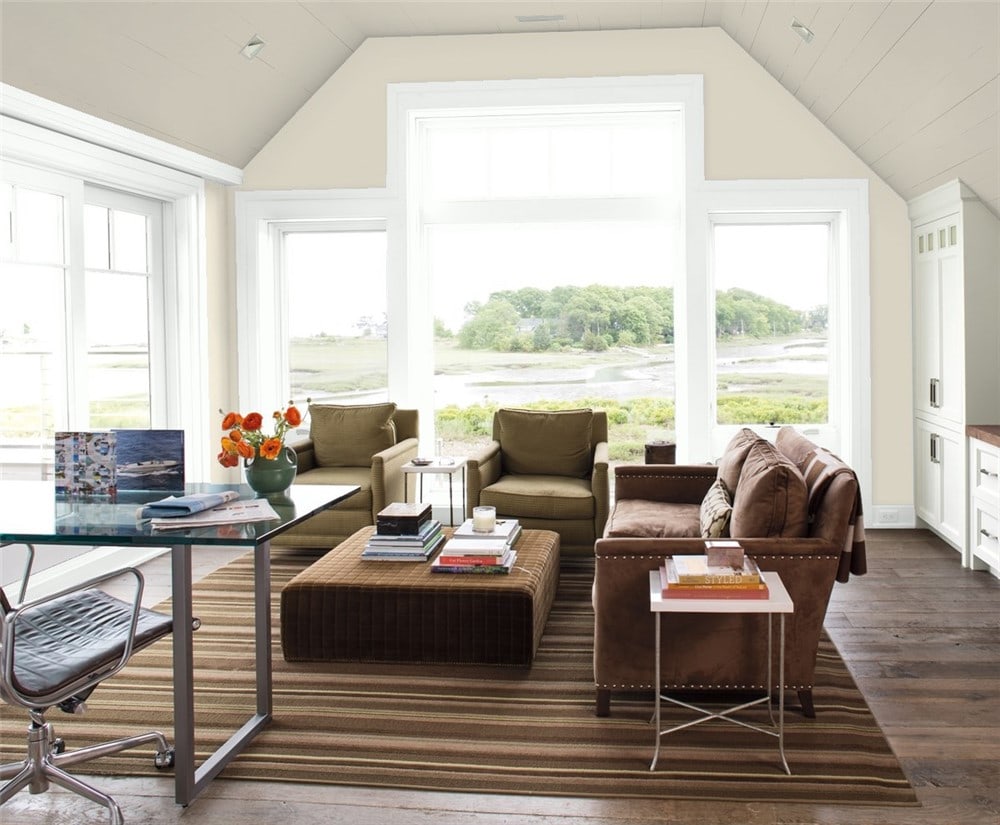 In this photo, you can see the slight shade difference, with HC 172 (Revere Pewter) having a slightly darker coloring on the ceiling than the Edgecomb Gray walls, which look more beige than gray.
Light, crisp true gray (Revere Pewter) vs. greige (Edgecomb)
Red and blue warm undertones (Revere Pewter) vs. pink and green undertones (Edgecomb)
LVR: 55.51
Benjamin Moore Pale Oak vs. Edgecomb Gray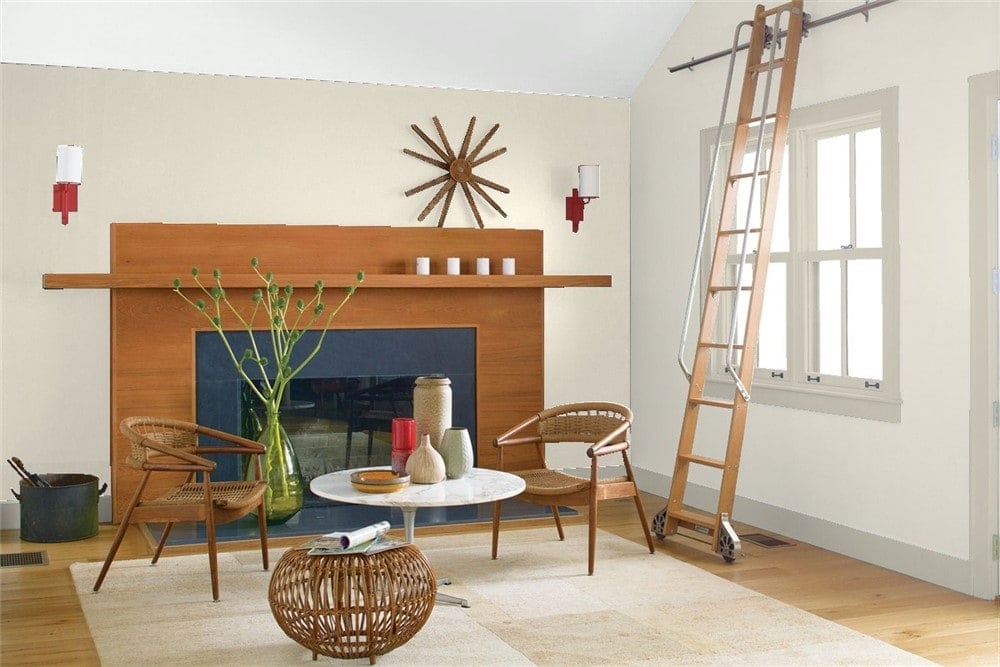 If you're looking for a neutral shade of gray that's slightly lighter than Edgecomb Gray, consider OC-20 – Pale Oak – LRV: 69.
Cooler undertones
Cream and beige hues
Faint silver accents
Benjamin Moore Edgecomb Gray vs. Agreeable Gray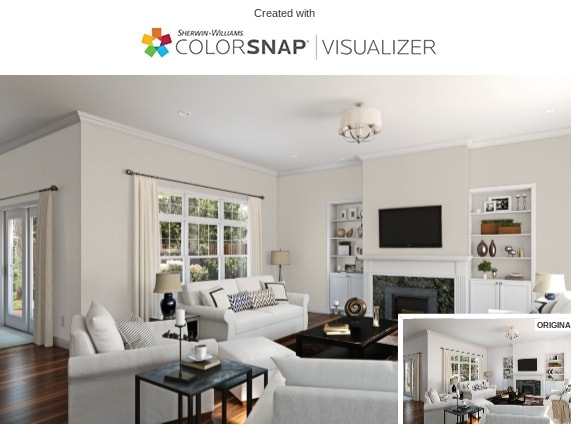 When comparing Benjamin Moore's Edgecomb Gray with Sherwin Williams' most popular gray – Agreeable gray – you'll notice that although both colors are a type of greige.
Edgecomb (more beige) vs. Agreeable (true gray)
LRV: 63 (Edgecomb) to 60 (Agreeable)
Benjamin Moore Balboa Mist vs. Edgecomb Gray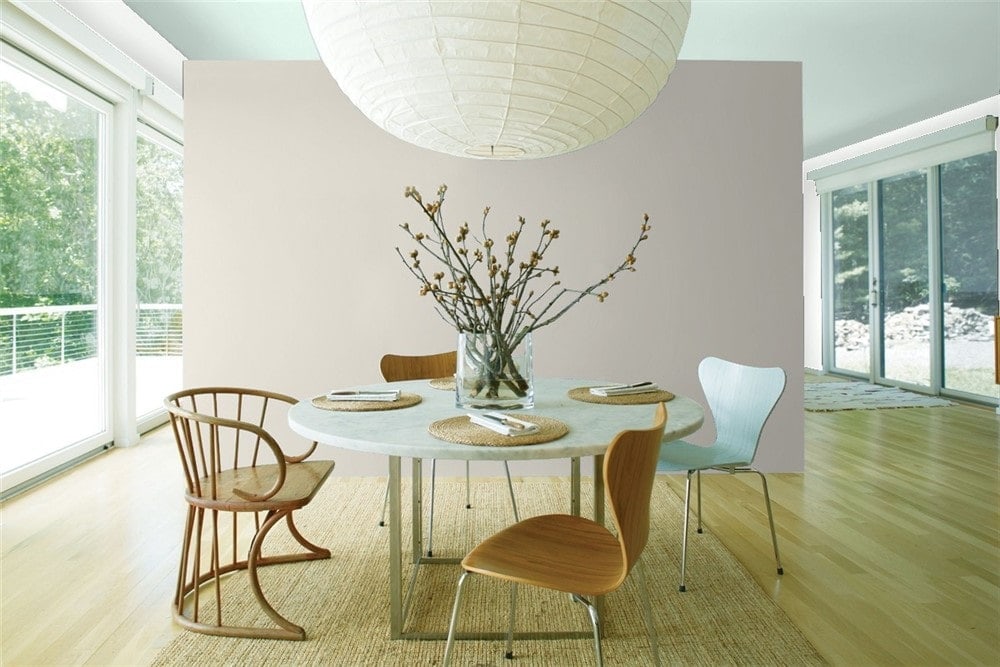 Balboa Mist is a gray that's almost identical to Edgecomb gray but with minor differences. This color belongs to the Benjamin Moore Classic Color Collection consisting of 1,680 colors.
LRV: 67 (Balboa Mist) vs. 63 (Edgecomb)
Balboa Mist (more gray) vs. Edgecomb (more beige)
Final Words
Edgecomb Gray is one of Benjamin Moore's most popular greige grays – a delightful blend of gray and beige with subtle pink and green undertones. With an LRV of 63, Edgecomb – also called Baby Fawn – looks attractive in any room and has various complimentary colors.