Decorated Life is reader-supported. When you buy through links on our site, we may earn an affiliate commission. Learn More
Benjamin Moore Collingwood Paint Color Review
Undertones can be tricky little devils. What are you going to do when you get that fabulous paint color home, slap it on your wall, and see that it's not the beautiful shade you saw on the chip, but instead some glaring monstrosity that won't play nice with any other colors?
If you're looking for a gray that really delivers what's advertised, minus the sneaky undertones, you should take a look at Collingwood by Benjamin Moore.
What Color is Collingwood?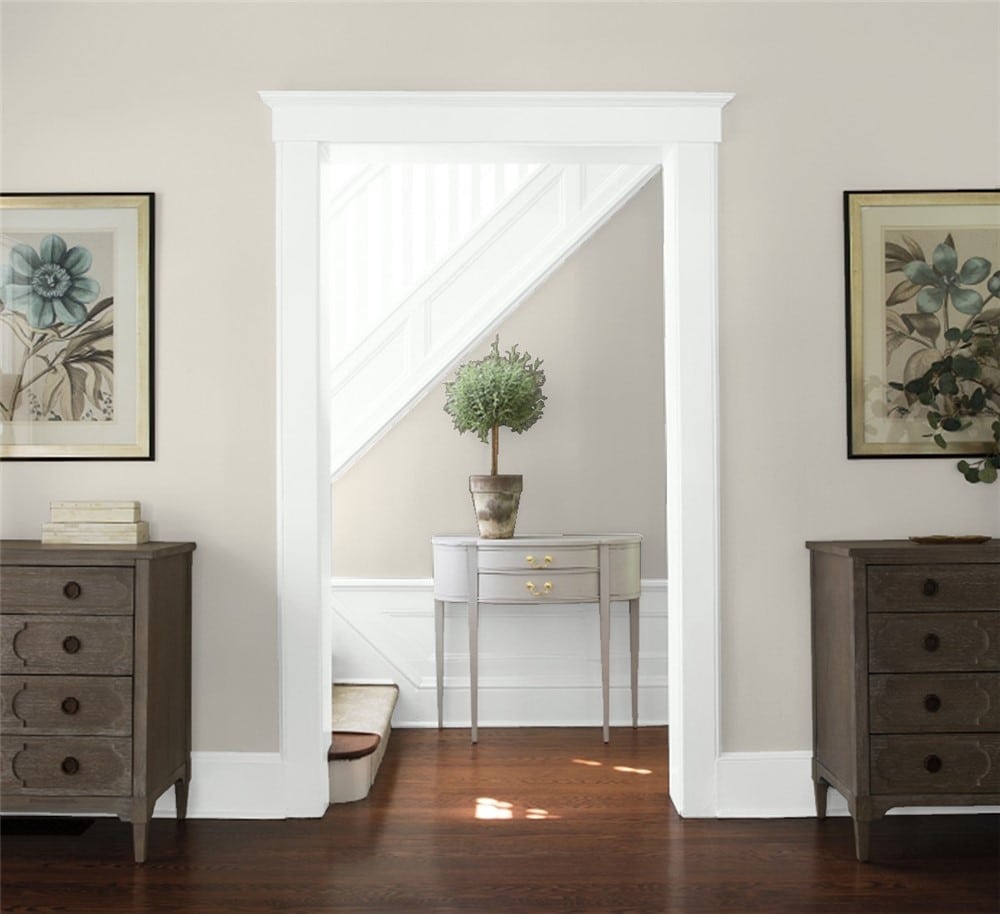 Collingwood is a light-to-medium warm gray. It is a member of the popular greige family, which means that it's a blend of gray and beige. These colors are favorites because they're well-balanced neutrals that are easy to coordinate with any palette or style.
LRV of 62
Collingwood has a light reflectance value, or LRV, of 62. This puts Collingwood on the brighter side of the scale. Many designers cite an LRV of 60-62 as an ideal, because paint colors at this LRV can handle spaces of any light level.
What Undertones Does Collingwood Have?
Ok, if you're really looking for it, Collingwood has slight purple undertones that may show up in darker rooms. But like the other members of the greige family, Collingwood is a pretty balanced color, and any undertones are going to be minor. This is truly one of Collingwood's strengths.
Is Collingwood a Warm or Cool Color?
Collingwood is a warm gray, great for warming up cooler palettes or making a room feel cozy. You can definitely see its warmth when compared to other grays, like Gray Owl or Stone Harbor.
Where Can You Use Collingwood?
Collingwood is a versatile neutral that can be used anywhere in the home. Thanks to its ideal LRV of 62, it's going to react well to whatever lighting situations it encounters. No dark caverns for this color!
Light grays like Collingwood are favorites in the kitchen and bathroom because they complement appliances and metalwork so well.
Let's look at Collingwood in action so you can see what it does in different spaces and get inspired!
Living Room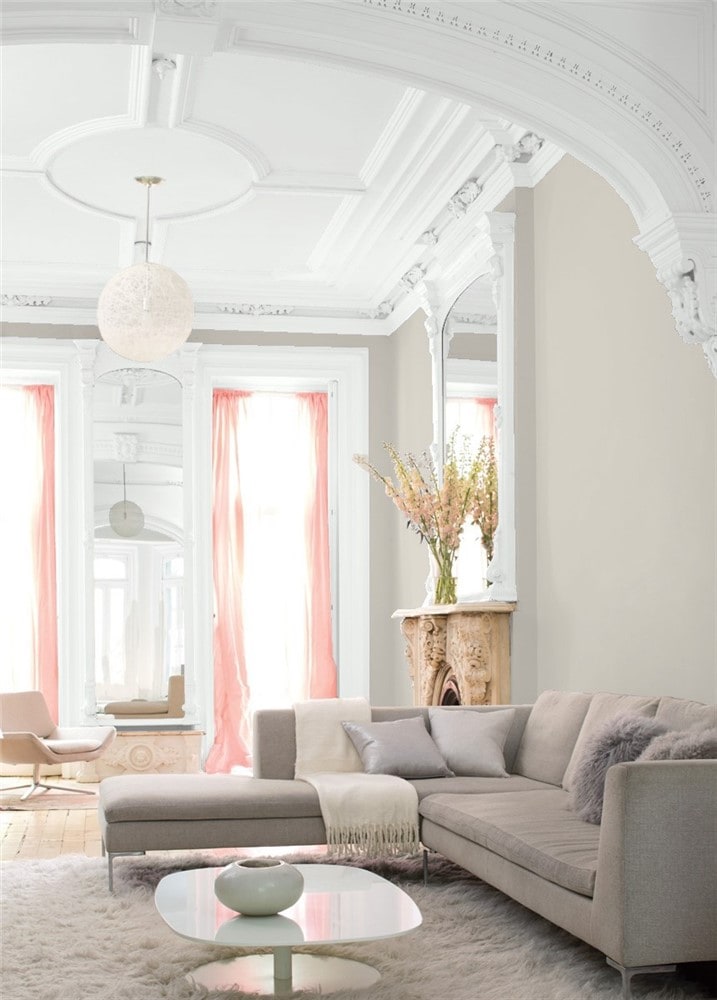 Collingwood is the support and contrast for this soft and feminine living room. As part of Benjamin Moore's Off-White Collection, it is a harmonious companion for any white or off-white paints.
This living room was transformed from a dark and cavernous space into a light, open, and welcoming room with the help of Collingwood. That LRV of 62 is getting down to work, brightening everything up!
Kitchen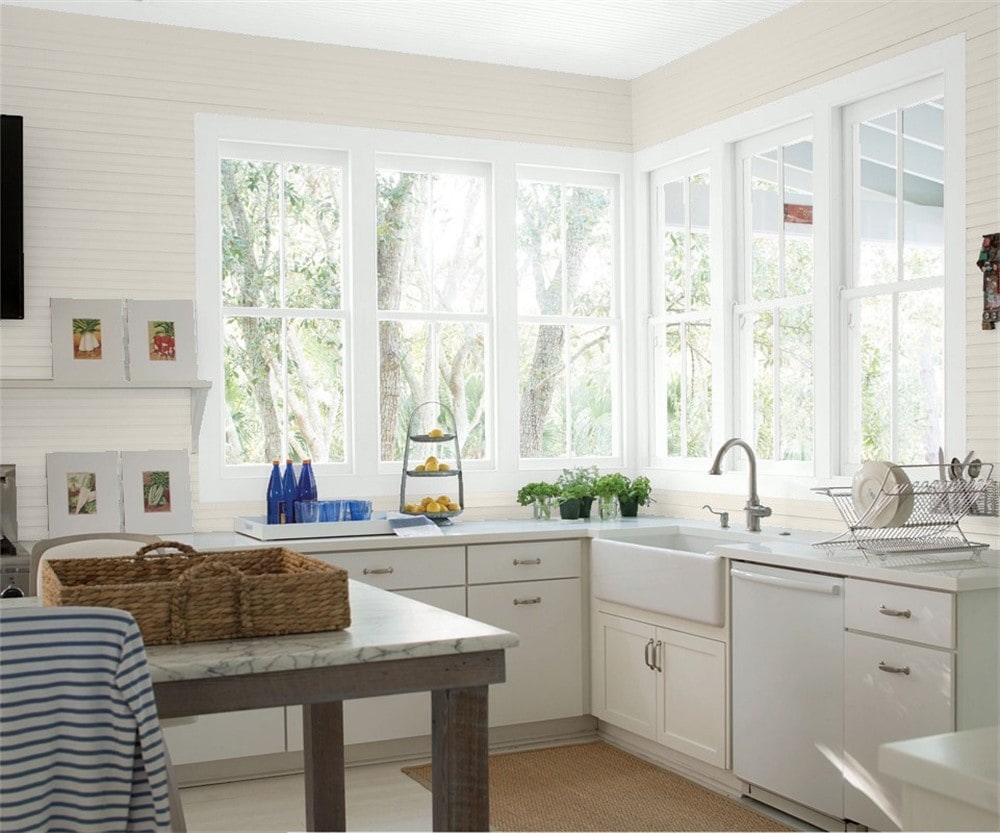 Collingwood, chameleon that it is, responds beautifully to available natural light, as you can see in this natural and uplifting kitchen.
Bedroom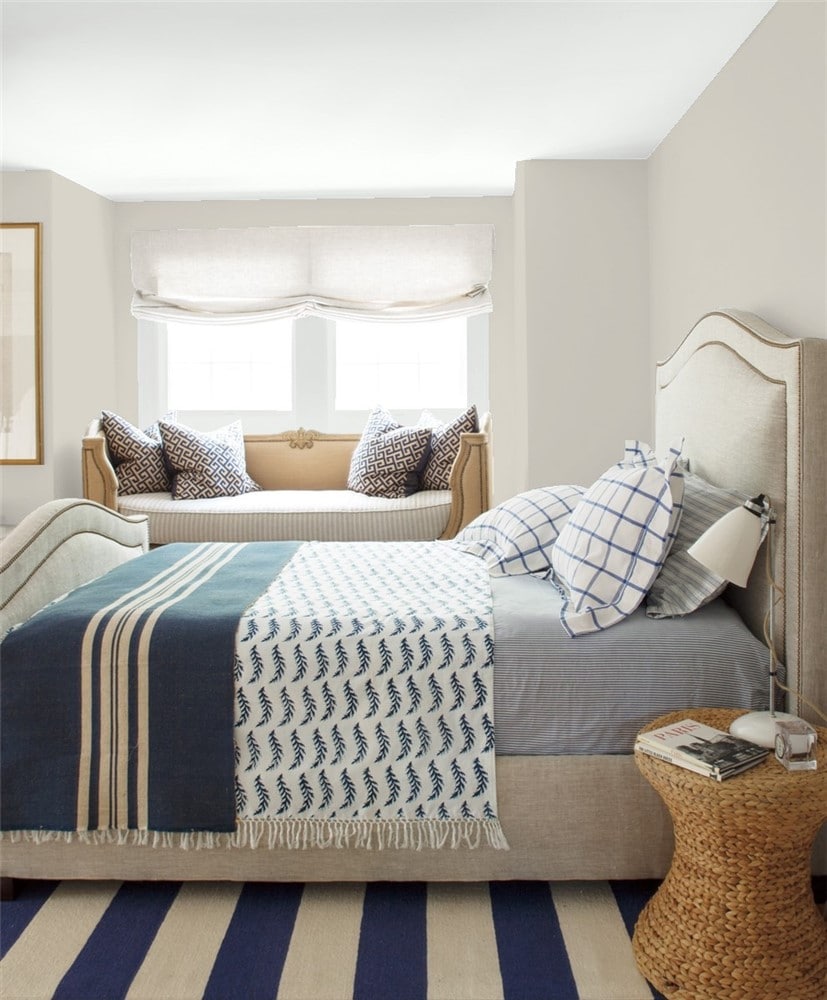 As a warm gray, Collingwood brings some coziness to this cooled-down bedroom.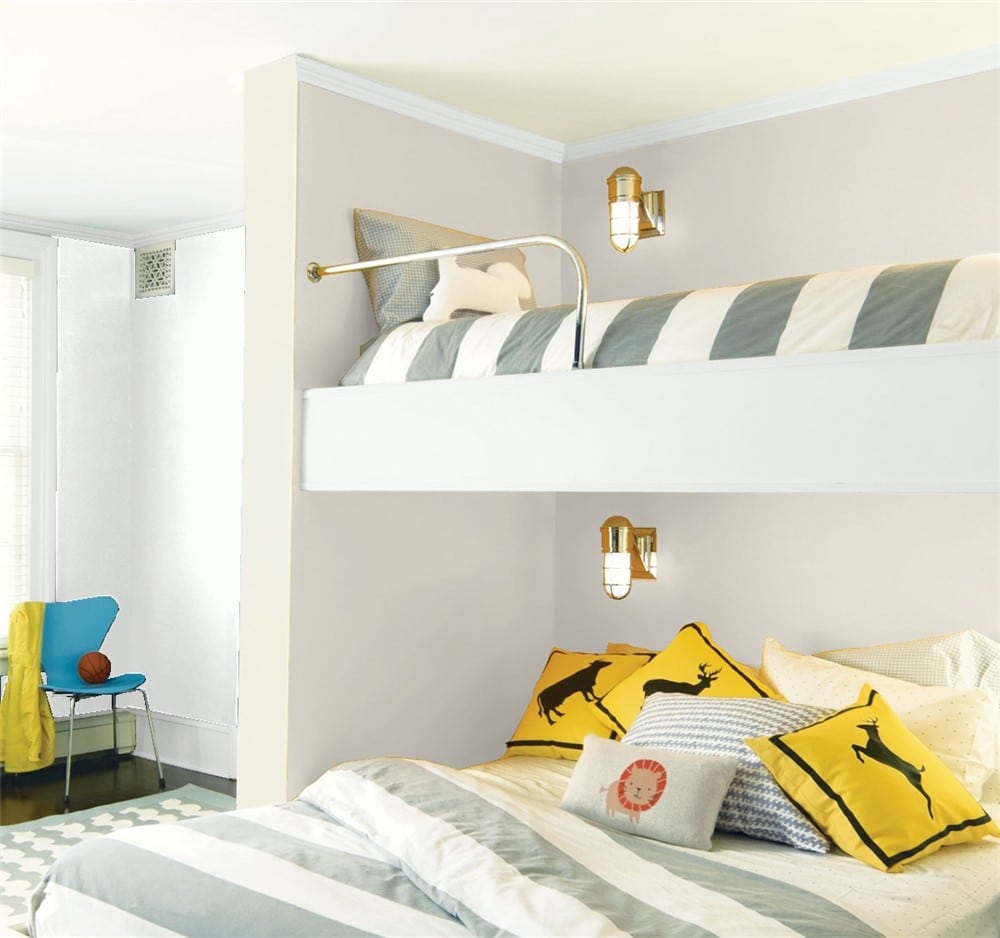 The bold colors of decor for children's rooms can partner with Collingwood because it's a neutral that can handle a wide range of palettes.
Office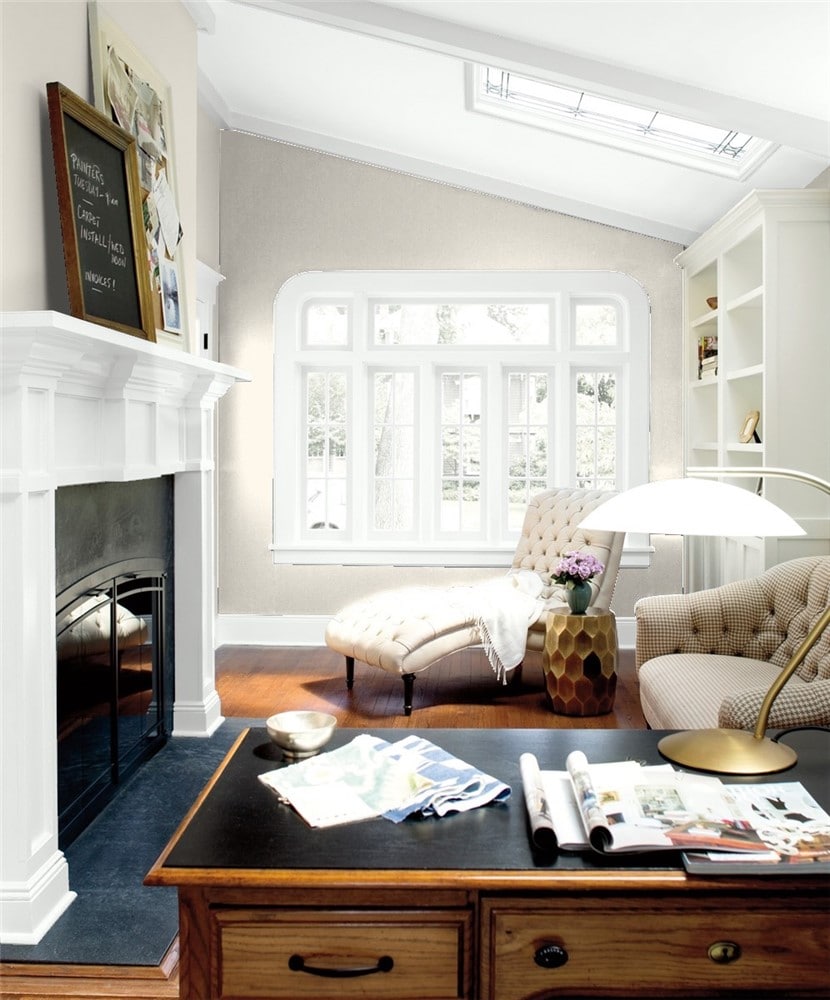 This office space can easily convert from productivity to relaxation. Collingwood is soothing like a cool color, but cozy like a warm color.
Laundry Room
In this laundry room, Collingwood demonstrates its ability to contrast with a darker charcoal gray.
Whole Home
Collingwood is used as the main color throughout this open concept home, with white cabinets and trim, for a modern look designed to sell.
Collingwood Coordinating Colors
This is the fun part! Which direction do you want to take Collingwood? It's a well-balanced neutral that's going to enjoy a lot of different color companions.
Of course Collingwood is at home with any of its fellow neutrals. Combining Collingwood with your favorite black and white will look modern and chic. Playing Collingwood's warm side against rich browns will create a space that's comforting and grounded.
Venturing into cool colors, grays love blues! Darker blues are great contrast colors for Collingwood, and can enhance a nautical or night sky theme. Lighter blues can create a room that's misty and calm. Bright blues and teals can take Collingwood in a very lively direction!
Another lively companion for Collingwood is pink. Bright pinks, corals, or salmon shades are a fun warm direction to try.
For a more unusual choice, I included Sanctuary, which is a very muted lavender-mauve. If you actually like the idea of purple undertones, see how you enjoy this pairing with Collingwood.
Here are some coordinating colors for Collingwood for you to explore:
How Does Collingwood Compare With Other Colors?
Collingwood vs Revere Pewter by Benjamin Moore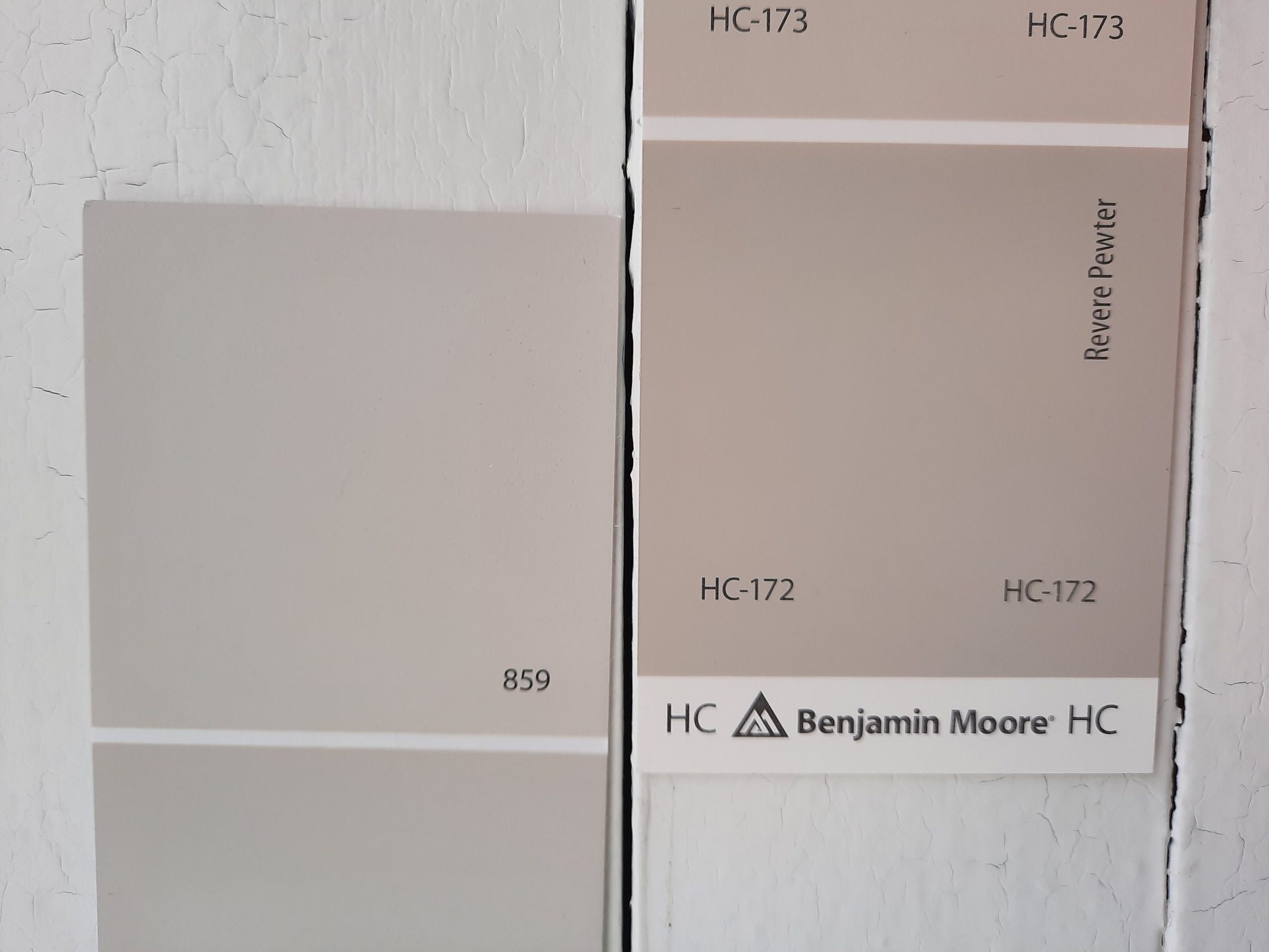 Revere Pewter is a color that has a lot in common with Collingwood. Both are greige colors. Revere Pewter is noticeably warmer than Collingwood. With an LRV of 55.51, Revere Pewter is also the darker of the two. You might prefer Revere Pewter for greater contrast with light colors, and Collingwood for brightening up a darker space.
Collingwood vs Gray Owl by Benjamin Moore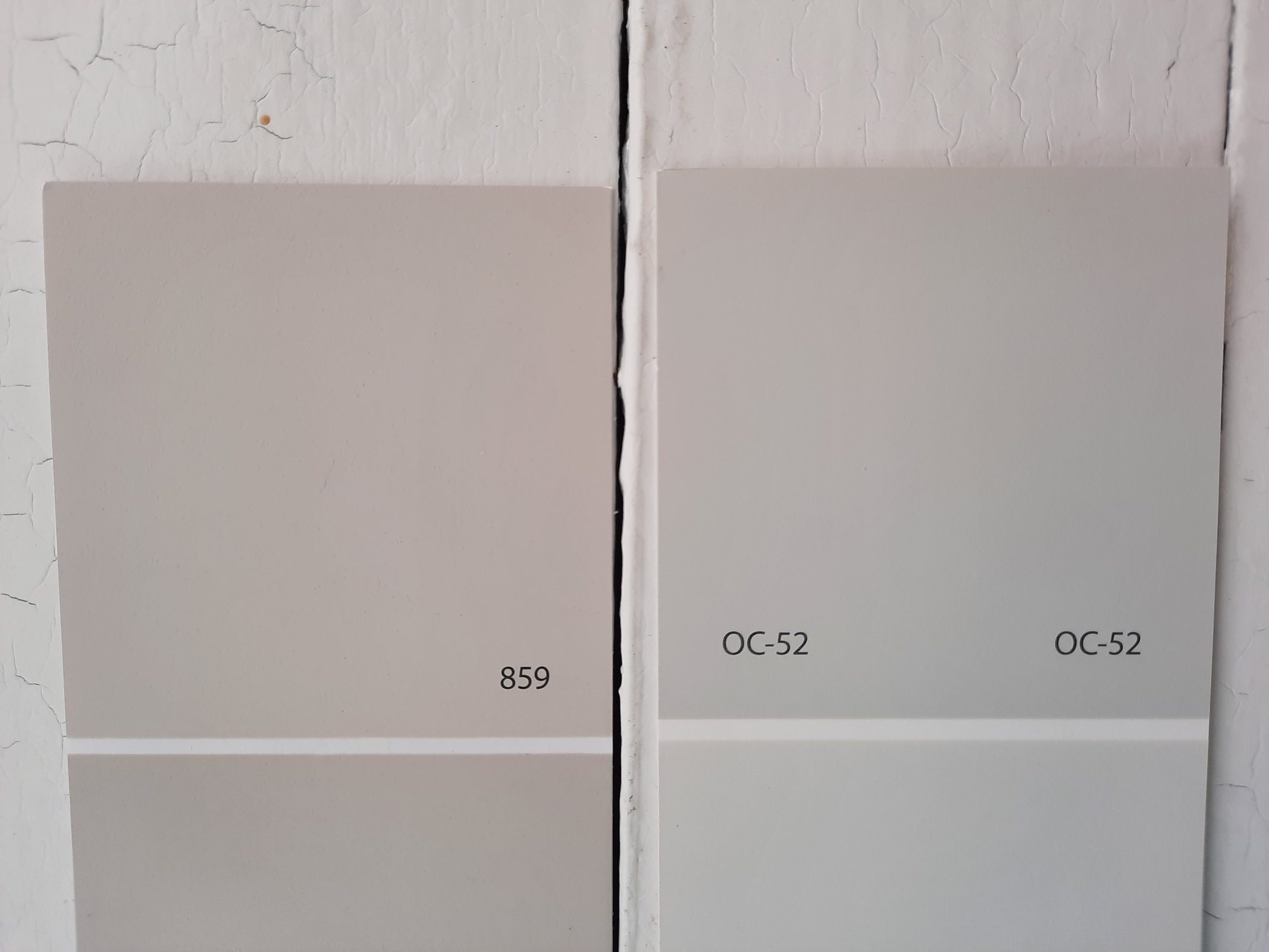 Gray Owl is more on the gray side of the spectrum than Collingwood is, so you'll notice that it's cooler and lacking those taupe tones. Its LRV is 65.77, making it just a few notches brighter than Collingwood. I'd choose between these two by your response to the warm/cool difference.
Collingwood vs Repose Gray by Sherwin Williams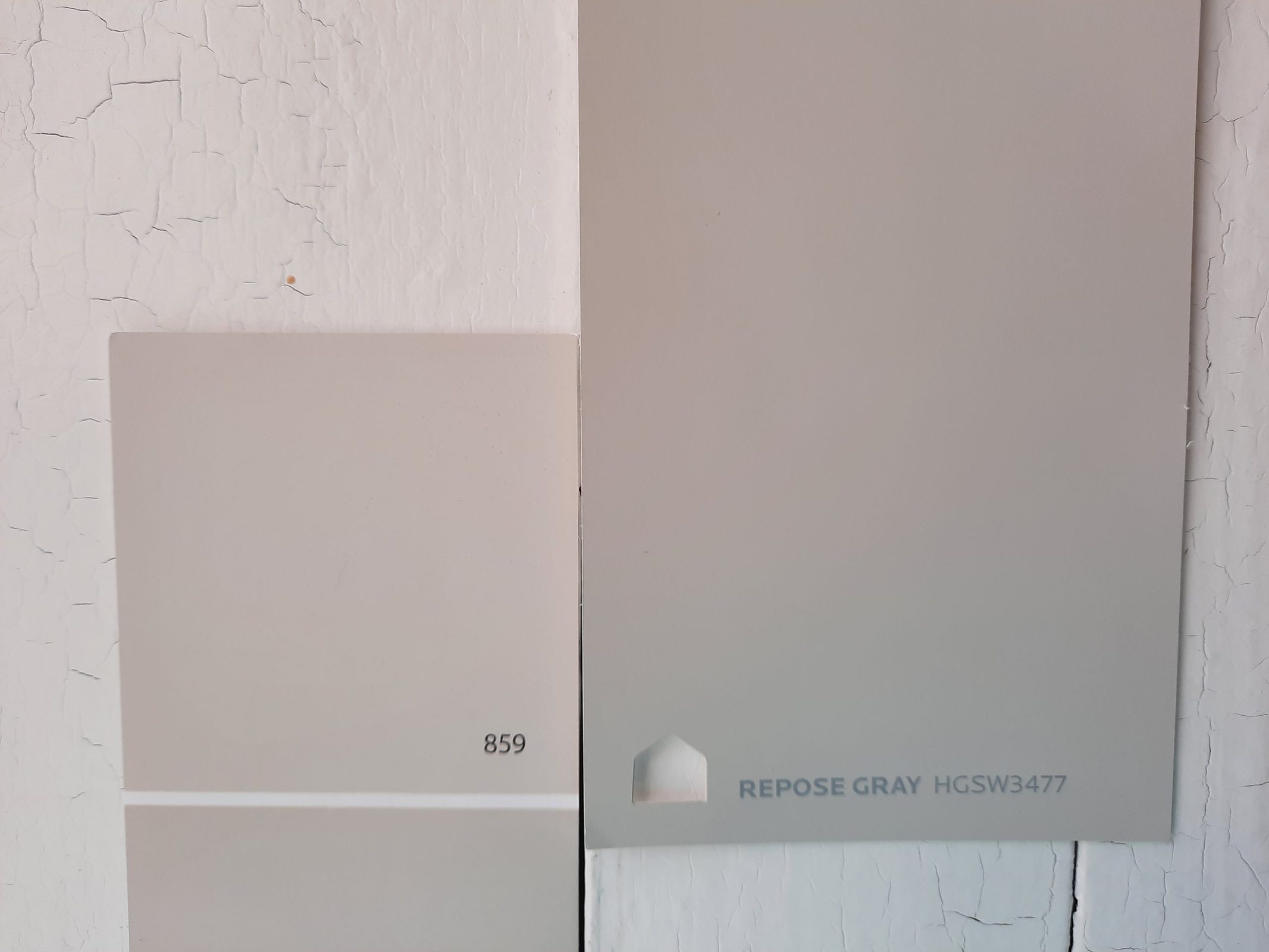 Repose Gray is another color that's pretty close to Collingwood. It's a greige too, but it lands on the gray side of Collingwood, and as a result is somewhat cooler. With an LRV of 58, it's a touch darker too. 
Final Thoughts
For a warm light gray that delivers what's promised on the paint can, look no further than Benjamin Moore's Collingwood. This increasingly popular greige is versatile enough to be used throughout the home, light enough to handle darker spaces, and warm enough to create an inviting atmosphere. With no tricky undertones to spoil your fun, you can coordinate Collingwood with all your favorite colors.