Decorated Life is reader-supported. When you buy through links on our site, we may earn an affiliate commission. Learn More
Benjamin Moore Balboa Mist Paint Color Review
Greige: it's everywhere in the design world. What makes this color so sought-after? Its magic key is balance. Greige balances the best of gray and beige, warm and cool, light and shading, into the ultimate neutral.
One color that truly epitomizes this balance is Benjamin Moore's Balboa Mist. As a bright neutral color that is saturated enough to hold its own, it is versatile enough for just about any design use.
Let's step into this light, inviting mist and find out how it brings balance and harmony to home spaces.
What Color is Balboa Mist?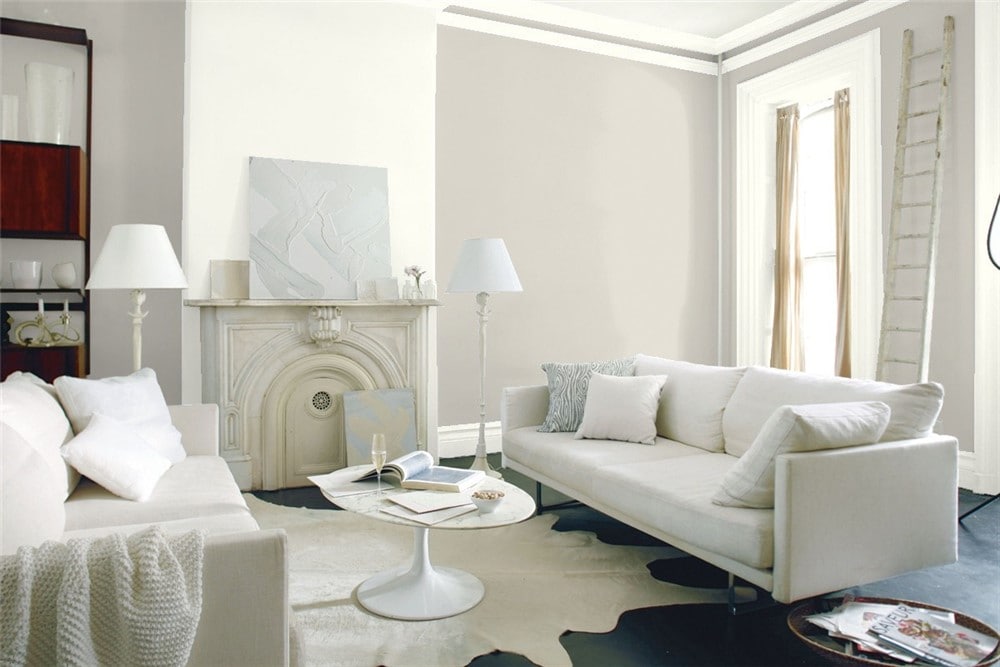 Balboa Mist is a medium-to-light greige color. Greige is a harmonious blend of gray and beige that brings the best of these two colors into a balanced, versatile neutral.
LRV of 67.37
Balboa Mist has a light reflectance value (LRV) of 67.37. This number measures how dark or light a color is, and runs on a scale from absolute black at 0 to brightest white at 100.
What Undertones Does Balboa Mist Have?
Balboa Mist, as a greige, has beige and gray undertones. It's a well-balanced color, so undertones aren't a big issue. In some types of lighting, Balboa Mist can show purple undertones, as with most gray colors.
Is Balboa Mist a Warm Color or a Cool Color?
Balboa Mist is a warm greige color, thanks to the beige side of its makeup. Overall it reads as a nicely balanced neutral.
Where Can You Use Balboa Mist?
Balboa Mist is a medium-to-light neutral that works well in many settings. Most designers cite 60-62 as the ideal LRV range for colors that can be used under any lighting conditions. Balboa Mist is just a few notches lighter than that, at 67.37.
You shouldn't have any problems using this color in dark or small rooms and hallways. Balboa Mist is light enough to help expand and open up the spaces you have. It's also got that warmth that will help a space feel more organic and cozy.
Let's take a look at Balboa Mist in action! Are you ready to get inspired for your next home refresh?
Exterior
Balboa Mist is the primary color on this exterior, paired with Sherwin Williams' Amazing Gray.
Living Room
Balboa Mist and Ultra White lighten up this fireplace in a living room transformation.
Neutrals like Balboa Mist can let the colors and decor you love play the starring role.
Kitchen
Balboa Mist complements metal appliances and is a good fit for spaces like this modern kitchen.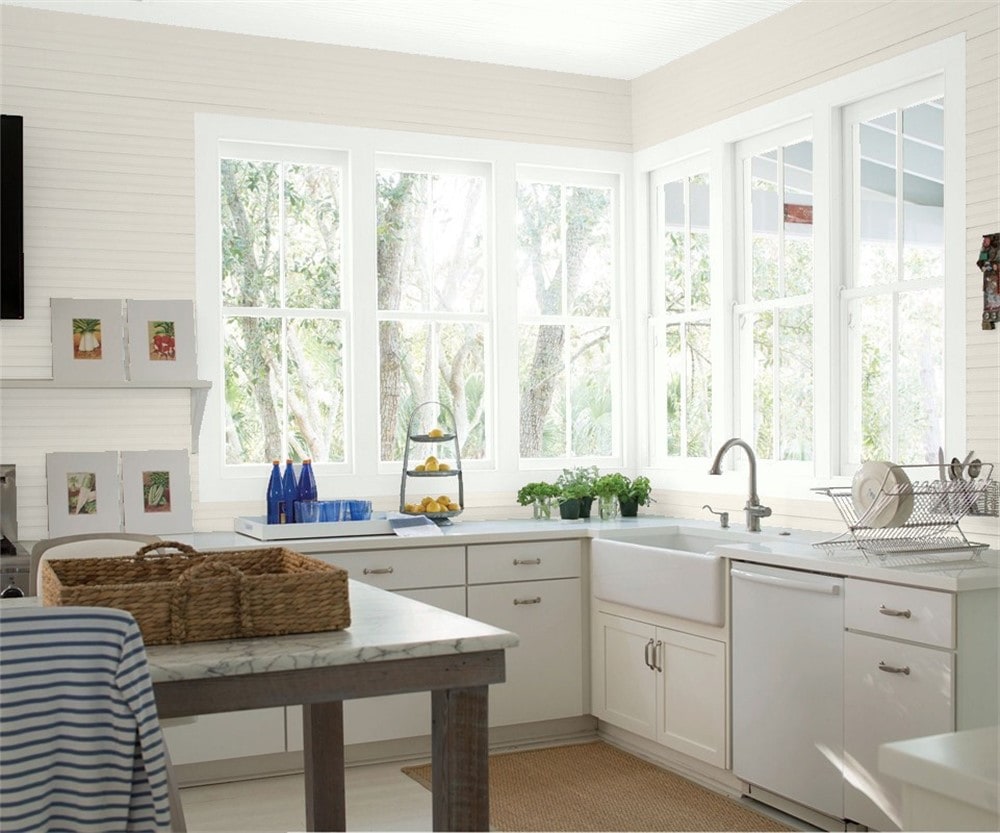 Balboa Mist creates an organic feeling in this kitchen that coordinates perfectly with the forest view through the windows. It serves as a bridge between the indoor and outdoor spaces.
Dining Room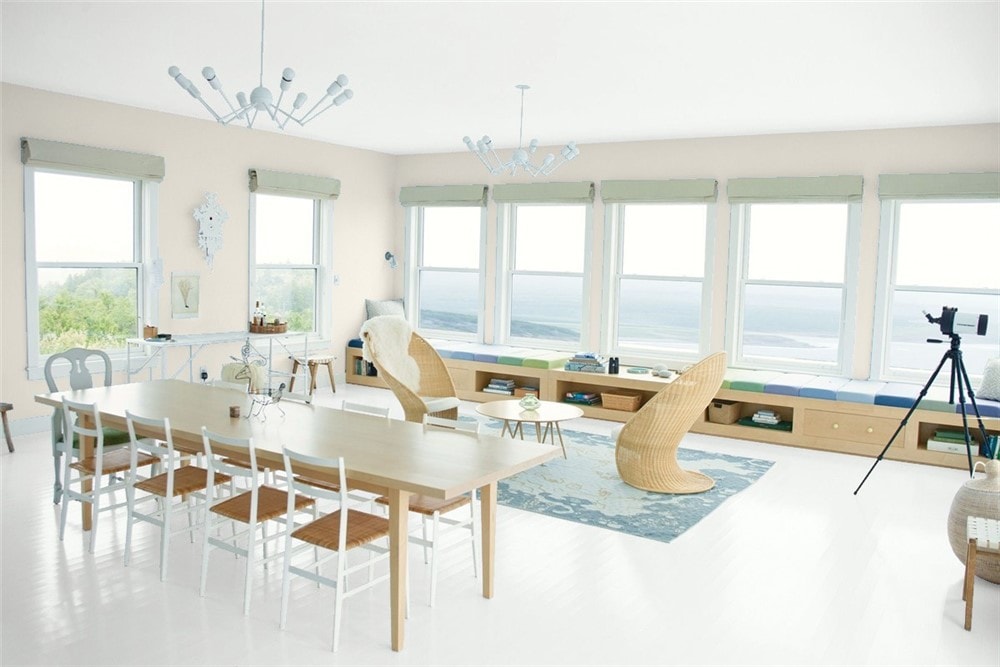 This modern dining room showcases Balboa Mist's ability to open up the room while also offering warmth. That's a speciality of lighter greige colors!
Home Office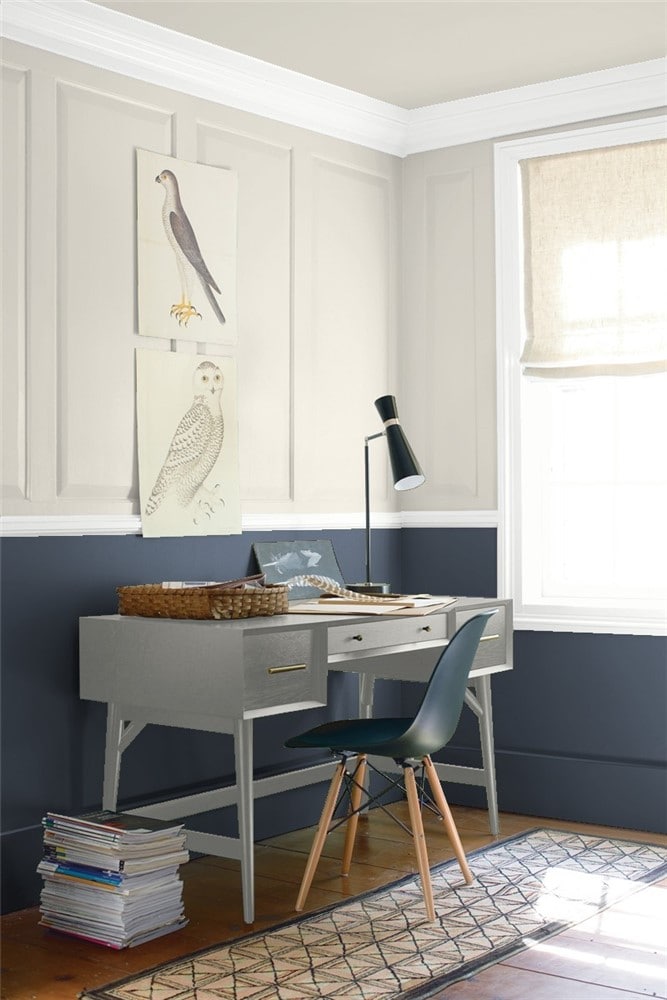 Balboa Mist, like its fellow greiges, plays beautifully with blues, such as Hale Navy.
Bedroom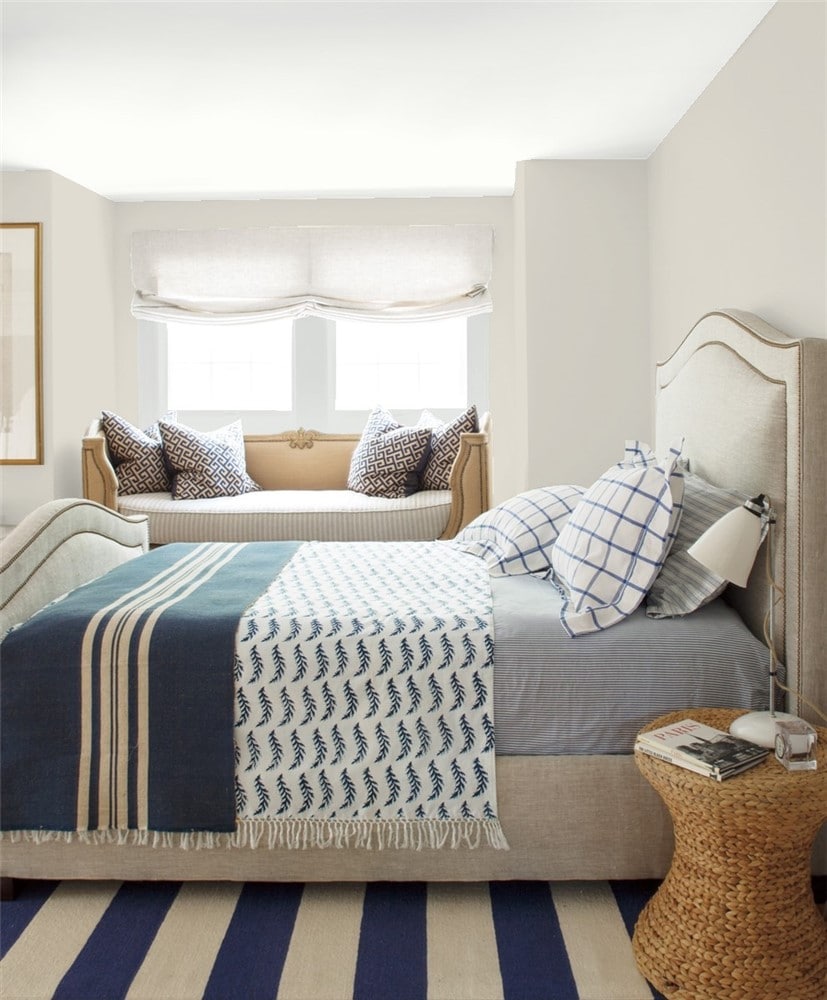 This relaxed, casual bedroom is right at home with neutrals like Balboa Mist.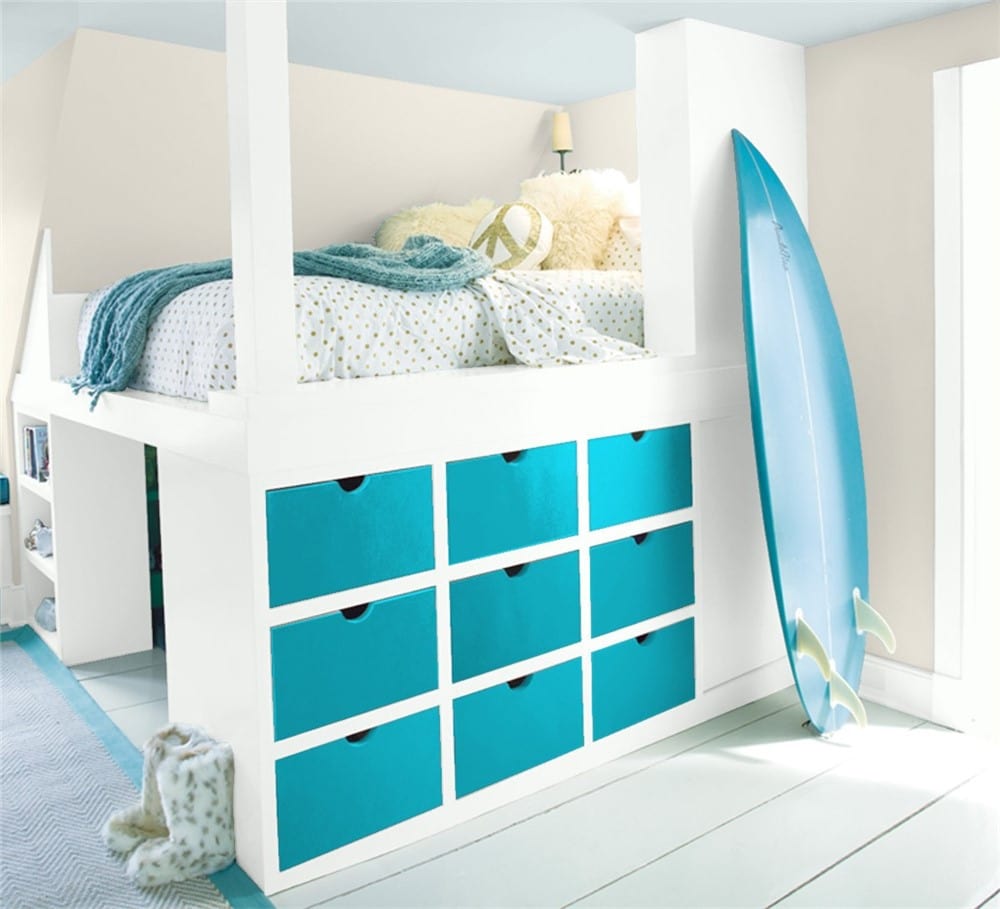 Pairing Balboa Mist with bright and playful colors, like Bahaman Sea Blue, can totally change its vibe.
Bathroom
Black and gold are great accent choices for neutral colors like Balboa Mist.
Balboa Mist walls and Aberdeen Green on the ceiling partner up to create this refreshing shower space.
Coordinating Colors for Balboa Mist
Greiges like Balboa Mist are easy to coordinate with other colors because they're nice balanced neutrals. Many colors do well with them.
A classic combination for any gray, greiges included, is a pairing with black and white, which looks sophisticated and classy. A fun variation on this theme is to add pink to the palette.
Another first-rate companion for Balboa Mist is blue. Darker blues such as navy blue look more traditional and formal. Softer blues and blue-greens look more relaxing. Teal and turquoise colors are bright and playful. But all of them look fabulous with Balboa Mist!
Greens are also great for Balboa Mist. Consider the greens of a forest or herb garden to help you bring a bit of nature indoors.
This is a gathering of coordinating color inspiration for Balboa Mist to give you some ideas:
How Does Balboa Mist Compare With Other Colors?
Balboa Mist vs Pale Oak by Benjamin Moore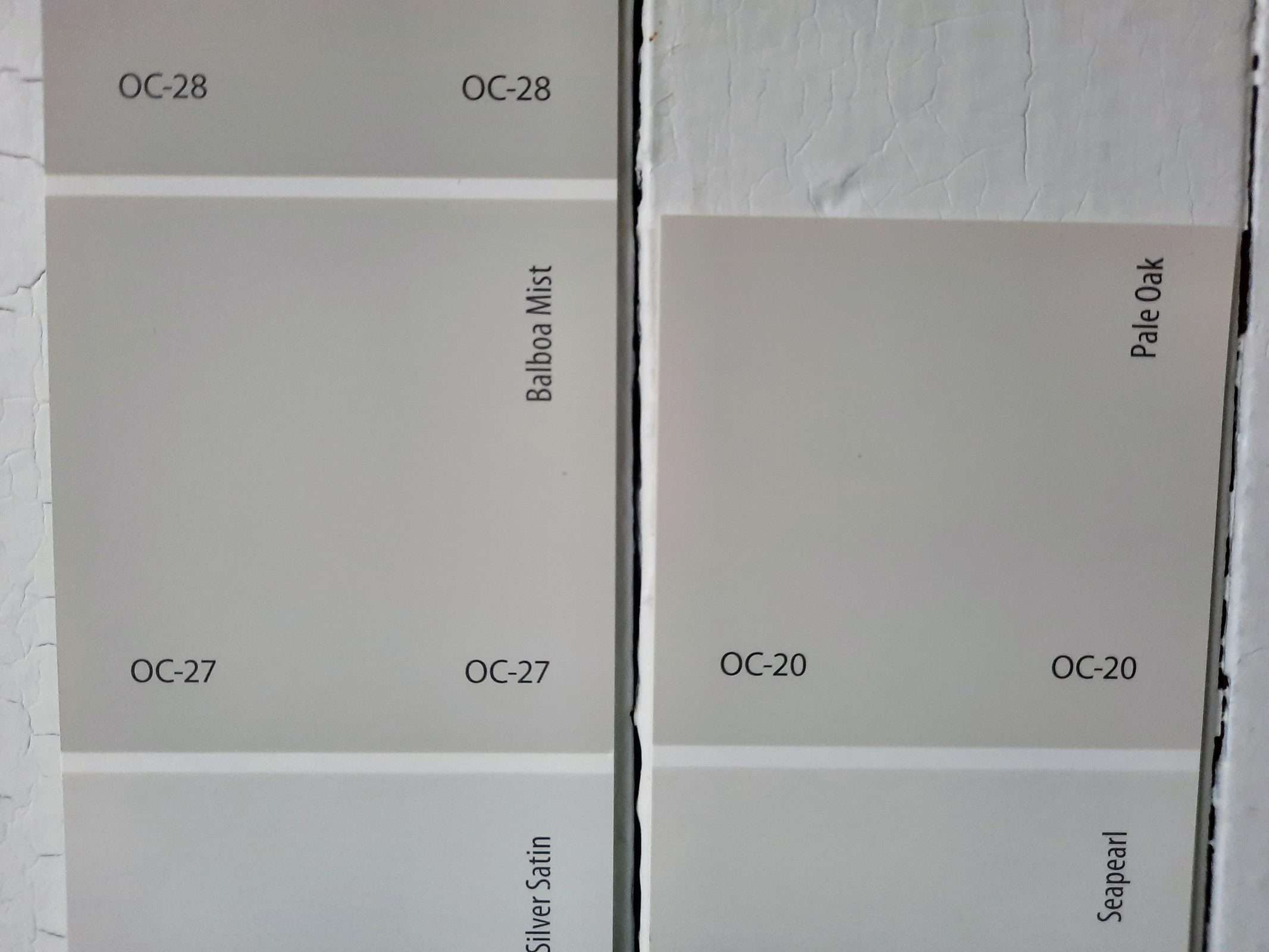 Pale Oak is another light greige that has a lot in common with Balboa Mist. Their primary difference is that Balboa Mist is a smidge darker, and looks a bit more gray. Pale Oak has a LRV of 69.89 that's pretty close to Balboa Mist's 67.37.
Balboa Mist vs Agreeable Gray by Sherwin Williams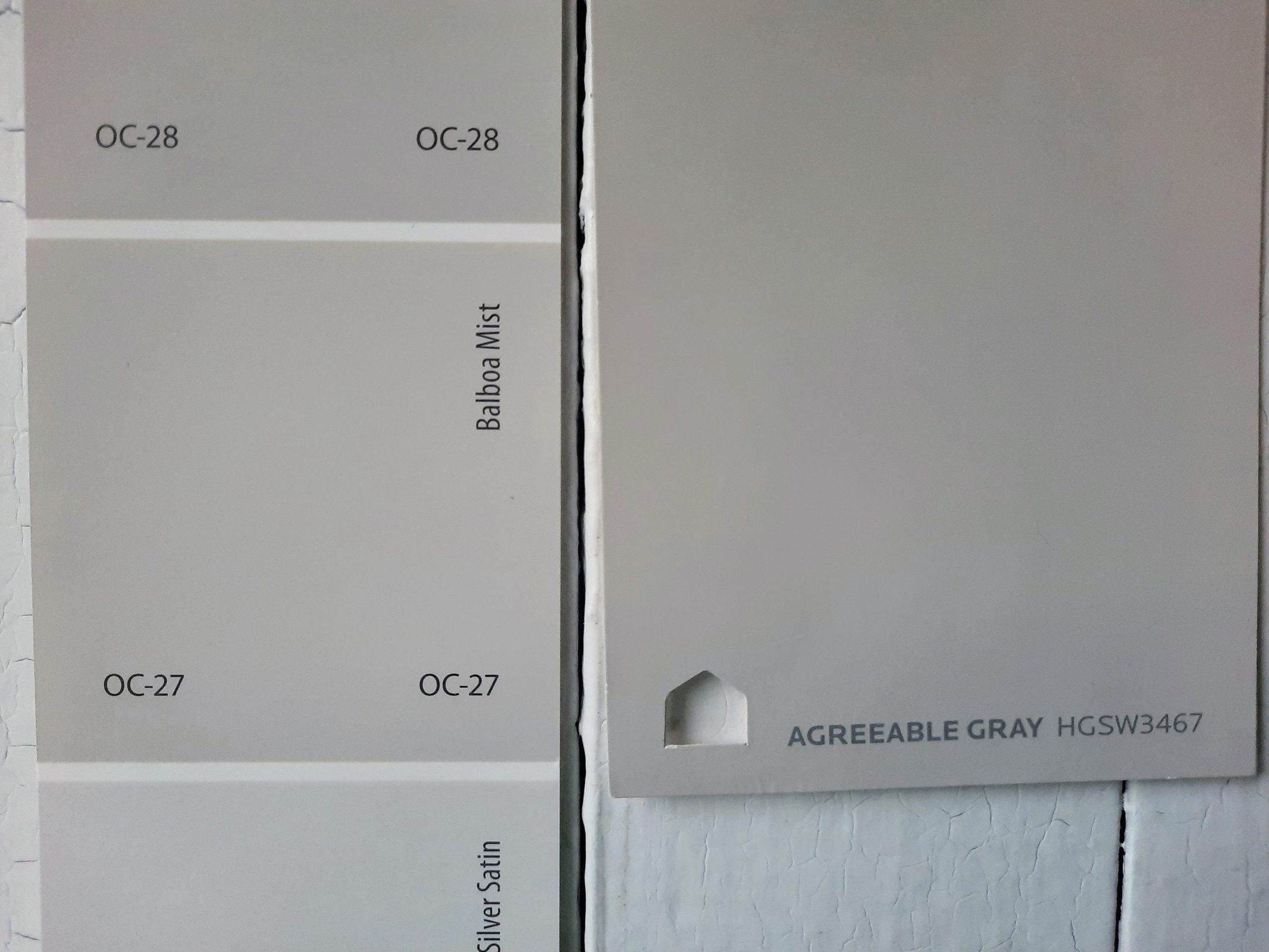 Agreeable Gray is a greige from Sherwin Williams that has a lot in common with Balboa Mist. It's darker, sitting several points down the LRV scale at 60. 
Balboa Mist vs Edgecomb Gray by Benjamin Moore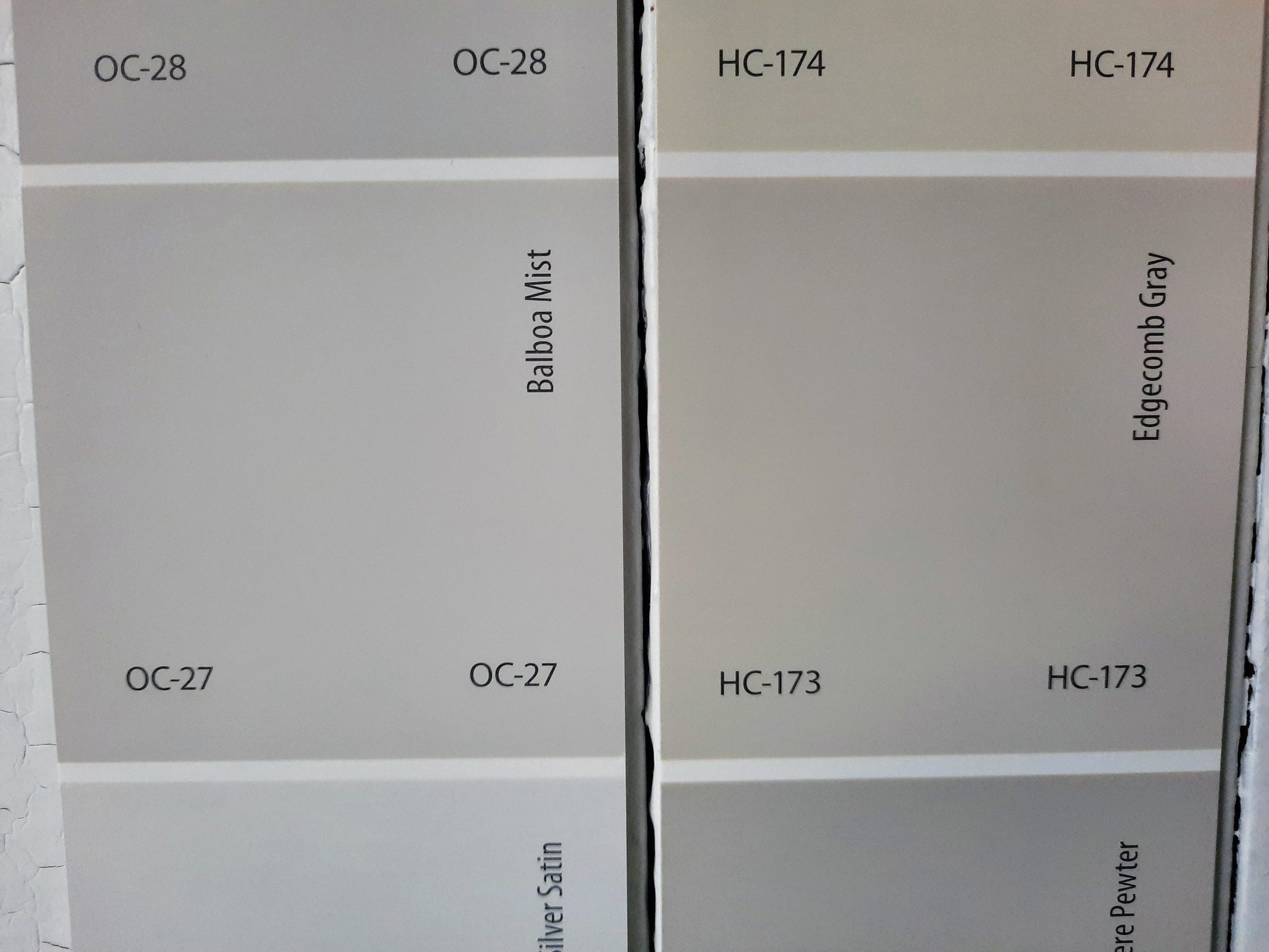 Edgecomb Gray is a light greige that is pretty close in brightness to Balboa Mist with a LRV of 63.88. Despite the gray in the name, it actually has more of a beige tone to it than Balboa Mist does. 
Balboa Mist vs Collingwood by Benjamin Moore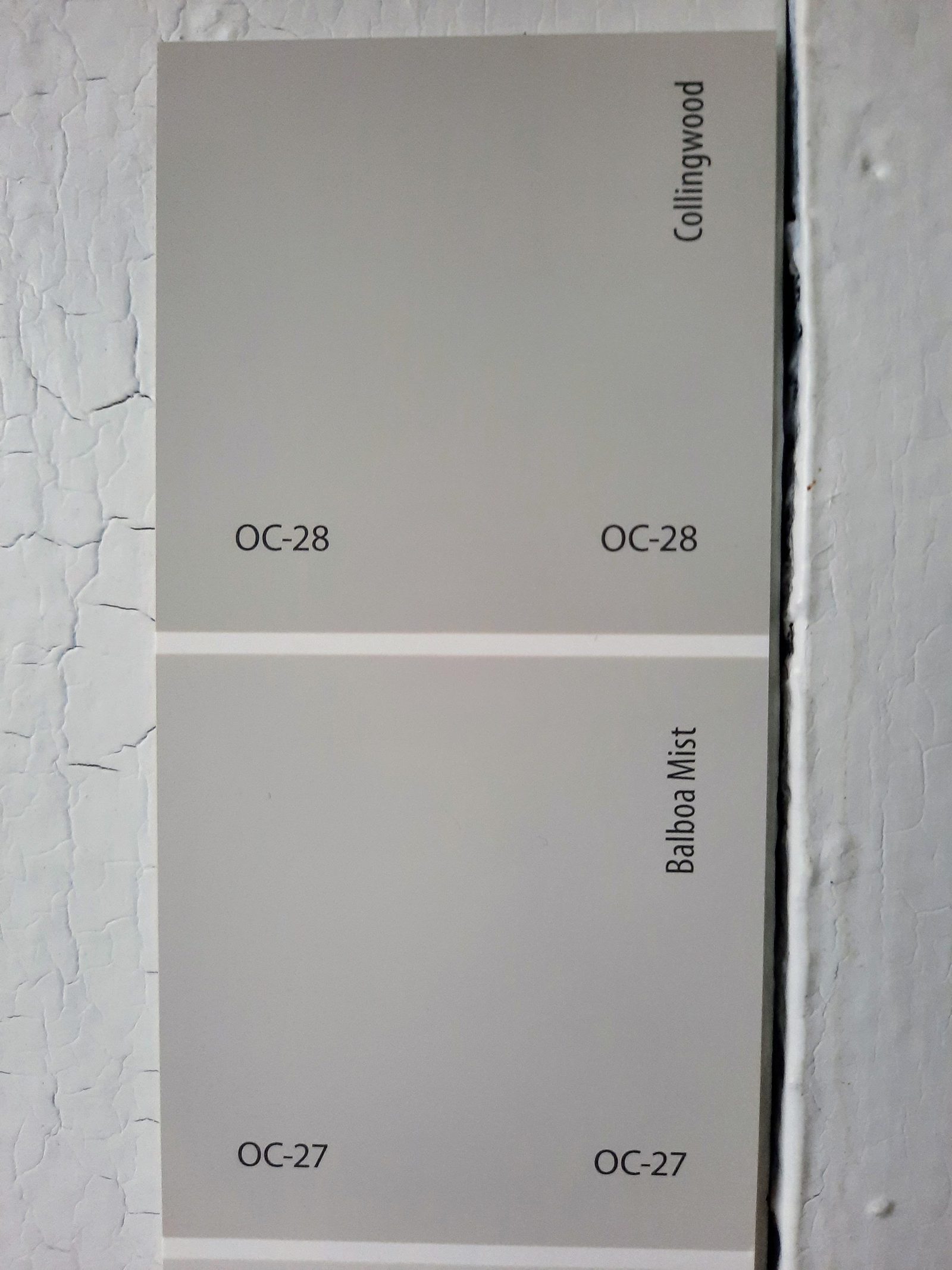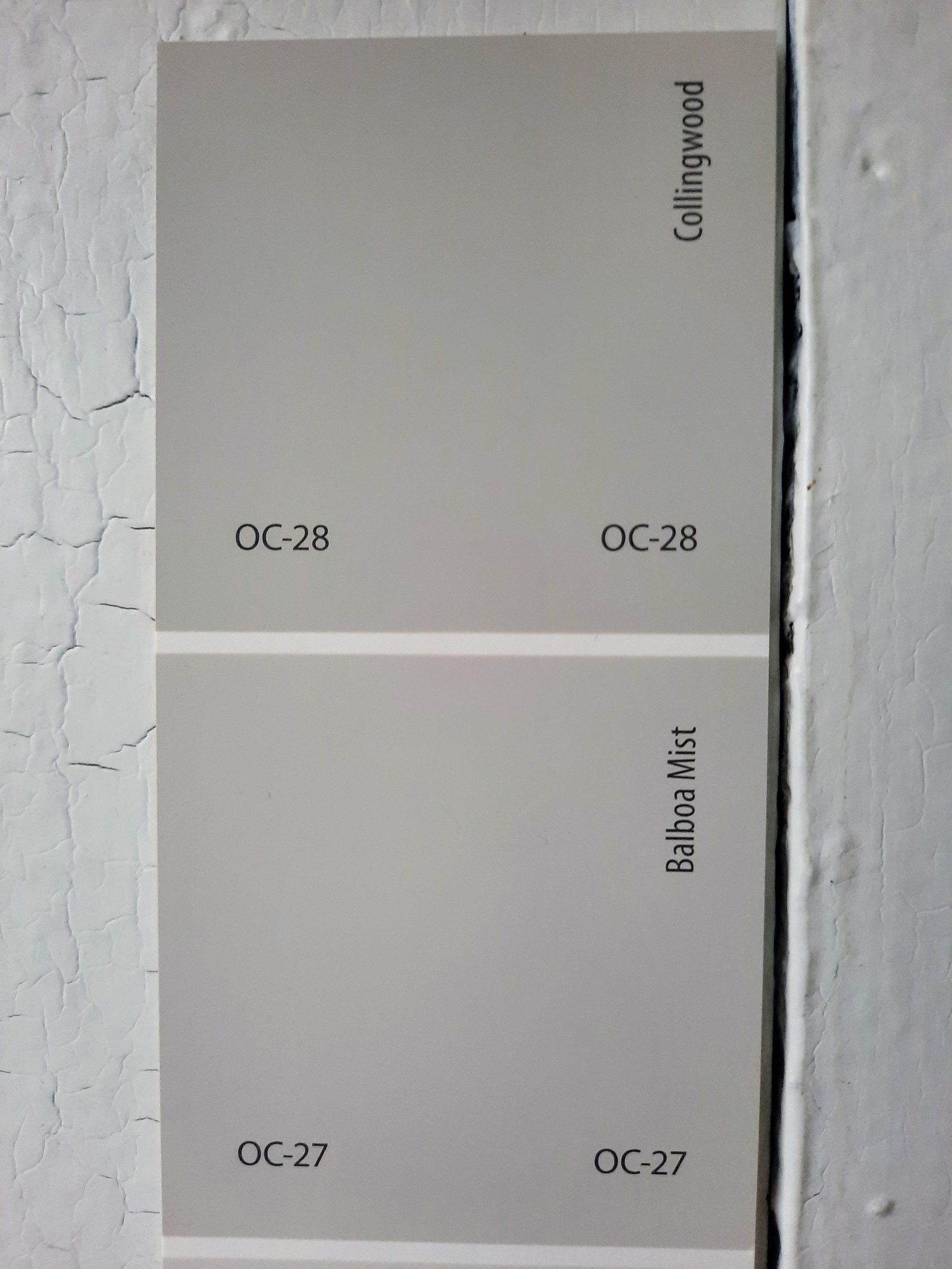 Collingwood is Balboa Mist's next door neighbor on the paint chip, so as you might expect, these colors are incredibly similar. Collingwood is a touch darker, with a LRV of 62.14.
Final Thoughts
Balboa Mist is the light, balanced neutral that will bring natural harmony to any space. This soothing, organic color is part of the trendy greige family and is versatile enough to partner with any style you choose. What direction will you take with Balboa Mist?