Decorated Life is reader-supported. When you buy through links on our site, we may earn an affiliate commission. Learn More
12 Best Blue Green Paint Colors of 2023
Cool and soothing, the blue green family brings refreshing vibes to any space. The blue side brings us thoughts of carefree beach days, boating on a lake, fresh cold mountain streams. The greens bring us lush vibrancy, tall trees and perky succulents, all our gardening favorites.
Combining these two colors provides so many options in terms of depth, feeling, and coordinating colors. More muted blue greens come across as traditional and sophisticated, while brighter ones are lively and playful. All of them can create a refuge of calm and serenity in your home.
You're likely to see blue greens in coastal decor, but you can also find them in farmhouse, cottage, traditional, and modern styles, among others. Don't feel limited in using them just because they aren't neutrals!
In this article we're going to take a look at some fantastic blue green paint options, including some of the most popular colors being used in real homes. Let's take a walk on the cool side!
Blue Green Paint Colors
Rainwashed by Sherwin Williams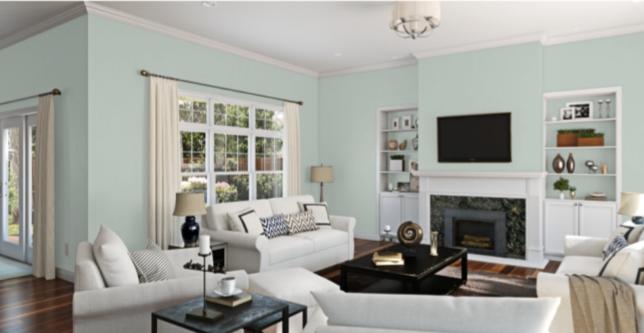 Rainwashed is a cool and refreshing pale blue green. This color is saturated enough that you don't have to worry about it washing out in a well-lit room. Its LRV is 59. Rainwashed is very similar to another popular Sherwin Williams color in this family, Sea Salt, which is more of a greenish blue.
Covington Blue by Benjamin Moore
Covington Blue is a darker, muted blue green that leans more into its green side than its blue, despite the name! Its LRV is 42.82, putting it in the mid-to-dark range. Benjamin Moore suggests browns and beiges as coordinating colors for Covington Blue.
In the Moment by Behr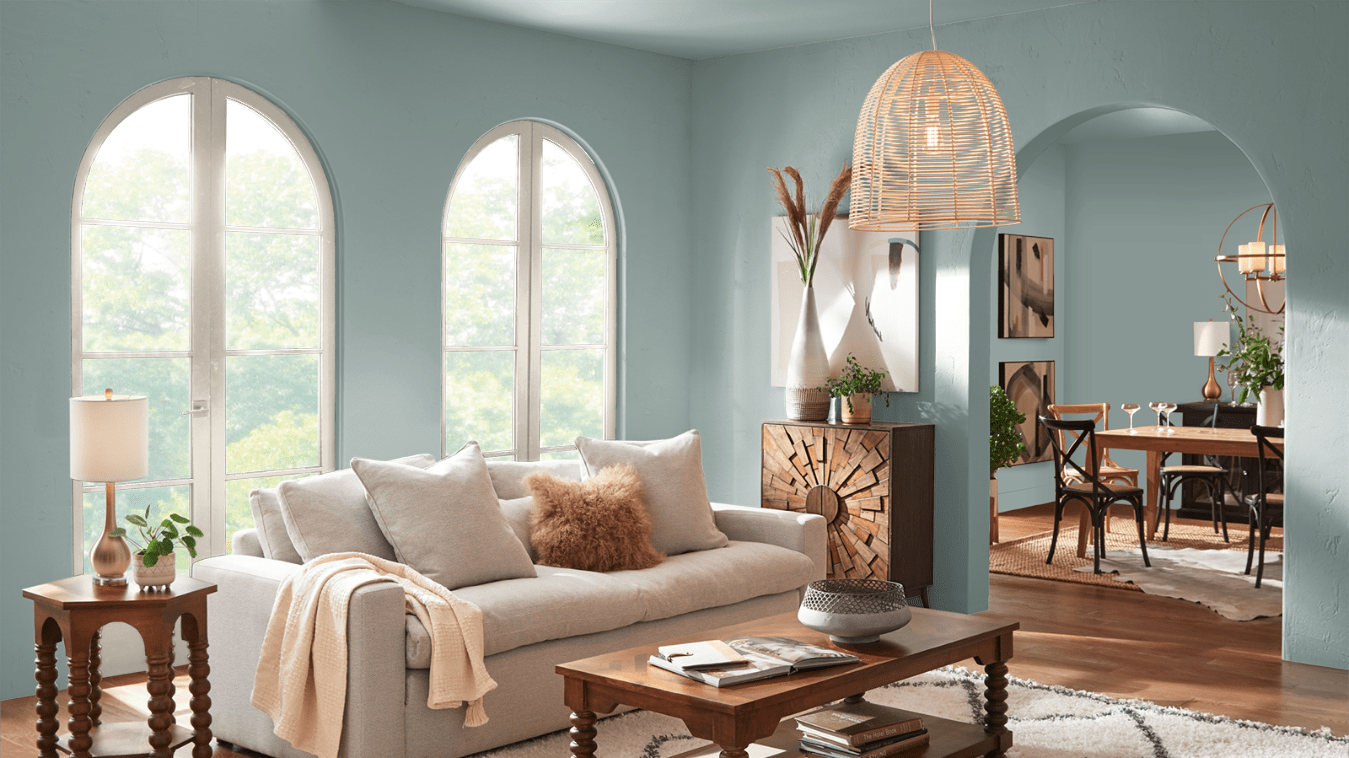 In the Moment is a blue green with stone gray undertones. It's fairly balanced between its green and blue content, and has an LRV of 30, making it a dark-to-medium color. In the Moment was Behr's first-ever color of the year in 2018. The greens in it are reminiscent of succulent plants, helping to bring a little nature indoors.
Palladian Blue by Benjamin Moore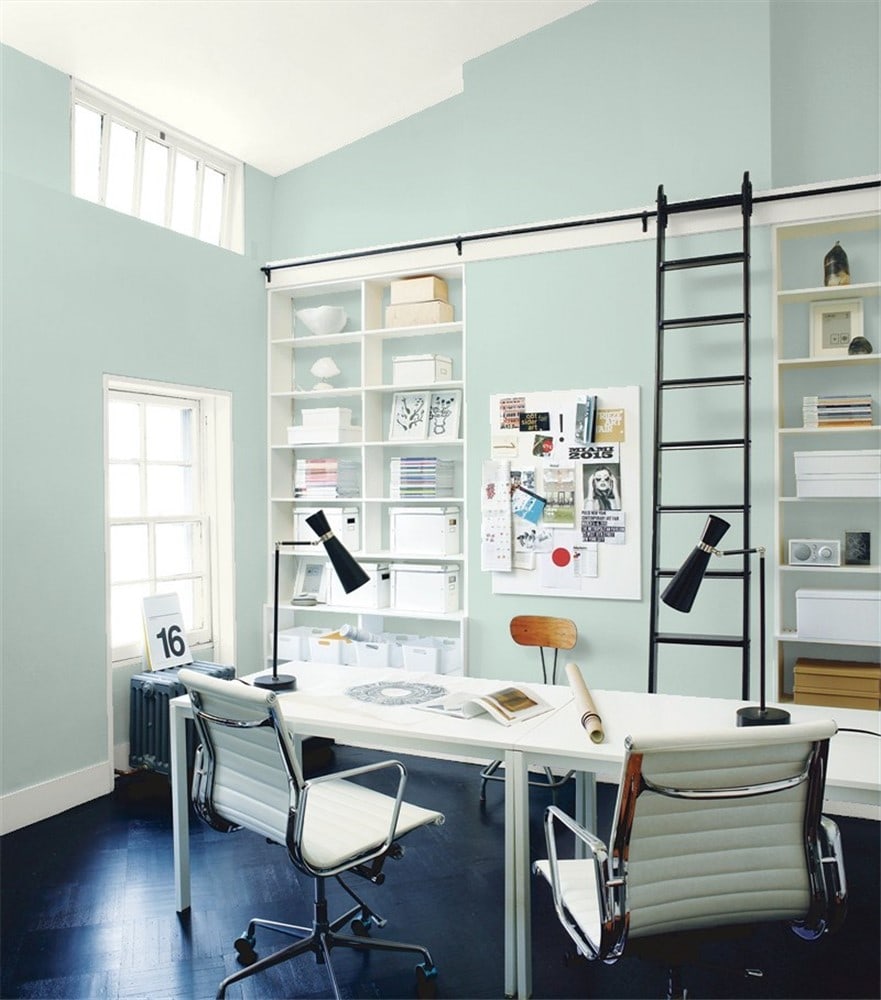 Benjamin Moore describes its Palladian Blue as "the blue of the sky with a touch of mother-of-pearl". It's a cool color that once again comes across as more green than blue even though "blue" is right in the name. Palladian Blue is on the brighter side of the scale, with an LRV of 61.17, putting it within that ideal 60-62 range a lot of designers favor for versatility.
Studio Blue Green by Sherwin Williams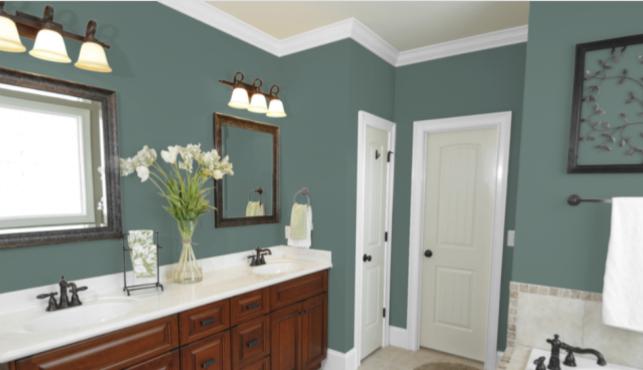 Studio Blue Green is pretty much exactly what it says on the label, that is, balanced between its blue and green aspects. As a slate blue green, it has some commonality with In the Moment, but it's significantly darker, with an LRV of 20. This color is part of Sherwin Williams' Historic Interiors collection.
Aegean Teal by Benjamin Moore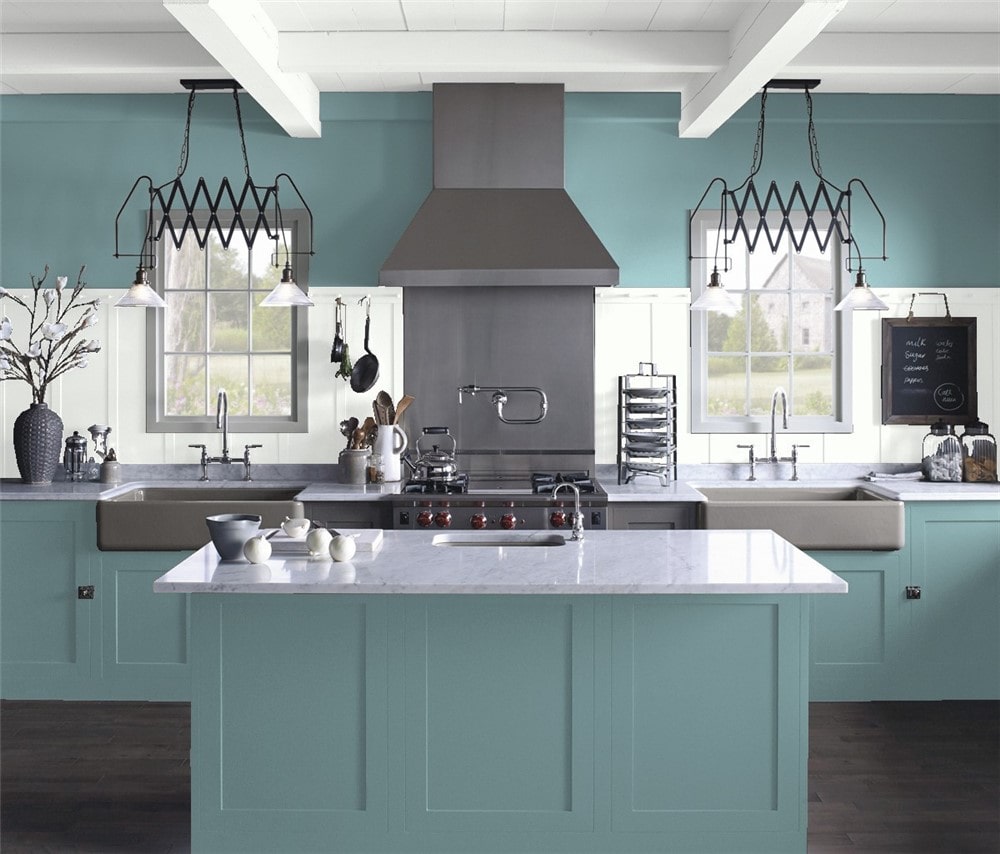 Aegean Teal is a balanced blue green with a strong gray component. It was Benjamin Moore's pick for Color of the Year 2021, intended to evoke natural harmony and a sense of home. Sitting at 23.96 on the LRV scale, it's a fairly dark color. The native gray in this color lends itself particularly well to kitchens.
Mill Springs Blue by Benjamin Moore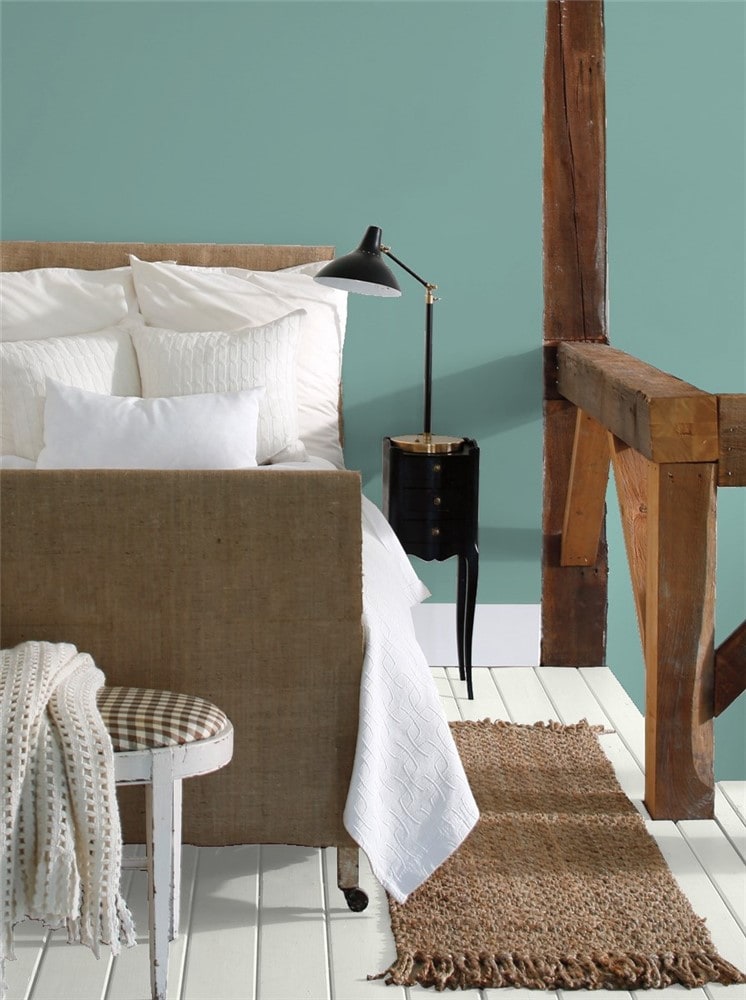 Mill Springs Blue is a lively blue green paint color that can bring bold results if you're ready for it! Used on its own, this color wakes up a room. But if you want to evoke its fresh-from-outdoors vibe, Benjamin Moore suggests a combination that I think is really enchanting for this color, which is to coordinate it with Apple Blossom and Ivory Tusk. Mill Springs Blue has a darker LRV of 32.56.
Eucalyptus Leaf by Behr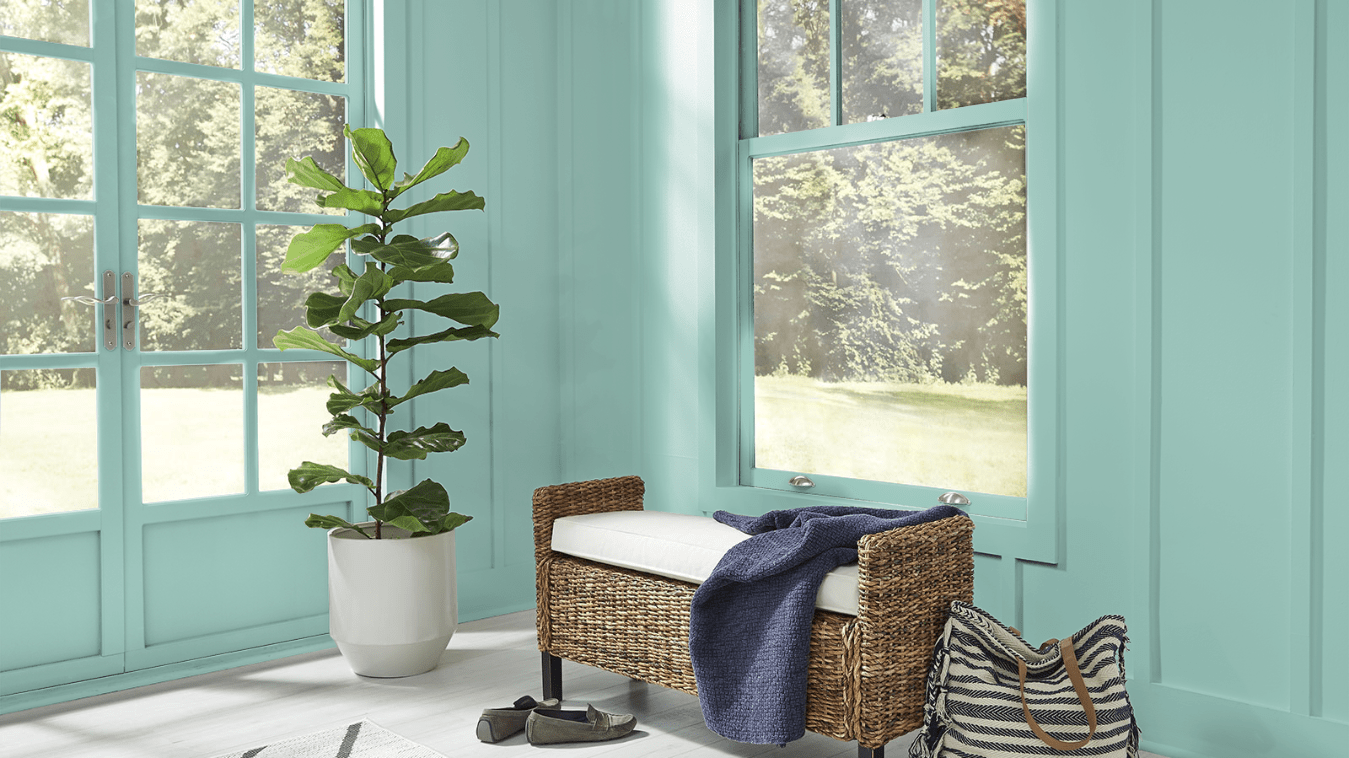 For a more greenish blue color, take a look at Eucalyptus Leaf. It's right in the middle of the LRV scale at 51. Without a strong gray tone present, you can really feel those leafy plant vibes from this color. It's cool and refreshing, and good for spaces that get a lot of light.
Waterscape by Sherwin Williams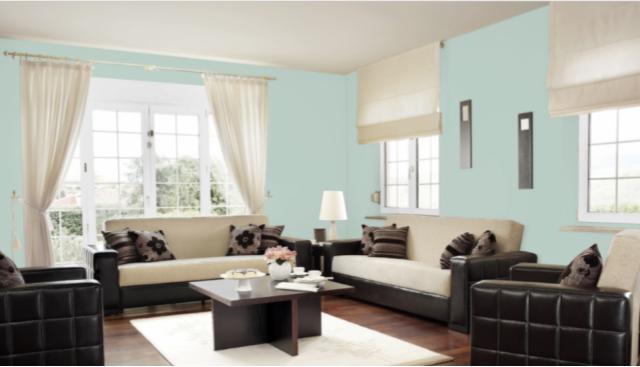 Waterscape is a lovely soft blue green paint color. Its LRV is that magic number of 62, making it ideal for a wide variety of lighting situations. This aqua color leans more to its green side than its blue.
Ocean Boulevard by Behr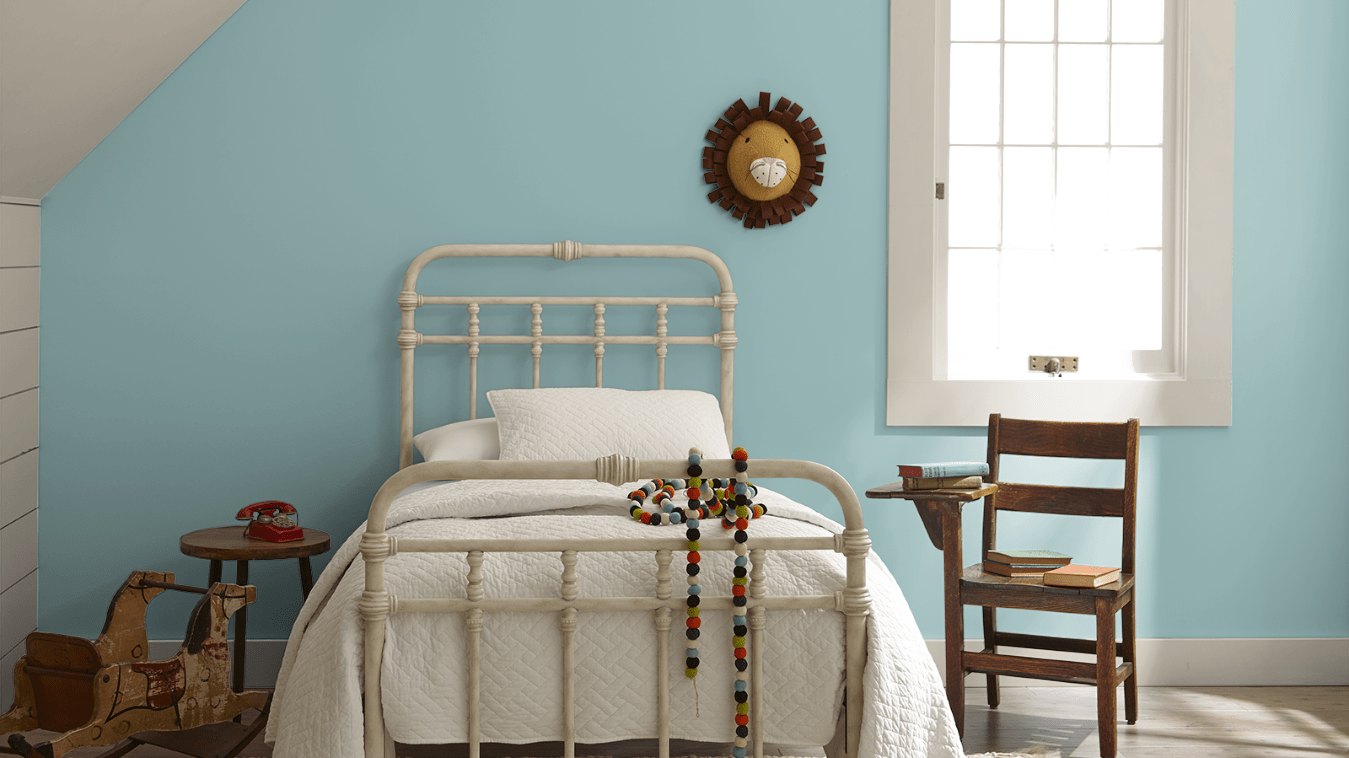 Ocean Boulevard is balanced between its blue and green elements and has a midtone LRV of 53. It has a cheerful feeling to it that evokes a day of fun in the sun, even though this is definitely a cool color. If you want to join in the fun, you could try Ocean Boulevard with bright colors like Kelly Green or Candy Coated.
Cooled Blue by Sherwin Williams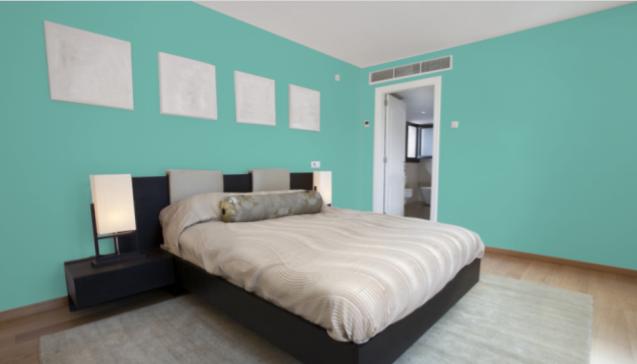 Cooled Blue is another bold turquoise that makes a strong statement. You can capitalize on that by using it throughout the room, or rein it in with coordinating colors like charcoal gray and a solid off-white.
Breezeway by Behr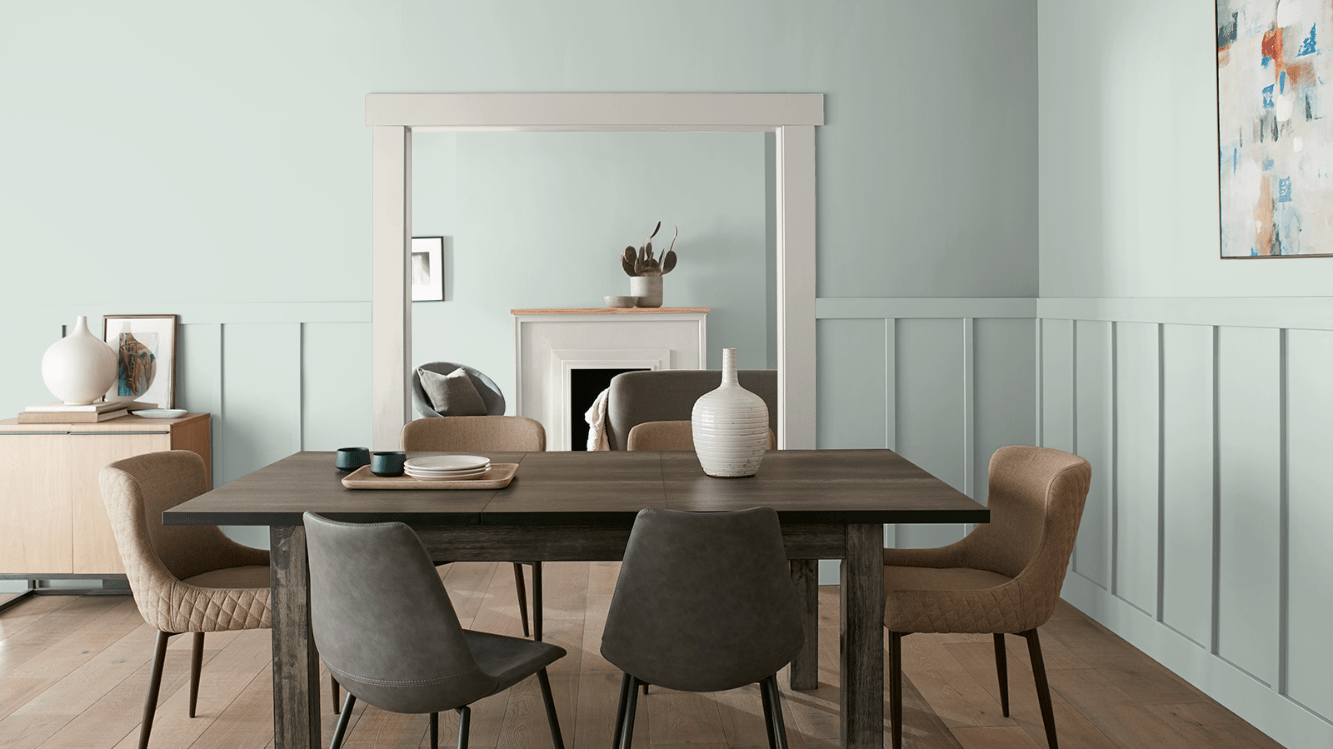 Breezeway is Behr's new Color of the year for 2022! They were inspired by the natural beauty of sea glass to create this soft blue green paint color. It's so peaceful and fresh. This is a versatile color you could take in many different directions, but it's also lovely on its own.
Blue Green in Real Homes
Now it's time for the action! How does blue green work when we put it to the test? Let's find out while we scope out some inspiration from real homes making use of this color family.
Living Room
This pale blue green living room, in Behr's Breezeway, is fresh and soothing.
The blue green barn doors in this living room are a beautiful focal point that enlivens the whole space.
Bedroom
Behr's In the Moment is the backdrop for a cool modern bedroom. Potted plants complement this color family well because they pick up on the greens.
Kitchen/Dining Room
These Aegean Teal cabinets are a great complement to all the natural wood in this dining space. Consider how paints look with different finishes; this is a satin finish which has a velvety luster.
The soothing blue greens in this midwest kitchen partner with White Heron. The sprays of eucalyptus leaves are a great example of a blue green that comes from nature, and serve as a contrasting focal point in the decor.
Office
Blue green is the canvas for this very personalized, eclectic office space.
Bright turquoise in this office loft is cheerful and refreshing. Careful color placement and contrast with white lifts the eye upward and expands the space.
Bathroom
Silver is another possible companion for blue greens. Here we see two different blue greens working together in a snappy and upbeat bathroom.
Entryway
In this entryway, notice how the walls look greenish blue even though they are gray? That's the light gray reflecting some of the door's teal color. Gray colors often have blue and green undertones, so they're natural companions for this color family.
Do you love ombré? These stairs use favorite shades of Sherwin Williams blue green paint colors to create the effect.
Exterior
Sherwin Williams' Waterscape and white pillars partner on this gorgeous porch for relaxed coastal vibes.
Colors That Go Well With Blue Green
The first place you can look for coordinating colors to complement your favorite blue green is simply to other members of the blue green family. Putting darker and lighter blue greens together can create fun effects like an ocean vibe, a leafy jungle paradise, or a stunning ombré.
You can also easily coordinate with a color that is only blue or green, by itself. Darker blues, such as navy, make pale blue green colors look fresh and bright. Light blues, next to a darker teal or turquoise, can look like the sky or clouds. And even just adding green plants to your decor will amp up the green side of this color family for some organic vibrance.
Grays coordinate well with blue green paint colors because they often have blue and green undertones. Darker grays won't show this trait as much but will offer a stronger contrast. Light grays will bounce back more of the color you're putting next to them, so try out samples to make sure you like the effect before committing.
Many of the greener shades are similar to leaves, and from that perspective, you can put them with any color you might see a flower in. Maybe your favorite bloom can inspire you!
Some neutral shades that can work with this family include browns, beiges, and creams. Maybe you want a sandy shade with your ocean teal, or a dark forest wood with your misty morning blue.
Here are some color possibilities for your coordination inspiration!
Final Thoughts
The blue green color family is fun, versatile, and just the thing to freshen up any room. These colors invite lush vibes and serenity into our spaces and make everything feel more alive.
With many opportunities to explore depth and nuance, these colors aren't restricted to any one style of decor, and they range from bold statements of color to the lightest touch. If you could use a place to cool off, blue green colors are just the thing for your next home project.