Decorated Life is reader-supported. When you buy through links on our site, we may earn an affiliate commission. Learn More
11 of the Best Charcoal Paint Colors in 2023
Charcoal gray is a bold color with depth and drama that is perfect for high contrast looks. While you might mistake some of the darker charcoals for black, these colors actually have undertones that play with their surrounding colors to draw your eye and add interest to a space.
Most charcoals are cool colors, but there are even a few warm ones out there, just as there are warm grays or warm greiges, which means you can find just the right charcoal color to suit your palette.
Charcoal grays are sophisticated and modern, and look great in urban, industrial, Scandinavian, or minimalist styles. They're great if you're looking for something that's fresh and on-trend.
In this article we're going to pop open the paint can on 11 of the best charcoal gray paints and find out what they're made of, and how to put them to their best use. In case you haven't seen it before, one concept I'll be referring to a lot is the light reflectance value, or LRV, of each color.
Light reflectance value is a method of measuring how dark or light each color is on a scale running from absolute black, at 0, to brightest white, at 100. A color with a lower number is darker than a color with a higher number. This will help you compare the colors we'll be looking at.
Now that you're up to speed, let's take a look at those gorgeous grays!
Best Charcoal Gray Paint Colors
Iron Ore by Sherwin Williams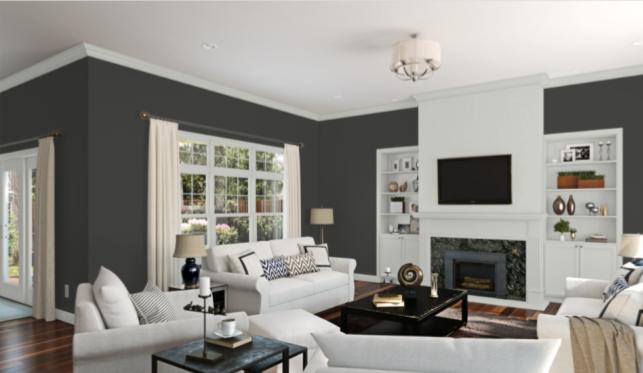 Iron Ore is an extremely deep charcoal gray that comes across as almost black. With a LRV of 6, it's very dark indeed. This color is great for its high-contrast and intensity. Using it next to lighter grays, as with the Silverpointe accent wall in this living room, will show how this color is gray and not quite black. Iron Ore is one of Sherwin Williams' 50 Most Popular Colors.
Chelsea Gray by Benjamin Moore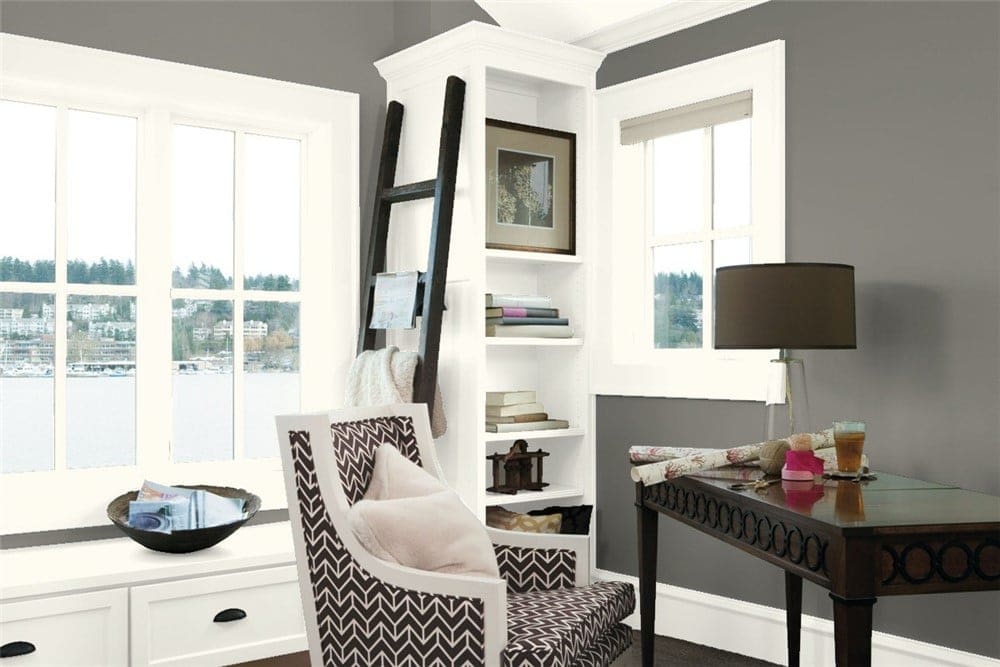 Chelsea Gray is a warm charcoal gray that has taupe undertones. This is more of a medium-to-dark color. Its LRV is 22.16, making it one of the lighter colors on this list. Chelsea Gray is a sophisticated, urban color that works especially well with metals.
Graphic Charcoal by Behr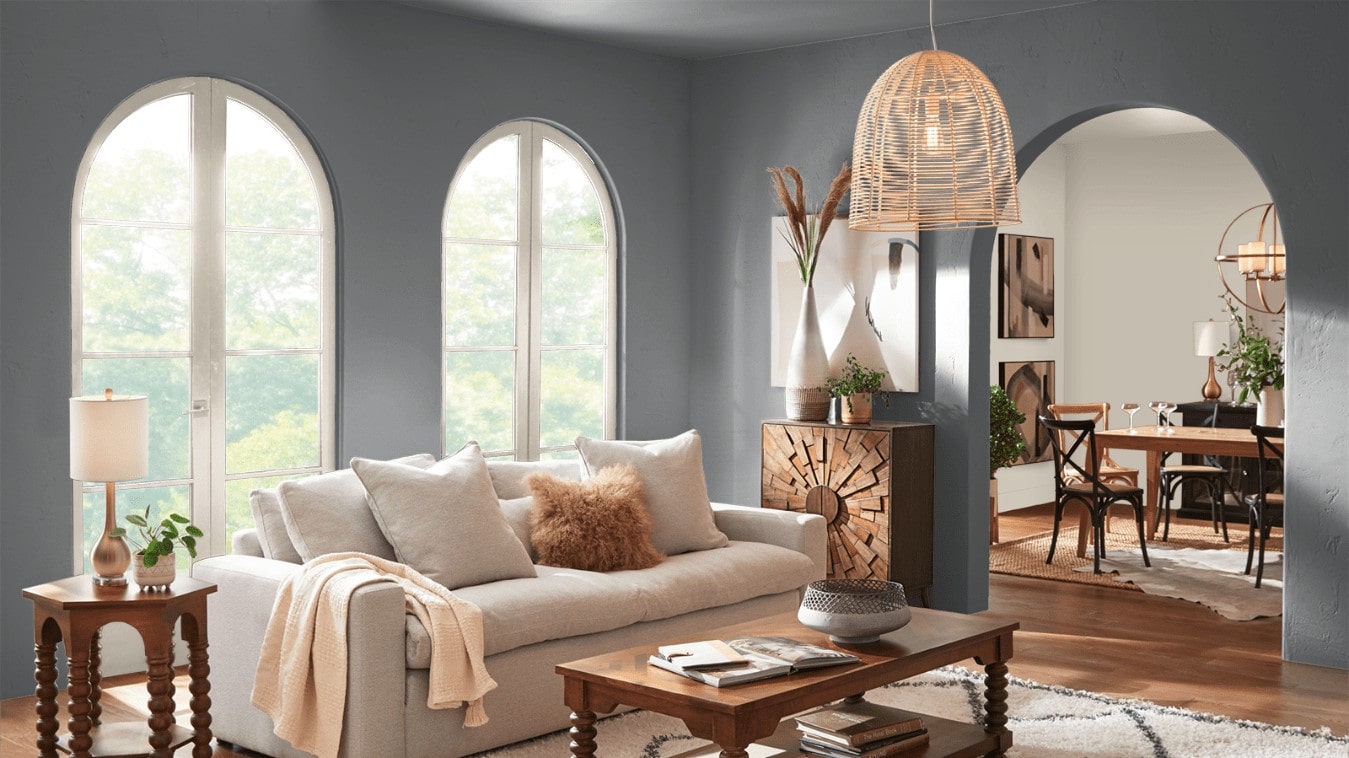 Graphic Charcoal is a dark, cool charcoal gray. It's great for open floor plans, focal walls, and entryways. Graphic Charcoal has blue undertones, and a LRV of 11. It works well with lighter grays.
City Shadow by Benjamin Moore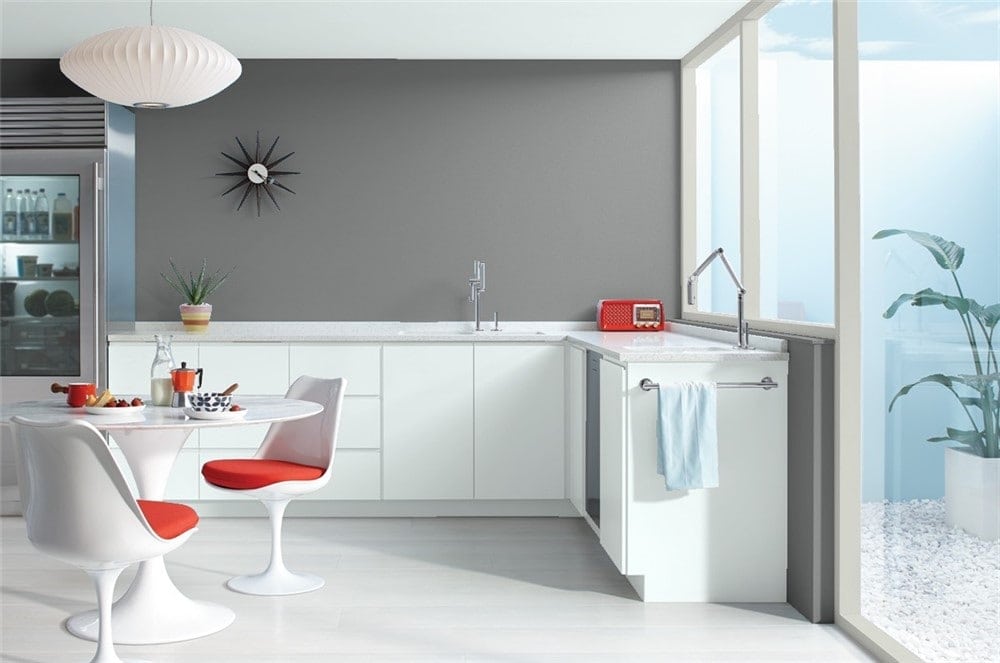 Benjamin Moore describes its City Shadow as "smoky" and "leathery". It's part of their Aura Color Stories collection, which means it's exclusively available as an interior paint color. Its LRV is a fairly dark 12.64. Try this cool gray color with pale blues like Patriotic White, pictured in this kitchen, which is a white with the palest wash of blue.
Thunder Gray by Sherwin Williams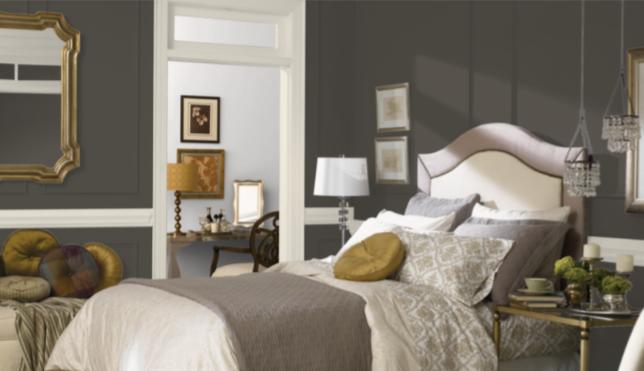 Thunder Gray is an extremely dark blend of slate gray and chocolate brown. This is one of the warm charcoal grays, which makes it stand out from most of the other colors on this list. Its LRV of 9 puts it close to black, but its brown undertones are distinct. Take advantage of the warm tones in this color by pairing it with creams, golds, or natural woods.
Kendall Charcoal by Benjamin Moore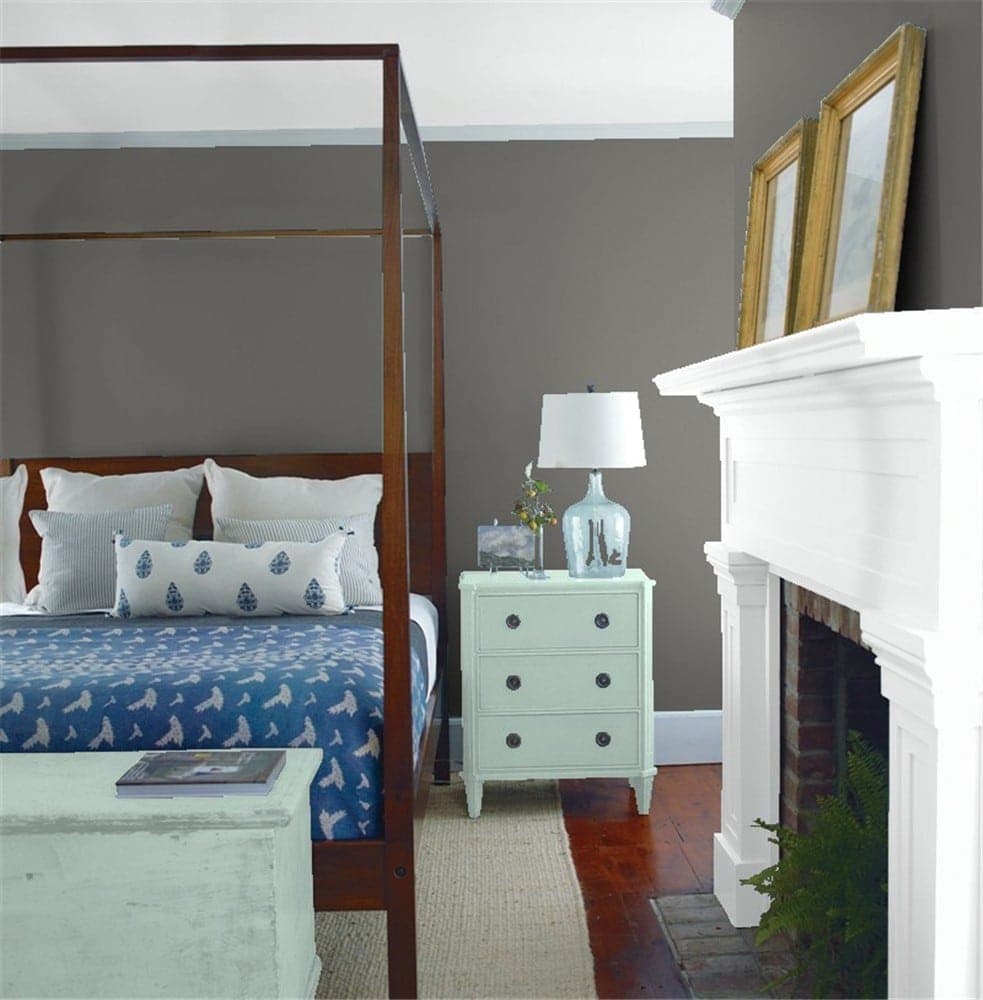 Kendall Charcoal is a dark, cool slate gray that shows more green undertones than blue. Its LRV is 12.96, which makes it best suited for accents, trims, and focal walls, unless you want to pull out the stops and go bold. It looks beautiful balanced with a white ceiling and decor in a cool palette.
Web Gray by Sherwin Williams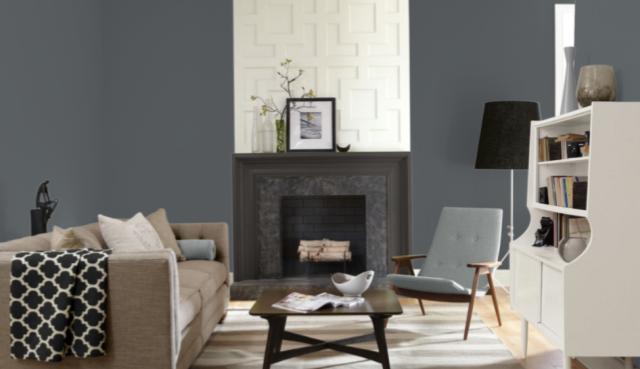 Web Gray is a dark slate gray with blue undertones. It's a popular gray that coordinates well with other neutral colors, including greiges and beiges. Web Gray has a LRV of 13. It is part of the Urban Outlook collection.
Calligraphy by Behr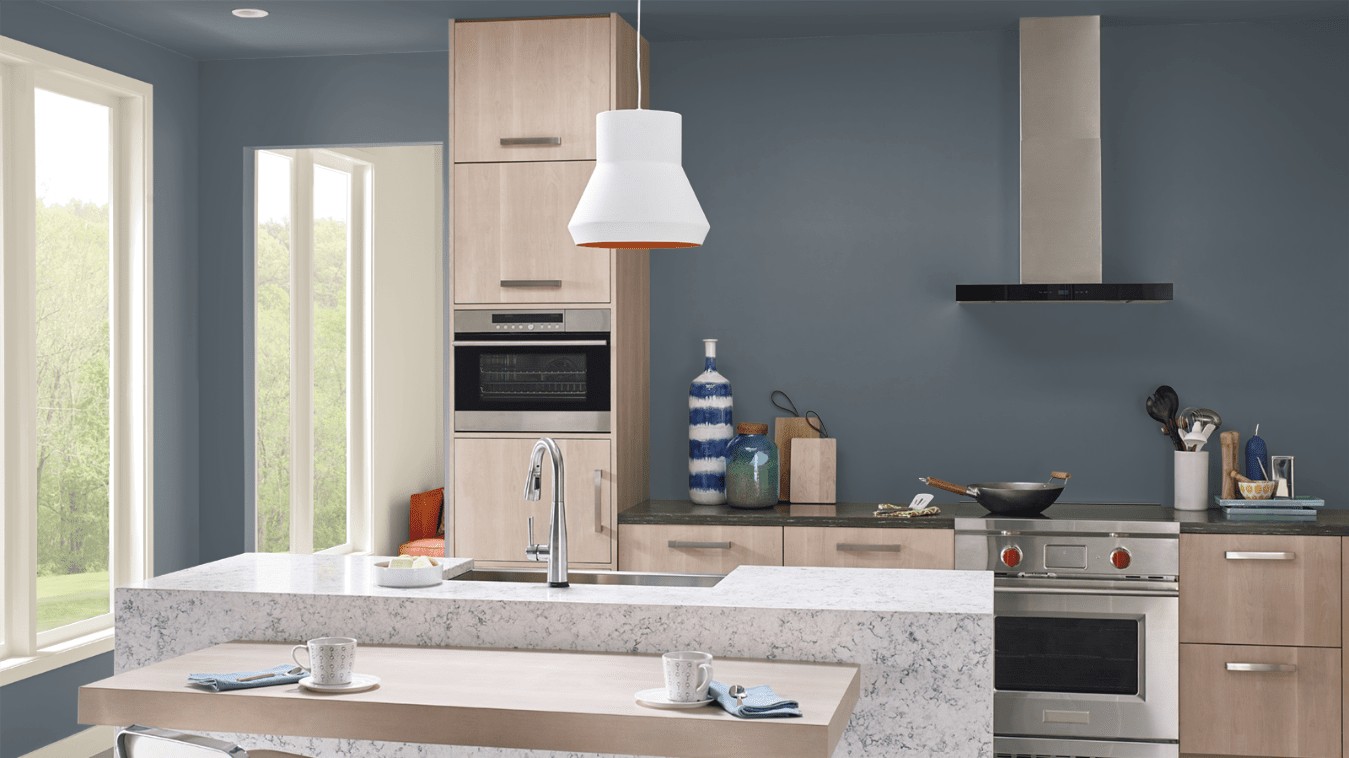 Calligraphy is an elegant dark blue-gray with green undertones. At a LRV of 12 it sits on the darker end of the spectrum. Try this color in a kitchen or a bathroom; it complements metalwork and appliances beautifully. If your room doesn't get a lot of light, flip the script and use Calligraphy on the cabinets with a light-loving color on the walls.
Amherst Gray by Benjamin Moore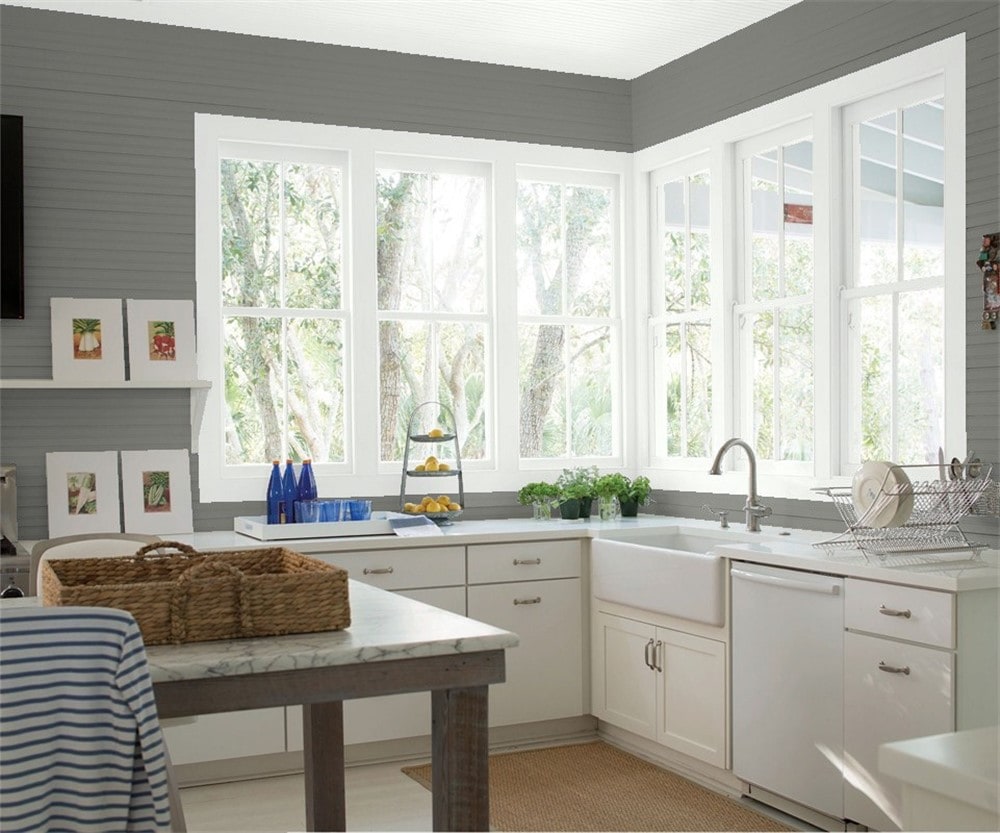 Amherst Gray is a warm, slate gray that gives a classic, traditional air. With a LRV of 17.12, it's a little lighter than most charcoal grays, which gives you more freedom to use it without overwhelming a space. Its warmth amplifies the natural beauty of rich brown leather, stone, and hardwood floors.
Grizzle Gray by Sherwin Williams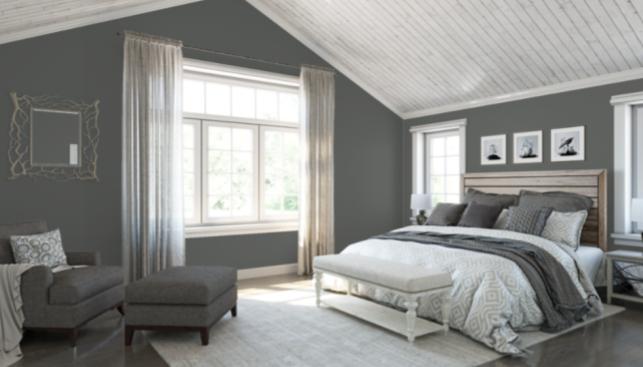 The balanced character of Grizzle Gray makes it a sturdy neutral on which to base your palette. It's neither particularly warm nor cool, so you can choose your own adventure when it comes to coordinating colors. If you're looking for something fun, Sherwin Williams suggests Foxy as a place to start. Grizzle Gray has a LRV of 13.
Peppercorn by Sherwin Williams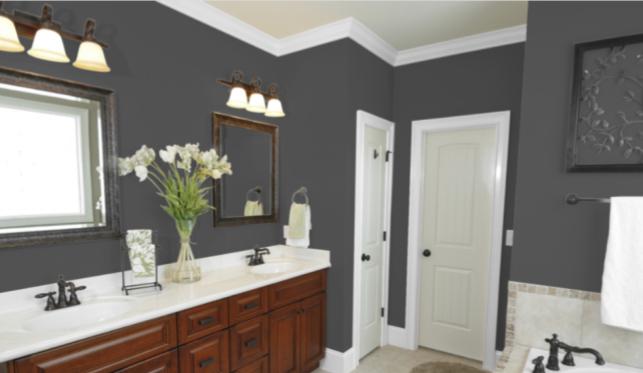 Peppercorn is a popular neutral charcoal gray that's made it into at least four different collections over at Sherwin Williams, including their Top 50 Colors. This color is perfectly balanced between its red, green, and blue components, making it a true neutral, and thus easy to coordinate with your favorite colors. But it still works wonders for simple, crisp whites. Peppercorn has a LRV of 10.
Charcoal Gray in Real Homes
Front Door
This front door is a show-stopper in Sherwin Williams' Iron Ore against stone walls.
Living Room
Tame charcoal's intensity with strategic use of coordinating colors and lighting.
Charcoal can serve as a canvas for brighter or softer colors, as it does for this romantic living room of whites and pinks.
Alternately, you can play up charcoal's bold side with deep jewel tones, rich woods, and luxe metals.
Kitchen/Dining Room
Kendall Charcoal from Benjamin Moore is the backdrop for this modern farmhouse kitchen.
Charcoal grays look great with the lighter members of the gray family.
Bedroom
The charcoal focal wall draws this entire harmonious bedroom together and gives the eyes a place to rest.
The blue side of the charcoal gray family is just right for this alpine adventure themed kids' room.
Bathroom
A simple, minimalist bathroom looks calm and clean with charcoal gray and bright white.
Office
The blonde woods in this office showcase how well charcoal grays play with the brown and beige side of the neutral family.
Colors That Go Well With Charcoal
Charcoal is mostly gray, mostly cool, and mostly dark. So most of the time, you can rely on those three factors to help you pick coordinating colors. One choice that can never go wrong is a crisp white. This will offer a strong contrast to dark charcoal gray that is very pleasing to the eye and makes a space look instantly more sophisticated.
Other great choices are light grays or pale blues. These colors will complement the cool side of charcoal colors, and as long as they're light enough, they'll offer the benefits of that nice contrast too.
Metallic colors are all fabulous options that look bright and snazzy against charcoal gray. Silver is especially nice. You can use gold, and even golden yellow paint colors, if you like a bold contrast option.
Another bold choice is deep jewel tones, such as teals, greens, purples, and goldenrod, against a charcoal canvas. This would create a modern style with lots of intensity.
To get you started, here are some coordinating color ideas for charcoal gray paints:
Final Thoughts
Forget the idea that neutrals are boring! Charcoal gray is a neutral that is bold, sophisticated, and on-trend. Whether you use it as a sharp accent or go all-in, charcoal will repay your investment by making a statement anywhere you use it.
While most charcoal colors are cool, there are some warm and true neutral options out there, so you can coordinate this color with any palette. Charcoals are well-suited to urban and minimalist styles, and they are excellent for dramatic contrasts. If you want to add depth to your palette, check out charcoal!