We independently select these products — if you buy from one of our links, we may earn a commission.
24 Rustic Kitchen Cabinet Ideas
If you like the feeling of being in a cottage that's nestled quietly in the countryside, a rustic theme is what you want.
From a worn-out wooden appearance to a metallic industrial vibe, there are so many ways in which you can get a rustic look while living in the city. You can also turn your kitchen into a country retreat with vintage looks.
If you're planning to design or redesign your kitchen cabinets, make sure you check out some rustic themes to create a comfortable and cozy space. Here are some rustic kitchen cabinet ideas to give a more homely feel to your kitchen.
Teal Rustic Shades
Wedding good luck charms talk about something old and something blue. Combine them both into these teal shaded kitchen cabinets. If you crave colors even in a rustic setup, this idea will be perfect for you.
With this shade, your kitchen will look raw and rustic and yet colorful enough. It's a nice combination of fall sobriety and playfulness of colors. Light teal is a color that is not very overpowering and is perfect for a country look.
Industrial Style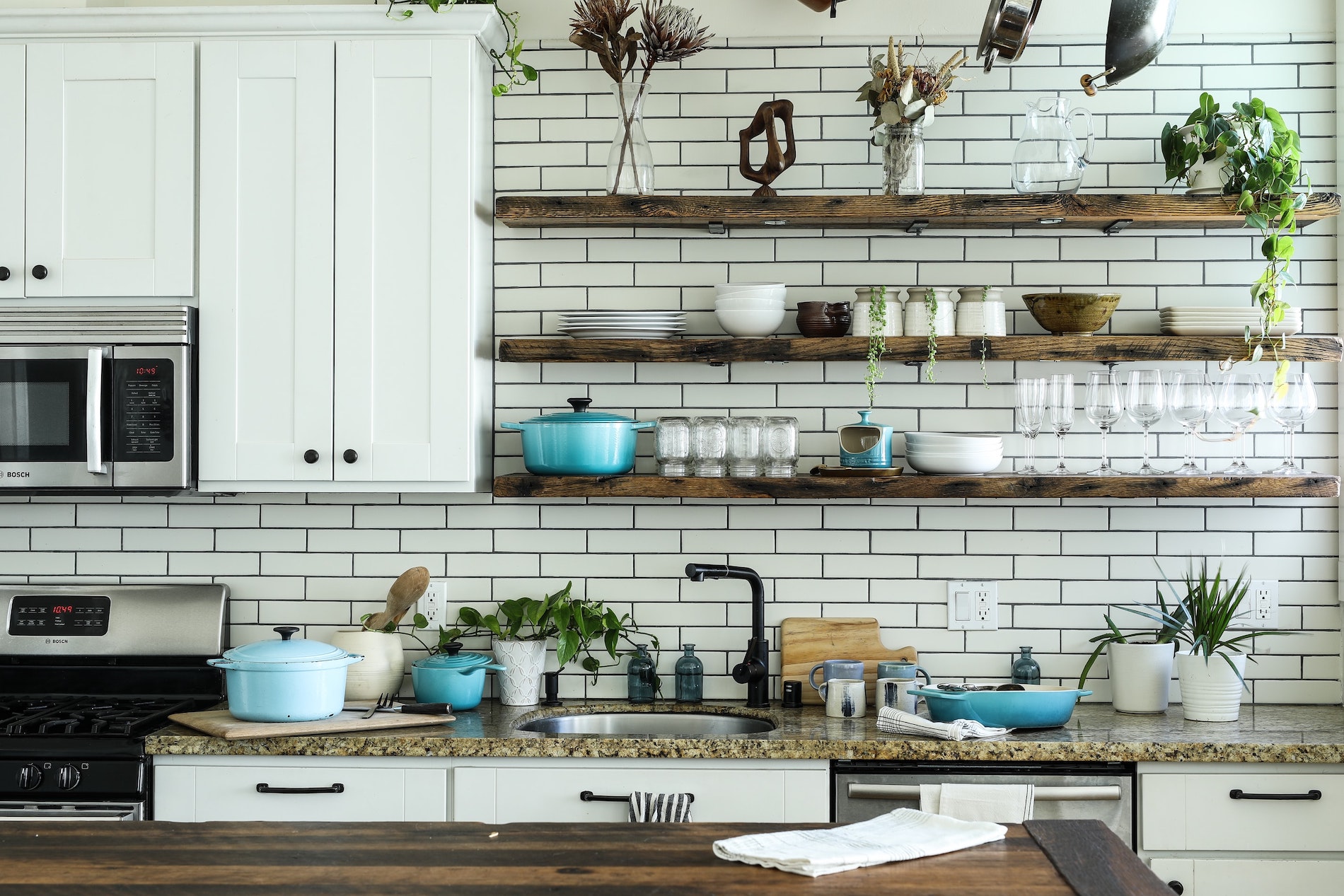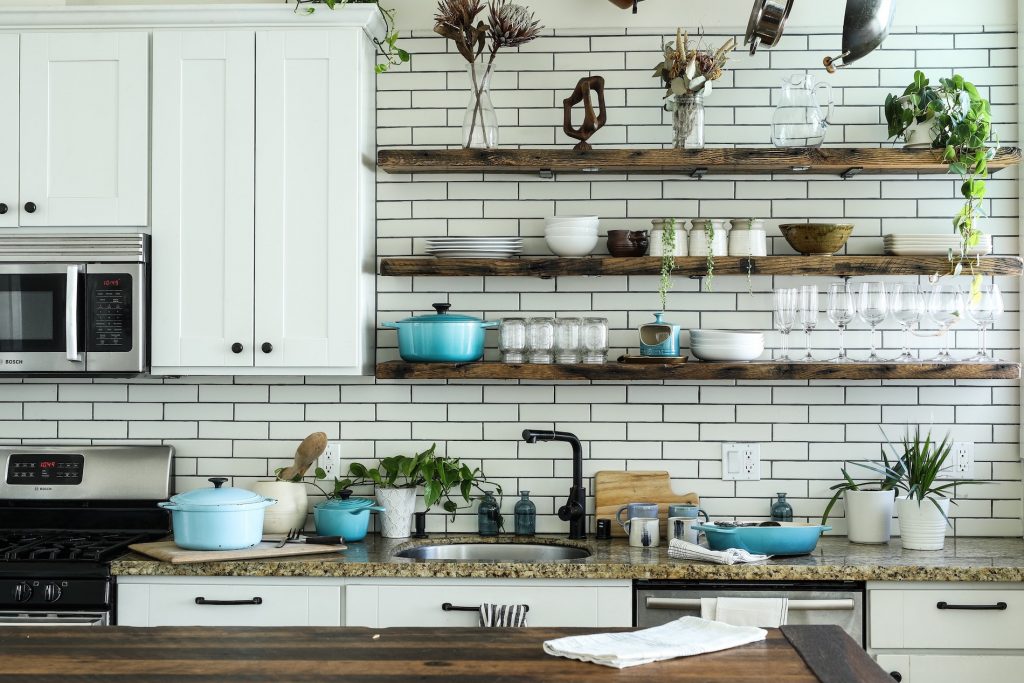 Combine rustic and industrial looks and get an entirely different theme.
This makes the kitchen perfectly balanced as the rustic part is not overdone. Enjoy a glass of wine with friends in the kitchen-cum-dining area and gracefully receive compliments on your taste in interiors.
Outdoor Styling
Outdoor kitchens are in these days. You can enjoy the cool breeze while preparing an evening snack. A stone wall and some chopped up firewood will give your outdoor kitchen a rustic look.
And since it's outdoor, you can add place it with some potted plants to accentuate the authentic country look. An old metal lamp will help enhance the entire rustic look and make it more beautiful. You can also add brass art pieces to give it an antique look.
Stone n Wood
If there are two elements that spell rustic, they're stone and wood. Combine them both to give a raw look to your kitchen.
Get back to the basics with a beautiful stone wall and wooden cabinets. Pinewood finish on the cabinets and teak finish on the floor is creating a magical country ambiance. The countertop needs to be planned accordingly so that it goes with the theme of the kitchen. With the right setup, even a small kitchen can look grand.
Wooden log
What can give your kitchen more rustic charm than a wooden log itself? Place a wooden log in your kitchen for an authentic country look. And a log won't be just a showpiece. It can be used as a chopping board as well.
Want to chop up some vegetables or meat? Use the log for slicing and dicing purposes. Chop the tomatoes and peel the potatoes. A log will give your kitchen a unique and magnificent look.
Raw wooden look
Give your kitchen cabinets the raw look with planks. You can even get distressed wood to give it a worn-out look that's classic for any rustic kitchen.
It's a colorful appearance that's matching completely with stone flooring below it. The grey walls of the kitchen are making sure that all the focus stays on kitchen cabinets that are all different in color and yet look great with each other.
Exposed beams
Baring it all can look beautiful in your kitchen. Let your beams be nude. It gives the countryside ambiance to your kitchen. Besides, exposed wooden beams complement wooden floor and cabinets and give a rustic feel. Depending on the look of your kitchen, you can select the right timber for the beam.
Cane furniture looks good with the rustic theme. It's durable and cost efficient. Also, it looks great with wooden floors.
All Wooden
Go for a cabin in the woods look by keeping everything "woody". Wooden ceiling, exposed wooden beams, wooden flooring, and wooden furniture.
The focus falls on the stove area that is made of stone. Hanging metallic lights give an industrial look that complements the wooden look of the kitchen. If darker wooden hues make you happy, get your own forest look with this wooden themed kitchen. Add some flowers and fruits and you have the perfect combination of earthy shades and bright colors.
Black and White
If you like how Oreos look, you'll love this black and white theme. Dark wood against the white stone wall looks simply amazing and catches the attention instantly.
While it adds a rustic appeal to the kitchen, it also speaks of luxury and sophistication. If you want a country look but also are an admirer of modern designs, you'll simply love this beautiful combination of the dark and light.
Go Grey
Why stop at 50 shades of grey when you can manage 100? Since grey and brown are the earthiest colors, don't forget simple old greys. Plus, when it comes to greys, you have so many shades to play with.
Make sure the countertop isn't grey so there's always some kind of accent at play. You can also add some flowers to the kitchen to add a little brightness and to make your kitchen a livelier place.
The Colors of Chocolate
Dark brown woodwork can give your home a traditional look. Plus, it looks like chocolate so if you're a chocoholic, this color will suit your personality perfectly.
Imagine having cabinets that are made of chocolate-colored wood, opening up revealing jars full of chocolates and Oreos. That's the perfect kitchen for me.
This theme goes well with hardwood flooring. You can use any wallpaper in the background but a stone wall will add more beauty to the rustic look.
Walnut Finish
Go for earthy browns that reflect a shade of red with beautiful walnut finish. If you like traditional aesthetics, you'll love the walnut look. Whether you're making pull out cabinets or double door ones, the walnut finish goes with all types of kitchen woodwork.
The best thing about reddish brown woods is that you don't feel a lack of color that is often seen in layouts with rustic themes. The countertop can be plain white to create a complementary effect.
Combine Colors
You don't have to limit yourself to a single color when you can mix two of them. Earthy shades like brown can combine with many colors. Here, green is combined with brown.
The kitchen is now divided into two colors. The countertop is brown and the cabinets are green. The dining area is also tastefully made of two colors – brown and green.
You can create your own color combination. Which two colors would you want to play with?
Burnt Look
Create a burnt look by using timber that's dark and light in color. It creates an exceptional look that's rustic as well as modern. The stone wall pairs well with woodwork and to add to the look, you can use wooden flooring.
Add a jar of peanuts to create an even richer wooden look. And if you feel that the kitchen is lacking bright colors, you can always add a vase of flowers.
Fireplace Theme
Give a fireplace look to your kitchen by building a stone arch over it. Place the stove directly under the arch to add to the fireplace look. The cabinets are reddish-brown and go well with the reddish stone color.
Add a touch of green by placing a small houseplant in the corner. Blend contemporary and rustic appeals with this amazing design that will make your kitchen stand out from the rest.
Country Cottage Vibe
This kitchen gives a strong vibe of a country cottage. The exposed beams have a vintage look that instantly catches attention. The cabinets have a slight touch of caramel that looks great with the black countertop.
The colors are soothing to the eyes and the kitchen has the appeal of a small countryside home. You can add more elements to this vibe by placing a vase and using the right light fixtures.
Messy Look
Sometimes, a little messy look can give you the vintage appeal you are after. The wooden cabinets aren't exactly neatly made and create a muddled environment.
If you've grown in the country, you'll feel at home with this rustic look that totally mimics the countryside lifestyle. The stone wall matches the stone flooring and the messy look is looking classy and giving a cozy and antique feel.
Rustic Countertop
When you're designing kitchen cabinets, don't forget the countertop. If you're going for a rustic look, you can save on a lot of hard work by redesigning your countertop instead of the cabinets.
Wood is generally not chosen for countertops. This is where you can give a unique look to your kitchen. Wooden countertops don't just give a country look to your kitchen but they will also complement the other woodwork and furniture.
Open Kitchen Cabinets
If you don't have the time or energy to do cabinet makeovers, go for open cabinets. These granny style curtains will not just give it a rustic and vintage look, but it will also be practical and time-saving.
For example, if you use curtains in the corner, you don't need to spend hours going through kitchen cabinet corner ideas. Just hang curtains in the corners and you won't have the blind spot issues. Plus, all cabinets will be accessible at once.
Very Red
If you've ever seen Maple in autumn, you'll know red is a major fall color. And it brings life to any dull environment. So why shouldn't it be the color of choice while you're redesigning your kitchen cabinets?
Combine red with reddish-brown flooring and light wooden wall design and it will be the right contrast to catch the attention of all visitors. Since the colors might become too bright, make sure the countertop is white so the hues are balanced.
Cherry Wood
If you like the way houses looked in your grandpa's time, try cherry wood. Cherry has a serious look that carries traditional values and gives a rustic charm that also spells class.
Go with darker shades and use them against light-colored walls. Also, make sure the countertop is white so the colors are balanced properly. If you're changing your kitchen from oak or walnut, cherry can be a good change.
Distressed wood
Go for the distressed wooden look if you want the real barn-kind of feel. These woods aren't really distressed but they appear to be worn out so you can enjoy a more rustic and raw look.
Distressed wood look goes with kitchen cabinets, doors, center table, and flooring. You can even use different types of distressed woods. Combine this look with a stone wall and you'll have the true country ambiance.
Unfinished Cabinets
Why stick with browns and greys when you can throw around colors and still get a rustic look. Just don't finish the painting part and get the unfinished look on your kitchen cabinets.
Fading and chipping away paint has its own charm. If you're looking for an antique look for your kitchen, this is the perfect way to design it. Add more rustic value to the scene by storing vintage kitchen items in the cabinets.
Whiten It
I love white and always include it in all home décor projects. However, when we talk about rustic, we often limit ourselves to earthy shades like brown and cream.
White if a bright color but you can go with a dirtier shade of white to create a rustic appeal. It will also give you a vintage and worn-out look.
If you're truly looking for a rustic feel with countryside appearance, dirty white can be the perfect color for your kitchen cabinets.
It's All About How Rural You Want It
How rustic are you willing to be? That is the question. Rustic is all about raw and worn out. It can also mean classic and traditional designs. Most modern homeowners mix rustic designs with contemporary looks to create an appealing environment.
Whether you're redesigning your kitchen or living room, you need to decide how much of a rustic appeal are you going for and plan accordingly.