Decorated Life is reader-supported. When you buy through links on our site, we may earn an affiliate commission. Learn More
24 Rustic Kitchen Cabinet Ideas
When remodeling your kitchen, it's important to know what direction you want to go stylistically. If you're someone who likes the feeling of cozying up in a cottage that's nestled quietly in the countryside, then the rustic look may be for you.
From a worn-out wooden appearance to a metallic industrial vibe, there are so many ways in which you can incorporate a rustic look into your kitchen whether you live in a builder-grade home or in the heart of a city.
Don't know where to start? That's okay, because we rounded up some of our favorite rustic kitchens to help give you some inspiration for your own.
Streamlined Stain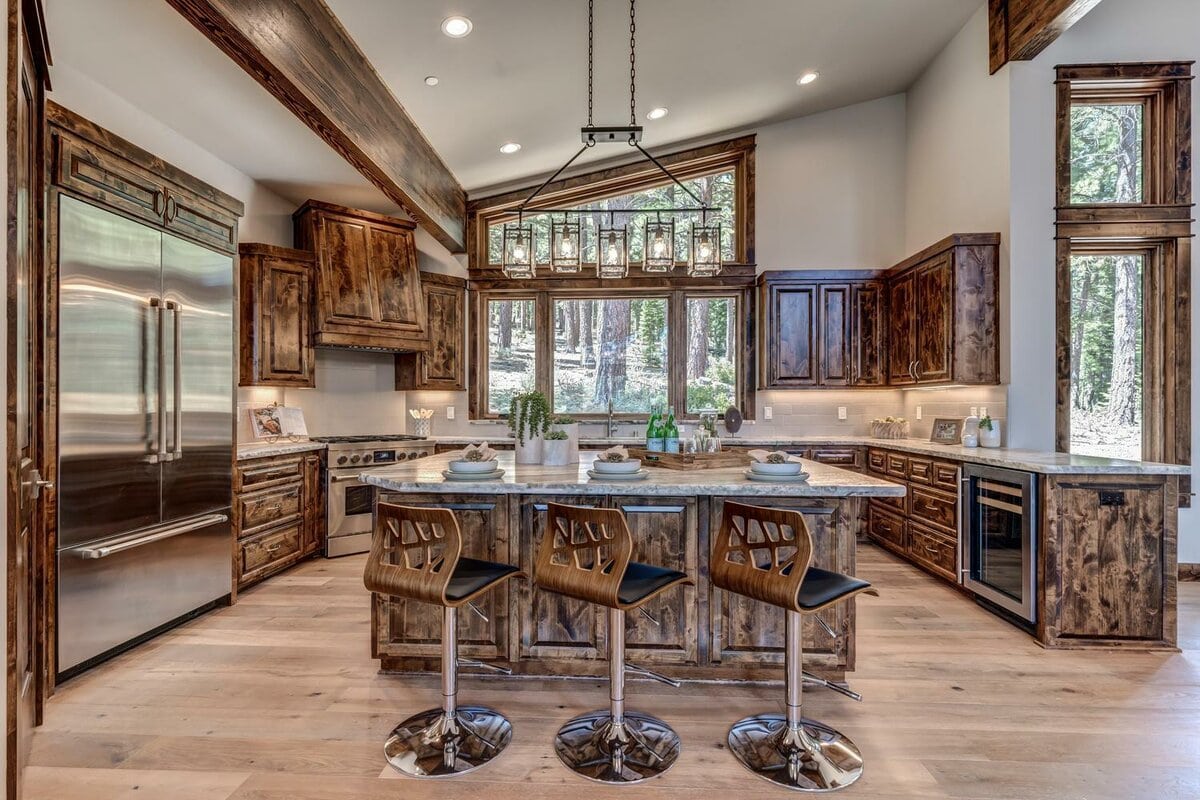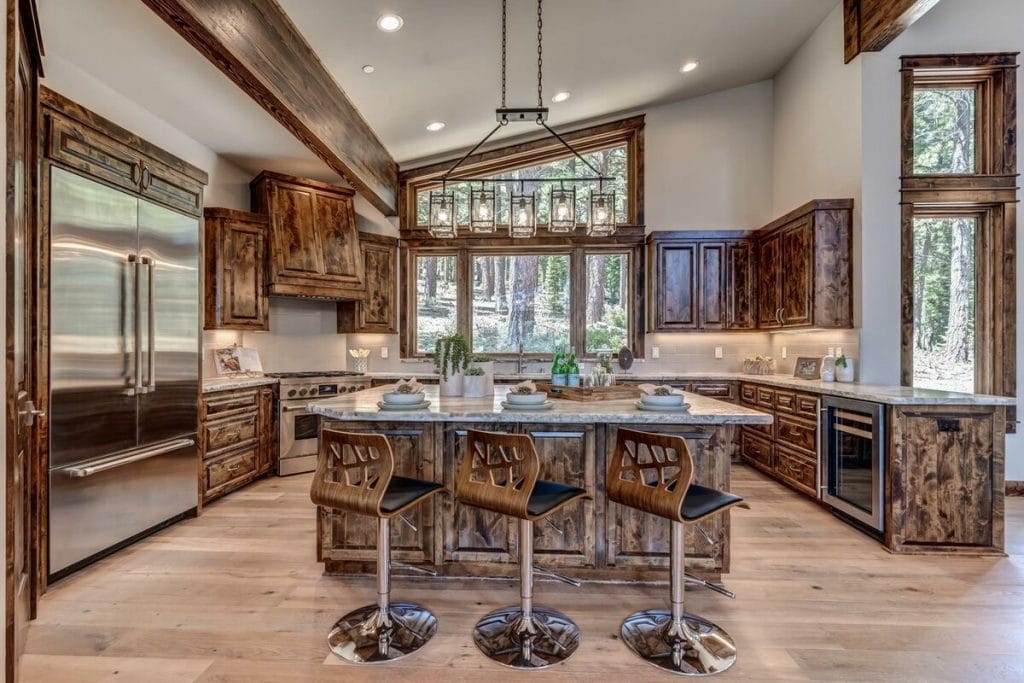 Traditional rustic kitchen cabinets will have a streamlined style. The same type of wood and same color of stain on both the upper and lower cabinets.
In this kitchen, the streamlining went even further than the kitchen cabinets, into the window frames and ceiling beams. If you love symmetry and similarity, this is the kind of look you should go for.
Industrial Style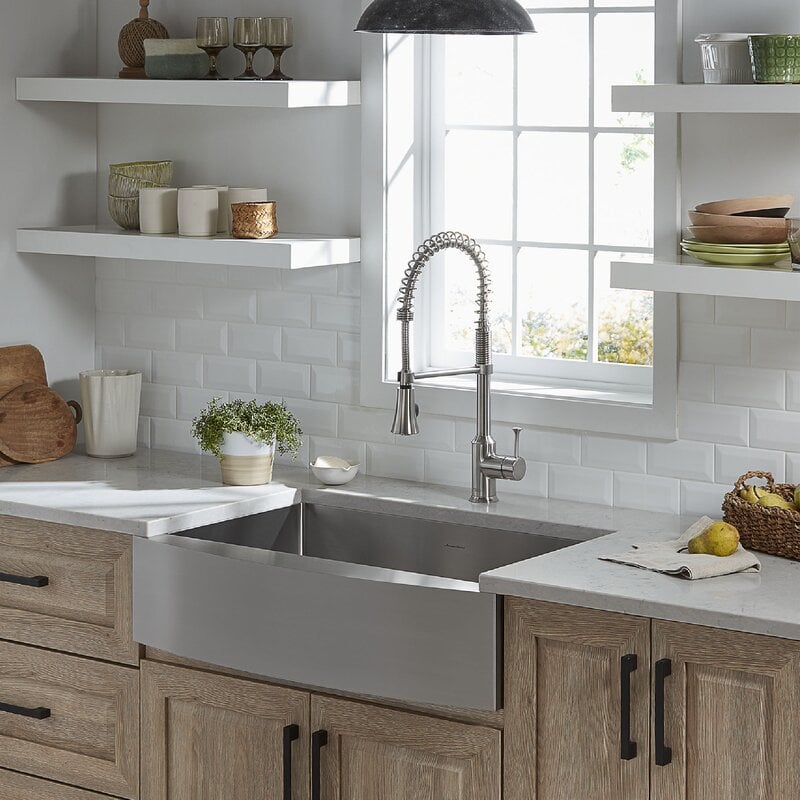 With so many different interpretations of what rustic can mean leaves a lot of room for mixing trends together, like rustic and industrial.
The roughness of rustic combined with the smooth iron of industrial looks creates a nice balance. Incorporate it into your kitchen and then enjoy a glass of wine with friends in the and gracefully receive compliments on your taste in interiors.
Use Some Blue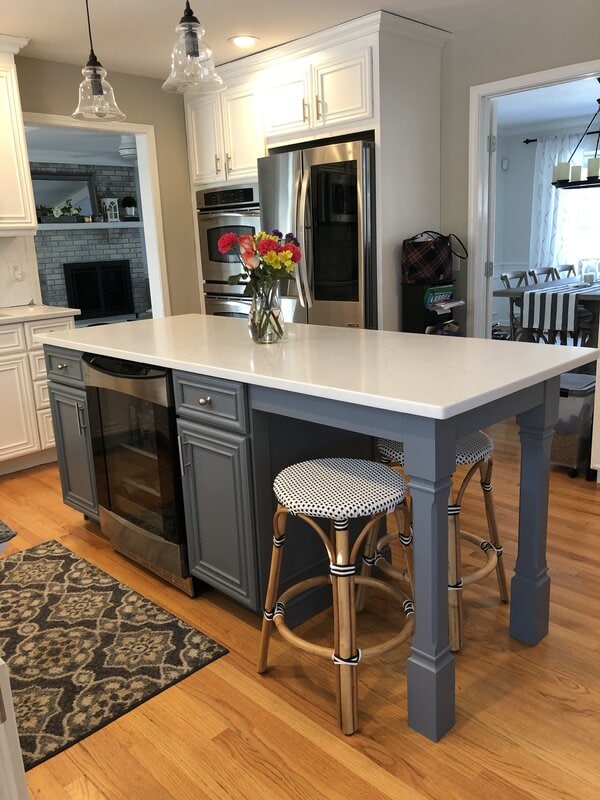 Need a little color in your life? You can add some rustic painted cabinets to your kitchen for a vibrant country feel.
This kitchen has touches of modern, rustic, and country styles and the blue painted island helps tie all of the looks together well. Don't be afraid to incorporate color into your kitchen cabinets!
Mix Stone and Wood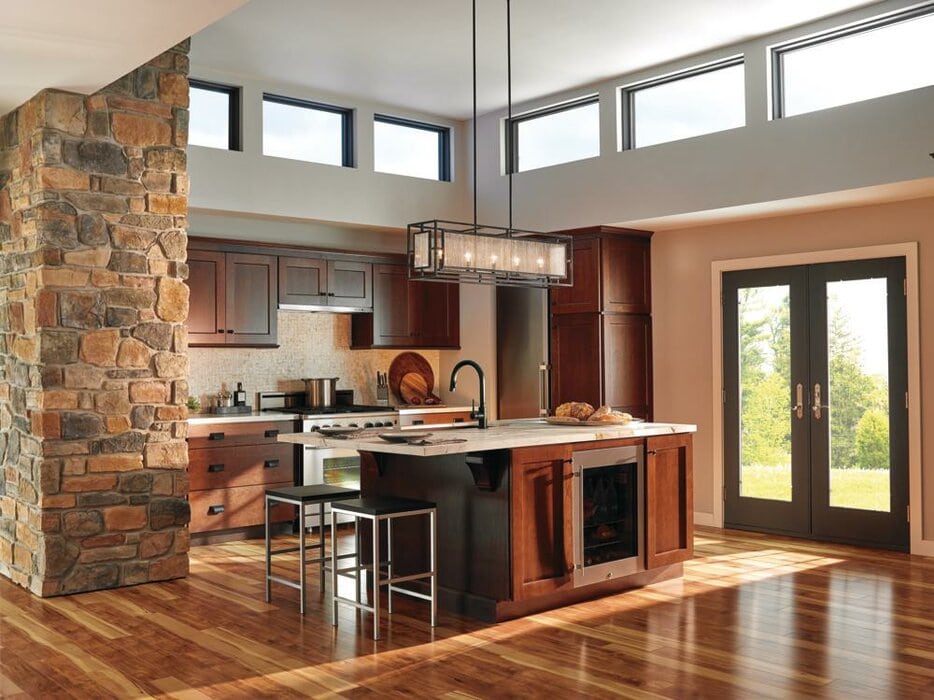 If there are two elements that spell rustic, they're stone and wood. Combine them both to give a raw look to your kitchen.
Get back to the basics with a beautiful stone wall and wooden cabinets. Pinewood finish on the cabinets and teak finish on the floor would create a magical country ambiance. The countertop needs to be planned accordingly so that it goes with the theme of the kitchen. With the right setup, even a small kitchen can look grand.
Pair Them With Granite Countertops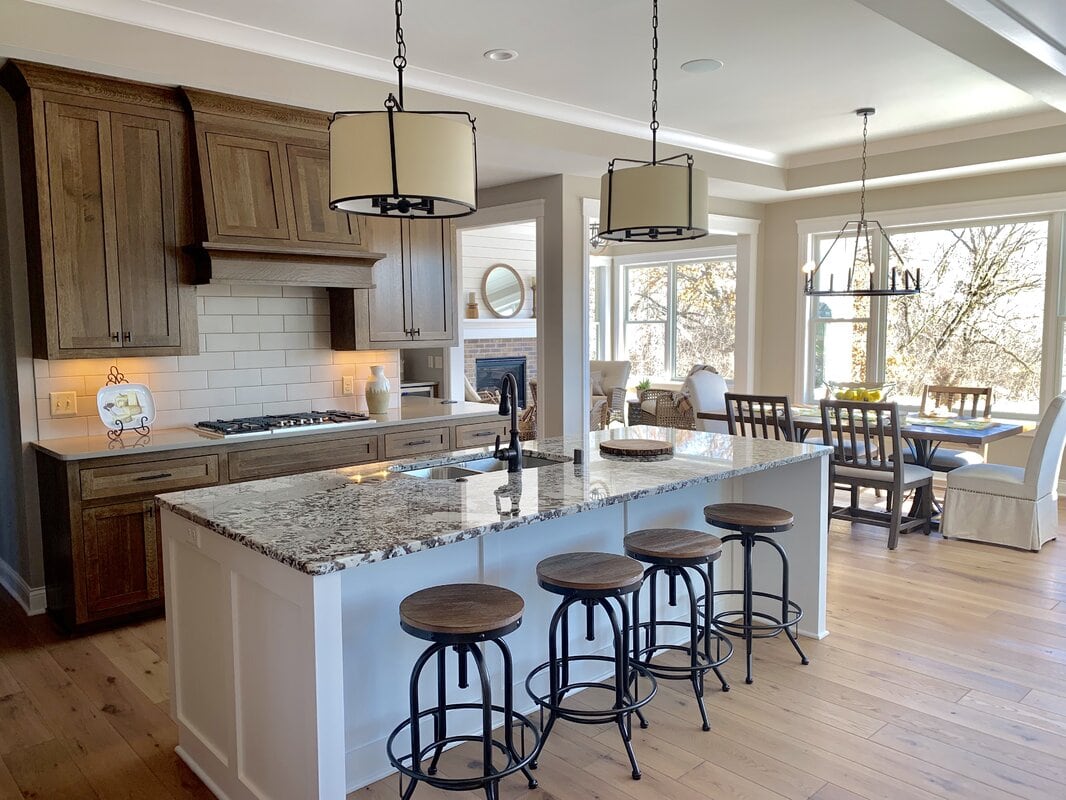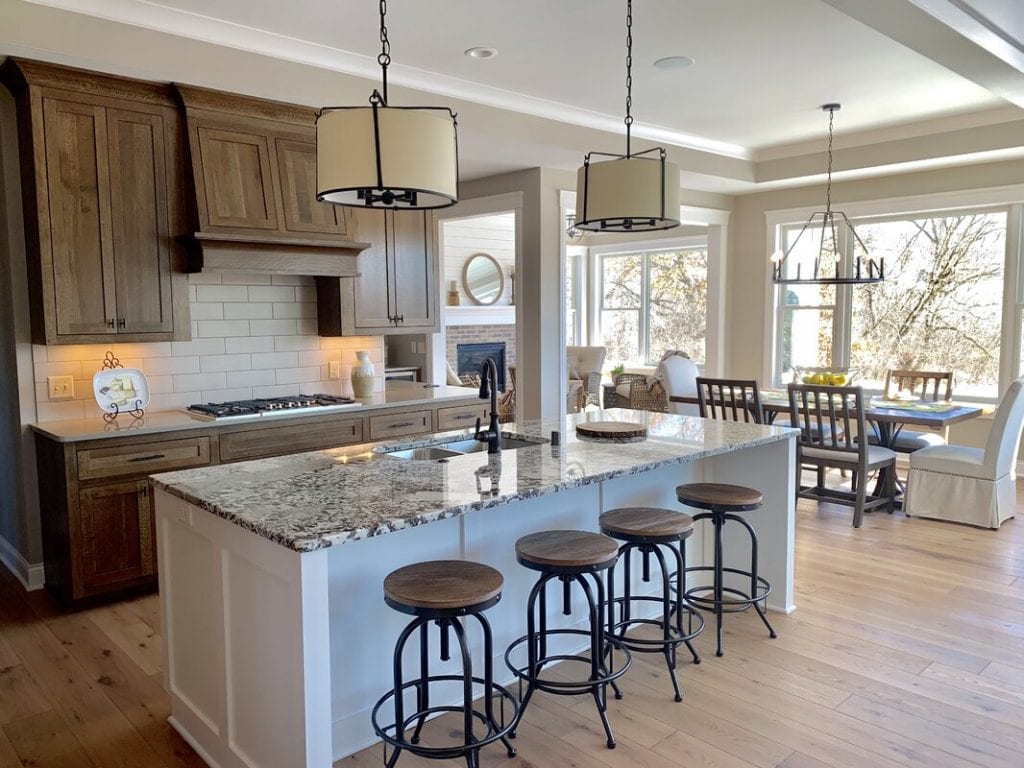 A rustic kitchen doesn't mean everything has to be, well, rustic. You can add in some smooth elements to even out the style, like granite countertops, The grain of your wooden cabinets will pair well with a granite stone with complementing colors.
Skip the Uppers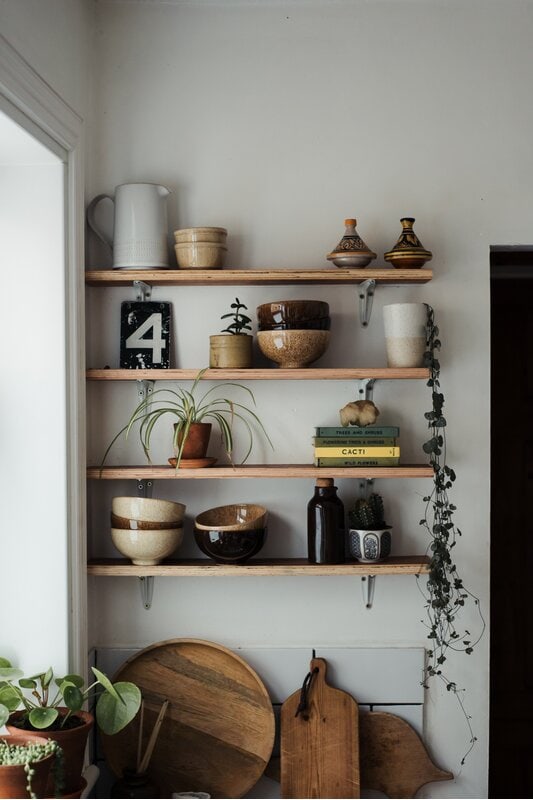 Don't these shelves look like they are hung in a cabin in the mountains? The pottery, plants, and cutting board accents make them all the prettier, too.
If you want that rustic kitchen, focus on the bottom cabinets and totally skip the uppers and opt for shelves instead.
Exposed Beams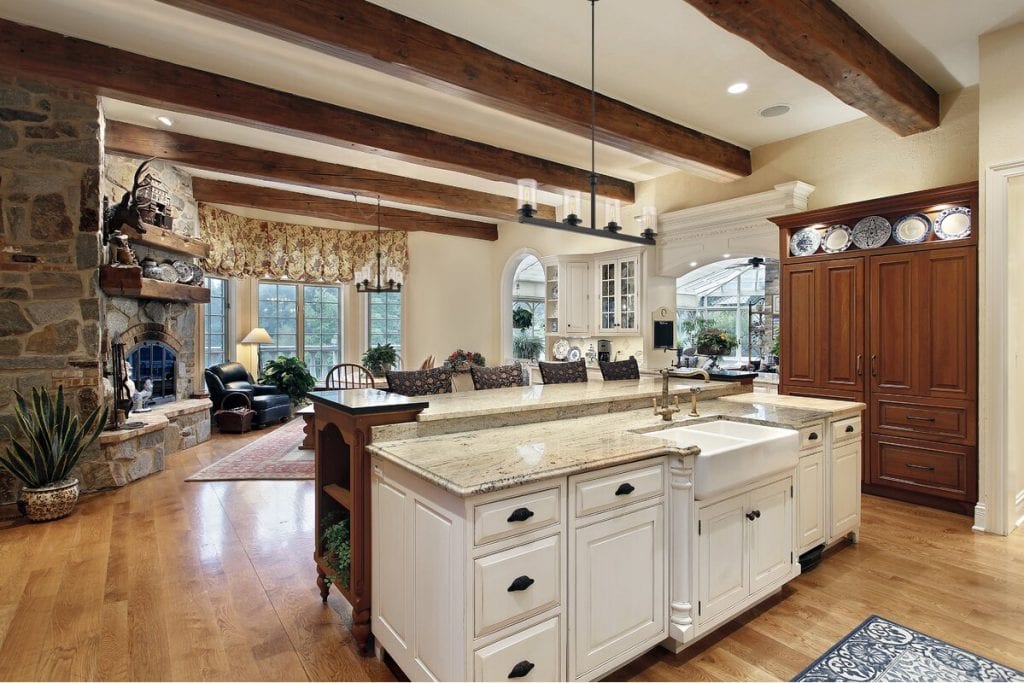 Baring it all can look beautiful in your kitchen. Let your beams be nude. It gives the countryside ambiance to your kitchen. Besides, exposed wooden beams complement wood floors and cabinets and give the space an even more rustic feel.
Contrasting Hardware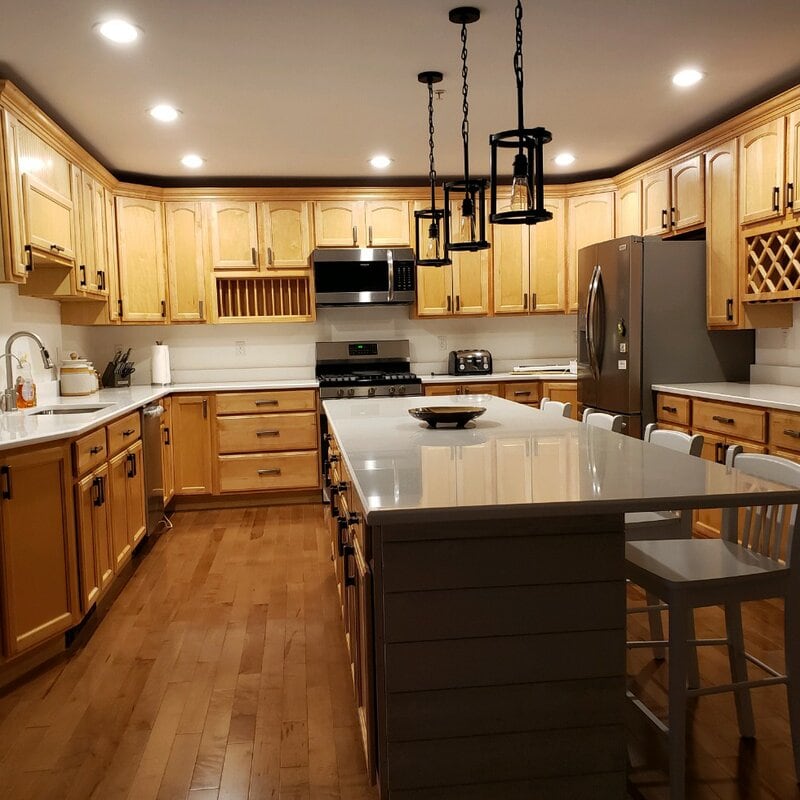 If you live in a home with lots of builder-grade features, chances are good you didn't get those rustic wood kitchen cabinets you were hoping for. That's okay, you can still give the space a rustic touch with the right hardware.
In this kitchen, they paired the light wood cabinets with oil rubbed bronze hardware that contrasts against the wood nicely. You can get a similar effect with some ceramic knobs to get a country rustic vibe.
Black and White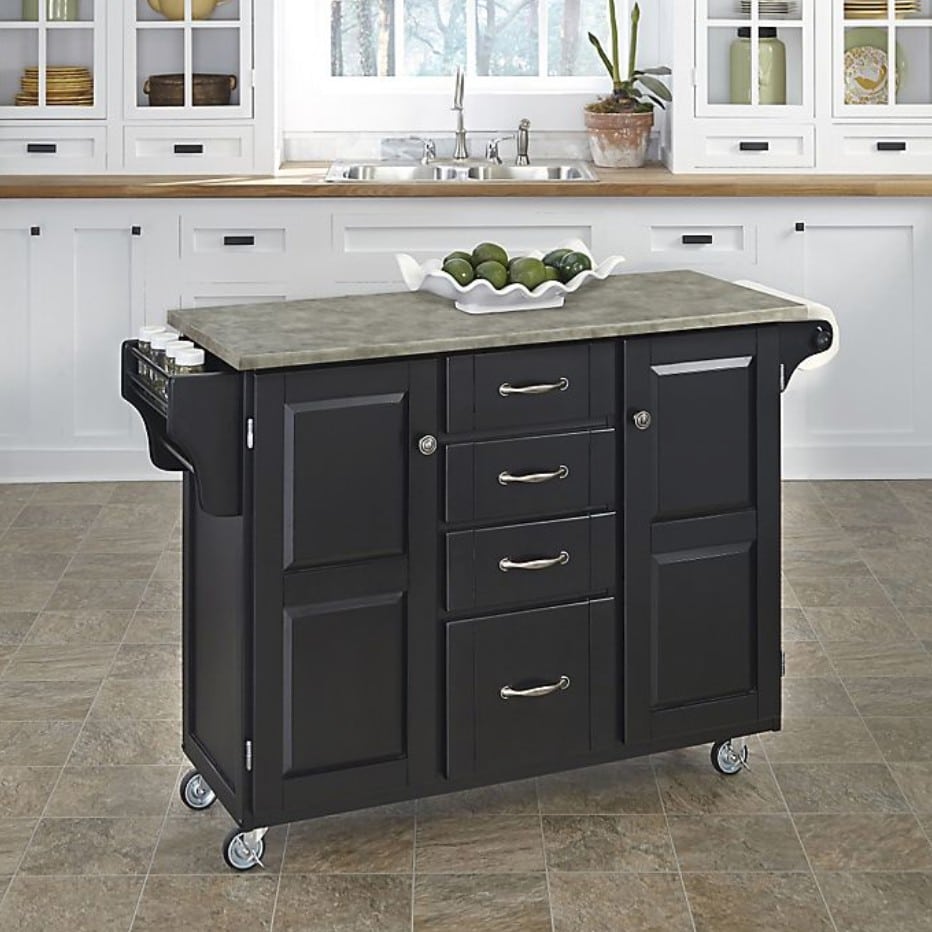 If you like how Oreos look, you'll love a black and white theme. If it's done right, it can look rustic rather than modern.
This kitchen does the look well with the modern-farmhouse style white cabinets and the black island with a more country rustic design. Coincidentally, that island also looks like a good spot to sit and have a few Oreos with a glass of milk.
Go Grey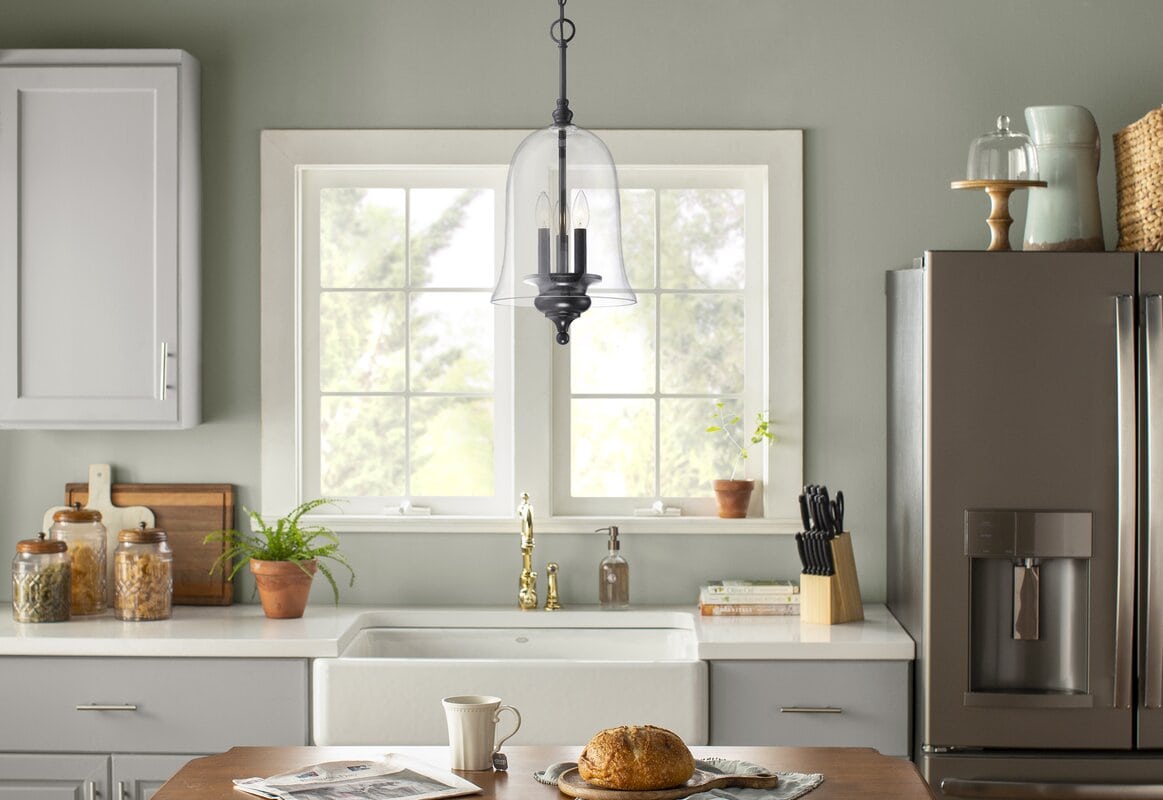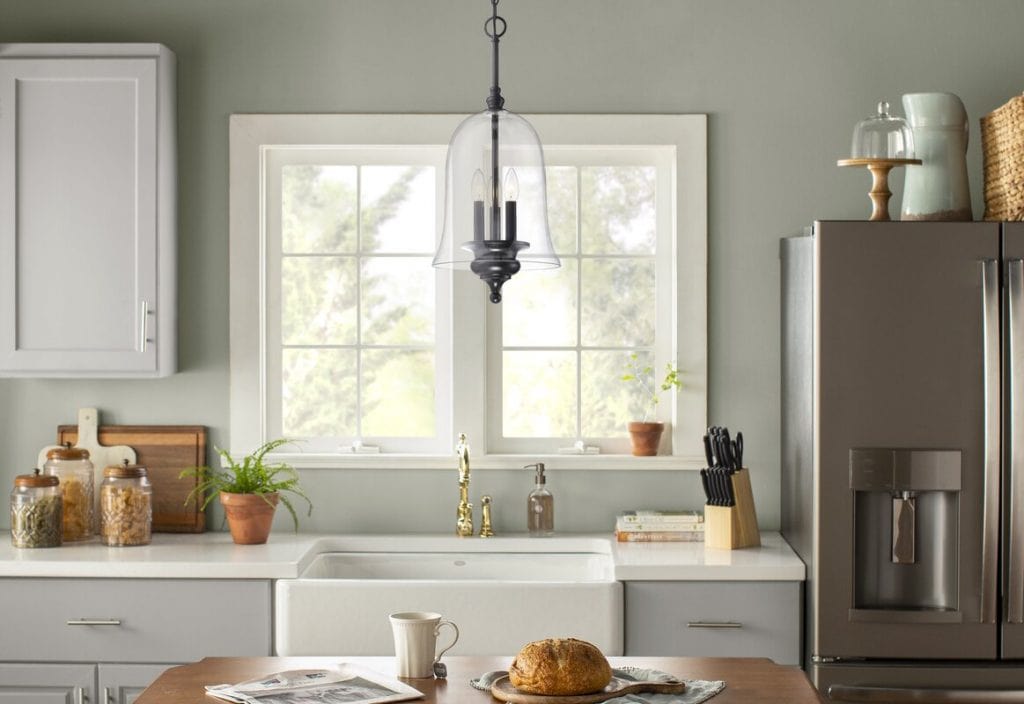 Why stop at 50 shades of grey when you can manage 100? Since grey and brown are the earthiest colors, don't forget simple old greys when planning out your rustic kitchen cabinets.
Just make sure not to overdo the grey color scheme, or it'll feel too cold (and modern). Add some flowers to the kitchen to bring in a little brightness and make your kitchen a livelier place.
Roughen It Up With Brick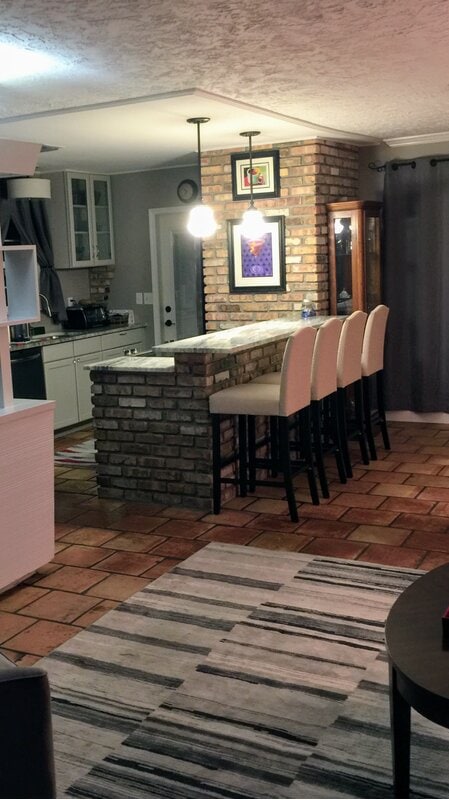 If your kitchen cabinets are perfectly fine, but you'd like a more rustic look, add some brick into the space to add some texture. If you have brick in your home already, great! Use it! If not, there are a lot of great easy-to-install stone and brick tiles you can attach to your wall similar to the kitchen in this photo.
Be careful with brick, though, because you want to keep it rustic and not end up with an industrial or warehouse aesthetic.
Walnut Finish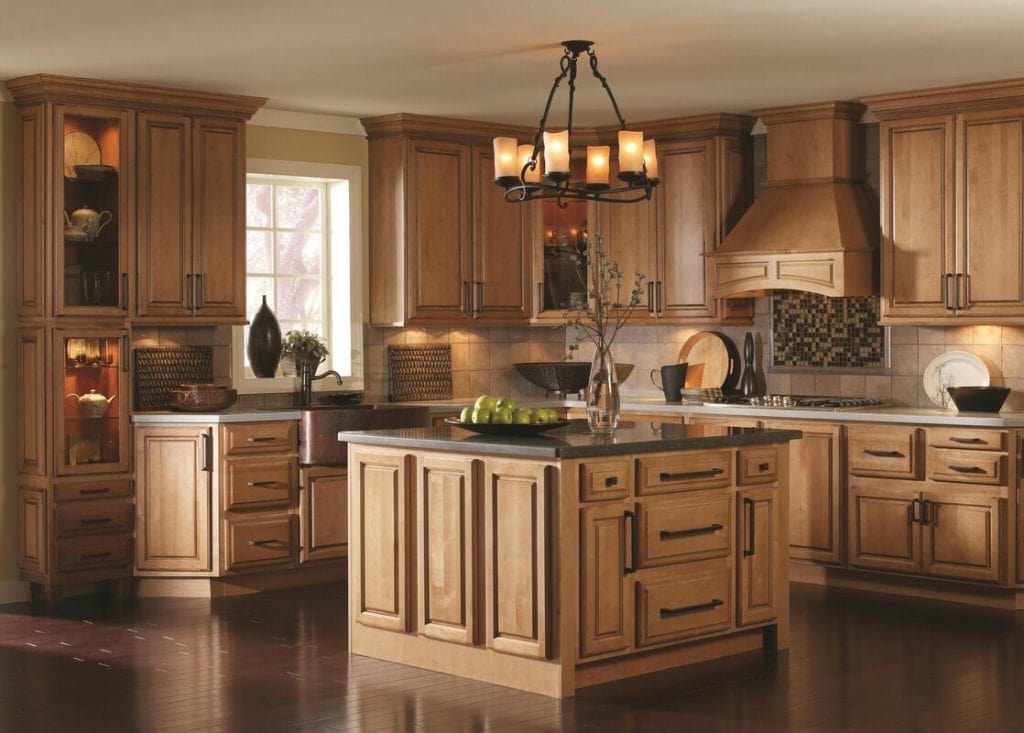 If you like traditional aesthetics, you'll love the walnut look. Whether you're making pull out cabinets or double door ones, the walnut finish goes with all types of kitchen woodwork.
The best thing about reddish brown woods is that you don't feel a lack of color that is often seen in layouts with rustic themes. The countertop can be plain white to create a complementary effect.
Pair Wood With Weathered White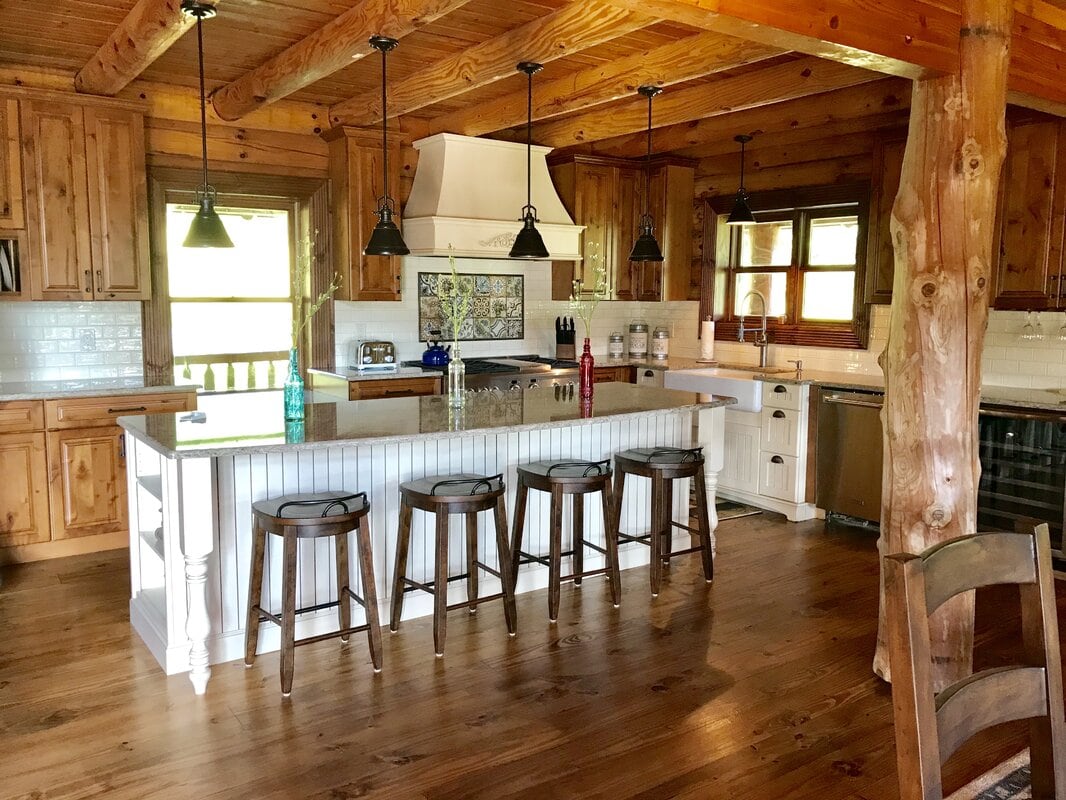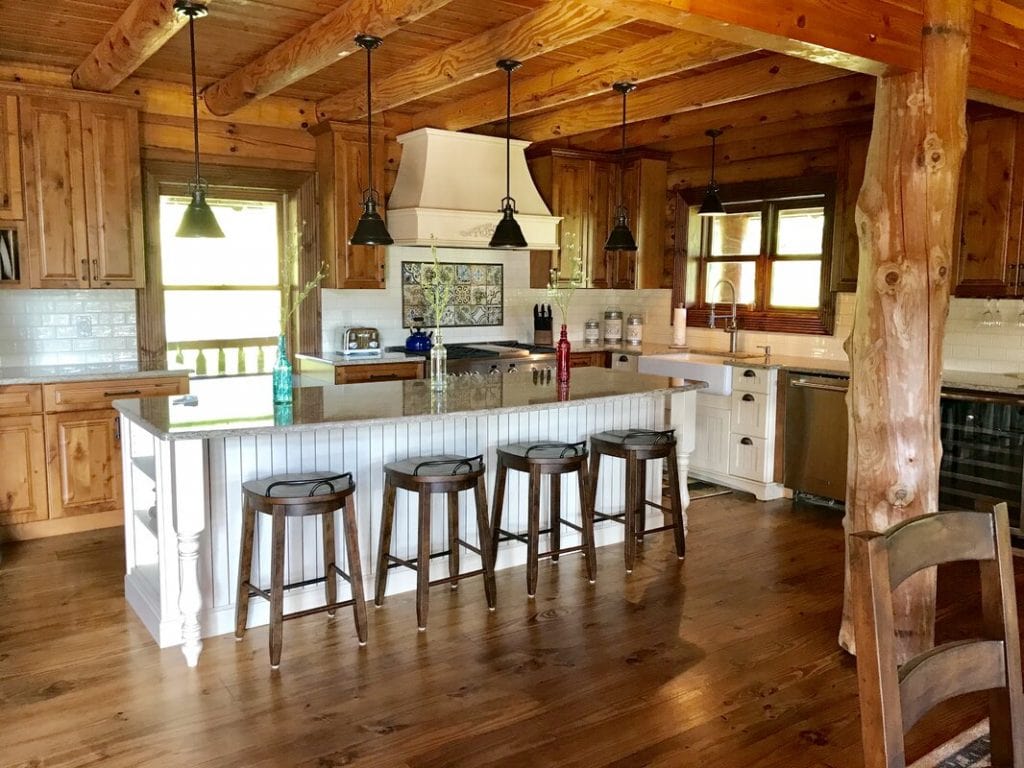 If you prefer rustic over farmhouse style, you may be hesitant to consider rustic white kitchen cabinets since they are a staple in a farmhouse chic kitchen, but you can mix them up with some stained wood to create a rustic look (that doesn't feel too dark).
The white in this kitchen really balances out all of the wood throughout the rest of the room. But, they kept it rustic with the beadboard island and oil rubbed bronze hardware.
Consider a Farmhouse Rustic Look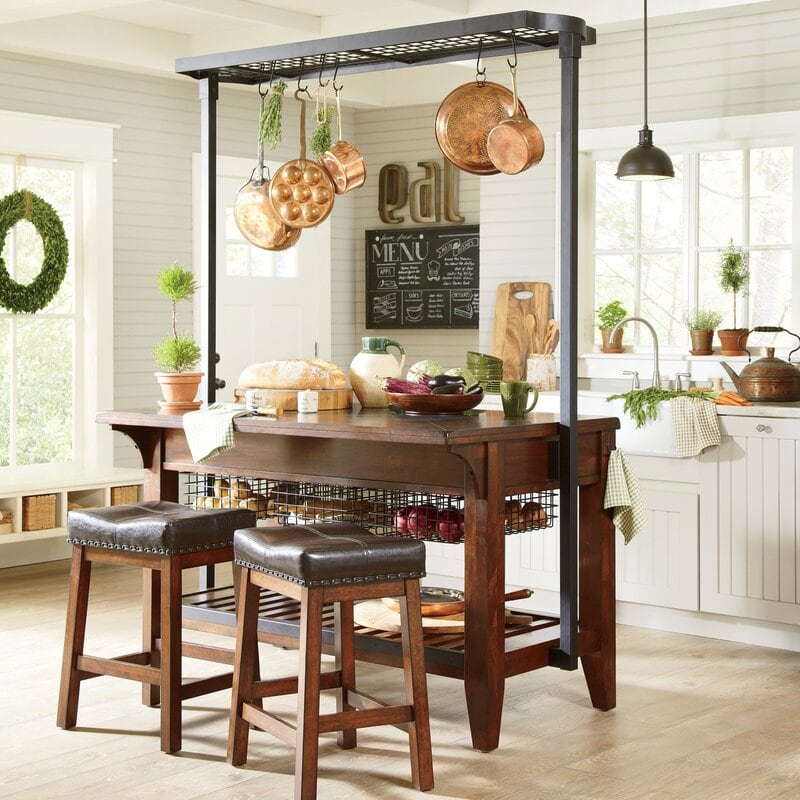 Perhaps you actually love the farmhouse look, but just want it to have more of a country feel than straight out of an HGTV show. In that case, use some rustic wood cabinetry to bring a little texture to an otherwise sleek farmhouse kitchen.
If you can't get your hands on some rustic cabinets, add in the rustic wood somewhere else like this kitchen did with the cutting boards, vintage teapot, and hanging copper pots and pans.
Add Some Country Elements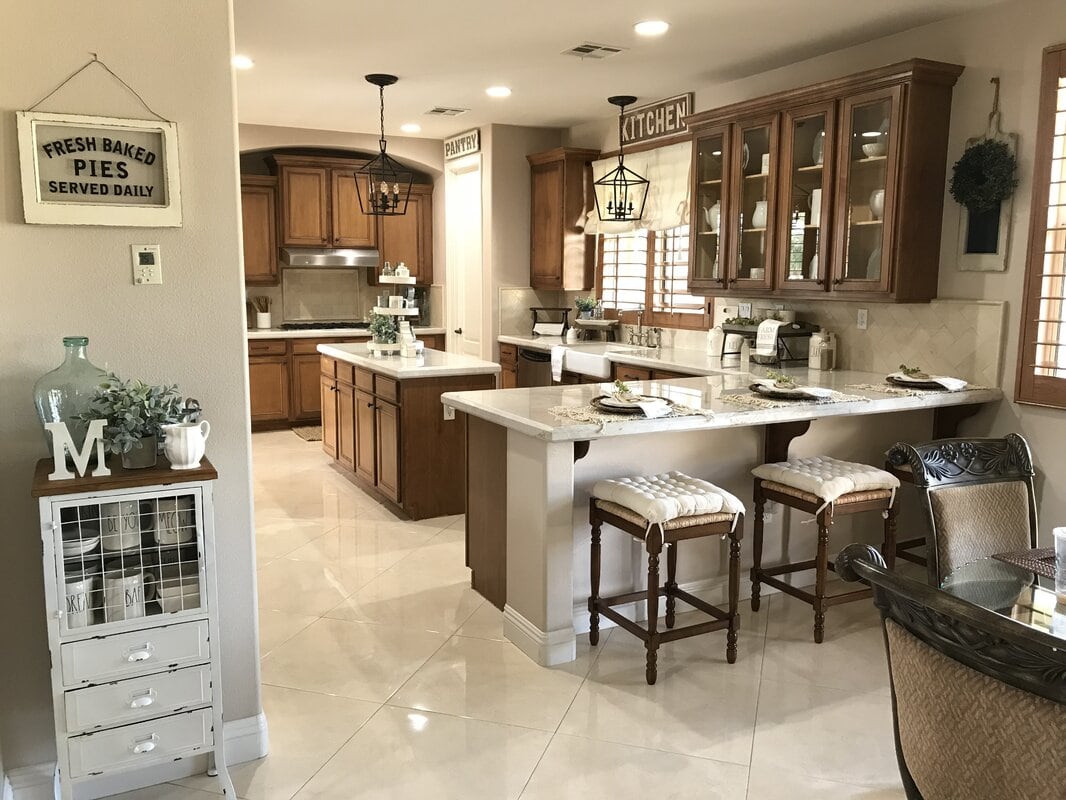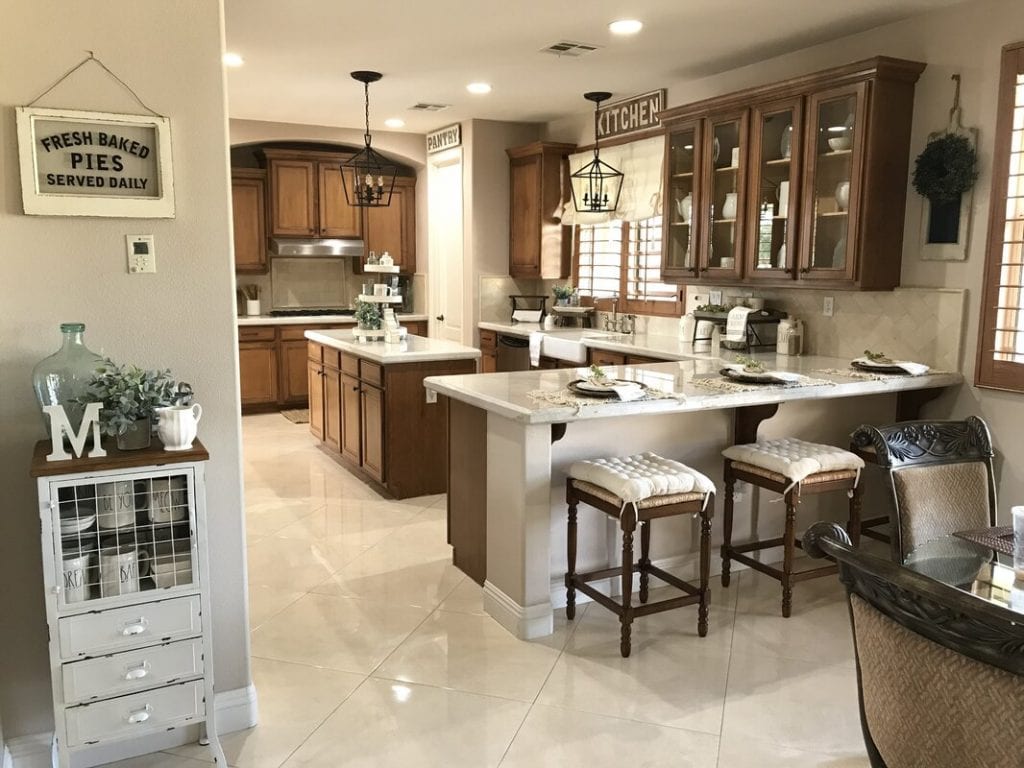 There are so many great things about moving into a newly-built home. But, if it's not a custom home chances are good you'll end up with a modern-traditional kitchen. That's okay, though, because you can use accents to give it a rustic vibe.
Find some vintage signs to hang up, decorate with worn cutting boards, and set out a cake stand full of cookies (if for no other reason than to just have some cookies at your disposal).
Mix Whites For A Country Cottage Vibe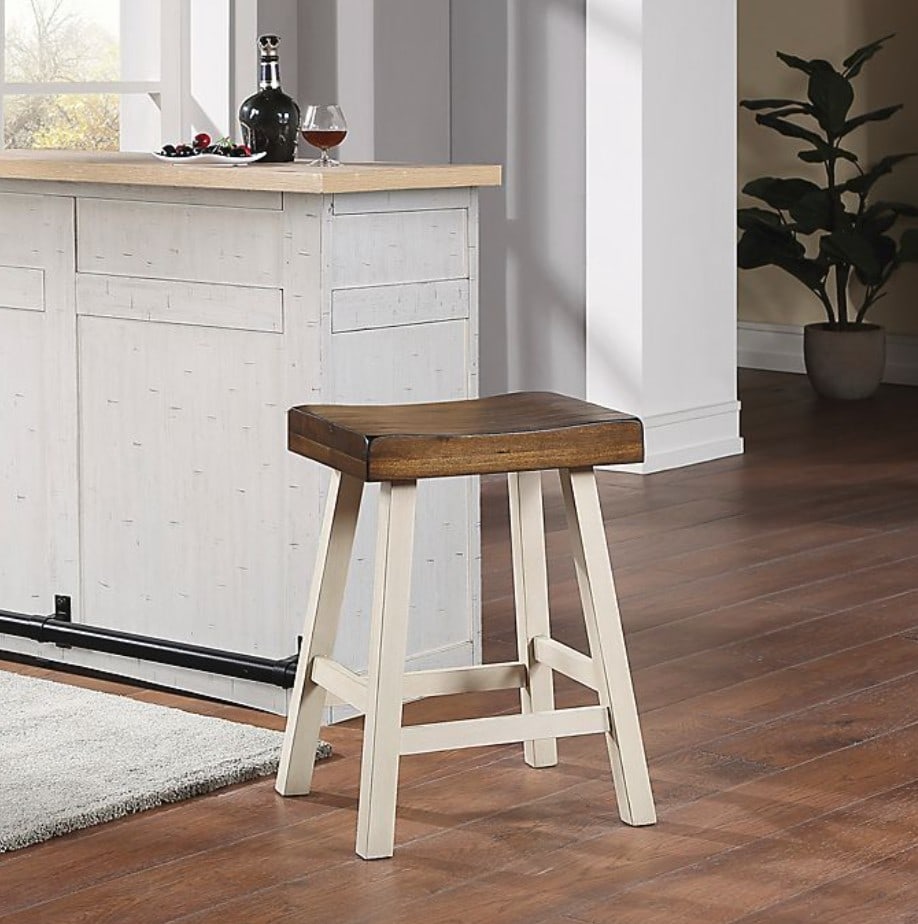 A rustic country cottage has a totally different look and feel from a rustic cabin in the woods, and it has a lot to do with the colors used in each. Country cottages are more light and airy, so if you want that kind of style, then decorate with lighter woods and different shades of white, beige, cream, and touches of grey (just don't go overboard with the grey).
Consider Glass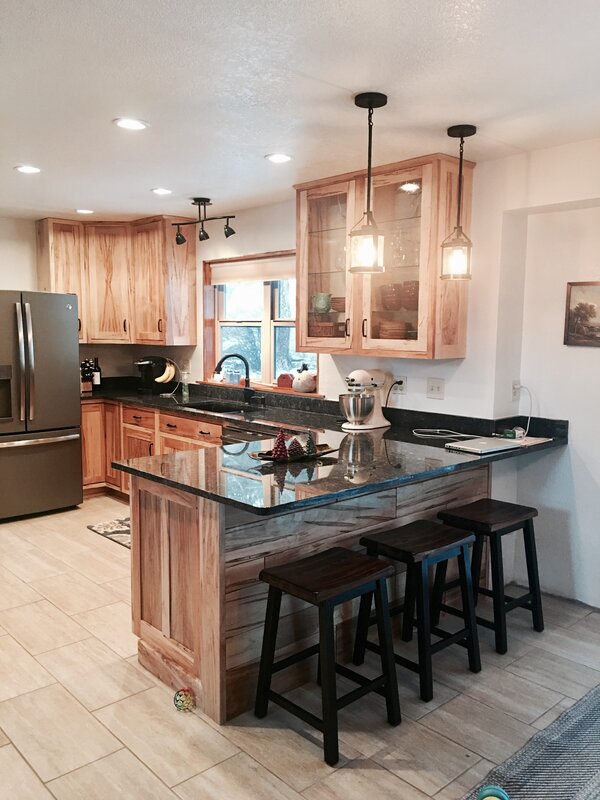 Instead of trying to find the perfect rustic kitchen cabinet, consider a glass front instead. You can still play up the rustic theme by displaying vintage teacups or plates. You can also give your cabinets a more country vibe by adding glass fronts that look like windows with panes.
Rustic Countertop
When you're designing kitchen cabinets, don't forget the countertop. If you're going for a rustic look, you can save on a lot of hard work by redesigning your countertop instead of the cabinets.
Give a unique look to your kitchen with wood countertops. Wooden countertops don't just give a country look to your kitchen but they will also complement the other woodwork and furniture.
Remember the Details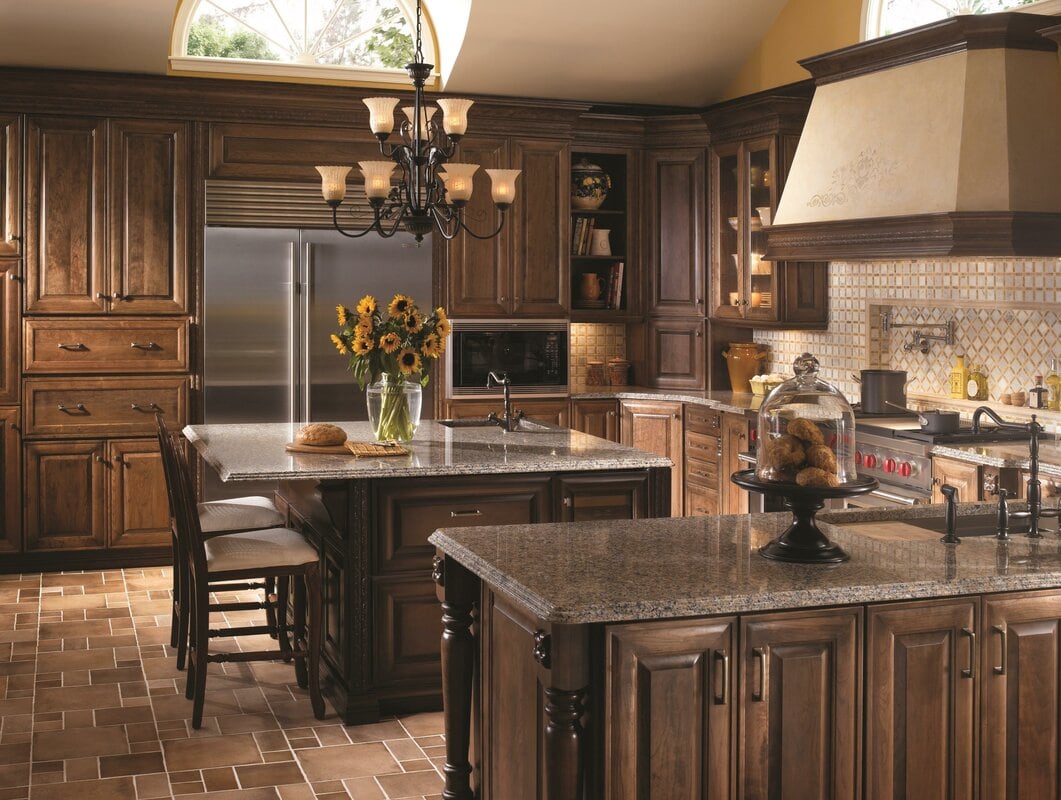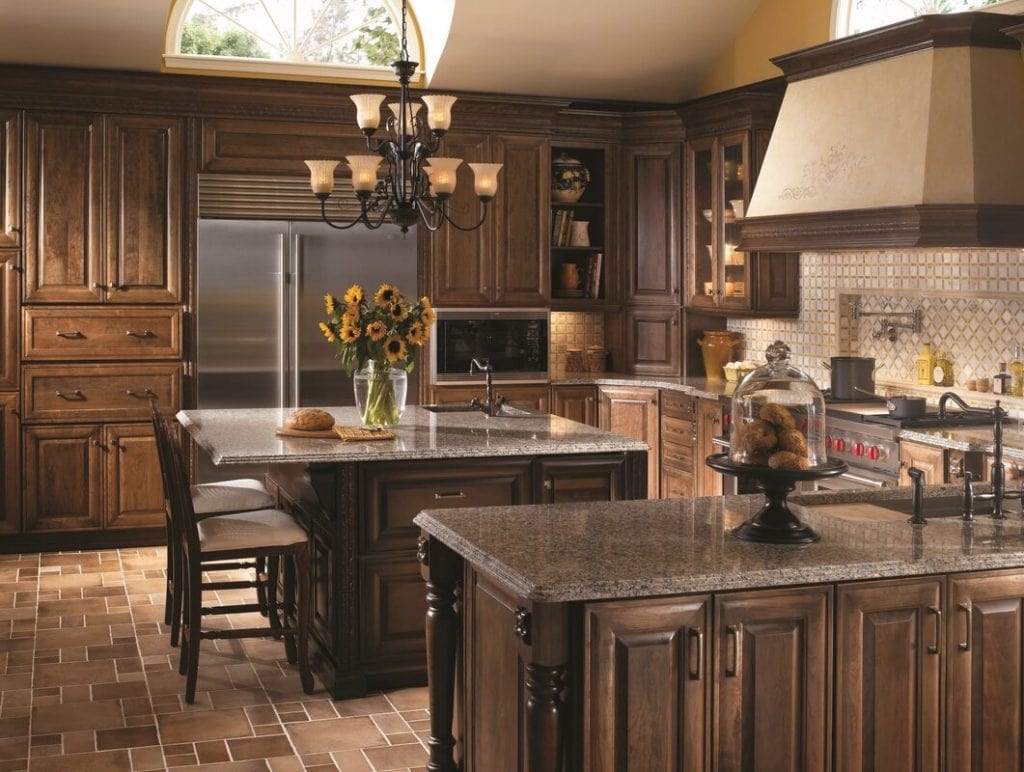 Unless you live in a really old home, chances are good you'll be manufacturing a lot of the rustic elements of your kitchen. If that's the case, make sure you pay close attention to the details of your cabinets, accents, and hardware because those are the places you can implement a rustic look into an otherwise modern home.
Highlight The Wood Grain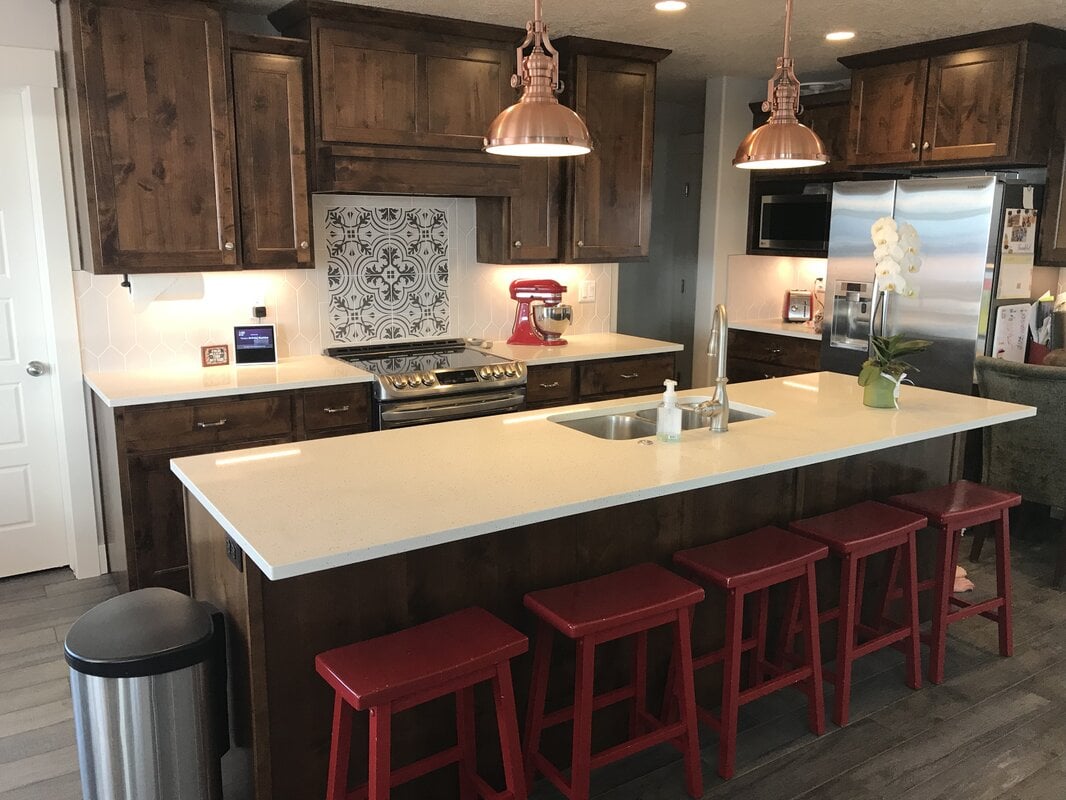 You don't have to use reclaimed barn wood to get rustic looking kitchen cabinets, just use something with a lot of grain, and opt for a stain that will highlight them. Between that and some more rustic accents like furniture, backsplash, and light fixtures your kitchen will look old in no time.
Keep Them Dark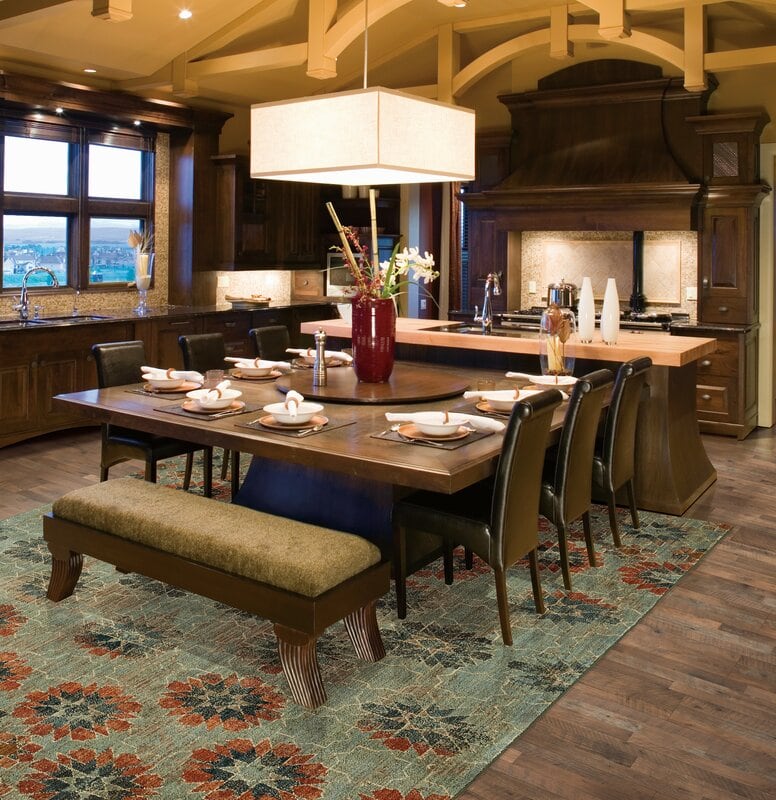 If your home's aesthetic is overall traditional but you want a more rustic kitchen, stick with dark colors to go for a more earthy rustic rather than a country cottage. It will be easier to blend the two aesthetics together with darker wood, especially if you don't plan to do a rustic design throughout your home.
Mix Up Stains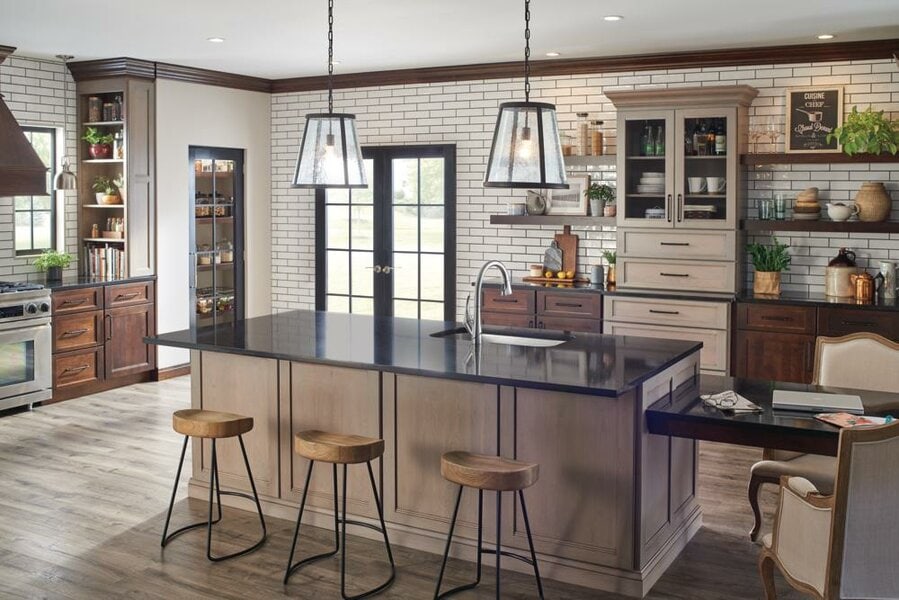 One of the appeals of a country style kitchen cabinet or rustic kitchen aesthetic is that mismatching works! You can use this to your advantage by using different (but complimenting) stains on your cabinets.
This kitchen has a mixture of rustic, farmhouse, and industrial elements and the different colored cabinets help tie them all together flawlessly. The homeowner also added in extra rustic touches like wood cutting boards, vintage pottery, and some chalkboard art to elevate the style.
Pair Modern and Rustic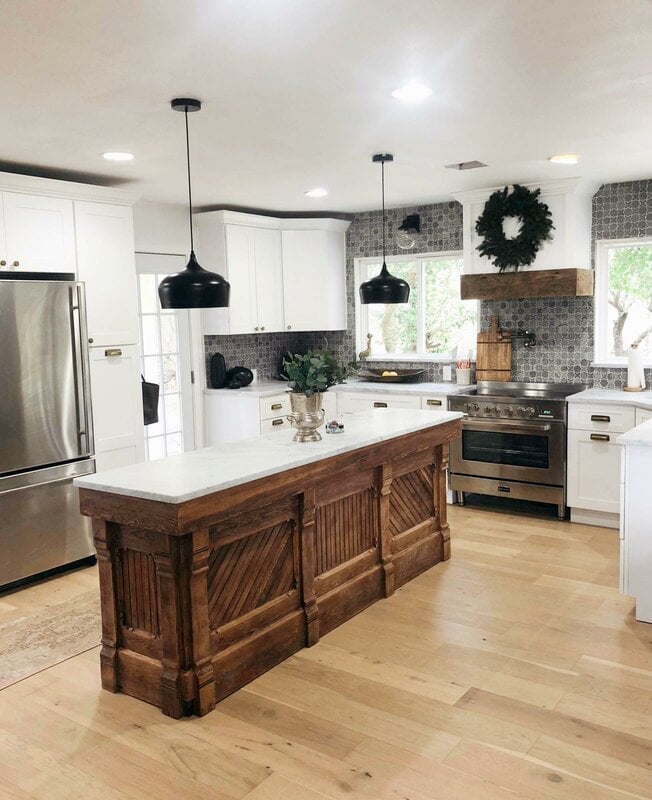 If you're looking for the perfect blend of modern and rustic, look at this kitchen! The clean white cabinets work beautifully with the intricate island and the reclaimed wood stove hood.
The island's unique design and grainy wood lends a more rustic aesthetic rather than farmhouse, so if you're not a fan of Joanna Gaines' signature style, stick to styles like this.
Consider Your Furniture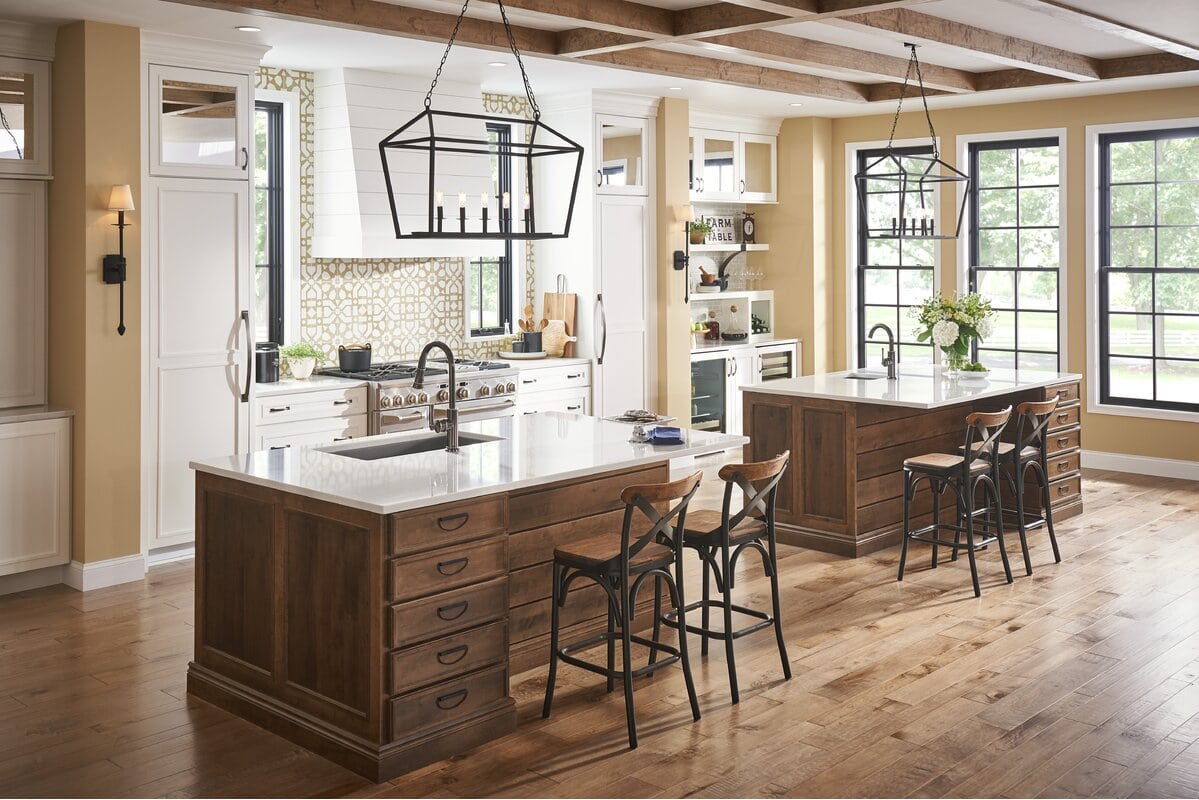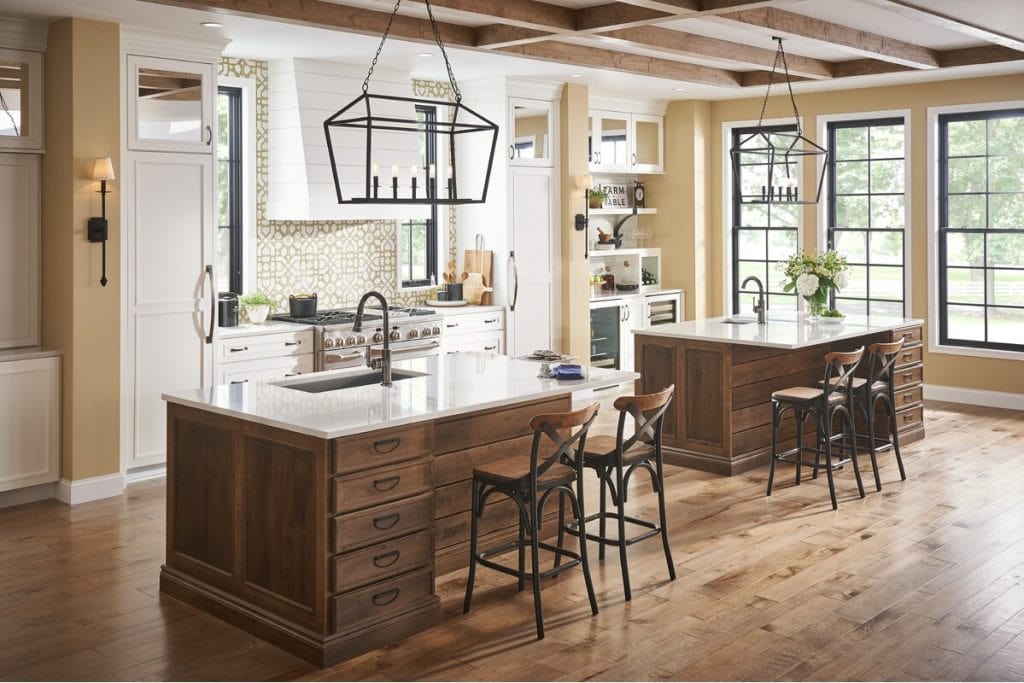 The big thing that will tie your kitchen cabinets together, no matter their wood type or stain color, is the furniture and accents you pair with them. You can have reclaimed wood cabinets but if you pair them with velvet stools with brass legs, the styles will clash and you won't get the look you want.
It could be argued that your furniture and accents have more power in giving you the rustic kitchen of your dreams than your cabinets do, so make sure you consider all decorative aspects of the space when you're designing your dream kitchen.
It's All About How Rural You Want It
How rustic are you willing to be? That is the question. Rustic is usually raw and worn out, but it can also mean classic and traditional designs. Most modern homeowners mix rustic designs with contemporary looks to create an appealing environment.
Ultimately, it's up to you whether you go full country home, modern rustic farmhouse, log cabin in the mountains, or something between them all. The best thing about rustic is that it is so versatile.