Decorated Life is reader-supported. When you buy through links on our site, we may earn an affiliate commission. Learn More
14 Best Colors to Paint House With a Red Roof
Houses with warm red roofs are popular for classic, rustic, farmhouse, country, Spanish, or modern aesthetics. But you're probably stumped on what color to paint a house with a red roof.
You get the best curb appeal for red roof house exterior paint colors with earthy or neutral tones. Try shades of gray, sand, beige, white, tan, browns, or dull yellows. You can also go bolder with blue, dark brown, or green colors. However, avoid going with a monochromatic red-on-red palette.
Egret White by Sherwin Williams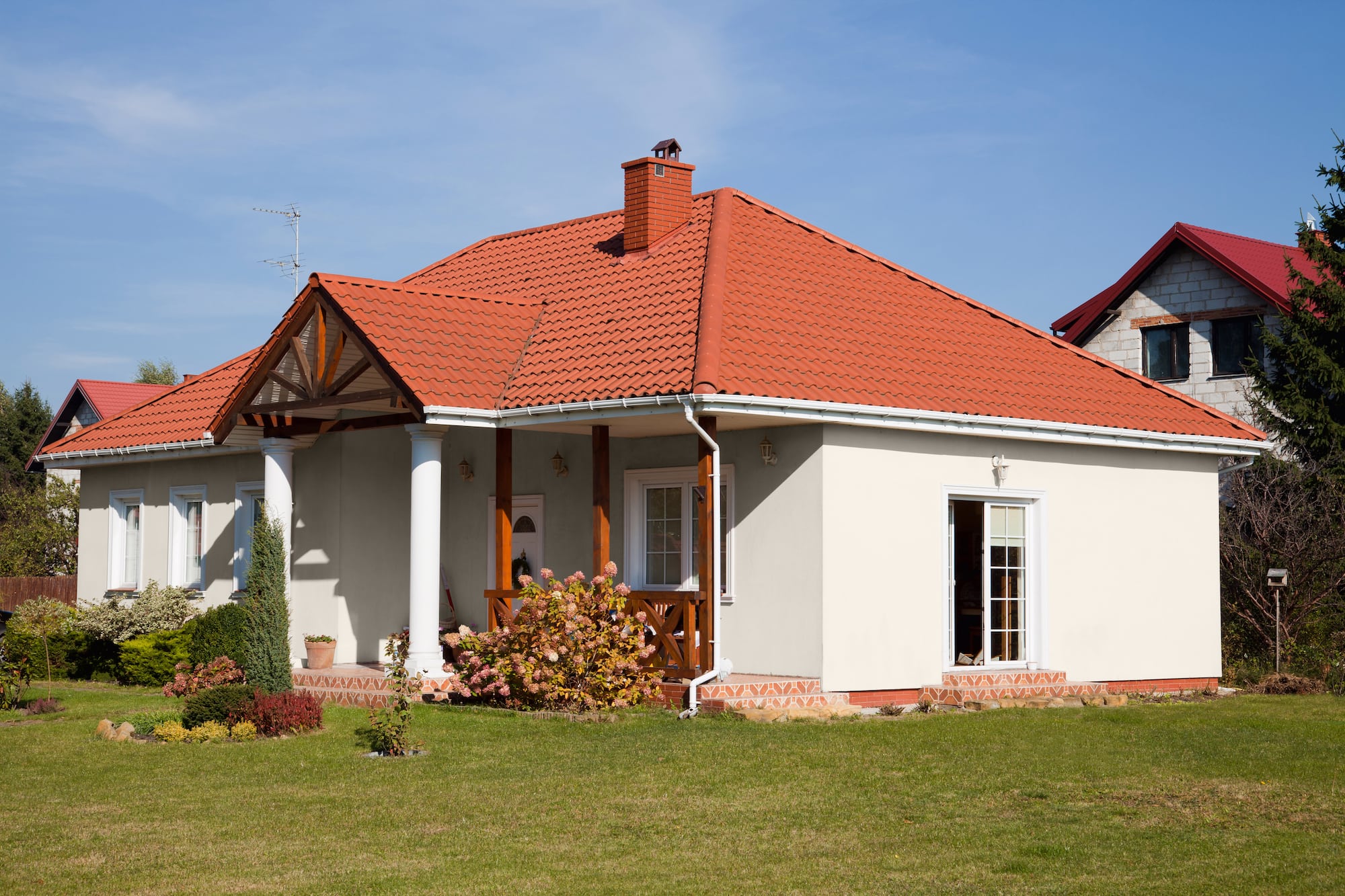 Red is a bold, warm primary color that is heavily noticeable as a roof color. Choosing light neutral colors for the exterior is a simple way to keep your design classy and stylish rather than looking like a tacky eyesore.
Egret White is a fantastic neutral for red roofs. This off-white has subtle gray pigmentation that gives faint tinting. This slight coloring prevents the deepness of red from causing white to look washed out.
Taupe of the Morning by Sherwin Williams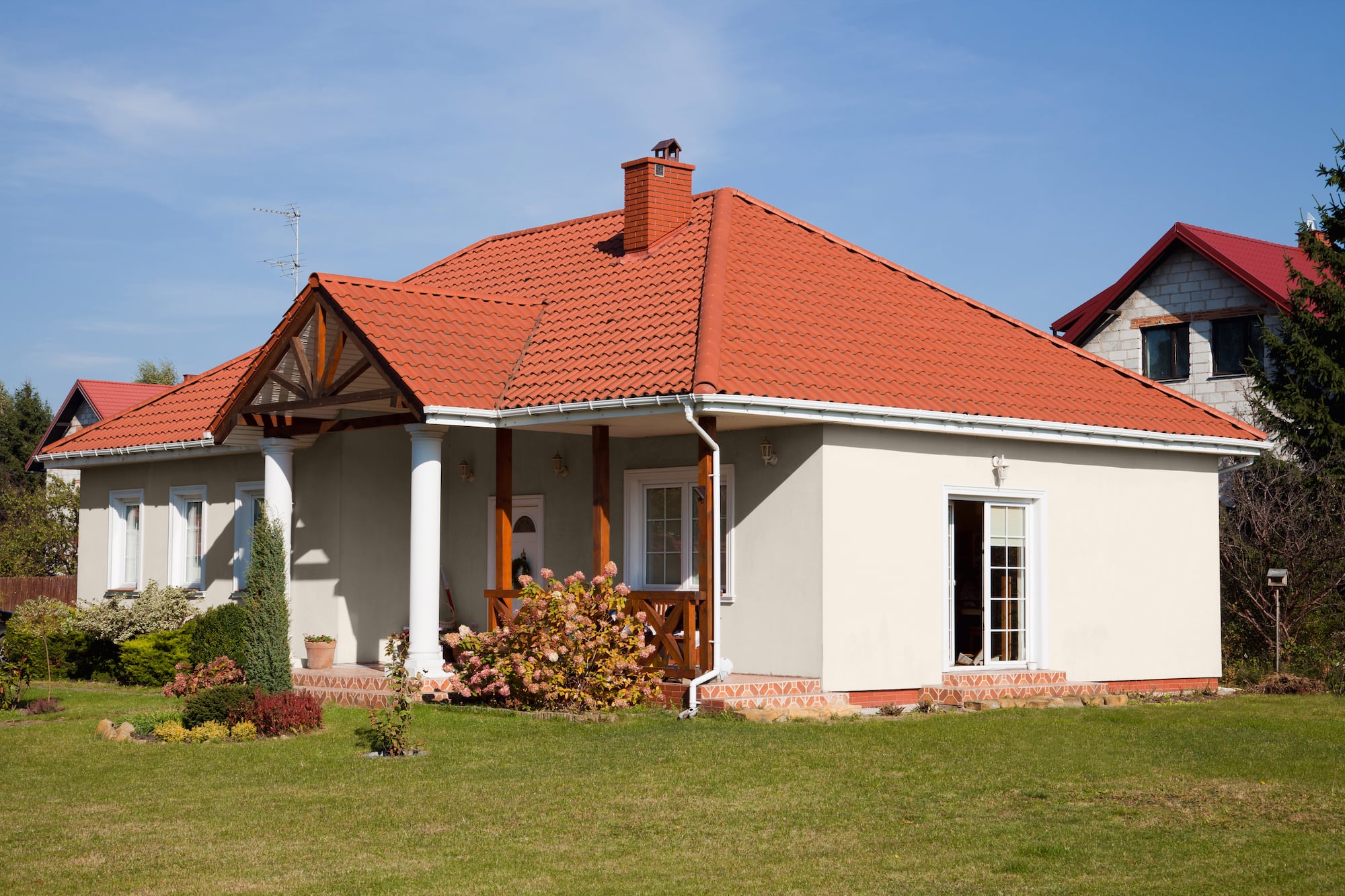 Taupes – grays with brown hints – are another excellent neutral exterior color for homes with red roofs. We're a fan of Taupe of the Morning specifically, a taupe with heavy tan accents.
Taupe of the Morning is a light-toned shade of taupe that gives you a balanced blend of gray and brown. The warm tone with slight red notes tones down the rich redness of the roof.
Eaglet Beige by Sherwin Williams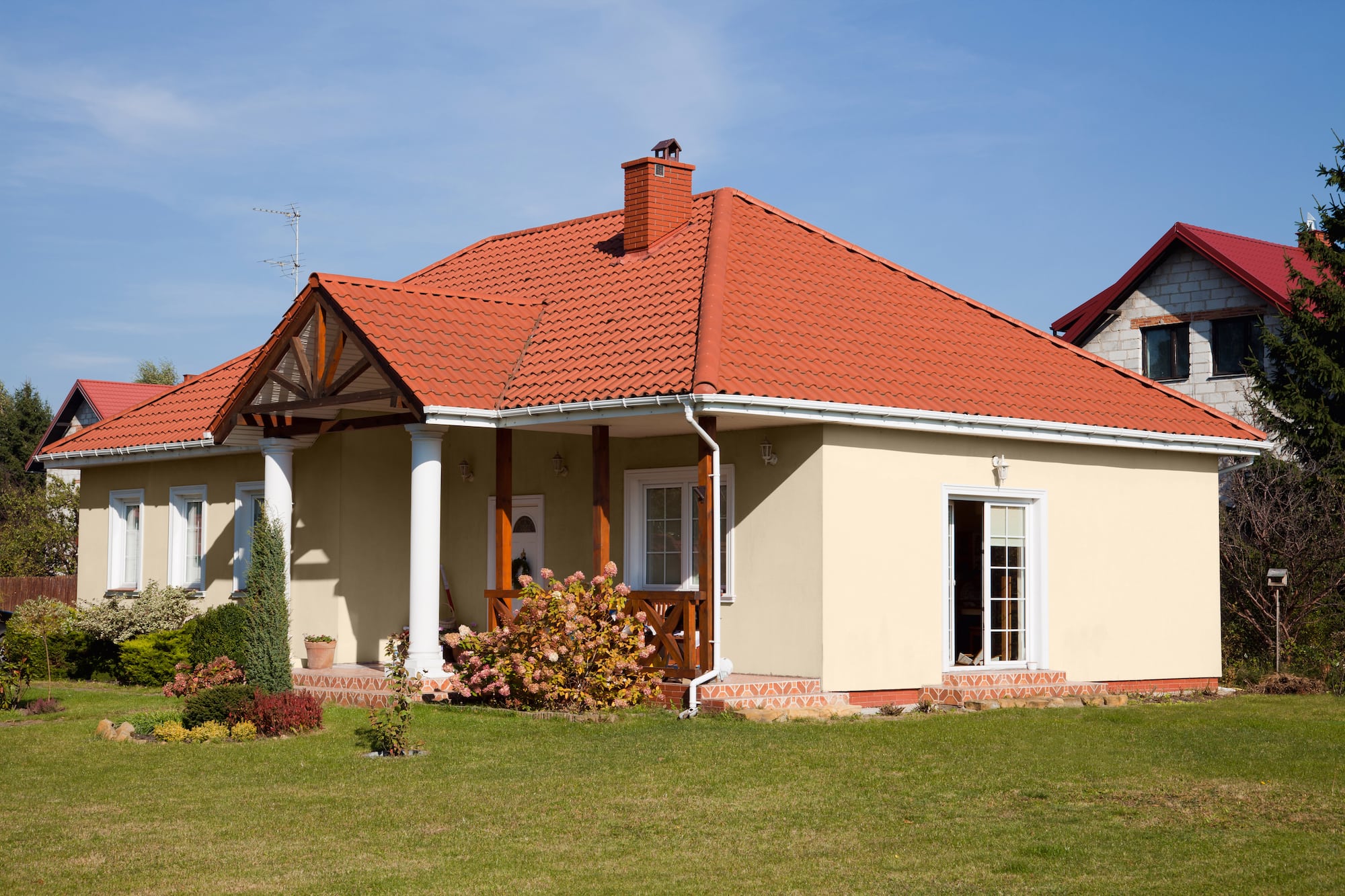 Beige – pale yellowish-brown – is beautiful for a home's exterior. And Eaglet Beige is a gorgeous shade of beiges to go with the boldness of a red roof.
This color of beige is a sandy mix of brown and yellow with faint gray traces. In some lighting, you may even notice subtle notes of green.
Gray Clouds by Sherwin Williams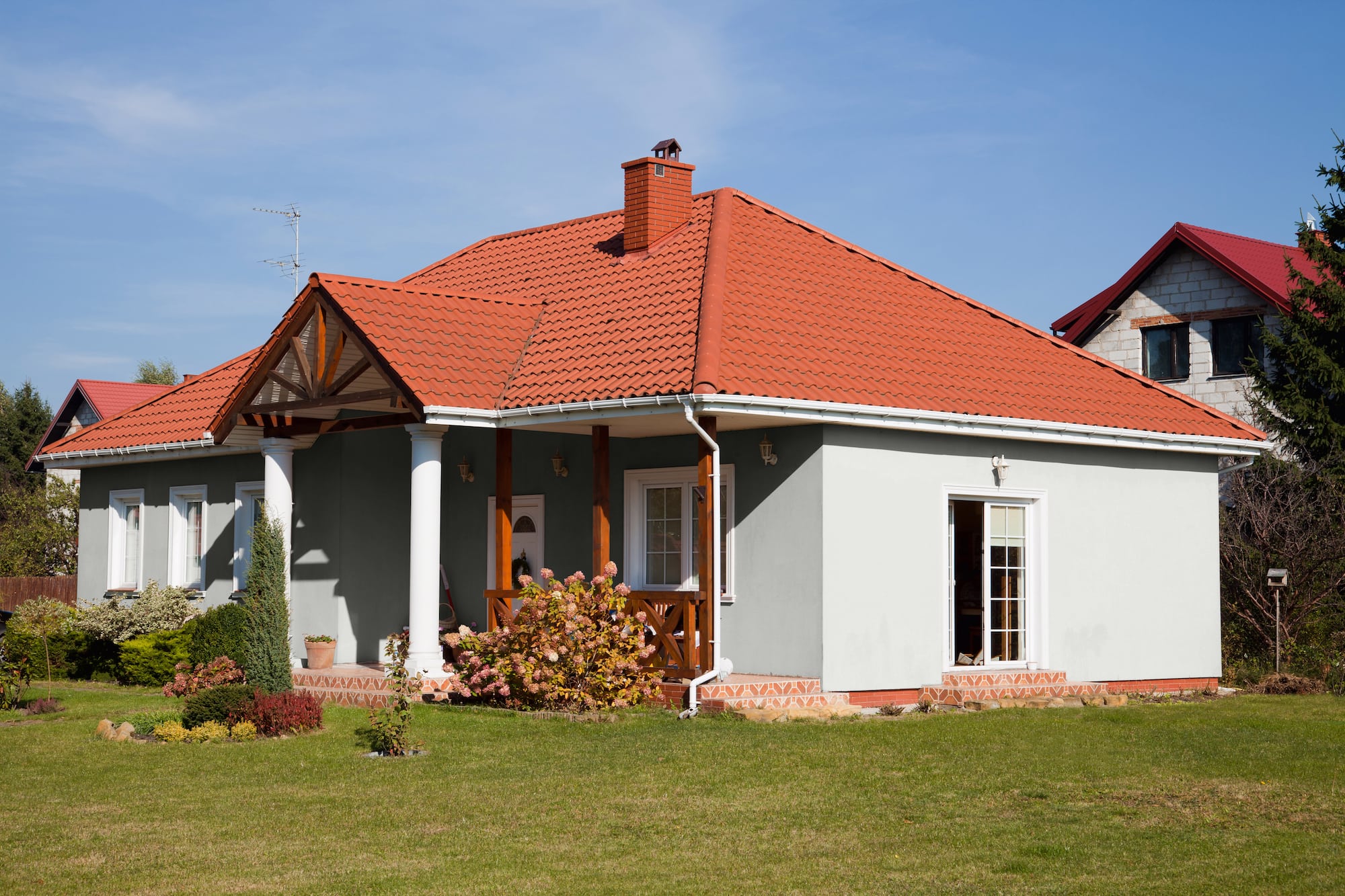 Painting your home's exterior gray gives you style and class without being too in-your-face dramatic. Gray Clouds is a stormy shade of true gray.
You can detect traces of mauve, lavender, blue, or green undernotes, depending on the lighting. And when used with a red roof, the versatility of Gray Clouds can work for any architectural style.
Romaine by Sherwin Williams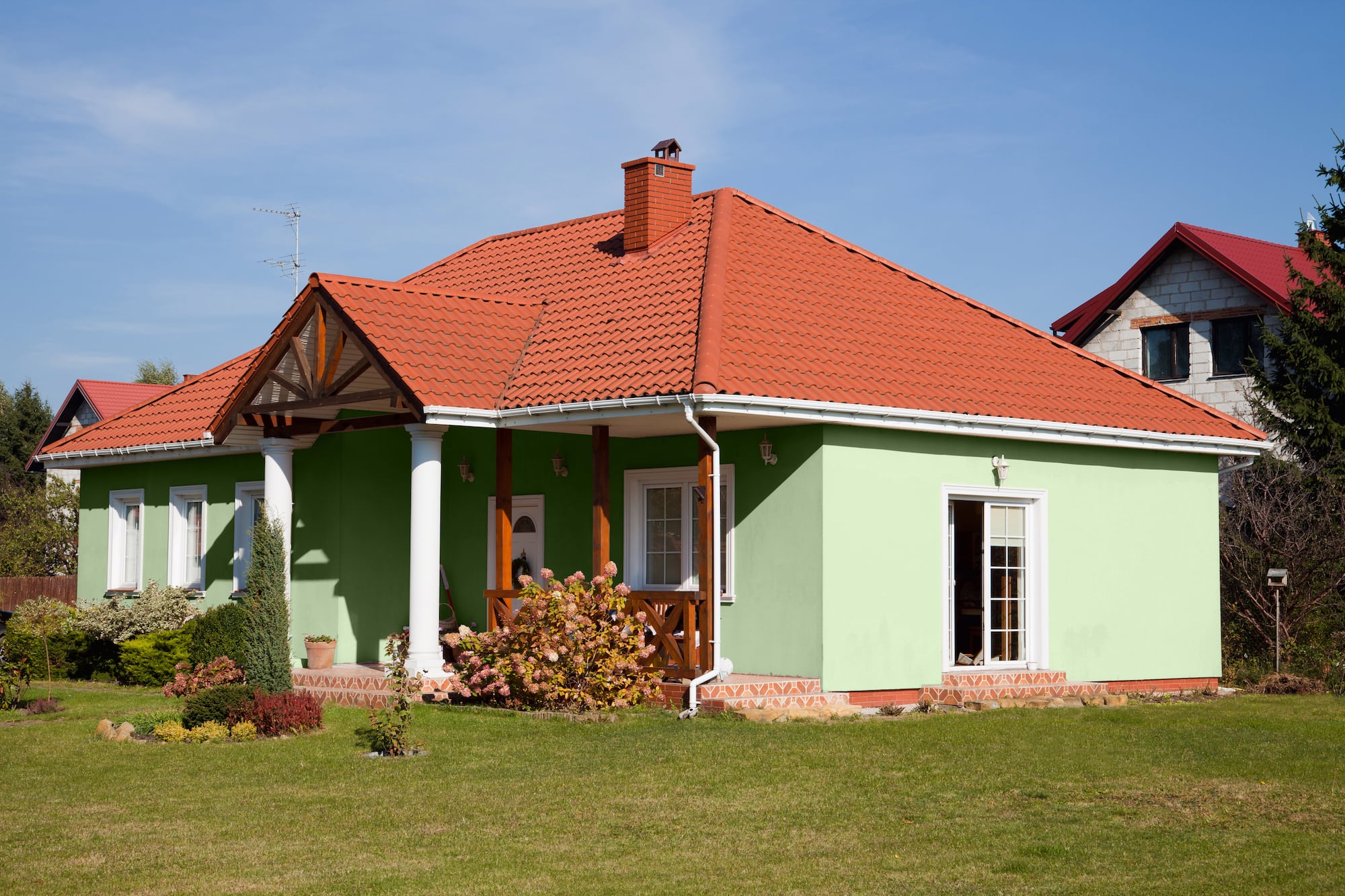 For a nature-inspired or traditional look for homes with red roofs, you can think a bit outside the box and go with an exterior in green.
Sherwin Williams' Romaine is a lovely soft shade of light green. This earthy color can give your exterior a naturalistic, traditional, contemporary, or retro vibe when paired with a red roof.
Honey Bees by Sherwin Williams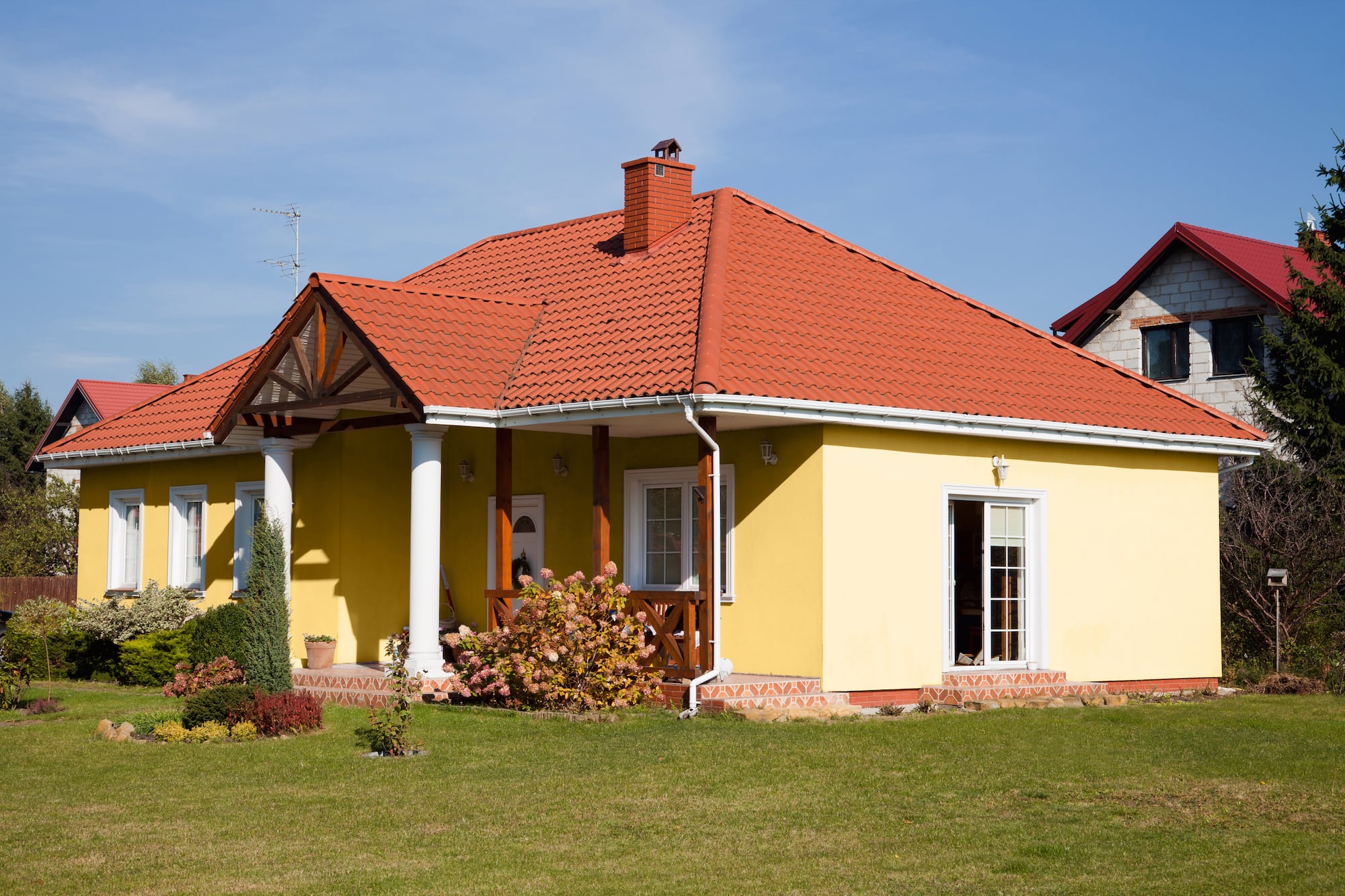 For a country, traditional, or homey aesthetic for a house exterior with red roofs, look for a bright yellow like Sherwin Williams' Honey Bees.
This shade of yellow has heavy saturation and rich, golden undernotes that make your home stand out with curb appeal. Accent your design with creams, beiges, tans, colorful floral landscapes, and olive greens like Cucuzza Verde.
Castleton Mist by Benjamin Moore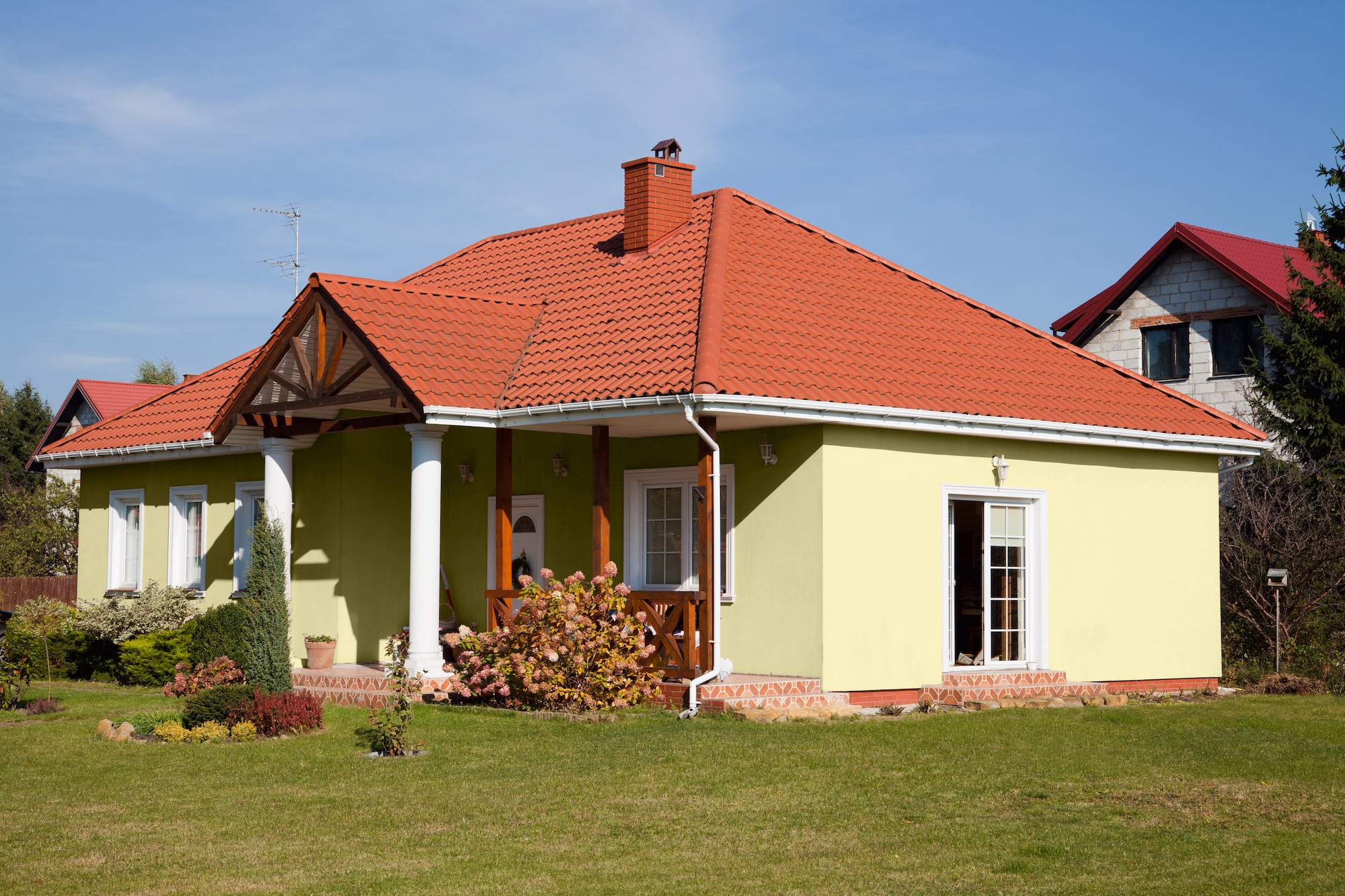 Castleton Mist is an elegant historical color that can give your exterior an authentic, classic look. A muted, saturated blend of beige with aged green and brown undernotes, this neutral can jazz up your entryway on Craftsman, traditional, contemporary, or vintage architectural structures.
Keep your color scheme refined and sophisticated with accents in various hues of brown and red. Or go with lighter neutrals like cream, tan, and brown for a more modern feel.
Greenmount Silk by Benjamin Moore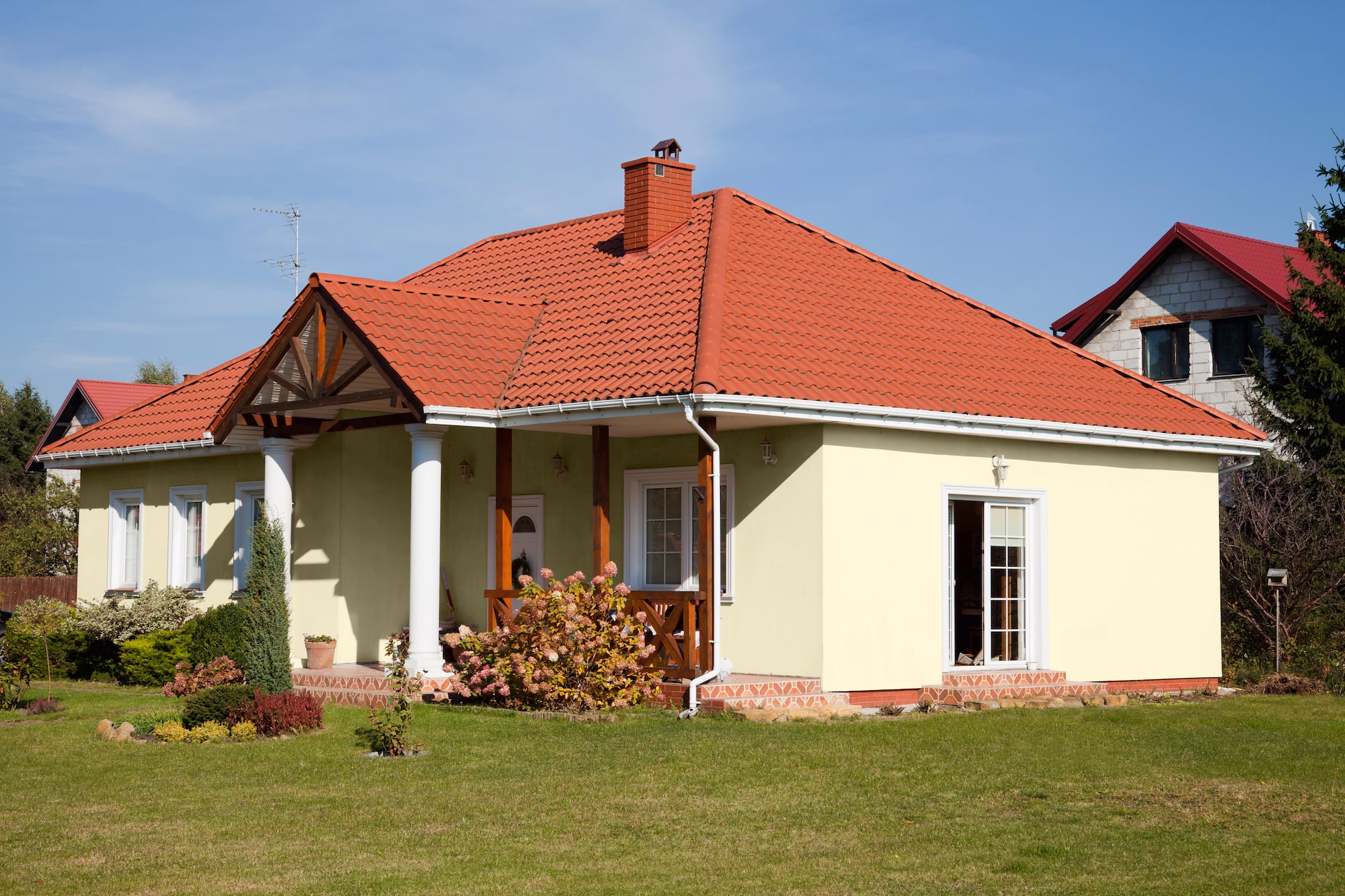 Another tinted neutral that can go with red roofs is Greenmount Silk. This timeless, historical color offers bright, soft tinting of yellowed tan with green hues.
This color, named after an American landmark, can work on all architectural styles and designs from contemporary to classic traditional.
Baja Dunes by Benjamin Moore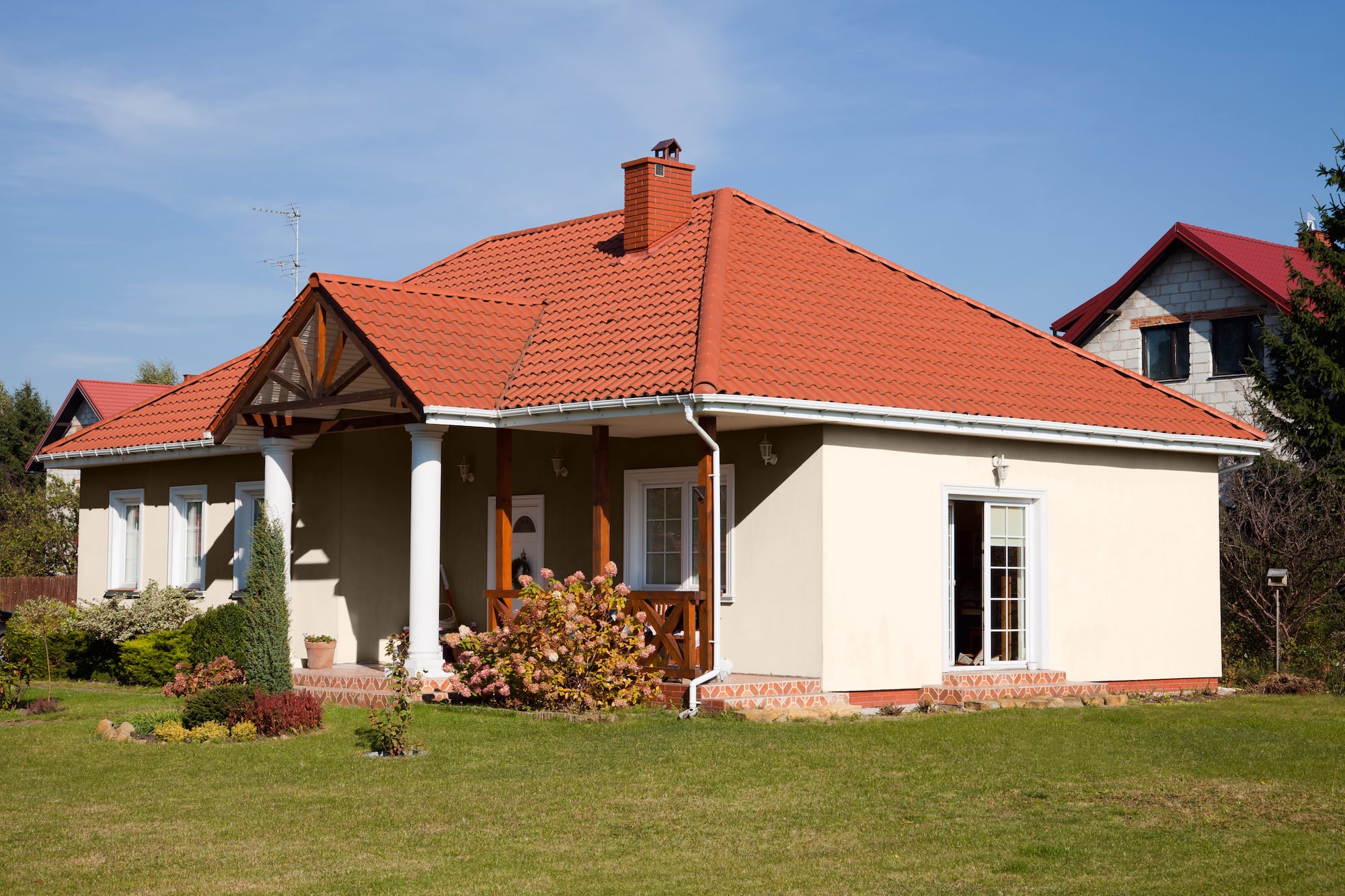 If you have a bright red roof, you might be in the market for an exterior color that's lighter but still has pigmented color.
Benjamin Moore's Baja Dunes is a simple, subtle shade of brown, like sun-bleached cocoa. The light hue with slight mauve undernotes can look great with soft neutrals like off-whites, dark dust blues, and rich espresso browns.
Lily of the Valley by Benjamin Moore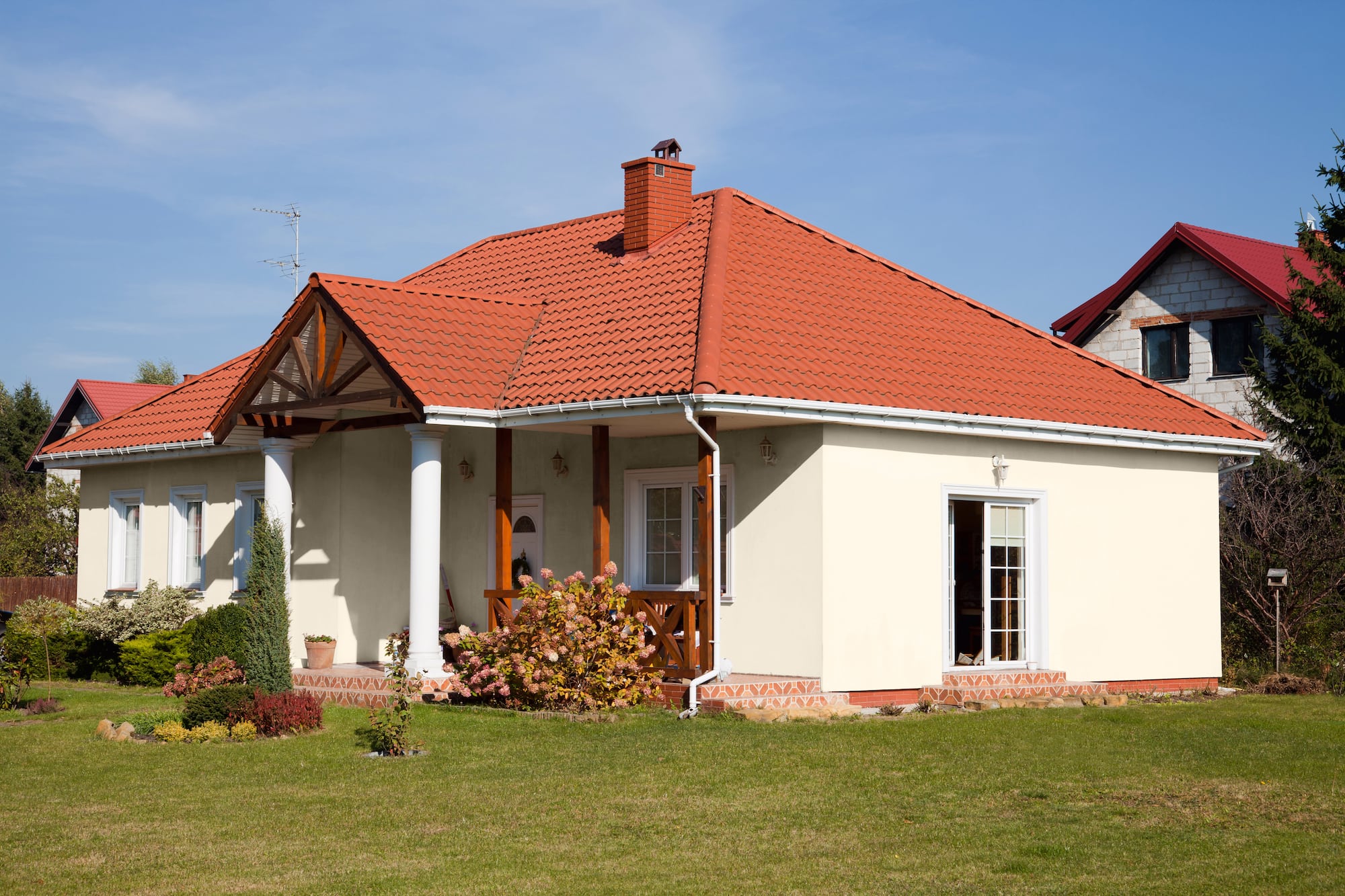 Lily of the Valley is a fan-favorite spring flower, especially for weddings. But you can capture the sweet, delicate aesthetic on your home's exterior with the help of the namesake paint color by BM.
This high 85 LRV shade can help your home have a brighter, classic curb appeal. And like the flower it's named after, this paint color has pale yellow hints for a faint glow that tones down red roofs.
Gobi Desert by Benjamin Moore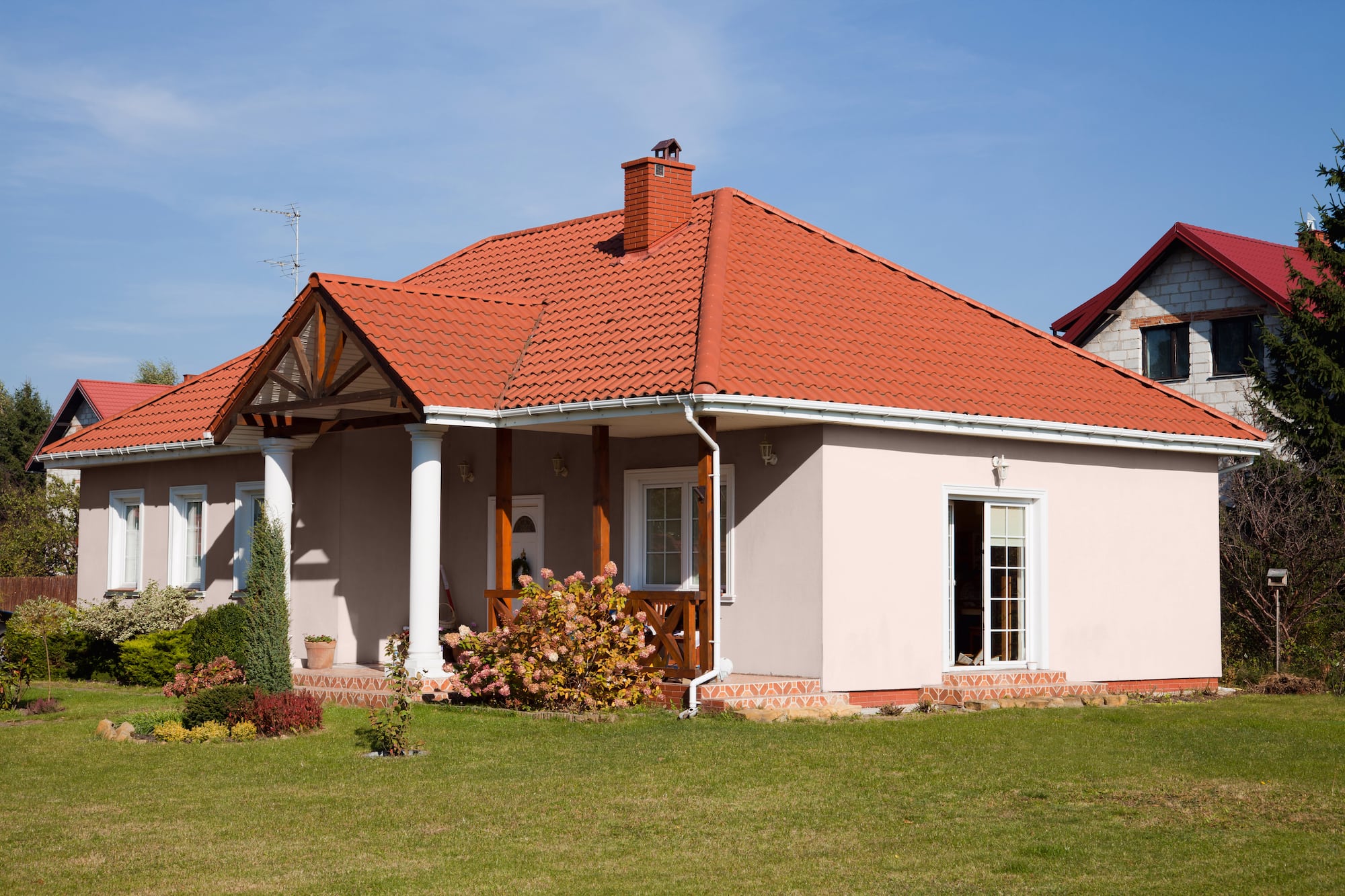 Gobi Desert by Benjamin Moore is a warm blend of brownish beige with low pinkish undernotes. You can use this neutral for your home's exterior color to create a relaxing, welcoming appeal for contemporary to modern designs.
A red roof can enhance the slight mauve notes in this magical color, giving your exterior more character and depth. Cool whites, stormy dark greens and browns, and maroons or burgundies are fascinating coordinating color combinations.
Jojoba by Behr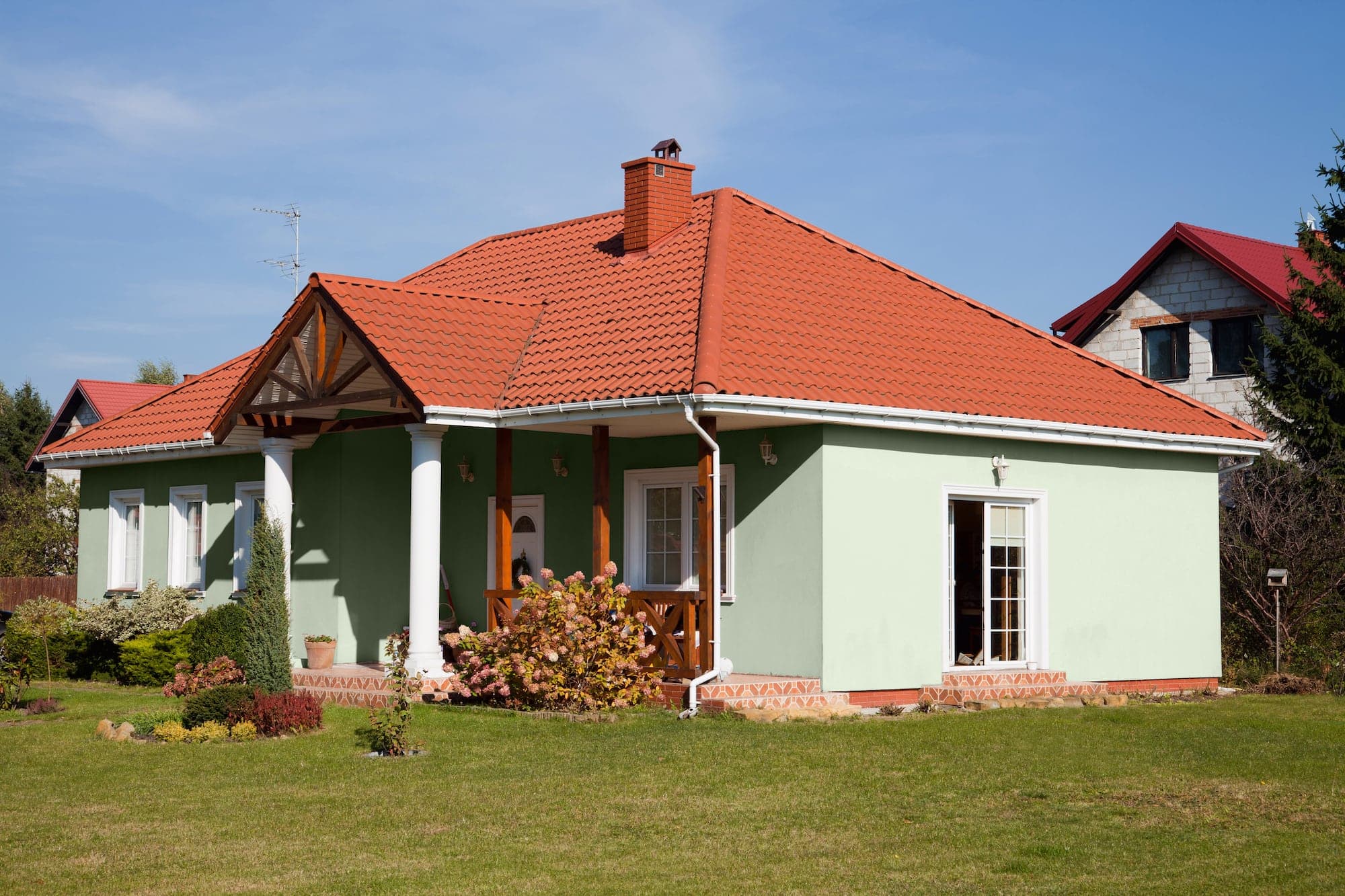 Jojoba by Behr is a neutral shade of greenish-gray that offers an energized coolness to refresh your exterior's look. In addition, the lower LRV and dull color give this green a natural, earthy vibe.
Painting your exterior this shade of greenish-gray-brown gives your home a subtle tint of color that goes with any architectural design, color scheme, or influence.
Sojourn Blue by Behr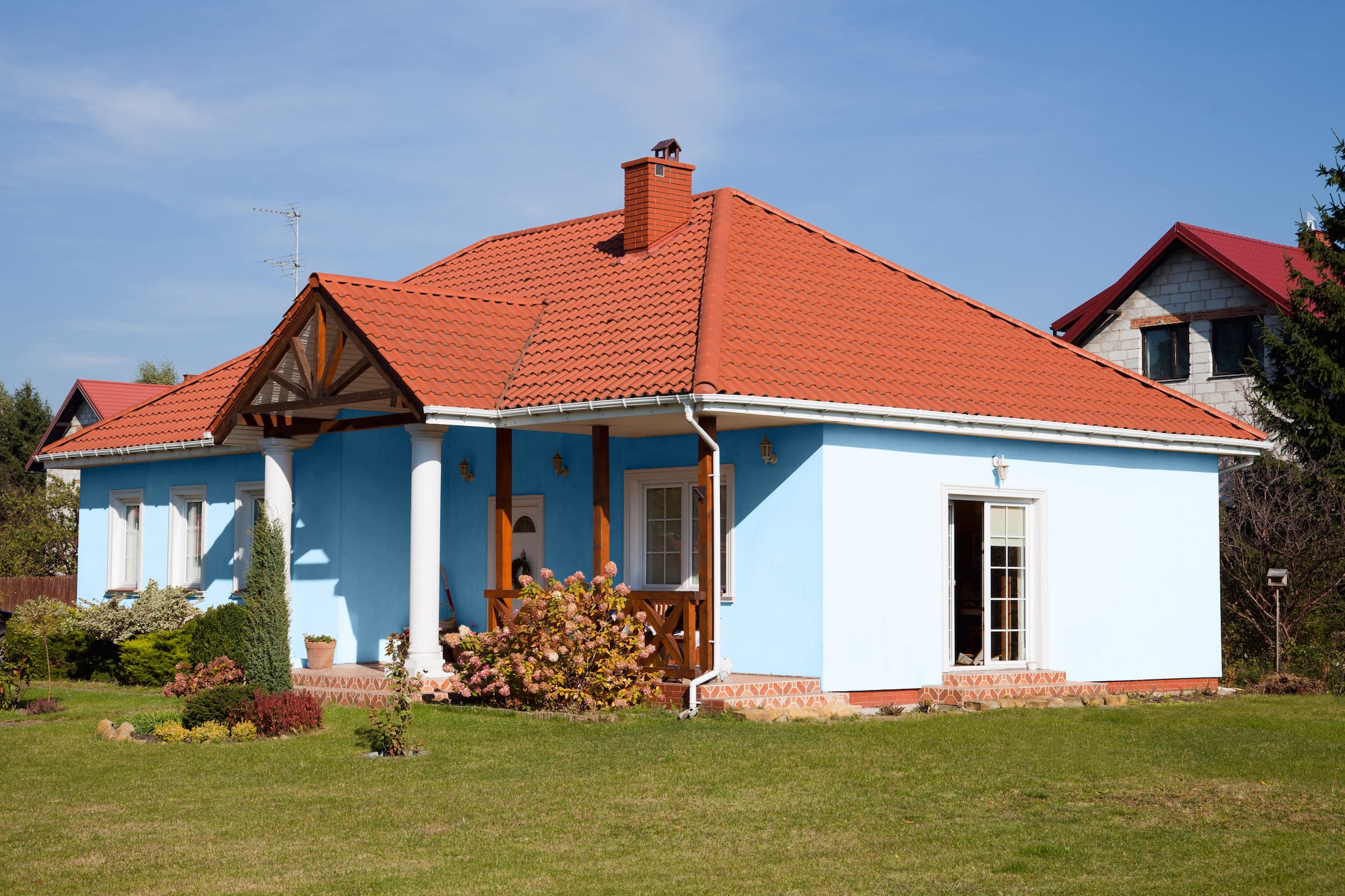 Give your home some drama by pairing a red roof with a dark, mysterious blue like Behr's dense Sojourn. This deep saturated blue displays gray and green undernotes that appeal to themes like traditional, coastal, or modern.
Choosing a bold blue for the exterior of a house with a red roof can create a modern, traditional, or bold dynamic. Then balance your design with lighter accents for the trim and shutters.
Faded Terracotta by Farrow & Ball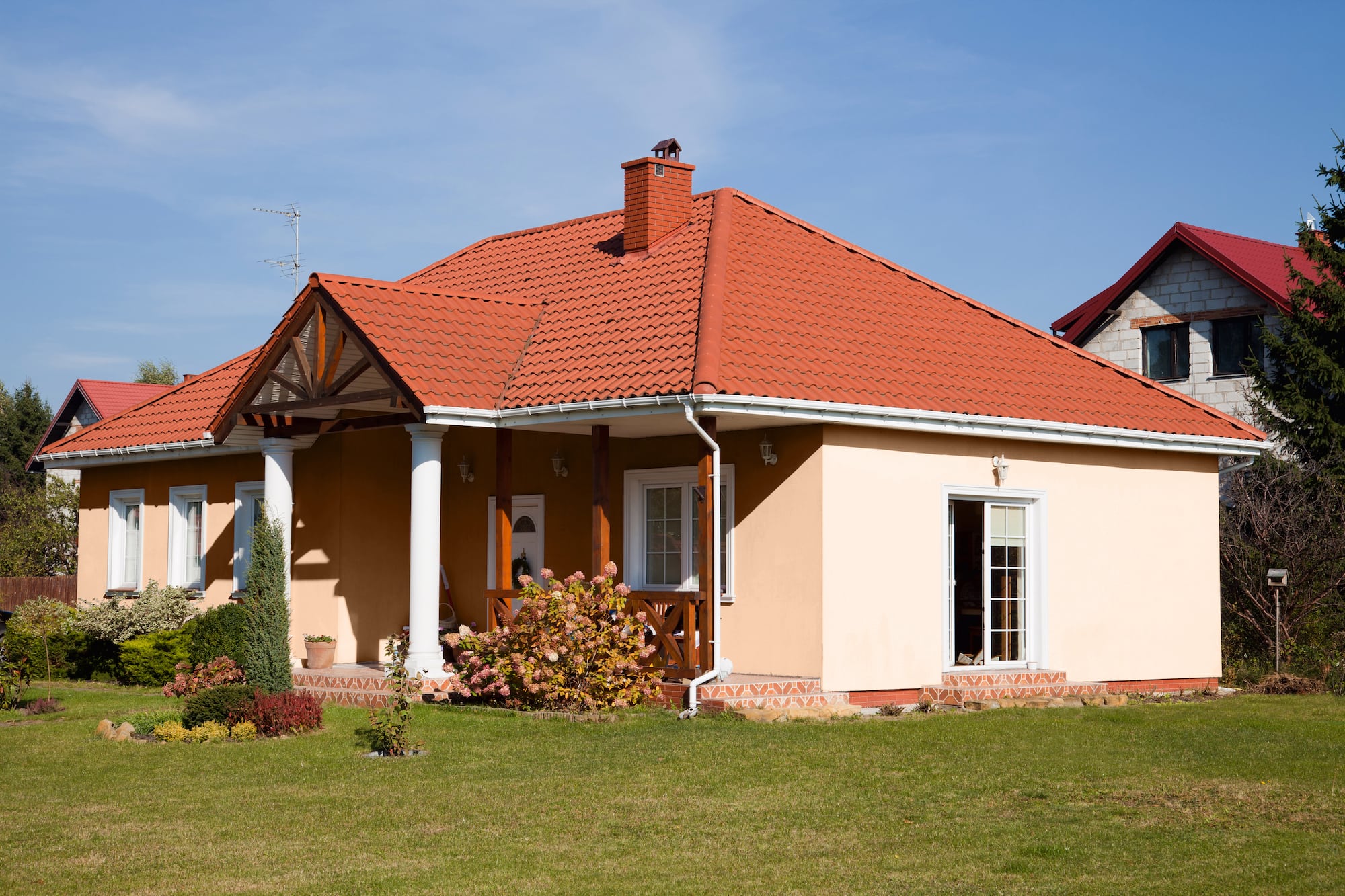 Give your home a Southwestern desert-inspired feel with the use of terracotta. If you're not a fan of the bold brightness of intense color, try Faded Terracotta by Farrow & Ball.
This shade is a heavily pigmented peach, part pink and part orange. It brings to mind sun-baked tiles and flower pots resting on parched earth.
In Closing
When you have a red roof, you'll want to think about the color's characteristics to determine an appropriate exterior color. You'll get the best look by having a contrast of light on dark. And stick to neutral colors like off-whites, grays, beiges, mauves, and yellows.