Decorated Life is reader-supported. When you buy through links on our site, we may earn an affiliate commission. Learn More
Egret White by Sherwin Williams
An egret is a water-loving bird that is tall, elegant, and covered in dazzling white plumage. It was once nearly hunted to extinction for those gorgeous feathers.
You might imagine that a color named after this bird would be the brightest, sheerest of whites, to match its legendary feathers.
It turns out that color is not even white at all–and that's only one of the mysteries of Egret White!
Egret White is a complex neutral: crazy complicated to talk about, but actually super simple to use on your walls.
Come along as I decode the secrets of this confusingly-named, but surprisingly versatile paint color.
What Color is Egret White?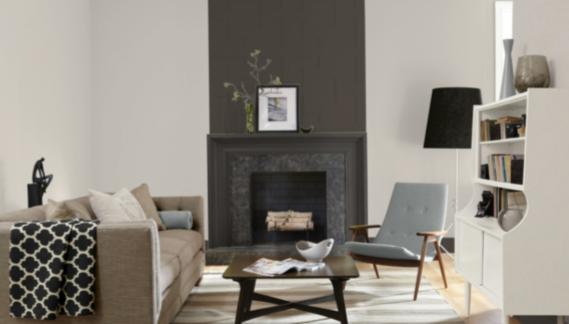 Egret White, despite its name, is not white. Sherwin Williams considers it to be one of their off-whites, but be aware that it has more color to it than most off-whites do.
Egret White could also be thought of as an extremely light greige color, or a pastel greige. Greige is a blend of gray and beige that creates a harmonious neutral.
Yet another way to describe Egret White is to say that it's a very light taupe color. Taupe is a color that blends brown and gray.
LRV of 70
Egret White has a light reflectance value, or LRV, of 70. Light reflectance value is a scale designed to measure how bright a color is, and ranges from absolute black at 0 to sheer white at 100. The higher the number, the lighter the color.
Off-white colors typically range from about 73 to 82, with numbers above 82 being true whites. Egret White is just a few notches dimmer than your average off-white, so it comes across as having a bit more color.
What Undertones Does Egret White Have?
Egret White has slight purple undertones, and occasionally flashes a tiny bit of pink. These undertones are common in greige colors.
Egret White's undertones are pretty mild, especially since its actual color is so light to begin with.
Is Egret White a Warm Color or a Cool Color?
Egret White is a cool neutral, and Sherwin Williams includes it in their Cool Whites Collection. The beige side of its greige mix keeps it fairly balanced, though.
Where Can You Use Egret White?
Egret White has that magic combination of being both light and a neutral, which means you can use it anywhere in the home.
That slight touch of greige color keeps it from appearing too stark, even in very well-lit rooms. But because it's plenty bright, you don't have to worry about Egret White making spaces feel smaller.
Greige is still a key color for modern farmhouse styles, so it's not surprising that you'll see a lot of Egret White, particularly in kitchens. Egret White walls can add a splash of warmth for all those white cabinets to play off of.
Minimalist decor styles readily spring to mind for Egret White, but you might also consider rustic and nature-inspired decor. Egret White is poised to pick up on gray and taupe tones in natural materials like wood and stone, to highlight their beauty.
Egret White is a calming color that doesn't impose itself on a space. It's good for rooms where relaxation is the order of the day, such as the bedroom, living room, or even a tucked-away reading nook.
Let's follow the relaxing sound of rustling feathers as we explore Egret White's design possibilities.
Exterior
Egret White, under super-bright sun, actually looks like a clean white trim on this home exterior.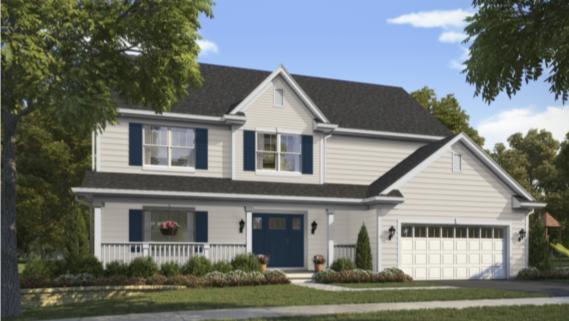 Egret White shows its warm side next to In the Navy accents on this home exterior.
Living Room
This living room got a major makeover with Egret White, making it much more family-friendly.
It's not typical to see a light neutral serving as an accent wall, but here Egret White pulls the room together around a centerpiece mirror.
Kitchen/Dining Room
Egret White walls offer warmth and a backdrop for Extra White cabinets in this combination kitchen/dining room space.
Egret White kitchen cabinets are extra elegant with black metalwork and a kitchen island in Black Magic.
Egret White displays an almost-magical ability to expand a room in this dining room transformation.
Do you have dated honey oak kitchen cabinets? Egret White can modernize those in a hurry.
Bedroom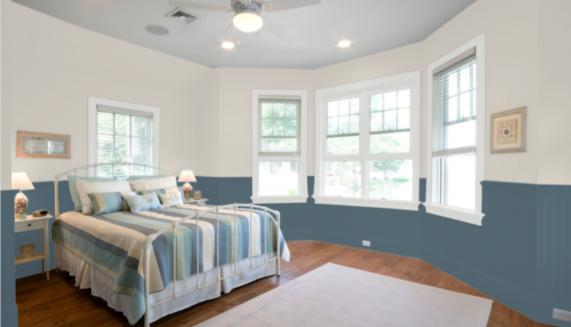 Egret White and Smoky Blue bring coastal vibes to this bedroom.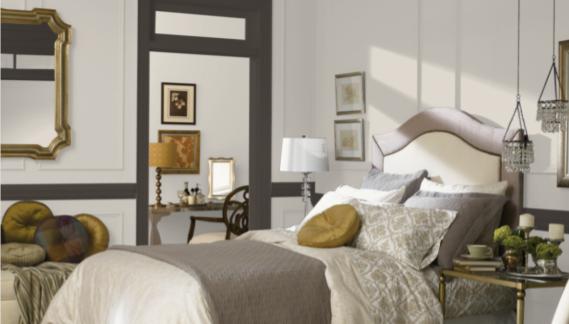 Black Fox trim and gold decor elements bring out Egret White's beige side in this luxuriously styled bedroom.
Bathroom
In this bathroom transformation, Egret White cools and refreshes the space.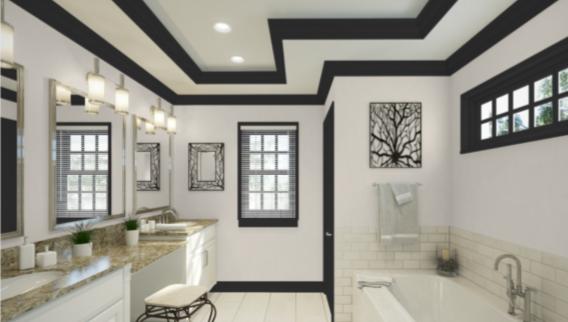 With a combination that always looks chic and sophisticated, Egret White and Black Magic take this bathroom to the next level.
Egret White Coordinating Colors
Egret White has lots of possibilities for coordinating colors, thanks to being a pastel from a neutral color family.
Those slight purple and pink undertones can emerge if you pair Egret White with greens, so keep that in mind as you're making your palette selections.
Like all greige colors, Egret White looks fantastic with blue. This includes navy blues, dusky blues, and light watery blues.
Other members of the greige and gray color families can be handsome coordinating colors for Egret White. Consider darker greiges or charcoal grays.
I'd be remiss if I didn't tell you about a fantastic combination for Egret White, which is to pair it with black and white. Timeless and sophisticated, black, white, and gray look chic and dramatic together. Plus, they're amazing with metalwork, such as gold or silver.
The possibilities for this color are fairly open-ended. If you're not sure where to begin, here are some coordinating color ideas for Egret White:
How Does Egret White Compare With Other Colors?
Egret White vs Pale Oak by Benjamin Moore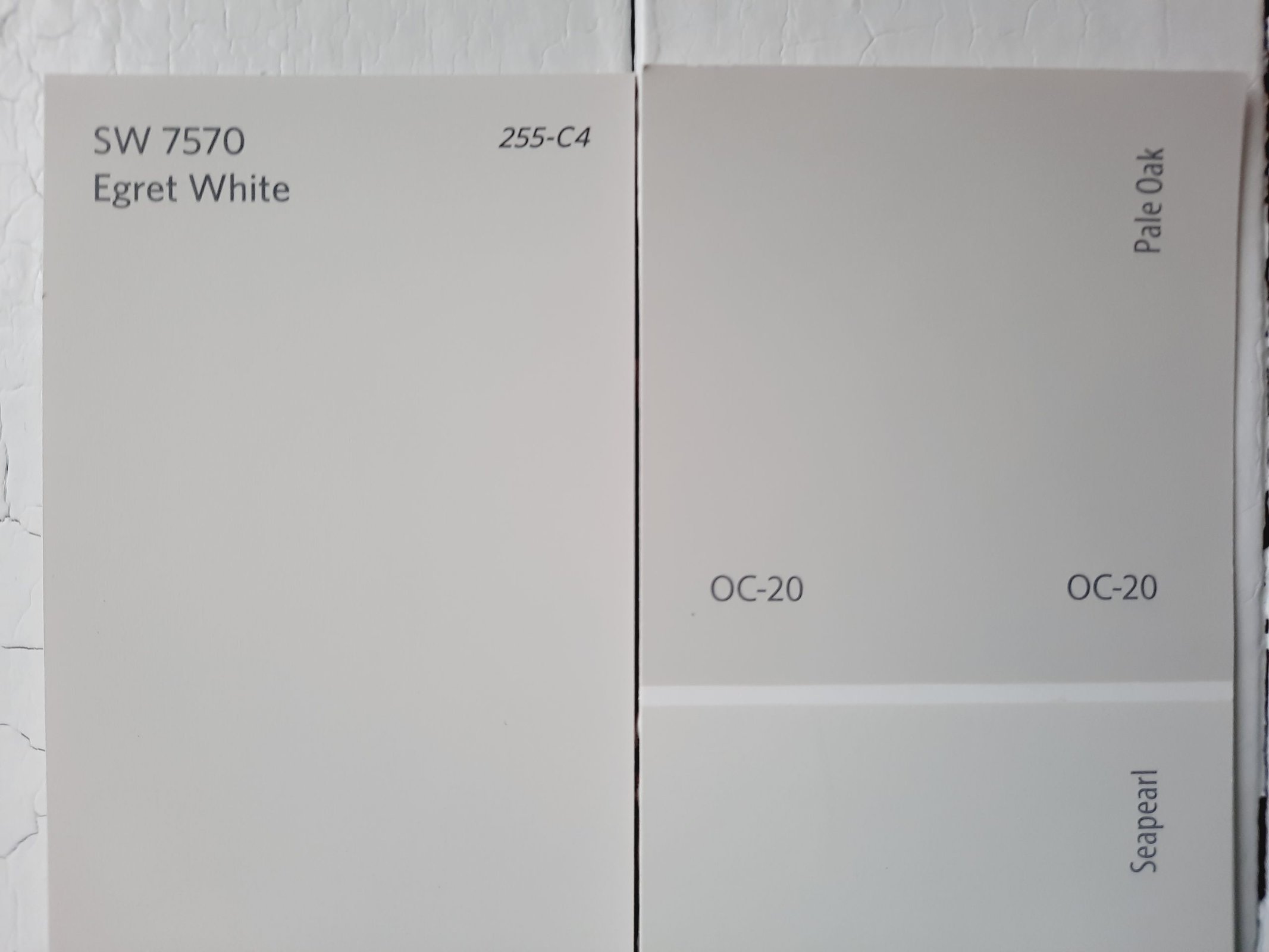 Pale Oak is a well-loved light greige color from Benjamin Moore. It's just a smidge darker than Egret White, at 68.84. Pale Oak is clearly a color and not an off-white. It's cooler and grayer than Egret White.
Egret White vs Agreeable Gray by Sherwin Williams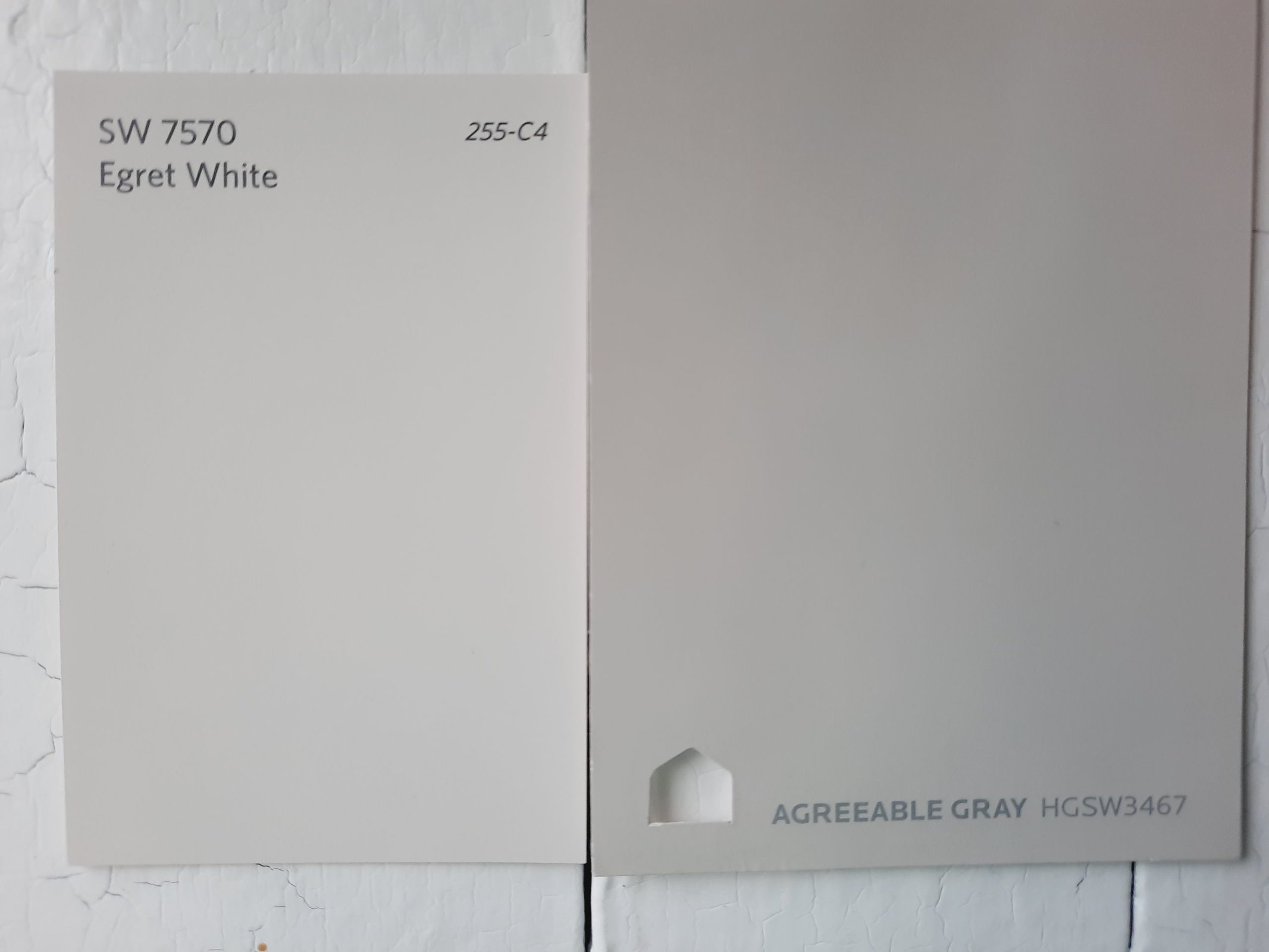 Agreeable Gray is an incredibly popular greige color, and it really meets all the qualifications for a greige. It's well-balanced although it leans cool, and it sits right at that decorator's favorite LRV of 60, making it right in any light.
It's cooler, grayer, and darker than Egret White. There's no mistaking Agreeable Gray for an off-white; it's definitely a color.
Egret White vs Neutral Ground by Sherwin Williams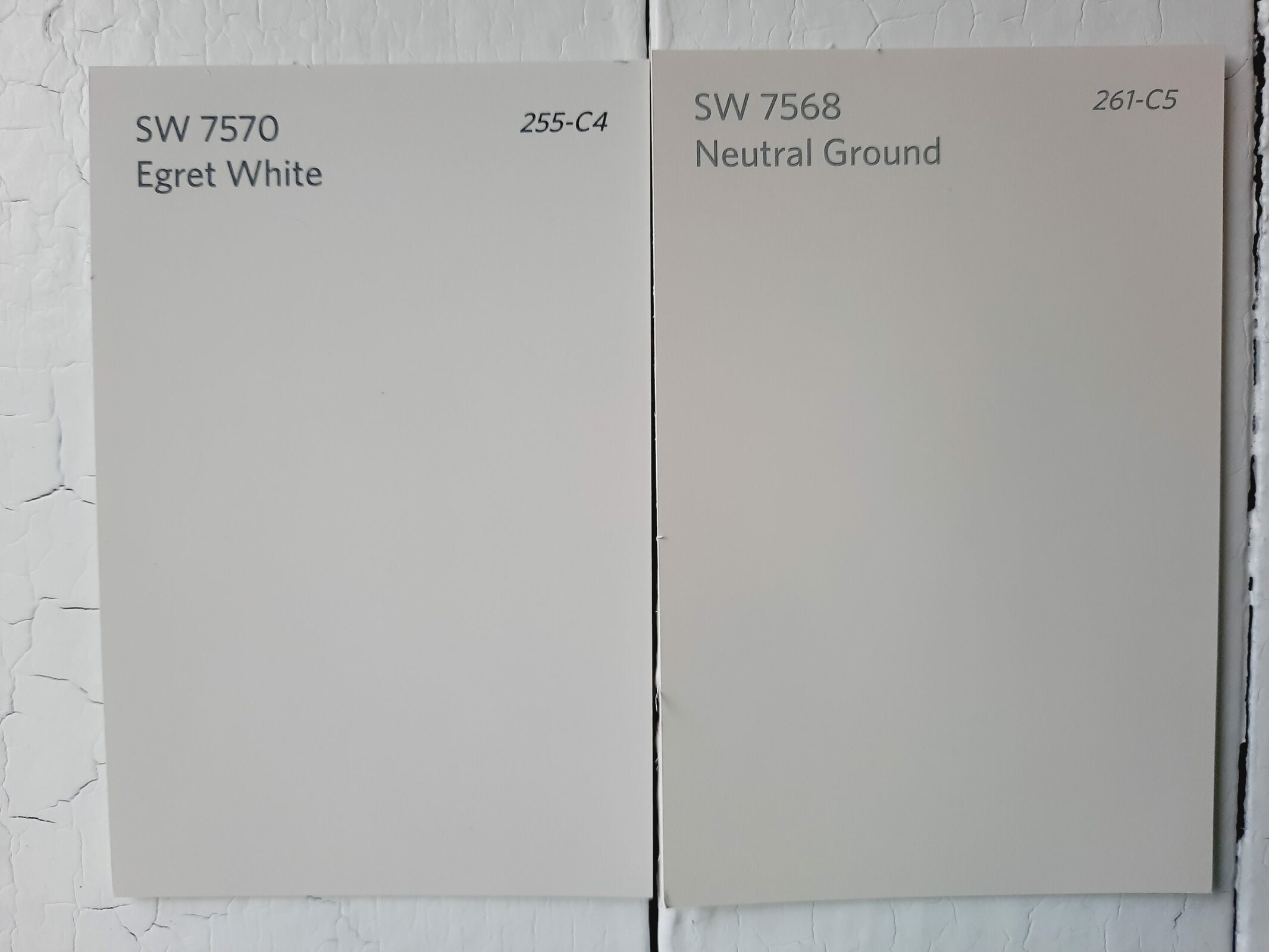 At first glance, Neutral Ground might be hard to discern from Egret White. These colors are both equally bright, sitting at 70 on the LRV scale. Both have a beige component. Essentially, Egret White is cooler and Neutral Ground has more beige.
Final Thoughts
Egret White is a complex neutral: a type of color that's hard to describe but easy to use. This pastel greige can go anywhere with nearly any coordinating colors you fancy.
Use it as a more interesting alternative to white, or when the lightest of neutrals is called for. Egret White may not be white, nor have anything to do with the bird, but it definitely has a place in your decorating toolbox!