Decorated Life is reader-supported. When you buy through links on our site, we may earn an affiliate commission. Learn More
Best Sherwin Williams Yellow Paint Colors
Yellow is a color that provokes strong opinions in the paint world. Many struggle to match its tricky undertones or balance the intensity of its color.
But used properly, yellow can bring so much to a home. Think of the gloriously cheerful sunflowers of Van Gogh, or the cozy comfort of freshly buttered bread in a farmhouse kitchen. Yellows can create warm and happy environments, as well as beautiful contrasts and accents for more popular colors like blues and greens.
If you want to explore the possibilities of yellow, but you're not sure where to begin, I've rounded up the best yellow colors that Sherwin Williams has to offer. These include user-friendly yellows, a few "go big and go home" colors for the adventurous types, and all the most popular, homeowner-tested, designer-approved shades.
Let's cozy up to yellow and gather some inspiration!
Lemon Twist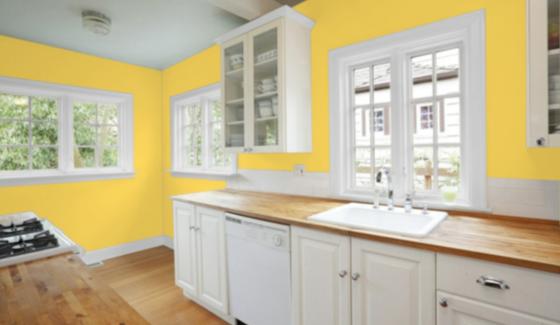 When life hands you lemons, why not make Lemon Twist? This bright and snazzy citrus color will uplift and expand a room in no time, making dark and dingy spaces feel bigger and brighter. Lemon Twist has a LRV of 72.
Lemon Twist Brightens Up a Room
Kingdom Gold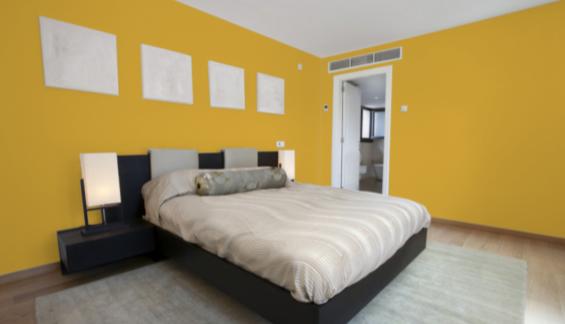 Kingdom Gold is a medium-to-dark goldenrod with vintage vibes. This is a bold and powerful color that is great for things like front doors, accents, and focal walls. Kingdom Gold has a LRV of 41.
Kingdom Gold is Great for Mid-Century Modern Style
Honey Bees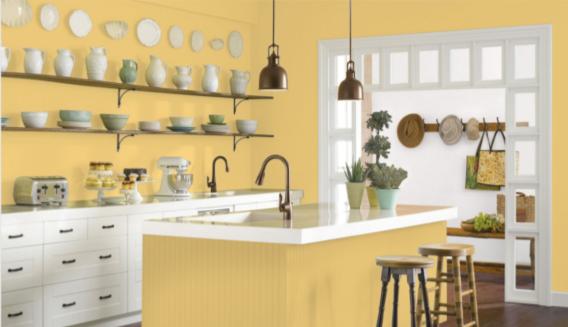 Honey Bees is a warm yellow with rich creamy undertones. It's a great color for spaces with lots of natural light. It also coordinates with lighter cream shades, like Full Moon, which you'll find further down on this list. Honey Bees has a nice light LRV of 70.
Honey Bees Coordinates with Buttery Creams
Auric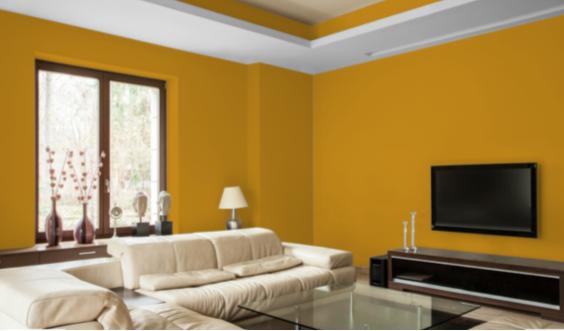 Auric is an intense, golden, mustard yellow that might have stepped out of a Klimt painting. This powerful color is great for focal walls, accents, and other details where a punch of color is desired. Auric is a medium-to-dark color with a LRV of 30.
Auric is Great for Accent Walls
Jonquil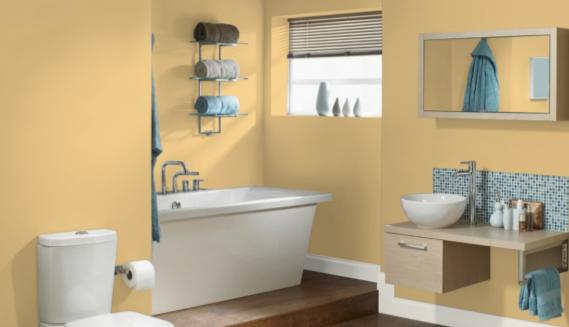 Jonquil is a cozy yellow that will warm up any dark or cold corners of the house, and make them truly hygge-worthy. This is a medium-to-light color with a summer sunshine vibe. Its LRV is 68.
Jonquil is Warm and Inviting
Full Moon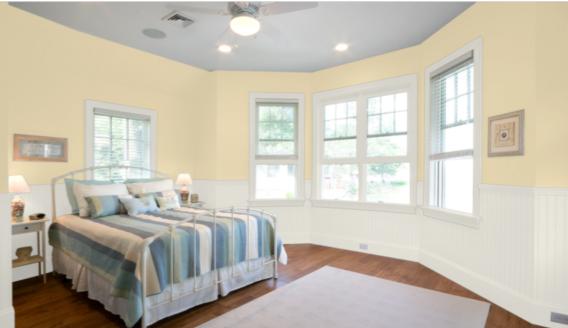 Full Moon is a light and creamy yellow, and part of Sherwin Williams' Timeless Color Wall Collection. Its timeless feel makes it a good fit for a wide variety of decor styles, both traditional and contemporary. Full Moon coordinates well with off-whites and light blues. Its LRV is 78.
Full Moon is Great for Farmhouse Kitchens
Lemon Chiffon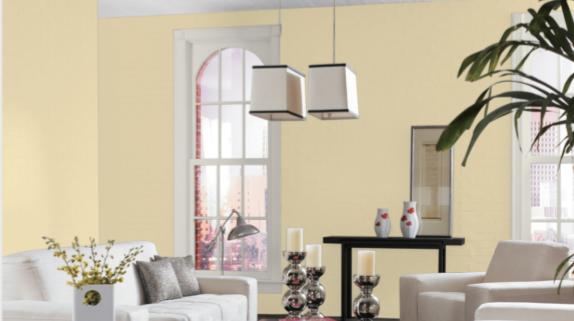 Lemon Chiffon is a pale yellow that brings a happy pop of fun to a color palette, especially when it gets to play with its friends in the blue family. This sweet yellow can be incorporated a lot of places thanks to its light and easy LRV of 79.
Lemon Chiffon is a Cheerful Exterior Color
Friendly Yellow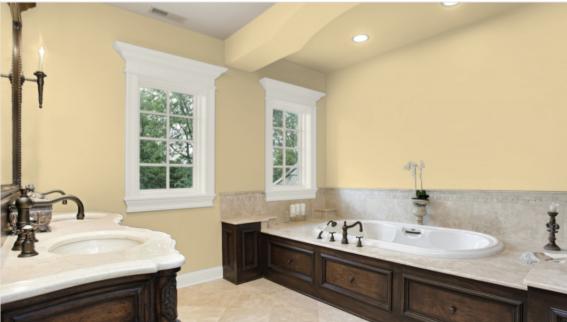 Friendly Yellow is a pale, milky yellow with a gentle touch that makes it easy to use. The challenge in adding yellow to a palette is having it overpower everything; Friendly Yellow is unlikely to do that. Its sunny charms can work well with blues, greens, grays, and whites. Friendly Yellow has a nice light LRV of 76.
Friendly Yellow is Easy to Use
Forsythia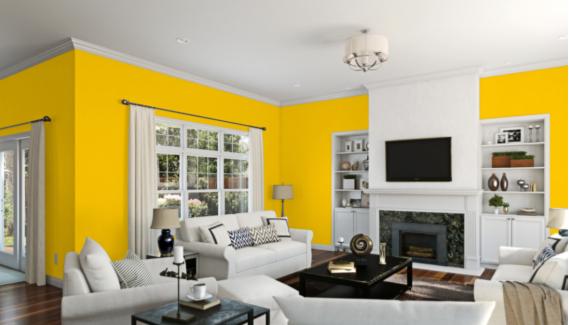 Forsythia is an intense sunburst of yellow that makes a big statement. You can balance it with colors like navy blue for a calming contrast, and break it up with decor so that its presence on the walls isn't overpowering. When you harmonize this color, it can bring energy and happiness to a room. Forsythia has a LRV of 63, which is ideal for many lighting situations.
Forsythia is Great with Navy Blue
Daffodil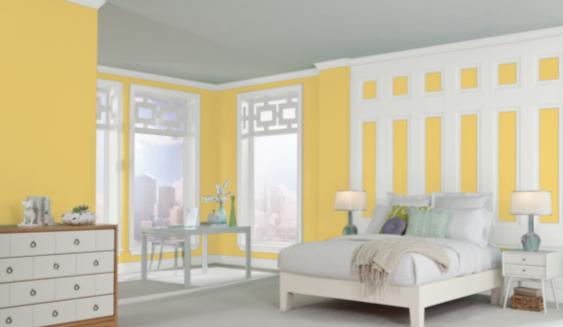 Daffodil is a color that instantly brings to mind the early spring flowers it's named for. This happy yellow is light enough to be used generously, but can still be toned down with grays, greens, or blues as desired. Daffodil has a LRV of 71.
Daffodil is a Welcoming Front Door Color
Butter Up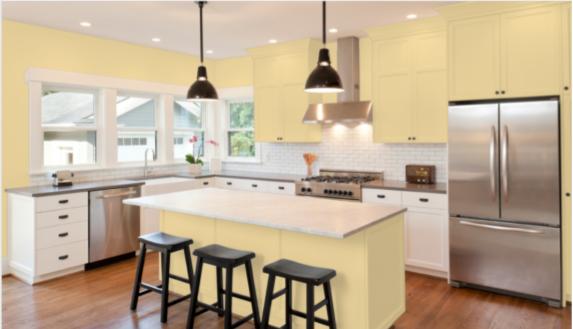 Butter Up is a light honeyed yellow with cream undertones. It's a color that definitely brings more happiness to a room and would be great for a child's bedroom or playroom. Make it pop with bright blues, pinks, or purples. Butter Up has a LRV of 74.
Butter Up is Fun with Pinks and Purples
Glitzy Gold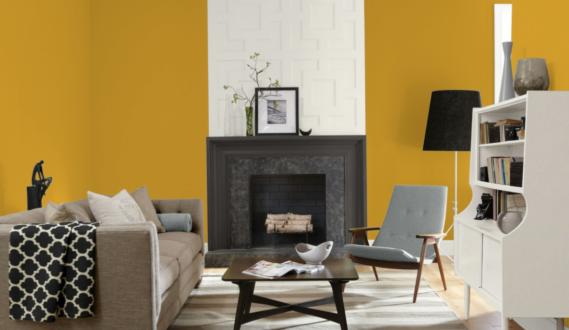 Glitzy Gold is a bold and intense jewel-toned yellow that is well-suited to modern and boho styles. You'll most likely prefer it as an accent color, with companions like dark teal and royal purple. Glitzy Gold has a LRV of 39.
Glitzy Gold is a Bold Statement Color
Classical Yellow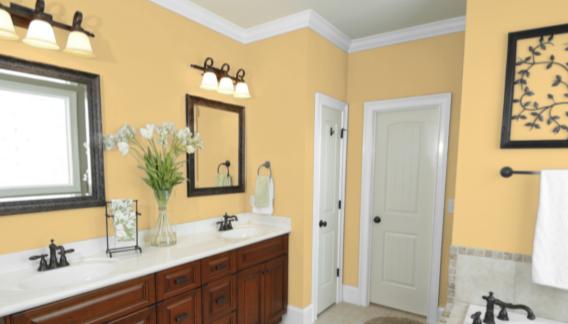 Classical Yellow is a bright and cheery traditional yellow that keeps things on the bright side with a LRV of 69. This color has some real historical cred and is part of Sherwin Williams' Historic Exterior Color Wall and Colonial Revival Collections.
Classical Yellow was Made for Historic Exteriors
Wait, So What is LRV?
LRV stands for Light Reflectance Value. It's a way of measuring how light or dark a color is. The scale runs from absolute black, which is 0, to sheer white, which is 100. The LRV numbers are provided in this article so that you can easily compare the colors on the list to each other.
Final Thoughts
Yellow can be tricky to navigate, so if you're feeling uncertain, take things slowly. You can always start with a splash of yellow among other colors you know you love.
Be sure to sample a large enough area to judge the yellow under your unique lighting conditions, next to other colors that could influence it. Yellows can change dramatically under different lights! A paint chip alone simply won't cut it.
If you want to balance yellow's intensity, try breaking it up with areas of other colors, or creative use of decor. You can hang art on the walls, paint patterns, use board and batten, or rearrange furniture to get the right effect.
Enjoy cozying up with yellow!