Decorated Life is reader-supported. When you buy through links on our site, we may earn an affiliate commission. Learn More
12 Best Dressers For Small Spaces
A dresser is one of the most functional furniture pieces for your home. If you've ever lived in a small and congested loft or apartment, you'd know exactly the challenges regarding storage and how crucial a dresser plays in your space. You could either choose from a narrow and tall dresser or something wider and low-heightened – depending upon the size and perspective of your room.
Don't worry – here's a list of the 12 best dressers for small spaces that play utmost functional and characteristic. Also, you could style them in your bedroom or the entryway – the choice is yours!
Lingerie Chest Manor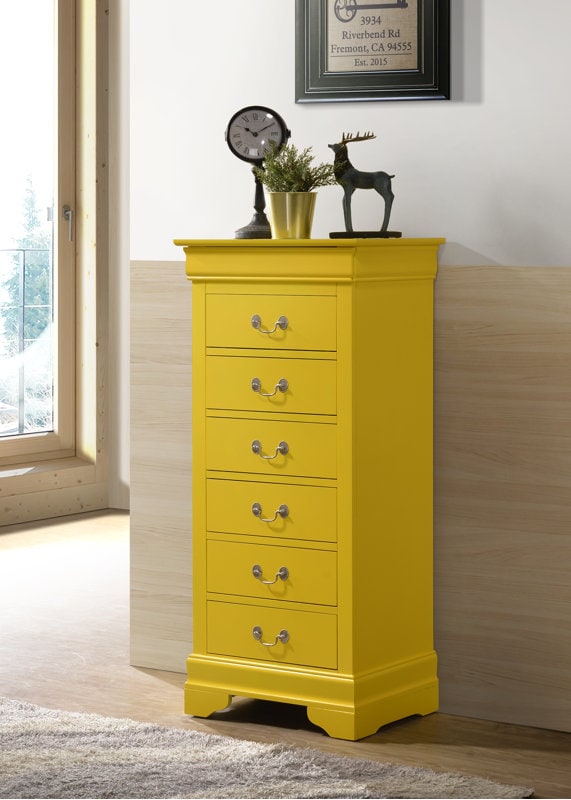 For smaller lofts and apartments, it's always beneficial to expand vertically as opposed to horizontally. So, if you love the idea of a tall and narrow dresser with an English or vintage style, this chic and classic design is what you must look forward to.
With a wide array of horizontal drawers, you can always segregate your belongings and store them in a more organized manner. And since it's so compact, you can easily fit that in any corner.
Linear Walnut Chest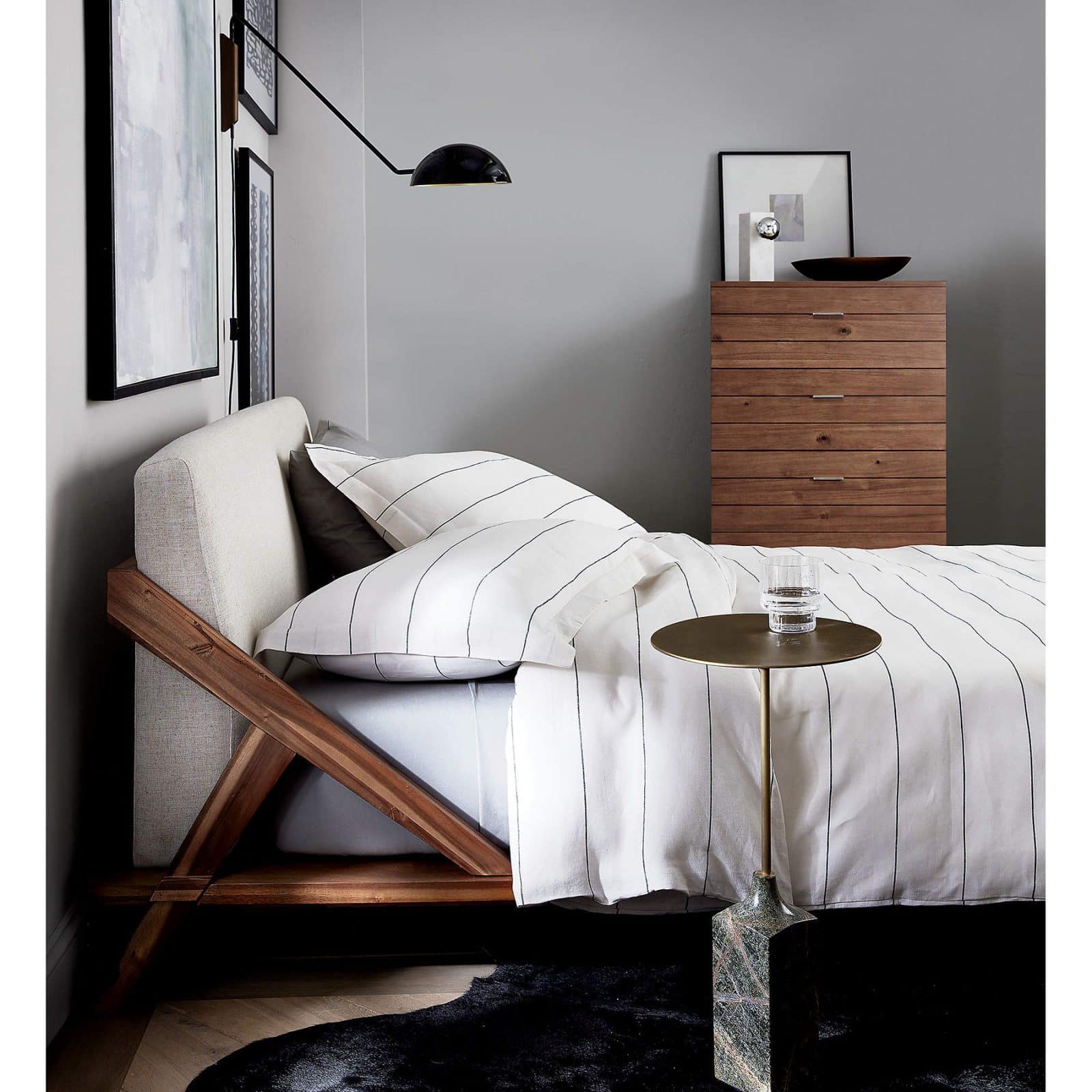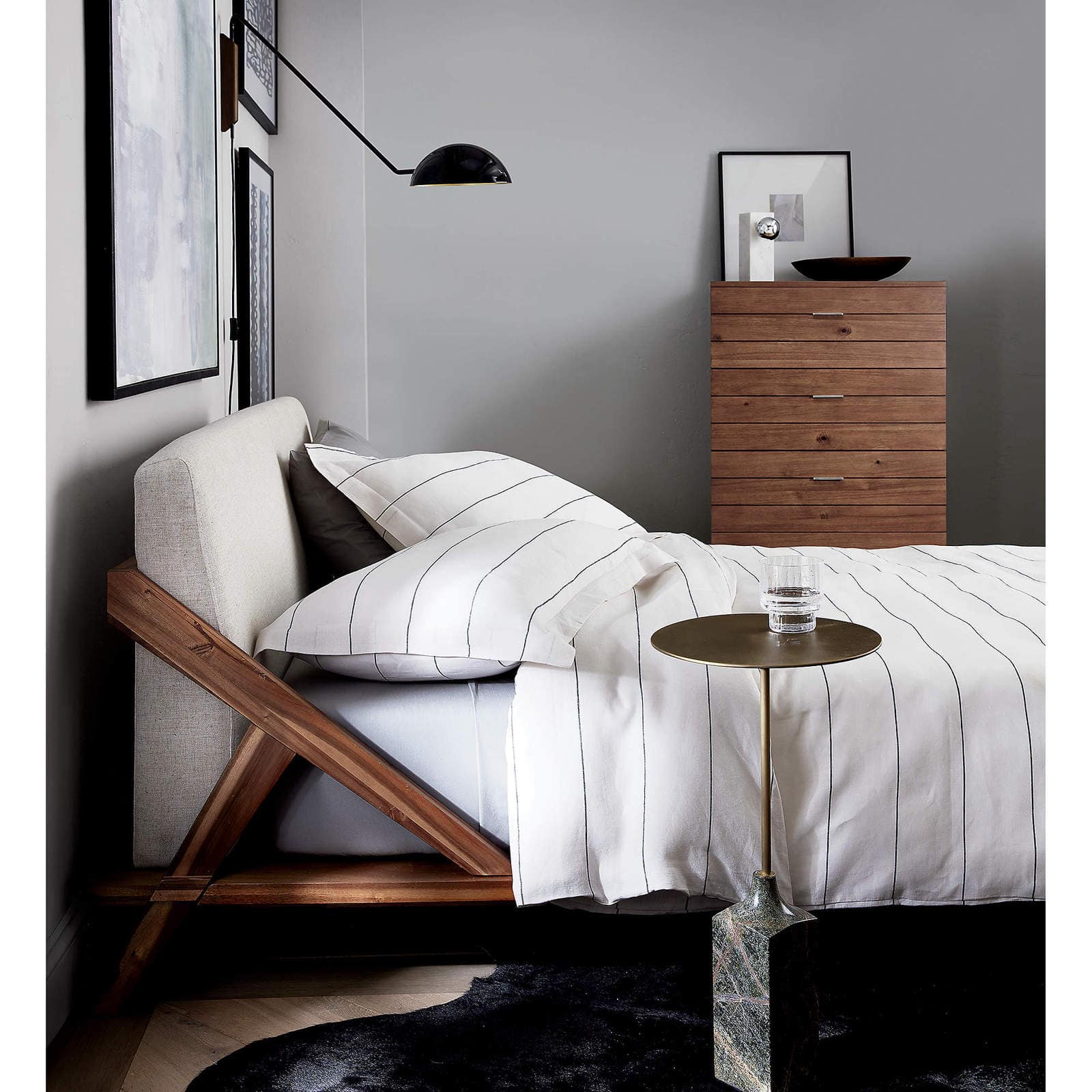 Standing tall in acacia veneer, this modern and industrial-style chest has a stunning appeal while an everlasting timeless look. With a total of 4 drawers, this small bedroom dresser can beautifully hold your everyday essentials while acquiring very little space.
The recessed iron legs are finished in brushed nickel – and that's why it can seamlessly align with one and all interior design styles. Yes, you never have to worry about appearances with this dresser on board!
Solid Wood Chest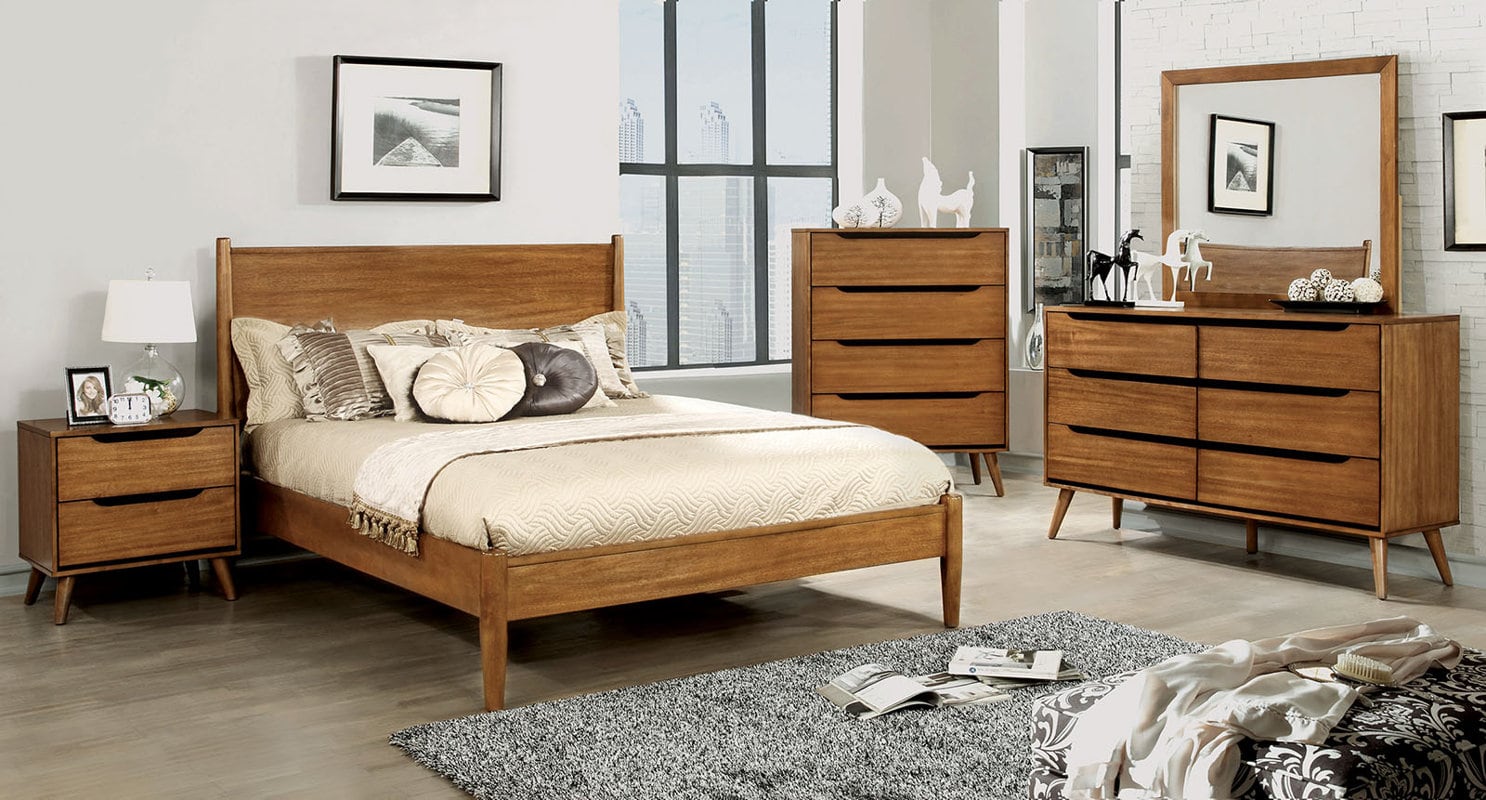 This 33.5" wide solid wood chest can easily fit into any negative space or corner. It has 4 spacious drawers to hold your clothing while exhibiting that stylish look in your bedroom. And since the small space dresser has an authentic Mid-Century modern look – you can definitely incorporate that in the bedrooms, likewise.
Moreover, owning this eco-friendly piece of the dresser will bring you an inch closer to healing the planet!
Oxford Chest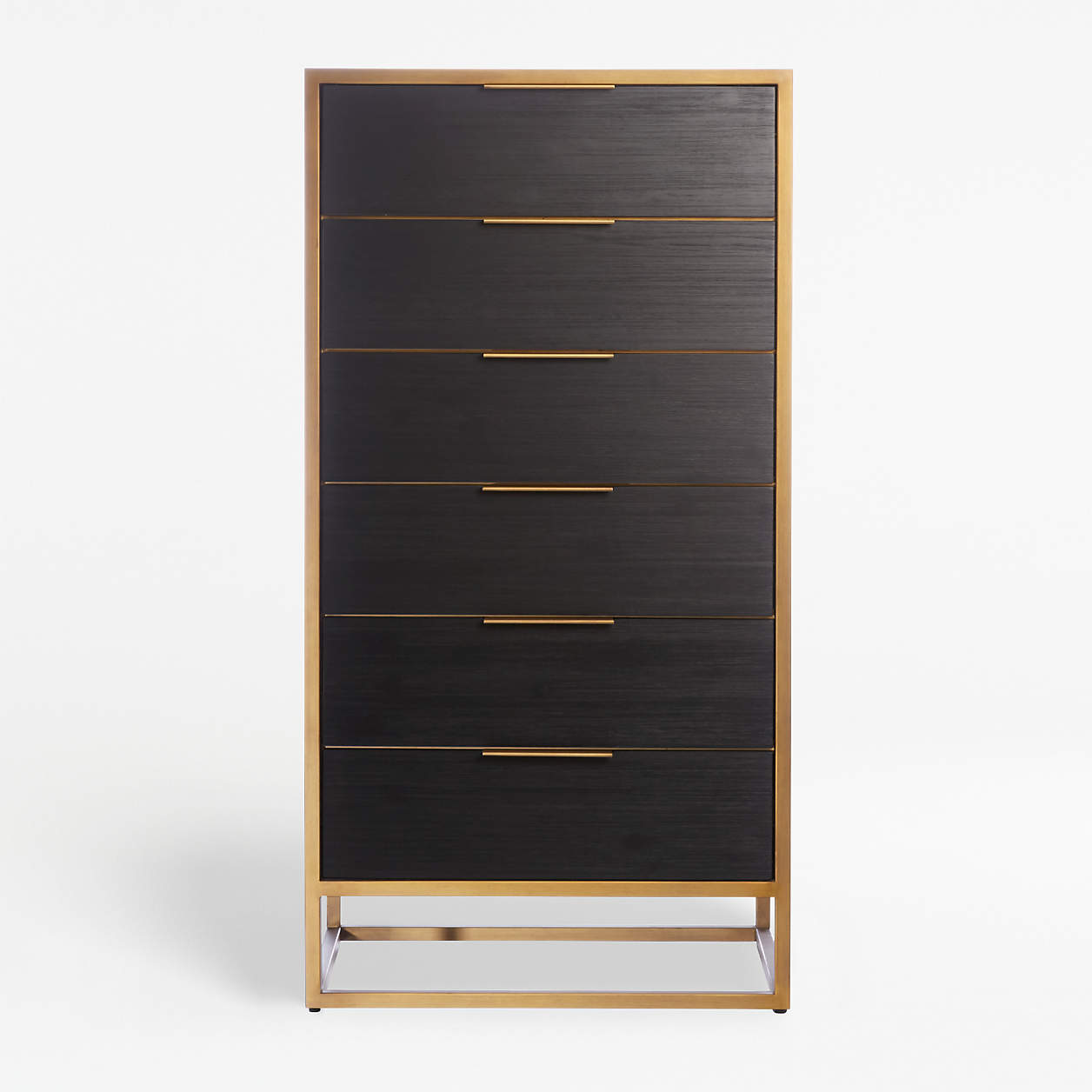 Amalgamating the English with Art Deco, this piece of the tall and narrow dresser is defined by clean lines and material contrast to add a contextual statement in your bedroom. Equipped with 6 drawers that are slim, spacious, and horizontal – this dresser can easily hold and segregate your heavy household items.
Moreover, the antique brass powder coated finish adds glam and sophisticated touch to the room. Yes! It's a great symbol for a modern and contemporary backdrop!
Vanallen Dresser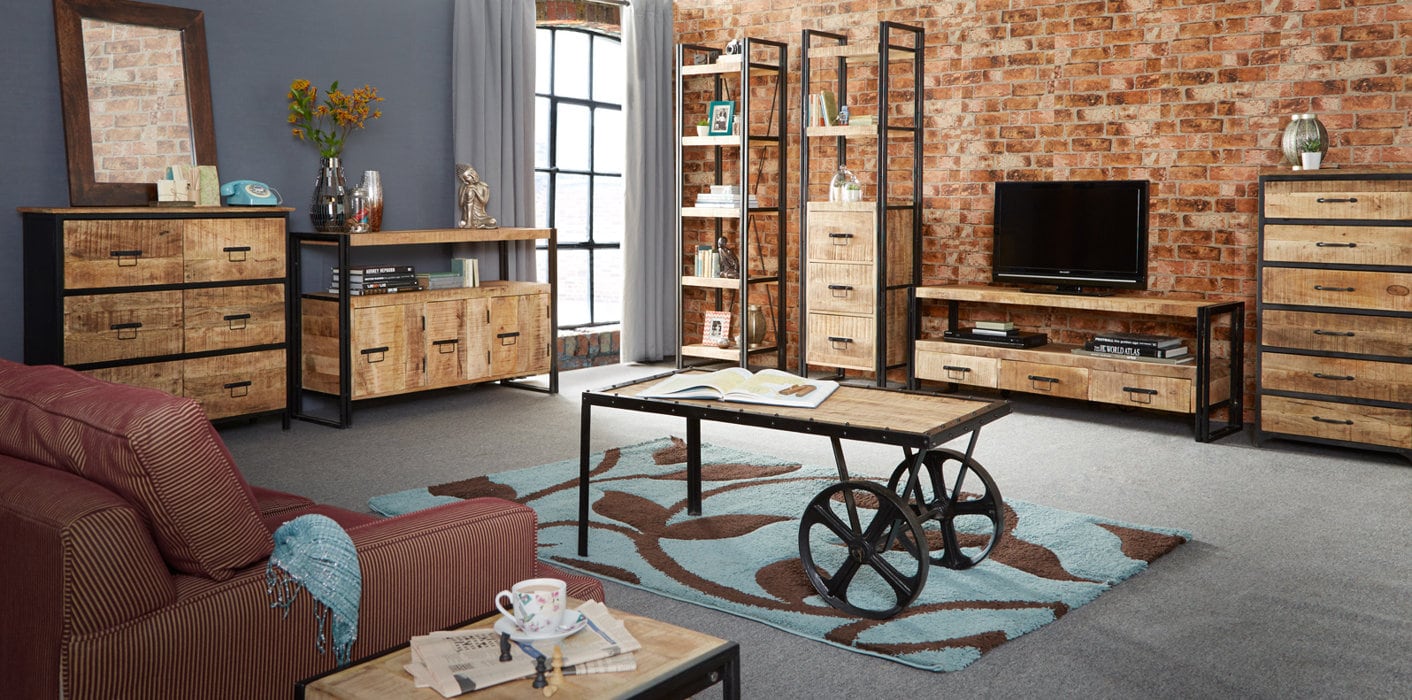 This compact and handy dresser has a mixture of enclosed and open drawers to store and style the way you want. Want to hide things? Well, stuff them in the enclosed drawers. Else, style them in the open drawers and let the drawer add a sense of character to your room.
Furthermore, you can choose to add a stunning piece of mirror and a few centerpieces on the top for the dresser to play multi-functional.
Florian Armoire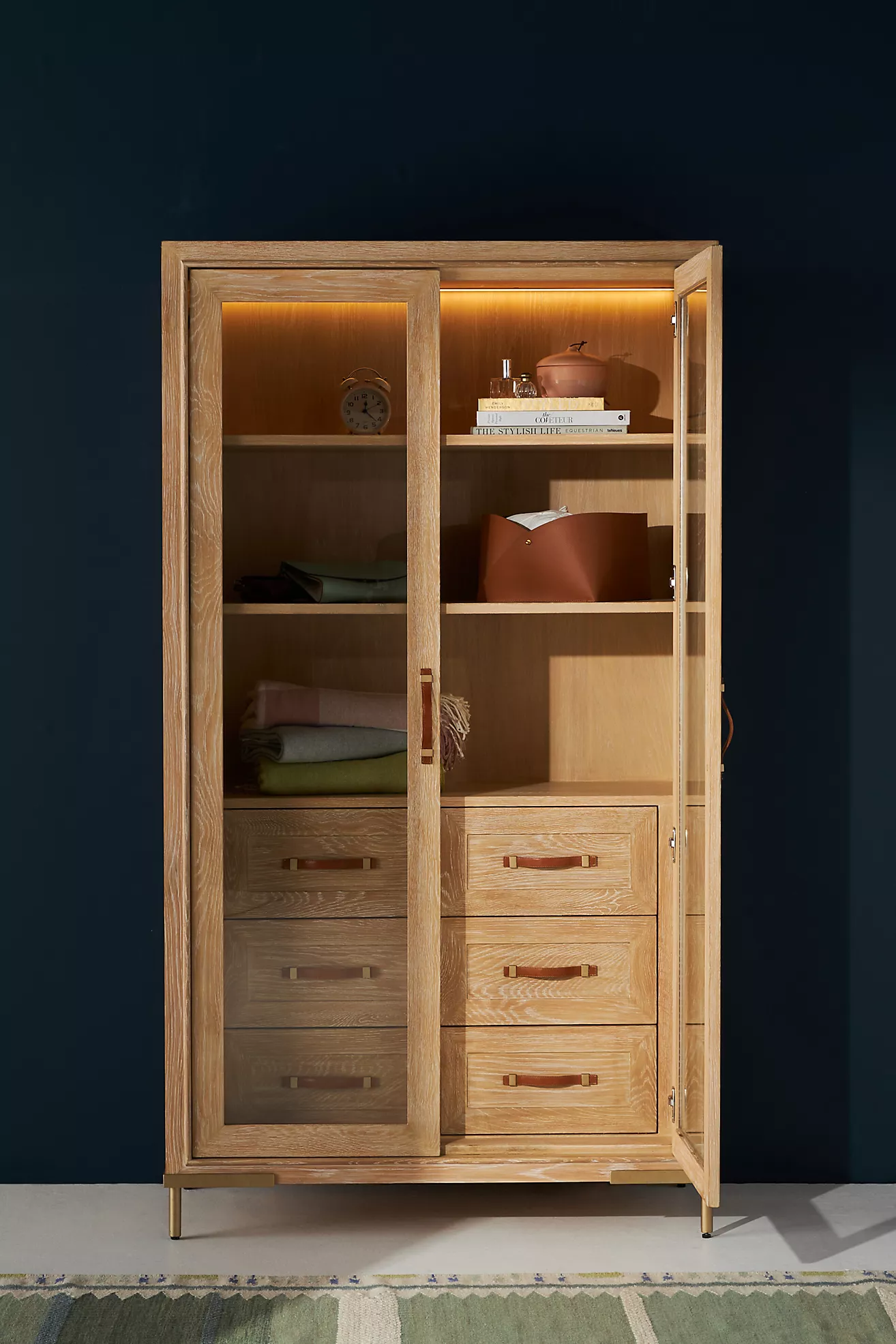 Not exactly a dresser but this armoire plays one for all. With an overall width of 40", this tall-standing oak case holds ample storage space (enclosed drawers as well as exposed display). The tailored and squared silhouette is rich in detail and captivates your space with its gleaming brass legs.
Moreover, don't ignore the beauty and detail that leather pull handles bring to space! They juxtapose the oak finish and create a perfect contrasting touch.
Daria Chest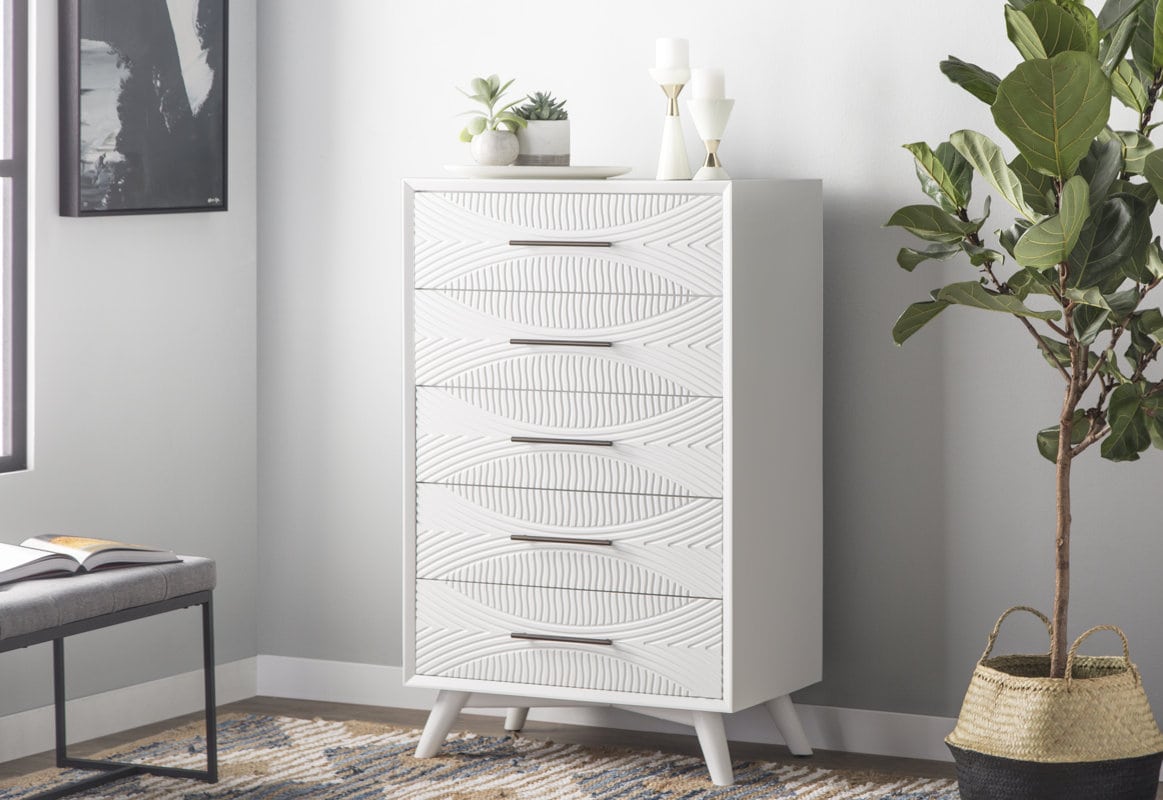 For a modern, Scandinavian, minimalist, and Mid-Century look in your home, it's essential to incorporate this 30" wide chest that can impressively accommodate a ton of your clothes and daily household necessities. The crisp and clean, the white chest can further create an illusion of an airier space – rather than overwhelming that corner!
And let's not forget the curved details on the surface of your dresser. Doesn't it truly add so much detail, movement, and dimension?
Amelia Tall Dresser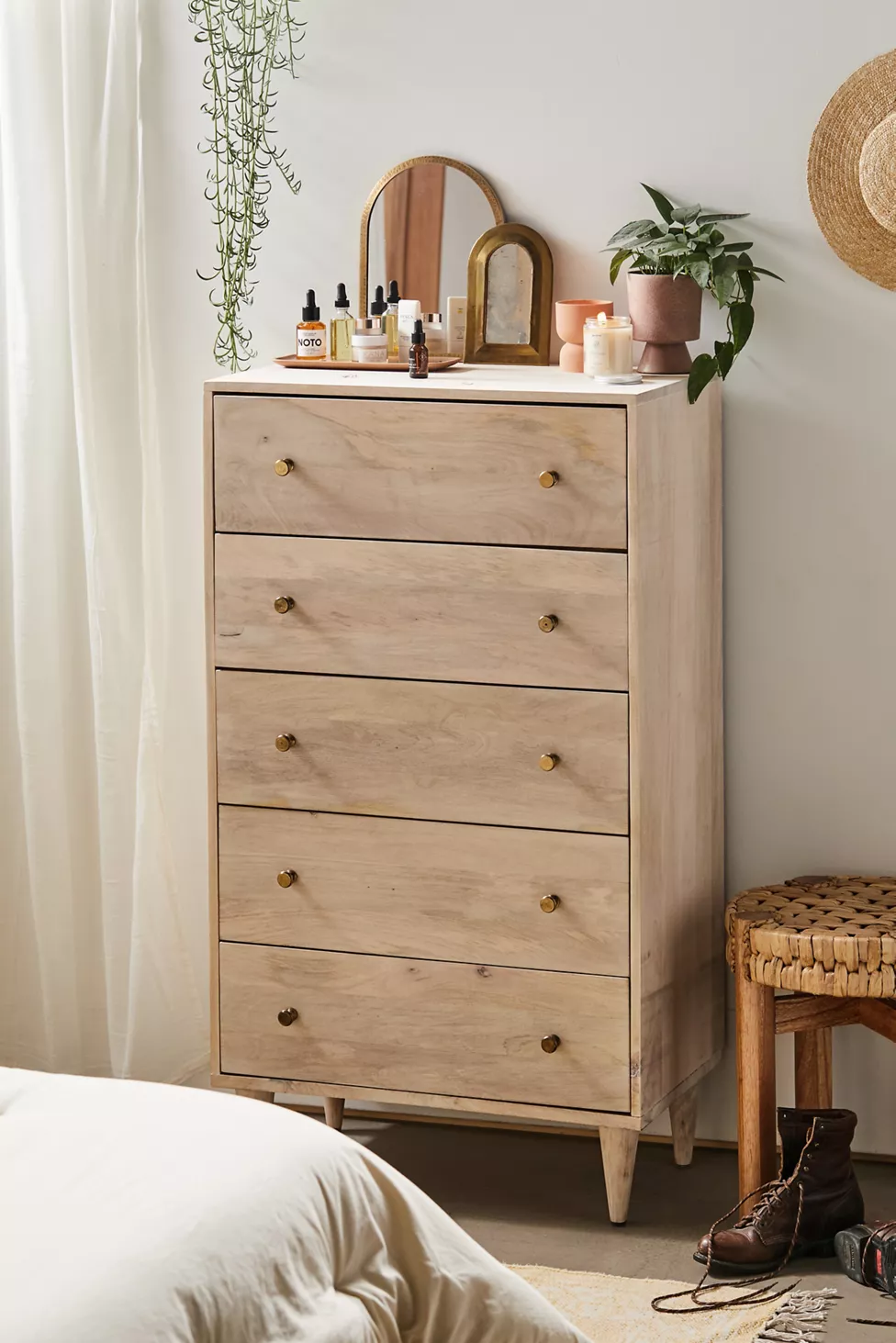 Are you craving a practical and simplistic design? Well, this dresser with 5 pull-out drawers and a one-of-a-kind woodgrain finish is bound to add a timeless and versatile feel to any room. And truly, it's so spacious that the storage options are endless.
You can easily fit this piece of dresser underneath the staircases, behind the door, or any unused negative space in the home. Yes, you'd be surprised to see how beautiful it appears!
Geraldine Chest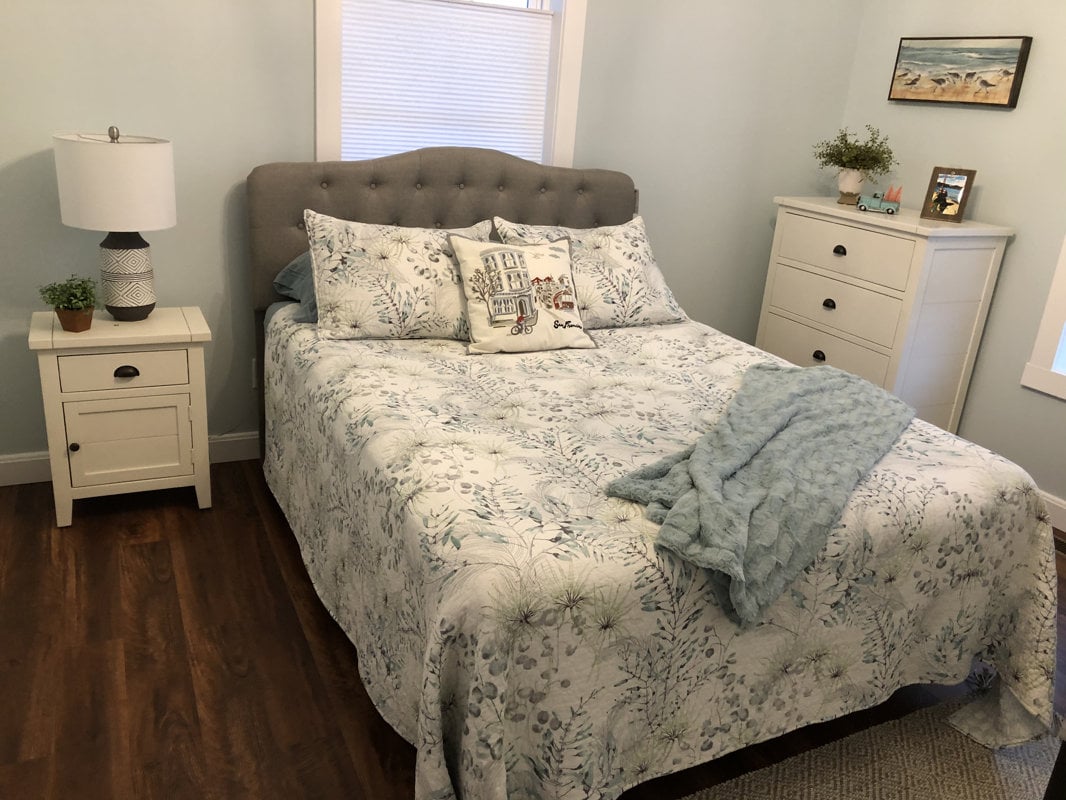 Have a look at this tiny bedroom – and then observe how seamlessly and beautifully the dresser fits in, right? Well, this 4-drawer chest can be easily fitted into any corner and can make a wonderful statement in the bedrooms (especially kids' rooms).
From frilly dresses to fancy blouses, you can choose to store all your belongings and even organize them in a way as Marie Kondo does.
Gillian Storage Cabinet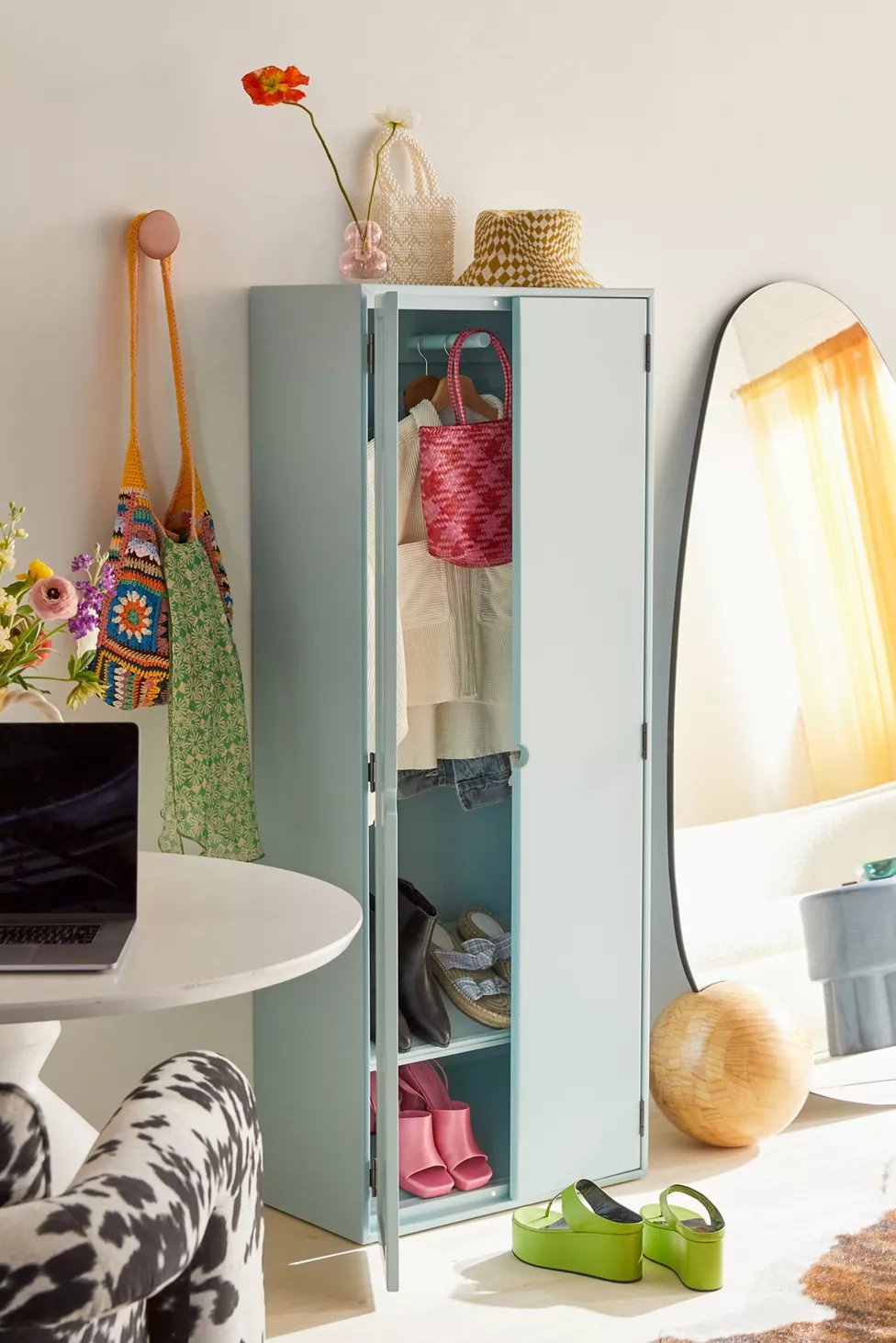 Want to infuse color and creativity – all at once? Well, this sky blue-toned tall and narrow storage cabinet features exclusive two doors with beveled detailing and round cutouts for handles.
Not only does the small space dresser offer immense storage and functionality but also infuses a pretty pastel blue to enhance the color palette of your room. Moreover, you have the opportunity to store shoes, accessories and many more using a dowel for hangers.
Vintage Carol Chest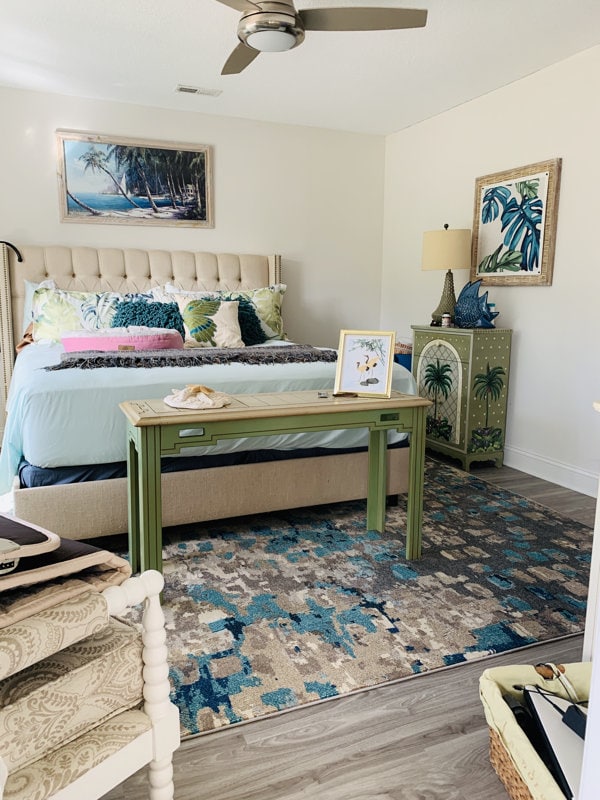 Whether it's the corner of the room, empty wall surface, or that little unused space – this vintage-style dresser can truly add aesthetic. With 5 drawers and ample storage – you can choose to place this furniture piece either in the bedroom or the living space.
And since it's comparatively taller, it's a great way to make the most use of the vertical space in your home. The depth of the dresser is apt to be kept at a distance from your bed!
Wallace Armoire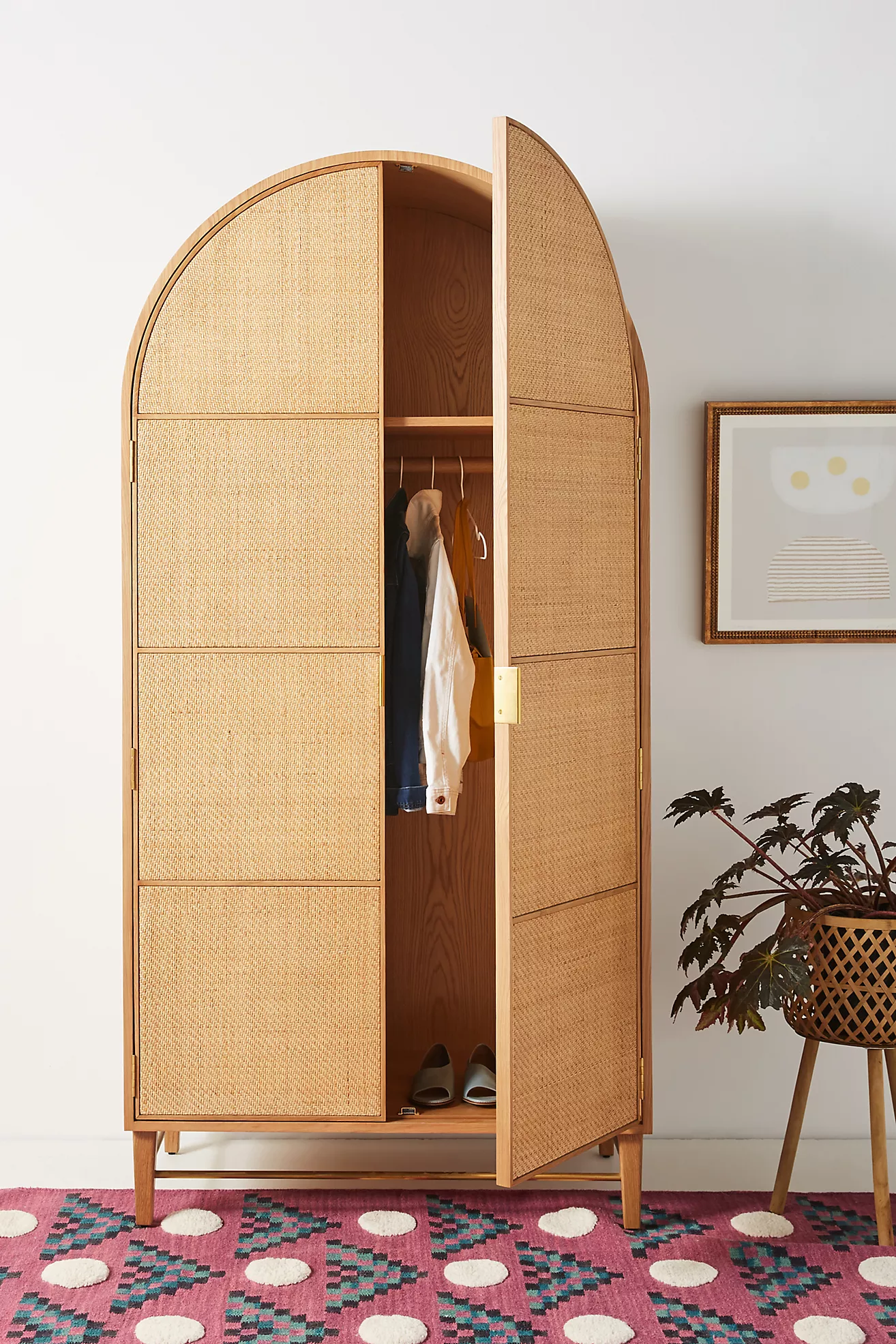 This graceful and bohemian-style armoire can blissfully replace the old-school dresser. So, if you have more belongings to hang than organize and store – this piece of furniture is something to look forward to.
Crafted from oak veneer, this armoire is quite a strong and durable one. So, if you're thinking of a solid investment – this is what you must have an eye on! It also has a tactile facade to add contextual texture to the room.
Summing It Up
When it comes to decorating with a dresser – you don't have to compromise on aesthetics or functionality. With a wide array of these 12 best dressers for small spaces – you probably know how to best decorate and store in a small space. So, did you like any design in particular? Well, do let me know your thoughts in the comments below!