Decorated Life is reader-supported. When you buy through links on our site, we may earn an affiliate commission. Learn More
16 Best Farmhouse Dining Tables
Nothing says 'home' quite like a farmhouse dining table. Farmhouse dining tables are ideal for families, and as well as being beautifully rustic, one of the best things about these chunky wooden tables is that they will stand the test of time, gathering character as they age.
We've curated a list of the best farmhouse dining tables to help you get that cosy farmhouse look in your own home!
Extendable Pine Solid Wood Dining Table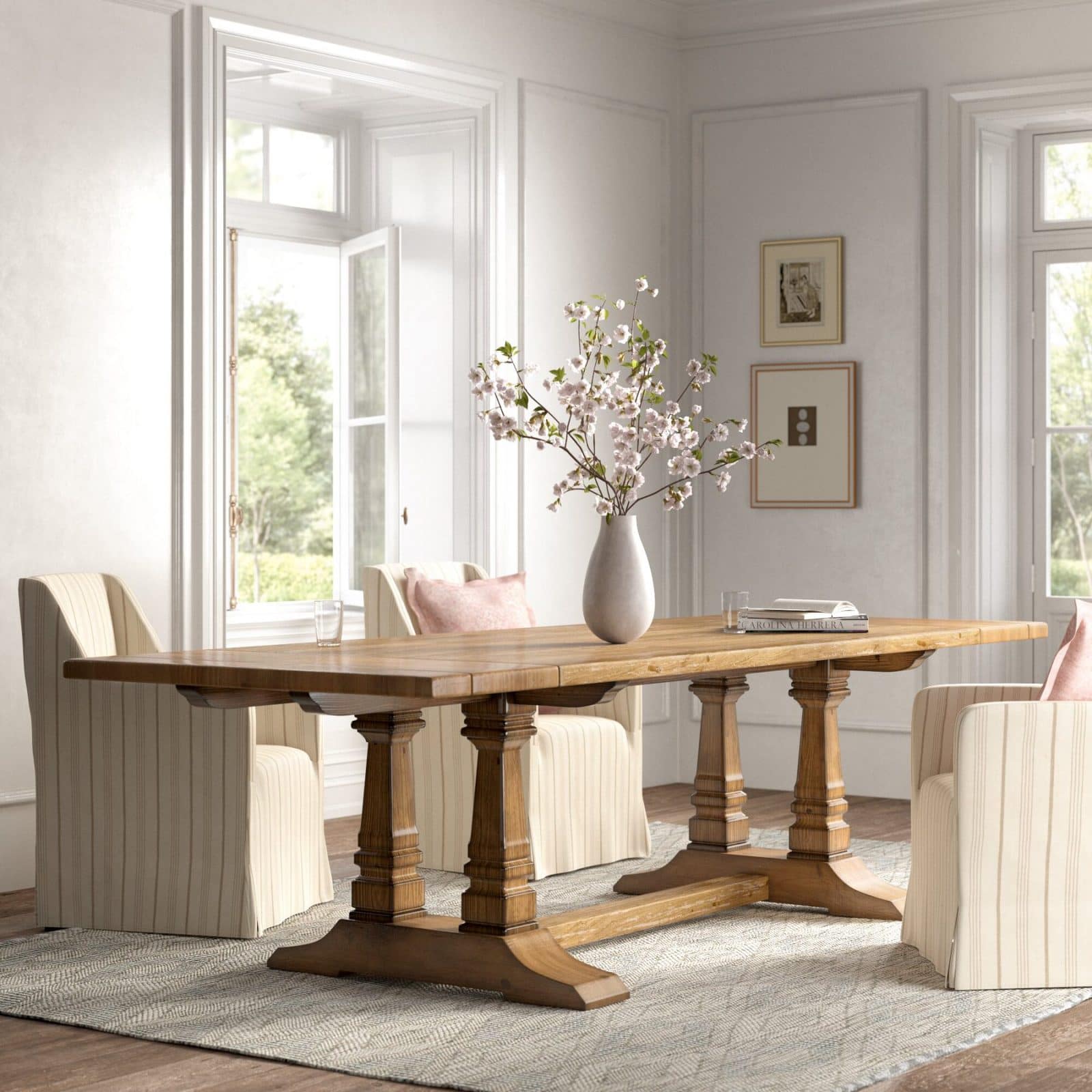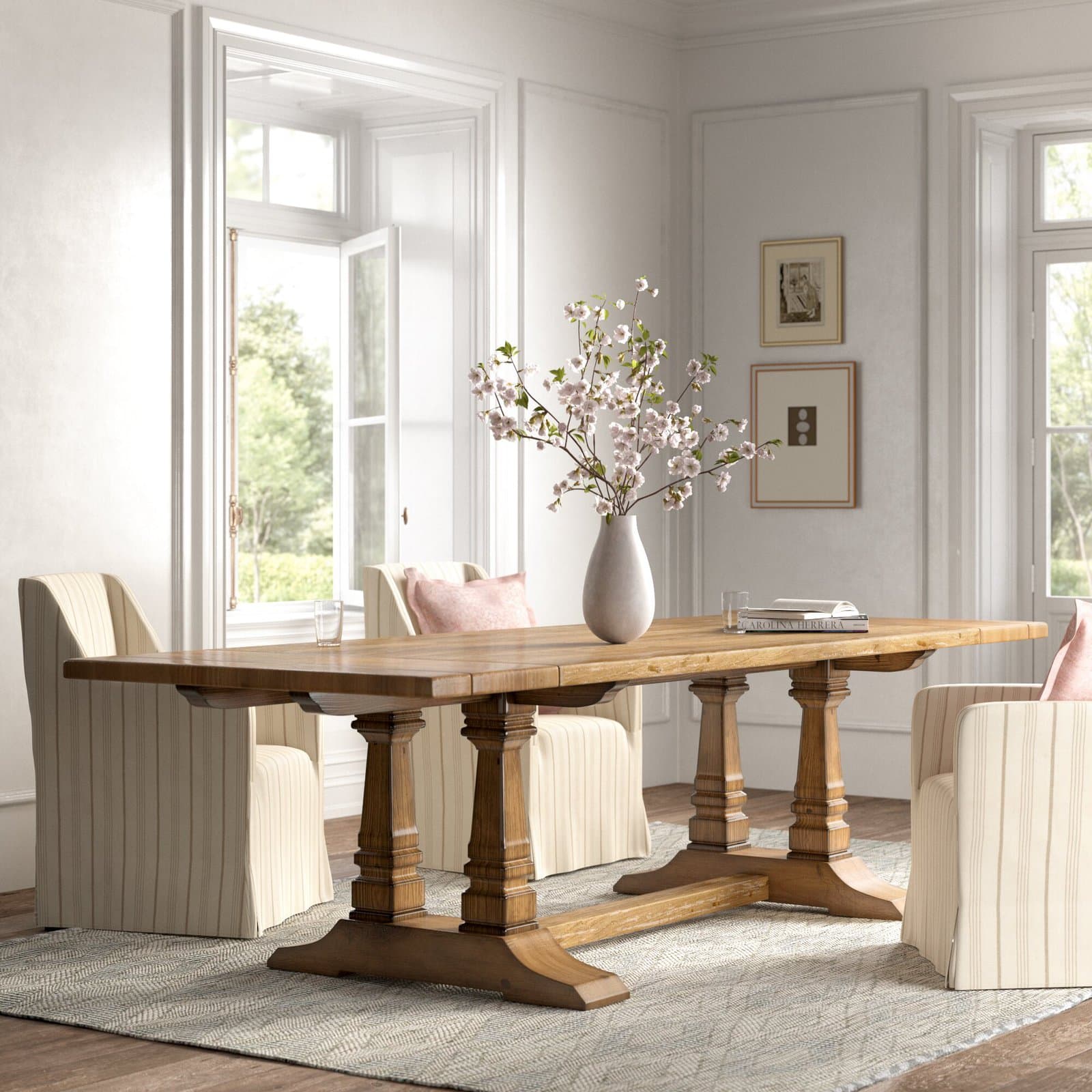 This stunning extendable solid wood dining table is perfect for hosting extended family and friends for dinner! It seats up to 12 guests when fully extended, and 6 guests when collapsed, with two separate leaves which you can have up or down depending on how many extra guests you are hosting.
This rustic dining table features a classic trestle base with a chunky wooden top, and it has been purposefully distressed to give it that classic weathered farmhouse look that will only get better with age!
Cates Wood Farmhouse Dining Table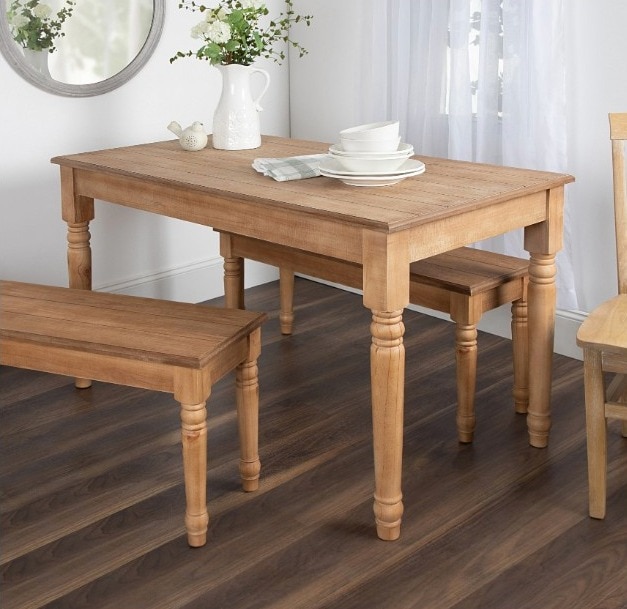 If you want to bring some farmhouse warmth to your kitchen or dining room, this beautiful Fir wood table should do the trick. Featuring chunky turned legs and a shiplap tabletop, this table has a distressed finish to give it that perfect farmhouse look.
This table is both lightweight and durable, due to the fact that it is made from Fir wood, making it ideal for family meals, as well as being a great place to socialise, work, and do homework.
Lydia Dining Table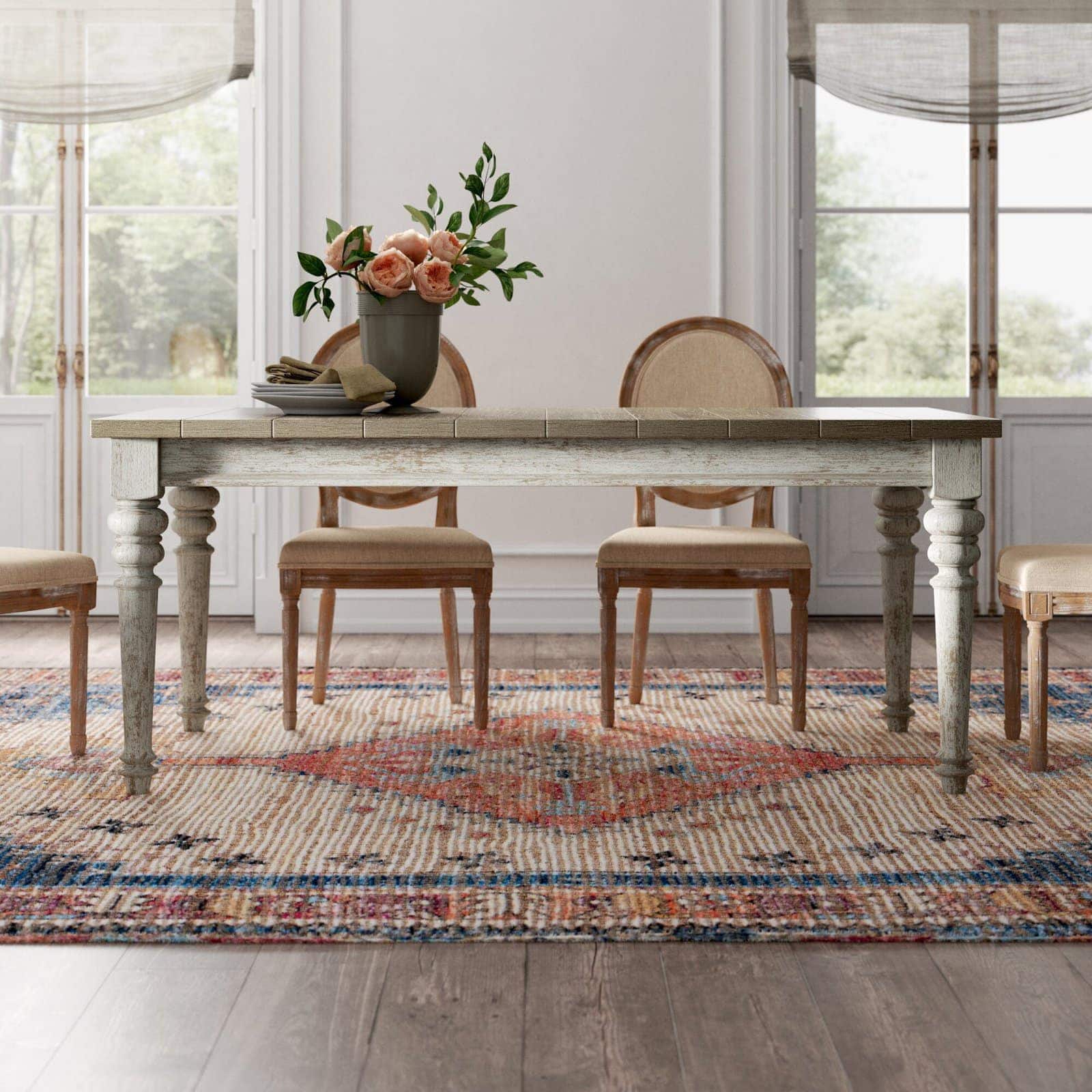 This rustic farmhouse dining table is ideal for hosting dinners, comfortably seating up to 8 guests. It features a planked top with turned legs for a classic farmhouse feel.
The base has been whitewashed and lightly distressed to give it an antiqued look, which contrasts perfectly with the light brown wooden top. It is an ideal choice for families, since it's strong and sturdy, and easy to clean. Any wear and tear will just add to the rustic look!
Knox Nook Dining Set
If you want to create the perfect breakfast or dining nook then look no further than this farmhouse dining room set. A nook dining set is ideal for anyone with a small kitchen or dining area that still wants to achieve that cozy farmhouse feel.
This beautiful set is crafted from solid pine wood and comfortably seats 5. It includes the table, nook seating, and a bench. The back of the seats feature carved detailing for a country casual look, and the two end seats lift up to reveal extra storage space, making this an ideal choice for small homes.
Bixby Solid Wood Dining Table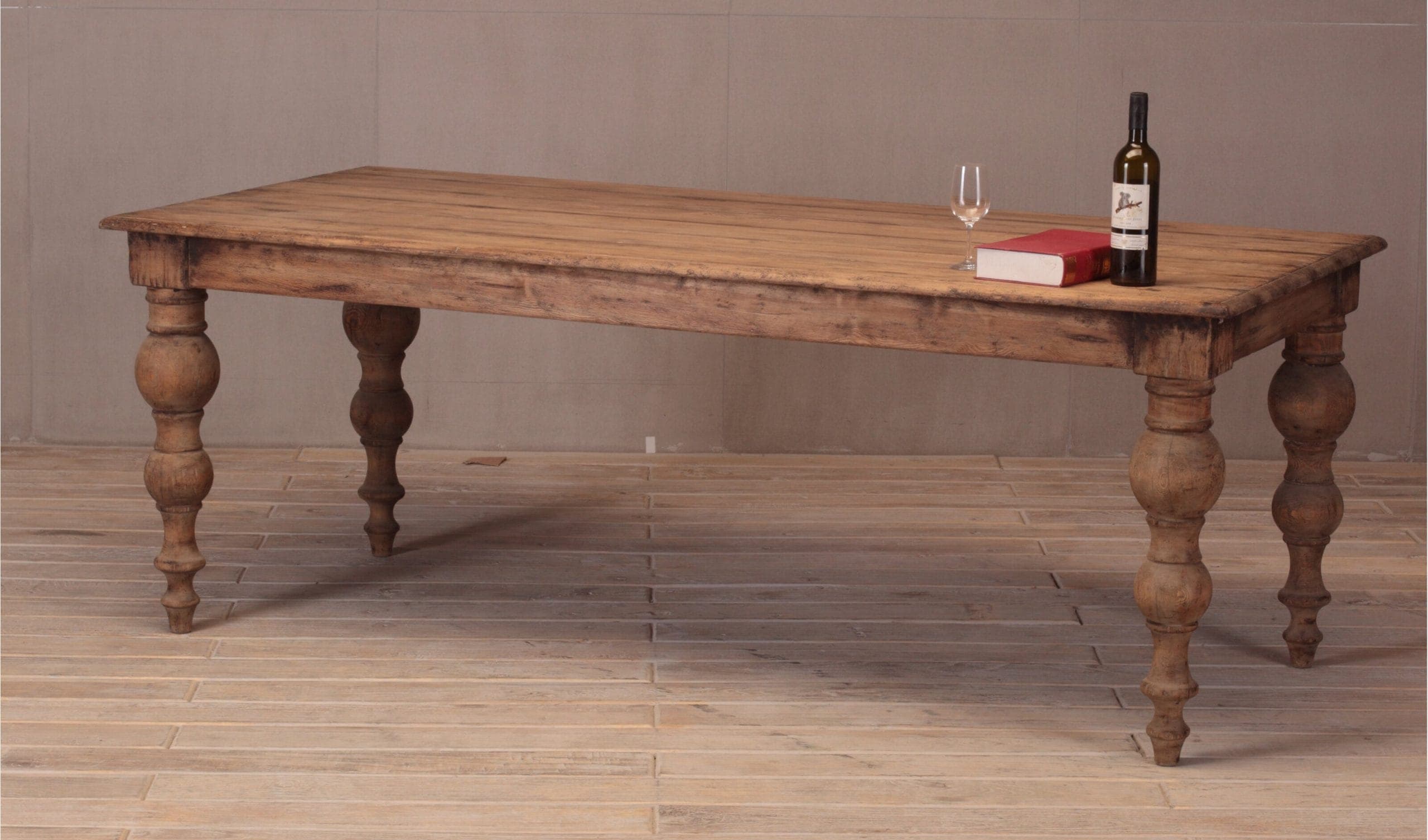 If you're looking for the ultimate farm style dining room table, look no further! This reclaimed wood farmhouse table would look amazing in a farmhouse kitchen or dining room, creating the perfect base for family dinners or entertaining friends.
The table features beautiful chunky turned wooden legs in an authentic farmhouse style, and the reclaimed pine has been washed with a stony grey and black finished to give it a rustic look.
Kensington Dining Table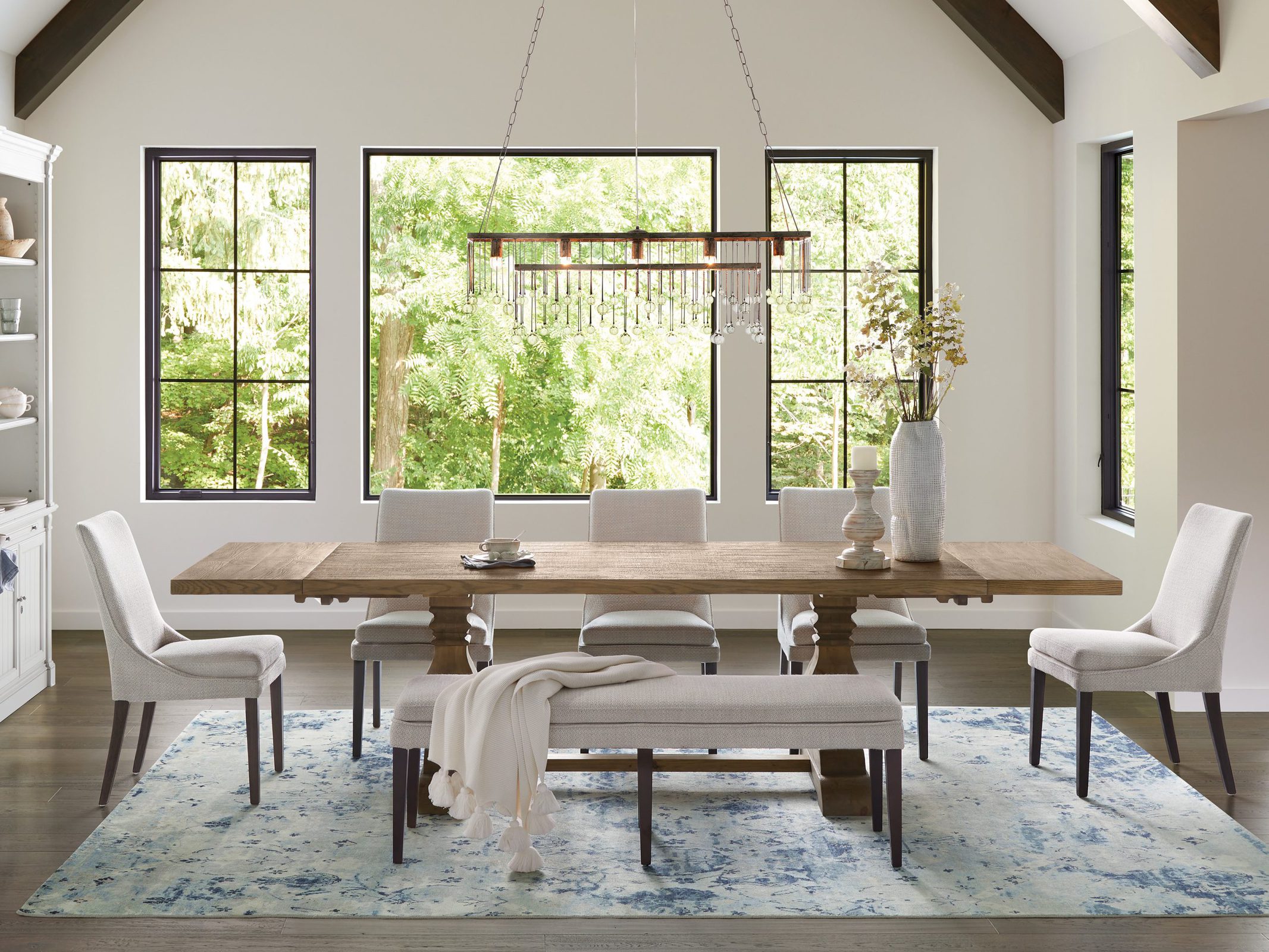 The Kensington dining table has been crafted by artisans using sustainably sourced Oak veneers and solid Finnish pine. Each table has been carefully hand-finished in a way that naturally complements the beautiful organic features of the wood.
This table is available in three different sizes: 72" which can seat up to 10, 86" which seats up to 12, and 118" which can seat up to 16 guests when fully extended.
Towley Dining Table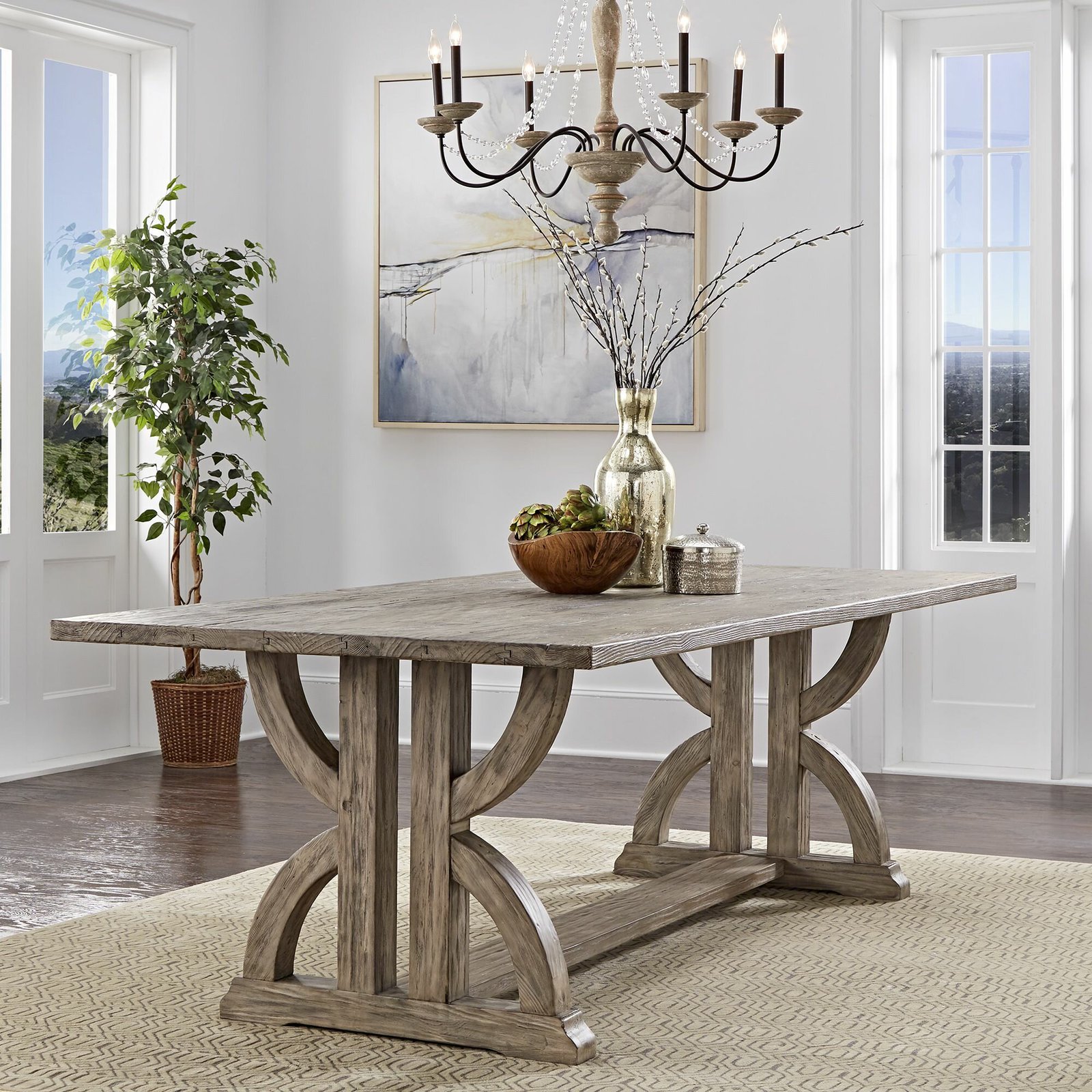 This elegant modern farmhouse table is perfect for family dinners and special occasions. It features a beautiful curved trestle base, with a chunky solid wood top, and comfortably seats up to 6 guests.
Made from solid reclaimed pine, this table has a naturally rustic look to it, and it has also been lightly distressed to give it an antique finish.
Wood Farmhouse Leona Extension Dining Table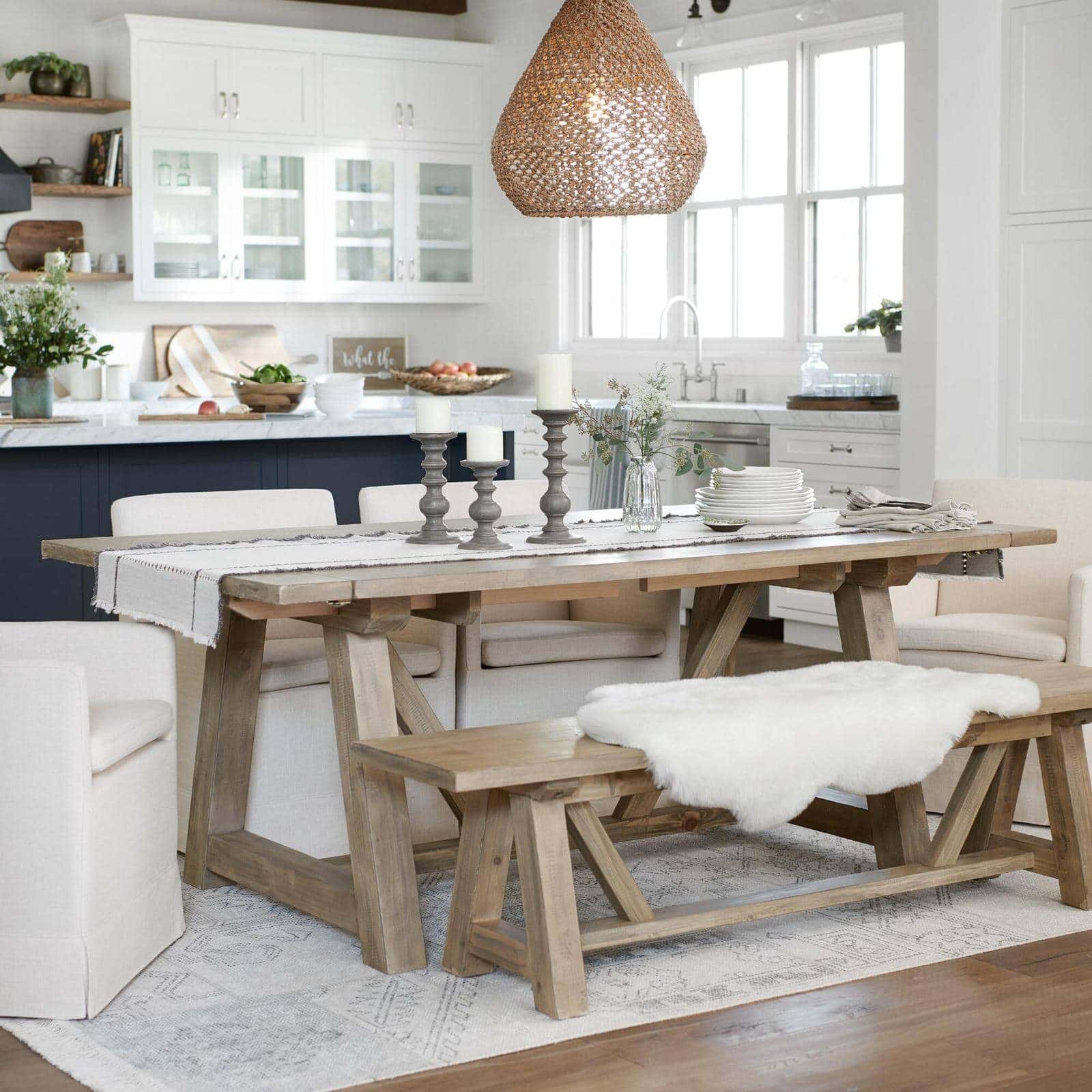 If you're looking for a relaxed modern farmhouse dining table, this could be the perfect one for you. It features clean lines and sharp angles for a modern farmhouse look, and it's an ideal choice for large families as it comfortably seats up to 8.
The table is crafted from solid pine, MDF and pine veneer, and it has a stylish gray washed finish that has been lightly distressed to give it a rustic look.
Poe Cross-Buck Extendable Dining Table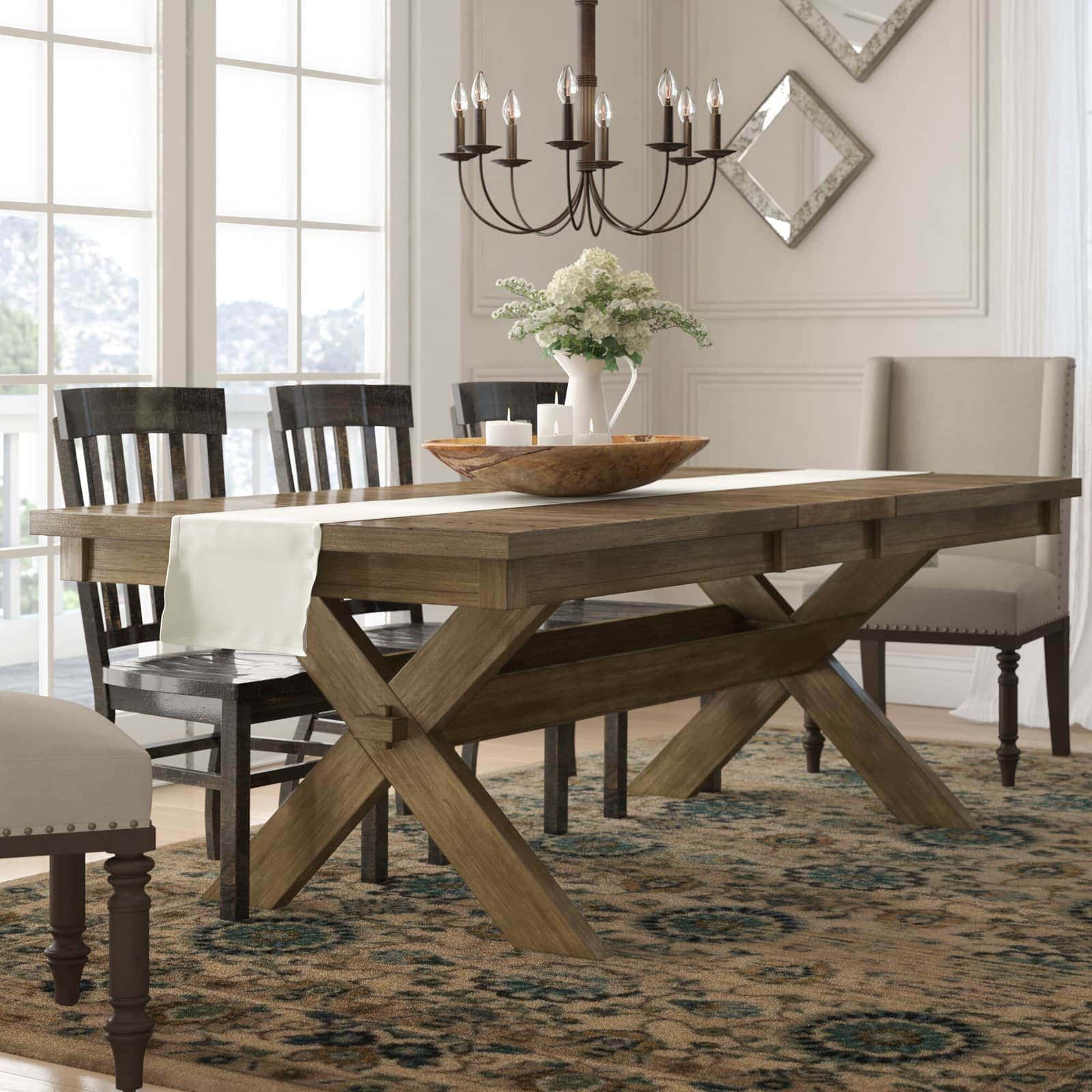 This sturdy expandable farmhouse dining table features a crossbuck base and an extendable butterfly leaf which extends the table from 6 to 8 seats. The base is crafted from solid rubberwood, and the top is made from a mix of manufactured and solid woods for a smooth finish.
It is an ideal choice for families due to its solid structure, and it will stand up well to any wear and tear that happens in a busy household.
Eleanor Two-Tone Round Solid Wood Top Dining Table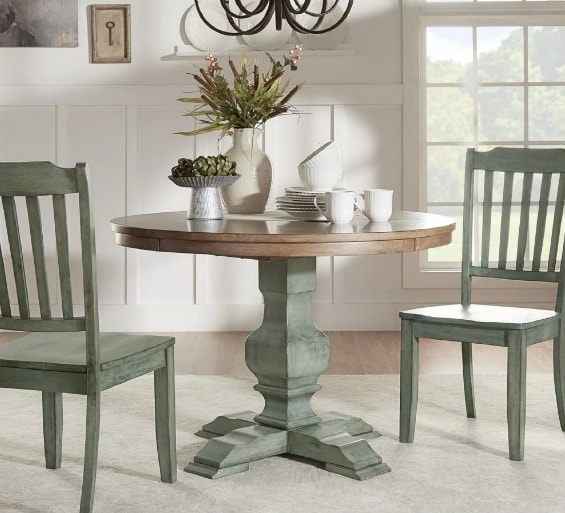 This beautiful round solid wood farm table is ideal for smaller kitchens and dining areas, as it comfortably seats 4-6 people without taking up too much floor space. The table features a traditional farmhouse design with a chunky wooden top on top of a pedestal base.
It features a 'two-tone' design with a natural solid wood table top on top of a distressed painted base, which is available in a variety of colors – perfect for bringing a touch of vintage farmhouse charm to your home.
Angelita Mango Solid Wood Dining Table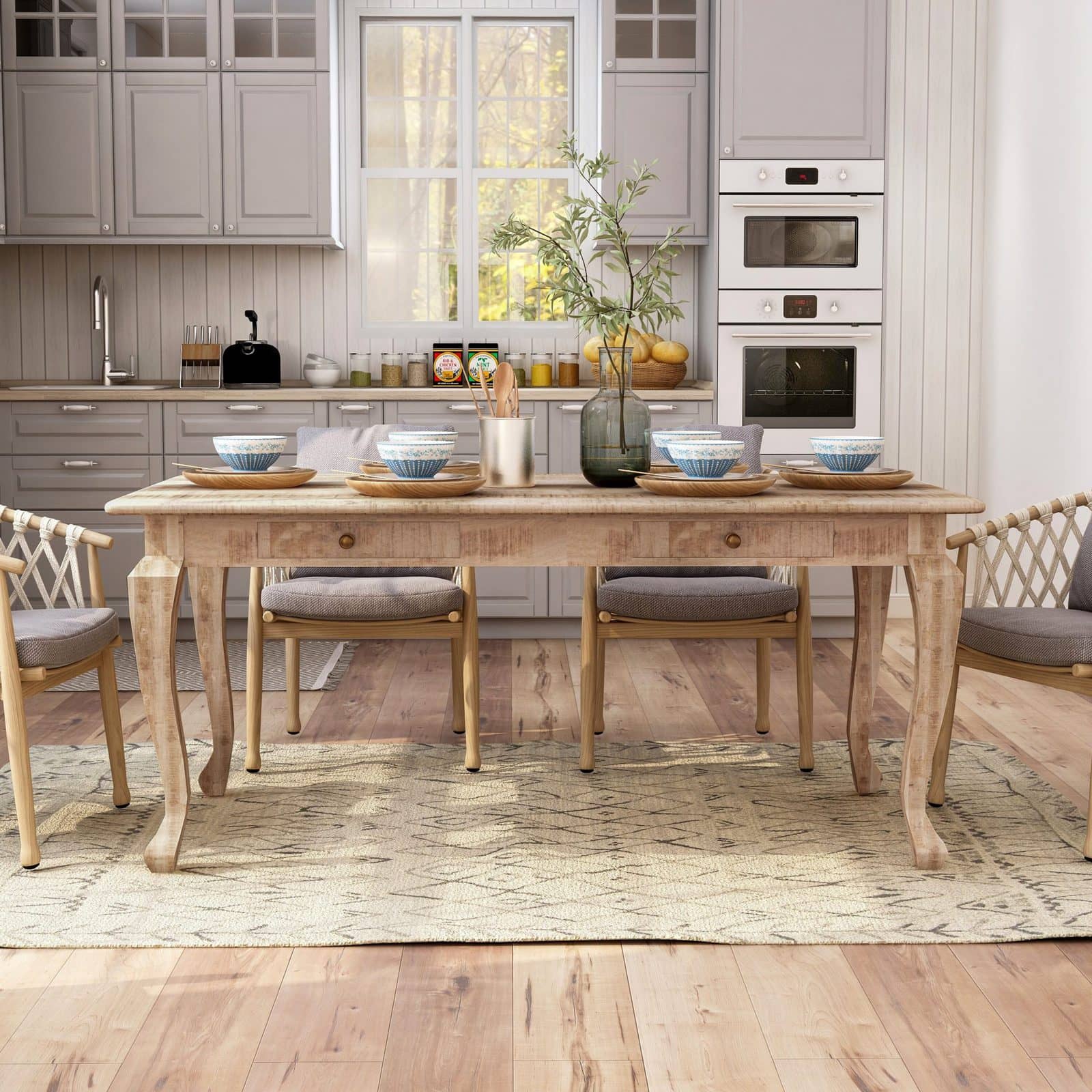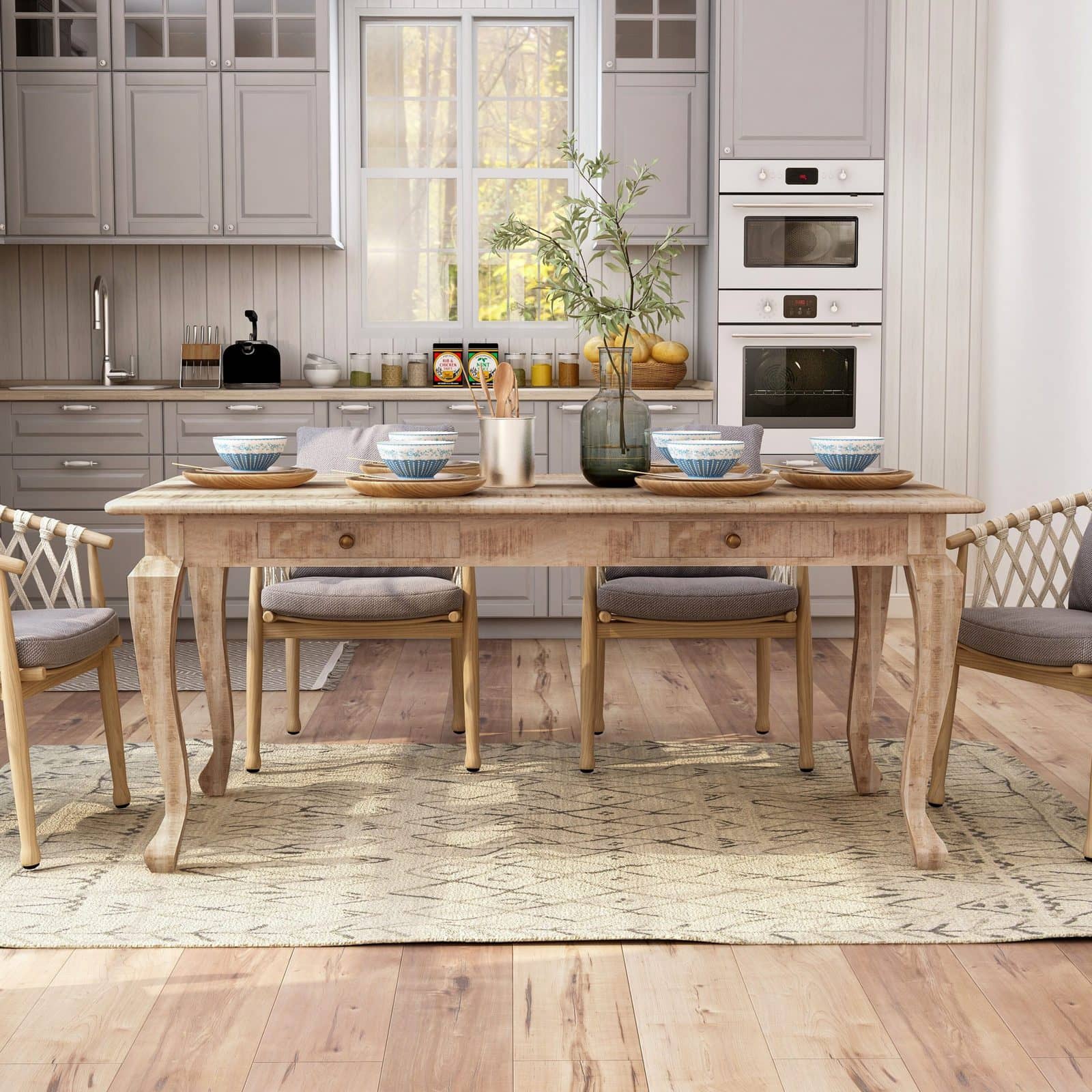 Mango wood is ideal for country style dining tables, due to its naturally light color with darker accents in its grain and knots, giving it lots of character. It's also a great choice if you're looking for eco-friendly furniture.
This gorgeous table has built in drawers for storage, bringing together style and function perfectly. It seats six, making it a great medium sized table for a farmhouse kitchen.
California Dining Table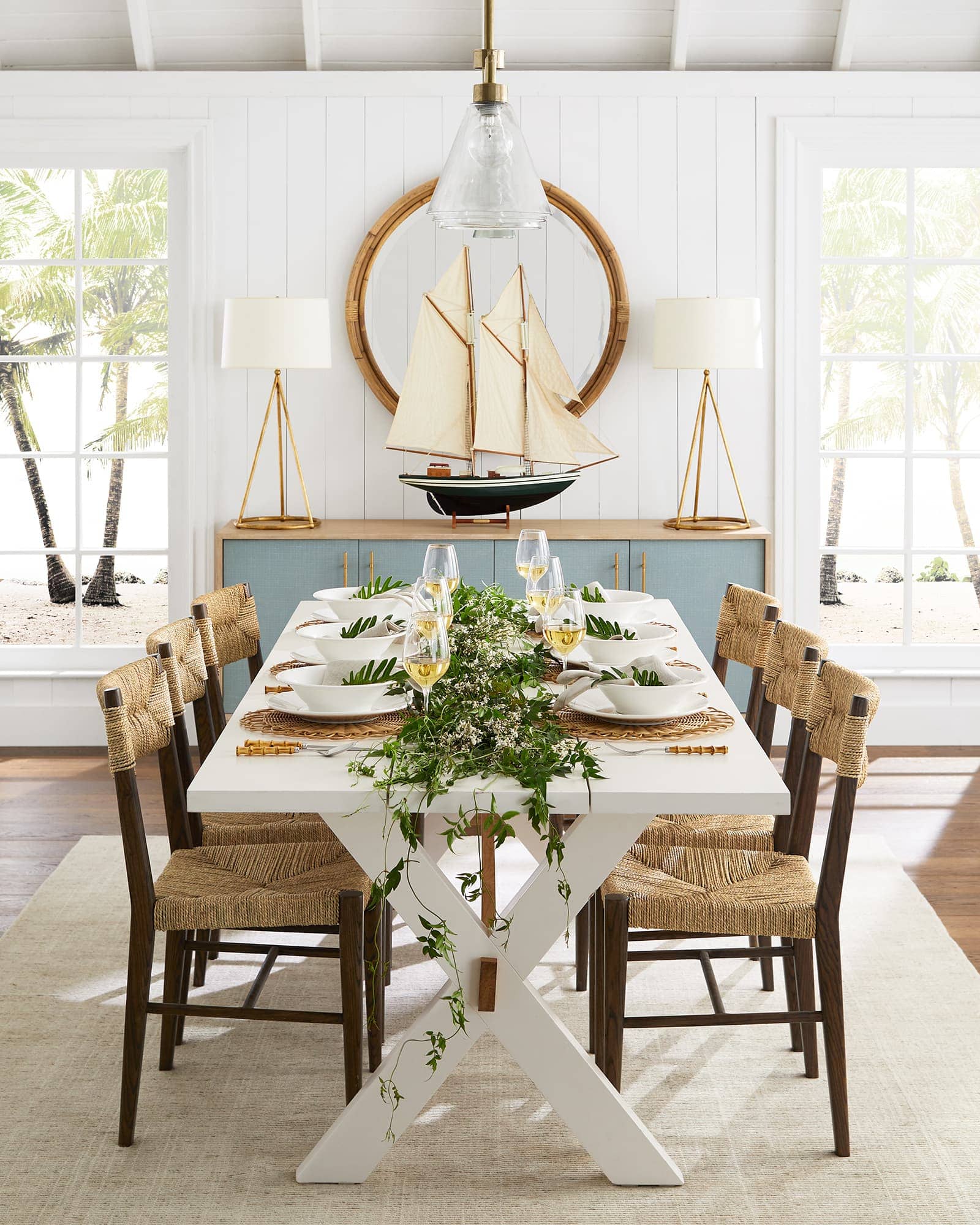 This table is modelled on the classic picnic table, but with a sleek modern white finish – perfect for any modern farmhouse kitchen or dining room!
It has been crafted from solid teak and acacia wood, and features a stretcher in natural wood color, which contrasts beautifully with the white. This table is on the larger size, and comfortably seats 6-8 guests at a time.
Mandeville Wood Live Edge 3-Piece Dining Set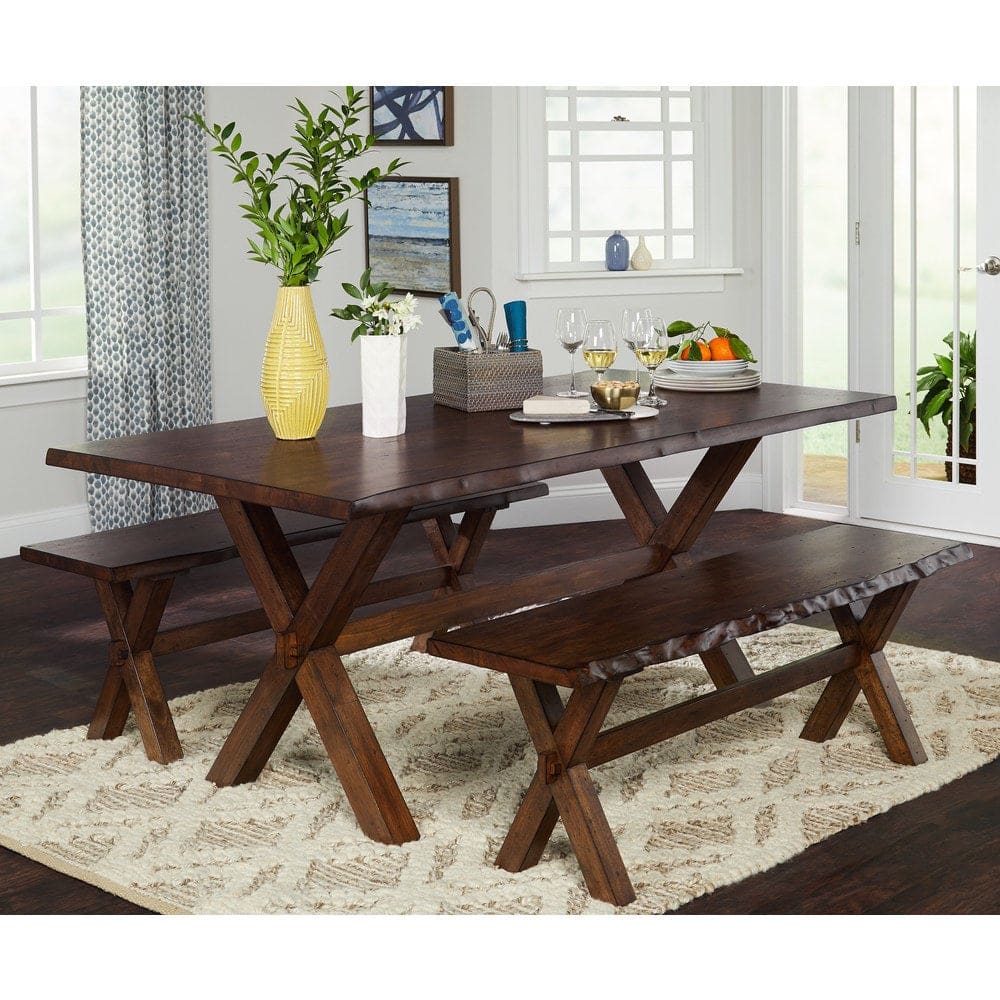 Instead of a farmhouse dining table and hairs, why not try a set that includes bench seating instead! This beautiful rustic farmhouse style dining set features X shaped legs, and live edges on the table as well as the benches to give it a truly unique look.
This set is made from 100% rubberwood with a walnut finish to give it its rich brown color. Bench seating is ideal for families, as you can always squeeze in a couple of extra people if you need to!
Butterfly Leaf Rubberwood Solid Wood Dining Table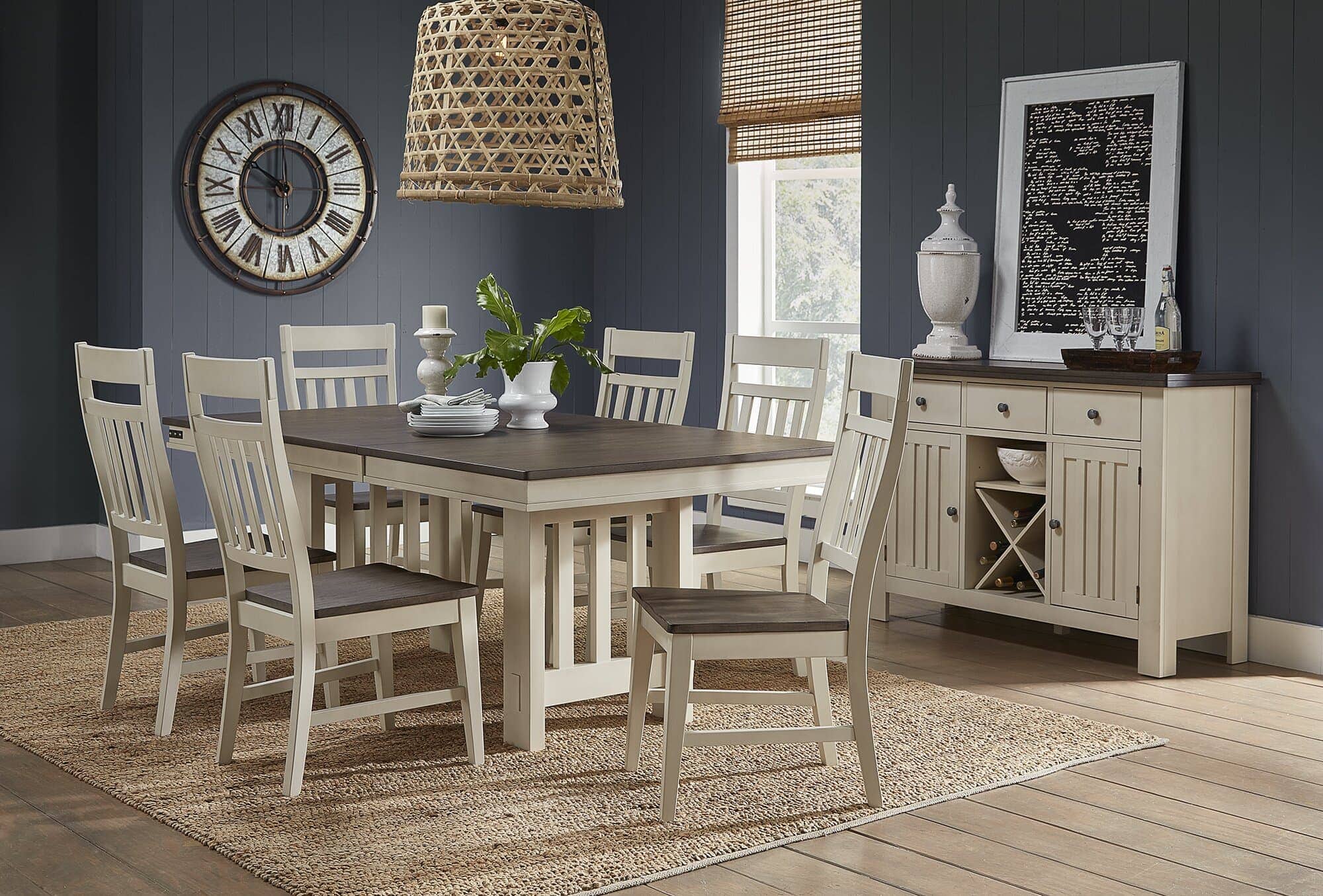 For a touch of timeless style mixed with functionality, you can't go wrong with this rustic dining table with leaf. The butterfly leaf extends the table from seating four, to seating a total of six – ideal if you entertain sometimes but want the option to collapse the table the rest of the time.
Both the top and base of this table are made from solid rubberwood, so this table is durable and will stand up well to daily use.
Martha Stewart Grey Rectangular Dining Table
This grey rustic farm dining table is sure to bring a touch of country charm to your kitchen or dining room. The top of the table is made from reclaimed wood on top of a double pedestal base for an elegant look.
This reclaimed wood farmhouse table is perfect for families, as it seats up to 6 people. The grey washed finish on this table has been lightly distressed giving it a beautiful antique look.
Carbon Loft Lawrence Reclaimed Wood Dining Table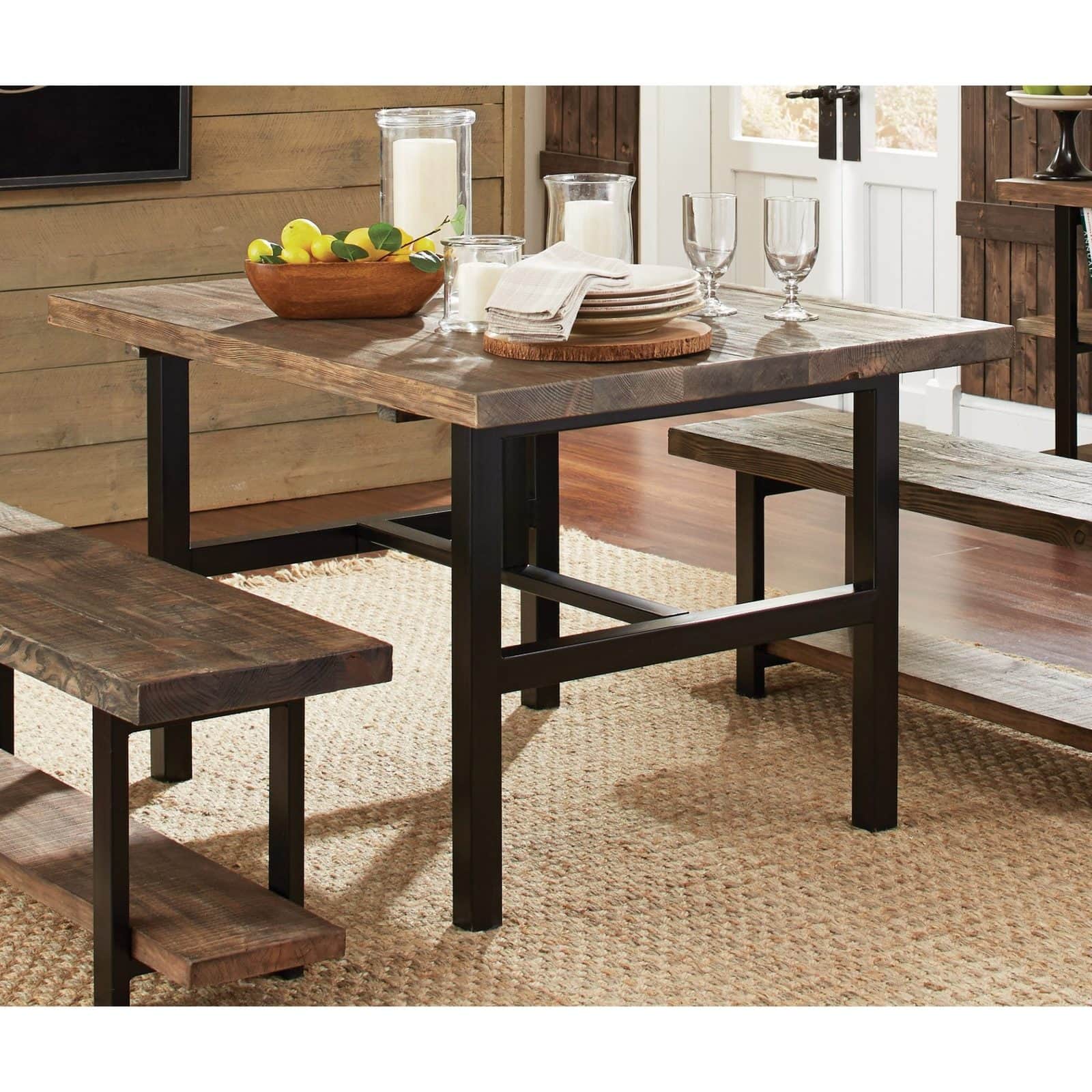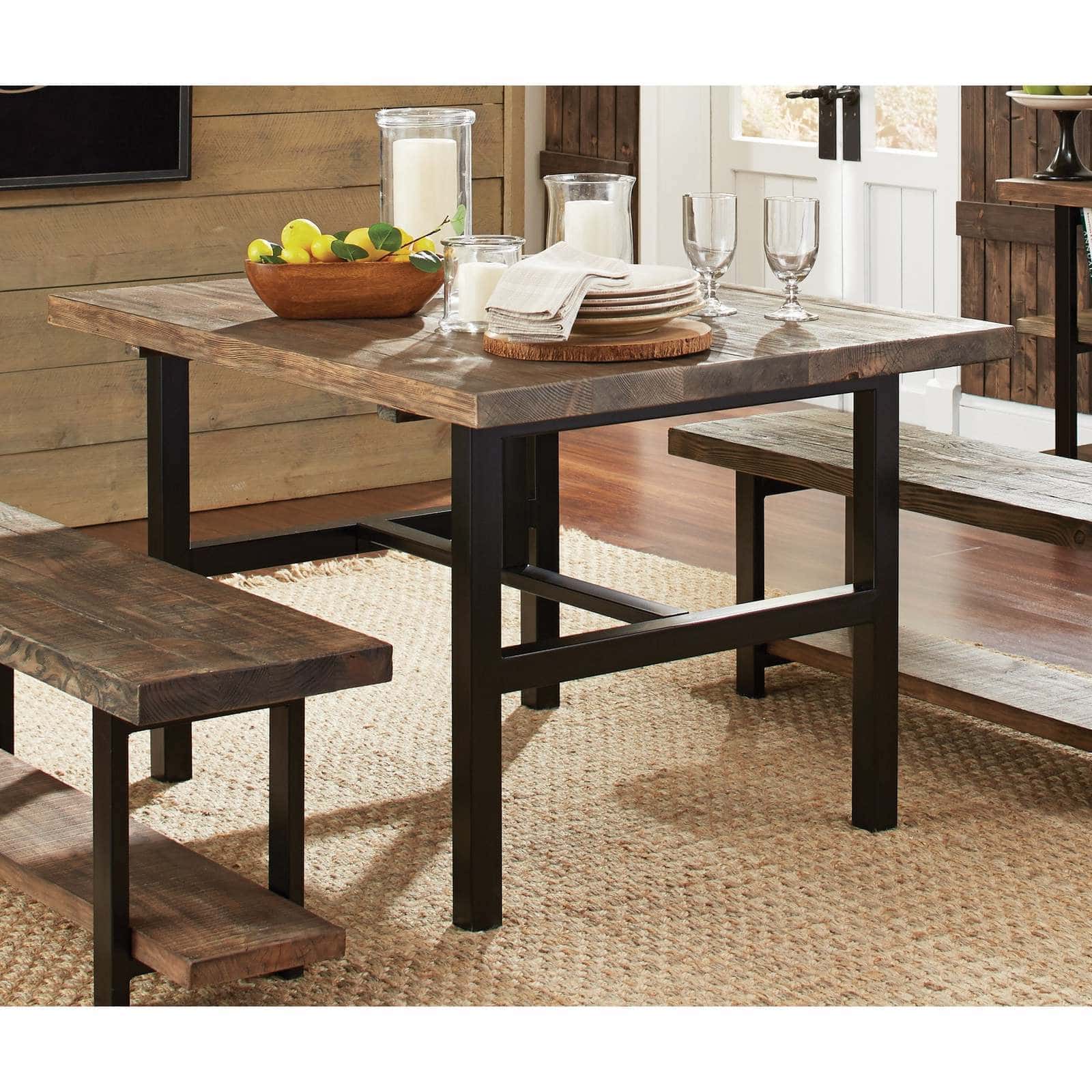 This industrial inspired reclaimed wood farmhouse dining table is perfect for family meals. It seats up to 6, and is made from reclaimed wood on a sturdy metal base, giving it a timeless look.
Since these tables are made from reclaimed wood, no two tables are completely alike, due to the natural characteristics of the wood. It's a slightly more unusual take on the traditional farmhouse table, but we love it!
Final Thoughts…
Farmhouse dining tables are the centre of a family home. A perfect place to gather at the end of the day, eat together, and socialize. Finding the right table is key, since it will be part of your daily life for years to come!
When you are choosing a farmhouse dining table and chairs, be sure to measure the space carefully. You should ensure that not only the table and chairs fit nicely in the room, but there is plenty of room to walk around behind the chairs while people are seated, so you can serve your guests, and people can leave the table freely when they need to.
The best thing about farmhouse dining tables is that they look better with age, so you can relax and embrace all those knocks and scratches that will slowly appear over time, knowing it's all part of the character of your table!