Decorated Life is reader-supported. When you buy through links on our site, we may earn an affiliate commission. Learn More
30 Farmhouse Kitchen Ideas for a Warm and Cozy Cooking Space
The word "farmhouse" in interior décor has now become synonymous with style, traditional looks, and rustic charm. There was a time when everyone was opting for minimalist designs.
But as trends changed, people prefer rustic, farmhouse, and shabby chic decors. If you too want a different look, try the farmhouse décor.
If you are planning to renovate your kitchen this weekend, here are some rustic farmhouse kitchen ideas. The best part of these styles is that they can be used in a modern or traditional home. Let's look at some décor styles.
A Barn Door in the Kitchen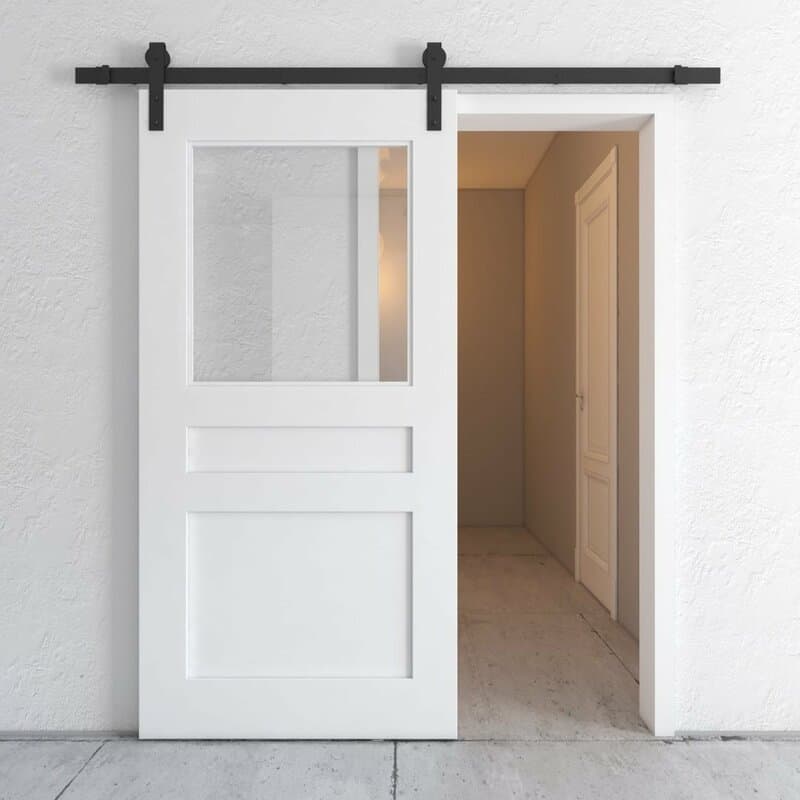 Picture this – a kitchen cabinet. But instead of a plain old kitchen cabinet that has simple pull out doors, this one has one barn door to open the entire cabinet in one go.
Barn doors add a lot of farmhouse appeal to the kitchen. This sleek barn door has a modern and stylish finish and its charcoal grey color is looking strikingly beautiful against the white walls.
The cabinet is beautifully organized with mostly white colored things. And if you want a little accent in the cabinet itself, a small houseplant can be a good add-on. Its bright green brings alive the white appeal of the background.
Farmer Baskets on the Kitchen Island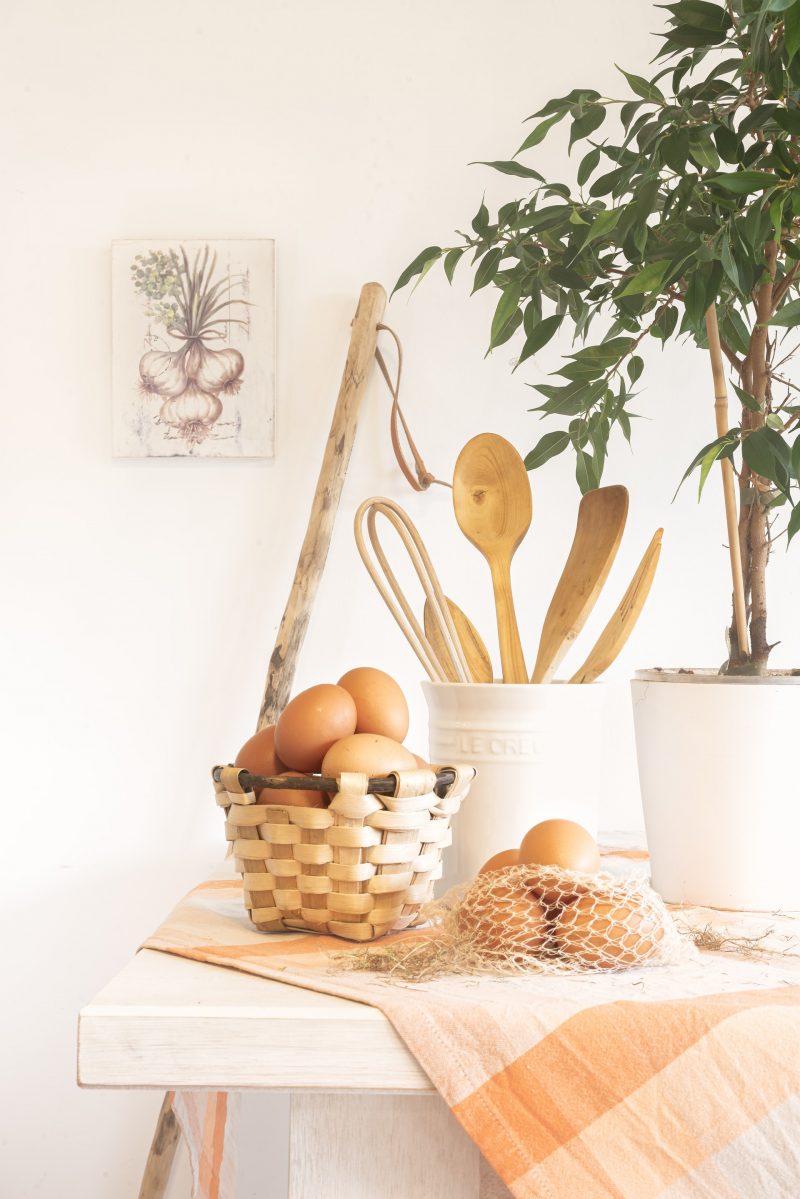 Your kitchen island serves so many purposes. First, it just looks awesome. And second, it gives you adequate space to cut and chop vegetables and roll the dough to make an apple pie.
But now you can use it to give a more farmhouse appeal to your kitchen. Check out these practical and stylish baskets that can be attached to the kitchen island.
Baskets marked with signs that say Farmhouse and Market give the appeal of a farmhouse. You can place colorful fruits in it to add an accent to the kitchen. Bright oranges, apples, bananas, and plums – they don't just look beautiful but are also tasty and healthy snacks.
A Wooden Look with Utensil Bar and Pot Rack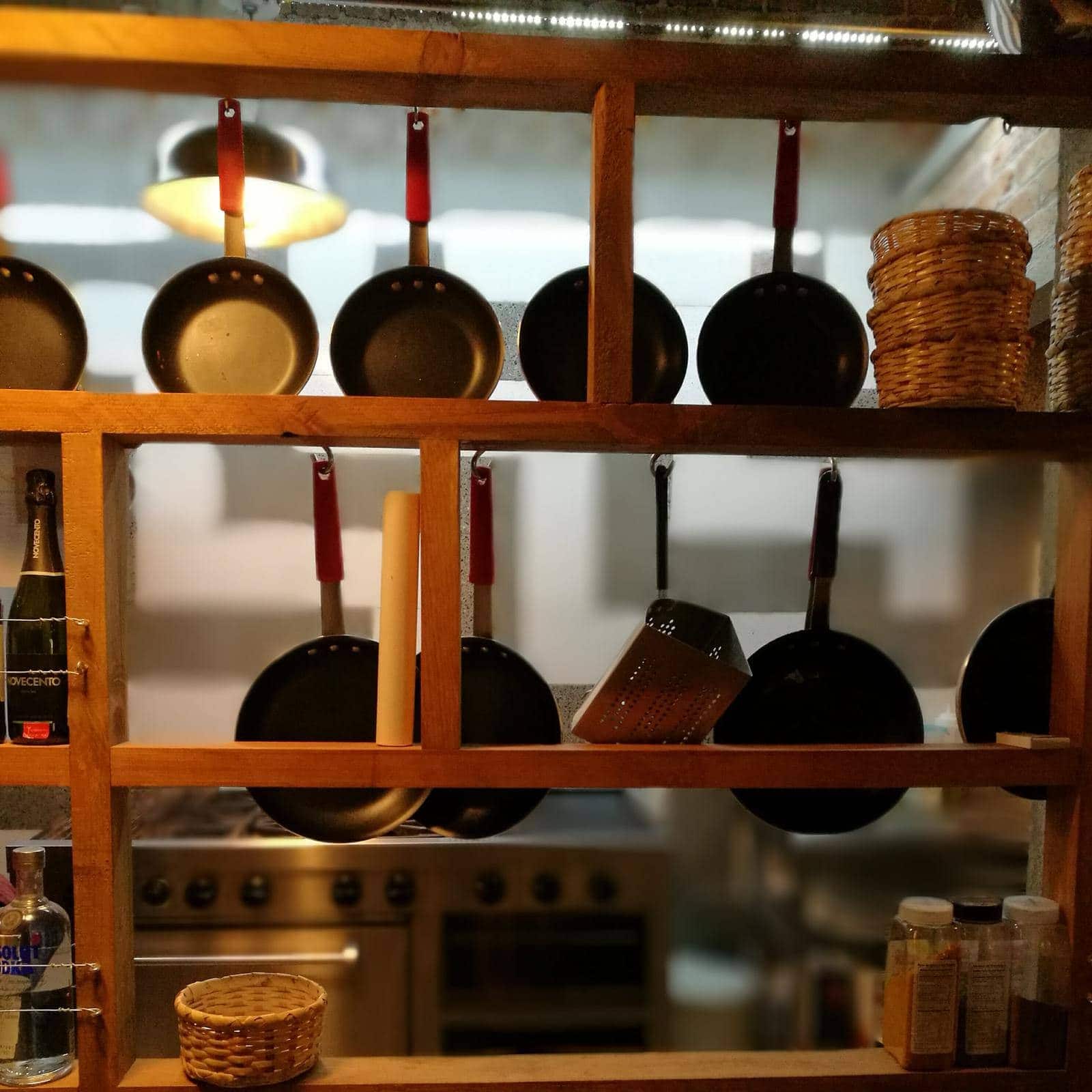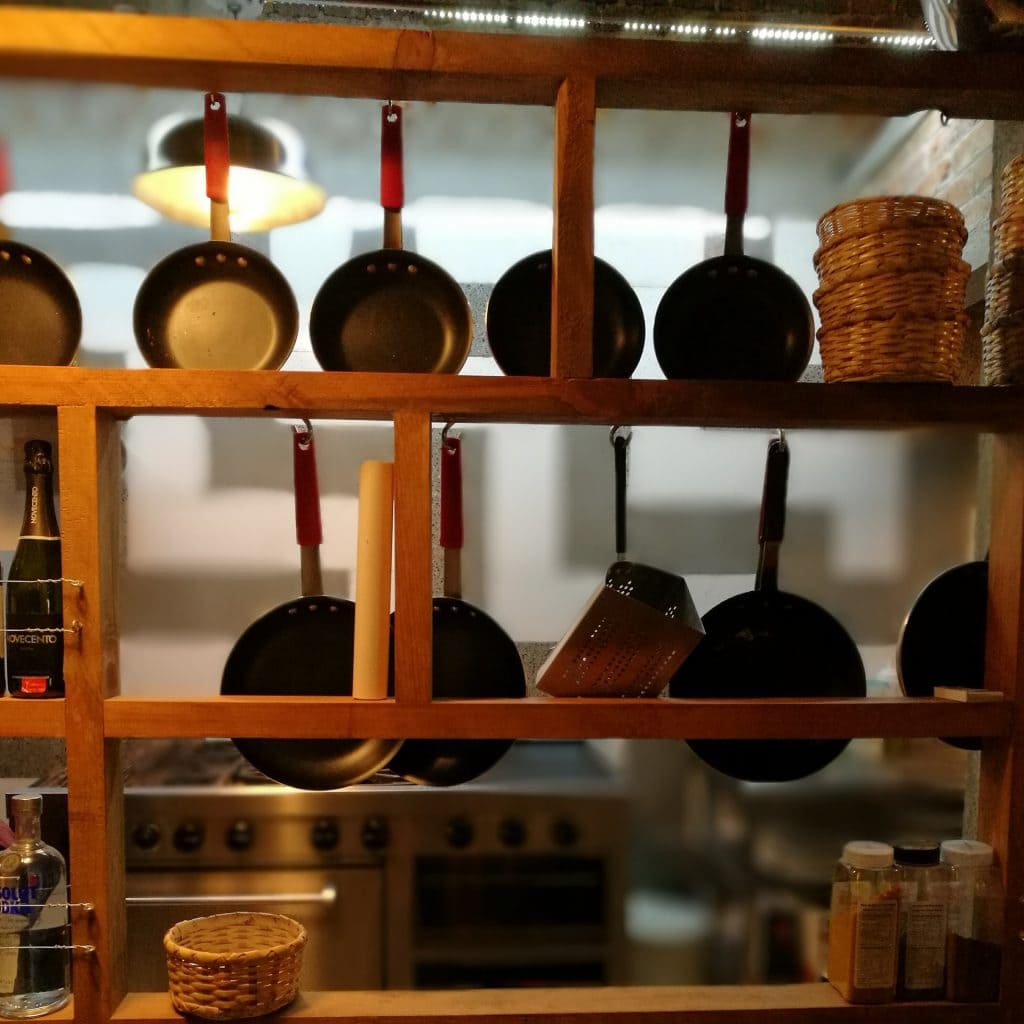 Cooking is great but digging up through the cabinets and drawers to find the right utensil takes up all the time. To save time, you can get a utensil bar and rack that can be mounted on the wall. It saves space and looks great as well. Look at these wooden utensils and houseplants on the rack.
Make your kitchen more practical and stylish with wooden utensils hanging beautifully on the rack while being at an arm's length so you can quickly reach out and grab them. Plus, it also has space to hang a hand towel, making it an efficient kitchen tool.
Make it More Beautiful with Terracotta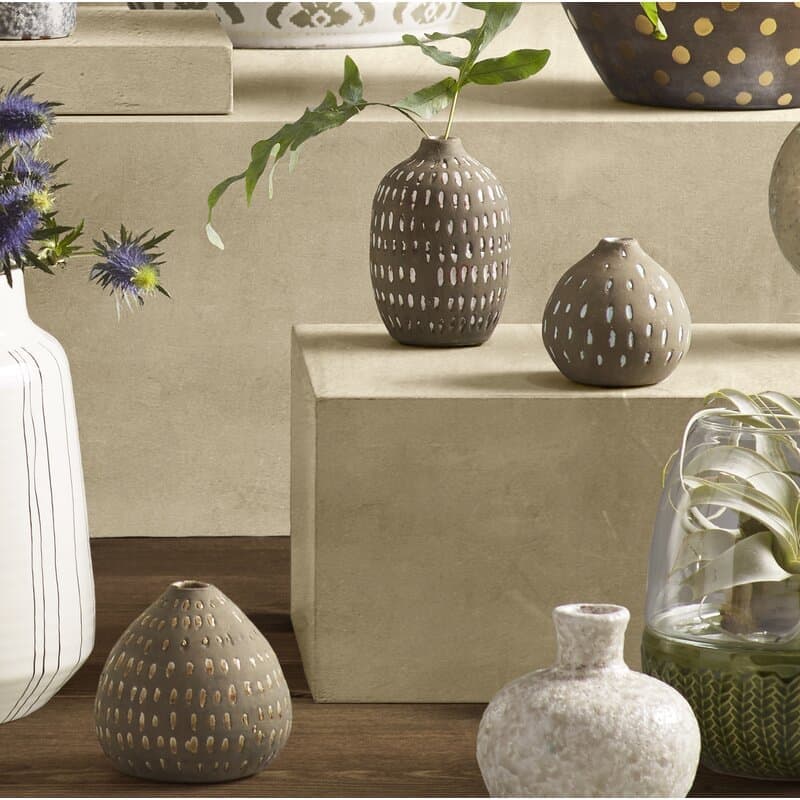 Terracotta has a raw and rustic appeal that can bring out the country vibe of your vintage farmhouse kitchen. Whether you want a modern and minimalist look or a traditional and sophisticated one, terracotta utensils look beautiful in all settings.
You can get glazed or unglazed terracotta utensils of different types. There are cups, pots, vases, and even cookers made of earth. While they can be colored in any color of your choice, the raw appeal of terracotta is what makes it look different. This is why most terracotta users don't get utensils painted in any color.
Farmhouse Décor and the Right Lighting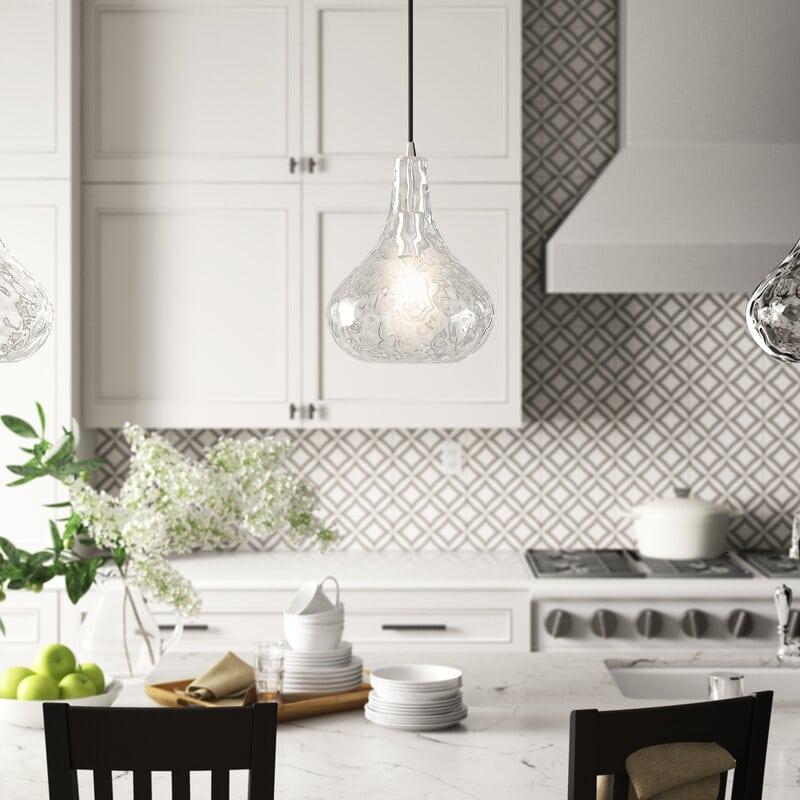 Light fixtures are very important in any type of décor. And hanging lights ALWAYS look beautiful. I have never seen a hanging light looking bad even in modern settings but when it comes to rustic or traditional décor, they become absolutely important.
This light fixture over the sink will let you do the cleaning easily and it looks beautiful as well. The rose gold color of the lamp looks beautiful and gives a pinkish hue to the room. The rest of the things in the room follow a white tone, from toaster to the bread box and even the crockery on shelves.
A Library Ladder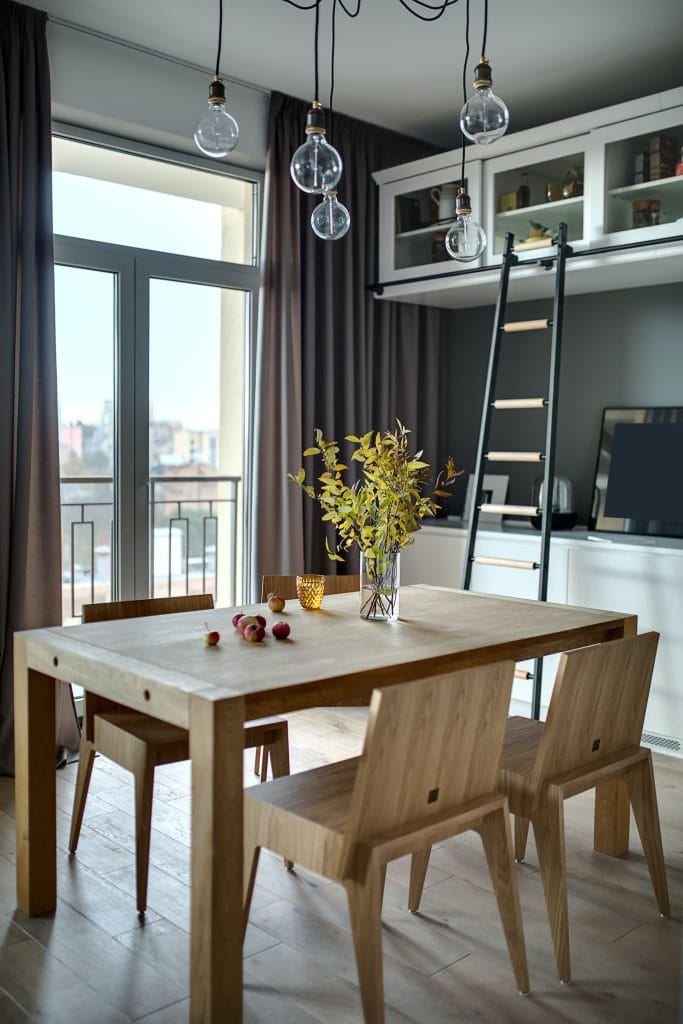 A library ladder can help you reach the upper cabinets more easily. And it looks beautiful too. Get a well-polished wooden ladder to give it a classic farmhouse appeal. Wooden flooring gives any kitchen a warmer feel. Add to that wooden cabinets and it gets a unique farmhouse appeal.
Of course, if the cabinets are too high, you'll need a way to reach them. And what can be a better and more stylish tool than a library ladder? The kitchen island here is a multipurpose tool that lets you cut and chop while also acts as a dining space.
A Shabby Chic Appeal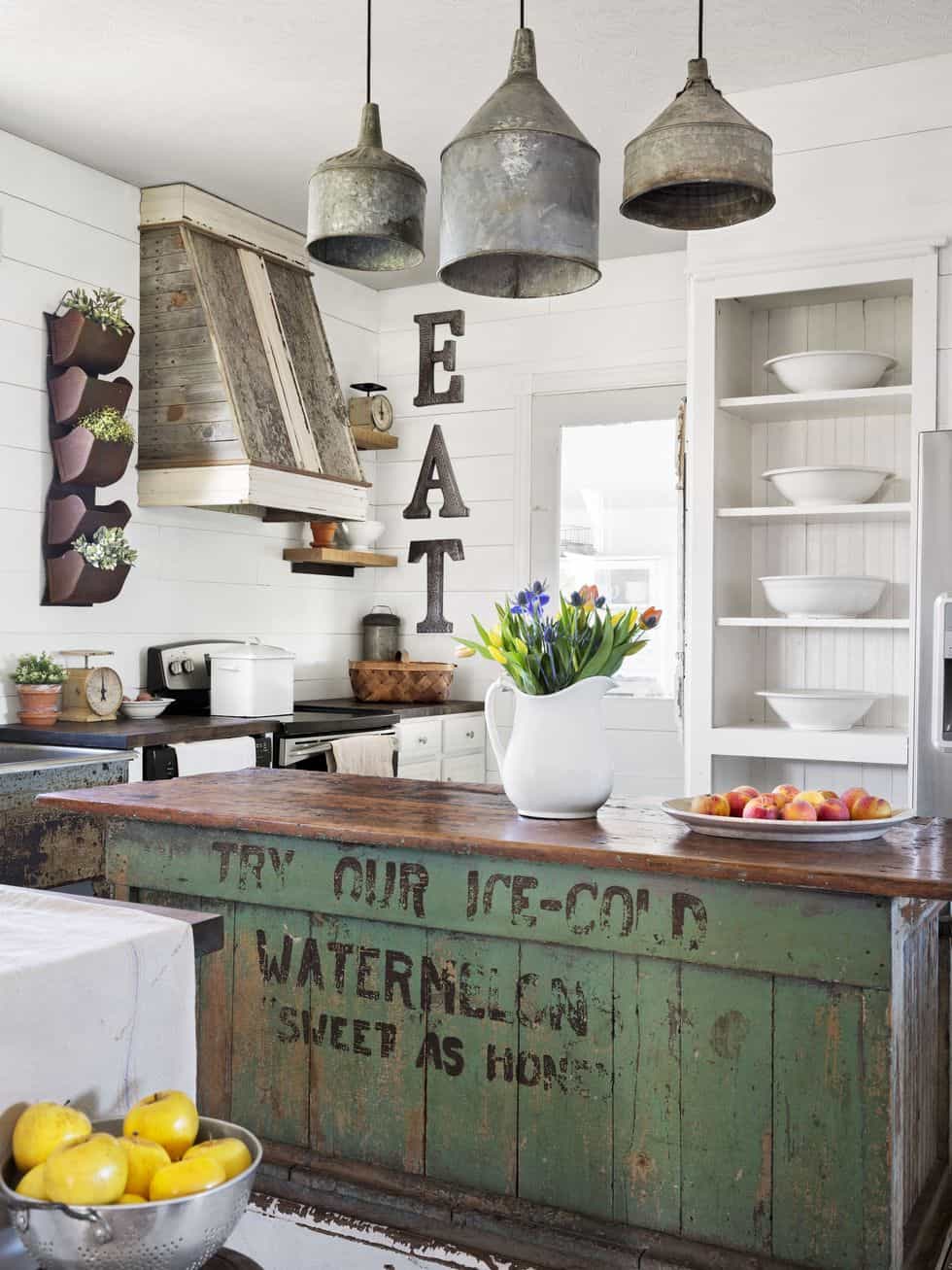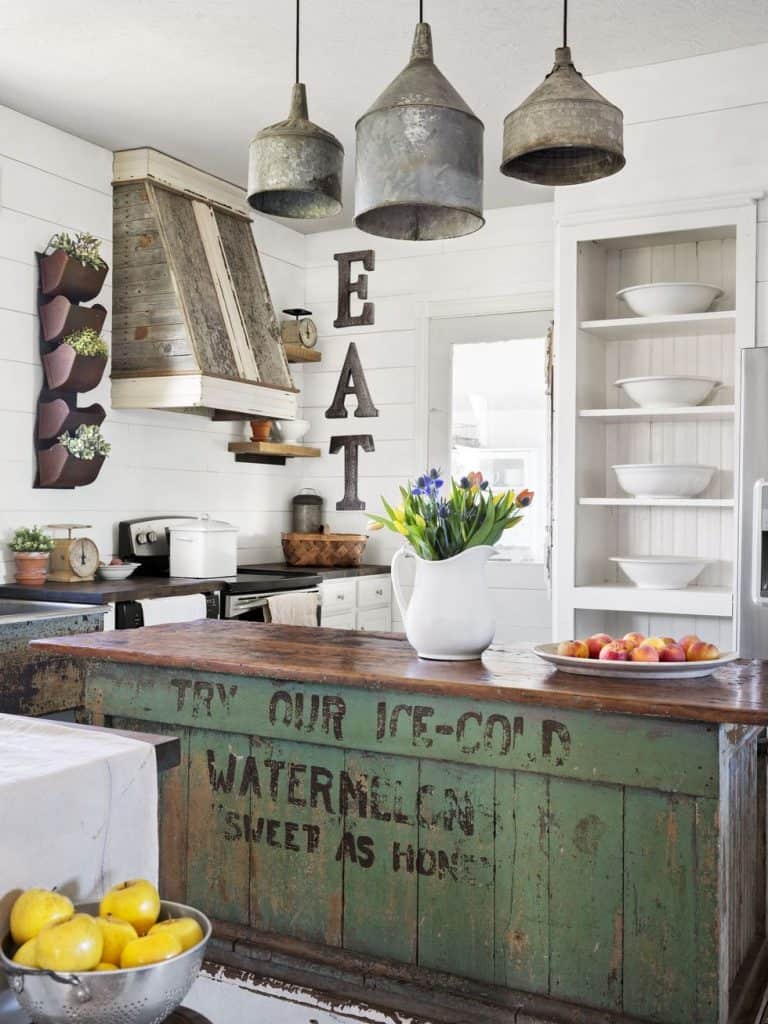 Shabby chic is a relatively new trend and involves the use or recovered things. The kitchen cabinets look somewhat worn out and the paint on them is coming off. The writing on the cabinet makes it look like the wood has been sourced from a watermelon stand. The countertop is made of reddish brown stone, adding a warm touch to the place.
The white walls and open shelves look beautiful and provide the much-needed brightness to the room. The sign that says EAT in block letters catches attention and acts as an accent piece. This just goes to show that even a small farmhouse kitchen can look beautiful.
Woven Straw or Rope Baskets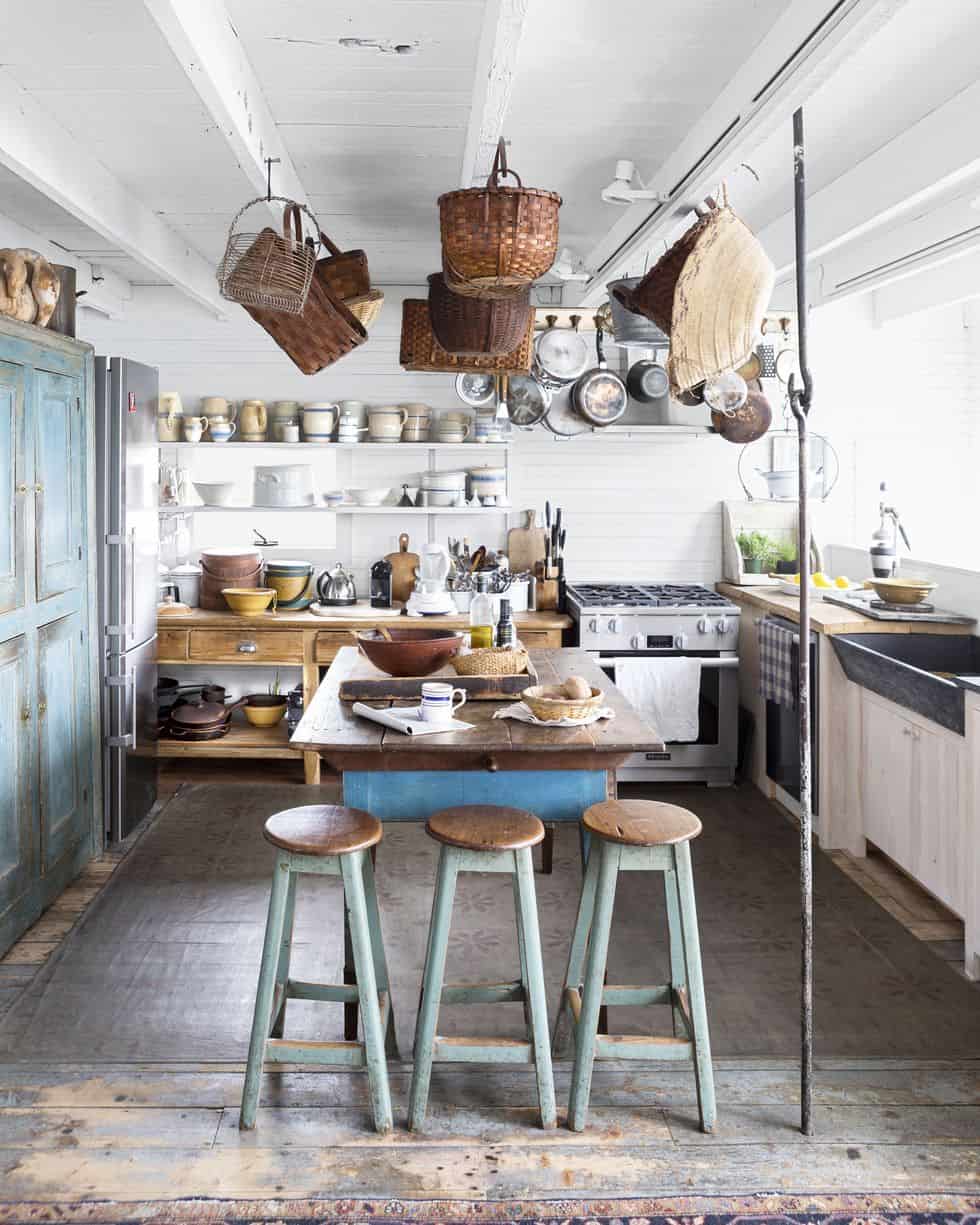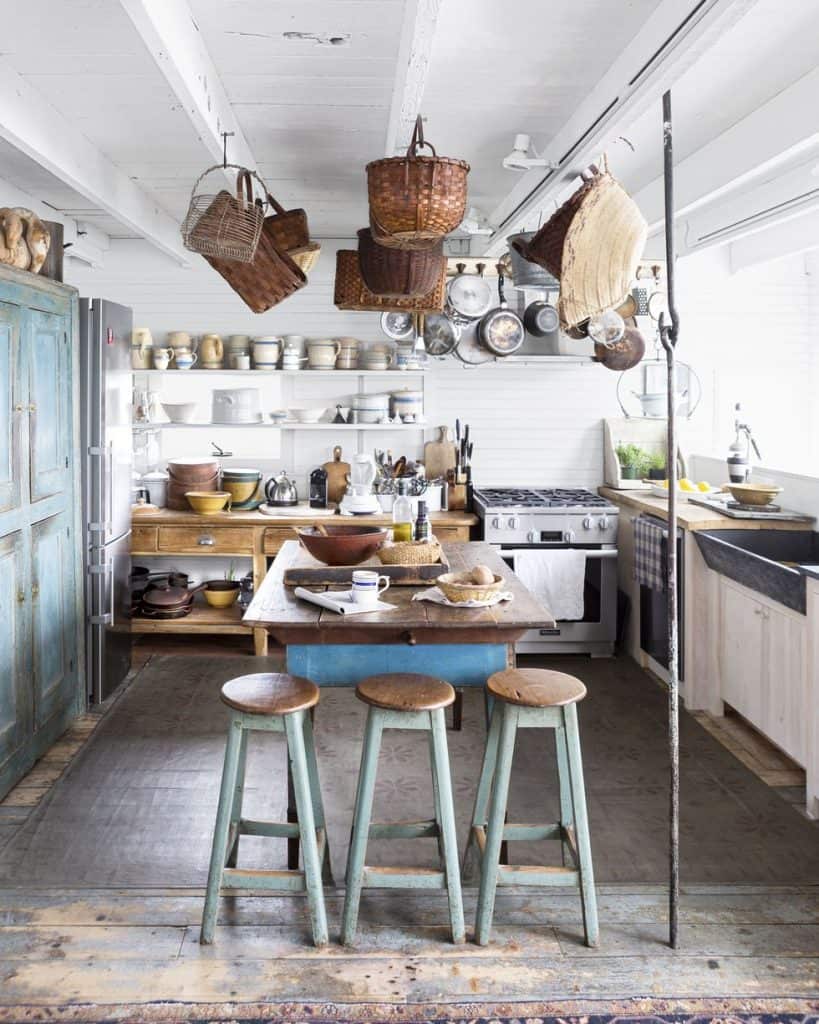 Visit a farmhouse in the countryside and you'll see many baskets. These baskets remind us of the bygone era when we had woven straw baskets that were used to collect fruits and vegetables from the garden. And straw wasn't the only material – woven baskets could be made of rope. You might not have a huge farm area these days, but you can relive the era with woven baskets.
The baskets hang from the ceiling and provide the kitchen with a very farmhouse-like appeal. The rest of the décor of the house goes with this theme. Wooden and woven bowls in the dining area give a uniformity to the theme.
White Rustic Country Farmhouse Kitchen Décor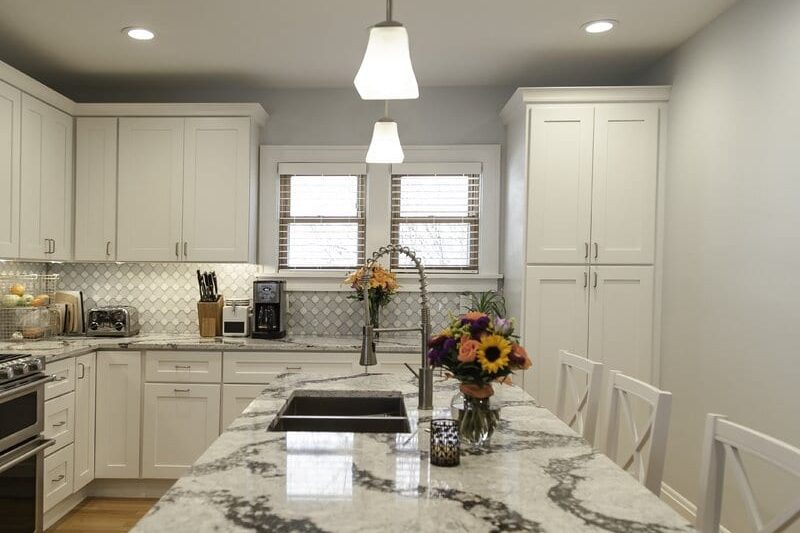 White will never go out of style. If you're looking for a single color as the base of your farmhouse kitchen décor, make sure it's white. Everything here from the ceiling to the walls and from the cabinets to the shelves is white. Of course, to make sure that white doesn't overpower everything else, the utensils are of different colors.
There are wooden utensils to add a brown shade to the place. There is a vase in the middle with beautiful violet flowers. And that's not all, there are ducks waddling on the floor! What a delightful kitchen!
Farmhouse Kitchen in Bold Colors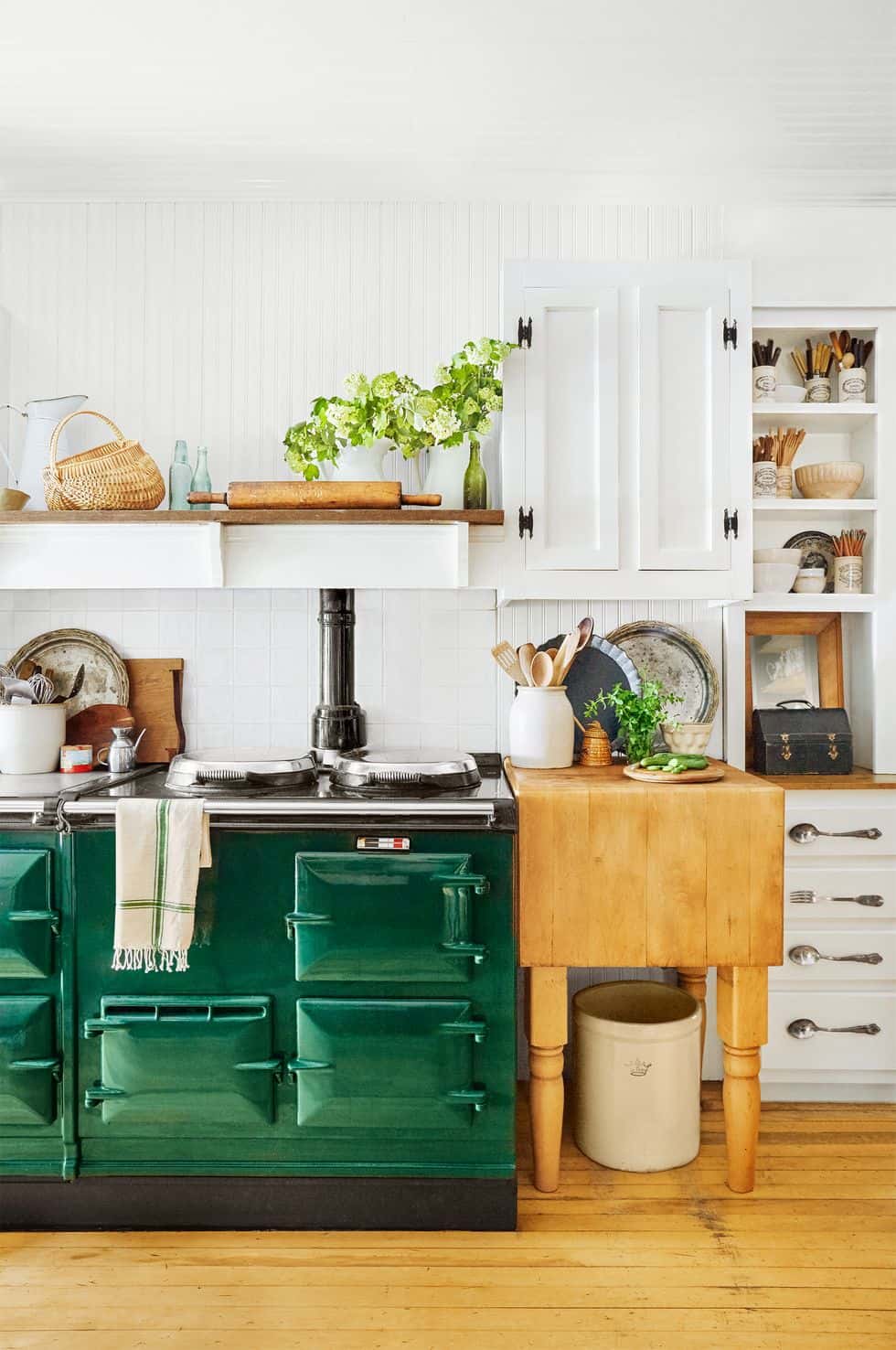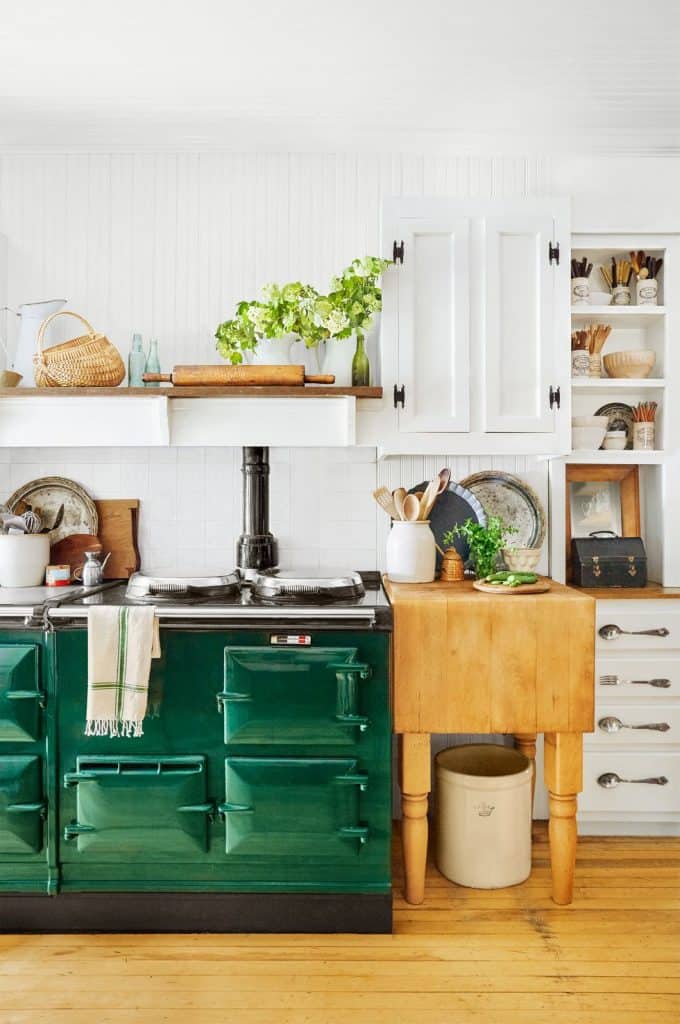 Make your kitchen stand out by going for bold colors. The metallic green cabinets add a touch of gloss to the space.
Of course, green isn't the only color available. You can get red, golden, blue, or even metallic black. And if you don't like glossy looks, there are matte shades as well. But if you really want a bold look, bright colors like green, blue, and red (or a combination of them) will do the trick.
If you use a bold color, you need to neutralize it so make sure you don't overdo the boldness. The rest of the space should have neutral shades like white or other light colors.
A Black and White Contrast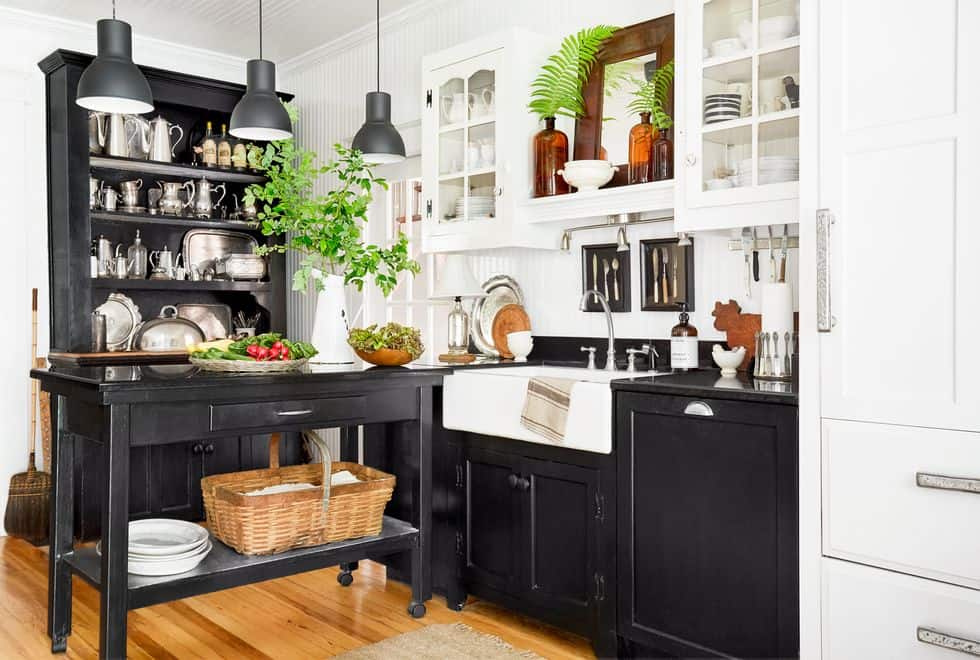 Black and white are completely opposite colors and they create a striking contrast. So these are chosen as the two primary colors for this kitchen. While the walls, doors, and ceiling are white, the cupboards and lights are black.
And there are some other colors in between as well. The brown colored woven basket. The reddish terracotta dish. The green houseplants that have been beautifully planted in glass bottles. The red tomatoes on the countertop and the bright and lustrous silverware. These colors combine playfully to create just the right magic in your farmhouse kitchen.
An Antique Kitchen Island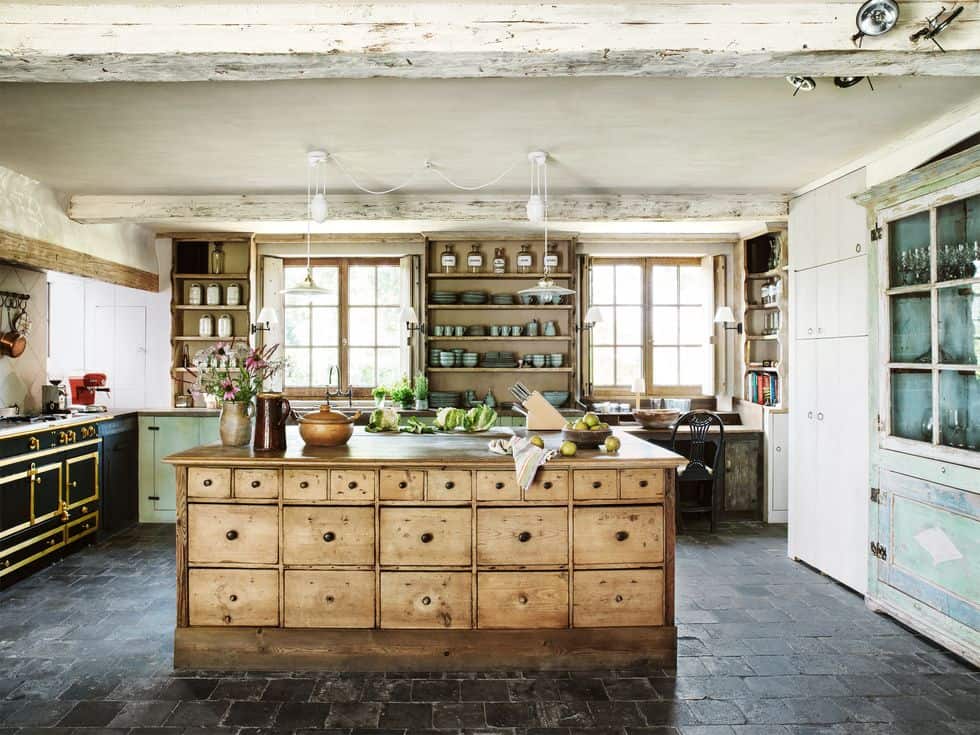 This kitchen island is repurposed and practical. Since it has a large space, it can be used as the dining area as well. Plus, it can have storage built into it. Check out the cabinets that have somewhat of a shabby chic appeal. The raw look of the cabinet wood gives it a rustic charm.
The countertop is smooth and beautiful and has enough space for many things including a vase that contains fresh flowers. It's a large kitchen and it's easy to give it a farmhouse appeal. But even if you have a small kitchen, you can still make it beautiful. 
A Brick and Wood Backsplash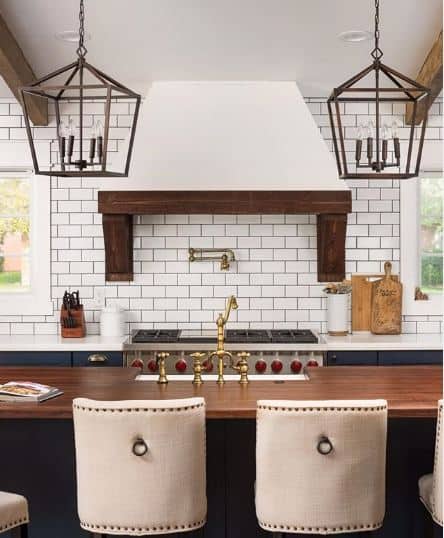 To give a unique character to your kitchen, try a brick wall. The chimney can have a wooden look so make it look more rustic and traditional.
The candelabra chandeliers hanging from the ceiling give it a very sophisticated touch as do the comfortably luxurious chairs. The white brick wall gives a charming look that complements the smooth white ceiling.
The dark wooden countertop of the kitchen gives a very farmhouse-like appeal and the light fixtures hanging by metal chains add a rustic charm to it. If you want a modern farmhouse kitchen, this is a good option.
Small Kitchen Farmhouse Décor
You have a small kitchen? No problem at all. You can have farmhouse décor in it nonetheless. Check out this beautiful kitchen that has a rustic farmhouse appeal, thanks to its beautiful lights. While pendant lights are always beautiful, the additional track lighting makes the kitchen not just beautiful but also well illuminated.
And you can focus the track lights on anything you want – they are flexible and will illuminate the things you want to focus on. The small space of this kitchen isn't a limitation – it is carefully planned to ensure the kitchen looks beautiful.
Reclaimed Farmhouse Kitchen Décor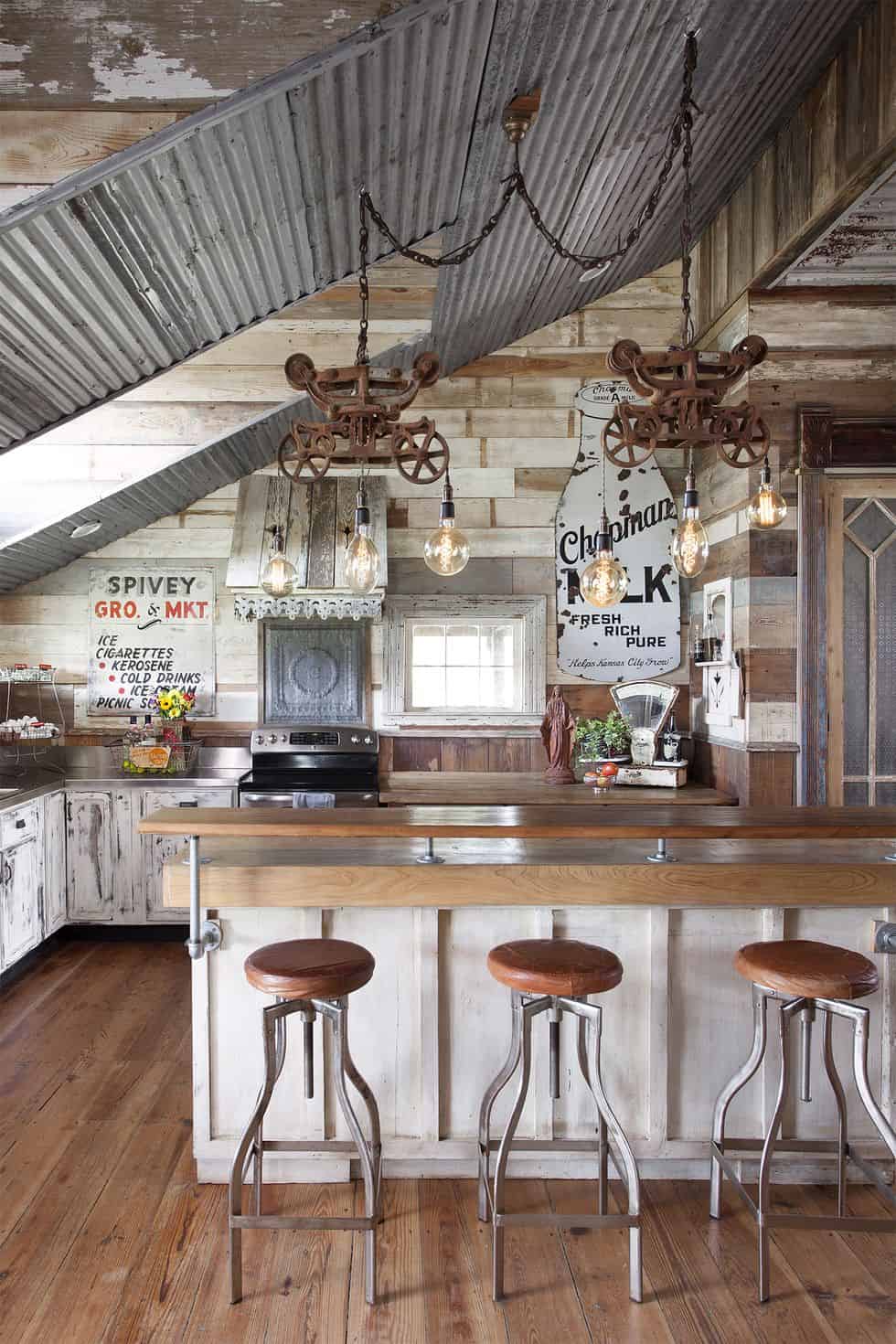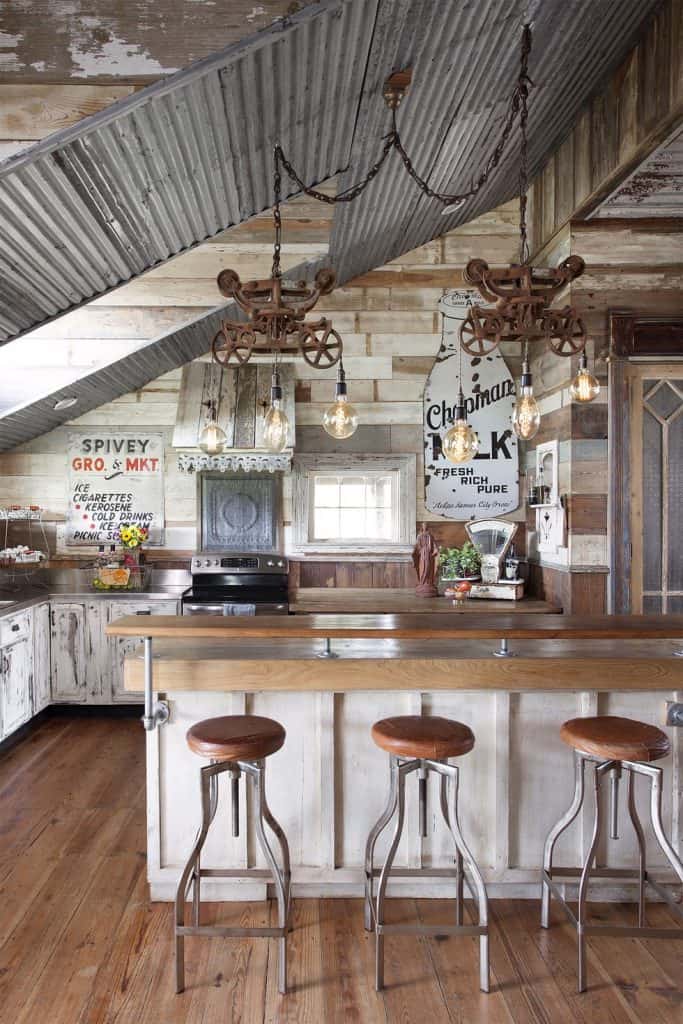 Using reclaimed materials will reduce your renovation costs. Simple materials like corrugated tin sheets can be made to look beautiful if they are used creatively. And to add to the rustic charm, the pendant lights hang from the pulleys and can be adjusted to focus the light on a specific point. These pulleys can be reclaimed from old machine parts.
These pulley lights don't just carry an industrial charm but also have a steampunk wildness to them. The kitchen island, although small, is also being used as a dining area. The stools also have an industrial look and it creates a very unique theme that is simply enchanting.
A Sign to Define the Design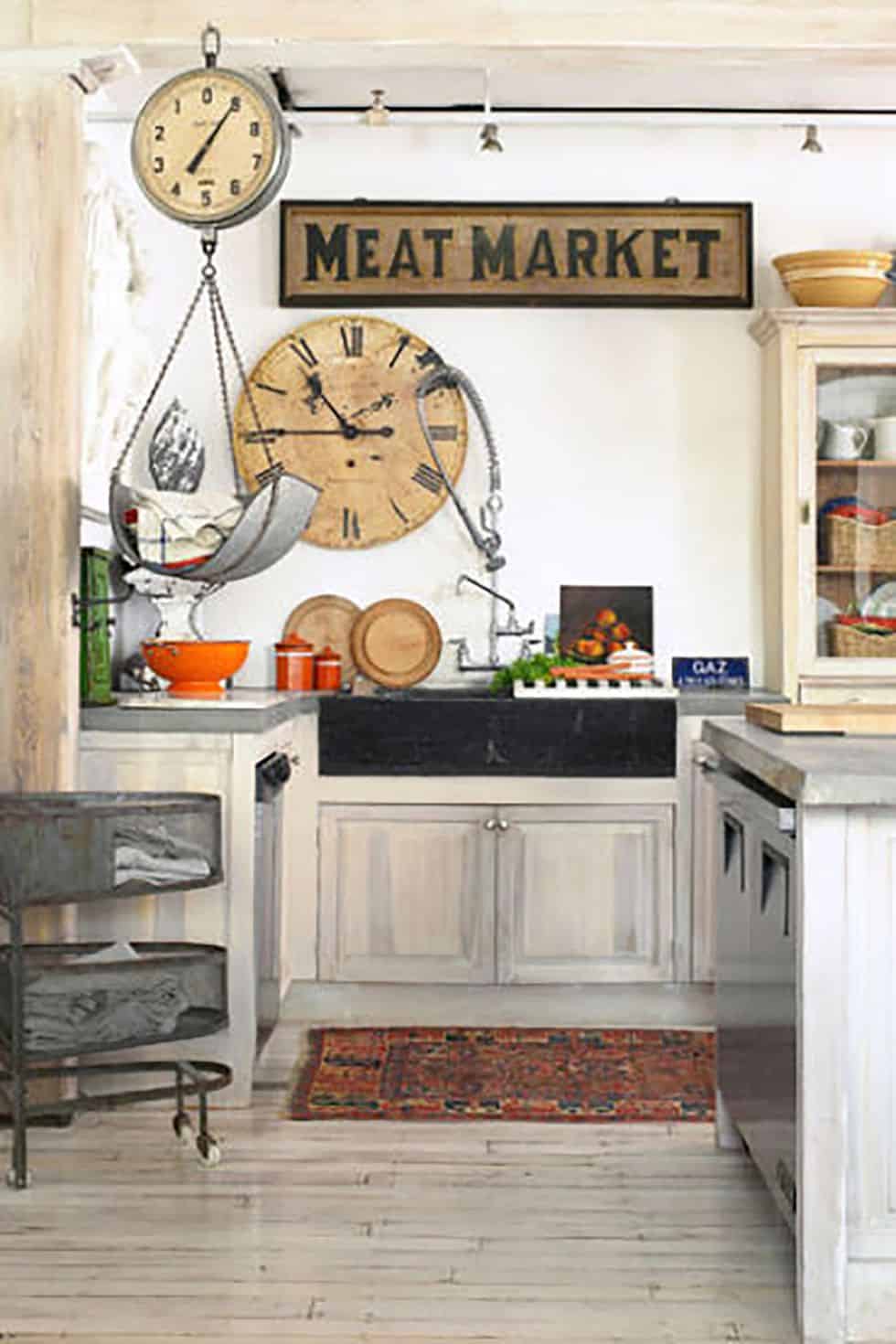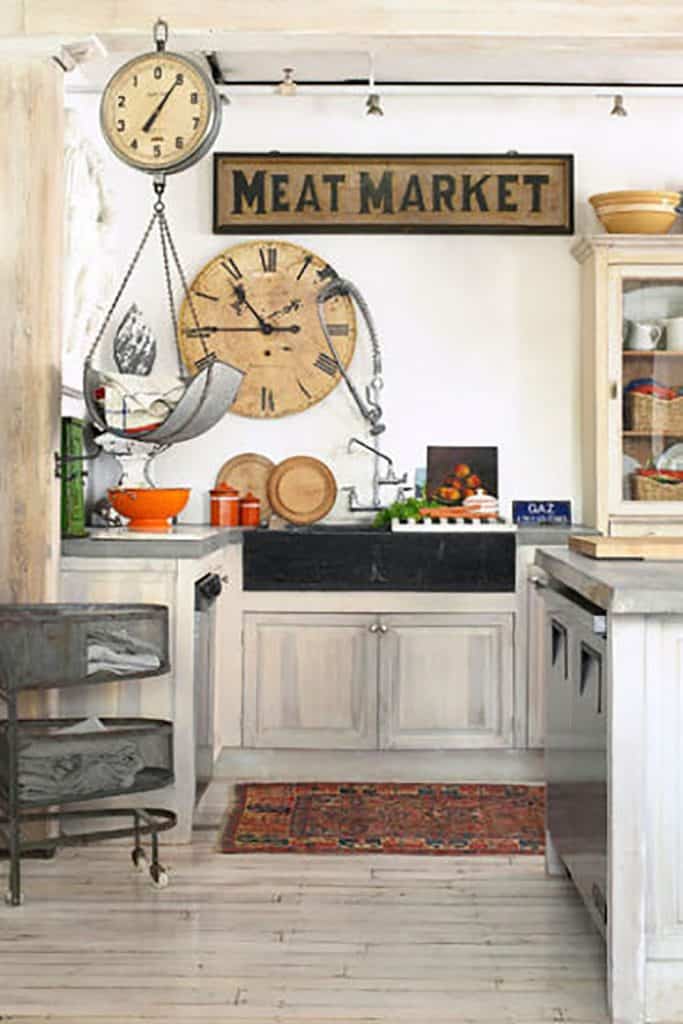 Go to a farmer's market and you'll see several signboards there. You can get these signs for home as well to create the perfect farmhouse look. These signs don't just have a countryside appeal but they also look vintage and charming. But that's not the only vintage thing in this kitchen.
The traditional weighing scale and the big classic clock give the impression of a farmhouse kitchen. This kitchen will take you down the memory lane and drowse you in feelings of nostalgia with its antique beauty. The small mat on the ground also gives a traditional appeal.
Farmhouse Flooring Pattern in the Kitchen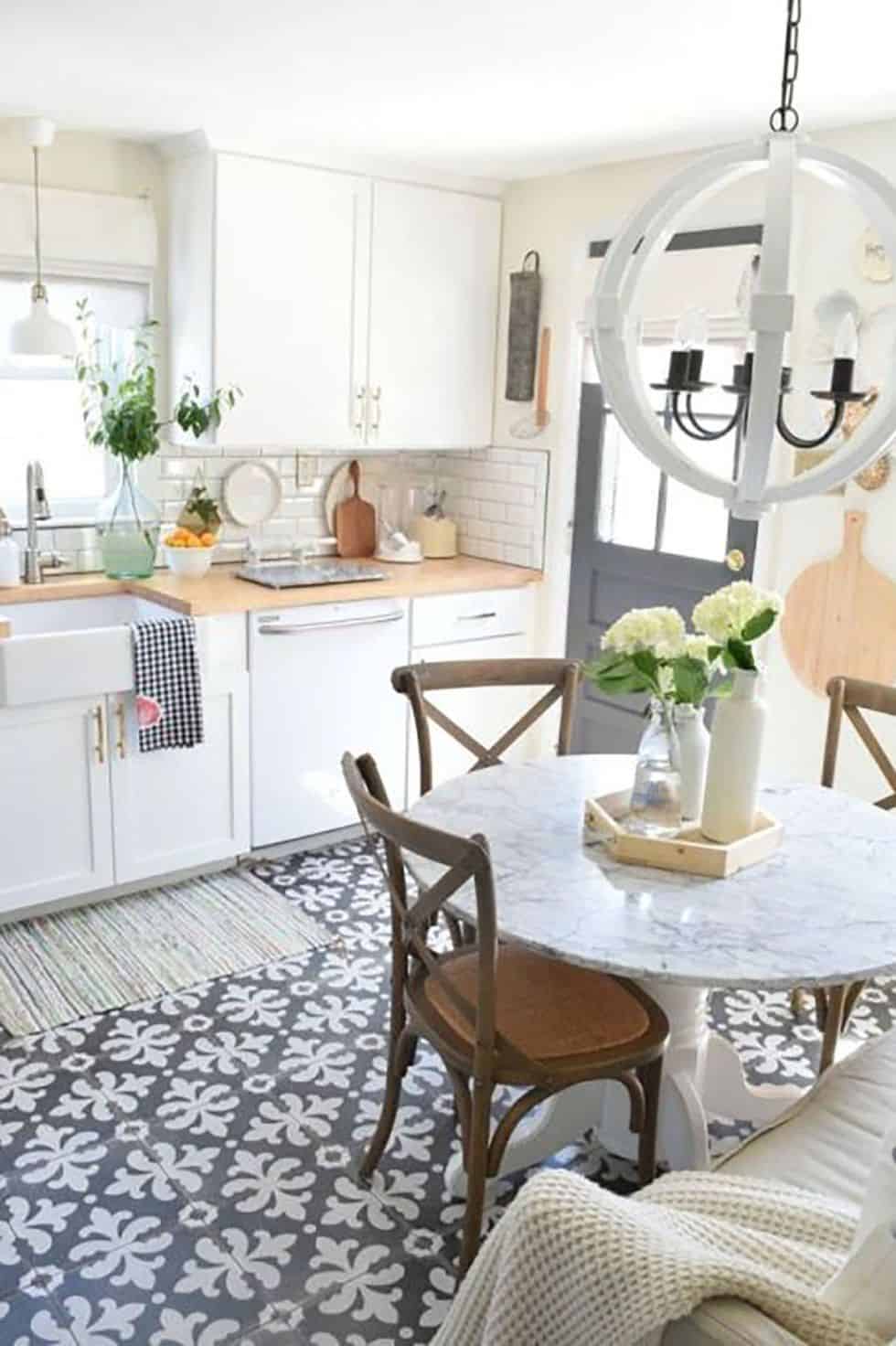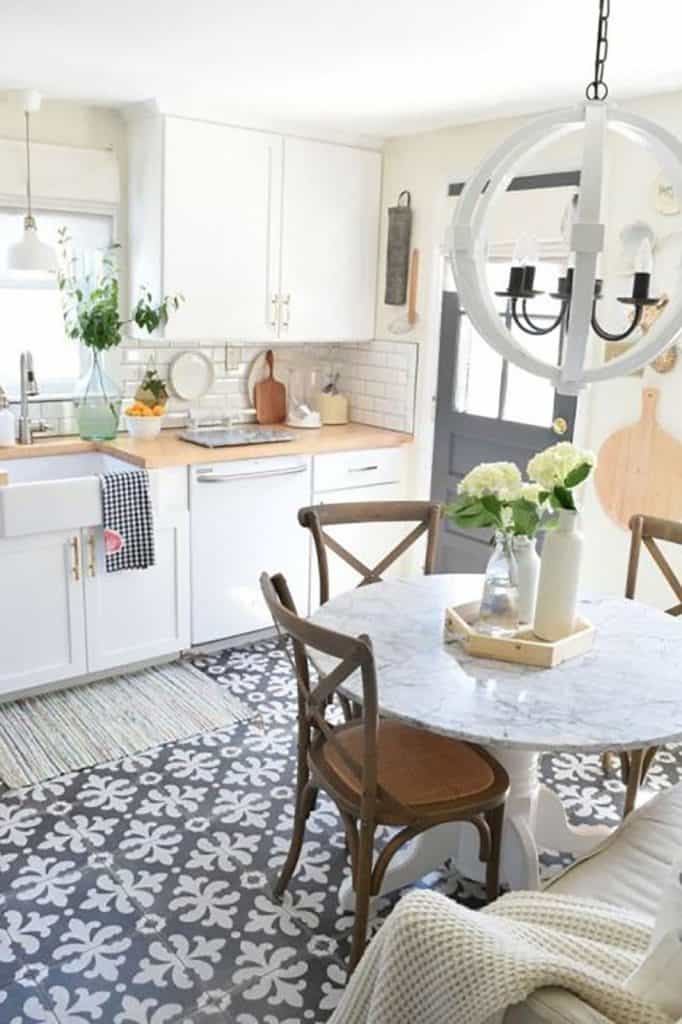 While flooring tiles are generally plain or minimal in design, you can change the entire look by getting patterned tiles and plain walls and ceiling. Since the floor tiles have an intricate pattern on them, it will be the accent of the kitchen. It's important to keep everything else minimal. The dining table and the chandelier above it – everything is white and makes sure that the focus falls on the floor.
The countertop is light brown and goes well with the white cabinets and white walls. It's a monochromatic kitchen so a vase containing fresh red roses would add some color to the area.
Use Retro Appliances for a Truly Vintage Feel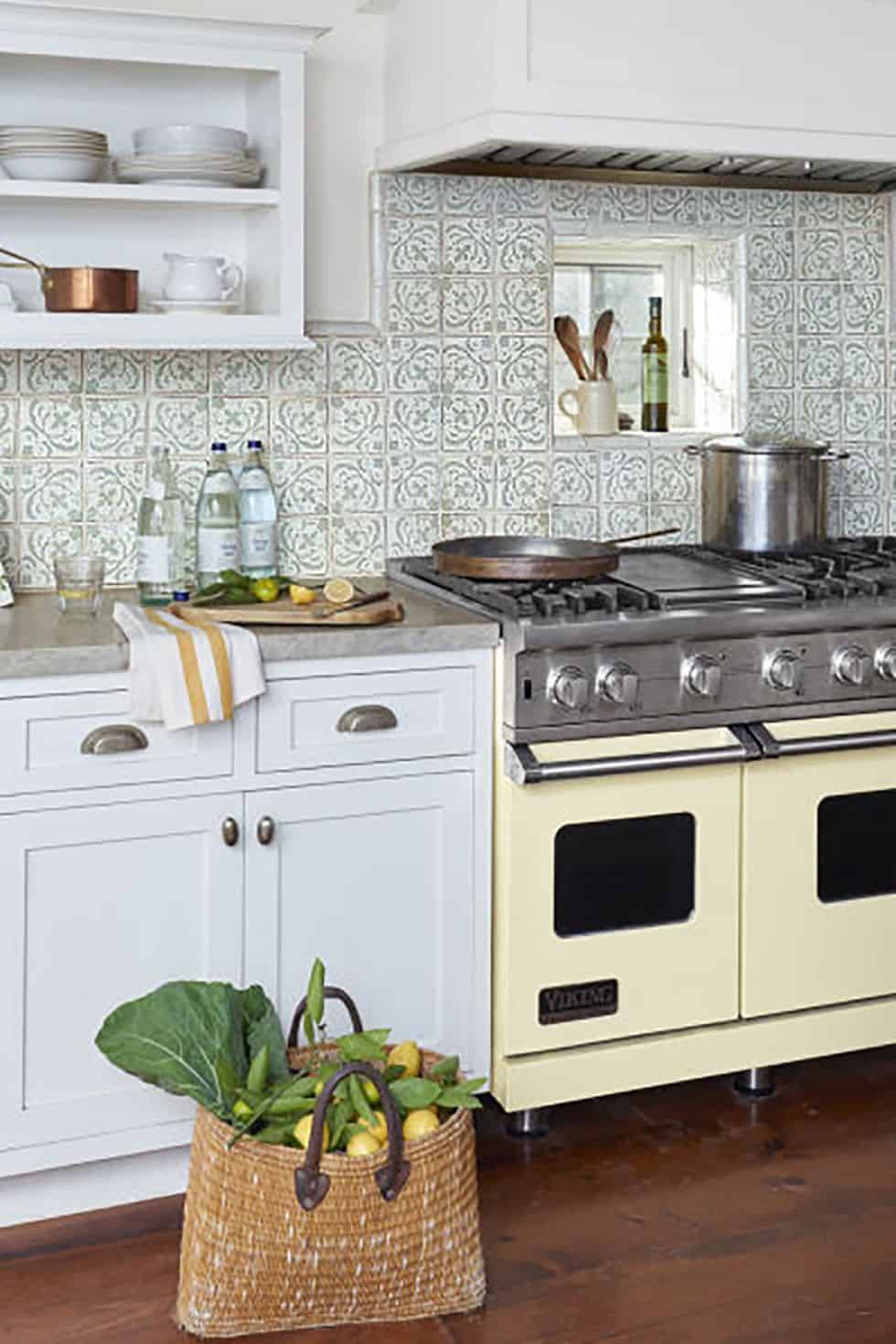 The appliances that we had at home as kids are much different than the ones we have right now. If you truly want a farmhouse or a retro feel, switch to the old style appliances again. Check out this old style stove and the old skillet pan that's used to fry things.
Kept on the side are water bottles and a chopping board that will take you to a different era. The tiles on the backdrop are patterned in a traditional design so if you crave to get a complete farmhouse kitchen, this will solve your purpose.
A Modern Farmhouse Kitchen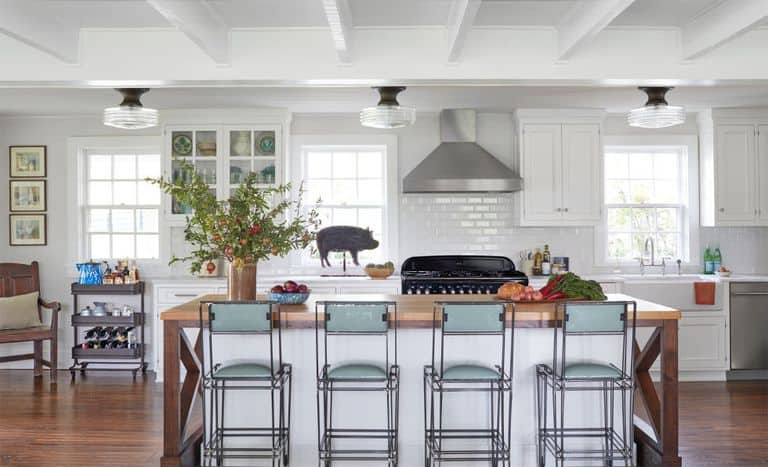 When we think about farmhouse décor, we usually think about vintage styles and retro designs. But if you're a minimalism lover and like modern décor, you can still have the farmhouse touch in your kitchen. While this kitchen has minimalistic appeal, the flowers in the vase on the dining table give a rich cultural appeal.
The pig statuette near the window is symbolic of the farmhouse theme. Also, don't miss the ceiling lights. They are big, bright, and beautiful and focus the light on the dining area so you can sit with your friends and have a comfortable meal.
Unpainted Brick Wall in the Kitchen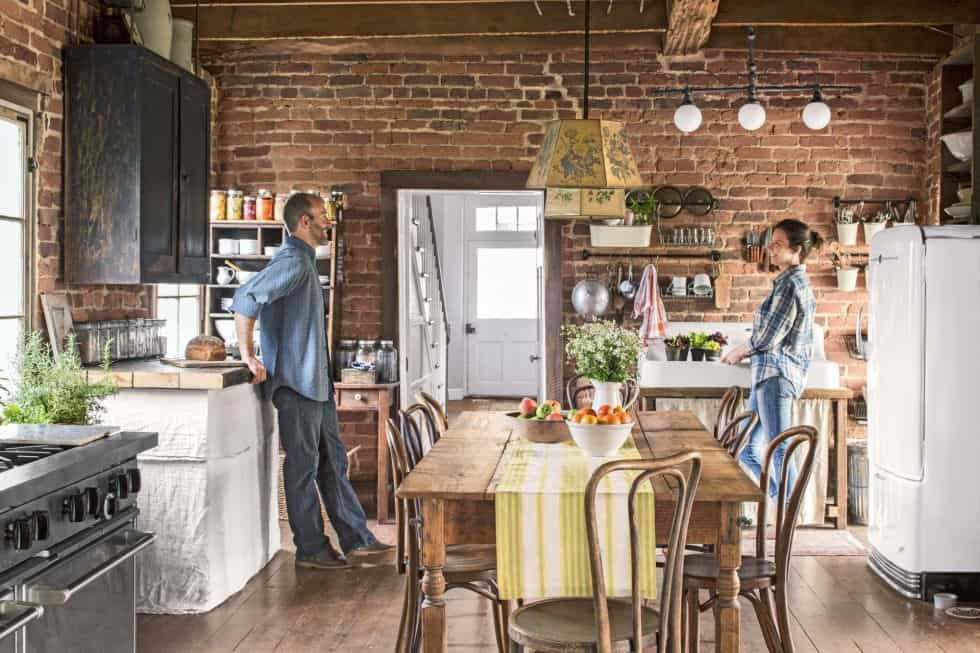 Raw brick walls look beautiful, hands down. The natural red color of the bricks looks so much richer than any paint that's applied to it. This kitchen looks bright and warm, thanks to its beautiful brick wall. The beauty of a brick wall is that it can look good in traditional as well as modern setups.
This kitchen has a cozy farmhouse theme and the raw wooden dining table in the middle adds uniformity to it. While it has all the modern appliances, it still has the power to make you feel nostalgic. Every part of this kitchen from the vase to the flowers in it and from the lights to the exposed beams has been creatively designed to make anyone go wow.
Give it a Touch of Rustic Red
The kitchen island is made of wood with reddish hues and the slab is rugged on one side, giving it a rough farmhouse appeal. On top of the island are traditional candle lamps made of iron and glass. They have an old British appeal to them. The lamps are placed among beautiful red flowers that create a magical aura of the bygone days.
The white cabinets and walls help in neutralizing the bold colors of the area. This farmhouse kitchen has a modern appeal and it's made beautiful with its beautiful play of colors, primarily red and white.
Black, White, and Golden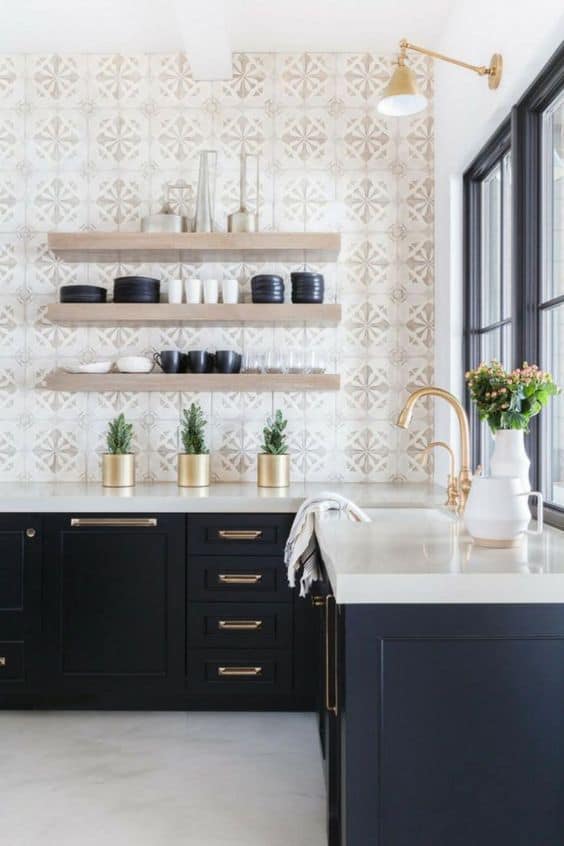 The black and white color combination is beautiful but if you're craving for another color in your kitchen, golden can be a good choice. The kitchen backdrop tiles are white and golden and the other walls are white in color. The cabinets are black and their handles are golden. Even the kitchen faucets are golden. To create a uniform look, the houseplants are planted in golden pots.
Also, the light fixture is golden and white and the cups and saucers are black. The entire theme is well-planned and the three shades are artistically scattered around the kitchen.
Exposed Wooden Beams for a Farmhouse Look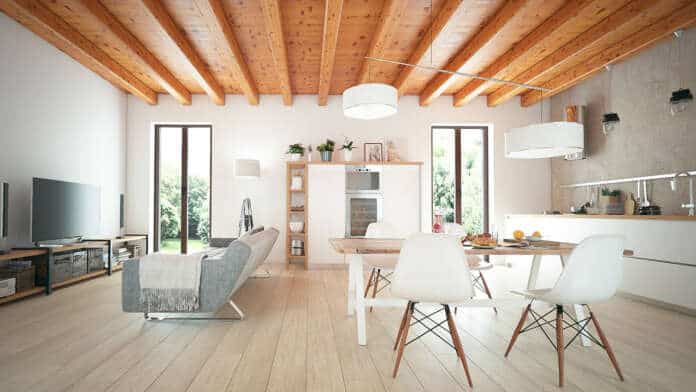 Farmhouses generally have exposed beams. Having exposed wooden beams in your kitchen will give it a traditional farmhouse appeal. Even if the rest of your kitchen has a modern and minimalist feel, the exposed beams will add a traditional touch to it.
The white color of the kitchen makes it look bright and cheerful. This is an open house set up – a layout that has become popular in the modern days. In such setups, it is usually difficult to give a different theme to each room so you'll need to have the farmhouse décor in the entire space.
A Rustic Barnwood Kitchen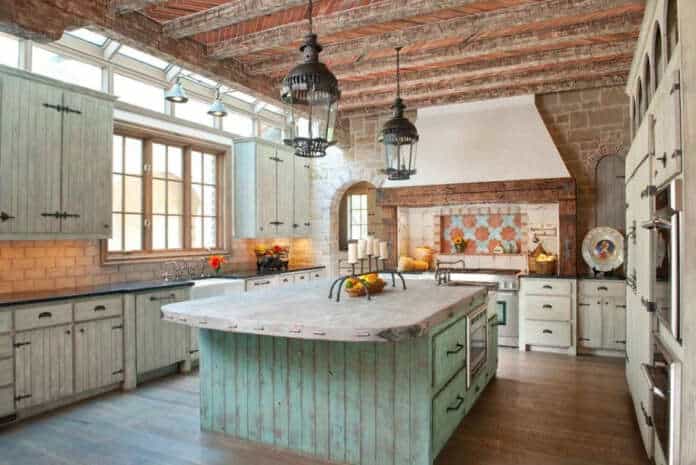 Barnwood has a rustic appeal that makes your space look like an old farmhouse kitchen. If you want a shabby chic appeal, barnwood will be the perfect material for kitchen cabinets, windows, and doors. The exposed brick wall of the kitchen gives it a unique vintage look.
The barnwood carries a light teal theme. The hanging lights in front of the windows are of teal color as well and create a uniform theme. And of course, the exposed beams in the ceiling add to the rustic charm of the place. Place some thick candles on the island and get that Victorian look.
A Wooden Chimney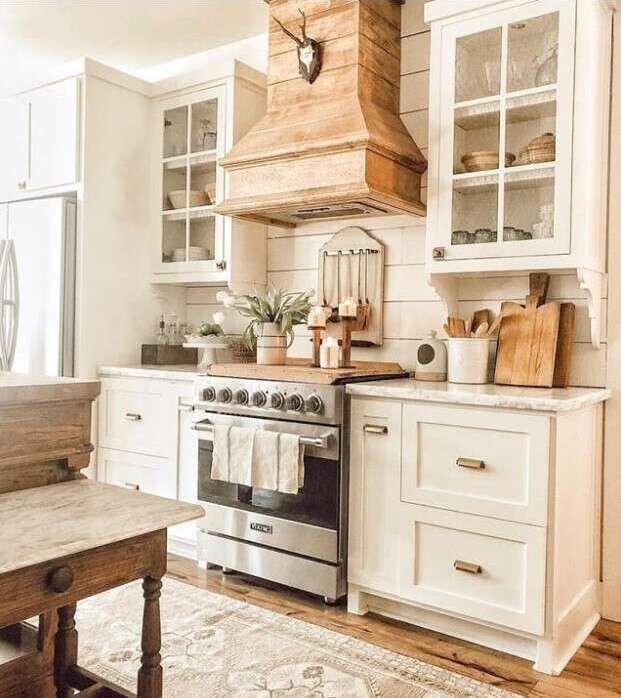 Kitchen chimneys are generally made of metal. But this one's made from wood on the outside. The raw wooden charm of the chimney is made to look even more beautiful with the trophy that hangs on it. The dining table and chairs are made of raw wood and enhance the beauty of the place.
The kitchen has a wooden theme – some of it is painted and some is left raw. The cabinets have glass panels so they can showcase your beautiful chinaware and glassware in them. Display your wooden chopping boards beautifully on the countertop and complete the wooden theme in style.
A Chocolate Appeal in the Kitchen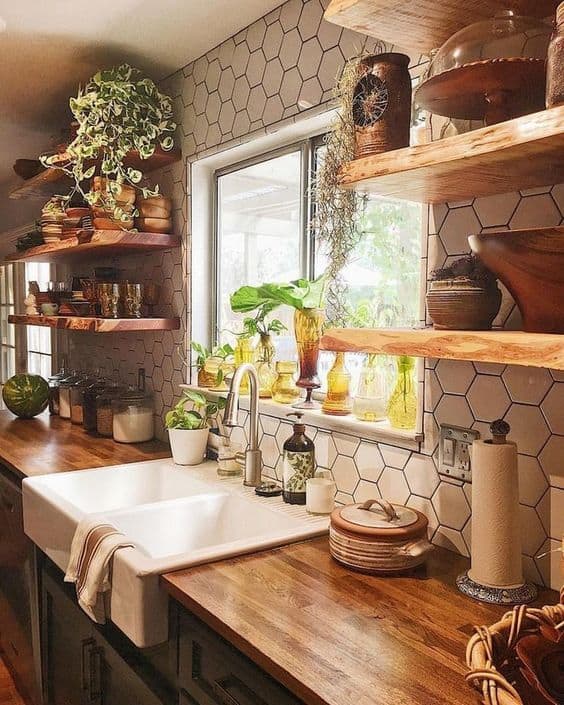 You might think brown is a boring color but it's also the color of chocolate and who doesn't love chocolate? This kitchen has a huge chocolate appeal – from the walls to the shelves and the pots and dishes, everything is brown – chocolate colored to be more specific. Even the countertop is reddish brown and has a sweet charm.
The sink is white and balances the browns around it. The kitchen window has many bottles that house several plants in them – it's always best to keep the place green and lively. In fact, why stop at just a few plants, you can place some houseplants on the shelves as well.
Lower the Beams in the Kitchen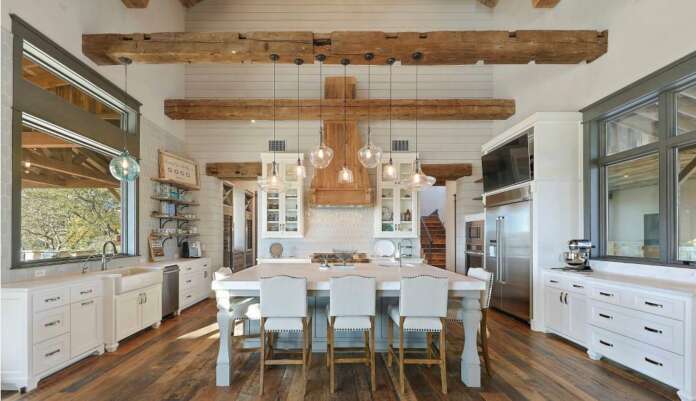 Exposed beams are beautiful. But if you have a high ceiling, they might not be noticed by your guests. The solution? Lower the beams. A beam connecting two walls of your kitchen can also be used to provide support to light fixtures. And if you're anything like me, you'd love pendant lights. Check out these multiple lights in different shapes.
As they hang over the dining area, they'll provide enough illumination for the dinner party you're planning to host. As it's evident, a lowered beam is not just stylish but also very practical.
Naturally Illuminated Farmhouse Kitchen
Light fixtures are beautiful. But you know what's more beautiful? Natural sunlight. White, bright, and enriched with Vitamin D, make sure you get enough natural light in your farmhouse kitchen by building a skylight in the ceiling. And when you want to cool off the kitchen, you can open it to let in some fresh air – it's a multipurpose utility.
Make the kitchen more beautiful with fairy lights that create a magical atmosphere in the night when the sun is down. Of course, fairy lights don't provide enough illumination so there's a hanging light for that.
A Beautiful Chandelier in the Kitchen
This pendant light has a chandelier built into it. And a traditional clock hangs from a chain with the pendant light. The light hangs directly above the sink and it looks as if water drops are falling from the fixture to the basin. A wreath made of lemons on the window looks beautiful and gives a touch of bright colorful appeal.
While wreaths are mostly used on front doors, there's no rule that says you can't have them in your kitchen. The window curtains have a retro appeal and the ceramic bowl beneath the clock gives the place a charm of the bygone era.
A Ceiling Fan in the Kitchen
Old farmhouses had ceiling fans. To give your kitchen a farmhouse appeal, you can install a fan on the ceiling. And a traditional looking fan at that. This fan has a light fitted on it and it serves three purposes – keeps the air circulating, illuminates the kitchen, and adds a country feel to the space.
Plus, there's an entire shelf dedicated to plans that grow directly from there. The kitchen has a unique appeal and the Welcome sign reflects a country vibe. The wooden floor and wooden countertop carry an old-fashioned appeal that's strikingly beautiful and hard to miss.
Create Your Own Theme
There are so many ways in which you can implement the farmhouse theme. Install a ceiling fan. Place a wreath on the window. Install window curtains. Get exposed beams. Get a raw brick wall. With so many ideas, you need to pick the right options that work for you. Try everything you want to, just make sure you have fun while you do it!