Decorated Life is reader-supported. When you buy through links on our site, we may earn an affiliate commission. Learn More
15 of the Best Farmhouse Home Office Ideas
Now that more and more homeowners are starting to work from home – there is a sudden rise in the requirement for decorating home offices. Whether it's about converting the bedroom into a dedicated office space or adding an additional desk and chair in the corner – there is no better time than now to feel thrilled for a brand new office.
Farmhouse home offices, in general, will make you feel inspired and motivated! With chic rustic finishes and an authentic countryside feel, you're bound to stay productive and active all day long. So, are you excited to incorporate Farmhouse decor in your home office? Let's take a look.
Solid Wood Bookcase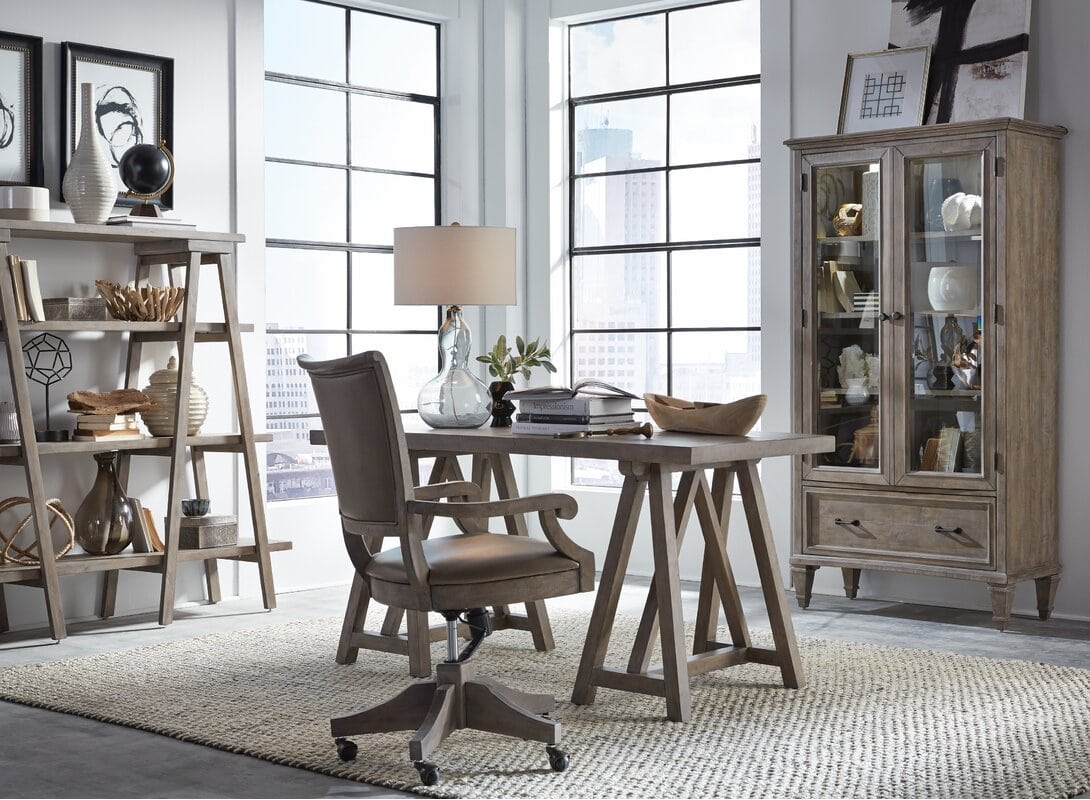 Want to have an authentic rustic farmhouse feel? Well, you must begin with styling this solid wood bookcase. Blending the traditional with modern farmhouse, this piece of bookcase defines utmost sophistication, authenticity, and style. It's crafted from pine hardwoods in a dovetail gray finish to create a silhouette that is rather charming.
Behind the tempered glass doors, you can beautifully style your books, novels, and antique rustic pieces of decor to further align with the style.
Wheeled Rattan Basket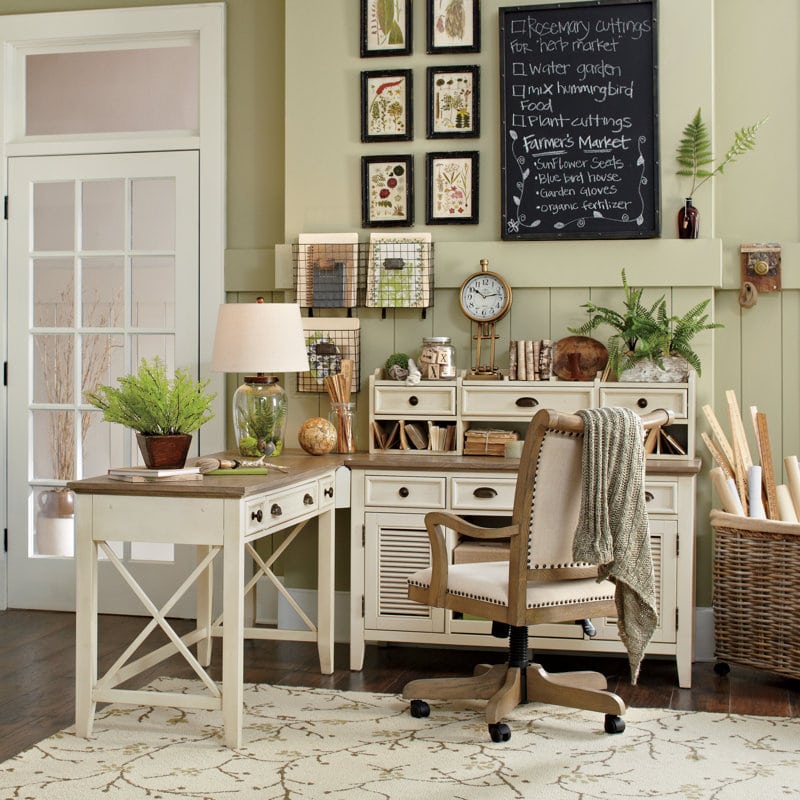 Every home office requires ample storage space. Whether you provide shelves, file cabinets, or bookcases, you would always find yourself short on space. And that's why here is an example of a Farmhouse-style fancy basket to store your everyday paperwork and office essentials.
Woven from rattan and equipped with wheels, you can almost fit this into any corner of your home office. Under the desk? Yes! Beside the door? Yes! On top of the bookcase? Yes!
Windsor Armchair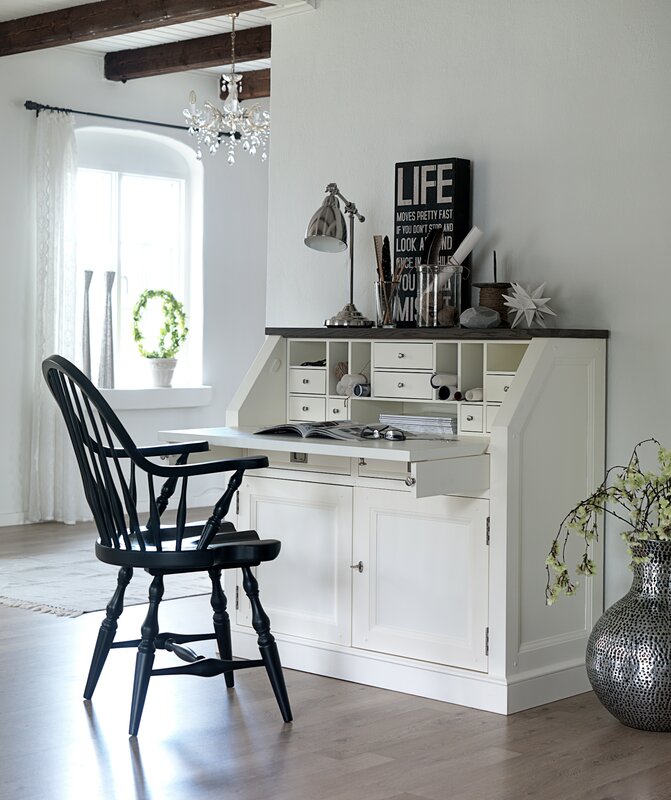 This classic Farmhouse and cottage-style armchair will definitely remind you of the European countryside and Victorian-like feel. The graceful silhouette and comfortable setback can undeniably make a bold statement in the modern Farmhouse home office.
Look how beautifully it blends into a cool gray palette with wooden exposed beams, isn't it? Lastly, you must also not forget to pair the chair with the textural art in a wooden frame.
Plaid-Patterned Armchair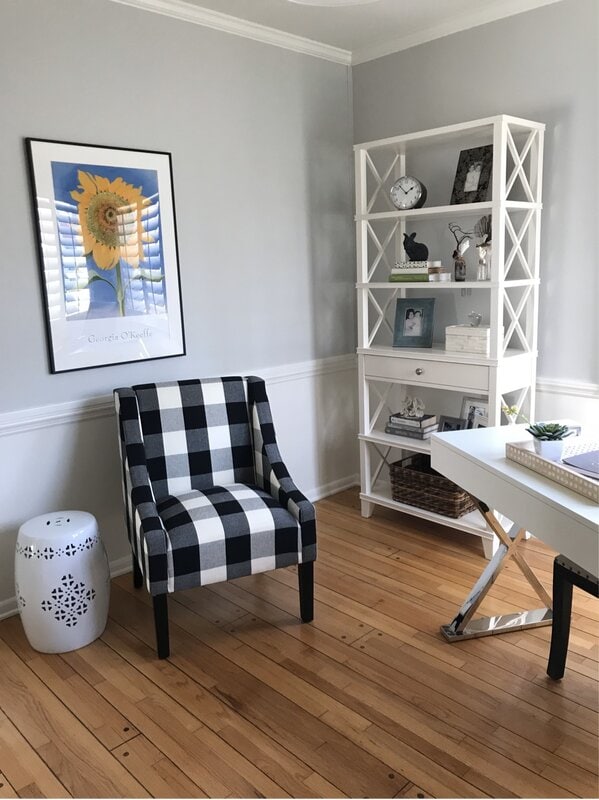 The bold black buffalo plaid pattern sparks an utmost Farmhouse-like charm in the home office. So, if you want to add a cozier and vibrant vibe – you must pick an armchair with a soft and cushioned fabric. Cotton or suede is a great option!
Generally, this fabricated chair works tremendously well with the gray backdrop, hardwood floors, and sleek white furniture! Maybe adding a couple of baskets wouldn't be a bad option.
Reclaimed Wood Desk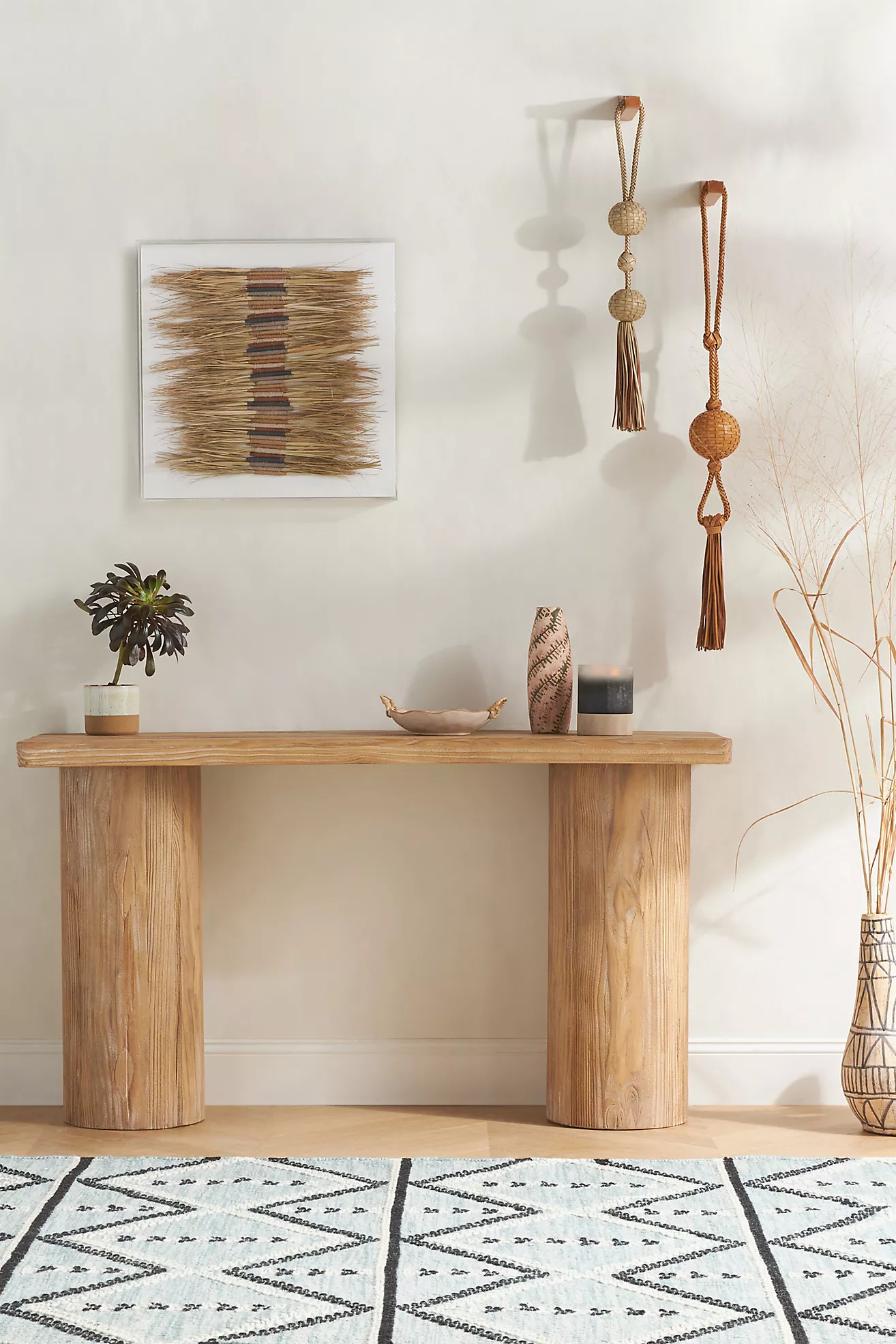 Quite unique and charming, this reclaimed wooden desk is carefully crafted from pine wood to create a sustainable and eco-friendly vibe in your rustic Farmhouse office. Featuring a natural palette and detailed texture, the clean and crisp lines of the table will give a perfectly rustic tone to your home office.
With this table, you must flush in some natural, organic, and earthy hues such as the beiges, browns, and sage greens to feel the true charm of the desk.
Molly Geometric Area Rug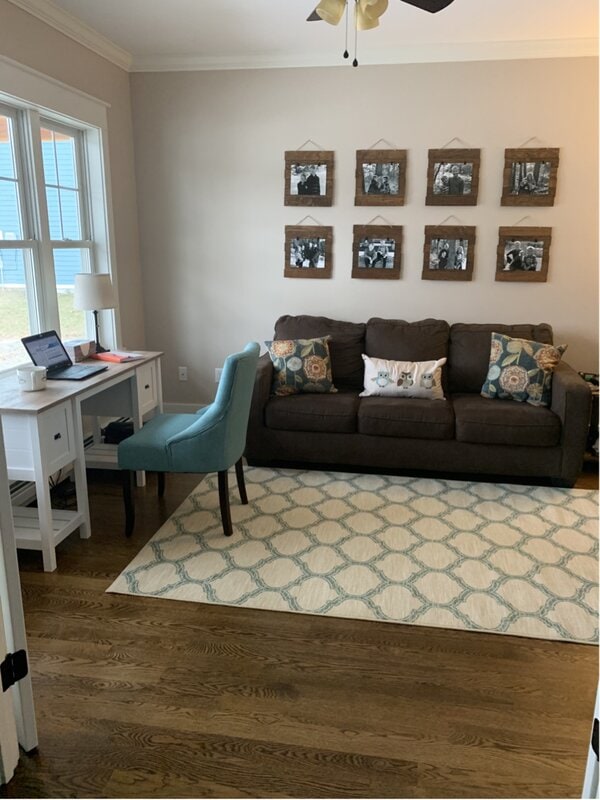 Blending the Farmhouse with modern style, you can readily incorporate the gray geometric area rug with your rustic floor finishes and furniture. Since the rug wouldn't tend to pop out, it will readily play subtle, calm, and relaxed.
You can place it symmetrically underneath the desk and chair to add a designated function to the home office space. Moreover, you can play with the hue and pattern on your chair fabric as well as the artwork.
Lantern Flush Mount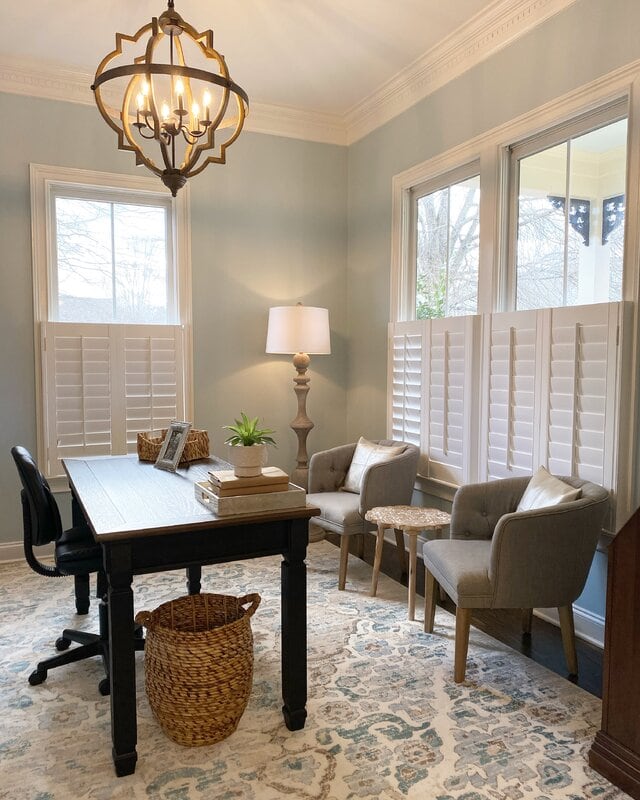 The chandelier or the pendant lighting will play a focal point of view in your home office. With everything rustic and Farmhouse – you simply can't ignore this candle-style lantern that takes cues from the Farmhouse and country-side decor.
Beautifully carved in black metal, the intriguing shape of the lighting fixture will instantly exhibit a rustic and timeless appeal. Note that casting warm white lighting will definitely create a moody environment in the home office.
Solid Wood Floating Shelf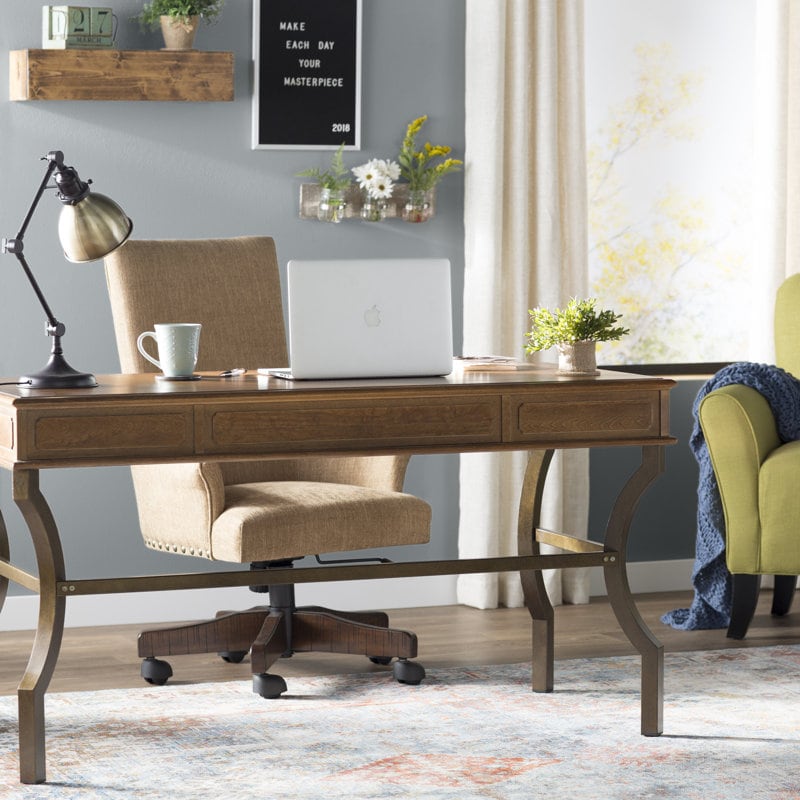 This is a perfect pick for any modern Farmhouse and country cottage-style home office. You can easily style the solid wood floating shelves on the focal backdrop wall and feel the stunning style gradually diving in.
It's also time to flaunt off your personality with your favorite pieces of novels, books, indoor plants, and antiques. The natural pine wood finish has an accent rustic and distressed appeal to align with your design style.
Solid Wood Credenza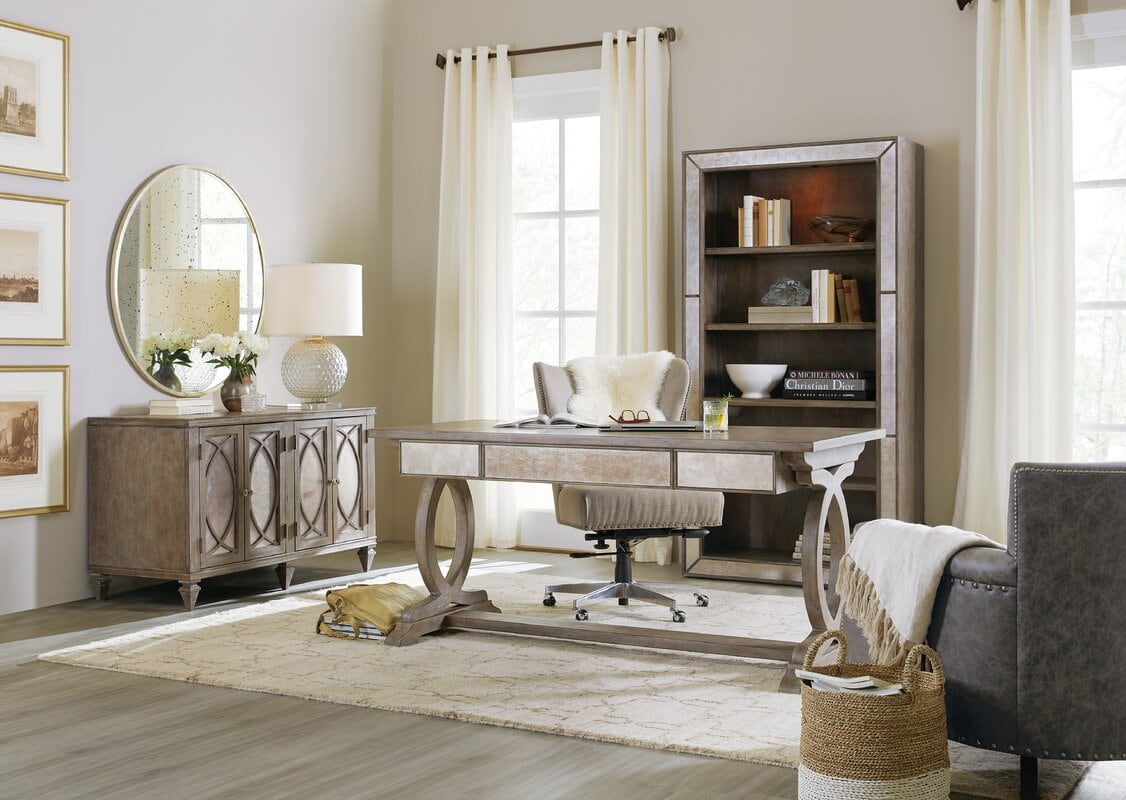 Think woods when styling for modern Farmhouse and rustic style. Remember, the more wood you incorporate, the more Farmhouse you feel! Hence, with this romantic and glamorous piece of the wooden credenza, your home office is bound to feel authentic and detailed.
Remember, you might need a credenza for storing extra office essentials. So, place this against the empty wall in a combination with a round mirror to complete the look.
Vintage Graphic Art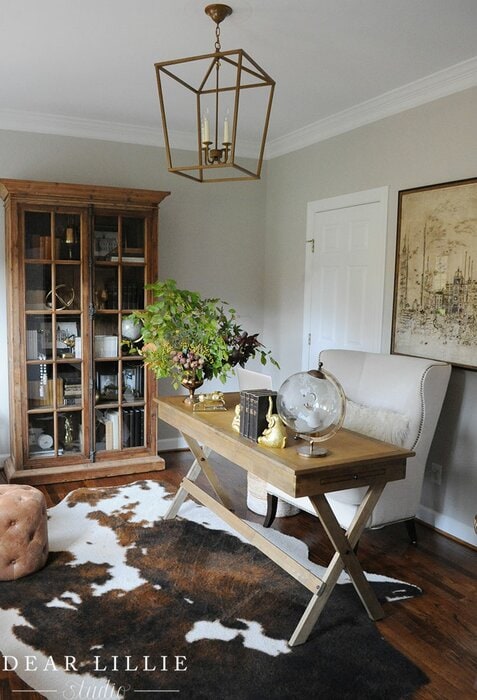 Exhibiting an antique and vintage look, you can restore the true authenticity of your rustic and Farmhouse-style home office with this vintage graphic art. It deserves to be placed on the focal wall of your home office while grabbing the attention of each and every guest.
The warm-toned map is framed in the sophisticated natural wood frame to truly align with the farmhouse-style interiors. And if you reside in the state of Florida, it's even better!
Rattan-Framed Bookcase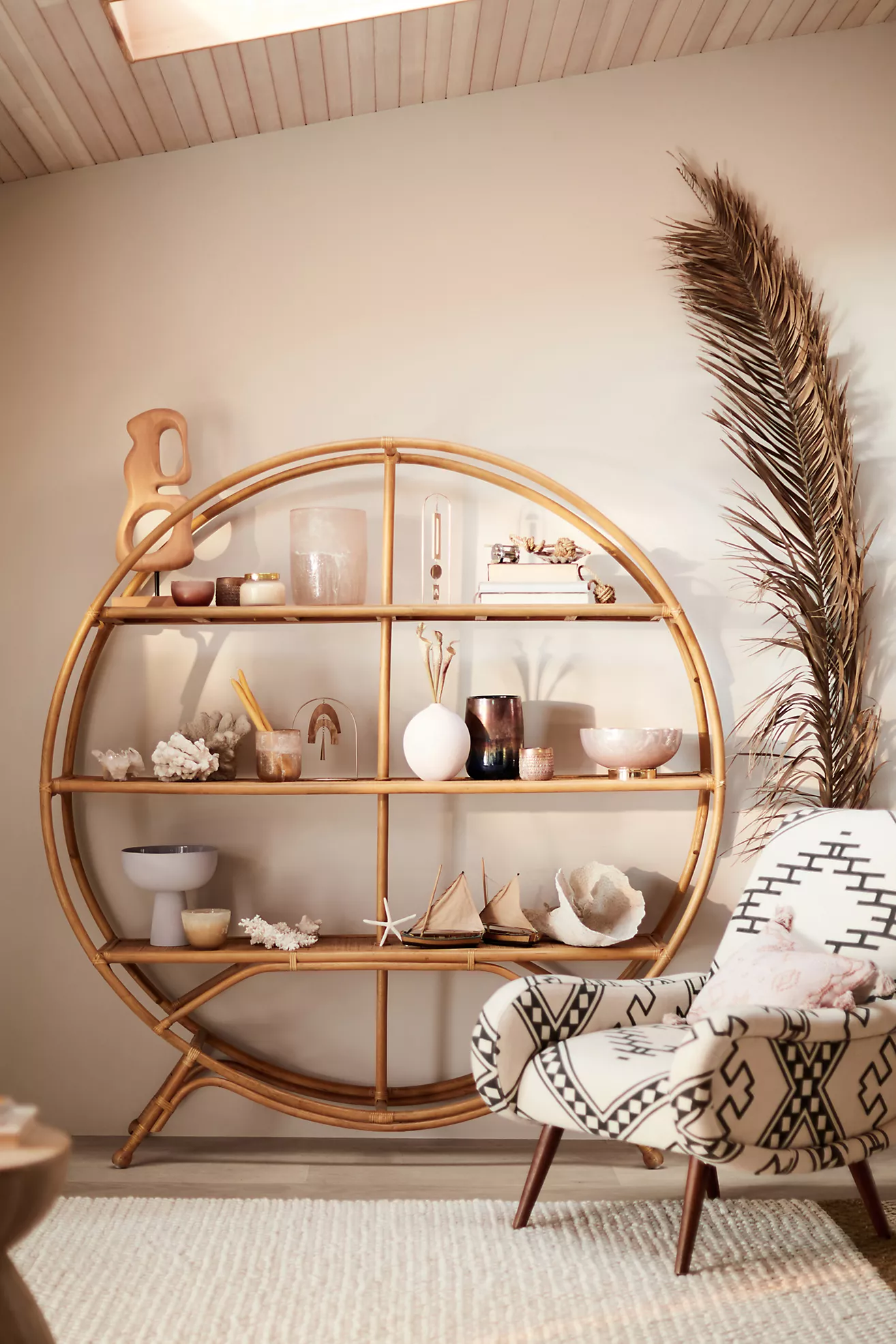 Crafted with rattan in a beautiful and intriguing shape, this circular bookcase deserves an eye-catchy appearance. It definitely acts as a focal point in every room while also allowing ample opportunities to store and style.
Mainly, this open shelving encourages the display of books, photographs, planters, candles, and other decorative accents. Moreover, it's a great way to style in the small home offices since they don't tend to acquire a lot of space.
Rustic Elephant Figurine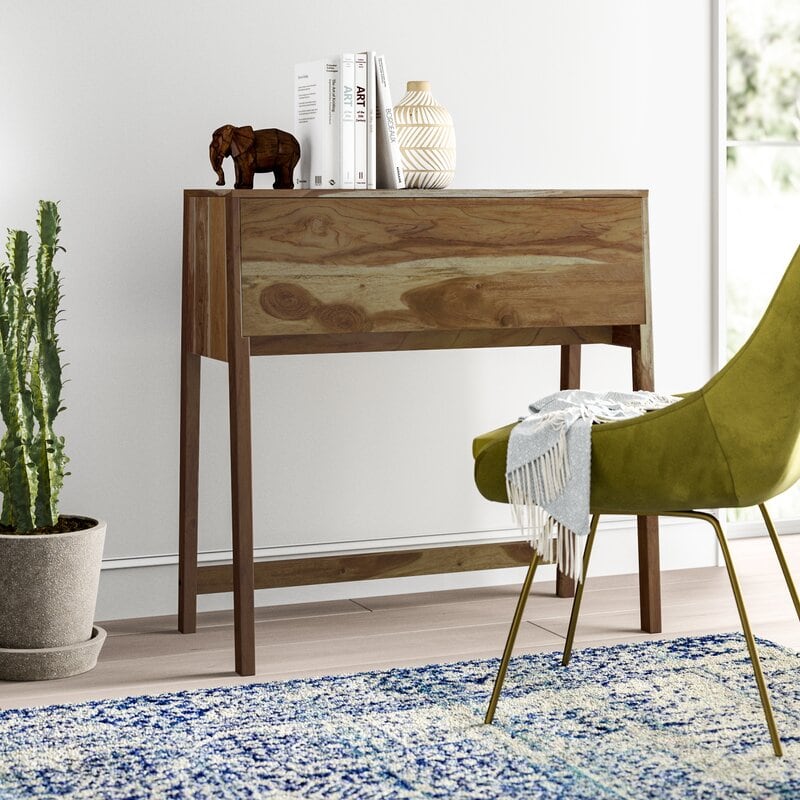 In a modern farmhouse home office, details matter! Apart from the home office desk, chair, shelves, and chandelier – the next decor element to note is the little antique details and figurines. You can easily place it on the sideboard, console table, or even your office desk to add a sense of detail and character.
Yes – you must look at these details carefully and examine the overall style of your farmhouse home office.
Striped Curtain Panels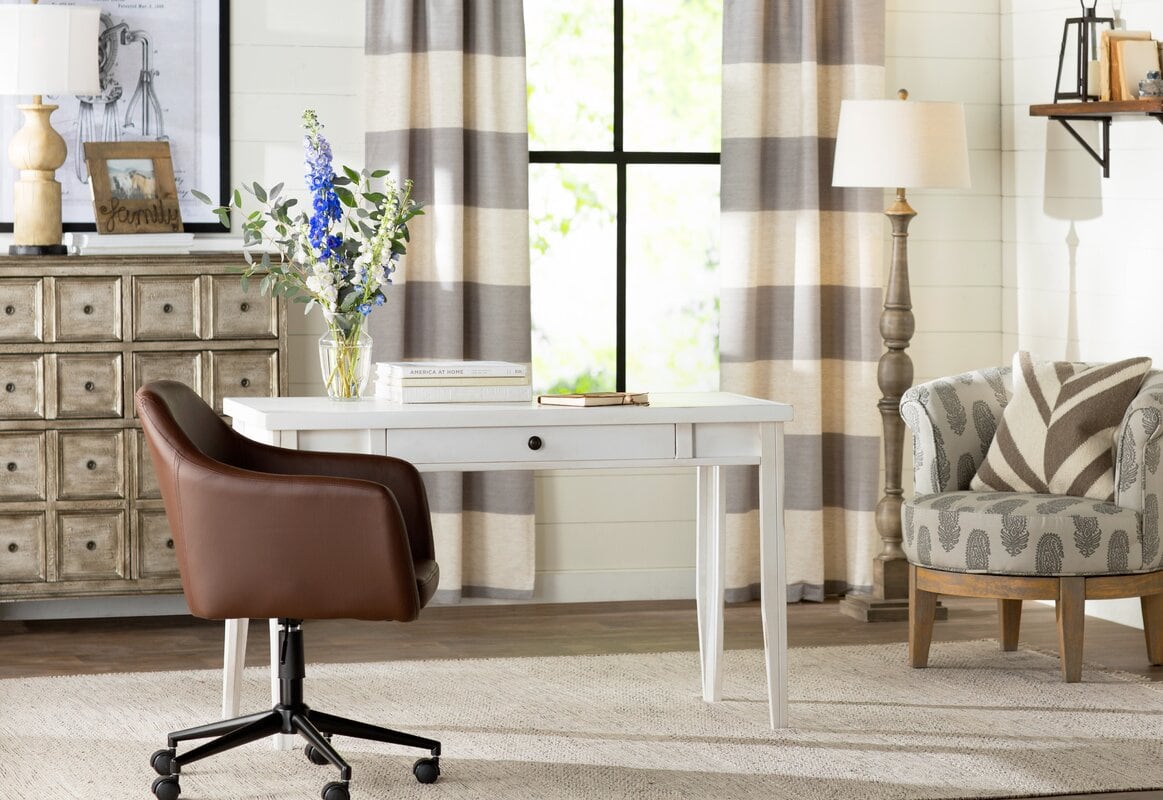 It's time to introduce a pop of visual interest and depth in your home office with the Farmhouse-style striped curtain panels. Showcasing the two major hues, this curtain can predominantly play a major role in your rustic Farmhouse home office.
Moreover, they're machine washable and quite easy to clean. Thus, a great investment for your home office in the long run. You also have two major color options to choose from!
Hexagon Wall Shelf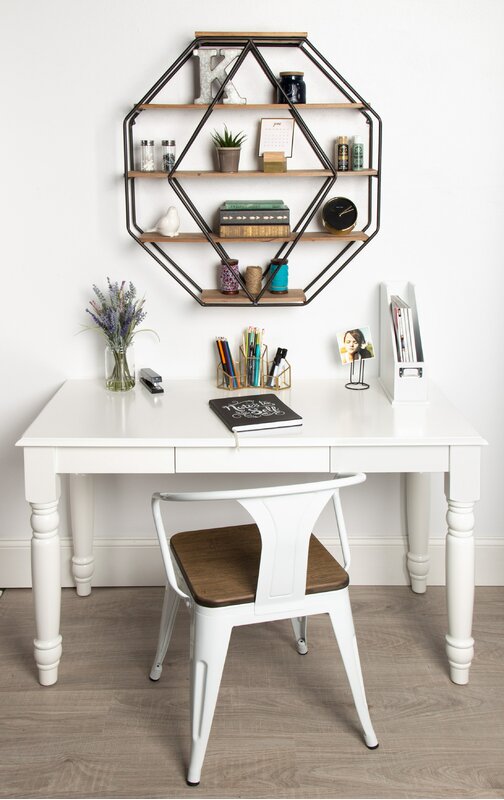 Are you tight on space regarding your home office? Well, just a corner is all that you need! You can easily fit in a tiny desk and office chair to create a little working nook. Moreover, you must embrace the exposed hexagon wall shelf to style your books, novels, pen holders, candles, and other decorative objects.
Since it doesn't require horizontal space, it also saves you ample space – just in case if you're residing in a small apartment.
Beecher Task Chair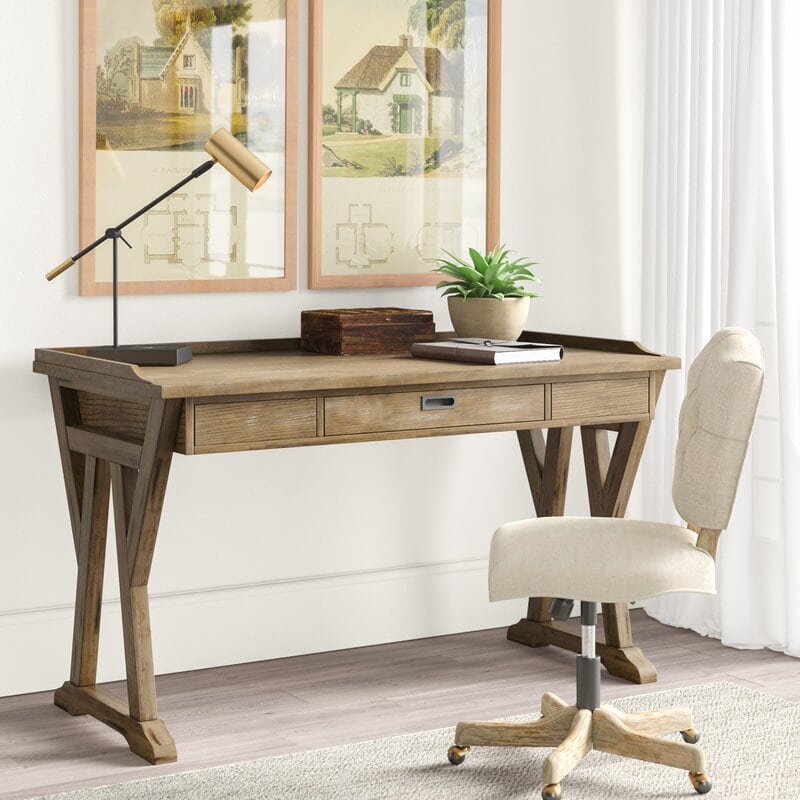 Amalgamating the mid-century style with farmhouse – the comfortable and ergonomic office chair offers a striking appearance. Made from engineered wood and cream linen upholstery, this Beecher task chair is quite versatile and can be used with any backdrop.
So, if you're looking for a classic office chair – this is something to have an eye on! Lastly, don't forget to pair the chair with a wooden desk and wrapped canvas graphic art.
Summing It Up
So, are you excited about incorporating one of these rustic Farmhouse decor ideas in your home? You must think of rustic finishes, distressed textures, comfortable backdrops, and organic materials. I would love to know how you decorate your farmhouse-style home office!