Decorated Life is reader-supported. When you buy through links on our site, we may earn an affiliate commission. Learn More
18 Cozy Boho Wall Decor Ideas for 2023
Bohemian style is incredibly versatile, working with multiple design elements. The best thing is anything goes.
If you love funky, eclectic pieces with bright or earthy colors, natural elements, floral motifs, and exotic ethnic charms, Boho is right for you. And when it comes to boho wall decor ideas, there's even more leeway on what you can use.
We've compiled a list of 18 boho wall decor ideas to help you achieve a simple yet stylish room redecoration that screams Bohemian.
Decorate Small Walls with a Simple Tapestry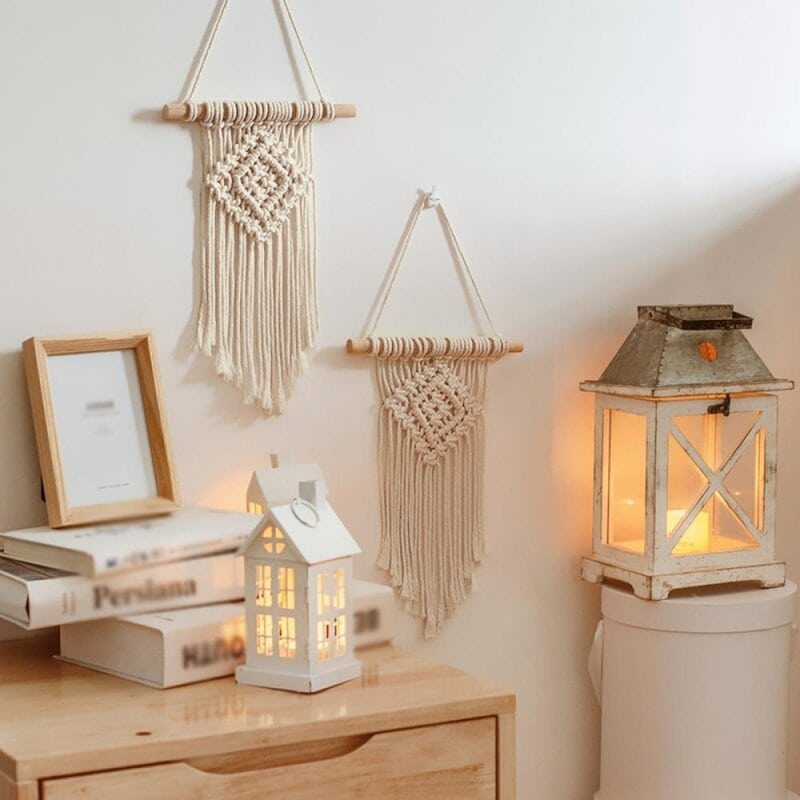 We're kicking off our list with design elements that scream Boho – knitted, macrame, and wall art. This simple yet stylish cotton tapestry can serve as a decor piece on any interior wall, but it can truly shine on walls with a small surface area.
We love seeing how this white cotton fringe looks against a brightly colored wall – also hugely Boho-themed – or hung over a window for a decorative window cover.
Bring In a Dreamcatcher for Boho Authenticity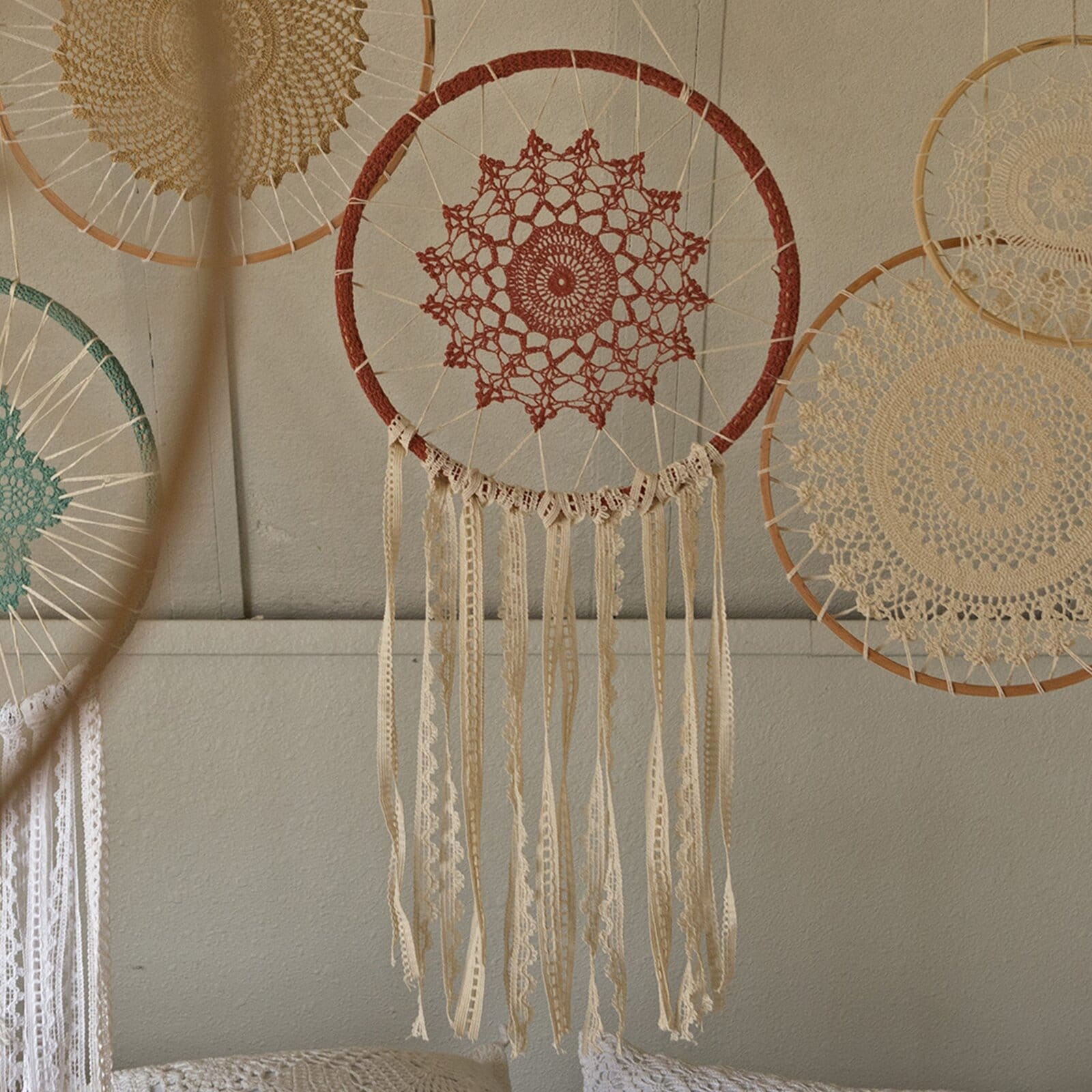 Dreamcatchers are another signature design feature for bohemian-inspired spaces. These art pieces are part of multiple cultures, giving you a range of designs to consider.
Bohemian wall decor often consists of natural materials and handcrafted designs, like these simple but intricate ornamental dreamcatchers that can look fantastic over your bed and in living rooms, dining rooms, and other main living spaces.
Add Multiple Mirrors for Makeover Magic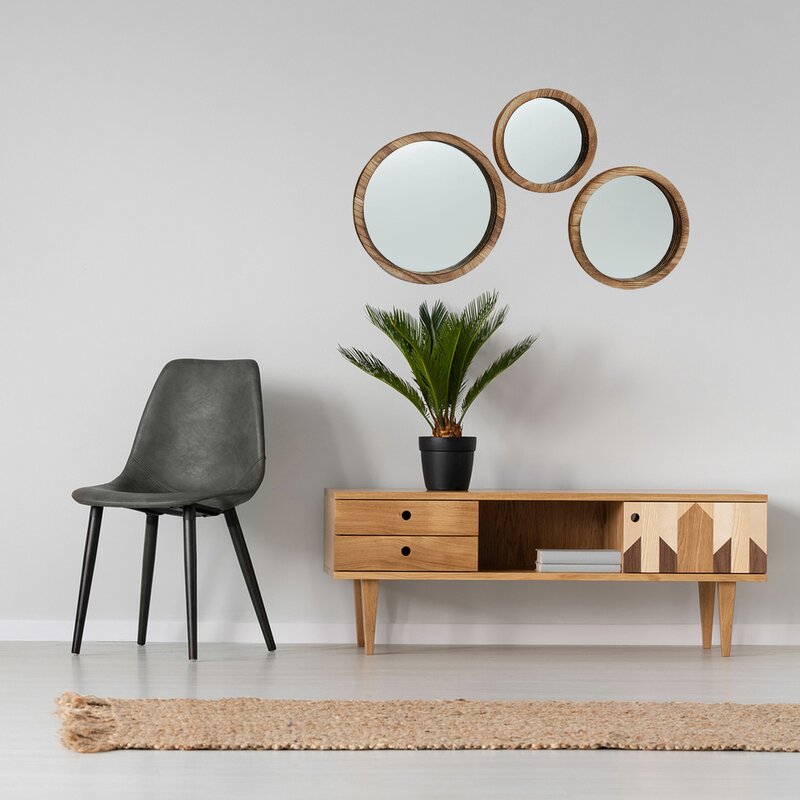 You can also go Boho with mirrors. While many Bohemian styles use metallic mirrors, we love the simplicity and understated composition of various-sized round mirrors bordered in eco-friendly wood frames.
Using mirrors like these for boho wall decor also nods a proverbial head towards design themes like minimalist and mid-century modern, where there's a heavy focus on little to no decor pieces used.
Go Green with Woven Baskets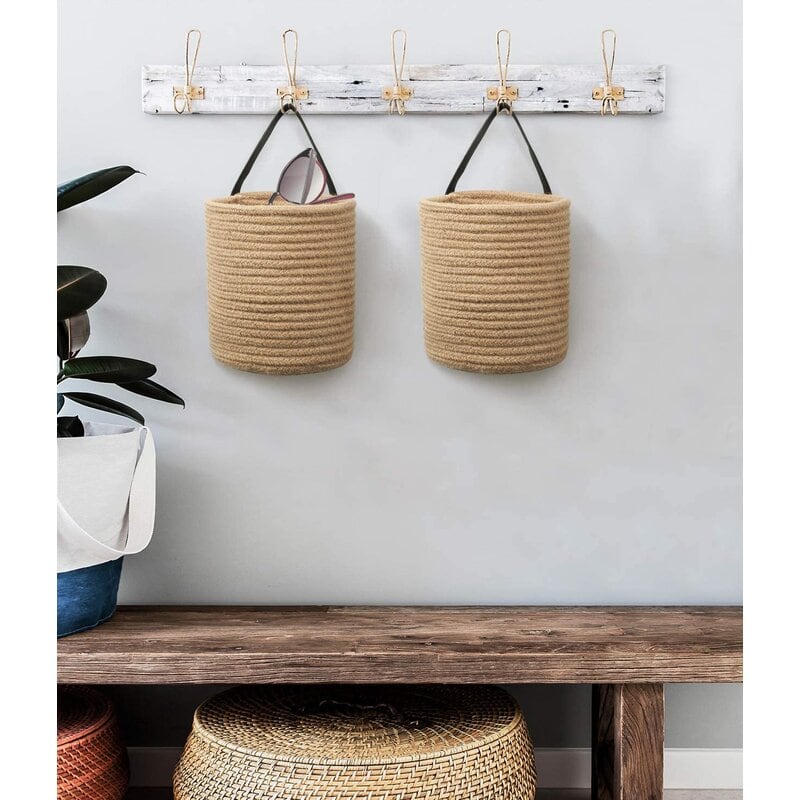 Embrace the aesthetic of handcrafted goods by incorporating a collection of woven baskets into your room's wall design. We love the look of these woven baskets used as storage for plants.
You can use them in the kitchen to grow herbs, in the living room to add ferns to brighten the space, or in the bedroom for aromatics that encourage a restful night's sleep. Or you can stuff them with fake greenery for a pure aesthetical prop.
Add a Feather for Boho Bliss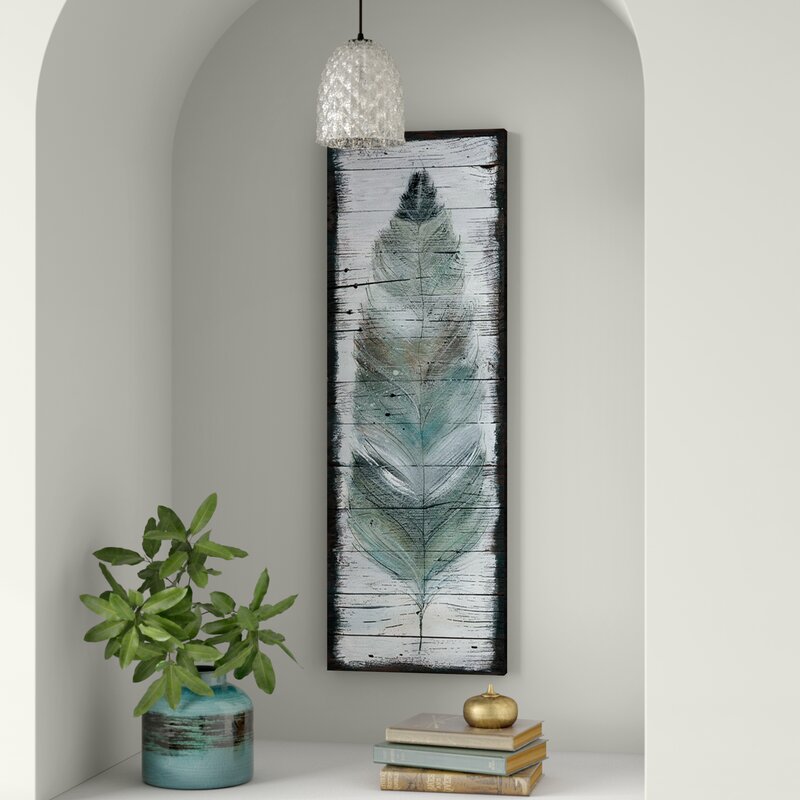 Feathers are a frequent sight for Bohemian styles, but they don't have to be the real, funky, fluffy kind that falls off birds.
For example, this canvas print depicts a gorgeous feather that can look great as a simple piece for a large wall, placed in an alcove, or decorate a small partition wall or entryway.
Enjoy the Ethereal Beauty of Elephants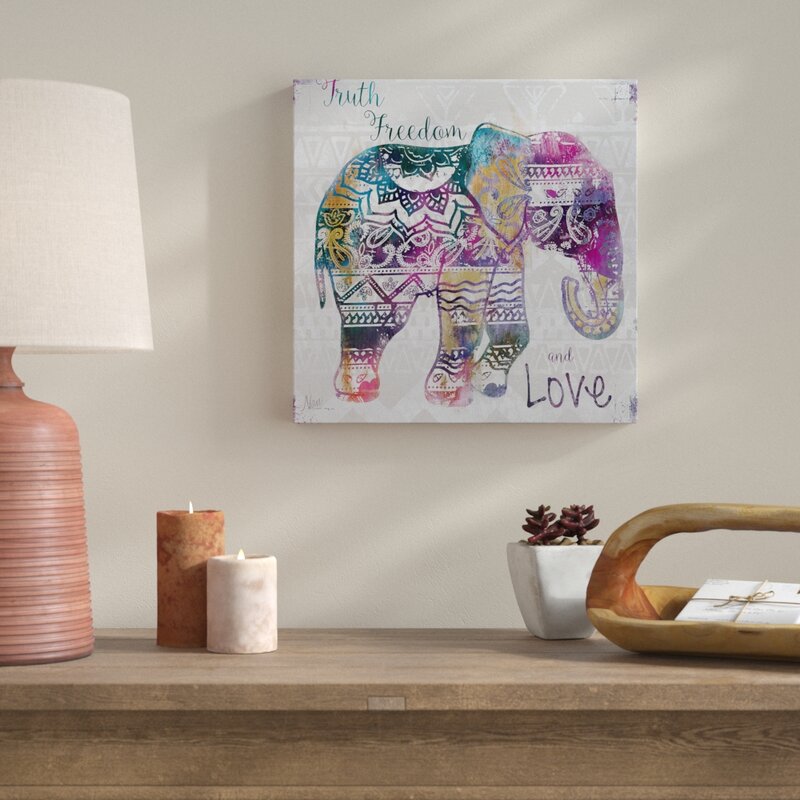 With this wall decor idea – a painted canvas of an elephant covered in boho designs and bright shades – your space will look fashionable and animal-friendly.
And the typography looks pleasing while reminding you of important life liberties – truth, freedom, and love. This vibrant medallion stripe motif elephant is perfect for spaces where you want to add color and quirk.
Hang a Hamsa to Harness Your Zen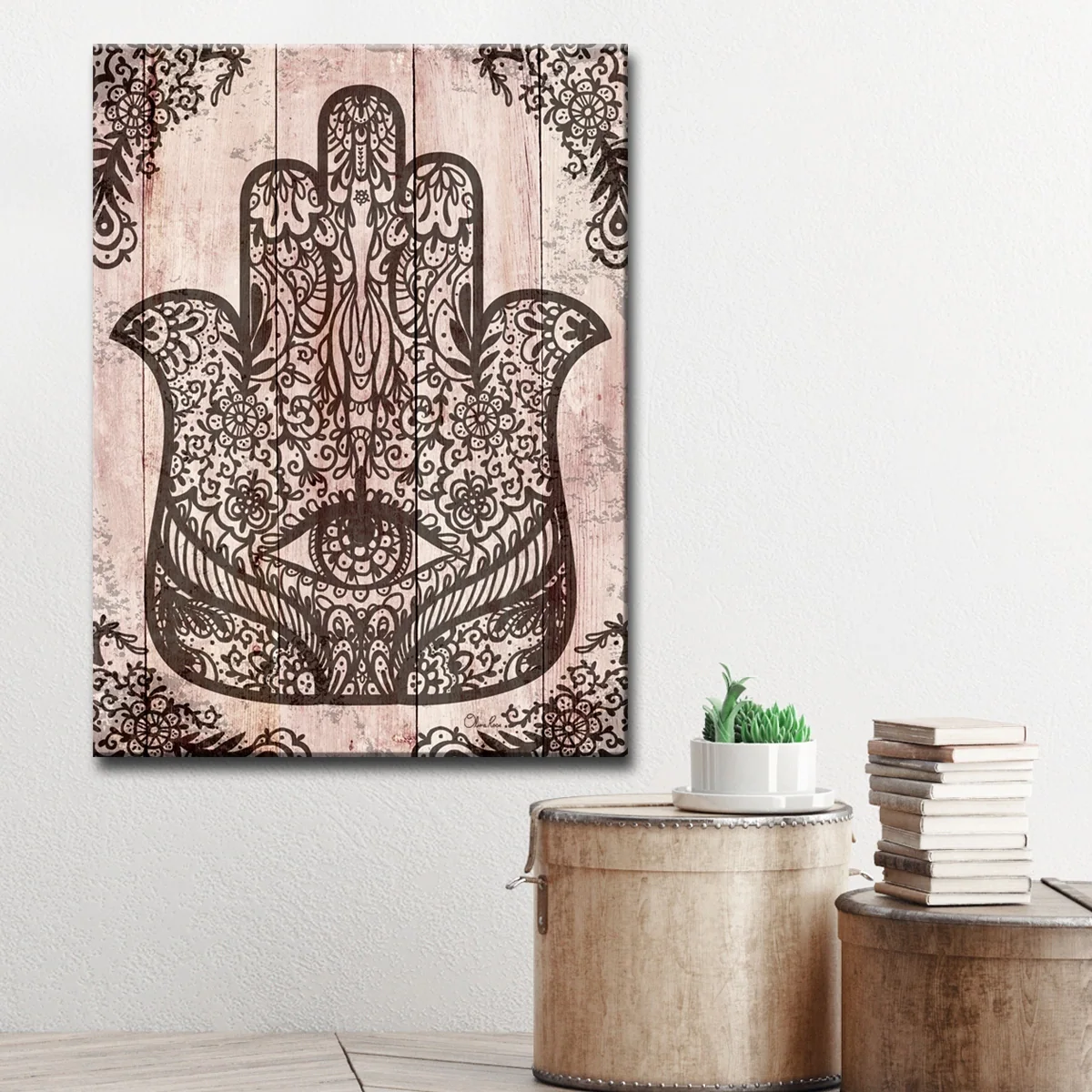 If your inspiration for a boho-chic space looks like creating a space conducive to feeling zen, you may love the spiritual significance of the Hamsa Hand (The Hand of Fatima).
This boho wall art can help with meditation while blocking negative energy and offering spiritual protection. And it looks fab on your walls. Even if you don't focus on zen, you can still appreciate the beauty and intricacy of this painting.
Metal Plates Make Boho-tastic Wall Art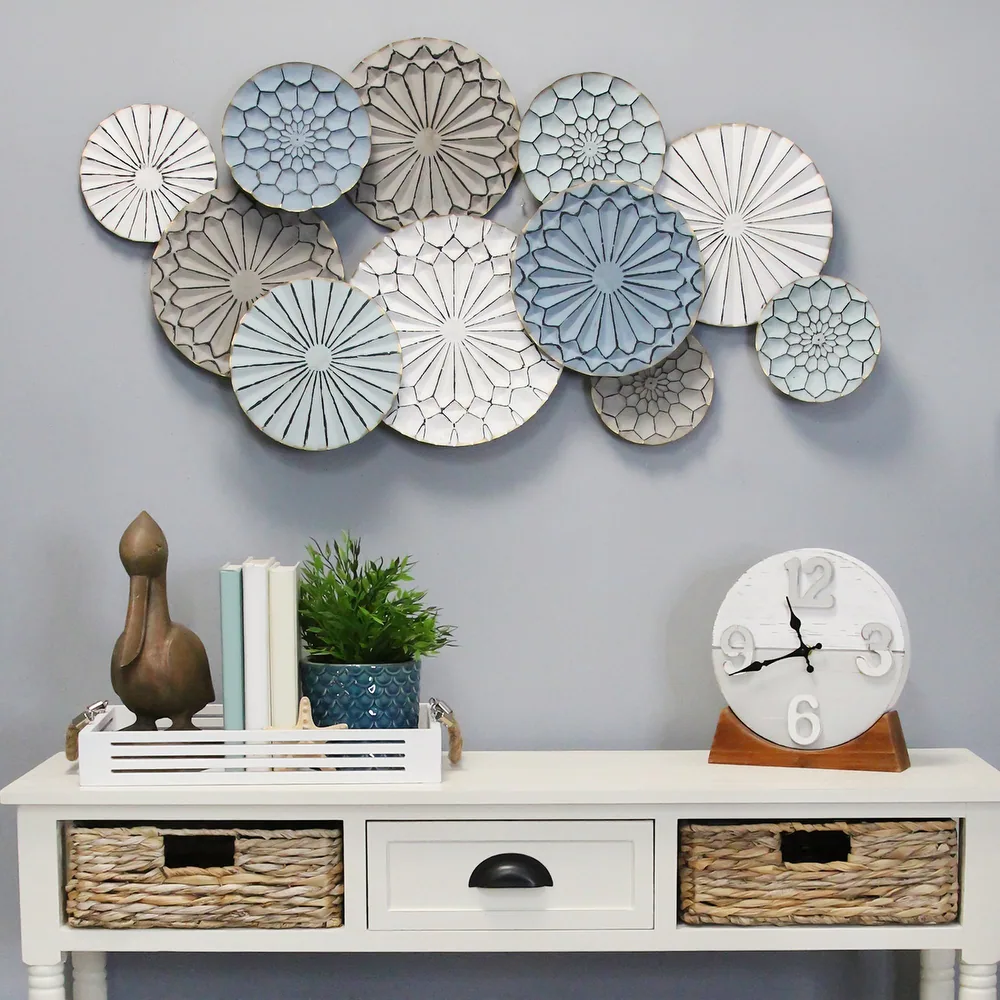 Our favorite thing about boho design is that you can use multiple materials to create a funky yet stylish space. You can have texture, color, and style all in one with this beautiful work of art.
Look at how the various-sized metal plates overlap. The different colors – gray, white, dark blue, and light blue – and textures give this boho chic wall decor a wow factor that you can't help but admire.
Decorating with Decals is Easy and Dramatic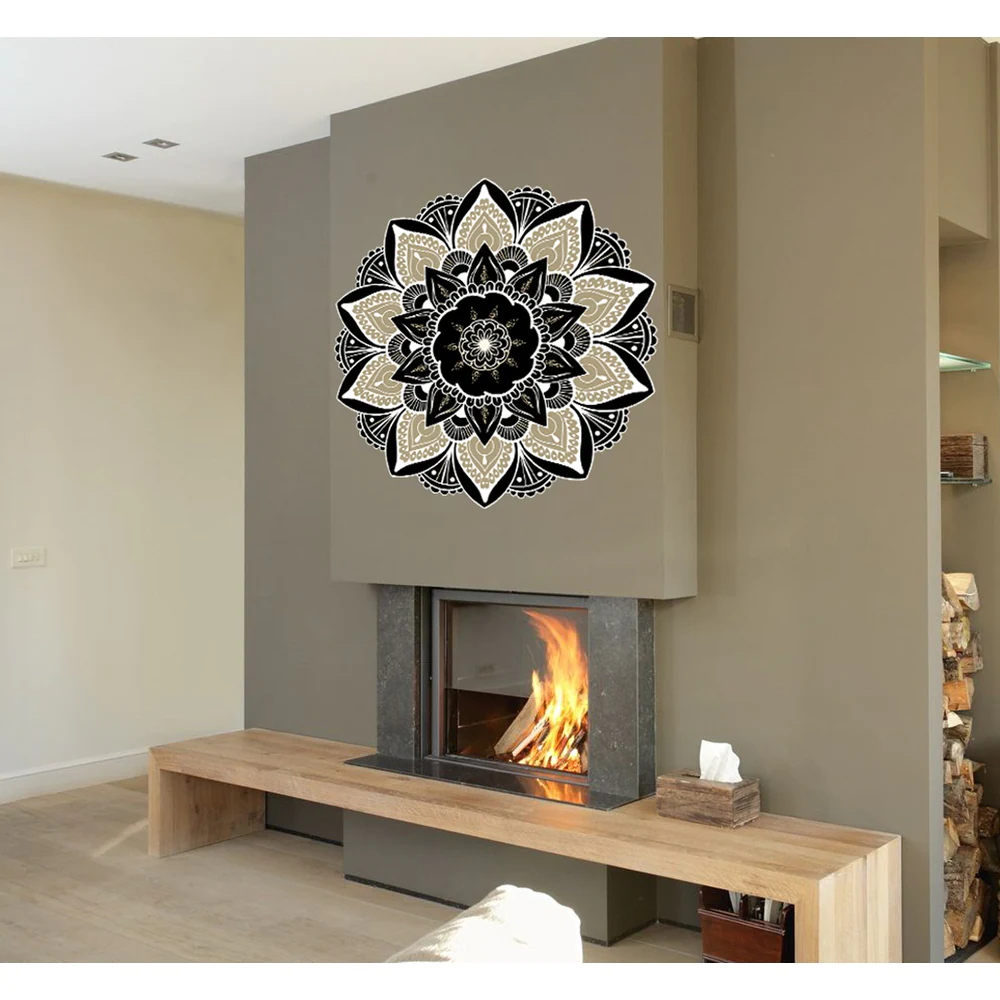 Decals are excellent because they adhere to your wall, are easy to remove, and don't leave any damage behind, making them perfect for dorms, rental properties, or kids' rooms.
While we absolutely adore this Mandala decal in exquisite black and tan (pay attention to sizing, so you get the right option), there are also other designs. You can pick bright colors (like this tiger) or astronomy themes (this sun and moon one is perfect for nurseries).
Bamboo Baskets Make Excellent Wall Art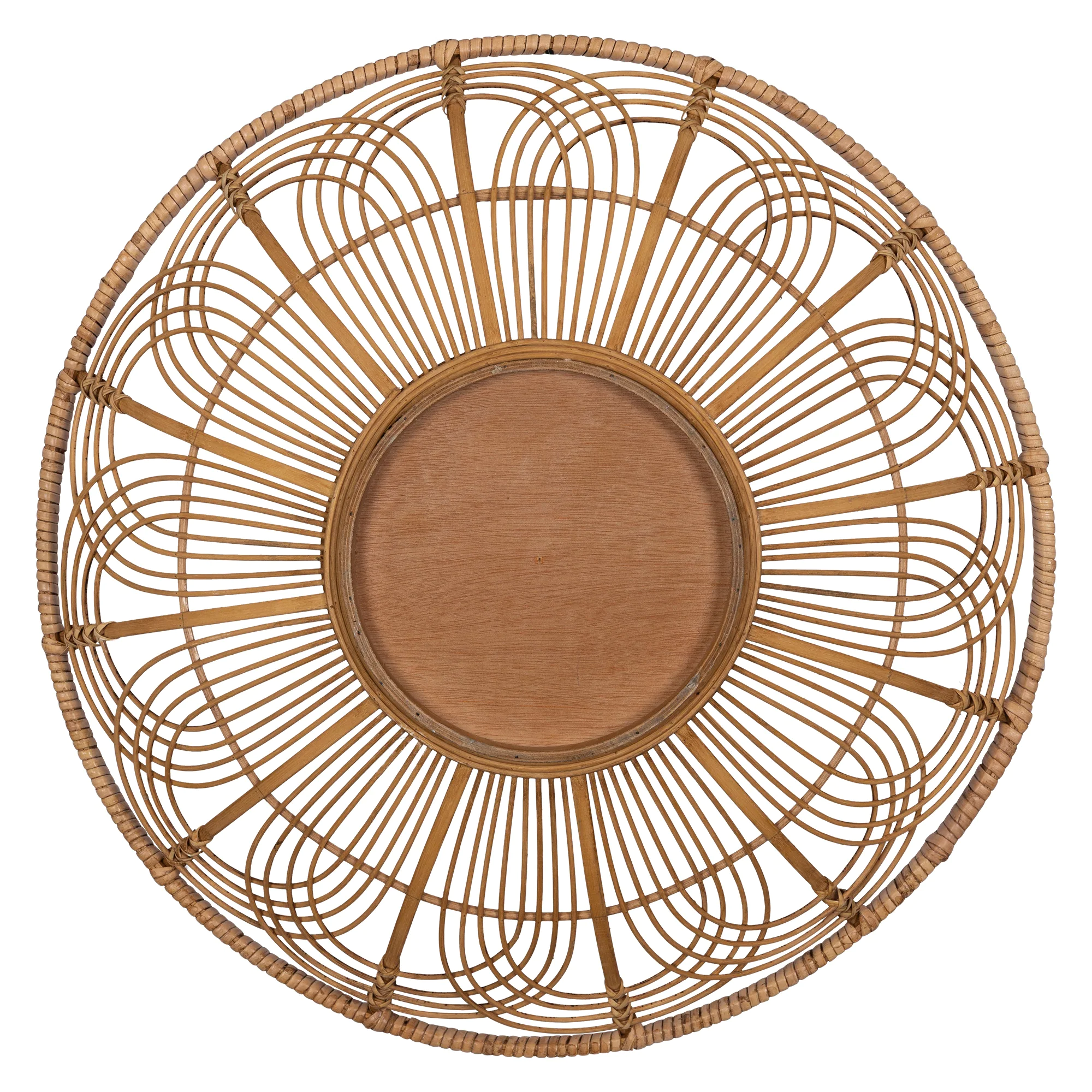 You can add boho charm to your room with this charming wall basket, handmade with bamboo with elegant curves and lines.
Some people prefer to hang a single wall basket, while others like to layer different baskets into a collection of bohemian wall hangings.
Use A Simple Yet Stylish Shelf for Storing Small Things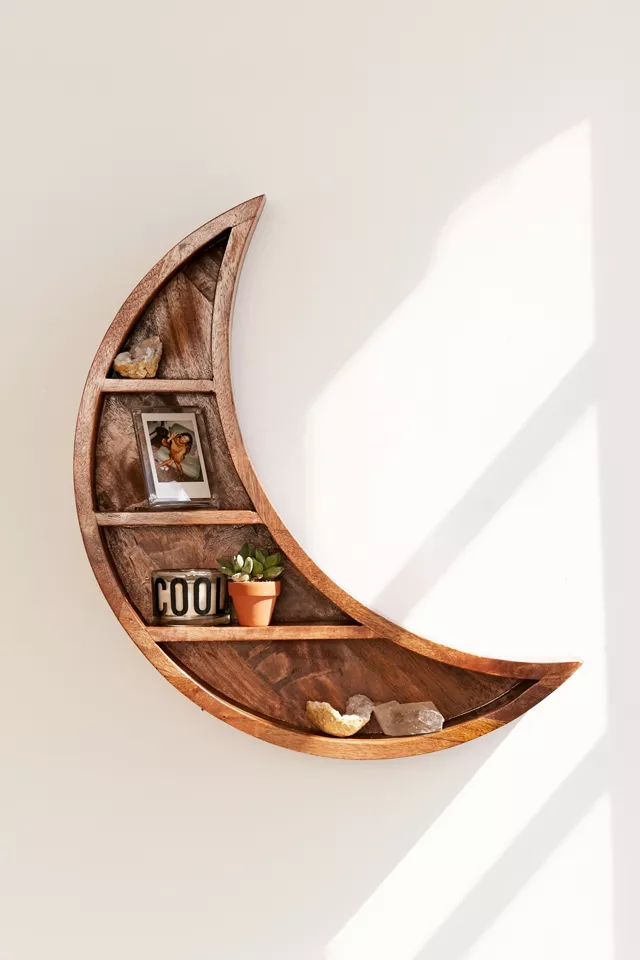 This crescent moon shelf is absolutely adorbs on your wall, while the beautiful mango wood gives it a sophisticated touch.
Four petite shelves inside the moon allow you to place smaller items to give your moon some garnishment. But it also looks exquisite if left bare.
Add an Astral Hook Rack for Additional Storage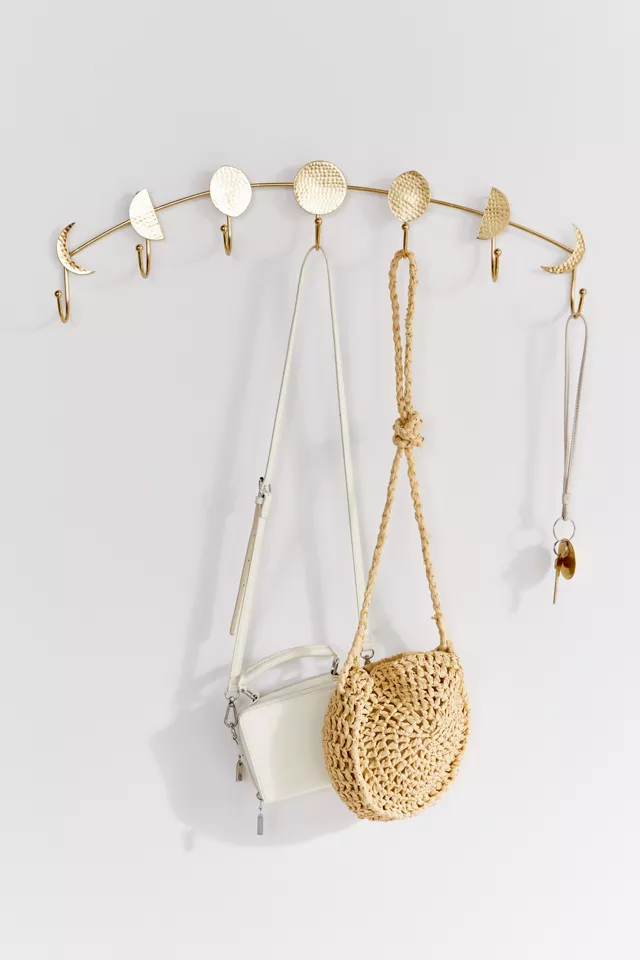 How chic is this astral hook rack displaying the different phases of the moon attached to hooks for holding purses, light jackets, keys, and other small items?
The shiny metallic gold color gives your space a bit of glam without being overpowering. And the cosmic theme screams Boho while being simplistic yet stylish.
Tarot Tapestries Make Excellent Well Decor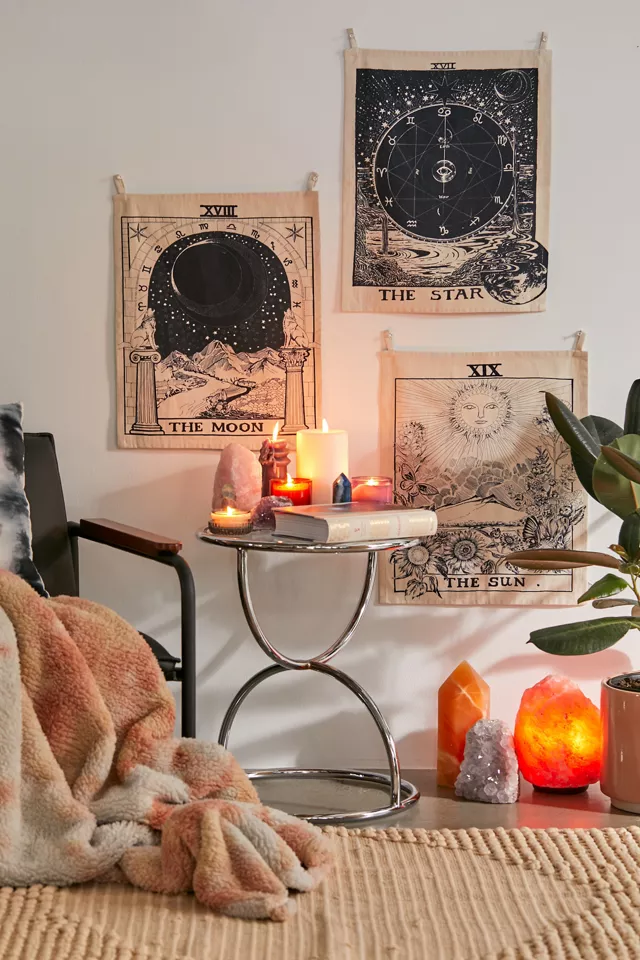 If your level of boho interests lean towards the occult, you're sure to go ga-ga for these illustrated tapestries featuring significant tarot cards – the sun, the star, or the moon.
The cotton background looks aged for an antique, vintage feel, while the black ink illustrates large versions of authentic tarots.
Pick a Simple Yet Spacey Ceramic Banner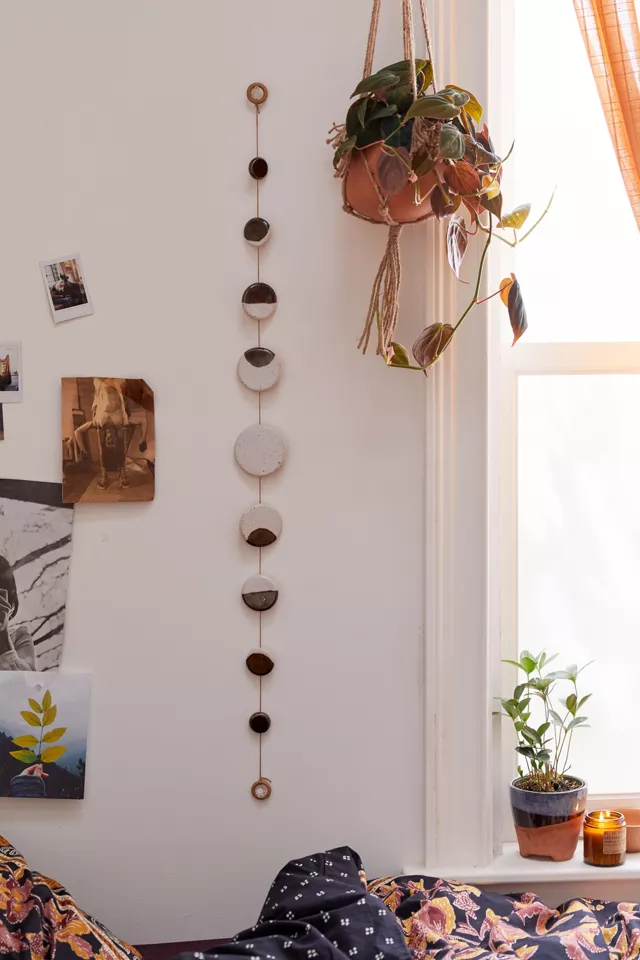 While many Bohemian components are bold and in your face, choosing a more subtle string banner design can make a powerful statement.
We can't get enough of this cosmic banner featuring ivory and black ceramic circles of varying shapes. And if you think the color pattern and size of each piece look familiar, it's because this banner imitates the phases of the moon for an out-of-this-world charm.
Make Your Doorframe Boho-Licious with Beads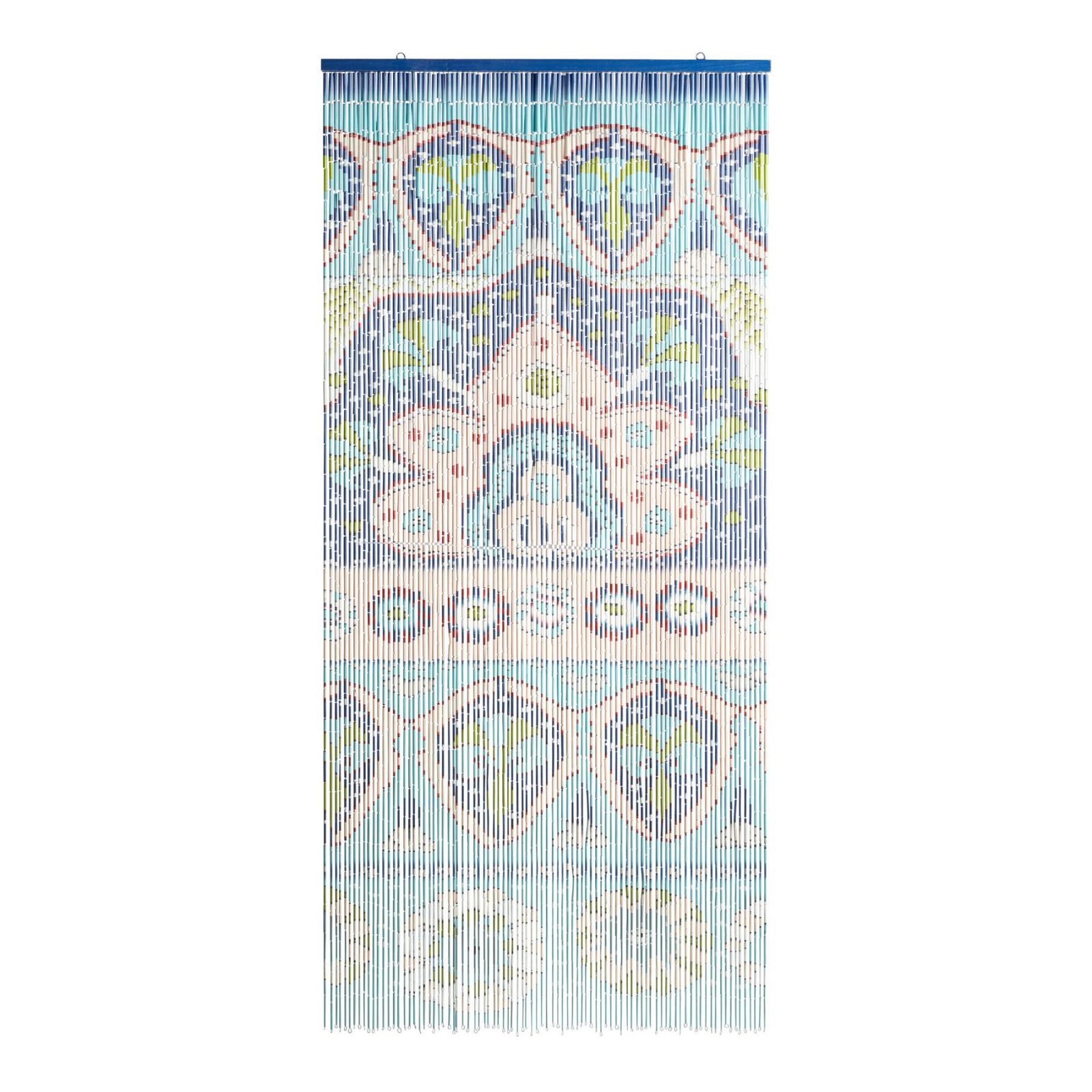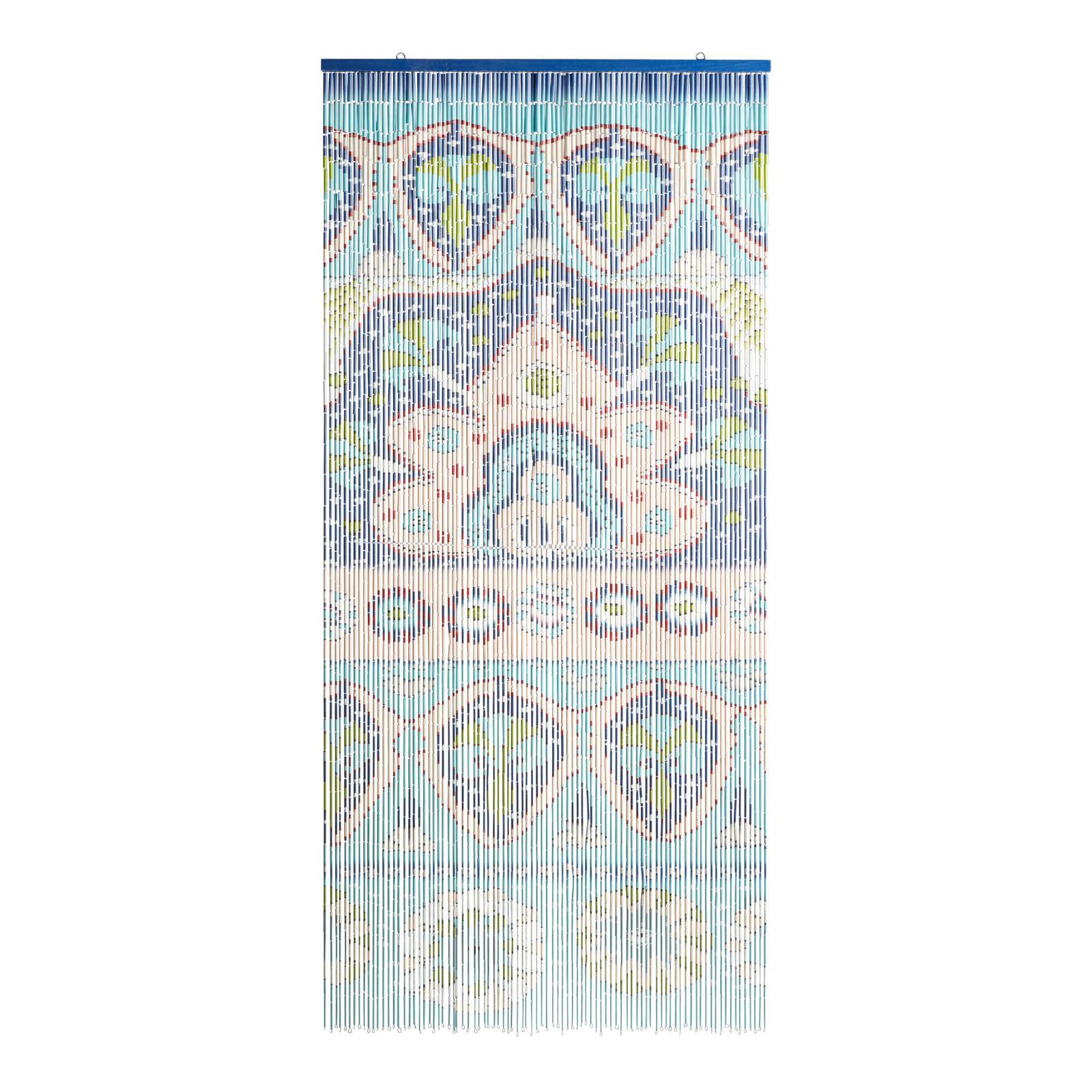 Beaded curtains are the perfect way to give your room some character and a modicum of privacy when hung in doorways. You can also use these curtains to create separation between spaces.
Bamboo wooden beads make a charming sound as they fall into place and are captivating to view. Look how beautiful these bright colors are to display exotic images. Talk about craftsmanship!
Get Fringy with Your Wall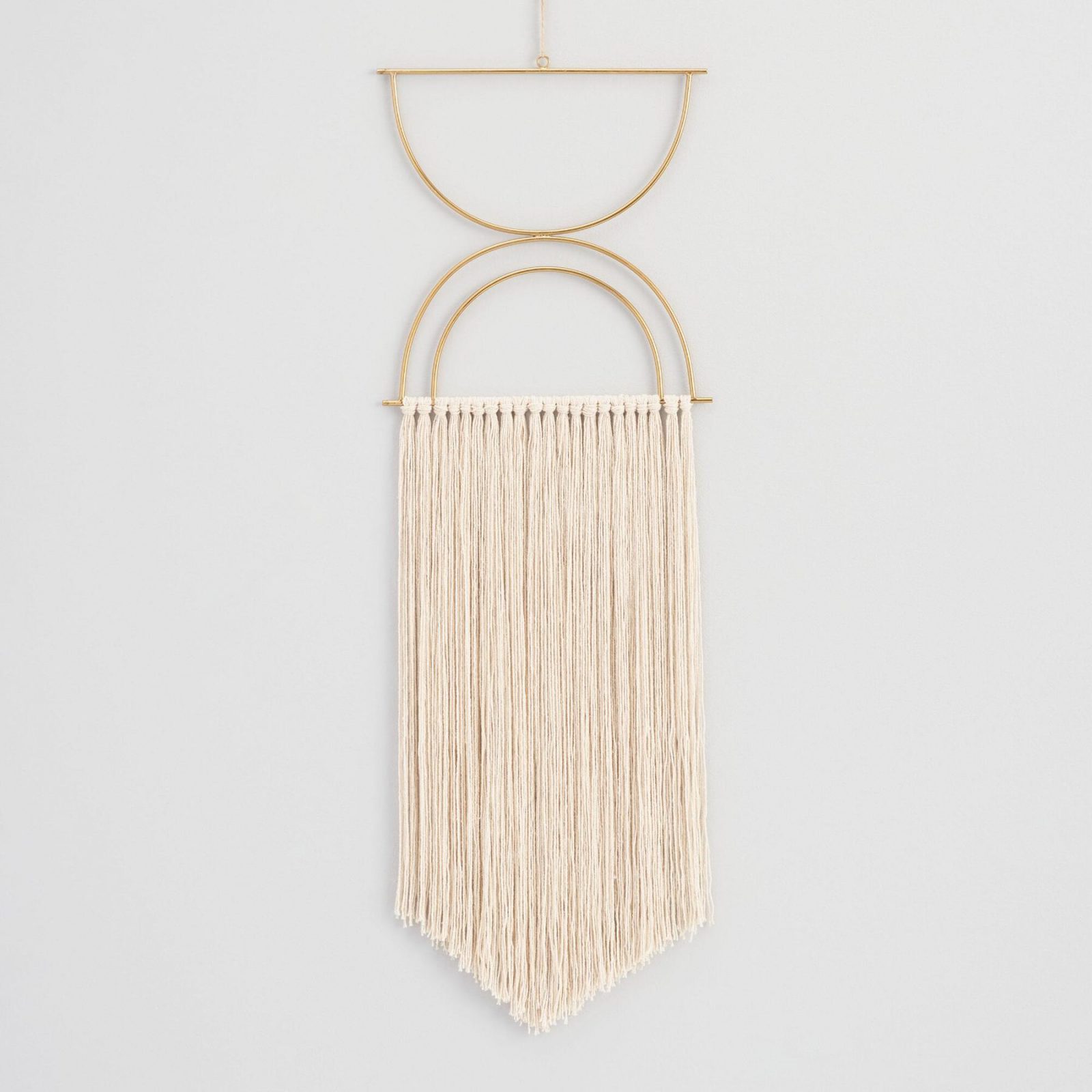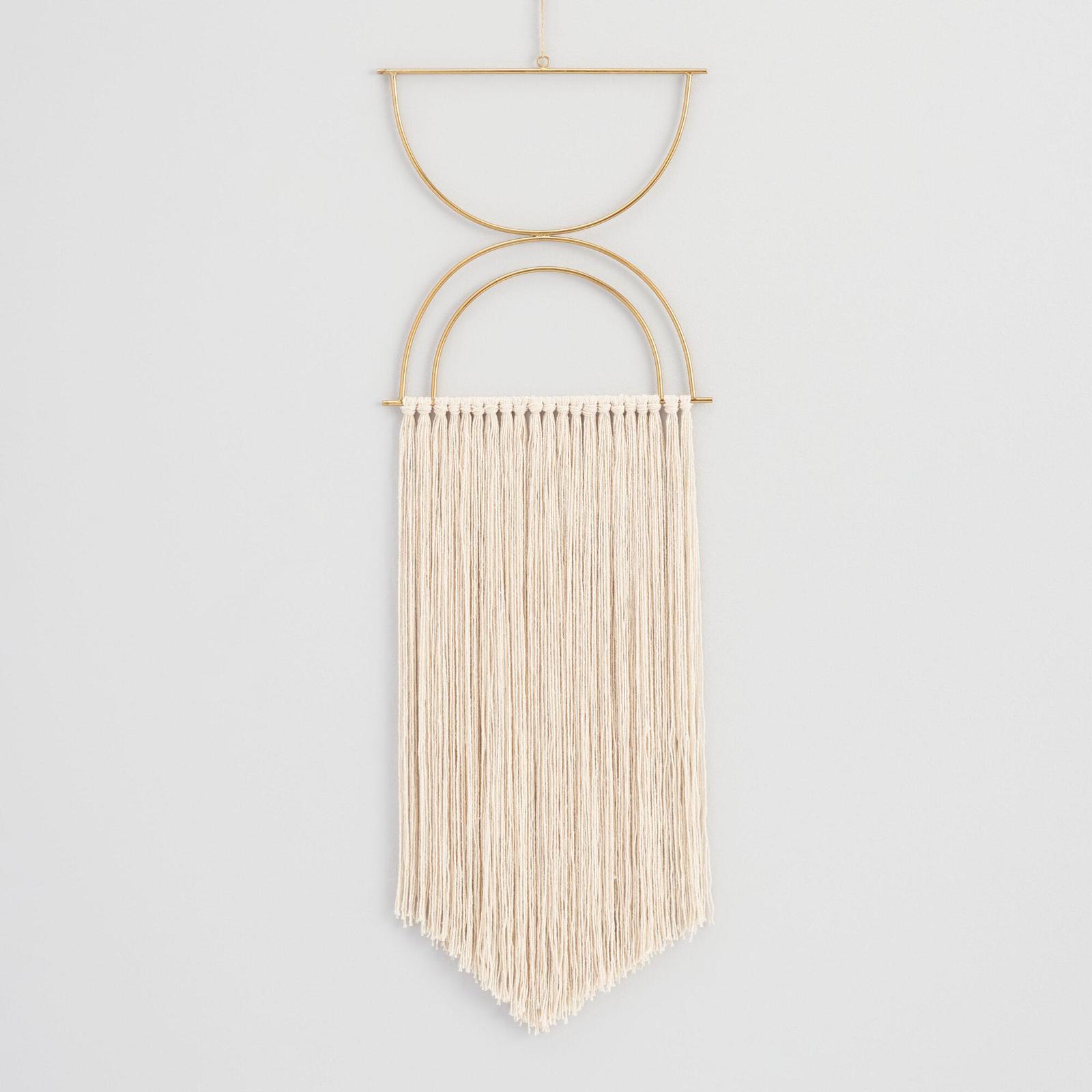 Bohemians love designs that dangle, whether it's tassels, beads, or in this case, fringe. So there's something simple yet classically stylish about this wall hanging decor featuring a gold half-moon and two curved bars resembling a rainbow, with lovely ivory strands draping down.
This design is a more modern twist to a boho staple – macrame wall hangings. The white cotton fibers fall straight to end at a shaggy tapered point at the bottom for an edgy look.
Florals are Fab for Bohemian Style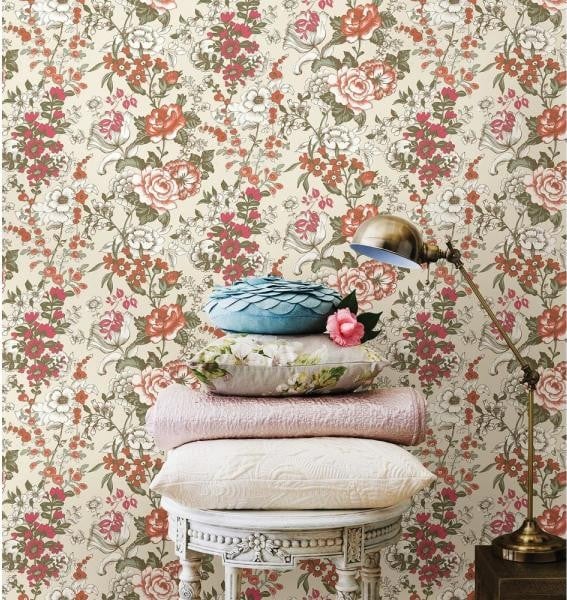 The bohemian style also incorporates designs like floral motifs. For example, you can pick up floral wallpaper like this pattern of flowers in shades like reds, pinks, whites, and greens.
Although the busy look of the pattern can be too much in some settings, you may want to limit it to small spaces like bathrooms, bedrooms, or your closet. It would also be an awesome look for a feature wall paired with three plain walls for living rooms, sitting rooms, or offices.
Add Some Woodwork of Art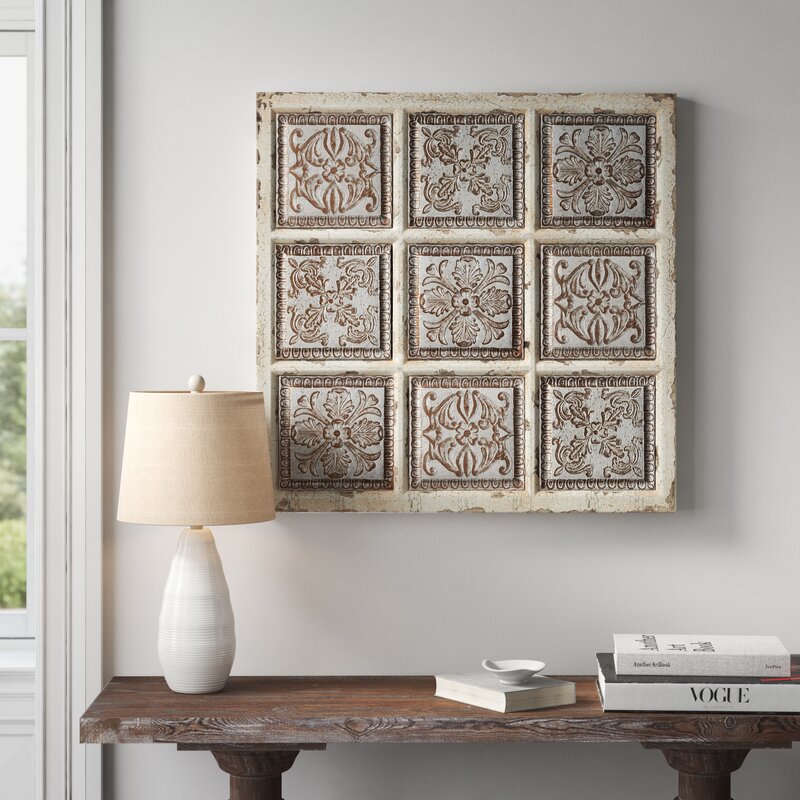 Wood can be another fantastic bohemian decor element. Look for antiquated designs like paint that's peeling or cracked, such as this reclaimed Chinese fir piece.
We love how this large wall plaque features nine tiles, each with a different rustic floral image surrounded by silver iron embossment.
Our Final Words
Decorating your space in a Bohemian theme is as simple as grabbing your favorite things and putting them together without concern for cohesion. Boho allows you to use multiple kinds of materials, bright, vibrant colors, and quirky designs.
This list gave you 18 boho wall decor ideas to demonstrate how eclectic this theme can be and how natural and subtle. Which decor idea was your favorite? Do you have a Boho design we didn't include that you think should be featured?