Decorated Life is reader-supported. When you buy through links on our site, we may earn an affiliate commission. Learn More
How to Decorate a Large Wall – 21 Ideas
It can be tricky trying to decide how to decorate a large wall, but you will be pleased to know that there are lots of different options available to you. From wall murals to neon signs, there's something to suit every taste and budget.
In this article I'm sharing my favorite large wall decor ideas. Whether you're looking for oversized wall art ideas, or long wall decoration ideas, there will be something for you here.
An Eclectic Gallery Wall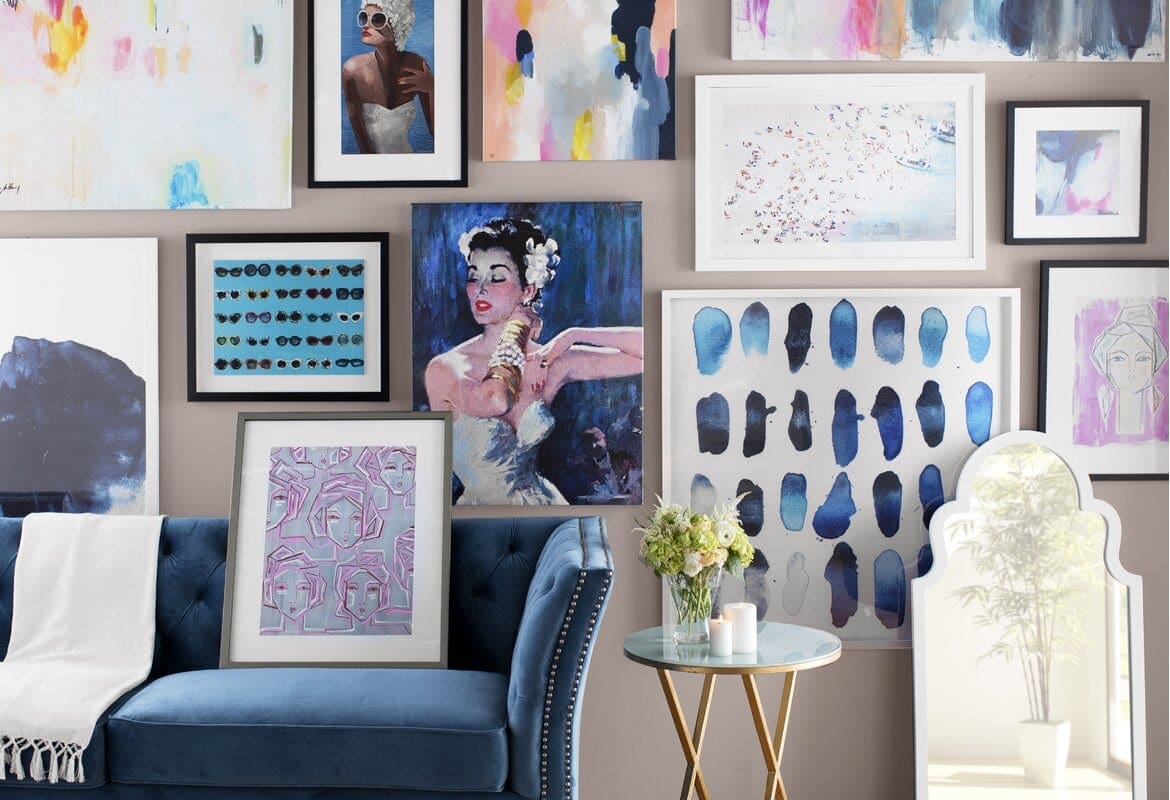 Gallery walls are a great way to fill a large wall space. To get a well thought out cohesive look, try to choose art and accessories that share a theme, such as a color that they all share somewhere in the image.
Before you hang your gallery wall it's a good idea to cut out templates of your artwork on paper and experiment with their placements. This helps you get the perfect layout before you start hammering nails into your walls!
Trio of Reclaimed Wood Mirrors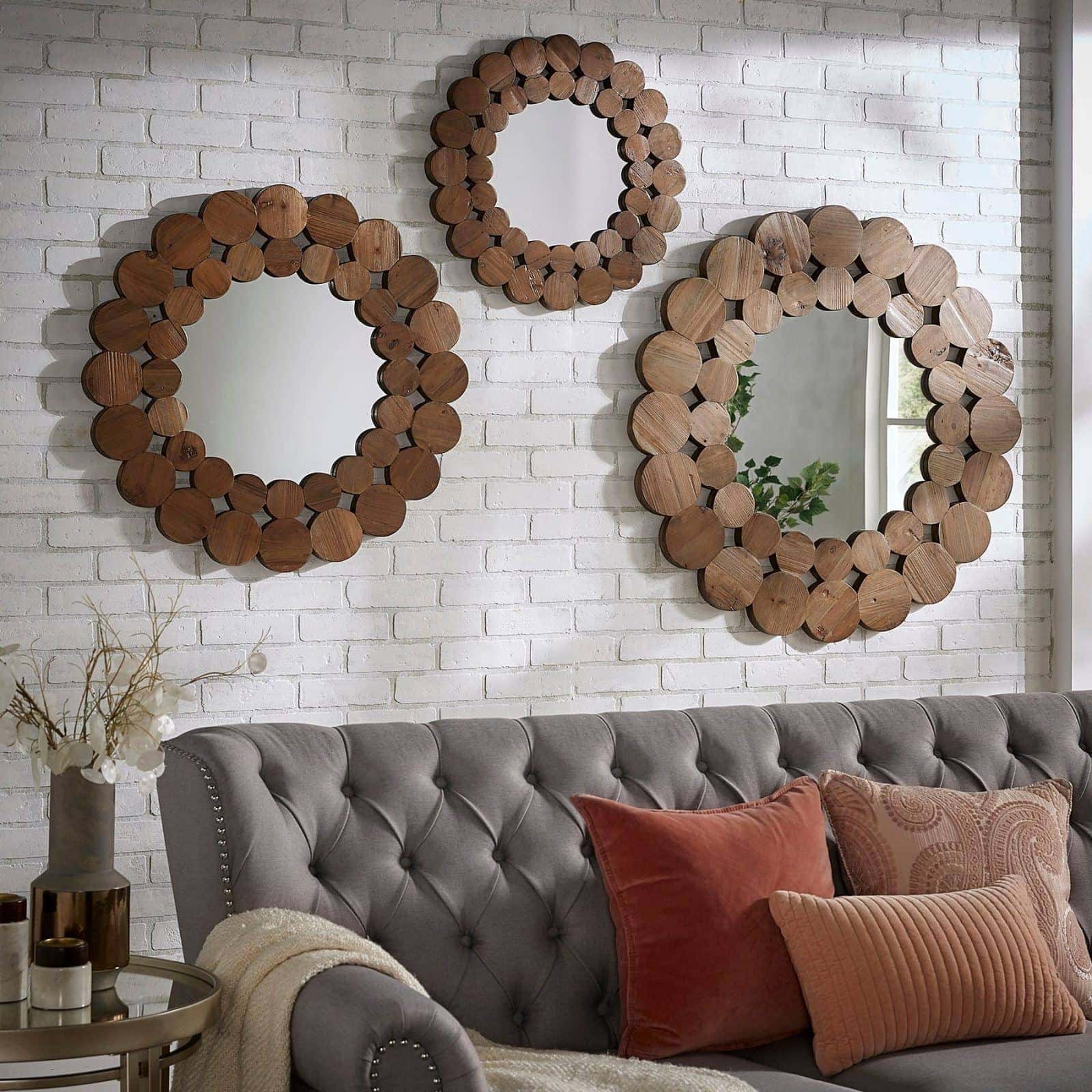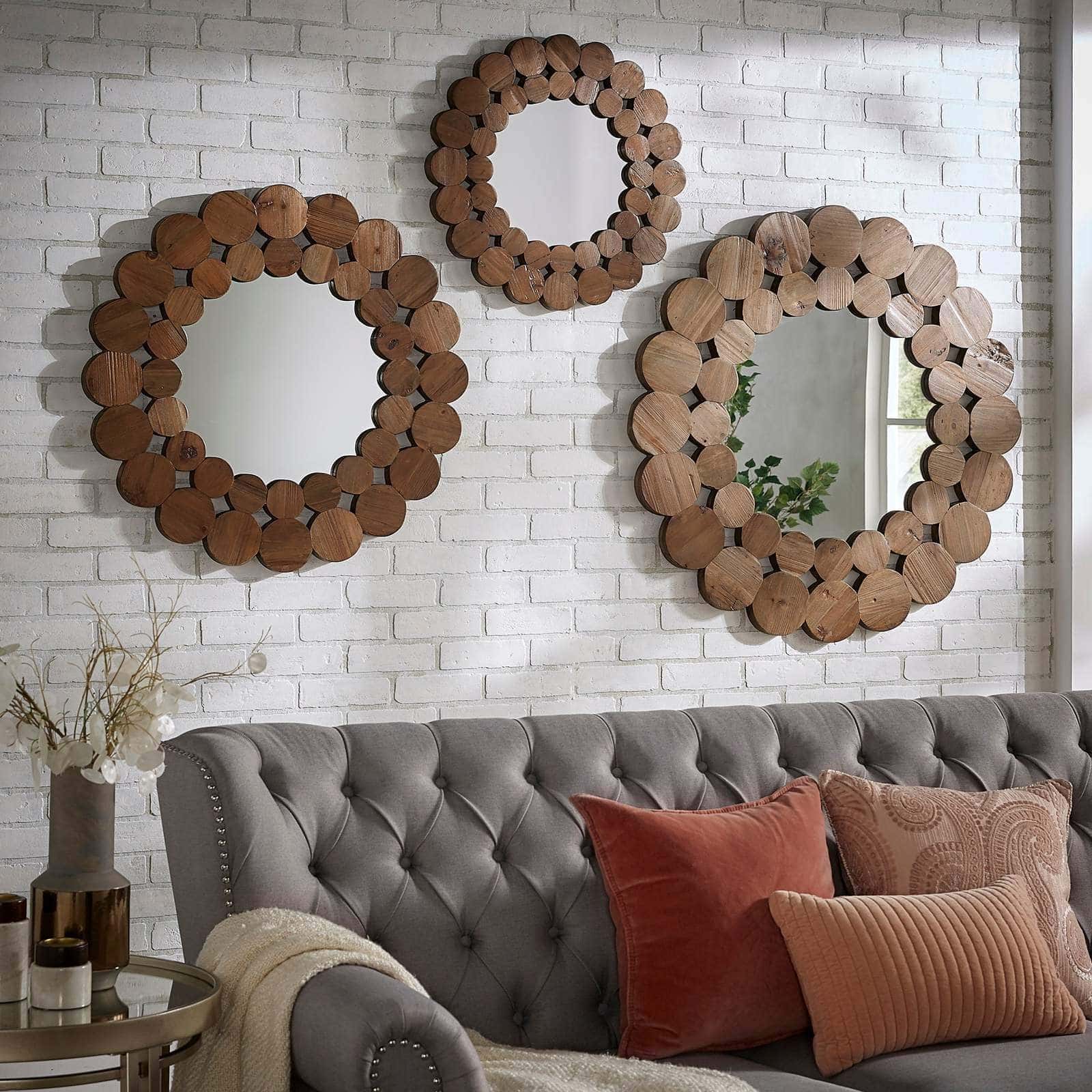 This gorgeous trio of mirrors is a great solution for decorating any larger walls in your home. Each mirror is a different size, and when hung at different heights achieve an stylish organic look that will work with both traditional and modern decor styles.
The mirrors are made from reclaimed wood, with two layers of circles framing the mirror creating a unique design, which serves as a work of art in its own right, as well as a mirror.
A Pair of Brightly Colored Canvas Paintings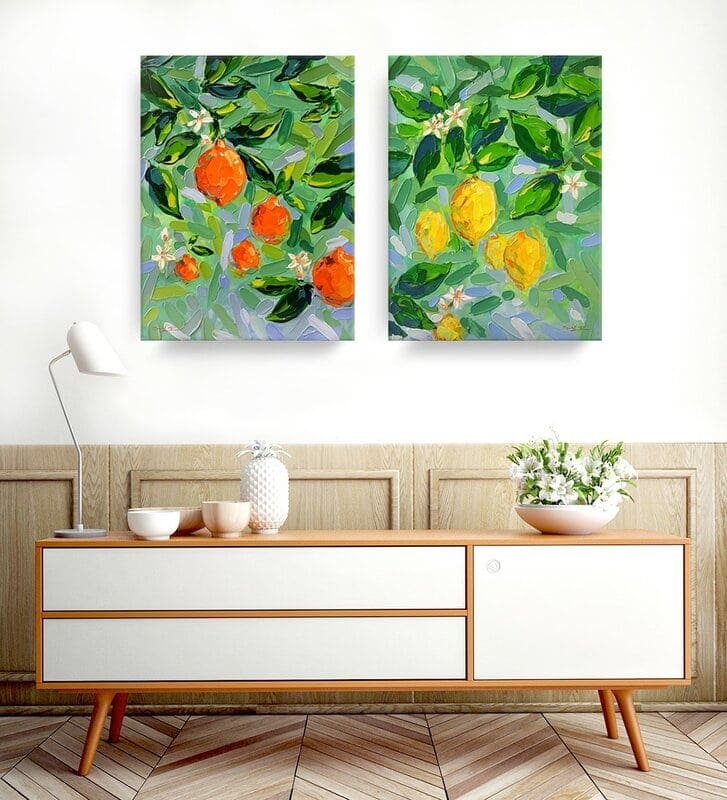 Bring color and life to a large wall in your home with this rather gorgeous pair of citrus-fruit themed canvas paintings. These lovely paintings will instantly transport you a sunny Mediterranian orange grove, bringing warmth and freshness to your space.
If you're looking for ideas for large walls, canvases work well. Depending on the size of your wall, you can have two, three, or even four canvases side by side.
A Retro Wall Tapestry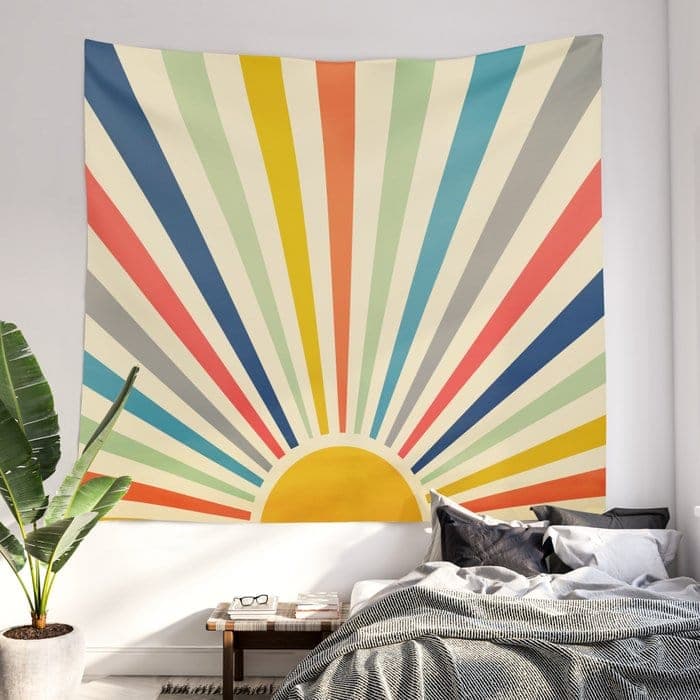 Tapestries are a great way to decorate large walls in a fun, relaxed way. They are easy to hang, and can easily be moved from room to room, or home to home, making them a great wall decor option for renters and students.
This bright fun retro sunshine tapestry is a great way to get a hippy chic boho look in your bedroom. It comes in a few different sizes, so you can choose one to fit your wall perfectly.
Coastal Gallery Wall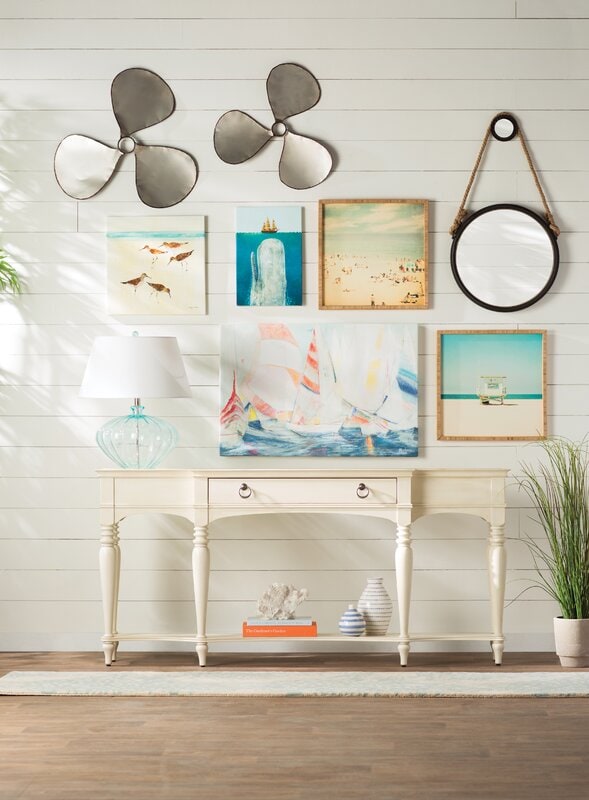 If you are lucky enough to live near the sea, or you simply love the look of coastal decor, then creating a coastal themed gallery wall is the perfect solution for filling the large walls in your home.
This gorgeous gallery wall features propellers, as well as a porthole style mirror, which together add a unique element to this gallery wall.
Mushroom Night Moth Wall Mural
One of the best ideas for large walls is to go all out and use a mural on the entire wall. This gives an instantly striking look, and with lots of different designs available, they are suitable for living rooms, bedrooms, kitchens, nurseries, and anywhere else in the home you want to brighten up.
These murals are easy to apply yourself, and come cleanly off the walls with no sticky residue, making them the perfect decor solution for renters.
Trio of Abstract Canvases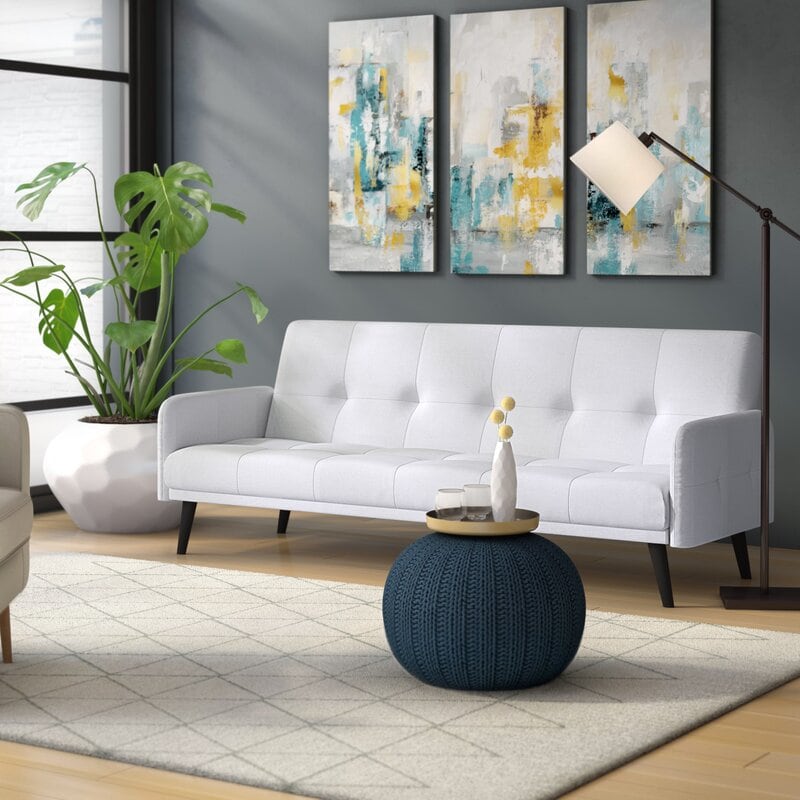 If you want to know how to decorate a huge wall in a sophisticated way, then try using a trio of canvases with an abstract design. This gorgeous trio has gold accents, adding a touch of glamor to this smart living room design.
This set can be placed all together, or broken up and used separately depending on the size of your wall.
Extra Large Photography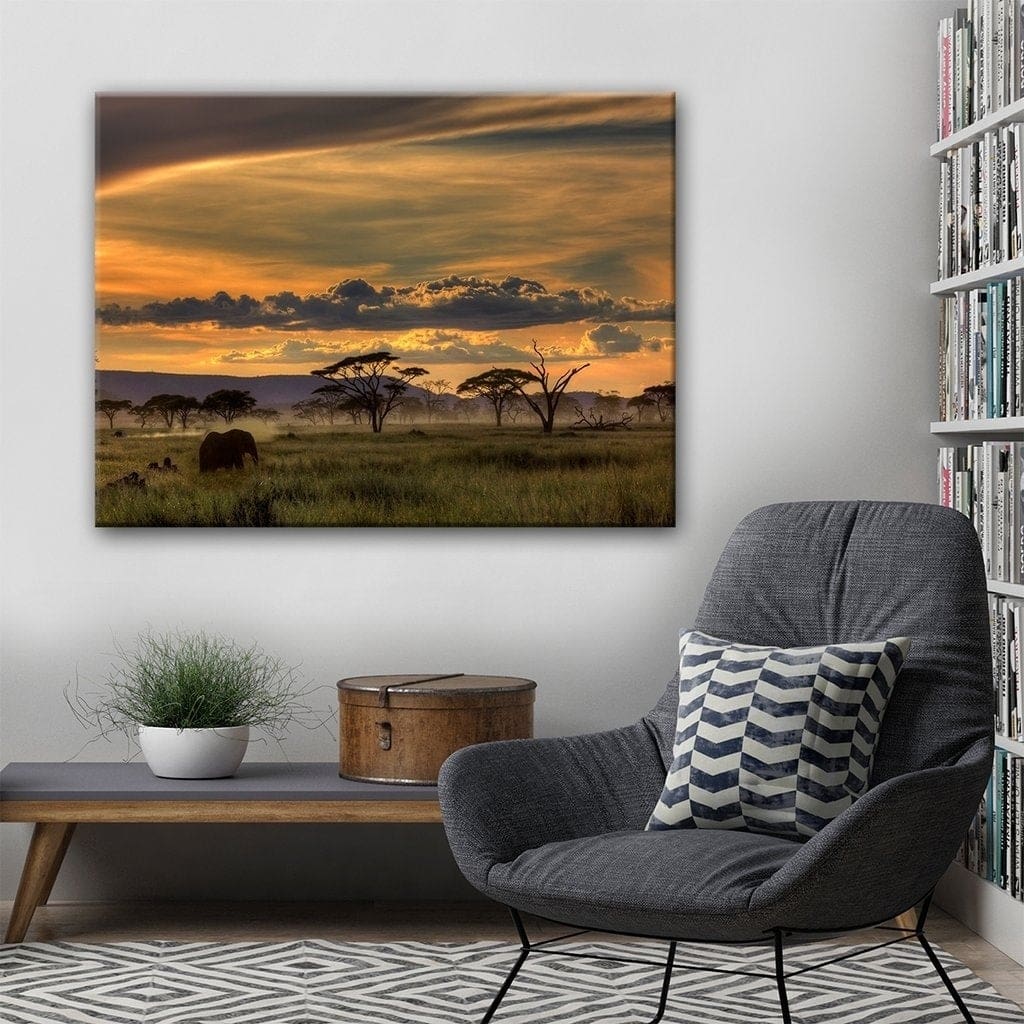 Extra large or 'blown up' photography is one of the best ways to decorate a large wall in your home. You can purchase a photographic print from a photographer you love, or simply have one of your favorite photos enlarged and printed onto a canvas.
This gorgeous African sunset photographic print is the perfect way to bring the beauty of nature into your home. If you have an extra large wall you could use two or three large canvases with similar images to fill the space.
Floral Wall Mural
When it comes to large blank wall ideas, you can't go wrong with a wall mural. This beautiful rose flower mural is perfect for making a statement with your walls. Its bright colors and bold design will add a bit of fun and joy to wherever it is used.
These wall murals are easy to hang yourself, and are removable too, making them a great choice for renters, or anyone who likes to change up their decor frequently!
Maximize Space With an Extra Large Floor Mirror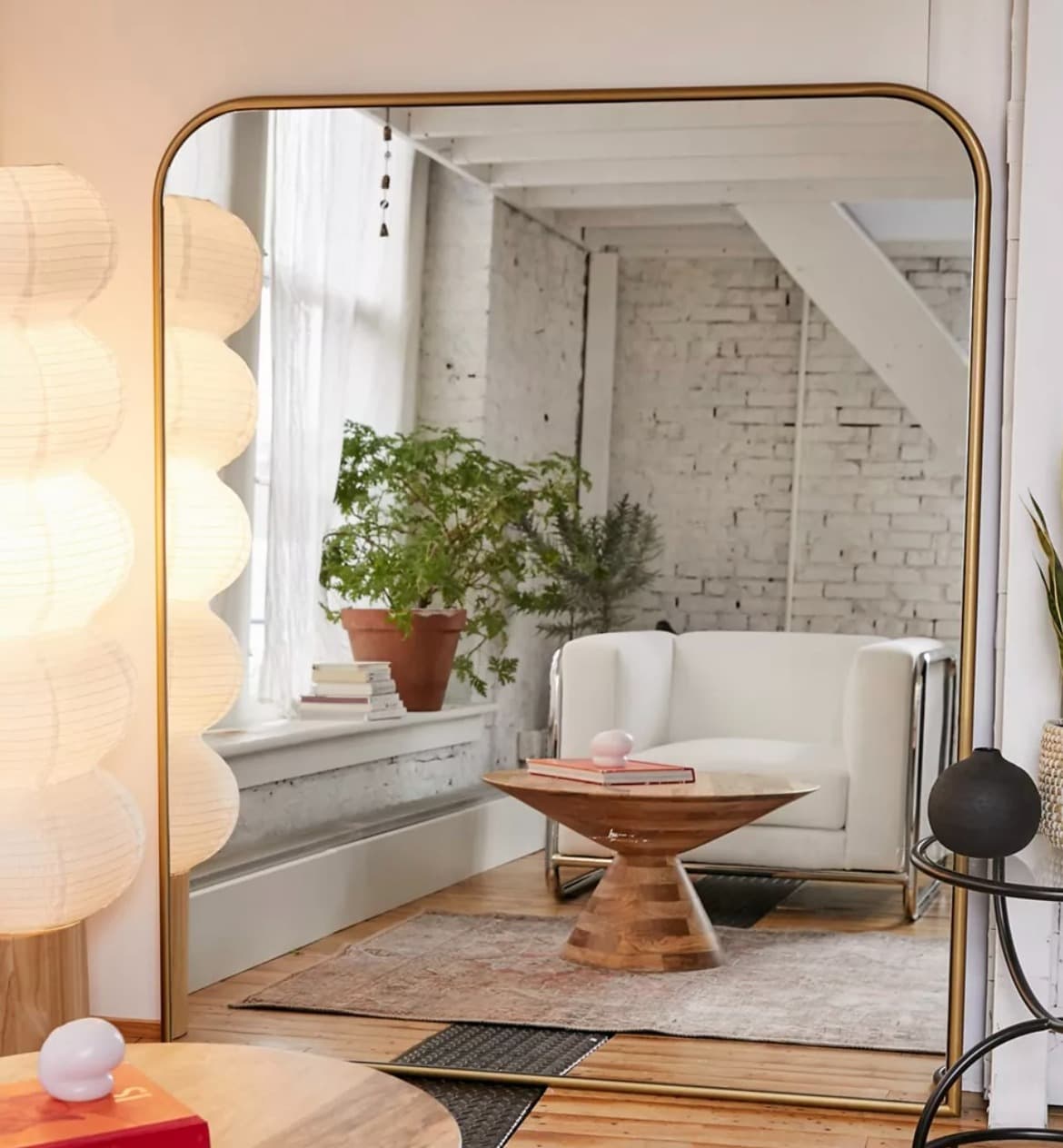 Using an extra large mirror is a great way to make rooms feel larger and brighter. The mirror creates an optical illusion of a longer or wider room, and even makes it feel brighter. A large floor mirror like this is perfect for adding interest to a large wall.
The gold frame adds glamor to the room, and transforms what was once a small room into a larger and more interesting space with a stunning focal point.
Old World Map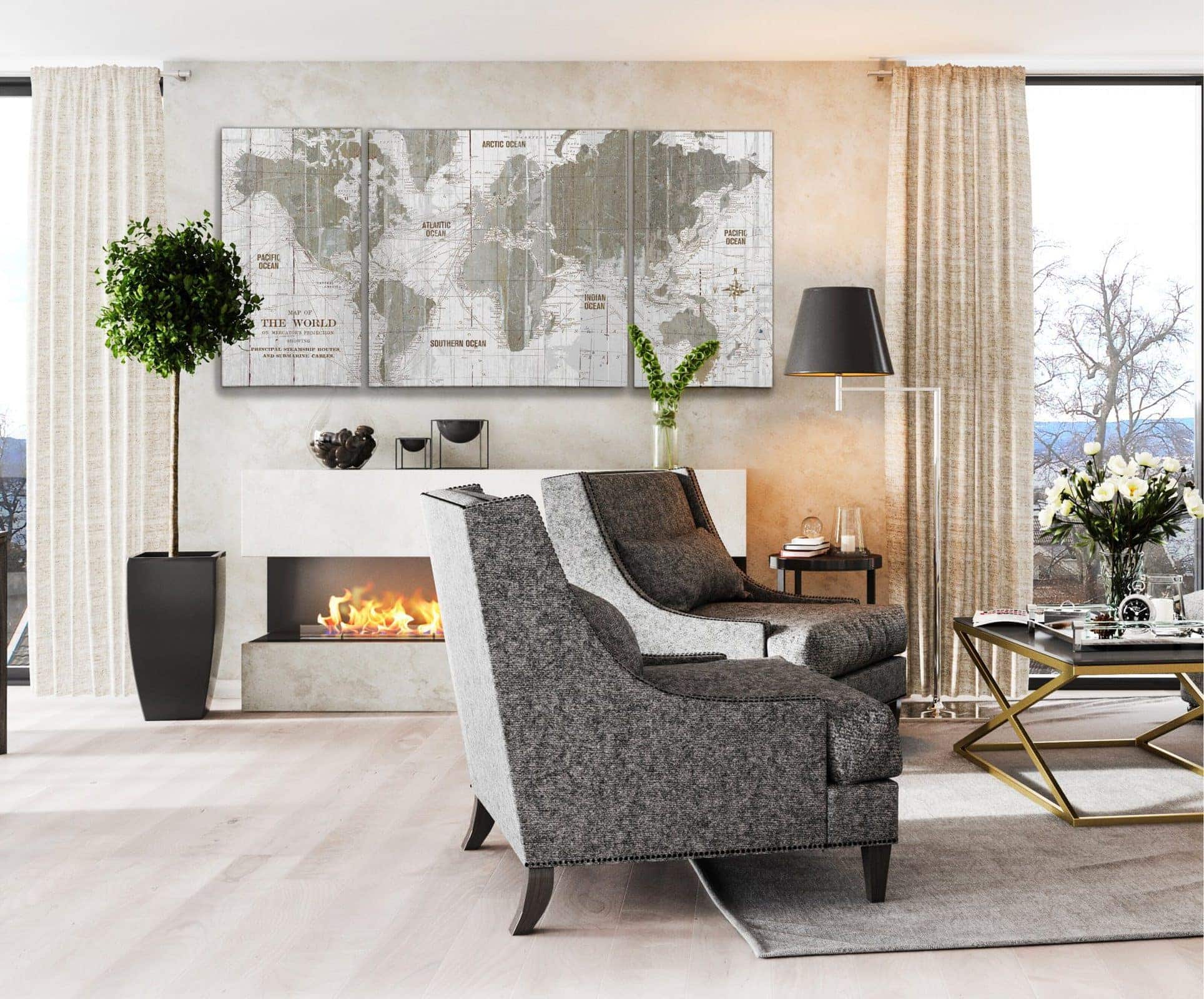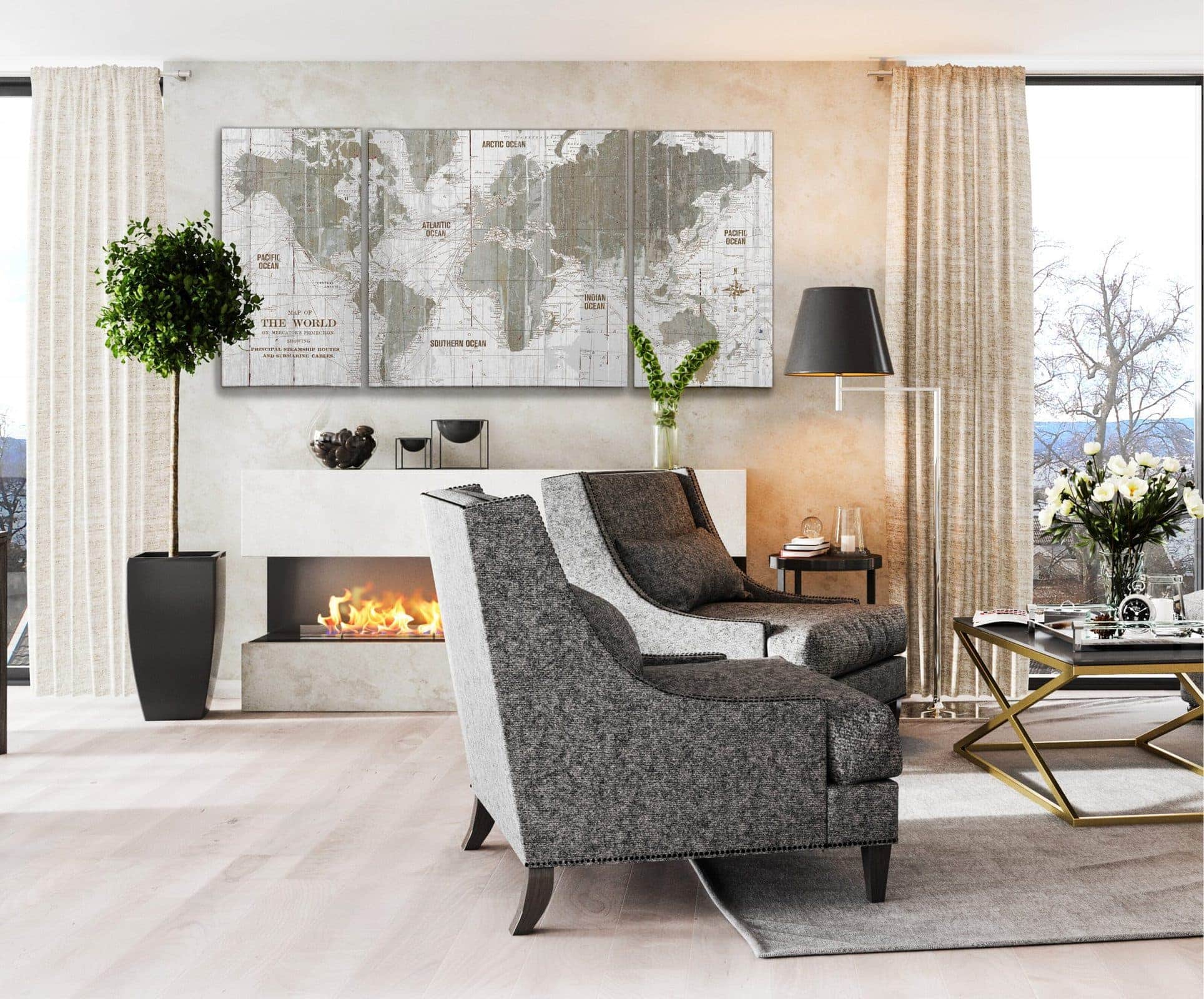 This three-piece old world map is perfect for decorating large wall space. It's also a great way to give your home a well travelled worldly look.
The neutral color color palette will work with most interior decor styles, giving your walls a stylish and sophisticated look. Because it comes in three pieces, you can space them as close together or far apart as you like, depending on the size of your wall and the look you want to go for.
Watercolor Wall Mural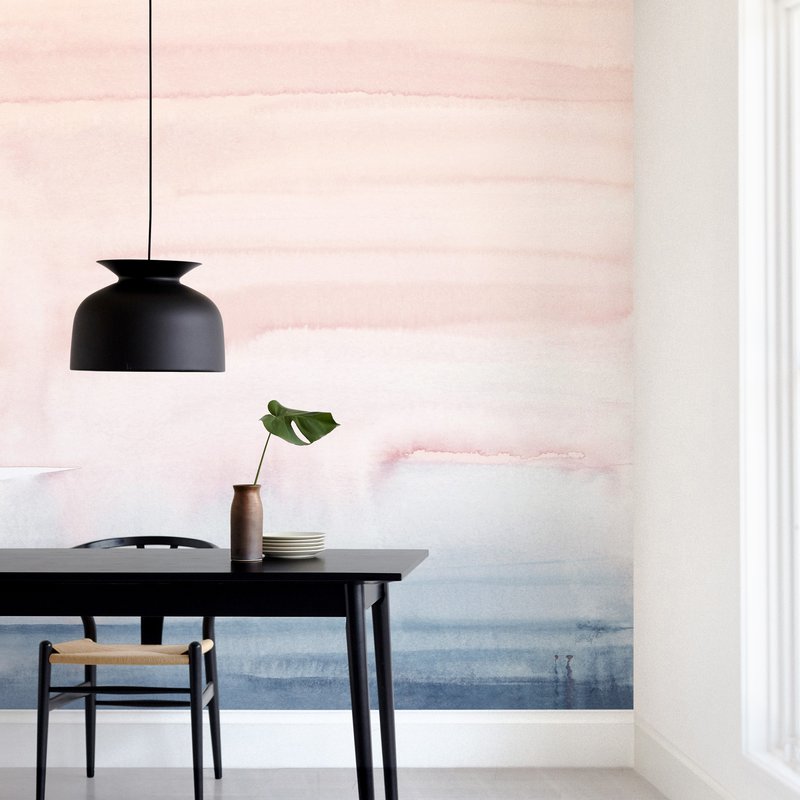 This beautiful watercolor wall mural is the perfect way to add life and color to a large wall. The pale colors of this mural work beautifully with modern furniture, creating a wonderful contrast.
The watercolor design of this mural will bring a sense of calm and serenity wherever it is used, making it a wonderful choice for bedrooms, living rooms, and even dining rooms.
Artwork and Mirrors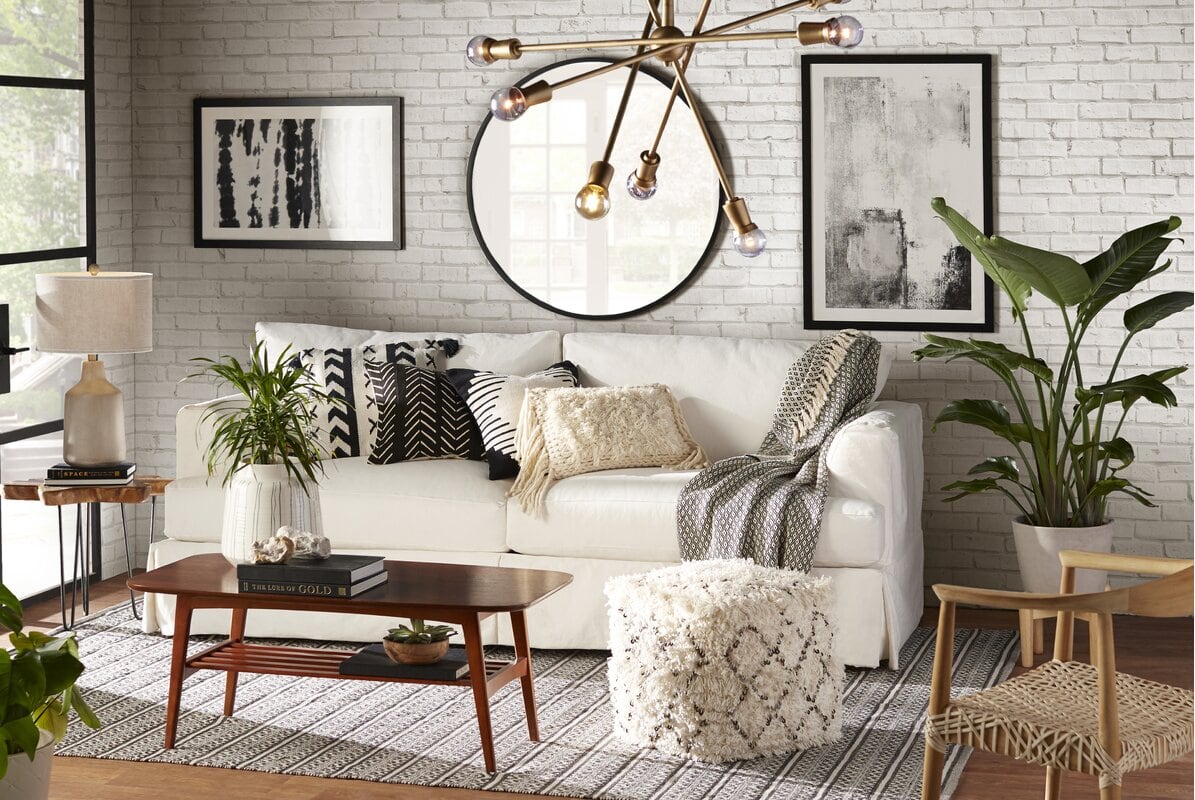 An alternative to styling your large walls with artwork is to add a large mirror into the mix. They say good things come in threes, and this is a perfect example of that. The round mirror looks perfect in the centre of these two bold abstract paintings, creating a stylish and sophisticated look.
The round mirror balances out the clean lines from the framed art, creating a visually pleasing display on this large wall.
Spring Flowers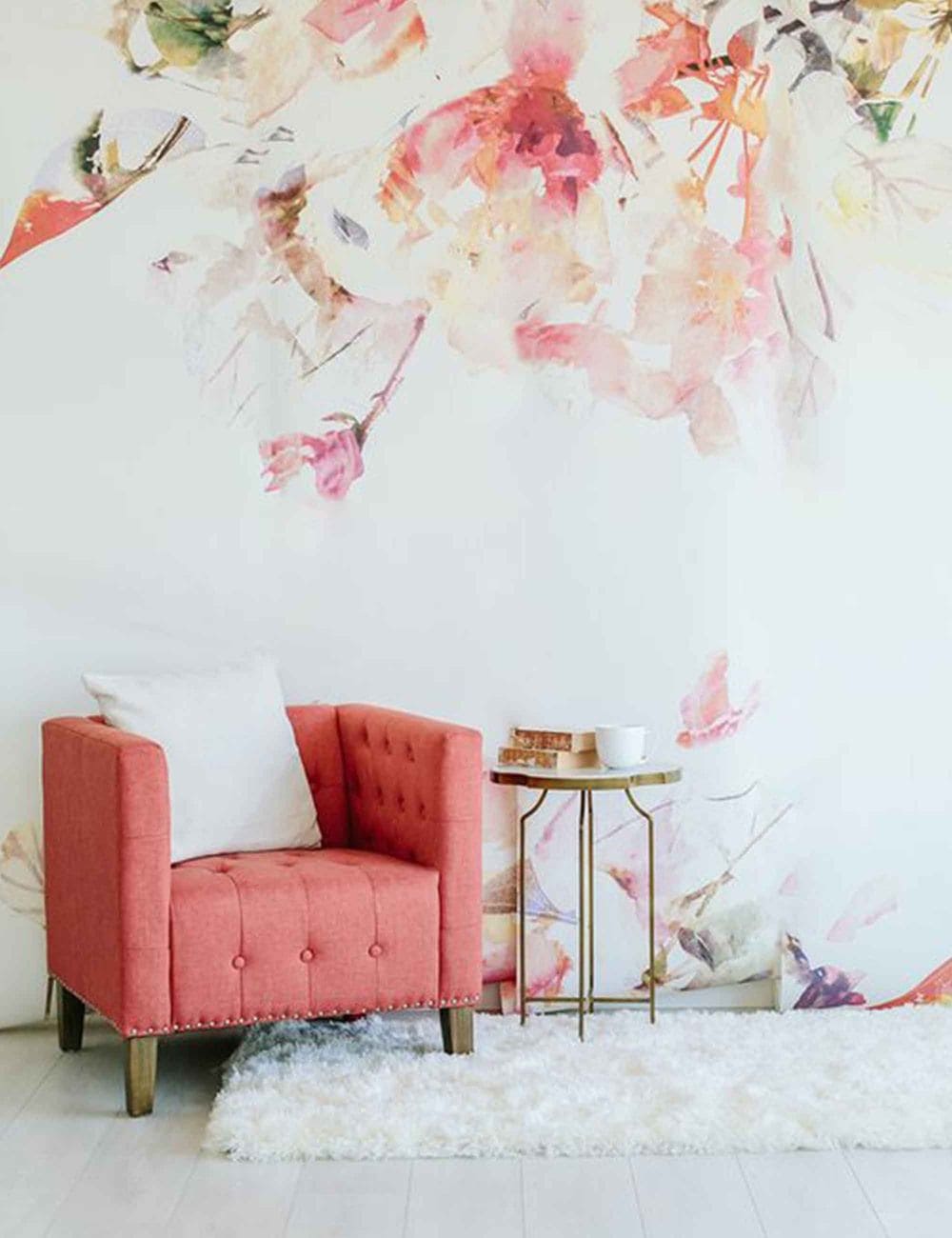 Add a touch of feminine elegance to your walls with this spring flowers wallpaper mural. This gorgeous mural features a bright palette of delicate watercolor flowers, designed to give your space an ethereal aura.
The bright colors and feminine design will bring your walls to life. This design would work particularly well in a dining room or master bedroom.
Blue, White and Gold Picture Wall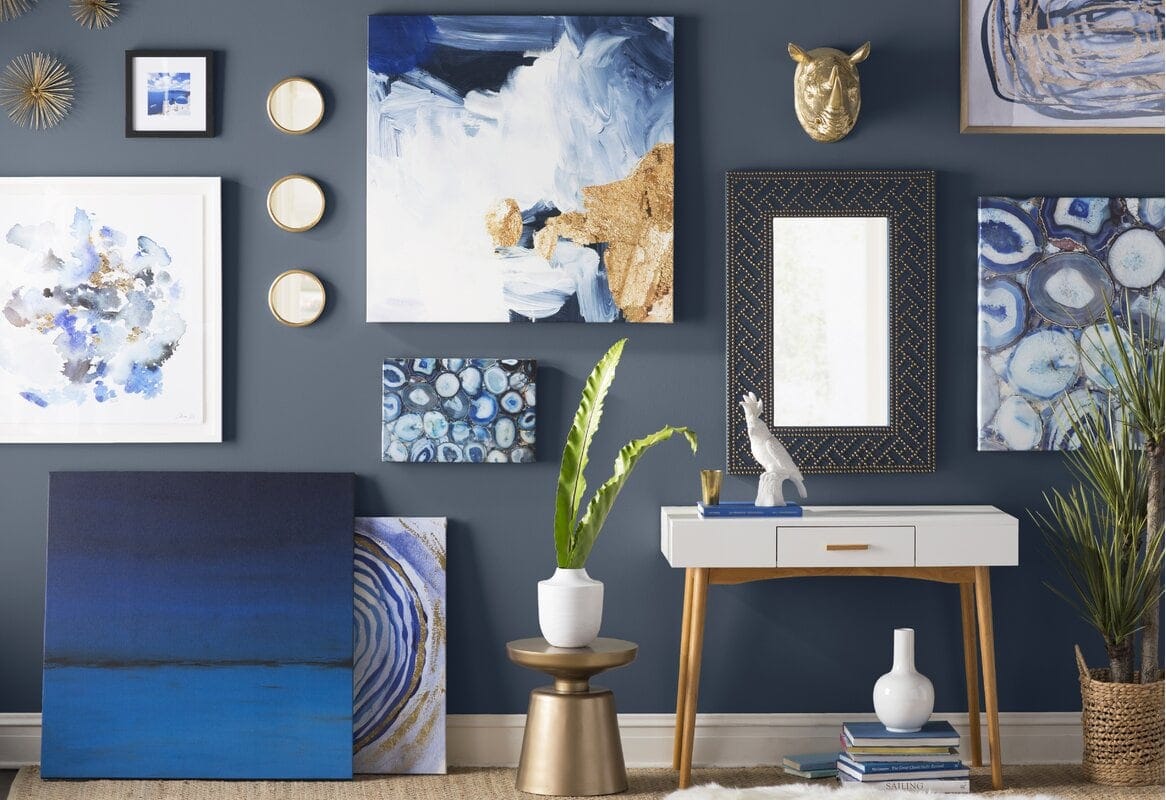 If you want to make your large wall look truly special, add gold accessories amongst the pictures on your gallery wall. This stunning foyer design features artwork that has a cohesive look as all of the pieces share the same color scheme and theme.
A gold mirror has been used above the console table, along with a gold sculpted rhino head, smaller mirrors, and other ornamental gold accents. This has given the wall an elegant, luxurious look that is sure to make an impact on any visitors entering the home.
A Bright and Bold Wall Mural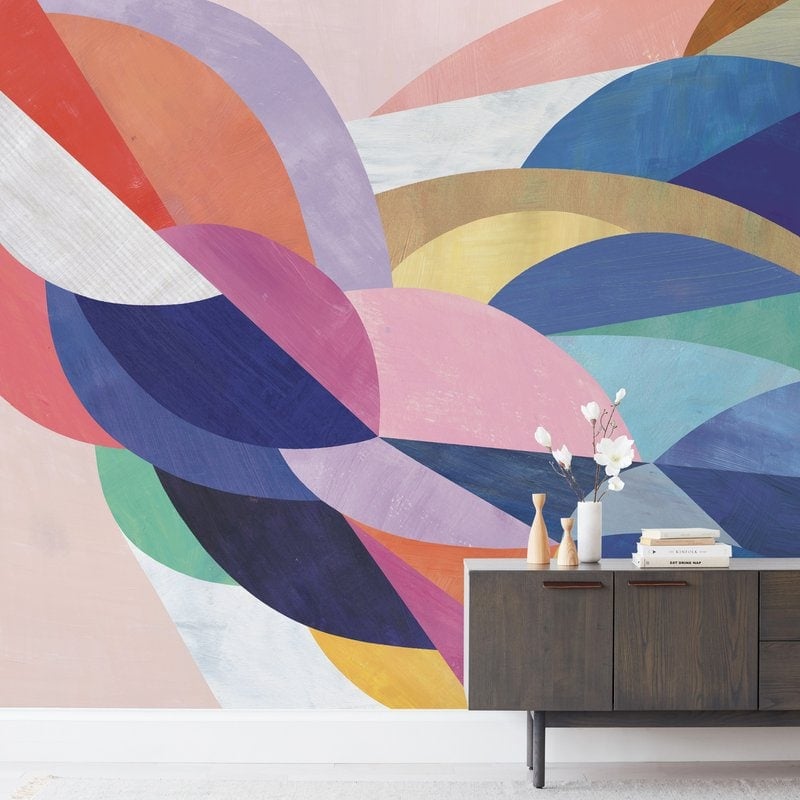 If you really want to make a statement with your walls, then go for this bright bold wall mural. With a pallet of fun bright colors, this mural is the ideal way to bring larger walls to life.
This would be perfect in any modern home, and since there's a lot going on in the design, you won't need to accessorise the wall with anything else.
Matching Mirror and Console Table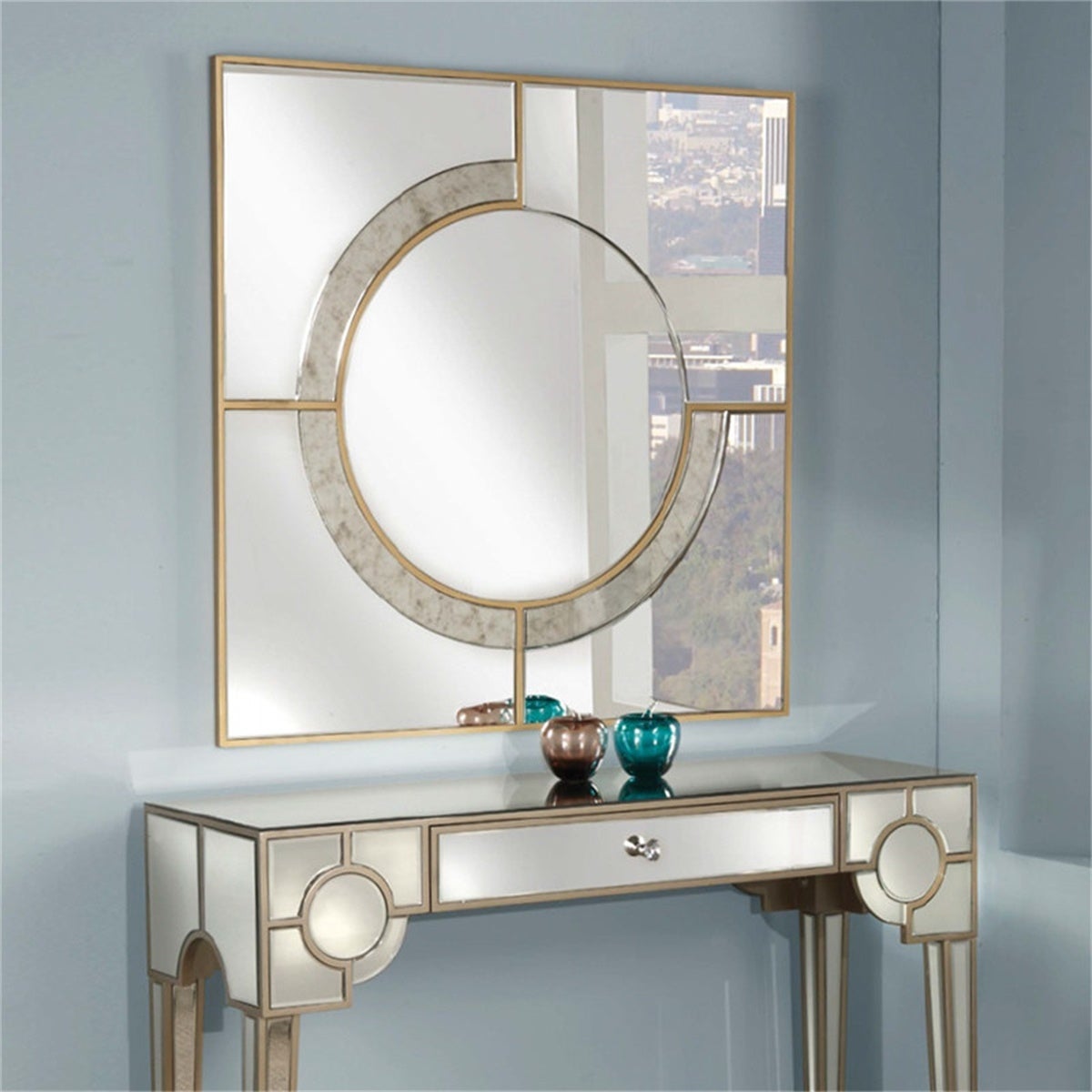 If you have a big blank wall in your living room, and you are looking for living room large wall decor ideas, it's always good to start with a console table. The console table can be placed in the centre of a large wall, and you can place a beautiful mirror above it to serve as a focal point.
From there you can add ornaments and accessories to create the perfect look. This gorgeous mirror matches the console table perfectly, giving this large wall space an instantly elegant and refined look.
Extra Large Bold Wall Prints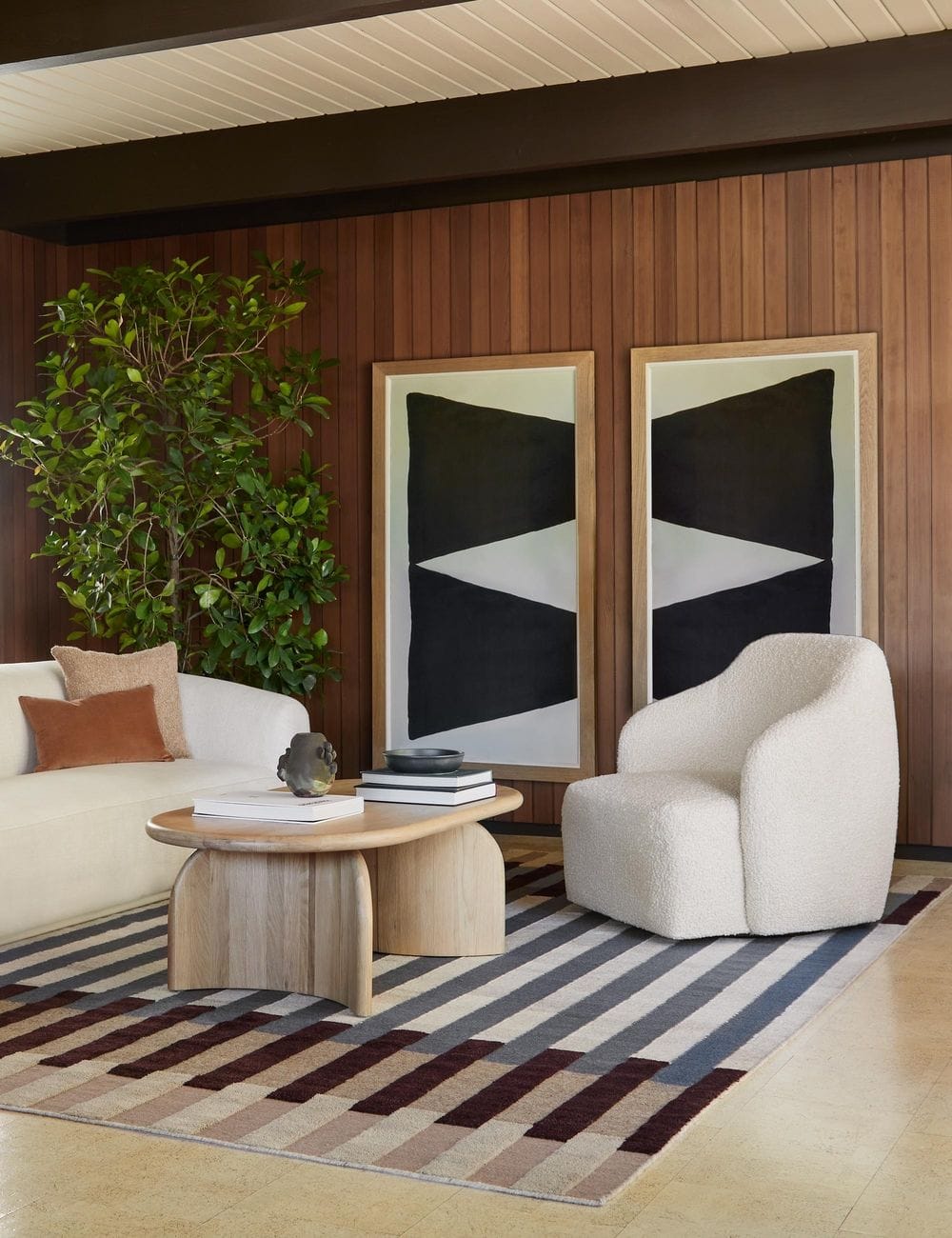 This pair of bold framed prints is perfect for decorating any extra large walls in your home. The set of two prints features a bold geometric design in black and white.
These prints would work best in minimal interiors, and could be used together on the same wall for a big impact, or separated and used on opposite walls.
Rustic Window Mirror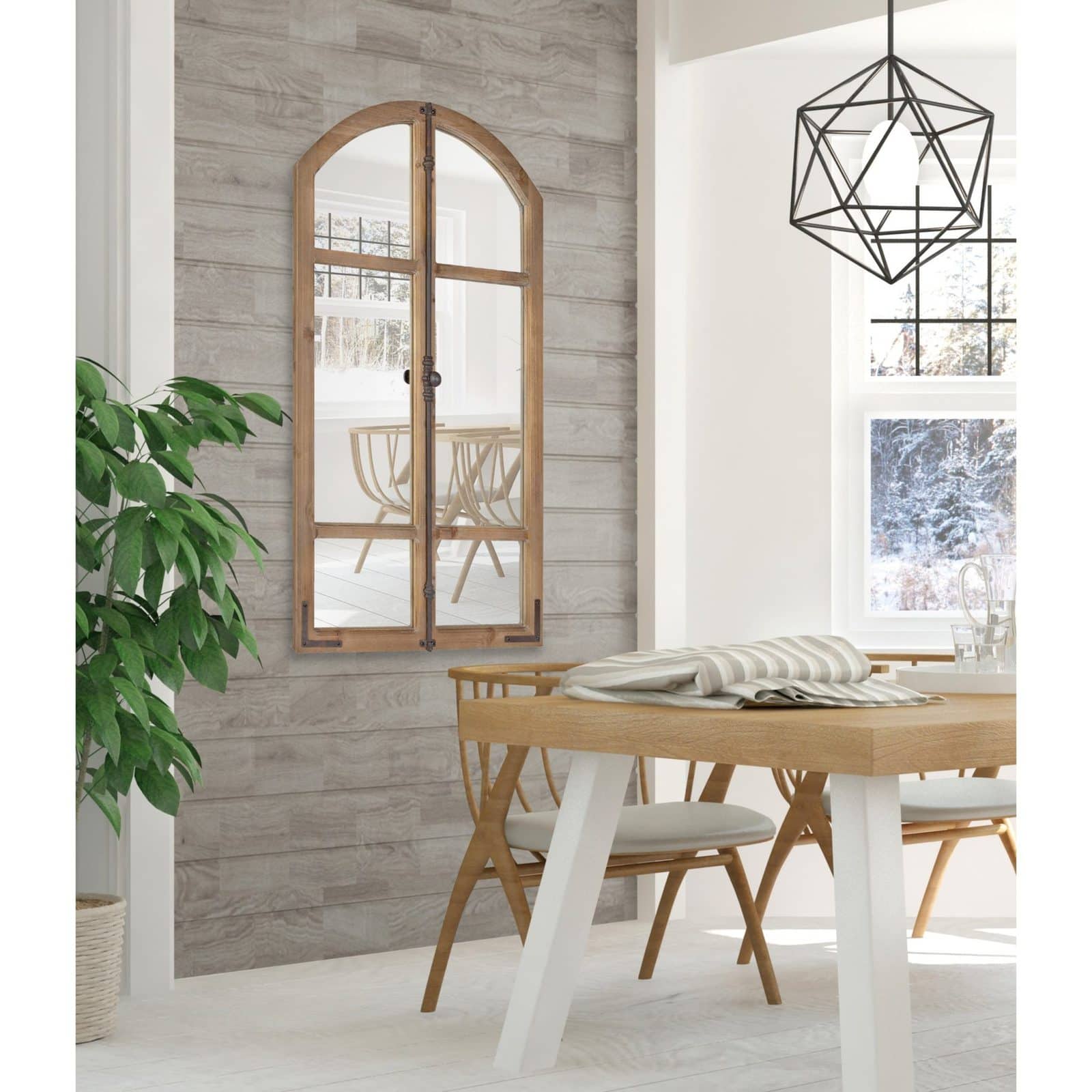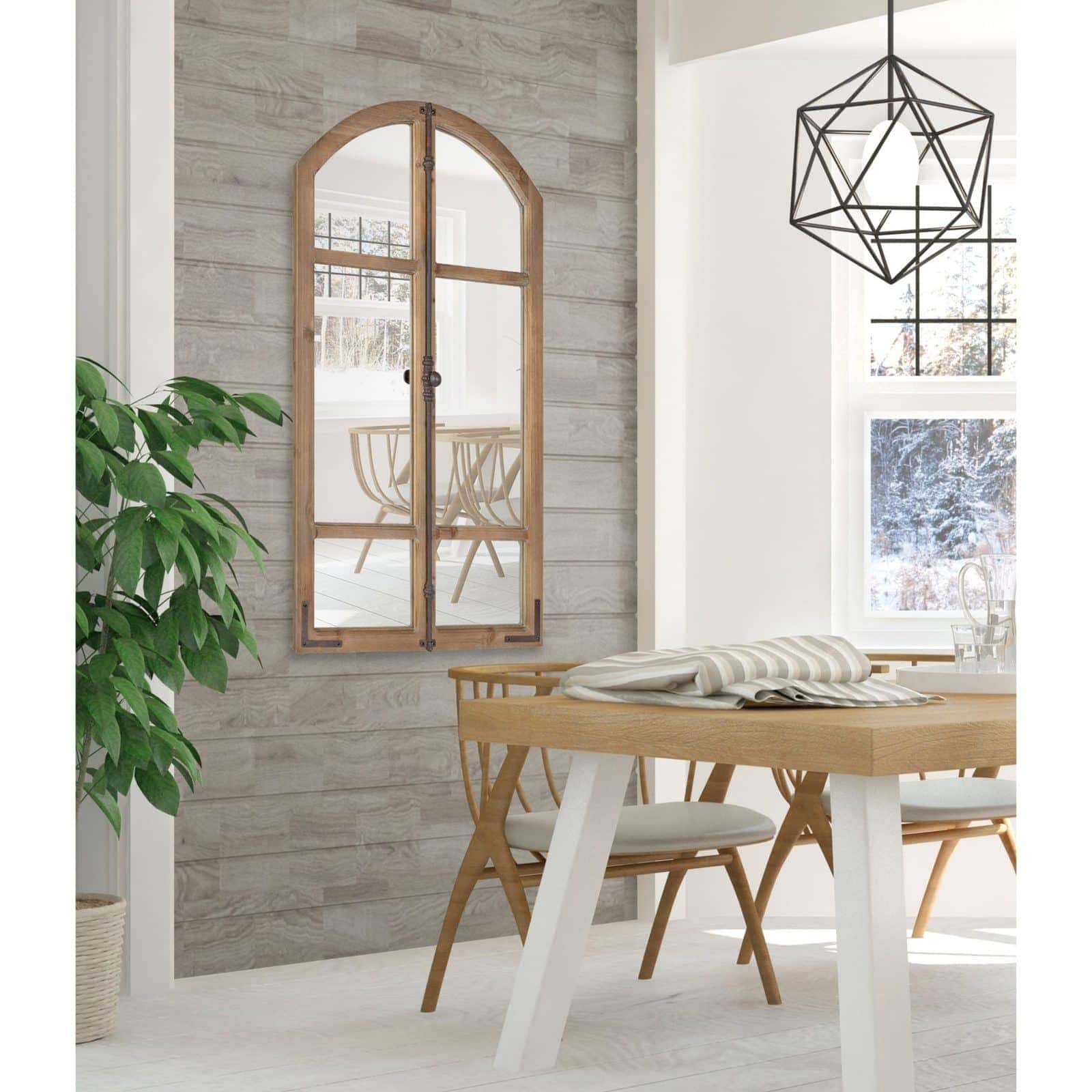 Ever wished for more windows in your room? Well, this is the perfect solution for you! This rustic window mirror looks just like a window, and will even make your room lighter by helping to bounce any existing natural light around the room.
If you are wondering how to decorate a big wall with no windows, you can place one or two of these window mirrors on the wall, and either keep it simple, or add some wall art and accessories around them.
Wallpaper Feature Wall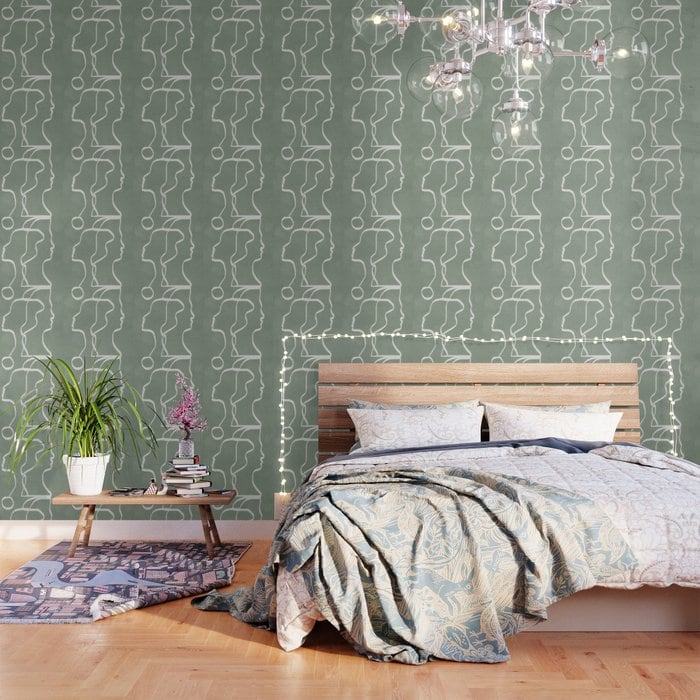 If you're on the lookout for large wall covering ideas, then wallpaper is your best bet. A wallpaper feature wall can make a dramatic impact without needing to hang any art or mirrors on the wall if you don't want to.
The best thing about this wallpaper is that it's 'peel and stick', which means it's easy to apply, and easy to remove if you fancy a change (or if you are renting and aren't allowed to paint your walls).
Keep it Simple with Oversized Wall Art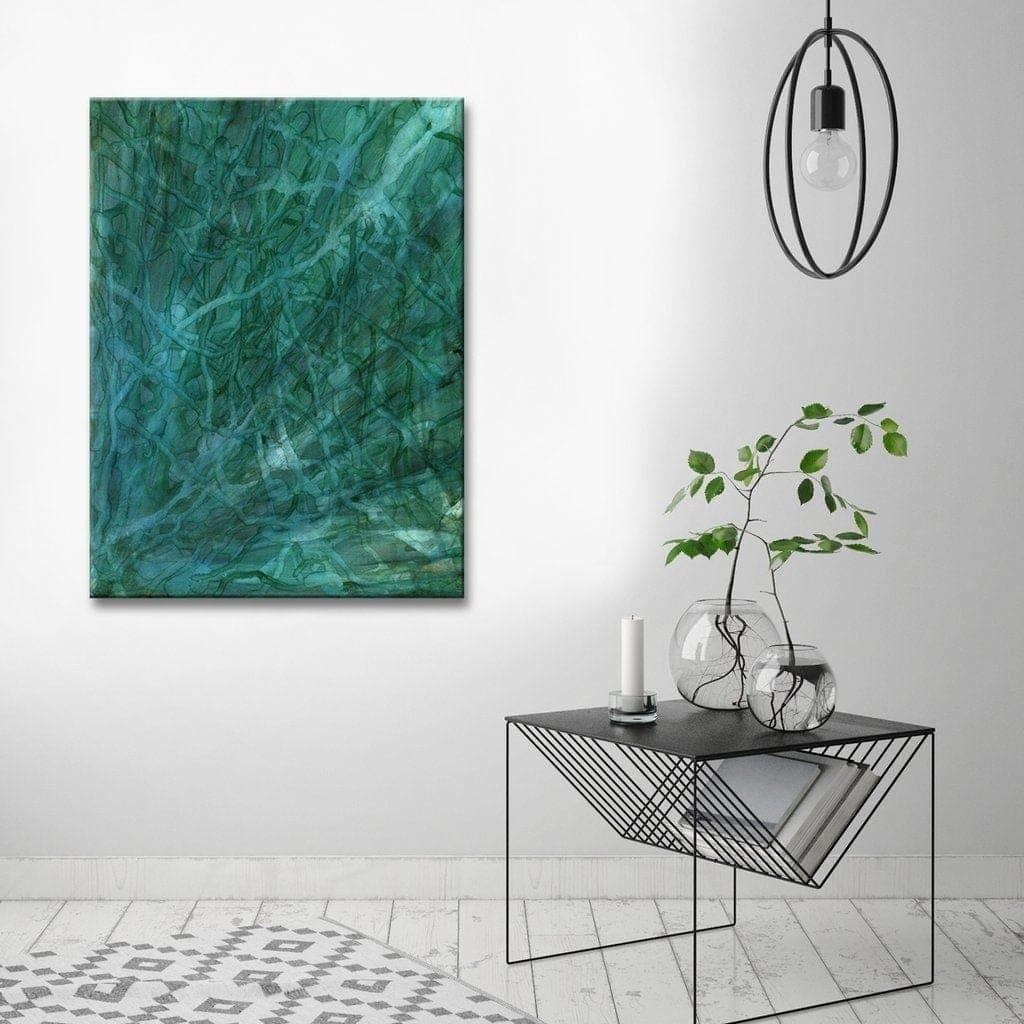 Keep it simple by using oversized abstract artwork on your large walls. When it comes to large wall art ideas, abstract paintings on canvas always work well to give you a chic, sophisticated look.
This gorgeous emerald green work of art is perfect for large walls, and works well as a single piece, commanding your attention as soon as you see it. Perfect for modern, minimal apartments and houses.
Final Thoughts…
If you've been looking for big wall decoration ideas, hopefully this has given you some inspiration. There's lots of options to choose from, so it's important to take the rest of your secor into account.If you're unsure where to start, a large wall or floor mirror is always a great choice, and will have the added benefit of making your room feel bigger and brighter.
For kids rooms and anywhere you want to add some fun, try a wall mural. The great thing about wall murals is they can easily be removed, so are perfect for anyone who likes to experiment with their interior decor choices!