Boy and Girl Shared Small Room Ideas
When space is tight and kids need to share a bedroom, it can present a unique challenge: how do you create a shared bedroom that's suitable for both a boy and a girl— and one that looks great, as well?
If you're stumped and looking for a place to start, we've got you covered. Read on for some of our favorite shared bedroom ideas for boys and girls. You may be surprised how many directions you can go!
Break Out the Bunk Beds
One of the best space-saving strategies when it comes to kids' bedrooms is to utilize a bunk bed. Bunk beds are favorites for kids and parents alike since they bring a bit of fun to bedtime while also saving space. If the bedroom is relatively small, then you'll want to save as much floor space as possible.
Another benefit of a bunk bed is that you don't have to figure out a way to split the room between kids. Rather than two beds decorated differently, you can allow each child to have a space of their own on the bunk bed, and decorate the rest of the room in a more cohesive theme.
To make sure that each child feels that their personality is represented in the bedroom, even with the bunk beds, try adding different colored pillows, blankets, and sheets to each bed. You can also add stuffed animals or artwork to differentiate the two beds from one another.
Try Black and White for Some Contrast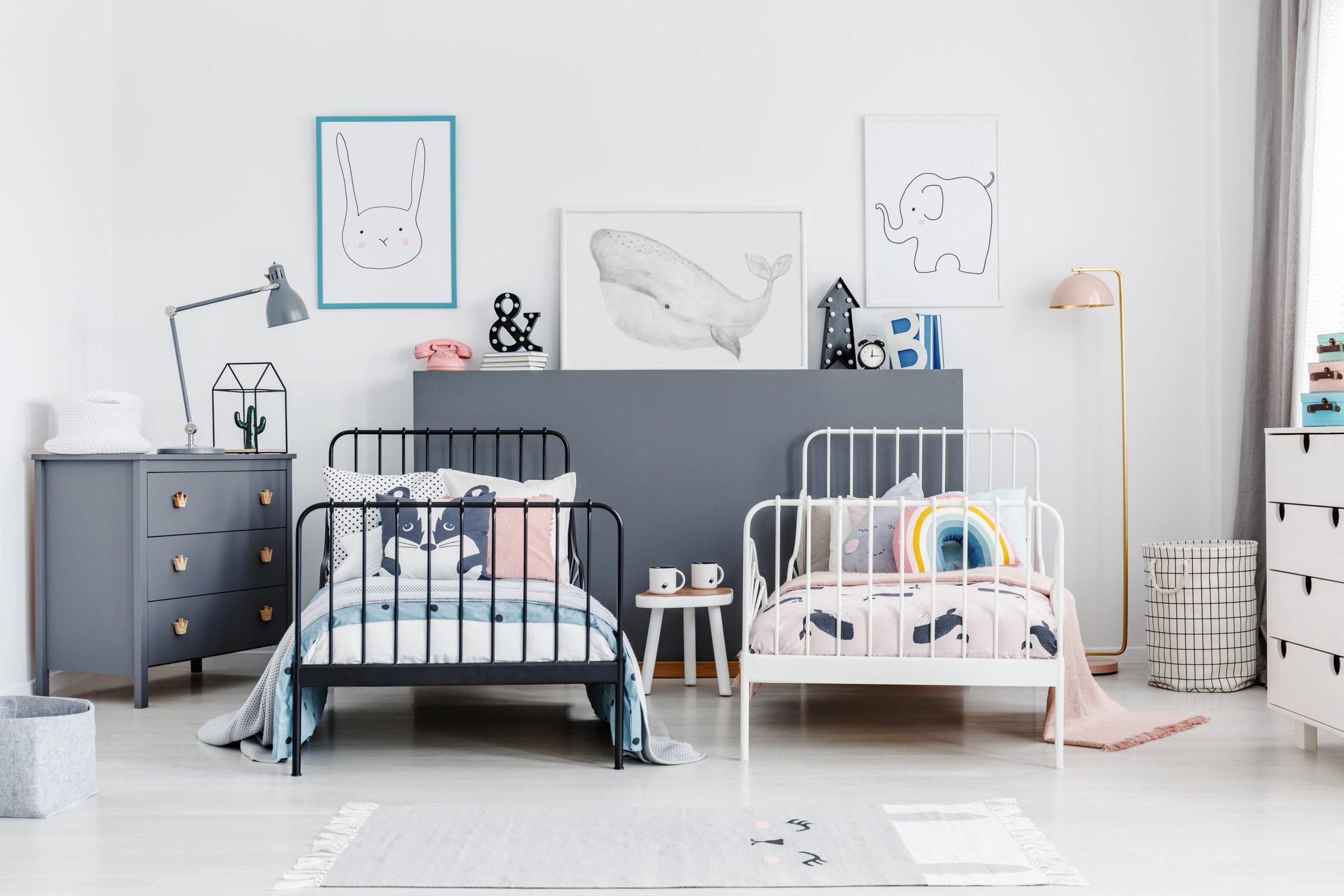 While it's common to divide a boy and girl's bedroom up into two sides, often with two separate colors, consider trying something a little more modern: black and white. This timeless color scheme can serve to separate the bedroom between each child, but black and white can also grow with the kids.
Ask each child to choose a main color: black, or white. Then base the two sides of the room design on those two colors. Choose similar beds and furniture, just in these two different colors. Since you've kept to a neutral color scheme, the kids are free to add their favorite colors through artwork, toys, and other fun accents.
And the best part about this color scheme is that it's versatile. You no longer have to worry about redecorating the entire room every time a favorite color or interest changes. This should allow for the room to stay functional for the kids as they grow.
Create a Loft Bed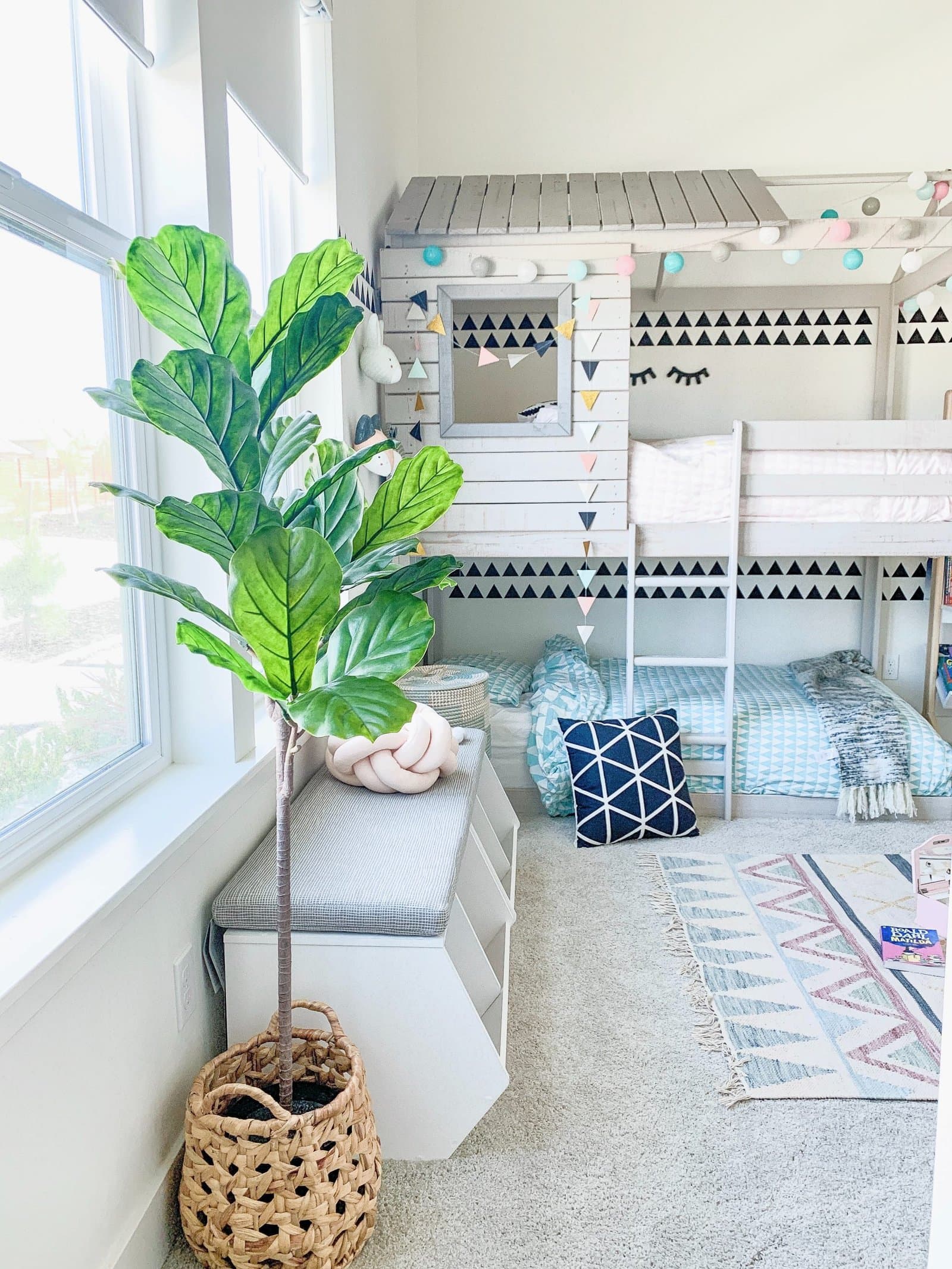 If you've got both a boy and a girl sharing a bedroom, then bunk beds can be your best friend. One way to add a bit of fun and magic to a child's bedroom is to create a loft bed or "treehouse" with a cover over one of the beds.
To differentiate the beds between the two, try adding some simple art onto the walls, like geometric shapes in different colors. Or, add pillows and blankets in different colors and patterns. You could even incorporate a banner with each child's name.
Another nice thing about loft beds is that they can transform into more functional spaces as the kids grow. Rather than a bed underneath the loft, you can add a small desk, dresser, or toy chest. This versatile piece of furniture grows and changes with the needs of the children.
Split the Room Down the Middle
One of the easiest ways to make sure that both boys and girls have their own space is to decorate the room so that one half is a "girl's zone" and one half is just for boys. You can do this by choosing furniture and decor in different colors to make it clear whose side is whose.
To keep the room from feeling too chaotic, try making sure that each side of the room has the exact same layout and furniture— the same beds, dressers, toy chests, desks, chairs, and more. That way, the only difference between each side of the room is the color and theme.
Don't feel like you need to stick with pink for girls and blue for boys. In fact, it's much better to ask the kids who will be living in the room what their favorite colors are— that way, you're much more likely to create a room that they're going to love.
Double Loft Beds
What's better than one loft bed in a shared kid's room? Two loft beds! They're functional and fun, and help save space when two kids have to share a small room. While you could get away with one loft bed for smaller children, you're going to want to consider two lofts as they grow.
Why two loft beds? For older kids, a loft bed serves a dual purpose— the top bunk is where they sleep, and the bottom area is where they have their desks. School-aged children sharing a room each need their own space away from the other where they can focus on schoolwork in a space that's just for them.
With identical loft beds, the room will feel clean and orderly, even if you have different colors and themes for each child. Check out this example to see how great a bedroom can look with dual lofts, even when there's more than one color scheme going on.
Shoot for Simplicity
When you have two kids with very different interests and tastes, it's easy to see how a shared bedroom could become a chaotic and cluttered mess. But if the aesthetics of a kid's room are important to you, take a look at this example.
Choose separate colors for each child, but keep them muted and not too bright. Choose fabrics that are soft and natural, like wool, linen, and cotton, and avoid bright patterns. Make sure that each child's bed has the same number of pillows, blankets, and stuffed animals, to create a sense of balance in the room.
Finally, make sure to incorporate lots of hidden storage in the room to keep toys and stuffed animals out of the way. You may also want to give each child a place to store their favorite items, like the small lockers that serve as nightstands in this example. This way, each child feels as though they have their own space in the shared room.
Tent-style Hideaways
When two kids share a room, one of the things that they need most is their own place to hide away. Privacy is important at any age, but this is especially true as kids get older and want to form their own identities. One way to allow both boys and girls to have their own spaces in a shared room is with these ingenious tent-style beds.
With a canopy hanging over each bed, kids are allowed to pull the curtain and escape to their own little world. It's a whimsical and magical look, perfect for a kid's room. You can choose a sheer canopy like you see in this example, or you can go with a more robust curtain that also blocks a bit of light.
These beds are also a great idea if you want to separate the room into a "boy's" side and a "girl's" side. They can easily be painted in different colors, which will help differentiate them from one another. Try lining the two beds up against the wall with a bookshelf in the center for added separation.
Conclusion
There are so many ways to incorporate both a boy's and a girl's personalities into one bedroom. Creating a shared bedroom suitable for both a boy and a girl can be a challenge, but with just a little bit of ingenuity and a sense of fun, the possibilities are endless!
Just make sure that the bedroom is not only colorful and stylish but practical for the needs of both kids. Consider their favorite colors and interests, as well as their favorite hobbies and study needs. With that in mind, it's easy to create a fun and kid-friendly bedroom that will grow with them!