Fence Lighting Ideas to Enhance Your Home's Exterior
Your backyard can be a real sanctuary for some quiet thought. And while you might enjoy sunning yourself during the day, it's great to continue to use the outdoor space when it's dark.
Even in cooler places and cold seasons, it's possible to continue to use your backyard into the evening when patio heaters and fire pits are easy to find.
You'll need illumination and, sure, you could pick up a couple of solar lights, job done. But you'll need to think about where you position them for the effect that you want and for the way you use your backyard in the evening.
Plus there could be some undiscovered lighting ideas for your backyard fence that are the perfect look for your own outdoor area.
Garden Lantern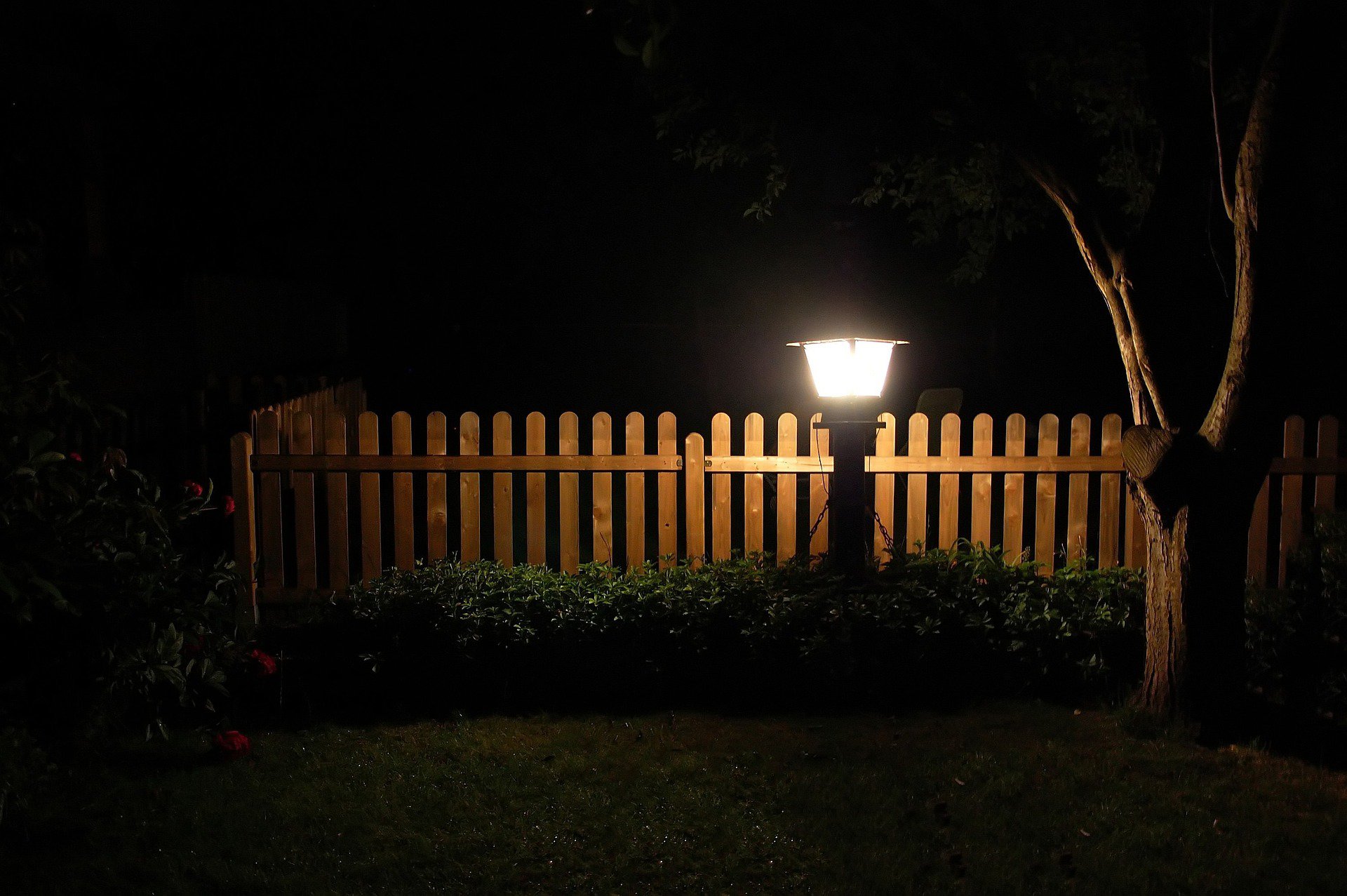 An old fashioned lantern on a freestanding post can look gorgeous if you decide to opt for the traditional. Either set next to the fence or a little ways from it, this lantern would make a truly lovely view from your back window.
You can install a lone lantern or opt to fit several in a row. Or if you prefer, you could dot them about your backyard plants and furniture.
You may need an outdoor electric point, or get an electrician to install this kind of lamp. There are also solar powered versions available if you like the convenience or are climate conscious.
Solar Hanging Lamps
You can buy solar outdoor lights that go in the ground by way of a spike and line these alongside your fence. But a charming alternative is hanging lanterns which you can fix to your fence.
All you need to install hanging lamps is some small brackets. Black looks good against wood or a light color painted fence, though you will find shade options in other metal tones.
Backyard Forest
Lined Up in a Row
If you have uniform planting alongside your fence, such as a row of trees or shrubs, then putting a light next to each will enhance the effect.
The best kind of light to use is solar powered due to its flexibility and energy efficiency. You will find different styles and lightbulbs. Choose a white light for brightness, yellow for warmth.
Woodland Lights
If you have a mature tree in your garden with lots of character, you'll want to shine a light on it. To enhance a plant or tree near your fence, position the lighting so that it makes the most of the shape and texture.
Attaching lights to the fence will make tunnels of light which will give you the light you need for evening entertaining or eating, as well as adding a touch of intrigue to your backyard.
Characterful Fence Lighting
For a simple creative effect, hang garden light bulbs vertically from your fence and vary the cable lengths. You could also buy a curtain of lights.
This will be a most unexpected look that shows off gorgeous lumber fencing and looks especially good on a horizontal fence.
Pendant Pot Plants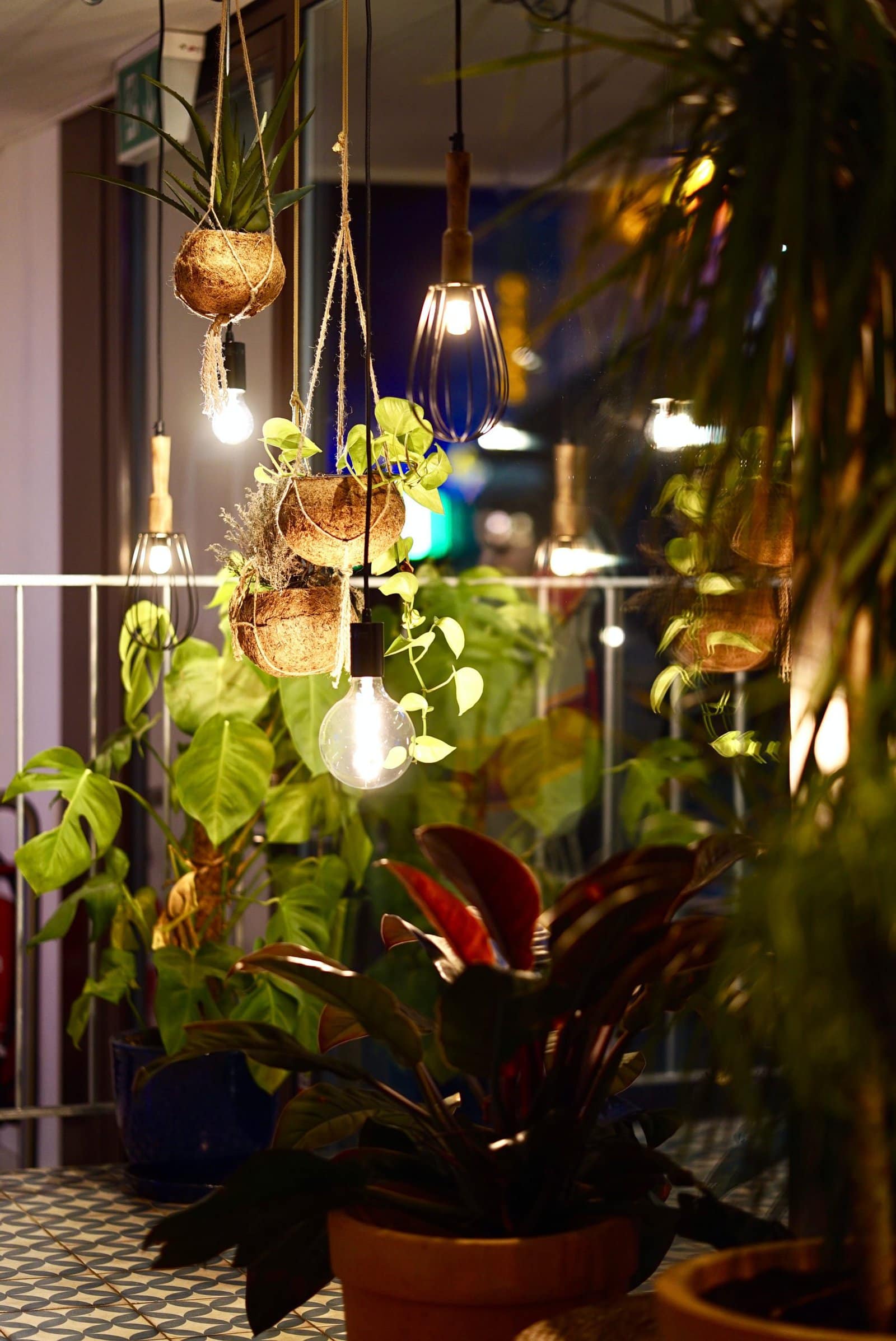 You can create a varied, exotic look by hanging plants and lightbulb fittings from the top of your fence. You can add character by mixing the types of light fittings and varying the lengths of the cable. And also use different lengths of rope to suspend the pot plants.
Be sure to use electric lights that are designed specifically for outdoors and get an electrician to fit them if you're not an expert.
Throwing Shapes
Geometric Lighting Design
There are lights you can buy which shine the light in a regular pattern so that, for example, you can create a geometric pattern.
It is best to try these out when it's dark so that you get the correct spacing between each light when you install them. You'll find your guests will be bowled over by the designer look you can create through lighting.
Conical Illumination
By simply adjusting the space between the light and the fence it can be quite simple to create a conical shape in light.
This will give a uniform glow to your backyard fence. As you will have plentiful light, this can work well as a security measure if you have the lights programmed to switch on with movement.
Fantastic Fence Lights
If you pick a lighting design that gives off a fan shape in illumination, consider fitting several in a row for maximum effect.
Early 20th century design is popular so if you have Art Deco decorating indoors then what better than to continue the theme outside. With your stylish lighting, you'll be the talk of the town.
LED Lighting on your Fence
Being hugely popular for its ease of installation and the array of styles and colors available, LED lighting seems set to stay. It also doesn't cost the earth so is good if you're on a budget.
For a fun garden makeover, you can fit rows of LED lights around your fence. This can look stark and minimalist, or, if you have lots of plants, it can be pretty and playful.
Colorful Fence Lights
If you've already painted your fence and played with the colors of your pillows and soft furnishings, then it's worth checking out colorful lighting for your backyard.
It's easy to find Chinese style lanterns and strings of paper lights. Mixing and matching different patterns and colors will go down a treat with those who like boho maximalism.
Hold a Candle
For a DIY budget idea that looks truly spectacular, you can make your own garden lights with some old glass jars and some string.
Collect some jars. Remove the labels by soaking them and then make sure they're clean and dry. Then tie string around the tops. Next, hang each jar from a screw or nail in the fence and vary the heights. Finally, put in a candle and light up your backyard.
Curtain of Light
Whether you have a strong timber fence or some willow trellis, a curtain of fairy lights will look gorgeous, bringing out the character of the natural material.
For the backyard, you can choose battery operated or solar rechargeable lights and position them to show off your favorite plants and flowers.
Festoon Fun
Festoon lighting is a popular outdoor lighting that's seen a resurgence in recent years. Now that many come with LED bulbs, your lighting can last a long time, so you don't have to worry about broken and burnt out lights.
If you like an eclectic look, then fix several strings on the diagonal on your fence so that they hang across the garden.
Indoors Outdoors
If you know that you're going to make good use of your backyard at night, then as well as fixing lighting to the fence, you might also want to consider installing floor lamps.
This will give you a comfy living room effect outdoors and will be perfect if you enjoy a spot of evening reading or crafting.
In Summary
There are numerous imaginative ideas for lighting up your backyard fence. From choosing simple fittings and being creative with the position you fit your lights, to buying lights which are made to give off light patterns that are as pretty as a picture.
You need to ensure that any lights you buy for your backyard are approved for outdoor use. If you opt for electric lights it's worth employing a professional to install them.
You can really delight your visitors with some dramatic and intriguing backyard lighting effects.