Decorated Life is reader-supported. When you buy through links on our site, we may earn an affiliate commission. Learn More
20 Beds for Small Rooms Ideas in 2023
If you live in a house with modest proportions, it just makes sense in saving as much space as you can. Since beds are major space-takers in bedrooms, it's wise to find ways to save bed space. And the good thing is that you can do this in multiple ways.
Standard large platform beds are the traditional approach. If you're looking for something that saves space, you need to think outside the box and explore your options. Let's look at some space saving beds that leave a smaller footprint in your home.
Sofa Sleeper With Storage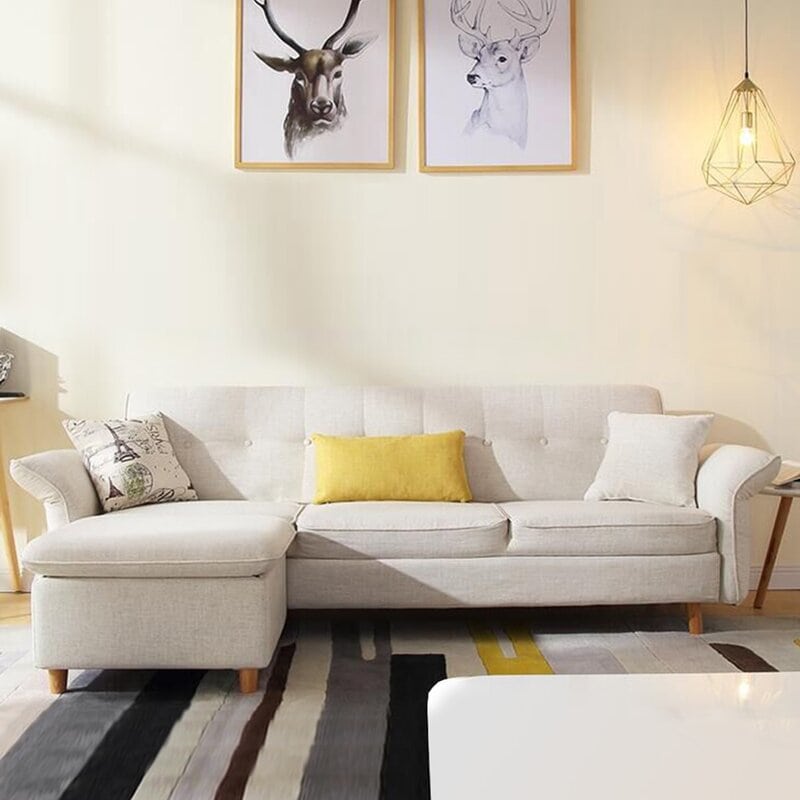 When it comes to beds for small rooms, you can't go wrong with a sofa sleeper. It gives you sitting space during the day and doesn't restrict you to couch cushions overnight.
If you can score one with storage, like this, it's even better because you'll have a spot to stash away your comforter and pillows when the bed isn't in use.
Convertible Chair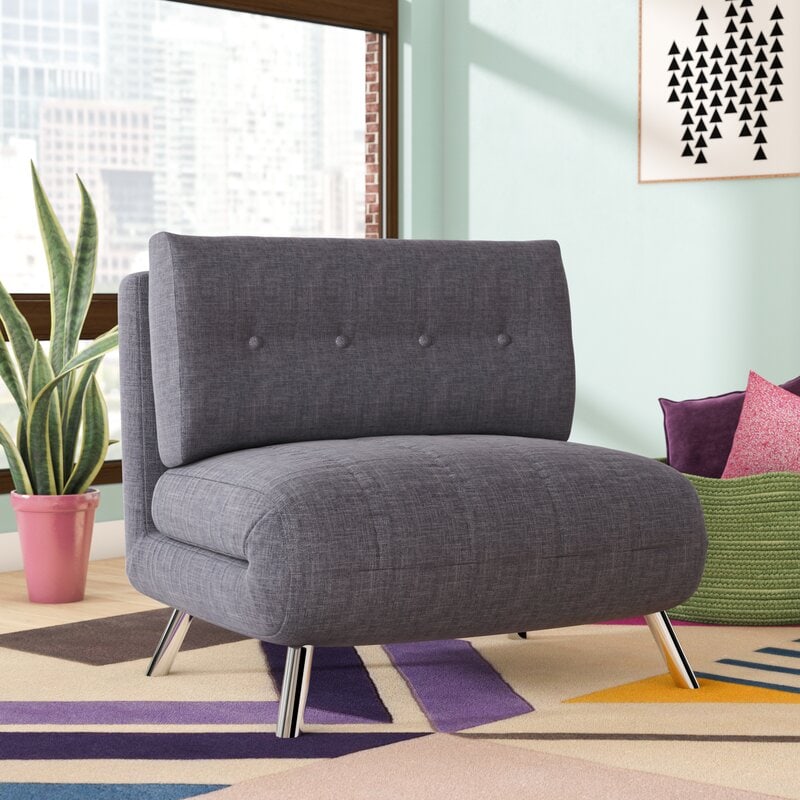 If you have a spare room in your home that doesn't need a bed in it full time, but you still need a spot for friends to crash now and then, a convertible chair is a great option.
It will hardly take up any floor space when it's folded up, and offers plenty of space for one person once it's spread out.
Murphy Bunk Beds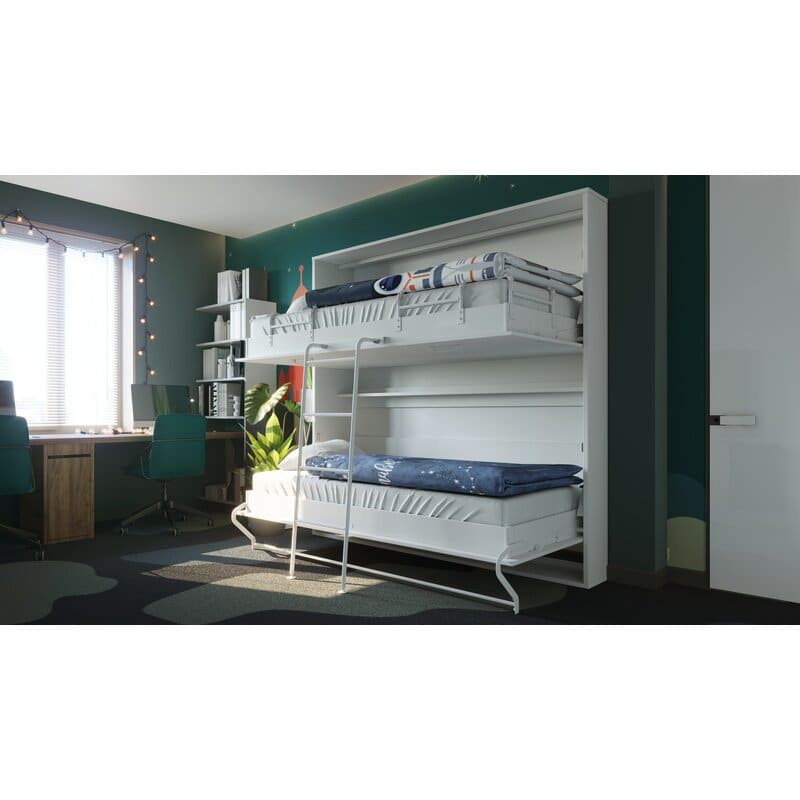 Looking for twin beds for small rooms is hard enough as it is, but it's even harder if you need a sleeping spot for more than one person. But, it's much easier to accomplish with a murphy bunk bed set.
This is a perfect option for someone whose grandkids come to visit now and then or anyone who has a rental house that needs some extra sleeping space. Whenever they're not in use, they're out of the way!
Loft With A Desk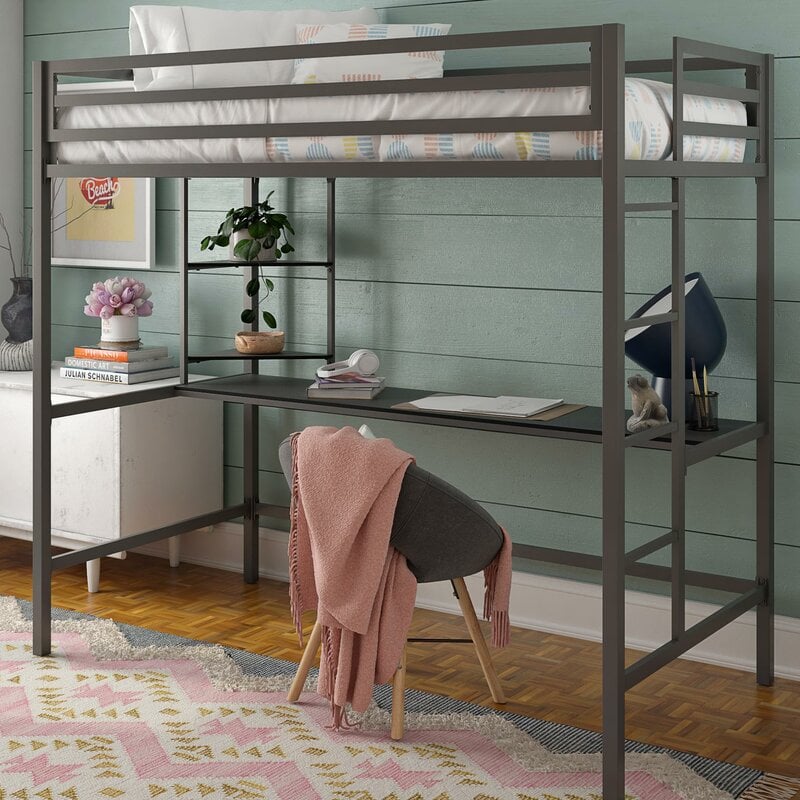 Beds take up a lot of floor space which is especially tough for a kid with a small bedroom because it doesn't leave much room for studying, reading, and playing. With a loft bed, you can make use of the height of the room while clearing up the floor.
This loft bed is particularly great because it has the study spot already built in with the desk. Plus, it has some extra shelving to provide more storage.
Hidden Sofa Bed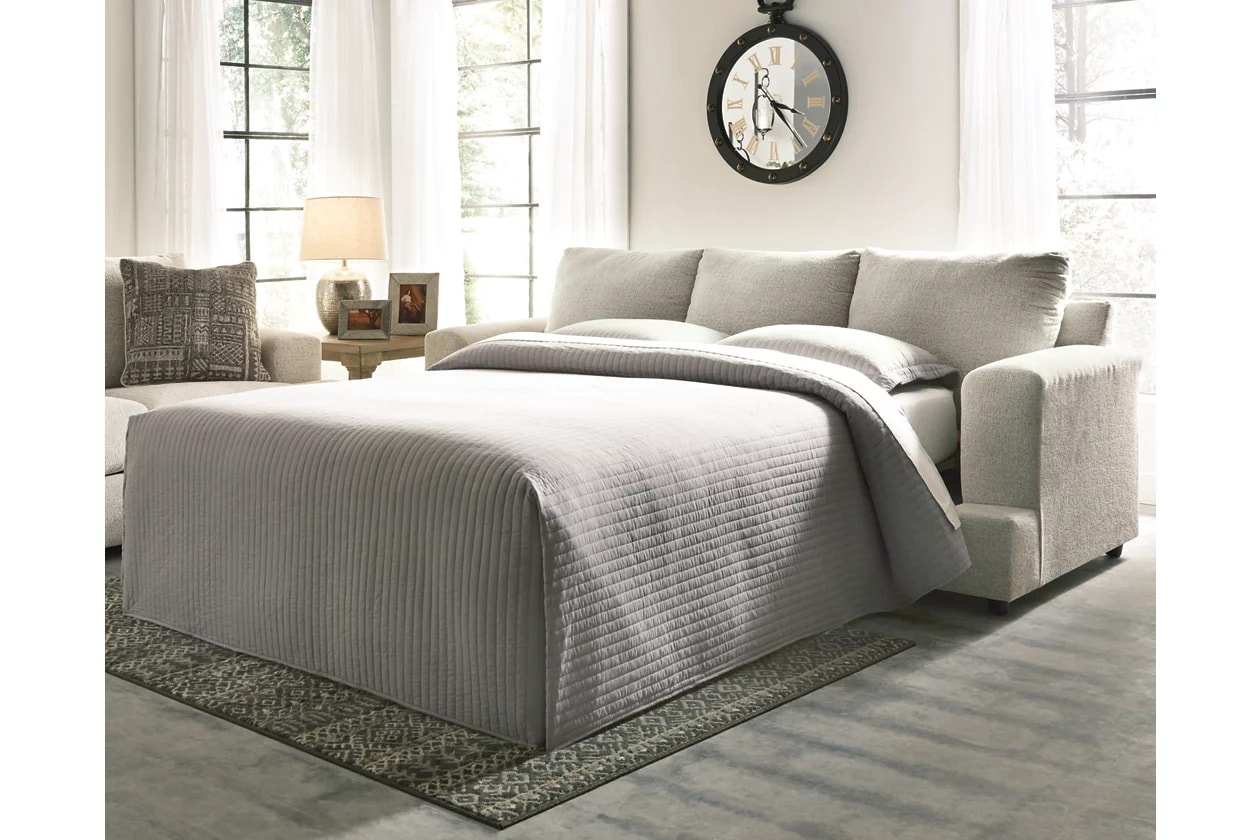 Sofa beds are the best hidden beds for small spaces because they're cozy and functional in either position. This particular model doesn't have storage built-in, but it is a full size sofa when the bed is folded up, and there's plenty of sleeping space when the bed is pulled out.
Classic Murphy Bed
It can be difficult to find good double beds for small rooms, especially if you want a comfortable mattress. One solution to this problem is the classic murphy bed. There's nothing overly fancy about it, but it stows away nicely when it's not in use and doesn't have to be folded over to do it.
Bookshelf Bed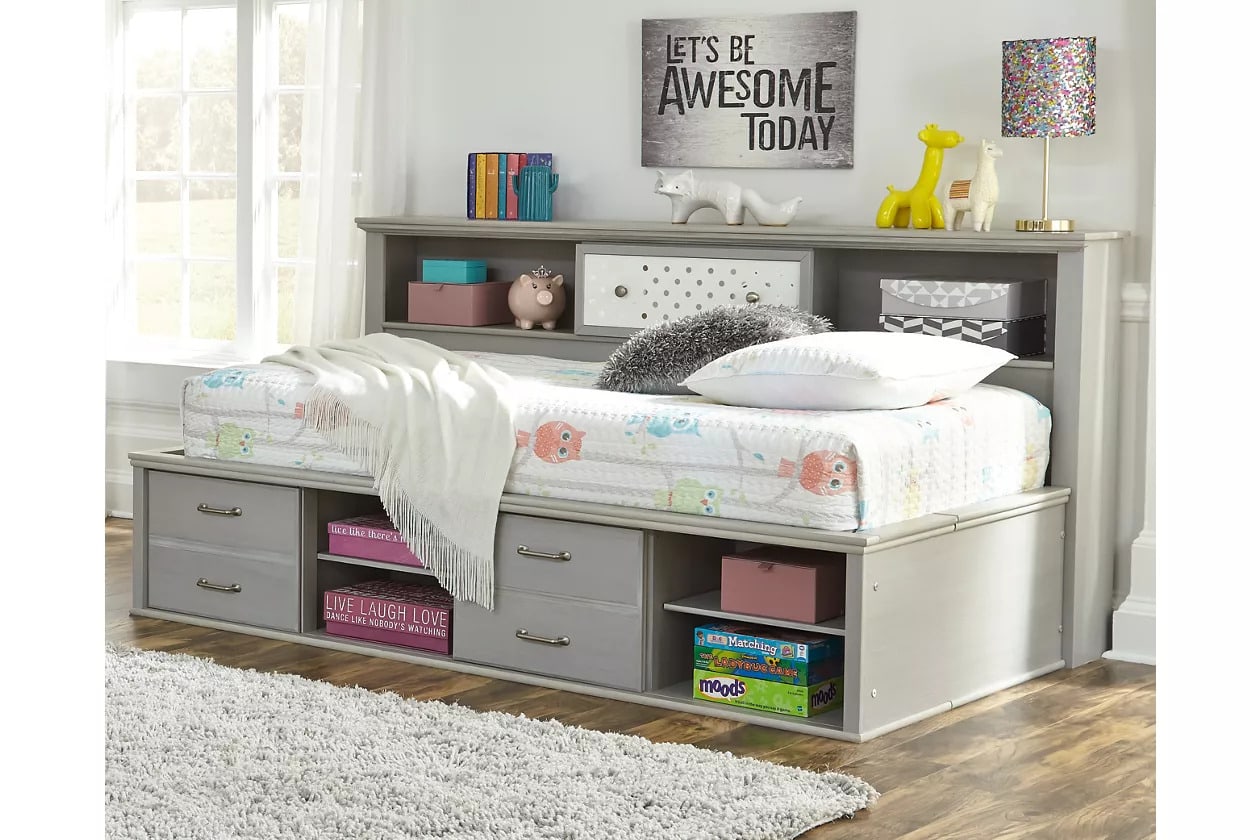 If you don't love the idea of a loft bed as a way to utilize the height of your small room, a bookshelf bed like this one is another way to do the same but with a different look.
This bed has plenty of storage under the platform as well as along the length of the bed. You can store books and knick-knacks on the shelves and the drawers can hold socks, blankets, or anything else you want to put out of sight.
Elevated Air Mattress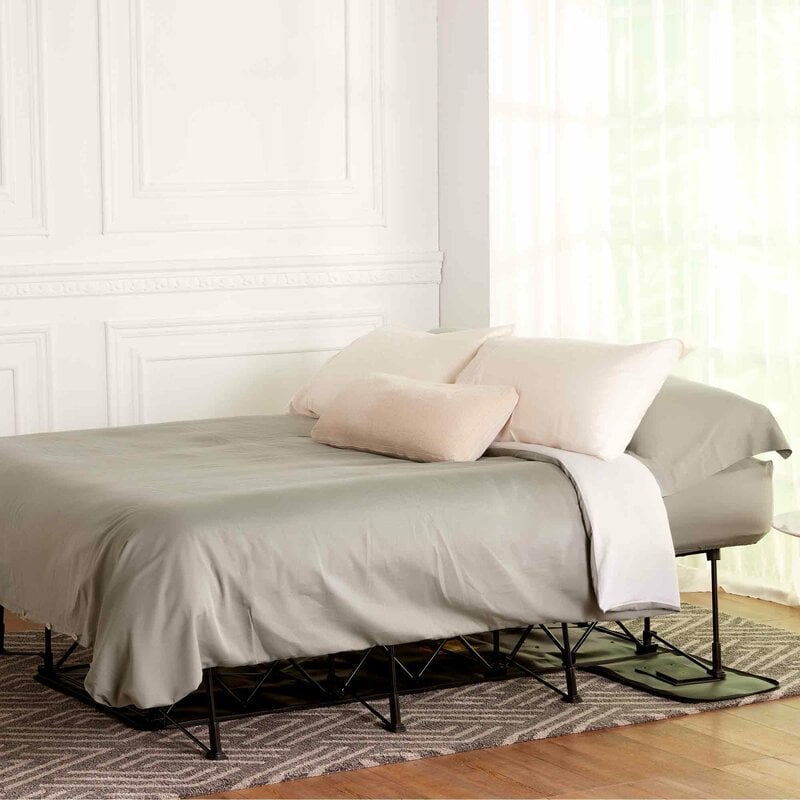 We've all slept on an air mattress before, but even the most comfortable ones are tough because they are laying directly on the ground, which makes it difficult to get in and out of. And, if your small room is meant to be a guest room, that setup will be hard on your guests.
One way to combat this is with an elevated air mattress. It only needs to be blown up on the occasions you need it, but it stands as tall as a regular bed so no one has to hurt themselves to get in and out of it.
Bunk Beds & Loft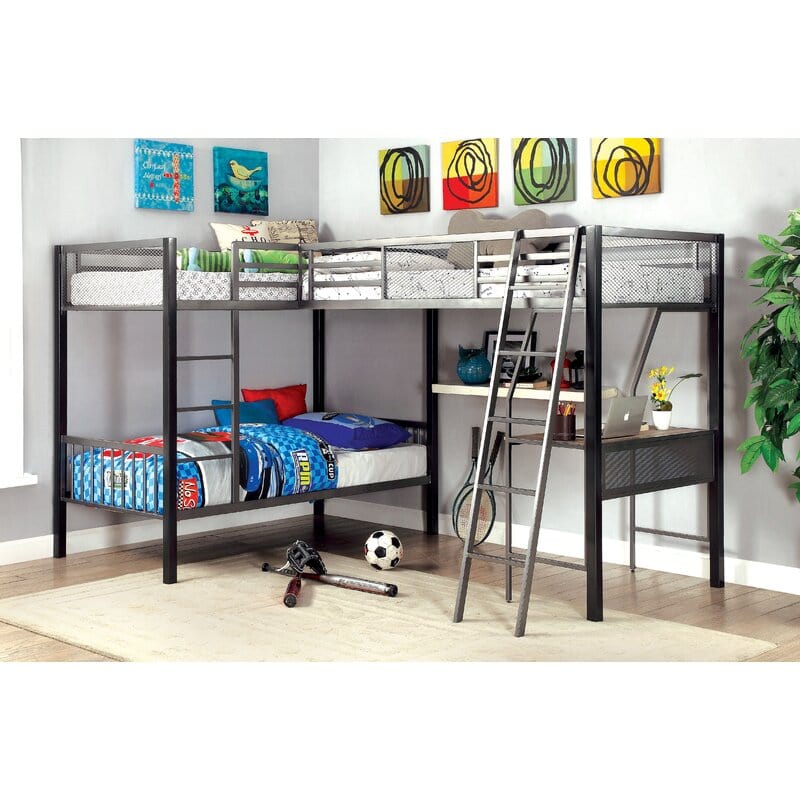 Looking for a creative solution to beds for small spaces? Check out this setup!
It's a traditional bunk bed set up in an 'L' shape with a loft bed. With this, you have space for three people to sleep and enough space for the attached desk. It's a great way to take advantage of your room's height.
Loft Bed With Storage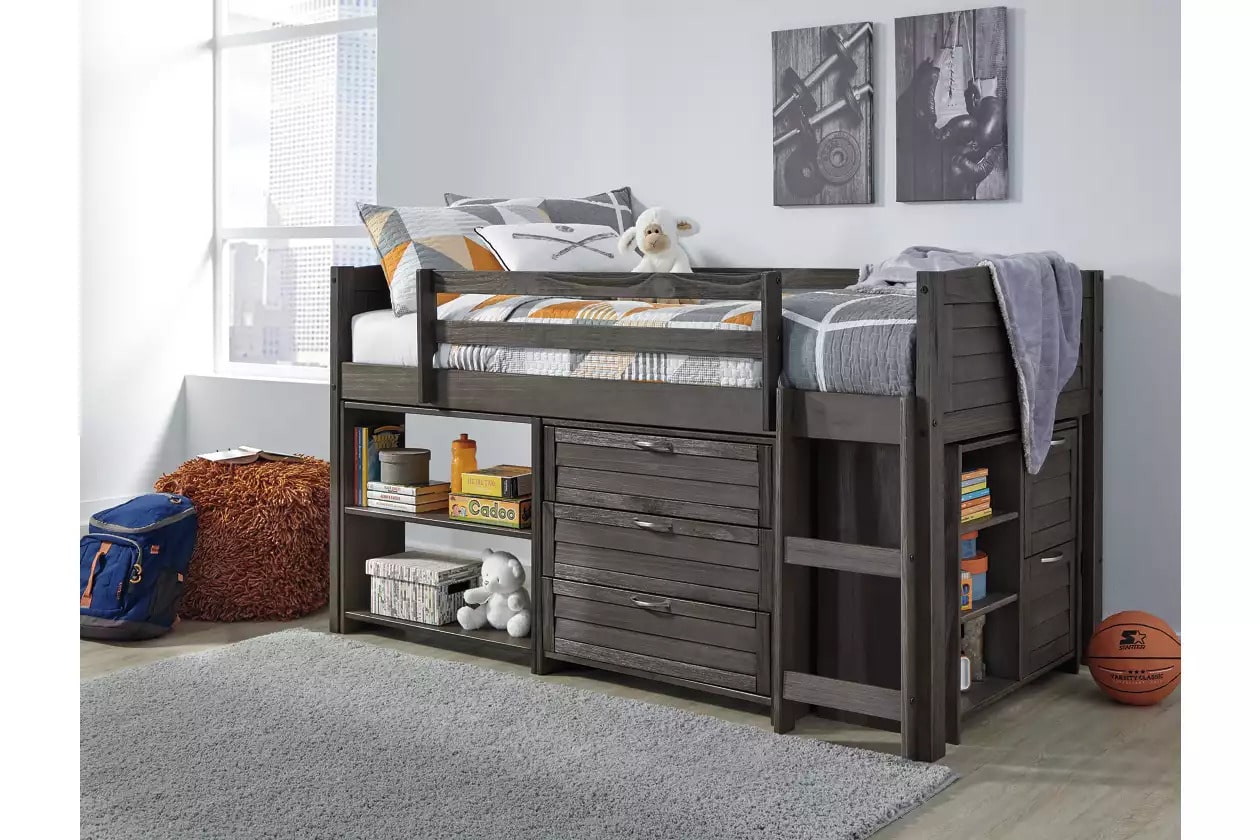 If it's not just floor space you're lacking on, but also storage space, a loft bed with storage is a great way to combat both of those problems.
With this setup, you have plenty of cabinet and drawer space to put away some clothes and a spot for someone to sleep. Not to mention, it's super cute.
Platform Corner Bed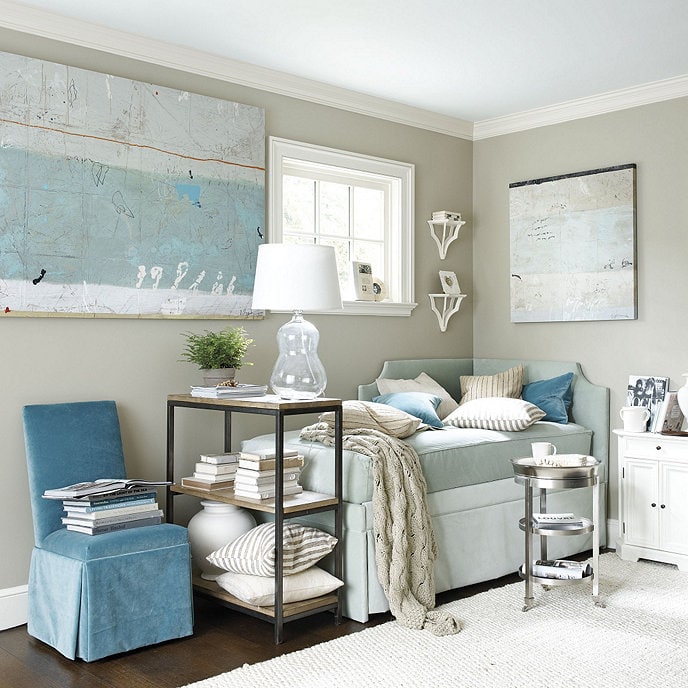 Shoving a mattress up into the corner of a room isn't exactly aesthetically pleasing, but a headboard that causes the bed to take up extra space isn't always ideal.
This platform bed takes care of the problem with its unique corner headboard that gives it a more stylish look. Plus, it sits up high which gives you a lot of storage space under it.
Bunk Beds With Trundle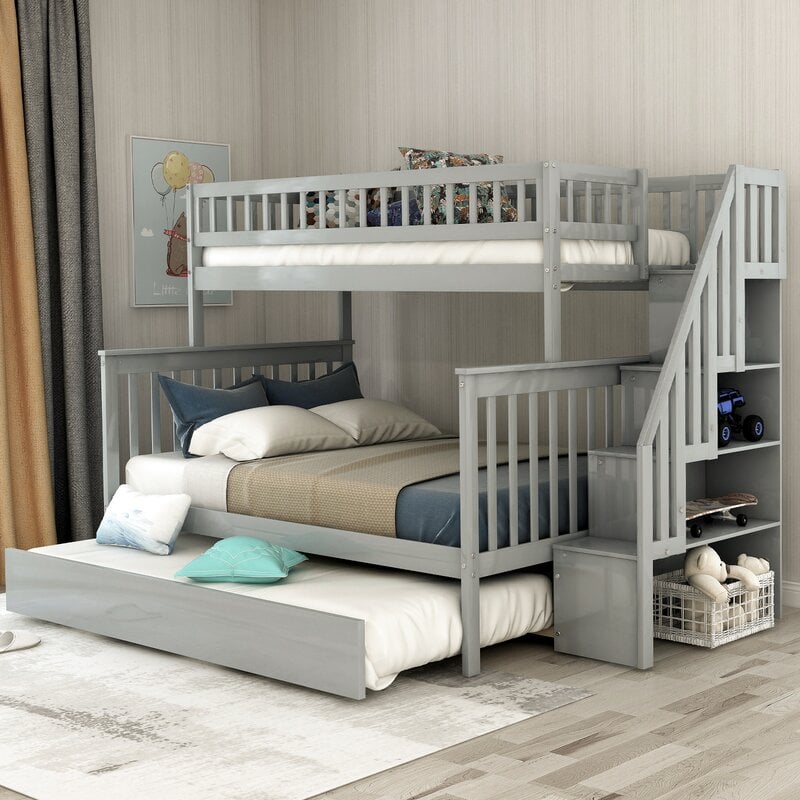 A full size bed for a small room isn't exactly hard to find, but a full size bed in addition to two twin beds is not nearly as simple.
This bunk bed set up provides space for three (possibly four) people to sleep thanks to the twin bed above the full size bed as well as the trundle below it.


Compact Foldable Bed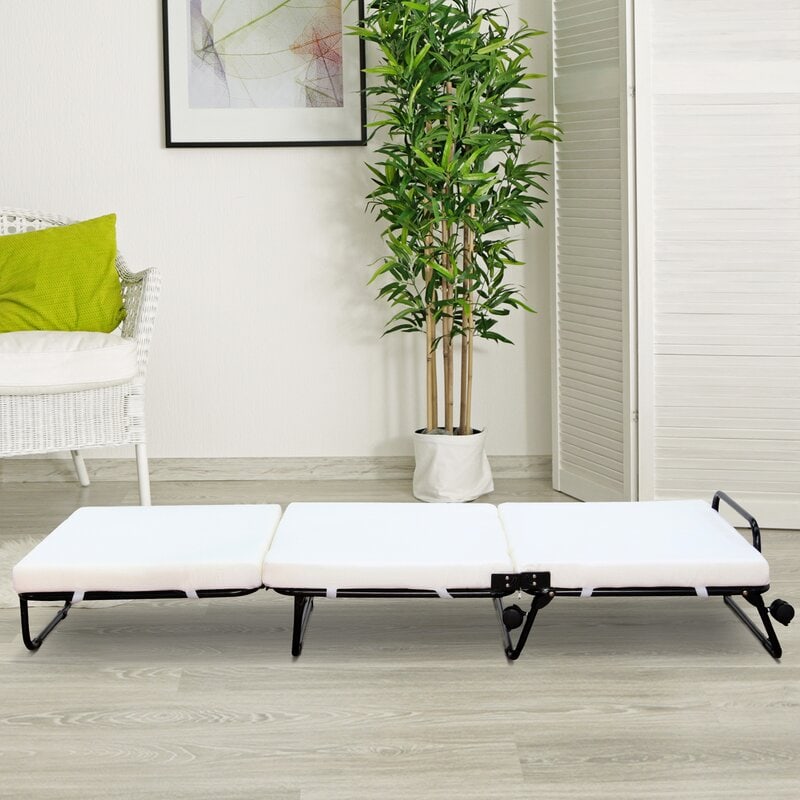 One of the more creative beds for small spaces is this little bed that folds up, accordion style, into a small square. It's not going to fit multiple people (it's pretty small) but it's still far better than sleeping on the floor.
Stackable Beds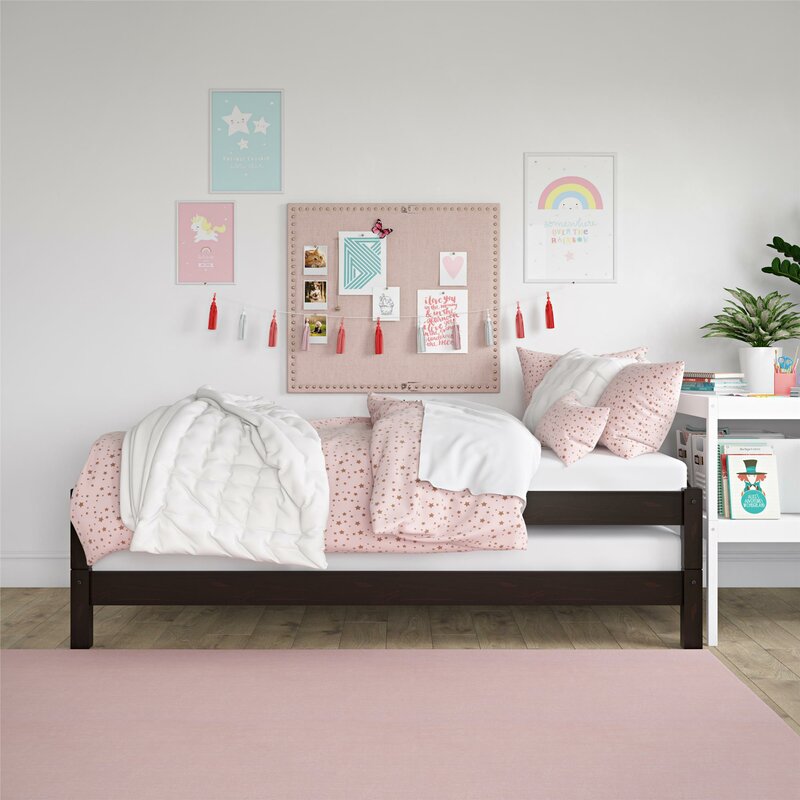 These stackable beds are similar to a trundle bed situation, but neither is sitting significantly lower to the floor than the other when they're both set out. These are the best beds for small rooms of kids who plan to have sleepovers with their friends on the regular.
Dresser Murphy Bed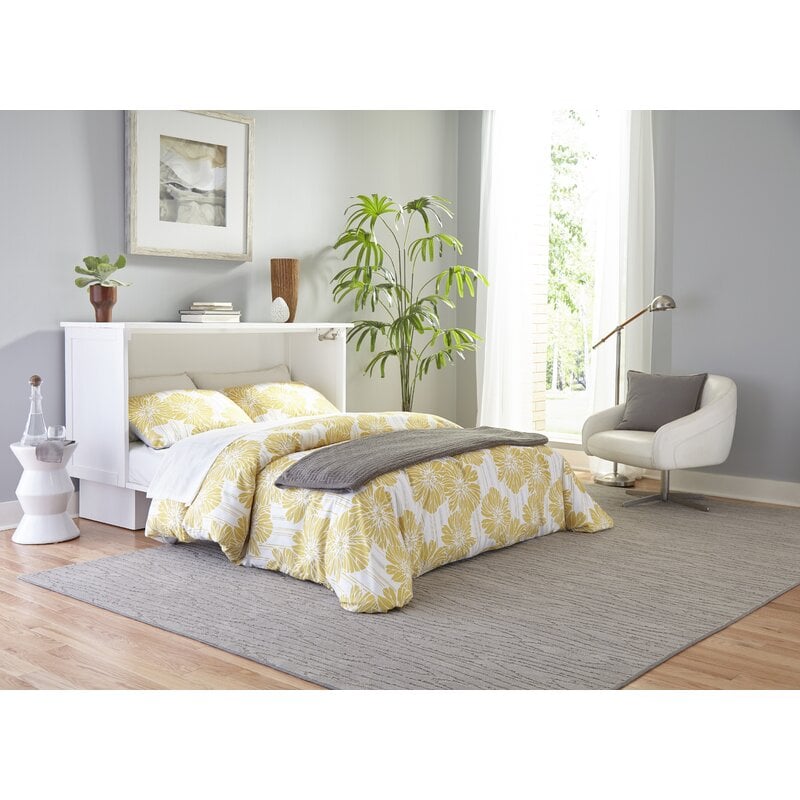 Murphy beds are great in general, but the traditional ones aren't exactly compact beds. Rather than take up an entire wall, this murphy bed stows away into what looks like a dresser. It's inconspicuous, functional, and honestly pretty stylish when it's all packed up.
Daybed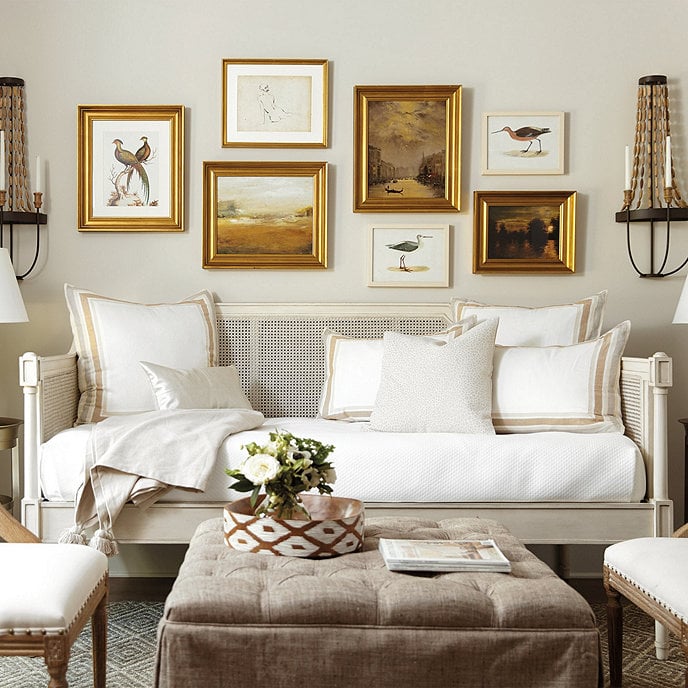 One of the very best bed solutions for small spaces is the daybed. It can serve as a seating spot during the day and then all you have to do is reposition your pillow to sleep on it at night.
Day beds are especially great for rooms with odd layouts where you can't put a bed in a corner or have it pop out into the floor due to lack of space.
Classic Storage Bed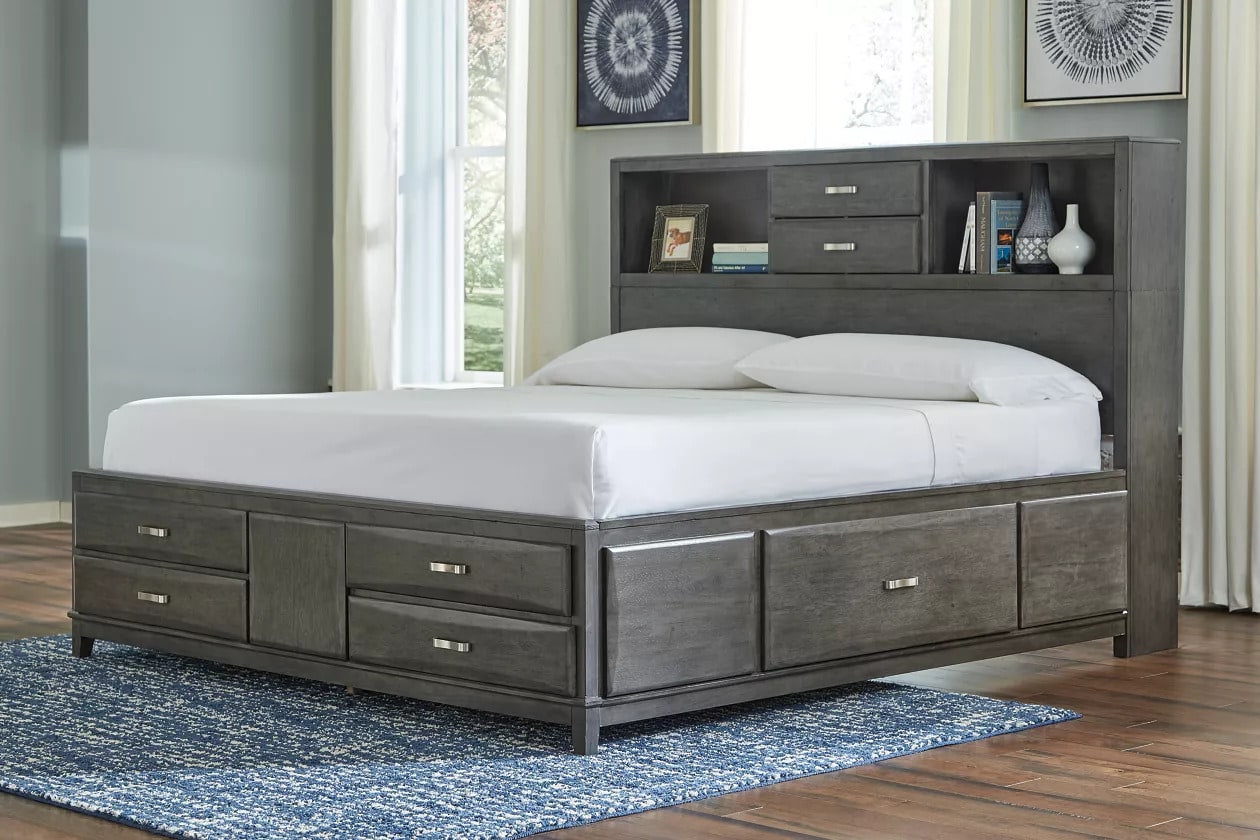 Storage beds for small rooms are a fantastic way to get extra use out of your space without sacrificing a quality bed. Most storage beds have plenty of drawers and shelving to stow away what you need to and are still designed to support a standard mattress.
Classic Bunk Beds
It doesn't get much more classic than bunk beds. It's the best way to get two beds into one space without taking up a ton of space. They're especially great in kids rooms because who doesn't want to sleep on the top bunk when they're 10 years old?!
Folding Bed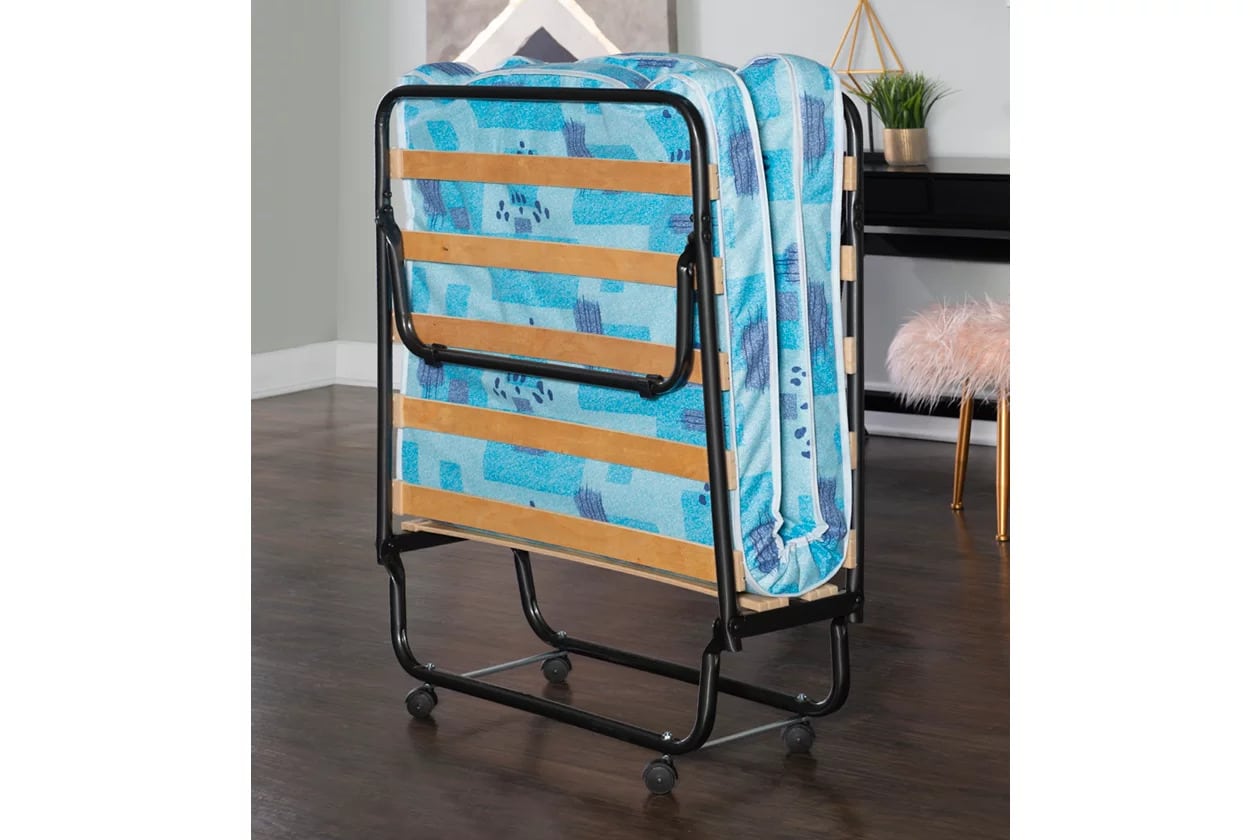 There isn't a better space saving bed solution than the classic foldable bed. It's not the most comfortable option out there, but it folds up easily and can be tucked away into the closet whenever it's not in use.
If it's good enough for hotels, then it's definitely good enough for your guests (or you)!
Daybed With a Trundle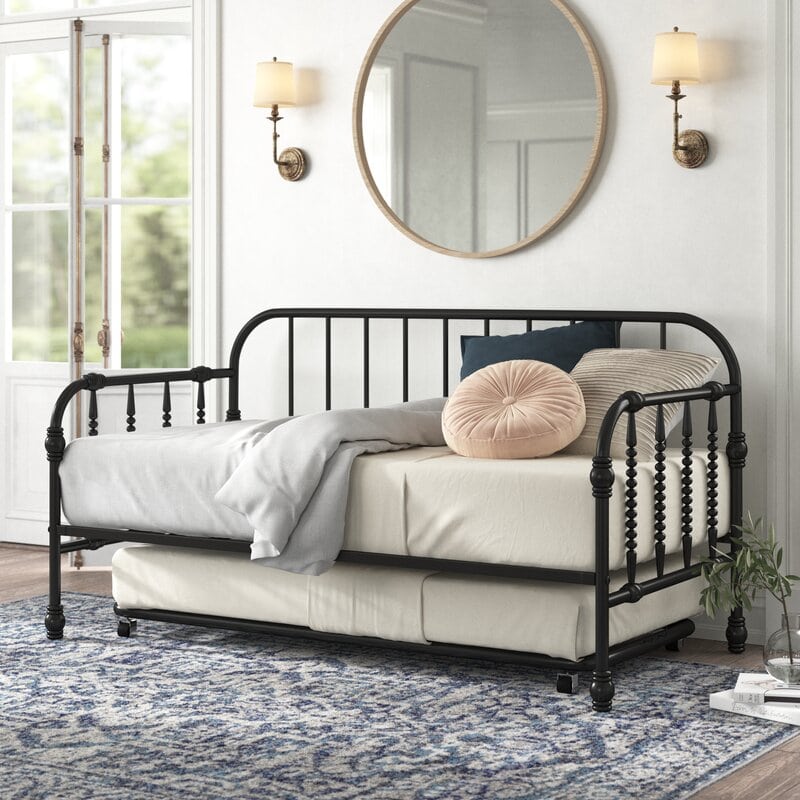 As stated earlier, daybeds are a fantastic way to save on space, but you can get even more sleeping space in if you buy one with a trundle to go under it. This is a great solution for a kid or teen who loves to have their friends sleep over, but doesn't have enough space for two beds in their room all the time.
Use your creativity to get the right type of bed for your small room
There are multiple ways in which you can create a space saving bed that's not just space efficient but also stylish. Whether you have a small apartment or you're just looking for different options for beds, these ideas will make your bedroom look different than others.
With space saving beds, you'll get the comfort of a nice and cozy place and the peace of knowing that everything is organized.