Decorated Life is reader-supported. When you buy through links on our site, we may earn an affiliate commission. Learn More
25 Bathroom Shelf Ideas to Keep Your Space Organized
It's easy for a bathroom to become disorganized, with all your products and bathroom supplies. You feel like you can't decorate, and counters always end up covered in stuff.
The best way to solve that problem is to come up with shelving solutions that work for your needs.
No matter how much space you have, there are ways to install shelving and help organize your bathroom while also contributing to your decor and style. Let's look at some of the best options out there.
Build Shelves Into the Bathtub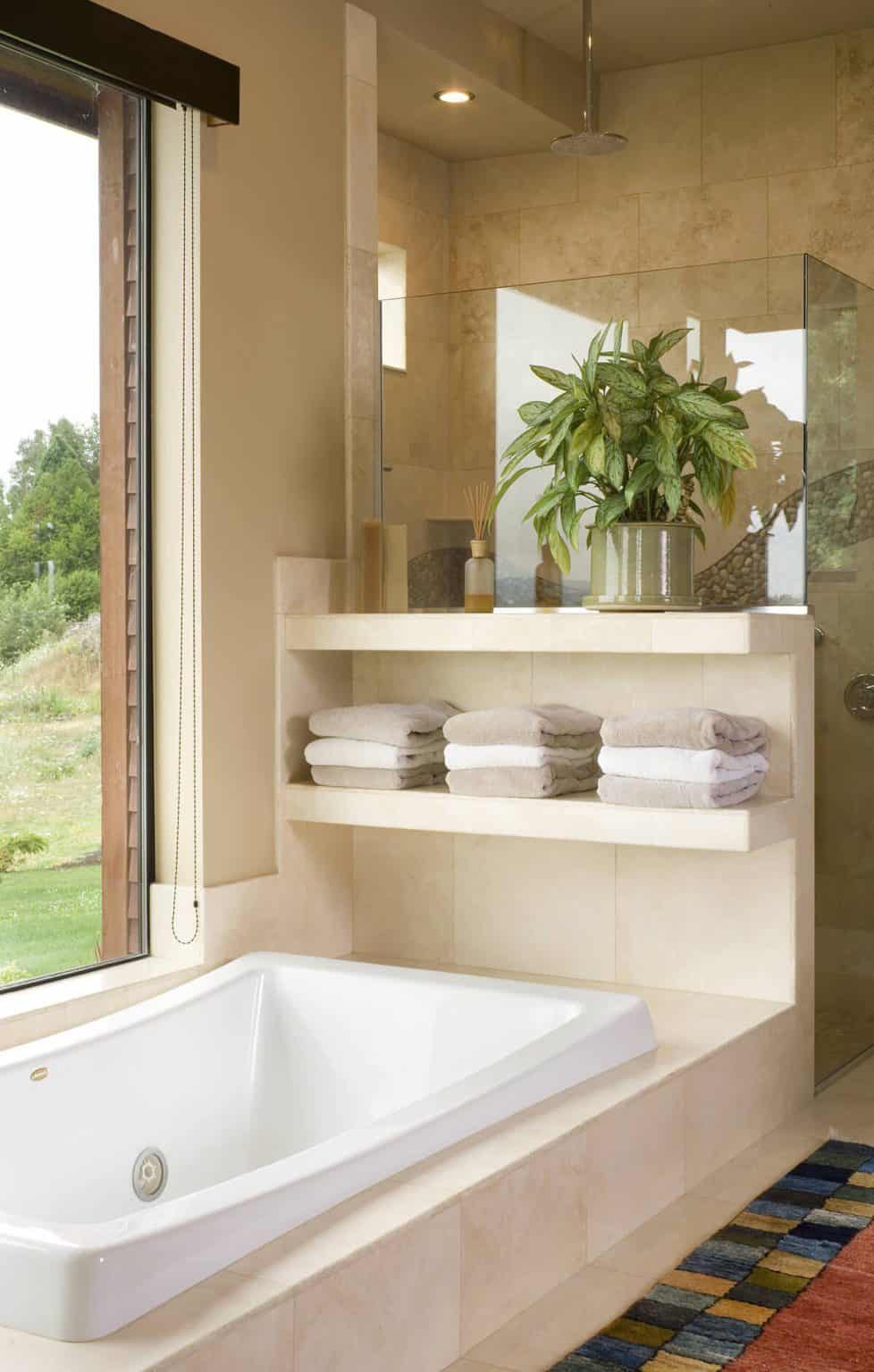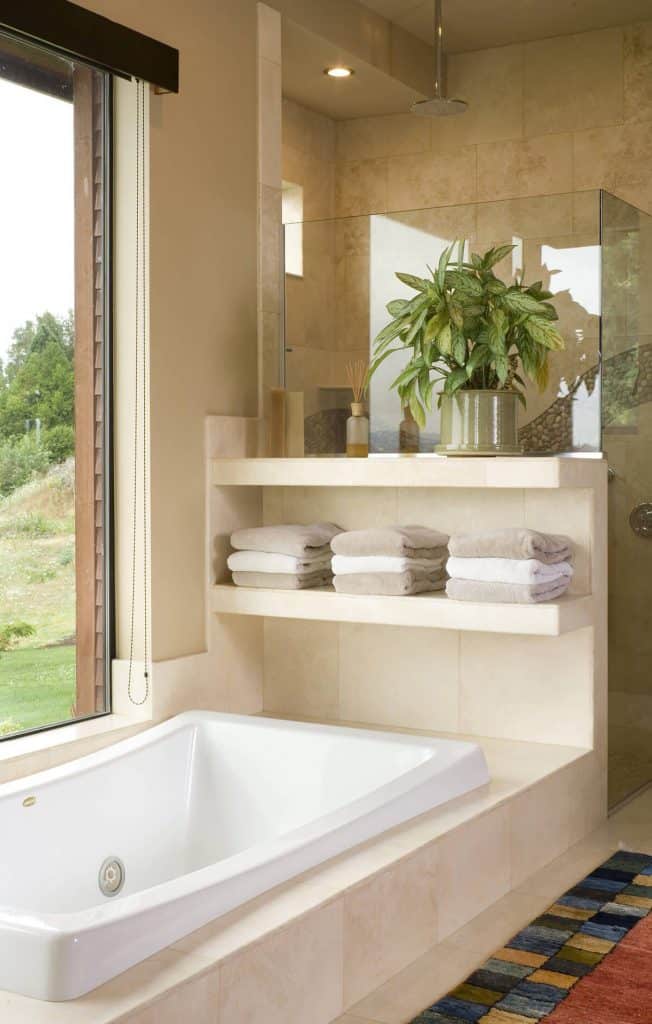 If you have a bathtub in your bathroom, you can incorporate shelves into the tiling and bathtub for one seamless look. It makes it really convenient when you have a bath; your toiletries aren't all on the sides of the tub so you accidentally knock them all over.
For exposed shelves like these, be sure your items are nicely organized like these stacked towels so it adds to the unified look of the decor.
Look for Shelving Under the Sink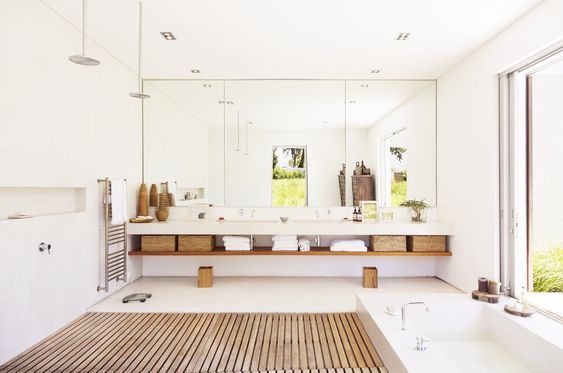 This shelving under the bathroom counters is a clever alternative to the usual cabinets that people have. Cabinets can appear clunky and old fashioned, making a space appear more cluttered than it really is.
Instead, this long, open shelf is a great way to be more streamlined while adding storage to your bathroom. If you can, buy your linen and items in similar colors to your overall bathroom decor palette.
Get a Long Thin Shelf for Smaller Spaces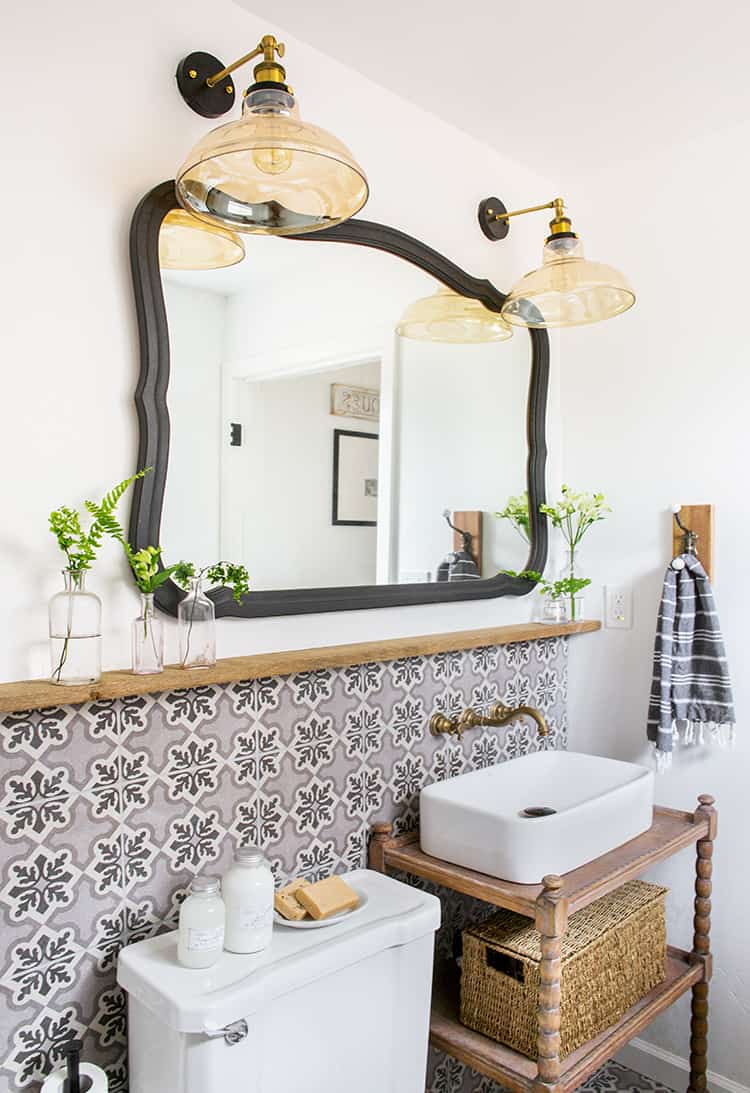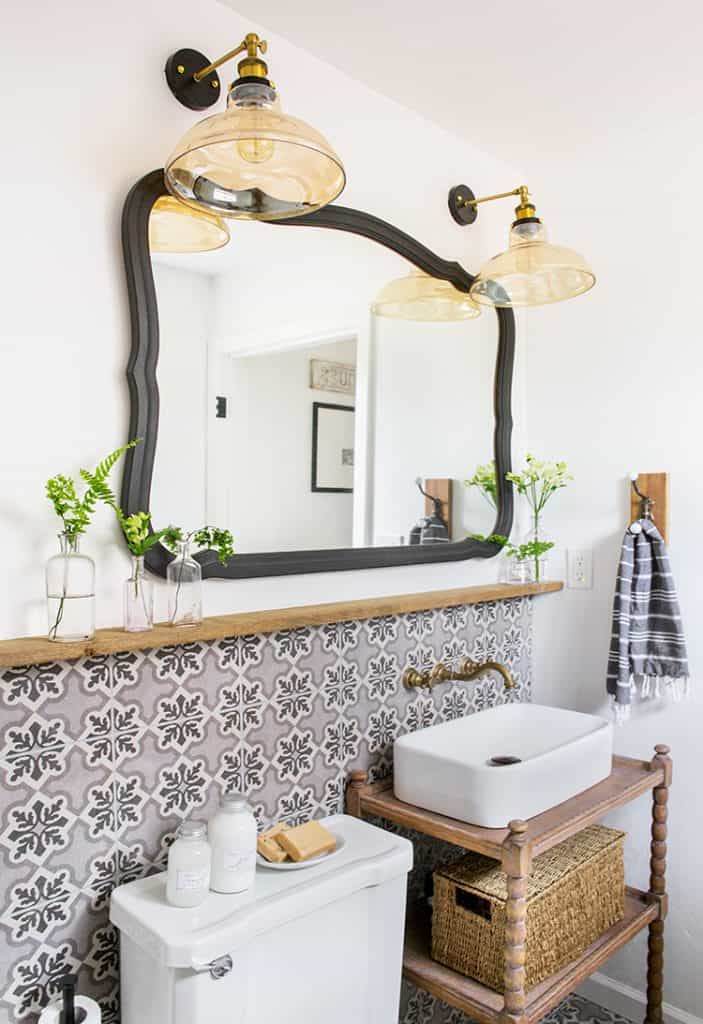 This shelf is so thin it doesn't even look like a shelf, but it's perfect for a smaller bathroom. Don't block out the open space by putting a wide shelf. Sometimes, a thin shelf like this one holds all you need, whether it's decor items or your bathroom products.
The unfinished wood of the shelf fits in really well with the white wall and black and white wallpaper below.
Add Glass Shelves Above a Bathtub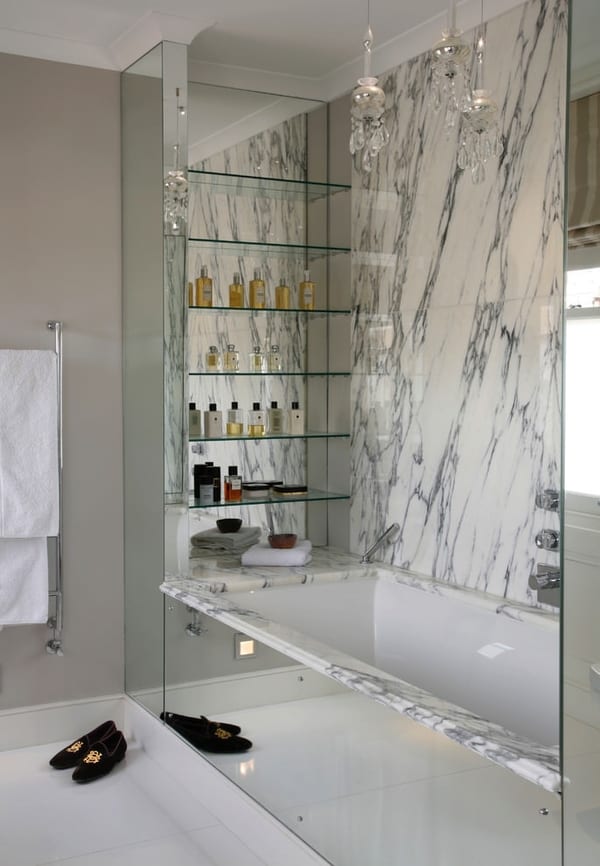 Glass shelves are an excellent way to add storage while still making your bathroom appear spacious and modern. These glass shelves enhance the marble bathtub and glamor of the room, and reduce clutter by putting everything in one place.
If you're looking for a modern bathroom, or you simply want some shelving that makes a space appear larger, consider adding some glass shelves like these ones. They're also tucked away modestly above the bathtub.
Use Repurposed Wood Planks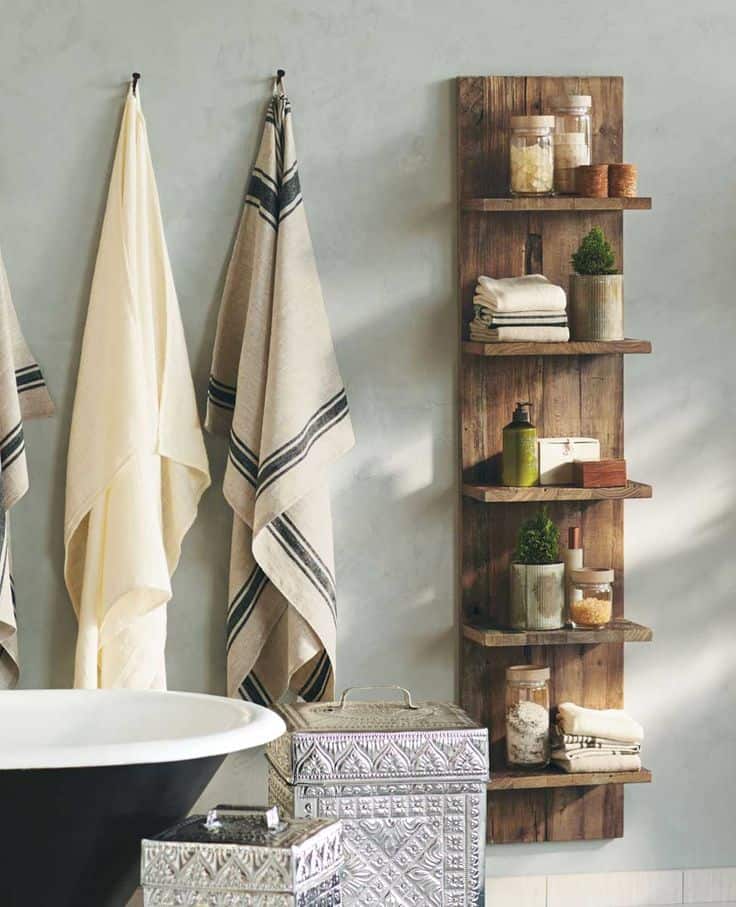 I love this repurposed wood shelf in a dark unfinished wood. It contrasts really well with the pale gray walls and white accents. The wooden shelves are attached to a wooden support, but the whole thing is floating off the floor.
The result is a striking accent to the room, drawing attention to the shelves and the organized items on them. It's perfect for plants, candles, towels, and other attractive bathroom supplies.
Install a Clever Shelf Above the Door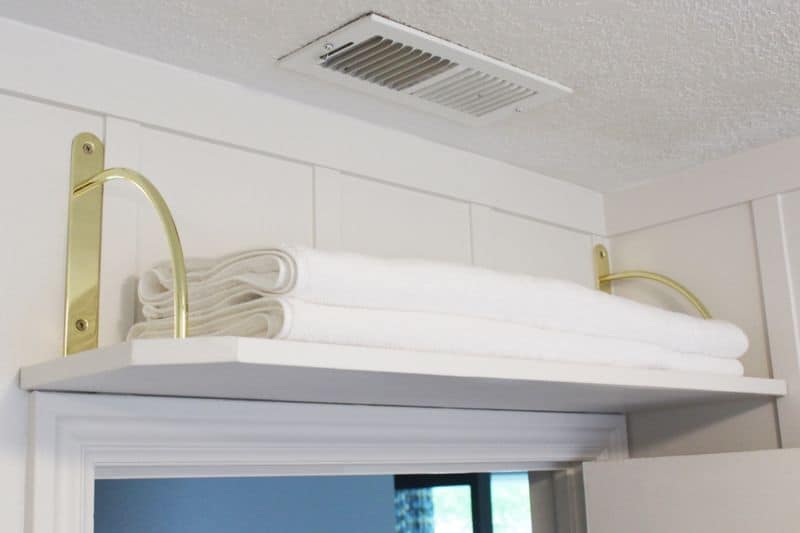 A space that's often forgotten and rarely used is the gap between the ceiling and the door. This doesn't have to be wasted space, though, because you can install a handy shelf here.
As you can see, it's easy to put up a single shelf, and it's a great place to store less frequently used items. For the full step-by-step guide to making this yourself along with helpful photos, head over to this page.
Channel the Farmhouse Style With Rustic Shelves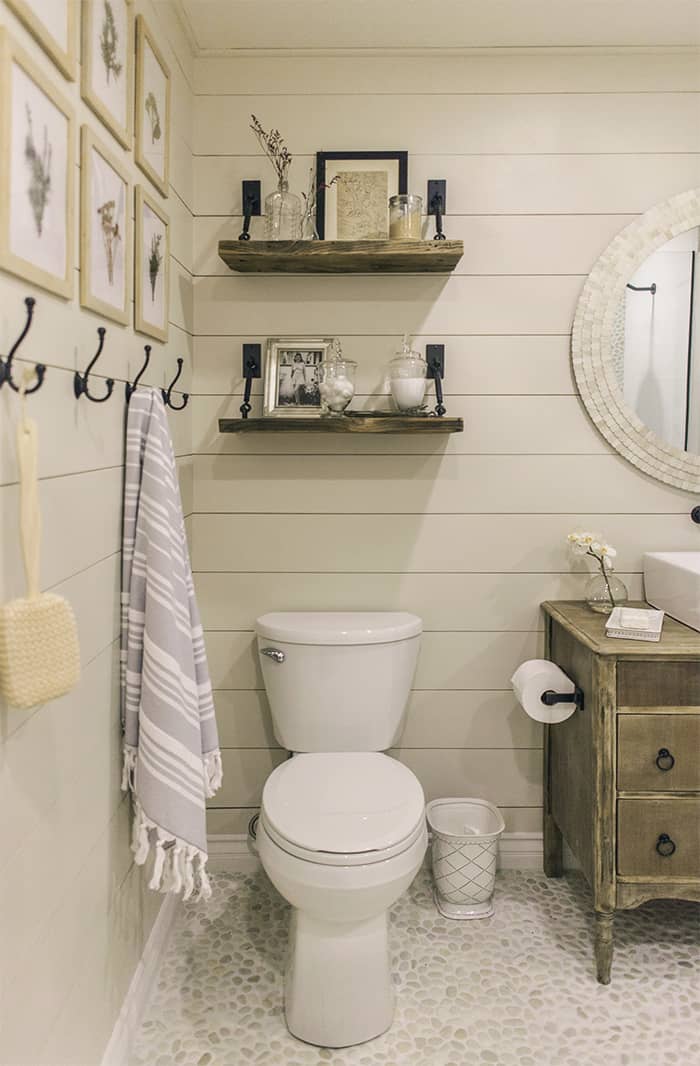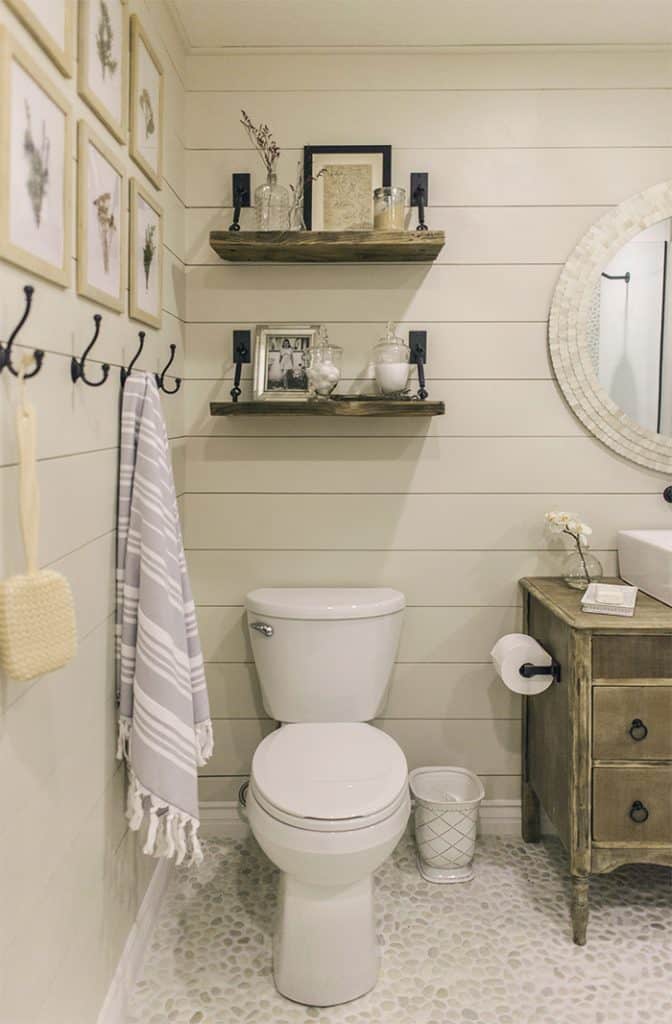 Shelves are a quick win when it comes to adding rustic touches to a bathroom. They're simple to incorporate and they can go a long way to promoting a certain decor style.
For example, the rustic shelves in this photo are simple rough wood and black hinges, but they really bring the farmhouse style of the bathroom together. Combined with the shiplap walls, the wooden cabinet, and the black hooks, it's a cozy and charming style.
Maximize Space With Recessed Shelves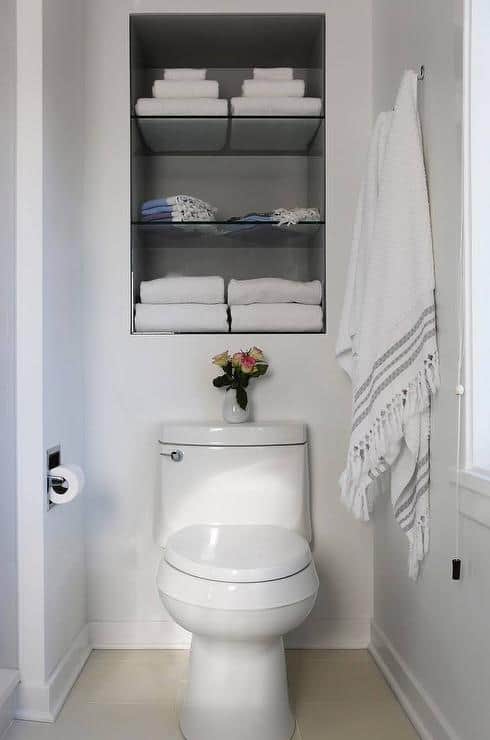 If you have a bathroom that's on the smaller side, you can incorporate recessed shelves instead of regular ones. The benefit of recessed shelves is that they add depth and space to the room, as opposed to having shelves that stick out and can make a space feel more cluttered.
These recessed shelves are quite deep, but they can also be more shallow if you want. They're perfect for storing towels, linen and other bathroom supplies.
Buy a Movable Shelf Unit for Greater Flexibility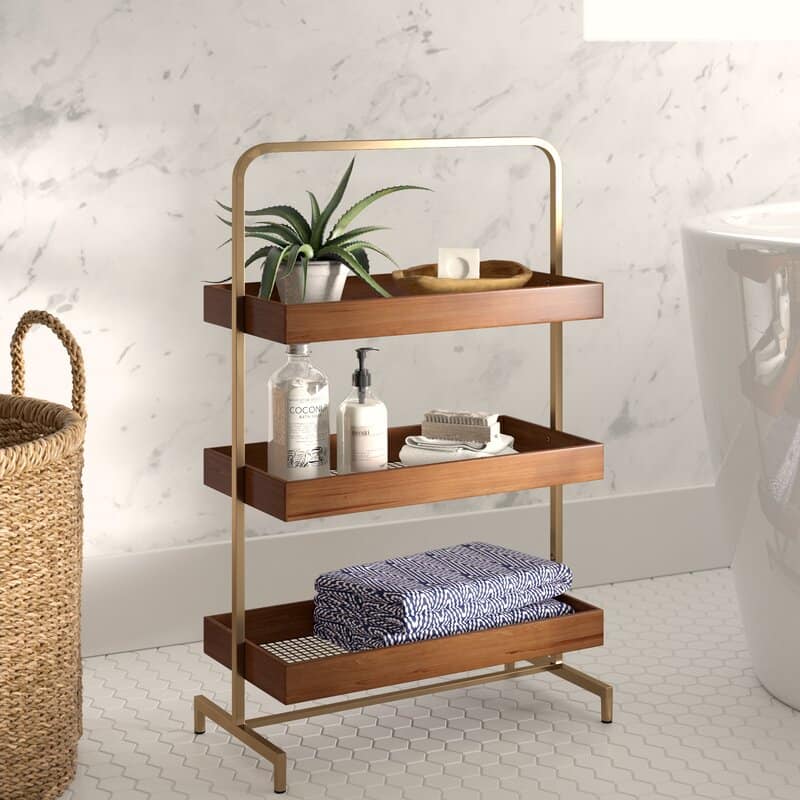 Another great bathroom shelving option is to invest in a shelf stand that you can move wherever you want in the room, or even in the house. It allows you more flexibility, bringing it close to the bathtub as needed, or tucked away in a corner.
This stand is very lovely, with a gold frame and wooden shelves. The bottom of the shelves is latticed, giving some breathability to whatever you choose to store on them.
Look for an Industrial Multi-Purpose Shelf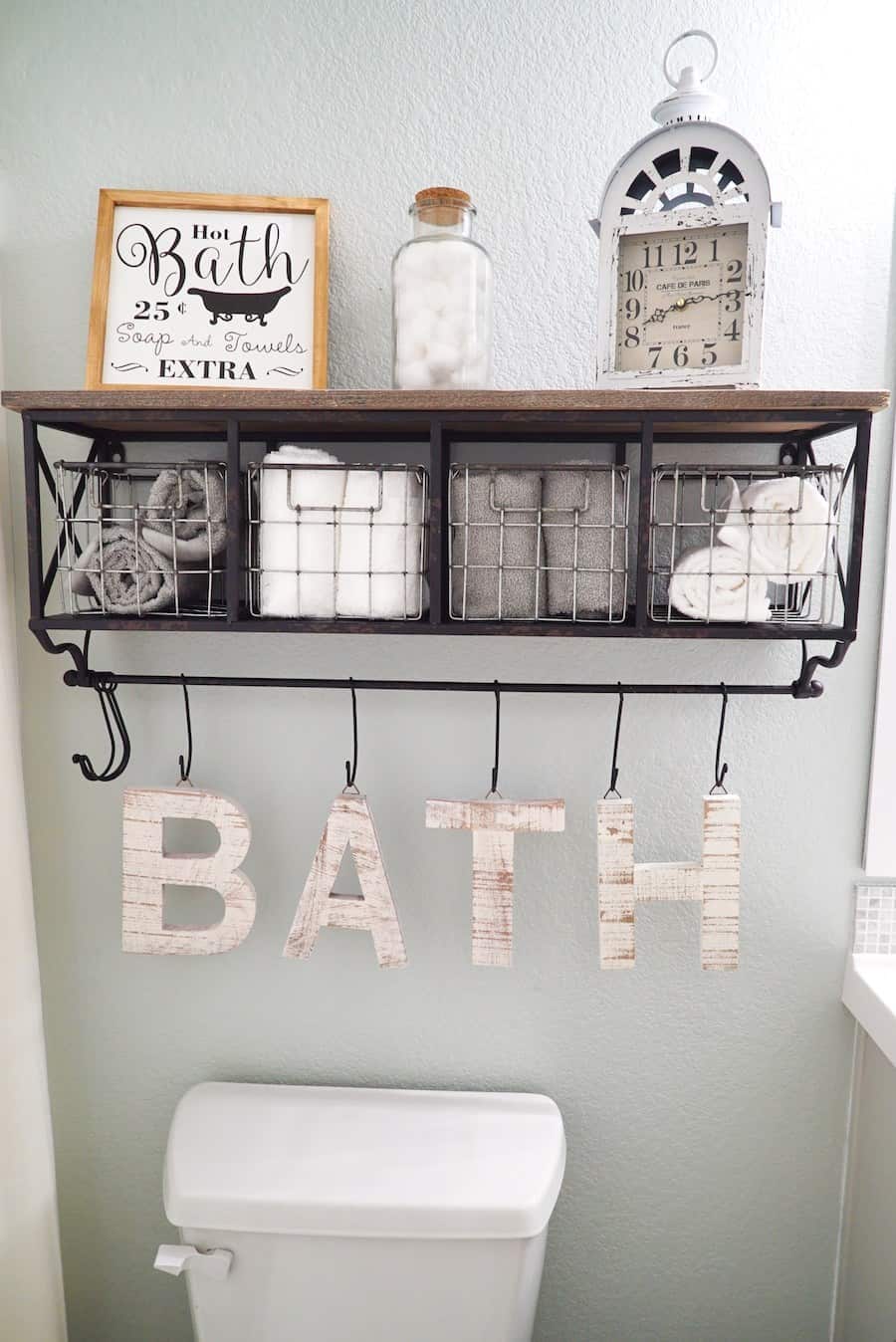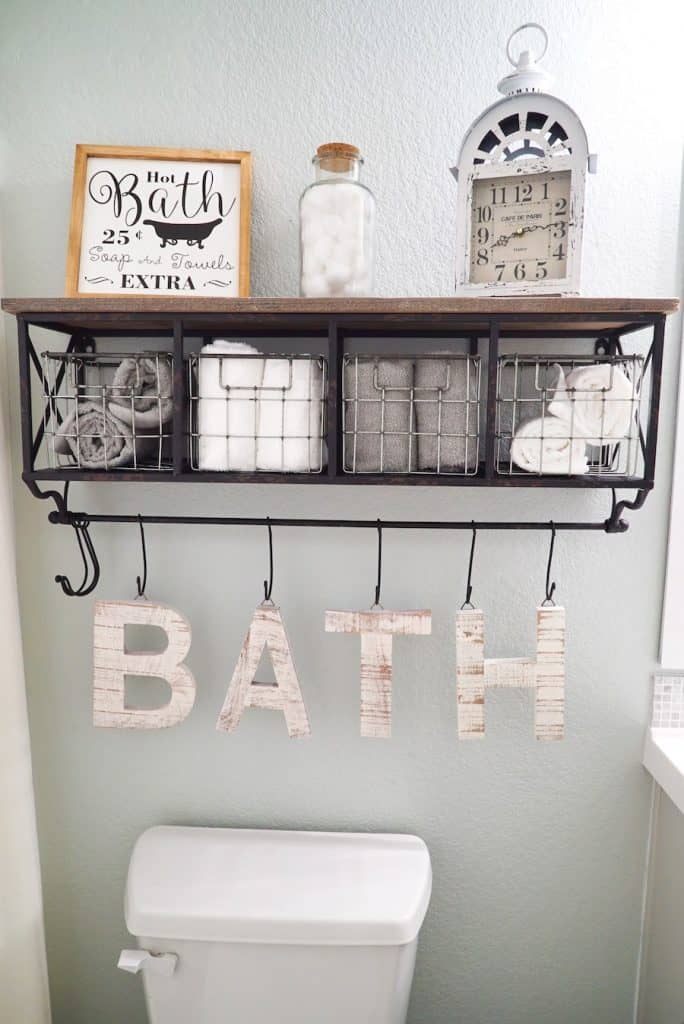 If you're short on space, it can be a really good idea to get a shelf that serves multiple uses. For example, this shelf not only has space on top for decor or bathroom items, but it also has many wire baskets underneath for additional storage.
Finally, there are a series of hooks underneath the unit for hanging decorations, like this sign, or even some towels. The whole thing is pretty and functional all at once.
Add Small Corner Shelves to the Shower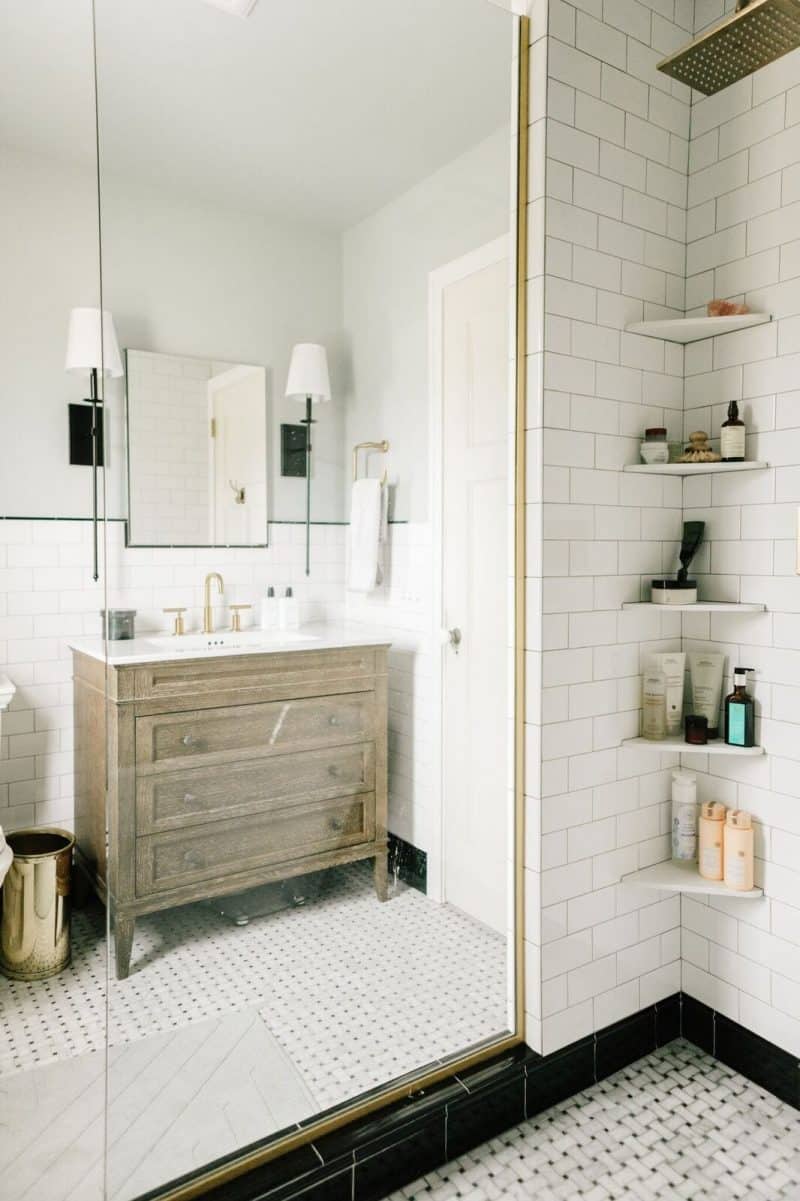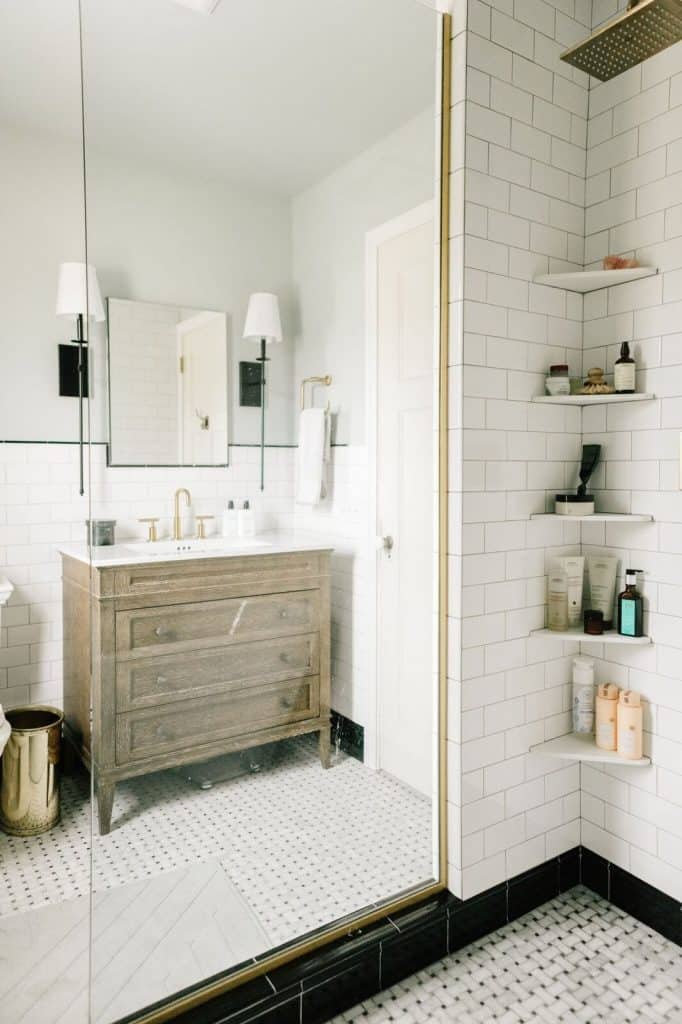 Adding shelves to a shower is a great way to avoid having a messy shower floor covered in bottles. If you've got a small shower, you can get some small triangular shelves that tuck in nicely to the corner.
These white shelves are simple but fit seamlessly into the nice white tiles of this walk-in shower, and having many of them means you get the space to spread out your things.
Paint the Shelves the Same Color as the Walls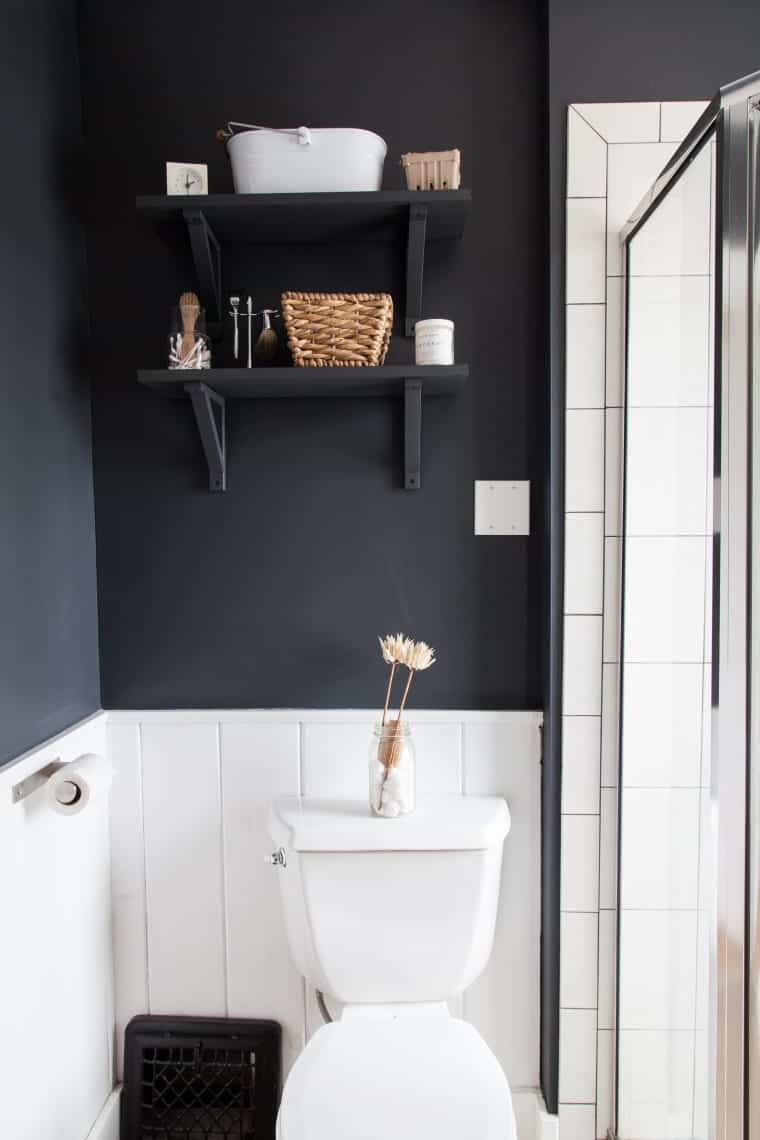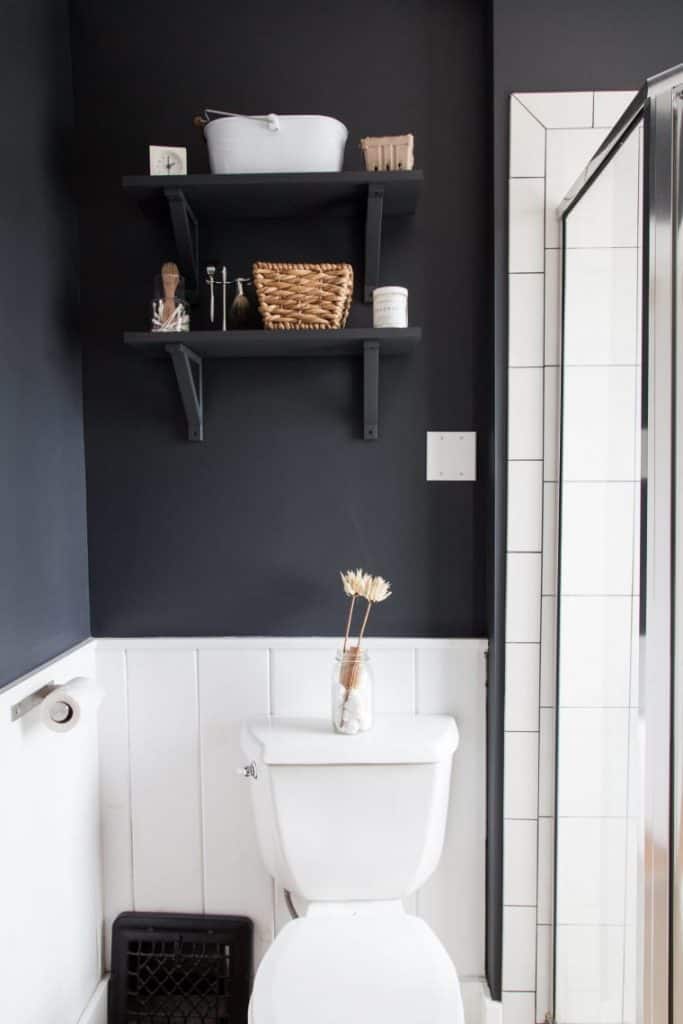 You can make your shelves blend in to the walls by painting them the same color. It's a great trick for making your space appear larger and your shelves smaller. This example is perfect to showcase this, with the shelves painted black like the walls.
This is a very simple and affordable shelving solution for everyone, because you can buy very basic shelves and cover them up with some paint.
Get Custom Wooden Shelves for Small Spaces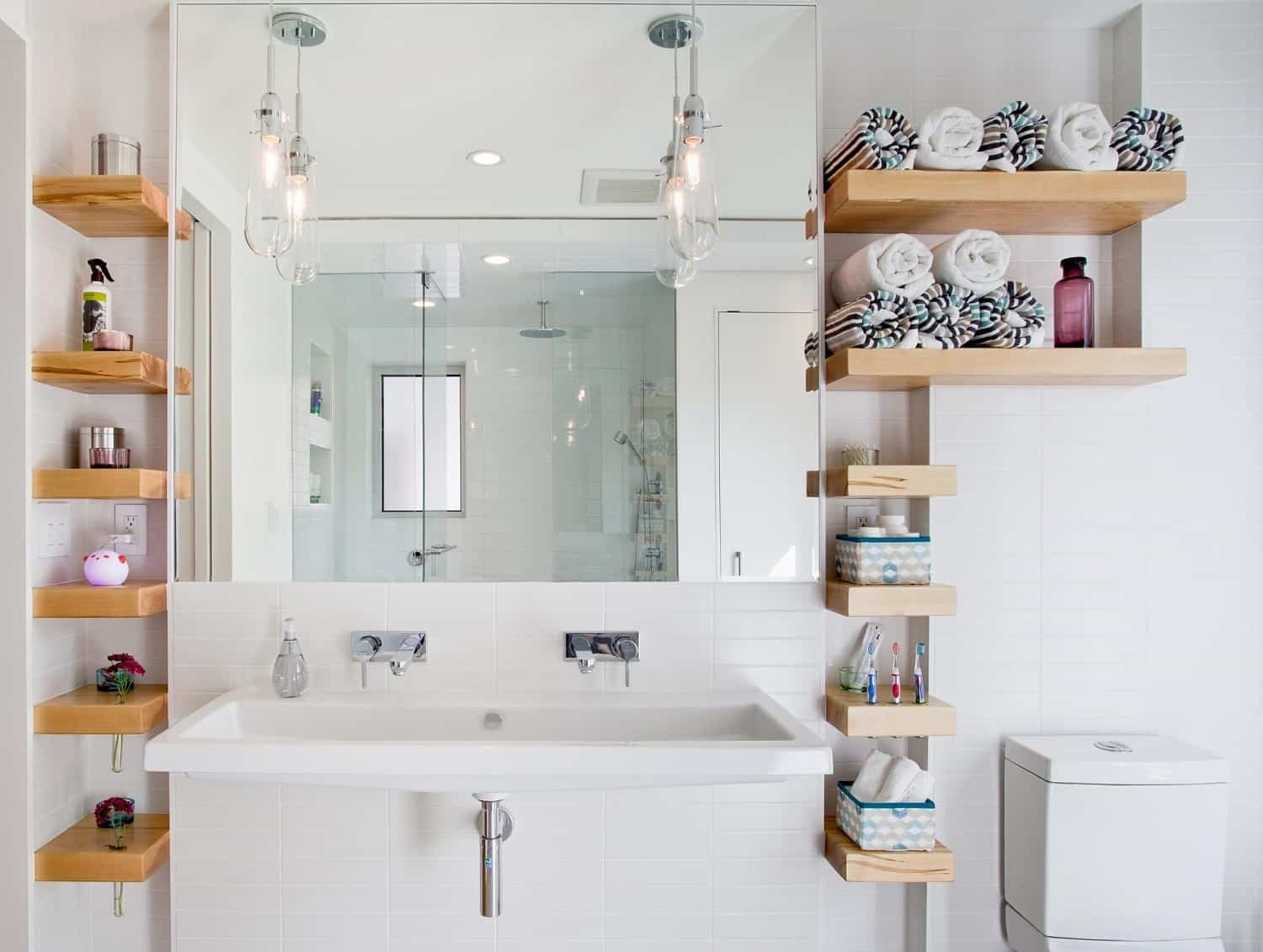 You can also get some custom shelves built for your small nooks and spaces. Instead of adding a shelf somewhere else in the room, look for the small areas that can be filled by a series of shelves.
As you can see in this example, some thick wooden shelves are great to fill in the gaps in this white bathroom, and they're custom fit to perfection in these small spaces.
Buy a Distressed Cubby Shelf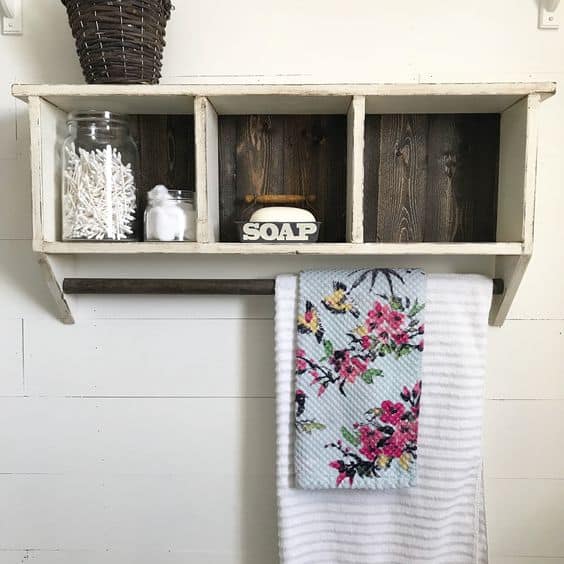 Another great farmhouse decor tip is to add some distressed and weathered wood to the room. The bathroom wall shelves are an easy place to be able to do this, so either look for a useful cubby shelf like this one or make your own.
It's easy to decorate with distressed wood, especially if you're looking for a farmhouse style of decor. Check out this guide by The Spruce for all the necessary details.
Break Things Up With Asymmetrical Shelves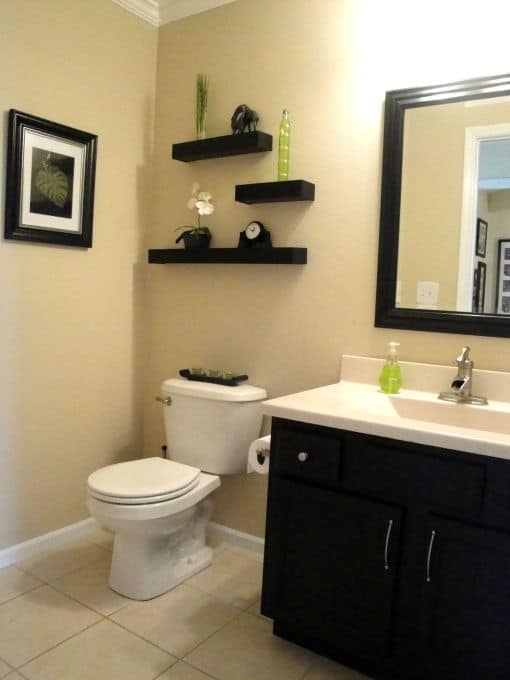 A lot of the time, our decor styles will include straight lines throughout, whether it's shelving, cabinets, baseboards, and more. It can make a statement to change from that style by adding some curved lines.
Whether it's a round mirror, some plants, or using your shelving, try to break out of the usual patterns. In this case, three shelves are staggered at different lengths instead of lined up in a row and it's a nice touch.
Get a Pre-Built Over-the-Toilet Cabinet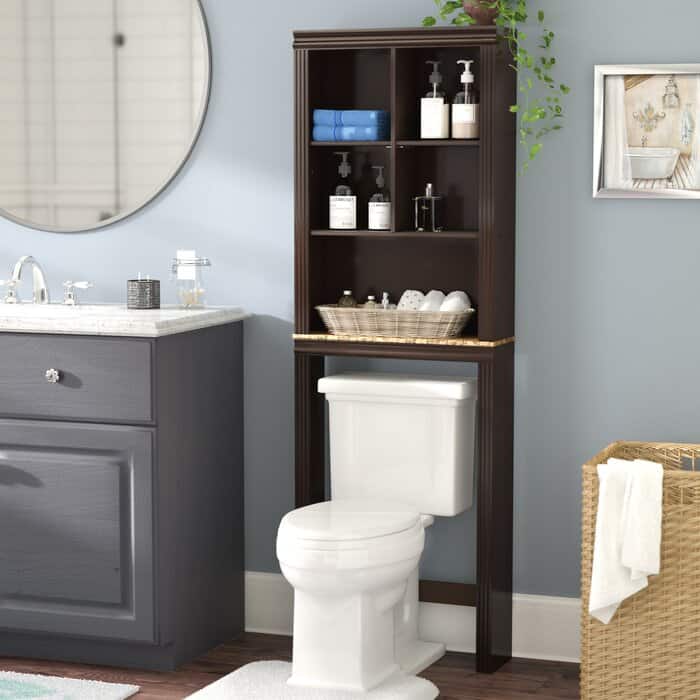 This cabinet has been built to the right specifications to fit over the back of this toilet, and it's a great place to add a small shelving unit. Look for a model that's pre-built that you can just add to your bathroom, or make your own.
Although the shelves are narrow and shallow, they provide enough space to store quite a lot of things and they help to keep bathroom counters clear.
Fill Small Nooks With Floating Shelves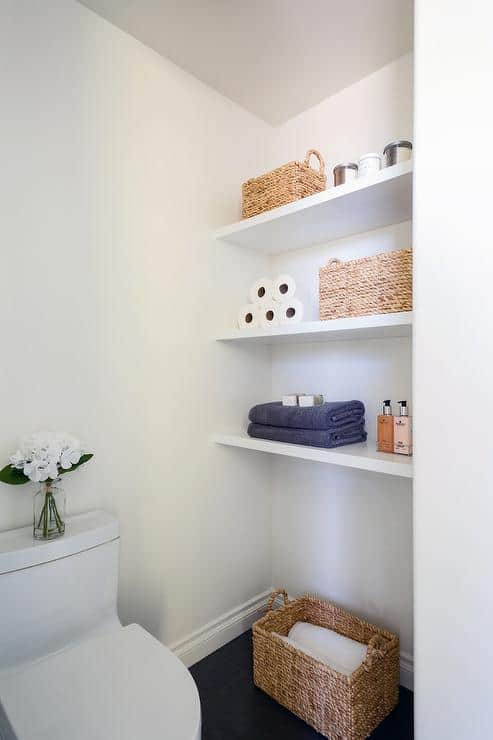 Do you have some spaces in your bathroom that you're not sure what to do with? A small nook in one corner that's sitting empty and bare? Instead of leaving all that wasted space alone, add some floating shelves to store your bathroom essentials.
If you can't find the right shelves, make your own custom shelves to fit perfectly. You can also leave some space under the shelves for a laundry hamper or some storage baskets.
Create a Built-In Custom Shelf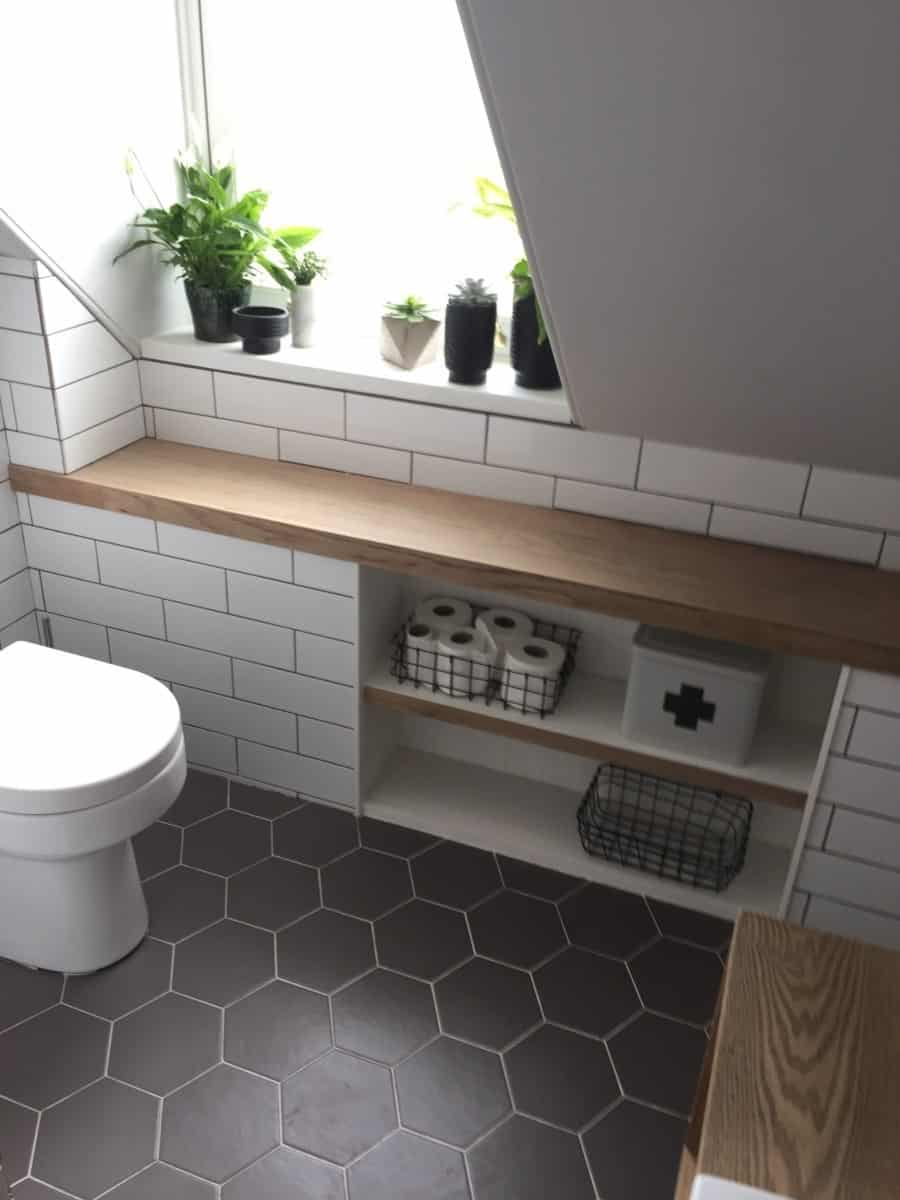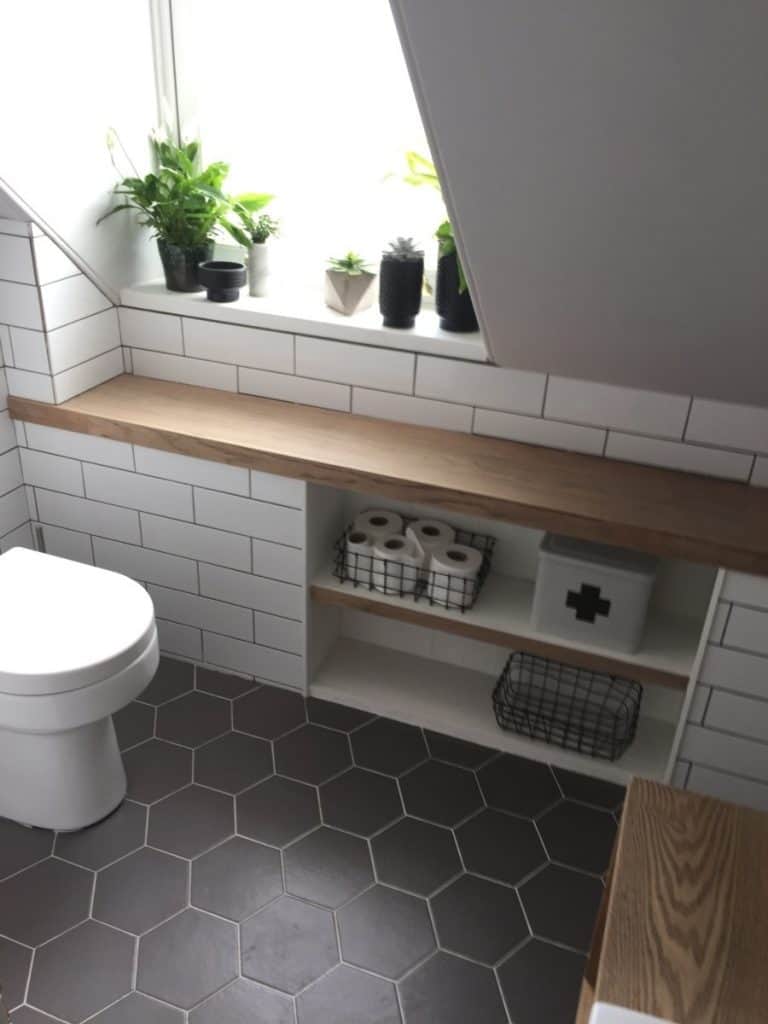 This bathroom shelving solution is great because it uses a lot of the ideas we already discussed. It has one long ledge at the top for decor or storage, but also some recessed shelves underneath for additional items.
There's also an extra shelf, which is the window ledge in the corner. The white subway tiles look amazing with the gray walls and wooden shelving. Some wire baskets help to keep everything on the shelves in one place.
Add Wicker Baskets to Shelves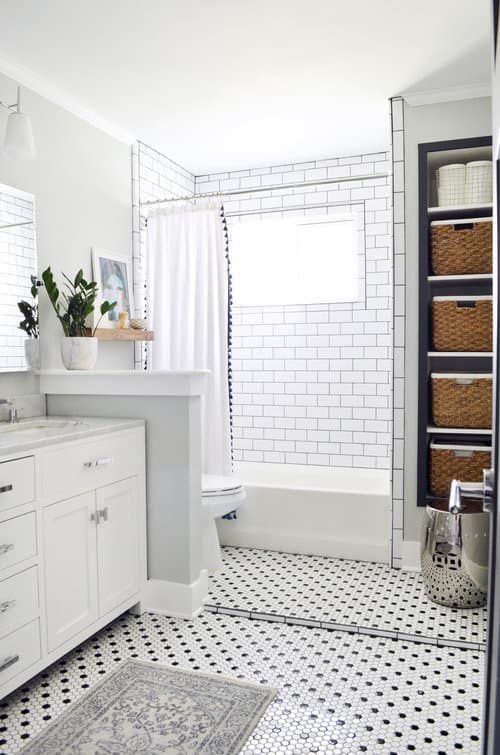 This bathroom is the perfect example of using the space you have to add shelving. There's only a narrow wall space beside the bathtub, but the homeowner has used the space to add recessed shelves.
Wicker baskets are an excellent idea for storing the necessary items while adding some measure of privacy. That's great if you don't want to build closed cabinets but you don't want your essentials in plain view.
Replace a Cabinet With Open Shelves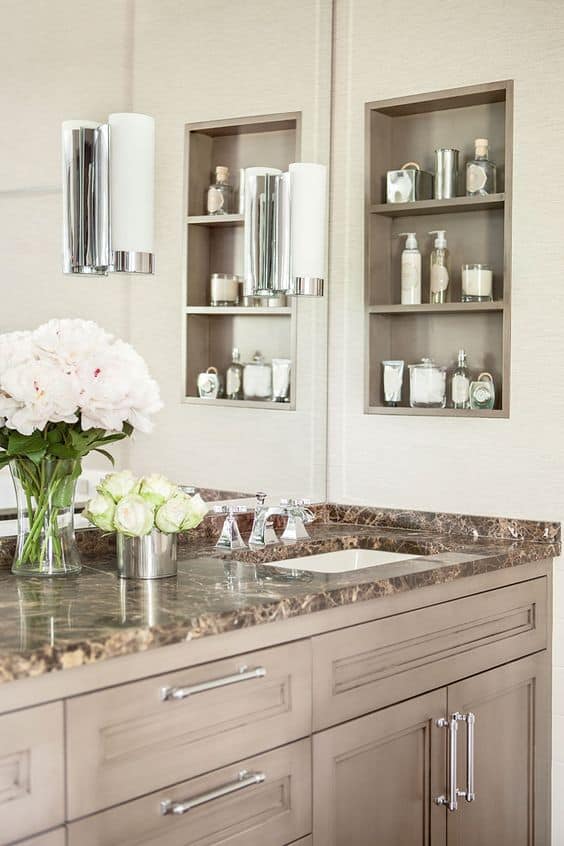 A common bathroom decor choice is to have a cabinet above or beside the sink, especially the cabinet hidden behind the mirror. It can be refreshing to get rid of cabinet doors, though, and keep everything exposed. It can also save you some space by not having to add a cabinet door.
Buy a Rolling Pull-Out Cabinet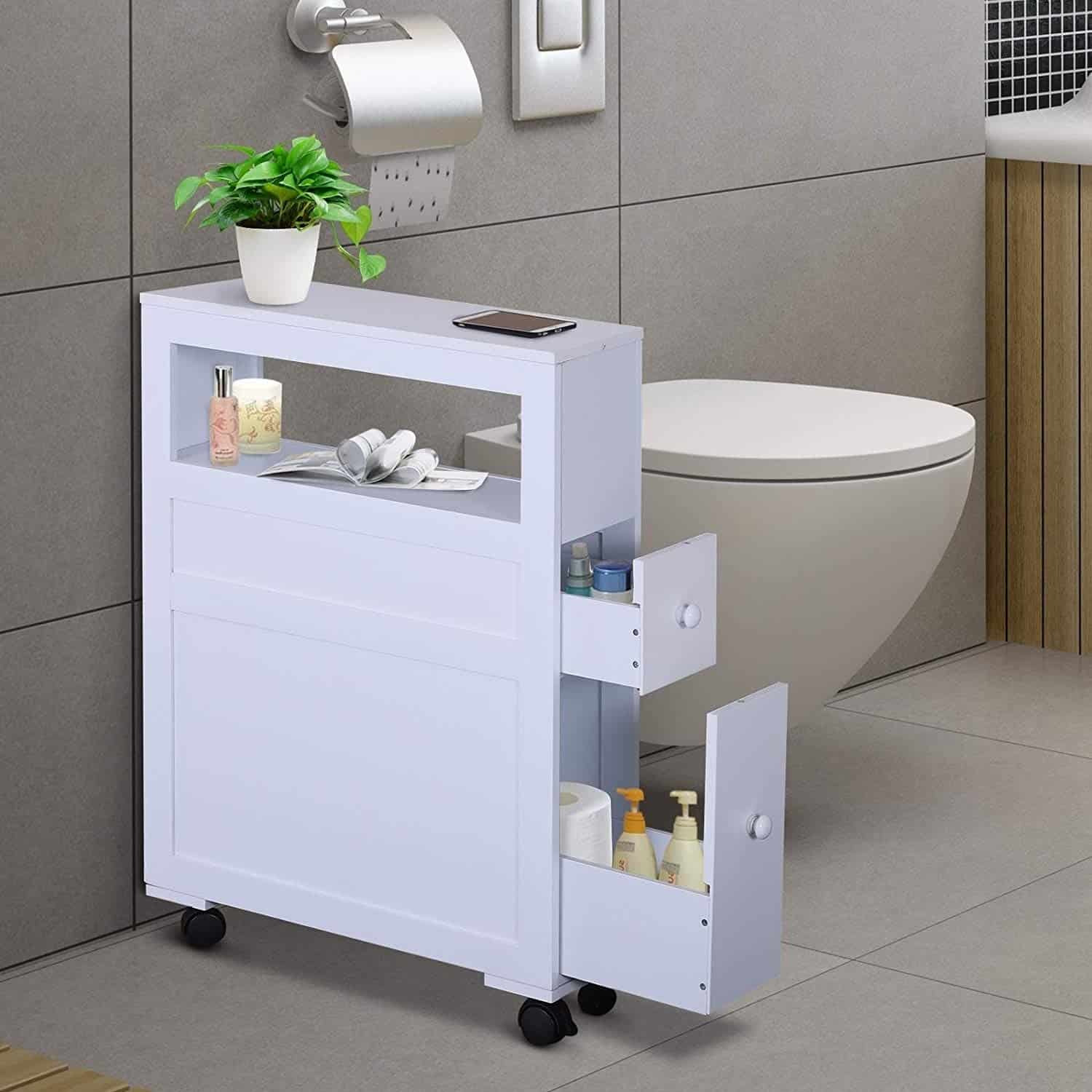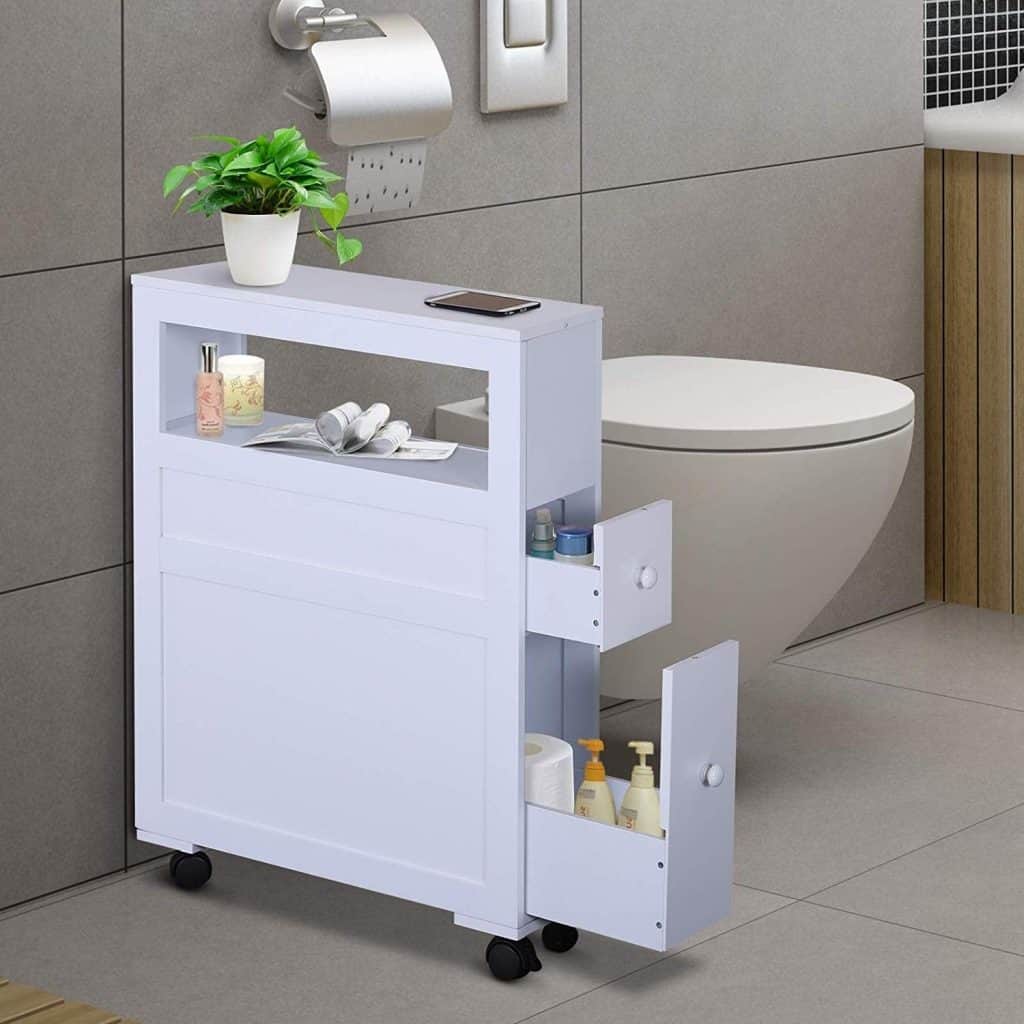 This cabinet is similar to the other movable cabinet, but this model actually comes on wheels, which makes it even easier to move around. Another difference is that this one has a few drawers, so you can keep your belongings private and secured.
This cabinet is great because it has a deep drawer for larger items and bottles, a smaller drawer for everything else, and two shelves for the rest of your things.
A Fold-Down Shelf Is Useful for Smaller Bathrooms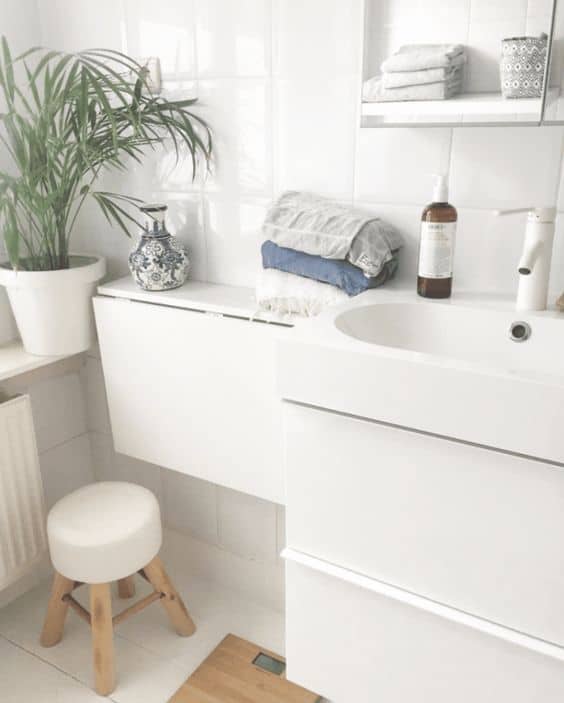 If you have a tiny bathroom, consider adding a fold-down shelf like this cute one pictured here. It's quite simple to add, you just need to build some hinges on an existing shelf. You can keep it folded down at all times to have extra space to move around.
When you need more space though, you can easily expand it and spread your things out without worrying about knocking everything over.
Lean a Rustic Ladder Over the Toilet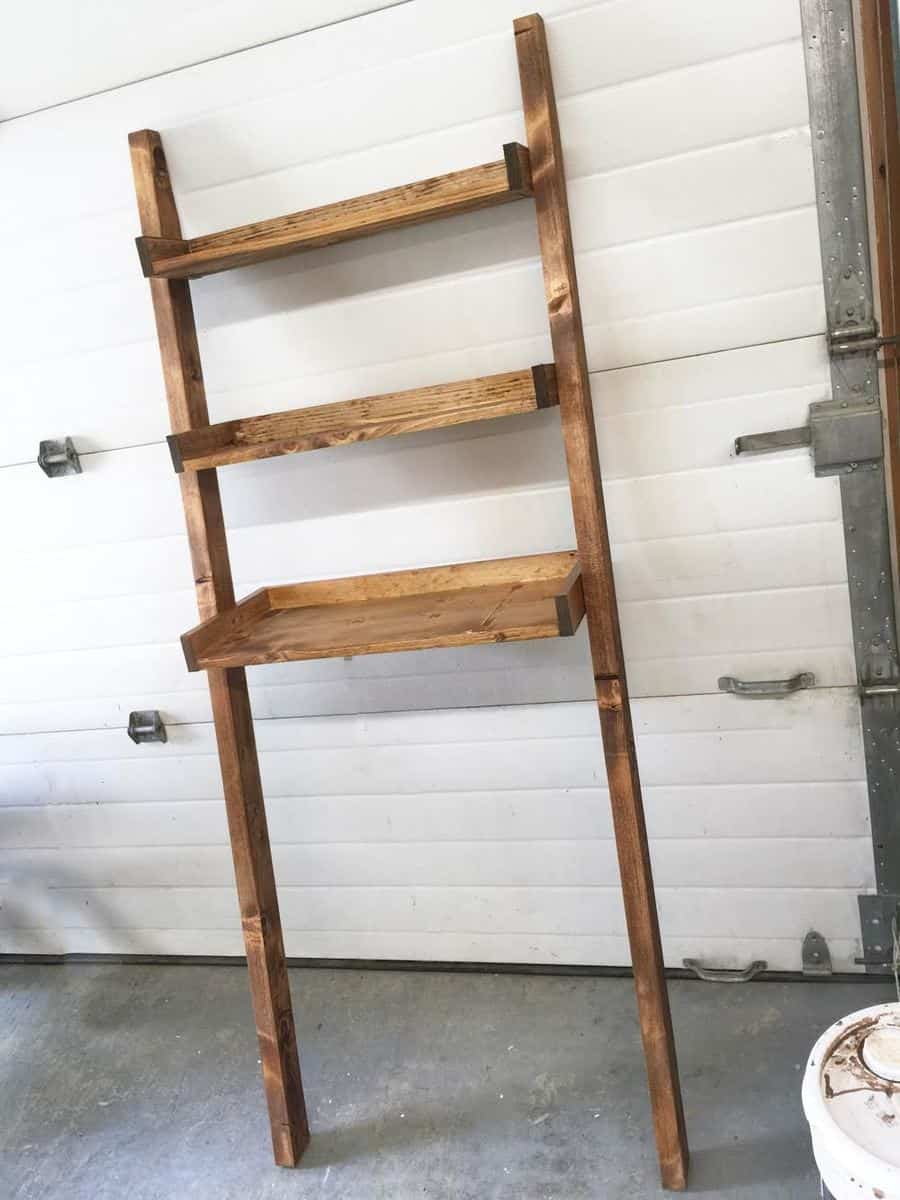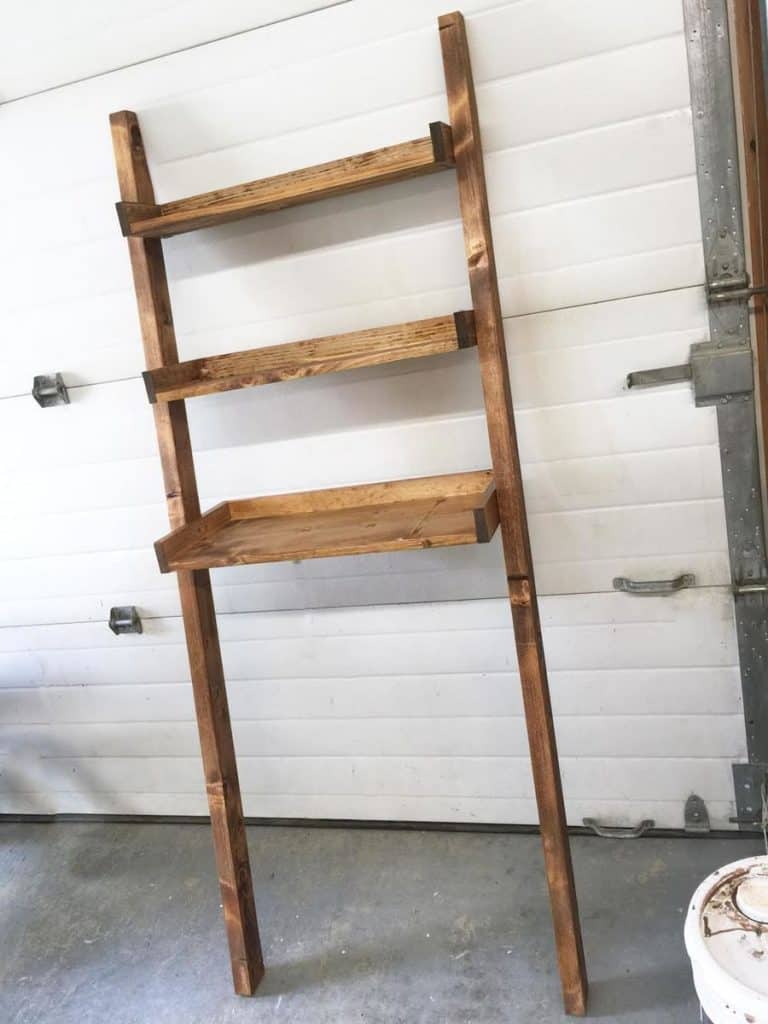 This rustic wooden ladder pictured by Ana White has been custom-built to fit over her toilet. It's a great way to reuse some old wood you might have lying around, and is an excellent way to tap into the vintage ladder trend that's all the rage right now.
You can also add some small edges to the sides of the shelves to make sure nothing tips over or falls off the shelf.
Buy Shelves on a Rolling Cart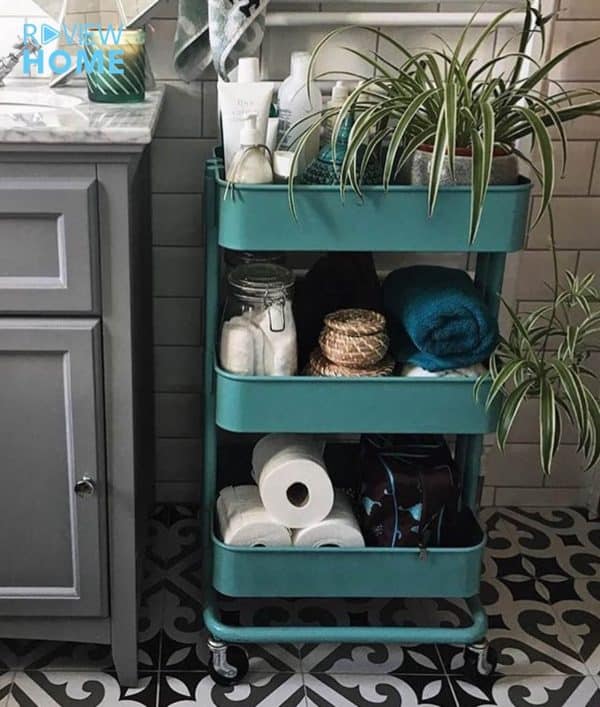 This rolling cart is really cute and also very useful for bathroom storage. It has high edges to keep everything in place, and the wheels are convenient for moving it wherever you want it.
I also really like the color of this unit, which adds brightness to the black and white theme of the room. It would also be really easy to paint, however, if you wanted it a different shade.
Hang Up Sideways Wire Baskets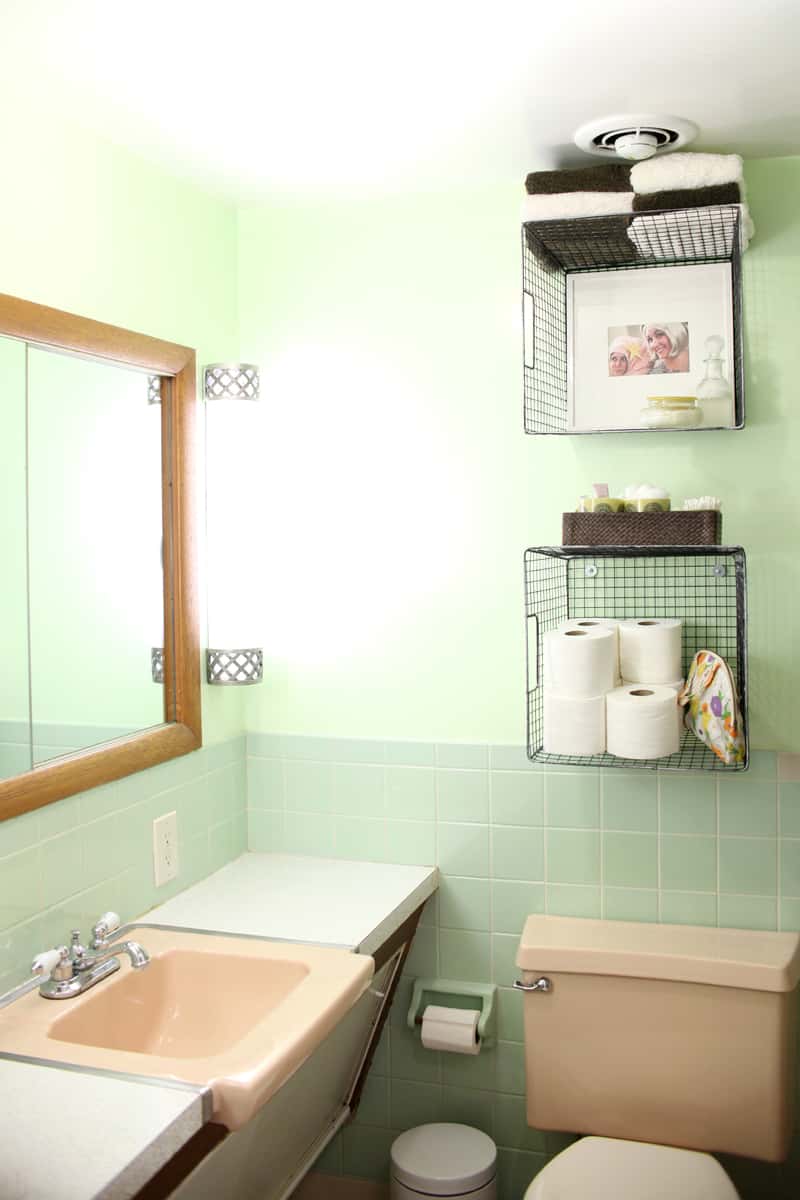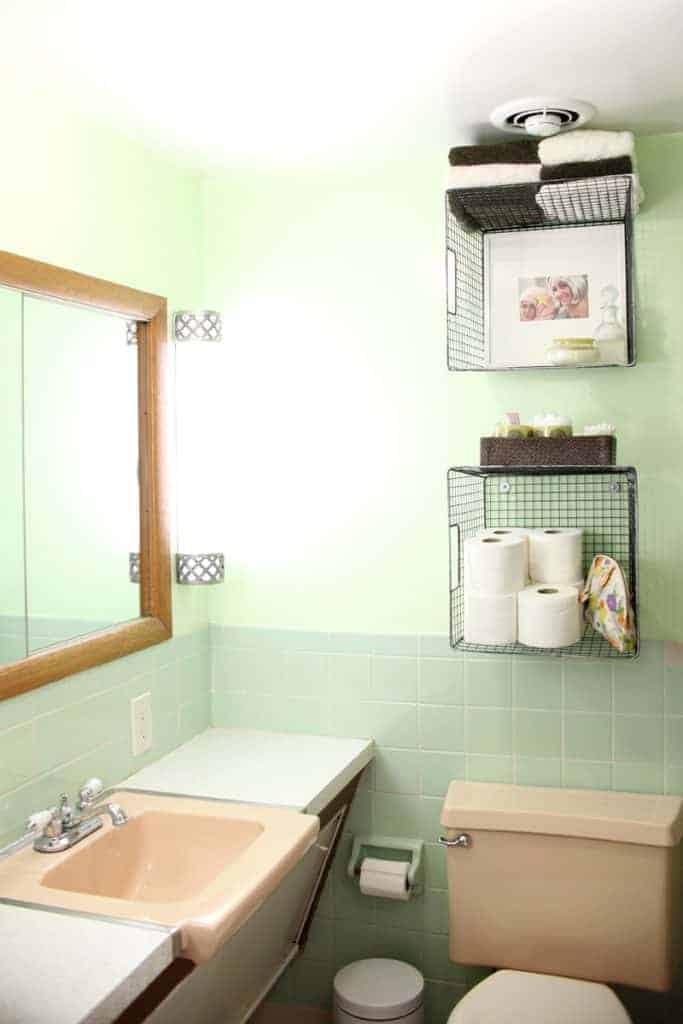 Wire baskets are a really clever way to make your own shelves. Simply hang them up sideways, one on top of another, and you're done! Because they're wire and not solid, it makes the room more airy and less cluttered. It's a perfect way to store extra bathroom supplies for easy access.
In Summary
Installing shelving in a bathroom is a pretty affordable solution for most homeowners, and it's easy to find one that can not only work with your decor, but enhance it.
If you want the rustic farmhouse look, use shelving in unfinished or reclaimed wood. For the modern or contemporary style, glass or metal shelves can look really good. These ideas should be a great starting point for deciding how to better organize your bathroom.
Put your shelves front and center, or tuck them away in unused corners; there are so many gorgeous ways to integrate shelving in a bathroom decor.