Decorated Life is reader-supported. When you buy through links on our site, we may earn an affiliate commission. Learn More
30 Gorgeous Baby Girl Room Decoration Ideas
Getting ready to greet your baby girl and bring her home is a really exciting time, and the period leading up to the birth is time to be treasured just as much as meeting your little one. There are so many things to enjoy, and one of the biggest joys is decorating the nursery.
There are so many different ways you could go about designing the space—from a traditional pink nursery to something a little more contemporary. As fun as it is, it can also feel a little daunting when there are so many possibilities to choose from and decisions to make. Here are some of the best baby girl nursery ideas to help inspire you for your own baby girl's room.
Convertible Crib with Changing Table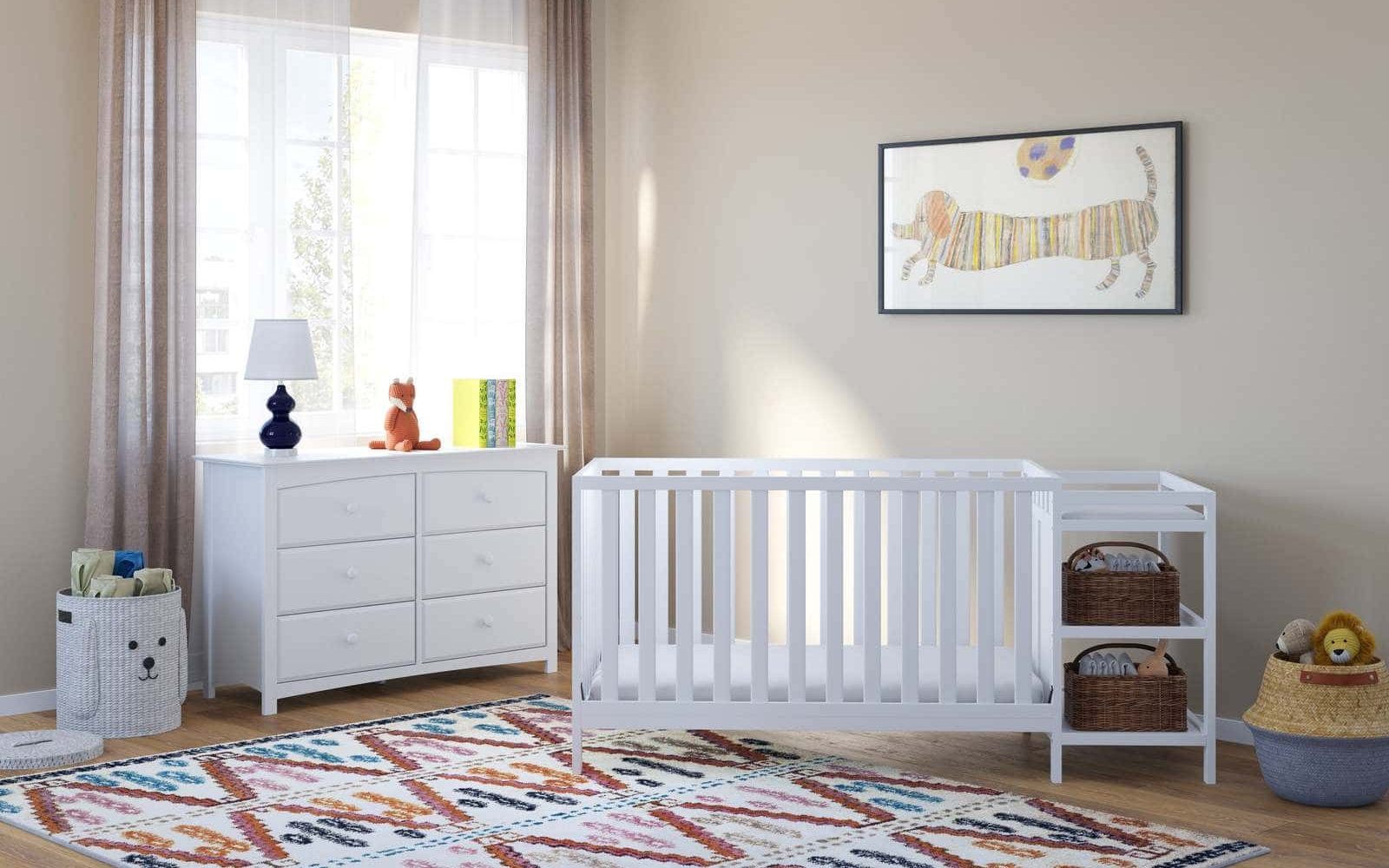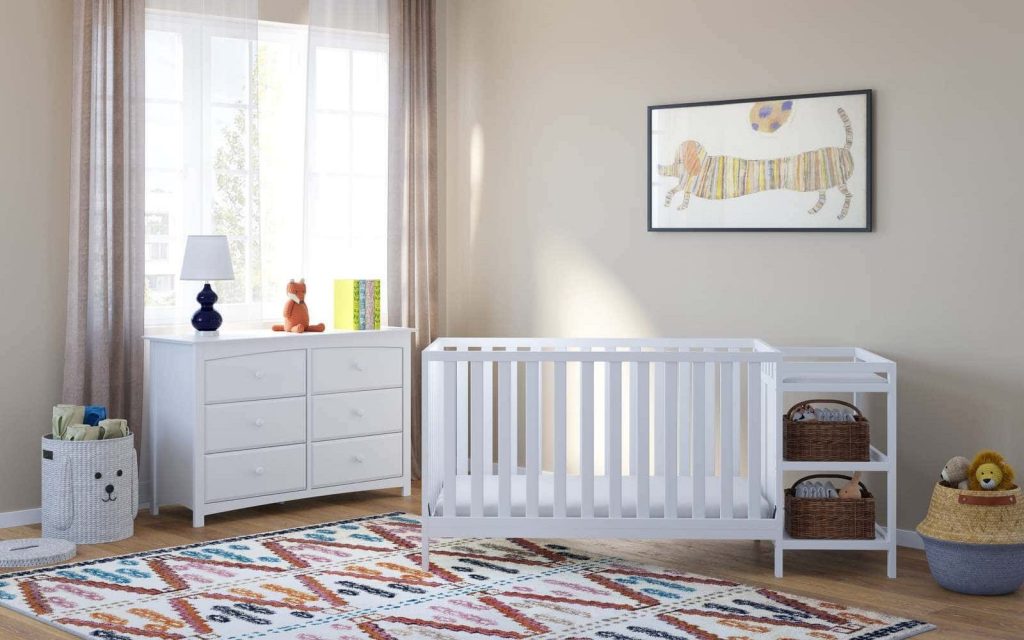 This white cot with an attached changing table and storage is a great option that keeps everything right where you need it. As your baby girl grows you can convert the cot into a toddler bed, then a full-size day bed, so it will grow with your baby and last for years. This cot would look great in a modern pink and grey themed nursery, or a more gender-neutral nursery if you stick to earthy tones.
Create a Calming Natural Look with this Wallpaper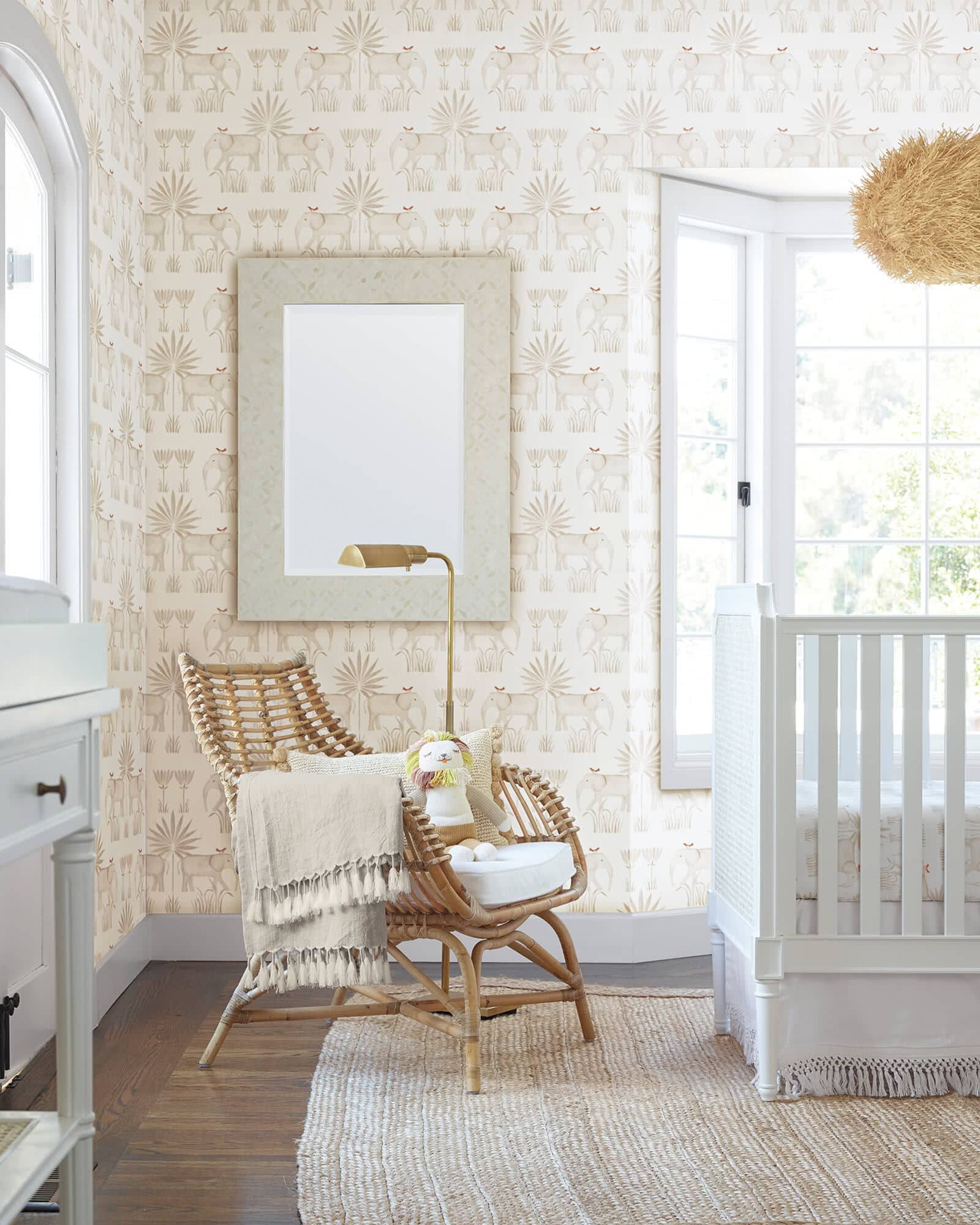 When planning how to decorate your baby girl's room think about choosing calming tones and using materials that give a peaceful atmosphere.
This wallpaper by Serena and Lilly is great because while there are things to look at, like the elephants on the wallpaper, it's not so busy that your eyes are darting around the room. The soft pastel tones make the room feel relaxing whatever your age.
A Blush Reclining Chair for a Baby Girl's Nursery
As much as your baby girl is the priority when looking for nursery ideas, you also need to think about the amount of time that you will be spending in there while caring for her. The space needs to be comfortable and functional for you as well as for your baby girl. You will want somewhere to sit when nursing or soothing her, so choose a comfortable chair that you can curl up in.
This reclining chair is the perfect solution as it's adjustable to your needs. It also comes in a variety of colors which gives you options when decorating your baby girl's nursery.
Choose a Lamp that Makes you Happy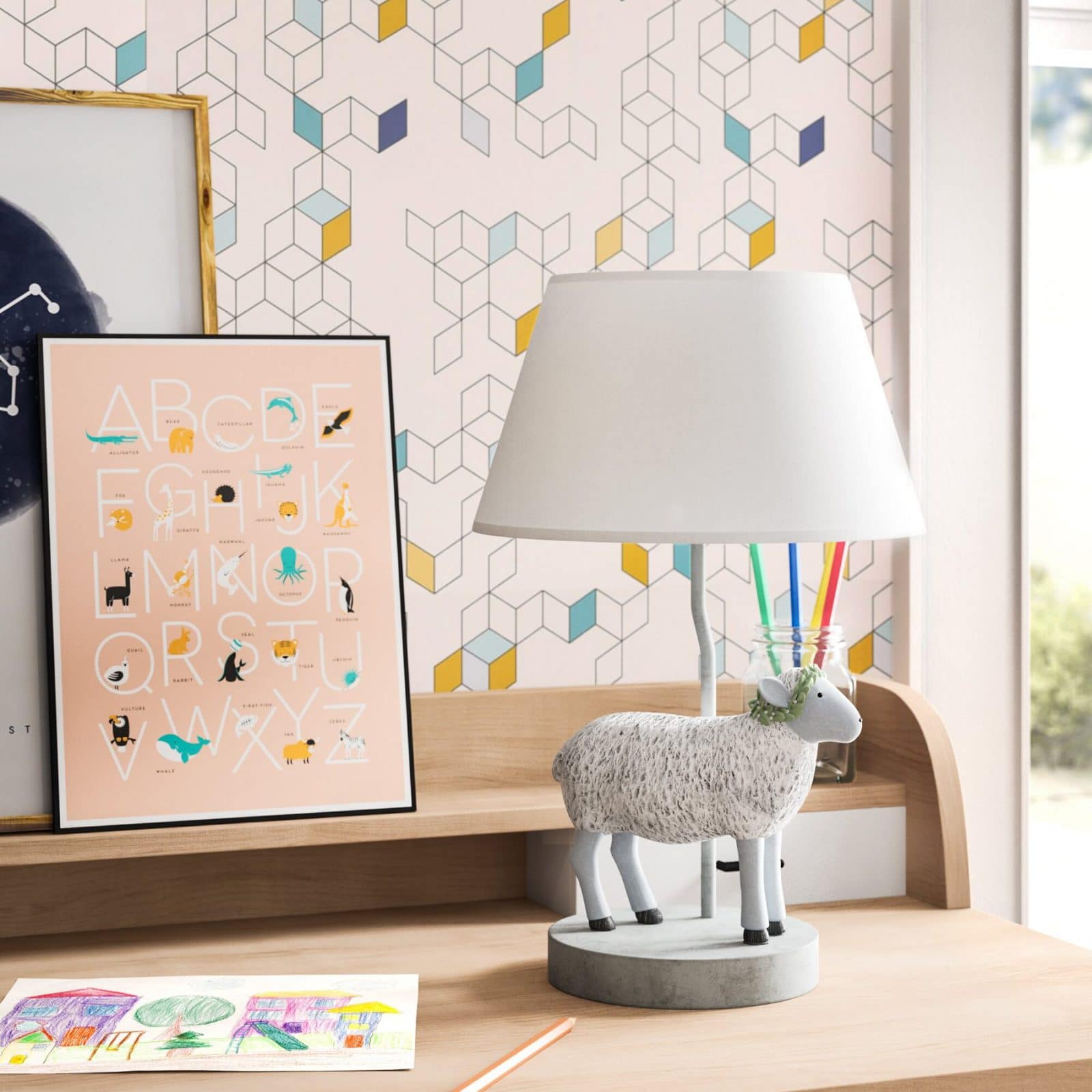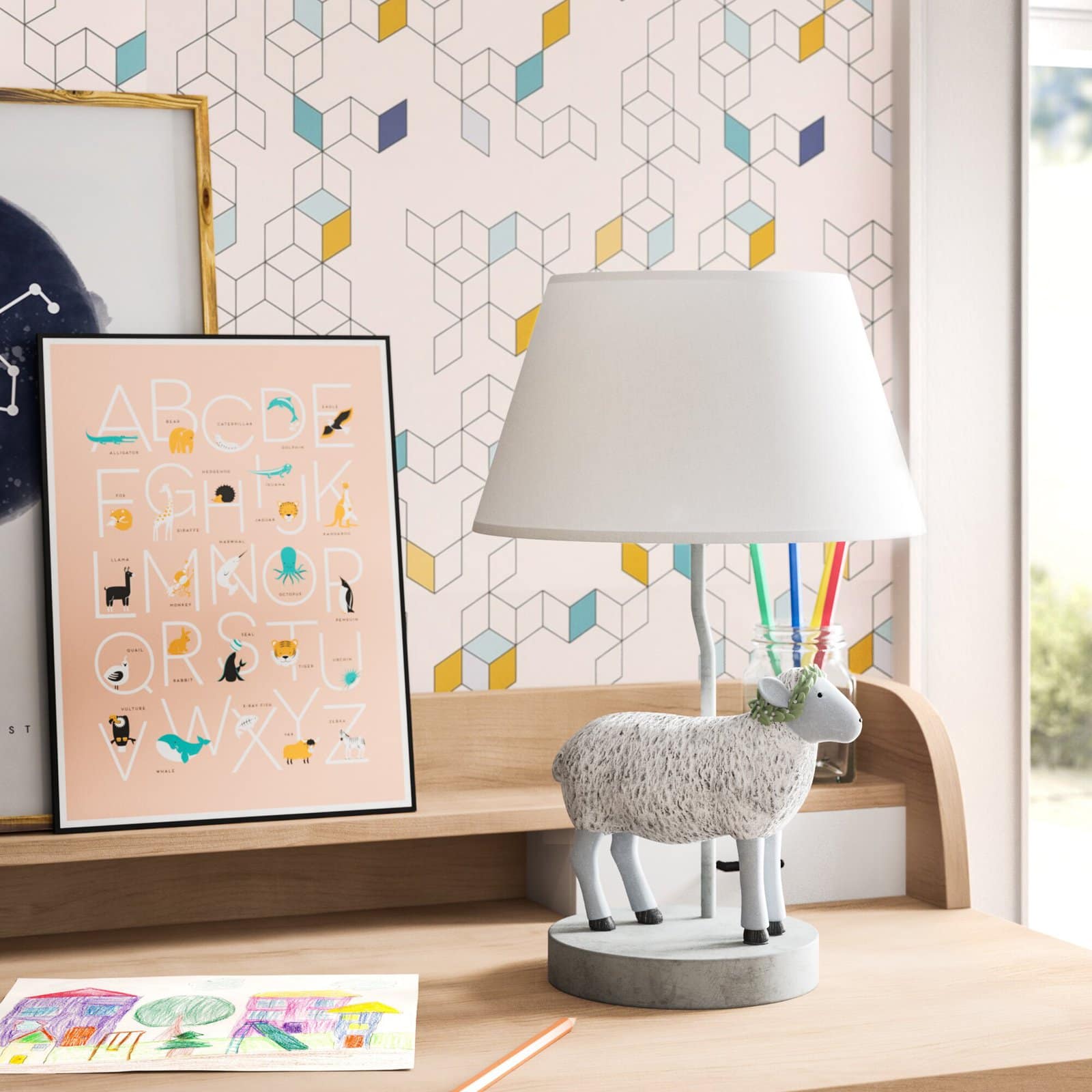 The children's and nursery sections of websites have the best selection of lighting, so you can find something that will entertain your new baby girl as well as make you smile when you walk into the room.
If you're an animal lover then you're in luck because a lot of the lamps are animal-themed. This would be great inspiration for you to create a barnyard or safari-themed nursery, making a really unique baby girl's room.
Choose Artwork that Inspires The Imagination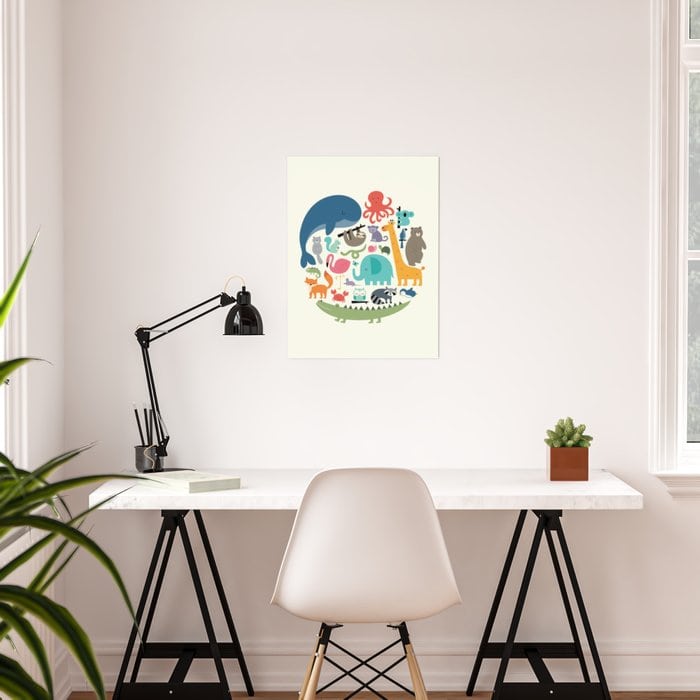 We always think about choosing artwork in the 'adult' rooms of the house, but why wouldn't you do that when decorating a baby girl's nursery? Choose prints that offer the opportunity to inspire or educate your baby girl as she grows up.
This print with lots of different animals on would help you to create a unique baby girl nursery theme by leaning into the idea of a safari or barnyard-inspired nursery, but as she gets older you can help her to name each of the animals and explain what each animal is like. It will also help your baby girl to use her imagination to think about each other animals.
Create Fun Storage Spaces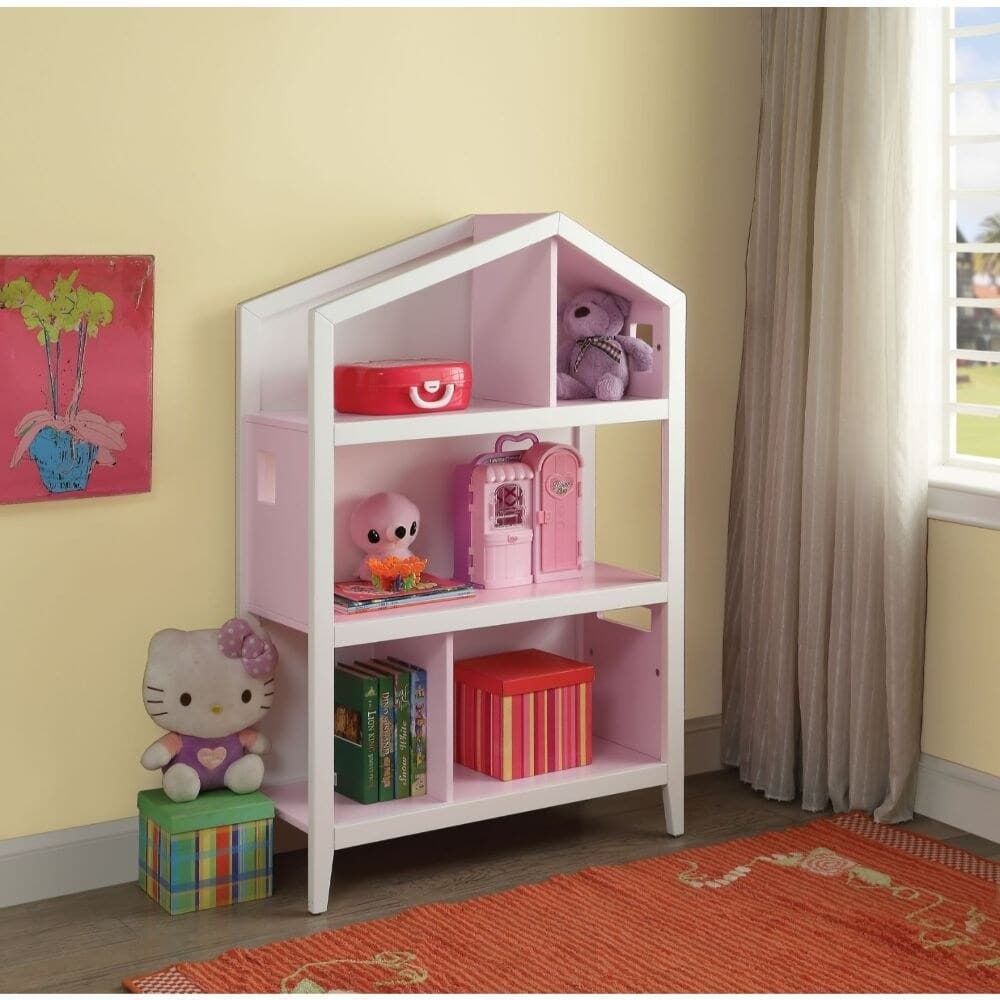 One of the most important aspects to consider when designing a baby girl's nursery is the practicality and function of the space. It's wise to think about storage while you're designing the nursery rather than needing to add it in afterward.
This house-shaped bookshelf will provide a great amount of storage. When your baby girl is a newborn you can add baskets to the shelves to store everyday essentials, then you can put books and playthings on it as she gets older.
Find Clever Ways to Store Toys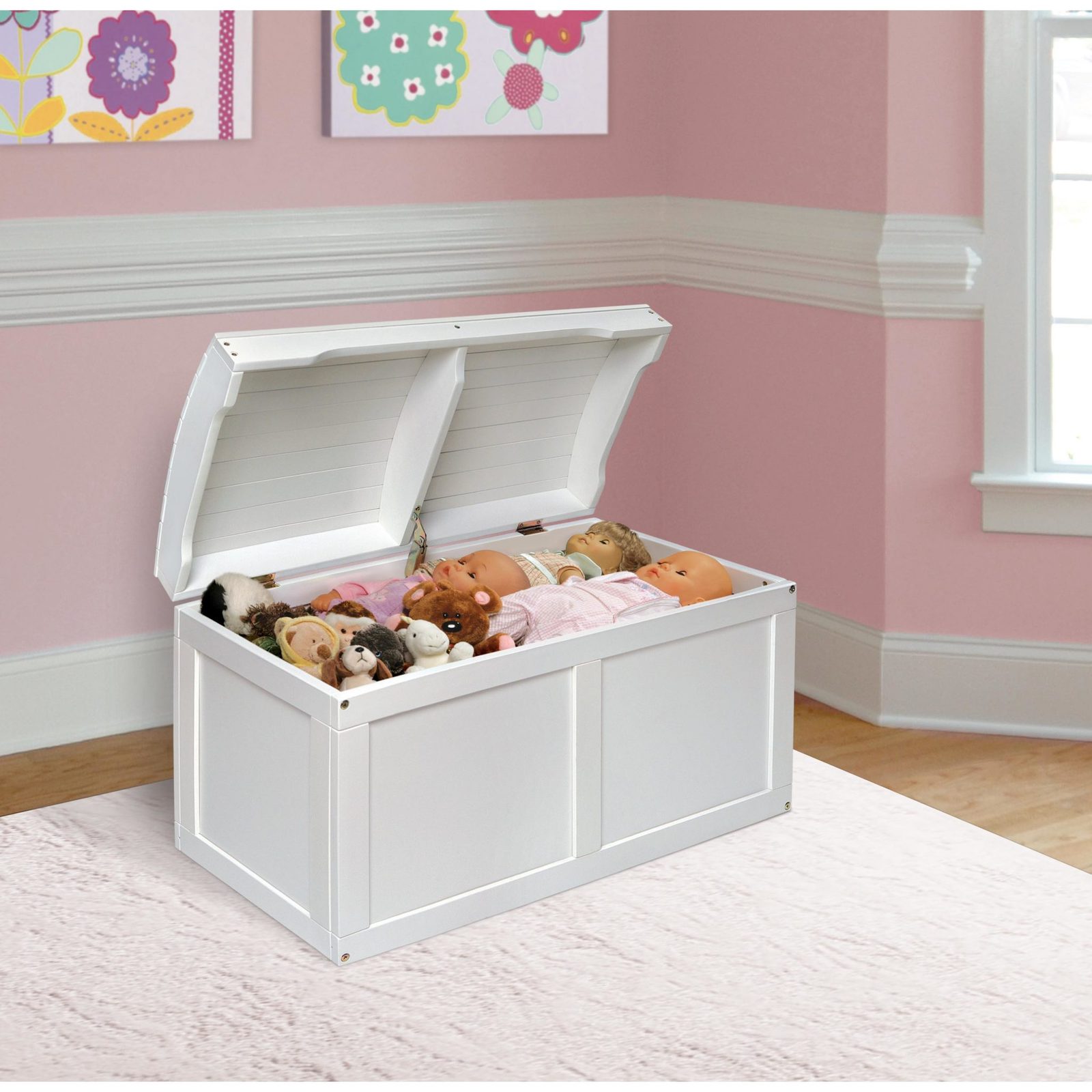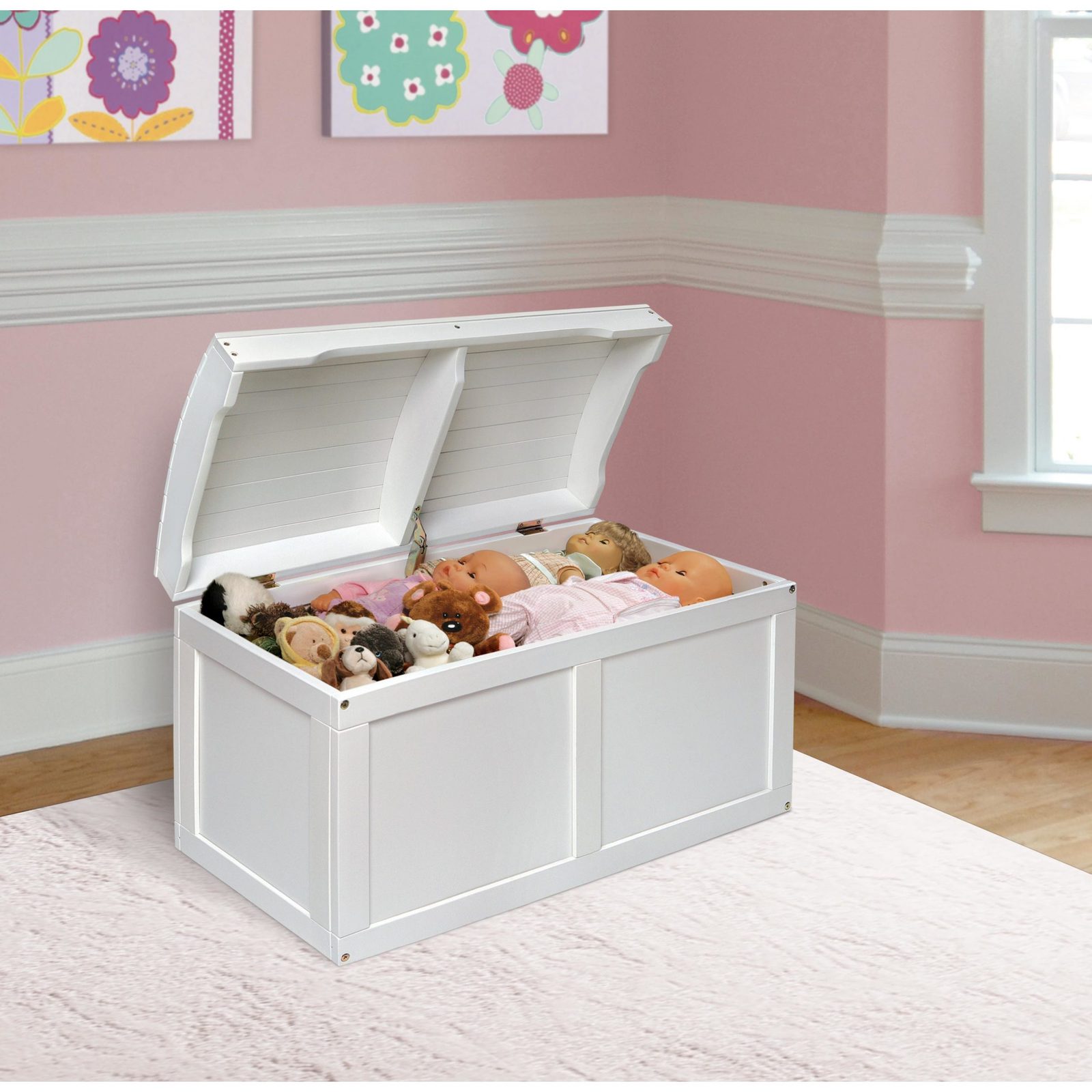 Kids always have a lot of toys, and your baby girl will probably not be an exception to this. Friends and family love to buy gifts for the new baby, but your challenge is where to store them all.
As your baby girl gets older it's important for her to be able to access (and tidy away) her own toys. This stylish toy chest will fit in well with a baby girl's nursery, providing plenty of storage space for toys and games as she grows.
Create a Play Area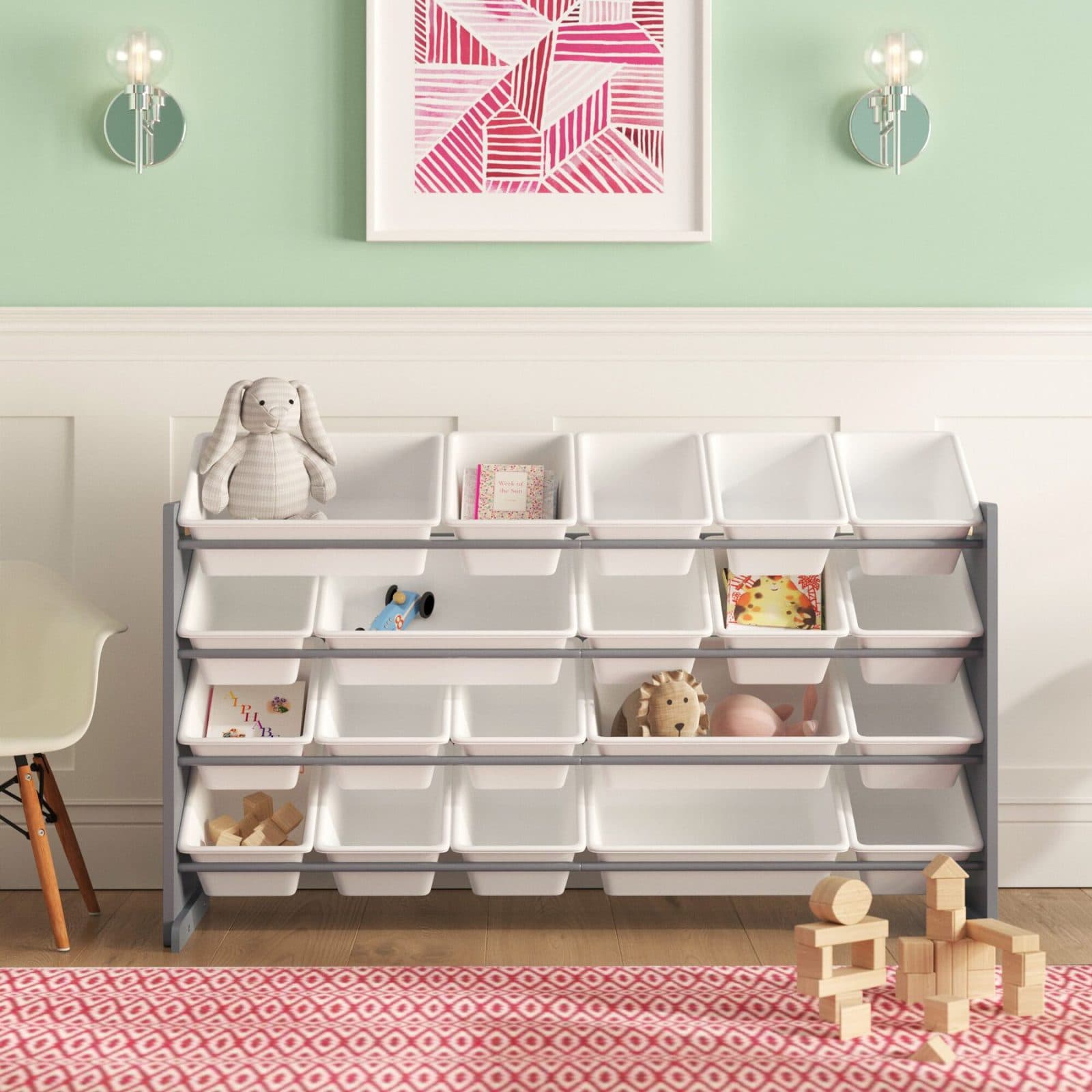 When thinking about designing your baby girl's nursery, think about creating a space for play. While as a baby this will be quite limited, it's easier to think about it now when the room is a blank canvas than trying to fit it in later.
These white bucket shelves will be great for organizing anything you need when your baby girl comes home, like nappies, muslin cloths, or toys, but as she grows up you will be able to use them for her to help herself to toys without needing to ask you. This is important for encouraging your baby girl to play and be independent.
Create a Play Area With an Indoor Teepee Tent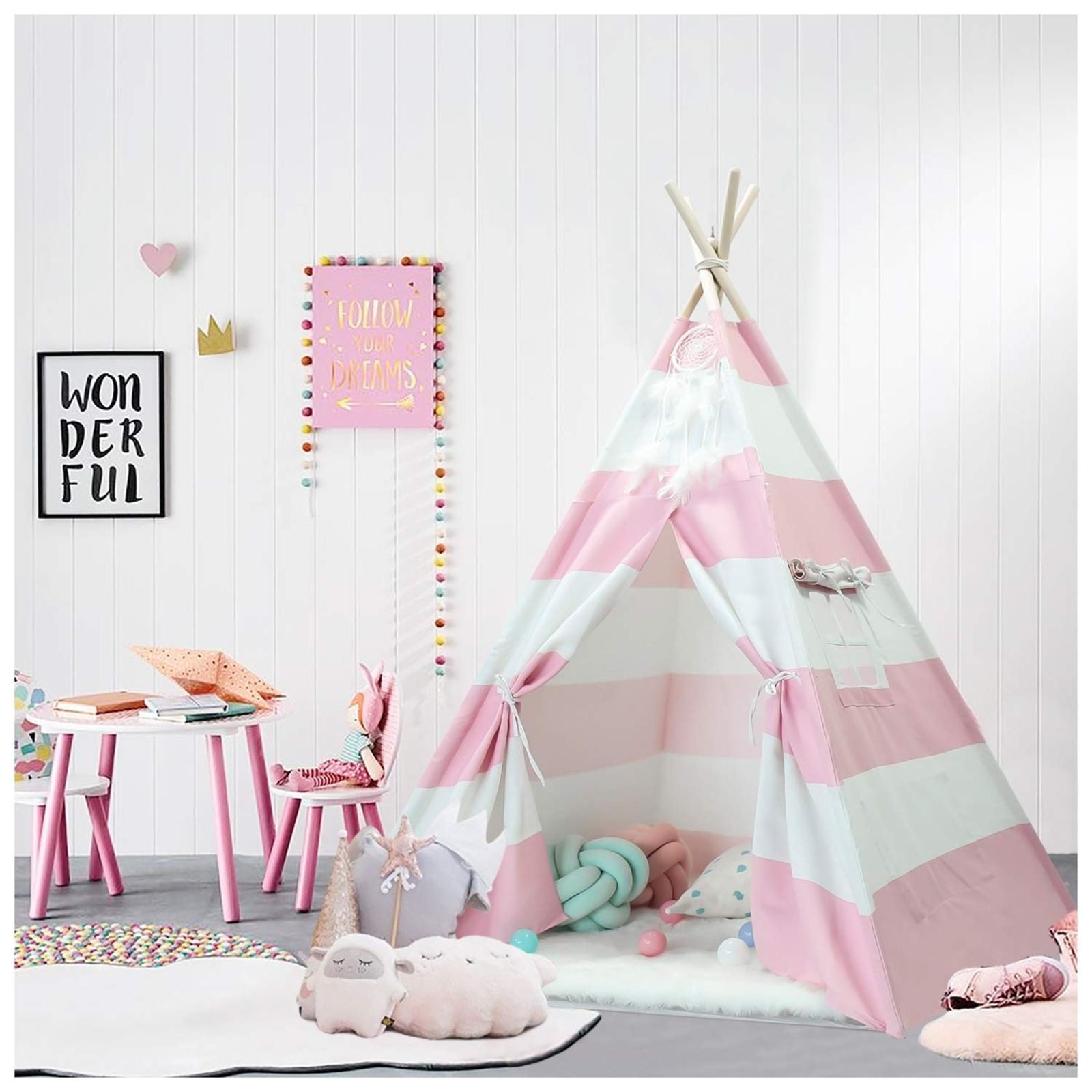 When trying to design the perfect baby girl's nursery it can be difficult to balance stimulation and relaxation to create a multifunctional space that your baby can both play and sleep in.
One of the easiest ways to do this is by using a teepee tent or a tented canopy to create a nook for reading or playing within. While a canopy won't entirely cover the play area, it's still a great way to mentally separate the two areas.
Choose Blackout Curtains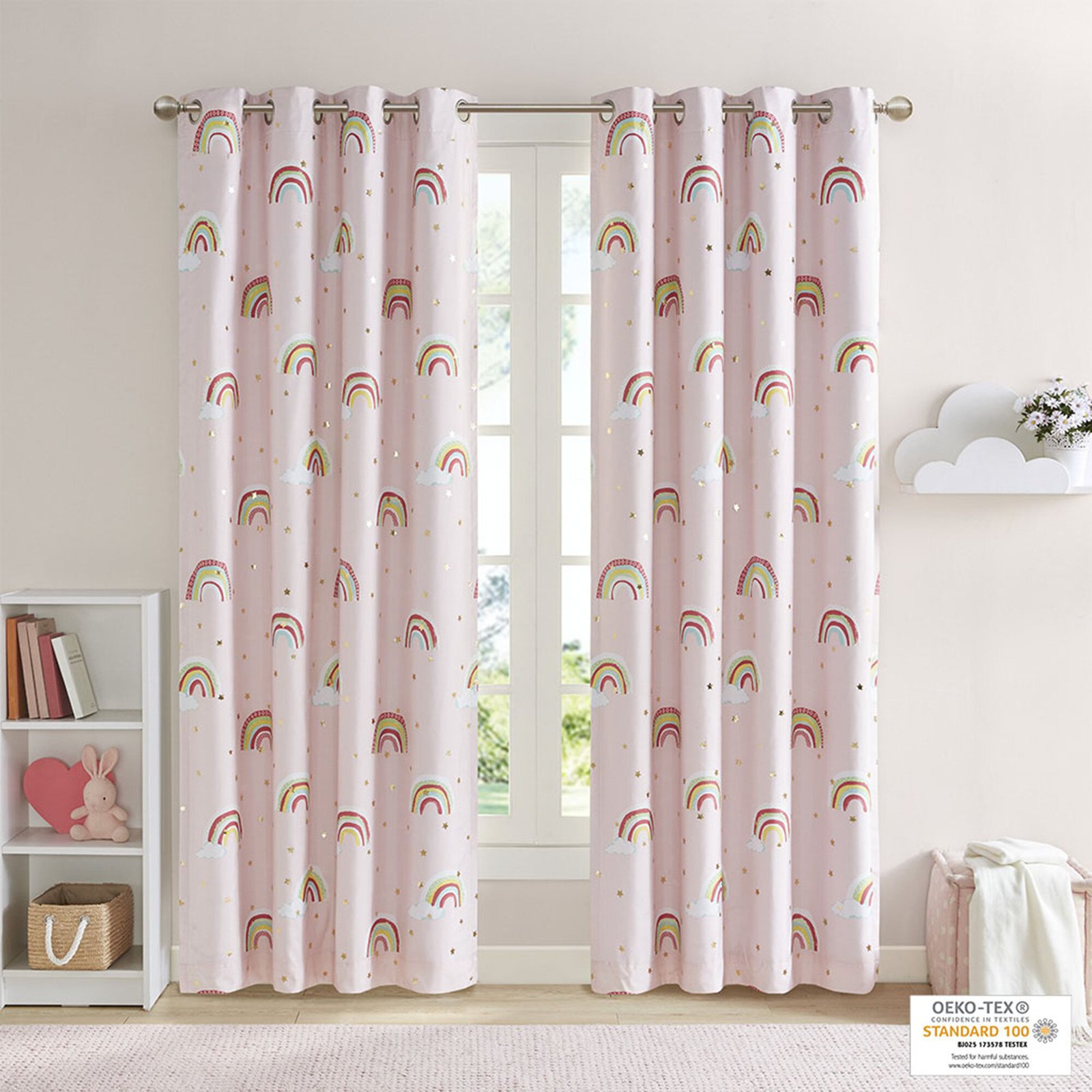 Your baby girl is likely to sleep during the day quite a lot when she first comes home. While younger babies can fall asleep in most places, as she gets older it's important to make her room easy to fall asleep in.
Choose curtains that will block out all or most of the light, giving your little one an ideal sleeping environment. These rainbow print blackout curtains are perfect for creating a unique baby girl's nursery theme.
Create somewhere Cosy for You and your Baby Girl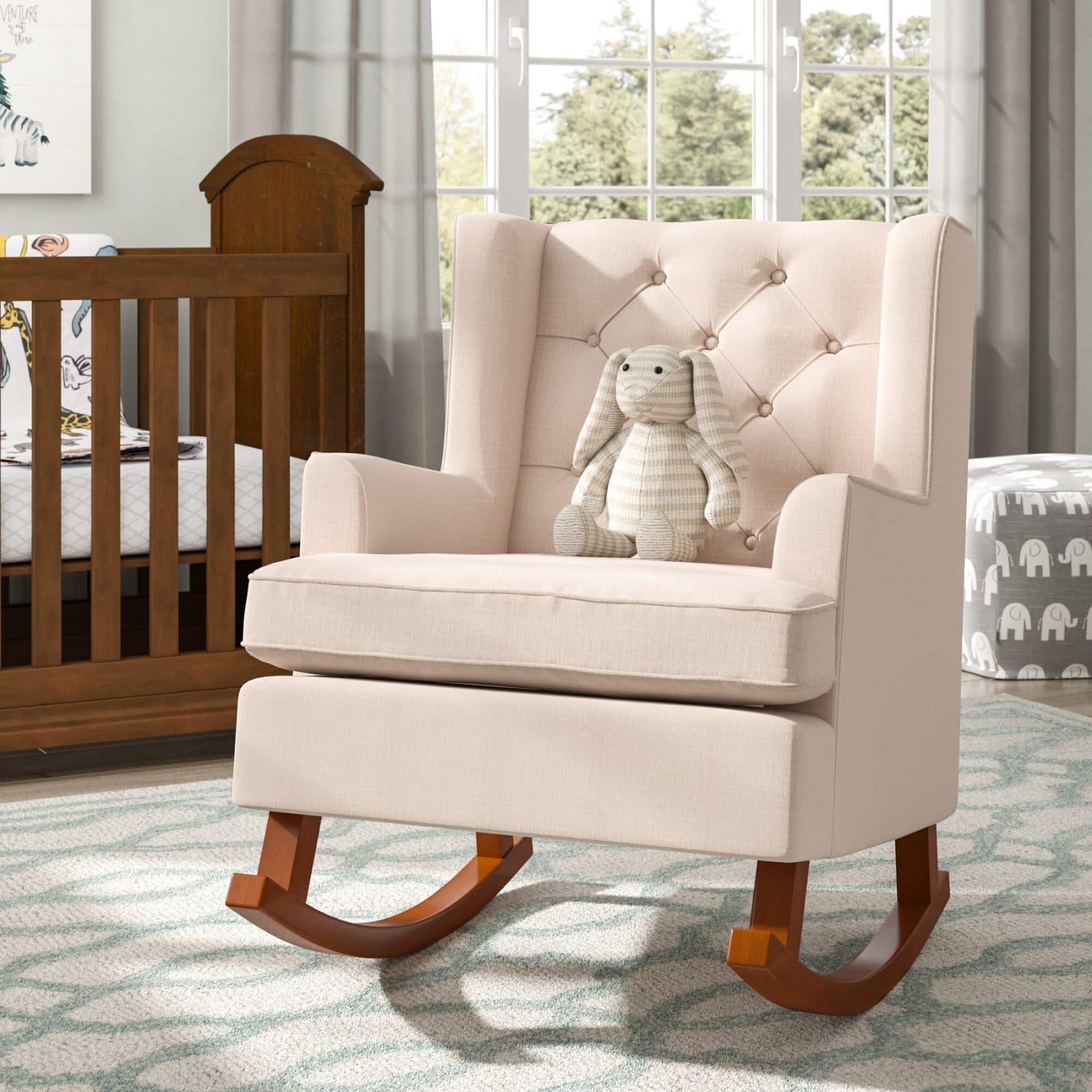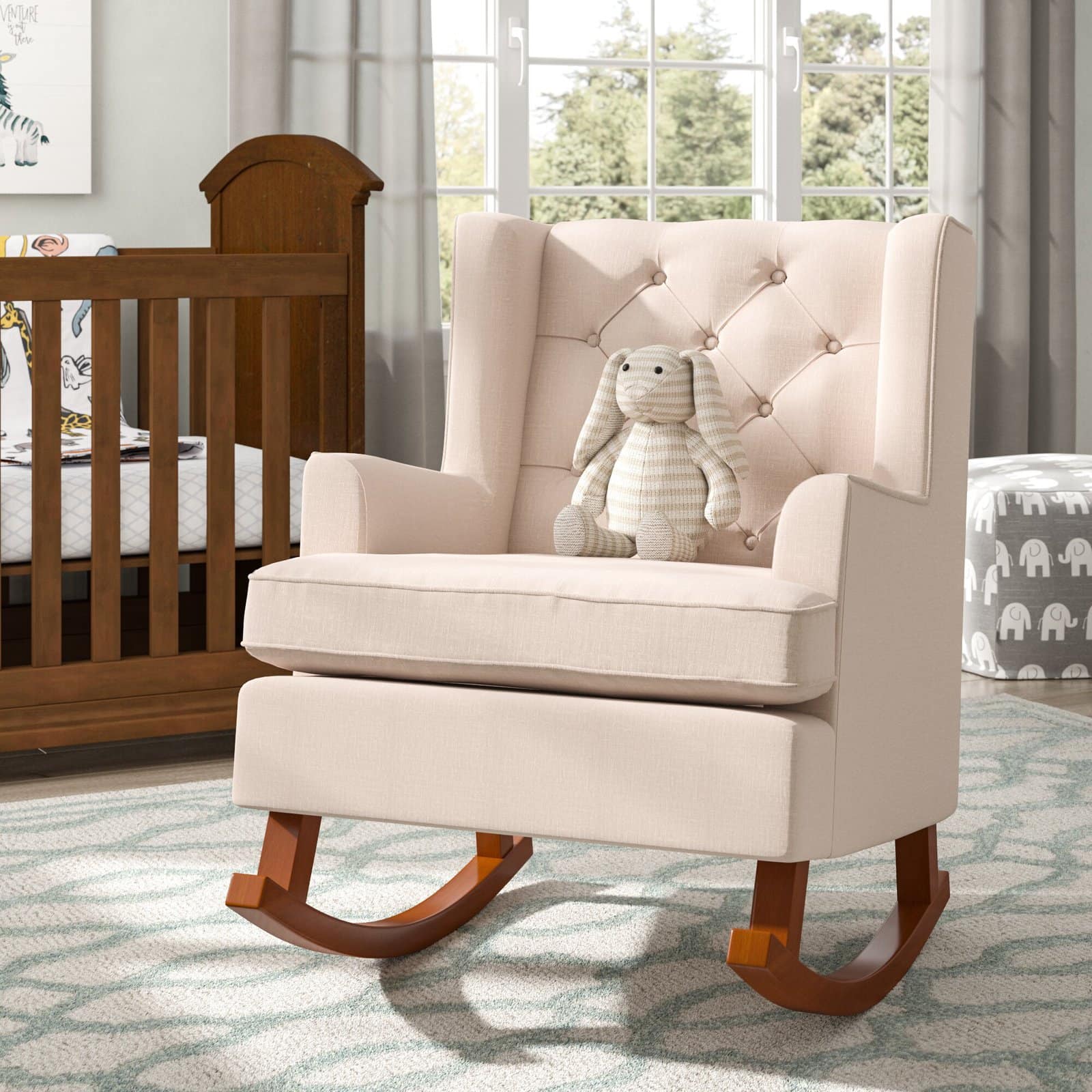 Rocking chairs have come back into fashion in a big way over the last few years, and while it's partially because they look great they're also the perfect piece of furniture for a baby girl's nursery.
As a baby, the rocking will send her to sleep, and as she gets older she will enjoy sitting in the chair on her own (supervised, of course!). This blush pink design would go well with most nursery styles but would work especially well in a neutral-colored room or grey and pink theme.
A Convertible Crib Sleigh Bed That Will Grow With Your Baby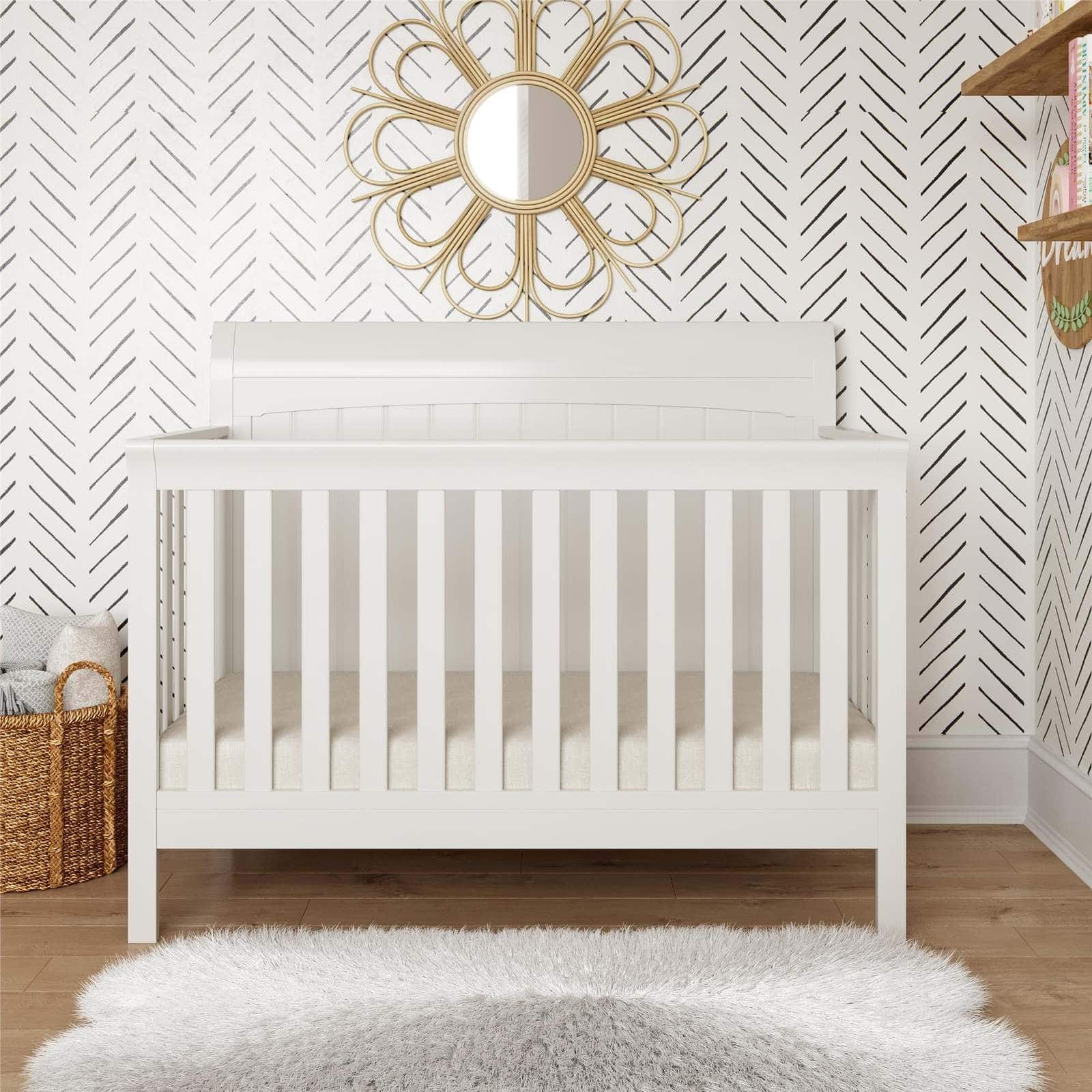 If you have a small space you may be concerned that you won't be able to fit in everything that your baby girl needs from a nursery, particularly as she gets older. While it's understandable you don't need to worry about this at all – you just need to be clever with the items you choose.
This crib turns into a toddler bed, day bed, and then a full-sized sleigh bed which allows you to save space and gives you lots of options.
Save Space With Tall, Thin Bookshelves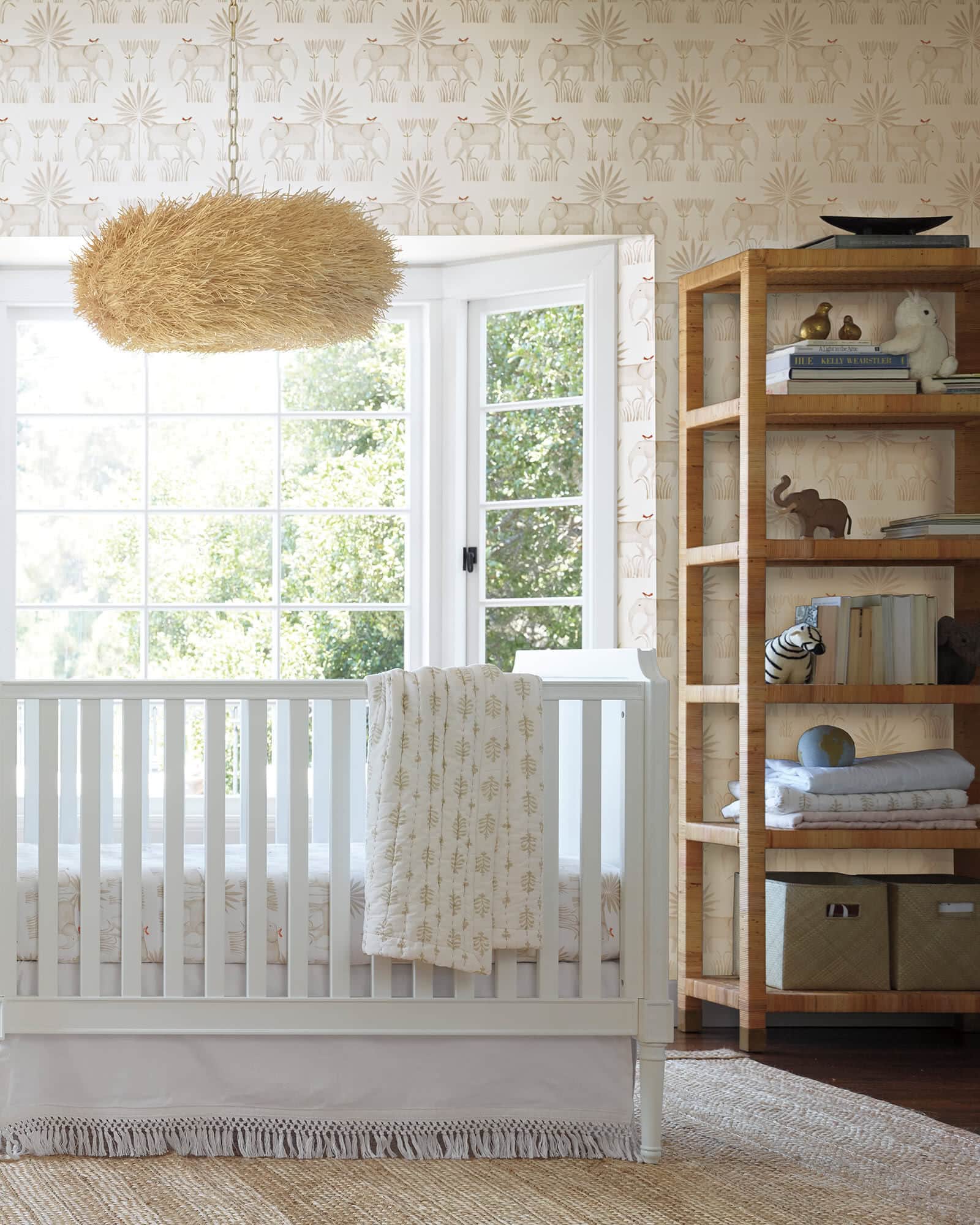 If you're struggling for space, a great trick is to opt for items that have a smaller footprint. This tall but thin bookshelf is perfect for storing everything you need without taking up loads of space. You could keep the shelves open and decorate them like in the photo, and this would be a great option for further emphasizing your baby girl's nursery theme.
Another option is to add lots of baskets in your nursery's color scheme to create more storage without looking messy. Just make sure that you securely fix this bookcase to the wall so it can't fall and hurt your baby, and keep anything potentially hazardous out of reach.
Give Your Baby a Fun Place to Sit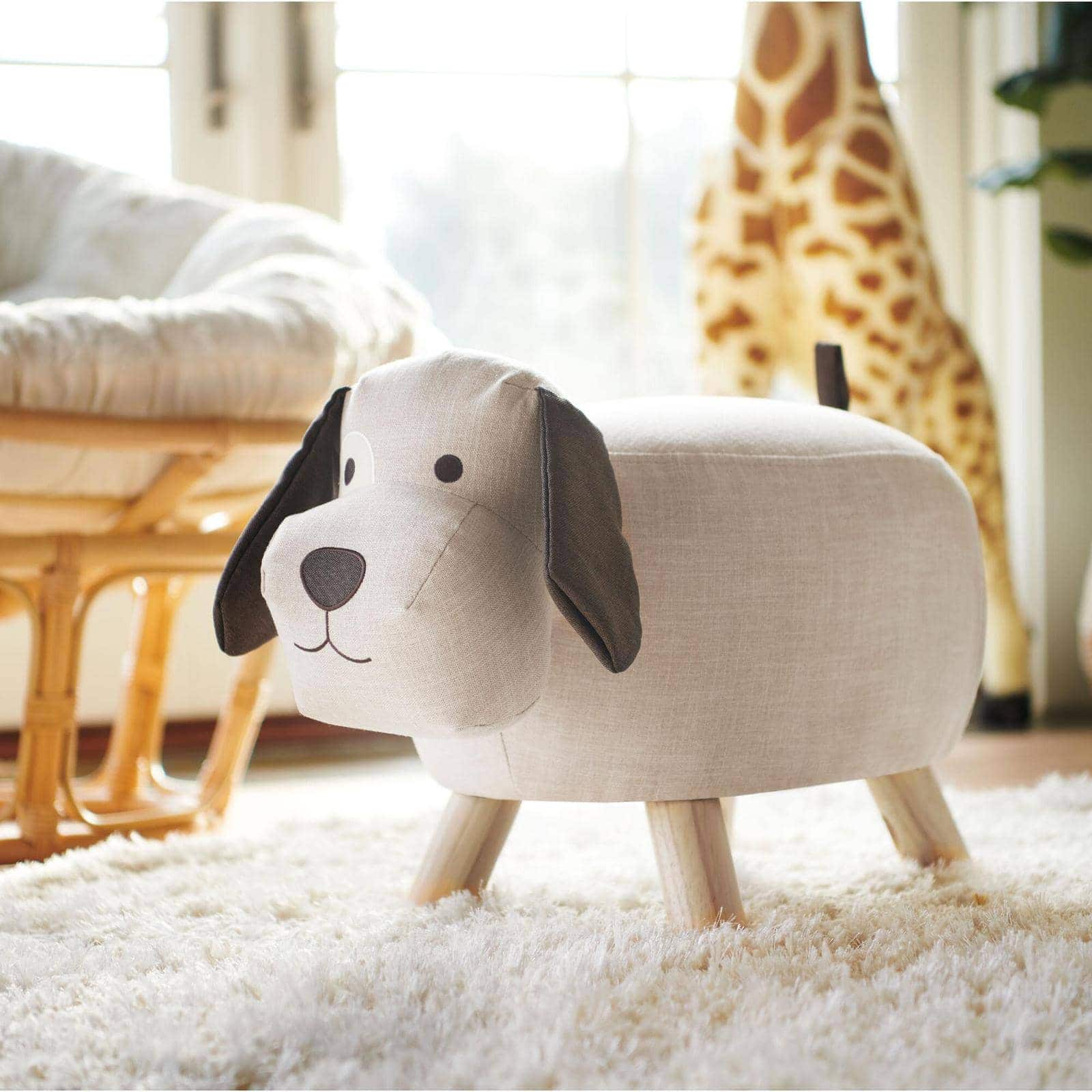 Giving your baby girl things to look at and eventually play within a nursery is very important for mental stimulation – it also gives you something to smile at as she gets bigger!
This dog-shaped stool will make an amazing companion for your baby as she turns into a toddler. It would work really well in any kind of theme because it's a neutral color, and of course, it will make for adorable photos!
Fun Prints to Educate your Baby Girl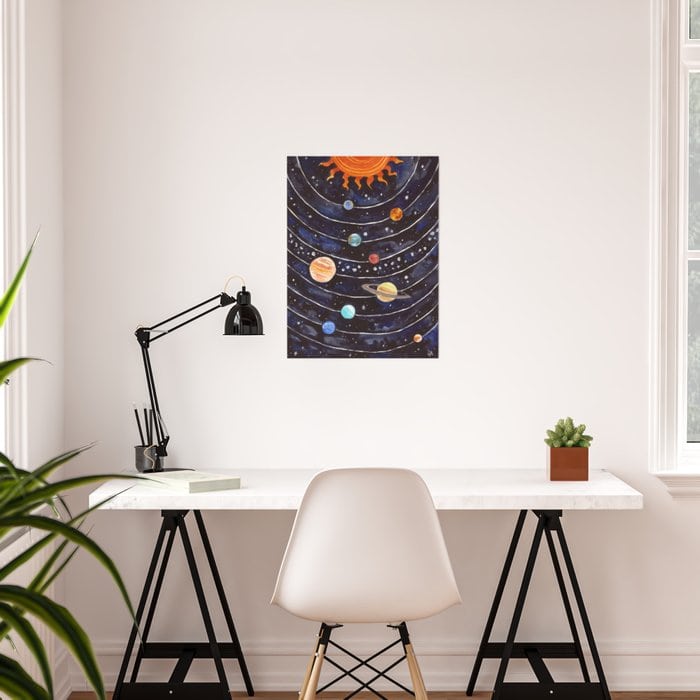 One of the best things that you can do for your baby as she grows up is to provide things that spark curiosity. Asking questions is one of the best ways to learn and if you can spark this inquisitive side from a young age then your baby girl will grow up to naturally want to learn.
Obviously, as a newborn, a solar system print is going to be a little lost on her, but the bright colors will stimulate her as a baby and encourage her to ask questions as she grows up.
Use Trays to Organise Things away from Curious Hands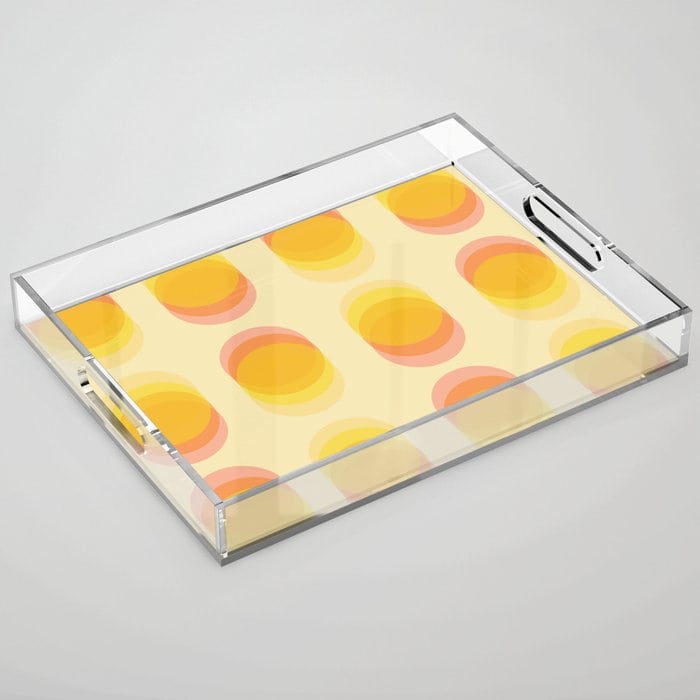 It's inevitable that there are going to be things you need to leave out of cupboards for easy and quick access, but even as a baby, your little girl is going to want to grab things so it's important to keep anything potentially hazardous out of arms reach.
This high-sided tray is a brilliant option because you can keep it on top of a cabinet or a shelf out of arm's reach. This tray comes in lots of different colors but this bright yellow with a more pastel backdrop would make for a beautiful color palette and unique theme for a baby girl's nursery.
Use rugs to Create a Comfortable Play Space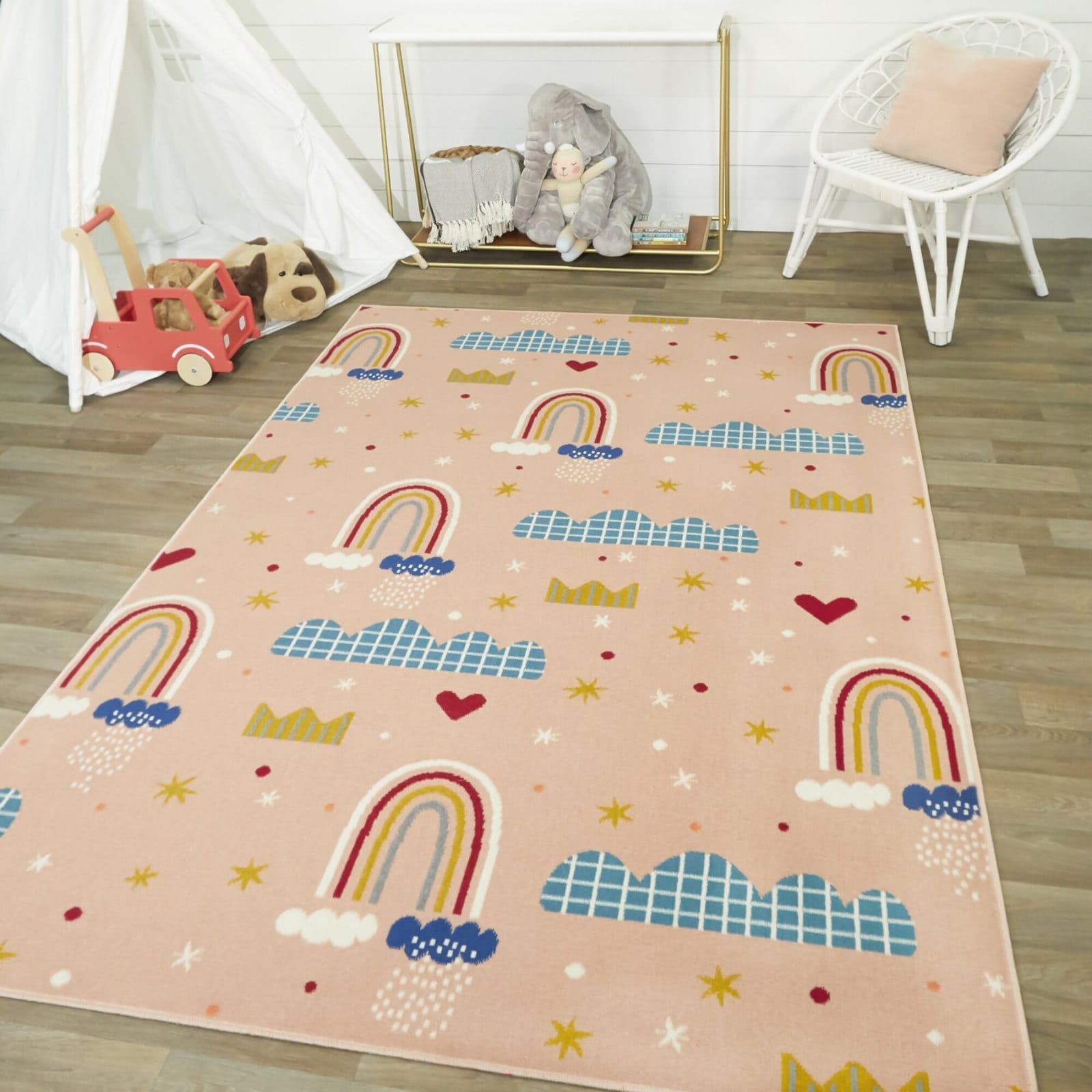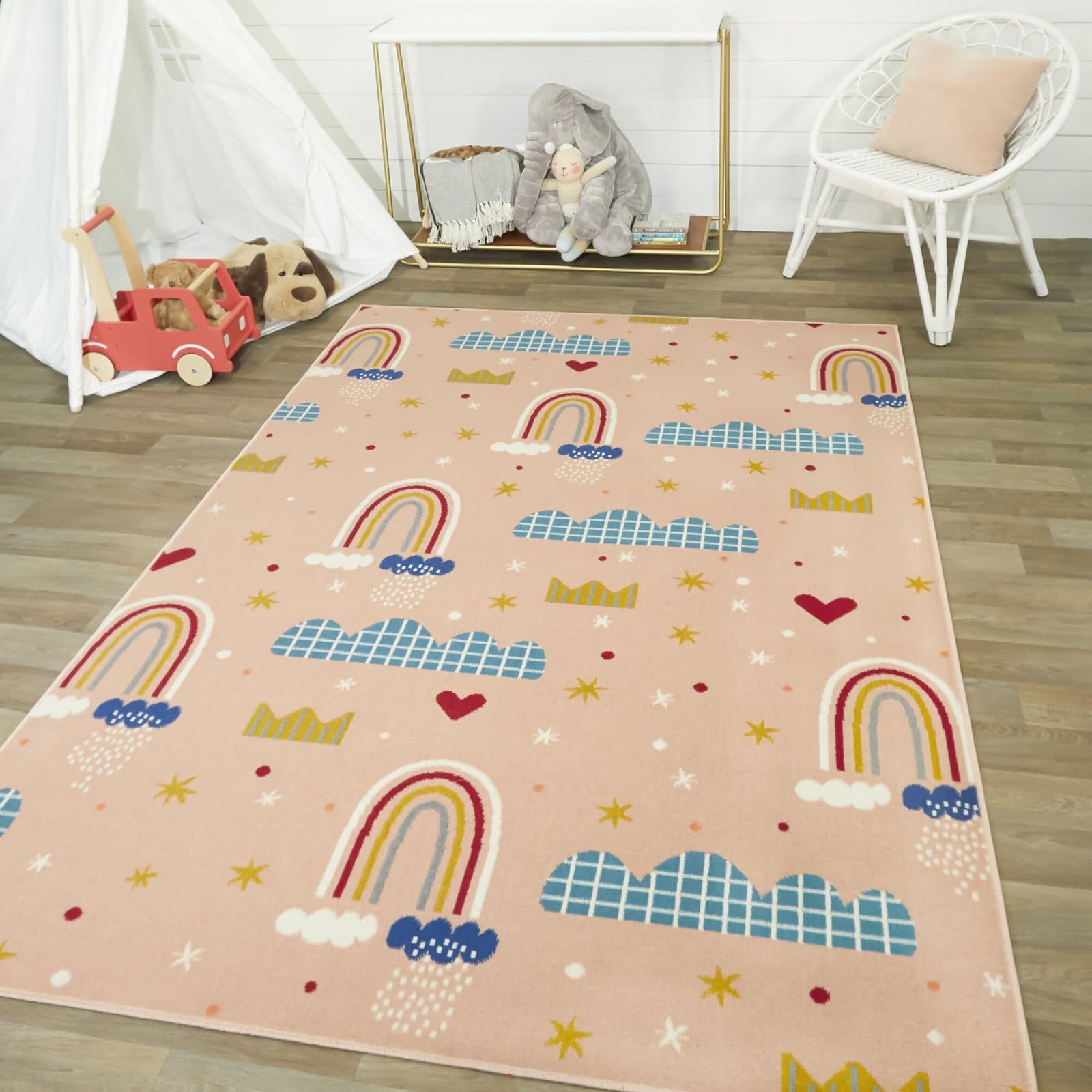 As a baby, your little girl is likely to spend a lot of time on the floor – on her back to start with, followed by crawling around as she gets older.
Having a soft area that gives your baby girl a space to explore within her nursery would be a great addition. This rainbow rug could go in the play area with the tented canopy we mentioned earlier to create a space where she can roll around, crawl and play.
Use Wall Mounted Book Storage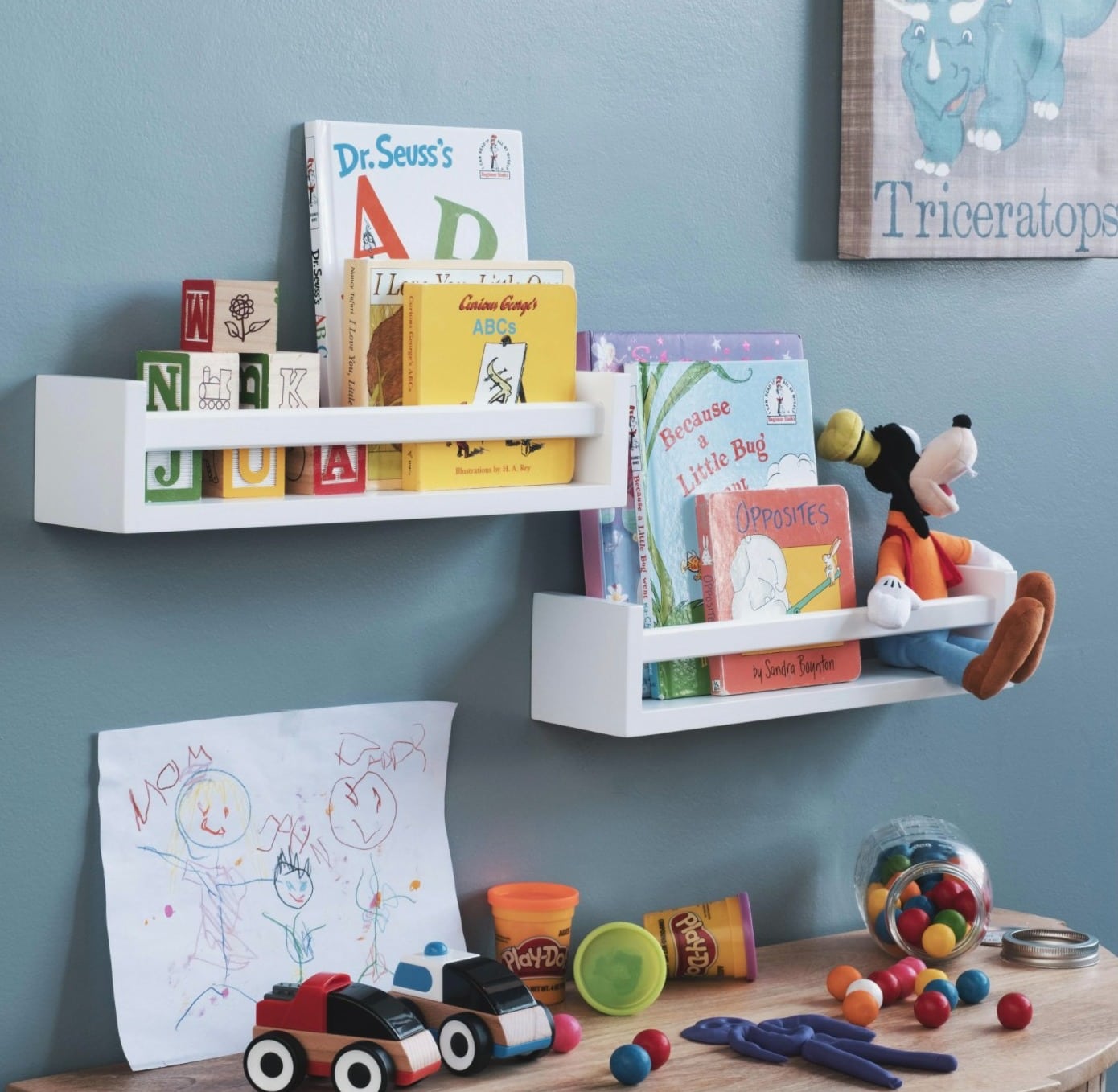 If you have limited space for floor-standing bookshelves, wall bookshelves are a great option! The bar on the front of these bookshelves helps to hold the books in allowing you to stack more than one in front of each other.
You could put these at your height on the wall when your baby is a newborn, then move them down to your little girl's height in the play area so that she can access her own books when she gets a little older.
Encourage Your Baby to be Who She Is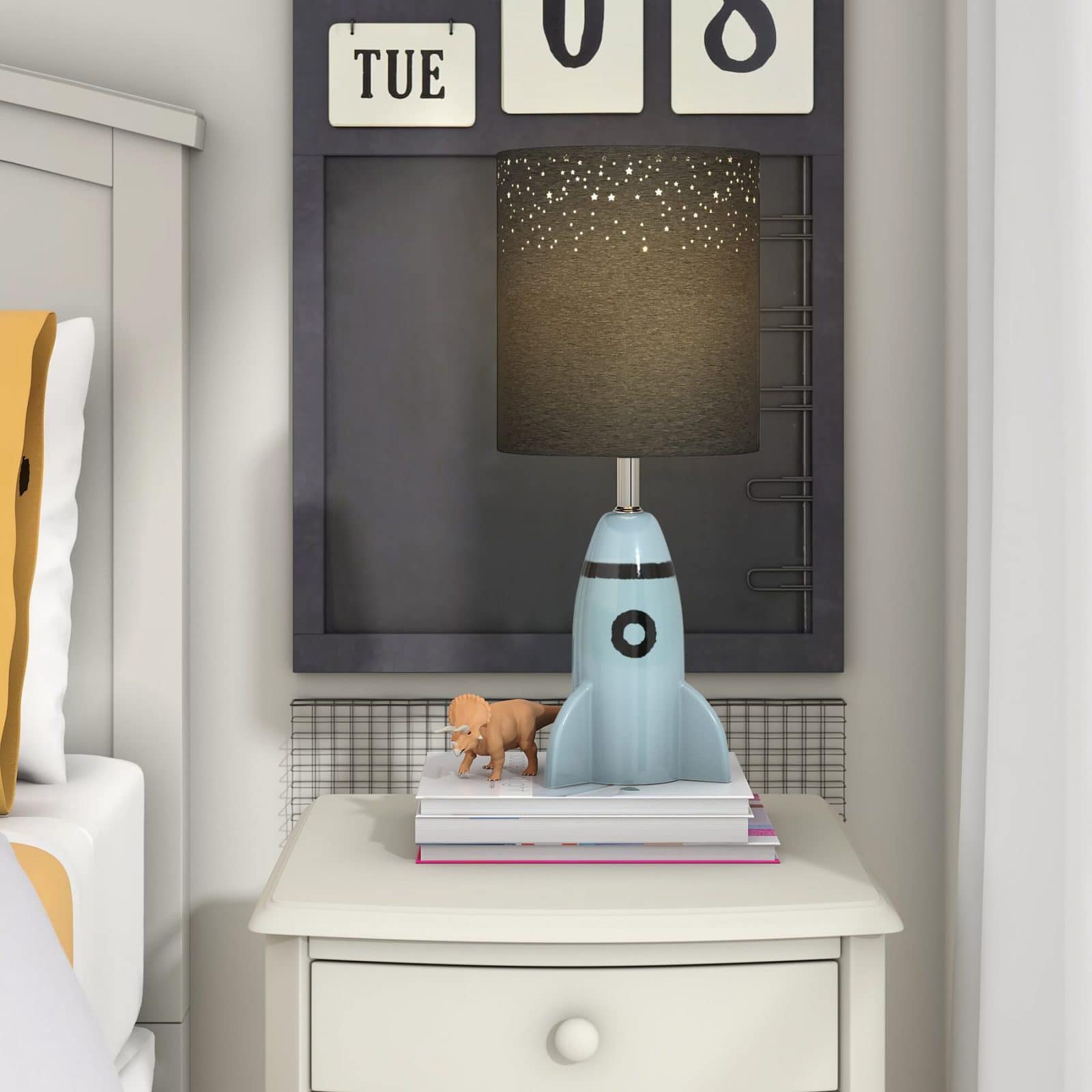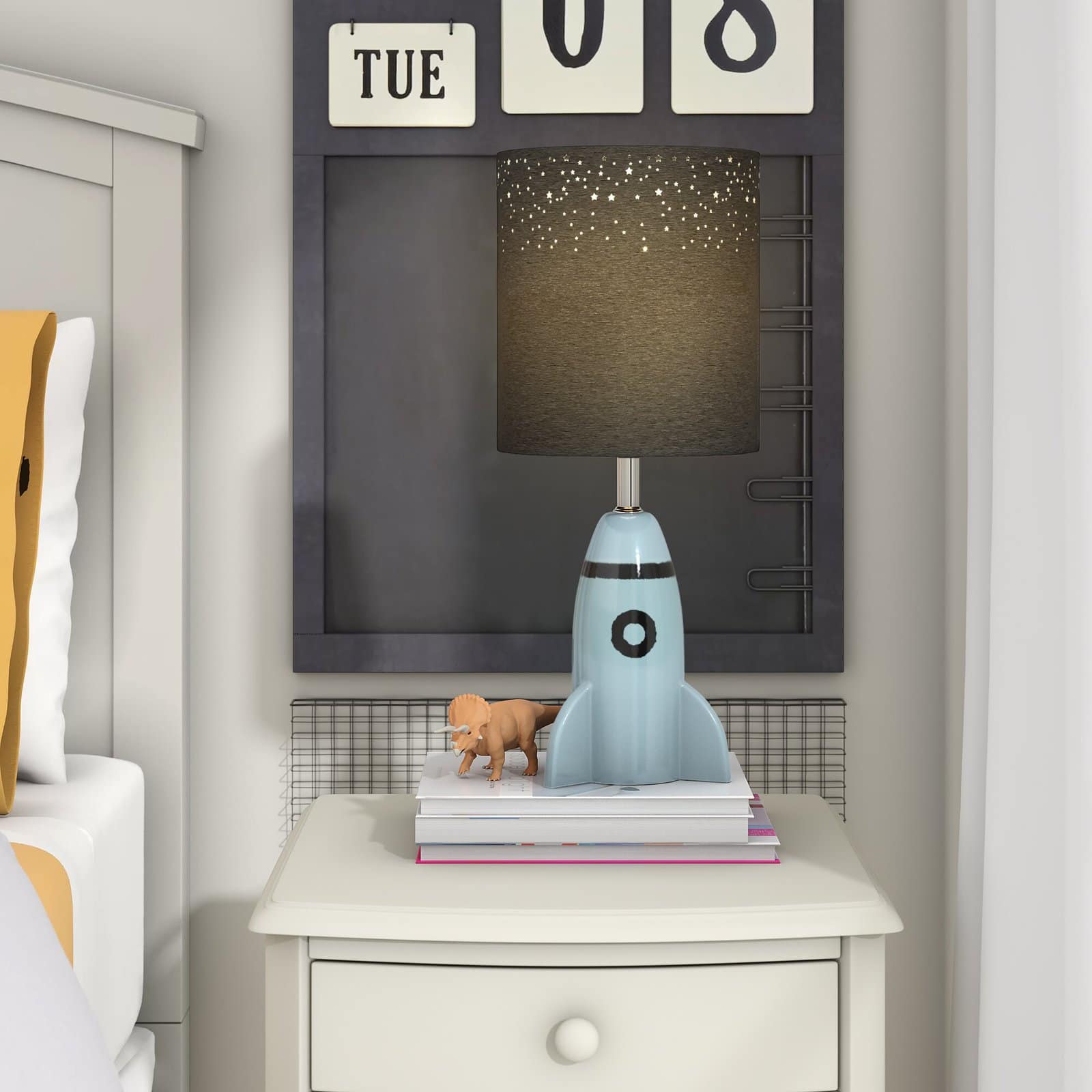 Having a baby girl doesn't mean that you need to go for unicorns and rainbows or pink decorations. Why not look at some more unique baby girl's nursery themes? A space theme could be incredible!
The colors would be calming allowing your baby to get her rest as a newborn, but then as she grows up it encourages curiosity, playtime, and asking questions. This lamp would be a great starting point for a unique space-themed girl's nursery design!
Encourage Activity With an Indoor Slide and Ball Pit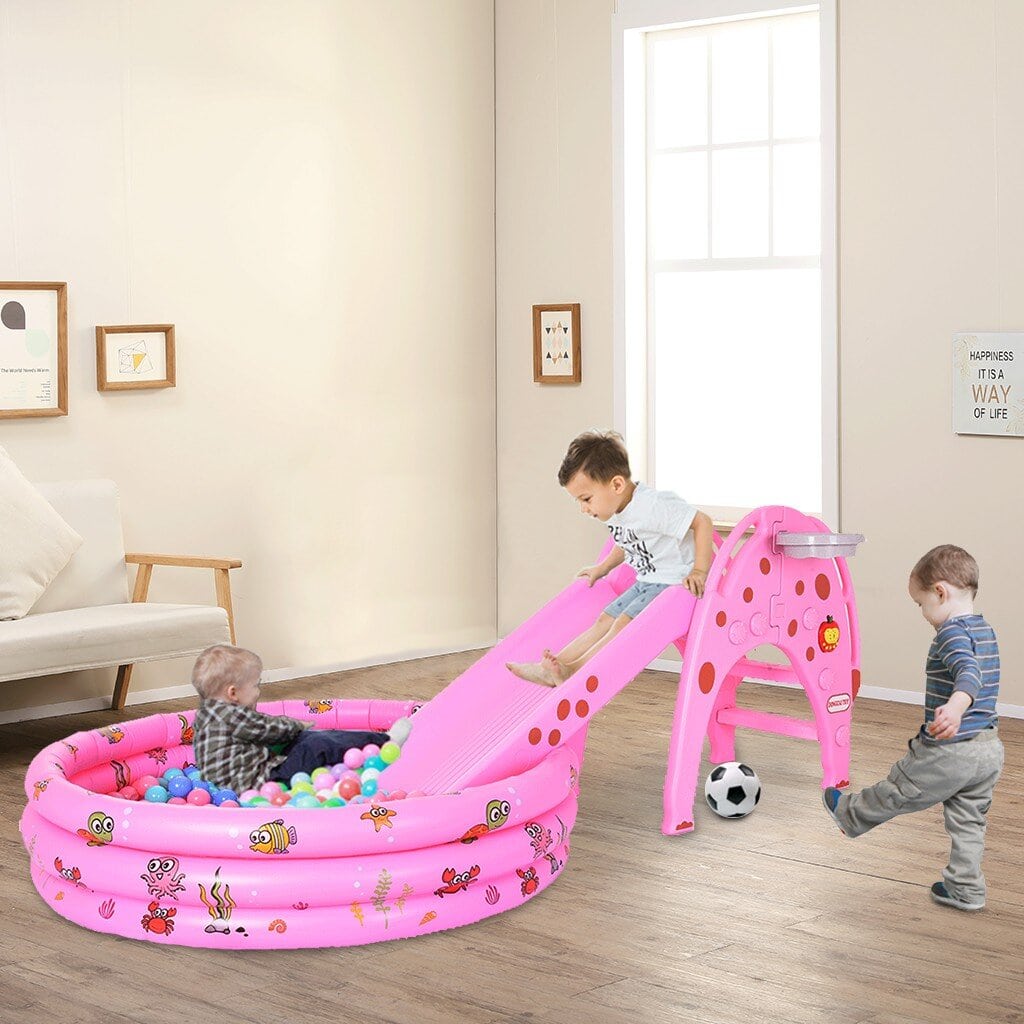 If you're looking for bedroom ideas that will keep your baby girl active and engaged, this is a great option! This slide and ball pit set would grow with your baby to a certain extent and would make for the most incredible nursery design.
The ball pit would be something that you could sit your baby in when you're able to supervise them, and she can play with the balls. As she gets older you could then add in the slide and use this as a time to play with her.
Track Progress With a Tree Height Chart Decal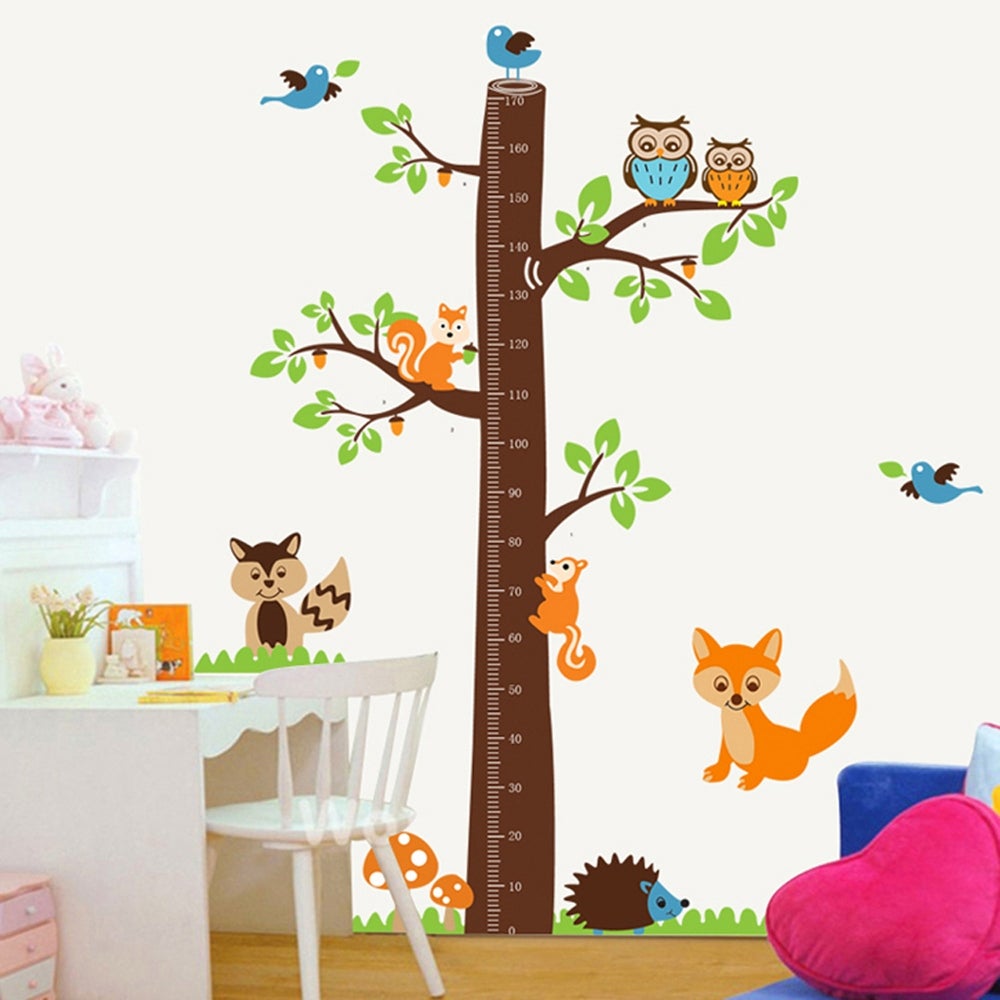 From the second you bring your baby girl home she will be growing in the blink of an eye, and it's a good idea to have somewhere to track her growth and milestones. It's not essential, but it's nice for you to be able to look back and see how she's grown and appreciate each little stage.
These cute growth charts make amazing wall decor too and can help to inspire a unique animal-themed baby girl's nursery.
A Rainbow Storage Cupboard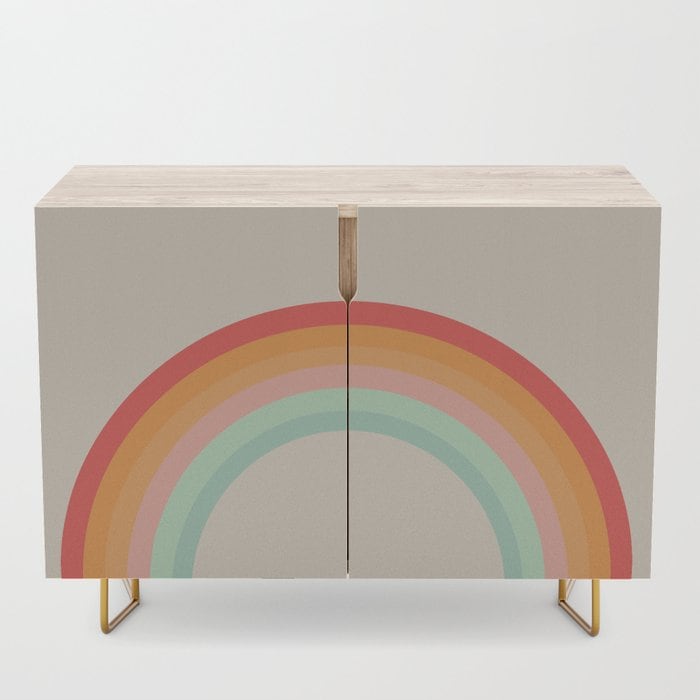 You will honestly be surprised just how much storage you need in a baby girl's nursery, so it's a good idea to give yourself a chance to get ahead and work it into the nursery when you're designing it. This particular cabinet is great because a rainbow or nature-themed nursery is easy to pull off but very unique and will inspire your baby as she grows.
The design is also something that wouldn't look out of place in a child's bedroom or even an adult space if you love quirky pieces; it's a really versatile piece. Fill the shelves with baskets to help organize everything you need, or fold up your baby's clothes in here as an extra wardrobe.
Use this Changing Table to Create an Earthy Toned Nursery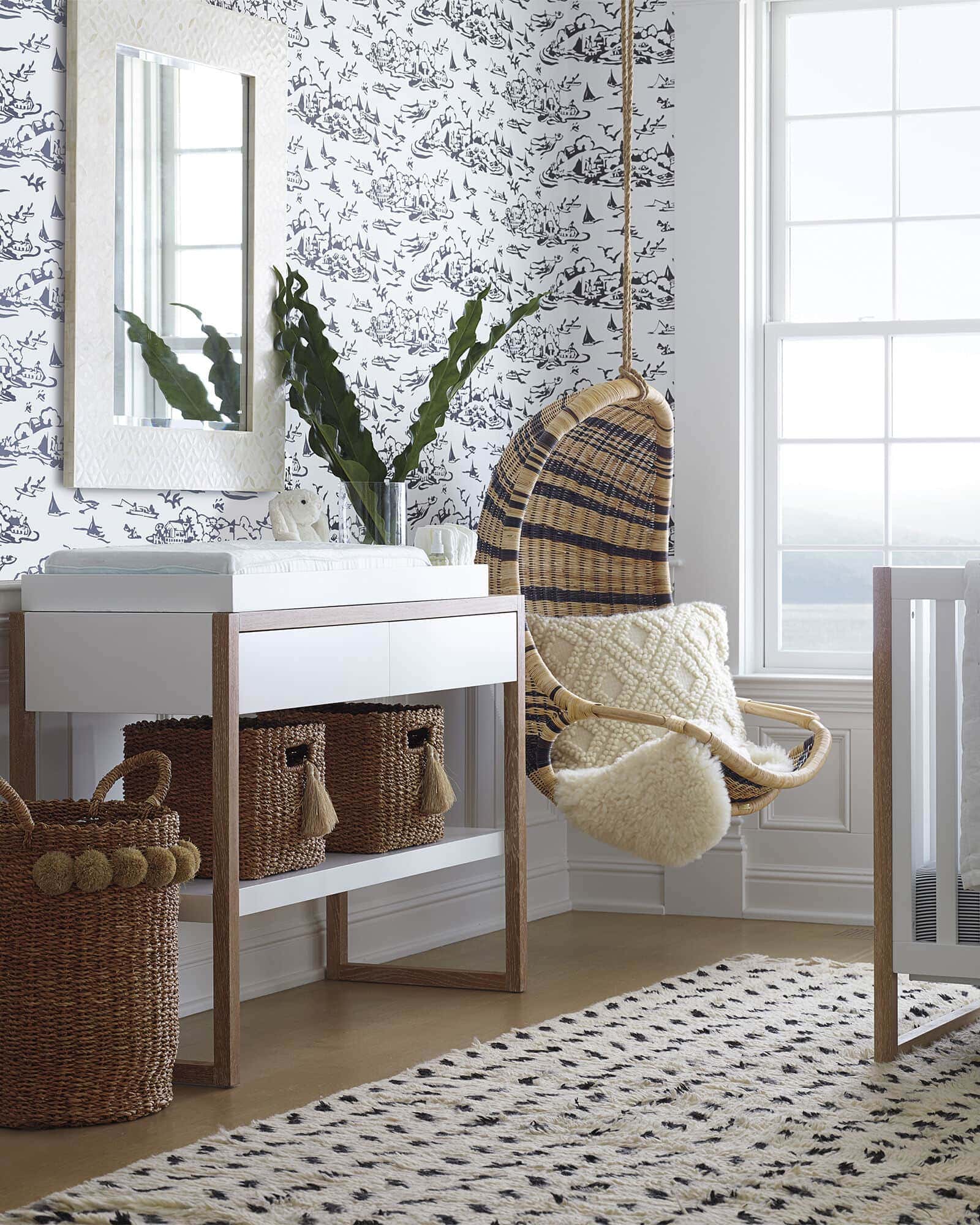 A lot of cribs have a built-in changing table, or you can buy tables that slot over a chest of drawers or cabinet, but if you have the space you may still prefer to have a dedicated changing area.
This white and light wood design would be great for a modern and minimalistic nursery – it's not something you see very often so it would create a really unique baby girl's nursery design. You can even add baskets on the shelves underneath for extra storage.
Choose a Set of Themed Prints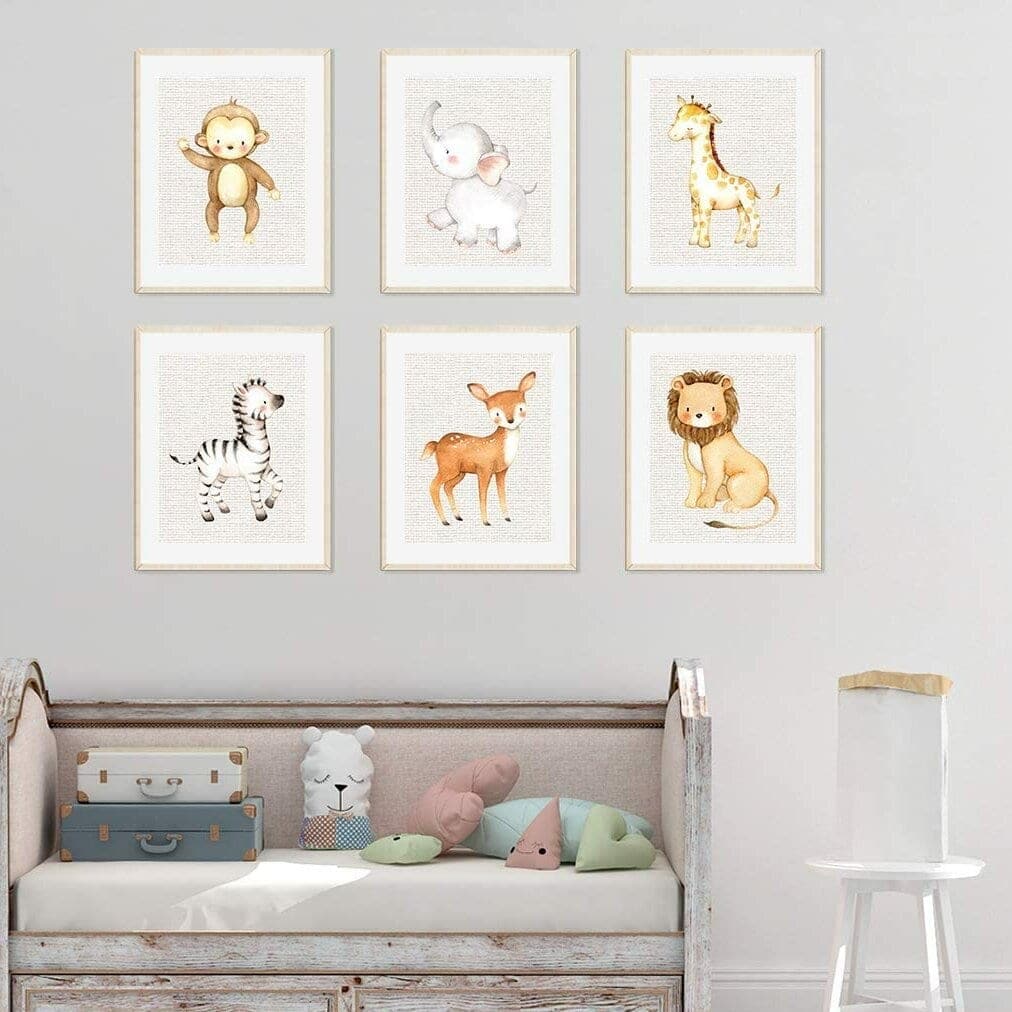 A set of themed art prints is a great way to make an instant impact in your baby girl's nursery. This set of six animal art prints would look adorable in any nursery and will give your little one something fun to look at.
A set of six like this could be hung all together (as they are in the photo) in pairs or threes, or separately around the room.
Safety First – Choose a Safety Gate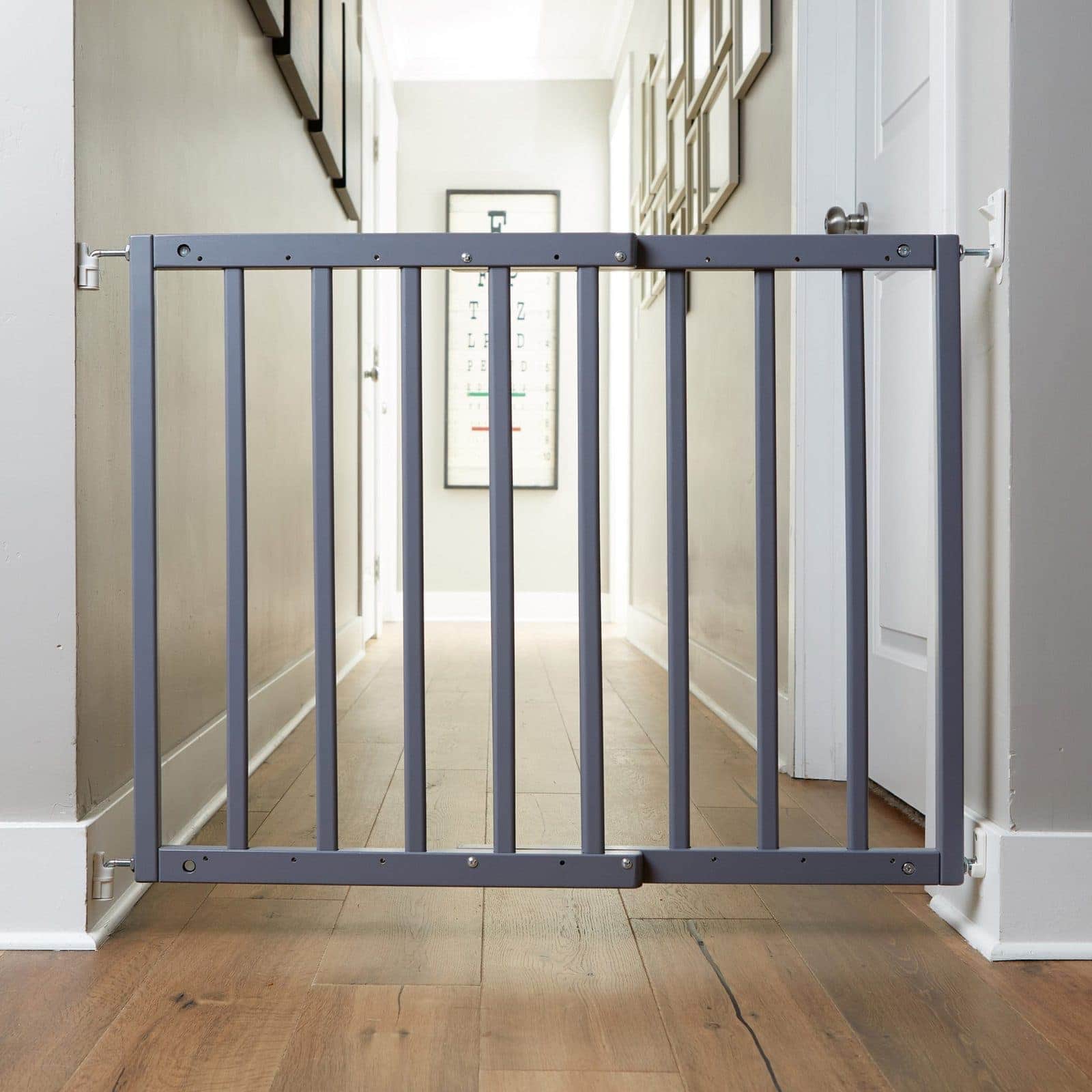 While looking for inspiration on how to decorate your baby girl's nursery is fun, you also need to think about being practical and creating a space that your baby will be safe. If you're intending to be going in and out of the room or you have a pet that you want to keep out of the nursery, then you should think about installing a baby gate.
While this isn't necessary when you first bring your baby girl home unless you have a pet, it's something that you should think about when she grows into being a toddler. You shouldn't leave your baby alone in a room unless they're sleeping, but if you need to pop out to grab something then a baby gate is an added level of security.
Choose Some Fun Pillows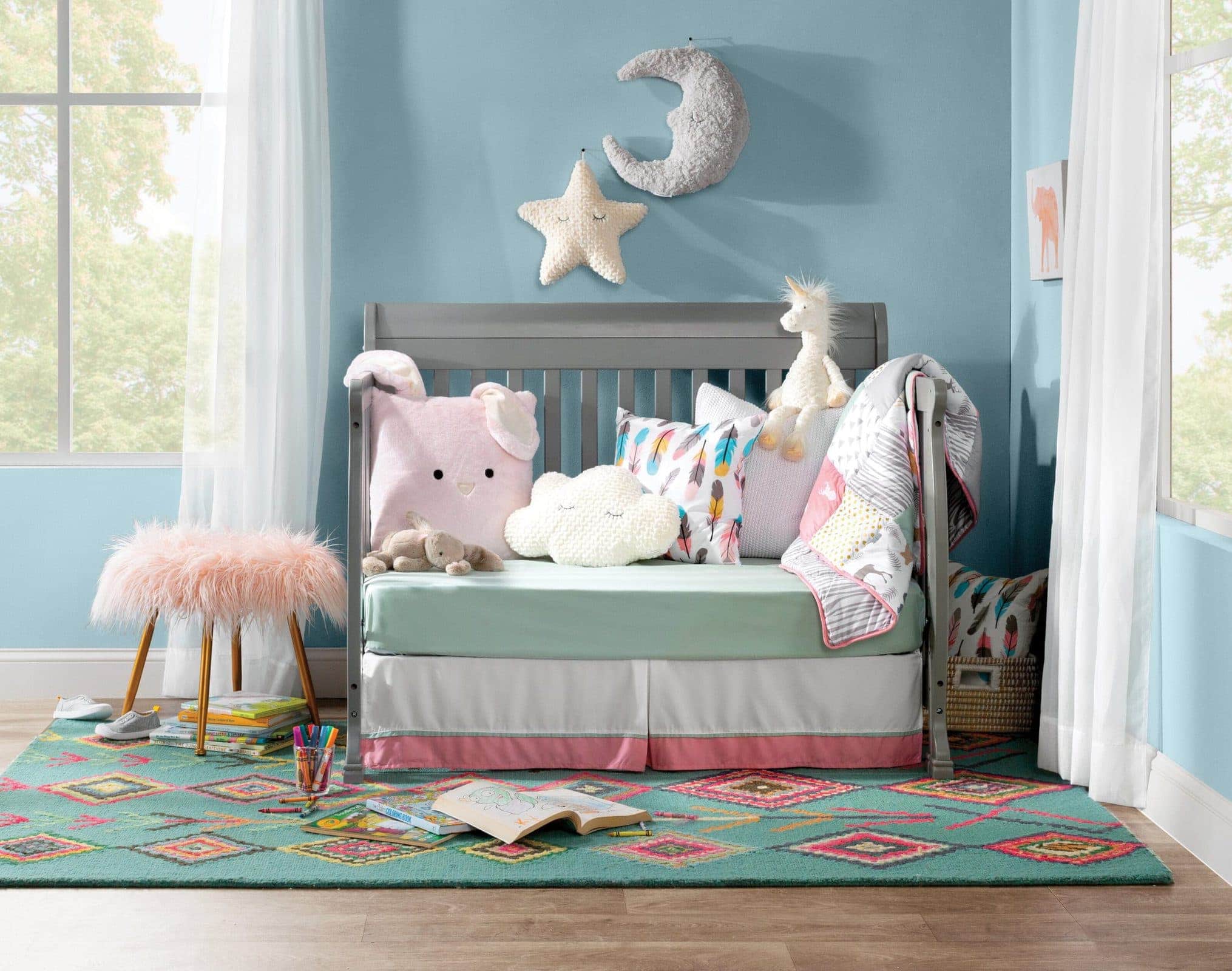 Having plenty of pillows in your baby girl's play area not only gives her somewhere cozy to sit, but also gives her something to play with, and something to cushion her when she falls over as she starts trying to stand up!
This cute cloud pillow paired with some other fun pillows would be a truly adorable nursery room design idea!
An Elephant Stool for A Safari-Themed Nursery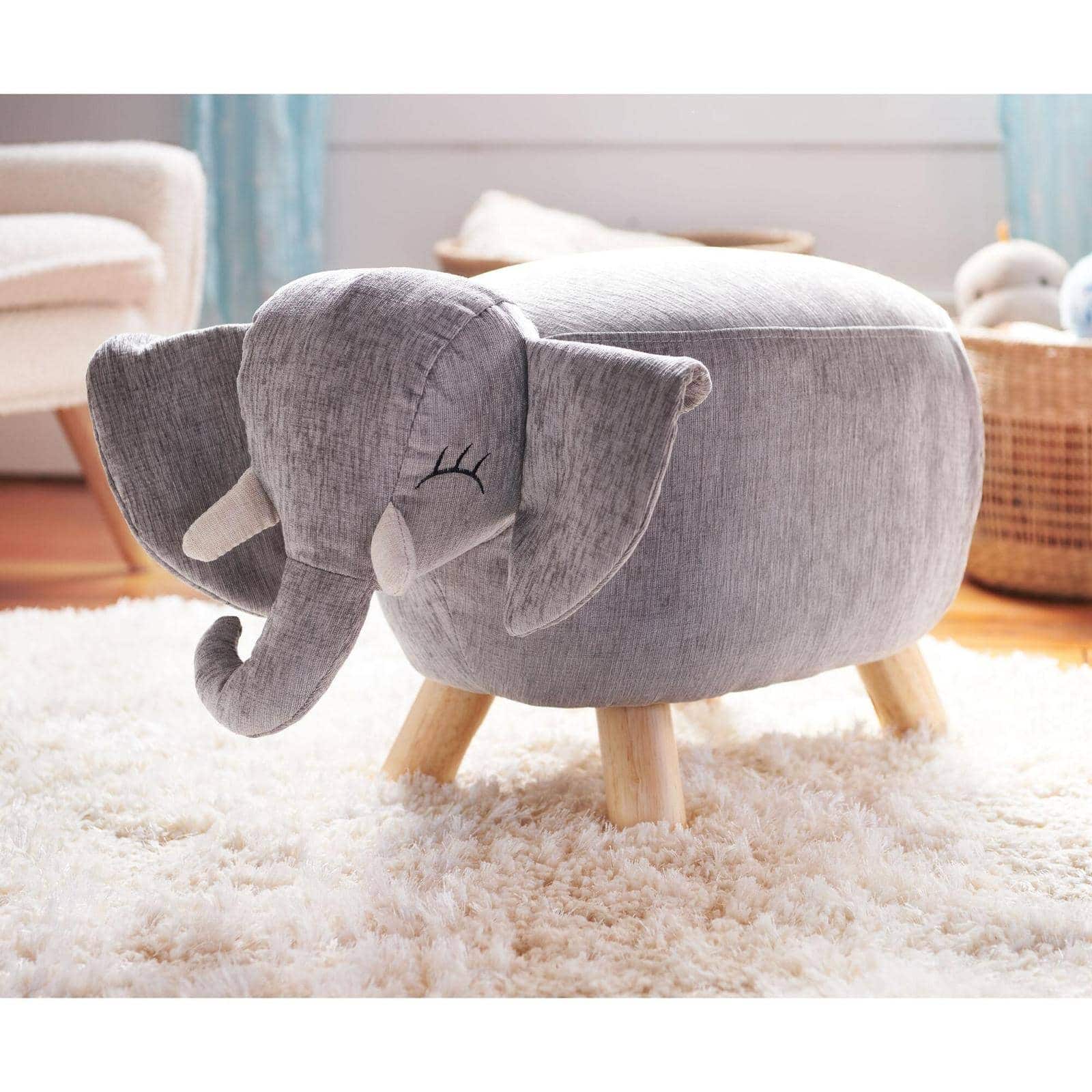 It's no secret that kids are fearless and love animals and it's a brilliant trait for your child to have, so why not inspire this from a young age by creating a safari-themed nursery? This elephant stool would look great in a safari or zoo-themed nursery.
Choose earthy tones with some greens and blues to help create the overall feel of the room, then complement it with some animal-themed curtains paired with this elephant stool. You never know what your baby girl might grow up to be after being inspired by the animals!
Incorporate Fun Elements into Your Design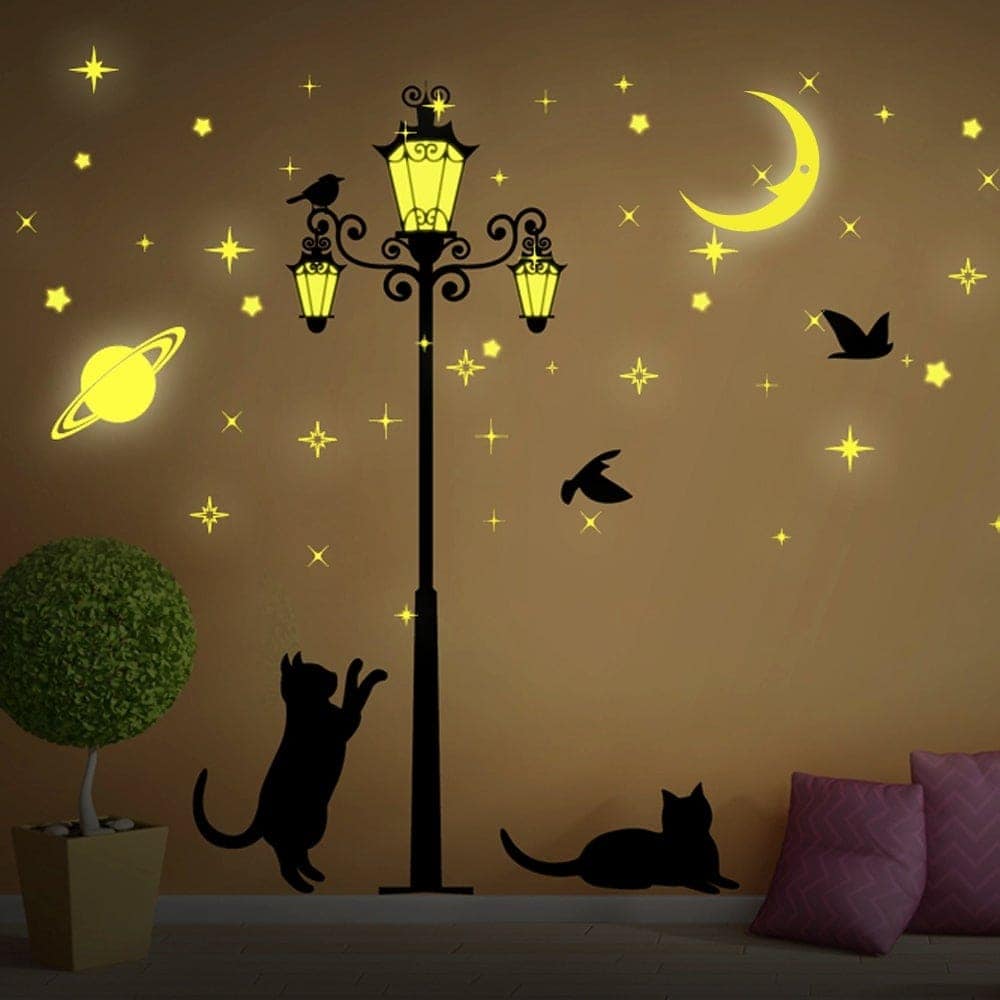 Finding a really unique and fun theme for your nursery can be a bit of a struggle, particularly when you want to balance stimulation and relaxation. If you want something that will be truly unique then these glow-in-the-dark street cat stickers may be perfect for you.
If you put the stickers on a neutral wall then it looks like cats playing during the day, but at night the stickers turn into a magical wonderland. This would make for a really unique baby girl's nursery design!
Keep it Neutral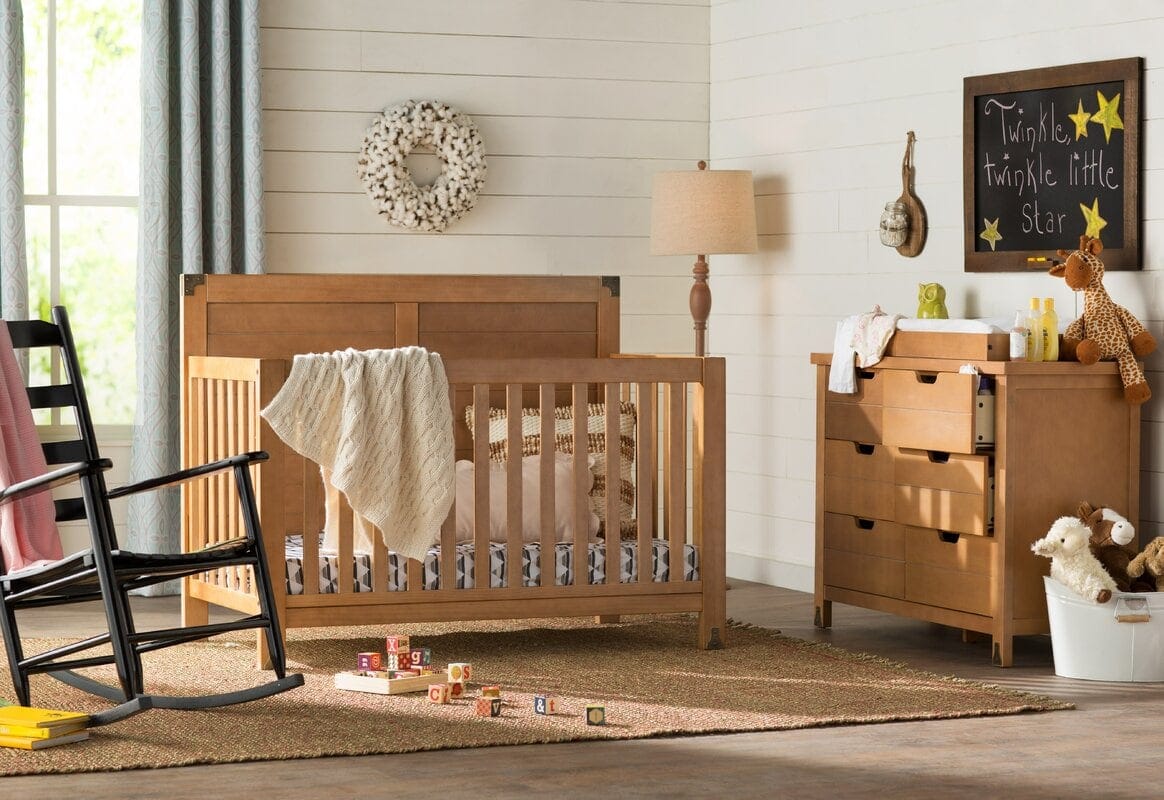 If you're really torn on what to choose and you can't decide on a theme for your baby girl's nursery then why not keep it simple and go for a neutral and minimalist theme.
Keep the furniture white or light wood, then opt for pastel shades of pink or earthy tones to create a relaxing space for your baby to grow. This makes it easy for you to change the decor as her personality grows.
Choose Some Adorable Bedding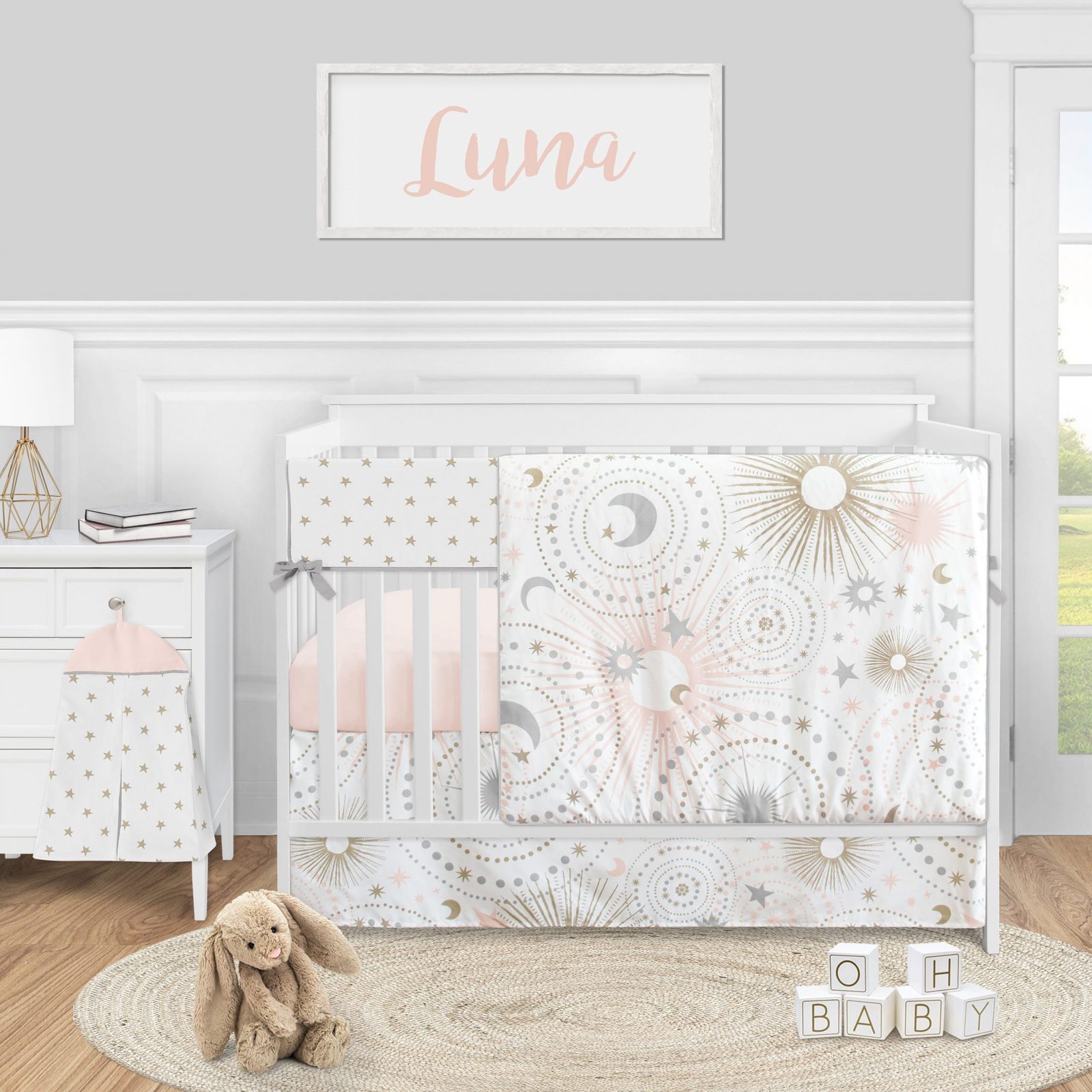 There are loads of great options when it comes to choosing bedding for a girl's nursery, but this one is particularly gorgeous!
Featuring a celestial design with moons and stars in calming pink and gold colors, this bedding is the perfect way to create a beautiful soothing nursery for your little girl. It comes as a set, so everything will match, and it's all machine washable, so it's easy to clean and maintain too.
Final Thoughts…
There are so many different options for nursery designs for your baby girl. Some of them are very popular, and you will find them all over Pinterest, while others are a lot more unique. One of the most important things to consider is putting a little bit of your personality into the room, as it's your home, and you will be spending lots of time in the nursery too!
As long as your baby girl has somewhere safe, warm, and comfortable and you have all of the things you need to look after her then let your imagination run wild and create a space that brings you joy, just as much as it inspires her.