Ways to Use the Hexagon Tile, Shelves and Pattern in Your Home
The hexagon tile and rounded honeycomb patterns are finding their way into all sorts of spaces in all sorts of ways.
They are modern and a fresh look at geometric styles. The geometric hexagon is more minimal and modern.
The rounded beehive inspired motif is a little softer but both work well in modern spaces.
Use it almost anywhere to update your current look. Sometimes, its not the tile but the grout that can create a really sharp updated look, like the black trim in this kitchen using grout.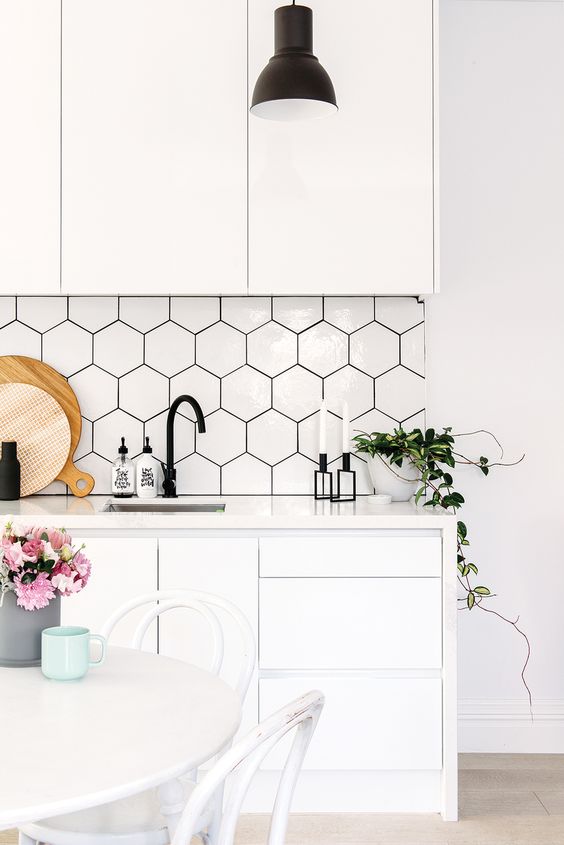 Black grout on honeycomb tiles – Apartment Therapy
One of the difficulties with tiles is how they can date a space. They are often the first thing you notice because they make a statement and take up a lot of surface space.
You can control the color, size, shape, pattern, finish or texture, essentially six elements that can become 'yesterday', quickly. To counter this, consider choosing tiles that blend into your decor. Instead of making them a feature they become a neutral backdrop. Even so, their size, location and color must also be taken into account if you want to stay neutral and timeless.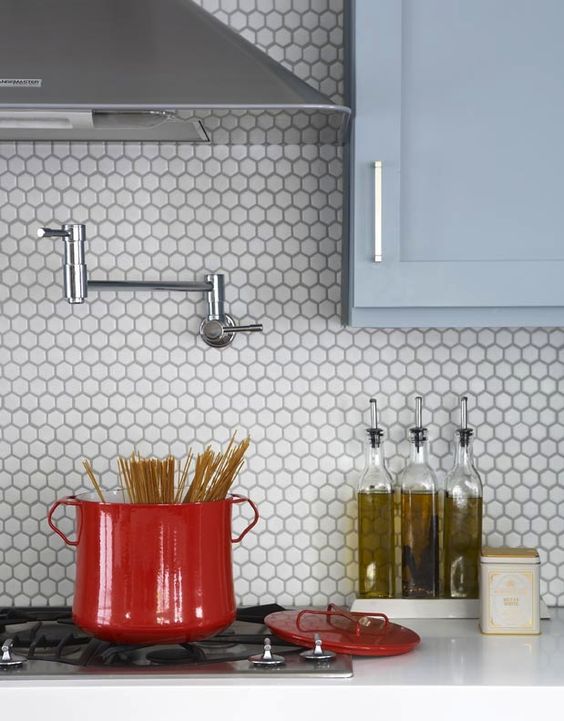 Small white hexagon tile - Remodelista
But this post is about making the most of the hexagon and not being shy about it.  And here are a few ways to make the hexagon and honeycomb patterns work for you.
Hexagon Tiles -  Backsplash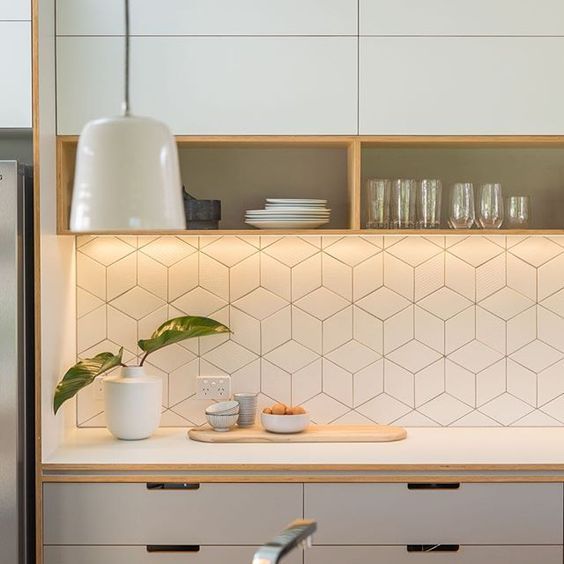 Cube and Hexagon Patterns combined - Interior Sherpa
Two geometric patterns, the cube and the hexagon are cleverly used in this backsplash. You can add these tiles to your kitchen bathroom or entry, on the walls or floors for a fresh new look.
Blankets, Throws and Pillows
Its not all about hard lines and surfaces. You can use hexagon tiles on cushions, throws or blankets or rugs in your living room or at the end of your bed, keeping your space modern but easy to switch out at any time.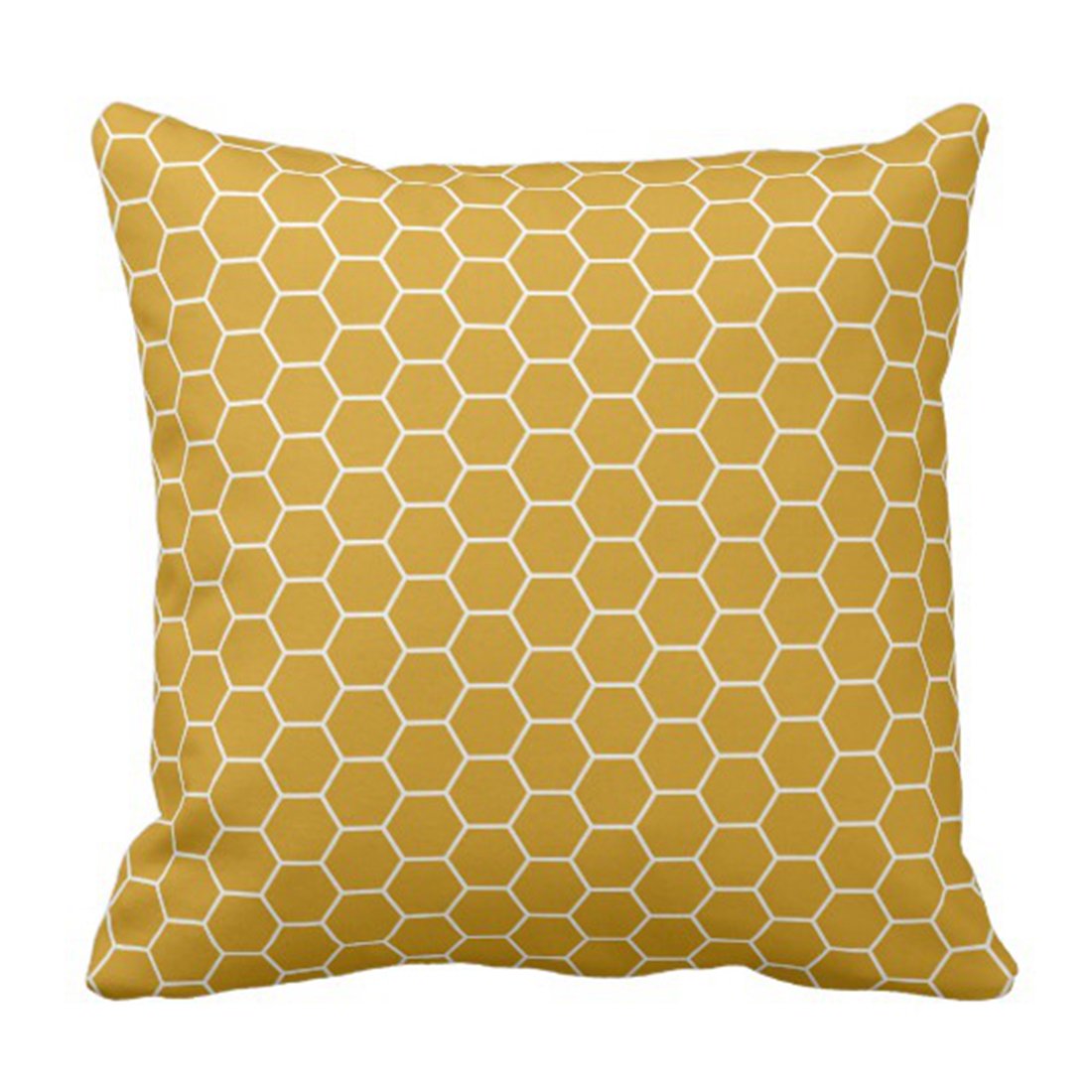 Mustard yellow hexagon tiles design cushion- Amazon
Kitchen Canisters
There are lots of ways to add this pattern using canisters in your kitchen pantry, island, home office or bathroom. Classic black and white goes with almost any décor style.
Hexagon style cannisters – two in a pack - Amazon
Honeycomb or Hexagon Wallpaper
Wallpaper is a great way to create a feature. And if you use peel-and-stick wallpaper, you have a feature and a built-in no commitment clause. Here the honeycomb pattern is elegant, and still very modern.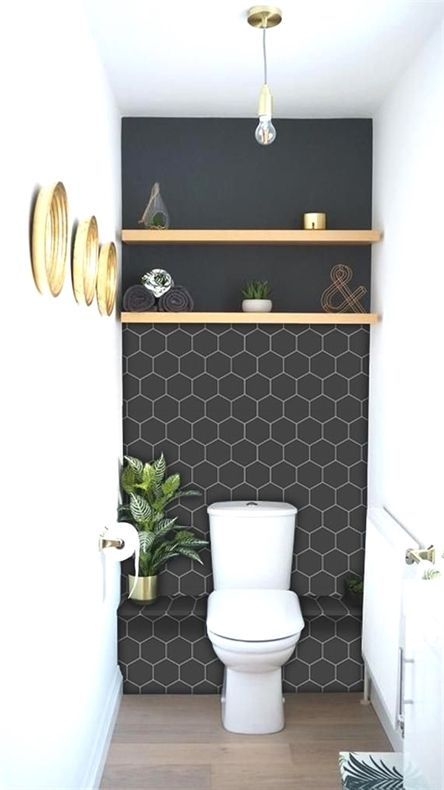 I can't believe its Wallpaper - Etsy
DIY Shelves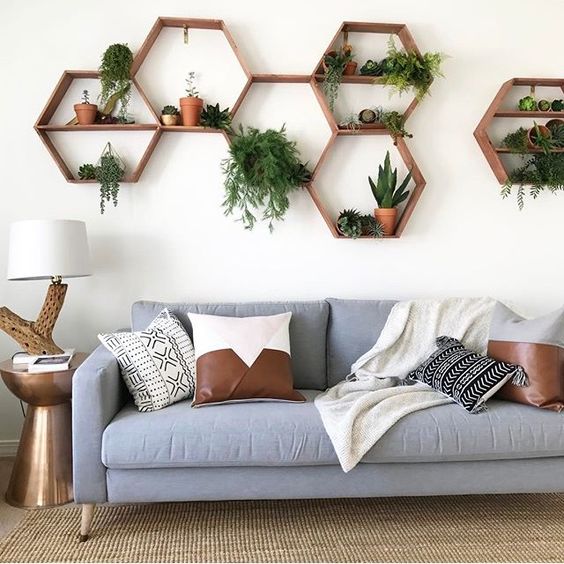 Hexagon shelves - Pinterest
Honeycomb pattern using hexagon shelves is an easy feature to install. There is now a huge range of store bought, DIY and kits to install and make your own. It's a DIY project that is done in a couple of hours, and you can easily create your own twist on this trend.
They work well in a kitchen, bedroom or living room.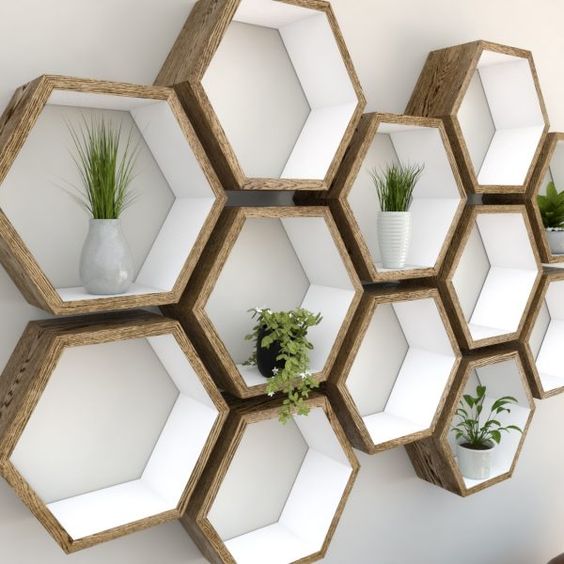 Hexagon shelves inside white painted outside dark oak - Pinterest
There are not rules when it comes to color or size, but the wall paint color can make all the difference to how they look.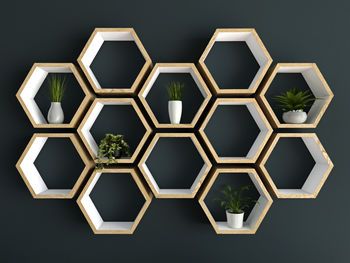 Bold wall with hexagon shelves – Not On The High Street
Hexagon Floor Tiles
The hexagon tile comes in so many different styles, that making a choice can be difficult. Hexagon tiles are a great choice for bathroom and kitchen floors. While a large size tile will make your bathroom look bigger, a smaller sized tile will give your feet more grip. This non-slip feature is perfect on any bathroom floor.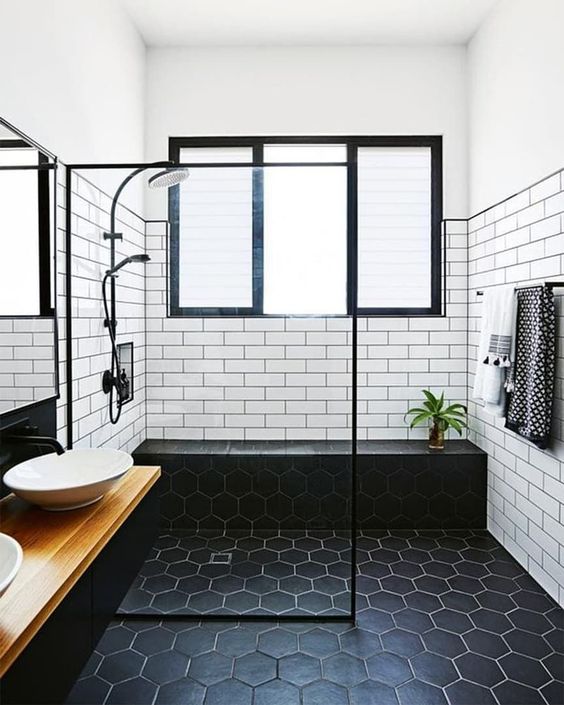 Bathroom hexagon floor – Inspiring Ideas
They look great on the walls too. You can make them pop with a gold finishes, or go classic with dark floors and light walls.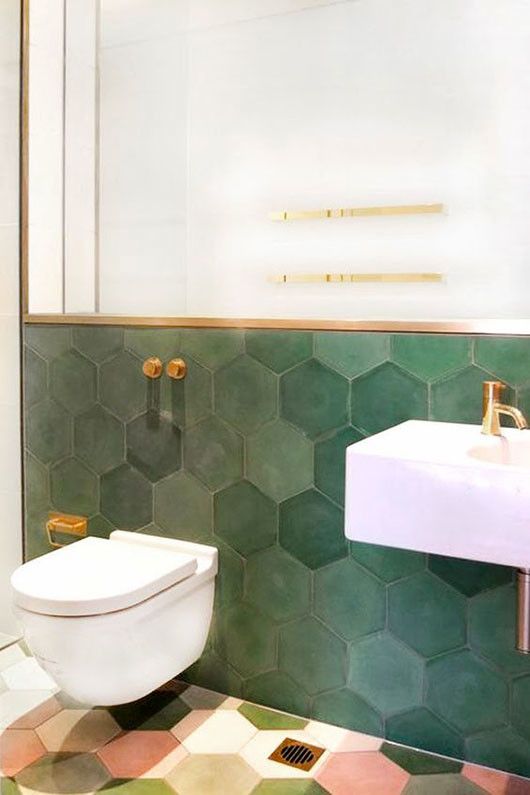 Deep green hexagon tiles with gold finishes and cute contrasting floor – sfgirlbybay
In the kitchen you can step it up with different colors, tones and textures. Either way, they look classic and iconic.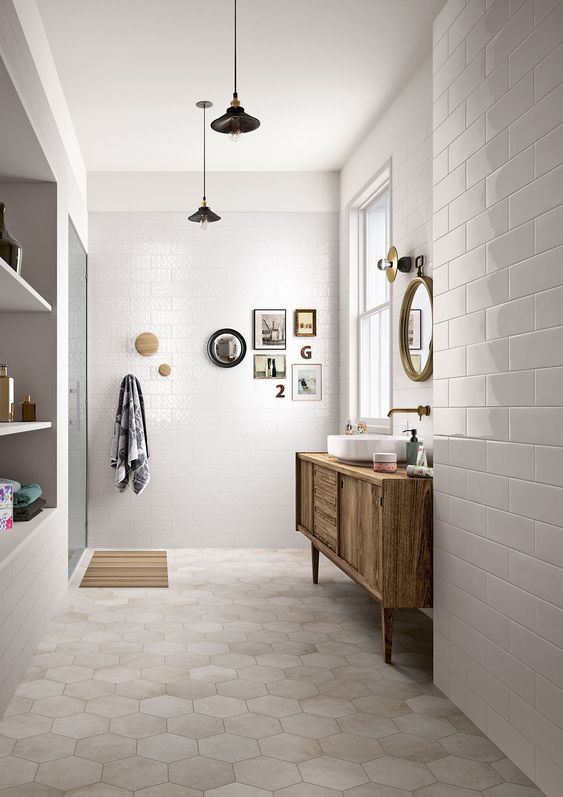 Bathroom hexagon flooring – Instagram
You will be seeing more subway and hexagon tile combinations. What do you think? Leave a comment below.