Decorated Life is reader-supported. When you buy through links on our site, we may earn an affiliate commission. Learn More
How to Design a Dreamy Backyard Retreat
By: Decorated Life Team
|
How to Design a Dreamy Backyard Retreat
A backyard retreat can serve your lifestyle in many ways and the design possibilities are endless. Designing a retreat is the perfect way to destress and give your mind, body and soul a place to unwind and cool down, until you reach tranquility from your hectic day.
The project doesn't have to be time-consuming or demanding, with a clear design, a positive mindset and a few guidelines, you can easily create your very own backyard retreat.
Think Flowers, Foliage & Plants
A key design element for an enchanting backyard uses foliage, flowers and plants in which maximize features. Whether lined up, patterns, specific heights or colors; consider the greenery, plants and flowers that might suit your backyard.
Start your design; is it formal, rustic, country or simply chilled? Do you want to create separate spaces for eating and relaxing. Does your plan need a lot of maintenance; are you up for it?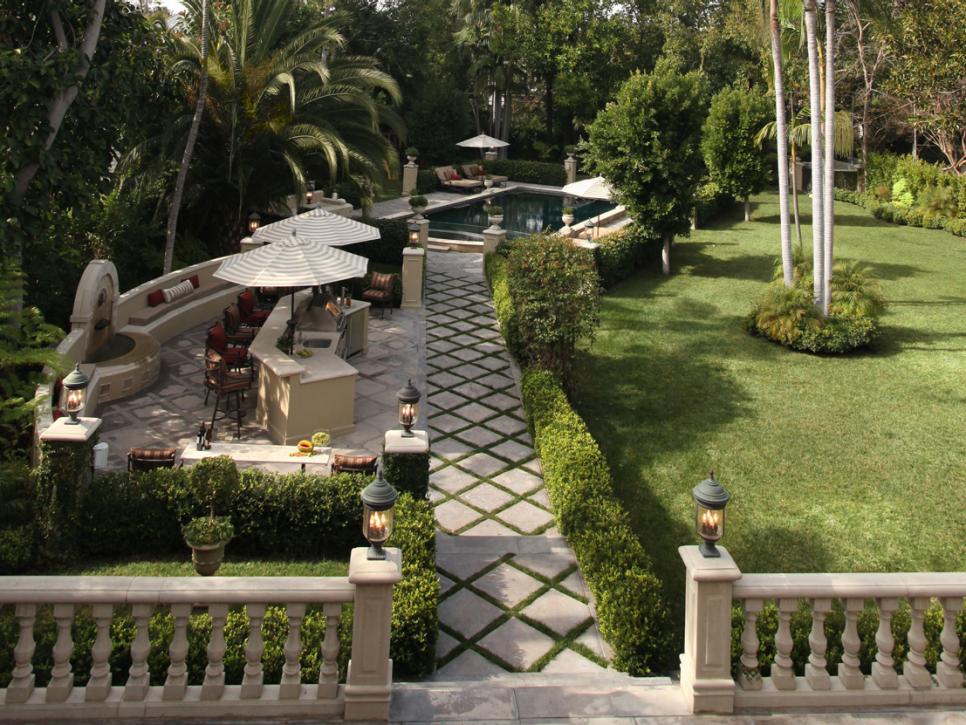 Add these ideas to your block size, soil type and functionality for a backyard that provides you with natural shade, blocks wind drafts and allows privacy, while purifying the air for eco-friendly practices and good health.
Introduce Water Features
Nothing is more serene than the soft trickle and shimmer of a water fountain in your garden. It will cool your yard on hot summer days and attract birds or small animals for a quick, cooling bath.
Depending on your space, you can choose water features that include a plunge pool, lap pool, or Jacuzzi.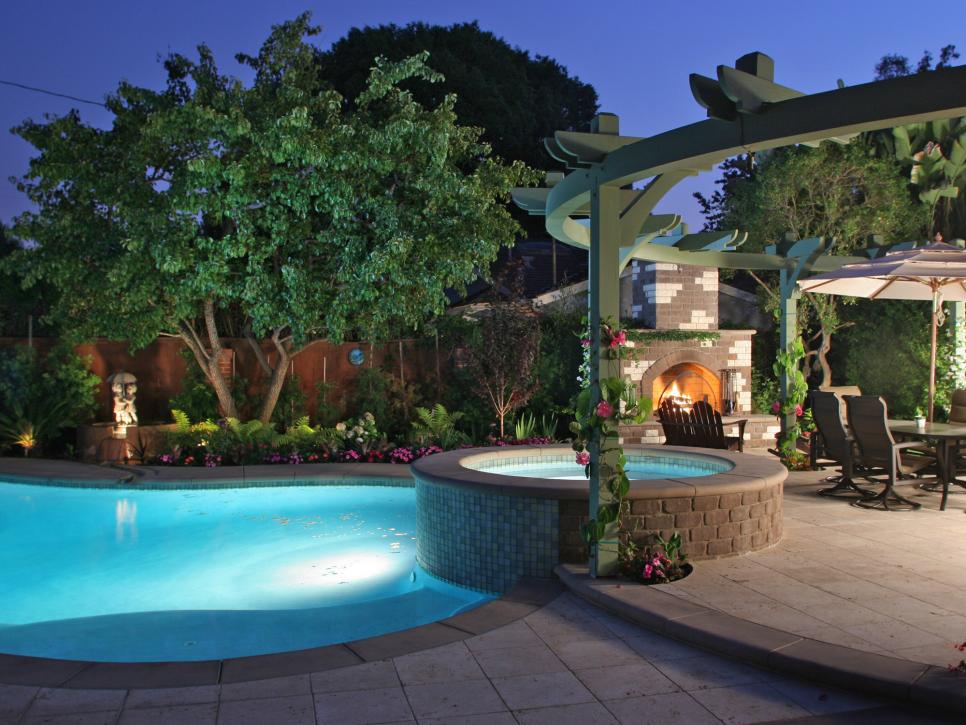 Outdoor Heating & Cooking
As features go, nothing is more luxurious than an outdoor fireplace to sit by on a cool summer night.
There are lots of different styles of outdoor fireplaces and fire pits from gas to wood burners that you can build yourself or buy and install.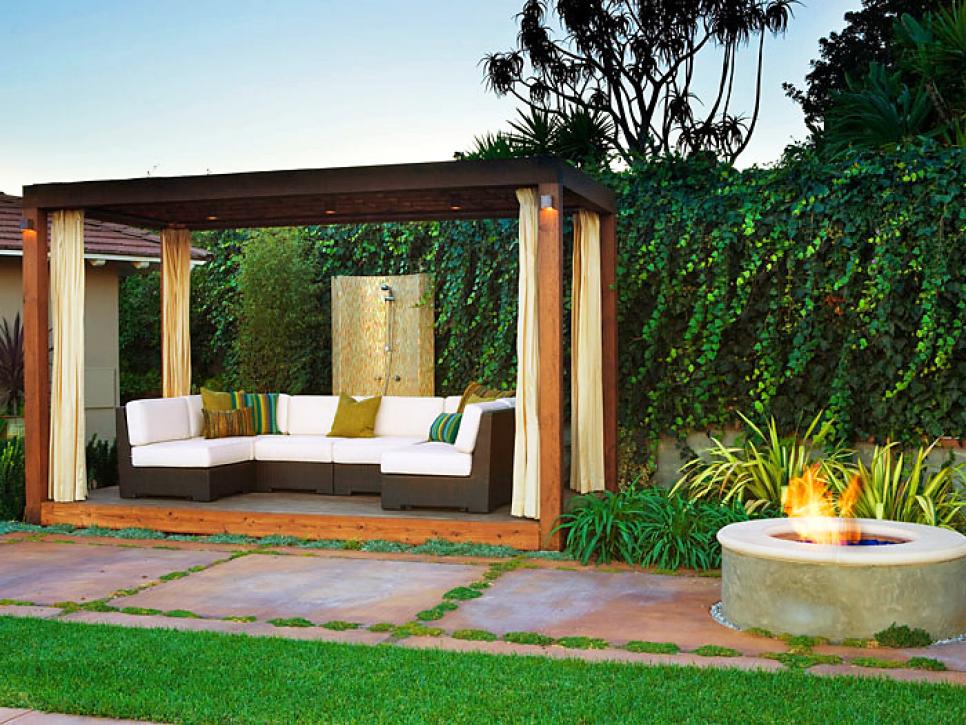 Outdoor kitchens are practical and prestigious when it comes to outdoor cooking. Imagine everything in one place, no rushing in and out, driving a path from end of your home to another.
It makes sense if you do a lot of entertaining and have the space. You can keep an eye on your cooking, while you cradle a cocktail. No stress, no fuss.
Depending on your space, you can choose both!
Choose Your Furniture Wisely
Stylish furniture plays a pivotal role in bringing your personal oasis to life. Depending on your preference, space and budget, you can choose between numerous furniture designs.
Muted or neutral colors are the easiest to decorate. Add pops of your favorite color; place them in your garden or use pillows or throws. You want to create a relaxed atmosphere, as if time has stopped, so you can feel at home at all times.
Buy or make washable cushions for your cozy chaise lounges, benches and chairs and if you are buying new outdoor future, look for furniture that is mold-proof and fade-proof (ie. UV protected). There are many clever fabrics out there.
Shade It Right
Your backyard retreat cannot be complete without good sun protection and shade structures to escape the heat but still enjoy the sun.
While natural trees and greenery should be part of your design they may not always provide adequate sun protection. Use them; but don't rely on them to give you the sun protection you need.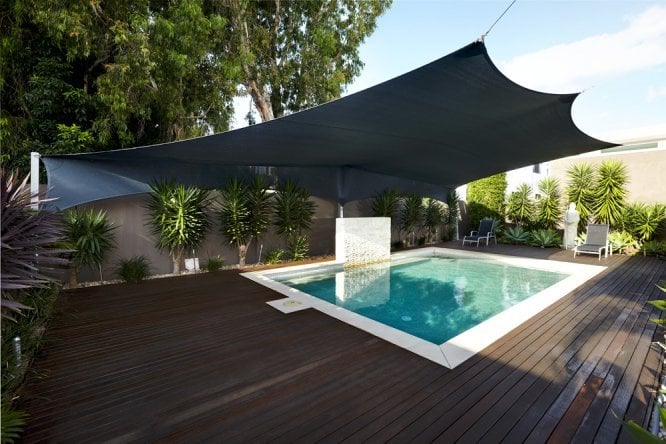 Stylish and durable waterproof shadesails can give you scalable and adequate sun protection. They are resilient against the elements and should last you for years. They comes in various styles, shapes and sizes and will often add to your design and blend in with your current backyard. 
Accessorize & Decorate
Finally, add accessories to complete the look of your private retreat. Accessories can be your pops of color, to add some diversity to your color palette. They can be signs, pots or boxes.
Next add lighting in three different layers.
You need general lighting, mood lighting and task lighting. General lighting needs to be evenly distributed in your back yard.
A single blazing bulb looks harsh and creates too many shadows for you or your guests to see. Next add interesting lanterns to your patio or hang string lighting in trees for a fairy tale setting.
This is great mood lighting. Lastly, add task lighting. You particularly need this if you are cooking outside.
Candles or string lighting are great on tables for extra task lighting. Doing these modifications yourself means having the right tools, such as paint strippers, die-grinders, drill bits etc to do the job as professionally as possible.

Designing your own, unique backyard retreat is a fun, enjoyable and rewarding task, that will bring peace and serenity to your entire family, while creating a perfect family fun-time setting for years to come. Make sure to follow these simple guidelines and you will create your dreamy backyard retreat in no time.