Decorated Life is reader-supported. When you buy through links on our site, we may earn an affiliate commission. Learn More
28 Exciting Ideas to Create Your Own Basement Bar
When you think of a bar, you usually think of your neighborhood bar that you hit up to watch a game or meet some friends. But what if you could have a trendier and better bar, all in the privacy and comfort of your own home?
A basement bar doesn't have to be cluttered or dingy. Read on for tons of ideas to show you that you can have a gorgeous bar in your basement, no matter your budget.
Invest In A Hideaway Bar Cabinet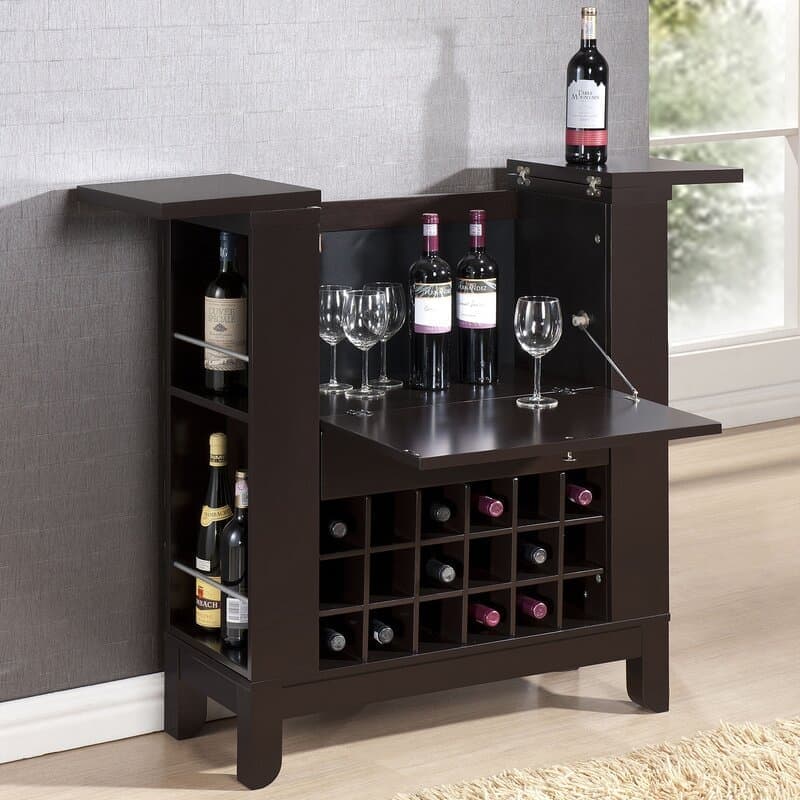 If you want a small basement bar but you don't have a lot of space, invest in a hideaway bar or liquor cabinet.
This cabinet folds up into what looks like a decorative chest with wine storage, but when it's folded out, it has ample space to mix and pour drinks.
Keep it Mobile with a Stylish Bar Cart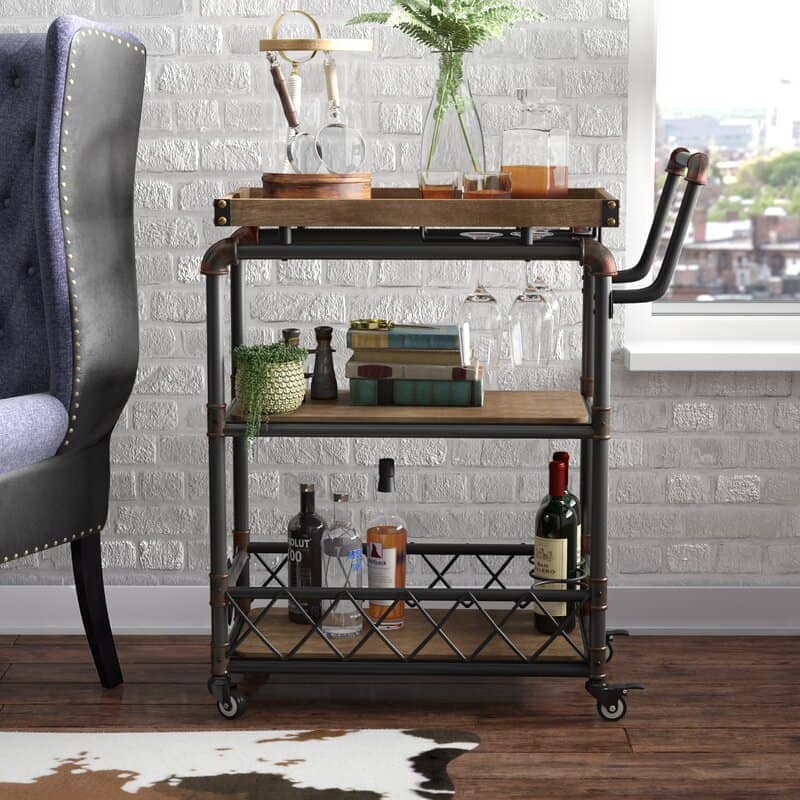 If you don't have space to build a permanent bar in your basement, you can go smaller with a bar cart. It's mobile so you can keep it wherever you want, but you don't have to sacrifice style for convenience.
This bar cart is simple yet gorgeous, and the flower arrangement for decoration adds a nice touch. The brown of the cart really pops with the statement wall in the background. The result is a fashionable bar area.
Go for the Rustic Warehouse Look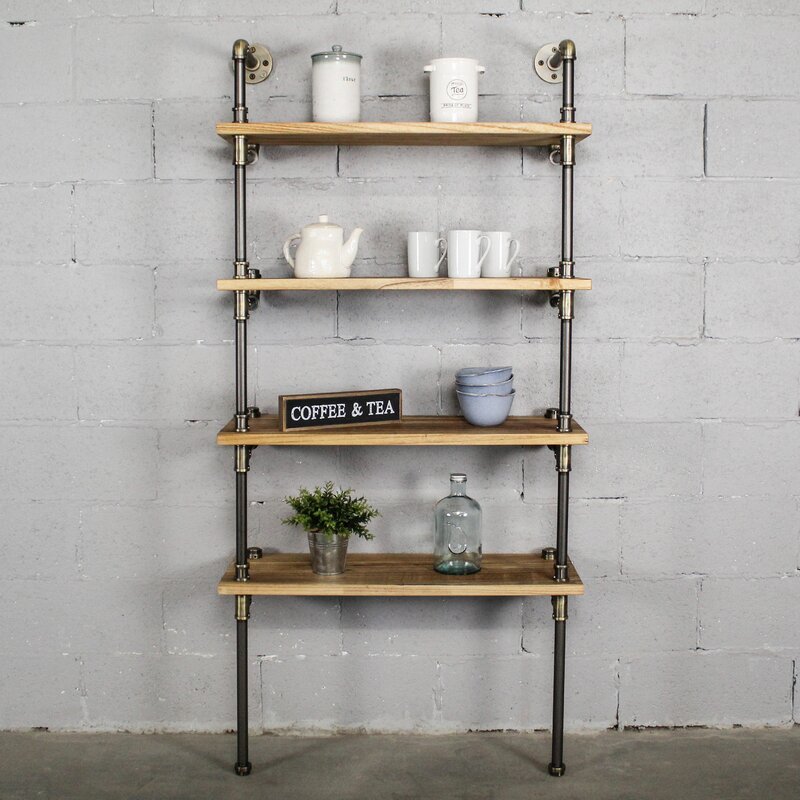 The trend in bars and decor is leaning towards warehouse, industrial, and rustic looks, using a lot of repurposed wood, exposed bricks, and mixed materials. You can get this look yourself in your basement bar if you have an exposed brick wall (or with textured faux brick wallpaper).
This wall-mounted shelving unit will look great behind your bar, or next to it. It has ample storage space and totally encapsulates the warehouse vibe.
Use An Actual Wine Barrel For A Wine Rack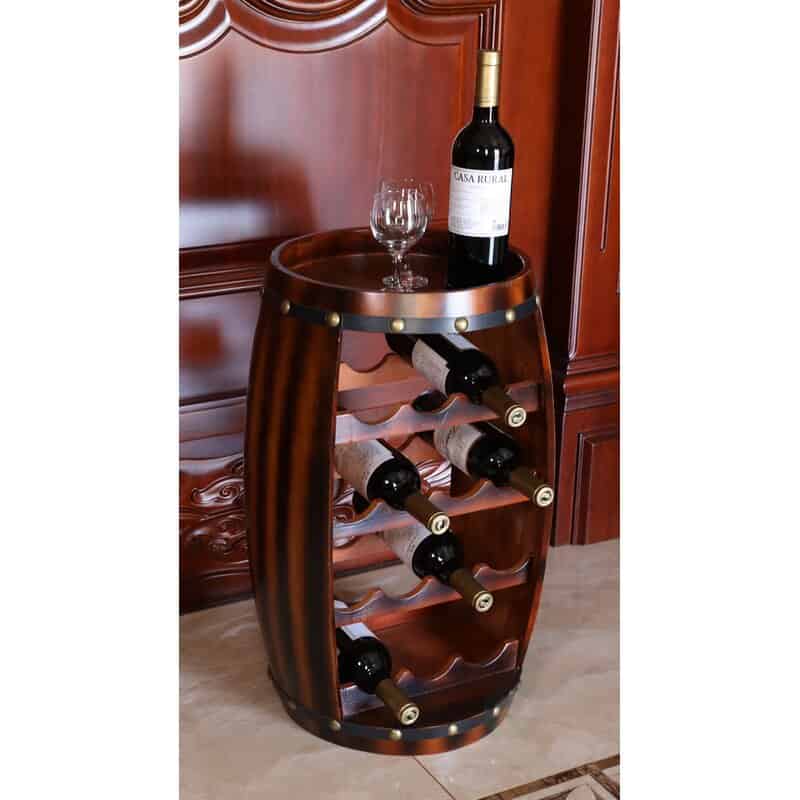 Keep the alcohol theme going throughout your basement bar with a wine rack made from a wine barrel. It's large enough to store some bottles of vino without taking up your whole bar space.
It's a great piece of furniture that will blend in with most decor styles like rustic, industrial, contemporary, and could even work with mid-century modern with the right embellishments.
Add Themed Decor For Style Points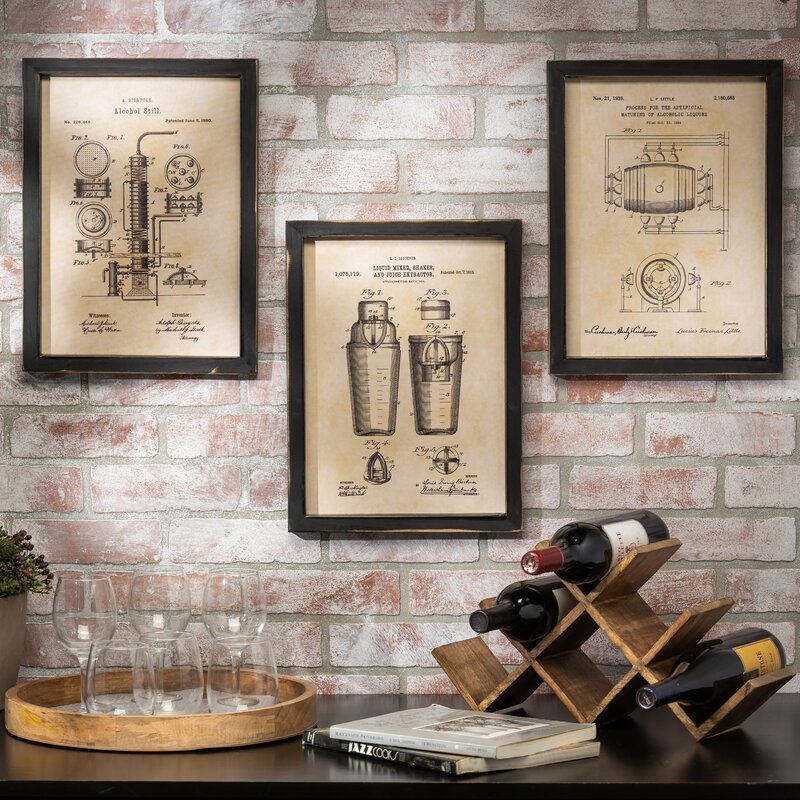 You may want to mix some decorative items in with your glasses, bottles, and mixers to help elevate the style and give it a more home-like feel rather than a sports bar.
Consider adding in some framed prints like these, a stylish glass decanter, and a bowl of lemons and limes (real or fake, depending on how often you use them). These small items will provide some variation to the overall aesthetic and improve the atmosphere.
Maximize Your Small Space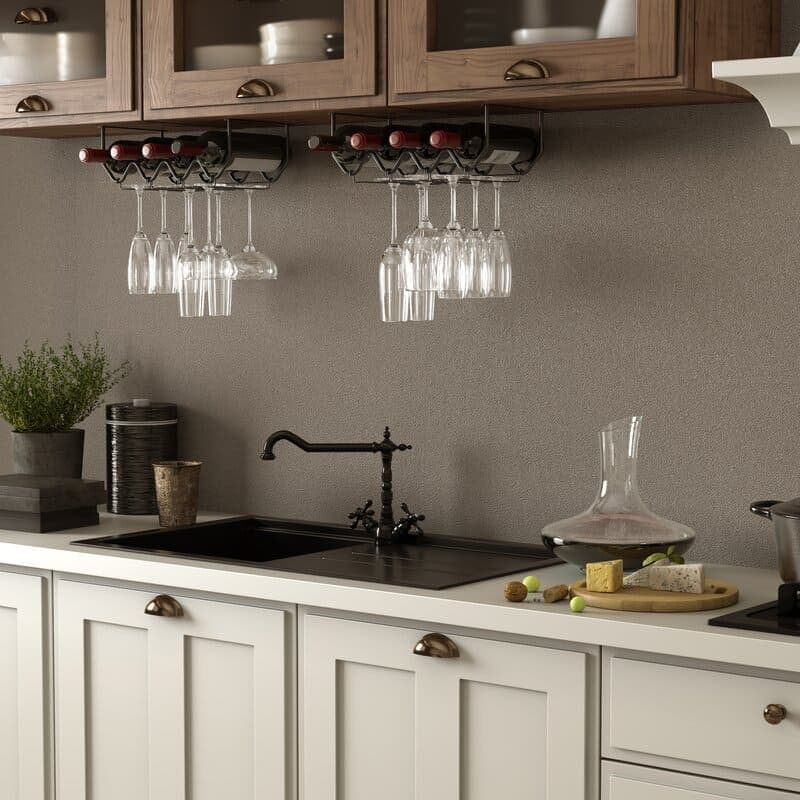 If you don't have a lot of space for your basement bar, you'll have to think of creative ways to maximize the room you have.
This storage shelf is amazing because it utilizes what would otherwise be wasted space between your cabinets and the countertop. Plus, it provides easy access to some essentials.
Add A Backsplash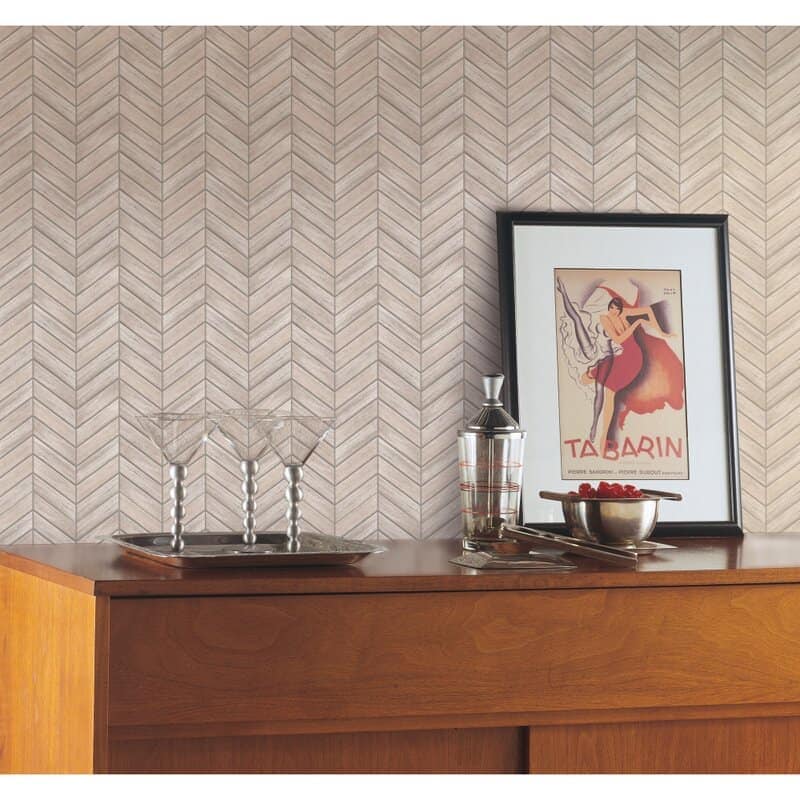 You can make a statement in your basement bar with an eye-catching backsplash, like this herringbone one pictured. Its contrast against the wood bar cabinet adds style and compliments the stainless steel of the cocktail mixer.
You don't have to spend a ton of money on a backsplash, either. There are so many realistic peel-and-stick options that don't require grout or a professional to install.
Add in Some Glam with Your Bar Stools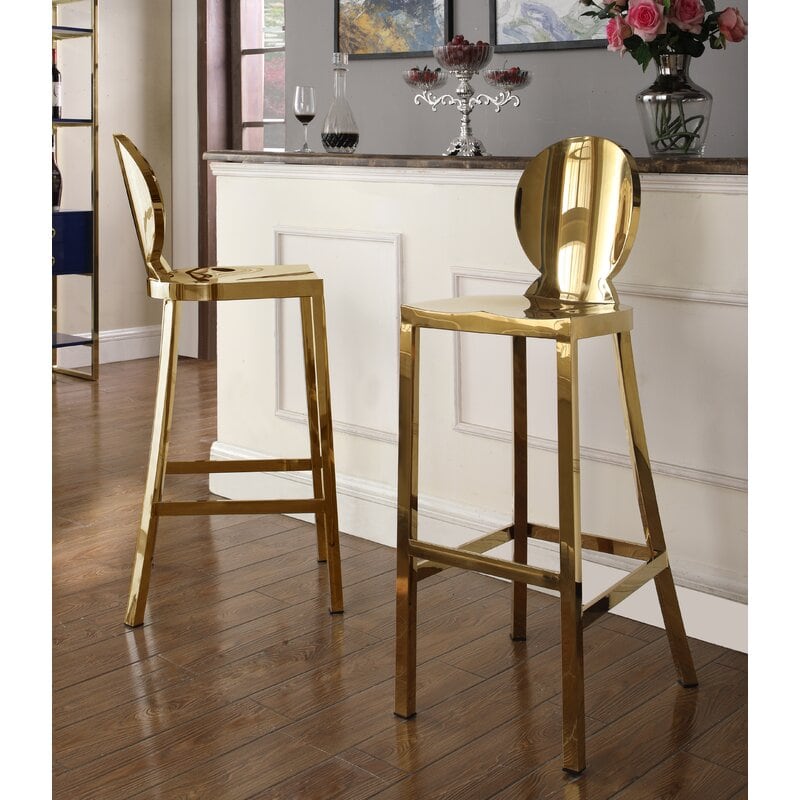 If you have the space in your basement for a full bar or island, you can add in some real personality and glam with your bar stools. Consider something metallic that contrasts with the rest of the room to either soften or harden the overall look.
These gold stools warm up the bar space with its grey walls. They also add a little something extra to the otherwise straightforward space with solid colors and sharp angles.
Turn a Console Table into Your Basement Bar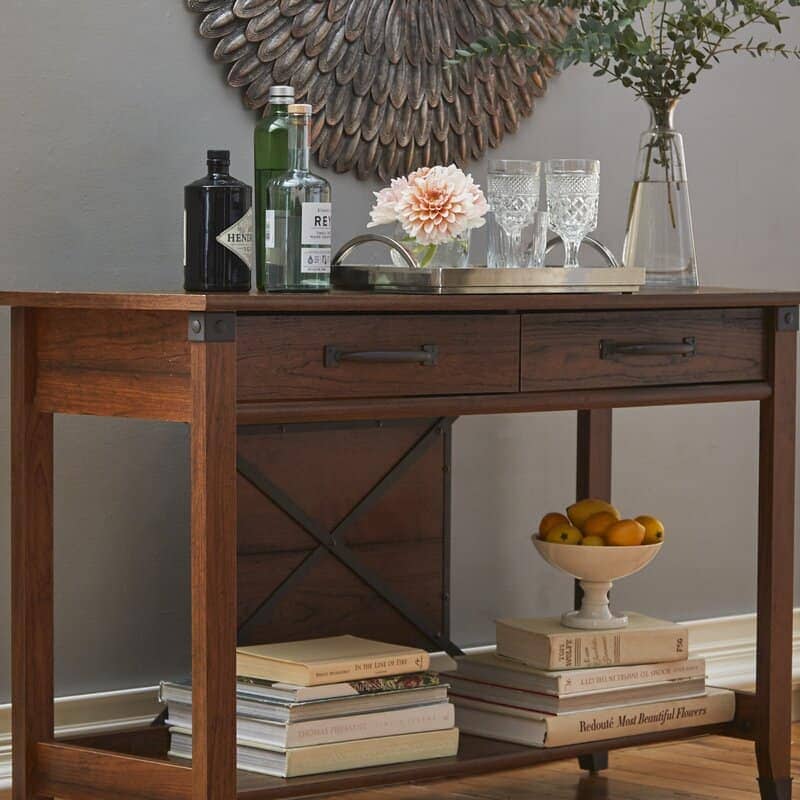 You can use other pieces of furniture for your basement bar if you're not ready to build a real bar. For example, a desk, trunk, or a console table all work really well.
In this case, the console table has shelving space for plants and other items, while the top is dedicated to bar items. The unit is simple and charming and can easily be tucked into a corner of a room.
Invest in a Wine Fridge Storage Unit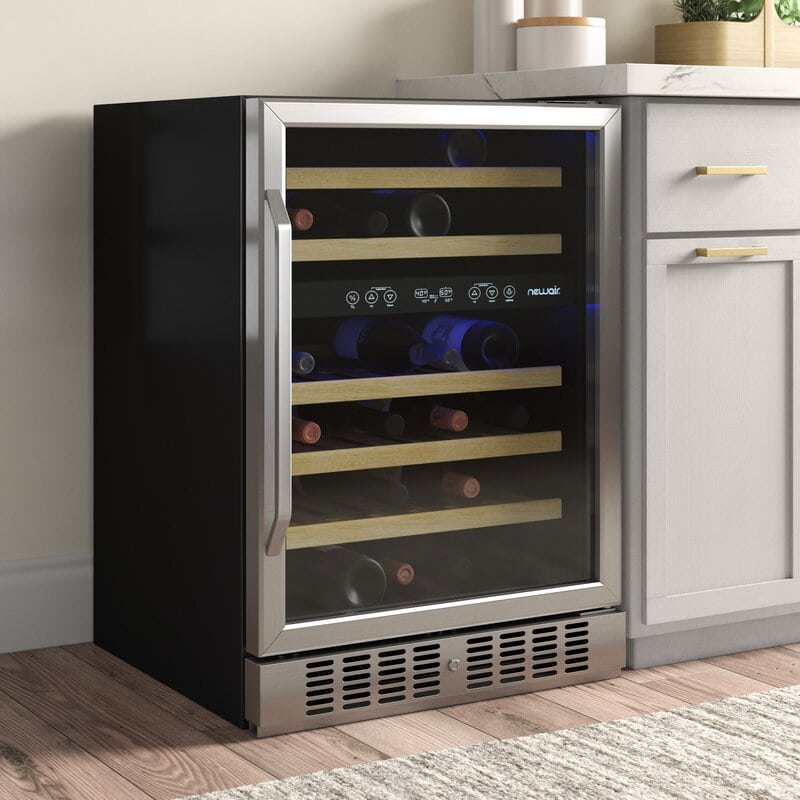 If you are more of a wine drinker than liquor, you may want your basement bar space to focus more on wine storage. You'll need less counter space for drink preparation but will still want a cool spot to put your vino between pours.
This wine fridge can be built into your counters or placed next to them like in this picture. It's sleek and neutral design allows it to work with most cabinet and hardware colors.
Give Your Bar A Mid-Century Modern Look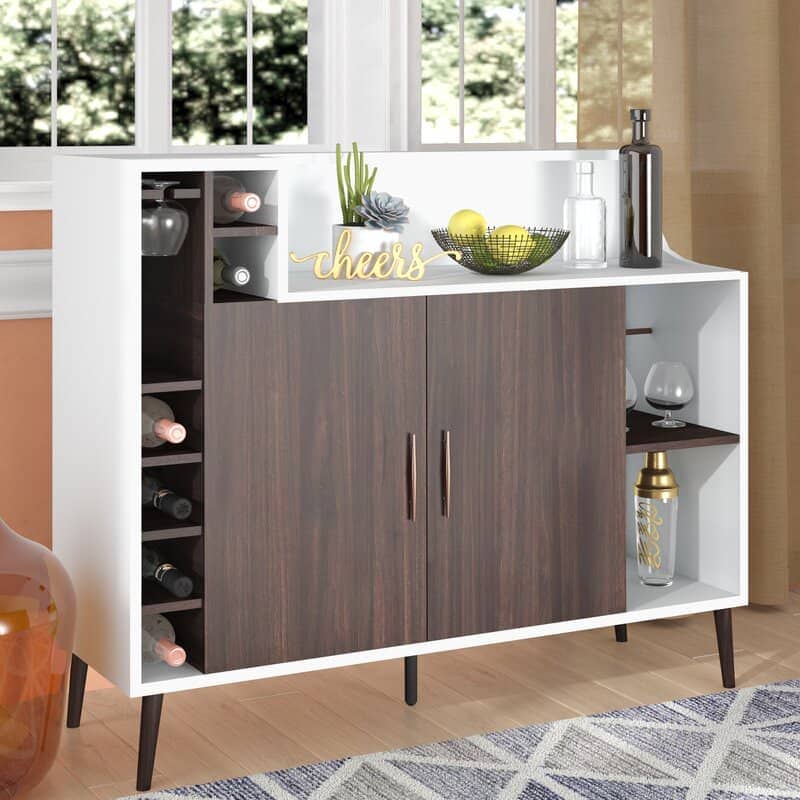 If you want to stick with a decorative style theme, consider the mid-century modern look (think Mad Men). It basically begs for that happy hour cocktail or a bourbon night cap.
This bar cabinet offers a lot of storage and space to prepare your drinks. The dark wood mixed with the white give it the perfect mid-century modern style that will look wonderful in any basement.
Create Space and Glamour With Mirrors
This bar hutch looks like its straight out of an upscale bar. Mixing mirrors into your space will highlight whatever you display on your shelves and give the illusion that your basement is larger than it actually is.
Take a note from this picture and mix metallics together (silver, gold, and stainless steel!) and include some subtle spotlights to highlight your display.
Use a Simple Tray on a Media Unit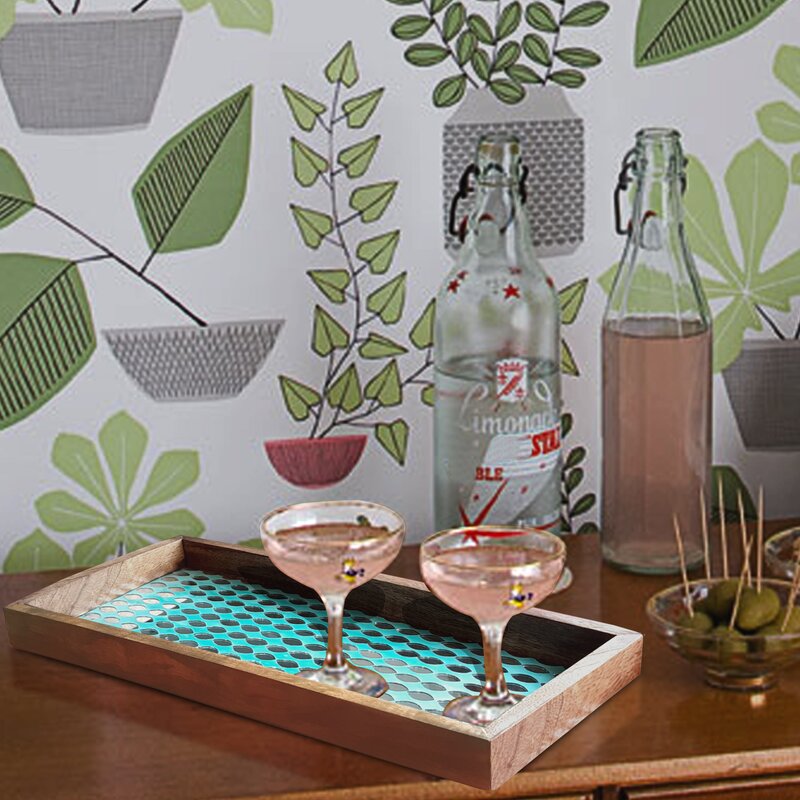 If you're really short on space, use other furniture for your bar and keep only the necessary items on a tray.
If you're not yet at the stage of creating a whole space for the bar, or your collection is still quite small, this is the way to start. All you need is a simple yet fashionable tray.
Make It Modern With Some Velvet Stools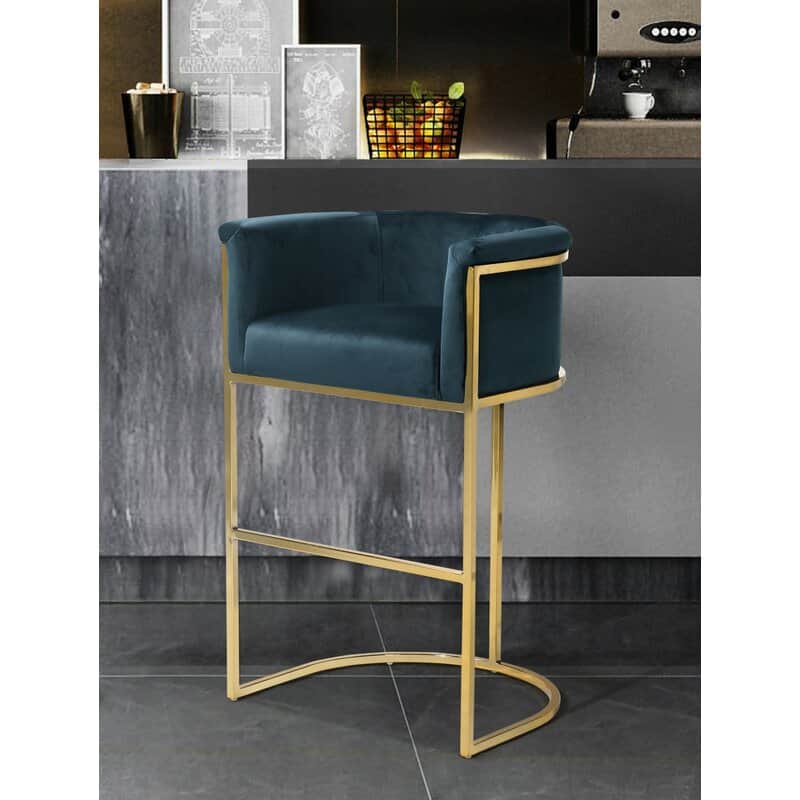 If you're all about modern decor and glam, you should definitely invest in some jewel-toned velvet stools. Here's an example of an absolutely gorgeous stool with a comfortable back and gold legs.
Velvet will add a soft touch to your bar space and the pop of jewel-tone color will definitely elevate the style. Not to mention, a stool like this is super comfortable.
Mix Up Materials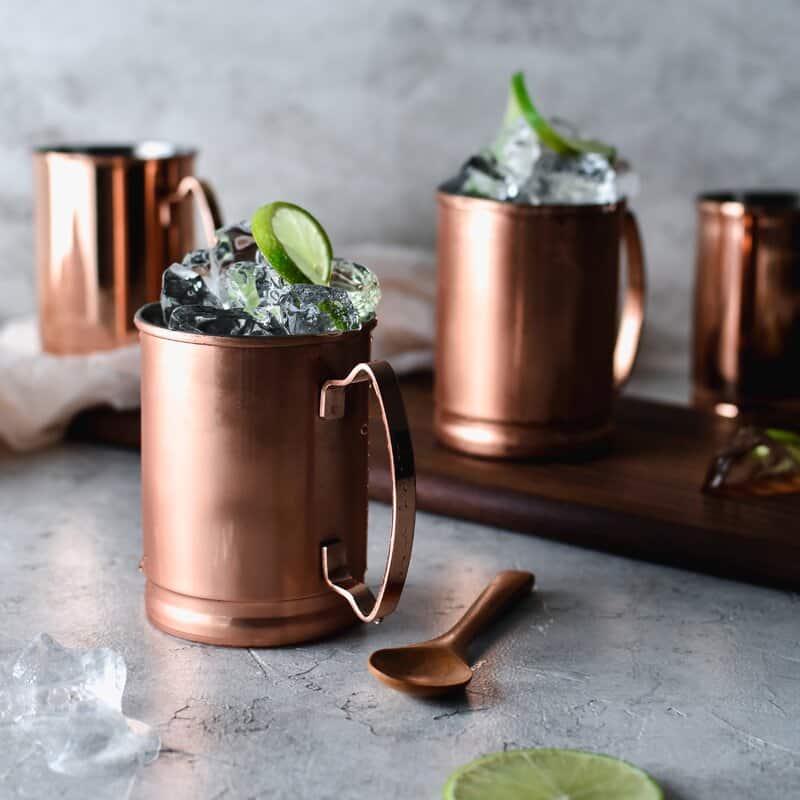 Your bar could benefit from mixed materials, especially if it's in a darker corner of your basement. Because the lighting isn't too bright (which is completely fine to set the mood of the bar), you want to be sure to create texture and flair.
This is achieved by mixing materials, like the marble counter tops, copper Moscow Mule Mugs, soft bar towel, and even the pop of green from the limes. The result is a bar with trendy and intimate vibes.
Add a Chalkboard For Fun Interactive Entertainment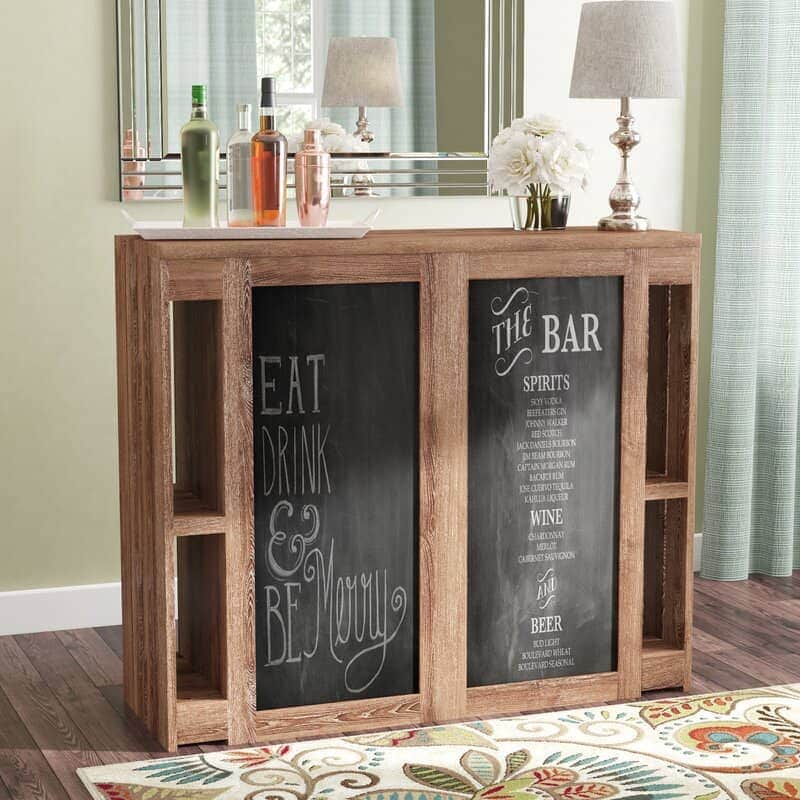 Going for a rustic or farmhouse chic style? Consider adding in a chalkboard (or chalkboard wall!). The black of a chalkboard will contrast well with reclaimed wood furniture and different metals.
It's also a fun way to display "drink specials", draw out some designs, or just play a game of tic tac toe with your friends.
Include an Intimate Bistro Nook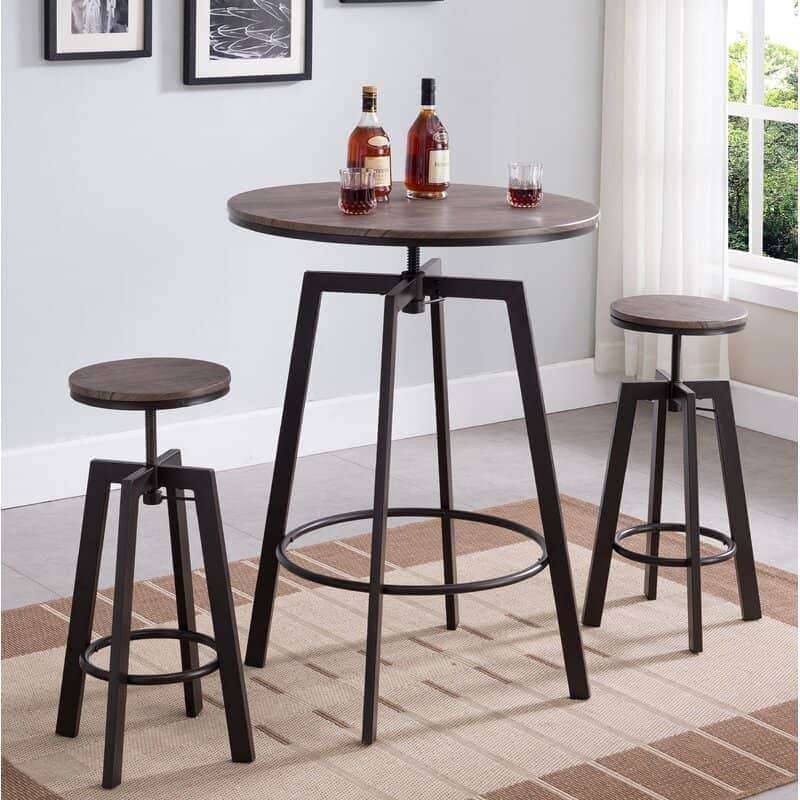 A bistro nook is a great way to add seating to your basement bar even if you don't have a lot of space. Create an intimate atmosphere with a warm rug, classic framed prints, and a nice set of barware.
This industrial-chic set has a speakeasy vibe, but the rug and grey walls surrounding it make it look a little more modern.
Save Space With Tall and Narrow Storage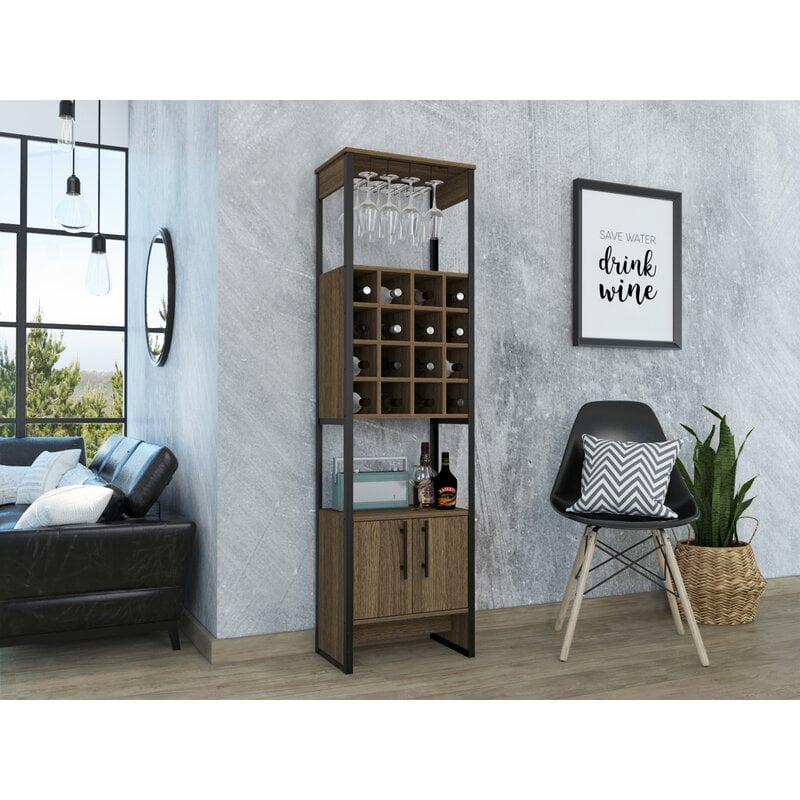 If you don't have a lot of space for a bar with a big footprint, invest in something that's tall and narrow to utilize your basement's height rather than floor space.
Even better, look for something that could fit into a closet. You won't be using up any extra space and you'll have the option to "close down" the bar when it's not in use.
Invest in a Kitchen Island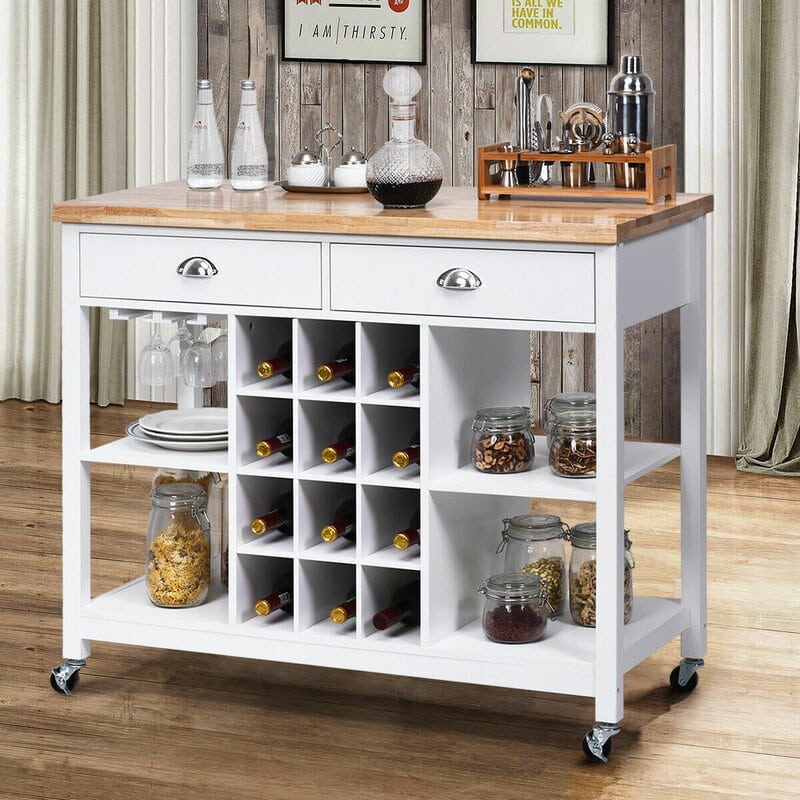 If you want something larger than a bar cart, but not as permanent as a full built-in bar, a portable kitchen island will serve as a stylish happy-medium. They have a lot of storage, plenty of counter space, and can be moved around if needed.
Consider an island like this one that has the perfect balance of contrasting colors and materials like the white framing, wood countertop, and brushed nickel hardware.
Go All Out With A Sports Theme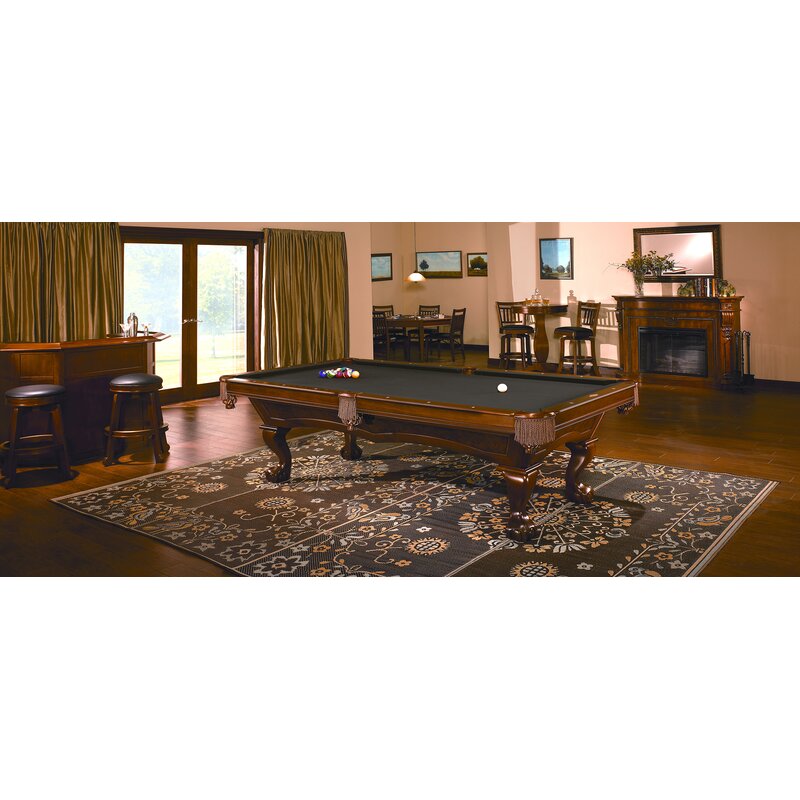 If you want your entire basement to look like you just stepped into your local watering hole, you'll have to think about every aspect of the room. That means you'll want a TV so you can watch sporting events, a pool table, and maybe even a dart board!
Make sure you properly measure your space so you can comfortably play pool from every angle of the table.
Decorate with Cosmopolitan Touches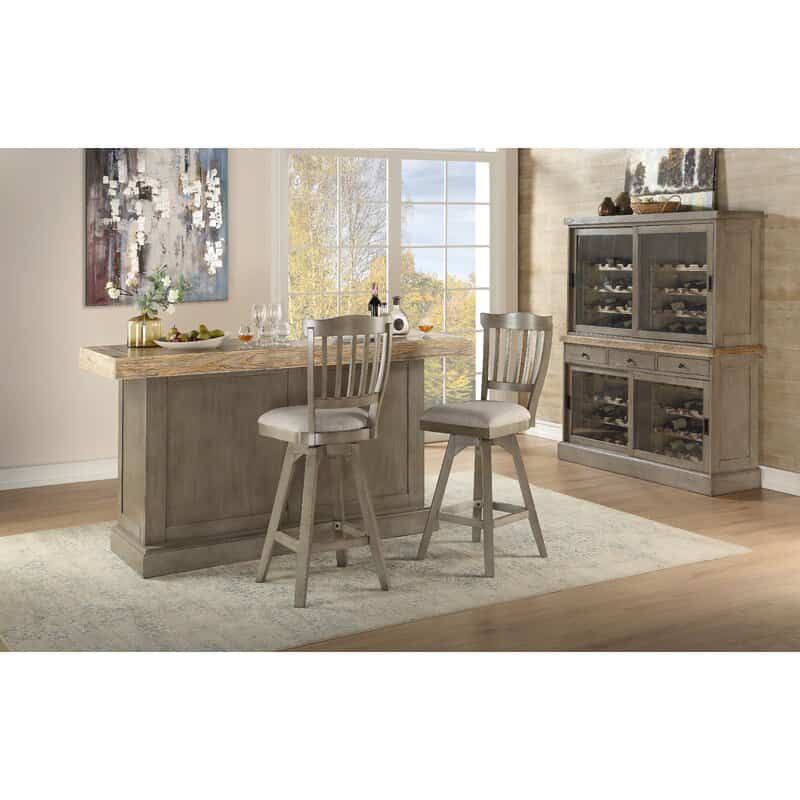 Many bars tend to go for darker color schemes, with a lot of warm earth tones, wood, and dark countertops. You're not limited to that style, though. You can have a gorgeous bar that's white and brightly lit, with some modern and cosmopolitan touches.
If you're lucky enough to get sufficient natural light, you can hang some plants from one of the walls to add some life to the room.
Install Statement Lights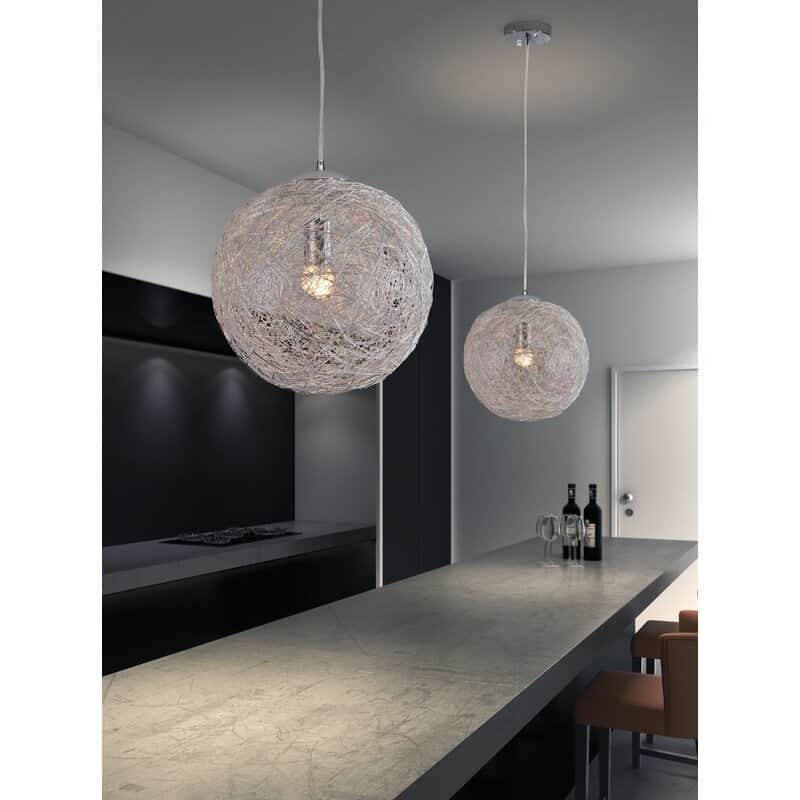 There are so many great ceiling lights that can add some style to your basement bar. Either a set of pendant lights or one ceiling fixture can make a serious statement.
If you're going for the speakeasy vibe, try some fixtures with Edison bulbs, industrial fixtures for a farmhouse style, or something totally different for a contemporary feel.
Add in a Bar Dinette Set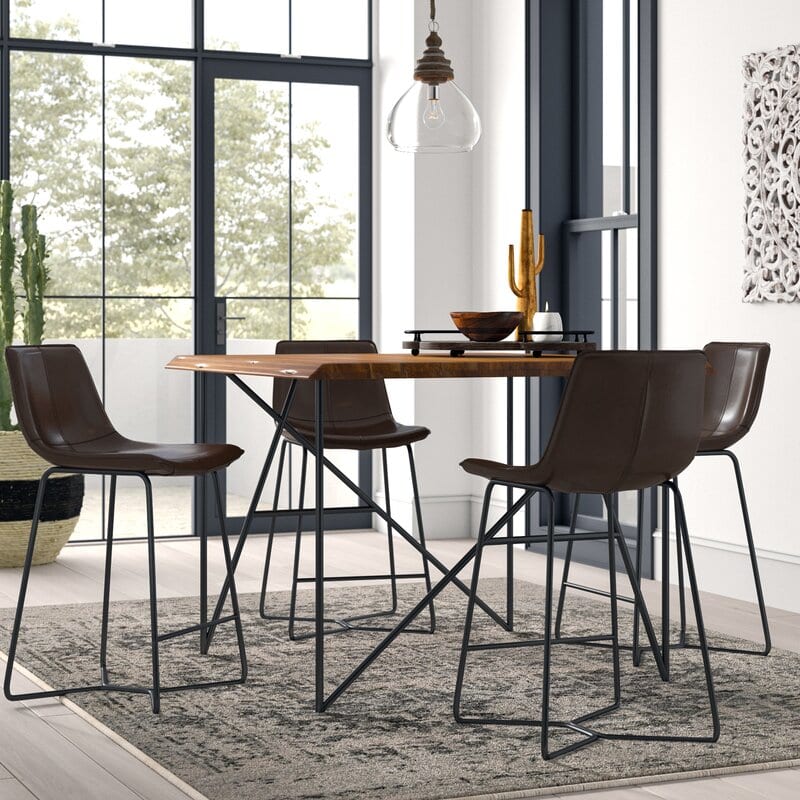 If your space permits it, you can add a whole dining area next to your basement bar with a dinette set. It creates a different atmosphere than simply putting stools against the bar.
It also means you can host dinner parties in your home bar and have more face-to-face interactions with your guests across the table.
Include A Kegerator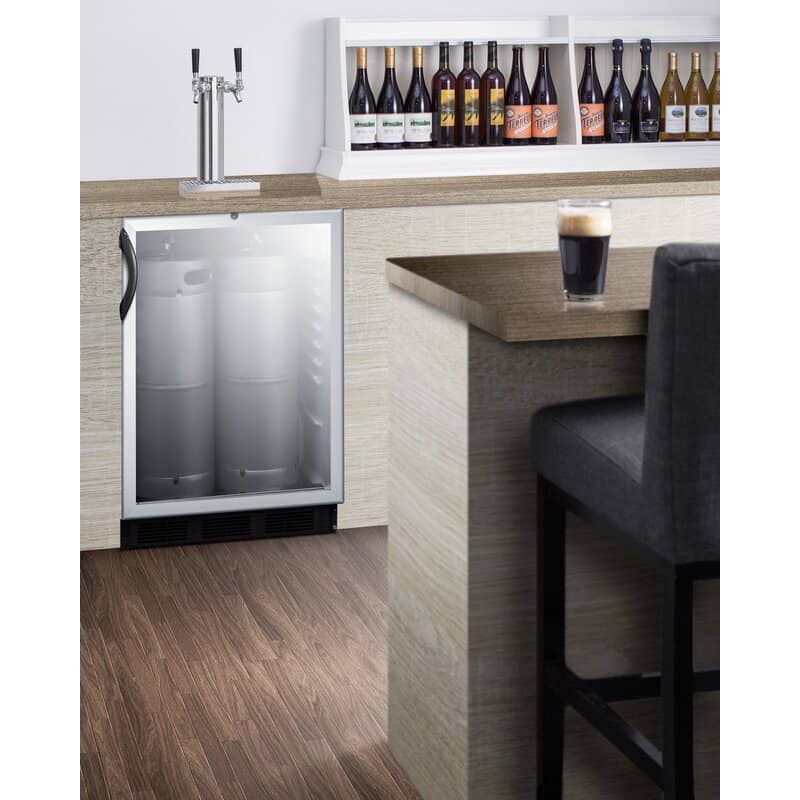 Are you a big beer drinker? Do you like to make your own craft beers? The ultimate basement bar fixture is a kegerator (a refrigerator for a keg) and beer tap.
There are so many different styles and sizes to pick from, but it doesn't matter what model you choose, it's all about what you decide to put in it.
Make It Feminine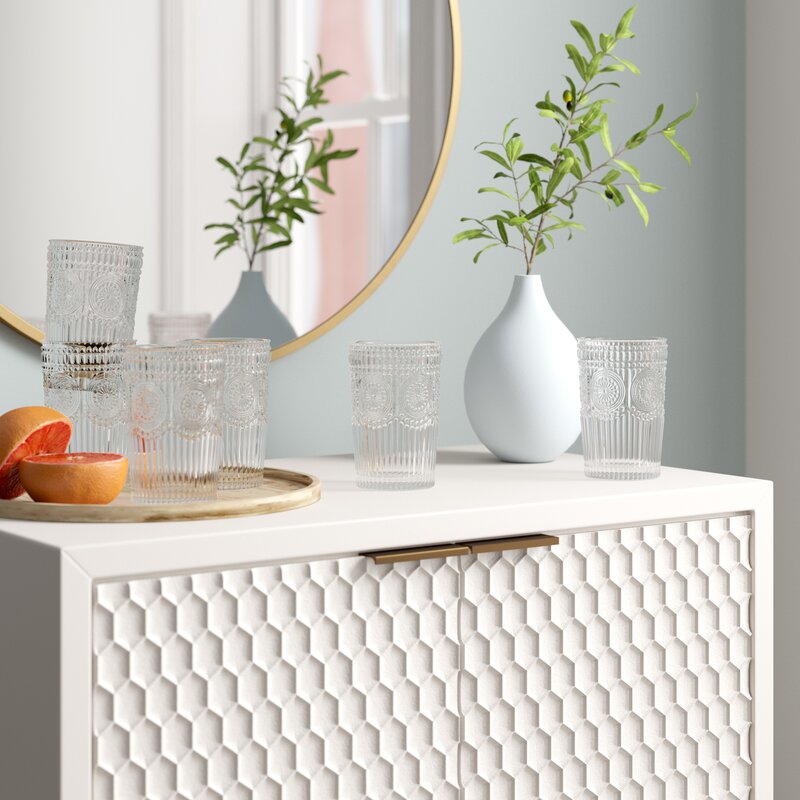 Your basement bar doesn't have to be a dark spot full of beer and whiskey. It should reflect who you are and what you like.
If you're more into prosecco and pink, don't be afraid to go feminine with your bar. Add in rose gold or gold hardware, some "pop fizz clink" art, or whatever else it is you love.
Hang Up Some Signs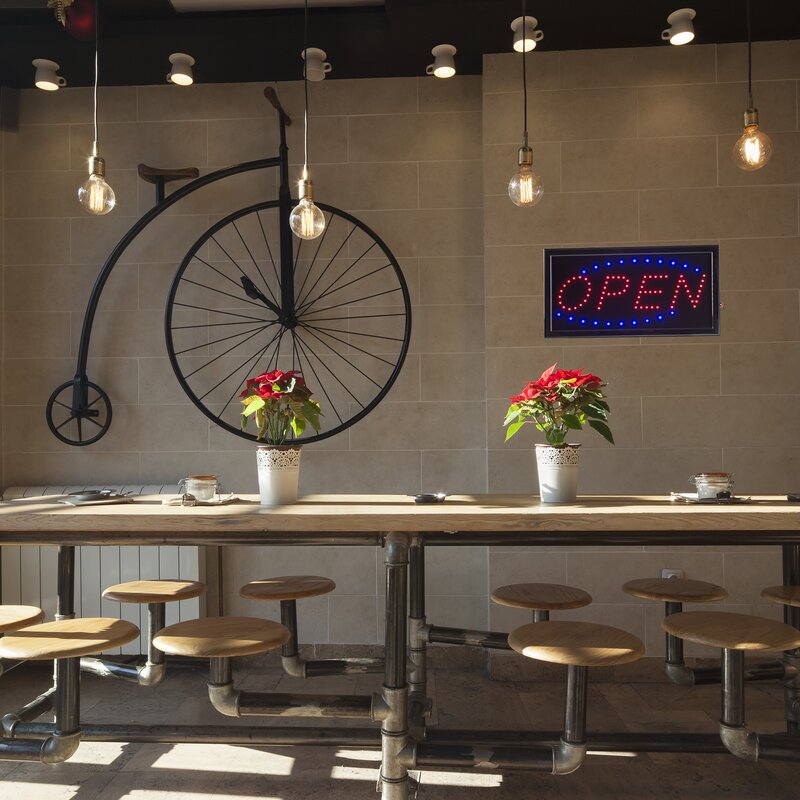 A classic dive bar feature is the bright neon sign, and you can get one for your own basement bar. You can either find one online, in an antique shop, or even get one custom-made to show whatever you want.
This idea works especially well if you hang up your sign on an exposed stone or brick wall, a key feature of any dive bar.
Go Rustic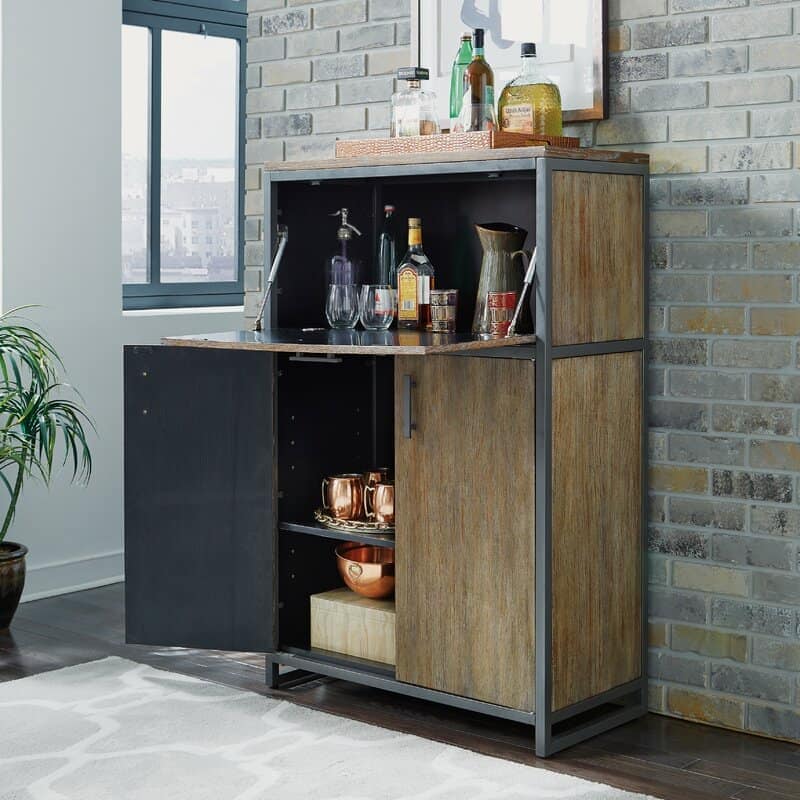 If you're going to design the rustic country look for your basement bar, furniture that looks like it's worn or made from reclaimed wood should be your starting point.
From there, you can decide if you want to go more rustic industrial or rustic farmhouse.
Invest In Stemless Glassware
Not only is stemless glassware easier to store but it also is more difficult to knock over and shatter. This is especially important if your basement bar is in a home with kids who like to run around.
You can get just about any type of glass in a stemless version, wine, champagne, and even martini.
Final Thoughts
There are a million ways to design a bar in your basement, and I've just scratched the surface here. You have to first consider how much space you have, and how much you're willing to commit to creating a basement bar.
No matter your budget, style preference, or decor vision, I'm sure there's an option among these ideas that appeals to you and will inspire you.
Consider yourself warned though, that by adding a trendy bar to your basement, you'll always have friends dropping in for a drink and to watch the game instead of heading to the local bar!