Decorated Life is reader-supported. When you buy through links on our site, we may earn an affiliate commission. Learn More
Farmhouse, Rustic, Country Christmas Table Decorations
By: Decorated Life Team
|
A highlight of the holidays is sitting down with family and friends to delicious food surrounded by beautiful Christmas table decorations. Creating the perfect setting always makes food look more festive, sumptuous and taste even better.
The Christmas table is where we celebrate our traditional holiday meal. It marks the birth of Jesus Christ and renews our ideal for a world filled joy, faith, hope and the spirit of giving.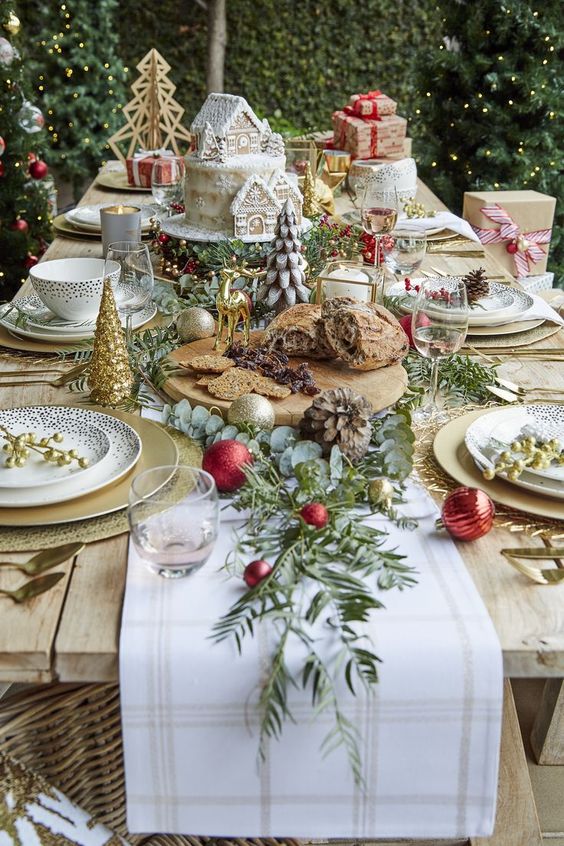 This holiday season Farmhouse, Rustic chic is a popular country Christmas theme. Evergreen greens plus holly and classic Christmas ornaments are the perfect additions.
Keep it simple, with lots of space for plates or platters of food, glasses and drinks. Clean wood tables with runners down the middle or across the table or white table cloths, again with simple runners give the table interesting layers with a crisp fresh look.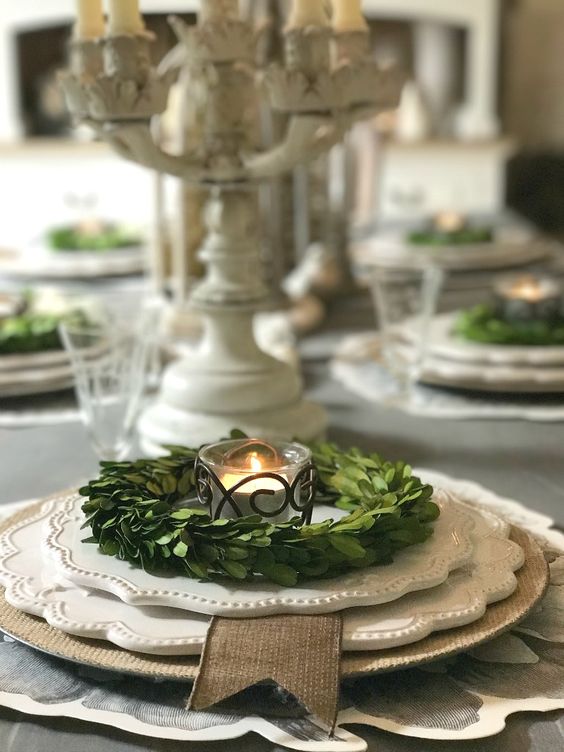 While sticking to traditional red, white and green for Christmas, there are a lot of neutral themes this year that rely on textures to make them interesting. Here are some ideas that are stylish, classic and still traditional.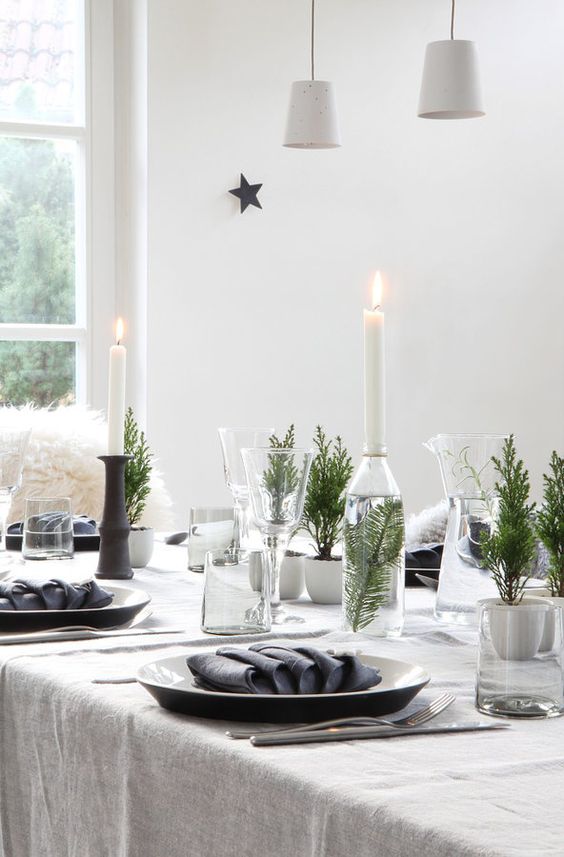 Traditional Candy Christmas Table Decorations
Traditional holiday candies are playful and a great way to set the mood as place card settings or napkin rings as part of your table setting. Classic candies instantly take every generation back to all the Christmases past.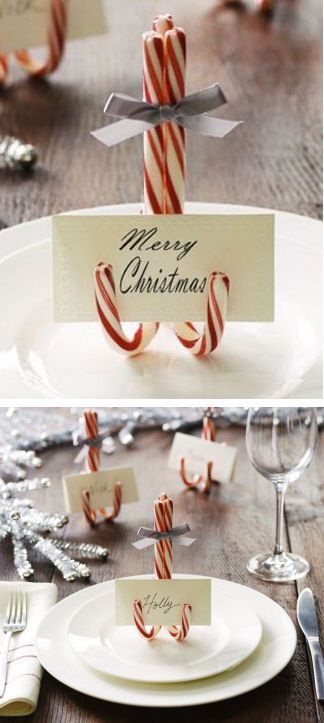 Peppermint and gumdrops, candy cane or gingerbread houses are all sweet reminders.
They are an inexpensive to buy or make and are a creative conversation starter.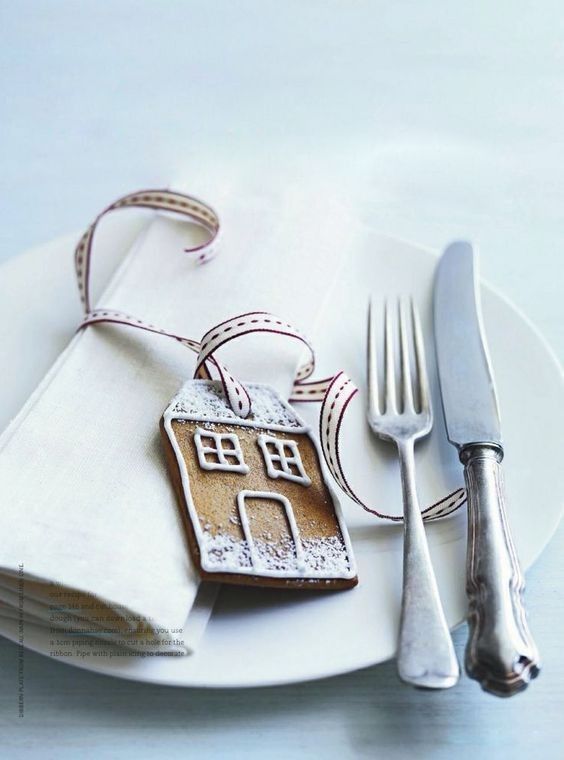 You can hot glue candy together, around mason jars or even as a vase. There are literally hundreds of ways to use them on your Christmas table.
There are other ways to use candy is a traditional holiday table setting, like using ribbon candy as place card holders or adding them to Mason jars.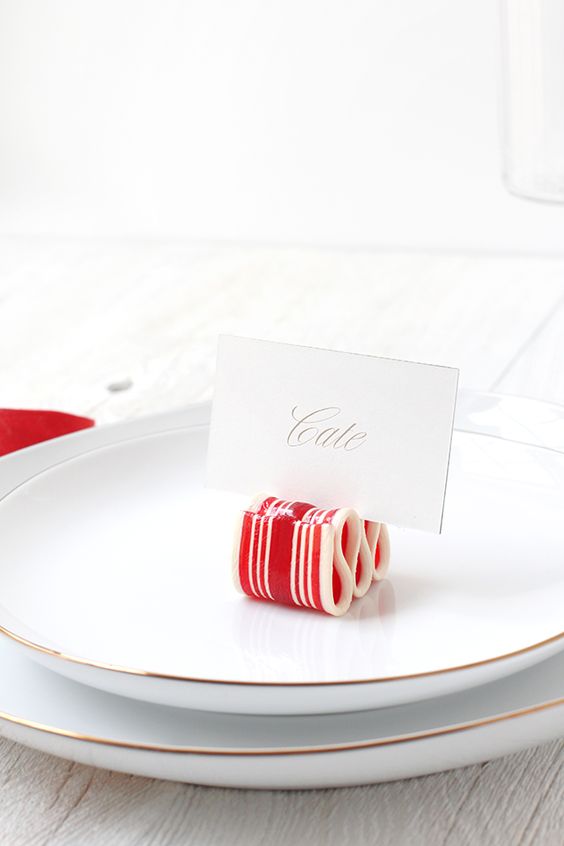 Simple Natural Textures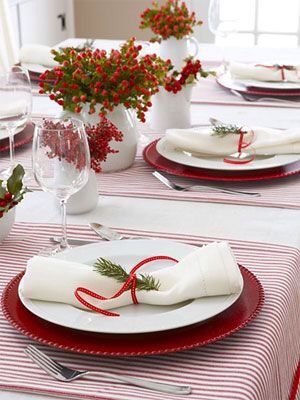 Farmhouse country loves natural textures. Add textured fabrics or greenery to your table. The photo above shows how natural textures easily create a cozy, country look.
Crisp and clean or green and woodsy, the choice is yours. Why not paint leaves in gold and glue them to a clothespin to make these luxe looking gold napkin rings?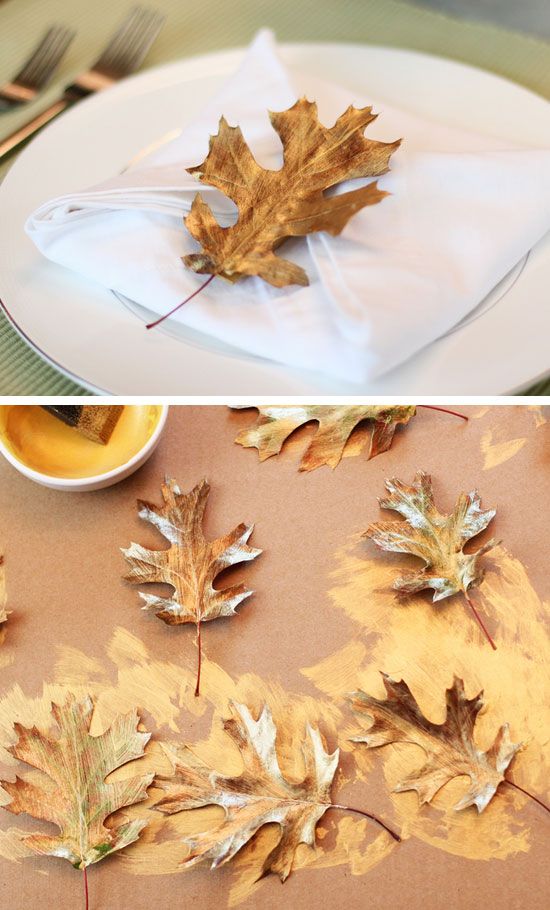 Along a textured runner add natural textures like twigs or greenery for a country Christmas table setting.
Soft reds and pinks, tiny lights and a distressed rustic table add modern twists to this traditional look.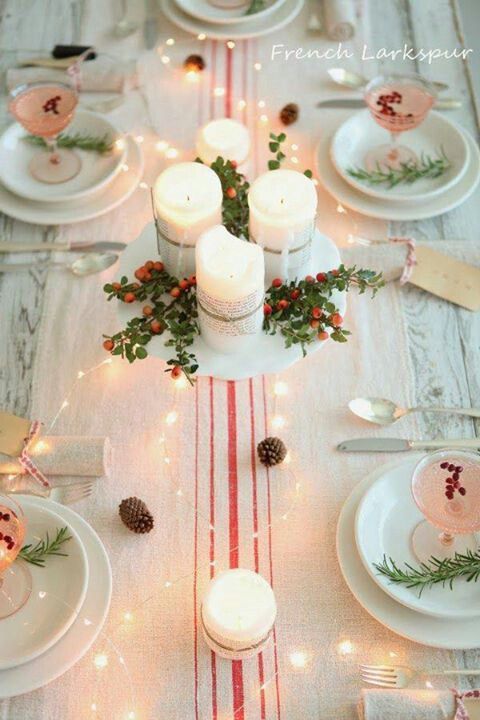 Christmas Trees
Small trees on your table give height, natural texture, color and a strong country vibe.
You can use small, real trees or you can create your own like this tiered tree using plates, pine cones, greenery, candles and tiny lights.
This is an updated country Christmas table setting that is easy to put together and works beautifully as a centerpiece that just pops.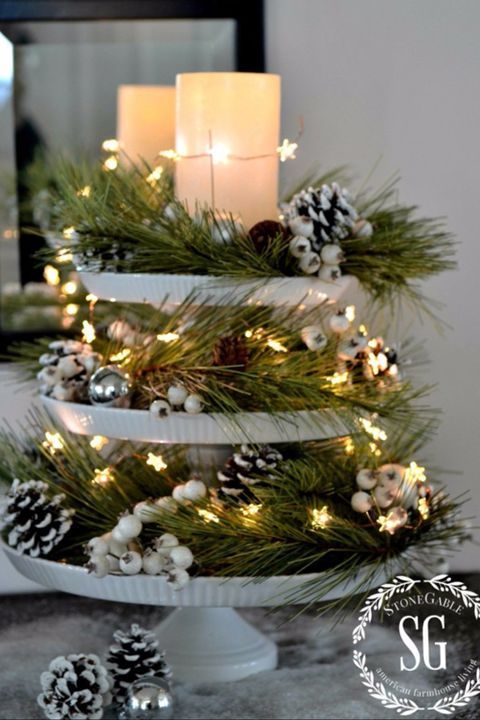 Contrasting greens work well with soft white candles white tipped cones and white lights.
Green and white, black and white, dark gray and white and red and white color scheme are a lovely twist on traditional red, green and white color schemes in most holiday decorating designs.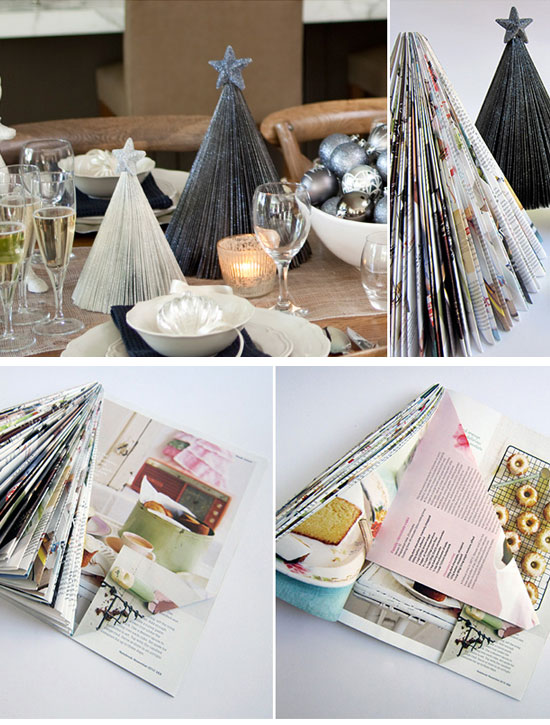 Christmas trees can be paper thin, literally made from magazines or paperbacks.
These easy to make trees above work well in white, red or green. Add them along your rustic table setting. Create them out of song books, or vintage paper backs if you prefer rustic textures.
The minimalist texture of the greenery on the table below gives a stark, updated look. These small trees are a very modern rustic Christmas table design.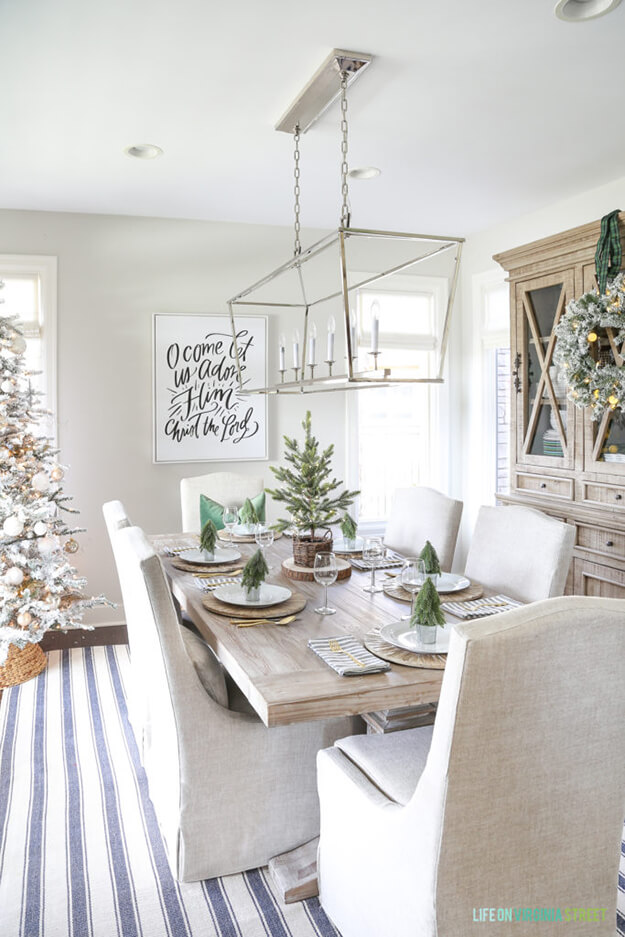 Country Christmas Plaid
Nothing says classic and country like plaid. Green and red plaid are classic. Placed on a white table cloth is modern. White plus one other color are popular. Red and white, black and white are simple, rustic and elegant.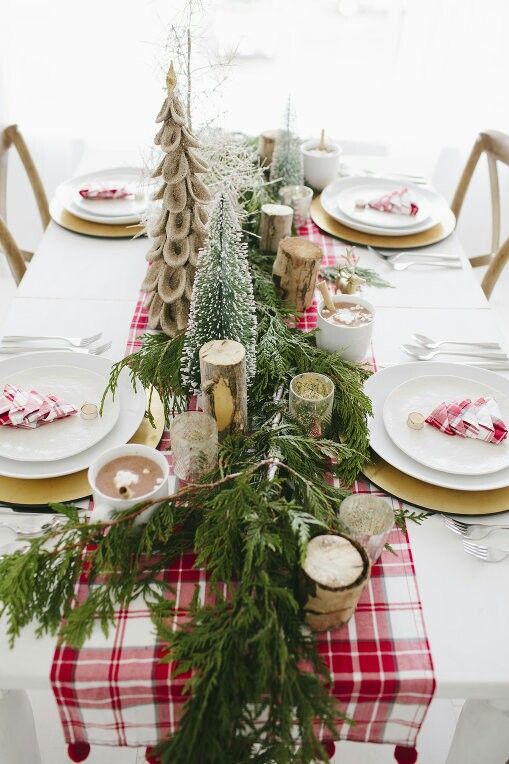 This Christmas table setting makes great use of plaid in the table runners on white linen. The checkered napkin adds to the theme and the greenery is traditional and country.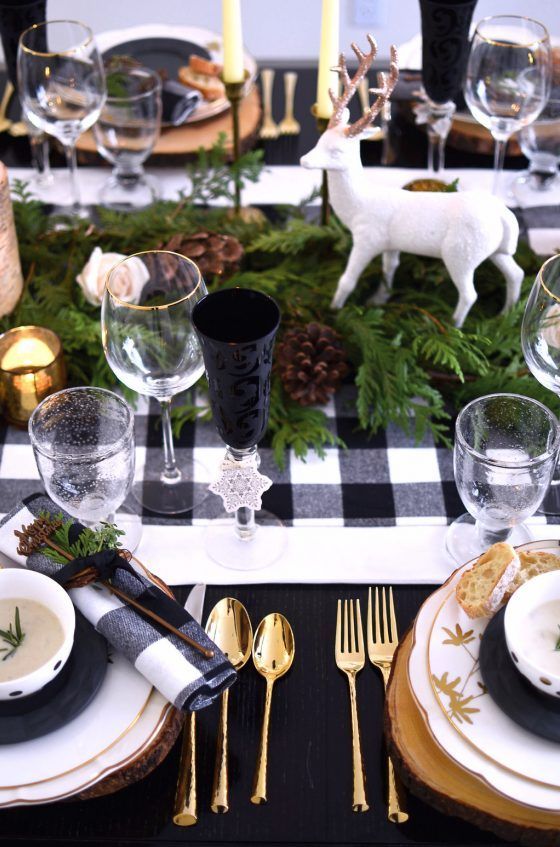 Take it up a notch with fancy flatware, along with a white runner, a dark table cloth plus other elements like the reindeer, sprigs of greenery and cones on the table to make table setting classic and delightfully country. Don't forget to add plaid chair skirts or plaid dishes to add subtle accents.
Understated Country Christmas Table Setting
If you are looking for understated or subdued Christmas table decorations, following the example below.
The greenery running the full table length gives this style a traditional but natural feel. The simple wall wreath follows the same decor style, and the whole table is lifted using warm copper tones in the flatware and candle holders.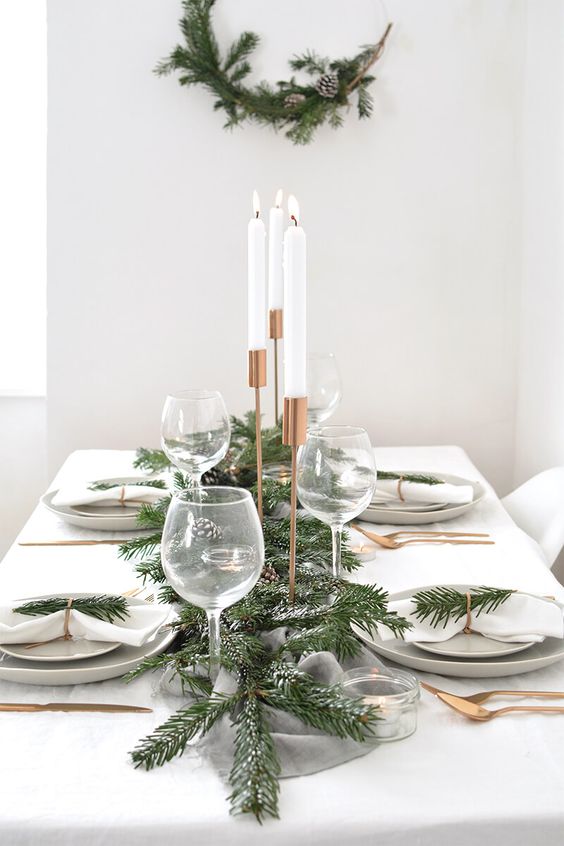 Greenery is supported by a gray table runner to give some height and cushion it at the same time.
This simple design is effective, country and uses traditional Christmas table decorations.