Decorated Life is reader-supported. When you buy through links on our site, we may earn an affiliate commission. Learn More
25 Porch Roof Ideas – Boost Your Curb Appeal
Most homes have a small porch, either on the front, side, or back of the house, that's big enough for a couple of chairs. Add a roof to that porch and you'll not only get some extra shade, but you'll also give your house a totally different look.
If it's your front porch, a roof can elevate your home's curb appeal while back or side porch roofs will add extra depth to the home (and make the space more pleasant to lounge in). Let's look at some porch roof ideas and how you can boost the looks of a house – because even a small porch roof can make a big difference.
Open Peak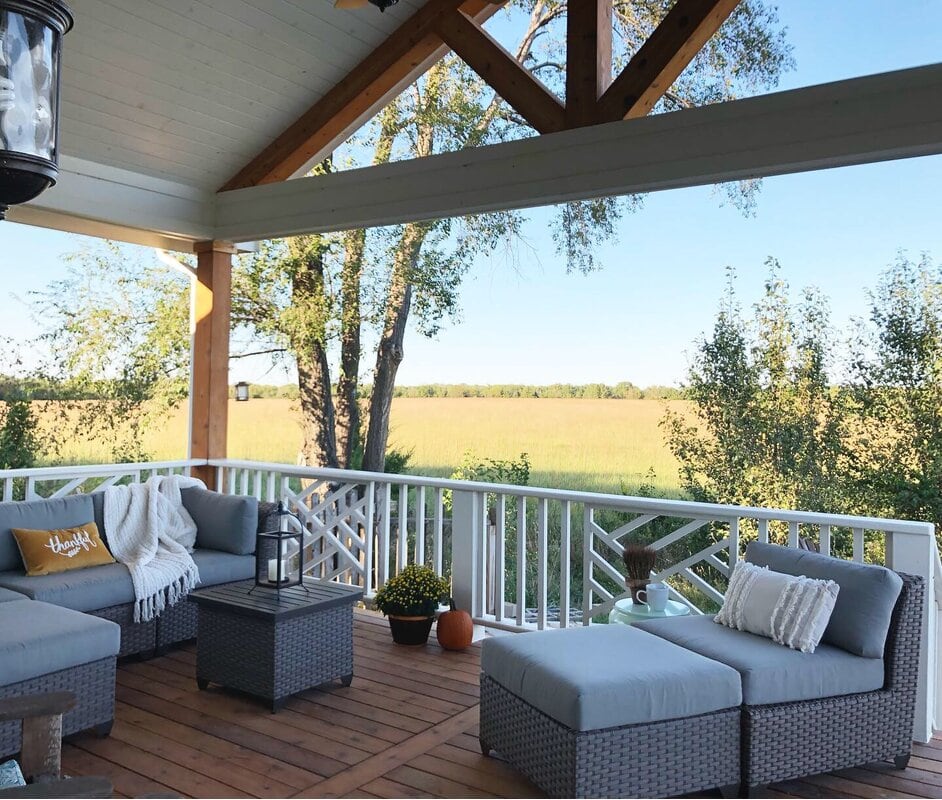 As far as porch roof designs go, one with an open peak is timeless. And, if you enjoy lounging on the porch, this design lends some style to the home without taking away from your view of the sky.
This porch is a great example of how just a few wood beams can create a much more custom look on a house compared to a standard peak.
Balcony Overhang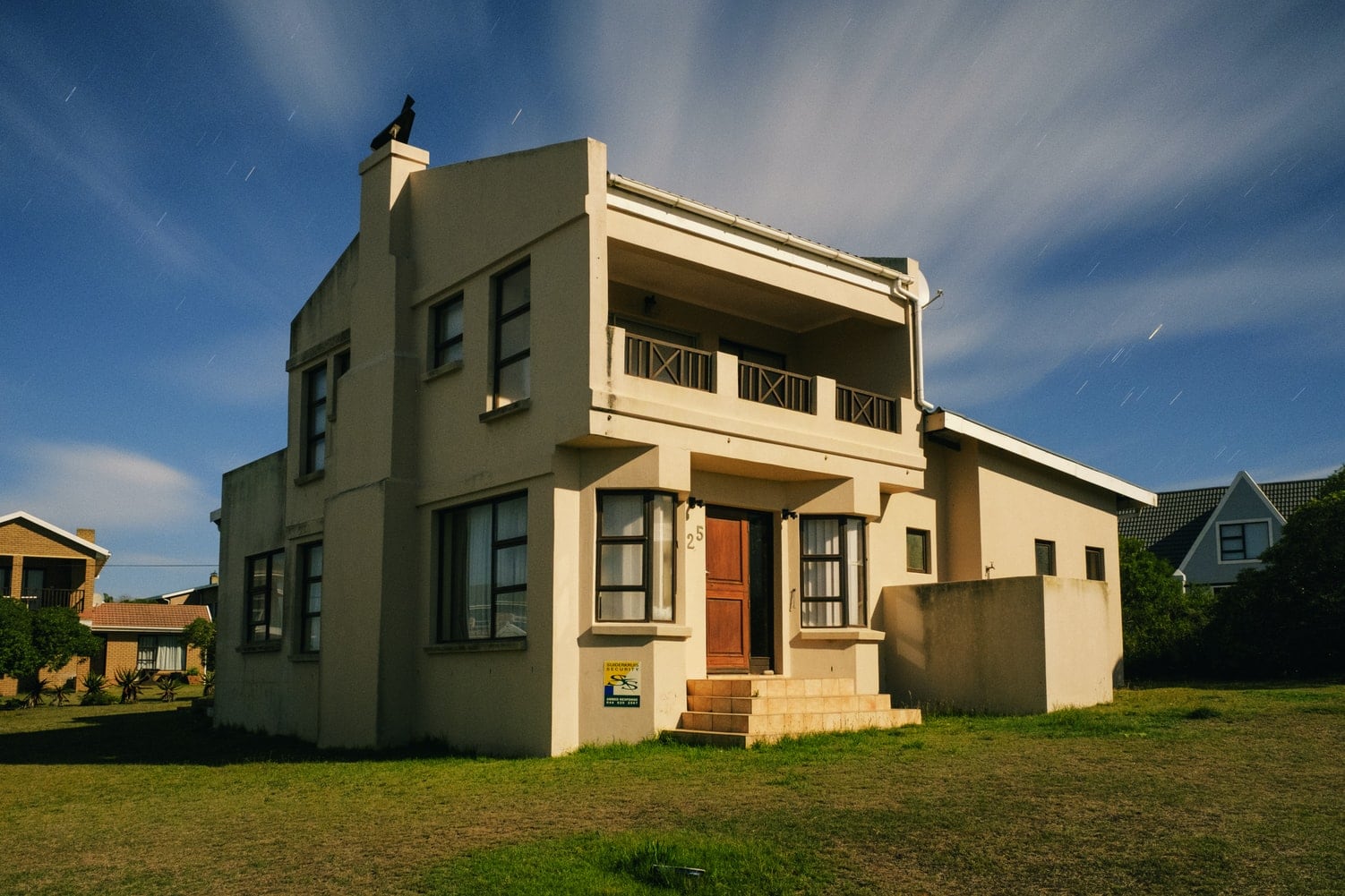 For homes with small porches, or just a stoop, a second story balcony not only creates a roof but also some space for outdoor lounging and entertaining. This is a great solution for someone without much outdoor space.
The home in this photo has a second story balcony which makes the home look a little more luxurious from the curb while also helping to provide an overhang above the front door for rainy days.
Columns with Fencing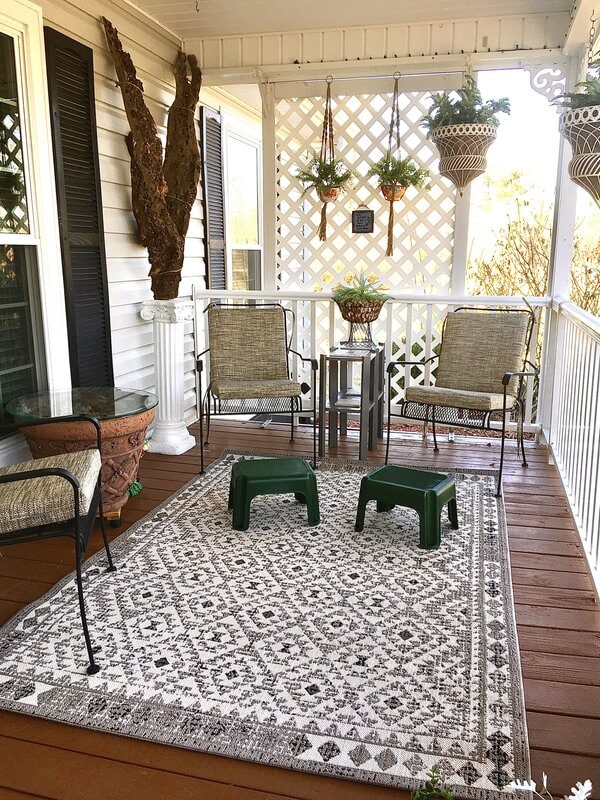 This front porch roof style benefits the homeowner in two ways by both improving the curb appeal and creating a welcoming outdoor space to enjoy.
This style of porch roof is pretty classic, with columns coming up from the corners and white fencing along the perimeter. It gives it almost a picket fence type aesthetic. Plus, it just looks like the kind of porch where you want to sit down and have a cold glass of lemonade.
Contrasting Colors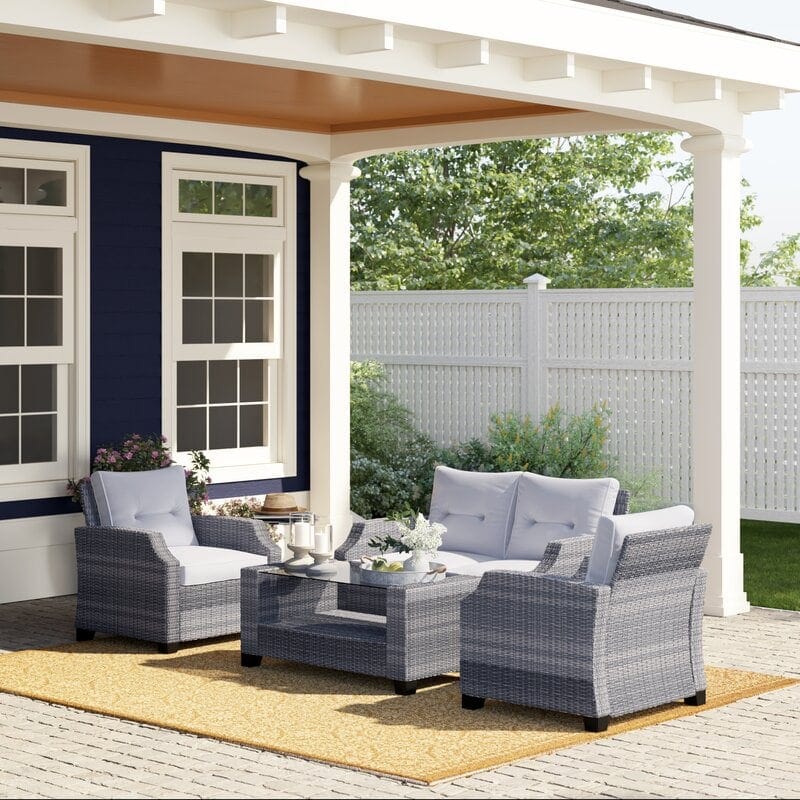 There are a lot of great things about this porch roof, from from the street view as well as for the person sitting under it. The bright white columns pop out from the home's blue siding and the dark shingles blend in rather than serving as a distraction.
As for someone sitting under the roof, it's obviously providing a ton of shade, but the ceiling is also painted a fun orange color to add some brightness and character. It's also something that can be subtly seen from the street but isn't so stand-out that the HOA will come knocking. 
Understated Trim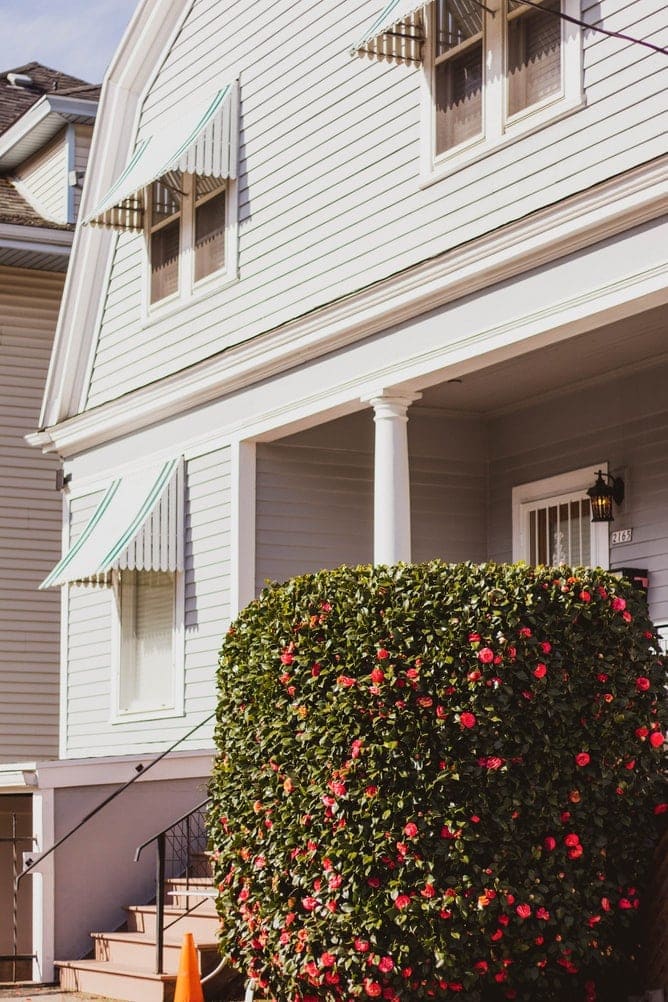 This home's builder didn't want to waste any of its footprint with wasted space, so there isn't really space for a pop out roof (even the porch is cut in to the house, rather than sticking out). However, the home doesn't look flat because there is a teeny tiny roof (probably no deeper than a foot) with thick trim that separates the top floor from the second.
The small roof adds some depth to the home and compliments the entryway of the porch. It's so small but still makes a big impact on curb appeal.
Pergola Extension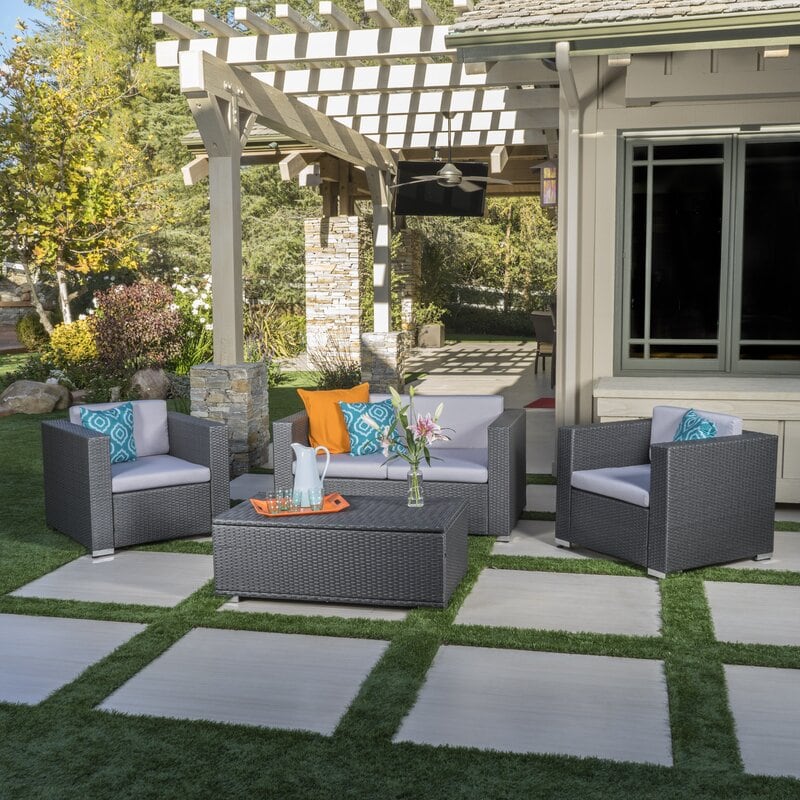 If your home doesn't already have one, a lot of porch roof styles are costly to add on. There is a lot that has to be taken into consideration, namely how it affects the home's existing structure.
Rather than undertaking a huge construction job, consider a pergola covering. You can build this wood porch roof so that it perfectly fits your space and doesn't cost a ton of money.
Angled and Blended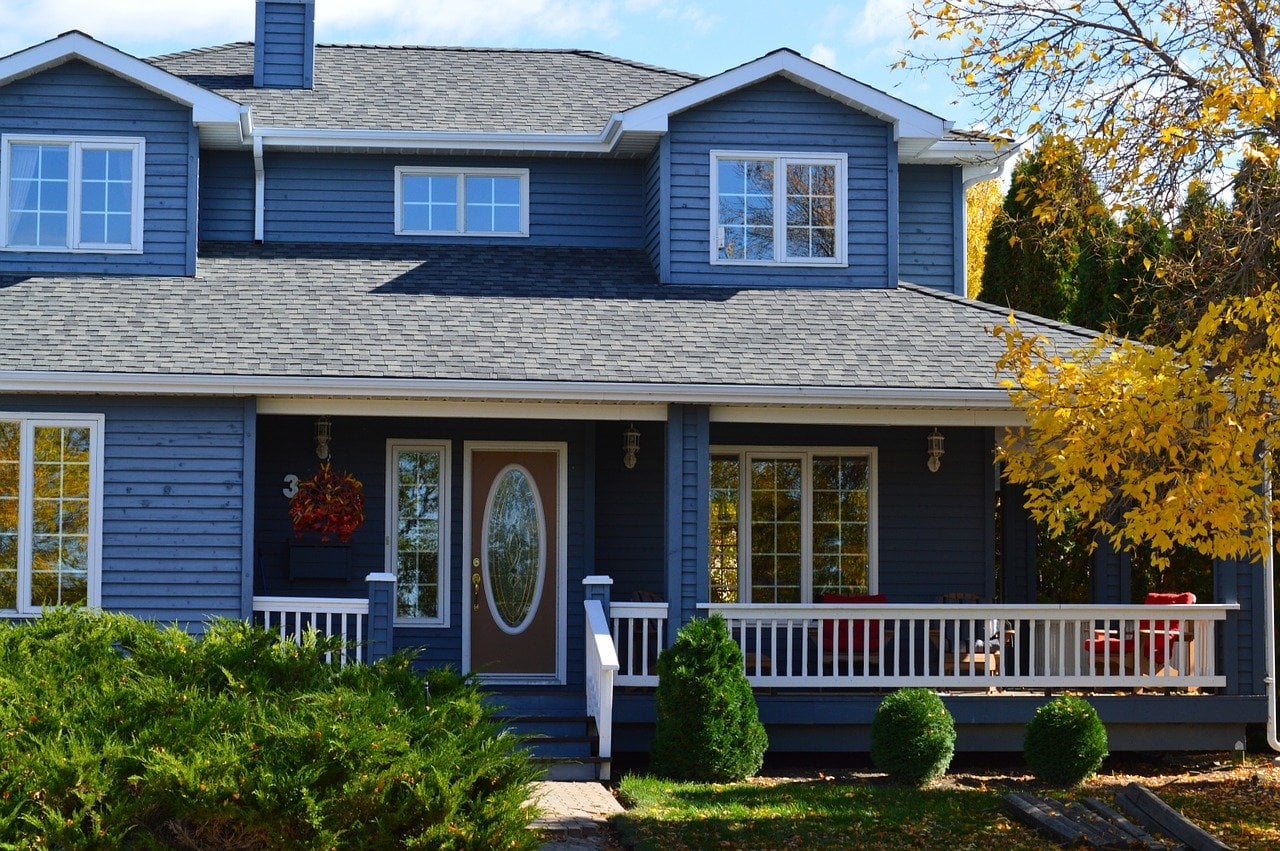 Instead of a flat roof porch or a subtle angled one, consider a more dramatic angle like the one on this home. It gives the house a little bit of texture and character, but still manages to blend into the overall aesthetic. Not to mention, it creates a really relaxing front porch space for the homeowners.
Simple Pop-Out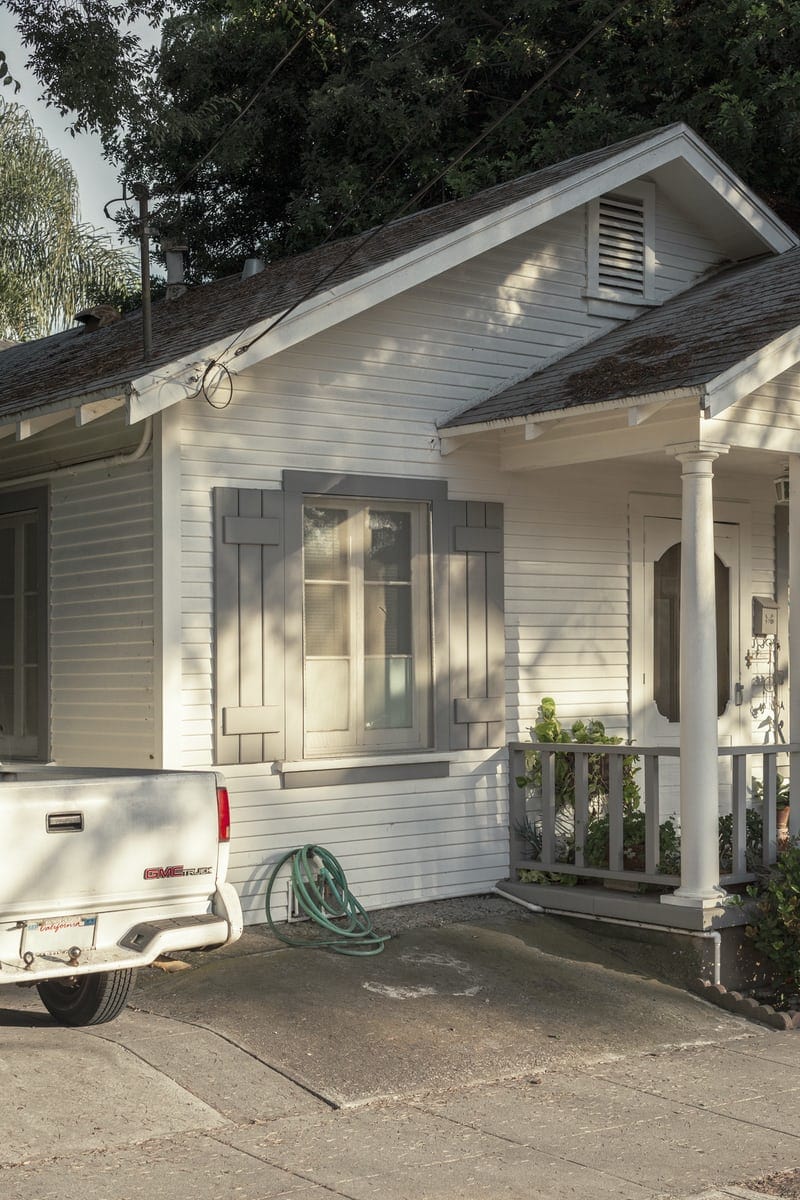 Not every home has a grand porch. Sometimes it's just a couple of stairs that lead to a small concrete slab. But, just because it's small doesn't mean it has to be boring.
You can add a pop-out roof over the small porch to add depth to your home and provide some extra coverage to the front door (if for no other reason than to protect all of those Amazon deliveries). It really enhances the curb appeal and gives the illusion of a more established front porch.
Colorfully Intricate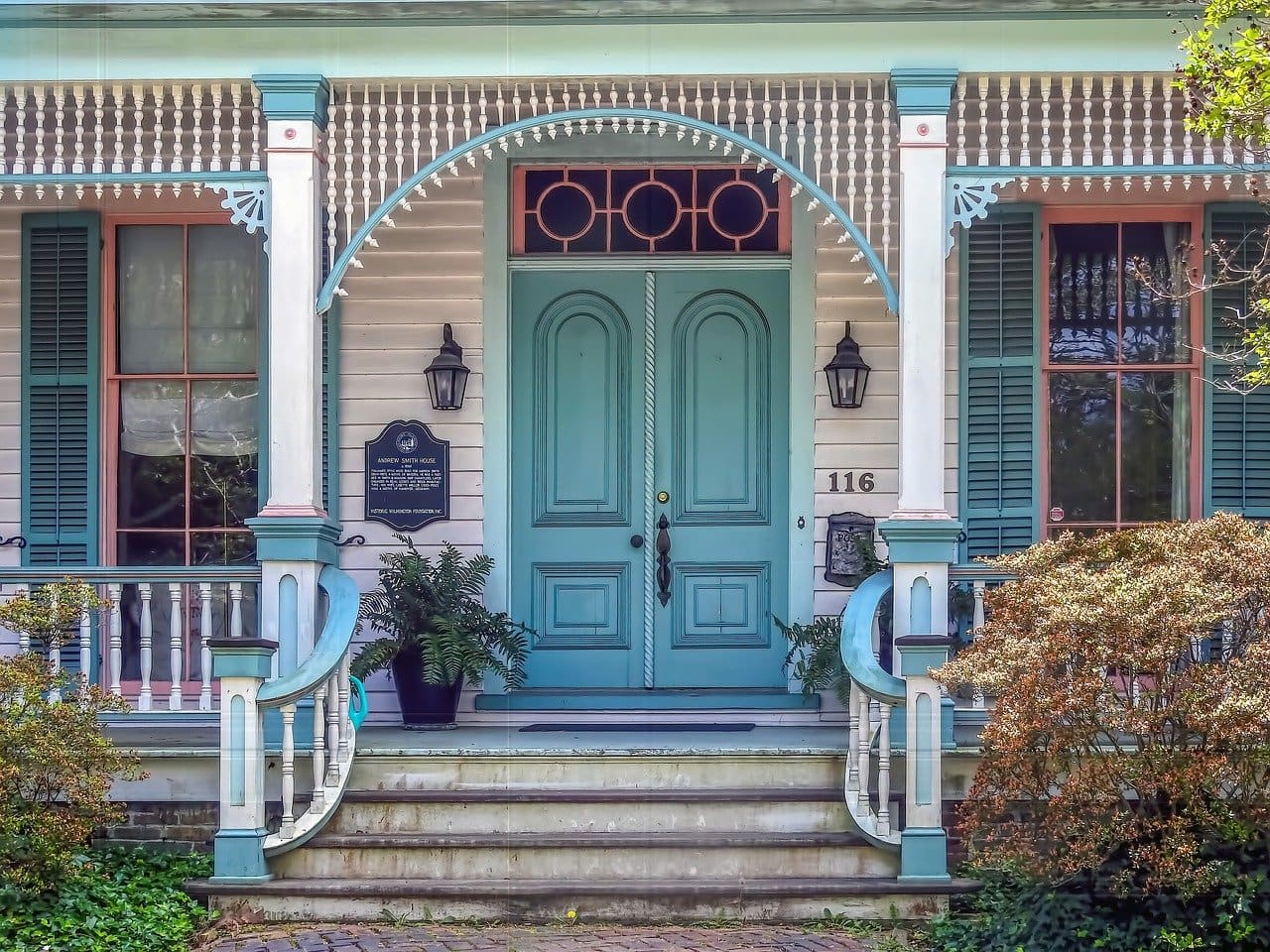 If you live somewhere that doesn't have strict HOA rules, consider adding a roof with intricate colorful details like this one. Everything about this porch is detailed, which creates a cohesive look that isn't overwhelming.
This is a little bit of a risky move, but can be done right. Stick to only a few colors, and make sure one of them is a neutral to balance out the pops of bright hues. Also, while you definitely don't need to scale back on the accents (as proven by this home), make sure they're added in a mindful way to create symmetry.
Two-Level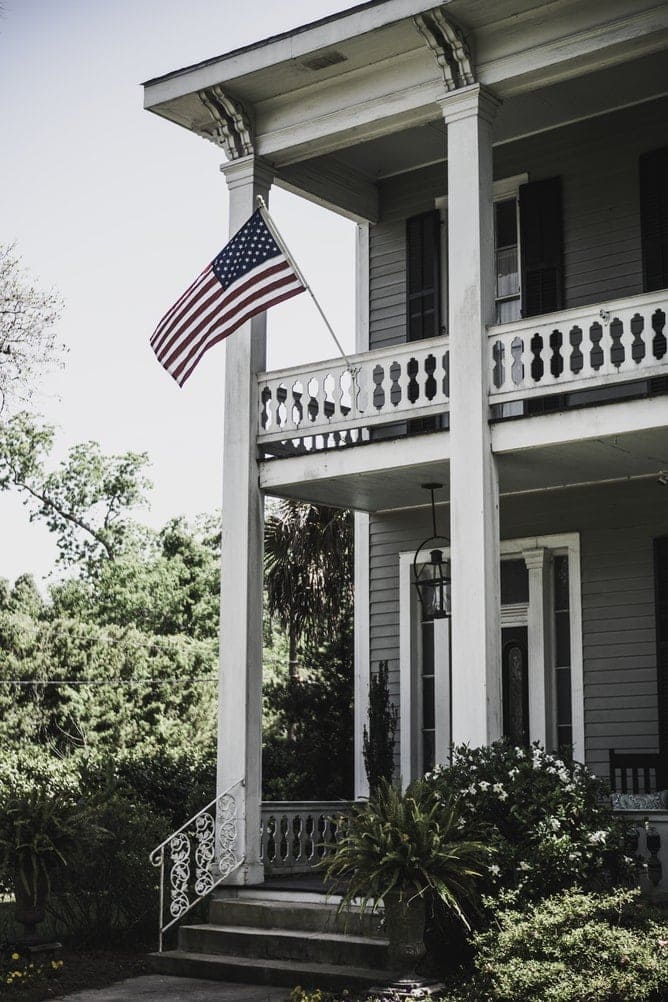 Usually, there isn't a ton of land or building space to spare on a home, but if you happen to have it, go for a double-decker porch like this home! It's a look that will never go out of style and delivers two covered areas for homeowners to enjoy the outdoors.
Little Details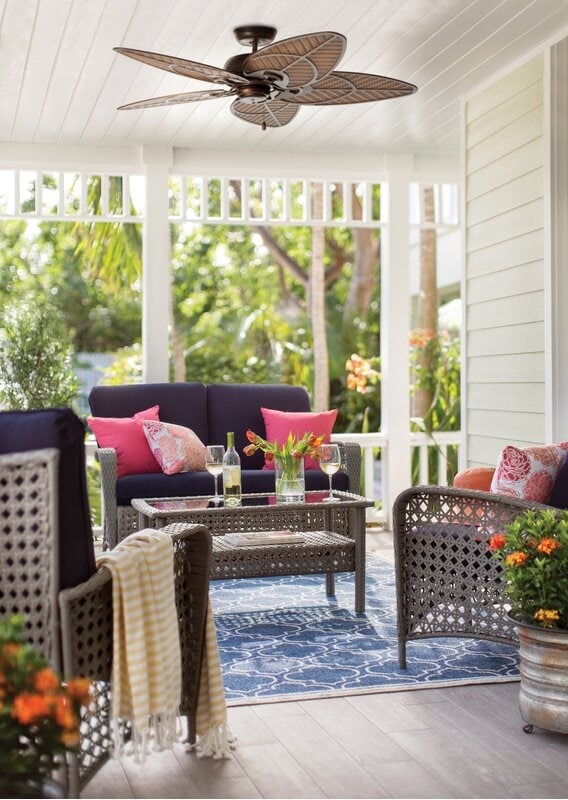 You can still have a simple porch roof without having to sacrifice character and details. This porch is the perfect example.
As far as porch roof designs go, this one is pretty standard. It pops out from the home and doesn't particularly go against the grain of traditional.
However, in addition to the white fencing along the floor of the porch, this home has a similar design along the roof/ceiling. This little detail doesn't take much to add, but can make a powerful impact on an otherwise basic roof. 
Classic Craftsman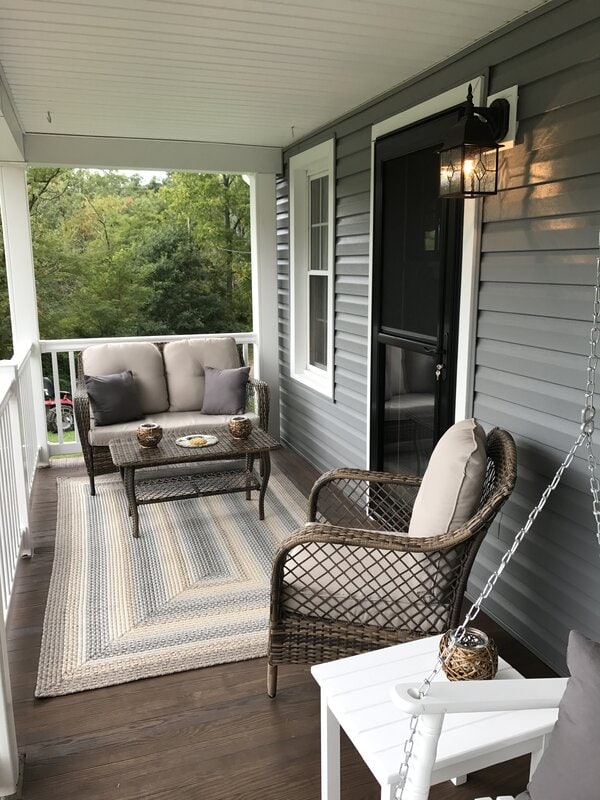 Straight angles without flourishes are standard with a classic craftsman style home. While there isn't anything overly unique about the roof and structures supporting it, the minimalist look with contrasting colors still adds a lot of curb appeal.
If you love the clean lines of a craftsman style roof and porch but still feel like it's a little bland, swap out the white pillars for cedar to give it some extra texture and color.
Open Air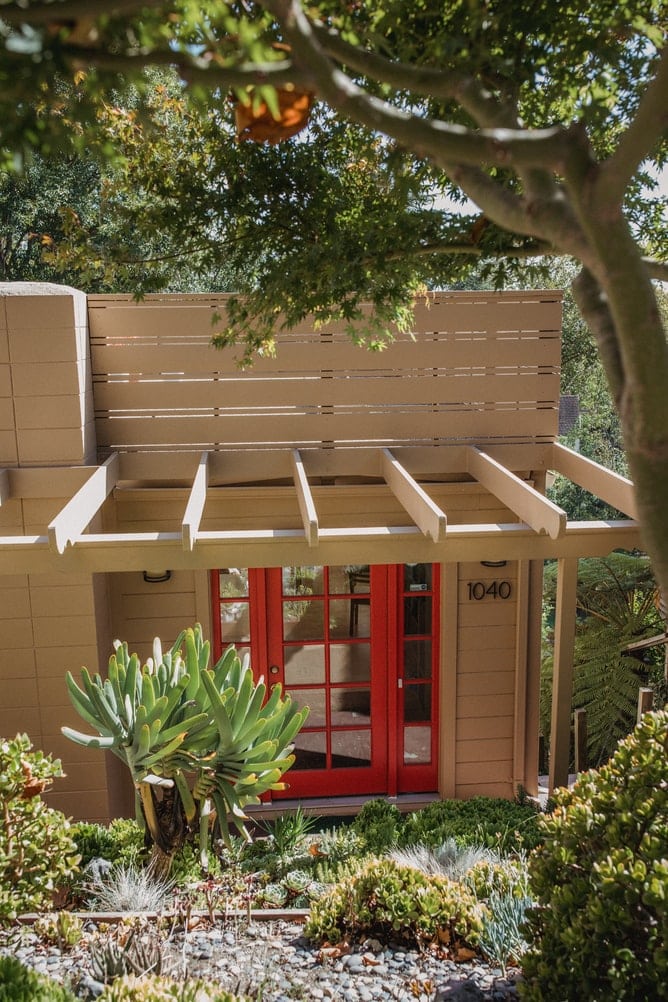 Creating a roofed porch doesn't have to be overly complicated. It can be something as simple as this open air roof! No shingles, no need for major structural support, and no crazy angles that require an engineer's input, but still this porch roof stands out and adds curb appeal to the home.
Adding something like this to your home will make a big impact without costing a lot of money or a lot of time. If you decide to do something like this, follow this home's lead and paint your door a bright color for a touch of drama.
Farmhouse Style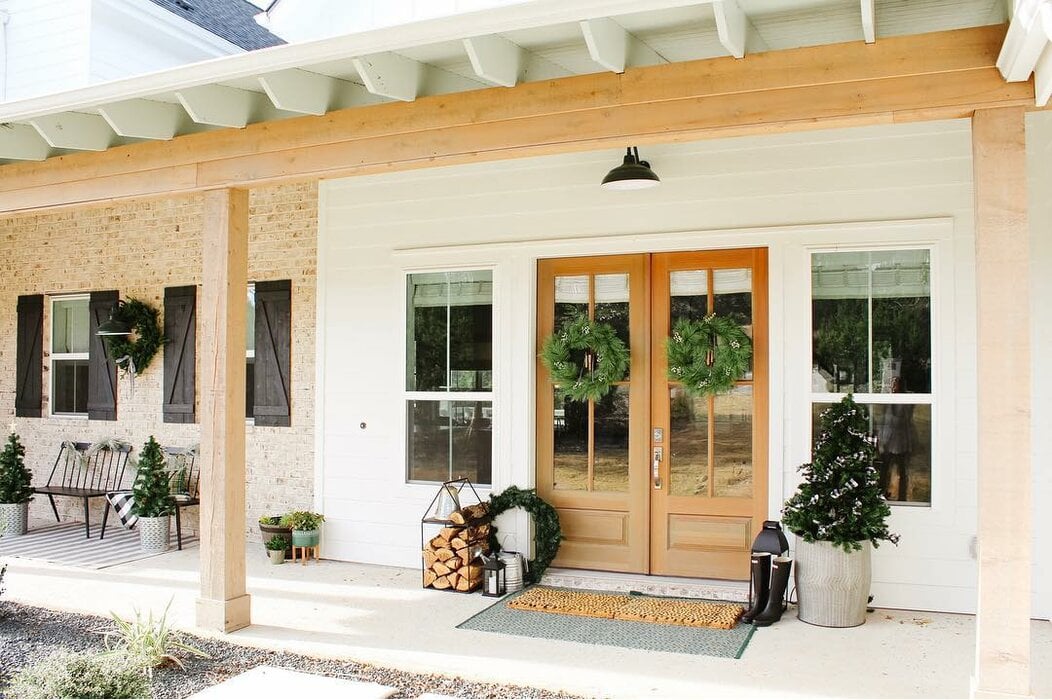 You can create a front porch roof extension like this one with just a few structural beams (and a consultation from someone with building experience, of course). By extending the roof out, you create a deeper porch, giving you more room to relax and enjoy the space.
This method is especially great for a home going for the farmhouse aesthetic, because there is a lot of opportunity to bring in some rustic touches.
Flat Enclosure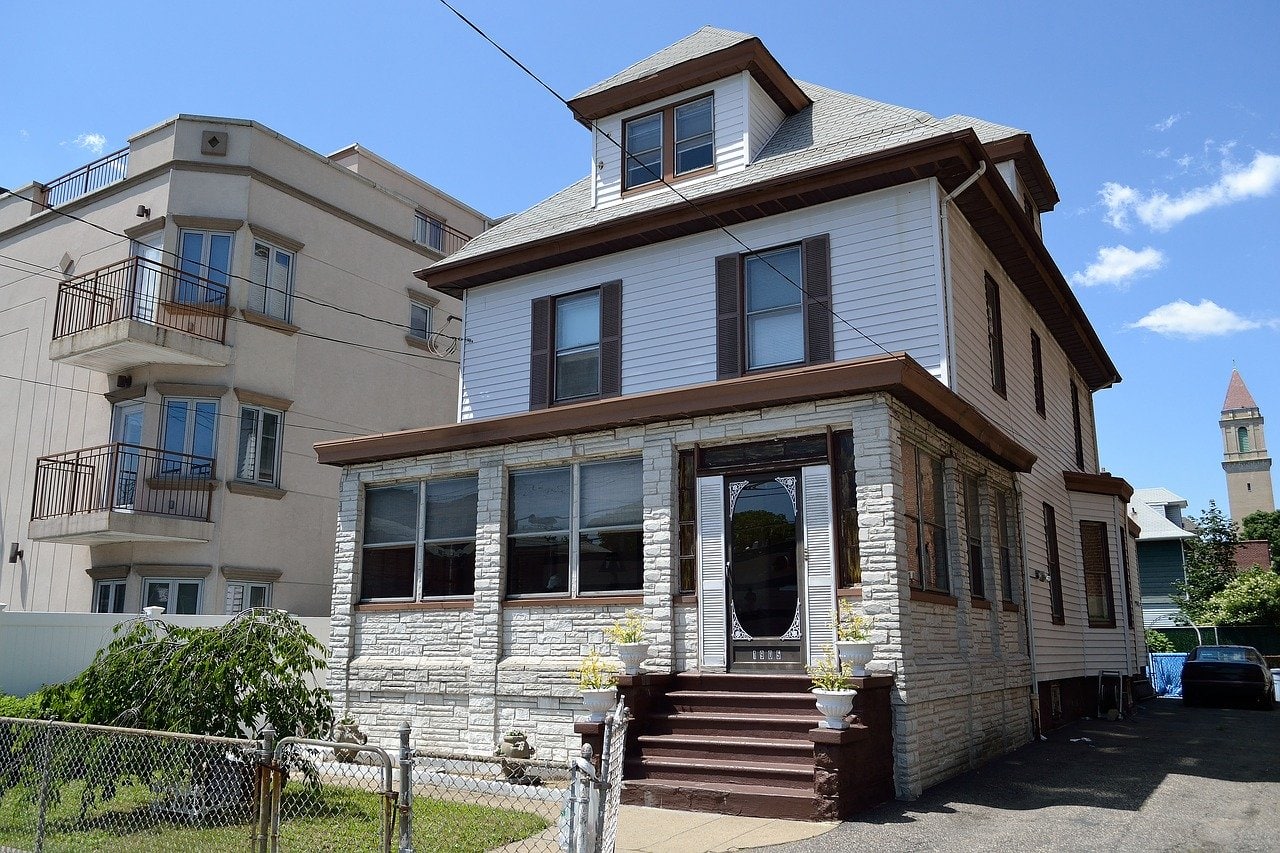 Flat roof porch designs have a lot of potential to make a big impact, but one of the best is by creating an enclosed porch like this one. It's completely protected from the elements, doesn't take away from the second story windows' view, and adds a lot of texture and depth to the home.
Whimsical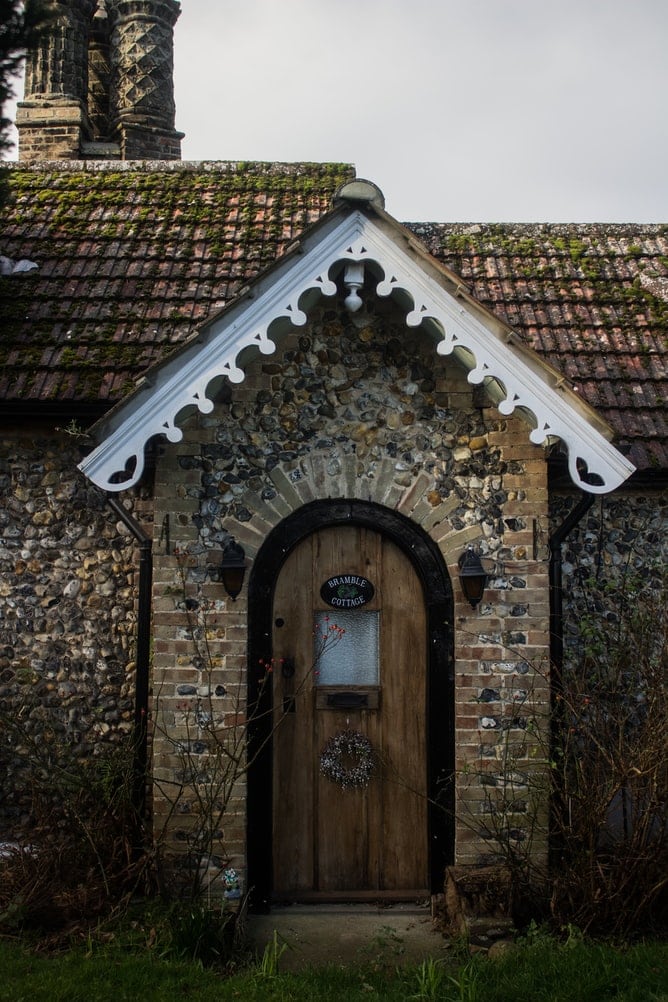 You don't need much construction knowledge at all to add a little whimsy to your front porch, and this home is evidence of that! If you have an existing porch roof, all you need to do is add some fun trim detail like this and you've created an entirely different porch roof (and made your home look like a gingerbread house).
Rustic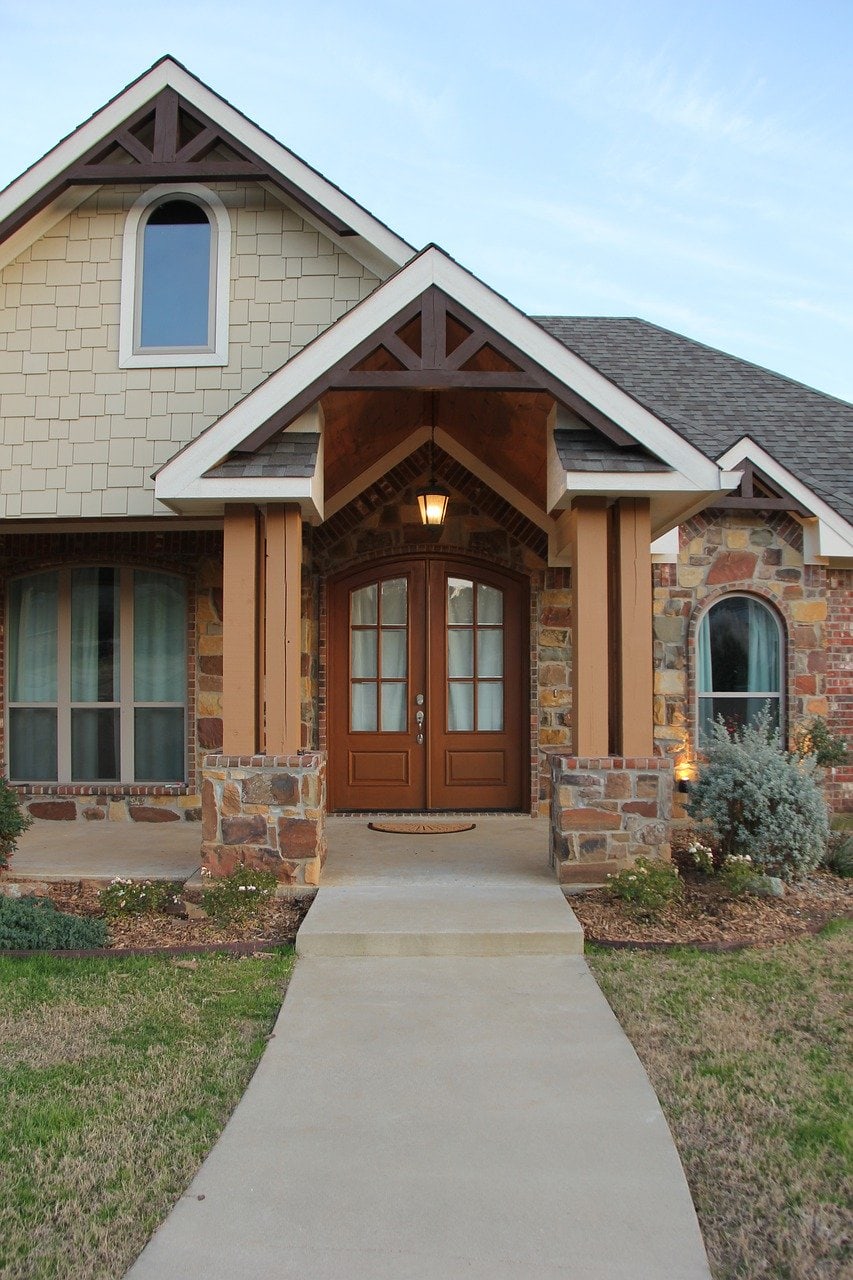 Here is another example of an open peaked roof, but its use of wood and brick combined with its earthy-tone color scheme give it a rustic mountain-home look.
This house could easily be in the middle of a suburban neighborhood, but it's simple porch roof design makes it look like it belongs somewhere surrounded by trees with a creek in the backyard. 
Slatted For A Breeze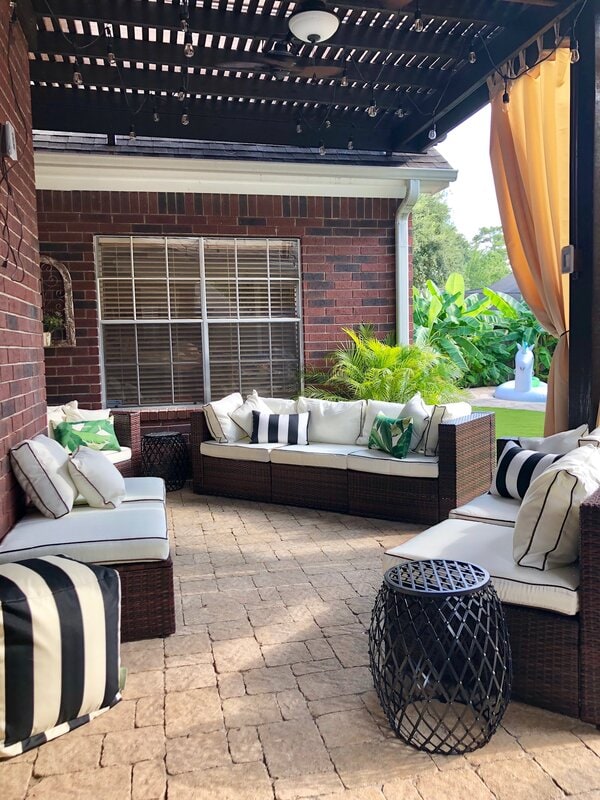 If you're looking to add a roof to your back porch, its design is less about curb appeal and more about what you need to make a relaxing space.
A roof like this one still blends nicely with the home, but is slated to allow some sunlight to get through as well as a breeze. This is particularly helpful given this porch's layout with two sides closed off from the house.
High Rise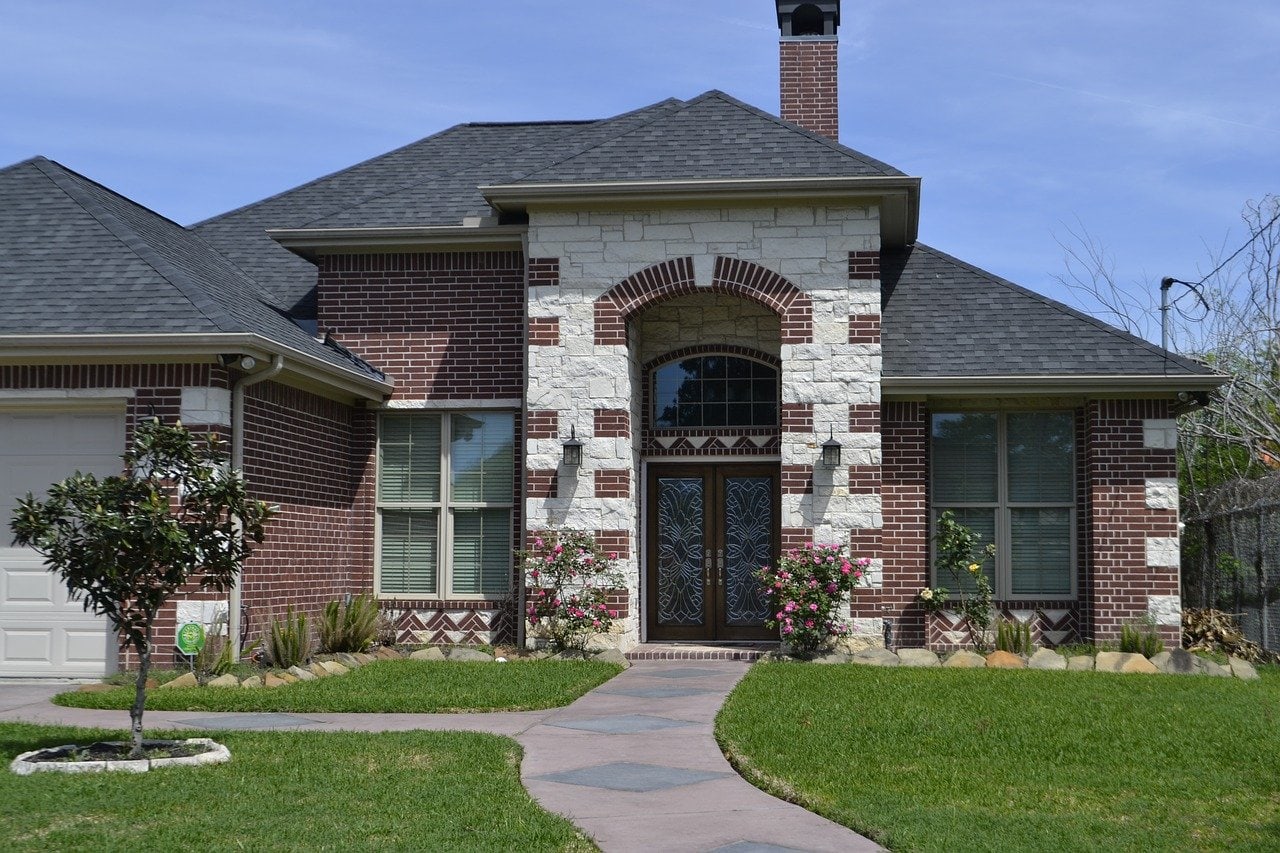 No window on the second story above the front door? Use the free space to create a dramatic porch roof like this home's.
The porch itself isn't really anything exciting, just a simple concrete slab, but the two-story stone design with its own little roof makes the entryway look much more grand than it is.
Old World Style Arch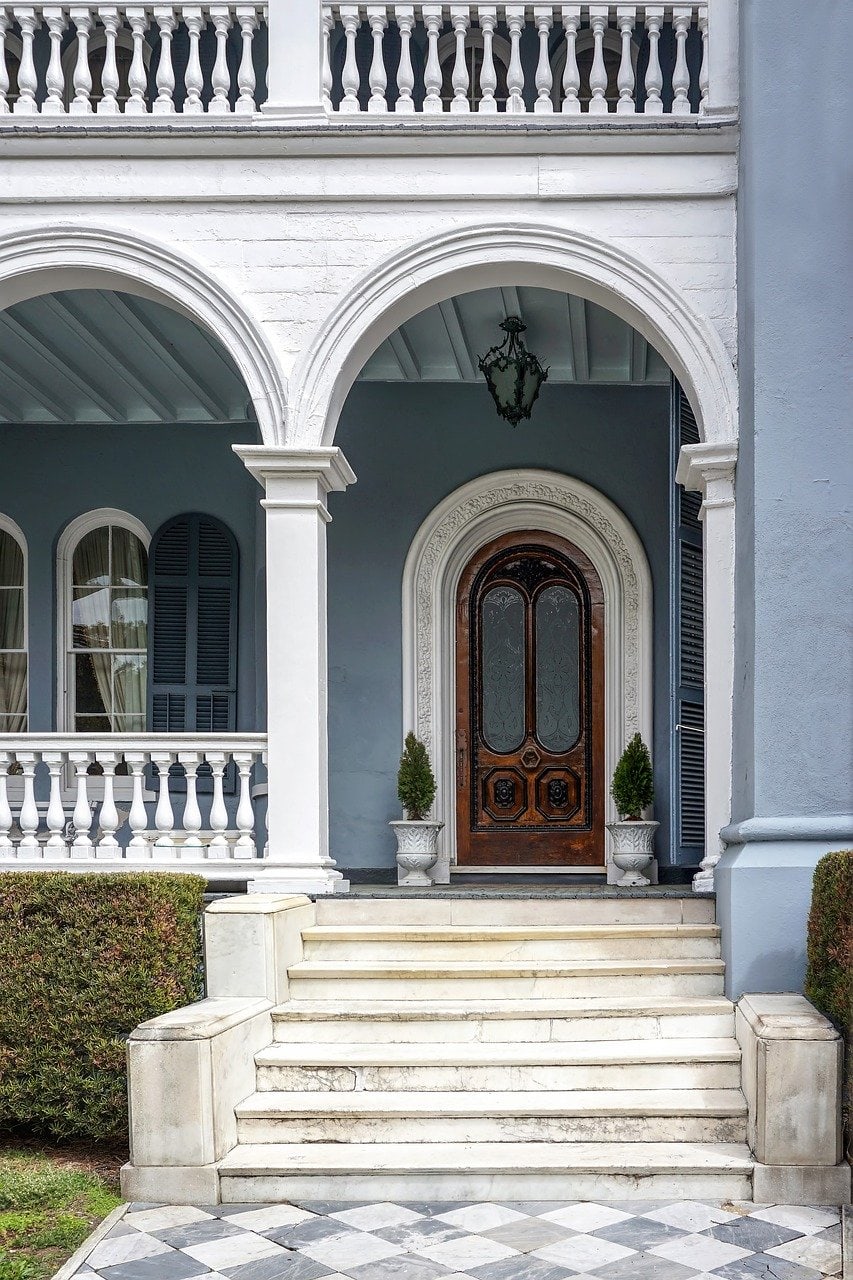 Adding rounded archways to an existing home is a big undertaking, but if you're building your home or your porch from scratch, an old world style arch will definitely set it apart.
This style of arch and roof is timeless, and is especially rare today because it takes extra time and craft. But, if you can swing it, it's so worth it.
Victorian Arch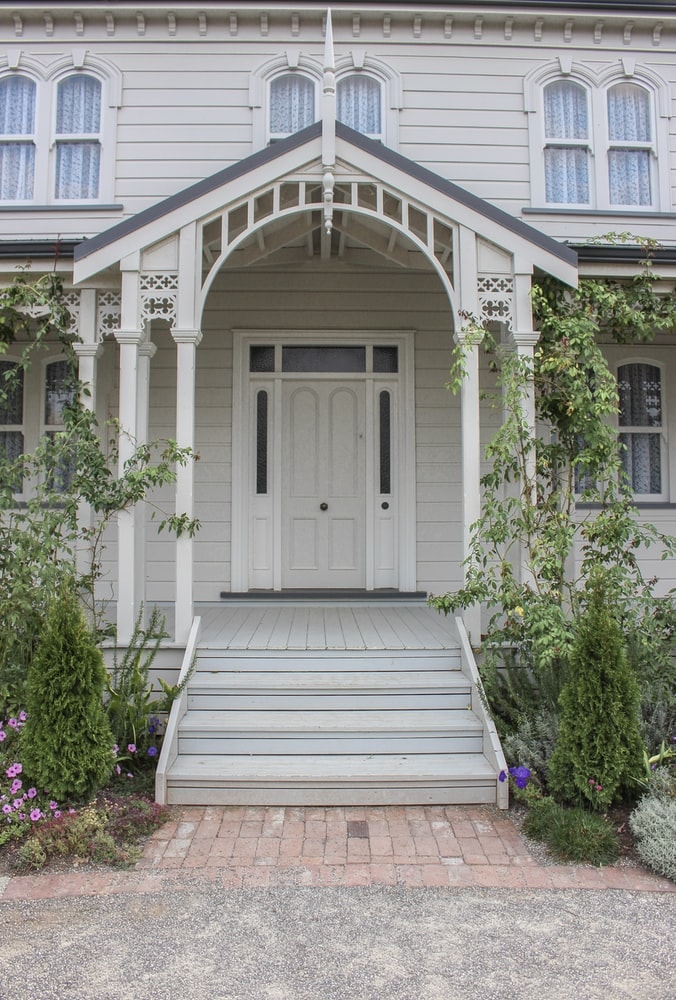 Doesn't this look like a dollhouse?! Despite its intricate design, this porch roof is very easy to implement into your home because the roof itself is pretty standard, it's the details around the trim that make it stand out.
Tudor Aesthetic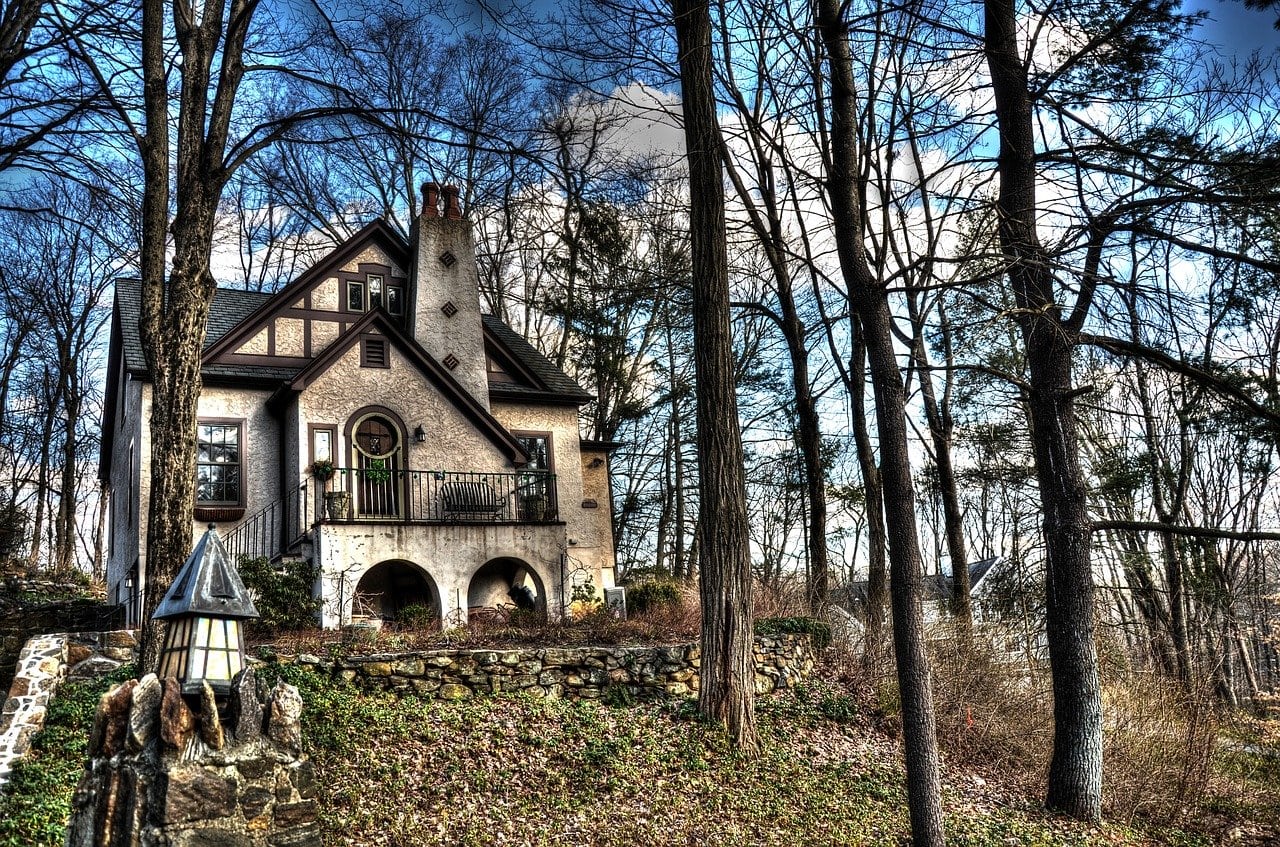 You either love tudor homes or you hate them, there is very little in between. If you're on team 'love', consider a porch roof inspired by the look.
This home's porch roof is asymmetrical but doesn't feel off balance because of the dark trim and stone siding. The roof itself is very minimal, but the structure makes it stand out.
Small Awning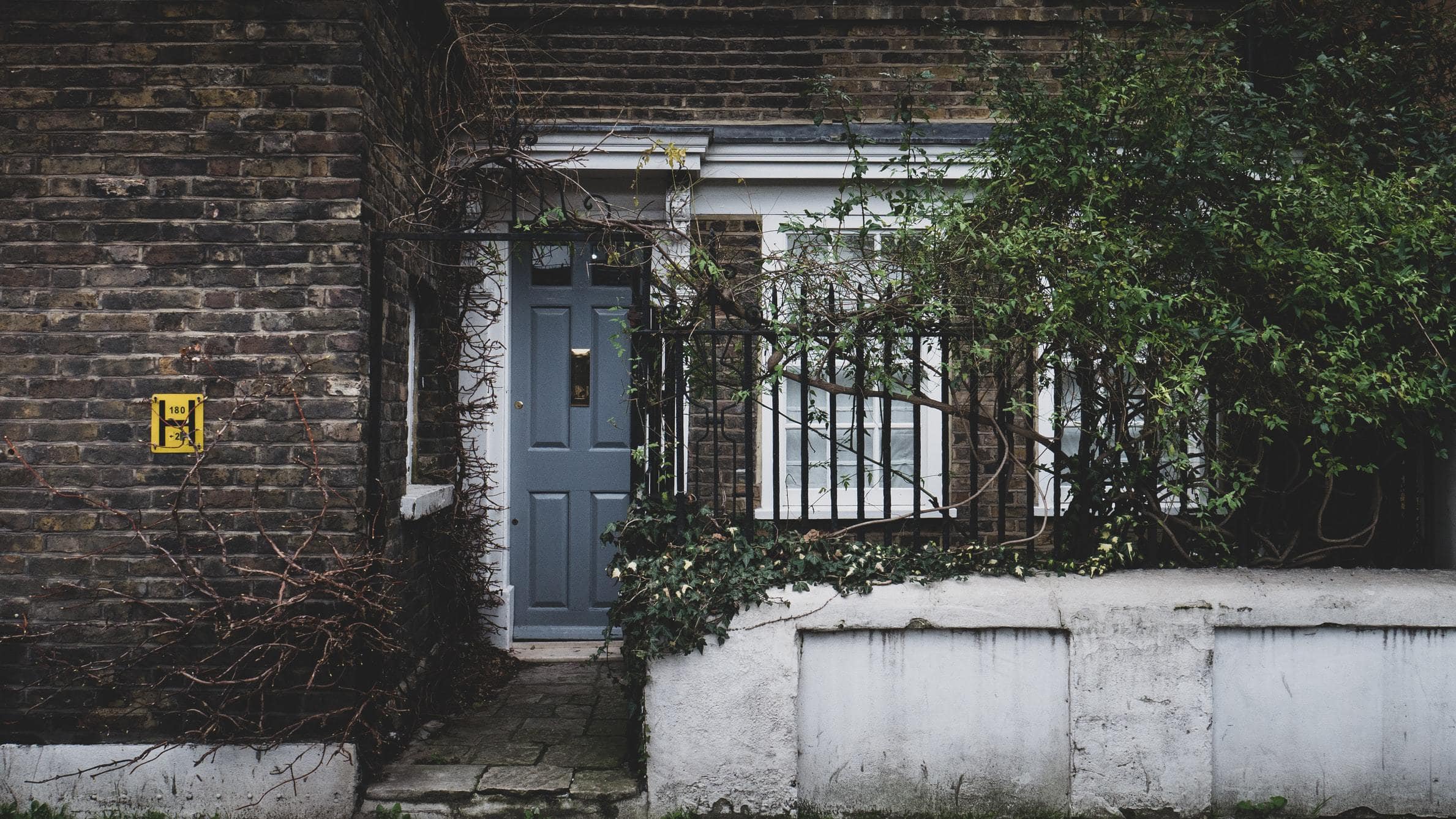 A front porch roof doesn't have a to have a peak to it, it can be something as simple as a small awning like on this home.
It doesn't pop out much, giving just enough protection from the elements to keep the homeowner dry if they open up the door on a rainy day, but it still adds depth and texture to the home.
Faux Add On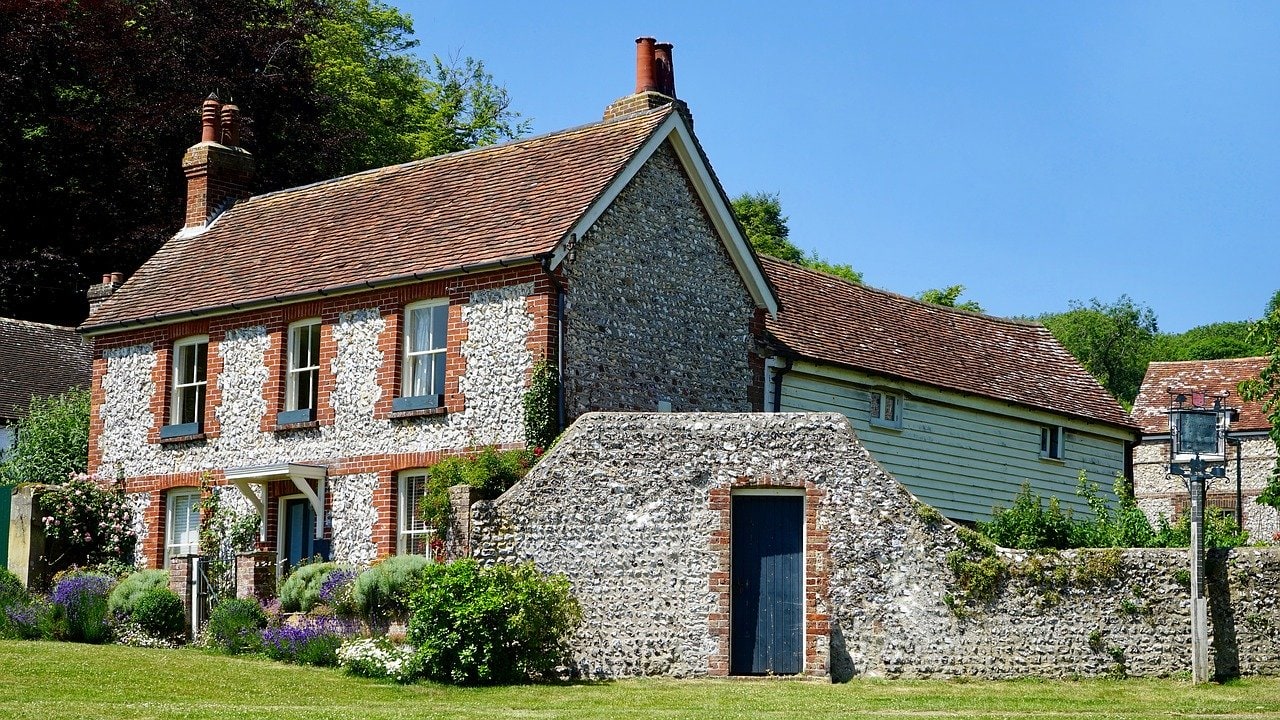 You can add on your own little faux roof easily. This home is a great example of how a small add on can make a big impact.
Each side of the roof is simple two beams making a right angle with a support beam to hold them together. The small addition doesn't need to be specially engineered and doesn't require any major support. Despite its simplicity, it adds a little extra character to the home.
Stand Out Accents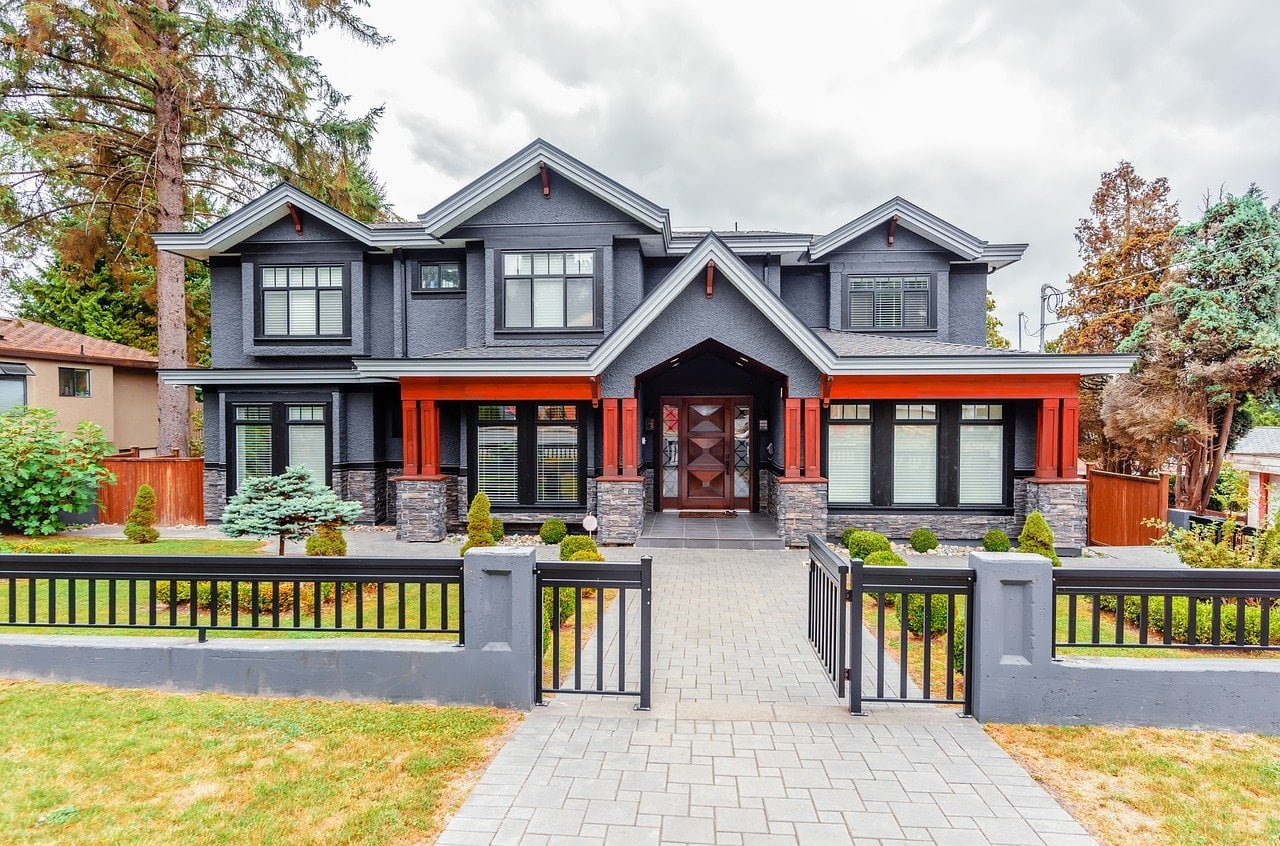 Creating a standout porch can happen in a lot of ways. You can go with a detailed trim, install a glass porch roof, or paint it bold like this home.
The roof itself actually blends in with the rest of the home very nicely, but the beams are painted a bright red to create a dramatic effect and depth to the home. To tie the look together, this homeowner also added a small bright red accent beam to the other peaks along the home's roof.
So Many Ideas! Which One Will You Implement?
The right porch roof can add a completely different aesthetic to your house, provide you with some shade (and possibly a breeze), and boost curb appeal. If you want to create the perfect first impression, get a stylish porch roof that can be practical as well as good looking.