Decorated Life is reader-supported. When you buy through links on our site, we may earn an affiliate commission. Learn More
15 Practical Outdoor Shoe Storage Ideas
Do you want to inculcate a habit that makes your home feel neat and clean at all times? Also, if you truly believe in feng shui – there is something absolutely magical you could do for your home! Yes, storing your shoes outside. Not only does it protect your floor indoors from getting dirty but also make it easier to access.
Don't worry! You don't have to play monotonous or old-school. These 15 stylish outdoor shoe storage ideas will make you go wow. And it's a given that they will entice you to store yours outdoors too! So, let's have a look.
Waterfield Shoe Storage Bench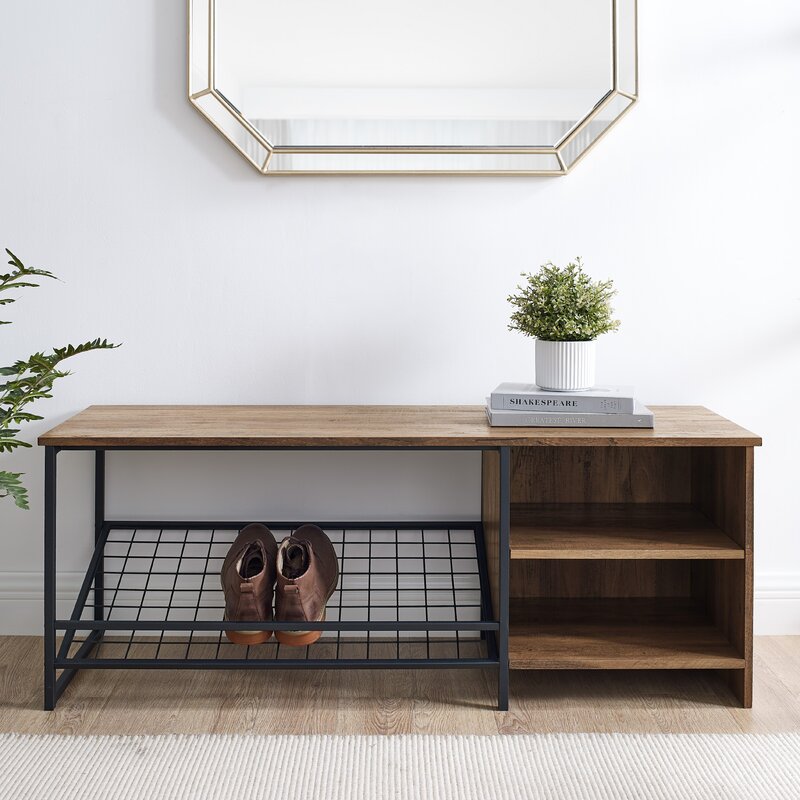 It's time to play two in one! This shoe storage bench offers a chic and functional character to the outdoors while also allowing you to simply sit on it while wearing your shoes. Generally, it's best to place this bench in semi-open areas where it isn't directly in contact with harsh sun or rain.
This industrial-style bench is also finished with a melamine layer to add an extra level of durability and resistance against moisture.
Acrylic Shoe Storage Box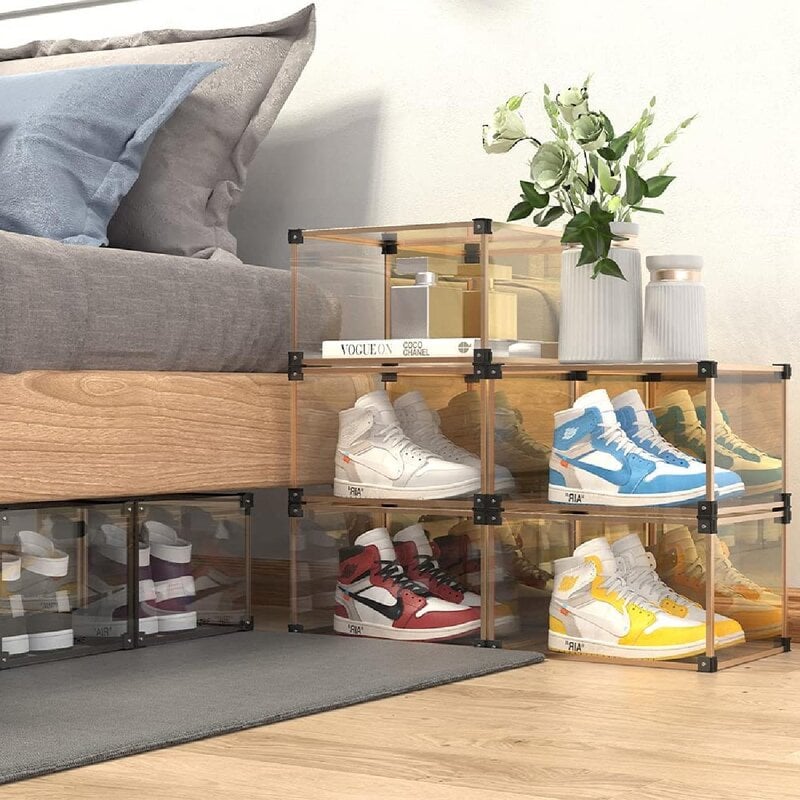 If you want to add a focal or chic statement in the outdoors, this acrylic shoe storage box is something to look forward to. This strong and durable box has the potential to hold most of your shoe pairs – and believe it or not, it could hold all of your wardrobe.
Moreover, it acts as a perfect space-saving solution. The translucent material makes a perfect sophisticated and elegant backdrop in your balcony as well as a patio.
Adjustable Revolving Shoe Rack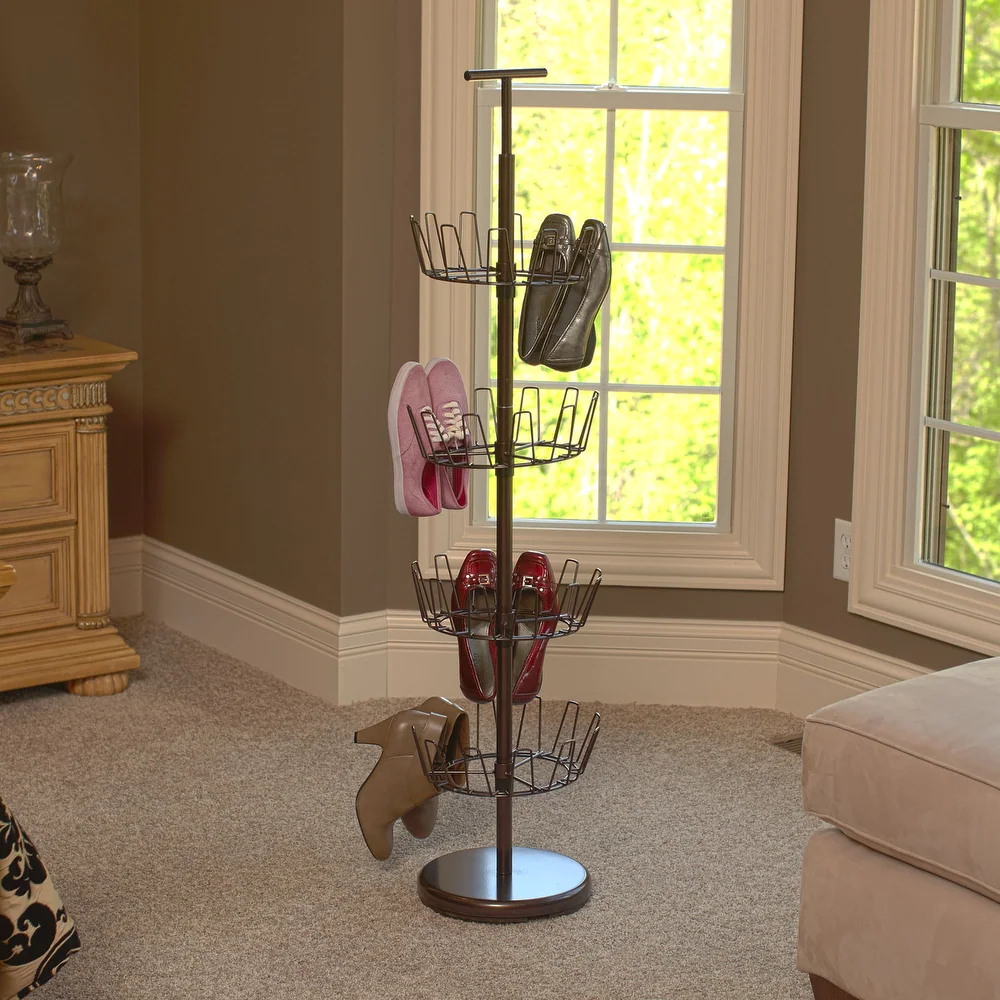 This four-tier shoe tree gives you ample room to store your footwear while saving up space. And since it's easily accessible and functional – it also tends to add a playful and cheerful vibe. This revolving tree is made of sturdy steel – and that's why you can use it for harsh climates as well.
Moreover, it can easily fit into any corner of your entryway or patio. So, if you have a small foyer – you must have this adjustable revolving outdoor shoe rack. 
4-Tier Outdoor Shoe Rack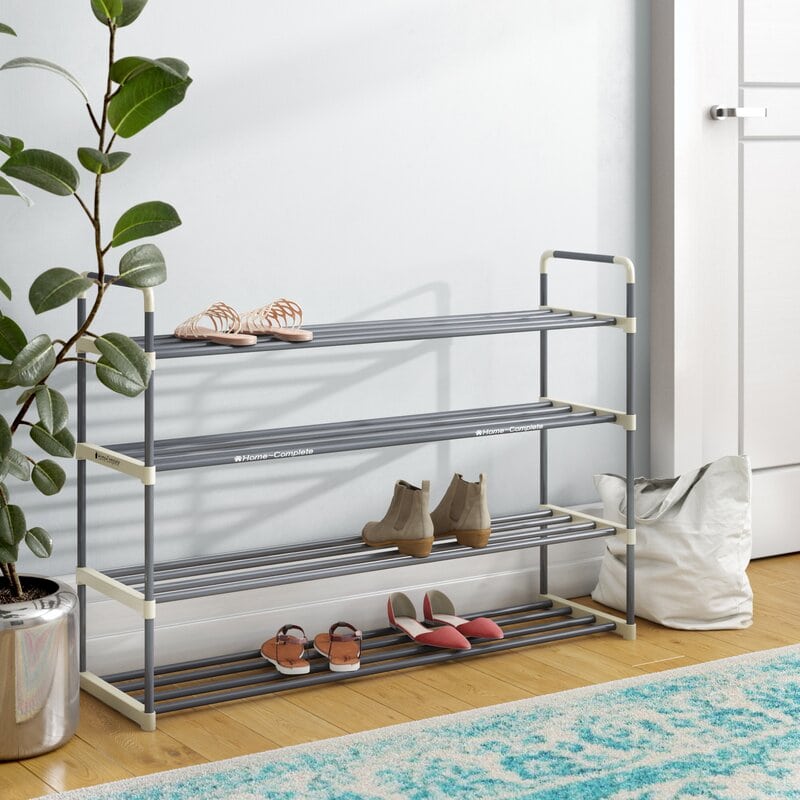 Made of high-quality plastic, this outdoor shoe cabinet is extremely durable and long-lasting. You can consider using this rack in the foyer, outdoors, or even your bedrooms without having your footwear creating a messy look in the home.
Moreover, this is a compact and space-saving solution that acts absolutely practical and multi-functional. And with no tools required, you can easily DIY the structure and fix it up together.
Loretta Basket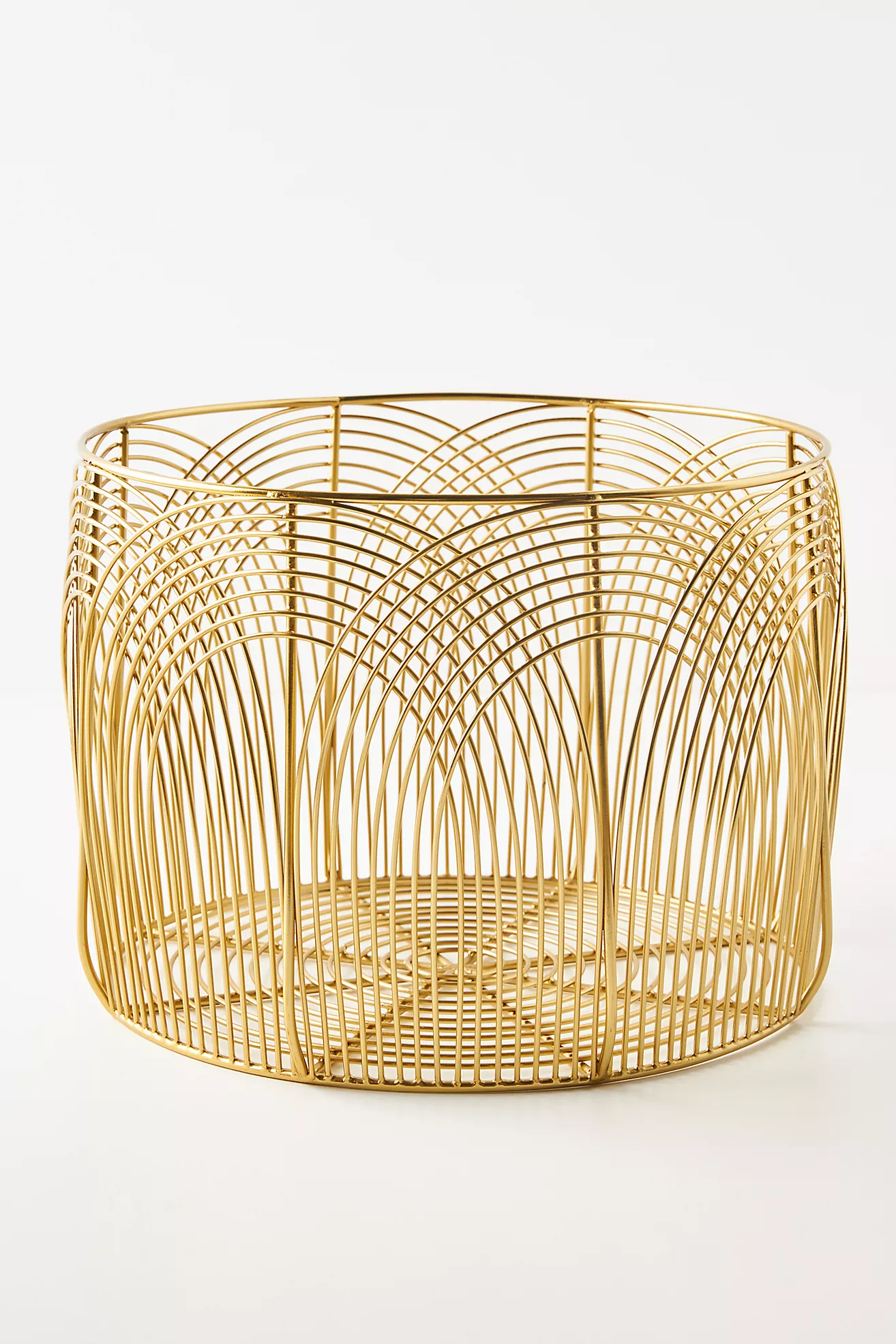 Let's think outside the box. With a handcrafted wireframe featuring intricate designs, this basket is perfect for eclectic, glam, and contemporary-styled foyer and entryway. And not just shoes, but you can also store newspaper and daily essentials that need to be carried in and out.
This is also one of the most creative ways to store shoes outside. So, just wipe it clean with a piece of fresh cloth and give your shoes a perfectly breathable atmosphere.
Solid Storage Bench with Shelves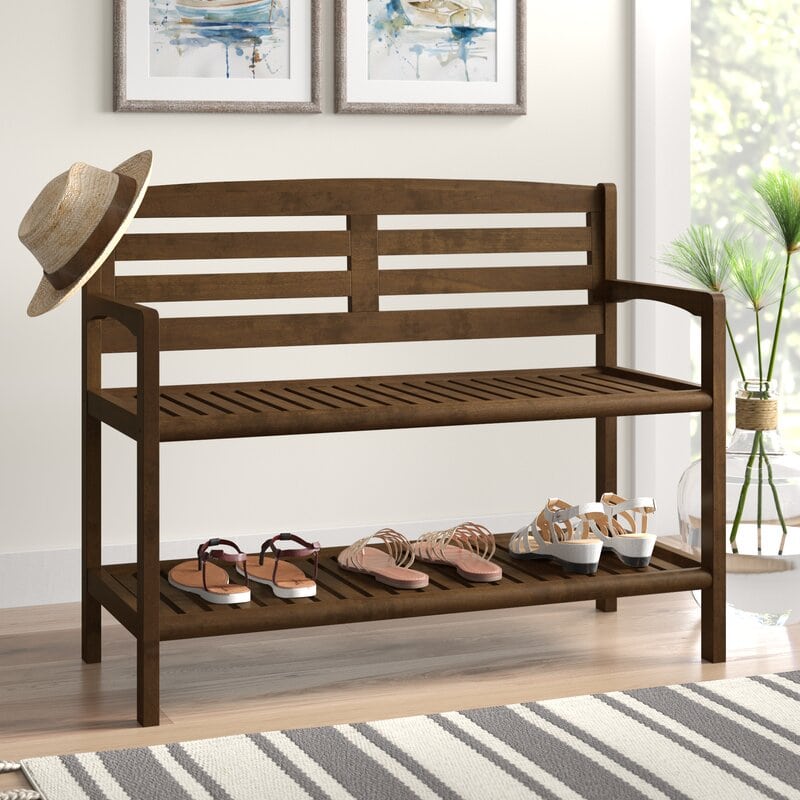 It's time to put a storage bench on your porch just before the entryway door. Something absolutely functional about this front porch outdoor shoe storage is that you can sit on it and easily put on or take off your shoes. Yes, it is multi-functional.
With the utmost authentic cottage and farmhouse style, this bench is bound to add a timeless and welcoming backdrop to your patio.
Modern Boot Storage Rack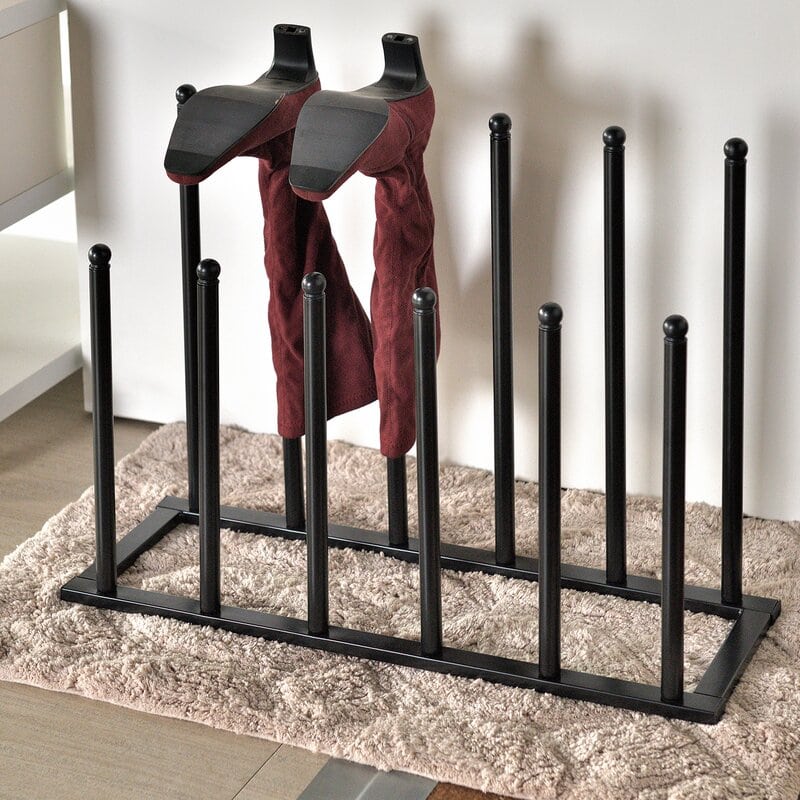 This unique and eye-catching boot storage rack is something to look forward to (especially for cold and harsh climates where wearing boots is the norm). Placed in an inverted position, you can easily store a pair of 6 boots while not worrying about the climate – whether harsh or mild.
Furthermore, this waterproof outdoor shoe storage will also allow your shoes to dry up quickly. Isn't this great for the rainy or snowy season?
Hanging Shoe Storage Organizer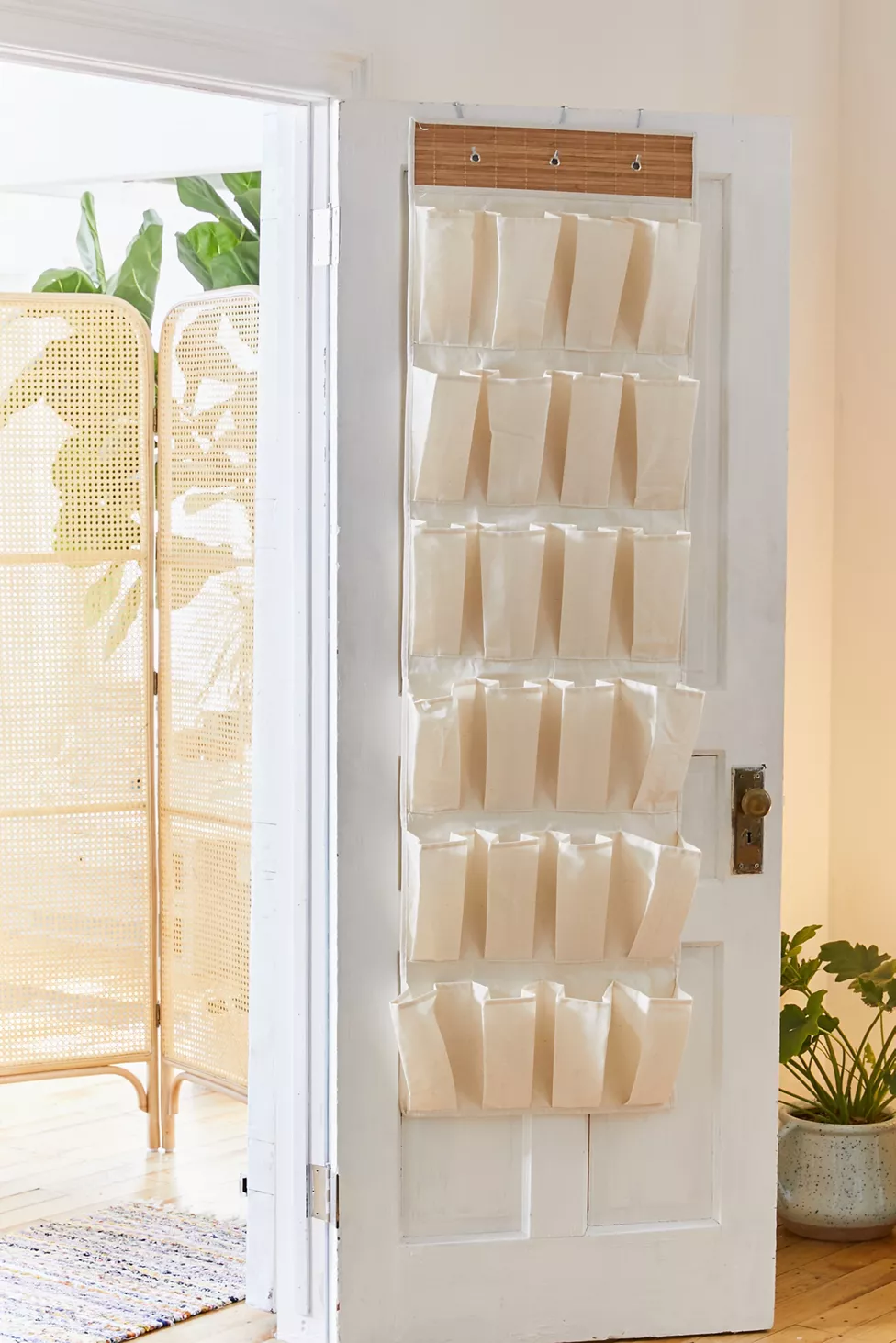 If you have a small outdoor space, this space-saving hanging shoe storage organizer is something to have an eye on. You can choose to hang it against the front door and save that dedicated space for storage.
Featuring 24 pockets and a trio of hooks, you can choose to store your shoes or even other accessories that you need for daily households. Hanging your coat is also another way to use this organizer.
Bamboo Detachable Shoe Storage Bench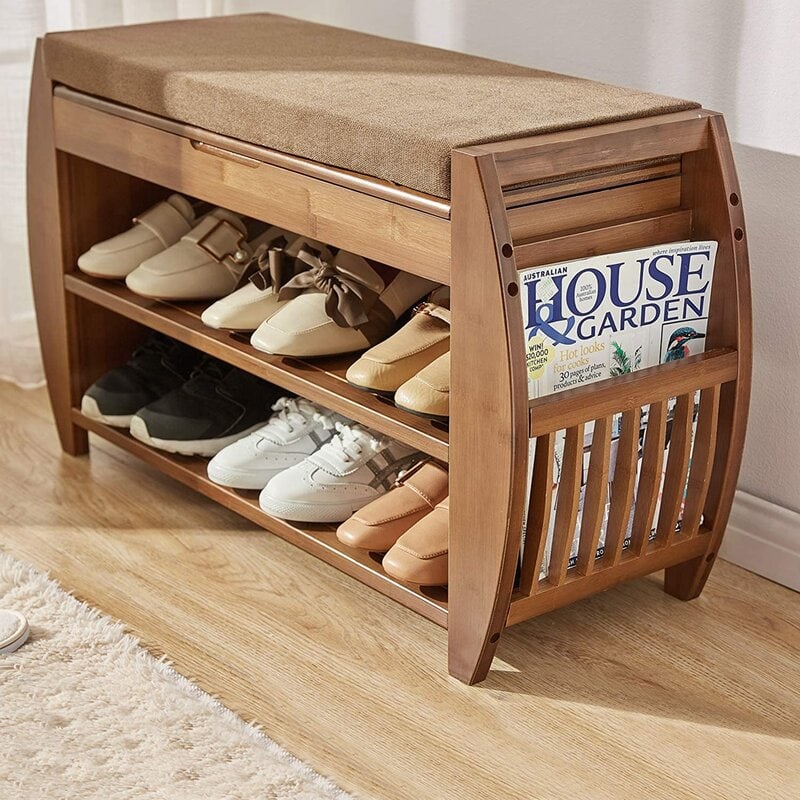 This bamboo storage cabinet can hold your shoes, keys, magazines, mobile phones, umbrellas, documents, and other items. Quite handy and flexible, this small detachable shoe storage bench is equipped with a soft and cozy cushion to give you comfortable seating while you tie the laces!
Moreover, it's a great kid-friendly product since it has soft and round edges to protect against any injury or scratches.
2-Tier Free Standing Shoe Cabinet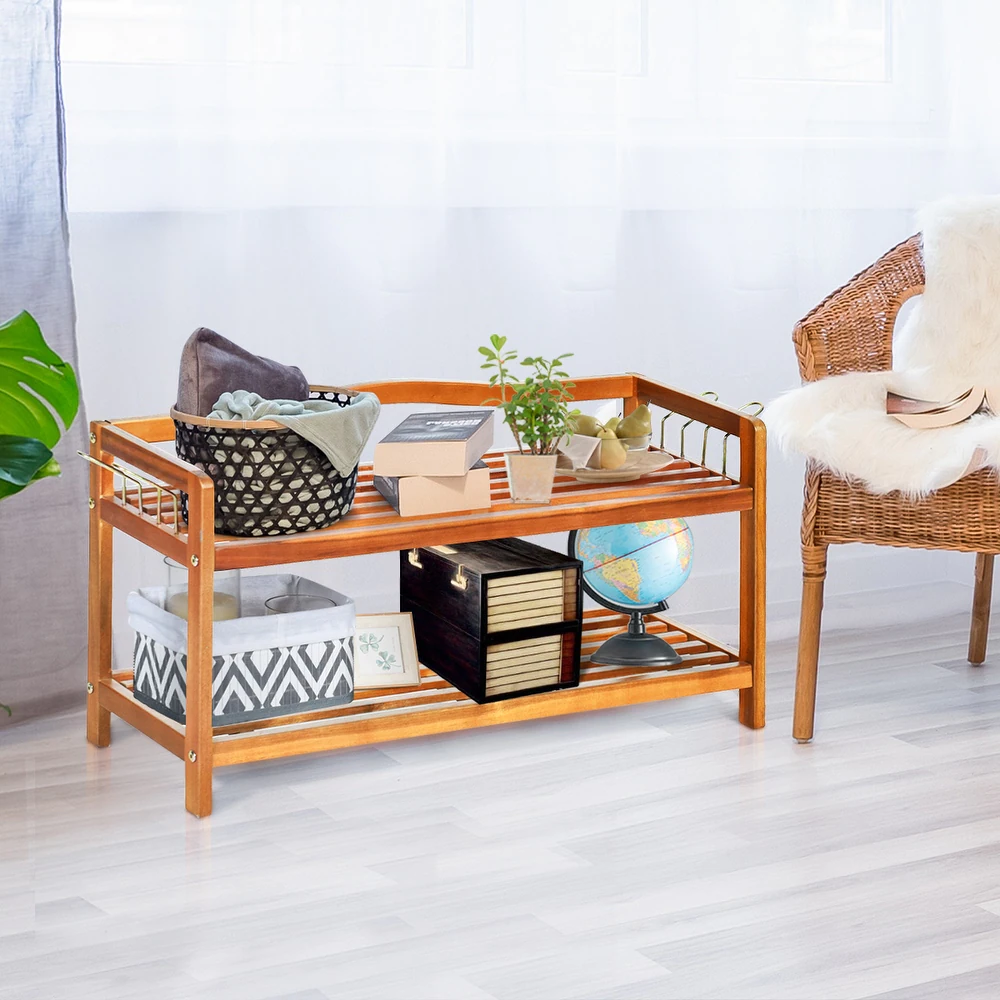 Homeowners often wonder how to neatly store their shoes outdoors. So, if you don't want to choose a fancy way – then you must pick a simpler and practical way to store your shoes outdoors. Yes, this 2-tier storage rack can hold your shoes as well as plants.
Also, it provides a breathable backdrop to your shoes so they don't smell at all. Moreover, it's strong and durable and can easily hold up to 110 pounds.
Gatton Shoe Storage Bench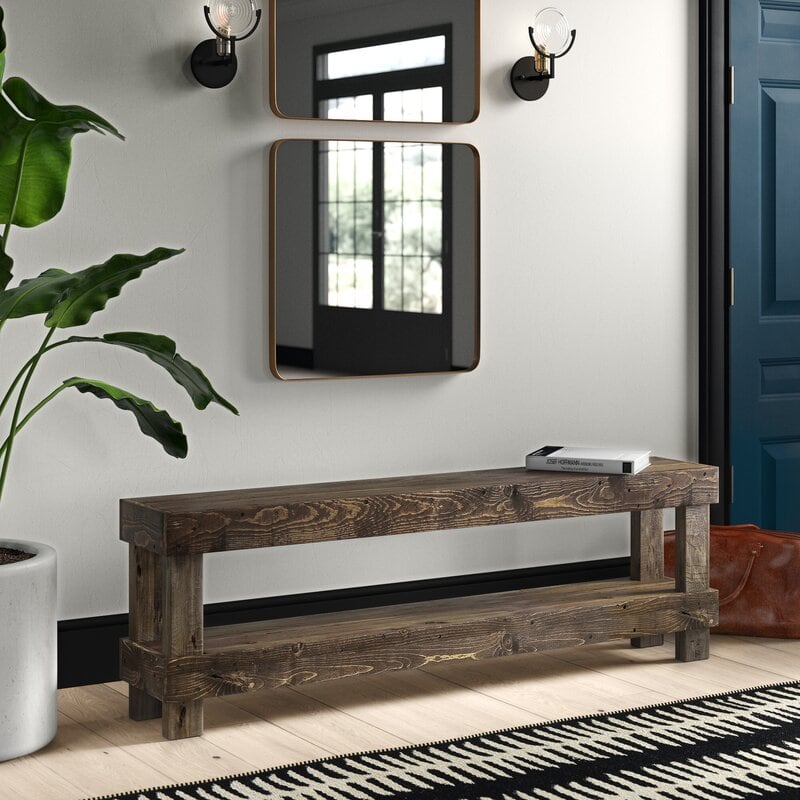 Bring a classical, farmhouse touch to your porch with the help of this wooden outdoor shoe cabinet. Crafted from solid pine wood, it's a great rustic piece to store and style your shoe while even sitting on it and spending some quality time with family.
And it's even better if you have to take your shoes off. Plus, it comes fully assembled and you can enjoy the readymade piece upon delivery.
Mitzel Shoe Storage Bench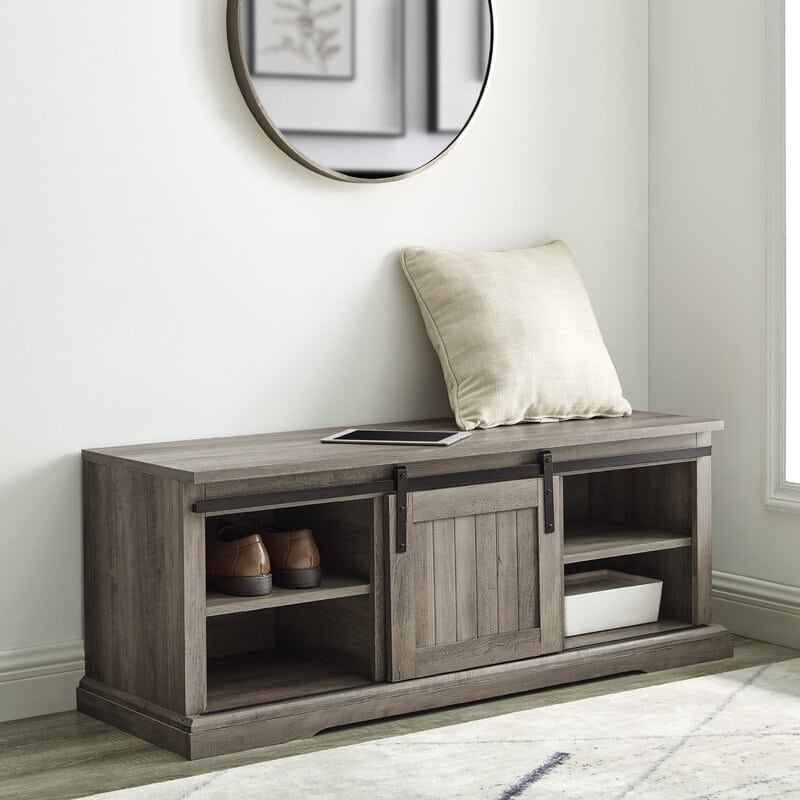 This outdoor shoe bench makes a groovy and farmhouse statement in your patio or entryway. It is equipped with two adjustable shelves and one fixed shelf each to store your daily households, pillows, and shoes.
This outdoor shoe cabinet can absolutely complement the wooden decks and railing and the utmost vintage and ranch-style exteriors. The barn-style detail is something that you can't ignore.
Cupboard Shoe Storage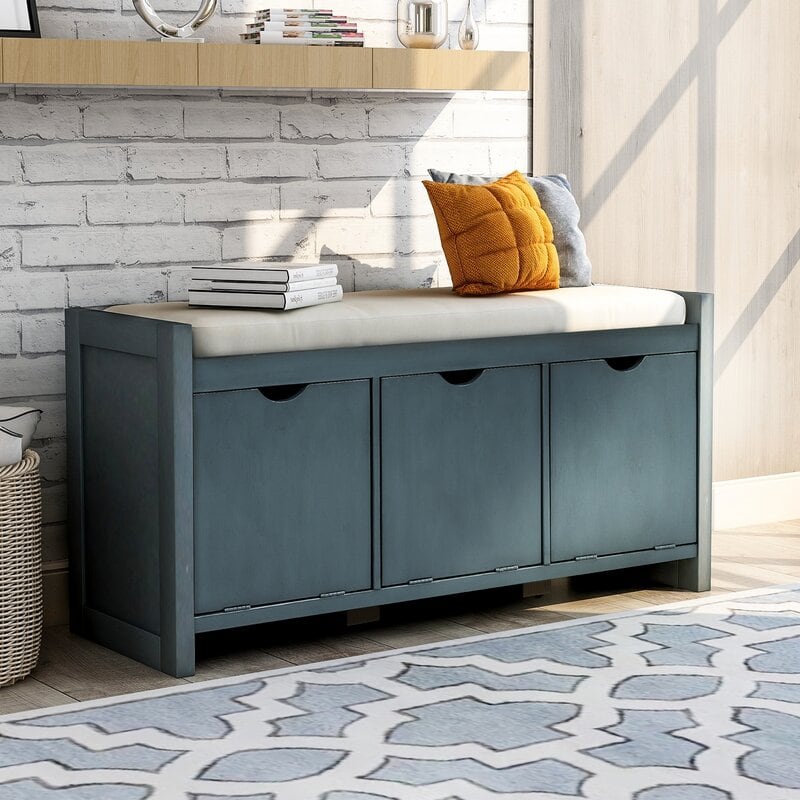 It's time to have a cupboard on your porch to keep your shoes. Ideally for family use, this classic and eclectic-style shoe storage offers a wonderful space opportunity to style and store the everyday essentials. (All the things you want to carry inside and out)
And just in case if you want to repurpose an old one, you must go ahead and paint that stylish piece of decor.
Avery Shoe Rack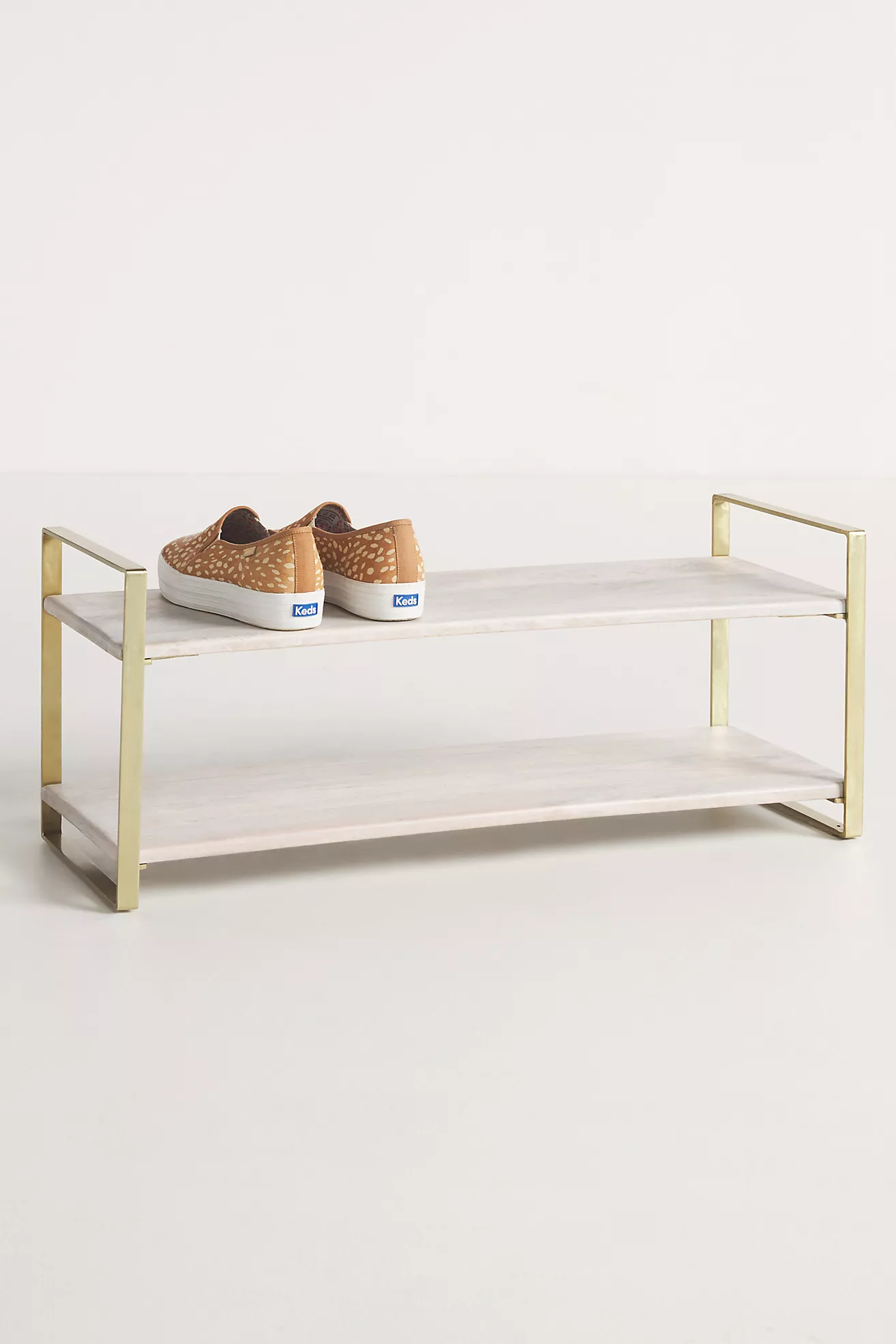 Whether you plan to use this shoe rack in the mudroom or the entryway – this glam-style outdoor shoe cabinet makes a perfect backdrop. It's not some old-school design that looks monotonous – rather, a perfect glam structure to add a stylish statement.
Furthermore, you can keep this waterproof outdoor shoe storage in any harsh climates like direct sunlight or rain without having to worry about maintenance.
Brooke Boot Tray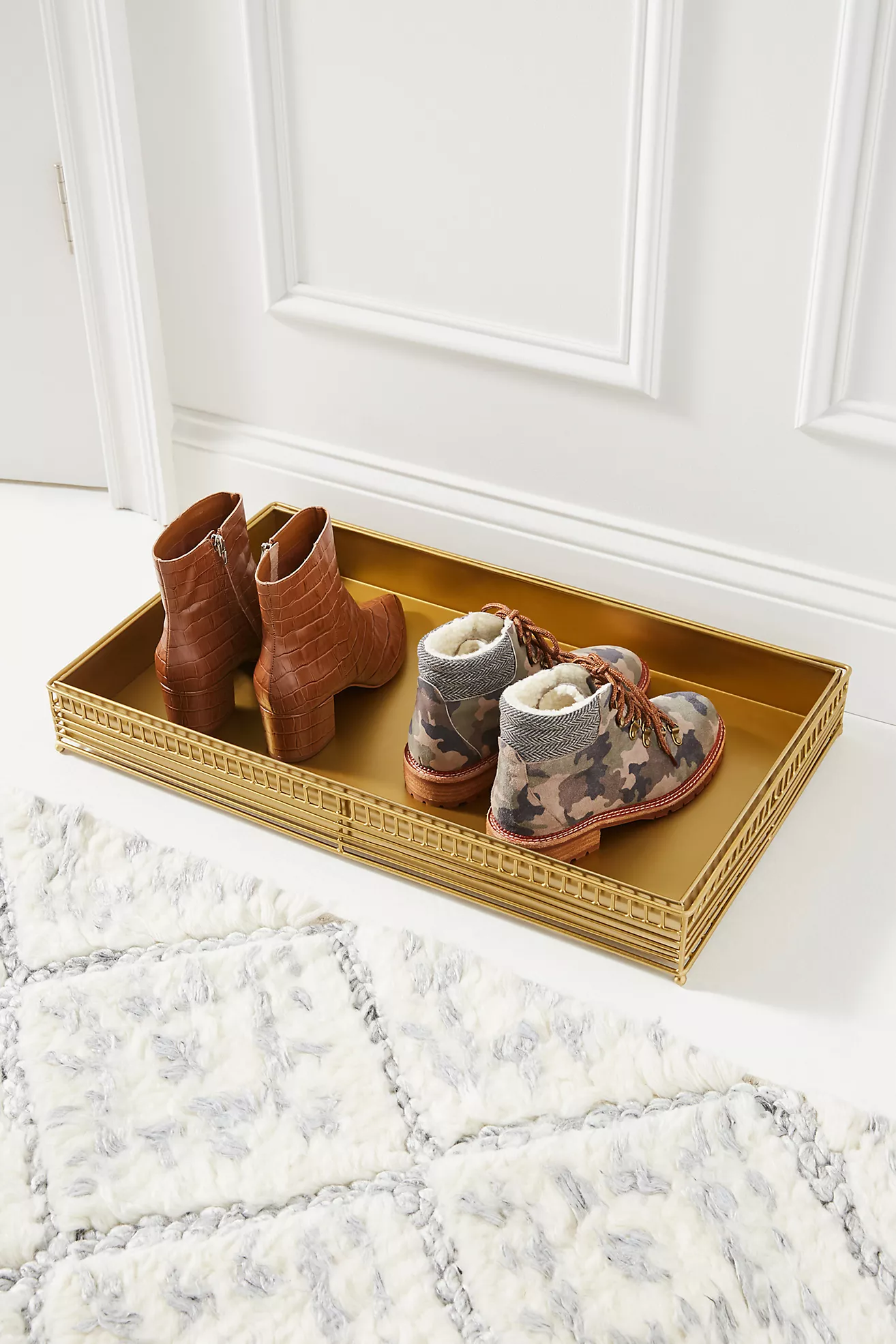 This is another creative and flabbergasting way to add a stylish statement outside your home. This boot tray can hold your muddy shoes and boots and you can clean it every now and then, using a soft cloth material.
And since this golden-tinted tray makes a focal statement, you can undeniably use it to achieve a glam and welcoming experience. Isn't this too stylish, already?
Summing It Up
Owning and styling an outdoor shoe cabinet is necessary. So, are you going to get into a habit of keeping your shoes outside? Well, it's a given that your life is going to become a thousand times better and easier.
Also, don't forget to have a separate pair of indoor slippers ready! So, did any particular idea mesmerize you? Do let me know your thoughts in the comments below!