Decorated Life is reader-supported. When you buy through links on our site, we may earn an affiliate commission. Learn More
Paint Colors – Sea Green Color Madness
By: Decorated Life Team
|
Sea Green Color Palette Make Beautiful Interior Paint Colors Easy
Some paint colors never go out of fashion. I believe you can add the soft sea green color to that list. It's refreshing and tranquil and blends well with many interior paint colors from grays to whites.
Sea Green Color Change
This gorgeous blue green interior paint color is soothing and very stylish. Whether you use it as an accent color or paint entire walls in this sea green color, it has a timeless look that works with many decorating themes.
Source: Pinterest
For color accents, add to the back of bookcases or to your kitchen cabinets to create a WOW factor. But you can do so much more with it.
Source: BHG
From the kitchen and bathroom to the bedroom, this is a flexible color. It has a habit of changing its look with different amounts of natural light, or different colors and styles of furniture in your rooms. While white and gray are a perfect match for a classic beach decor look, warm wood tones or sharp blacks will entirely change your look.
If you have large areas of sea green, break them up with white or warm wood accents. Like the floating shelves below. Click the image below to make these floating shelves. Use this idea in your laundry, mudroom, hallway or bathroom!
Source: HomeDepot
Sea Green Accent Color
If you are not sure about changing wall paint color or painting major pieces of furniture to sea green, try adding hints of sea green color to your room.
Source: Pinterest
It goes perfectly against dark gray, navy or coffee-colored walls, creating a lively contrast. It also goes well against white walls for a crisper decorating look, and add color pops of daffodil yellow.
Sea Green Soft Furnishings
Gray can sometimes look a little too .. gray… clinical and dull. Sea green goes very well with gray walls, uplifting and bringing out the best in your gray. Add touches of it around your room with accessories like cushions, glass ware and linen to give your gray walls some life. It also works well with traditional and classic gold accents found in lamps, mirrors and tables.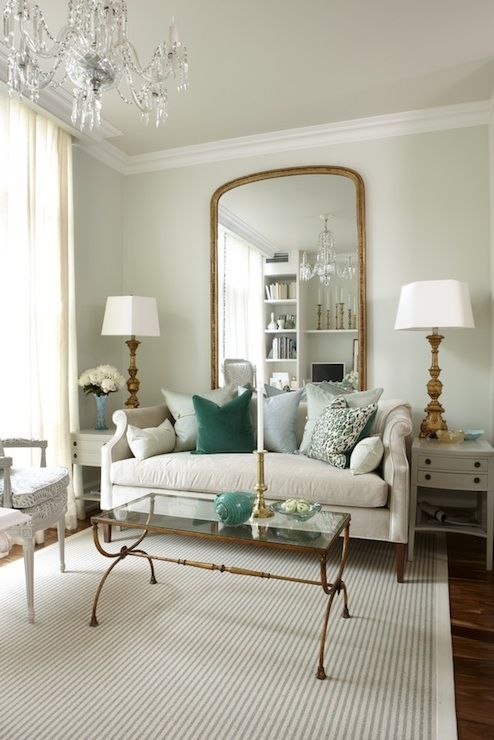 You can take this cool soft look anywhere, including the kitchen or bedroom.
Sea Green Walls & Features
With so many shades of sea green color, you can easily find the right one for your space. Here it works in a backsplash to break up and accentuate white kitchen counter tops and cabinets.
Source: Pinterest
Source: amazon 
Moving it to the bathroom, this color transports you instantly to the beach; coastal magic that works anywhere from country cottage decor to smart apartment living.

Source: Pinterest
Sea green is a wonderful contrast against warm woods. They play off one another beautifully. Add some aged or distressed painted chalk painted furniture for a more rustic or country look.

Whether you paint your walls in sea green color, paint a sideboard, or use it on fabric and accessories, this color is worth thinking about. Remember to add warm colors and tones to balance out sea green cooler characteristics.
Traditionalists with white walls or blue and white themes can easily add sea blue-green to color palettes to  add interest and introduce another easy-to-live with color.
If you have any paint colors you would like to share leave a comment below – Find more ideas on our FaceBook page to Share!
Save
Save
Save