Decorated Life is reader-supported. When you buy through links on our site, we may earn an affiliate commission. Learn More
Sherwin Williams Anew Gray Paint Color Review
Bright spaces call for strong colors. If you're a homeowner who's been blessed with lots of natural light, you might find the standard array of greiges to be a little too light to make an impression in your home.
If so, then your answer just might be Anew Gray by Sherwin Williams. This well-balanced, earthy greige has more depth and body than many greige colors, but still has a lot of the neutral adaptability that fans of the greige family swear by.
If you're wondering what makes Anew Gray different from its greige siblings, let's pop open that paint can and find out more!
What Color is Anew Gray?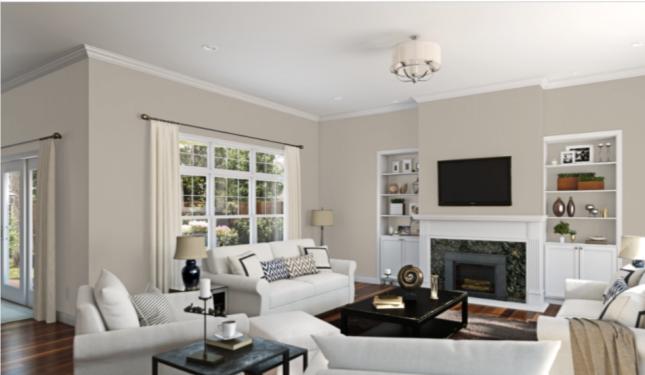 Anew Gray is a medium-to-dark greige color. Greiges are a mix of gray and beige, using the best traits of each color to blend out troublesome undertones and create a more balanced neutral color.
LRV of 47
Anew Gray's light reflectance value (LRV) is 47, which is close to the center of the LRV scale. While that would make Anew Gray a medium toned greige, most greige colors do tend to be significantly brighter than Anew Gray, so it comes across as darker.
Anew Gray Undertones
Anew Gray has purple undertones, which are common in colors based on gray. You'll notice more of its beige side than its gray side when comparing it to other colors.
Is Anew Gray a Warm Color or a Cool Color?
Anew Gray is a warm greige color, thanks to the influence of the beige side of its color makeup. It can look cooler and more gray under darker lighting conditions.
Where Can You Use Anew Gray?
Anew Gray is a little darker than other popular greige colors, so it's great for places where it will stand up to natural light without getting washed out. I found you some inspiring examples of exteriors and entryways that make use of this color's strengths!
When you're using Anew Gray inside the home, it's likely too dark to be your choice for an all-over color. Balance it with your favorite whites or light grays to lighten it up.
Decor styles that rely on lots of white, such as modern farmhouse, successfully incorporate Anew Gray as an accent or contrast color, and you'll see lots of examples of that in real homes.
Let's take a look at Anew Gray in action and get inspired!
Exterior
This trendy exterior uses Anew Gray with Eider White trim and Urbane Bronze for its board and batten shutters.
Anew Gray on this front door contrasts nicely with the white main color and black trim.
Entryway
Here Anew Gray is used not only for the door and trim, but also for the accent table. You can always paint furniture and accessories to fit the style you're looking for!
Anew Gray shiplap is the focal point of this calming neutral hallway.
Kitchen/Dining Room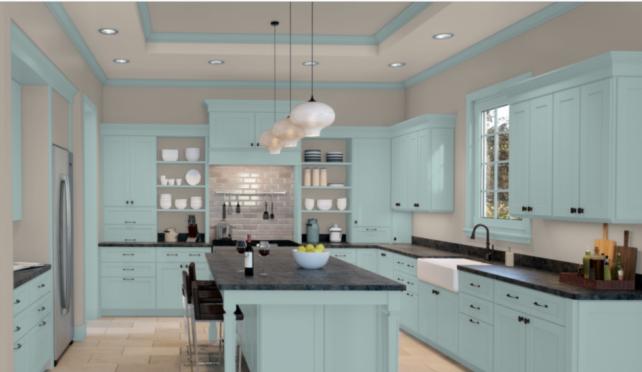 In this kitchen, Anew Gray partners with Watery. See how it looks more grounded and earthy next to the cool blue?
Anew Gray is a classic canvas for this French country dining room. Black, white, and gray is a timeless combination.
Anew Gray is used successfully in this basement farmhouse kitchen, thanks to lots of white paint and extra lighting.
Living Room
This comfortable living room uses Anew Gray to echo the focal point in the fireplace tile.
A white ceiling and fireplace, plus lots of natural lighting, uplift Anew Gray and make this living room grounded and elegant.
This cozy living room also makes effective use of strong natural lighting for a space that Anew Gray is perfectly at home in.
Bedroom
Anew Gray is a great neutral canvas for this bedroom, allowing the array of darker grays to stand out and guide the eye.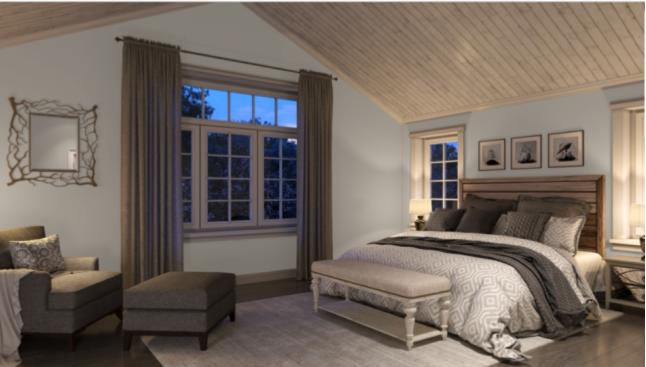 Notice how much cooler and more gray Anew Gray looks under nighttime lighting conditions?
Bathroom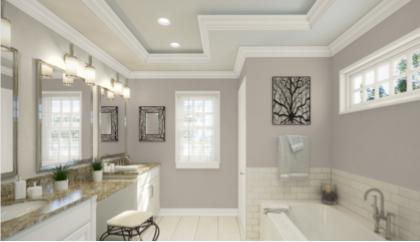 Anew Gray shows its cooler side in this bathroom, set against a crisp trim in Shell White.
This bathroom uses Anew Gray as a main color, and makes great use of sponged texture and pattern on an accent wall.
Anew Gray Coordinating Colors
Anew Gray is part of the Minimalist collection from Sherwin Williams, which includes other calming neutrals like beiges, browns, off-whites, and fellow grays. Sherwin Williams also recommends whites like Incredible White and Pure White, which will look fresh and crisp next to Anew Gray.
As a neutral, Anew Gray is fairly versatile, so you're also free to leave the neutral family and look for other palettes. Its natural warmth will complement rosy pinks or fern greens. Anew Gray will look more earthy next to blues, and could be a grounding element for airy, pale blues.
Anew Gray is fairly dark on its own, so you're likely going to want to use it for accents and trim, while choosing a lighter partner to balance it. You could also use a half-and-half split, such as Anew Gray board and batten on the bottom half of the wall, and white or a light color on the top half.
Here are come coordinating color ideas for Anew Gray to get you started:
How Does Anew Gray Compare With Other Colors?
Anew Gray vs Agreeable Gray by Sherwin Williams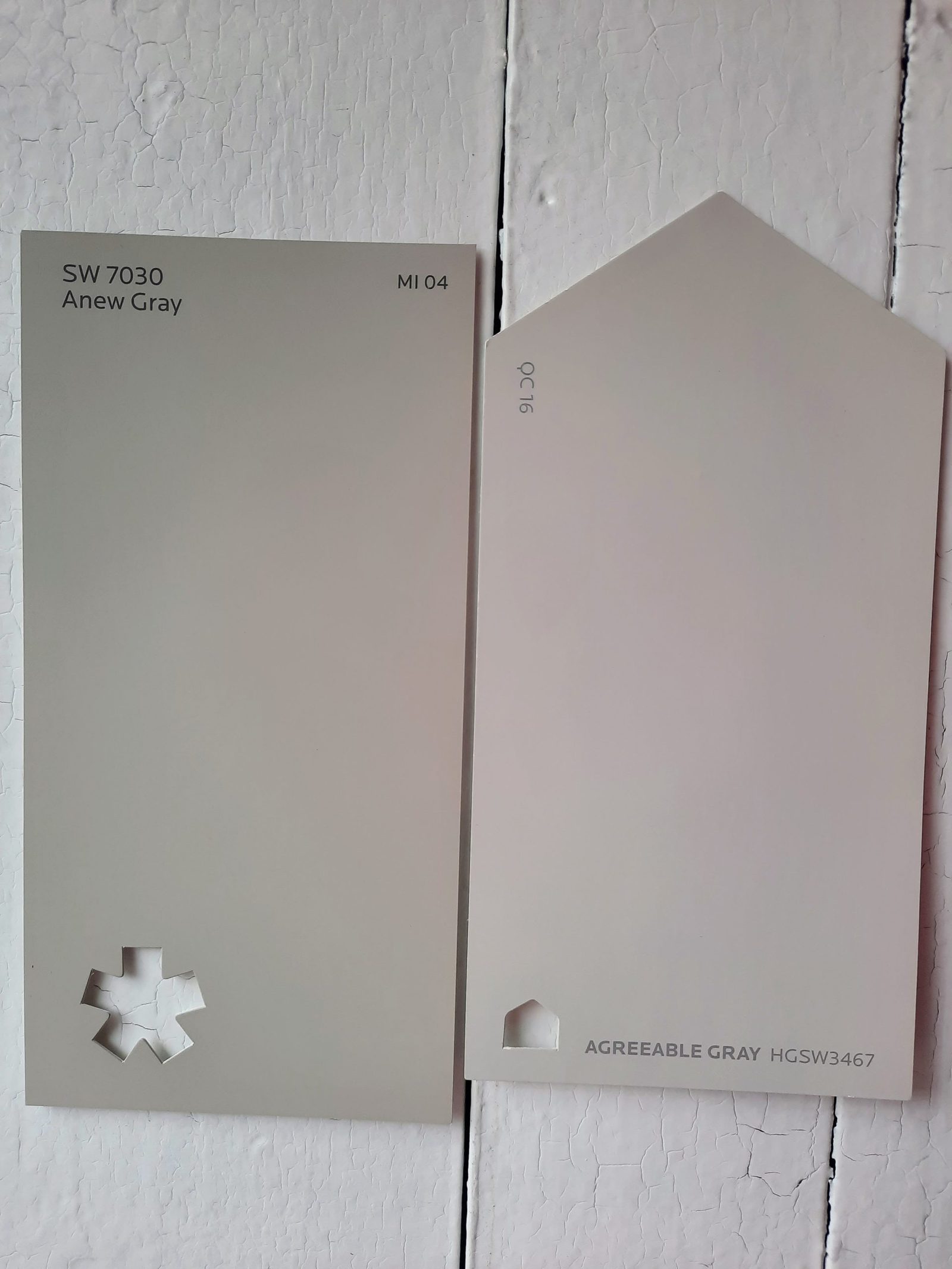 The biggest difference you're going to notice between Agreeable Gray and Anew Gray is their brightness. With a LRV of 60, Agreeable Gray is significantly brighter than Anew Gray's 47. Colorwise, though, they're fairly similar. Both are reasonably balanced greige colors.
Anew Gray vs Mindful Gray by Sherwin Williams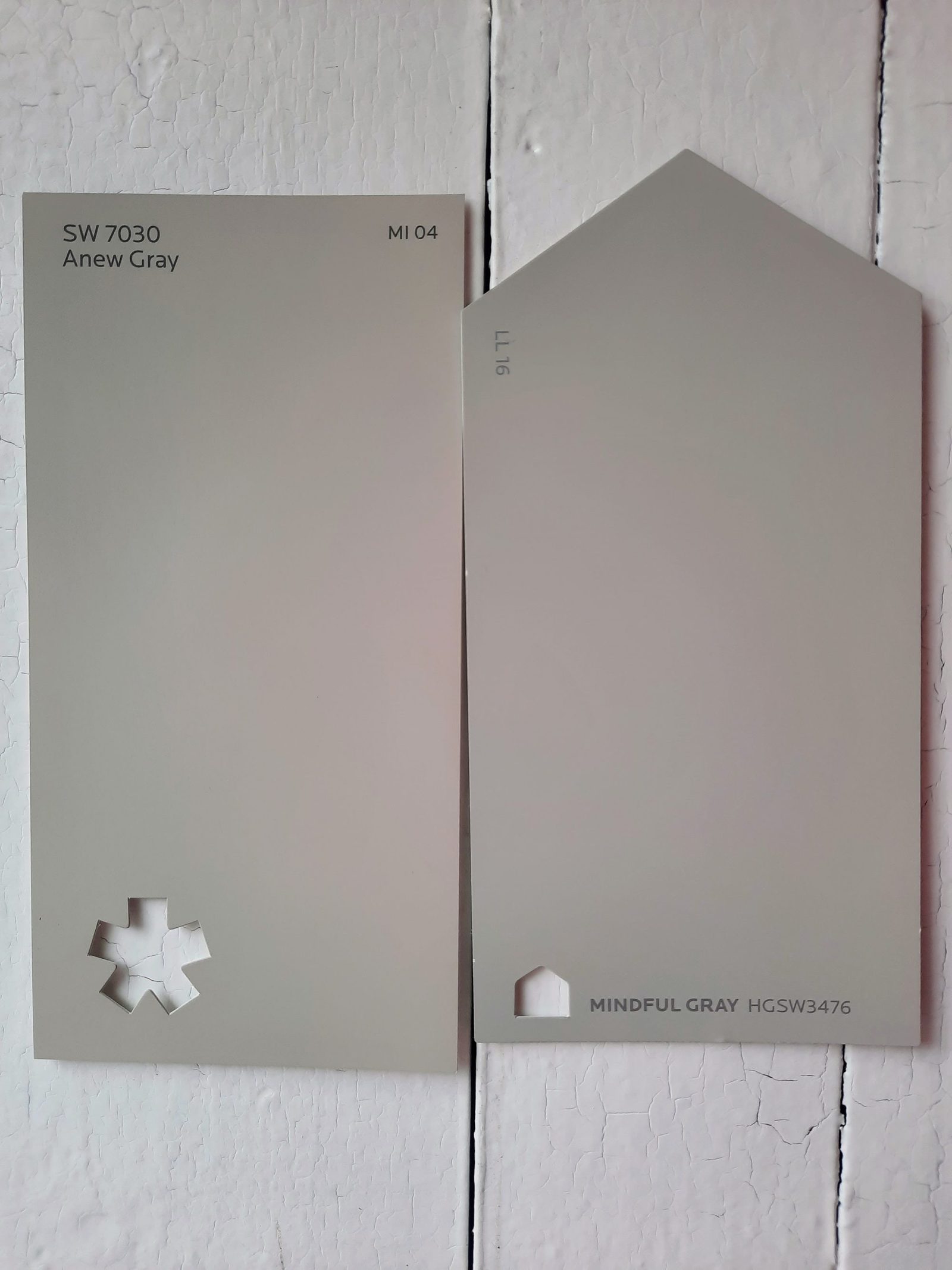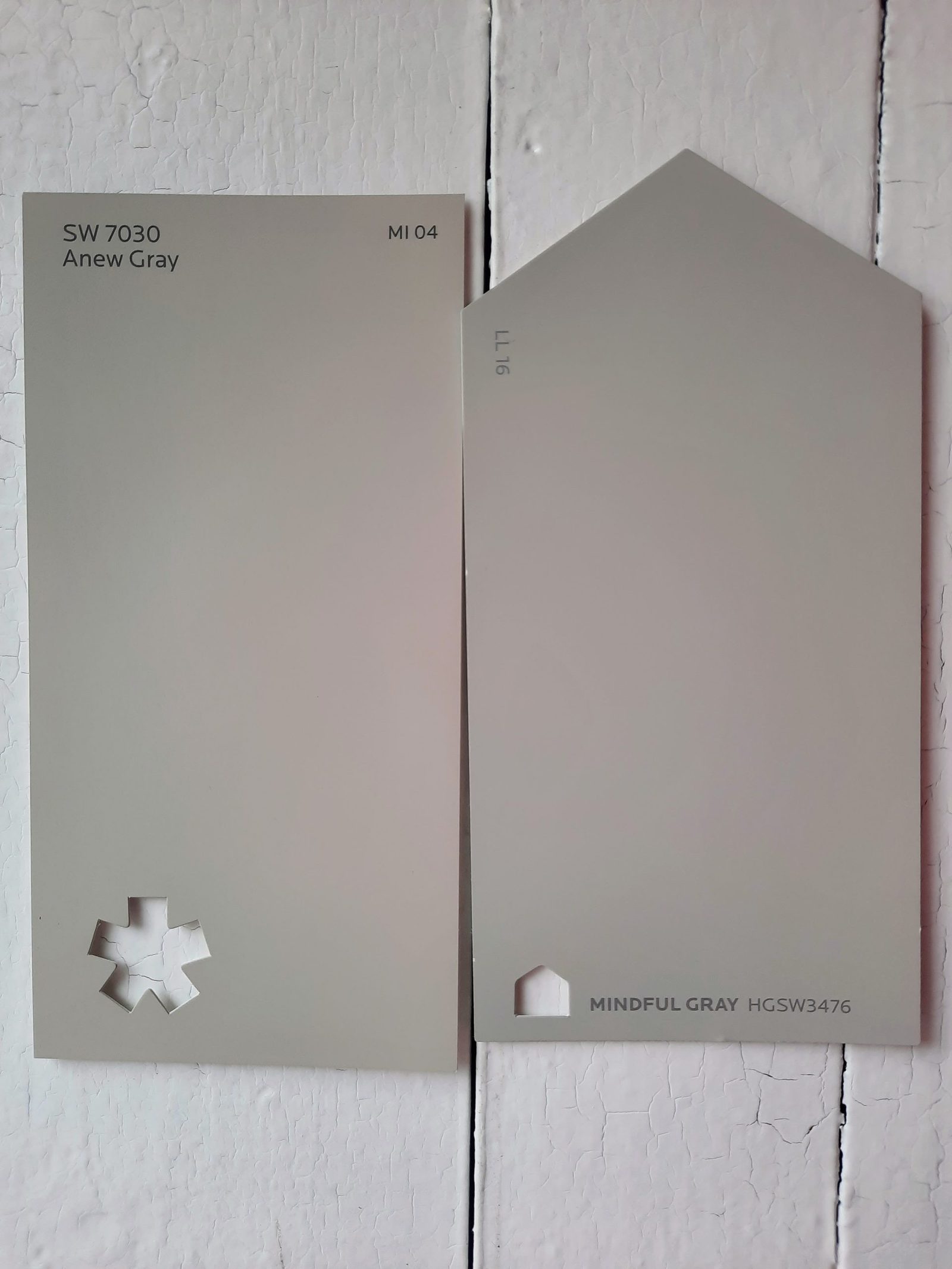 Mindful Gray readily shows more gray when compared to Anew Gray. It's a cooler color as well. These two colors have nearly identical brightness; Mindful Gray's LRV is 48.
Anew Gray vs Revere Pewter by Benjamin Moore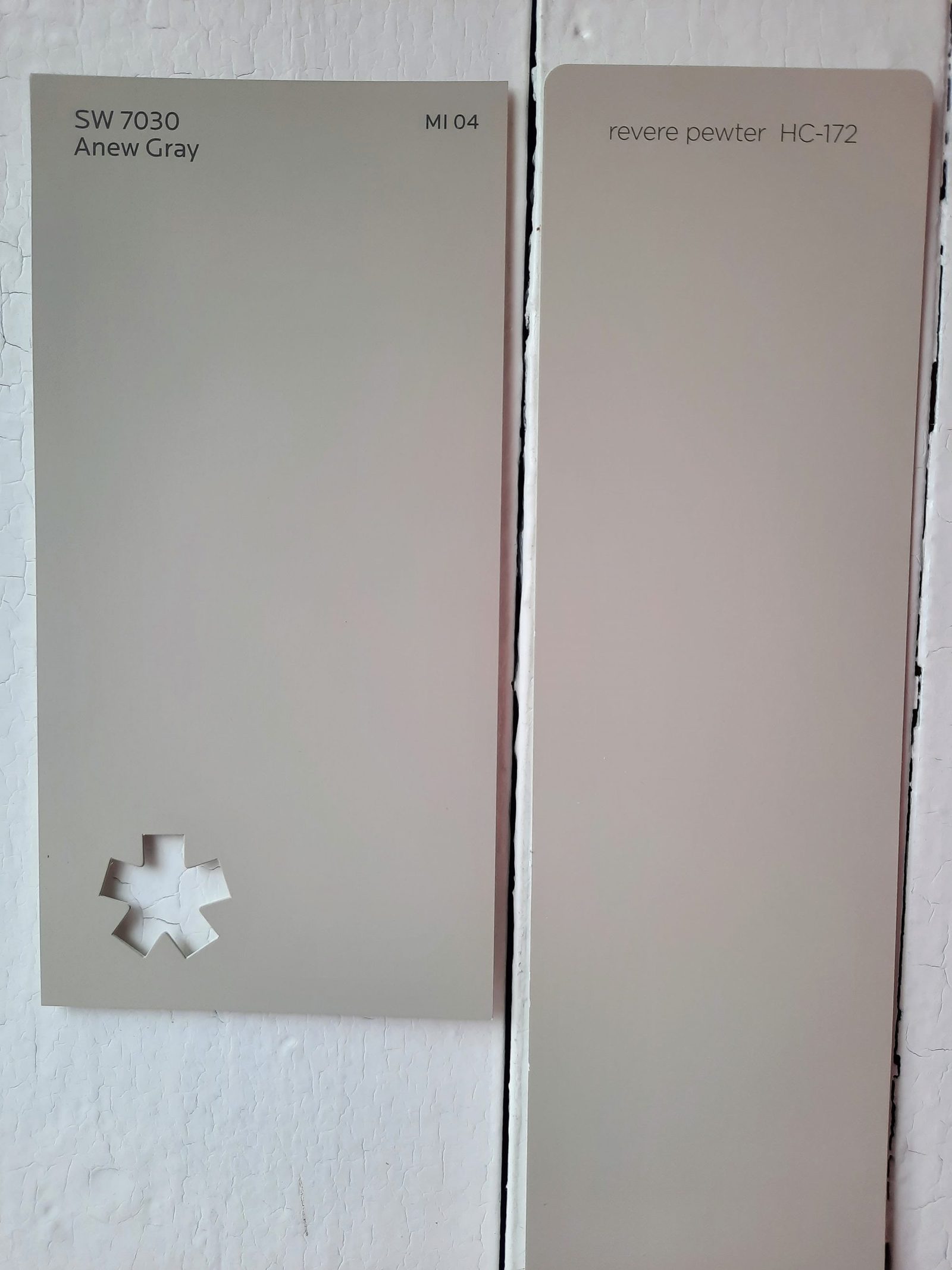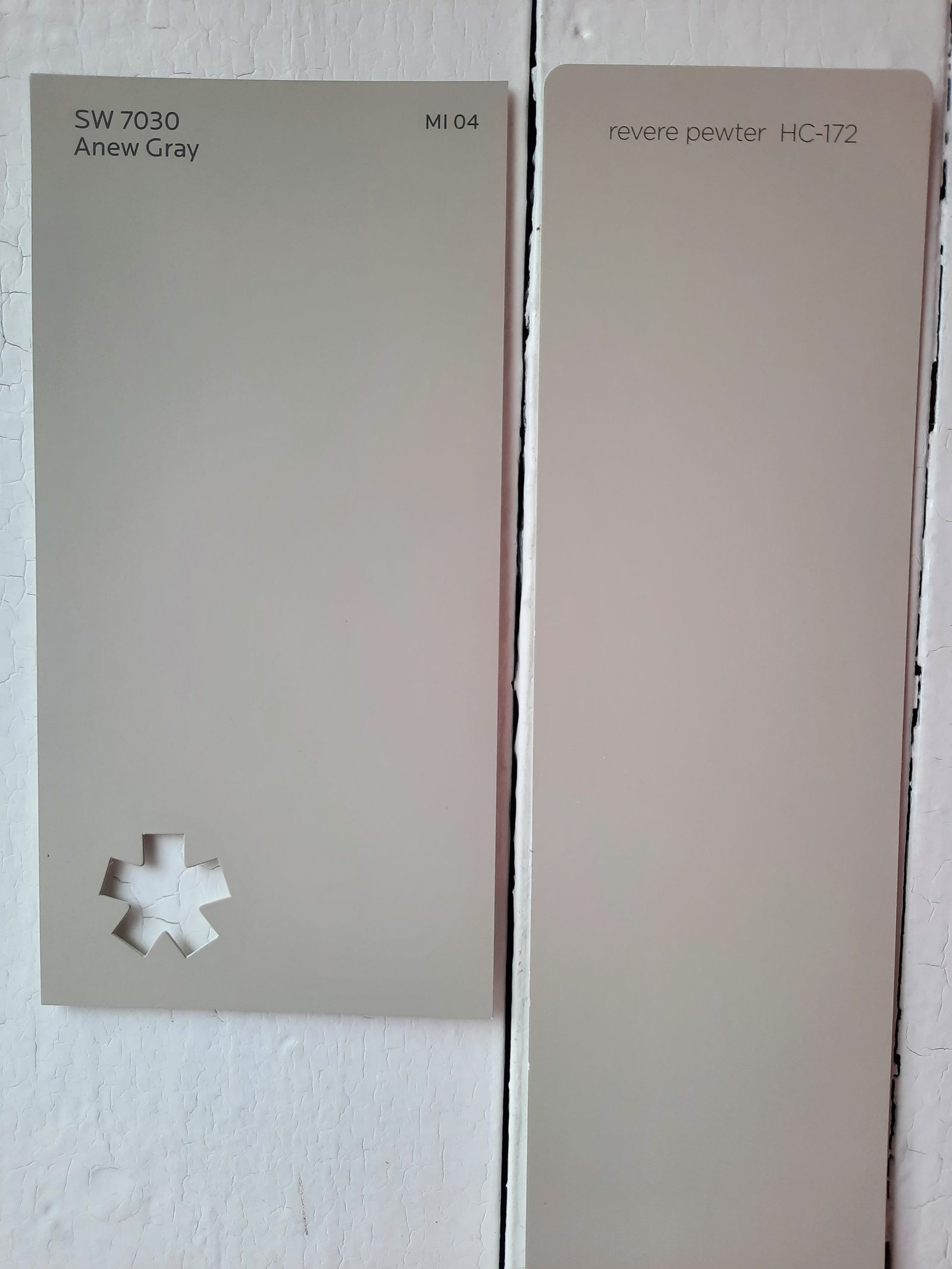 Revere Pewter, an extremely popular greige from Benjamin Moore, has some common ground with Anew Gray. Revere Pewter is the brighter of the two, with a LRV of 55.51. Anew Gray is cooler and more gray, while Revere Pewter is more neutral, striking a balance between the gray and beige parts of its composition.
Anew Gray vs Edgecomb Gray by Benjamin Moore
Edgecomb Gray is significantly brighter than Anew Gray, with a LRV of 63.88 that makes it more suited to being an all-over color. It's still a light greige though, and you could actually use it as a coordinating color with Anew Gray if you wanted.
Final Thoughts
Anew Gray is a stronger choice for greige fans. Used correctly, it can withstand lots of direct sunlight and still make an impression. It's also well-suited to be a trim or accent color for many different palettes.
If you love neutrals, Anew Gray can add some warmth and depth to your color selections, and if you prefer more color, it can still stand back to let bolder colors take center stage. While possibly not quite as versatile as some of its greige siblings, Anew Gray is still a solid neutral option for many palettes.