Decorated Life is reader-supported. When you buy through links on our site, we may earn an affiliate commission. Learn More
Sherwin Williams Urbane Bronze Paint Color Review
Do you love nature? Do you want to bring the outdoors inside? Do you want to make your home more cozy, perhaps drawing on the Scandinavian lifestyle of hygge? Then you should definitely consider Urbane Bronze.
This warm and comforting neutral was Sherwin Williams' 2021 Color of the Year, and it belongs to several of their popular collections, including the Color ID Minimalist palette. At times showing glimpses of wood, stone, and even forest leaves, Urbane Bronze has much to offer.
Let's pop open that paint can and take a look at this exciting and popular color!
What Color is Urbane Bronze?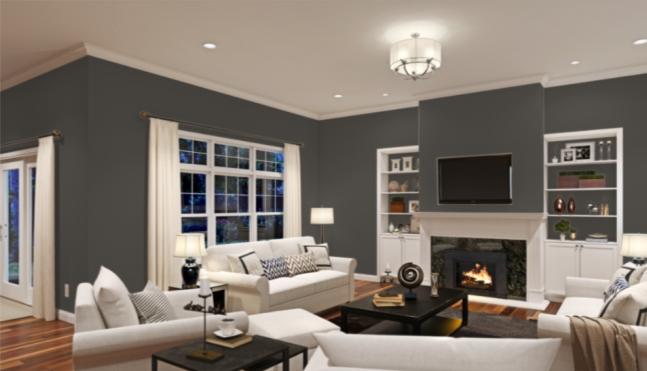 Urbane Bronze is a blend of dark slate gray and deep chocolate brown. It's an extremely dark color, but it's definitely not black. Urbane Bronze is also much too brown to read as a gray color. Overall, it's an extremely dark brown with a grayish cast.
LRV of 8
Urbane Bronze has a LRV (light reflective value) of 8. LRV runs on a scale from 0 (completely black) to 100 (completely white). This makes Urbane Bronze a very dark color. It's not a solid black, but it definitely falls in the same range as black and very dark gray paint colors.
What Undertones Does Urbane Bronze Have?
As a predominately brown color, Urbane Bronze's most notable undertones are slate gray. Under some lighting conditions, it can show green undertones, especially if you put it next to green paint colors or decor.
Is Urbane Bronze a Warm Color or a Cool Color?
Urbane Bronze is primarily a warm color, owing to the brown side of its makeup being dominant. The gray side offers a touch of coolness.
Where Can You Use Urbane Bronze?
Urbane Bronze was inspired by nature, so it's great for bringing that feeling of the natural world indoors. It's also an excellent choice for minimalist styles, and Scandinavian-inspired decor styles.
Urbane Bronze offers an alternative to gray as a neutral color, bringing a warmth that gray lacks. It can make spaces that are too bright feel more cozy and grounded.
This color is extremely dark, so most likely you're going to be using it for accents or trim rather than as an all-over color. You'll have plenty of options for colors to contrast with Urbane Bronze, as its darkness and warmth will really make lighter colors pop.
Let's take a look at Urbane Bronze out in the wild so we can get inspired!
Exterior
This front door looks handsome and traditional in Urbane Bronze with a white trim.
A simple refresh with Urbane Bronze added a lot of appeal to this porch and garage door.
This fantastic round house looks like it belongs with its forest surroundings thanks to a coat of Urbane Bronze.
Kitchen
This kitchen uses Urbane Bronze to emphasize the beautiful cabinets, and a lighter gray to echo the tile and counters.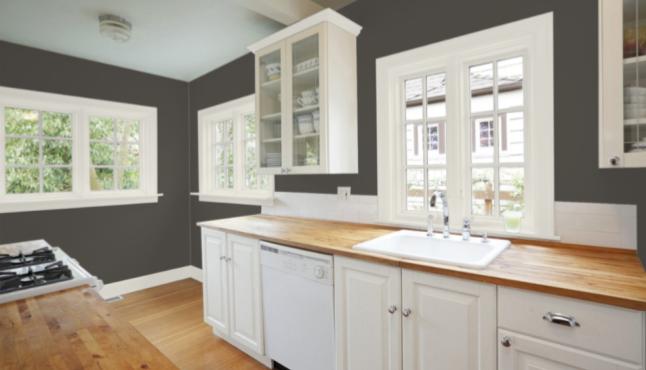 This kitchen takes the reverse approach, using Urbane Bronze as the wall color, and Alabaster for the trim. 
Dining Room
This dining room uses Urbane Bronze in a bold way, and then chooses green accents and decor to deliberately bring out its green undertones.
In this dining room, Urbane Bronze reads as a lot more gray. Partnering with the white board and batten is an effective strategy to keep the Urbane Bronze from dominating the space.
Living Room
This living room uses the furnishings, rather than a contrasting paint color, to offset the intense darkness of the Urbane Bronze walls.
This living room blends minimalist calm with touches from nature, and all are well-suited to the Urbane Bronze backdrop.
Metals and jewel tones positively gleam against Urbane Bronze in this luxe modern living room.
Bedroom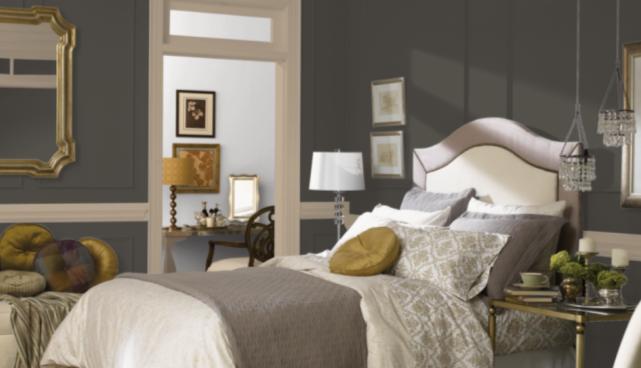 Urbane Bronze and Antler Velvet trim make this bedroom both natural and dramatic, while gold touches up the sophistication factor.
Urbane Bronze takes on a forest green tone in this room, and serves handsomely with the natural wood and leather furniture. White ceilings and trim tame down the intensity.
Urbane Bronze makes for a fantastic accent wall in this cheerful turquoise bedroom, showing more of a gray side.
Bathroom
Using Urbane Bronze as the all-over color in a small, dark space like a bathroom is a bold choice, but it works in this guest bathroom. The shower curtain and door are both white to offset the darkness of the Urbane Bronze.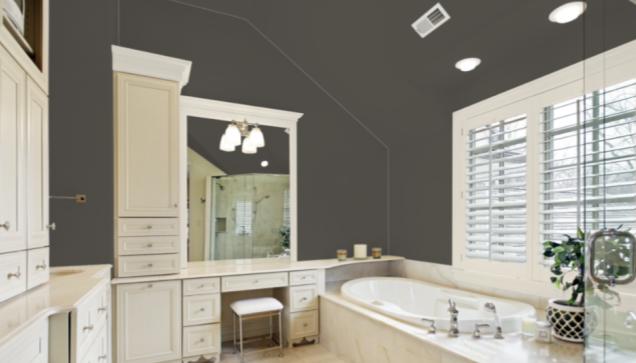 Urbane Bronze walls and trim in Classic Light Buff combine to give this bathroom a warm and cozy glow.
Urbane Bronze Coordinating Colors
Urbane Bronze is intensely dark, so you're most likely to pair it with lighter coordinating colors. Any of your favorite whites and off-whites are lovely choices that will be set off handsomely by Urbane Bronze's warm woodsy shades.
The gray family will also complement the slate cast of Urbane Bronze nicely. Whether you're looking at a true gray or a popular greige, Urbane Bronze will work with them. Another direction you can take thanks to Urbane Bronze's gray side is to go with the blue family.
Since Urbane Bronze is primarily brown, there are a range of lighter browns and tans that work well with it too. You can also opt for a forest look by using green colors, which will bring out the green undertones hidden in Urbane Bronze.
Here are some coordinating color ideas for Urbane Bronze to get your ideas flowing:
How Does Urbane Bronze Compare to Other Colors?
Urbane Bronze vs Black Fox by Sherwin Williams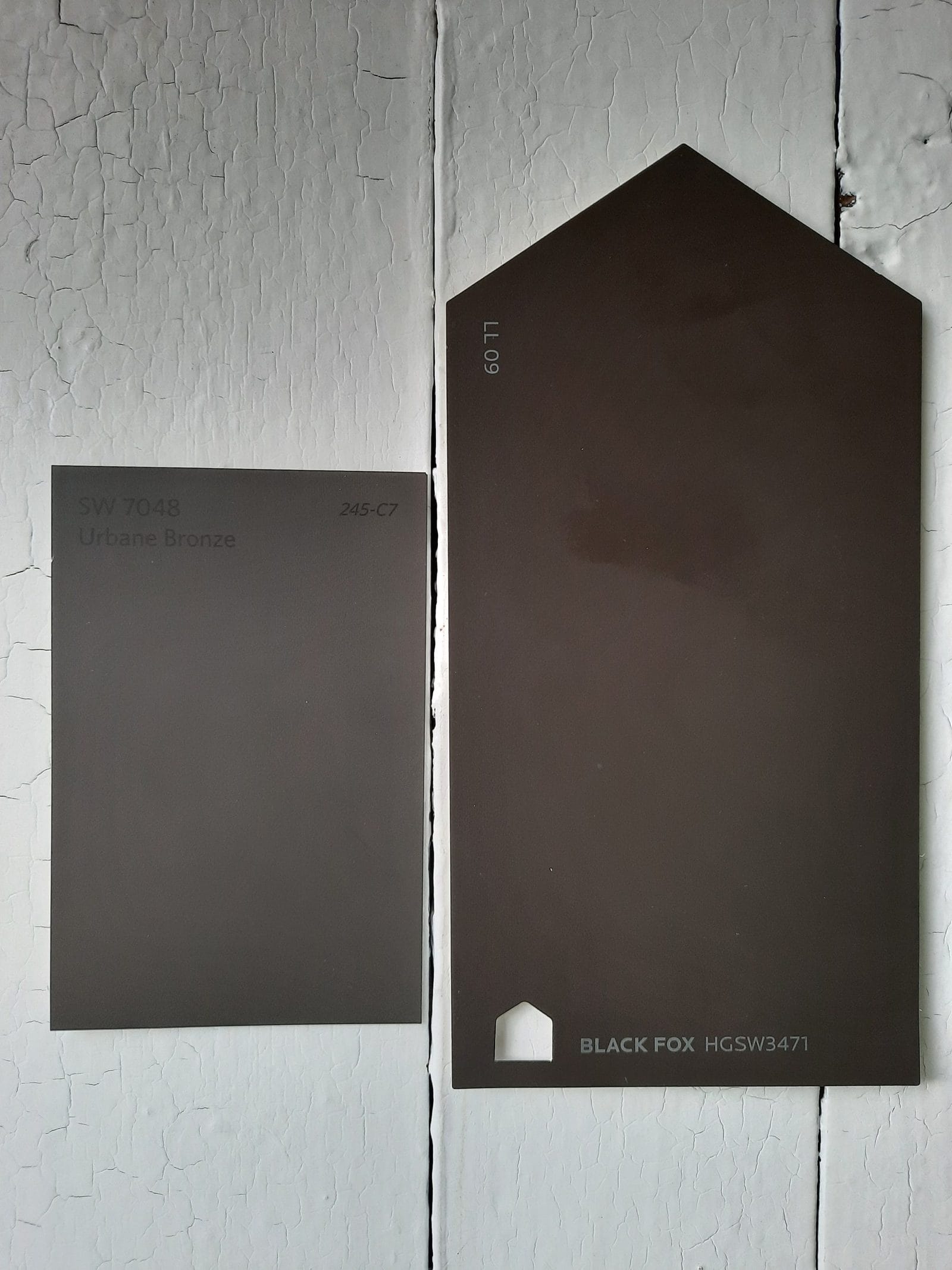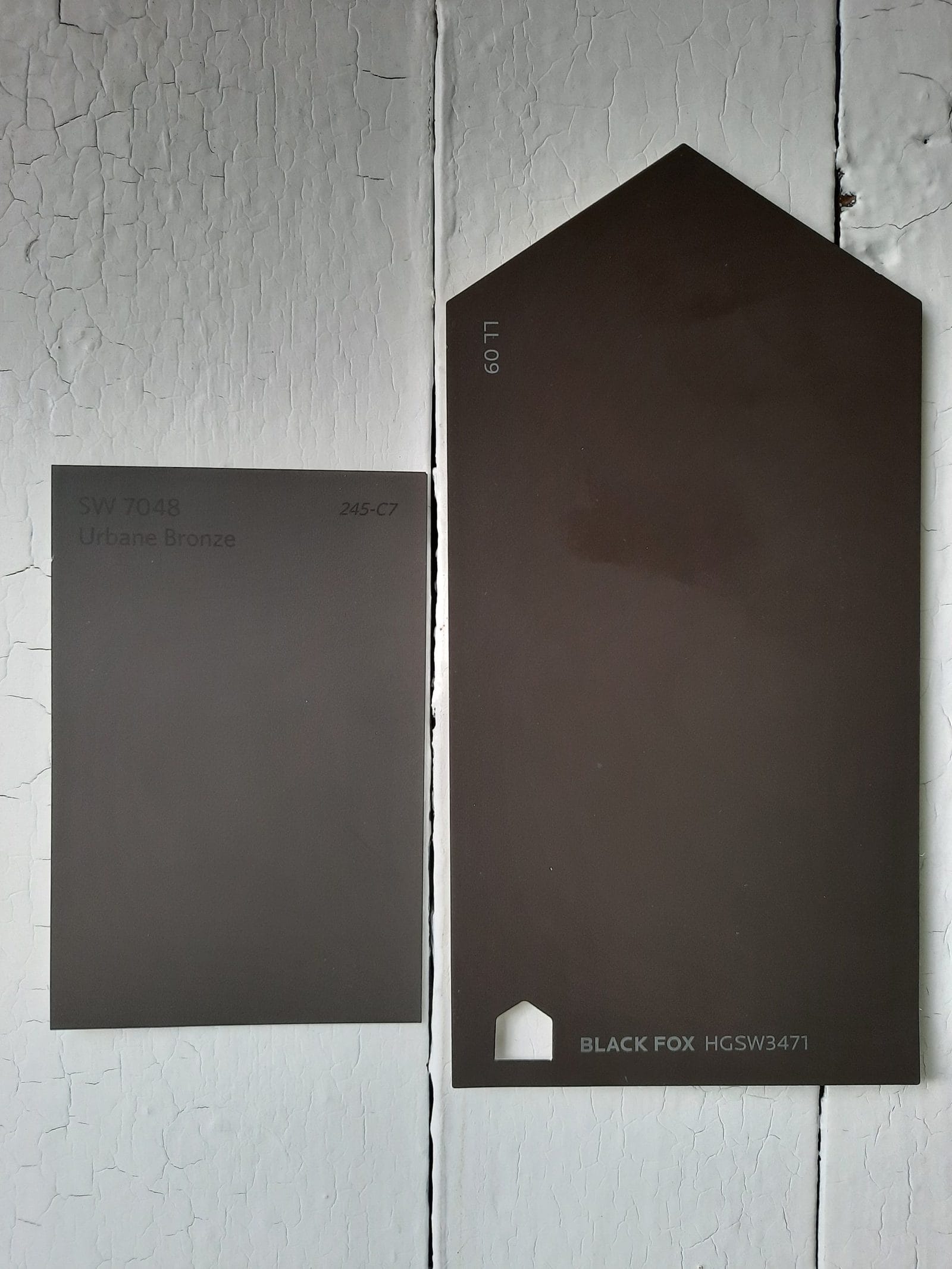 Black Fox is a color that's very similar to Urbane Bronze. Both have that base of chocolate brown, and both are quite dark. Black Fox has a LRV of 7, right next to Urbane Bronze's LRV of 8. Oddly enough, Black Fox actually appears slightly darker when you get it right next to Urbane Bronze. This is because it doesn't have that grayish cast that Urbane Bronze does.
Urbane Bronze vs Iron Ore by Sherwin Williams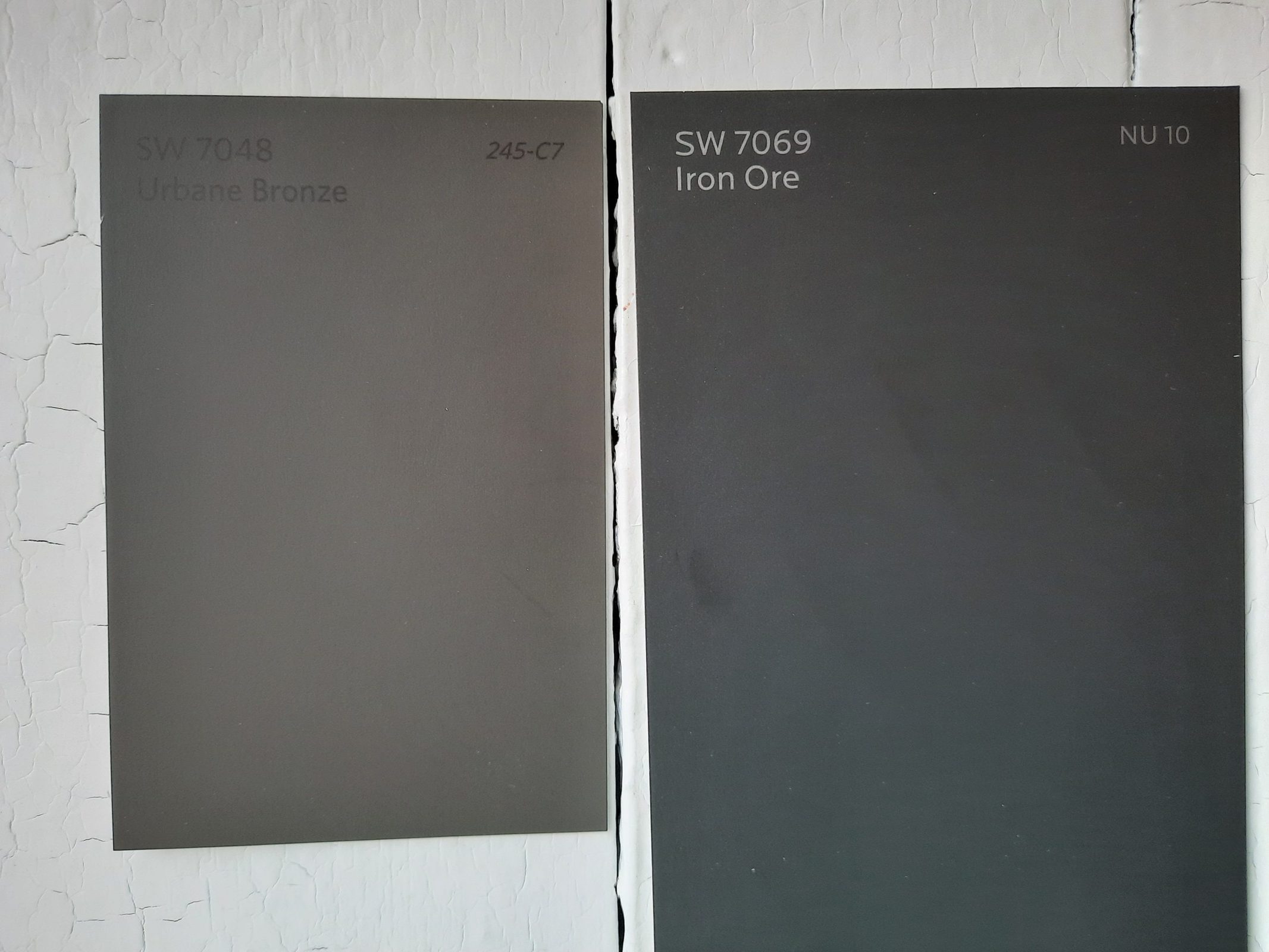 Iron Ore is an extremely dark charcoal gray. Next to Urbane Bronze, it looks black. Its LRV of 6 is just two notches darker than Urbane Bronze. Iron Ore is a good choice if you're looking for a black that has some undertones and relief to it.
Urbane Bronze vs Thunder Gray by Sherwin Williams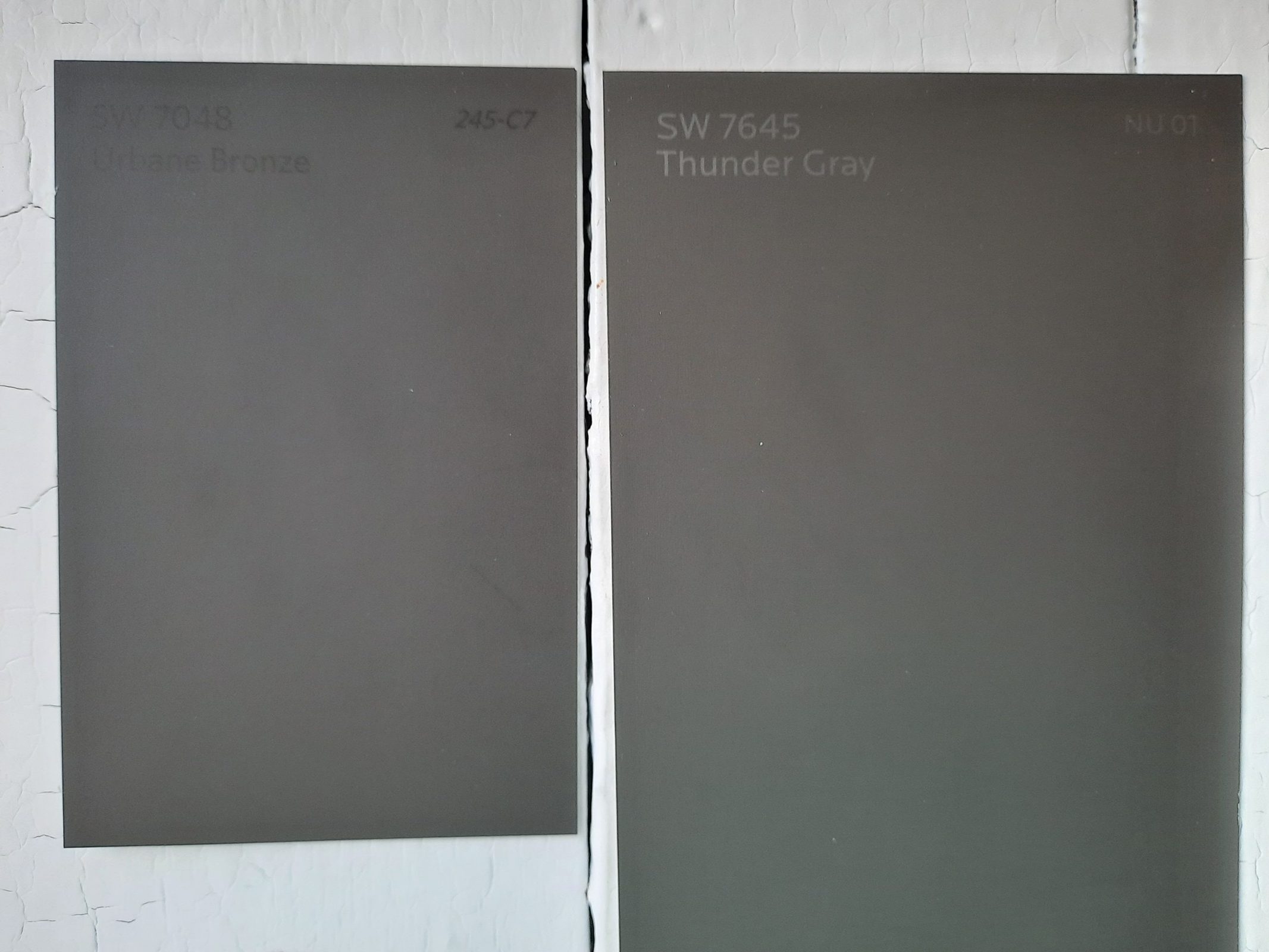 Thunder Gray is another color that's very close to Urbane Bronze. Both are very dark brown colors blended with gray. Thunder Gray is slightly cooler and has a grayer cast to it than Urbane Bronze does. It has a comparable LRV of 9 to Urbane Bronze's 8.
Final Thoughts
Urbane Bronze is an interesting neutral that offers an alternative to gray, with both warmth and depth. While its low LRV can make it dark and intense, careful planning can balance this color to let it make a strong statement in your space without overwhelming it. Urbane Bronze is a great choice for spaces where you want to bring nature in, as well as minimalist and Scandinavian-inspired styles. What will you express with Urbane Bronze?