Decorated Life is reader-supported. When you buy through links on our site, we may earn an affiliate commission. Learn More
Should a Bathroom Be Fully Tiled?
Remodeling a bathroom is as nerve-wracking as it is exciting. Every time you make a decision, another is right around the corner.
Should you use vinyl or tile on the floor? What color scheme should you go with? How big of vanity can you fit?
And a big one – should you fully tile your bathroom?
While the short answer is no, you don't need to fully tile your bathroom; you can. The choice comes down to priorities and personal preference.
Here's what to consider.
When and Where to Use Tiles in the Bathroom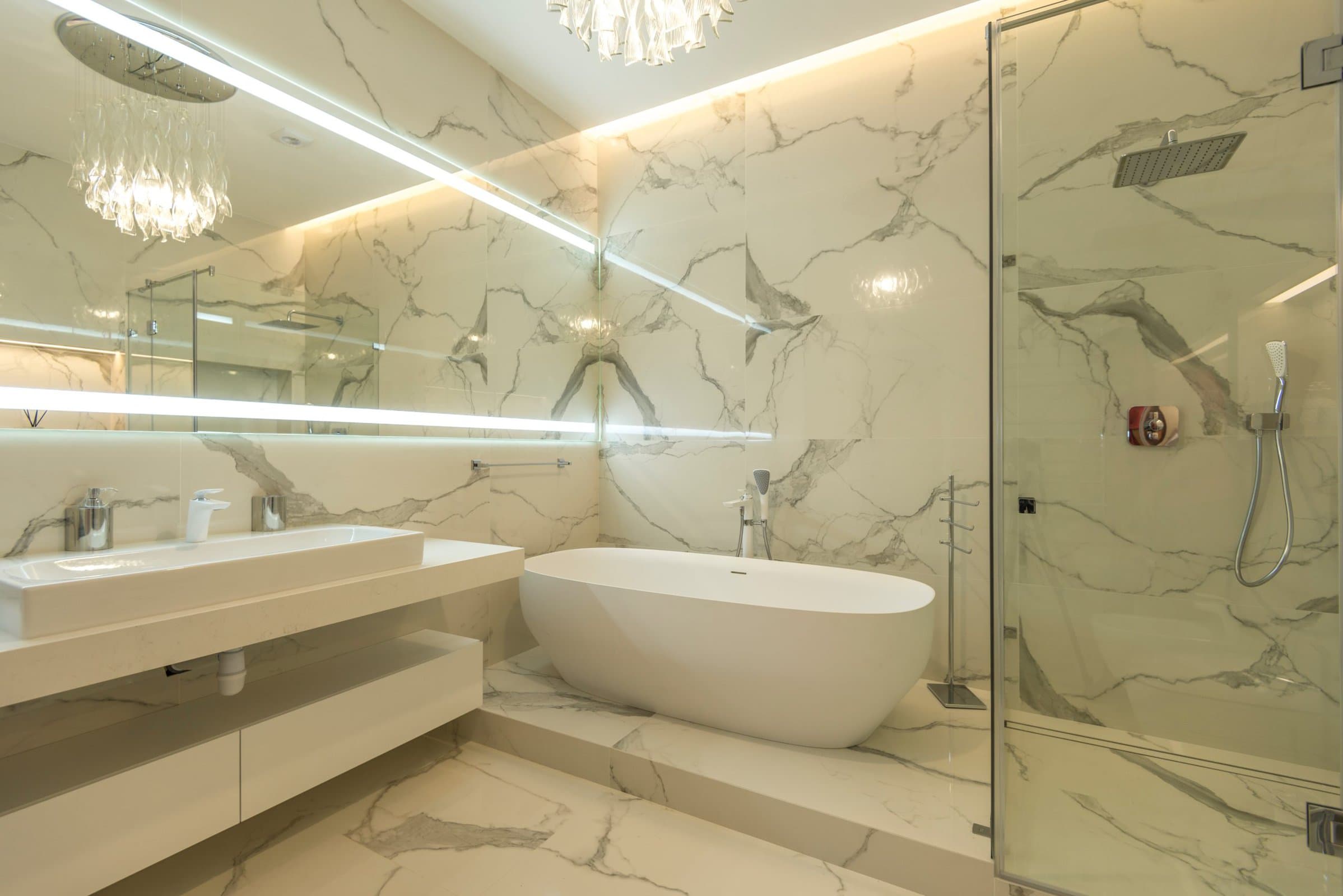 Traditionally, bathroom contractors have put tile on areas most likely to come into direct contact with water.
The tiles served as a waterproof barrier – which is why it's common to see tiles halfway up the wall in older homes. 
But now, thanks to technological advances, we have materials like waterproof drywall.
Instead of tile, you can waterproof your bathroom by using purple or green drywall. Green drywall is water-resistant, while purple drywall is water, mold, and mildew resistant.
You'll still want to use another waterproof barrier, like tiles or fiberglass panels in areas like showers.
Do You Need to Tile Behind a Toilet?
As long as you have water-resistant drywall in your bathroom, there's no need to tile behind the toilet. The benefit of doing so would be an extra layer of protection, but there's also a big drawback – if you need to access plumbing behind the toilet, the tiles will be an obstruction.
The Pros and Cons of a Fully-Tiled Bathroom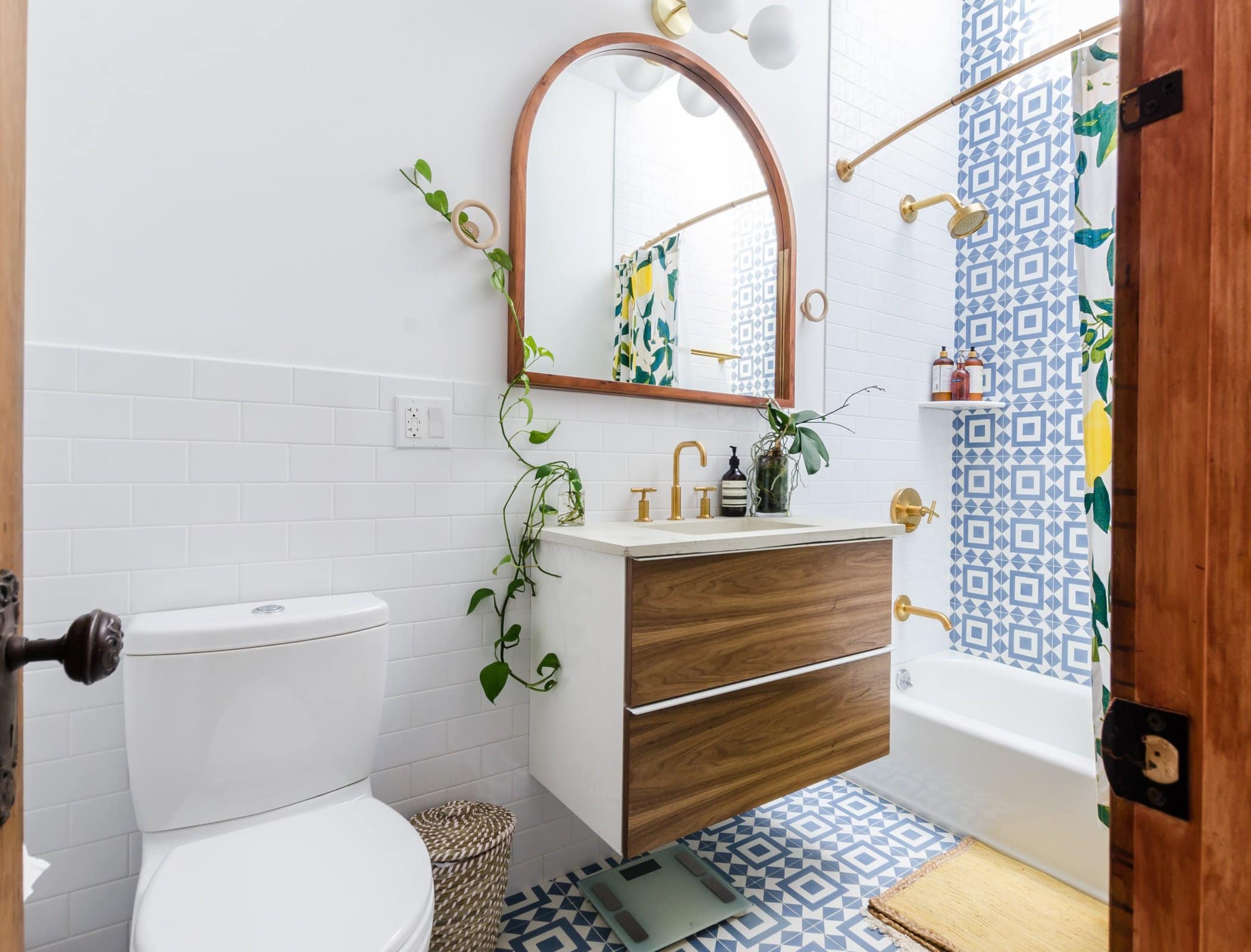 If you're having a hard time deciding whether fully tiling your bathroom is a good idea, here are the pros and cons:
The pros of having a fully tiled bathroom:
Waterproof barrier – Covering your walls in tiles creates a waterproof barrier, preventing your drywall from soaking up moisture.
Aesthetically pleasing – Adding tiles to your walls makes a big statement in the bathroom.
Easy maintenance – Since tiles have a hard surface, they're easy to clean.
The cons of a fully tiled bathroom:
Expensive – Adding tile to your walls is a significant expense, especially in a large bathroom.
Hard to access plumbing or electrical – If you need to access plumbing or electrical work behind the walls, it will be harder to do.
You can't easily change the style – If you fully tile your walls, you're committed to the style. Tiles are not an easy switch out, like paint, for example. And even if you love your tiles now, you might not in two years.
Fully-Tiled Bathroom Examples
If you're struggling to decide whether or not to fully tile your bathroom, here's an idea of how it might look.
Use a Unique Blend of Tiles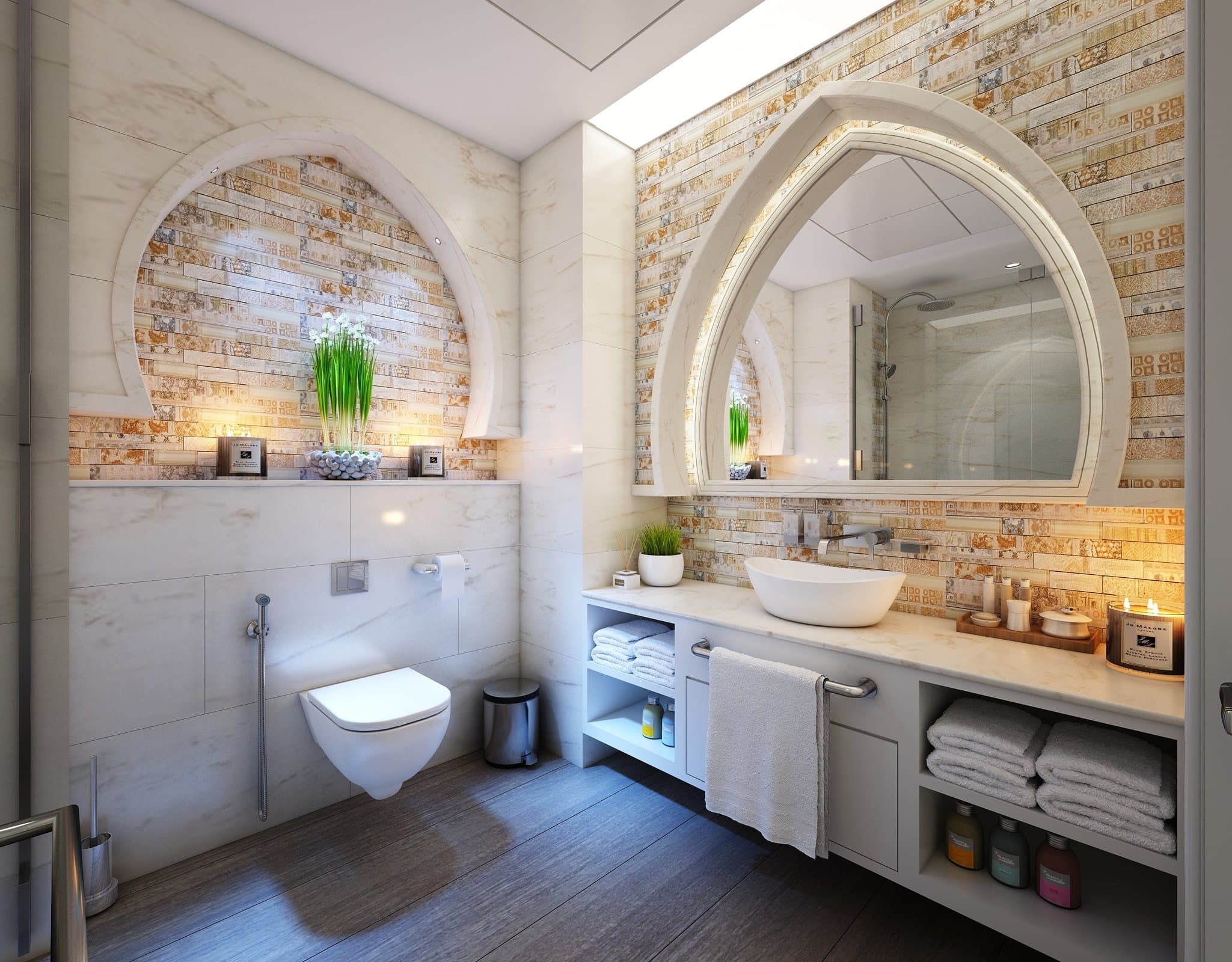 One of the most significant benefits of fully tiling your bathroom is that you can combine styles to create a one-of-a-kind look.
In this bathroom, the designers combine a simple marble tile with a brick style. The result is a bathroom full of texture and personality.
Fill Your Bathroom with Subway Tile
If you don't want your bathroom tile to fall out of style, go with a simple white subway tile.
Subway tile is classic and remains in style even as other trends come and go. If you're worried about the cleanliness, skip the white grout and use a charcoal color instead.
Cover the Walls in Brown Mosaic Tile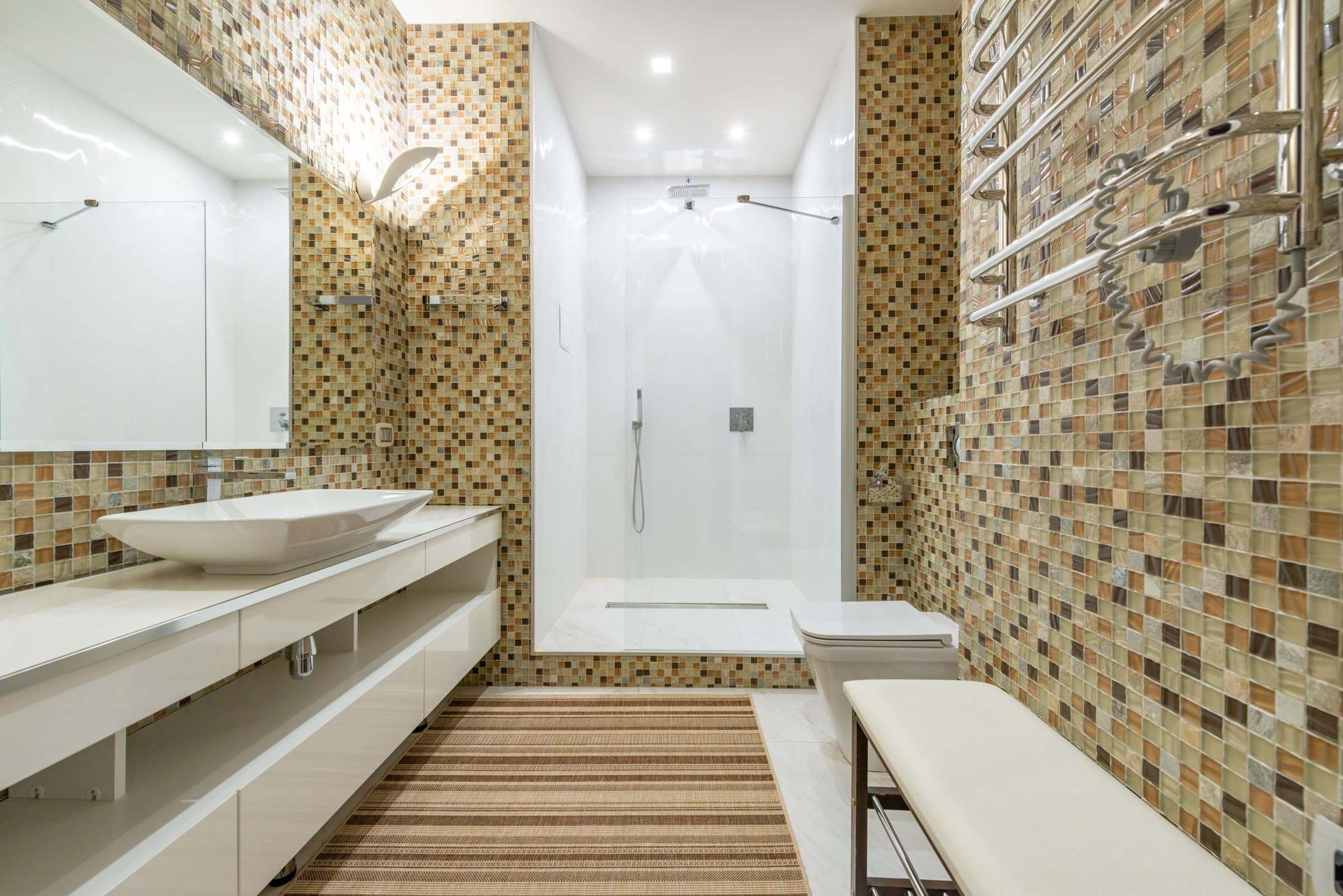 For a warm color scheme, consider using a glass mosaic tile full of brown, tan, and gold. Then, you can break up the look using a lighter color on the floor and in the shower.
A tile like this can work for many decor styles – modern, farmhouse, or traditional, depending on the rest of the room's material.
Try a Dark and Wood Tile for a Masculine Look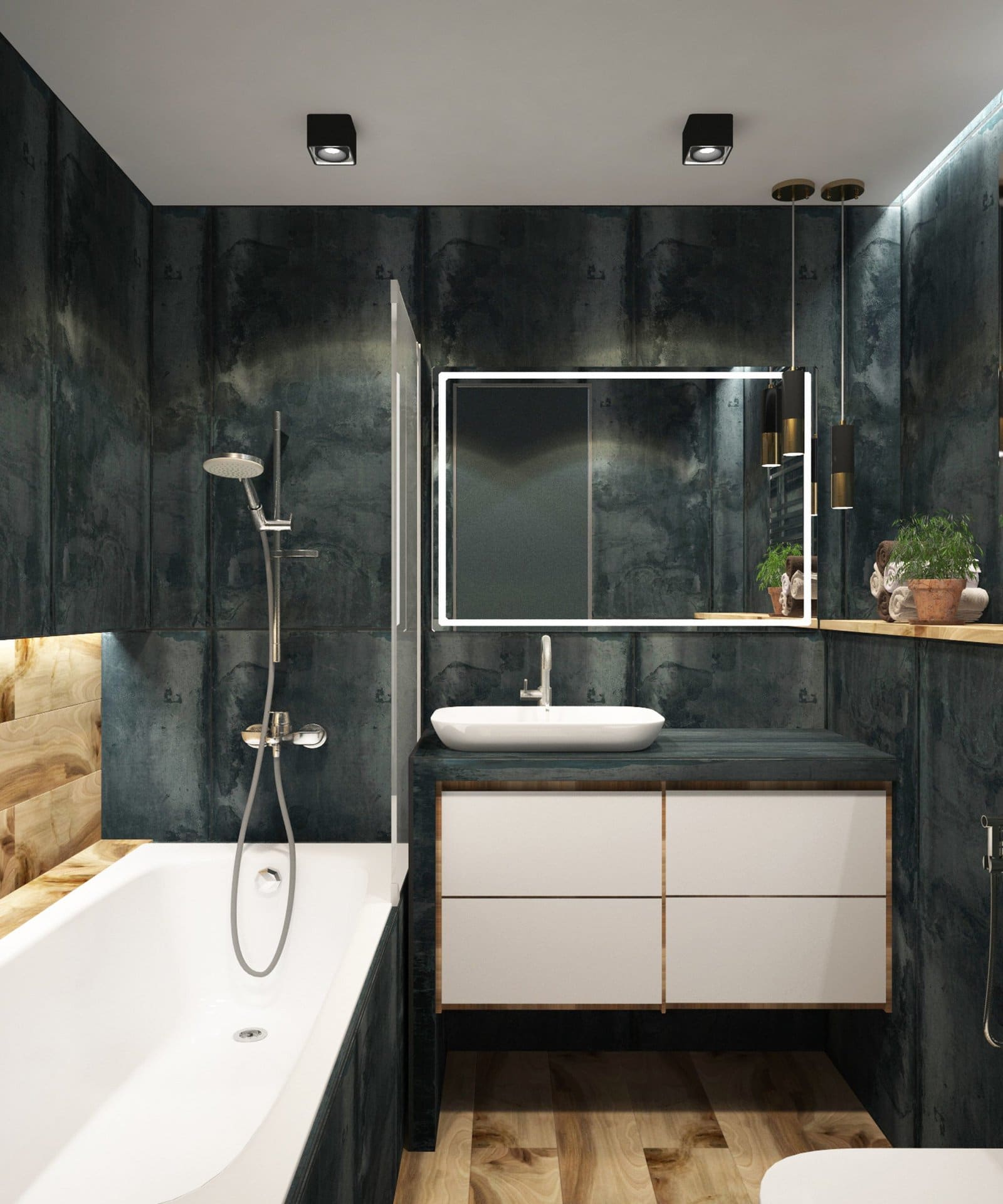 You can use a dark gray slate tile with a lighter wood tile for a modern, masculine style in the bathroom. The soft wood helps balance out the much darker wall.
If you want a dark tile on the wall but don't want your room to feel cave-like, incorporate a lighter vanity, floor material, or accent tile.
Create a Modern Focal Point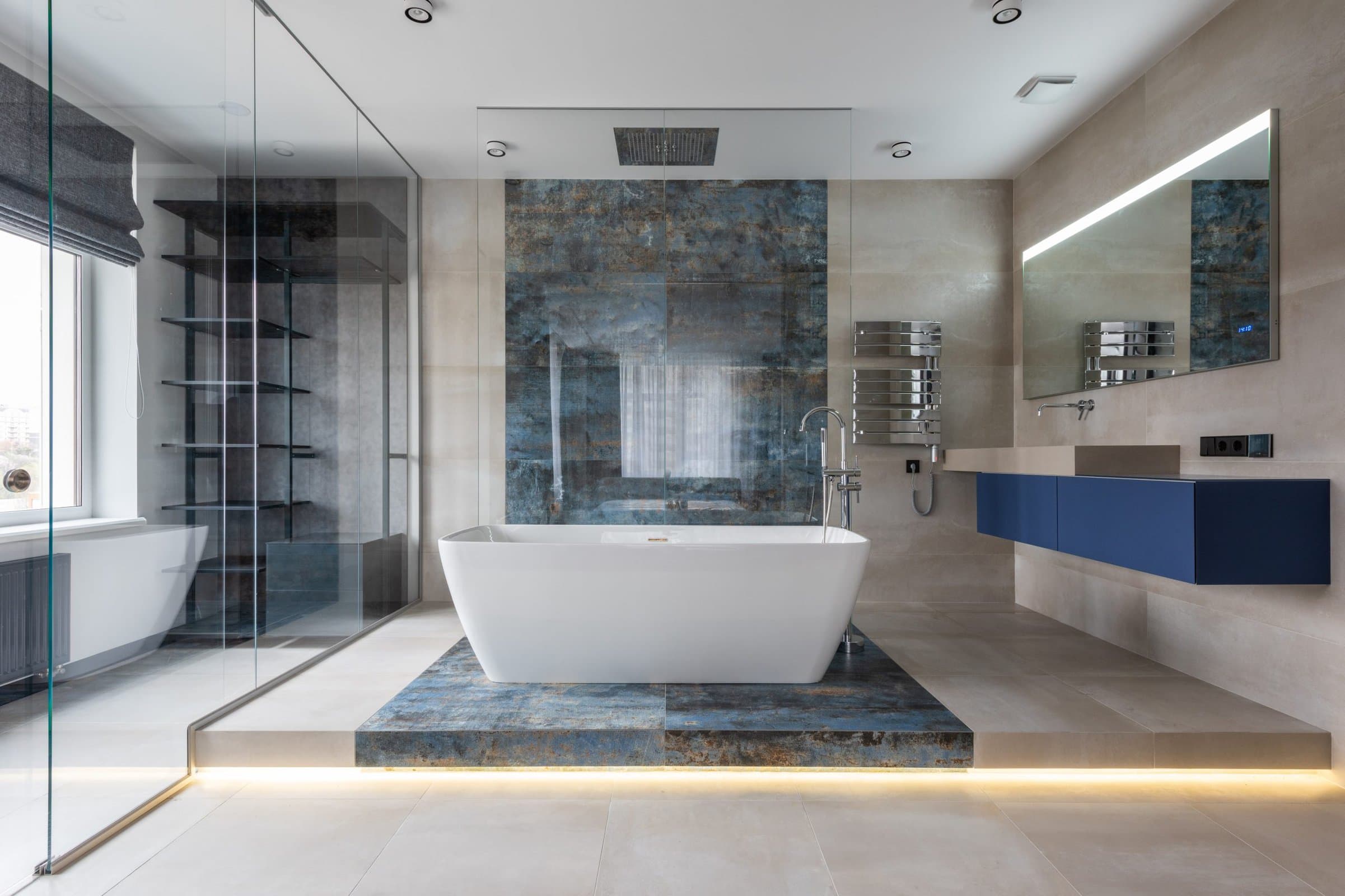 Consider a setup like this if you want to use a bold tile but don't want it to cover the entire room. A light neutral ceramic covers most of the wall while dark stone trails under and behind the bathtub.
A design like this creates a focal point.
Consider a Mix of Glass and Ceramic Tiles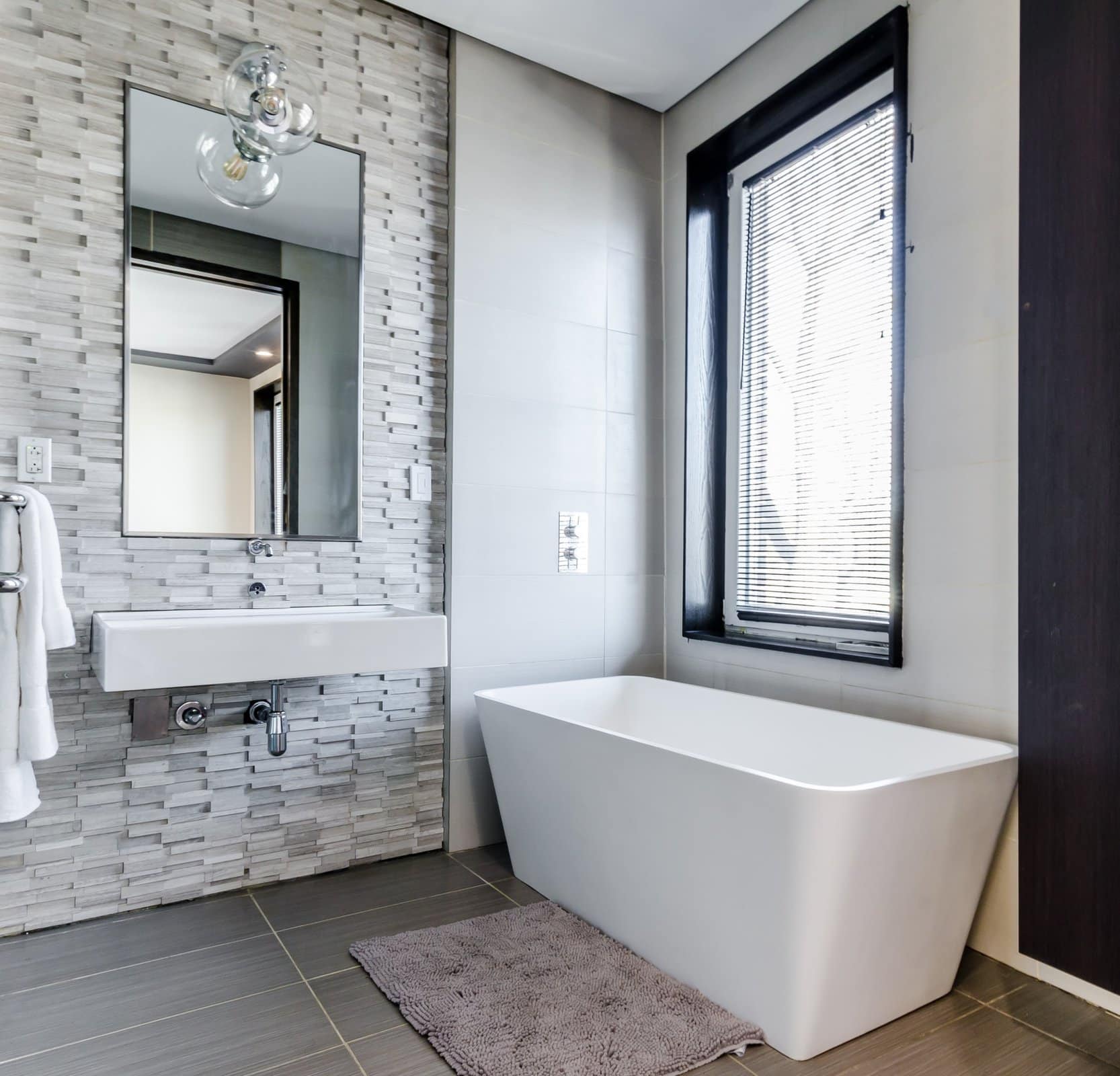 To get a spa-like feel in your bathroom, vary the type of tile you use but keep the color palette consistent. Consider a sizable smooth tile for the shower and a glass stacked tile for the vanity area.
Fully tiling your bathroom like this will break up the room and add texture.
Partially-Tiled Bathroom Examples
If you want to use some tile in your bathroom but don't want it clear to the ceiling, here are some examples of partially tiled bathrooms.
Design a Modern Bathroom with a Tiled Shower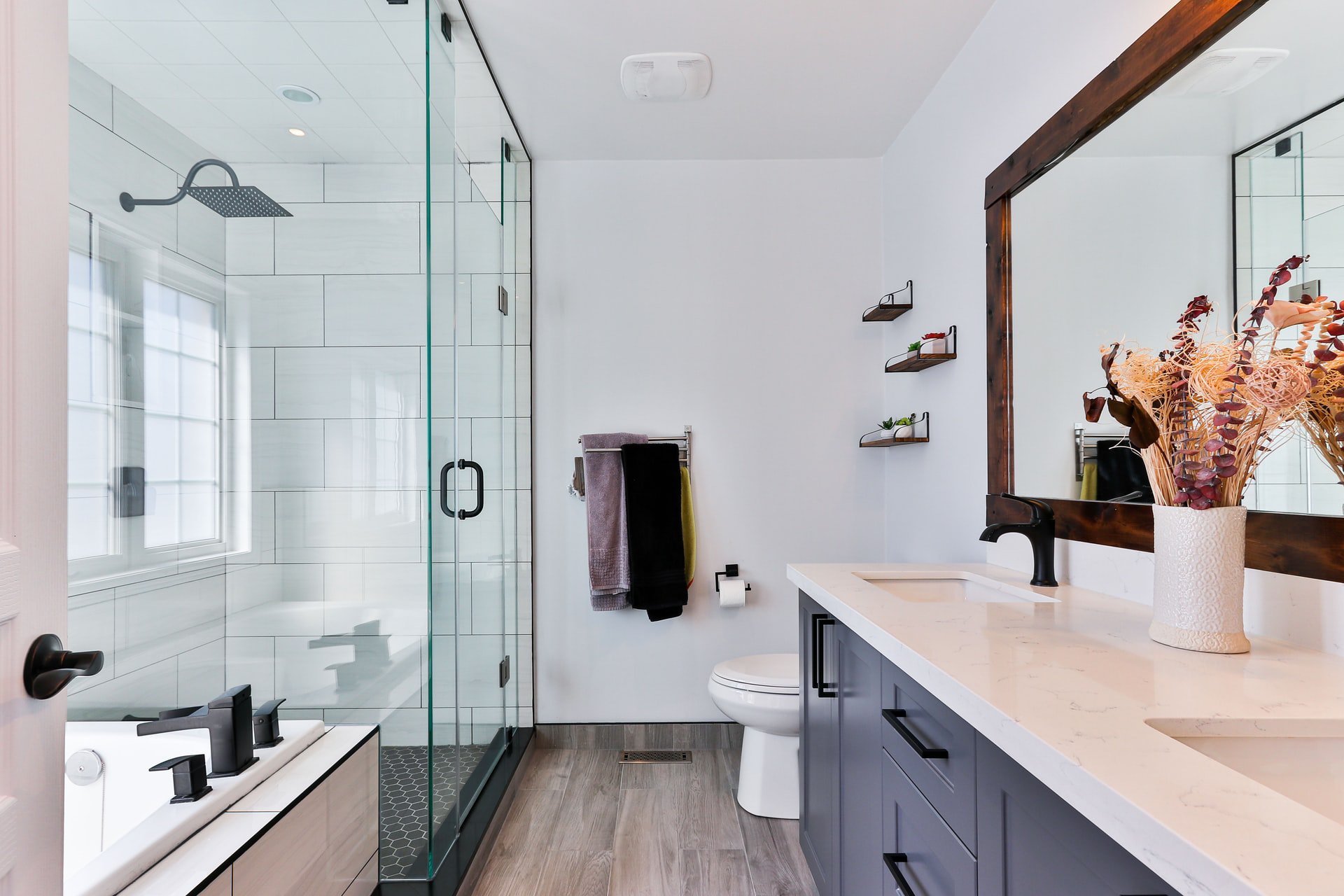 This bathroom features a large white tile in the shower only. It looks fresh and modern, paired with a wood-look tile floor, black hex tile floor, and blue vanity.
If you want to add tile to your shower and are looking for a safe bet, go with a large white ceramic tile or subway tile. These will never go out of style.
Get an Old World-Style Bathroom with Subway Tile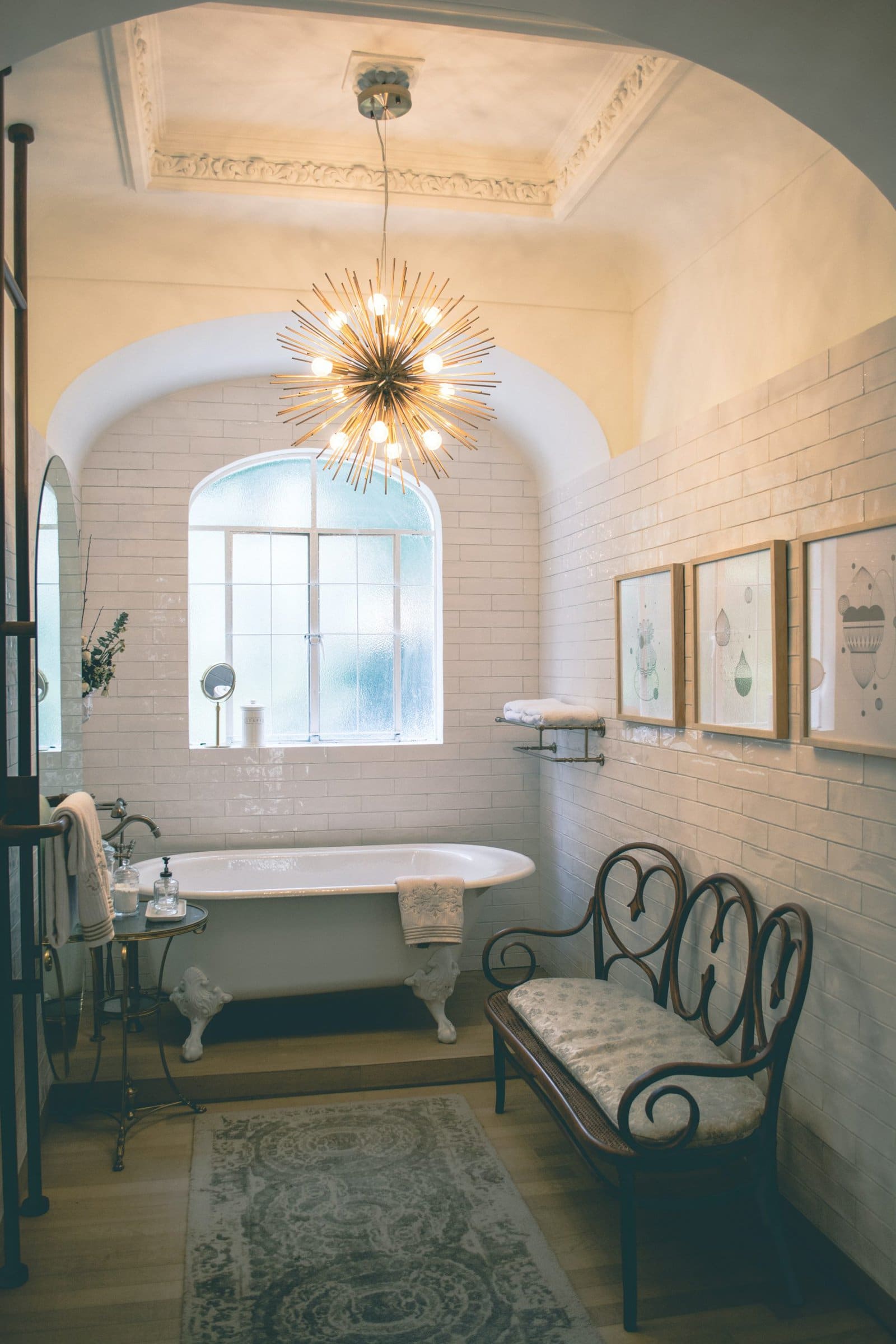 If you have a wall in your bathroom with a unique arch or slant, it's a prime candidate for tile. The tile can act as a decorative accent.
This home also features a subway tile that runs ⅔ up the wall on the remaining spaces. A partial tile allows for more design control since you can paint the untiled portion.
Create an Accent with Glass Tile and Trim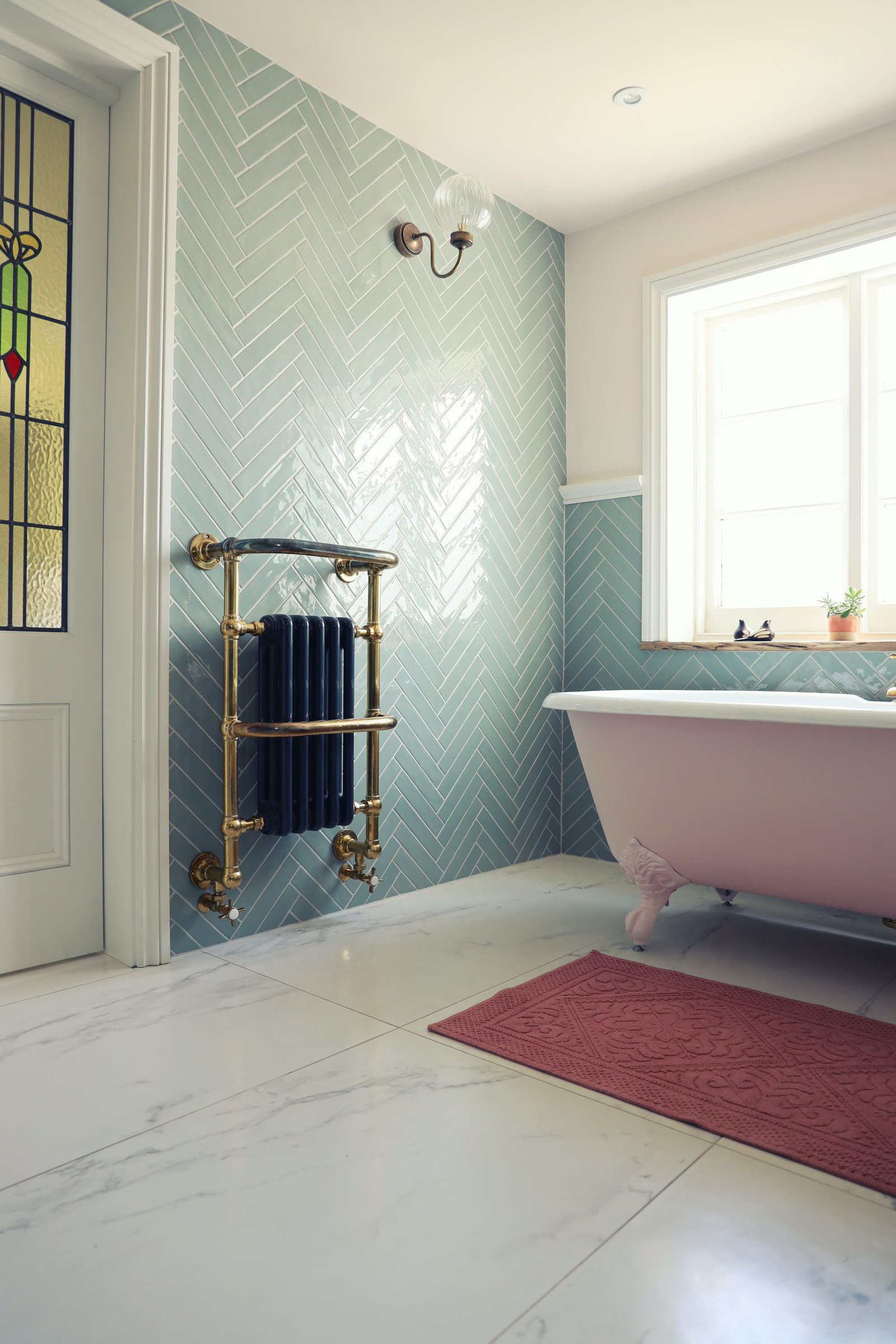 If you're looking for ideas on partial tile, consider adding a piece of trim molding where you stop. The addition of molding makes the break look purposeful.
You can also do like these homeowners and do an entire tile wall as an accent.
Put Tile Behind the Bathtub and Shower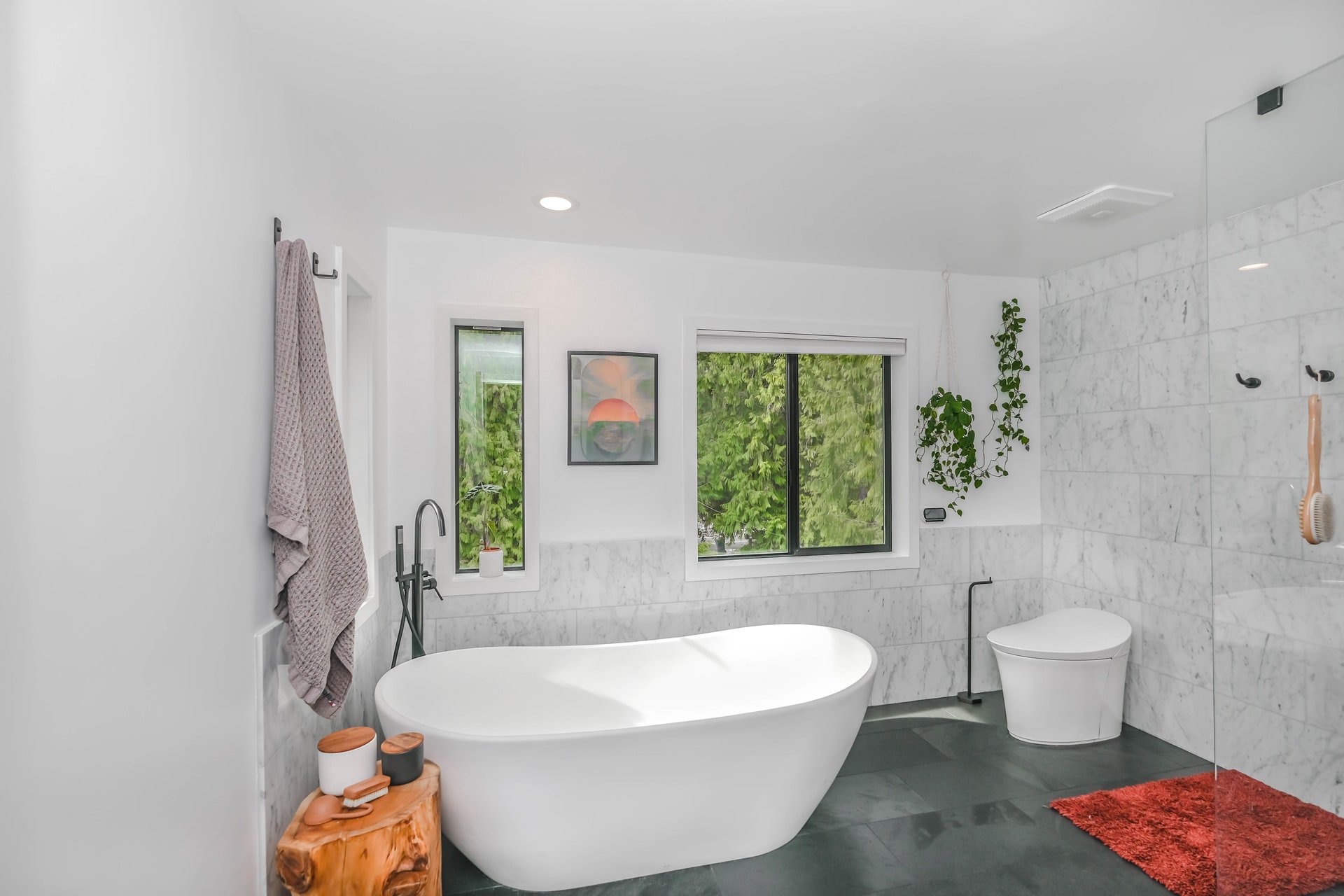 If you want to use tile as an extra layer of waterproofing in the bathroom, use it in your shower and carry tile halfway up the wall behind the toilet and bathtub.
Using tile in this way is a simple design that flows well.
Use a Neutral Tile on the Wall and Behind the Toilet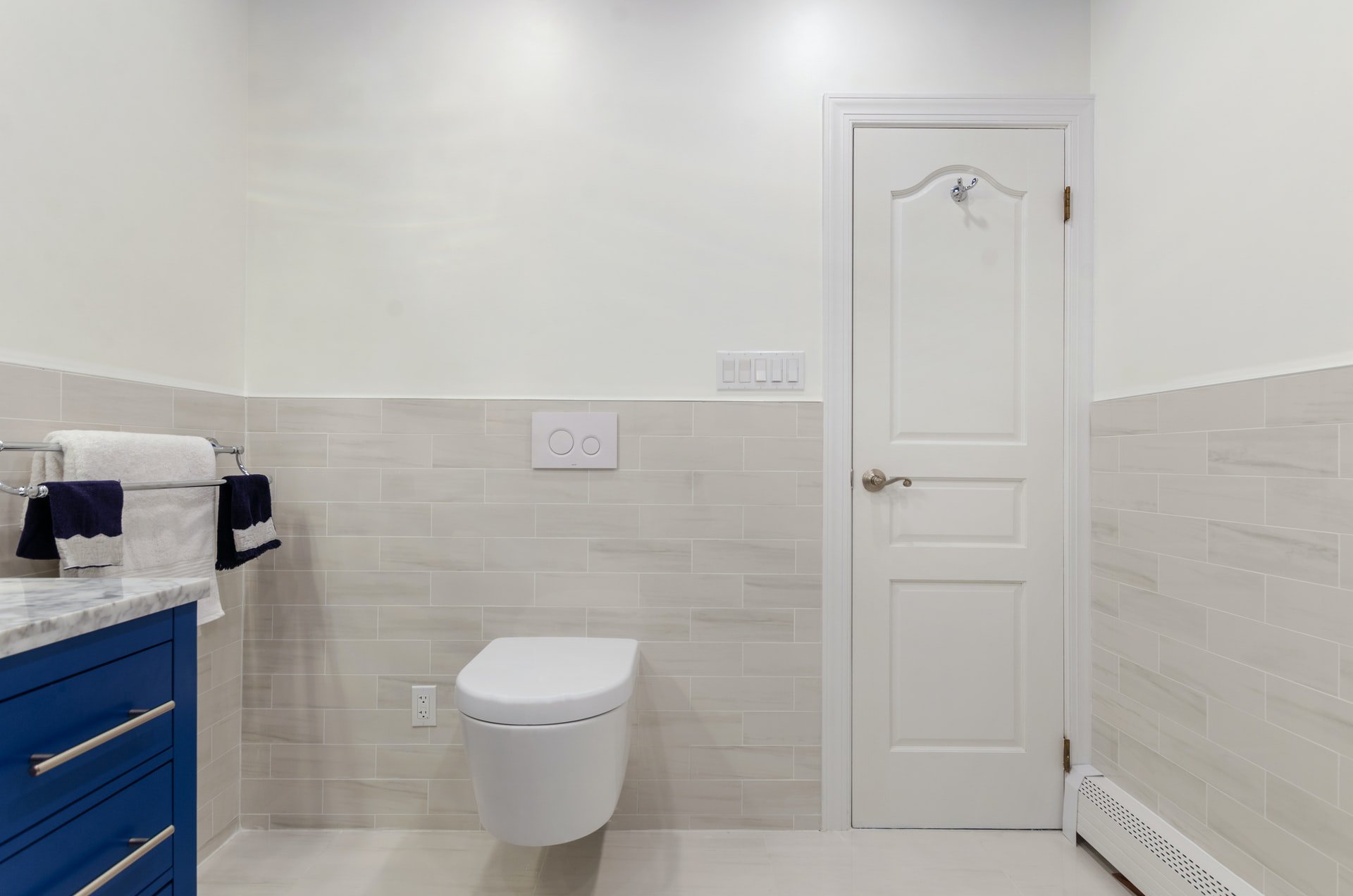 While it's tempting to buy tile trending at the moment, neutral tiles are the ones that you'll be less likely to grow tired of.
A neutral like this soft beige looks excellent in most design schemes, coordinates with all colors, and adds texture to the room.
Final Thoughts
Do you need to fully tile your bathroom? No, you don't. In the past, homeowners would add tile to the wall as an extra layer of waterproofing. Thanks to advances, like water and mold-resistant drywall, adding tile to the walls is no longer necessary.
Of course, you'll still want to use a tile or fiberglass surround in your shower, but using tile elsewhere comes down to personal preference.