Decorated Life is reader-supported. When you buy through links on our site, we may earn an affiliate commission. Learn More
15 Best Shutter Paint Colors for a Tan House
When you have a neutral color house, like tan, you have many options for what additional colors you can use to accent your home.
Shutters are the perfect opportunity to add pops of color to give your home an upgrade. Start by checking out these 15 best shutter colors for a tan house. The neutrality of tan makes it an ideal companion for shades of white, gray, green, blue, red, brown, black, and neutrals.
Spare White by Sherwin Williams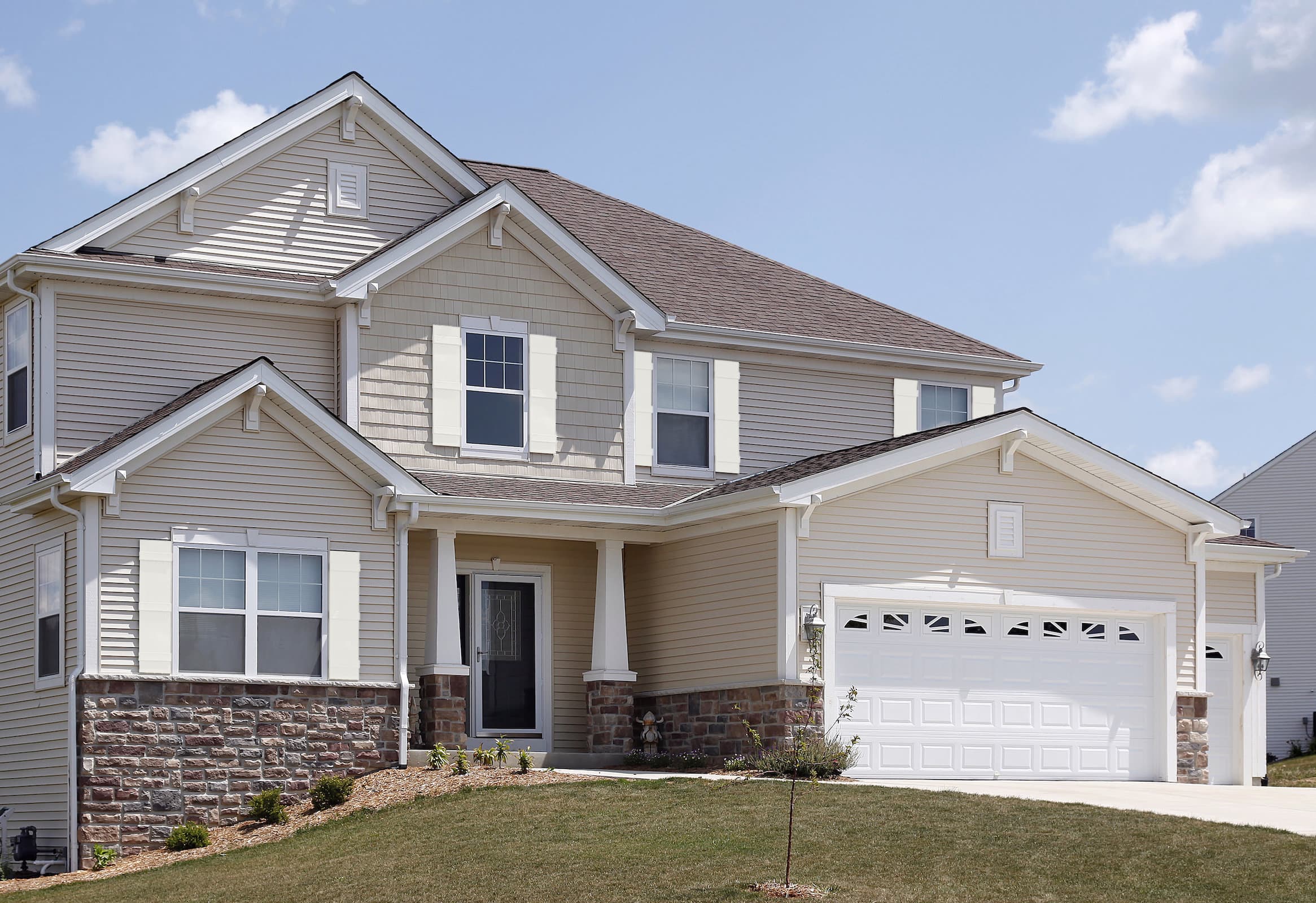 White is one of the easiest colors to choose for decorating, as it goes with any color or style of architecture. And white can come in many different shades, depending on the tinted pigments.
Spare White is a smoky shade of white, with cool gray and brown pigments that give it enough shadows to keep it from being too sterile. When used for tan house white shutters, the white can pick up on the tints of the siding to look darker.
Online by Sherwin Williams
Another choice of shutter colors for a tan house is gray. Online is a heavily pigmented gray that balances against the earthy brown in tan.
When put next to each other, you can notice that the gray shutters can start to exhibit hints of brown that make the shutters look darker. But, at the same time, it makes the tan look slightly lighter.
Sea Serpent by Sherwin Williams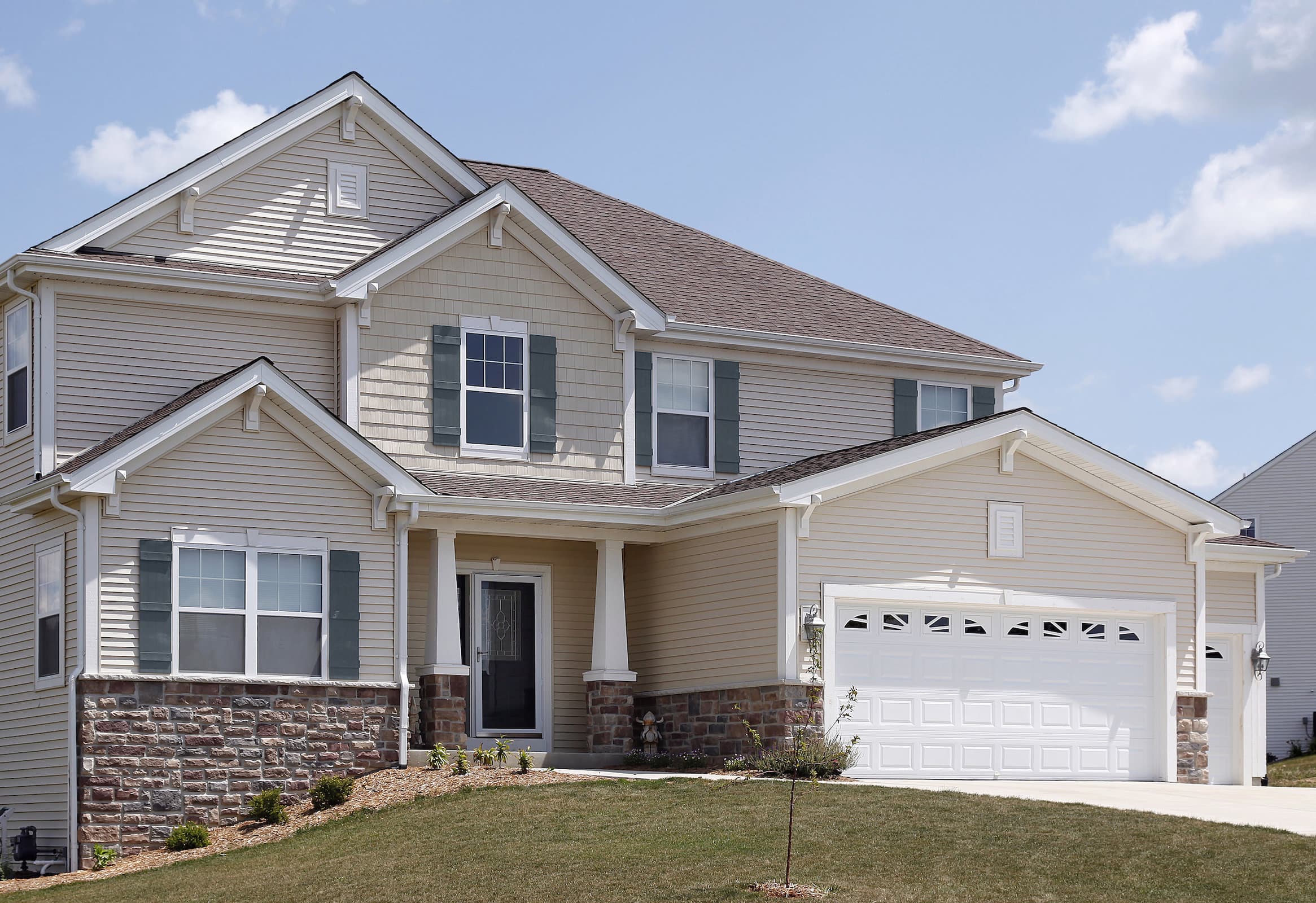 Go with shutters in a dark, dramatic color for a more dramatic curb appeal against a tan house. Sea Serpent is a rich saturated shade that blends blue and black.
You get a pleasing nuance that pops with curb appeal when you paint your shutters an elegant dark shade like Sea Serpent. Tone the look down with a softer neutral like white for the trim. 
Enduring Bronze by Sherwin Williams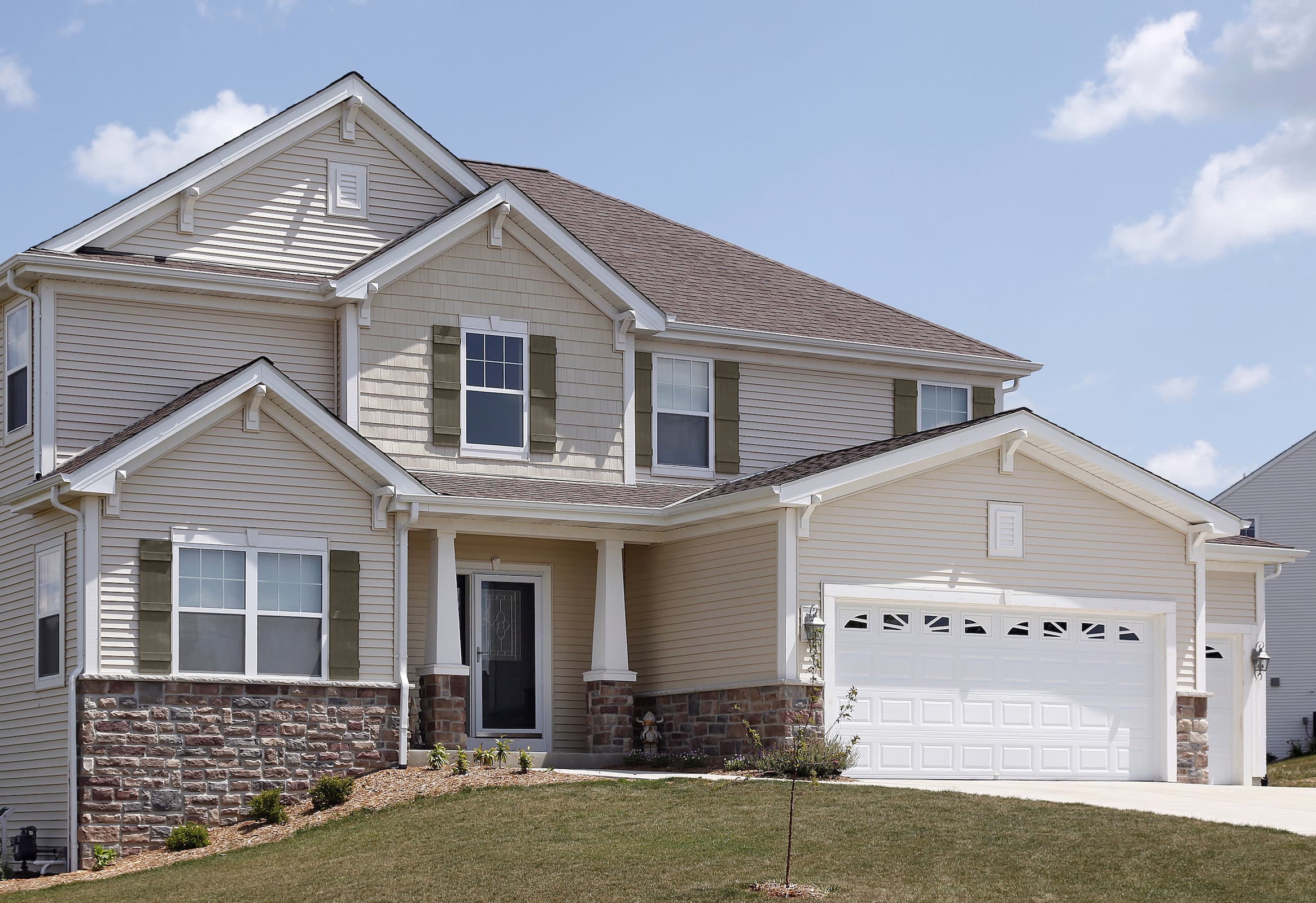 For a more rustic, subdued earthy palette, try matching tan house with brown shutters painted in dark brown.
Enduring Bronze is a heavily tinted brown with pigments of gray and black to give it some brassy undertones. The brown can look slightly olive when you use it with a tan house and red brick skirt with a dark red-brown roof.
Dress Blues by Sherwin Williams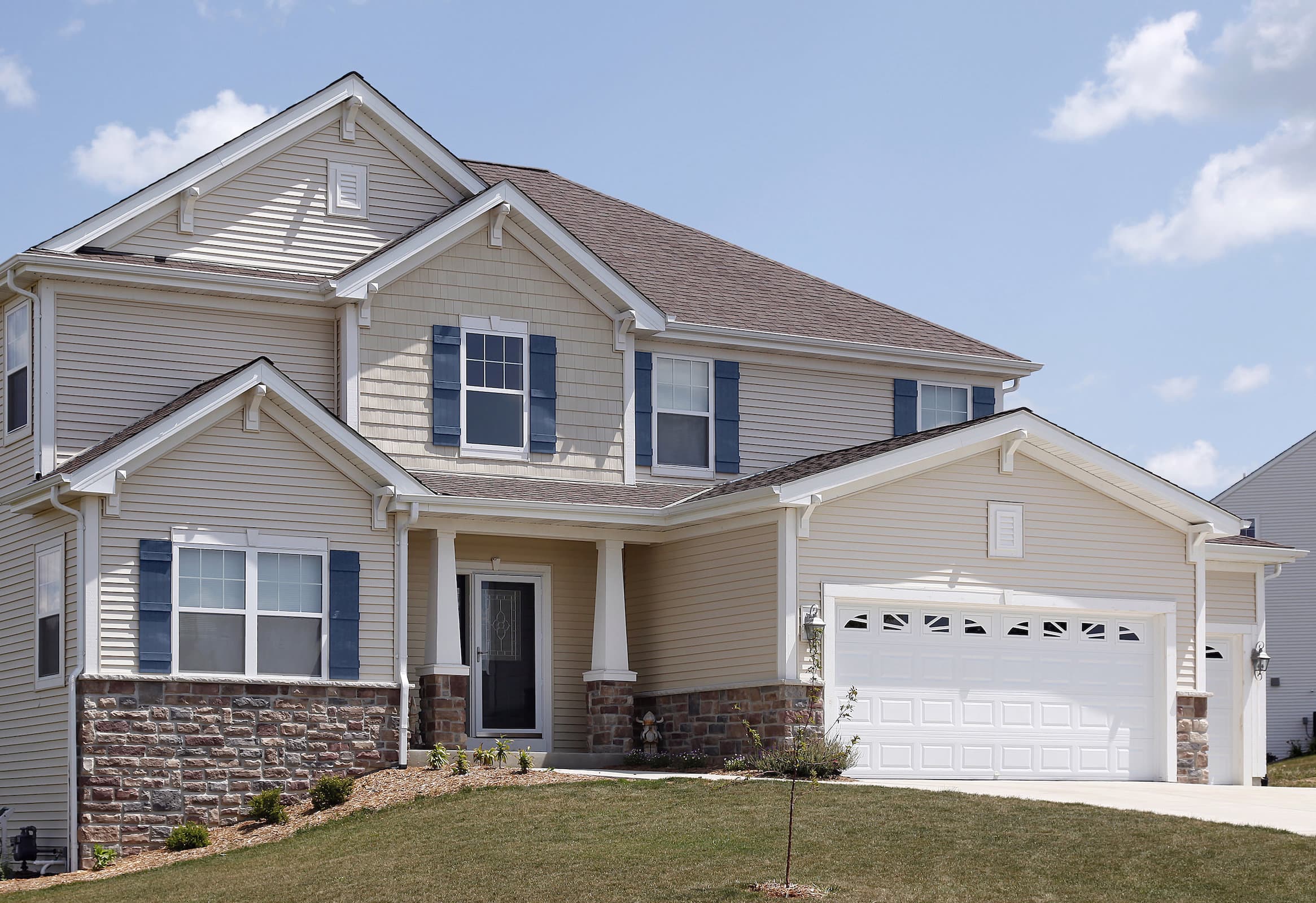 A tan house is the perfect neutral background for using a bold color choice for the shutters. However, a rich, saturated blue like Dress Blues is an incredibly brilliant shade that can breathe life into a tan house with blue shutters.
The boldness of this blue adds fascinating shadows to the tan exterior to pull out hidden tints that can turn your color into a surprising taupe.
Tumblin' Tumbleweed by Sherwin Williams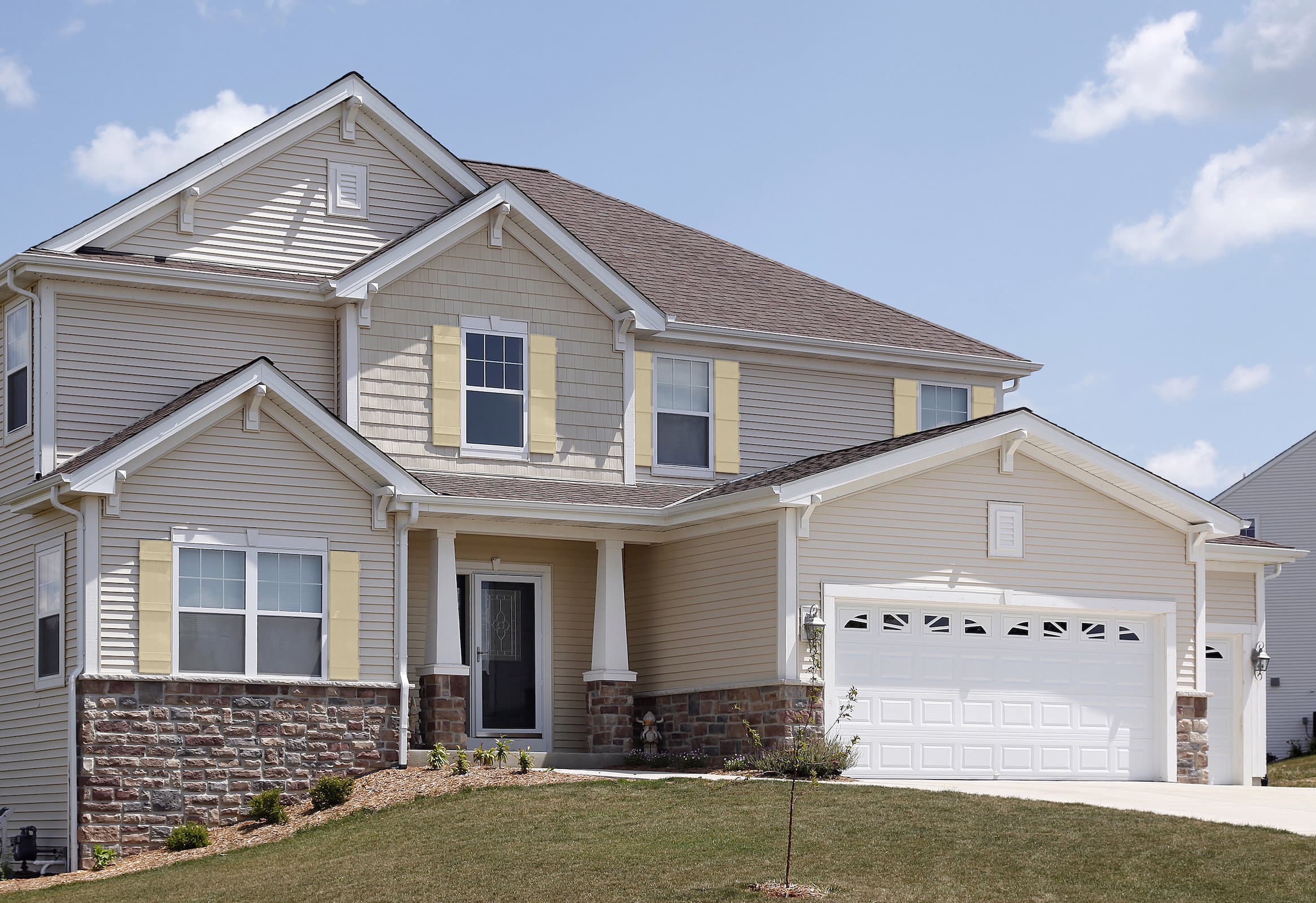 Tumblin' Tumbleweed is a darker-toned tan that can add contrast to a lighter shade of tan with taupe nuances. It makes an excellent choice of shutter colors for a beige house.
Tumblin' Tumbleweed brings to mind dusty, sandy deserts with a heavy brown base with the slightest hints of pink.
Gothic Arch by Benjamin Moore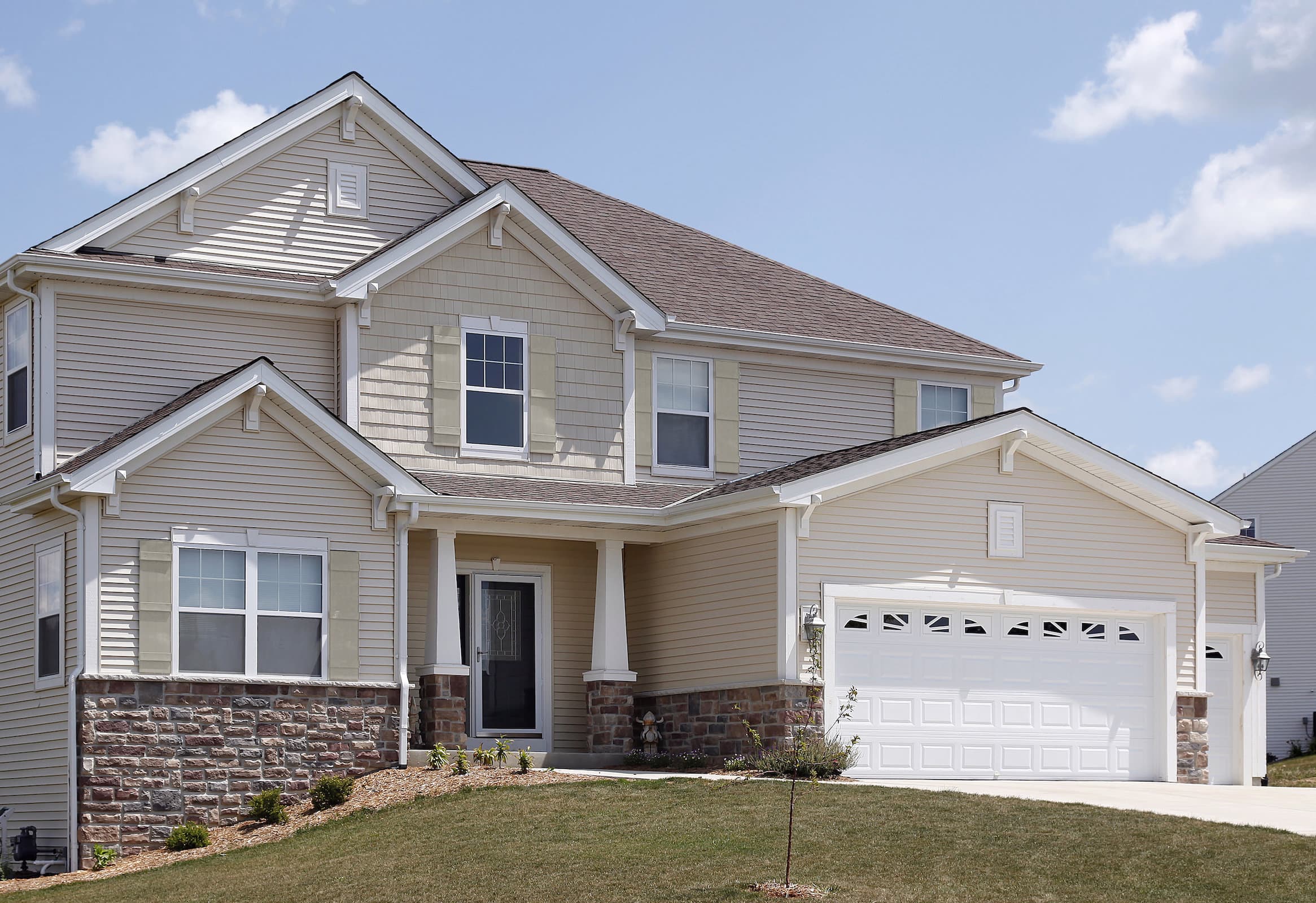 You can choose a dark neutral like Gothic Arch for a contrast against the lighter neutral of a tan house. With this more saturated shade, you get a warm tint that throws off shadows to give the tan a pink hue.
Gothic Arch is a medium-toned shade of gray with mauve and yellow pigments that make this color change in tints.
Genesis White by Benjamin Moore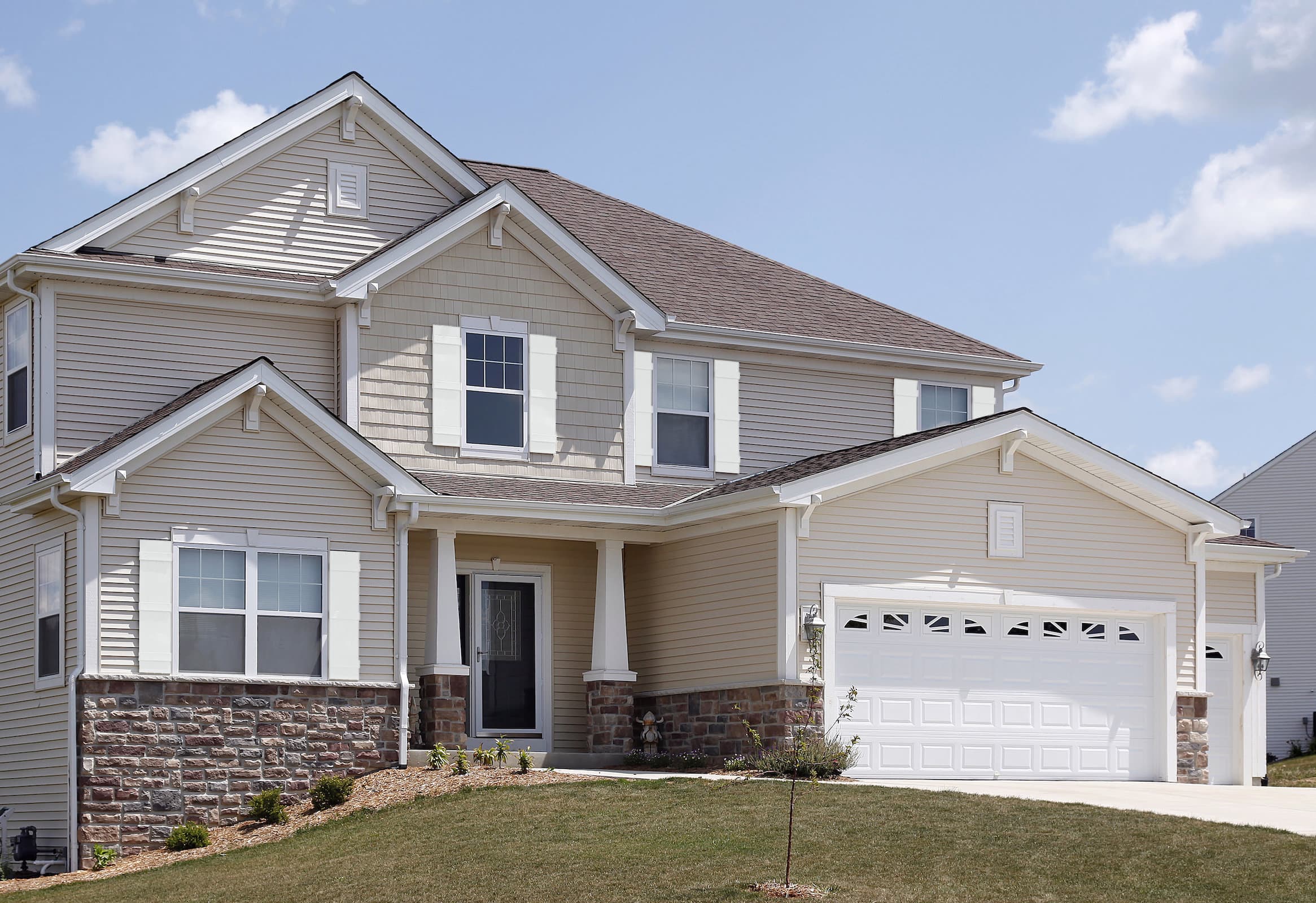 For a bright, light contrast, pick a shade of white like Genesis. This cool-toned shade has the faintest notes of gray pigmentation to give it a slight tint that keeps your shutters from looking washed out.
Pairing this tinted white with a tan house gives you a subtle, classic combination that improves your curb appeal without infuriating HOAs or nosy neighbors who complain about "loud" colors.
Carter Plum by Benjamin Moore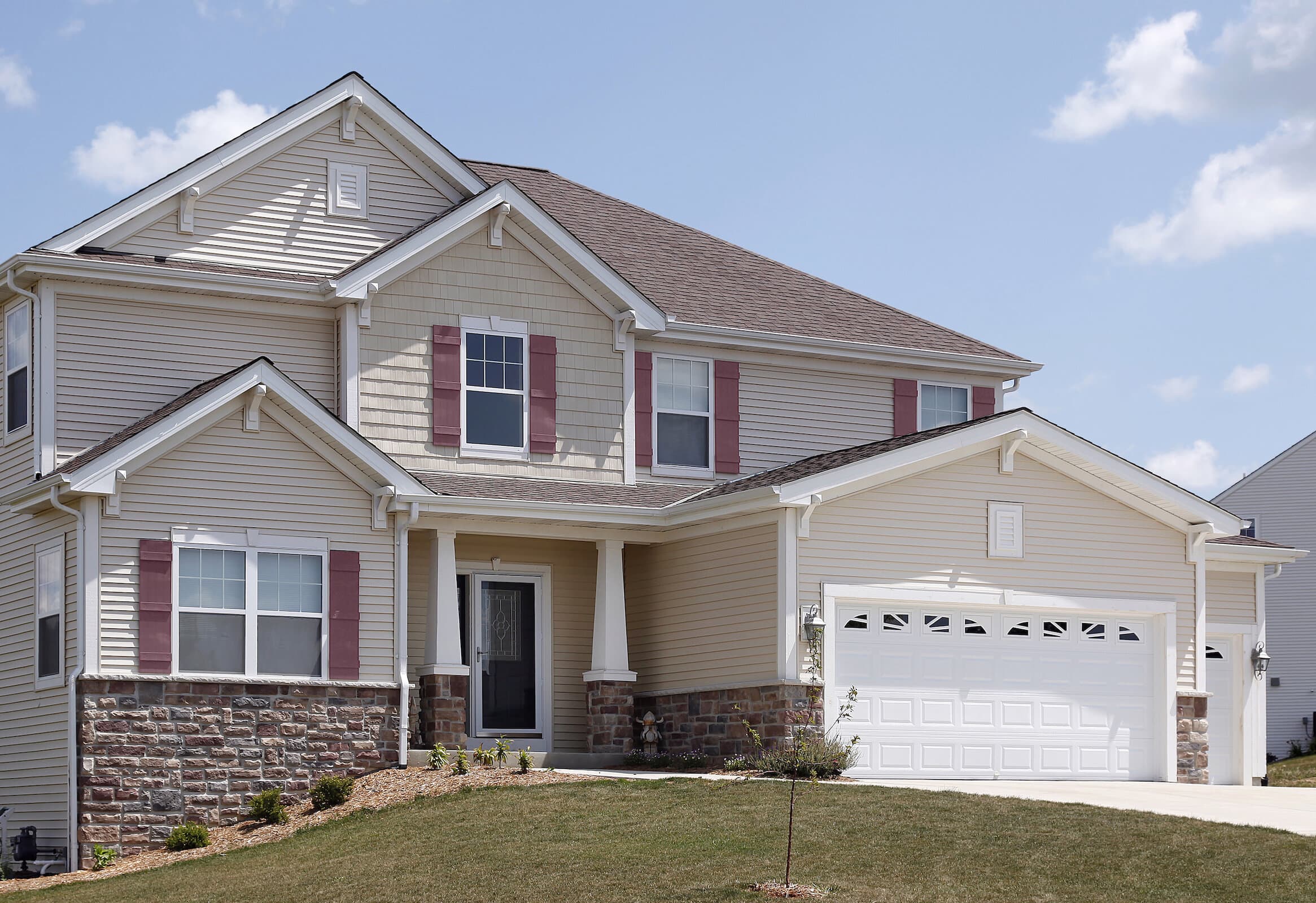 Consider a bold shutter color choice like red for a more refined look. If the sight of cherry or blood-red gives you hives, try a blended red instead.
Carter Plum can be the perfect shade of red to use with a tan house. This color is a deep, rich red with heavy influences of brown and purple to tone down the vibrancy. Darker than burgundy but with more richness than maroon, Carter Plum is as sweet as the fruit from which it's named.
Graphite by Benjamin Moore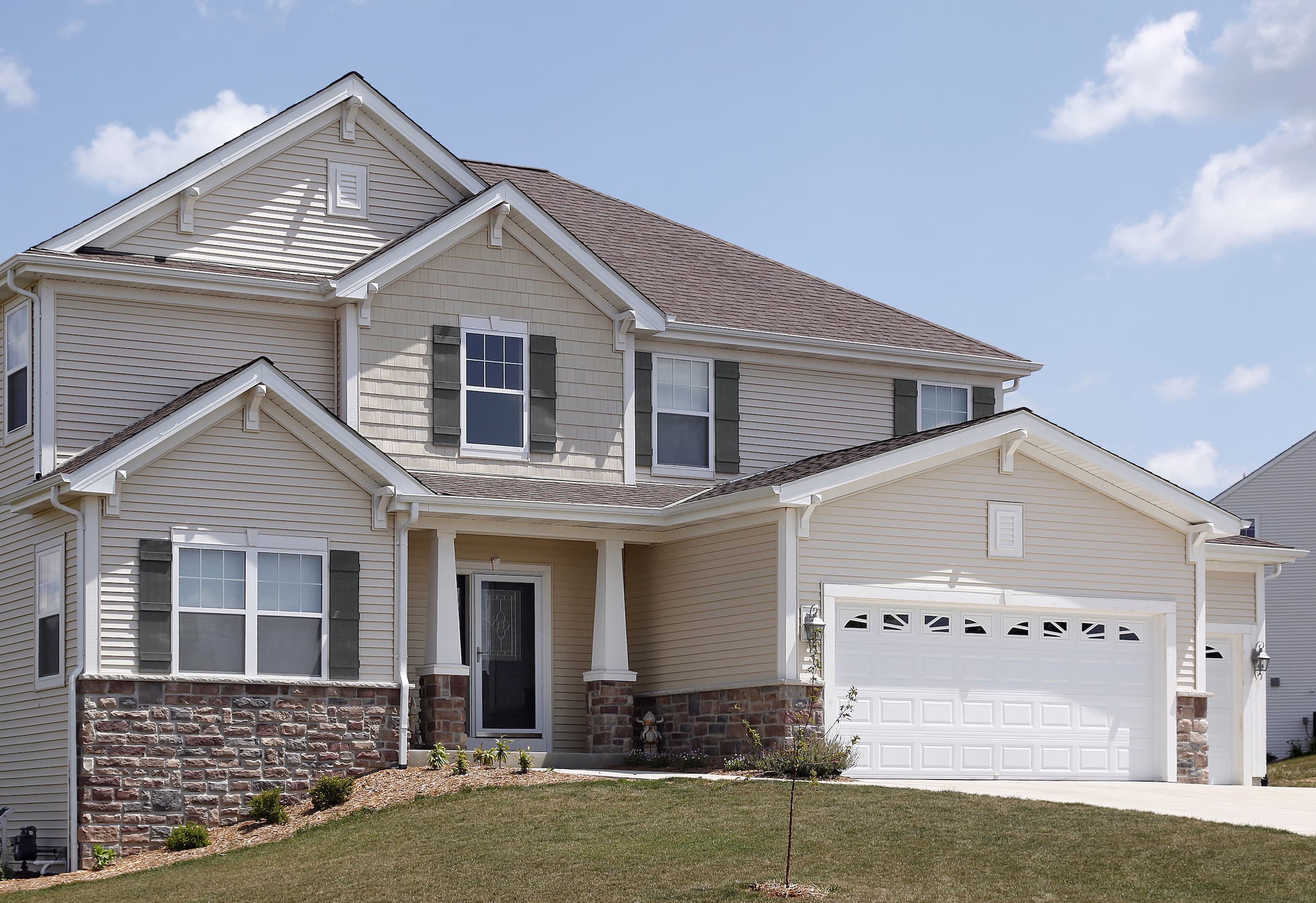 Graphite is a dark, bountiful shade of black that can look dramatic yet elegant as the shutter color against a tan house.
This black is a more subtle shade, bordering on gray than a true pitch black. In some light, you may even pick up faint traces of purple. And the richness will add interesting shadows that darken the tan walls.
Wisp of Mauve by Benjamin Moore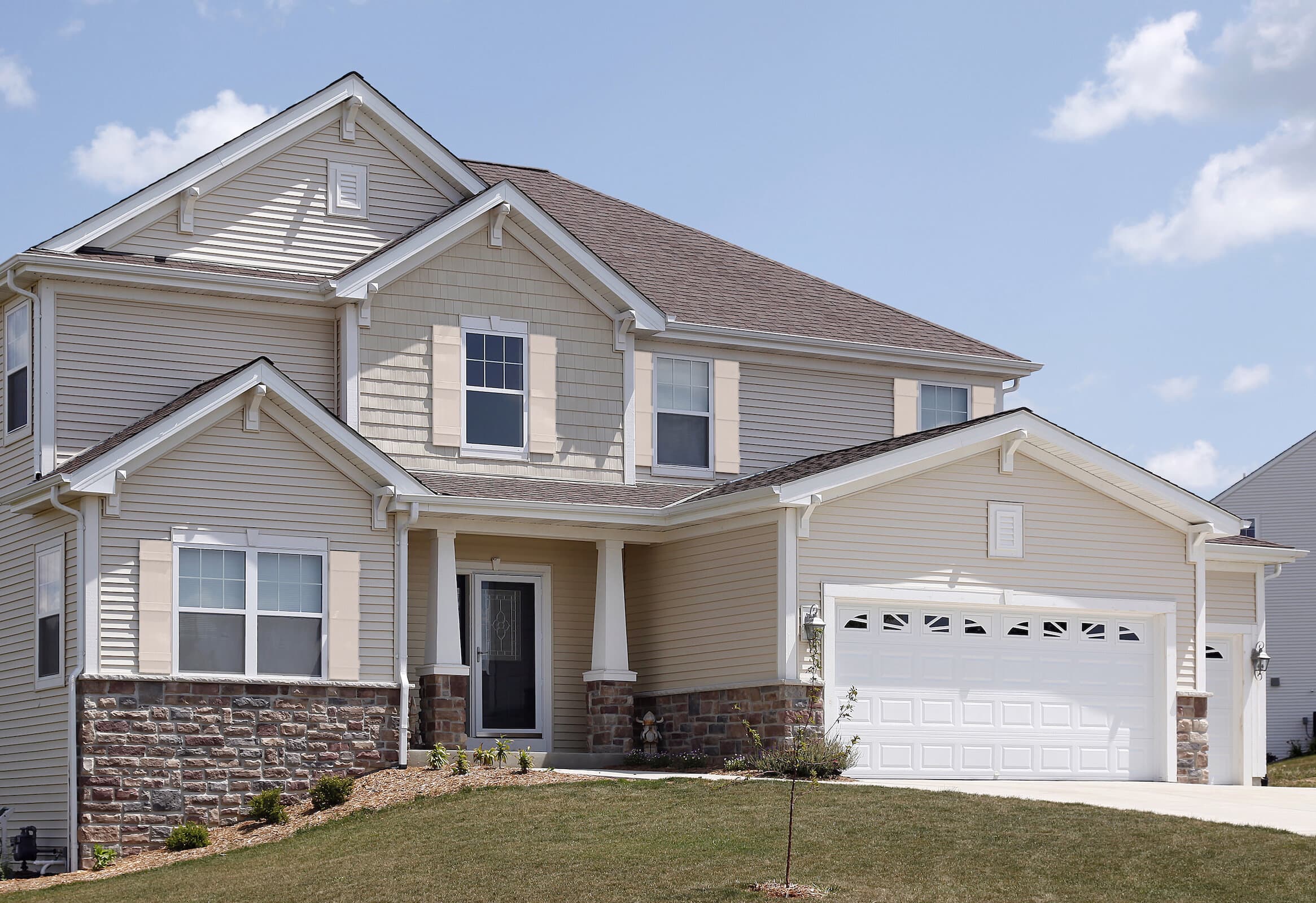 Wisp of Mauve is a pink-tinted neutral that goes superb with a tan house. This color is a few shades darker than tan, with pigmented undernotes of pink, brown, and lavender.
When you put Wisp of Mauve next to a tan house, the two colors play off each other for a soft, light look that brightens your exterior and increases curb appeal.
Classic Silver by Behr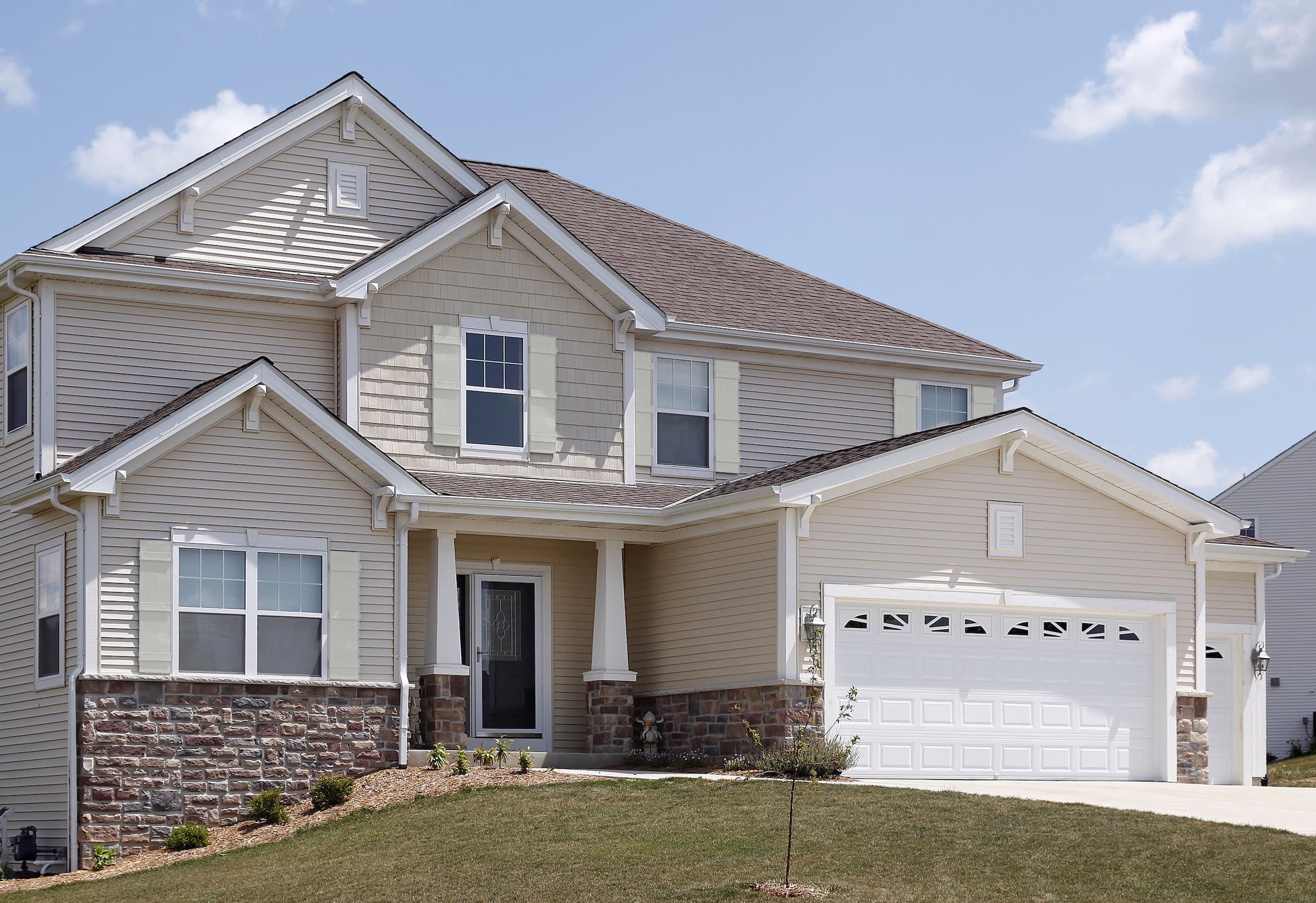 Classic Silver is a suitable shade of gray for the shutter color on a tan house. This color of gray is soft and shadowed, with the slightest traces of yellow undernotes.
When used with a tan house, the mauve notes on the exterior can highlight the tints in the gray to pull out traces of yellow and green.
Cameo White by Behr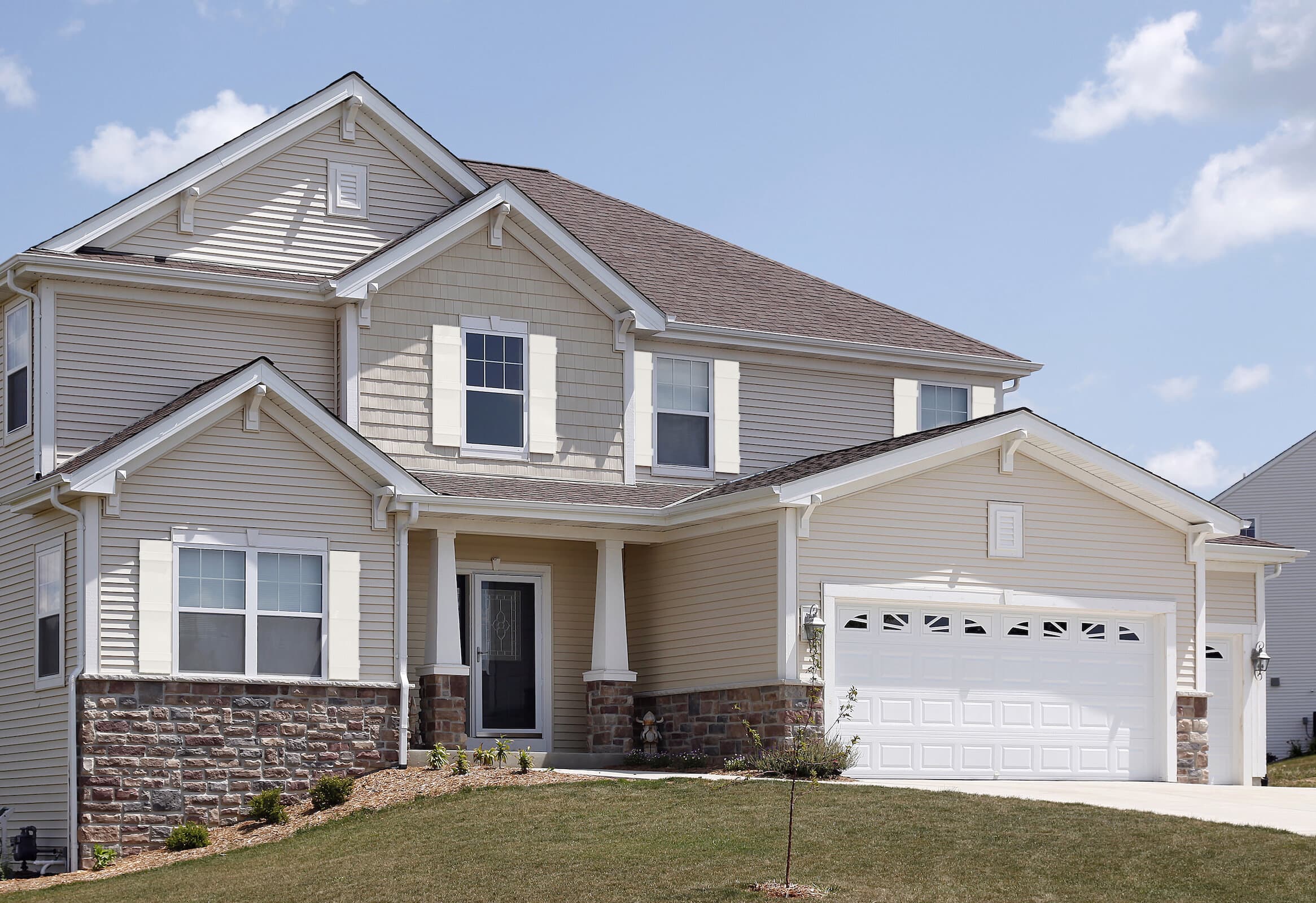 Using Cameo White for the shutter color for a tan house gives you a refreshing, neutral look. Use this color to avoid adding any significant pigmentation to your exterior.
Cameo White is a tinted shade of creamy white with delicate undernotes of gray and black that add a smokiness. When used beside tan, the shutters can turn faint shades of yellow to brown.
Tar by Farrow & Ball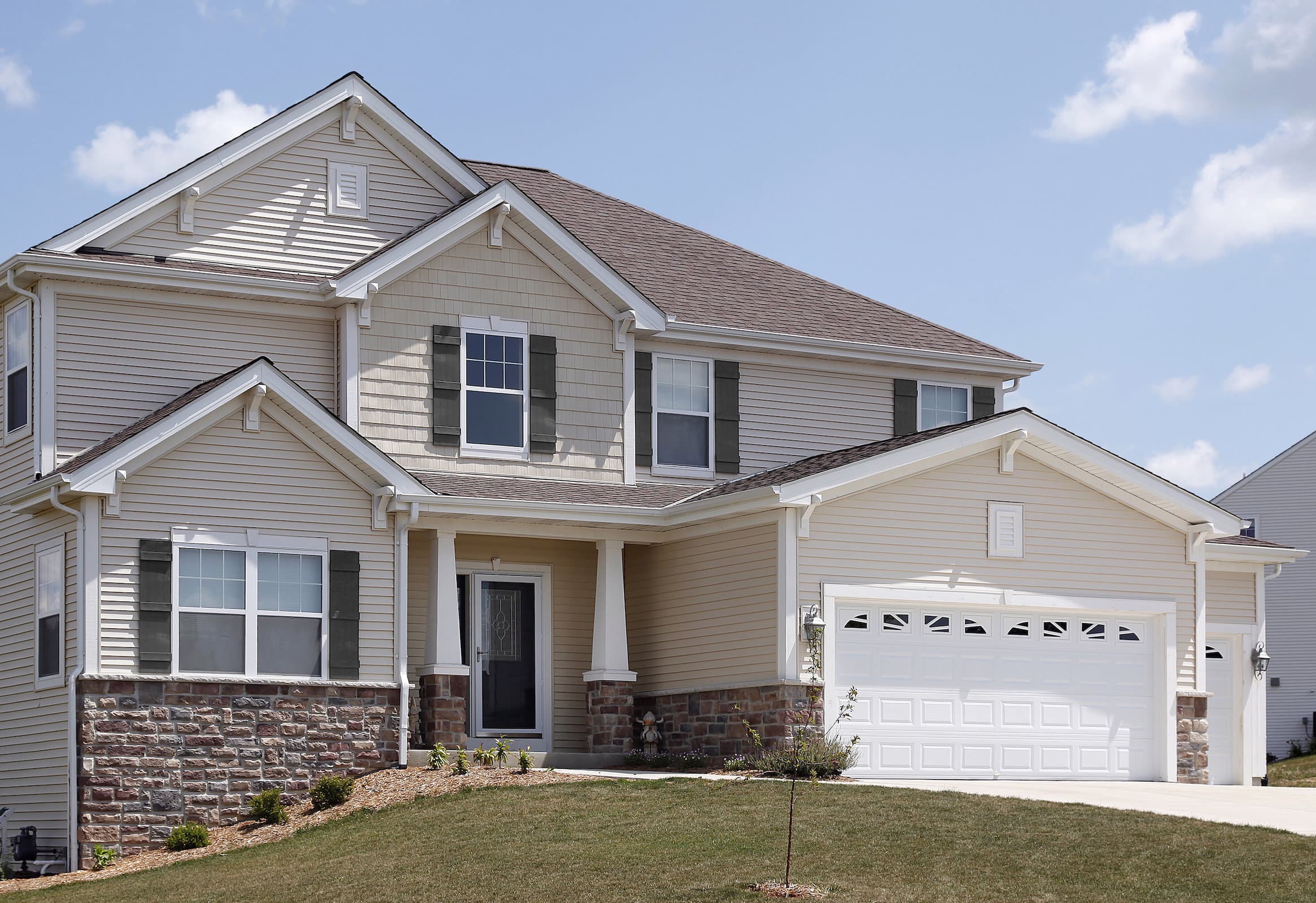 Tar is a dark saturated color choice for a beige house with black shutters. This color is rich and pigmented like the gooey, sticky matter it's named after that you mostly see on roads.
When you put this color next to a lighter exterior color like beige, the walls can start to turn darker and look almost brown.
Palm by Farrow & Ball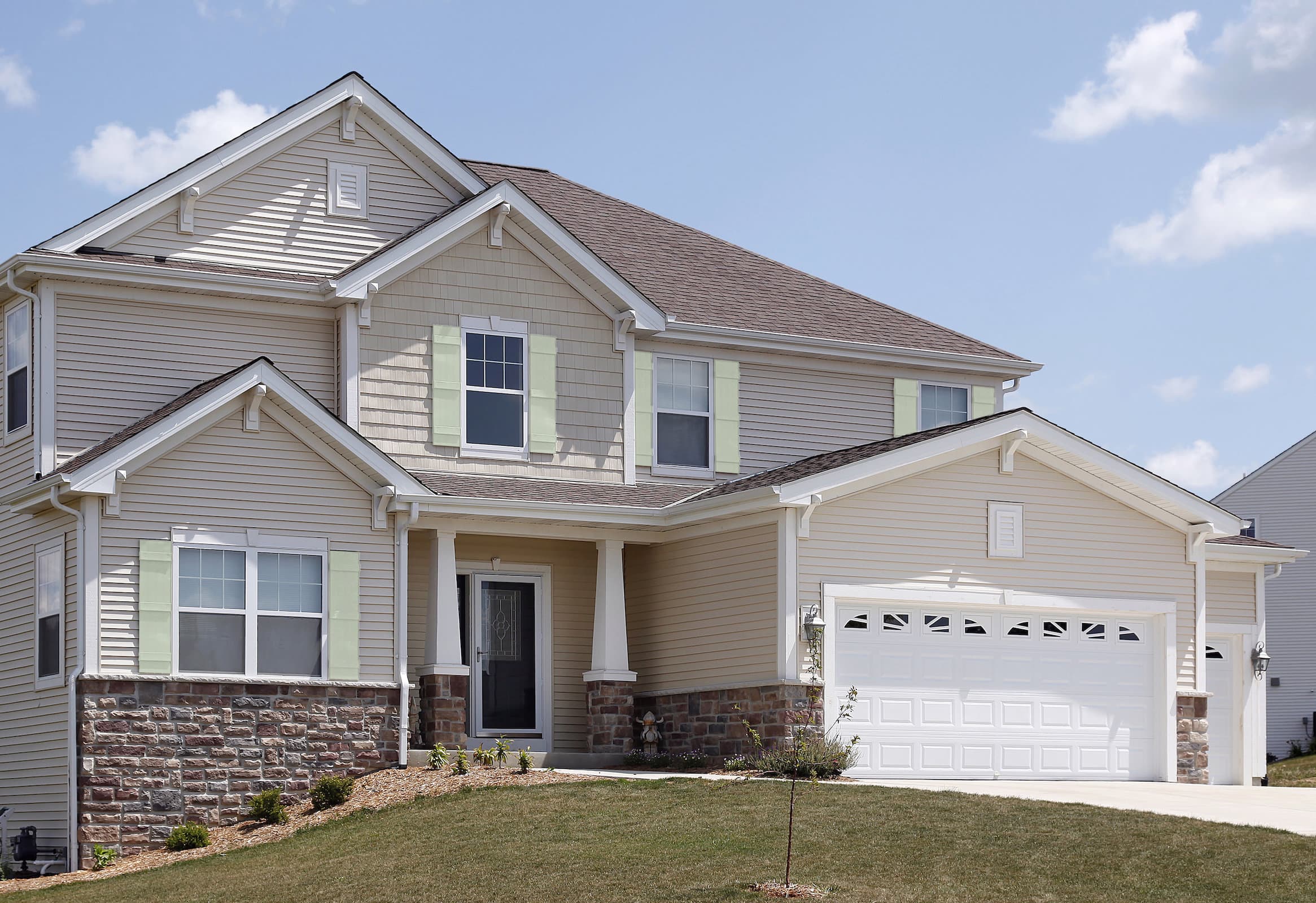 Palm can be a brilliant, soft subtle shade choice for a tan house green shutters look. This green is a light earthy color that inspires a tropical feel.
The most delicate notes of brown pigmentation give this green a natural, understated look that offers a balanced, relaxed curb appeal.
Final Words
Picking the right shutter color for your tan house doesn't have to be a stressful event. Start with these 15 shutter colors, consisting of variations of white, black, brown, green, blue, red, gray, beige, tan, mauve, and other neutrals.