Decorated Life is reader-supported. When you buy through links on our site, we may earn an affiliate commission. Learn More
4 Soothing, Calming Room Ideas in 2020
By: Decorated Life Team
|
A strong trend for 2019 is towards creating soothing homes using room ideas that create serenity, flow and harmony.
When you can truly relax at home, when your home recharges and rejuvenates you, you are better equipped to tackle the day with more energy and clarity.
Install these 4 room ideas in your home and the harmonious benefits will last all year long.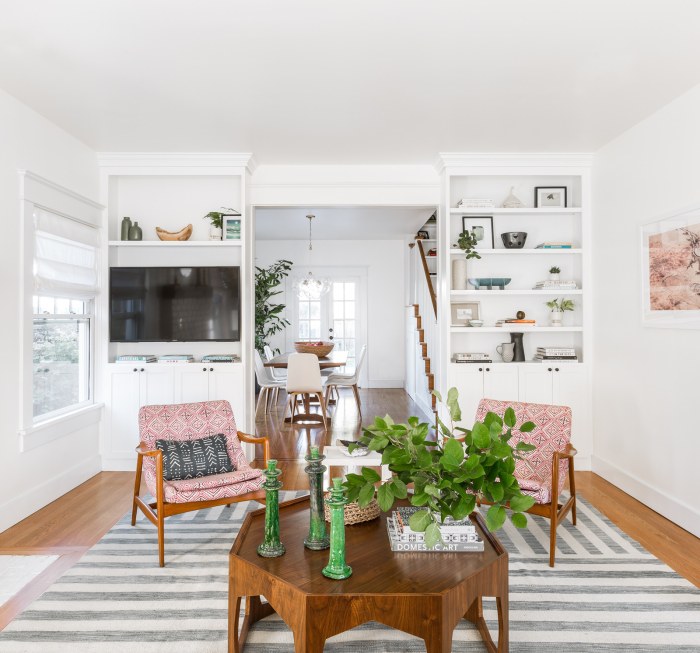 Source: Pinterest
Connecting Rooms With Decor 
Begin with symmetry and balance within rooms, then use color, pattern, or texture to visually connect each room. Here's one view of this beautiful room.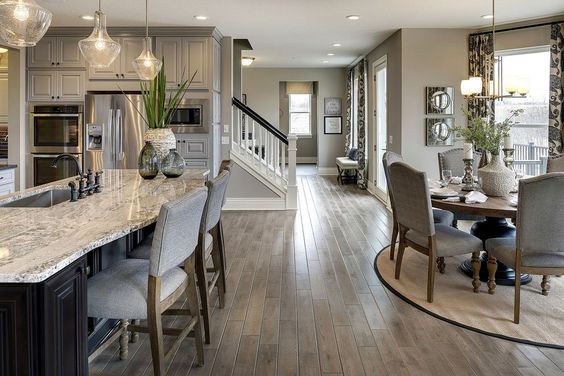 Gray and wood tones trickling all the way through the house to the back wall – Source Pinterest
And here is another. You can see that the curtains in the dining room and cushions in the living room have a similar motif, along with the rug, even if they are not exactly the same, they connect the spaces.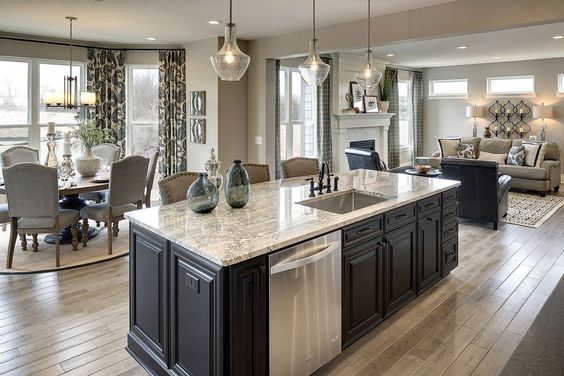 If you would like different decor in each room, your challenge is to make your decor work harmoniously across each space, using decor elements like a similar pattern, fabric texture or color combination, to connect them. With bold colors and boho-chic being on trend during 2019, layer a dramatic thread through out using different elements, like color, to connect each room.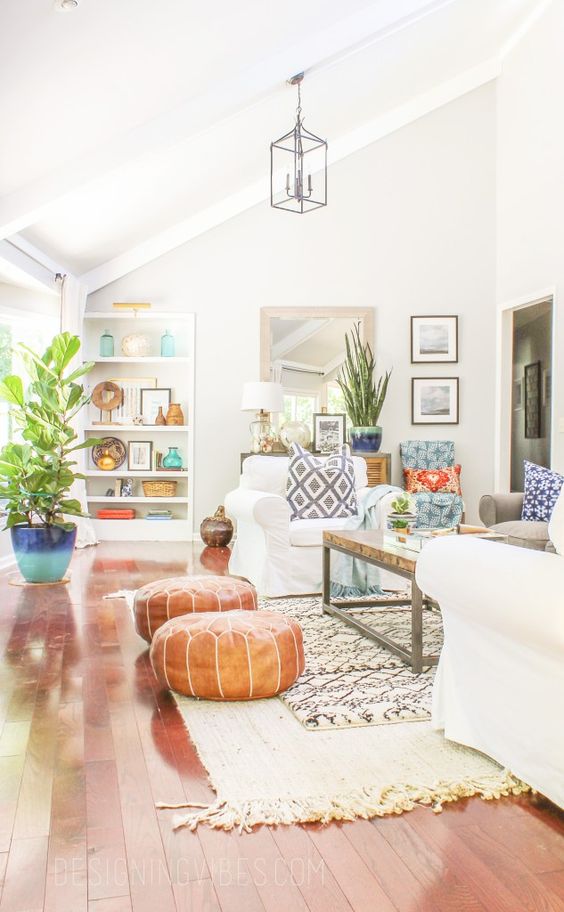 Source: Designing Vibes
The less things you have in a room, the clearer the breadcrumb effect works. But even with a room overflowing with beautiful things, it is possible.
Just use one or two things that are visible from both rooms and add them to both for harmony, symmetry and balance. Sometimes, all you need to do is move things around.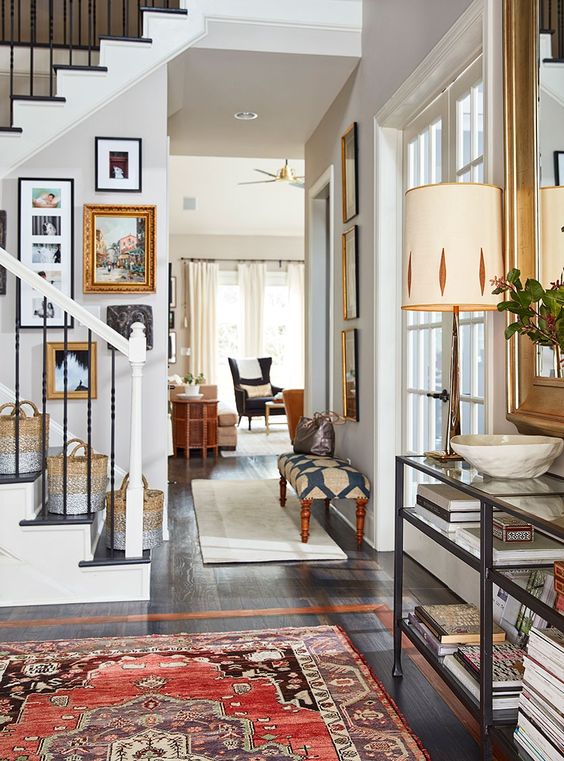 Black connects each room from the console, stairs and finally the chair at the end of the house – source Pinterest
This is more than using the same design scheme or color palette in each room, which can be repetitive.
Instead, think about how rooms connect to each other from different doorways, angles and entry points.
And then echo certain textures or colors through out, so they whisper to you at different points within the house. Tiny reminders like breadcrumbs of where you have been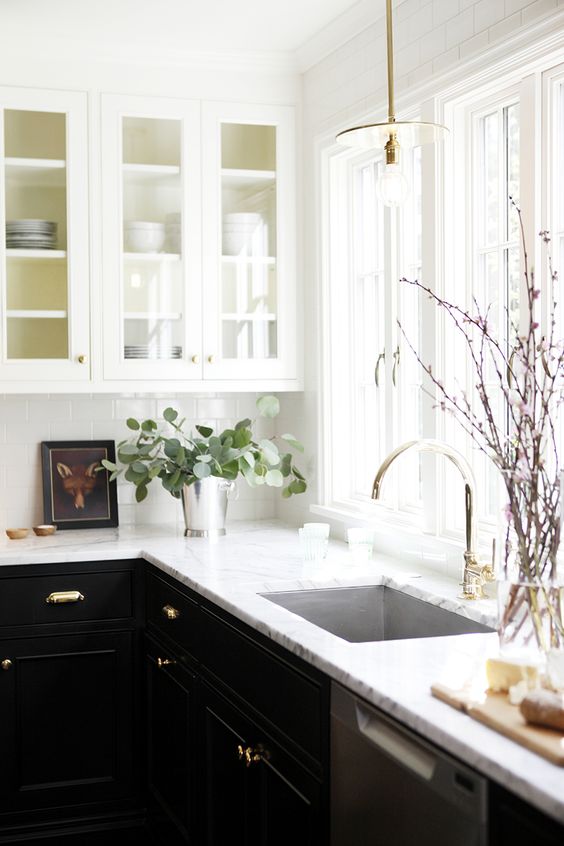 Black and white resonates in the kitchen and the living room. This type of designed cohesion creates a sense of harmony and order and is easy to live in.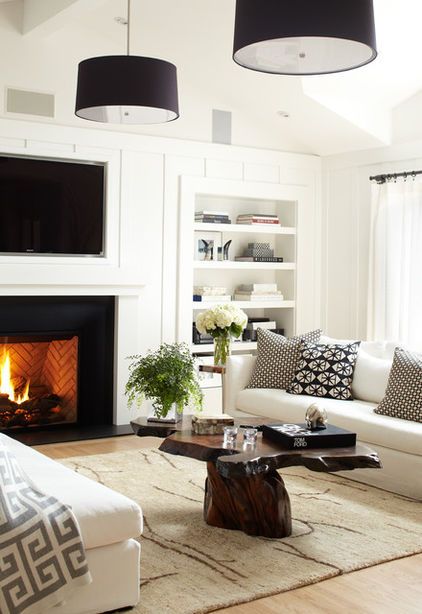 How do you do it?
1. Stand or Sit at Different Entry Points to a Room
Stand, sit, or walk through different entry points to a room, making note of what is visible from one room to the next. Architectural features like the windows, lots of plants and similar flooring connect the room below.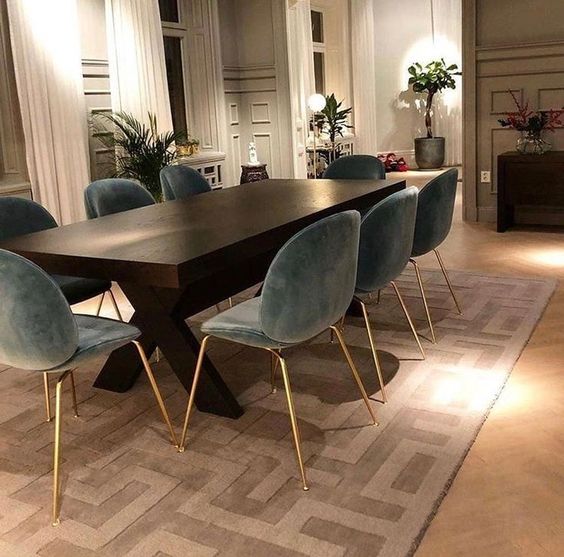 Plants link these rooms, along with flooring – source: Pinterest
Your view to the next room should include some design elements from the first room. If not, add them using similar colors, patterns or textures to flow from one room to the next. Your color, pattern or texture don't have to be identical, only similar, like an echo or unfoldment.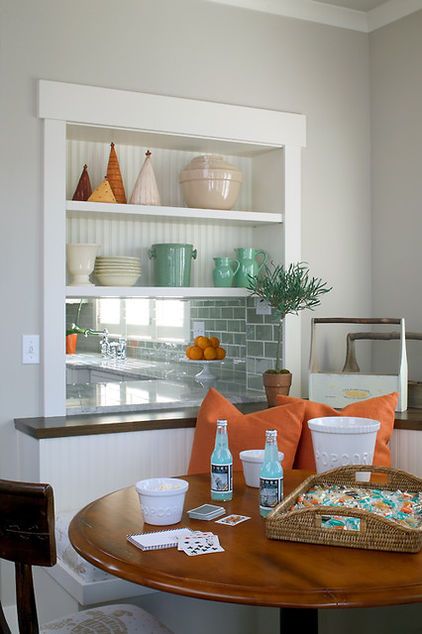 Orange and sea green connects these rooms – source Pinterest
2. Echo Design Elements to Another Room
The best way to echo design elements from one room to the next is easy. Most of the time its about moving similar items from one room to another, so they are visible from one room to the next. That could be adding a throw, textile or cushion and placing them in both rooms, to connect them.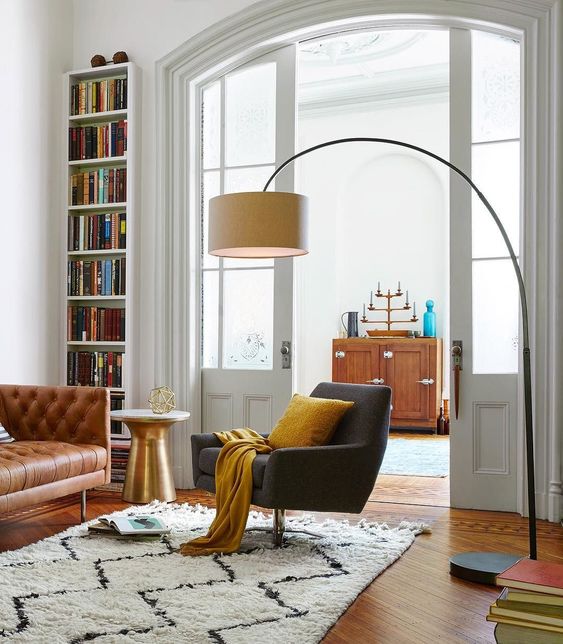 You can find warm tan and gold elements linking both rooms – source Pinterest
An accent color in your living room could be added to your kitchen or dining room with accessories or motifs in different sizes or shapes. A room with a dark gray chair can connect visually with a dark gray lamp in the room next to it.
This step alone allows your rooms to be different but still appear visually connected. Rooms will flow, harmoniously through out, effortlessly. And in some cases you need less decor, as statement pieces, colors, motifs and textures become features as they get amplified through out.
Similar rugs connect rooms – source Pinterest
Spa Layout
One way to relax is to use a spa layout and elements in your bathroom. Free-standing luxury soaker tubs are on trend if you are remodeling your bathroom and need a new bathtub.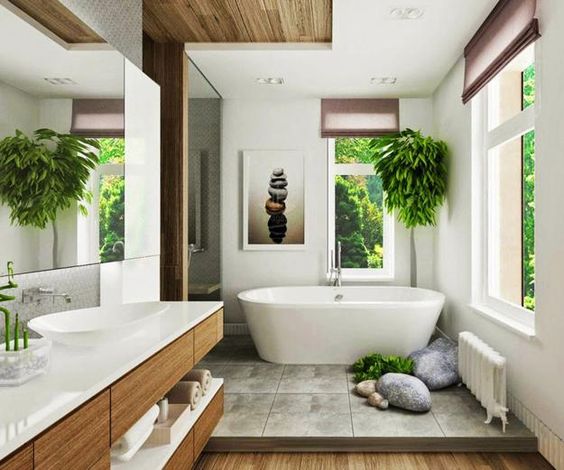 Source: Lushome
If you are not remodeling use small natural features like large fern-like plants, natural stone floors or artwork, candles or incense to create a spa-like bathroom.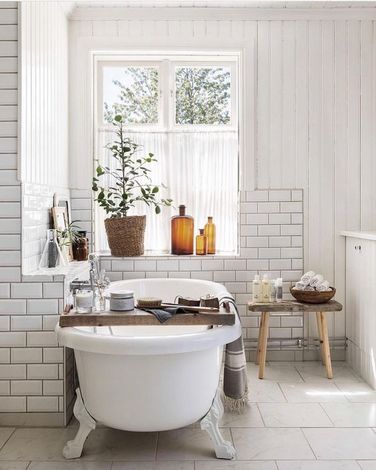 Source: Bloglovin
Soothing Colors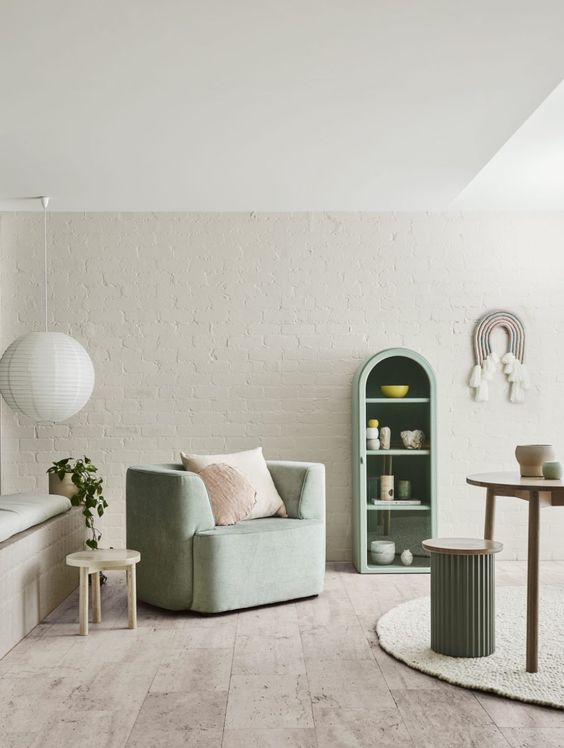 Source: Instagram
Light neutral colors in grays and blues are relaxing tones and on trend for 2019. Paint colors like Metropolitan or similar colors can create a very relaxed space. Add pale pinks or layer neutrals to keep the soothing vibe going.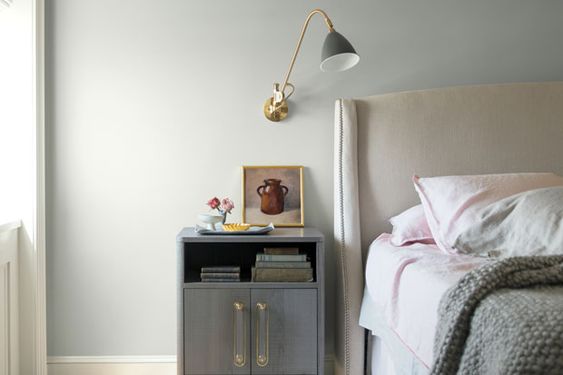 Source: Benjamin Moore
Paint is the easiest of room ideas to implement and change the look of your home. If you need a more relaxing feel through out your home, this is the fastest way to get a fresh soothing new look.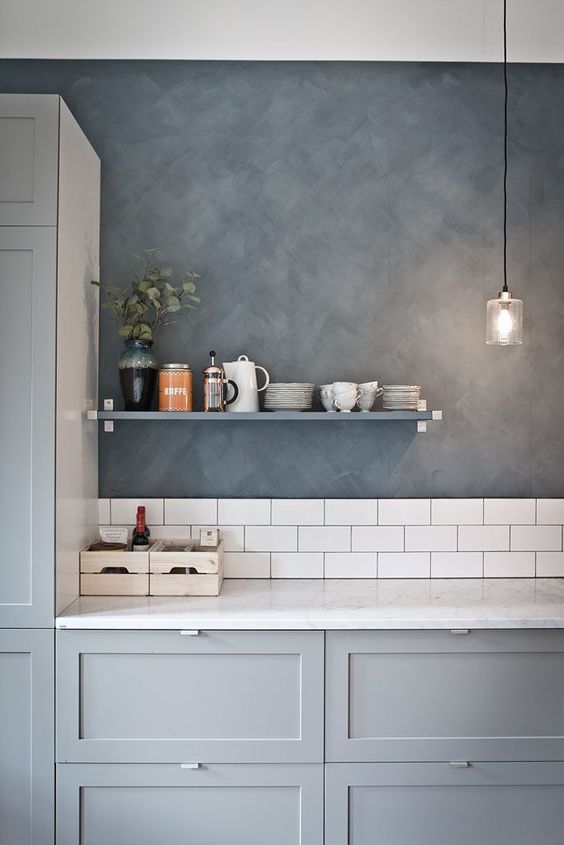 Source: Instagram
Plant Life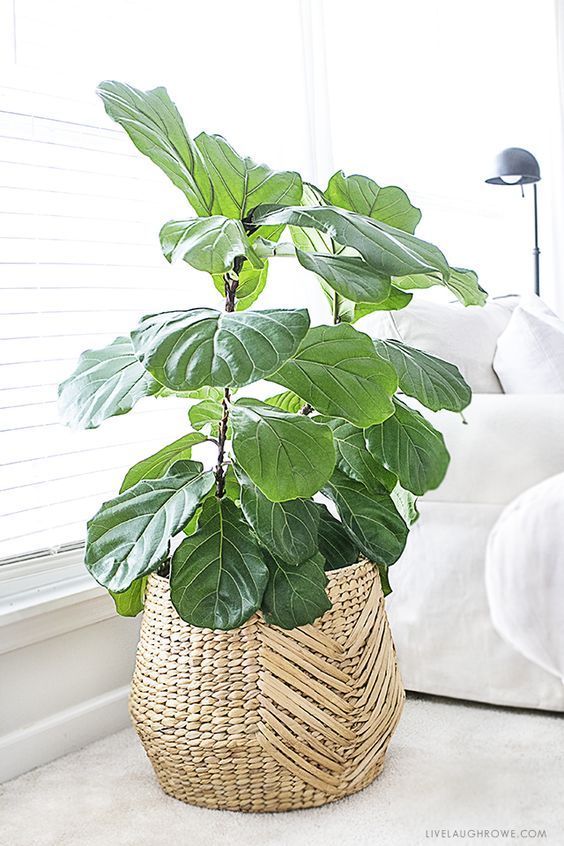 2019 plants are returning to help us relax, taking carbon dioxide out and filling us up with more oxygen. Floor plants and wall plants can fit into most contemporary styles.
These can be added to mantels, shelves, kitchen counter tops, entry, hallways and bathrooms.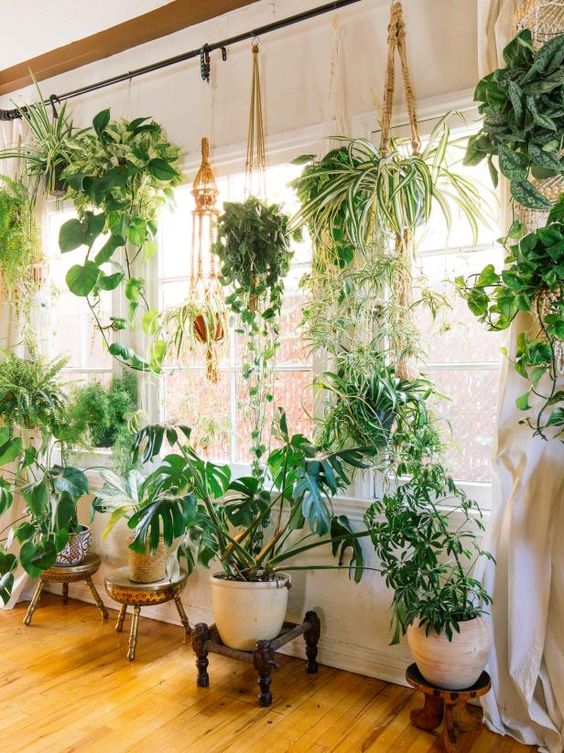 Source: HGTV
These room ideas are easy to implement and can help you relax faster and longer. The benefits are worth it.