Benjamin Moore's Gray Color Metropolitan AF 690
If you are looking for a new gray color, a neutral gray, then Benjamin Moore Metropolitan AF-690 is worth investigating. Soothing, harmonious colors are on trend and Metropolitan fits this perfectly. With a low Chroma value of 0.31 and a slightly higher mid-tone its very close to a true neutral gray. This particular gray color is part of the Green-Yellow (GY) hue family.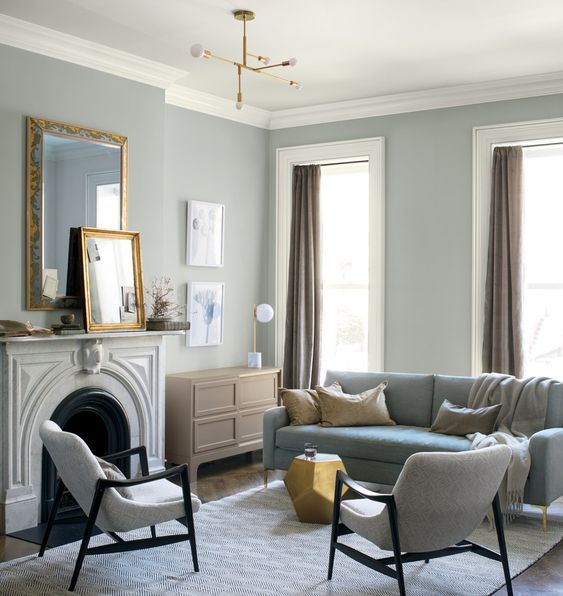 Source: Benjamin Moore
This gives Metropolitan the qualities of being a shape-shifter, transforming under certain room light to look a little blue. While it doesn't have "blue undertones" the Green-Yellow hue can make it look blue in some rooms. Remember when you change the light, you can change how a color appears.
Metropolitan's Light Reflectance Value

 
If you haven't heard of a color's Light Reflectance Value (LRV), this is a measurement of the amount of usable and visible light reflected from a painted surface. The higher the LRV the more light a paint color reflects.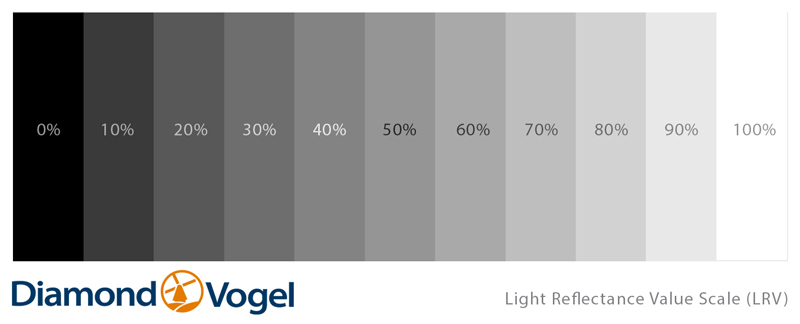 Zero LVR refers to absolute black which absorbs all light, while 100 percent LVR reflects all light, such as pure white. This helps you choose paint colors and lighting fixtures for different rooms or spaces and understand why some paint colors just don't work in your home.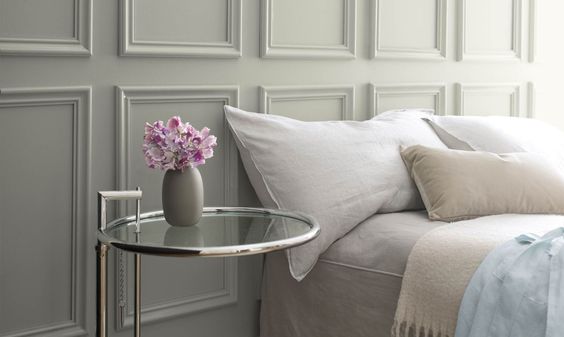 Source: Benjamin Moore
If you know you have a room, or paint color, with a low LVR then bigger windows, better lighting or lighter flooring can all help to reduce the effects. Anything to improve and capture your natural light, create a room's mood or reduce lighting costs.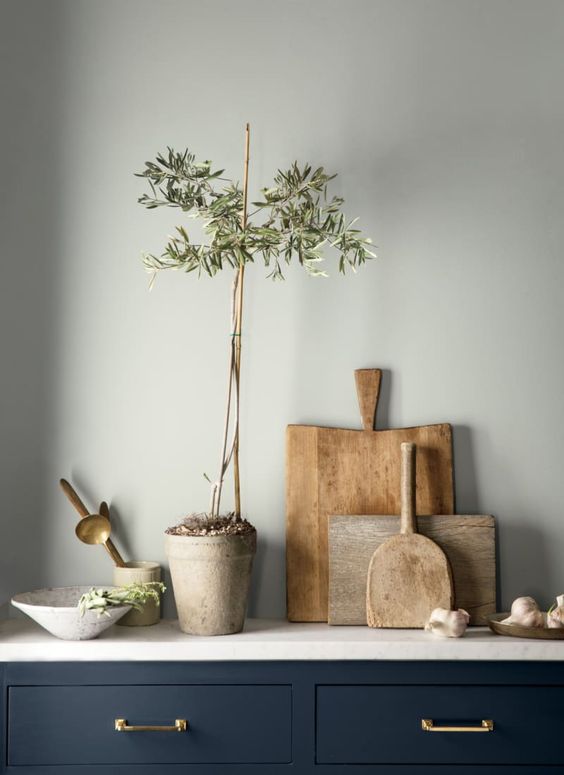 Source: Benjamin Moore
LRV of 51% What Does This Mean for Metropolitan? 
With an LRV of 51% Metropolitan is wonderful alternative to traditional neutrals or white. It looks peaceful in living rooms and bedrooms, and works beautifully with navy, metallics and charcoal and isn't dark enough to absorb all your natural light.
According to Benjamin Moore's Director of Strategic Design Intelligence, Ellen O'Neill, 'Metropolitan AF-690 emanates nuance, harmony and extravagant ease.' These soothing qualities make it perfect for any home.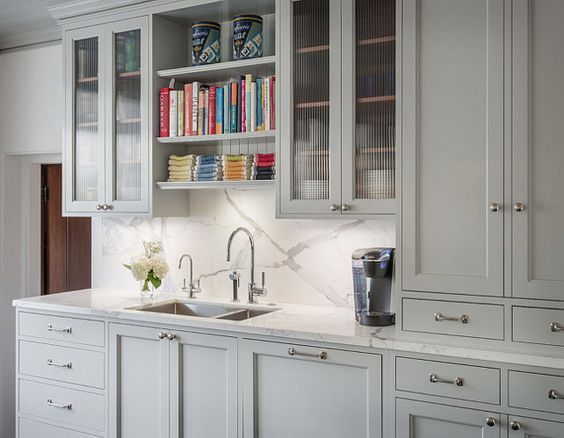 Source: Home Bunch Metropolitan at 75%
To support this soothing paint gray color Benjamin Moore also released its Color Trends 2019. These colors, a mix of neutrals to rich blues and greens, all work and support the elegance of Metropolitan.
That means you can pair Metropolitan with a bold navy in the entry and then use other colors in a living room, bathroom or bedroom. It will take on a different look in each room while still playing a calming, restorative role in your home.
Source: Benjamin Moore
How to Use Metropolitan
Metropolitan has a quality that enhances and elevates any color scheme from pastels to a rich color scheme and suite both warm and cool color palettes. Bedrooms are the perfect room for cool gray neutrals like Metropolitan. Leave your accent colors and accessories neutral with muted shades for a calm retreat purposely built for a good night's sleep.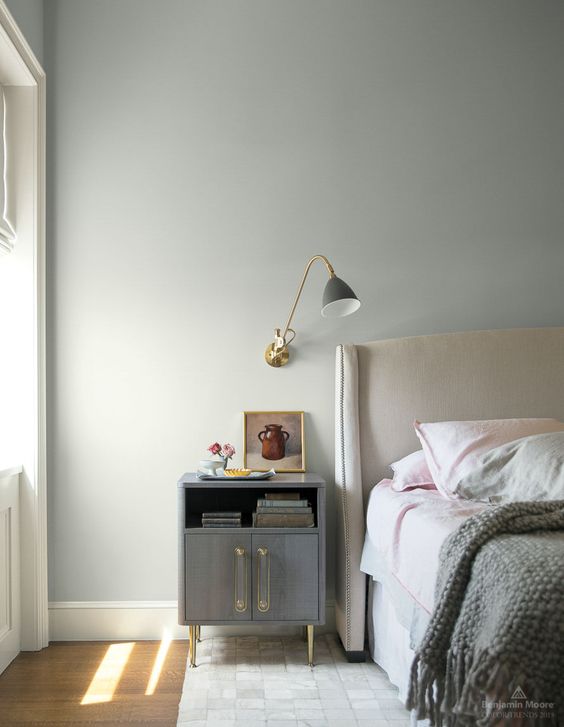 Source: Benjamin Moore
Metropolitan can be used in any room. It works well on walls if you have a lot of warm wood tones with either cabinets or flooring and can balance them out. It looks good on cabinets too, and you can add a navy tile or kitchen island for a bold feature. 
You can easily use Metropolitan and the color trend palette throughout your entire home. Using this muted color palette with both warm and cool shades will give your home both comfort and balance. If you want to know more about how to choose the right gray color for your home, click here.