Decorated Life is reader-supported. When you buy through links on our site, we may earn an affiliate commission. Learn More
What Coffee Table Goes with a Black Couch?
If you're looking for a neutral sofa color that isn't the typical white or light gray, black is a solid option.
Black sofas add a touch of moodiness to a space without being overpowering. And since they're neutral, they match any color scheme.
If you're redoing your living room and looking for the best coffee table to coordinate with your black couch, try one of these ideas.
Bring in Texture with Dark Rattan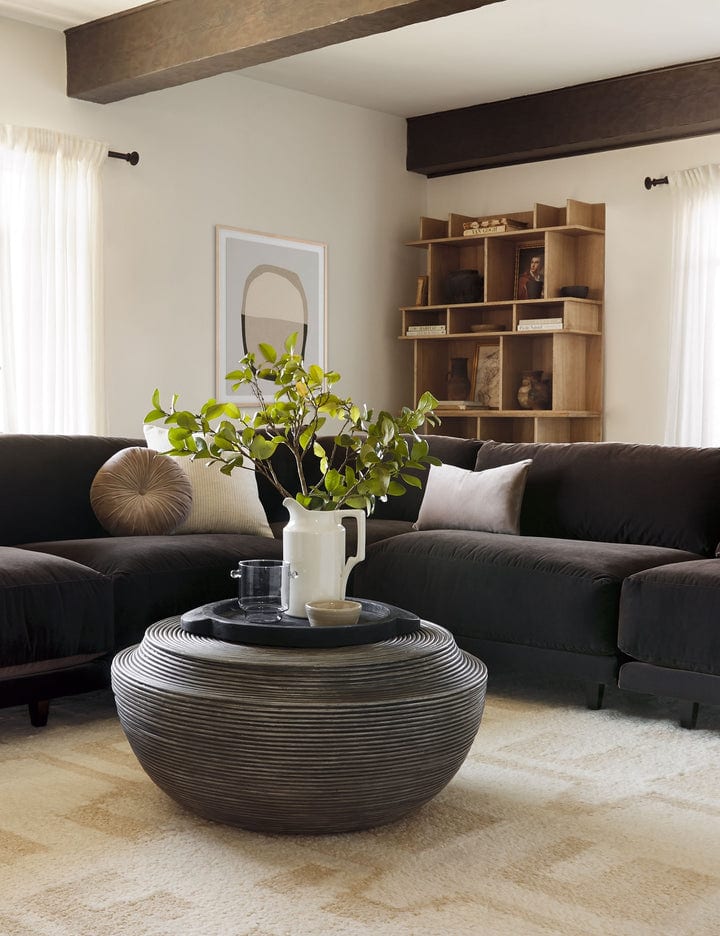 If your black sofa is causing your room to look stark, use a coffee table with texture. This table from Lulu and Georgia is dark and moody but packs a lot of punch with its rattan-wrapped base.
It has medium to dark shades of brown throughout and works effortlessly with a black sofa. And best of all, it matches most decor styles making it a piece that can grow with you.
Consider a Black and White Color Scheme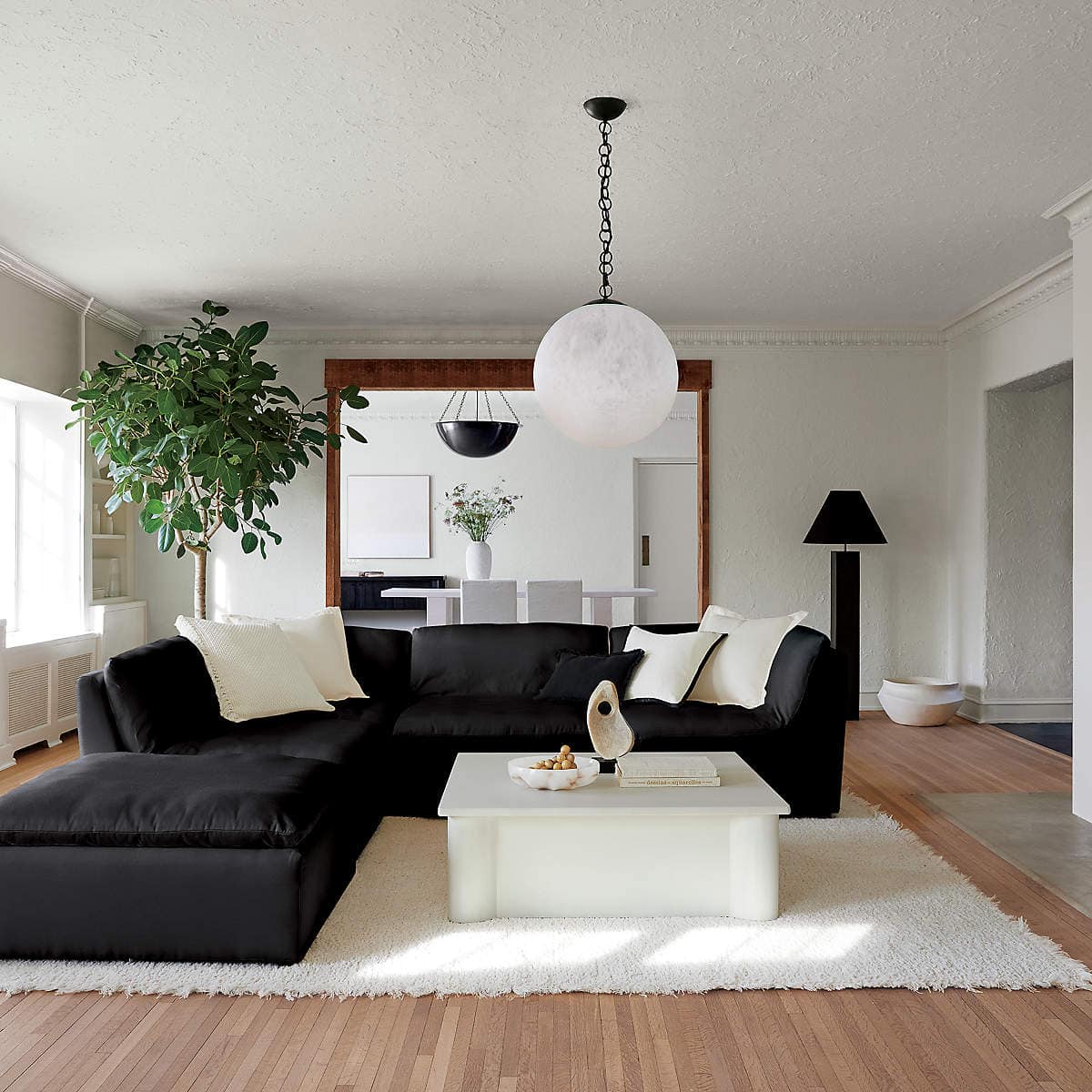 Black and white is a classic color scheme that looks modern and fresh. If you want to try this look in your living room, pair your black couch with a white table.
This white table from CB2 is a great option if you need a large piece with a lot of storage. It's a wood base with a finish that mimics concrete. The top opens up to reveal a storage trunk.
Complement Your Black Sofa with a Gray Ottoman Table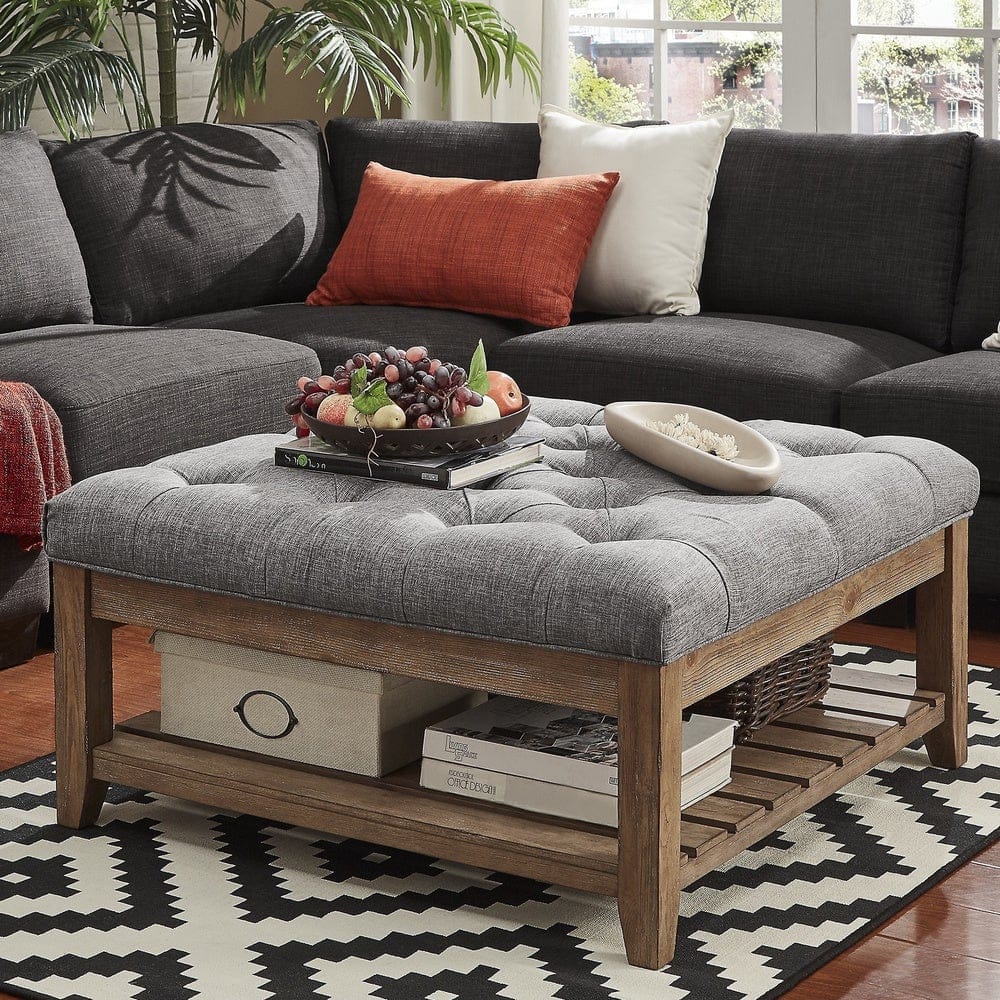 If you want to tone down the black in your room without using something as high contrast as white, go for gray.
This gray ottoman-style coffee table is an excellent option for a traditional or farmhouse look. The gray and wood play beautifully together and can soften your room. The ottoman also offers plenty of storage space on its bottom shelf.
Add Style with Hairpin Legs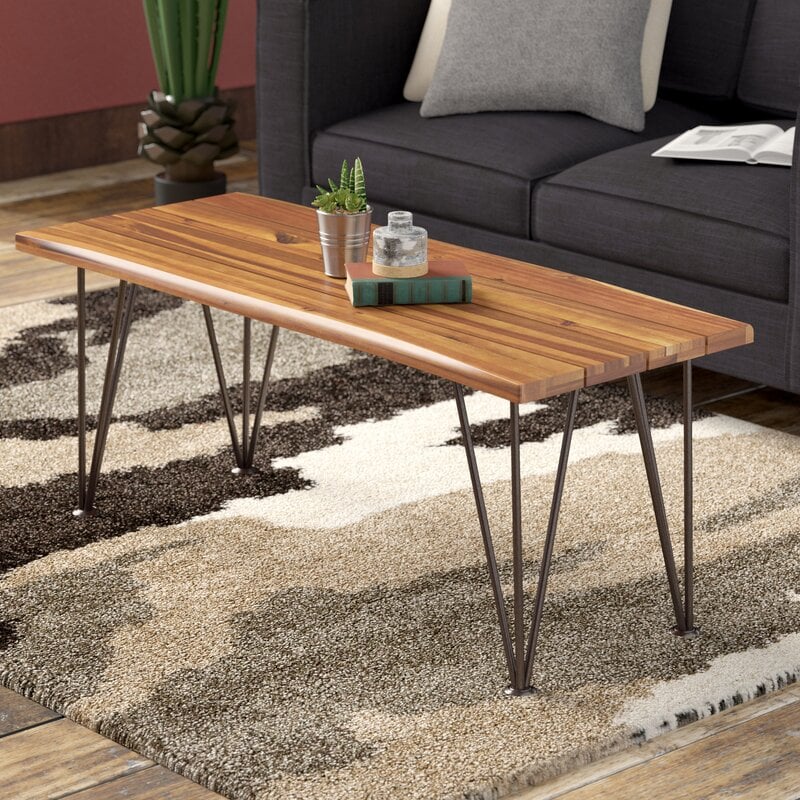 Are you looking for a table with fun detail? Try something with hairpin legs.
Hairpin leg furniture is a classic mid-century modern look. A table like this will add a modern touch to your room without being too bold. Also, since this table has a wooden-style top, it will add warmth.
Contrast Black with a Large Wooden Coffee Table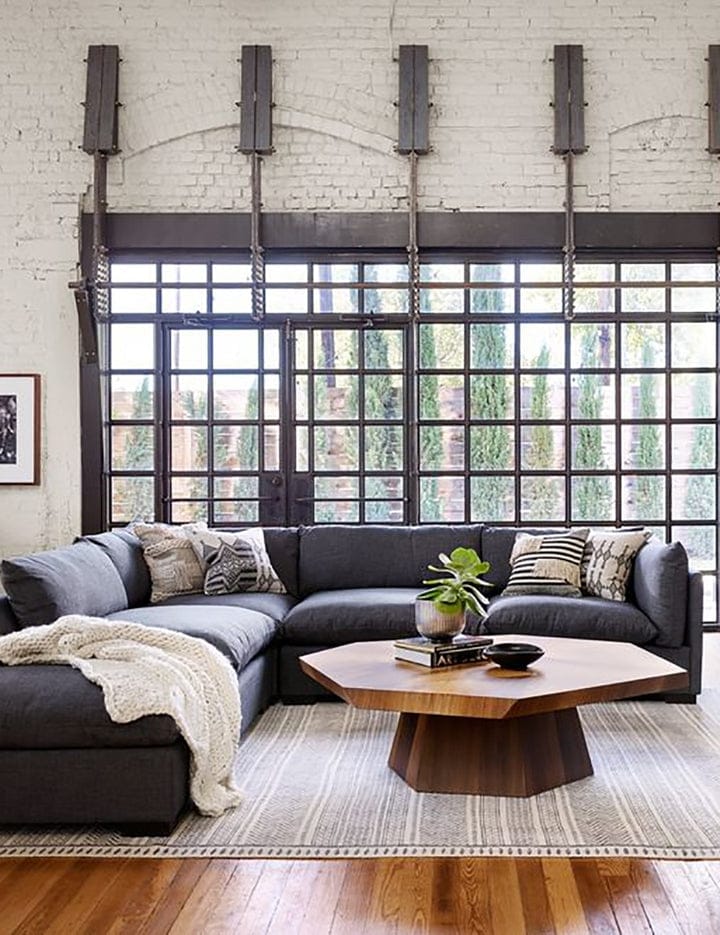 Every good room design needs some contrast. You can do this with your floors, paint color, or furniture. And a great way to contrast a black sofa is with a lighter wooden coffee table.
This coffee table from Lulu and Georgia is a large octagon shape with solid-wood construction. If you have a large sofa or sectional, this table is a good fit.
Try Metallic for a Glam Vibe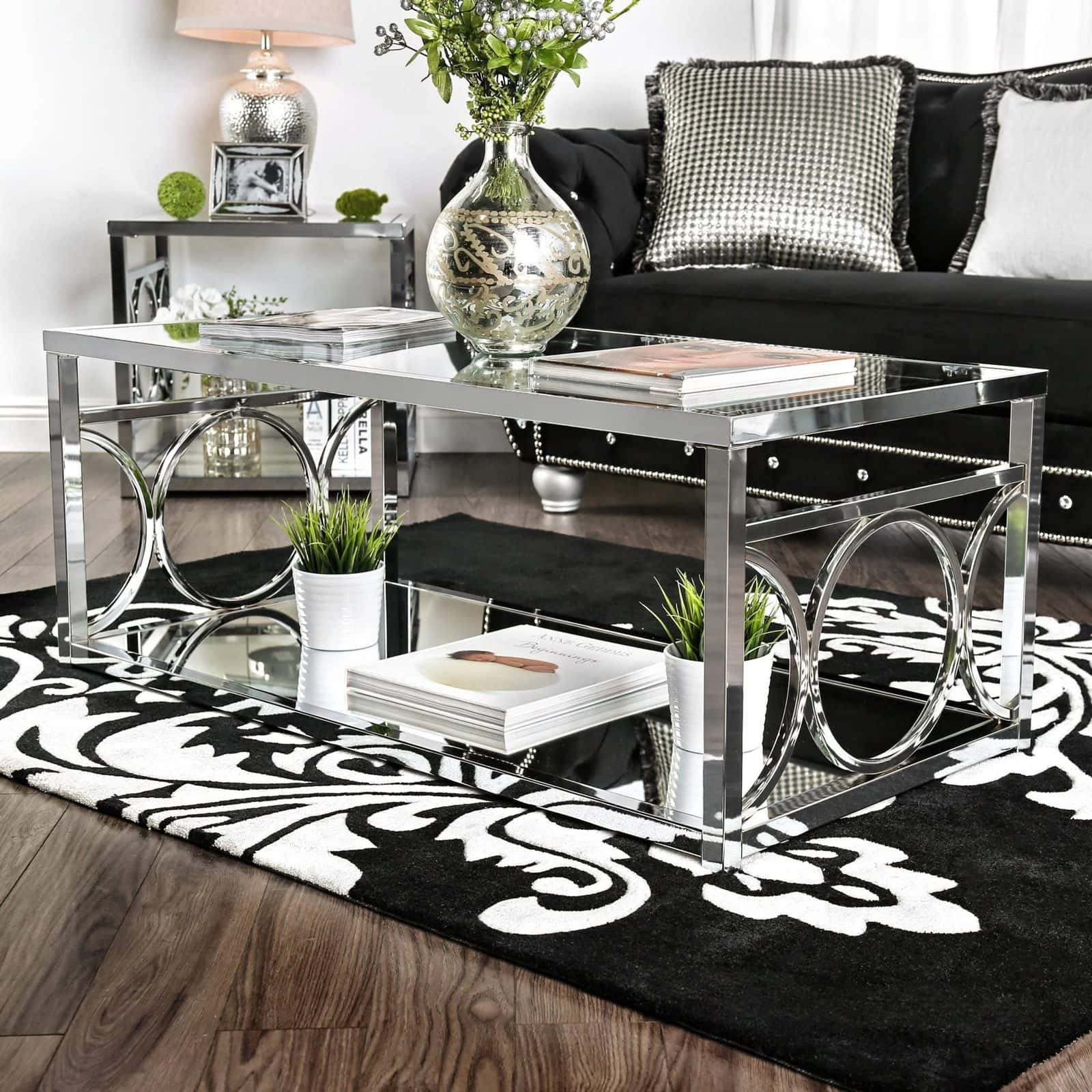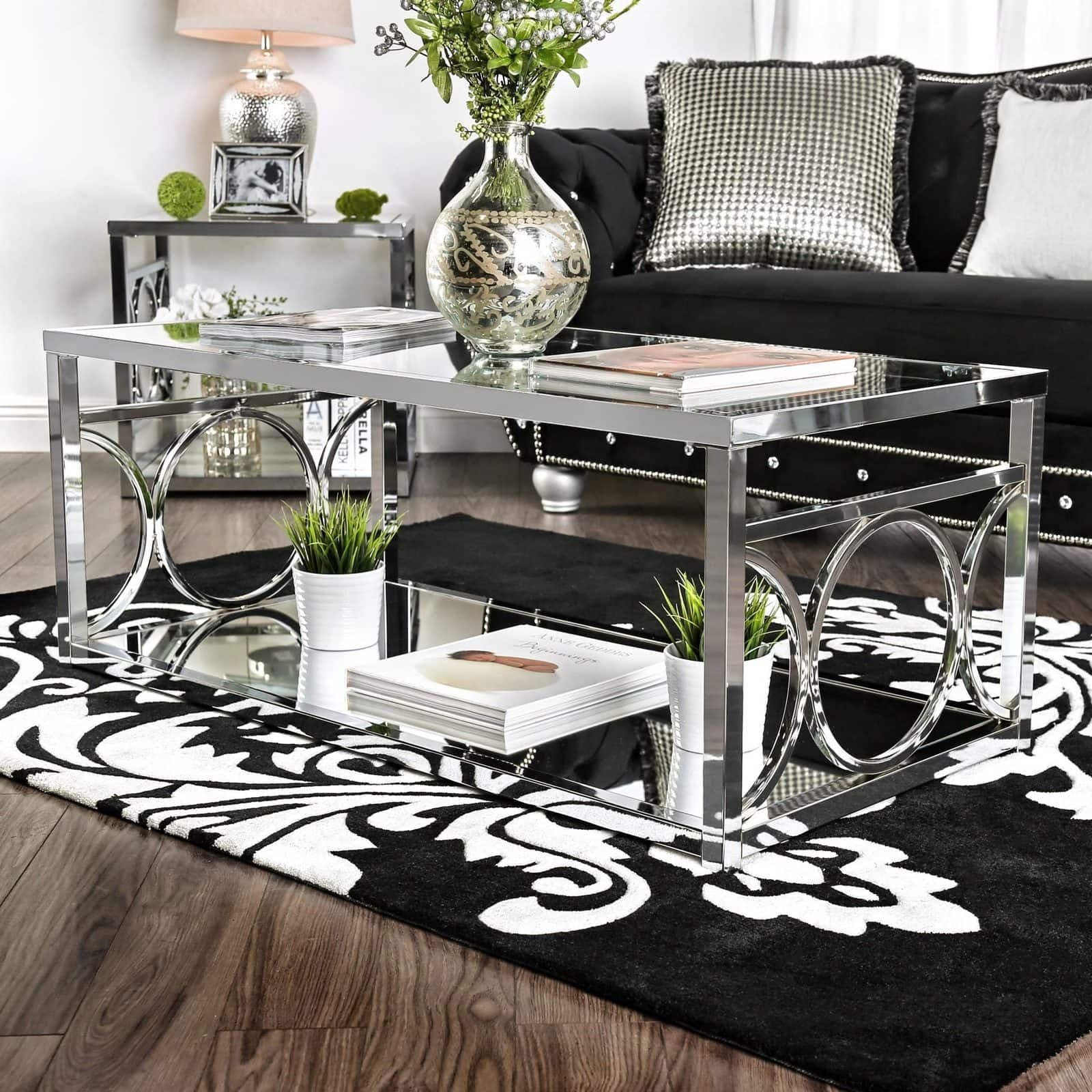 You need a metallic, glass, or mirrored coffee table if you're going for a glam look. And if you like chrome, this piece from Overstock is a solid option.
The tabletop is glass, while the bottom shelf is a mirror. The entire table edge has a chrome finish with fun cutouts on the side.
Get a Traditional Look with a Rectangular Wood Table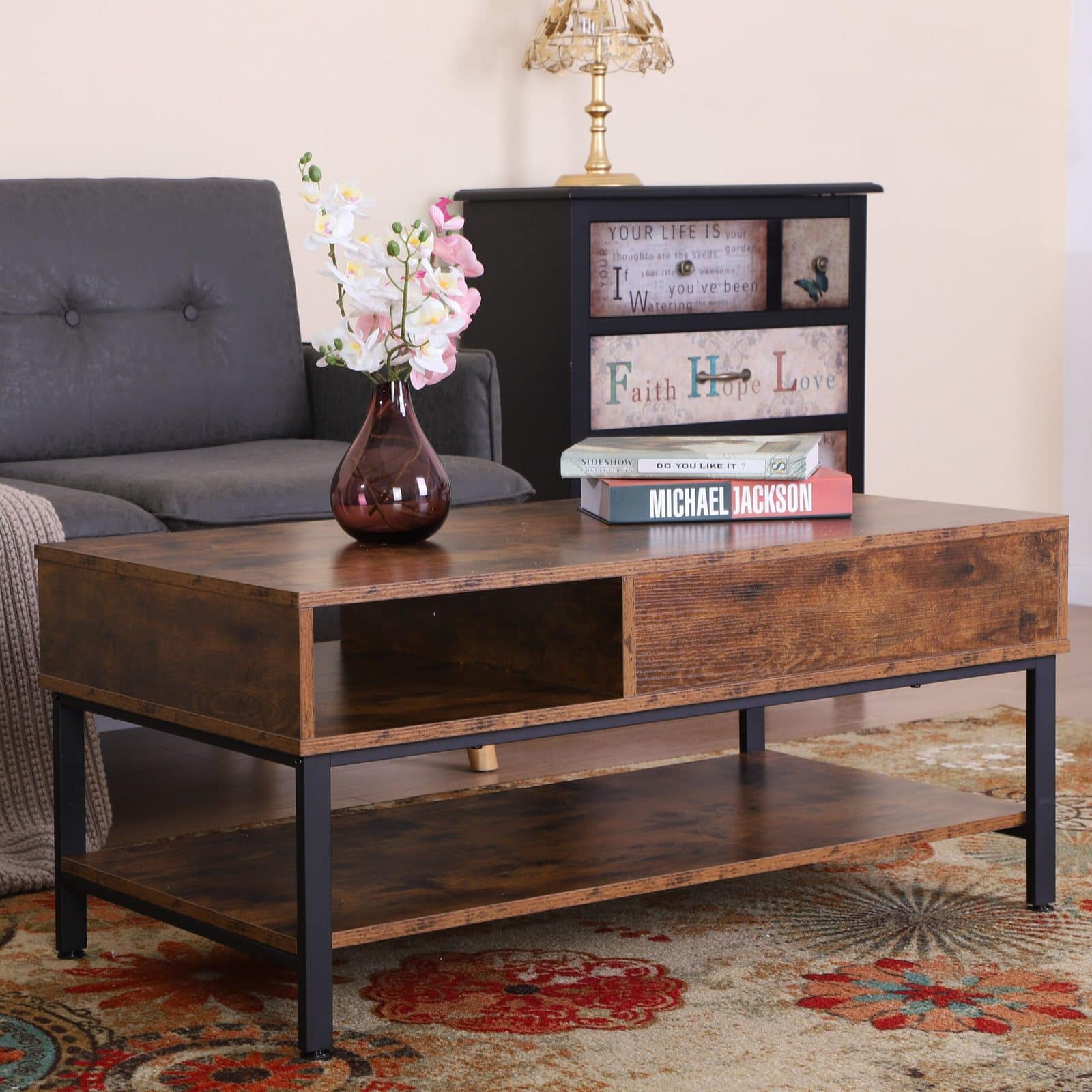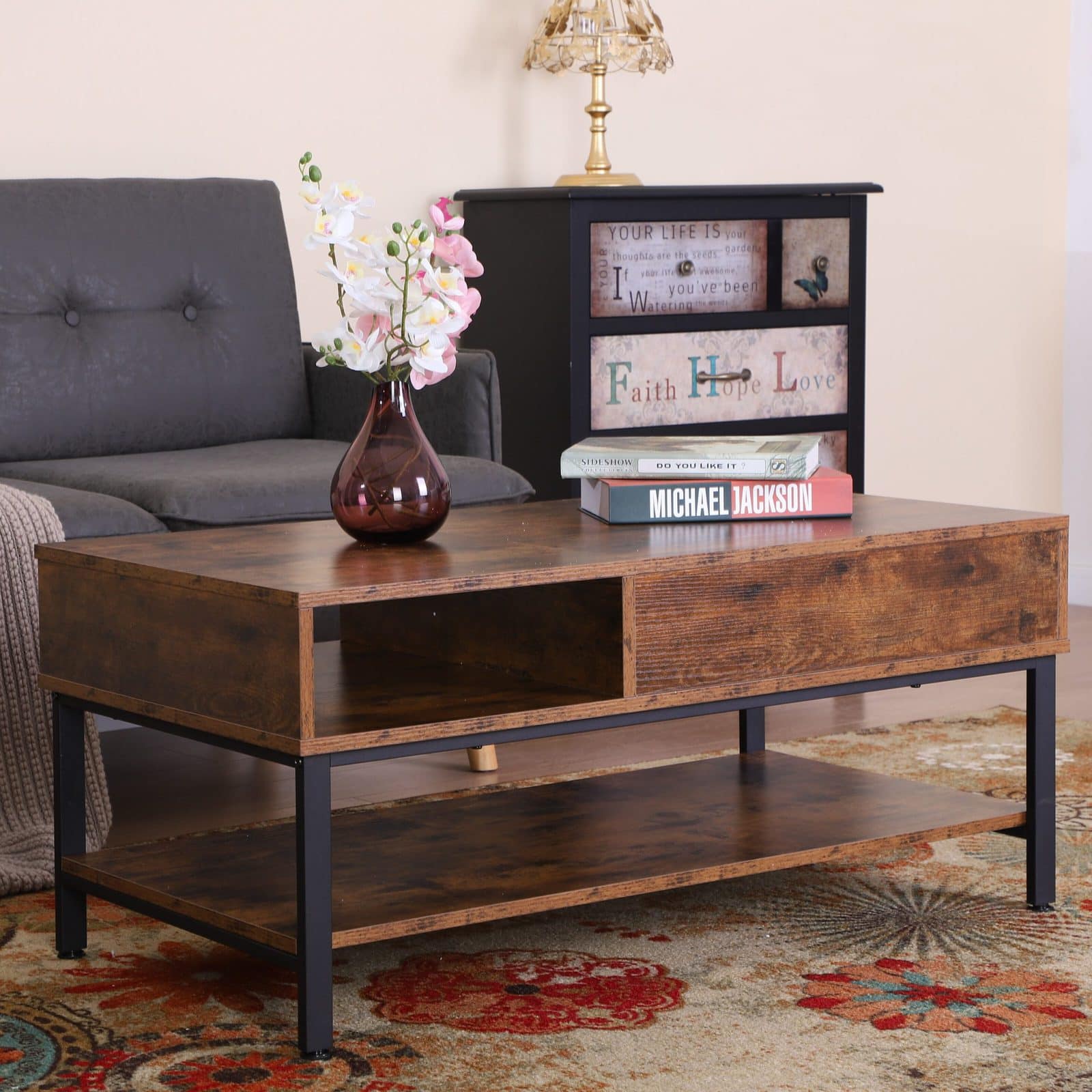 If you want a traditional look to your home, use a standard wooden rectangle table. These tables give off a classic look that's not too modern or too shabby.
The table pictured comes from Wayfair. The wood with black metal gives it a bit of interest, while the open shelf and lift-out tray provide plenty of storage.
Use a White and Wood Option for a Sleek Look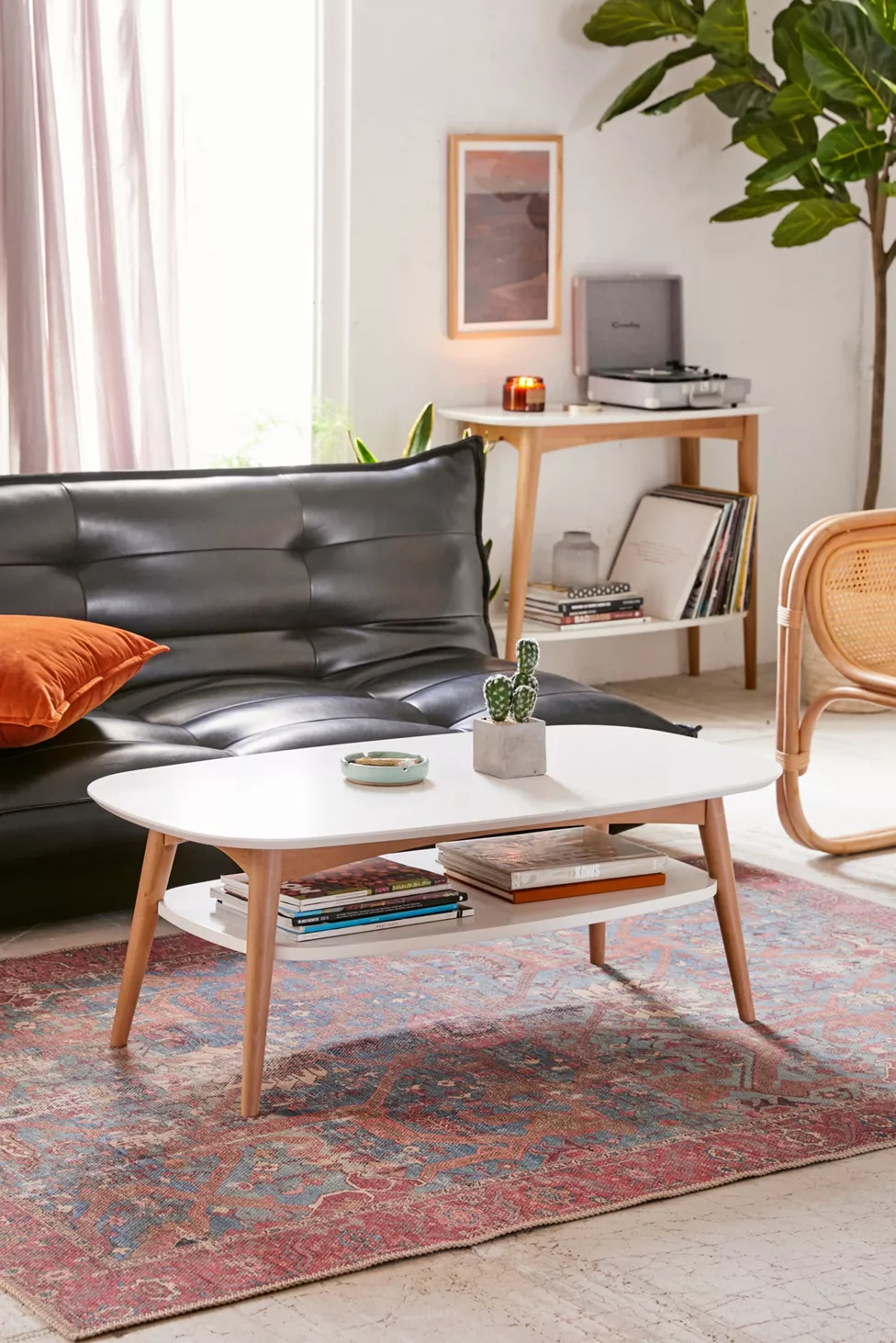 White and wood are a classic combo that can brighten your space and contrast a black sofa. While you can find white and wood tables for many styles, this one is great if you're looking for something sleek.
This table comes from Urban Outfitters and is a simple style with a slight mid-century modern look. Its natural finish will coordinate well if you have other wicker or rattan items in the room.
Modernize Your Room with a Mid-Century Table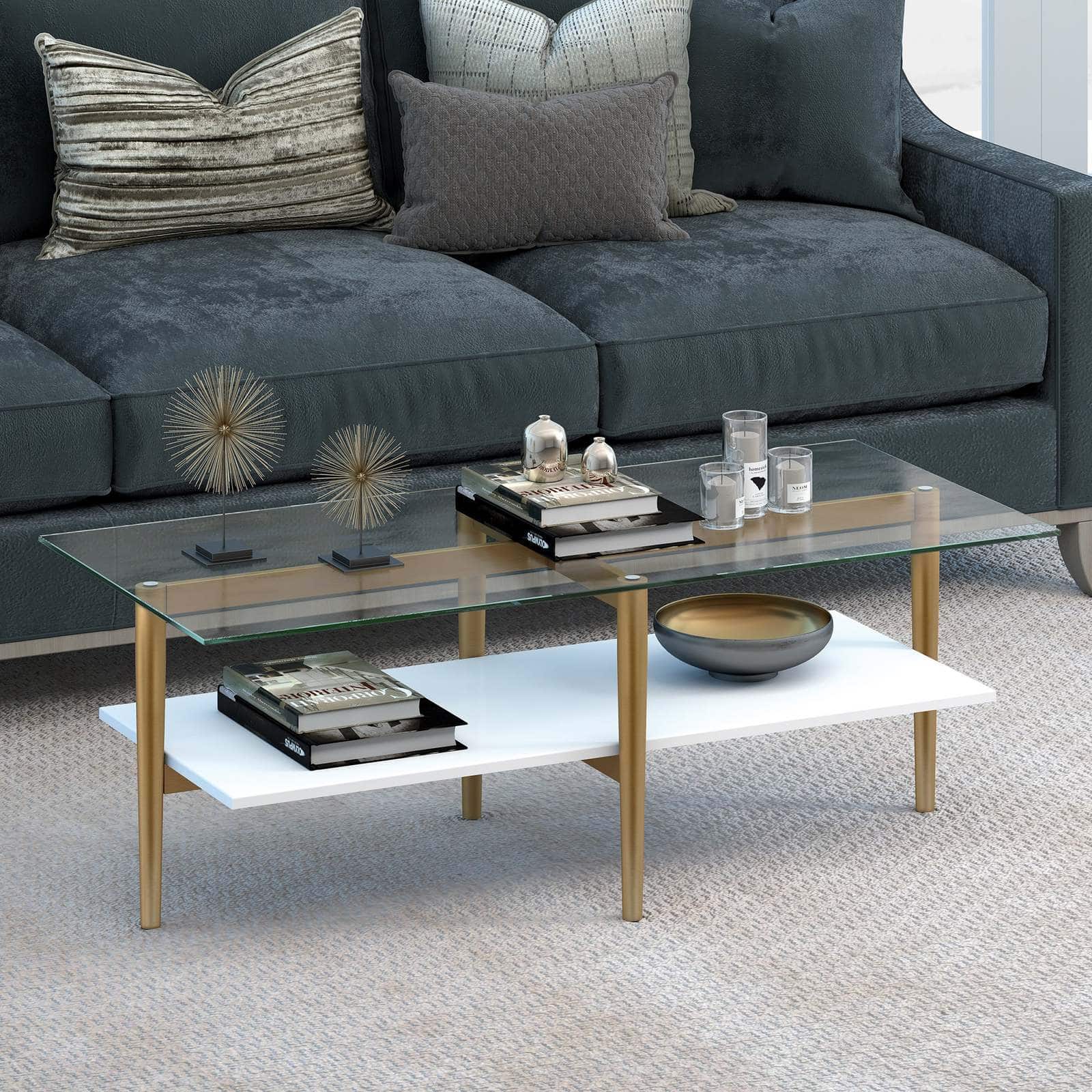 If you like mid-century glam, this table from Overstock is about as good as it gets. It features a brass base with a tempered glass top and white shelf.
If you're not into the brass look, you can also get this table with a black base. And while the table looks small in the photo, it's 42 inches long, so it's an appropriate size for a standard length couch.
Go with a Versatile Table if Unsure of Your Style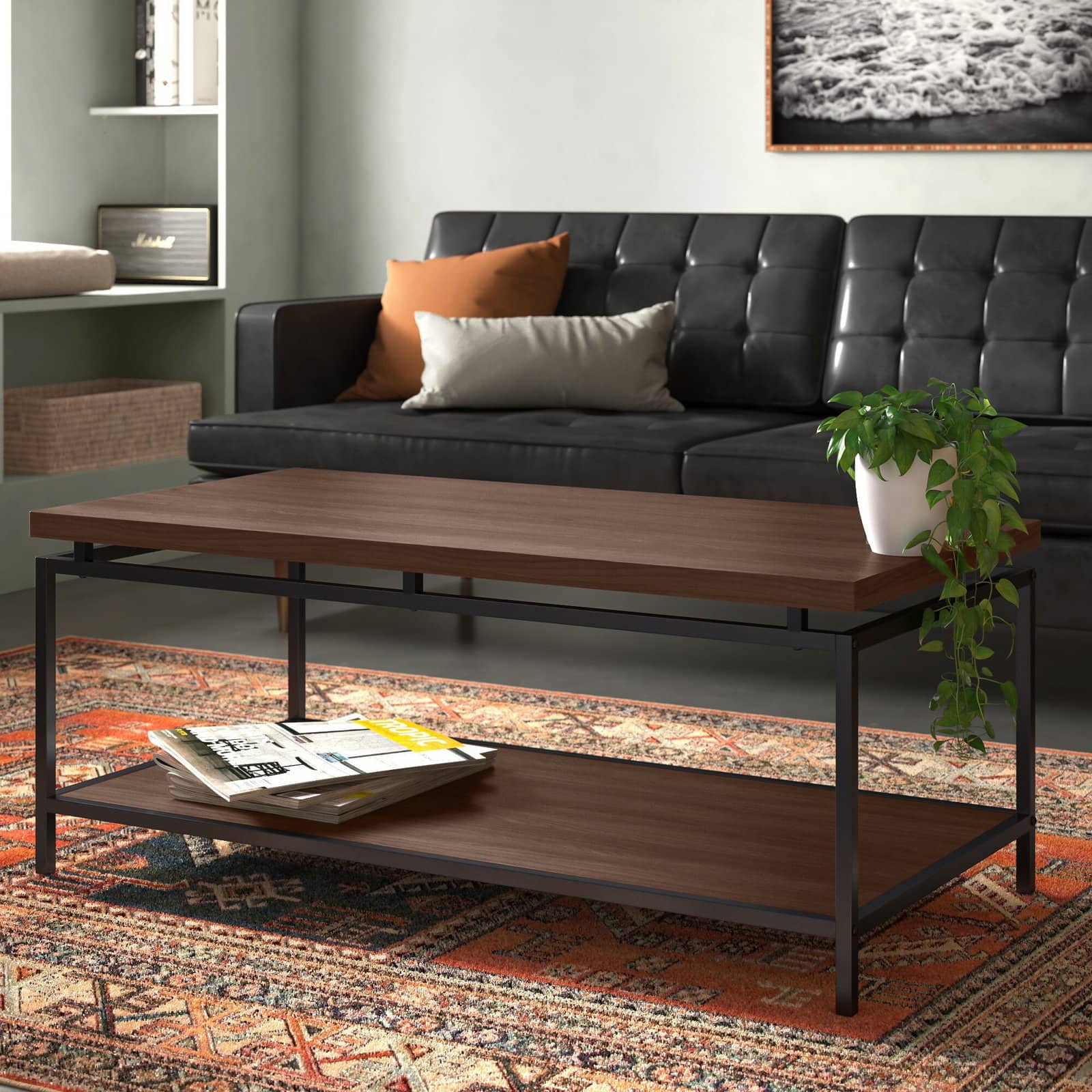 Not sure what your decor style is, but still want a table that looks good? Go with something like this.
From Wayfair, this table features a black steel base and engineered wood top. Its mix of materials gives it visual interest, but its basic shape will match just about any style. It's a great choice if you want something that easily fits your sofa.
Final Thoughts
So, what color coffee table goes with a black couch? Almost every type and color of table you can think of.
You can majorly influence how your sofa looks by the furniture you surround it with. So, if you want a modern look, choose a coffee table with clean lines. On the other hand, if farmhouse is your style, go for something organic and rustic.
At the end of the day, you can't go wrong with your table selection, so choose something you love.