Decorated Life is reader-supported. When you buy through links on our site, we may earn an affiliate commission. Learn More
15 Farmhouse Coffee Table Decor Ideas
Farmhouse style is all about bringing in different textures to create a cozy space. Some of the most popular farmhouse coffee table decor ideas include using decorative trays, layering books and candles, and adding greenery.
If you're going for this look, here are 15 of the best farmhouse coffee table decor ideas you can use in your home.
Add Stems to Clear Jars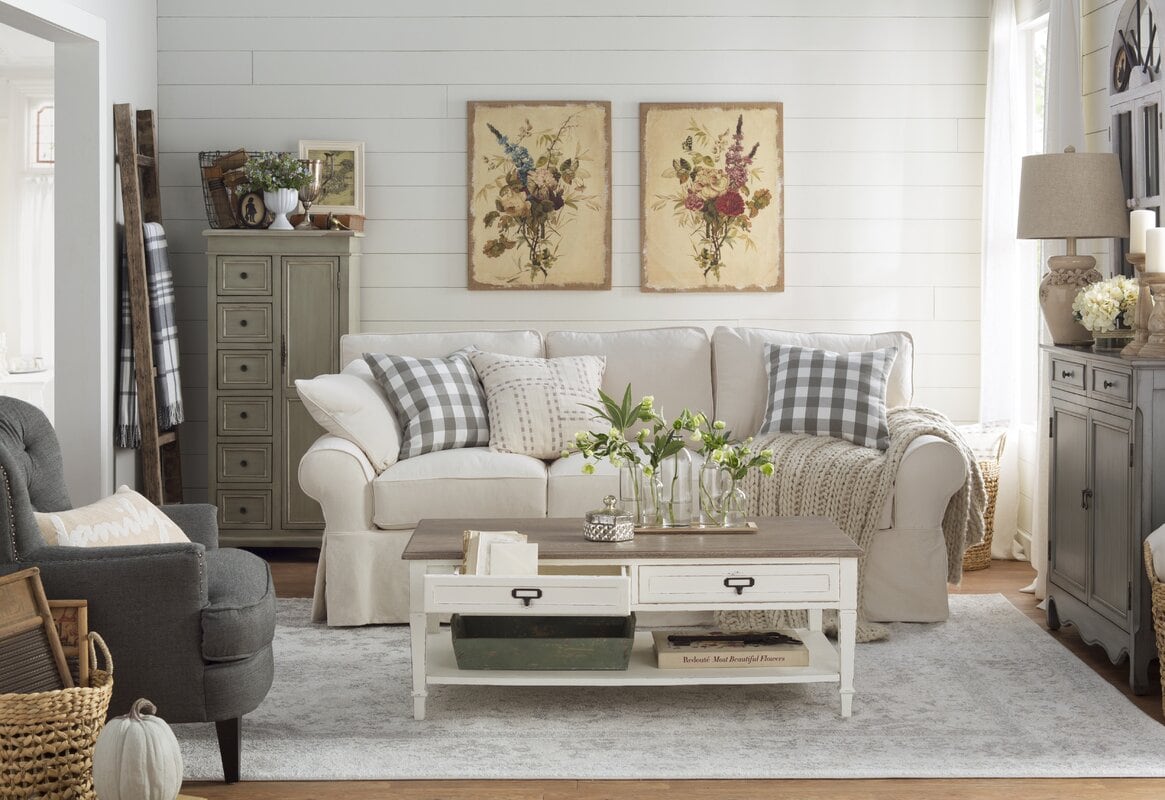 For an easy to achieve farmhouse feel, add plant stems to clear jars. To keep the look visually interesting, use jars of various heights. You can switch out the branches for each season.
This farmhouse coffee table decor is inexpensive, easy to switch out, and easy to keep up with.
Corral Items with a Decorative Tray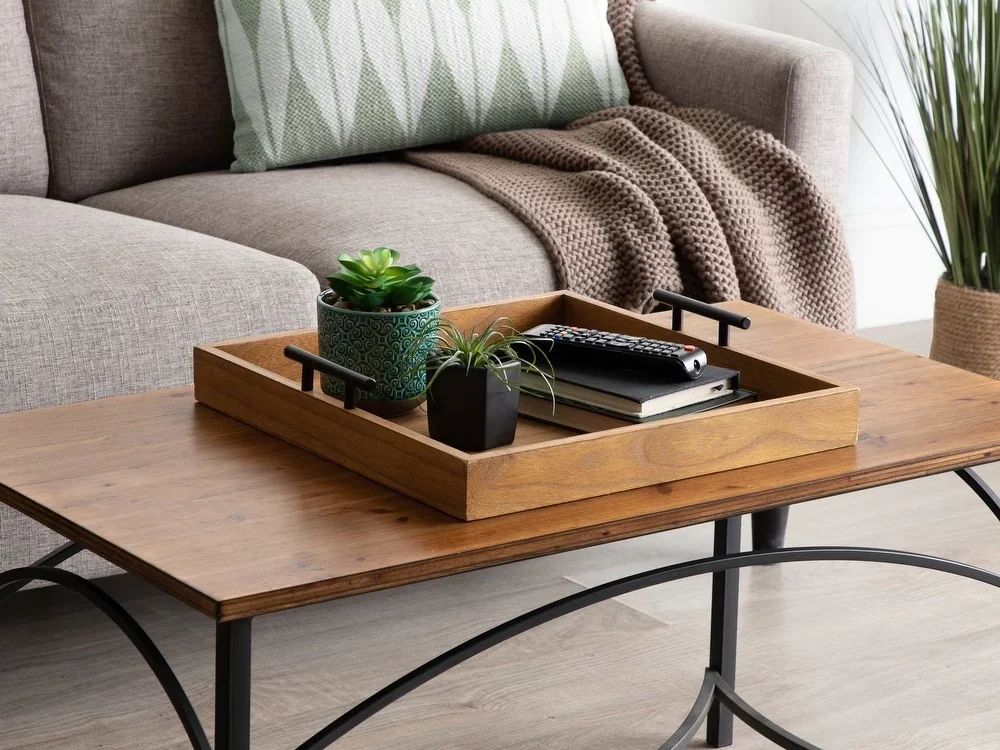 Decorative trays are universally great for coffee table decor, no matter the style. This is because they can act double duty, corralling items like remotes while still looking decorative.
This farmhouse coffee table tray comes in two finishes: wood and black or white and gold. The wood version lends to a modern farmhouse look, while the white and gold version gives glam farmhouse vibes.
Bring in a Lantern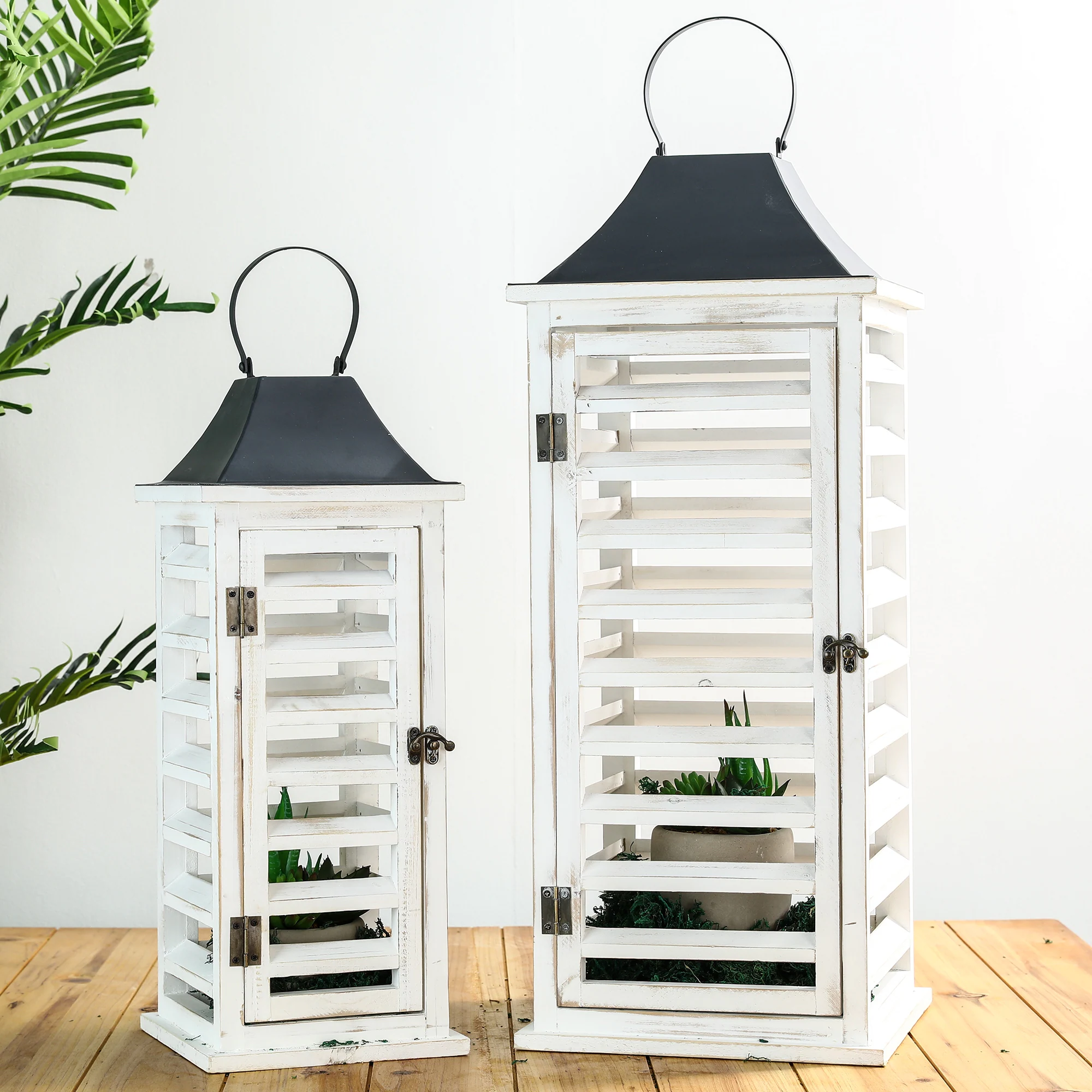 It doesn't get much more farmhouse than lanterns, and these modern shutter-style options are no exception. These would look excellent as a coffee table centerpiece.
There are so many ways to decorate with farmhouse lanterns and ways to dress them up. For example, you can place a regular candle, LED candle, or a plant inside them.
Create a Centerpiece with a Woven Pot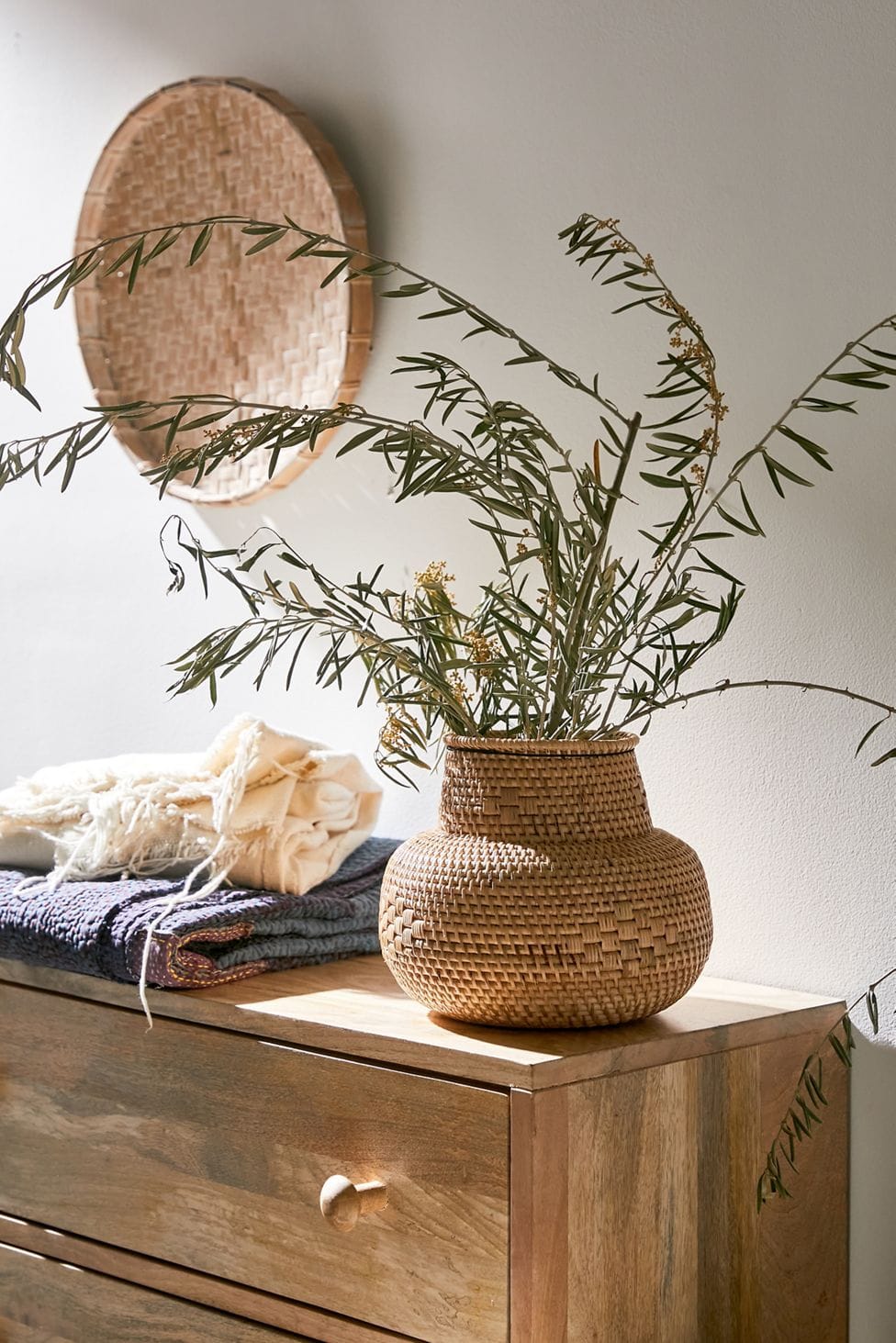 Plants are beautiful as farmhouse coffee table centerpieces, and this woven pot only intensifies the beauty of the plant.
Choosing a pot like this to act as your centerpiece helps bring texture and warmth to the room. This would look great no matter your color scheme and would be all you need as your table decor.
Up the Ambience with Pillar Candles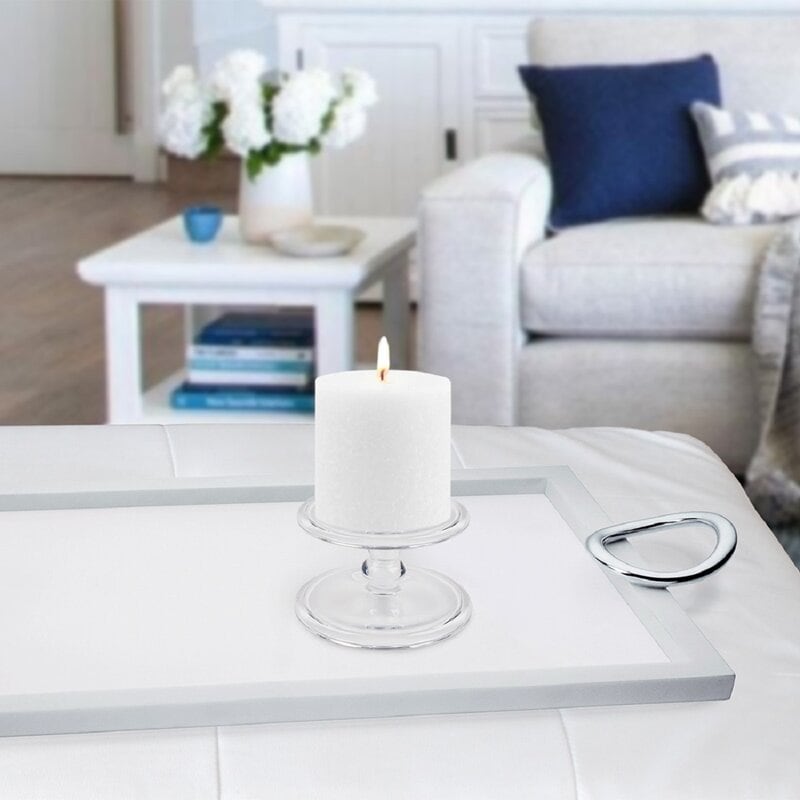 White pillar candles are simple pieces you can add to any living room for easy farmhouse coffee table decor.
These would look great on a tray or clustered together in a group of 3 or 5. If you have young kids or just don't like regular candles, you could switch these out for the battery-powered LED versions.
Go for a Polished Look with a Brass Tray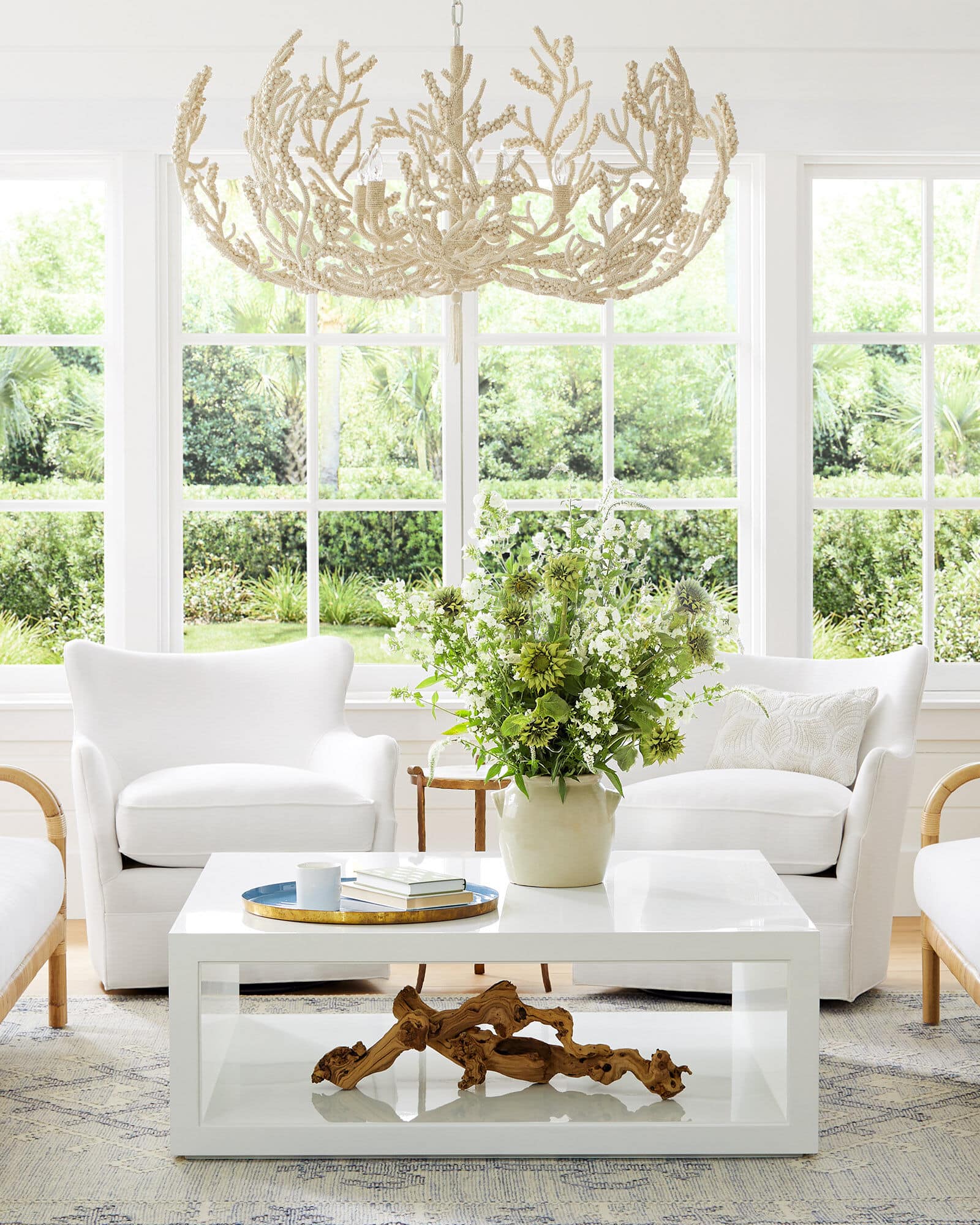 If you like a pulled-together look, go for a brass tray. The tray is functional and a perfect place to put your books and remotes. However, the brass design gives it a more polished look.
This would be a perfect centerpiece for a modern farmhouse look. You can even dress it up a bit by placing a plant beside it.
Highlight Fresh Blooms with a Pretty Vase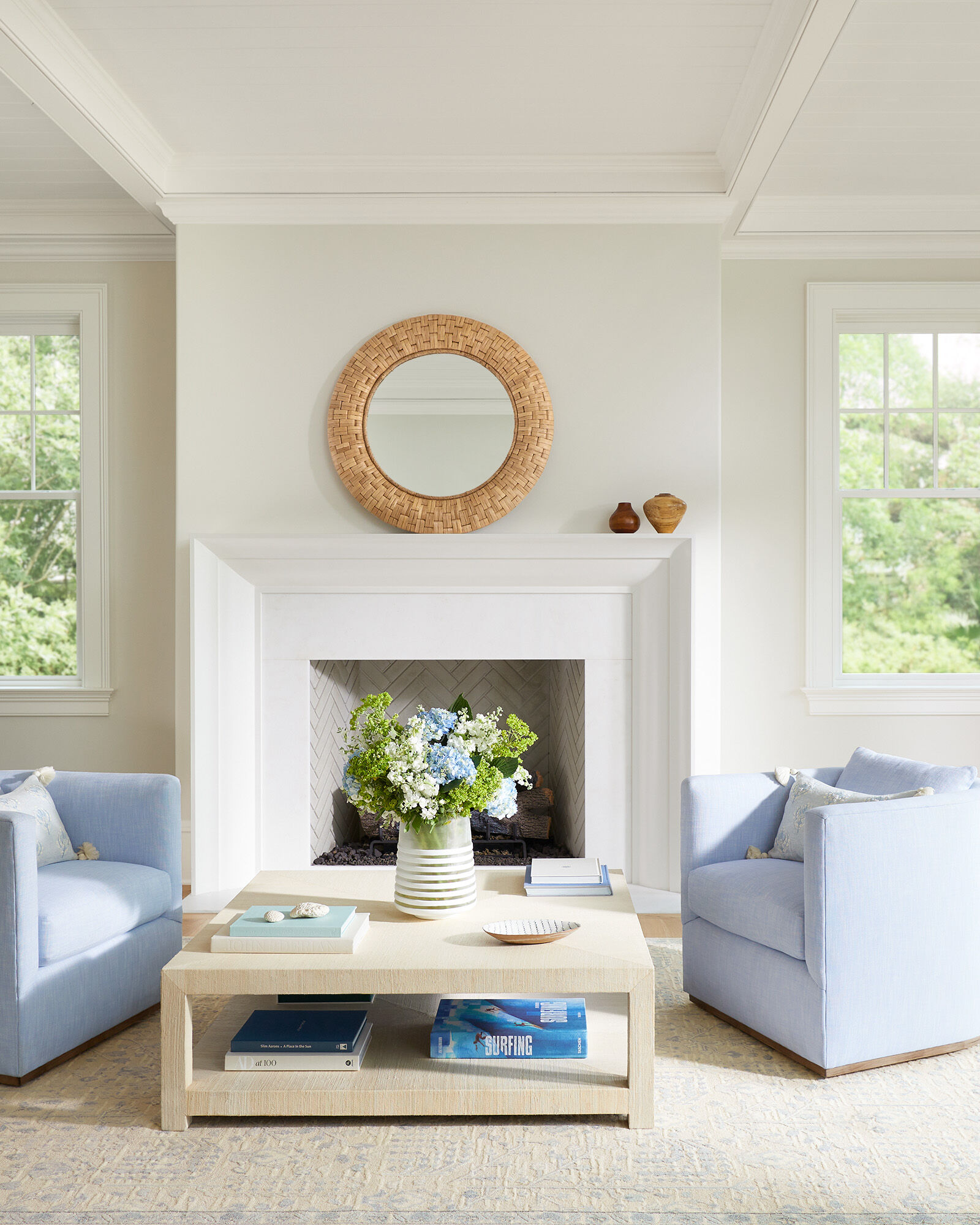 Flowers will always be an amazing centerpiece, no matter the table. For a farmhouse look, try a simple striped vase like the one pictured.
The vase is pretty but subtle. It doesn't compete with the flowers but instead enhances their look making the perfect farmhouse coffee table decor. Plus, by using a vase as your centerpiece, you can switch out the look with new greenery as the seasons change.
Group Vintage Looking Candlesticks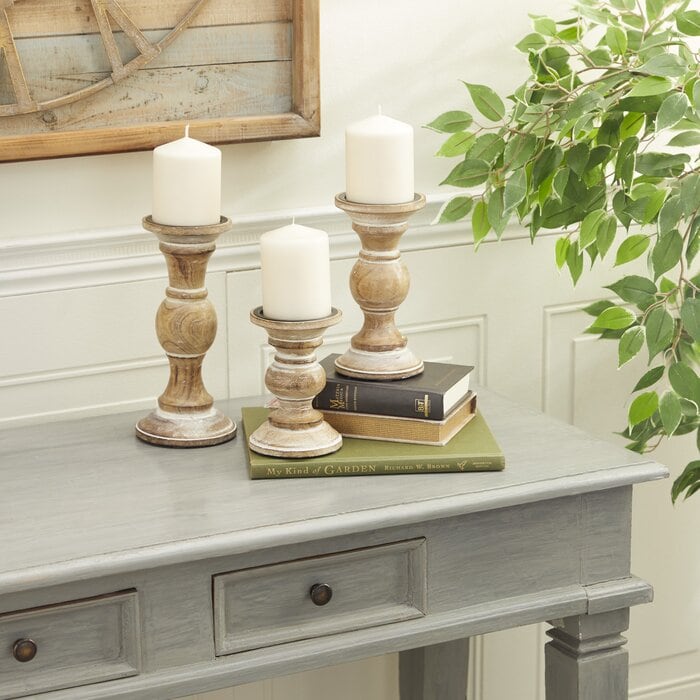 Vintage candlesticks are great farmhouse decor. They look good by themselves or alongside books and plants.
For a simple look, group three of these candlesticks and add pillar candles to them. For a more eclectic look, place them alongside vintage coffee table books.
Add Faux Cotton Stems to a Vase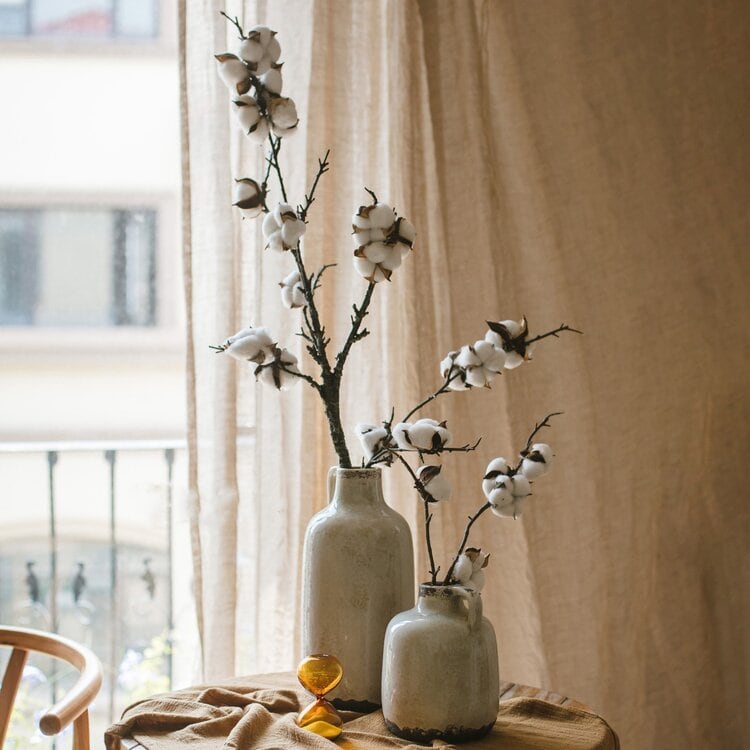 Cotton stems scream farmhouse style. And if you're looking for an effortless and inexpensive idea, this is hard to beat. All you need is a package of faux cotton stems and a thrifted vase, and you have the perfect coffee table decor.
These will look great as the focal point of your table or as accents on your end tables.
Use Wooden Decorative Balls for Texture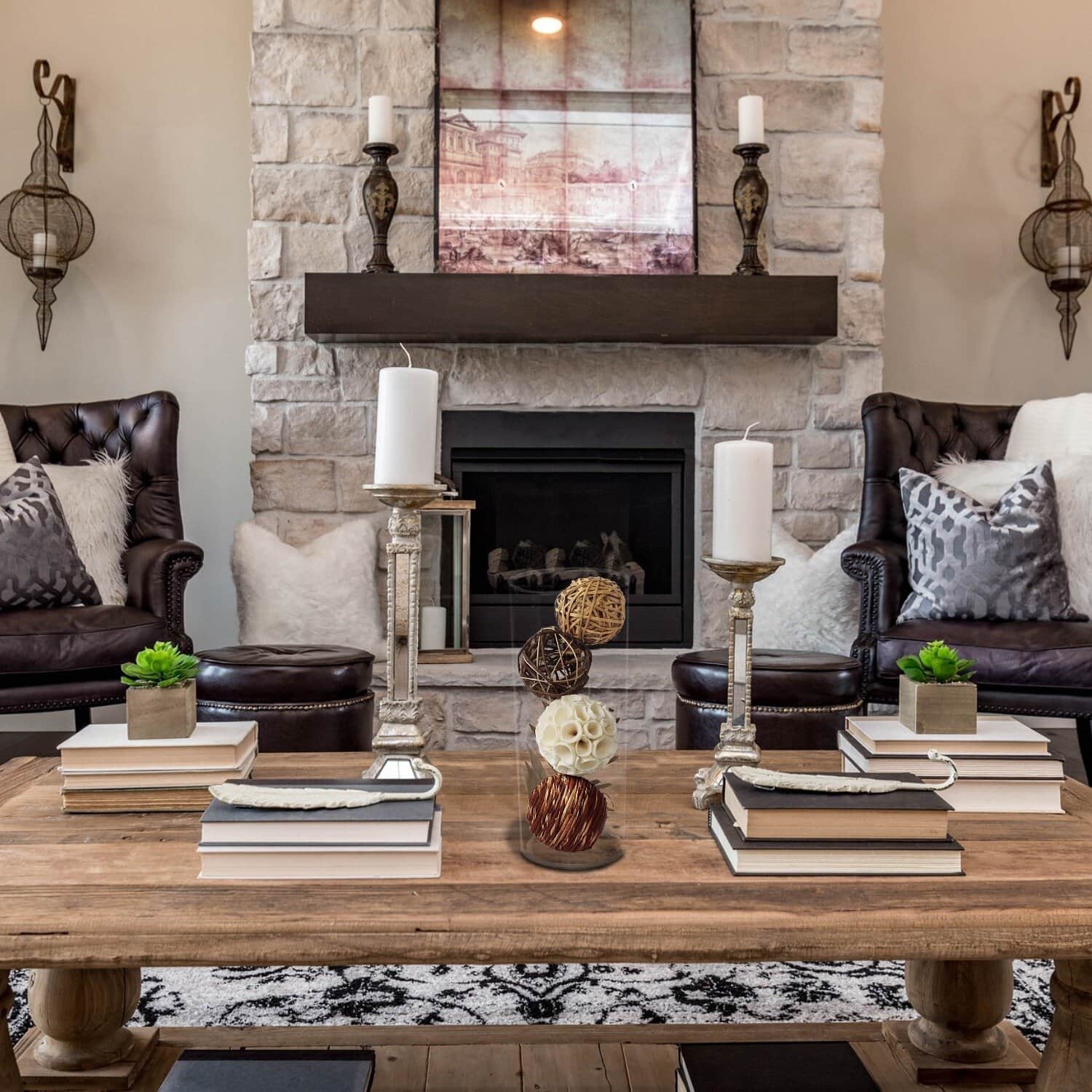 If you need to pull texture into the room, try these decorative wooden balls. You can place these in a clear vase or a bowl.
Use these as the main centerpiece or mix in with old books and candles. You could also add a battery-operated string light for an extra touch of texture and ambiance.
Mix Vases, Books, and Candles for a Layered Look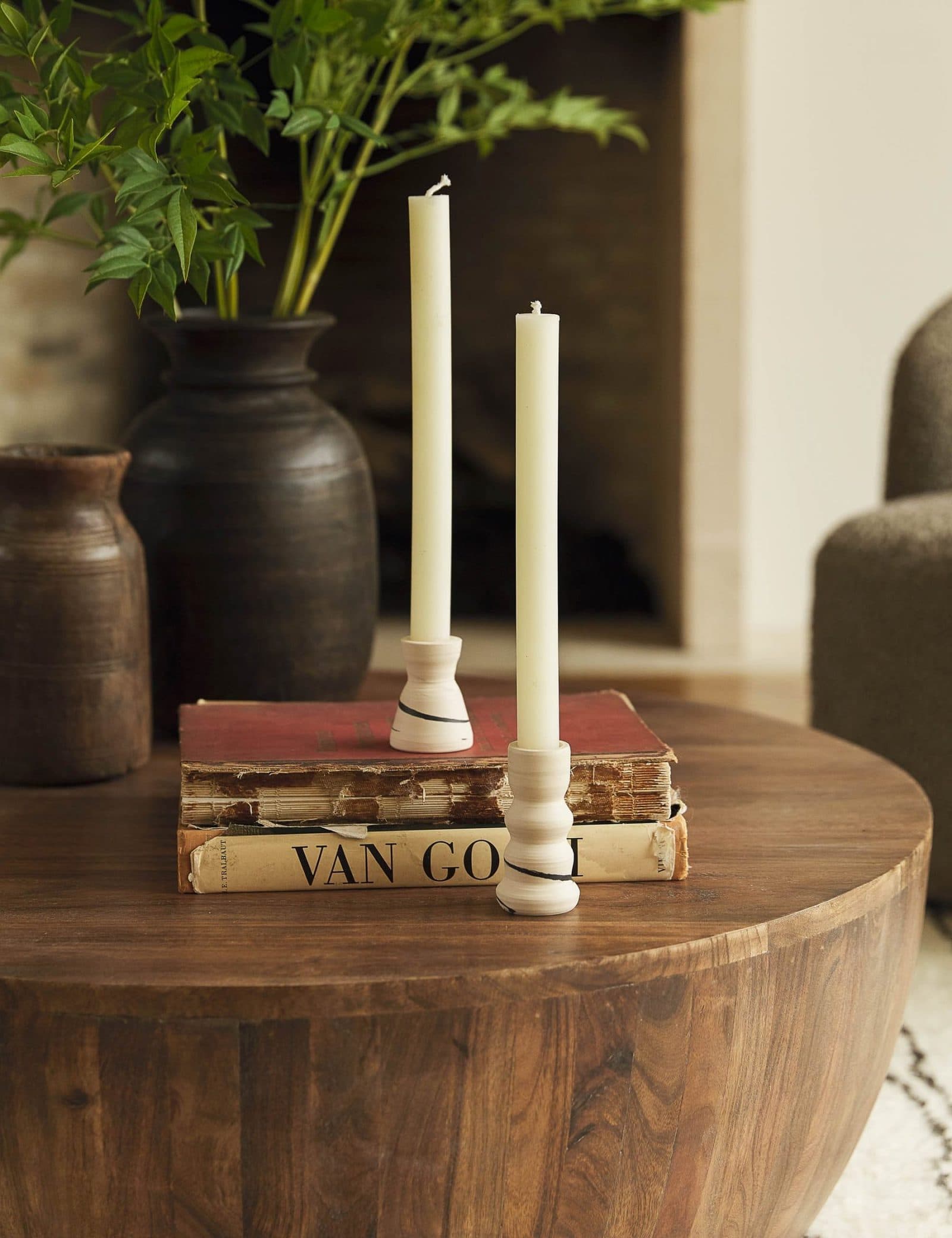 If you like a collected look, don't settle for just one piece of decor. Instead, mix a few things for maximum effect.
For a farmhouse look, white candles and candlesticks like pictured above are always a great start. Then add in your favorite vase, greenery, and some old books. And remember, not everything has to be new. The best way to get this look is to mix the old with the new.
Demand Attention with a Stag Head Candle Holder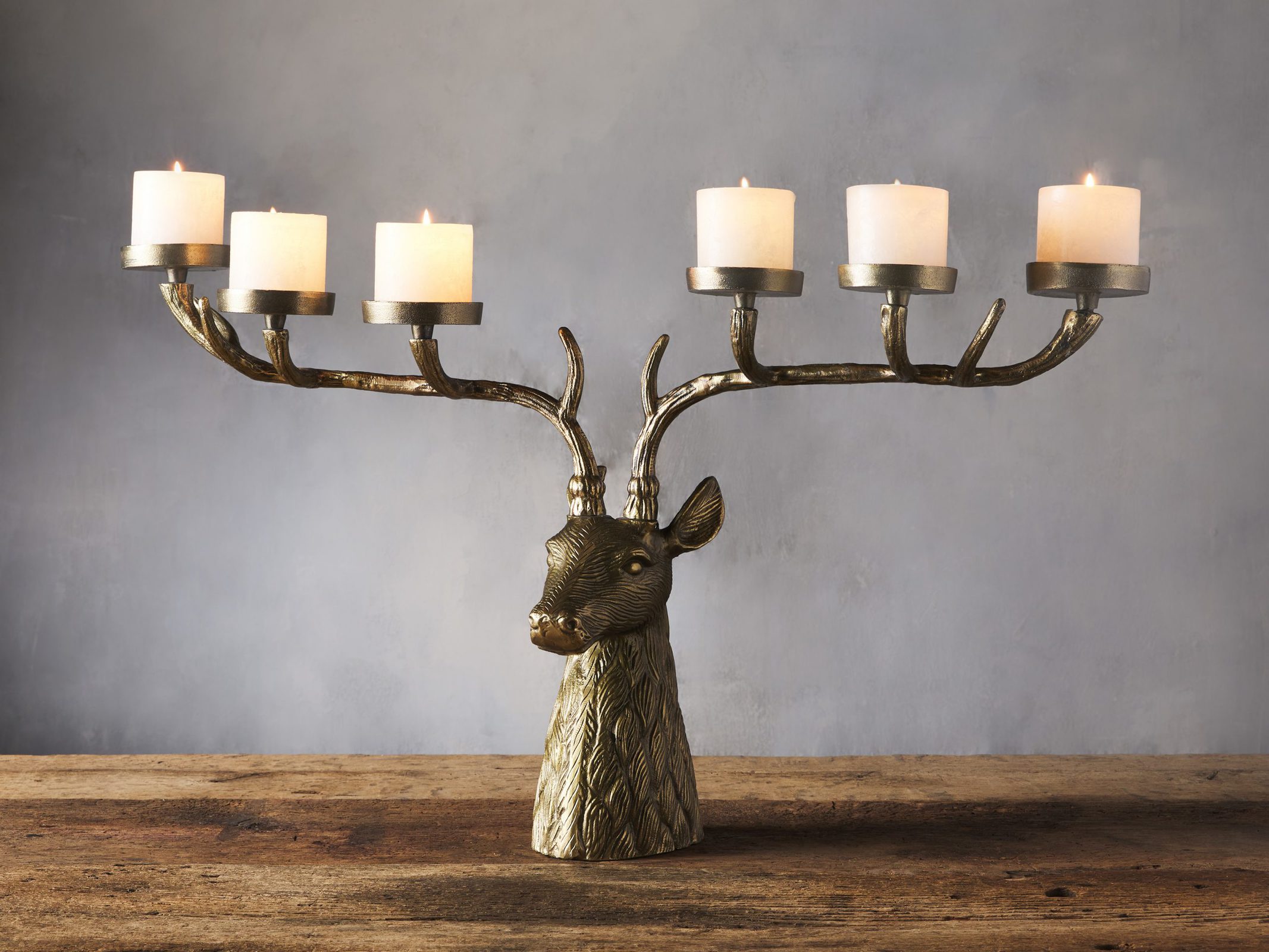 If you're looking for a conversation piece, this is it. This stag head candle holder is handcrafted from cast aluminum and finished in antique brass. It can hold six small pillar candles.
This would look great as a centerpiece in a modern farmhouse living room. It's 33.5" wide, so it's best for a long coffee table.
Stack Wooden Boxes for Hidden Storage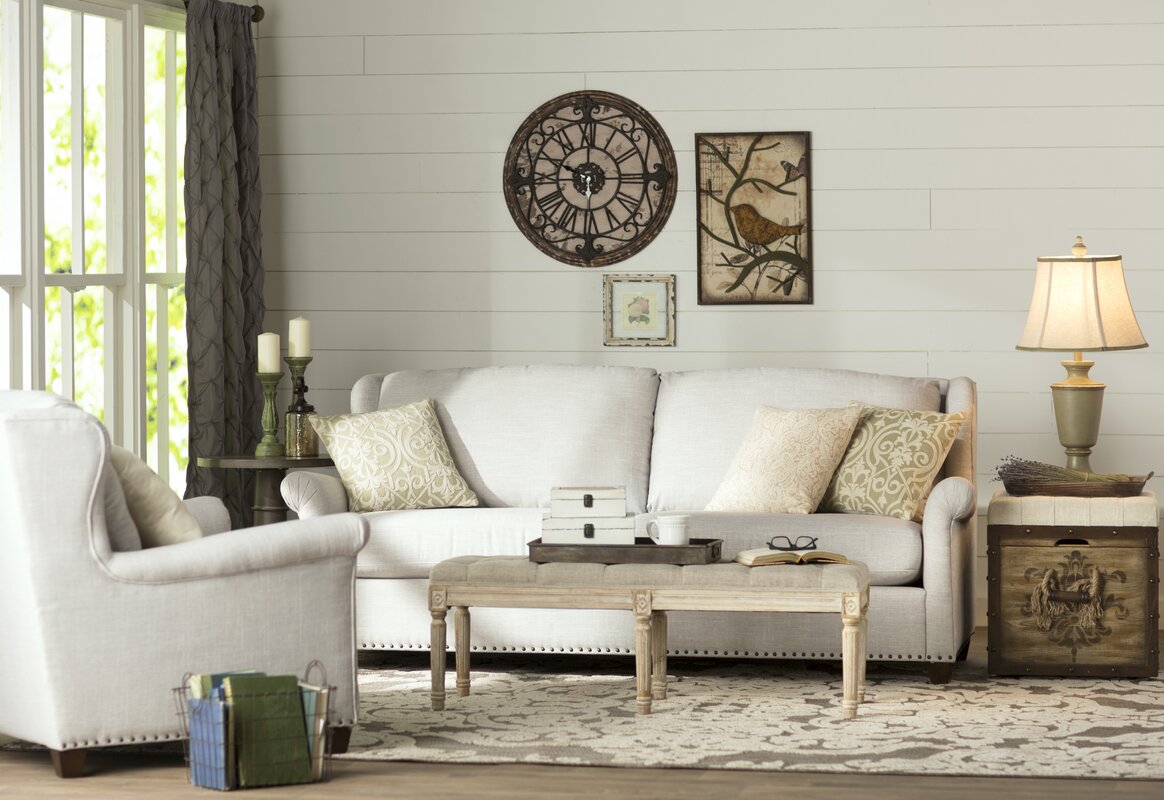 Need farmhouse coffee table ideas that conceal messes? Try wooden boxes. You can find these boxes in antiqued or white versions like shown above. These are perfect for hiding remotes, pens, or small pads of paper.
The great thing about these is that you can choose the size that works best for your family. These will help cut down on visible messes and double down as decor.
Try a Maintenance Free Succulent if You Have a Black Thumb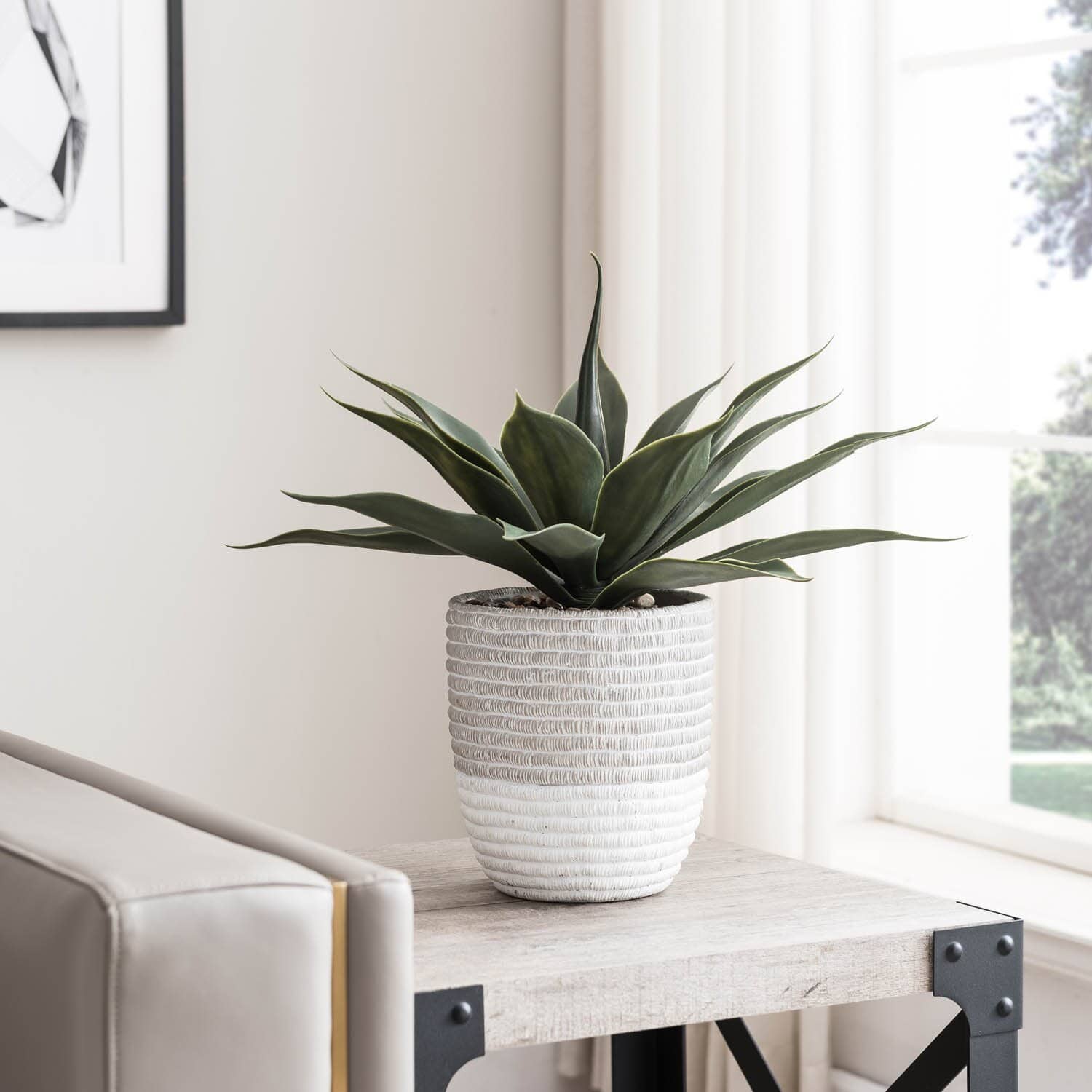 If you like the look of plants but have a black thumb, try one of these artificial succulents. This one is a faux agave plant, and even though it's not living, it looks like it is.
If you like a clean, simple look, use this as your centerpiece. If you want a collected look, add in other elements like candles and trays.
Display Items with a Wooden Dough Bowl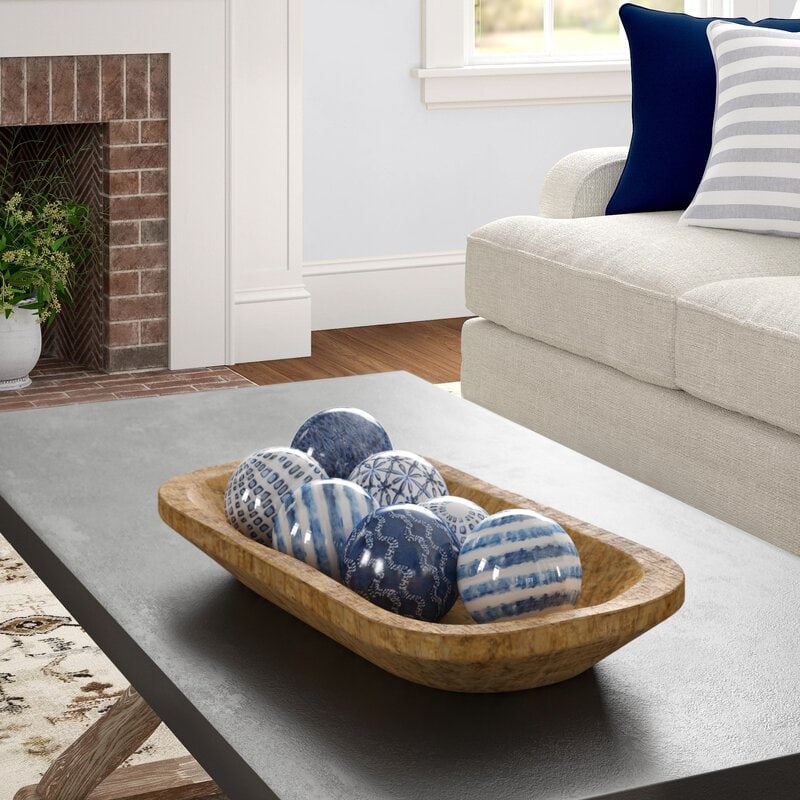 Wooden dough bowls are beautiful and work wonderfully as farmhouse coffee table decor. You can dress them by adding glass or wooden balls, garlands, wooden beads, or even pinecones.
The decor you place in your bowl can be switched out for the season, making this the perfect option for anyone who likes to change up their decor.
Final Thoughts of Farmhouse Coffee Table Decor Ideas
The farmhouse look is all about pulling in different textures to create a cozy, inviting atmosphere. You can do this by layering items on your coffee table like plants, books, candles, and vases.
If you prefer a modern or minimal farmhouse look, try picking just one centerpiece. A larger item like a dough bowl or candle holder will work wonderfully.