Decorated Life is reader-supported. When you buy through links on our site, we may earn an affiliate commission. Learn More
What Coffee Table Goes with a Gray Couch?
In the past several years, gray couches have exploded in popularity. And for good reason. These sofas are a great neutral that can easily be dressed up or down, depending on the room's design.
If you have a gray couch and are trying to choose a coffee table, there are many solid options depending on the style you like best.
Use these 11 ideas to find your perfect fit.
Go Ultra Modern with a Concrete Table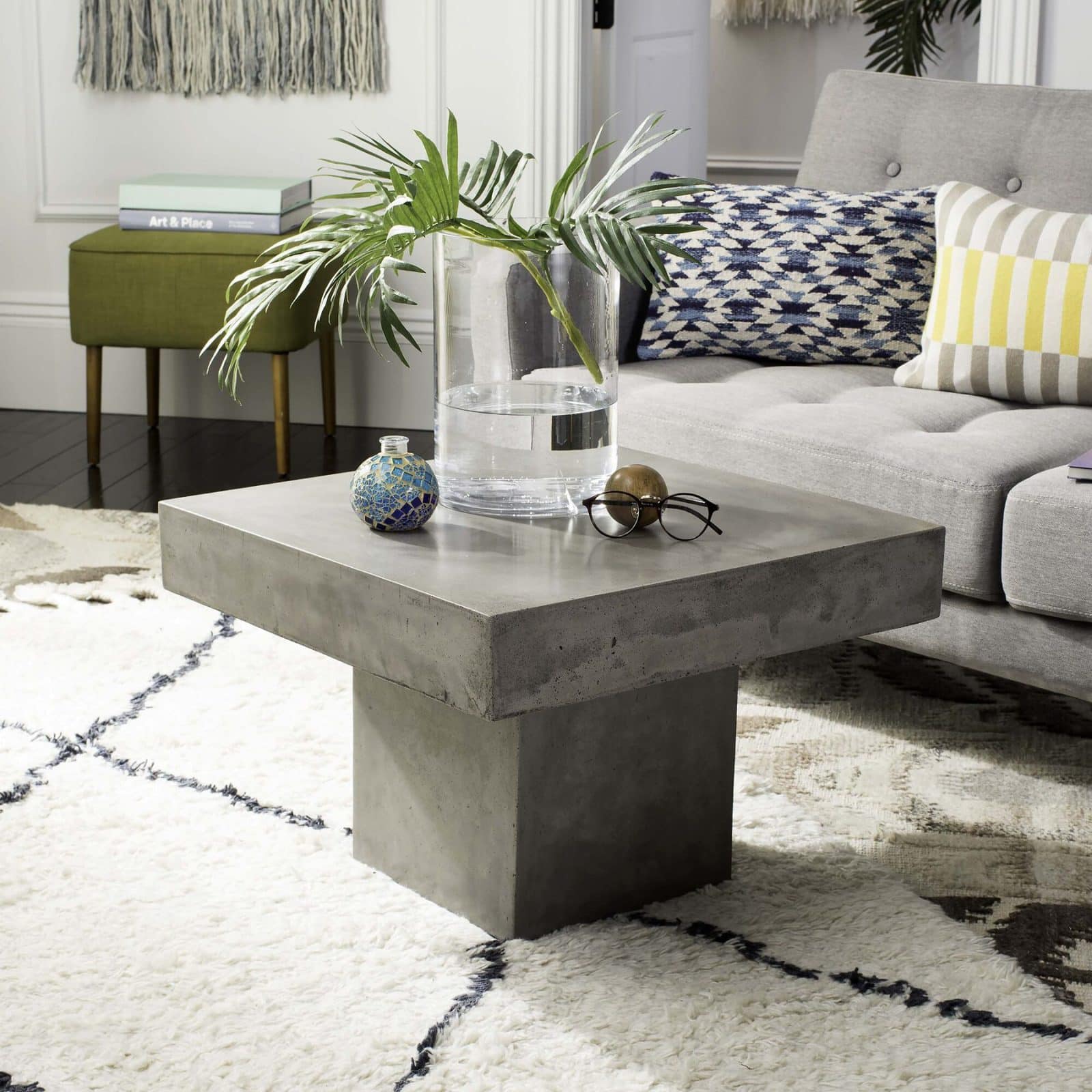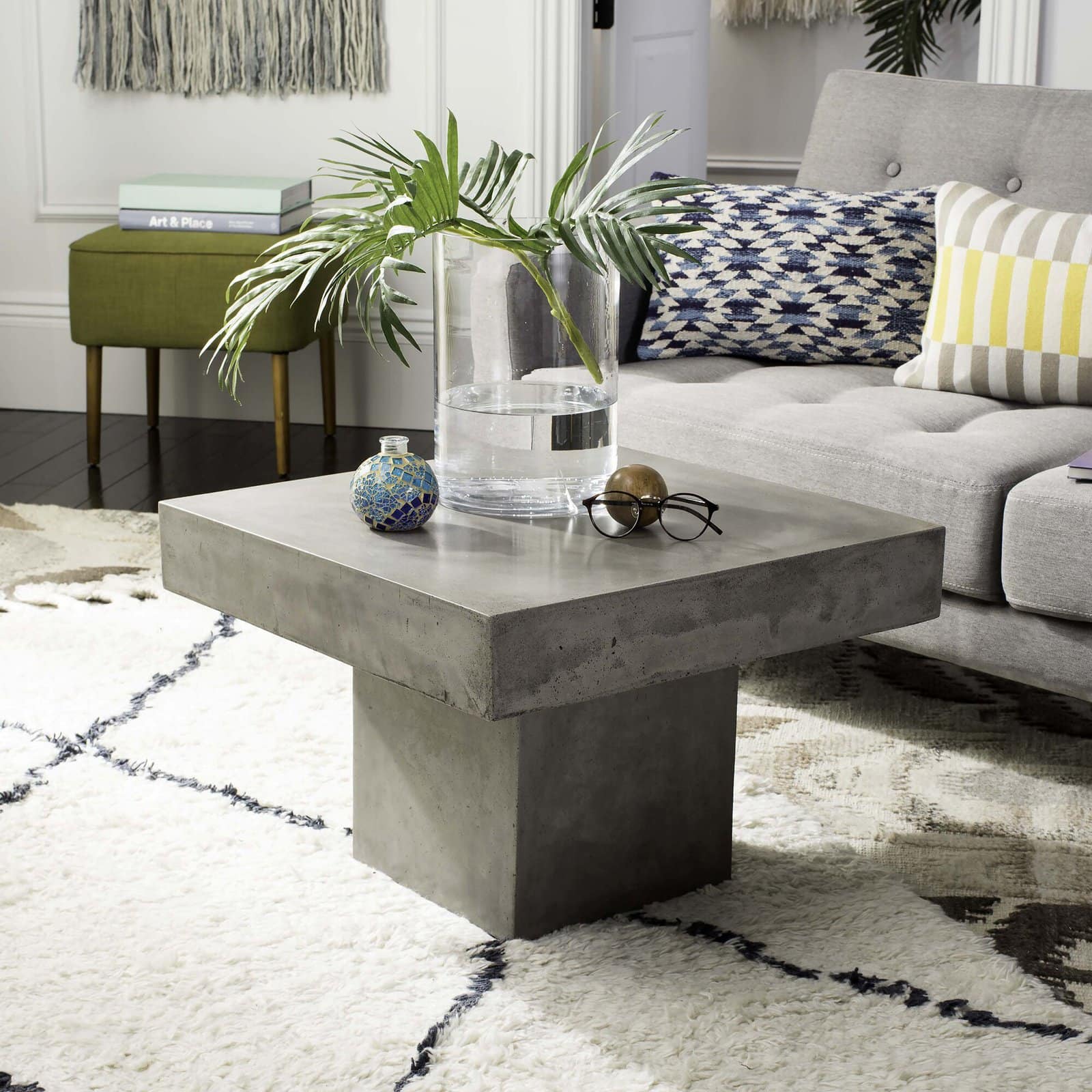 While most organic style tables add a rustic look to a room, concrete is modern. And best of all, it matches every type of couch, including gray.
Consider a concrete coffee table like this to add texture and a contemporary flair to your living room. It has clean lines, and even though it's on the smaller side, it still offers plenty of room for a cup of coffee and your favorite book.
Try a Table that Combines Rustic and Modern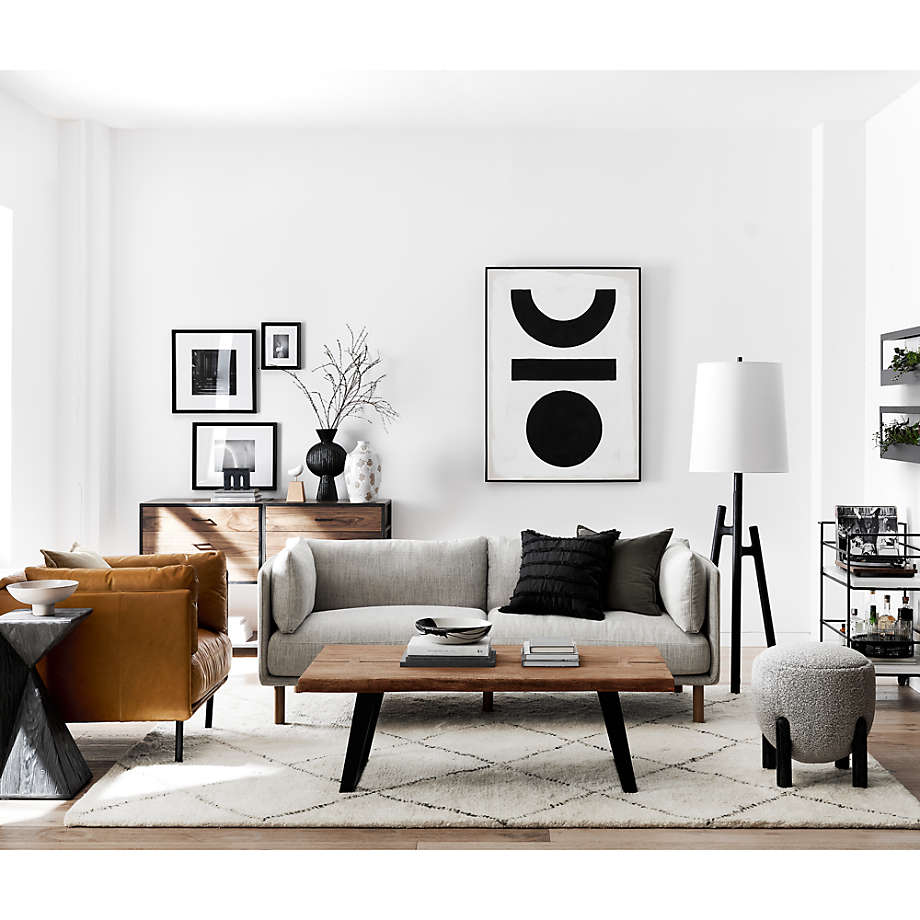 If you want to add warmness to your space without going too rustic, try a table that combines wood and metal.
From Crate and Barrel, this coffee table has a raw edge acacia wood top with a steel base in an antique black finish. The top comes in two stain choices: natural and gray. This table is one of the best choices for a gray sofa.
Get a Traditional Look with Warm Wood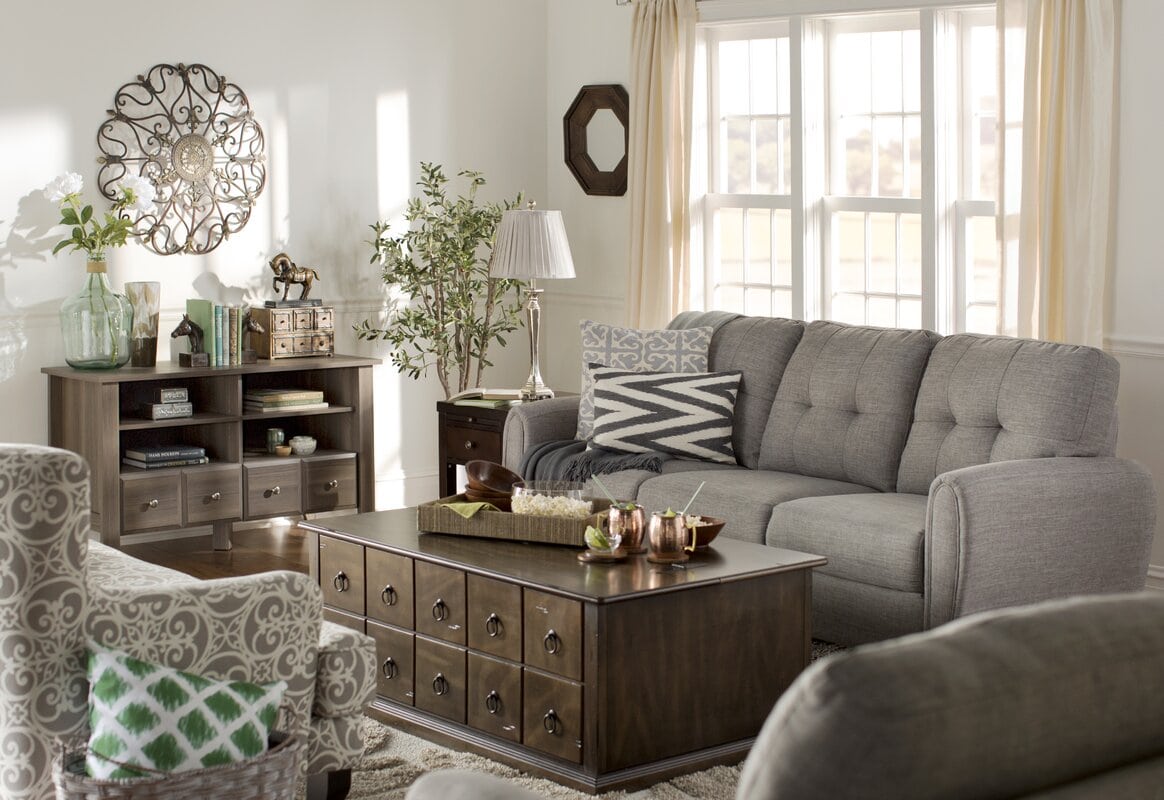 Traditionally styled living rooms are warm and inviting. They're a great place to kick back and watch a movie or lounge on the couch.
If this is the look you're going for, pair your gray couch with a wood table. The wood will warm up the gray making the room feel more inviting.
Bring in a Pop of Color with a Bone Inlay Table
Bone inlay tables are beautifully crafted, usually by hand, with fragments of bone or shell to create a pattern. And aside from giving a room a high-end look, they're also great for adding color.
If you want a coffee table that's anything but boring, consider this one from Anthropologie. It has a brass base, a bone-inlay pattern, and is a beautiful shade of blue.
Beautify Your Space with Real Wood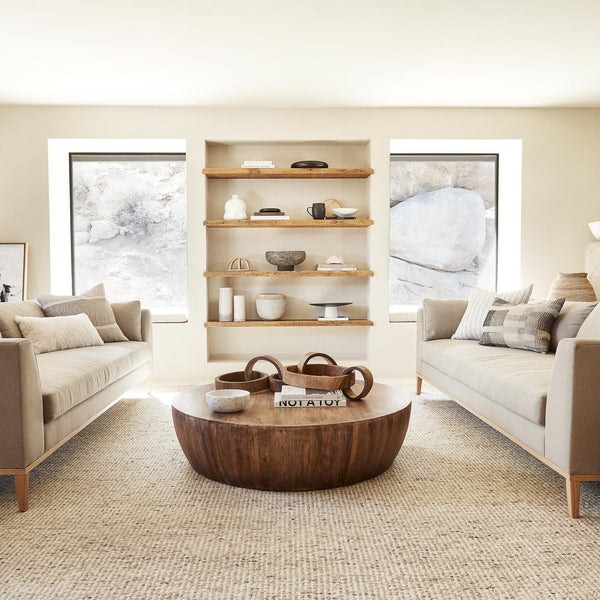 High-quality wood coffee tables are a staple piece for the living room. Not only do they match all sofas, but they bring in texture and contrast.
If you're interested in investing in a wood table, this one from Lulu and Georgia is a great option. It has a modern round shape, comes in two sizes, and features beautiful mango wood. It's modern but still works with traditionally styled rooms.
Add Storage with This Mid-Century Option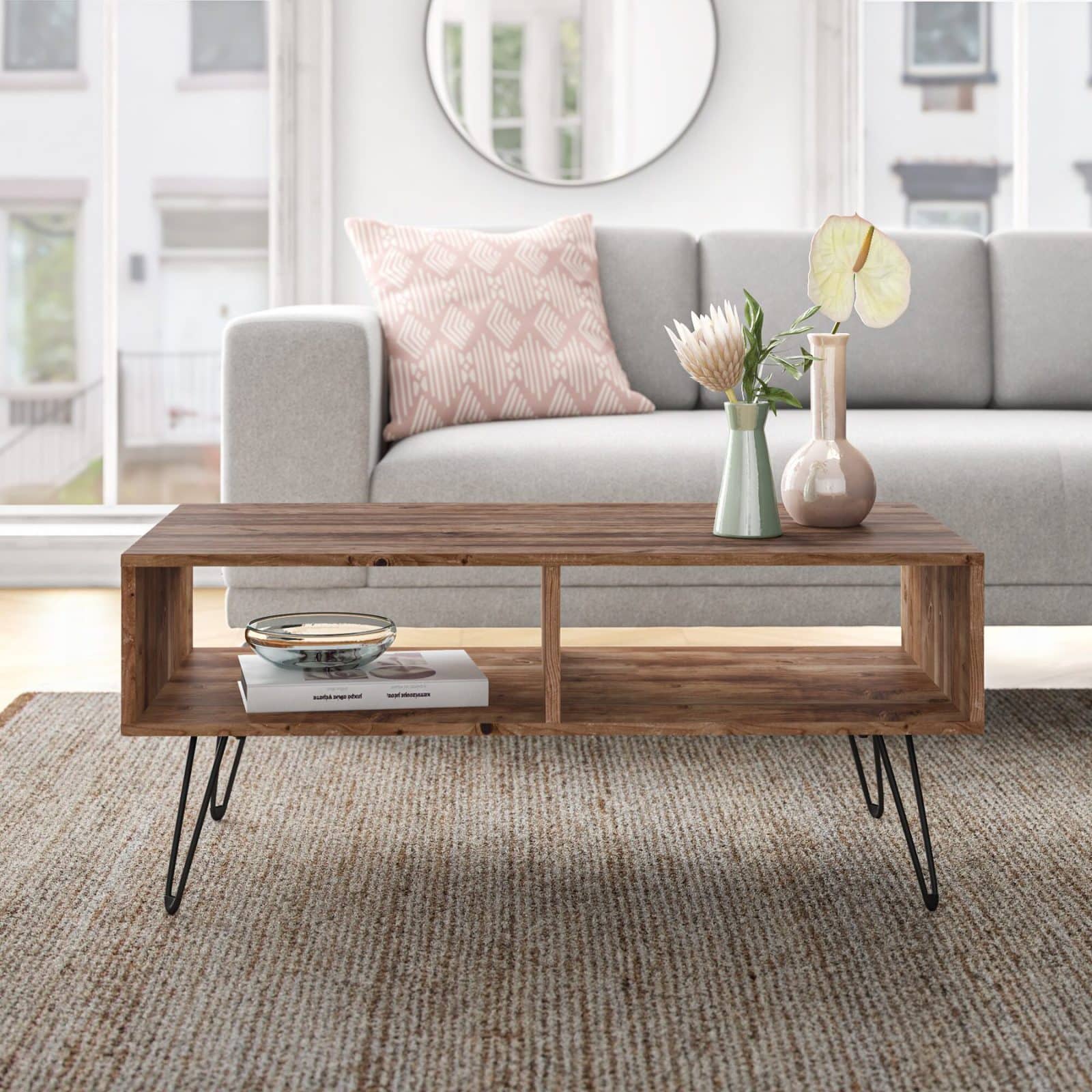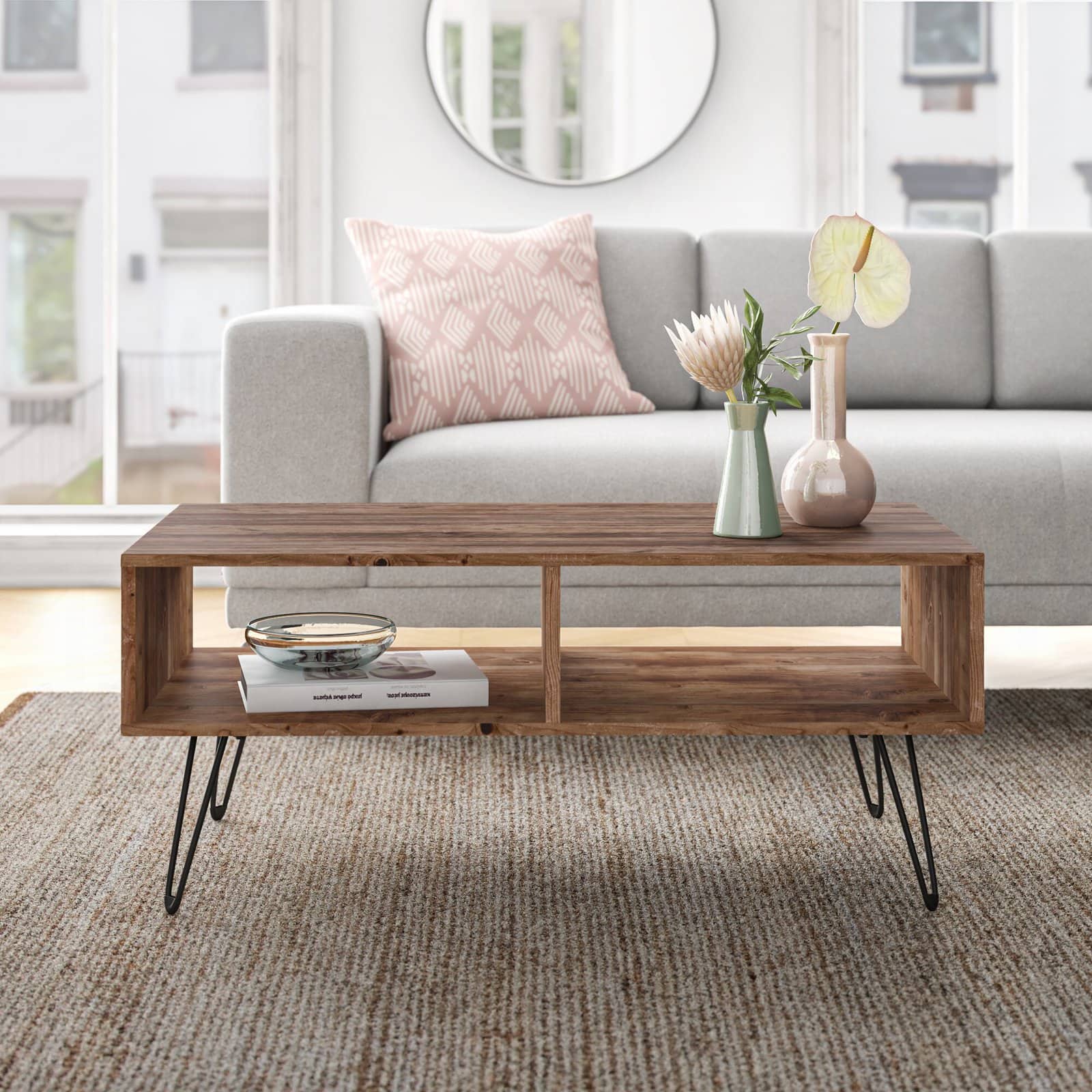 If you're living in a small space, every square inch counts – which is why you should look for storage in your coffee table.
This mid-century modern piece from Wayfair will provide storage, give your room a modern flair, and perfectly match your gray sofa. The table is high-quality reclaimed fir wood with hairpin legs.
Use a Marble-Inspired Table to Add Elegance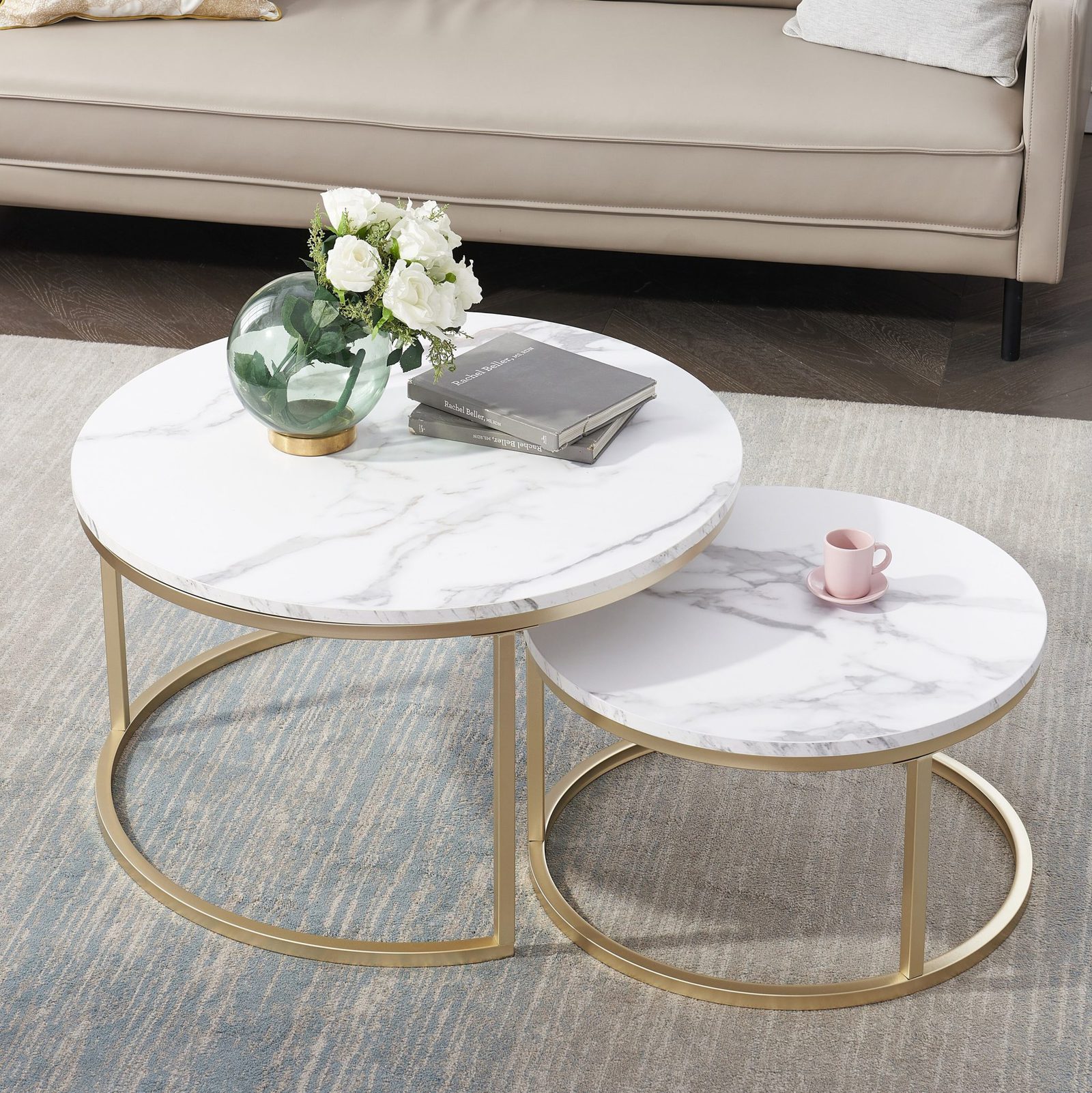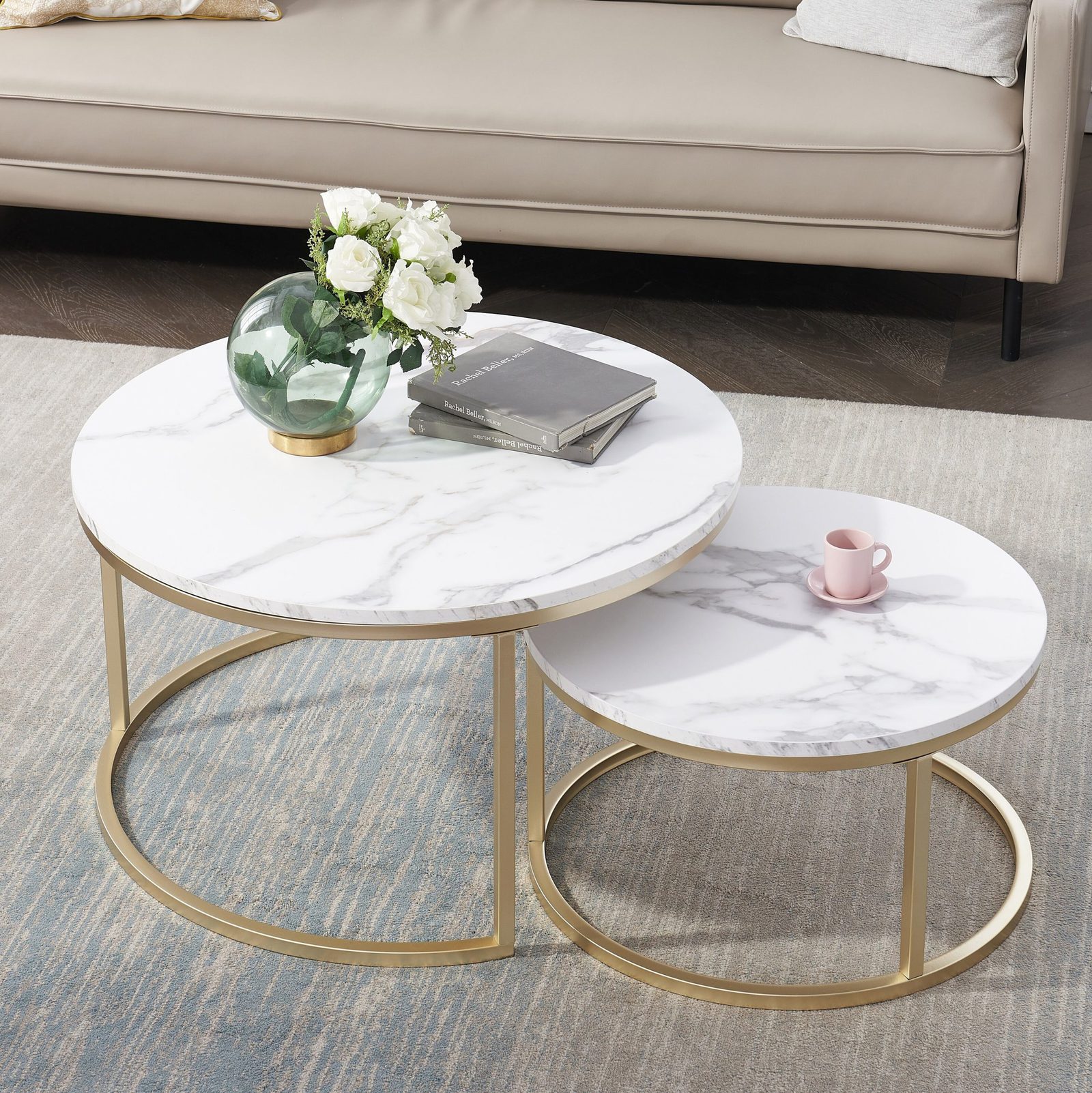 If you want a feminine, elegant, or glam look, marble and gold are the way to go. And if you're short on space, nesting tables like this are the best solution.
These tables from Wayfair feature a marble-inspired top and brass bass. They come in a set of two. You can pull them out when you have guests or tuck the small one under the large table when you need to make space.
Achieve a High-End Look with Quartz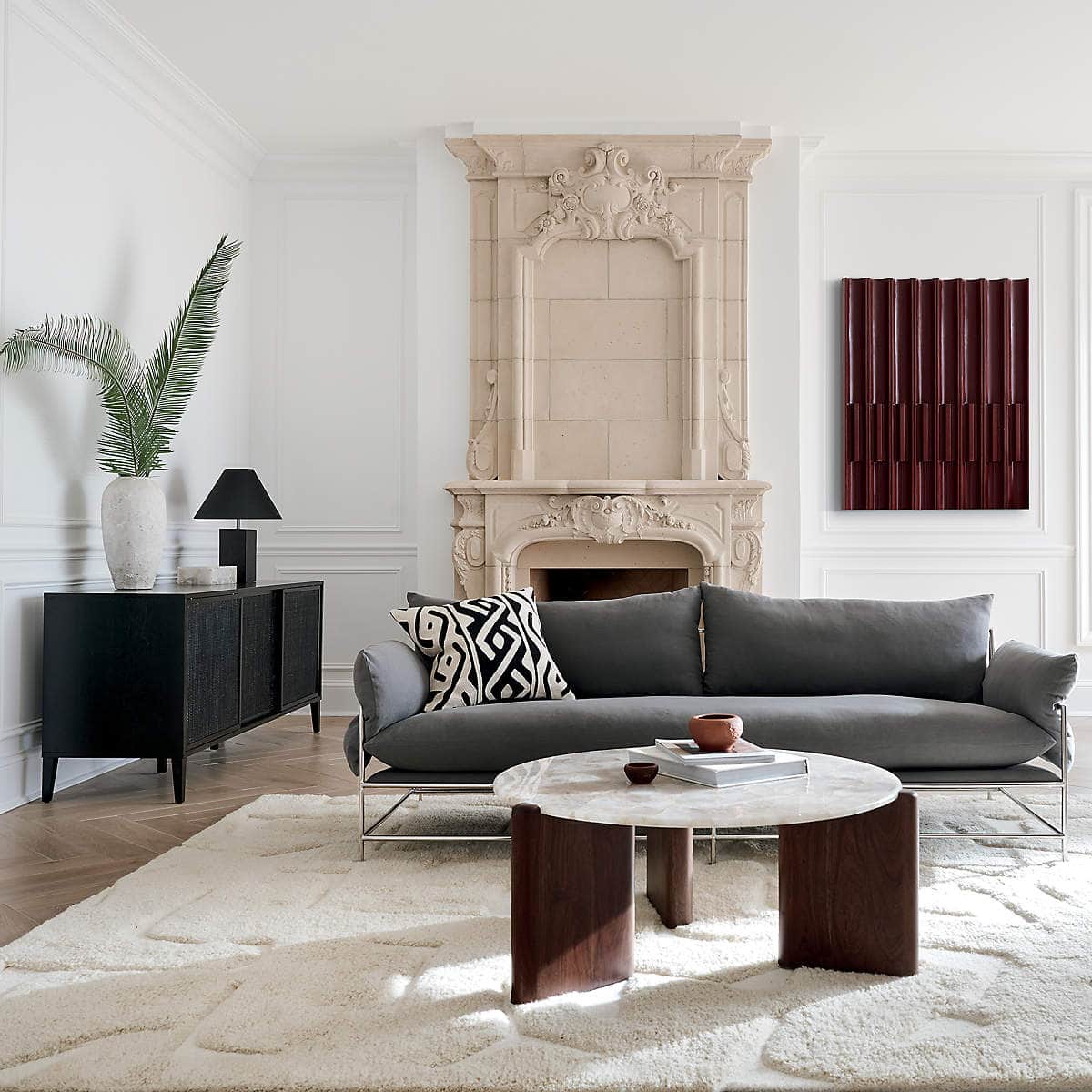 It's not uncommon to see coffee tables with marble tops, but quartz is harder to find. Quartz is a very durable stone that can give your space a high-end look.
This table comes from CB2 and features an acacia wood base with a white quartz top. It will effortlessly coordinate with any color gray sofa.
Simplify with a Minimal White and Wood Table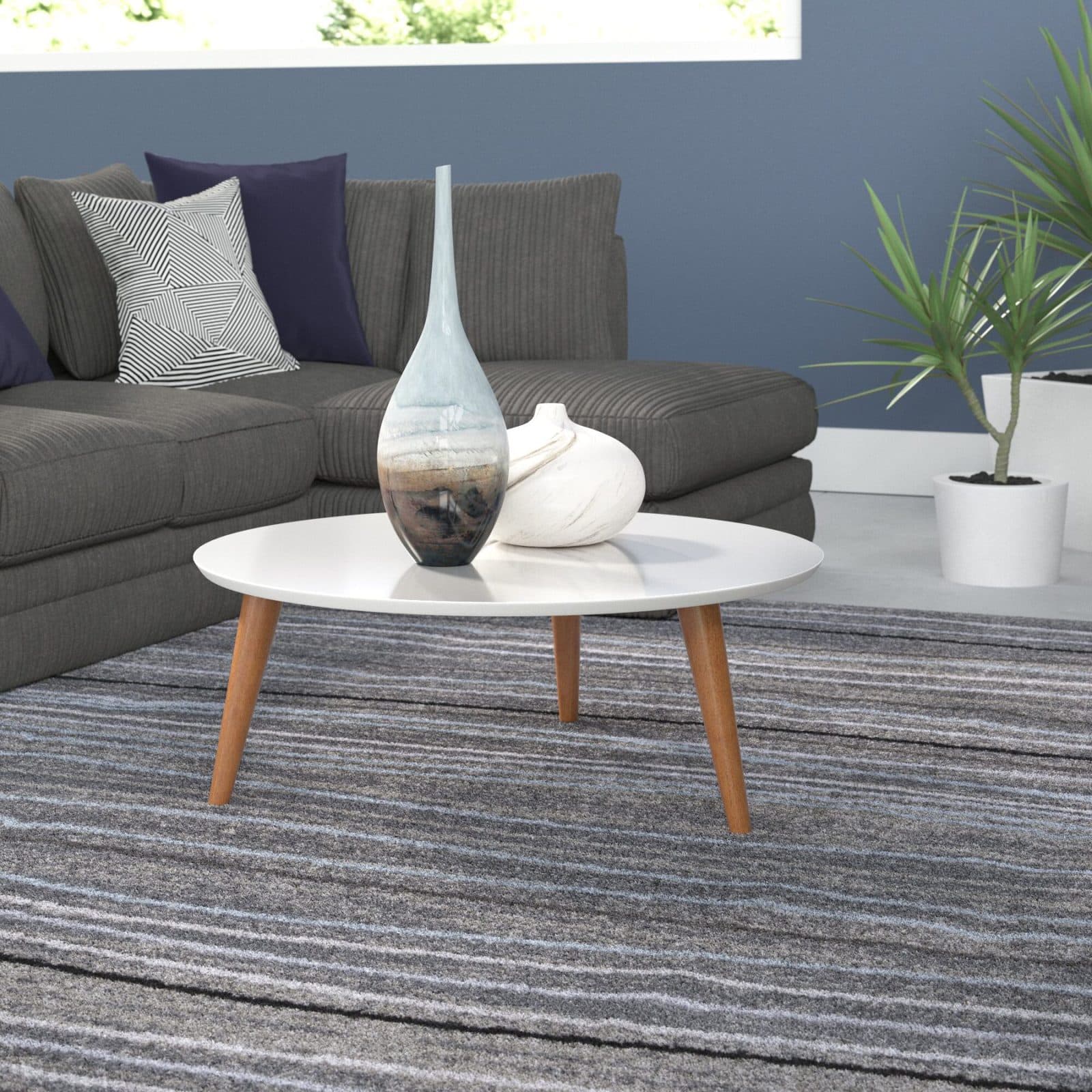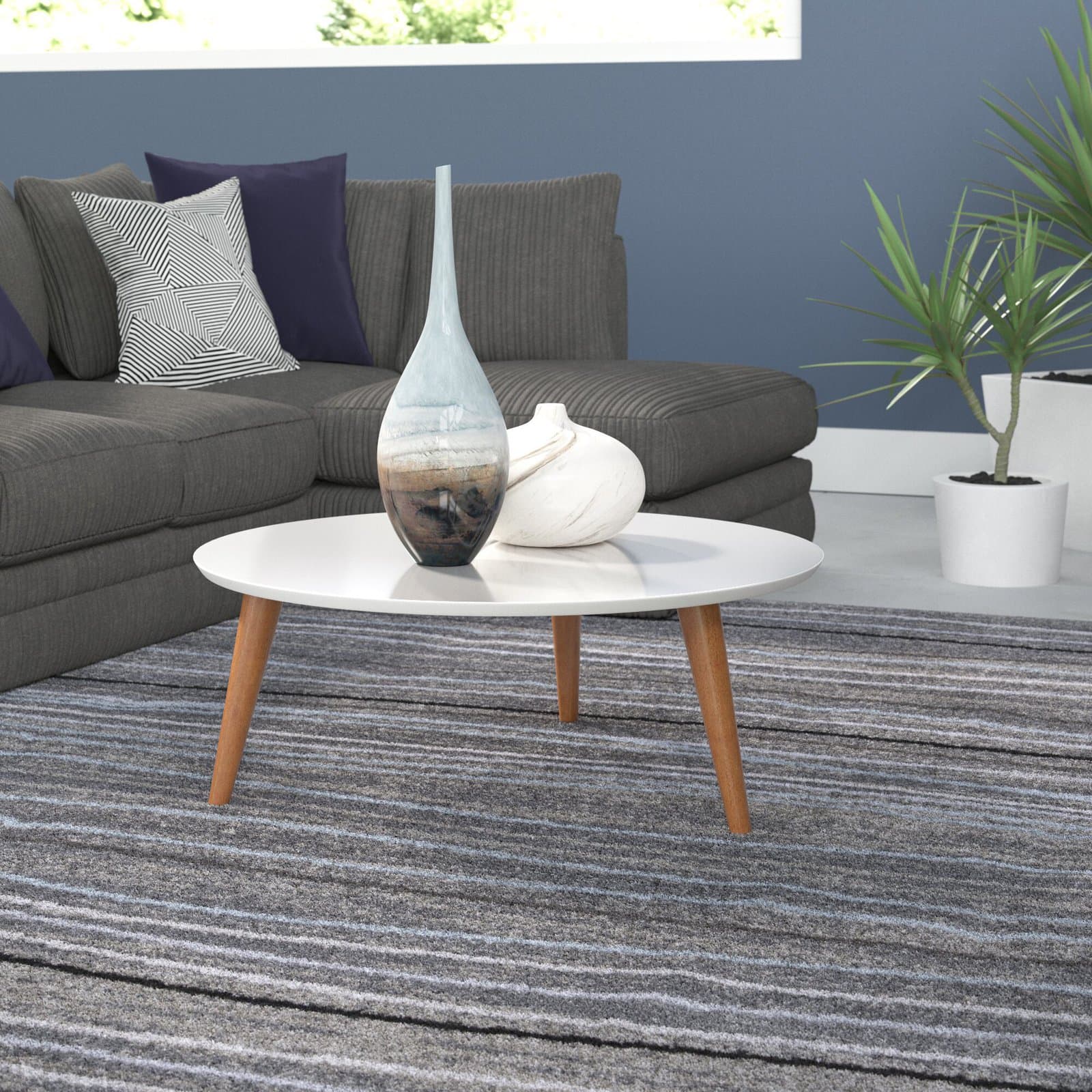 If simplicity is your goal, this is the table for you. From Wayfair, this piece features a white engineered tabletop and three-leg wooden base. It's the definition of simple and will go with any style.
You can get the table in two sizes and choose between white or off-white. This brand also carries end tables to match.
Bring in Texture with Hammered Iron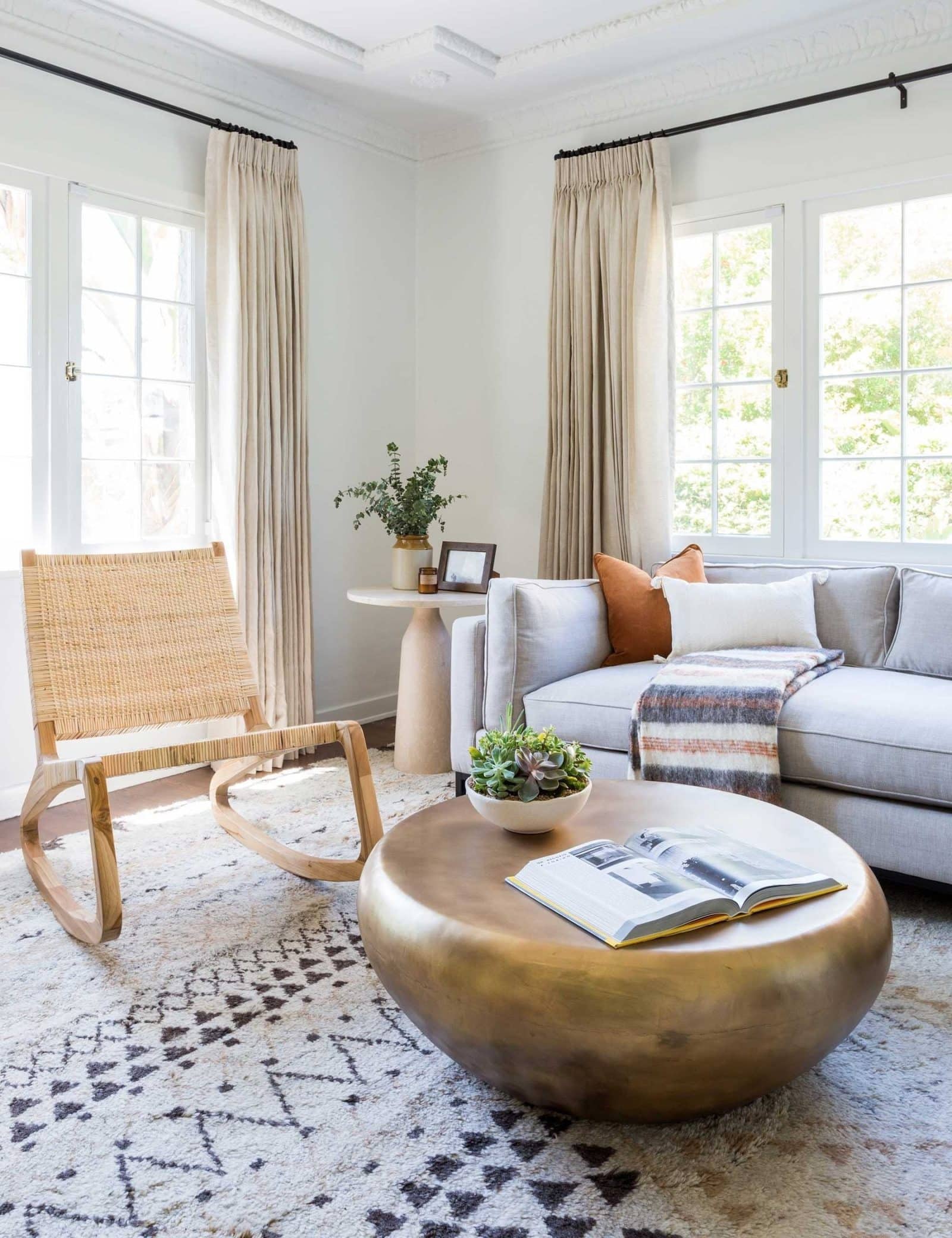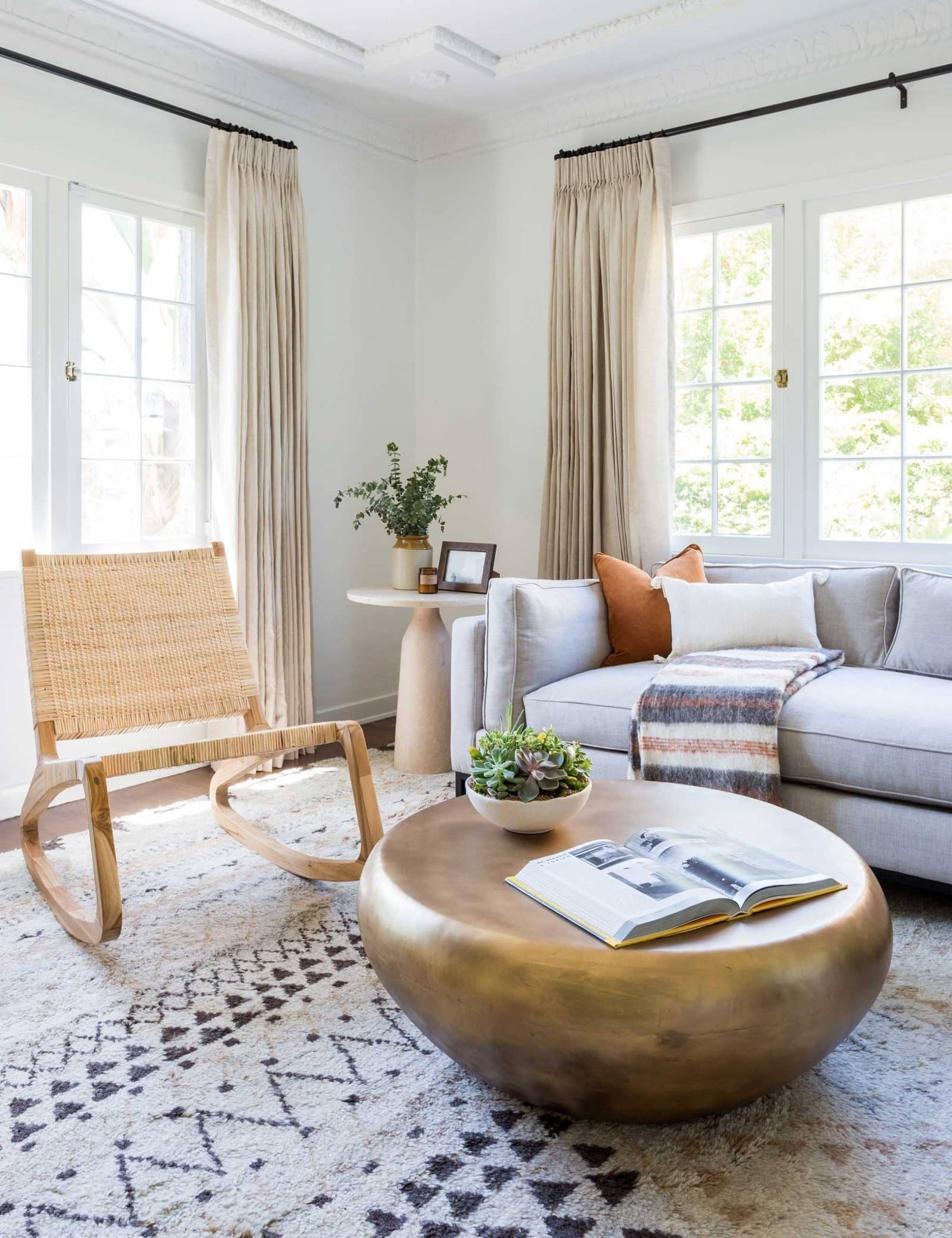 Round coffee tables are very in-style right now. They go great with modern, boho, glam, and minimal decor. Plus, they're ideal for families with small kids.
If you're looking for a large round table that's not wood, check out this hammered iron drum from Lulu and Georgia. It's 38" in diameter and 14" high. It would look great in a big living room or beside a gray sectional.
Go with Glass and Brass for a Classy Look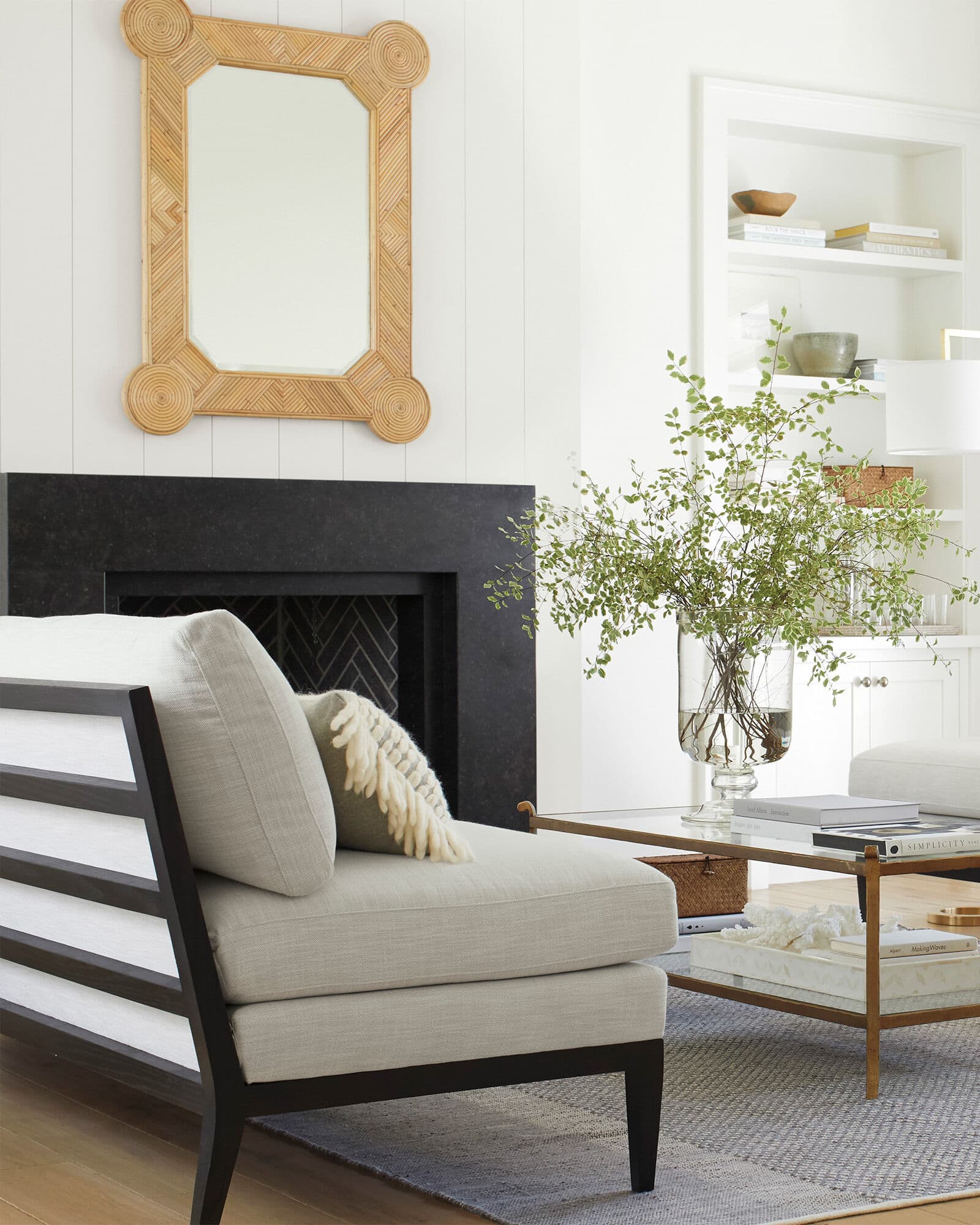 If you're going for a more classy or glam look, stick with the power duo: glass and brass. Glass tables are perfect for a light, airy look, while brass detailing adds elegance.
You can find this glass and brass table at Serena & Lily. It pairs with any gray sofa and works for several decor styles.
Final Thoughts
So, what coffee table goes with a gray couch? Most of them.
Gray is neutral and matches just about any color scheme and type of material. Try a wood or distressed table if you want your room to look rustic or farmhouse. If you like a modern or clean look, go with a bright white.
You can also glam up your space with brass or add something bold for a fun punch of color.