Decorated Life is reader-supported. When you buy through links on our site, we may earn an affiliate commission. Learn More
16 Boho Coffee Table Ideas for Your Living Room
It's easy to overlook something like a coffee table when redoing your living room.
And it's no wonder since most effort typically goes toward expensive purchases like a sofa and chairs. But a coffee table is an important part of your room, so it's worth just as much consideration.
If you're in the market for living room furniture, here are sixteen of the best coffee table options for boho style.
Look for a Table Made of Unique Materials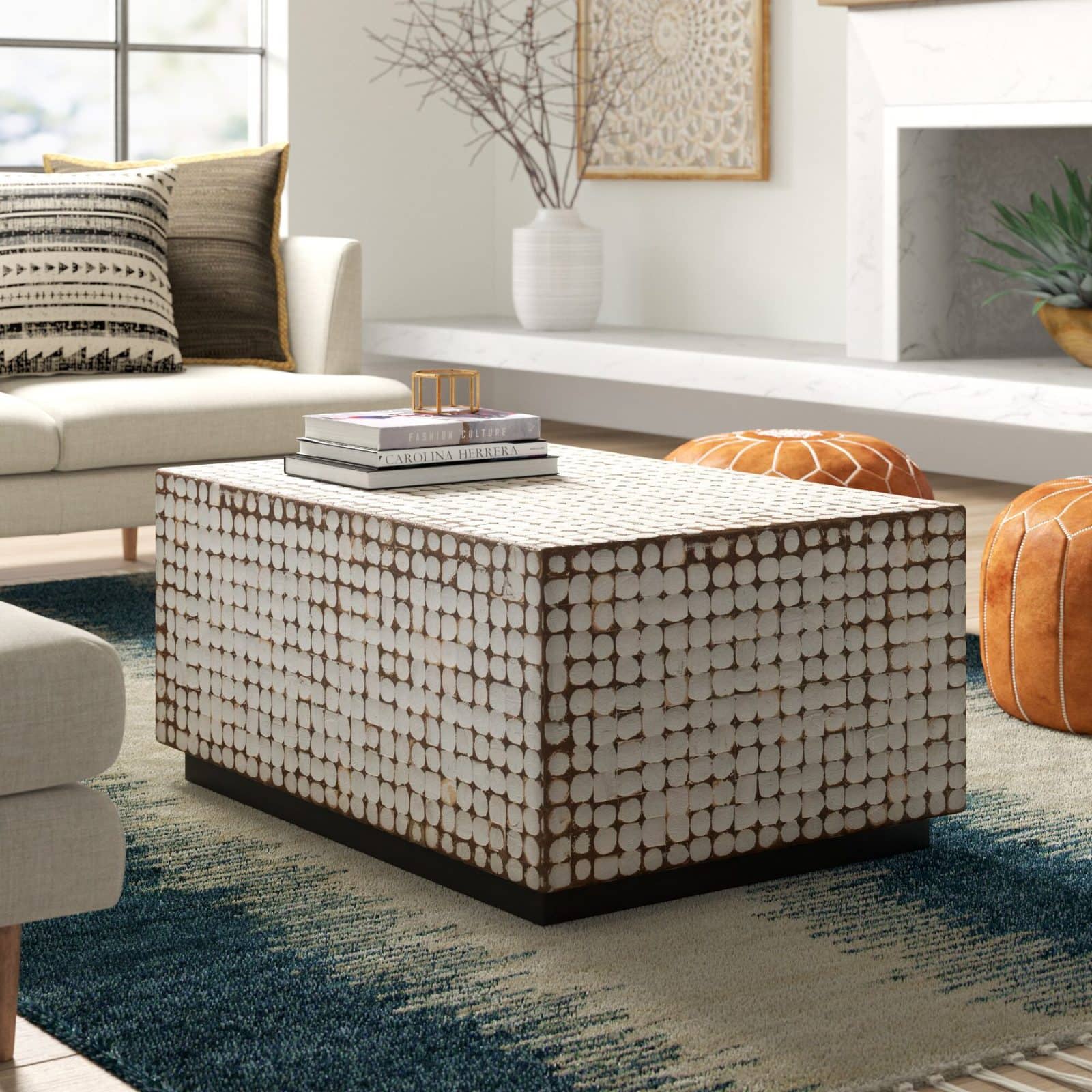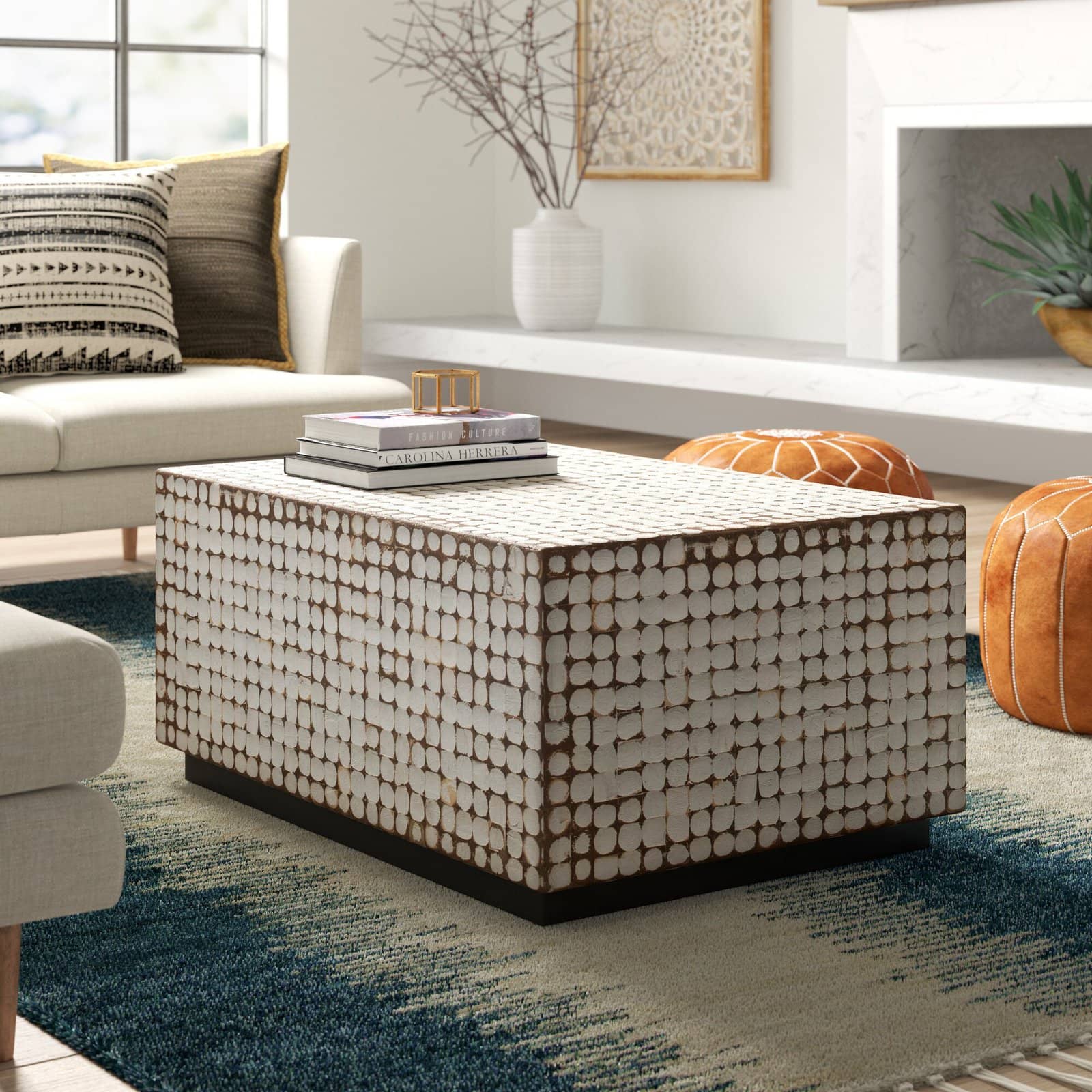 Boho style is unique and collected. So when it comes to your bohemian coffee table, there's no need to play it safe.
This rectangular table from Wayfair has coconut shells pieced together in a mosaic design. The table comes in three different finishes: white, white-wash, and natural.
Choose Something Low to the Ground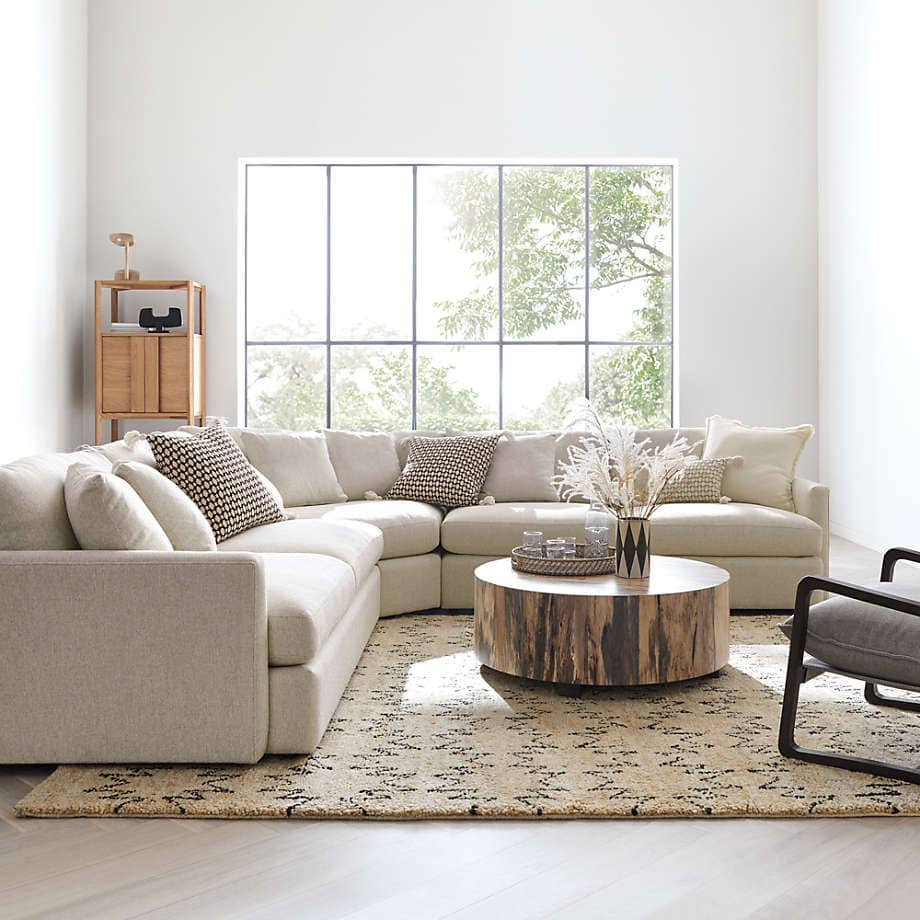 A common theme with bohemian furniture is that it's low to the ground. So you'll see this in many varieties of boho beds, chairs, couches, and coffee tables.
If you like that low look, go with a table like this. The beautiful organic shape adds to a boho feel, with the wood bringing in texture and interest.
Accent a Small Space with a Terrazzo Table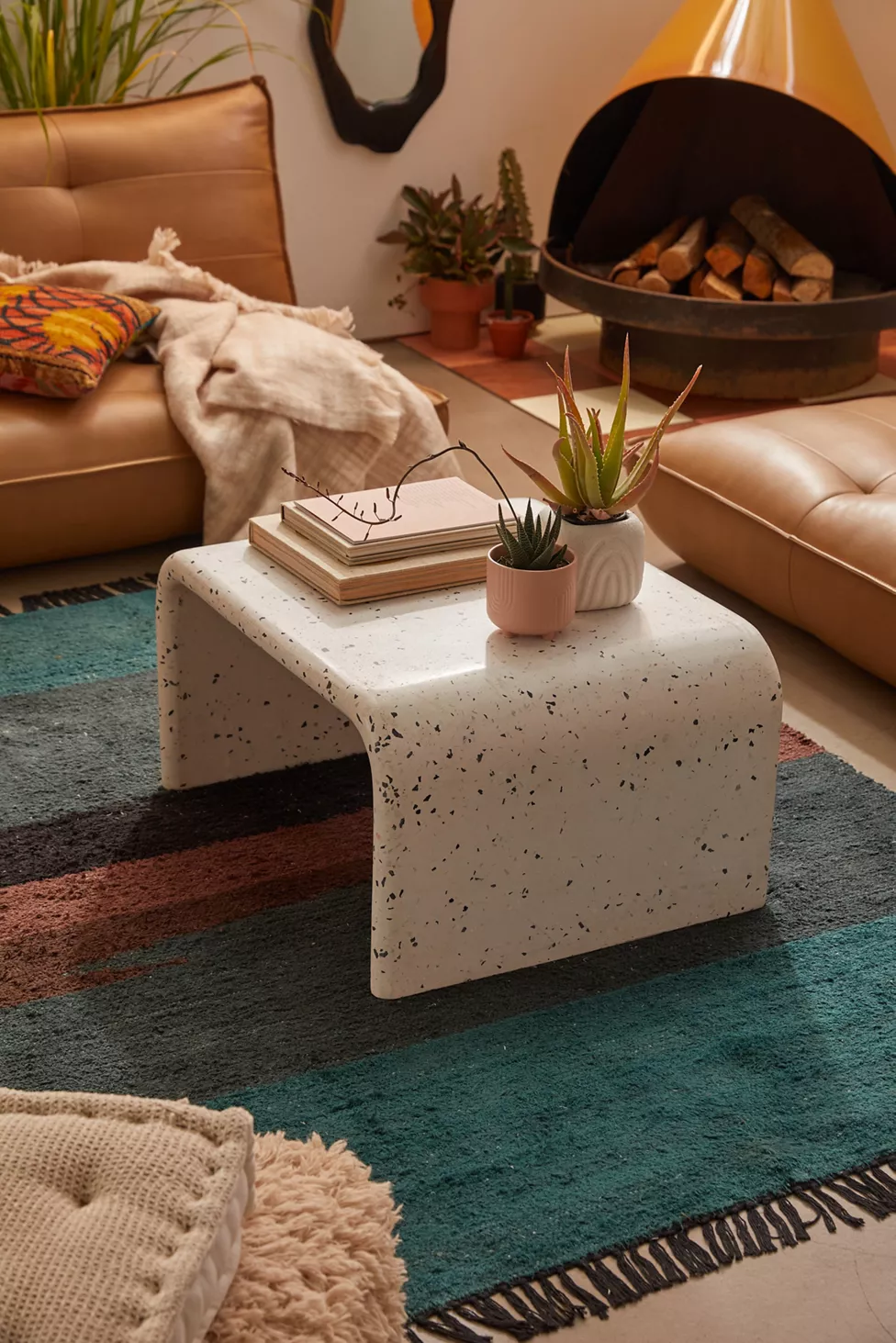 If you're looking for the perfect boho chic coffee table for a small space, look no further—this Terrazzo table from Urban Outfitters packs a ton of style in a small, sleek shape.
Each of these tables is slightly different, and yours will be unique. A table like this will work with any color scheme, and you could even use it as a nightstand.
Add Drama with a Dark Table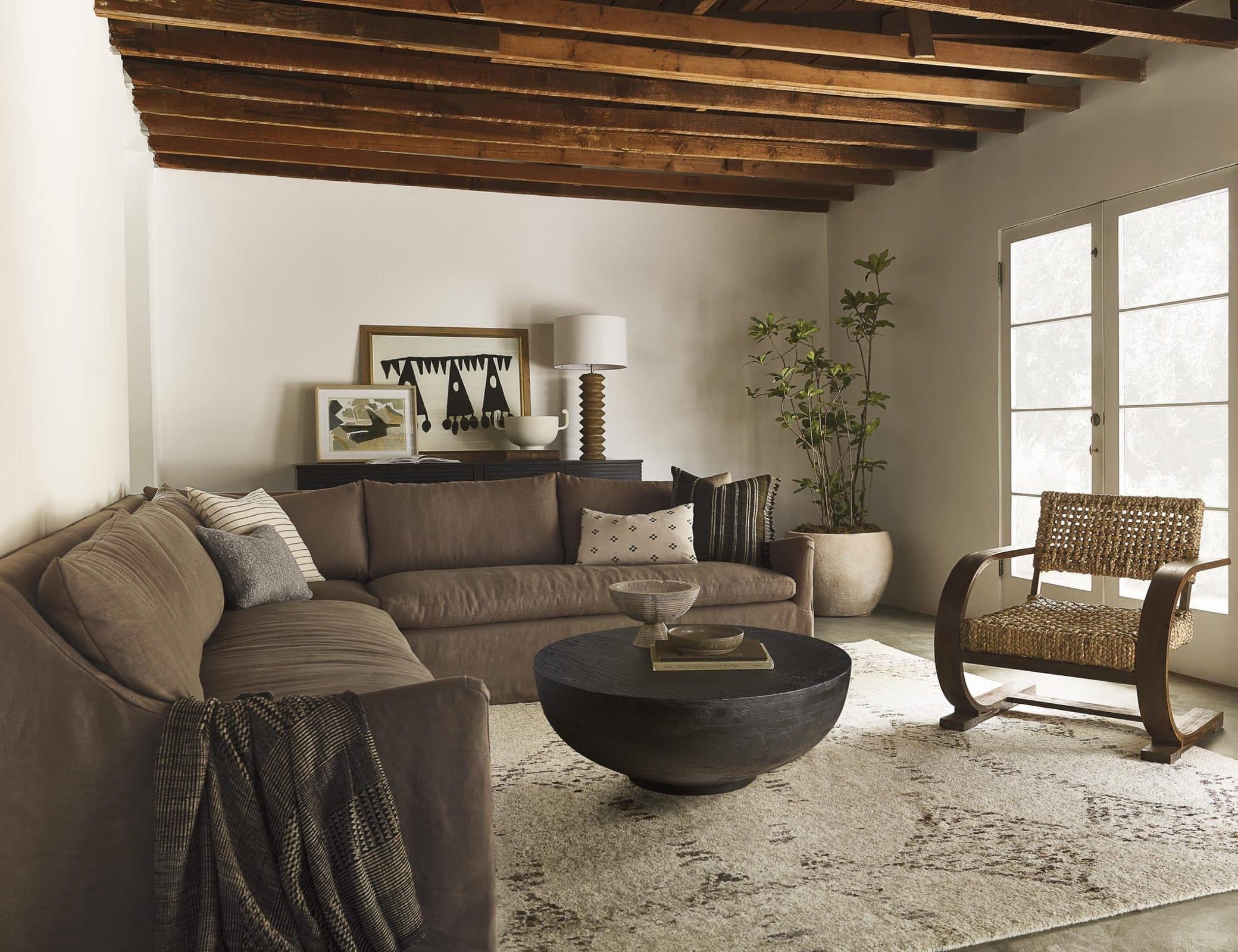 If you think boho style has to be light and airy or bright and colorful, you're wrong. You can pull off a dark, moody boho room if that's what you prefer.
If you want this look, your furniture is a good place to start. Rather than the light beige or white sofa, go with something dark. Then add a boho round coffee table like this and coordinating accessories.
Go With Gold + Wood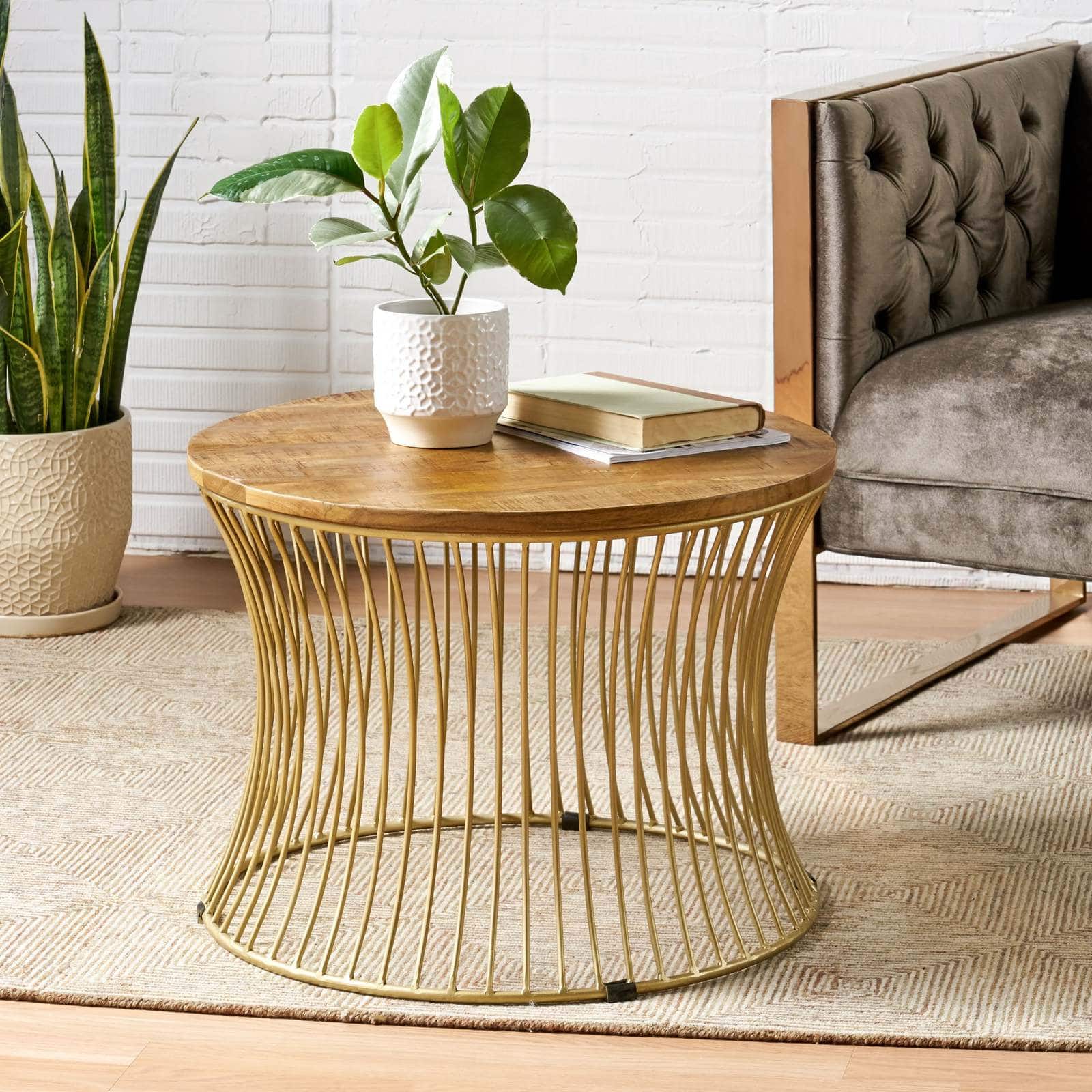 Gold and wood is the perfect combination for boho rooms – especially if you like a boho glam or modern look.
This table from Overstock features an iron base in a gold finish with a mango wood top. You can use this table in small to medium-sized living rooms.
Showcase a Moroccan Table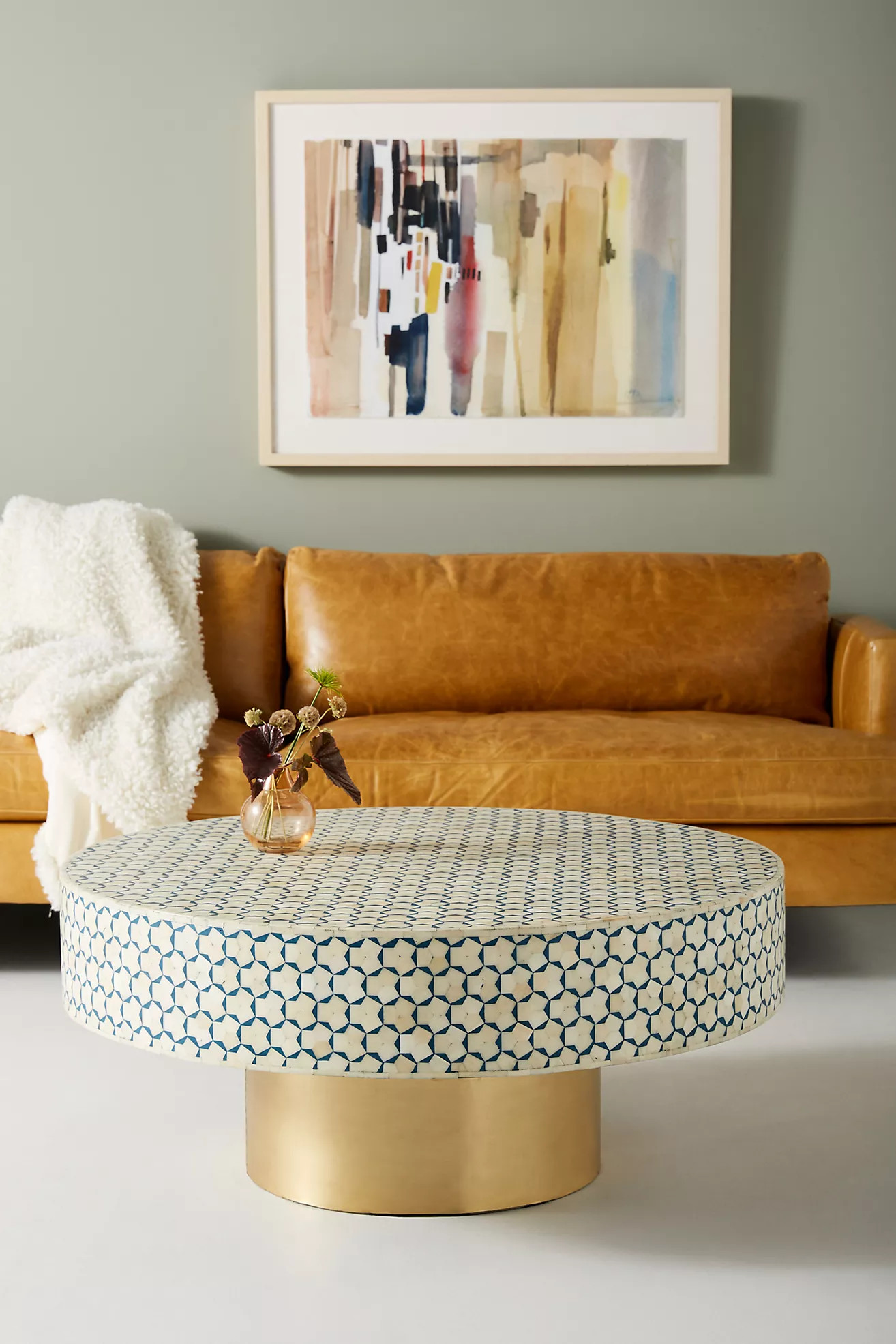 Moroccan design can be a big part of boho living rooms. In fact, some boho rooms are fully Moroccan-inspired. If you want to bring this look to your room, try a table like this from Anthropologie.
This is a handcrafted table with a bone inlay, resin, and an antique brass base. You can keep the theme going by putting down a Moroccan rug and using decorative throw pillows.
Try a Metal Drum Table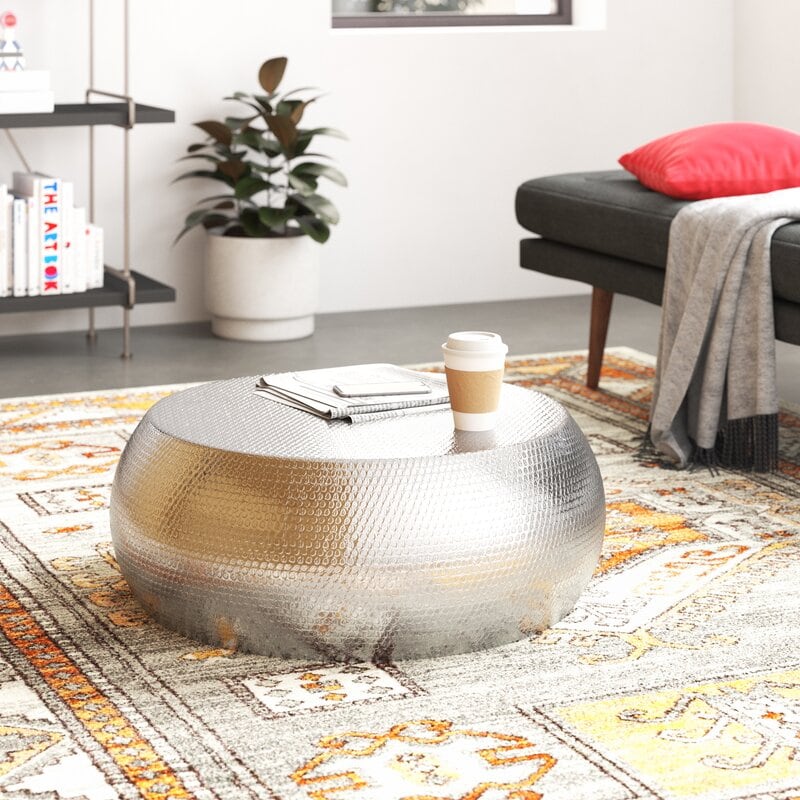 Most boho rooms have a wide selection of materials in them. And one popular boho style coffee table that I see often is a metal drum table.
These tables pull in a different texture than the traditional rattan and wicker often seen in boho rooms. They're also low to the ground and perfect for small spaces.
Pick a Pattern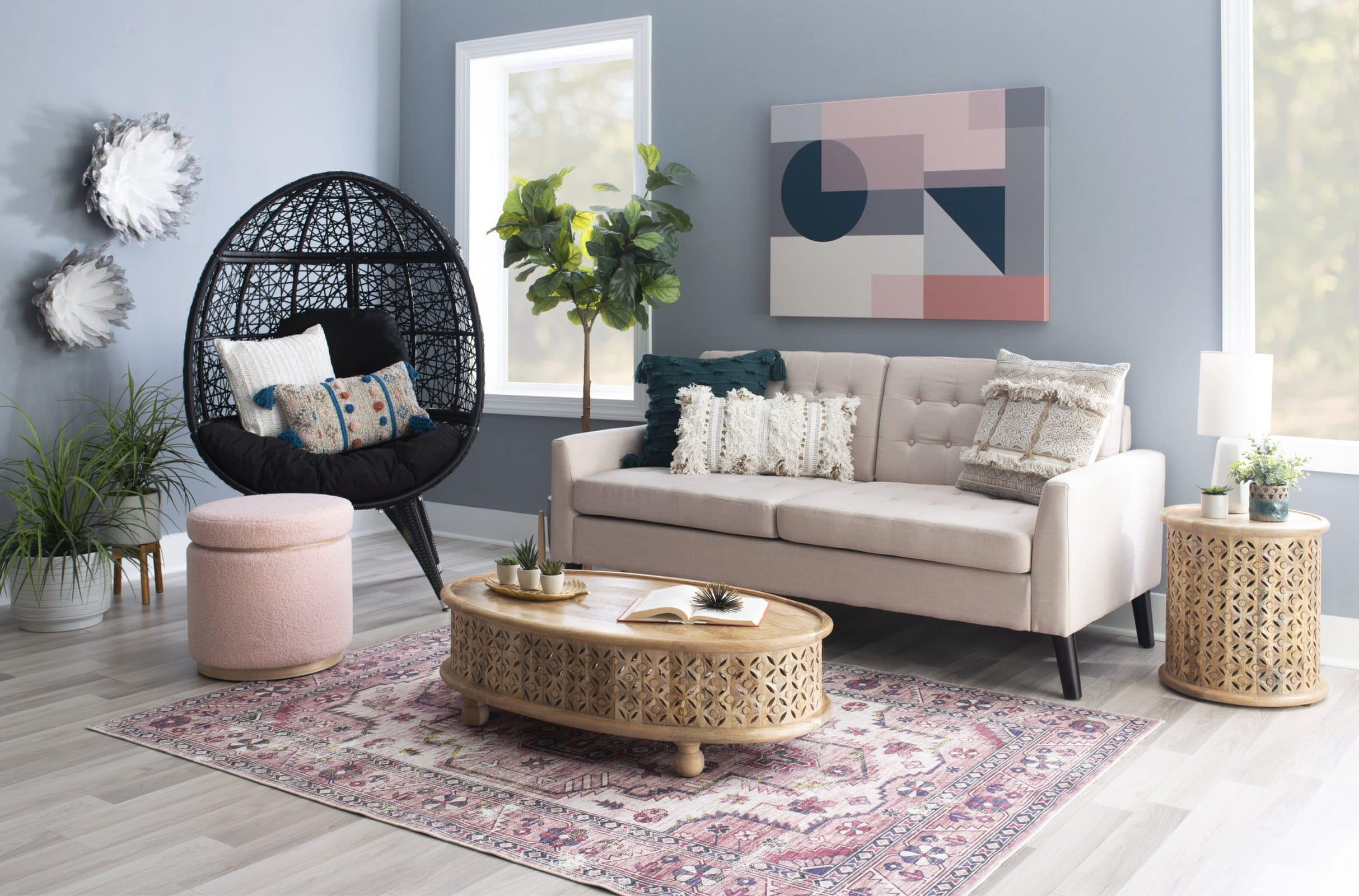 The great thing about boho rooms is that you don't need to play it safe with your patterns. Instead, you can mix and match until your heart's content.
One subtle way to play with patterns is through your coffee table. This modern boho coffee table from Wayfair is solid wood with a curved lip and a hand-carved lattice design. This table comes in three colors: natural, white, and blue.
Pull In Some Rattan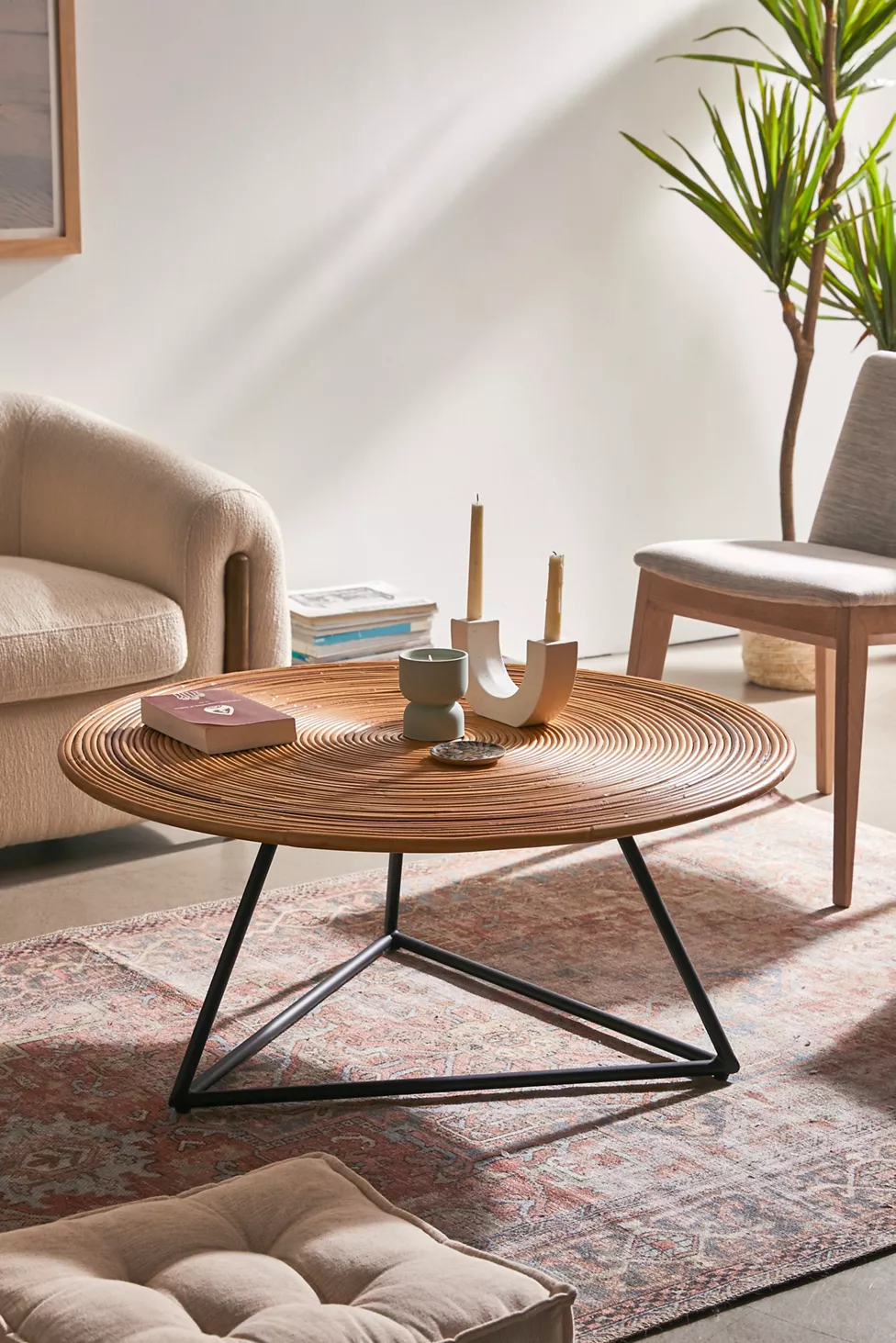 Rattan is one of the top materials for any boho room. So, if you want to play it safe, get a rattan coffee table.
This rattan-topped table from Urban Outfitters is the perfect mixture of modern and boho. It works great as a centerpiece between couches and chairs.
Bring in Natural Materials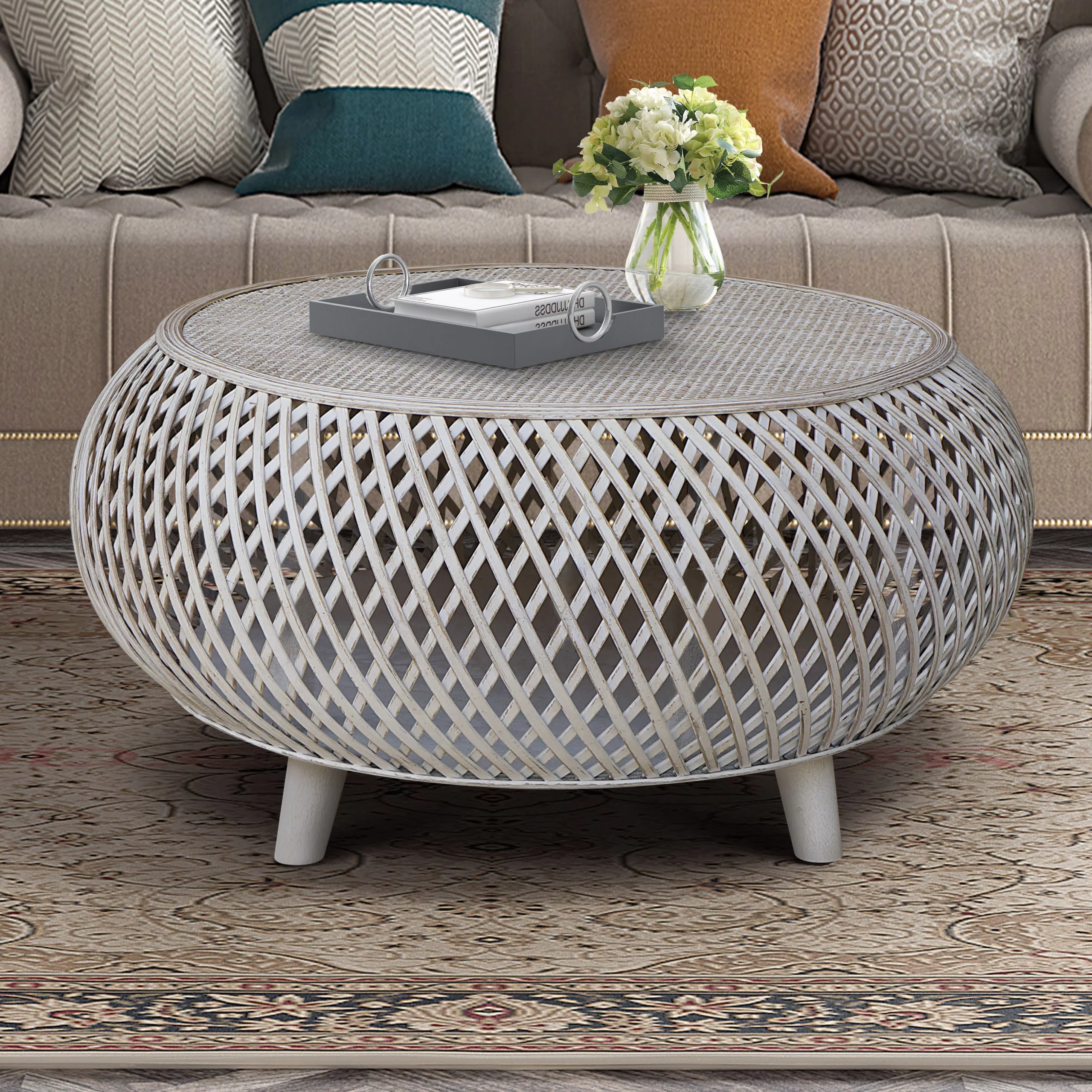 Need to pull texture to your living room? Do it with natural materials.
This boho coffee table from Overstock has a bamboo lattice with a rattan top. The circular shape gives it a fun look that will work in any living room. You can find this table in two shades: chocolate and gray.
Opt for a Jewelry Inspired Table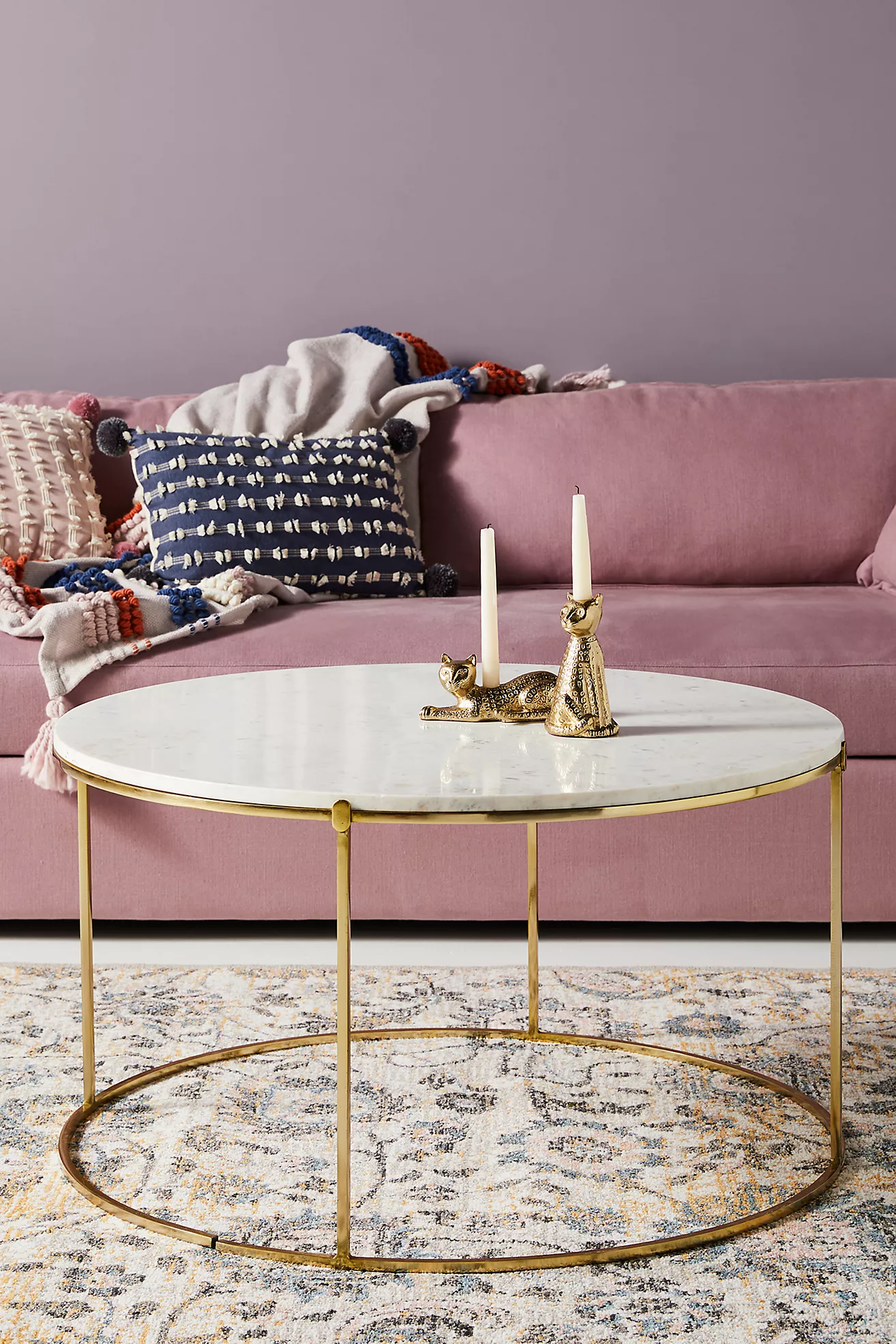 Want your coffee table to be the star of your room? Then, you can't go wrong with this jewelry-inspired table from Anthropologie.
The brass finish of this table looks like jewelry, while the marble top is the star. While this table is simple, it's also beautiful. This is a great choice for anyone who veers toward minimal or glam boho.
Ditch the Traditional Look and Bunch Your Tables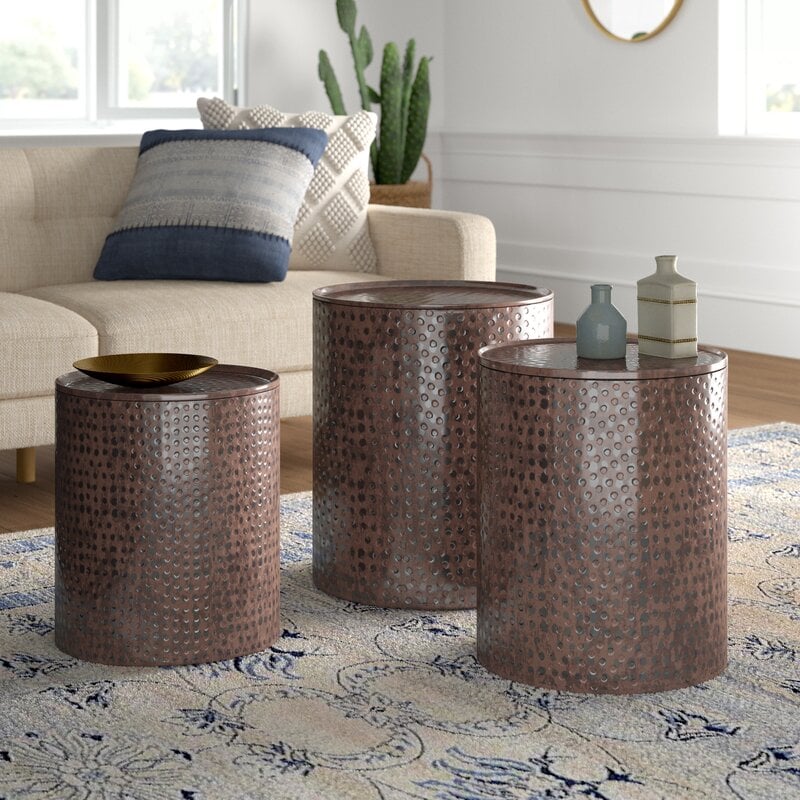 Just because you're looking for a coffee table doesn't mean you have to stick with one traditional table. Instead, group three tables if you want a more interesting look.
This set of bunching tables from Wayfair is iron hammered on the side with a solid wood top. The bronze matches just about any color scheme.
Top Your Tables with Bronze Jars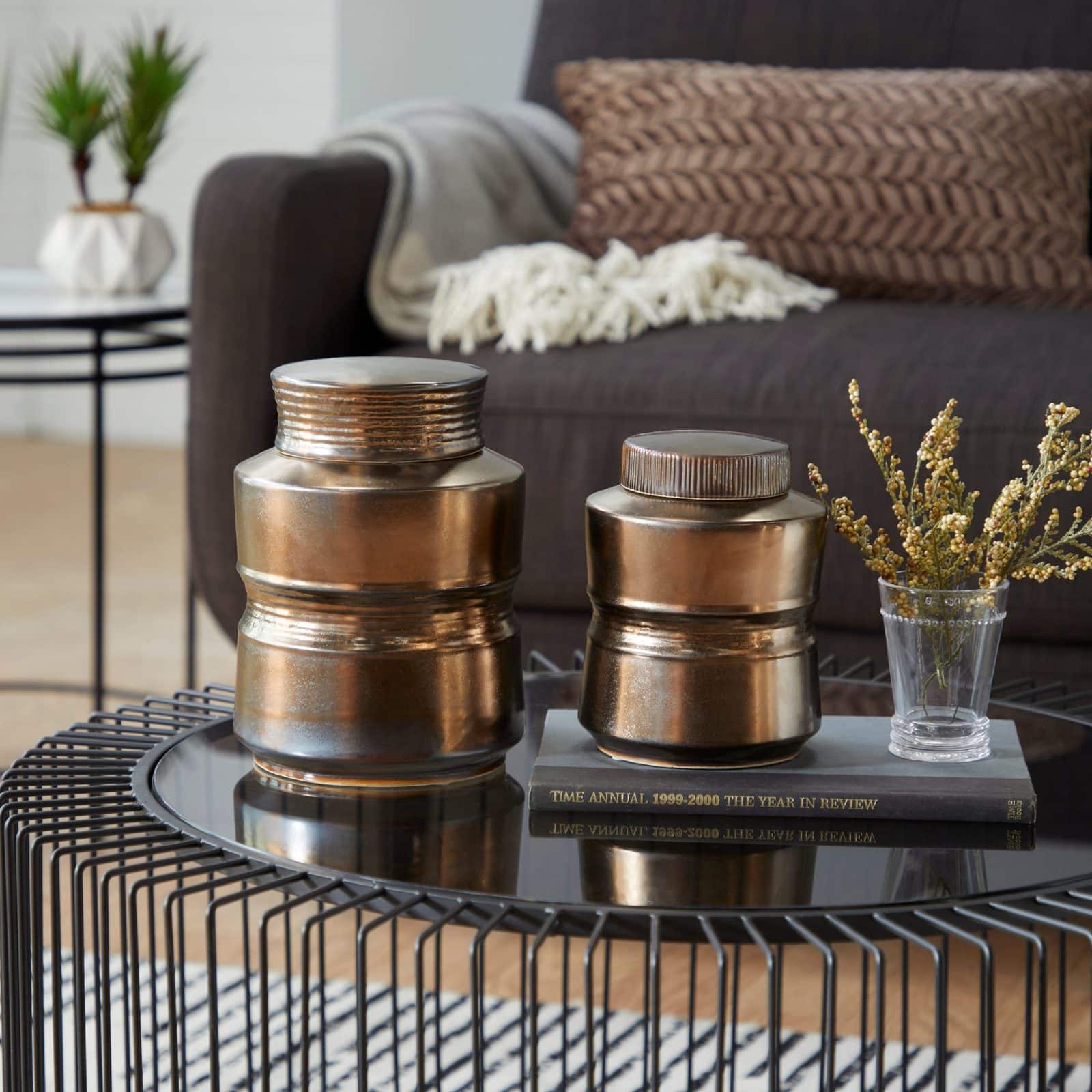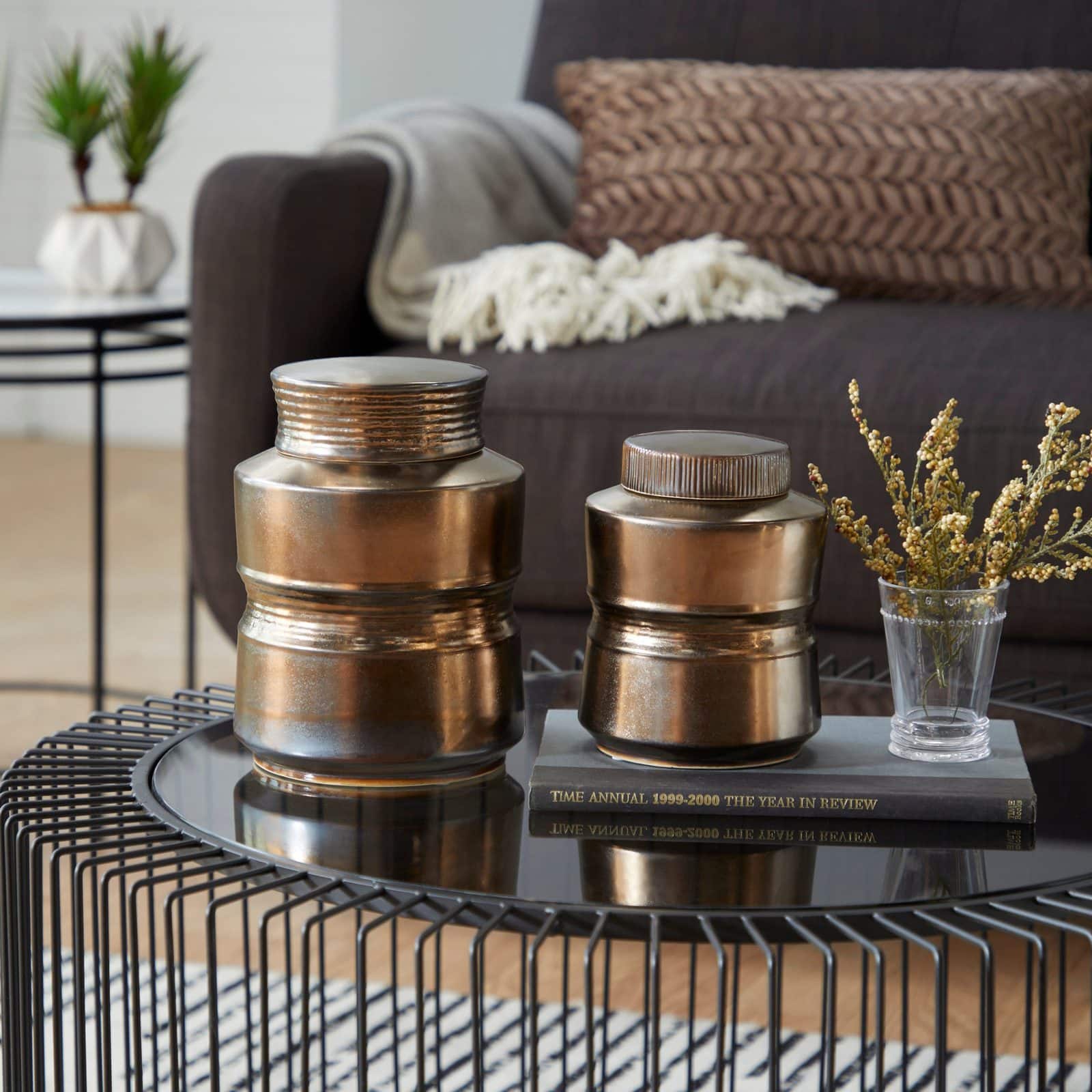 Need boho coffee table decor ideas? If you have black or dark wood tables, top them with bronze jars.
The bronze works beautifully against dark hues. These jars are fully functional, so you can use them to hold your remotes, extra pens, or whatever else you like to keep handy.
Pile on the Plants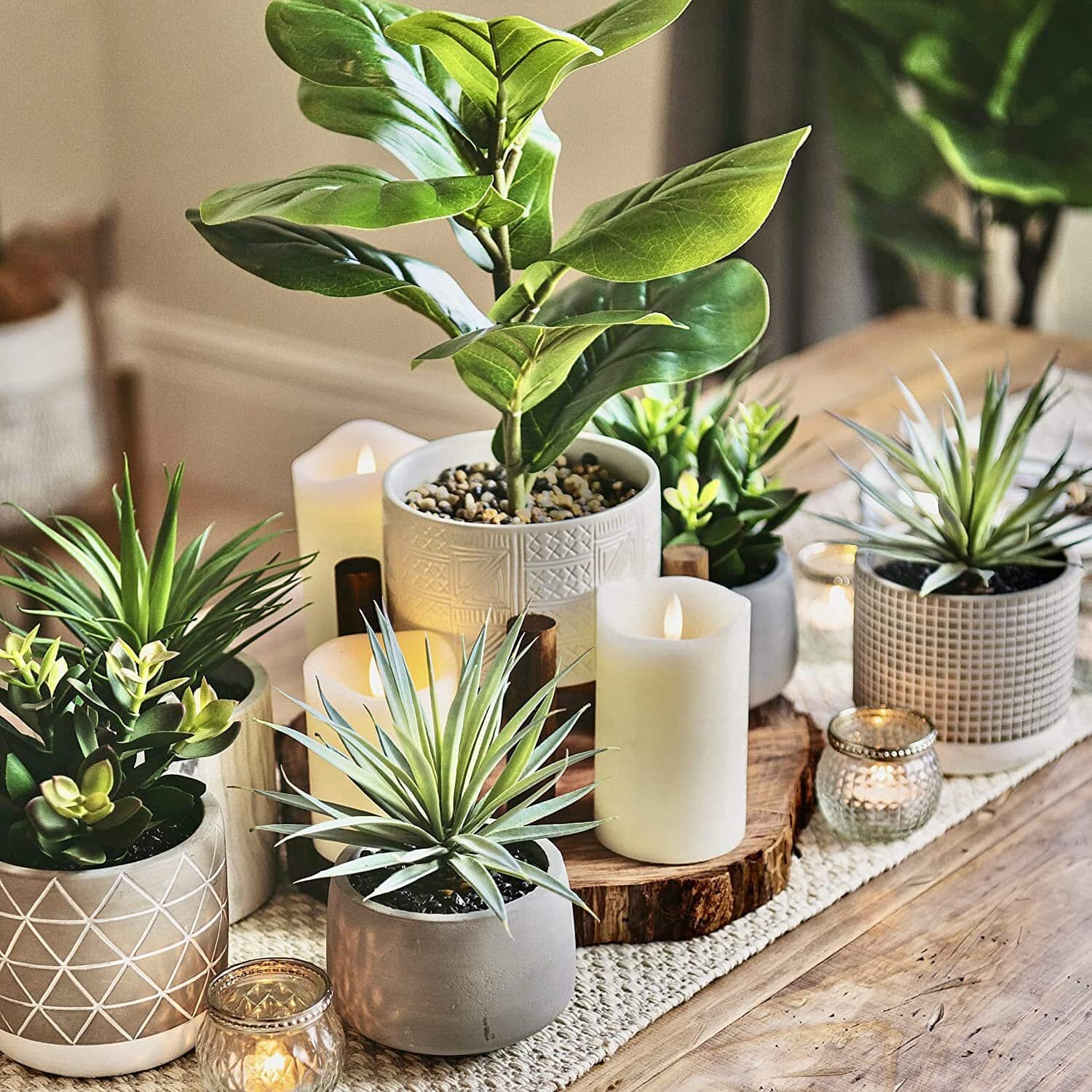 You can never go wrong with plants, especially in boho designs. So if you're looking to fill up your coffee table, try plants of varying height.
You can start with a bigger plant like this faux Fiddle Leaf Fig that stands fifteen inches high. Place smaller plants and a few candles around it, and you have a beautiful centerpiece.
Create a Pampas Grass Centerpiece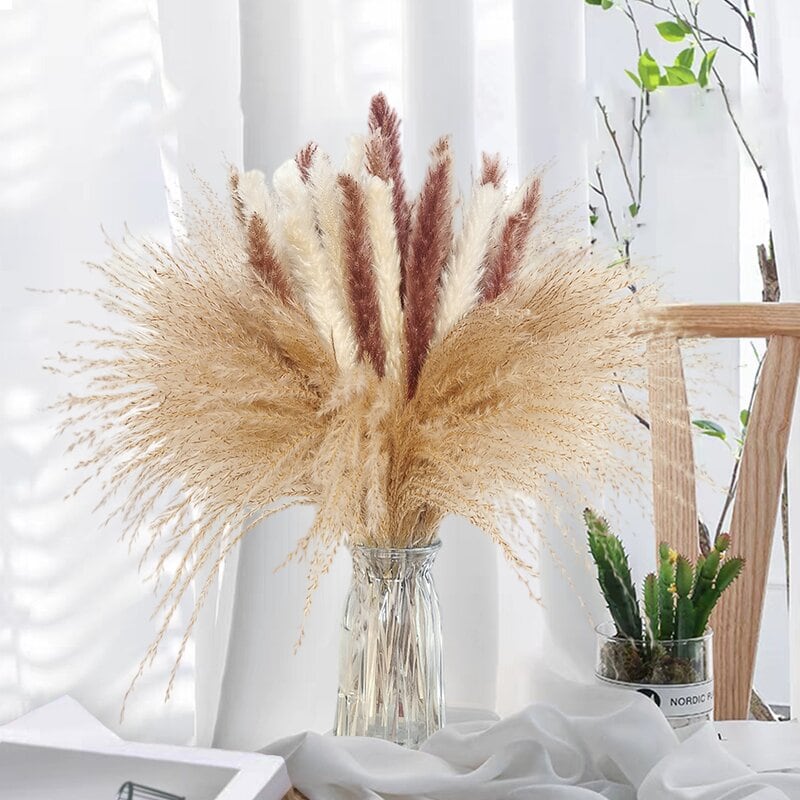 Another great centerpiece idea for your boho table is pampas grass. You can create a large centerpiece using natural or dyed Pampas grass.
This set from Wayfair comes with 80 pieces of dried grass, so there's plenty to fill a vase for a lush look.
Don't Forget the Coffee Table Books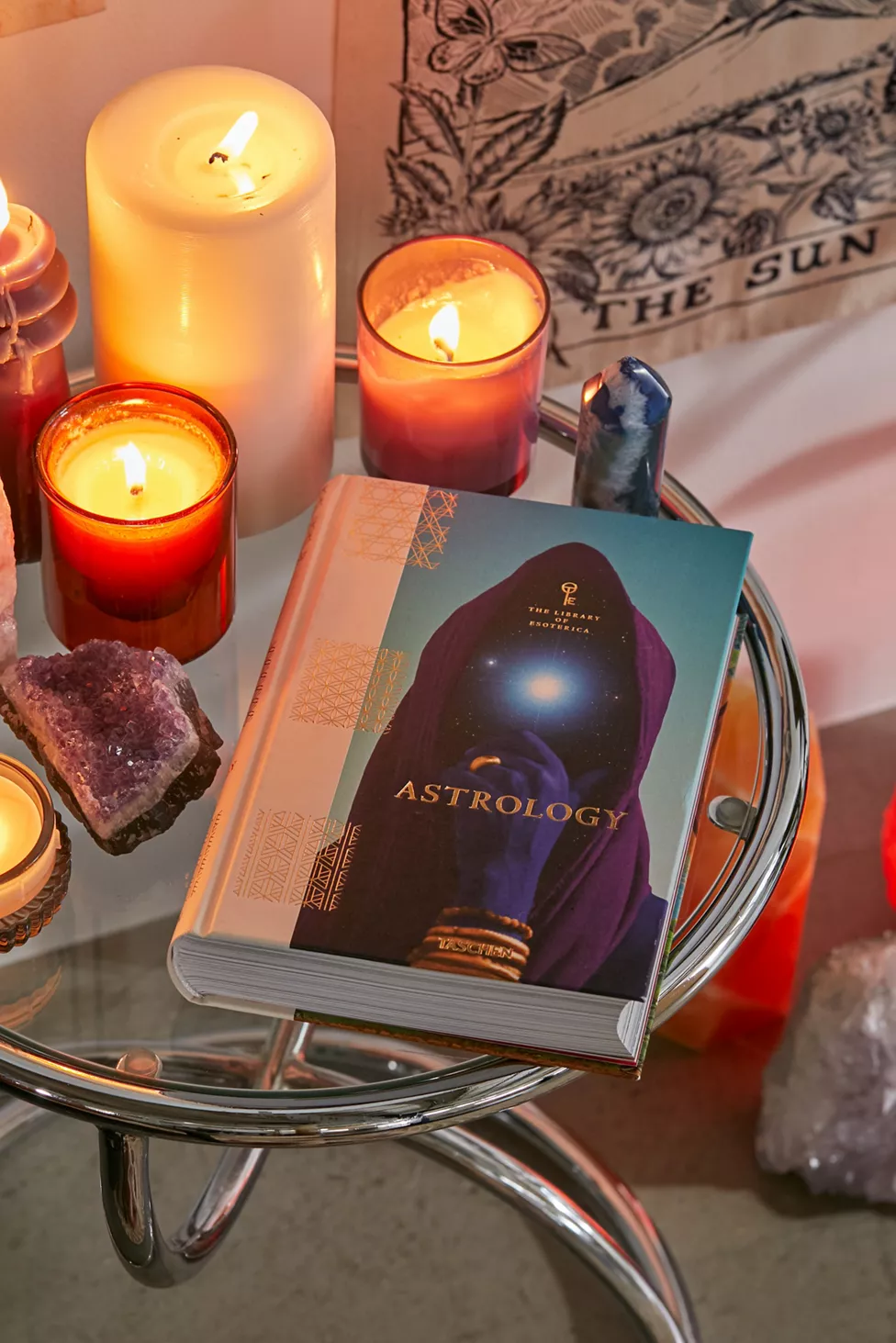 And of course, for decor, you can never go wrong with a coffee table book.
I like an astrology book like this one for a boho living room. Not only does it fit with the theme, but it's something all of your guests can flip through to learn more about their zodiac sign. This book is over 500 pages with a mix of astronomy and astrology.
Final Thoughts
You don't have to play it safe when it comes to boho coffee tables. If you like patterns, unique design, or an uncommon color, go for it.
If you want to play it on the safer side, choose a table made of natural materials. Wood, rattan, bamboo, and marble are all front runners.
Then, top your table with some plants, pampas grass, and candles for the perfect boho decor.