Decorated Life is reader-supported. When you buy through links on our site, we may earn an affiliate commission. Learn More
What Color Curtain Goes With Blue Walls? – 16 Ideas
Finding the perfect curtains for your home is no easy task, especially when there are so many great choices available. Choosing the right color to go with your walls is important, as it can make or break the design scheme of your room.
So, if you've been wondering what color curtain goes with blue walls, then you've come to the right place! Today we're going to be sharing the best colors to compliment blue walls and complete your interior design scheme.
Let's dive in…
White Curtains with Navy Blue Walls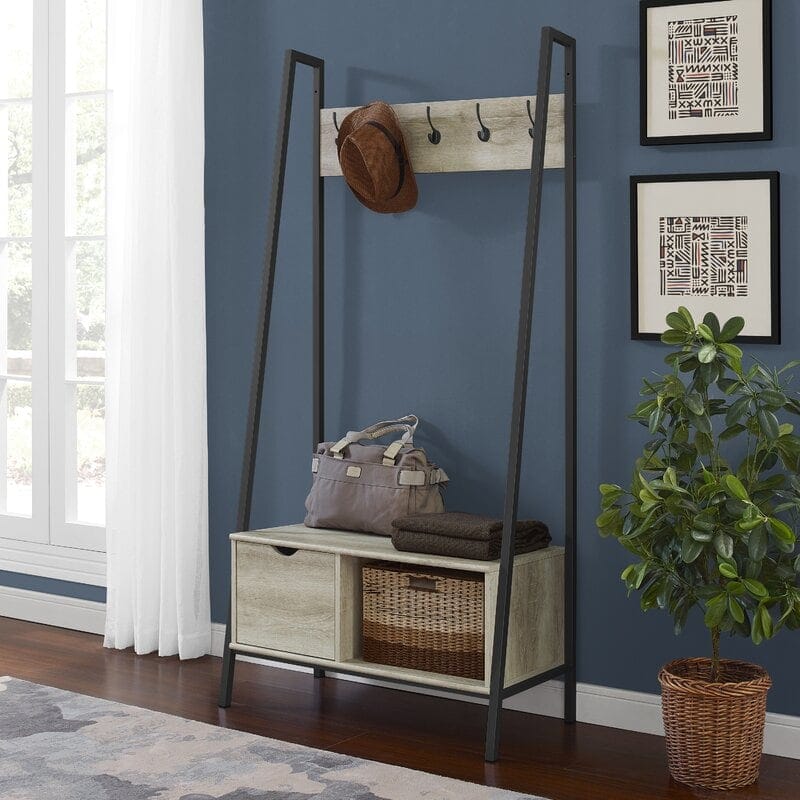 If you're looking for curtains for navy blue walls, then white is an ideal choice. These crisp white curtains set off the navy blue of these walls nicely, giving the space a sophisticated yet modern feel.
The white of these curtains blends seamlessly with the white painted window frame and skirting board, giving the room clean lines that serve as a perfect backdrop for the modern furniture.
Navy Blue Curtains for Dark Blue Walls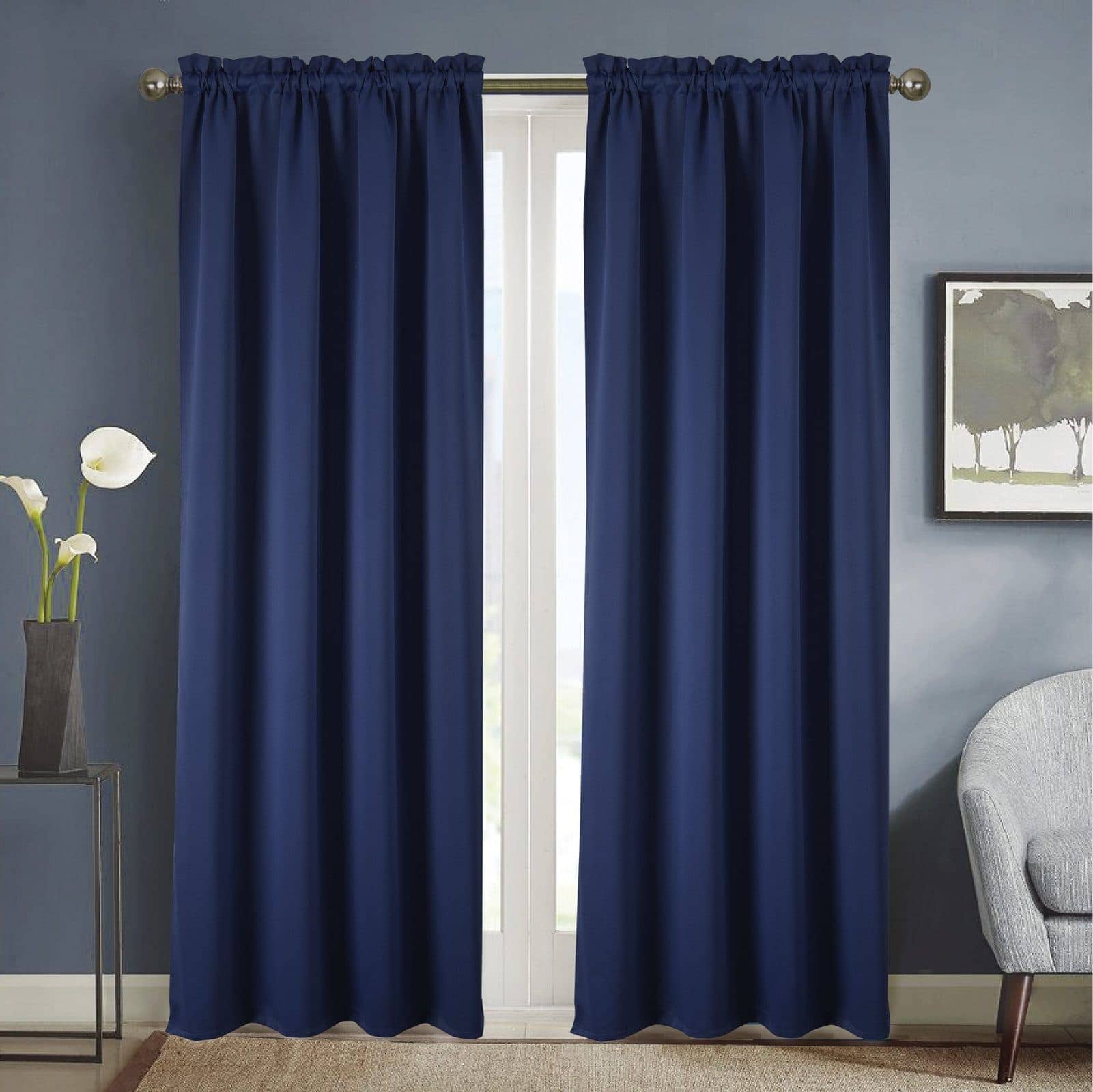 For an effortlessly stylish look you can create a really striking design by choosing another shade of blue curtains to compliment your blue walls.
An easy tip here is; rather than finding curtains to match blue walls, you can choose your curtains, and bring a sample of your curtain fabric to your local hardware or DIY store, and have a custom shade mixed to match perfectly!
Blue Striped Curtains for Light Blue Walls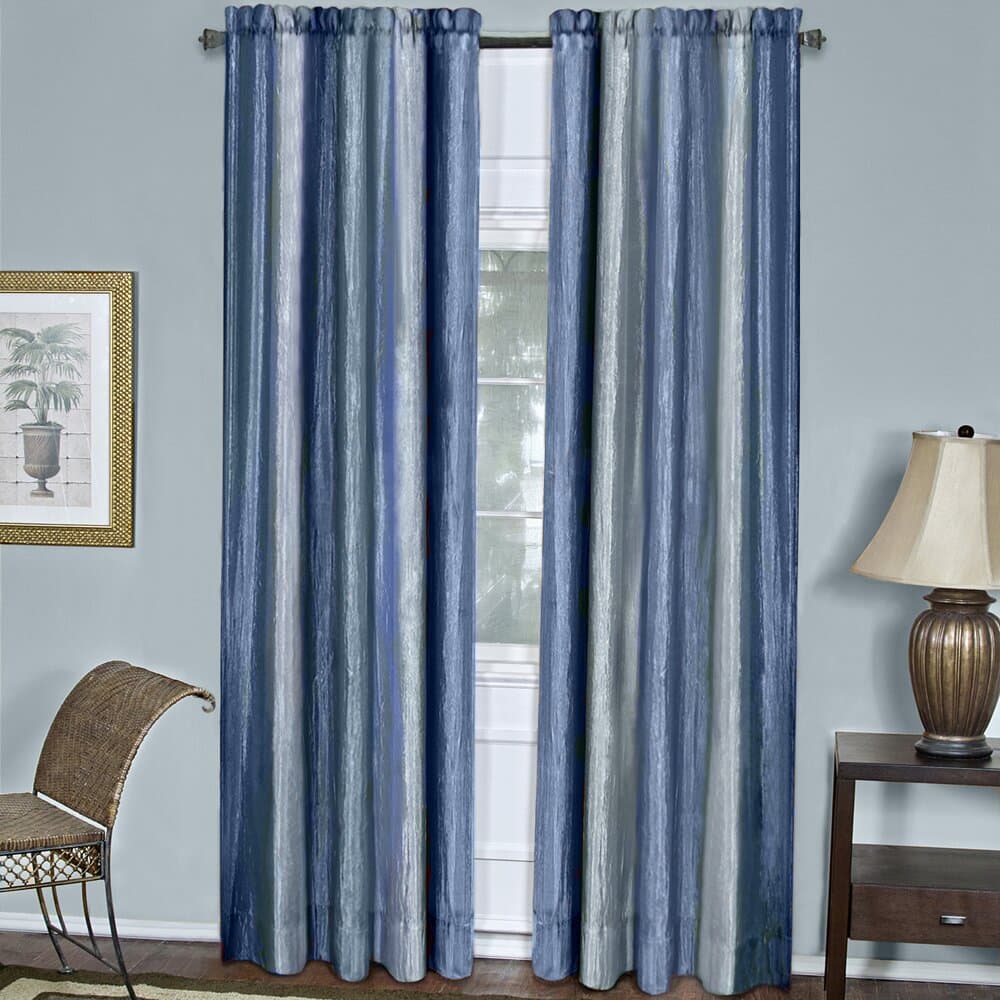 These bold blue striped curtains look amazing against the soft blue of the walls. The gradient that creates the stripes breaks up the color nicely, giving it more depth and interest without being too 'loud' or busy.
Blue on blue is one of the easiest ways to get a cohesive look in your space, and if you feel like there might be a little too much blue, you can break up the color by hanging art on your walls.
Go Traditional With Navy and Taupe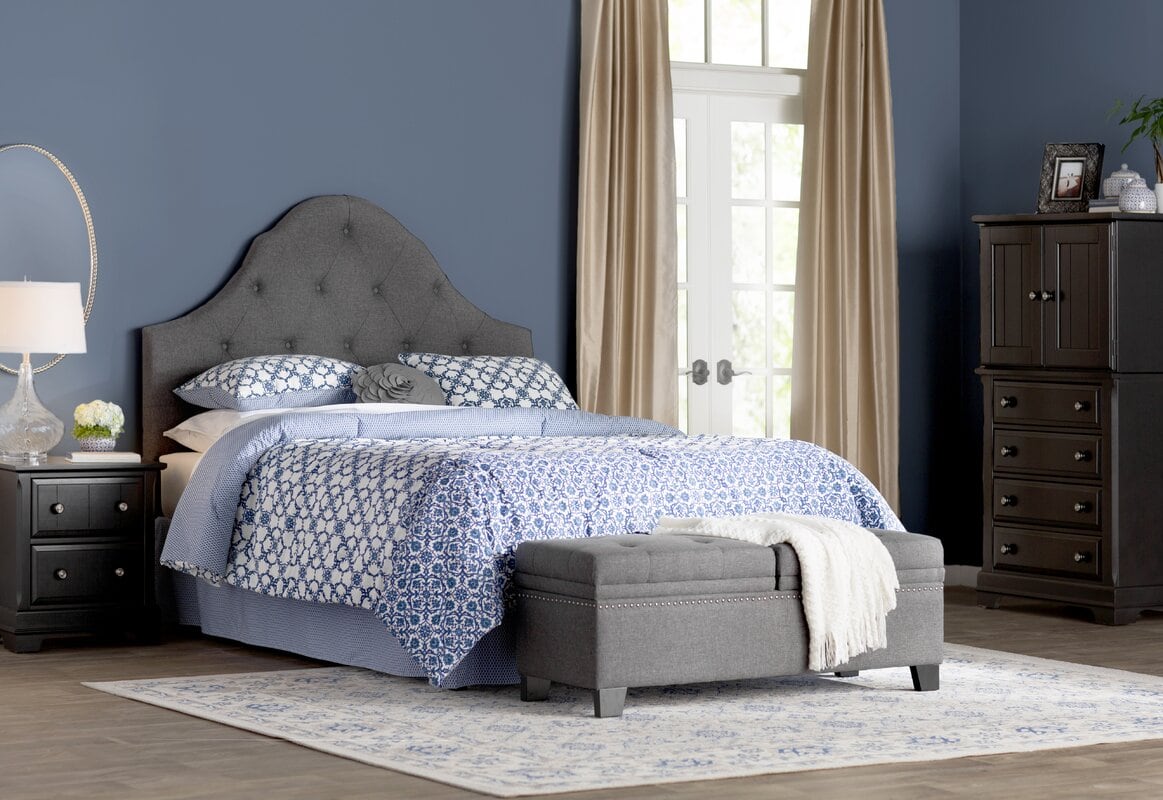 Taupe is a great option if you are looking for curtains to match navy blue walls, as neutral shades always work well with deep blues.
The fabric used for these curtains is heavy and thermal, with a silk-like appearance, making them the perfect choice for a luxurious and relaxing bedroom. As well as looking gorgeous, these curtains have the added benefit of keeping the heat in too, keeping you toasty warm in the winter!
Blush Pink Curtains with Deep Blue Walls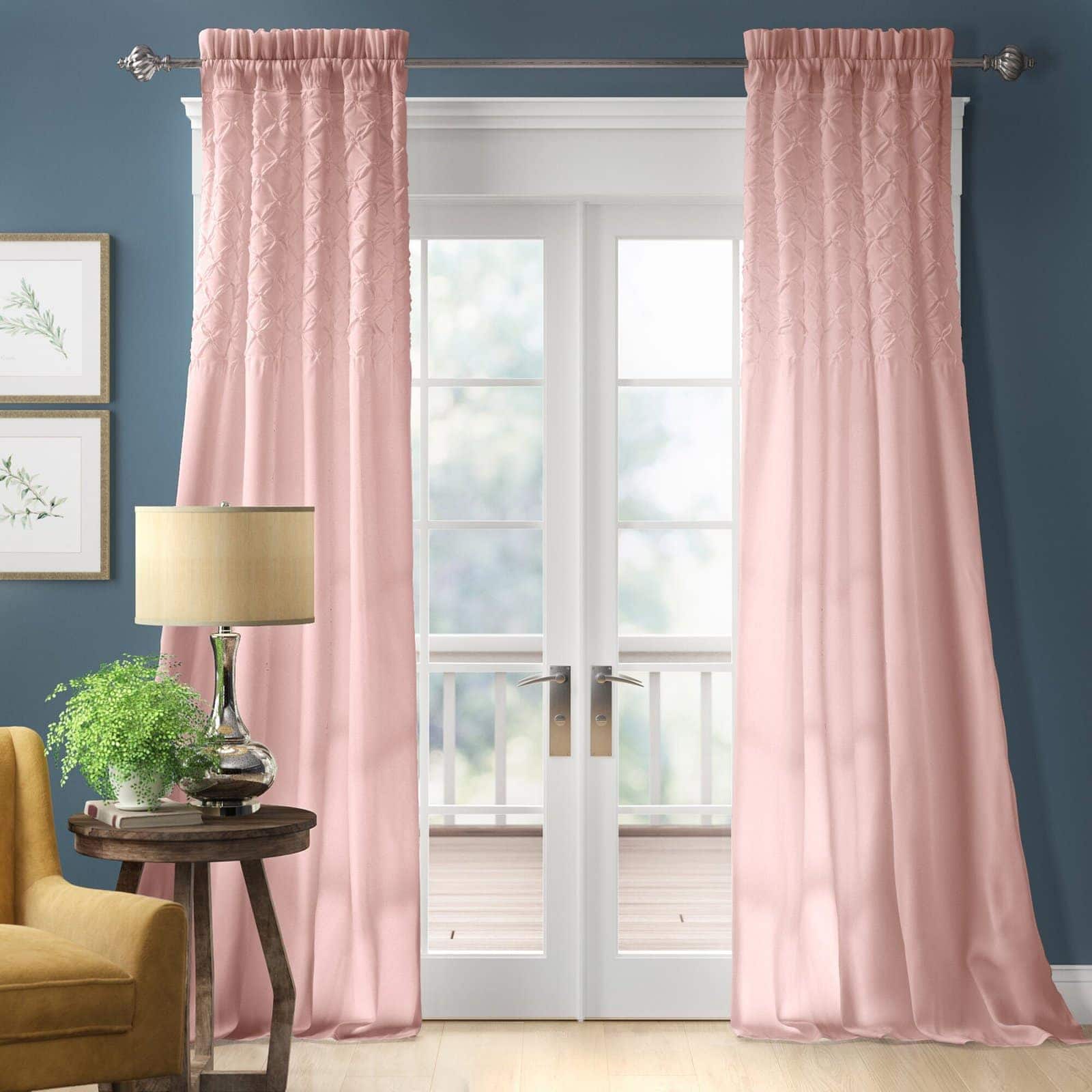 If you've been wondering what color curtain goes with blue walls, but want something a little different, then blush pink might be the color for you! The soft pink of these curtains makes this room feel young and playful.
The blush pink from the curtains contrasts well against the deep blue walls allowing them to stand out, and bringing a softer edge to an otherwise masculine room.
Pair Teal Walls With Blush Pink Curtains for a Playful Vibe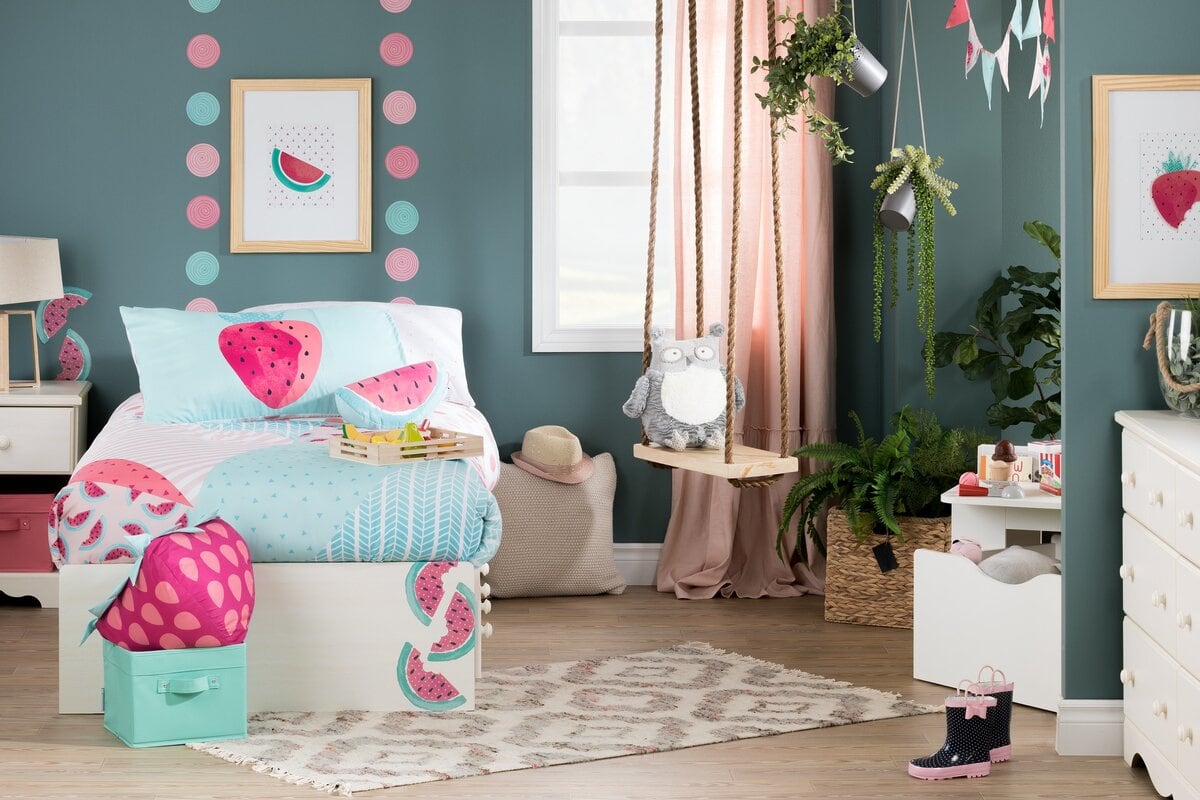 Another great example of how pink can work so well with blue walls. This shade of teal works so well with the blush pink in this girls bedroom, making the space feel more light and femenine, despite the fact that the walls are actually quite a dark shade of blue.
The material of these curtains are part of the reason they work so well, as they let the light through while still allowing privacy from the outside.
Dusty Pink Curtains With Pale Blue Walls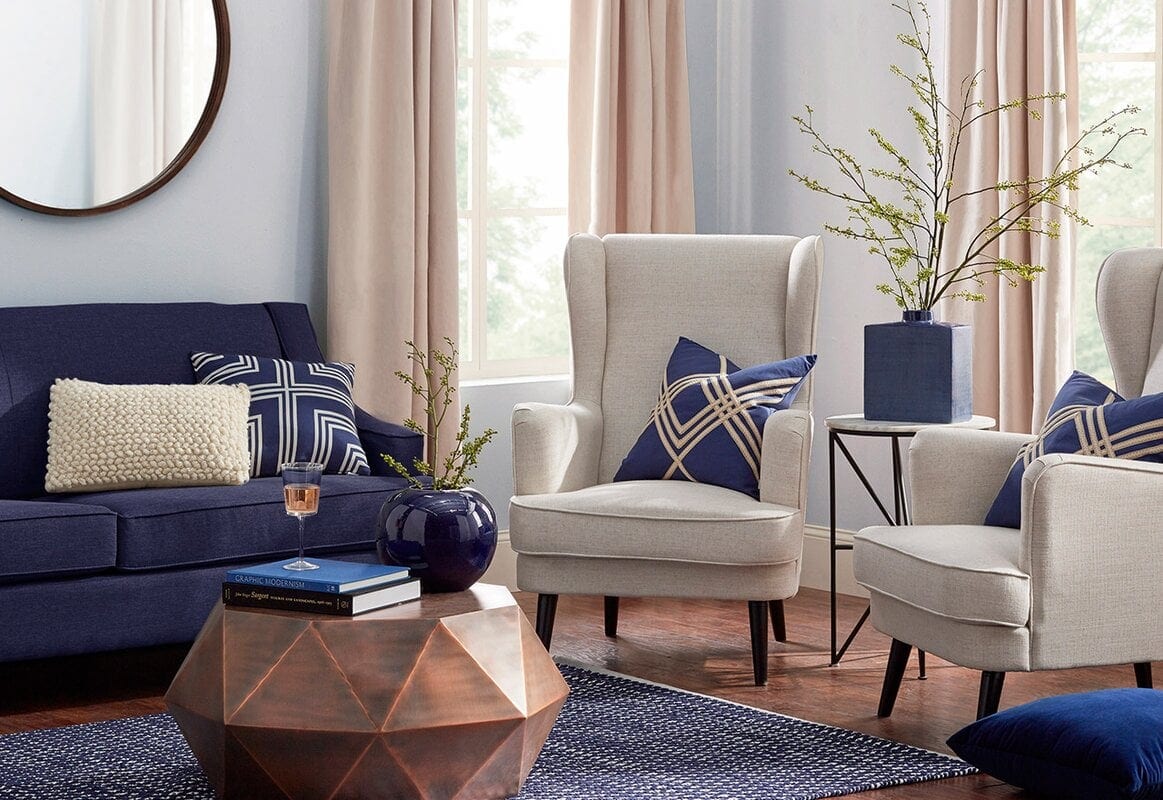 If you are looking for curtains to go with pale blue walls, then you may want to consider this dusty shade of pink.
The color of these curtains is so pale that it could almost be considered a neutral, which is one of the reasons it works so well in this sophisticated design, adding a touch of femininity to the color scheme while still looking smart and stylish.
Natural Linen Curtains With Dark Blue Walls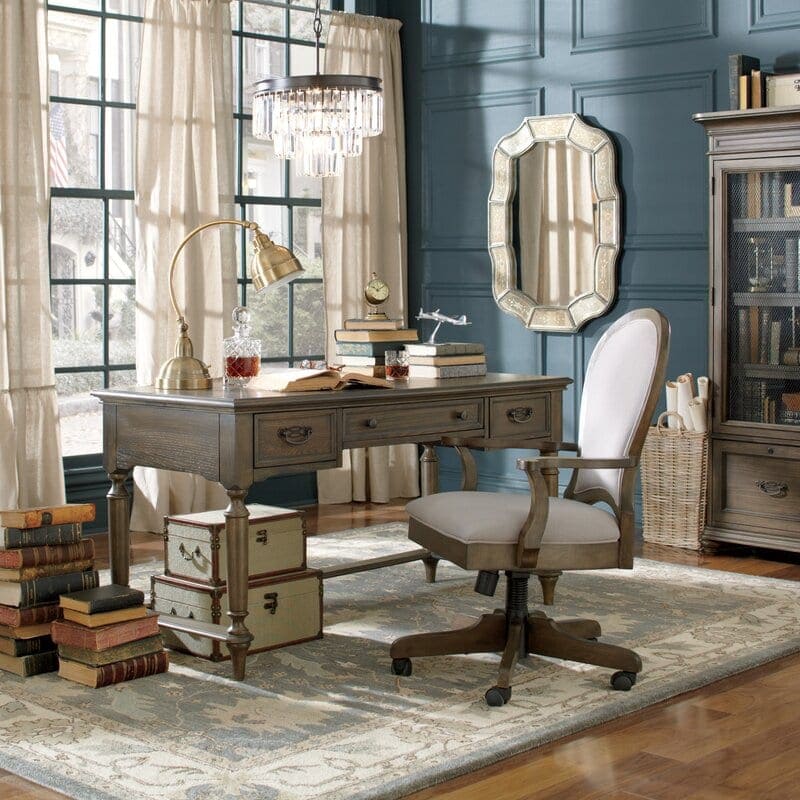 When it comes to choosing curtains for dark blue walls, it's no secret that neutrals are always a winner.
These natural linen curtains work well against the dark blue walls, and they complement the furniture and accessories in this room nicely too, giving the whole room a cohesive look.
Grey Curtains with Duck Egg Blue Walls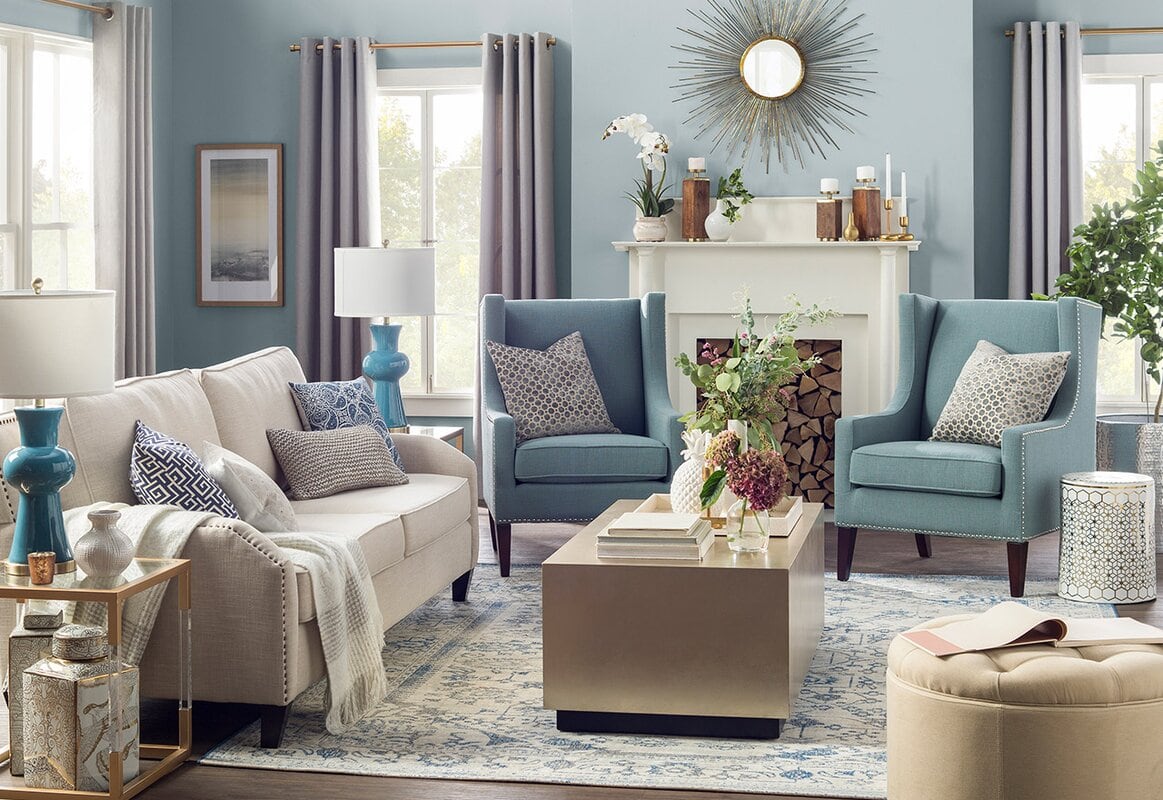 Grey is a color that always goes well with blue walls, and these grey grommet curtain panels are the perfect choice for duck egg blue walls.
The way these curtains hang in perfectly straight lines thanks to their grommet header, adds the perfect finishing touch to this blue living room design scheme, framing the windows in beautiful clean lines with a subtle color change from the blue.
Cream Checked Curtains With Blue Walls for a Modern Farmhouse Look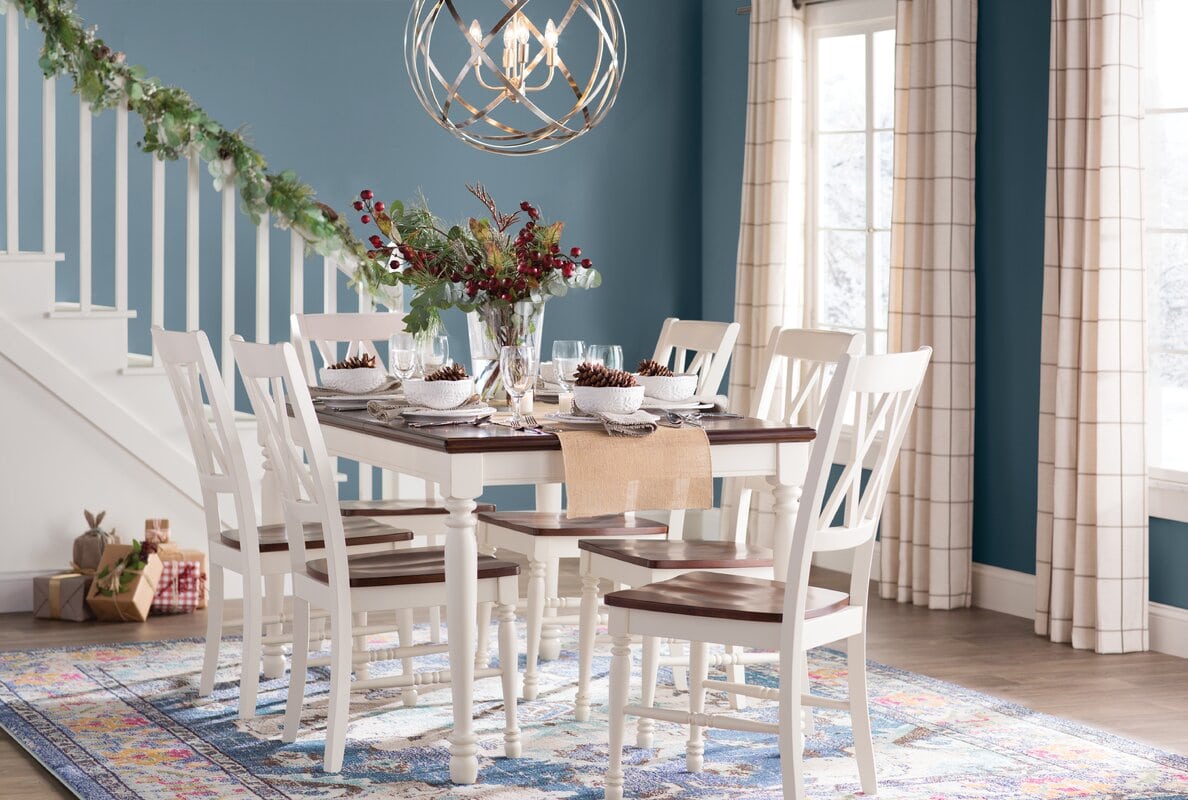 Checkered curtains can give any farmhouse design a modern feel. These cream checkered curtains look great against the dark blue walls, and the large square checks are a refreshing change from the classic plain or patterned curtains we are used to.
Although these curtains are modern looking, thanks to the classic neutral color they still work really well in this farmhouse style dining room, giving the whole space a timeless feel – gorgeous!
Rusty Red Curtains With Light Blue-Grey Walls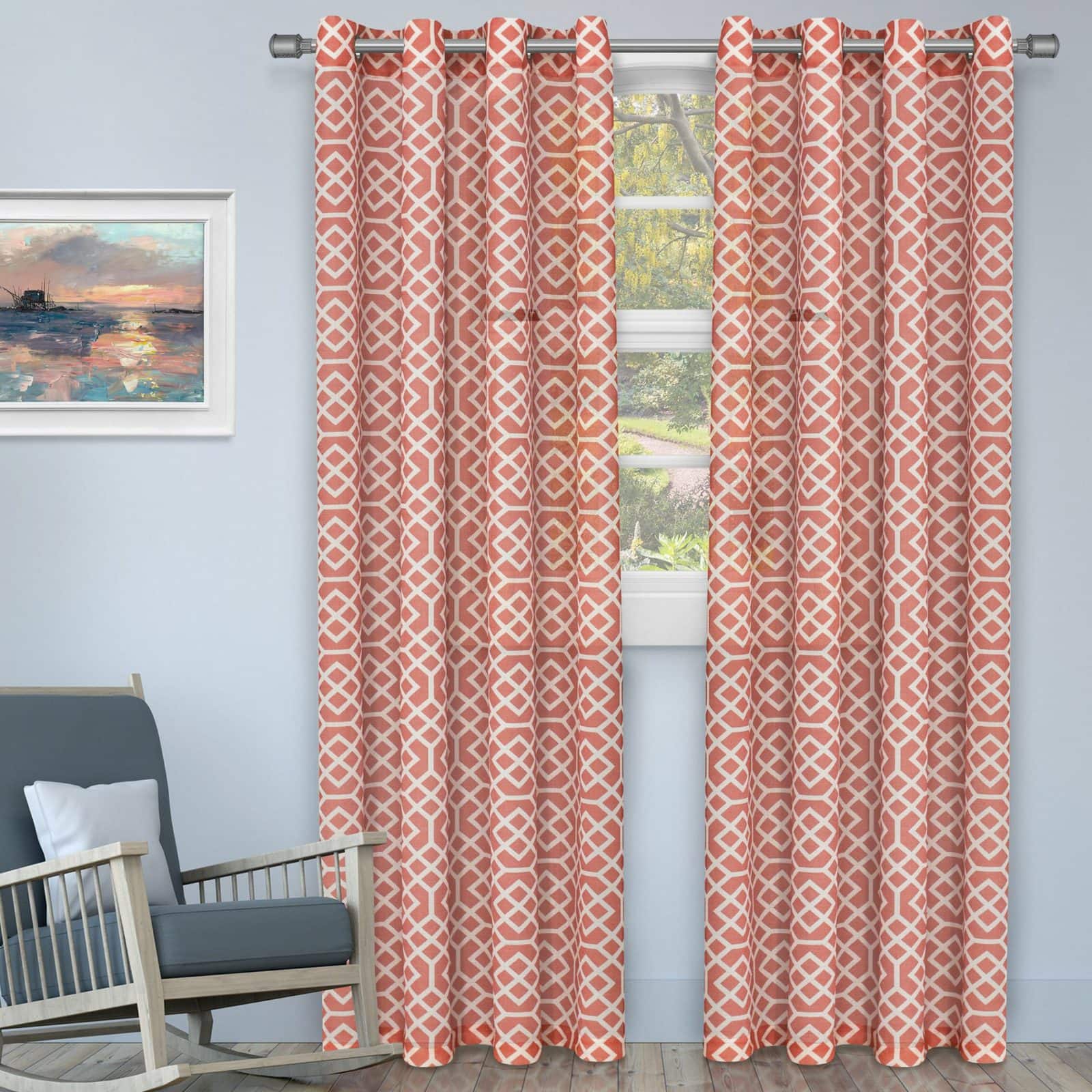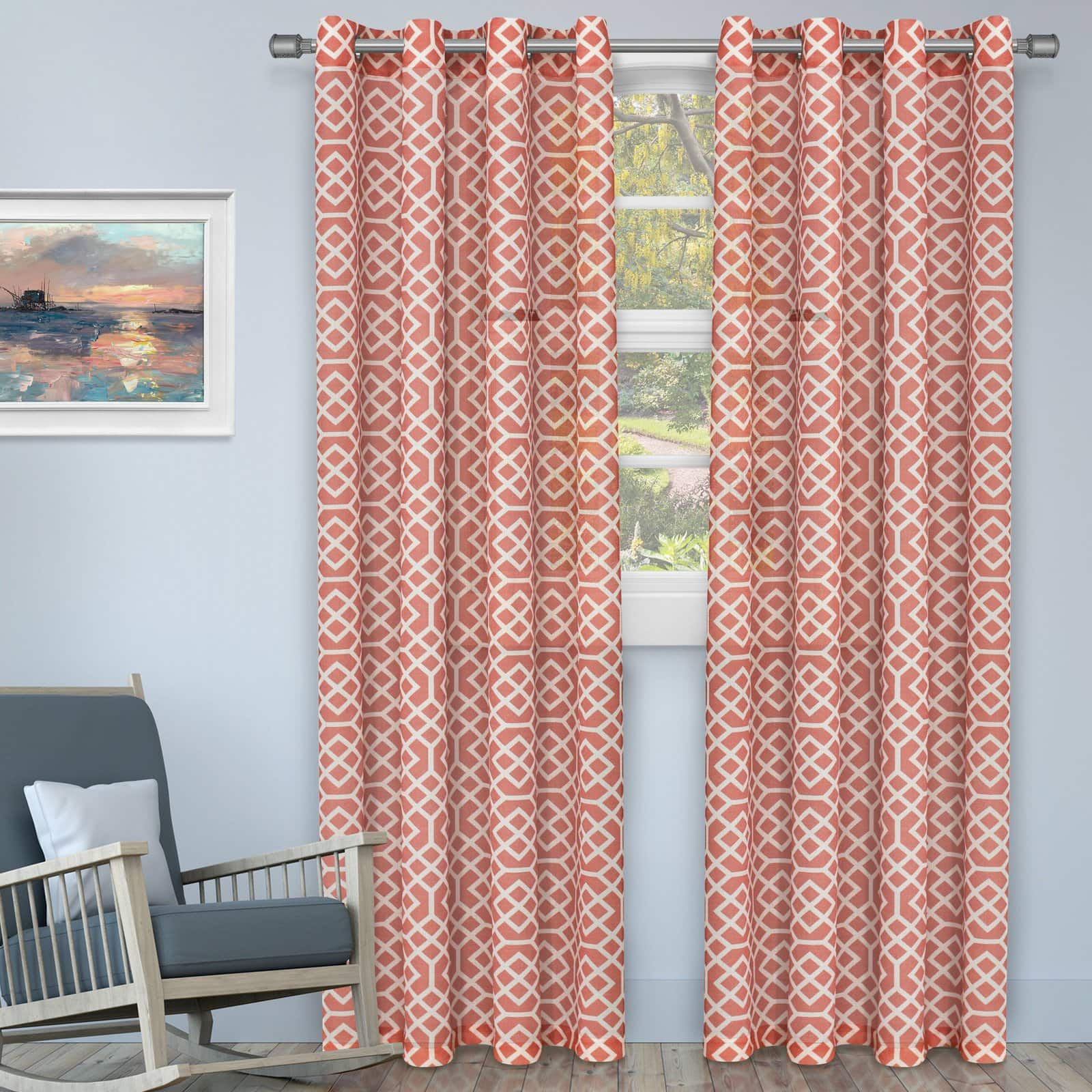 Here's something a little bolder: Rust-red and white honeycomb patterned curtains for blue grey walls. The warm rust red contrasts beautifully with the cool blue of the walls creating a wonderfully pleasing scheme.
The geometric pattern on the curtains makes these curtains a great choice for modern interiors, whether it's the living room or a master bedroom, these are a great choice.
Charcoal Grey and White Curtains on Midnight Blue Walls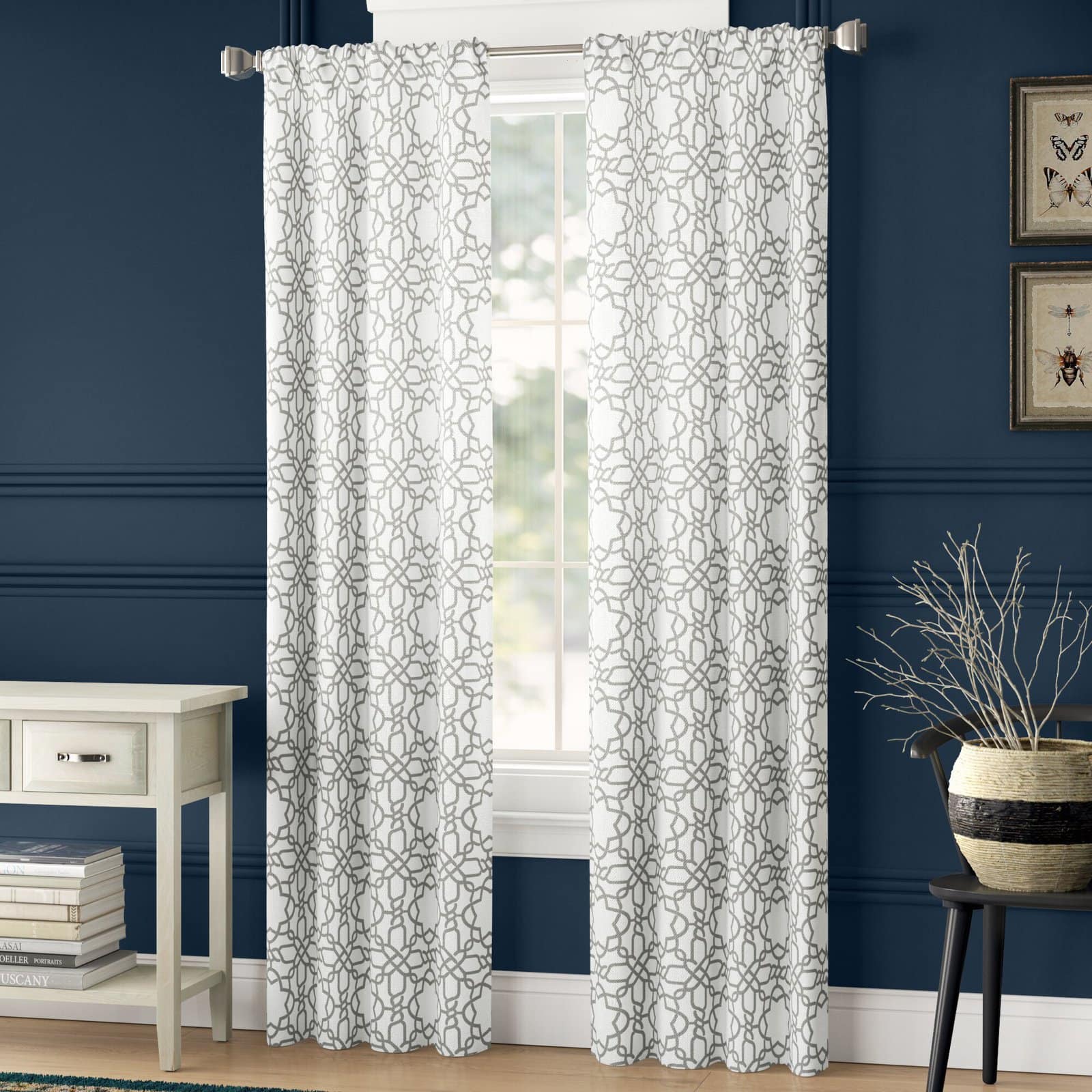 If you have midnight blue walls in your home then these charcoal grey and white geometric patterned curtains could work really well.
The intricate geometric pattern and contrasting color makes these curtains a feature in the room against the deep blue walls, and the lighter color and sheer material of the curtains works well around windows letting more light filter into the space during the daytime.
Grey and Silver Curtains With Dark Blue Walls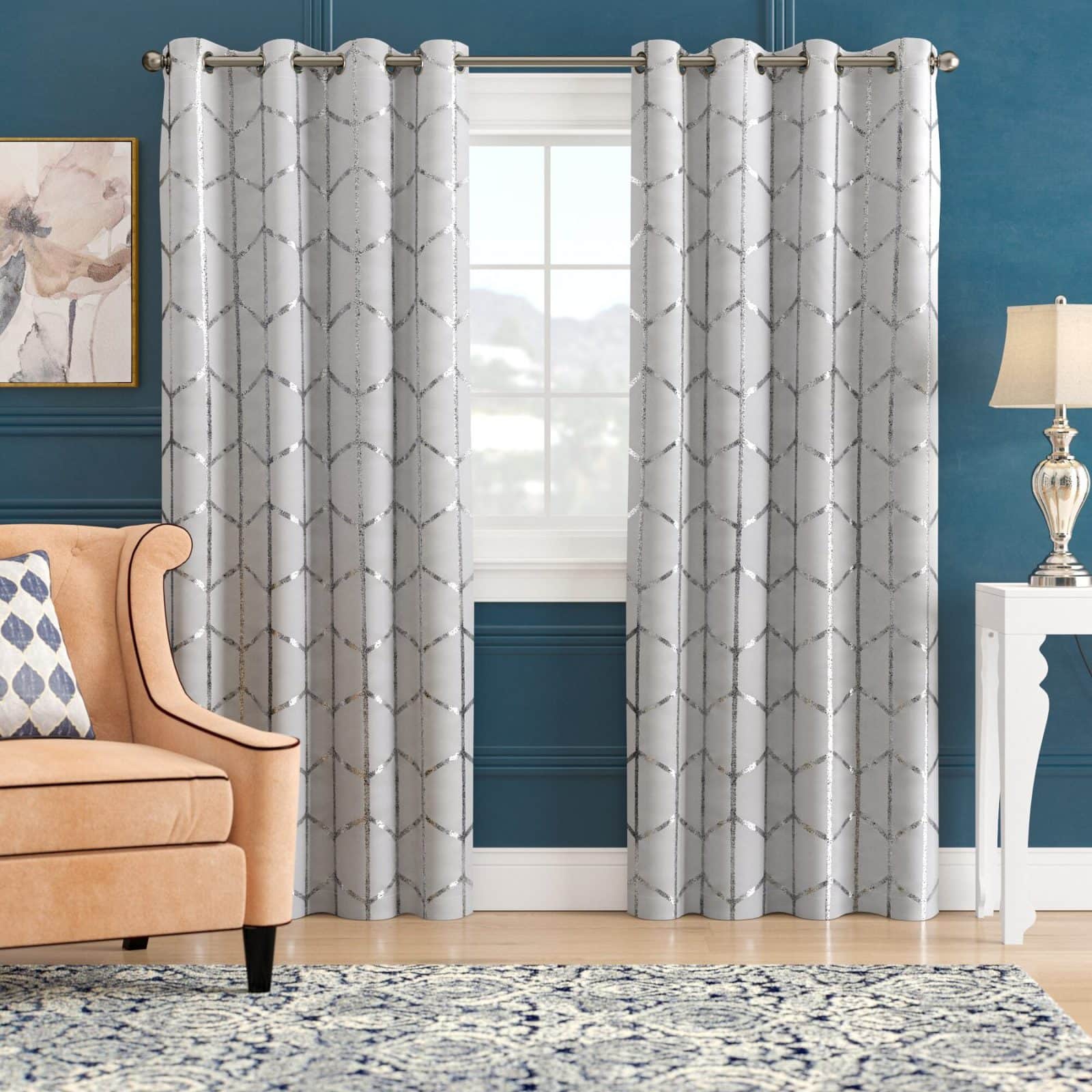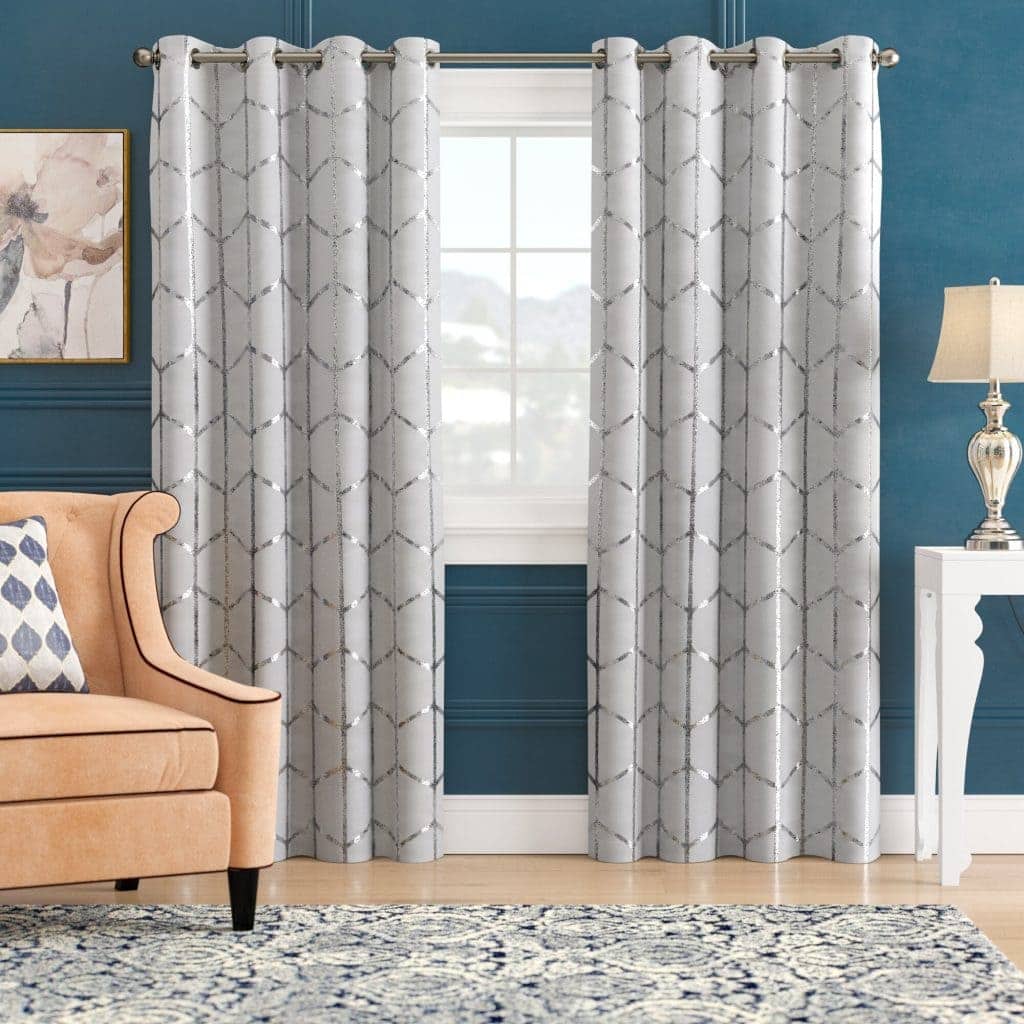 Silver and grey curtains for a blue room. These striking silver and grey curtains stand out beautifully against the deep blue of the walls.
Usually grey curtains would be quite unassuming, but the silver geometric design on these curtains makes them a feature in their own right. Although these curtains are light in color, they offer complete blackout light filtration, making them a practical choice as well as a glamorous one!
Zesty Lemon Yellow Curtains With Dark Blue Walls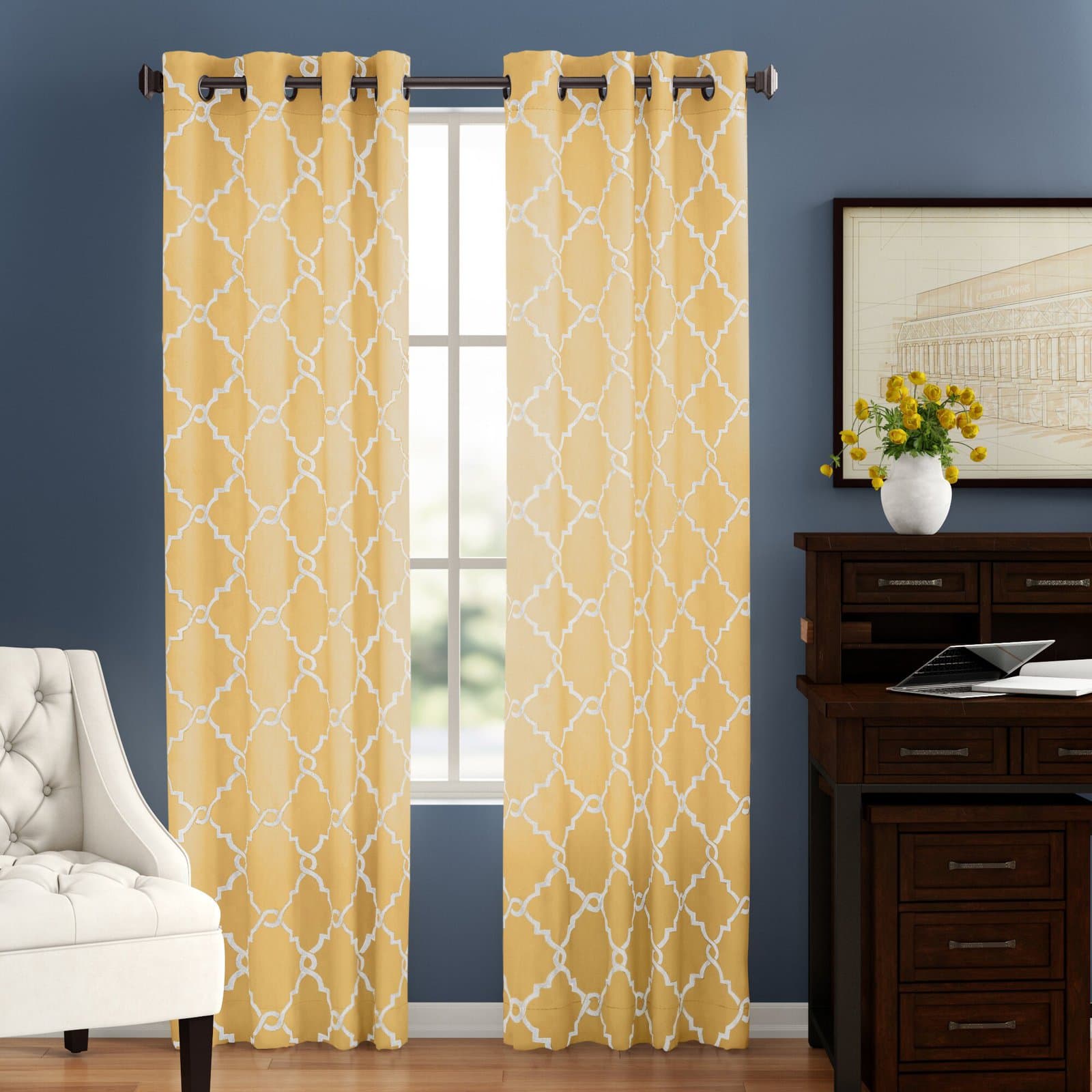 These zesty lemon yellow curtains look incredible against the moody blue of these walls. If you're wondering how two very different colors can go so well together, it's because blue and yellow are complementary colors, meaning they are opposites in the color wheel. Complementary colors always look fantastic together, so it's the way to go if you're looking to make an impact!
Pro tip: Use this color wheel tool to find the exact complimentary shade to go with your paint choice.
Desert Orange Blue With Dark Blue Walls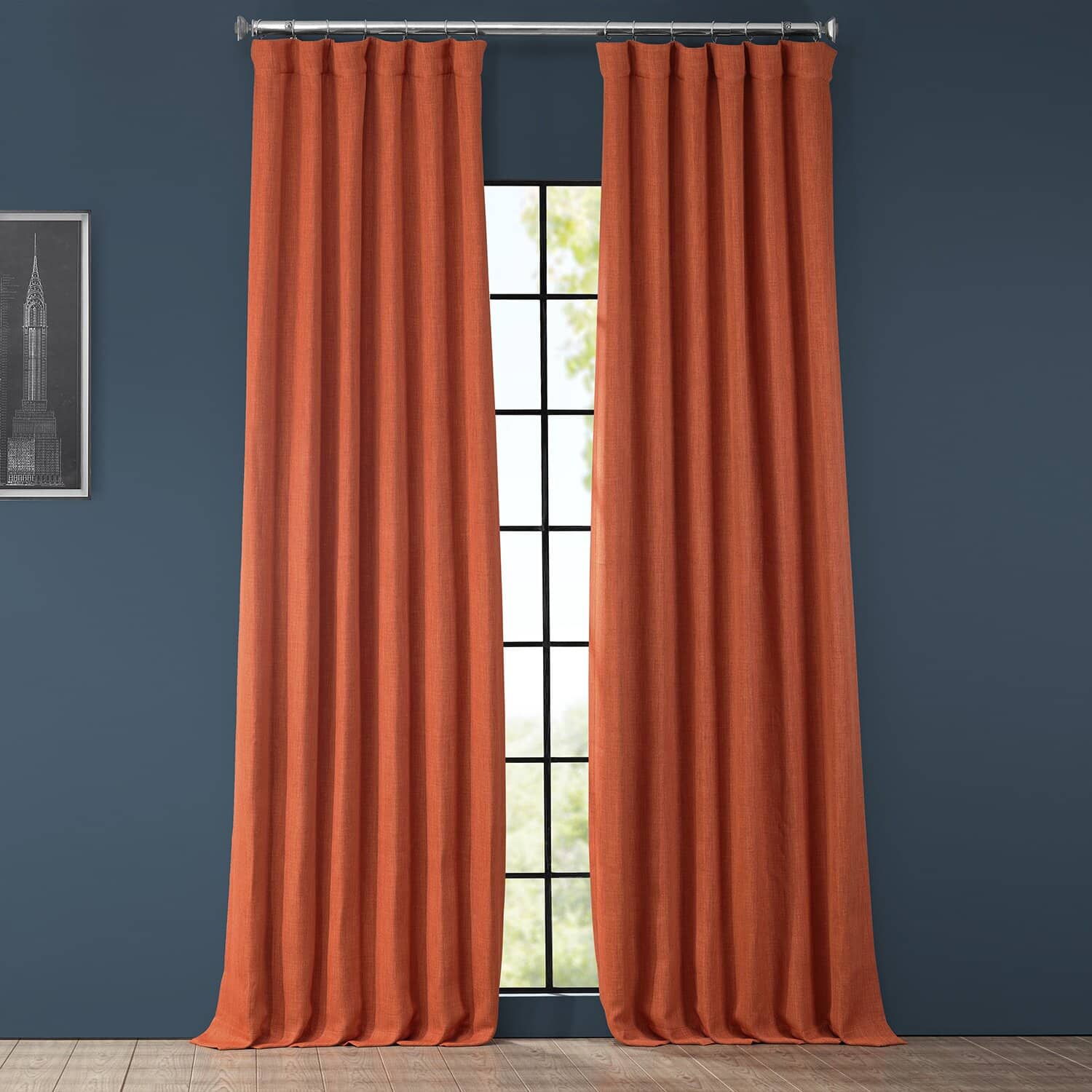 If you have dark blue walls in your home, then orange curtains can work really well. Since orange is a complementary colour to blue, using these colors together can make both colors stand out creating a striking design that is pleasing to the eye.
These gorgeous curtains also offer complete blackout, so they are great for bedrooms as well as living rooms, and they will keep the heat in too!
Gray Curtains With Sky Blue Walls for a Stylish and Sophisticated look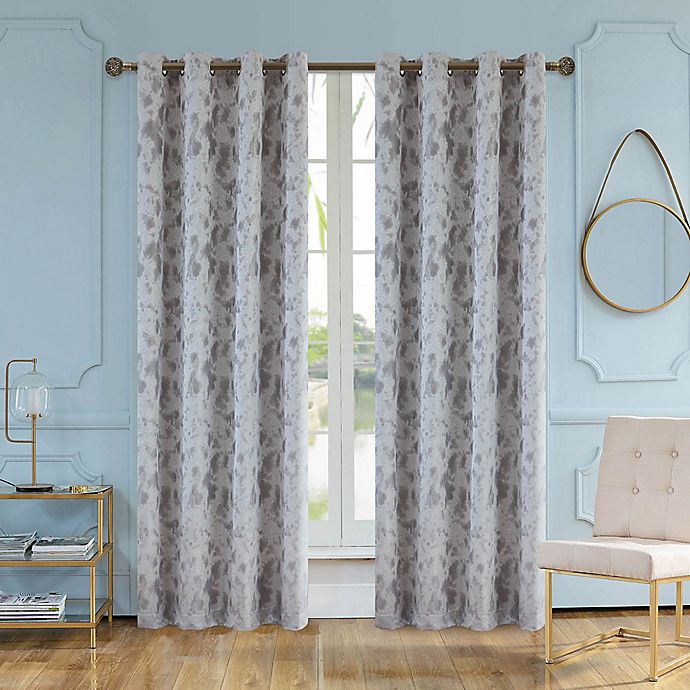 There's no doubt that grey curtains with sky blue walls is an excellent choice. Grey and sky blue go so well together making the design of this room effortlessly chic.
The mottled pattern on these grey curtains adds more texture and depth to the material, making them a feature in their own right in this gorgeous room.
Final Thoughts
Choosing the right curtains to go with your blue walls is a very personal choice, so there's no right or wrong answer here. There are loads of great options to choose from, but as well as choosing the right colour, make sure you take the material and texture into consideration too.
If you're redesigning a whole room, it's a good idea to create a moodboard with your chosen colors, along with samples of materials and images of your furniture and accessories so that you can see how everything works together before you commit to a full redesign.
Happy shopping!