Decorated Life is reader-supported. When you buy through links on our site, we may earn an affiliate commission. Learn More
What Curtains go with Grey Walls? – 20 Ideas
Right now, grey walls are a huge trend because they add depth to a room without being dark and, since they're neutral, you can add in all kinds of other accent colors to make the room pop.
To pull the room together, you'll also want to hang some curtains to match the grey walls. Curtains can do a lot for a room's overall look, but what color you choose depends on the aesthetic you want the room to have and the shade of grey you used on the walls.
If you're on the hunt for the perfect set of curtains, here are some great ideas to get you started.
Classic White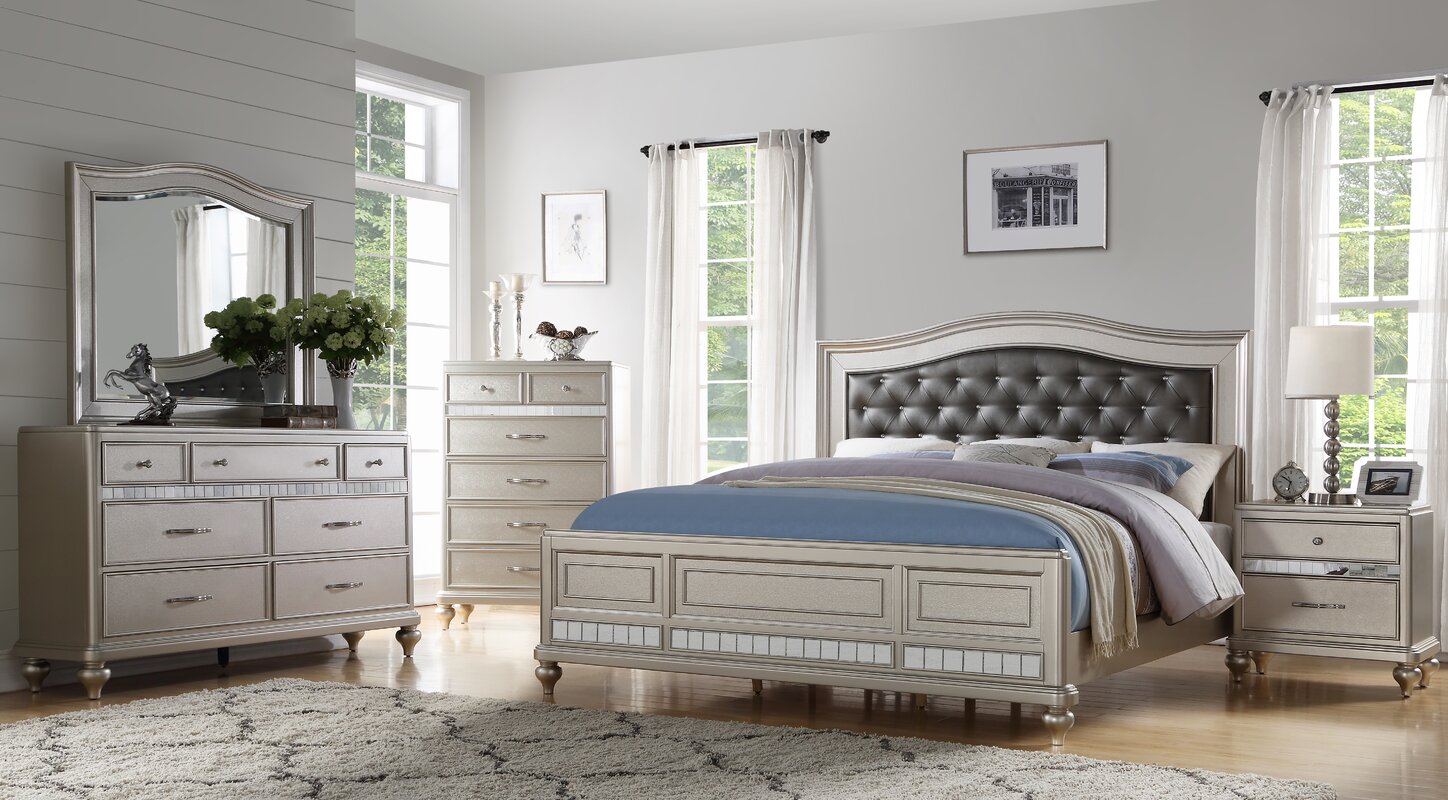 The most classic colored curtains for dark grey walls are bright white! They really pop out from the grey while also lending into the light and airy feel.
You can hang the curtains from an oil rubbed bronze curtain rod for the farmhouse feel, or try a soft brass for a warm glam look instead.
Tan and Cream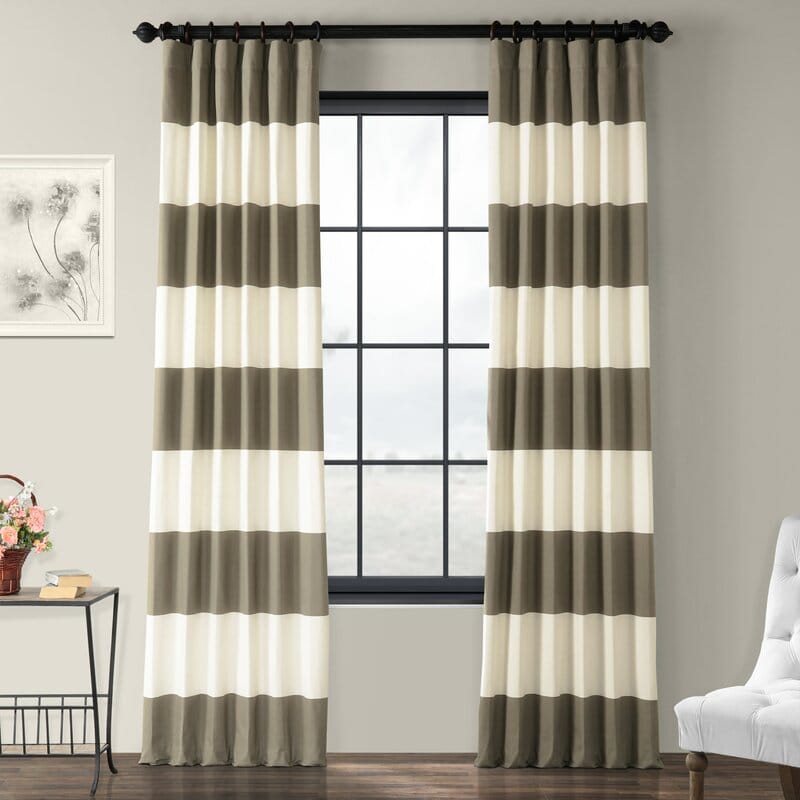 What's so great about grey walls is that they are so versatile. You can pair them with just about any color – including other neutrals!
These tan and cream colored curtains look fantastic against grey and bring in a little warmth that you don't get with crisp white. Get a thick knit throw blanket and a cushy chair and you've created a very cozy spot.
Navy Blue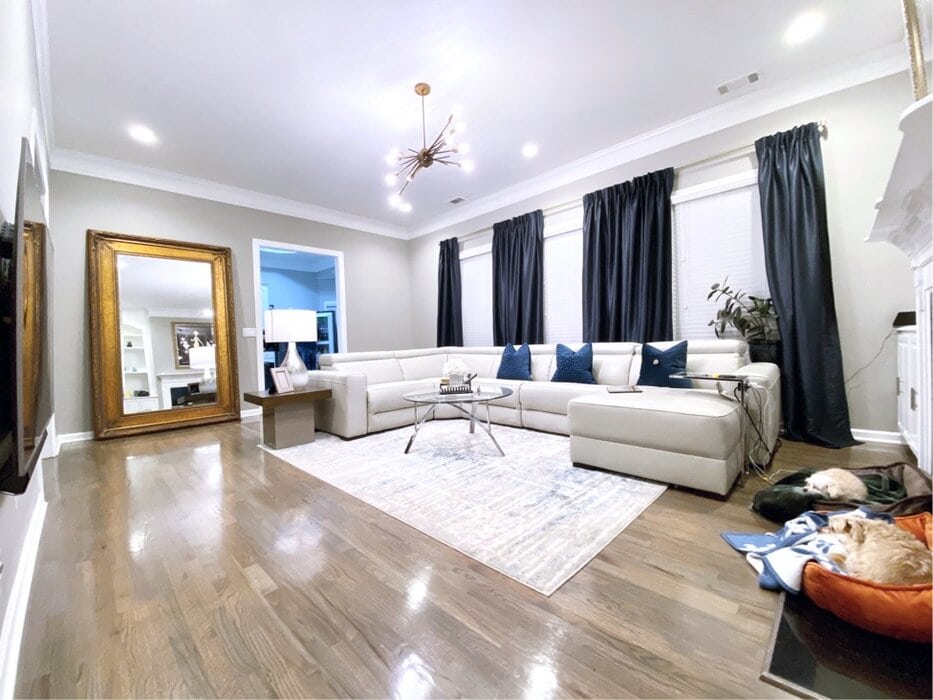 One of the prettiest color curtains for gray walls is navy blue. The deep rich color really comes out when it's paired with gray, but without making the room feel dark.
Navy blue curtains will look especially good in a room with camel brown furniture, white or cream accents, and some other warm-tone accents.
Oatmeal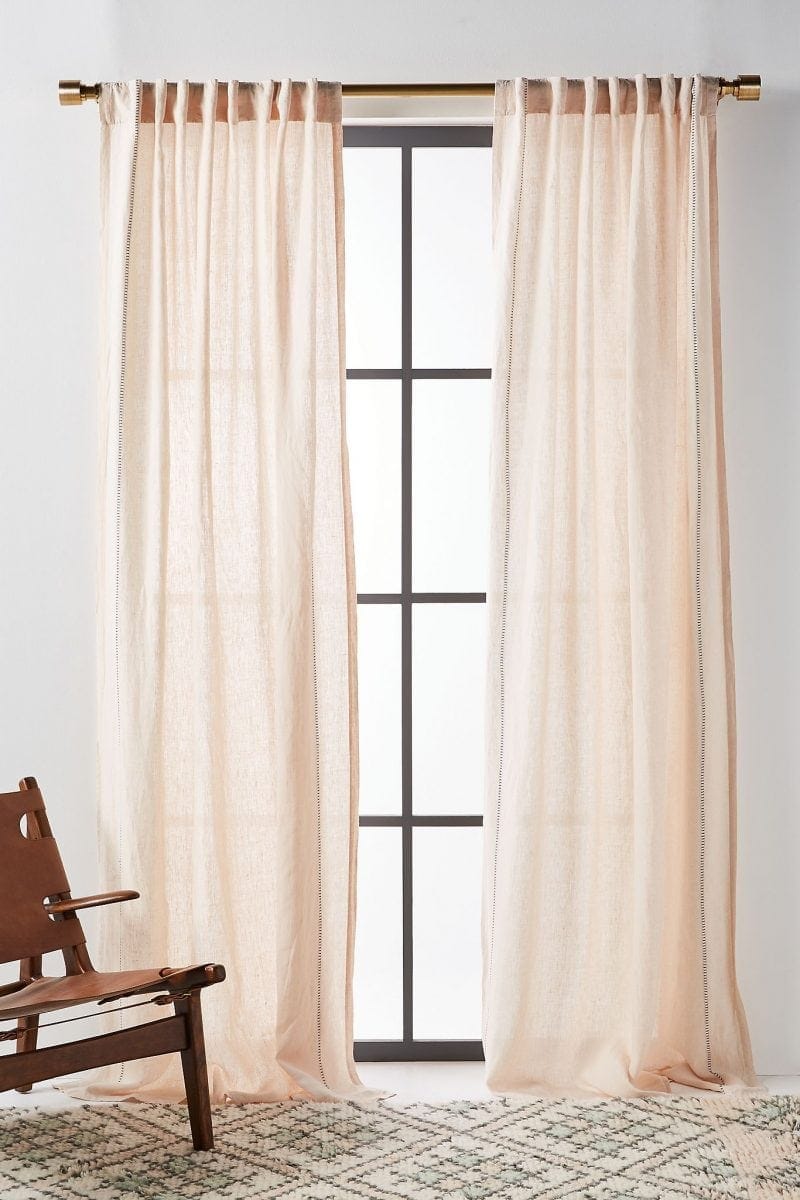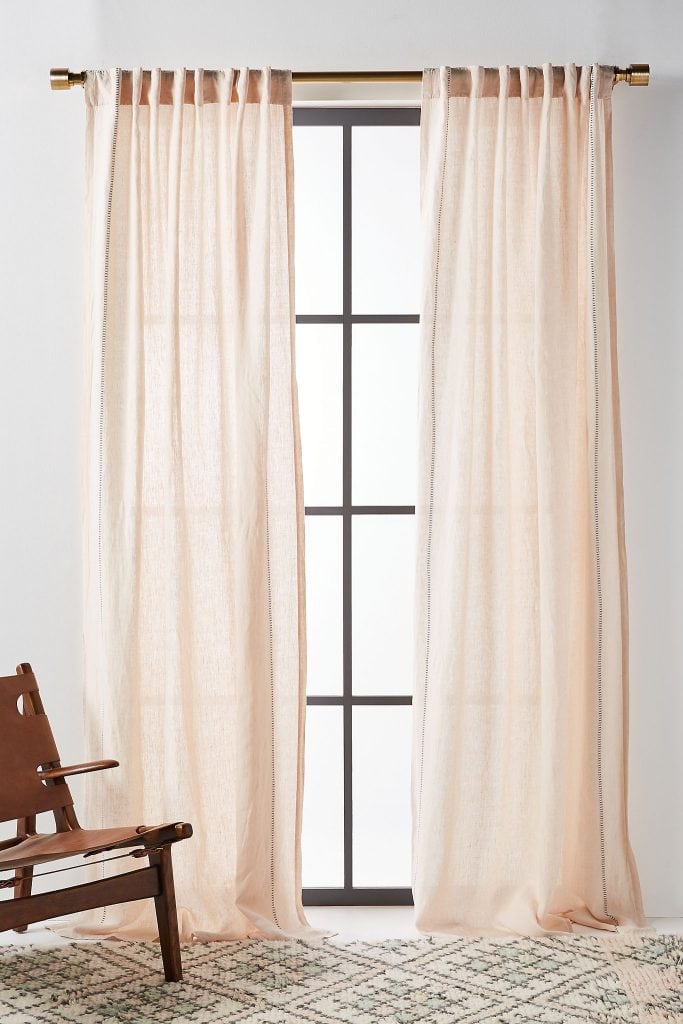 Oatmeal is such an amazing neutral color, because it is the perfect blend of grey and yellow.
Sometimes, grey walls can make a room feel somewhat cold. But, a set of oatmeal curtains in a room with grey walls opens up the possibility of decorating with warmer accents so you can still get the light and airy feel of grey without the coldness of it.
Dusty Rose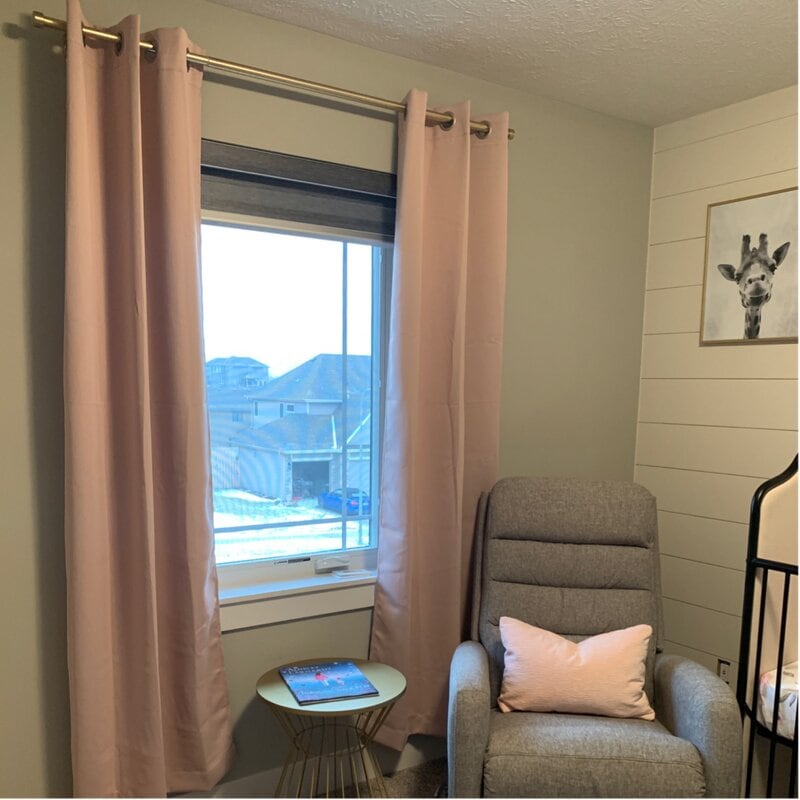 While it's common to find dusty rose curtains or accents in a nursery, they can work in just about any room with grey walls and still look very sophisticated.
Try dusty rose curtains in a room with grey walls, white furniture, and burgundy and olive accents. It creates a beautiful color palette that any adult will love.
Yellow
Yellow and grey look absolutely amazing together, so yellow curtains just make sense for a room with grey walls.
You can go with a bright yellow to create a really warm, cheery room or try a mustard yellow for a more refined look. Either shade will still pop from the contrasting grey walls and create a gorgeous aesthetic.
Blue, Grey, & White Combo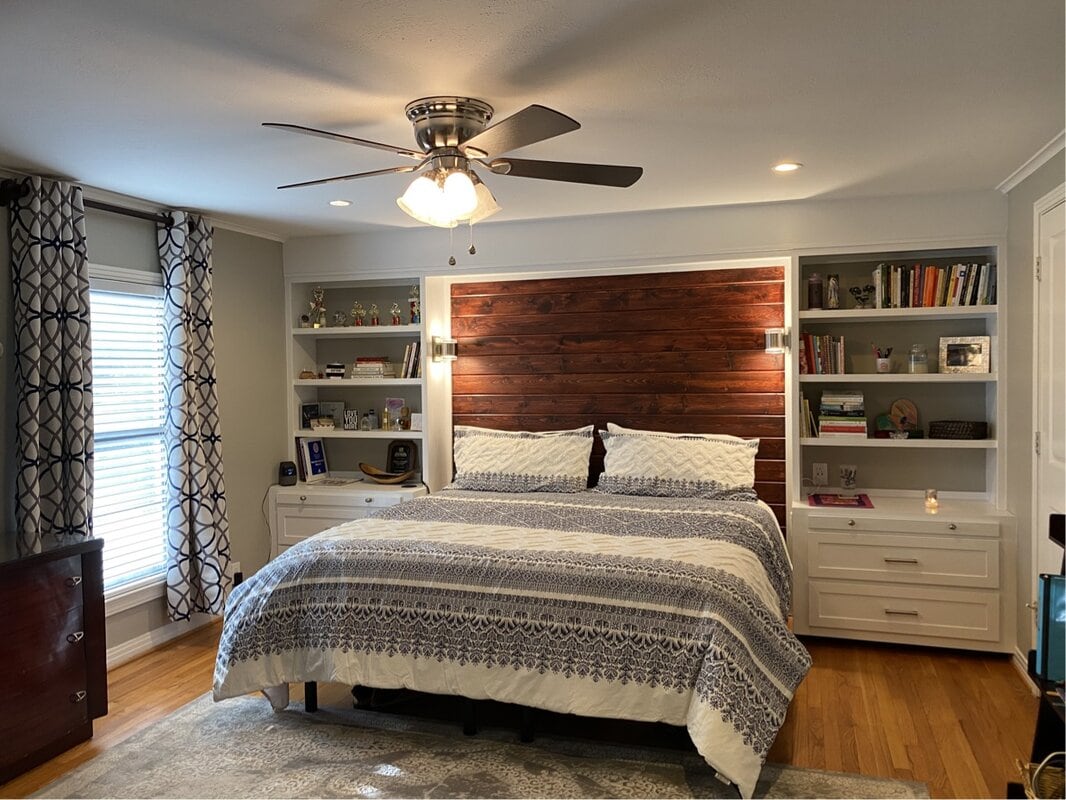 If you like mixing up a few colors at once, then try a set of curtains like these. The three color combination looks amazing, and since the pattern is set on solid white, they still brighten up the room significantly despite the darker hues.
Charcoal Grey
You can go with any number of color curtains for light gray walls, because those are probably the most versatile of all. However, if you're trying to go for a darker or masculine aesthetic, consider pairing them with charcoal grey.
Charcoal grey curtains against light grey walls creates a gorgeous contrast without being too dark. The charcoal is also a bit softer than just stark black is, so it will still feel welcoming and warm. You can toss in some lighter accents to brighten things up a bit if you want, too.
Natural Green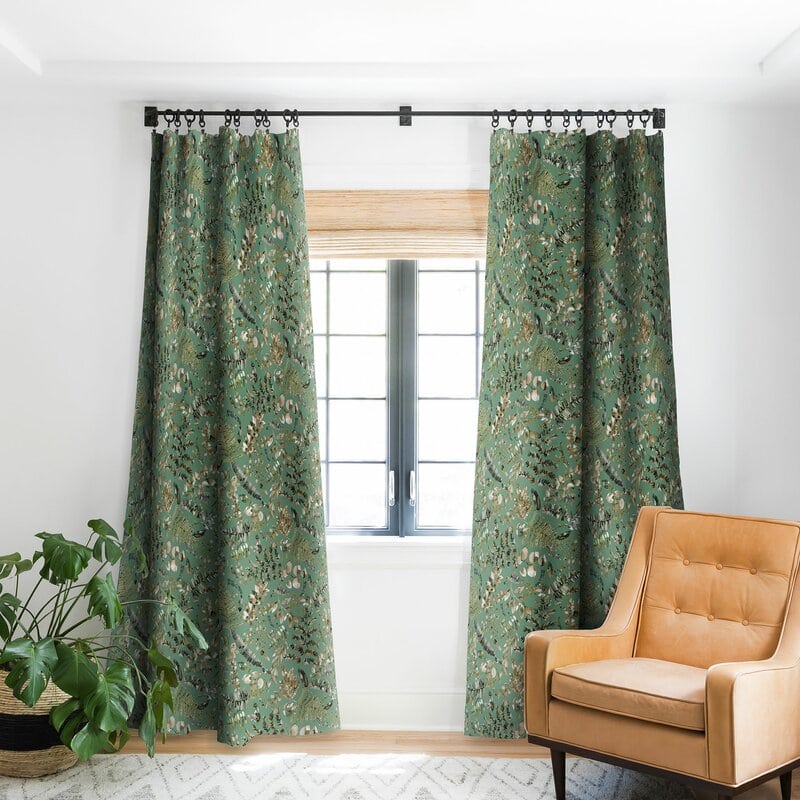 How gorgeous are these curtains against the light gray walls?! The floral pattern on this set really plays into the earthy trend right now, and it's made even better by the bamboo shade on the window as well.
If florals aren't your thing, you can just go for a soft olive shade of green with some warm neutrals and browns to get the same aesthetic. Add in some indoor house plants and a few touches of white, and you're set!
Cream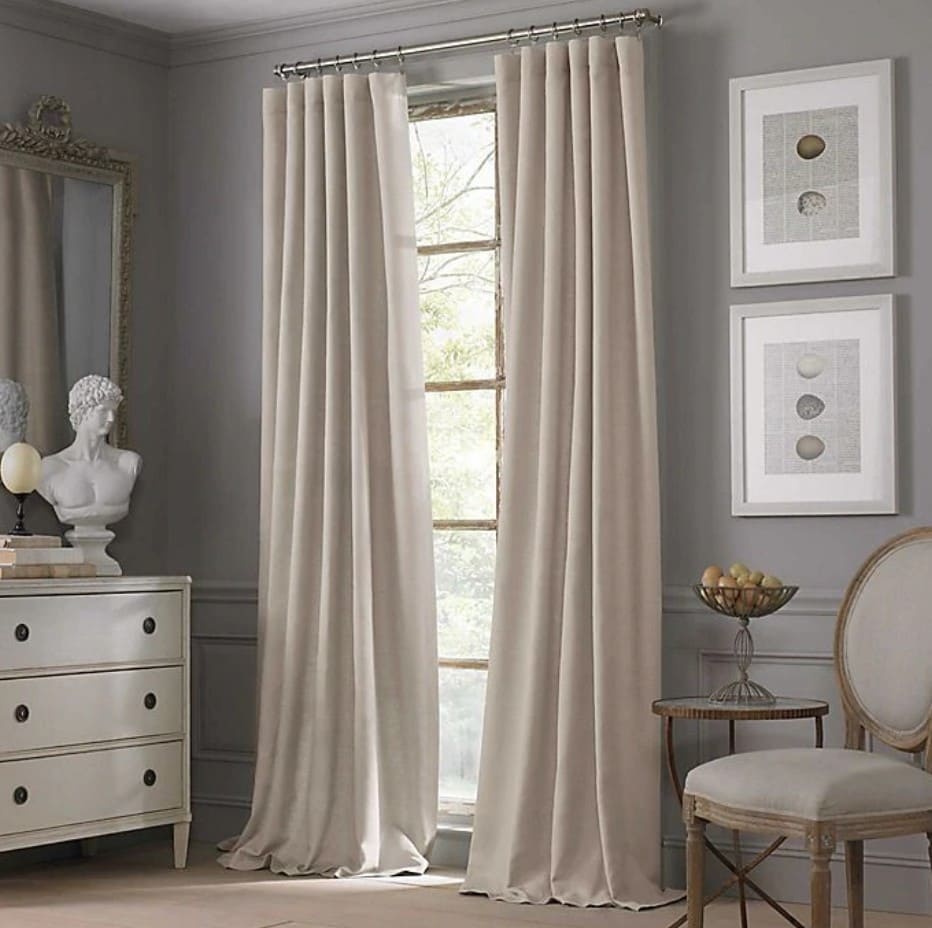 Cream colored curtains are the perfect way to keep that light and airy feel that comes from grey colored walls without making the room feel cold. Bright white pops off of grey, whereas cream slightly stands out in a softer contrast. It's a similar look, but just slightly different overall aesthetics.
Lilac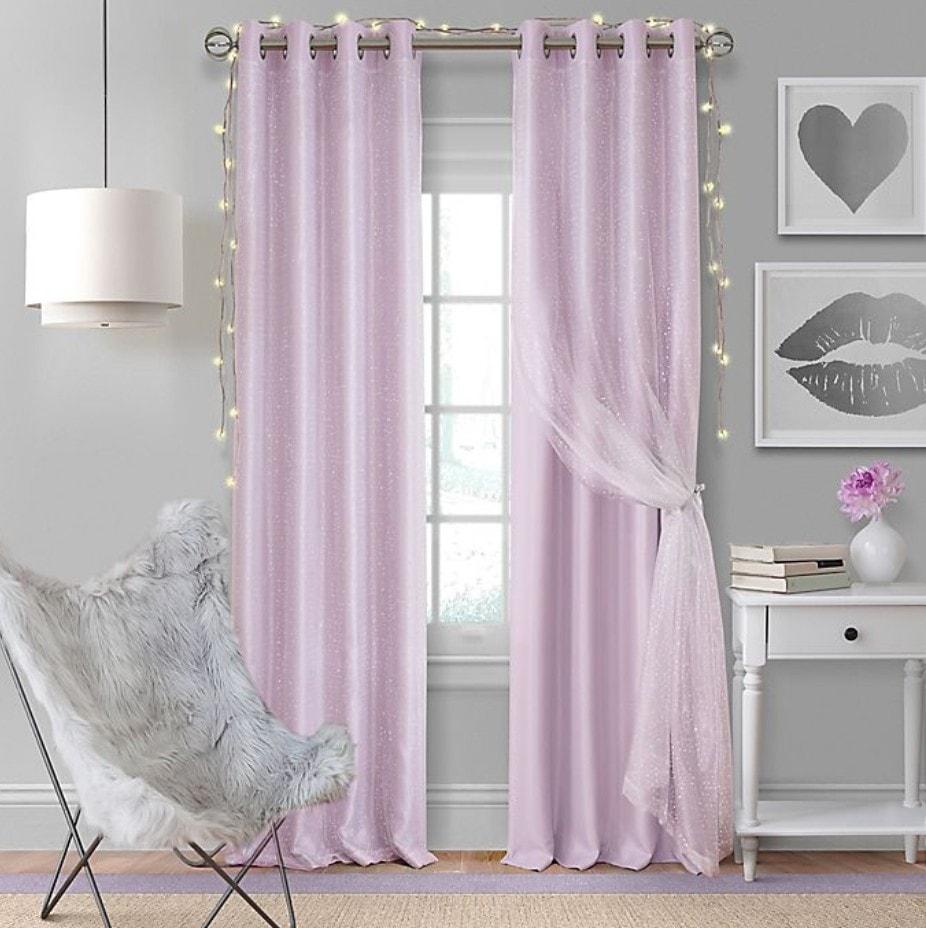 A lot of pastel colors work really well with grey, but lilac looks particularly gorgeous. A set of soft lilac curtains up against a light grey wall will set the stage for some incredible decor.
If you're not a fan of pastel, but still love the color purple, try a set of curtains in a different shade like plum, wine, or even magenta! Purple and grey always pair well.
Large Vibrant Floral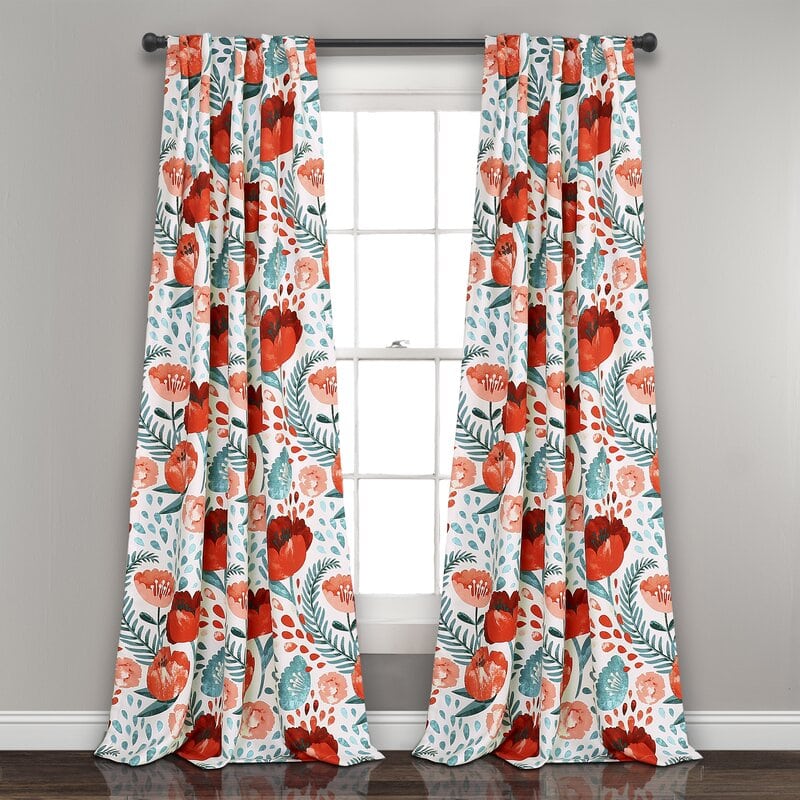 Honestly, decorating with patterns can be incredibly intimidating because you run the risk of making a room look 'busy' or cluttered if you don't do it right. If you want to play it safe, go for a larger print like these florals.
There is a lot going on with this pattern, but since it's such a large pattern it doesn't seem so overwhelming. Plus, it allows for big bursts of color which look particularly gorgeous up against the grey walls because they tone down the pattern a bit to make it a little easier on the eyes.
Coral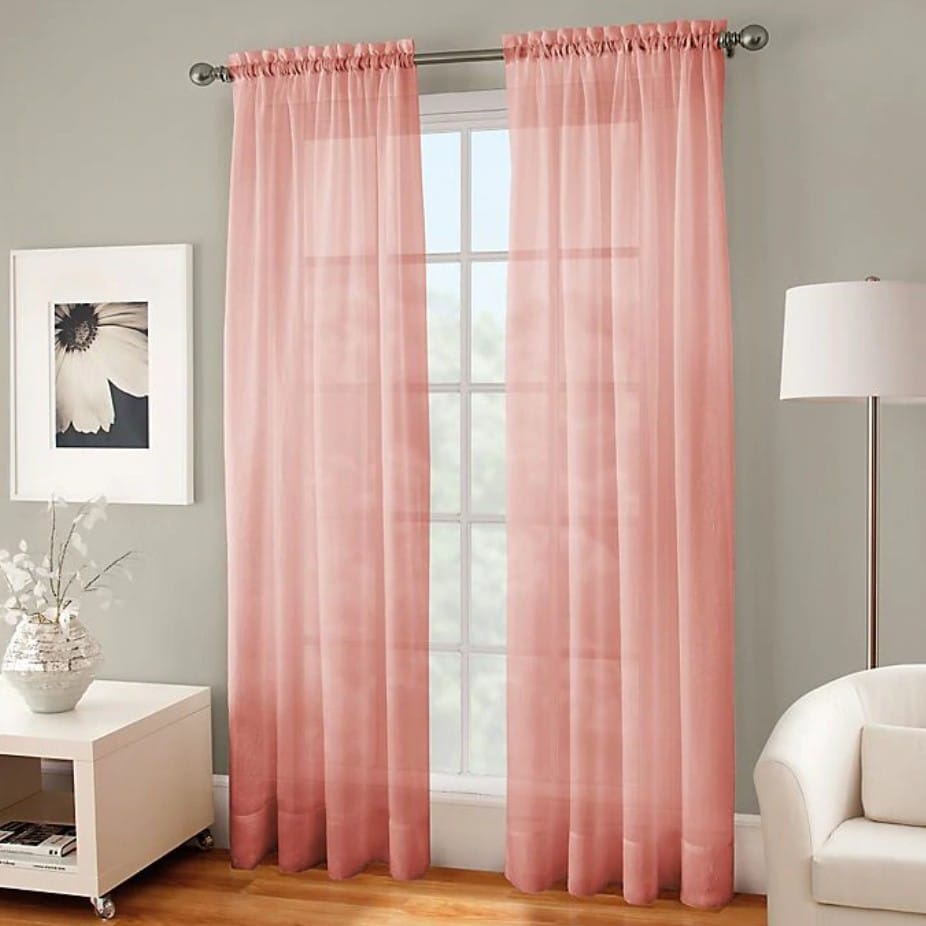 One way to brighten up a grey room is to throw in some coral curtain panels! The colors pair really well together, but the coral really pops and makes an impact.
You can play up the brightness even more by adding in some white accents or you can tone it down a bit with some navy blue touches.
Chalky Blue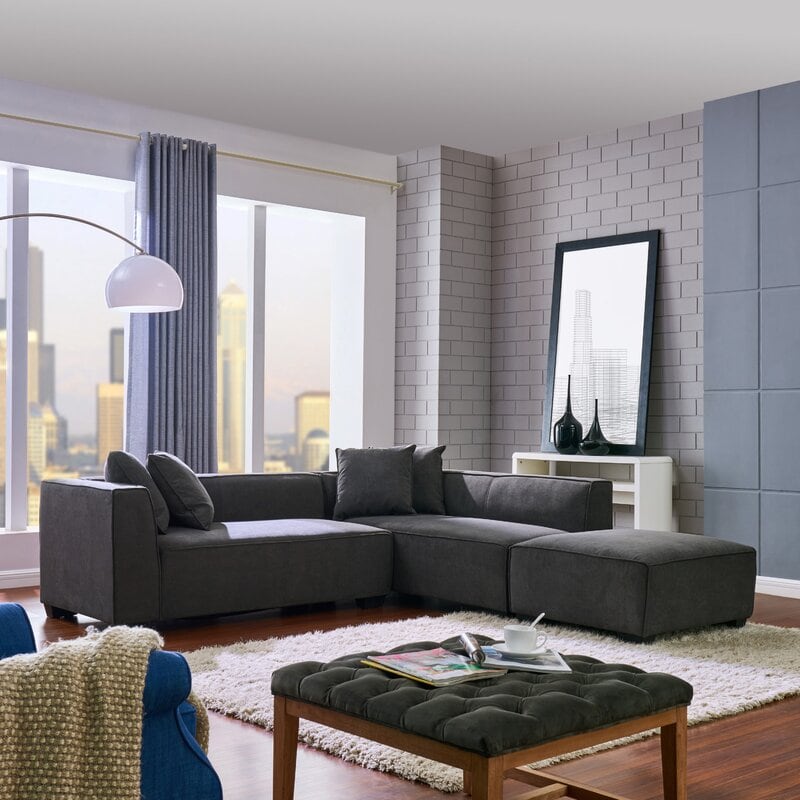 Blue and grey go well together, it doesn't really matter what shade of either you use, because chances are good they'll work just fine. However, some shades stand out a little more than others. Like, for instance, this chalky, dusty blue.
Any 'dusty' shade essentially just has a grey undertone to is, which makes it a great partner for grey walls. This blue fits right into that description and creates a soft accent to the grey walls rather than a contrast.
Neutral Stripes
There is nothing wrong with liking neutrals and wanting to keep that throughout your home. In fact, you can still create some variety and character using neutrals – like with these curtains.
These striped neutral curtains could work with just about any colored walls, including grey. While they're not going pop from the rest of the room, they will add some texture and warm up the grey hue a little bit to create a really inviting space.
Ombre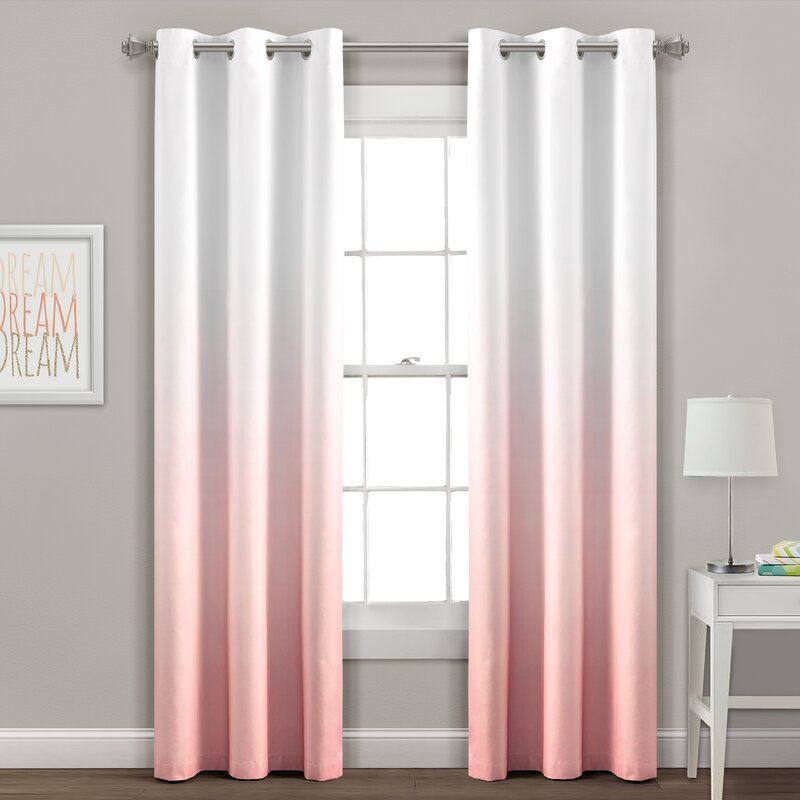 If you want to make a big impact, go for brightly colored curtains for a grey room. However, if you want to make an impact but maybe not that big of one, try a set of ombre curtains instead.
There are all kinds of ombre options out there, but no matter what color your style you pick, the general idea is that they will have one main color that slowly fades out. This design allows you to still have a burst of color but the fading softens it a bit.
Buffalo Check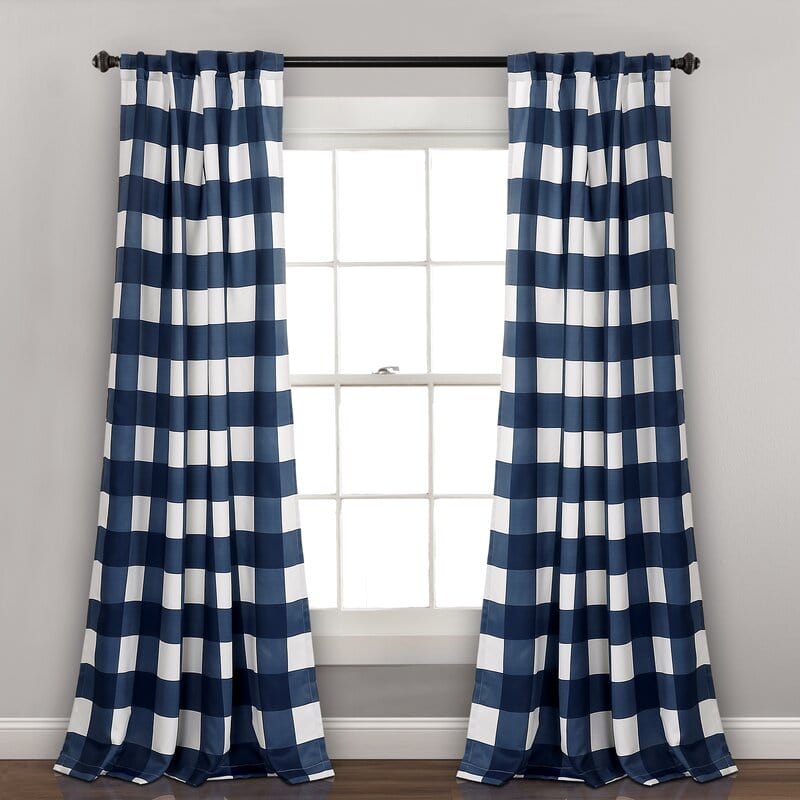 Anyone who is into the farmhouse or rustic decor style needs a set of buffalo check curtains in their home! Not only are they totally on point thematically, but the pattern in just about any color also looks amazing against grey walls.
Emerald Green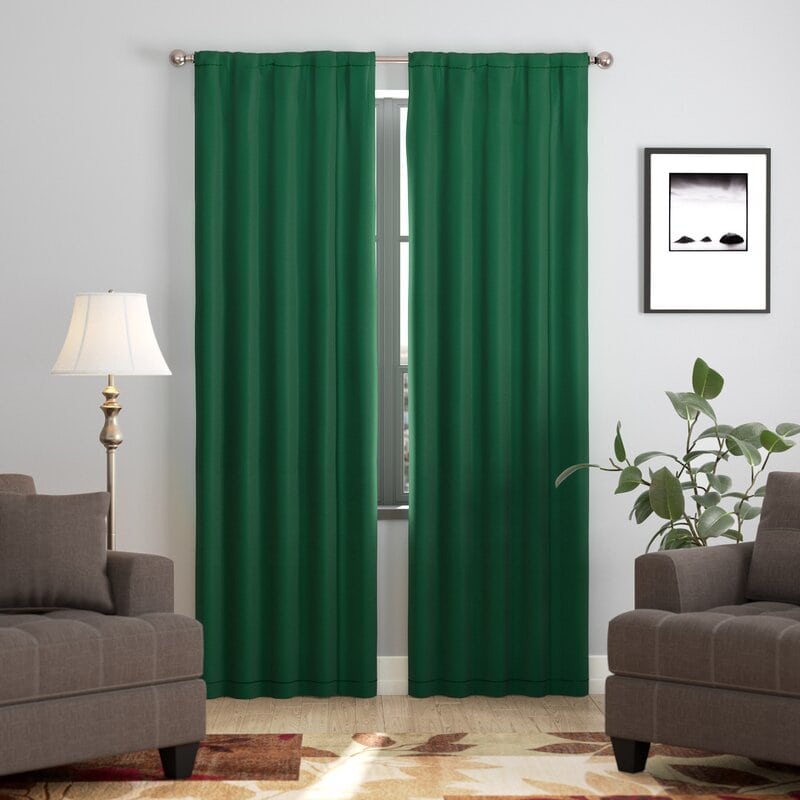 Have you ever considered jewel toned curtain colors for grey walls? Because, if not, take a look at the emerald green beauties in this photo.
Unlike the natural green curtains we saw earlier in this article, the emerald shade creates a completely different look that's more sophisticated than bohemian. These curtains would work well in a room with mid-century modern furniture and some brass accents.
Turquoise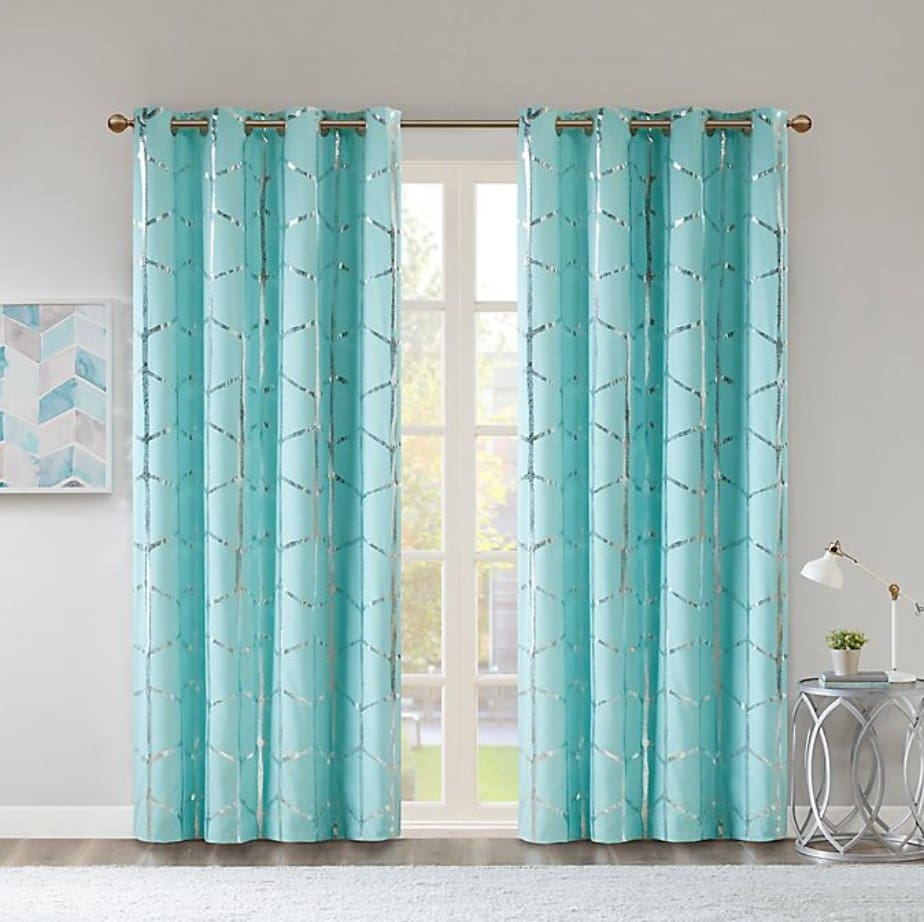 Turquoise is another fun, vibrant color that really pops from grey to create a bright contrast. This shade would look amazing in a kids room or play area, or in any space that just needs a little more life.
You can really lean into the bright colors with other vibrant accents to create a rainbow-like effect, or you can look for darker shades of this turquoise to play up the color while also toning it down a bit.
Multi-Colored Boho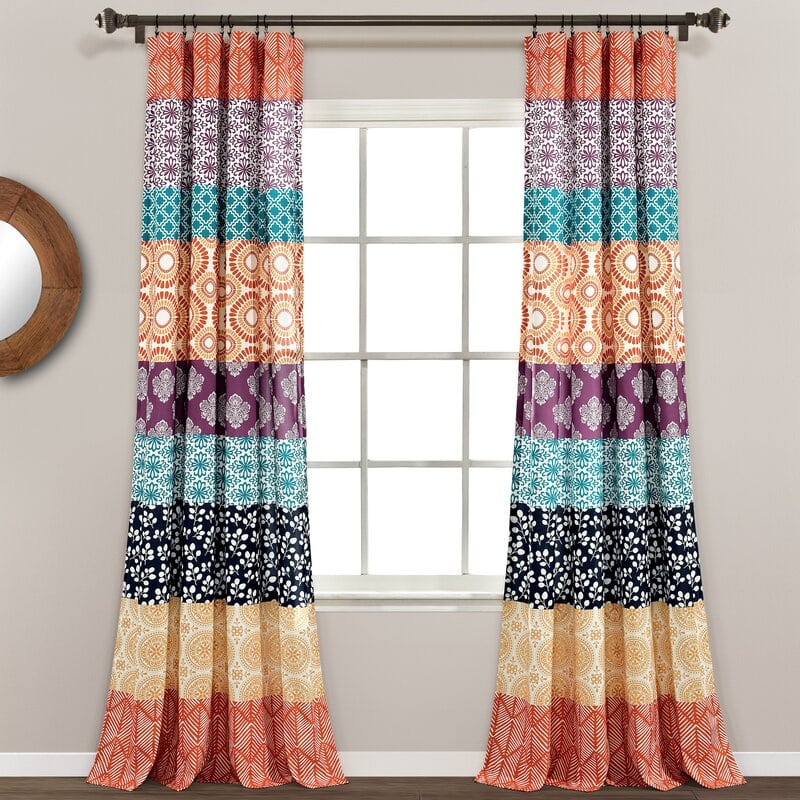 If you really love the bohemian style, try curtains like these with a mix of colors and patterns. Each row of these curtains is totally different from the one before it, but the mixing and matching works really well and looks especially great against a grey wall.
Since these curtains make such a statement, they will be the focal point of the room so you'll want your furniture to complement the panels rather than try to steal away any attention. Think lots of neutral solids and pulling one or two colors from the curtains as accents.
Final Thoughts
Before you try to determine what color curtains go with gray walls, you need to first know what kind of feel you want the space to have. Do you want light and airy? Warm and cozy? Bold and vibrant? Soft and feminine?
Once you know the direction you want the room to go, you'll be able to narrow down your search much more. The fact that gray pairs so well with a wide variety of colors means you have a lot of curtains to choose from. The task may seem intimidating, but when the room is all decorated and ready, it will have been worth the work!