Decorated Life is reader-supported. When you buy through links on our site, we may earn an affiliate commission. Learn More
12 Farmhouse Curtain Ideas
Welcoming, relaxed, and easy to live in, farmhouse-style interior design is the perfect way to create an effortlessly stylish look in your home.
Although farmhouse style is known for its wonderful simplicity, that doesn't mean it needs to be boring!
Today I'm going to be sharing some of my favorite farmhouse curtain ideas, to help you create the perfect farmhouse look in your own home.
Green and White Stripes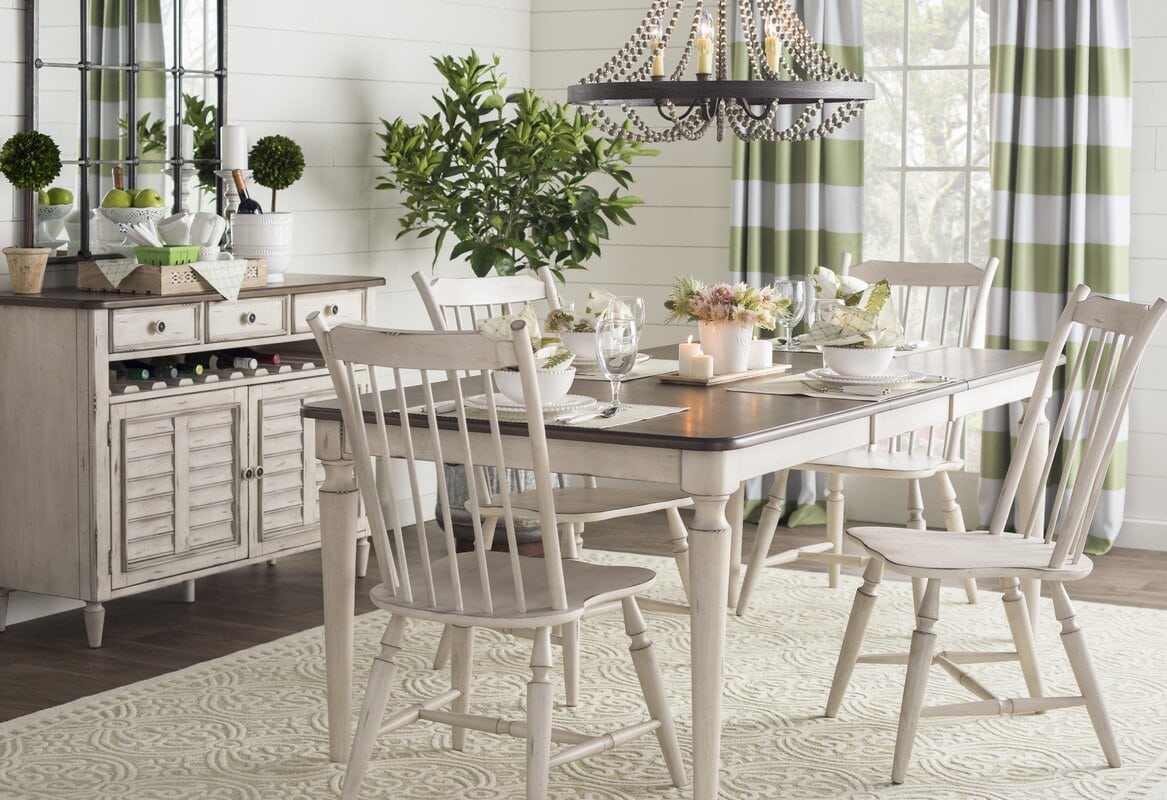 Striped curtains are an easy way to get a relaxed farmhouse look in your home. These green and white striped curtains give this dining area a fresh look, tying in with the green from the plant.
Green is known for being a relaxing color, and it's the perfect way to add a splash of colour to an otherwise neutral color scheme to bring it to life!
Farmhouse Floral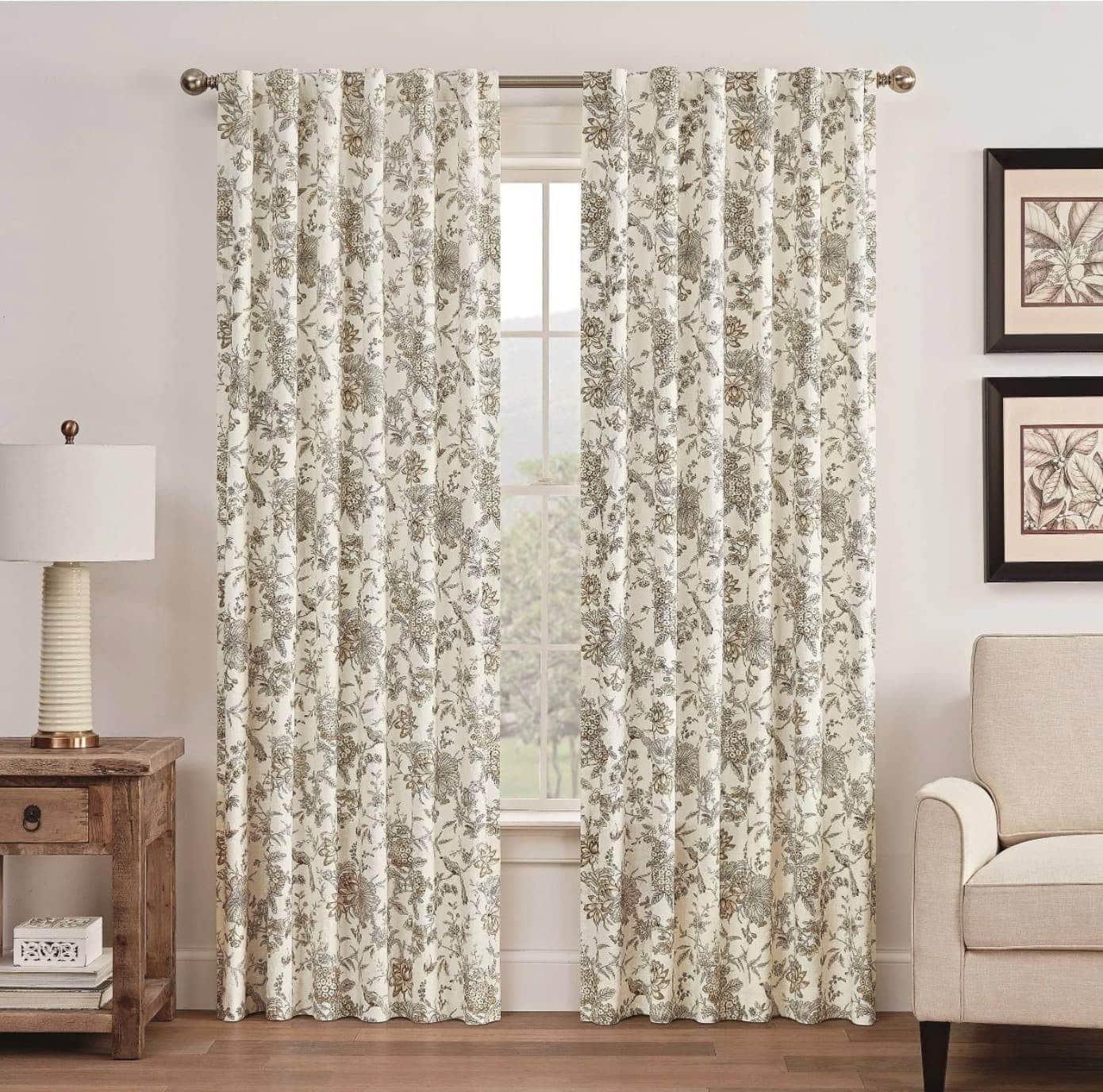 These farmhouse living room curtains feature a subtle floral print that is perfect for adding a touch of country elegance to farmhouse style homes. The intricate pattern of flowers and birds adds an element of nature, while the linen material gives these curtains a relaxed feel.
Although these curtains are room darkening, they do still allow a little bit of light through. If you are looking for farmhouse curtains for your bedroom then you might want to add a blackout blind behind these for complete darkness while you sleep.
Striped Brown and Ivory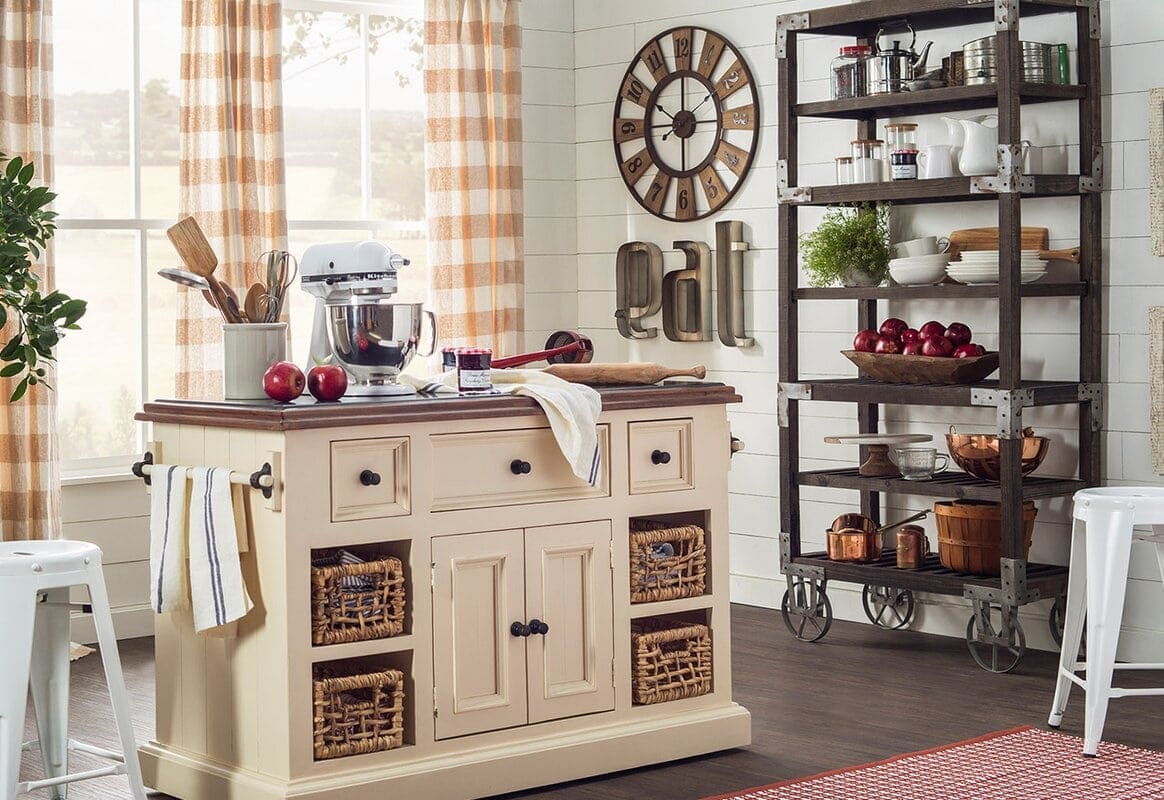 These light brown and ivory striped farmhouse style curtains bring a touch of country charm to this kitchen. They are slightly sheer which allows the light to filter through giving the kitchen a warm, welcoming glow.
The warm tones of the curtains work well with the wooden furniture, while the ivory ties in with the color of the kitchen island creating a cohesive look in this farmhouse kitchen.
Blue and Green Florals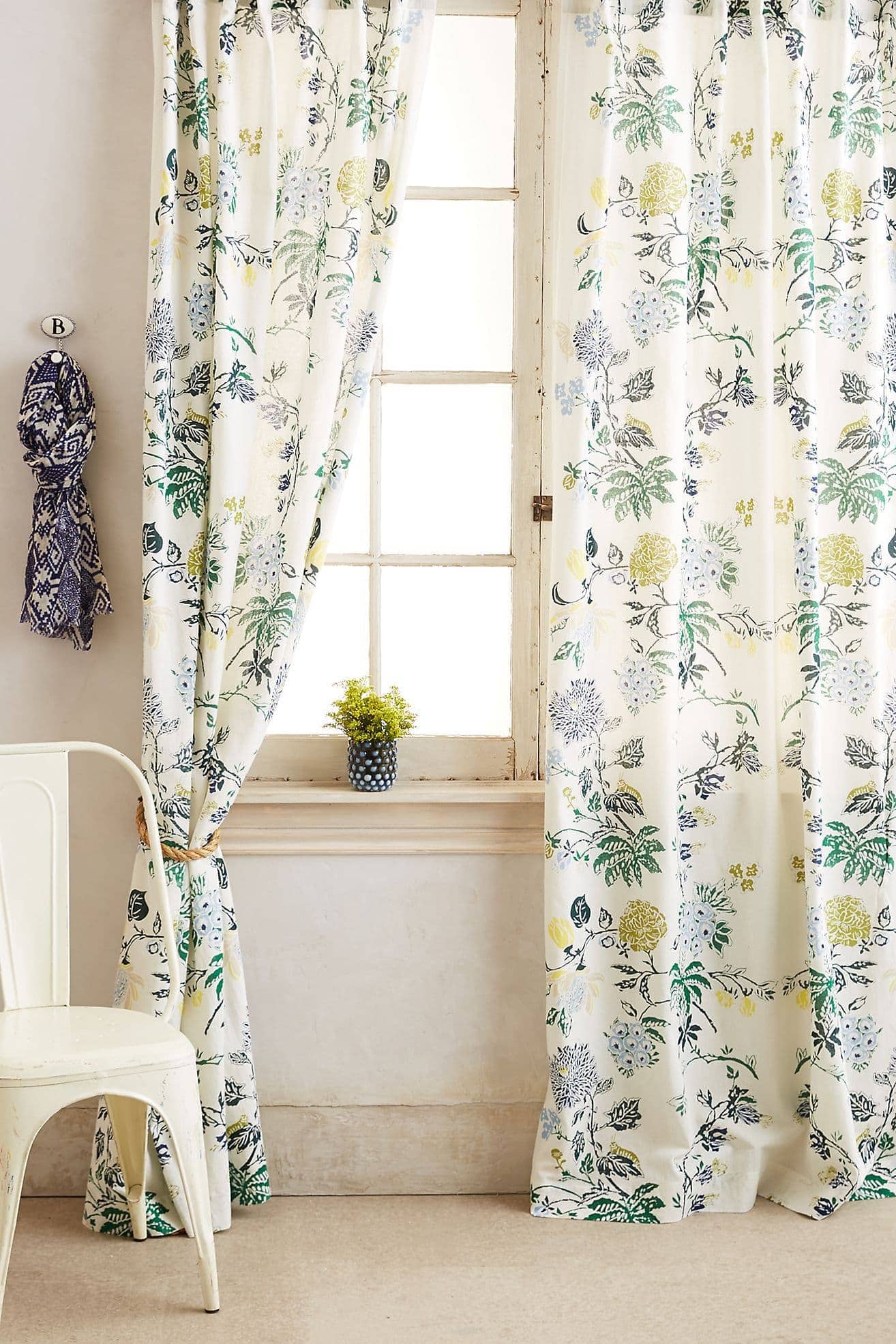 These stunning curtains feature a delicate floral design in hues of blue and green. Made from 100% cotton they are machine washable, making them easy to maintain in a busy family home!
The light and airy fabric allows daylight to filter through, so they are a great choice for living rooms and dining rooms, and the subtle pattern will add color and interest to your farmhouse style home without being overbearing.
Sheer White Curtains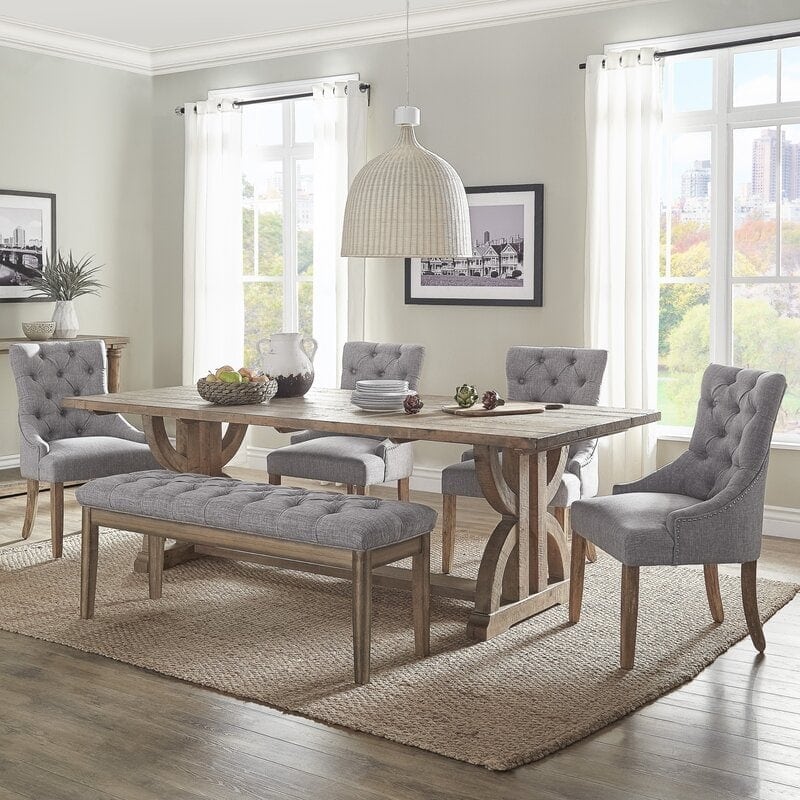 When it comes to farmhouse dining room curtains, classic sheer white curtains are a great choice. The sheer material allows light to filter through keeping the room light and bright, while still allowing for privacy from the outside world when they are drawn.
Sheer white curtains are timeless, and work well with most decor styles. Whether you have a traditional farmhouse, or you are going for the modern farmhouse look, these curtains will work for you.
Hand Printed Curtains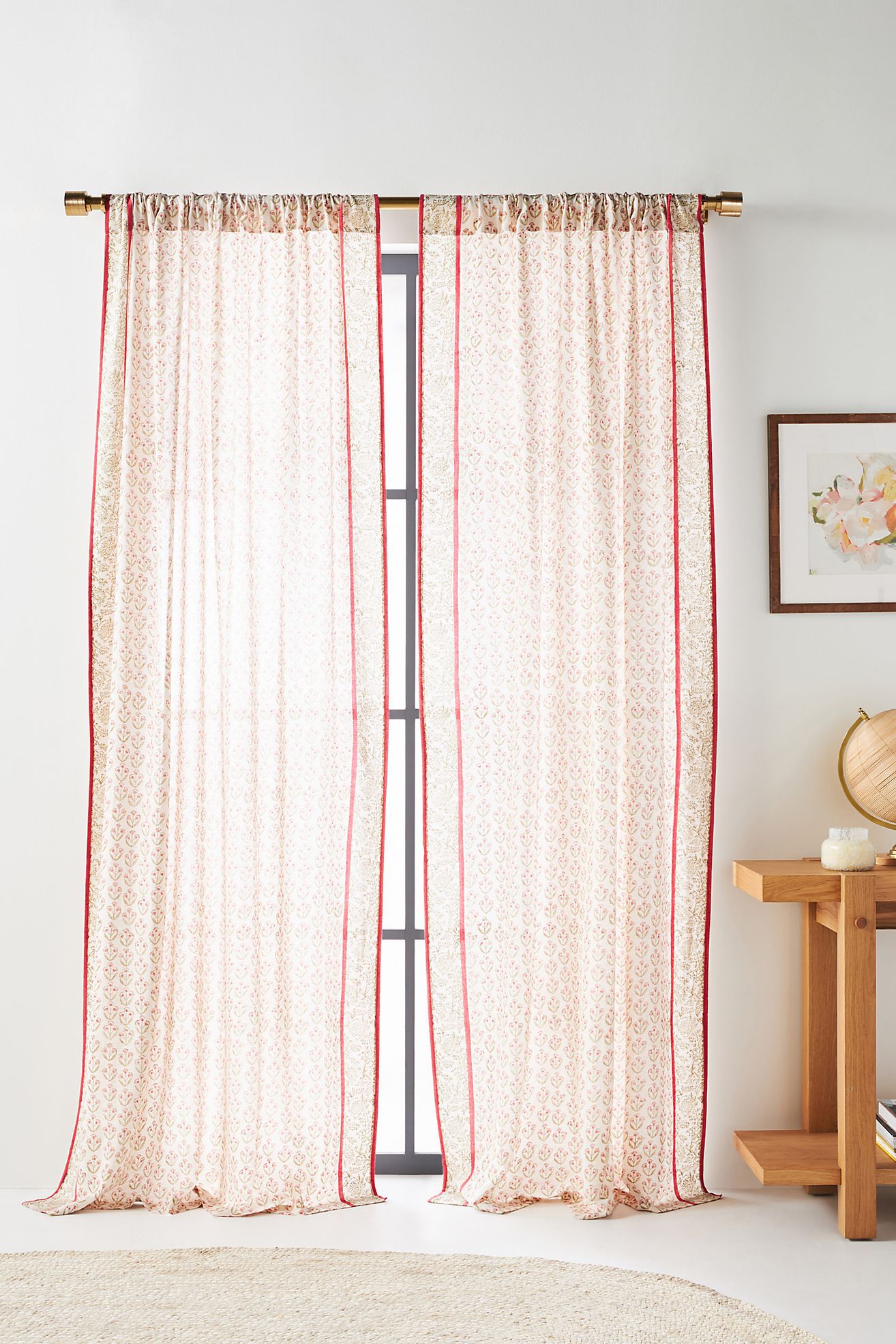 These beautiful handcrafted curtains feature a unique hand-printed block pattern design in a soft sage green and red, with red edging to finish the look. The pretty design and sheer material will add a touch of country charm to your home, cheering up any room!
The red on these curtains make them ideal for any place in your home that you want to add a splash of color to. They would work really well in a bedroom, and although they aren't designed to block out the light, they can be layered with a blackout blind for complete darkness at night if required.
Patterned Dining Room Curtains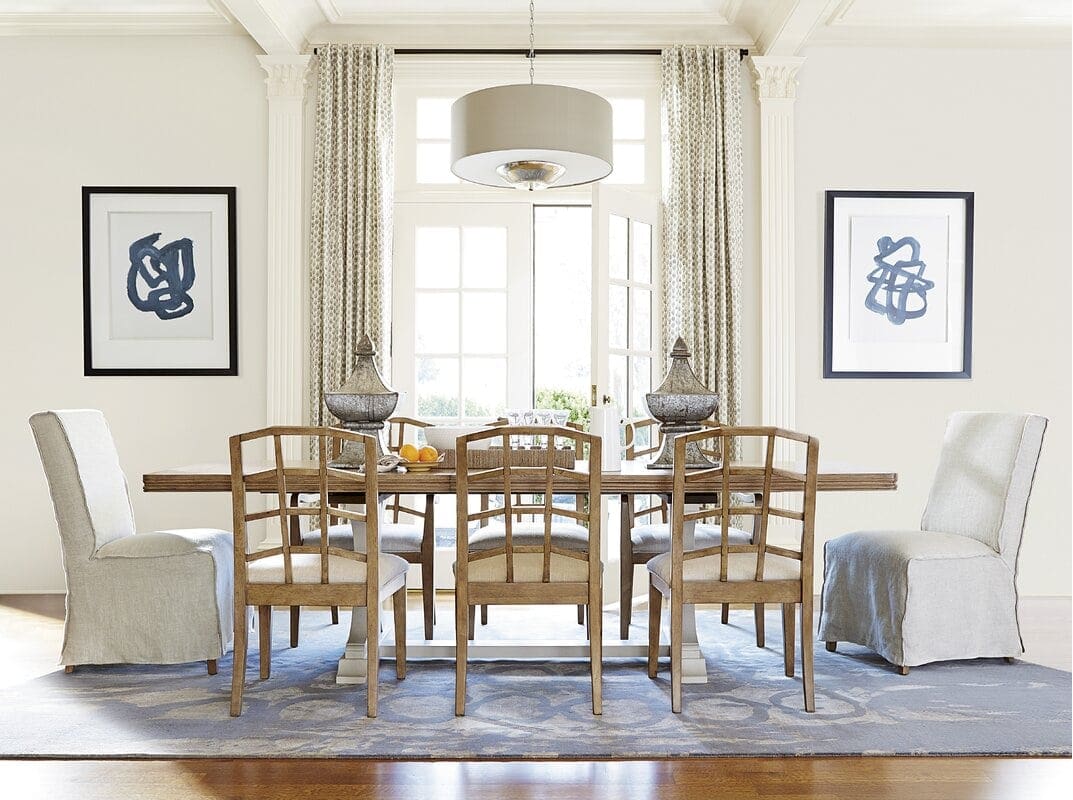 These modern farmhouse curtains feature a subtle pattern which frames the window beautifully. The subtle color palette gives these damask curtains a elegant feel which is ideal for more formal dining areas.
Patterned curtains are perfect for any area in your home where you don't have too much going on on the walls. The pattern will break up the monotony of the walls and make your window a beautiful feature within your room.
Textured Curtains in a Neutral Color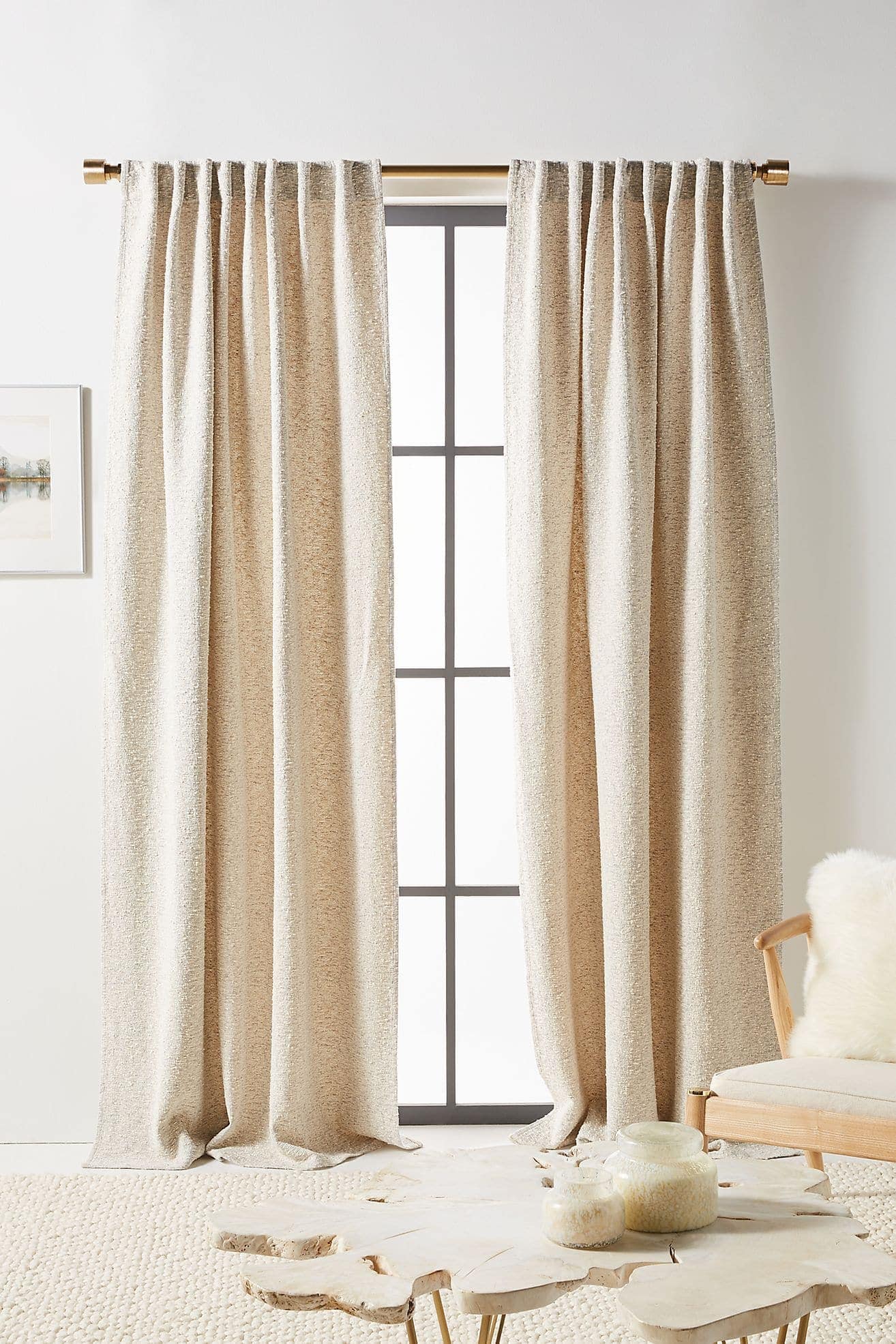 Neutral color palettes are the perfect base for farmhouse decor, and these neutral curtains are sure to fit perfectly in any traditional or modern farmhouse home. These gorgeous curtains have a rough texture, which gives them a luxurious cosy feel.
The material of these curtains is heavy-weight, and although they are not officially blackout curtains, they do a great job at blocking out a lot of the light.
French Country Chic Curtains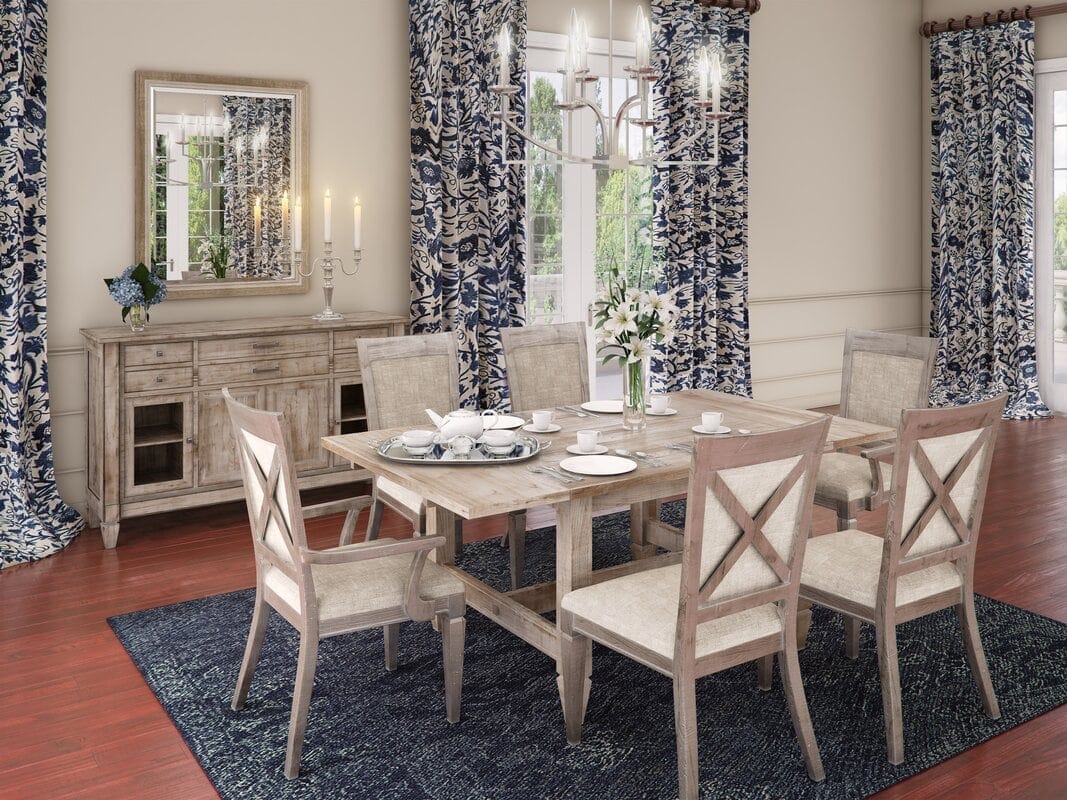 If you want to add a touch of French country chic to your farmhouse style home, then these blue and white patterned curtains are the way to go. The curtains feature an eye-catching botanical motif in classic shades of blue and white.
These beautiful patterned curtains are made from 100% cotton, and have room darkening properties making them an ideal choice for bedrooms as well as living rooms and dining rooms.
Embroidered Cantrelle Curtains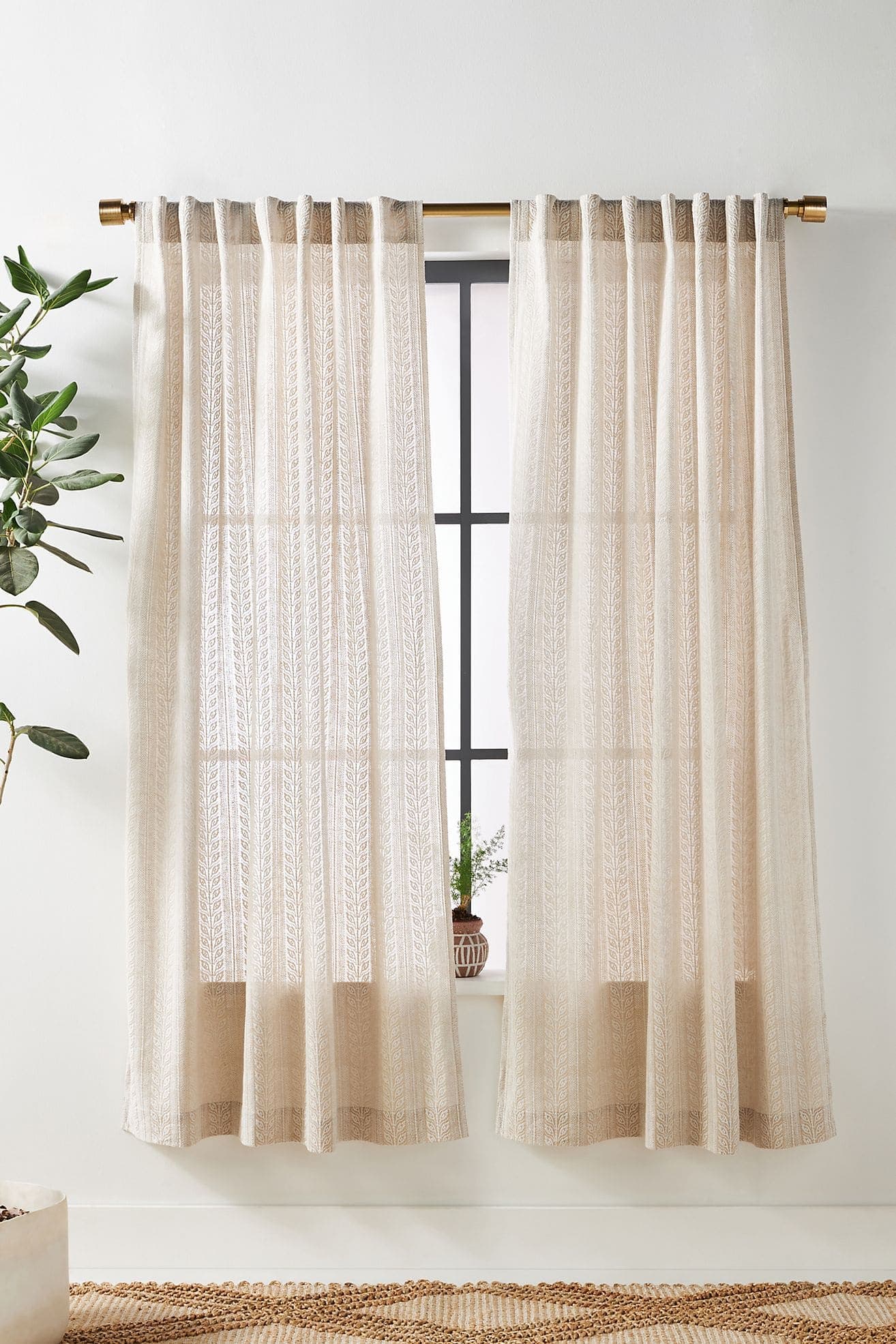 These beautiful rustic farmhouse curtains feature a delicate embroidered leaf design which makes an appearance as the sunlight shines through the fabric.
The warm linen color gives these curtains an understated elegance that would look exquisite in any modern or rustic farmhouse style home.
Semi Sheer Floral Curtains
If you want to add some color and pattern to your dining room, then these floral farmhouse style drapes are a great choice! The intricate pattern stands out beautifully against the white walls adding color and interest to an otherwise fairly plain dining area.
For a really stylish look, order your curtains two to four inches longer than they need to be, which will allow them to puddle slightly on the floor. This will give your room an effortlessly elegant look.
Stitched Linen Plaid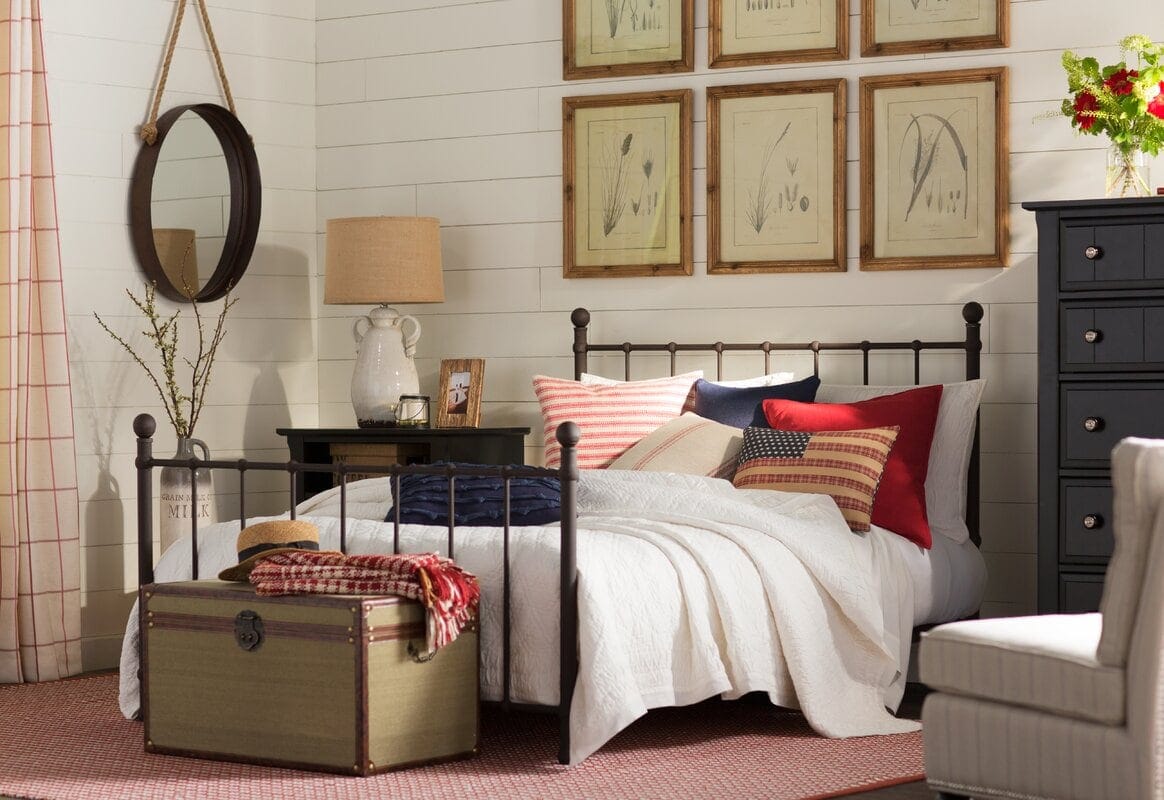 These plaid farmhouse bedroom curtains are perfect for creating a cosy casual look in your bedroom. The plaid design gives the curtains a relaxed look which works well in farmhouse style interiors.
The red and ivory color scheme brings warmth to the room, and ties in well with the rug and other red accessories in this room to create a relaxed, welcoming room design.
Final Thoughts…
Farmhouse decor curtains are full of character and charm, and whether you live in a traditional farmhouse in the country, or a more modern home in the City, you can easily bring a touch of country charm to your home with farmhouse style drapes.
Both patterns and solid colors can look great with farmhouse decor, so think about the other elements of your room before choosing your curtains.
If your room is fairly neutral then patterned curtains can be just the finishing touch you need. If your room already has a lot going on then opting for sheer curtains in a plain color can complete the look perfectly.