Decorated Life is reader-supported. When you buy through links on our site, we may earn an affiliate commission. Learn More
What Color Walls Go with Light or Dark Wood Trim? 17 Ideas
When putting together a room design, a major portion of your color palette should go to wall colors. Picking the right color might seem confusing when you're working with light or dark wood trim.
Leaving wood trim a natural color or enhancing the color with a protective stain can give you a versatile aesthetic that you can't achieve with painted trim. Check out these 17 colors to get inspired on potential colors that go with light or dark wood trim.
Dark Wood Trim
When asking yourself, "what color walls go with dark wood trim," consider the tone of the wood. The darker the specimen, the lighter you'll want to go with your paint color. Because too much dark on a dark palette can absorb light, making your space feel gloomy and confined.
Westhighland White by Sherwin Williams
Westhighland White is a warm-tinted neutral white that can look fantastic with dark or light wood trim. The slightest bit of pigmentation gives this color an aged yellow tint that can add the perfect amount of shadows, amplified by the natural hues of dark wood trim.
When the windows are open to let in natural light, the sun's rays bask the space in a warm glow. In addition, the high light reflective value (LRV) can make your area feel larger and more open.
Sagey by Sherwin Williams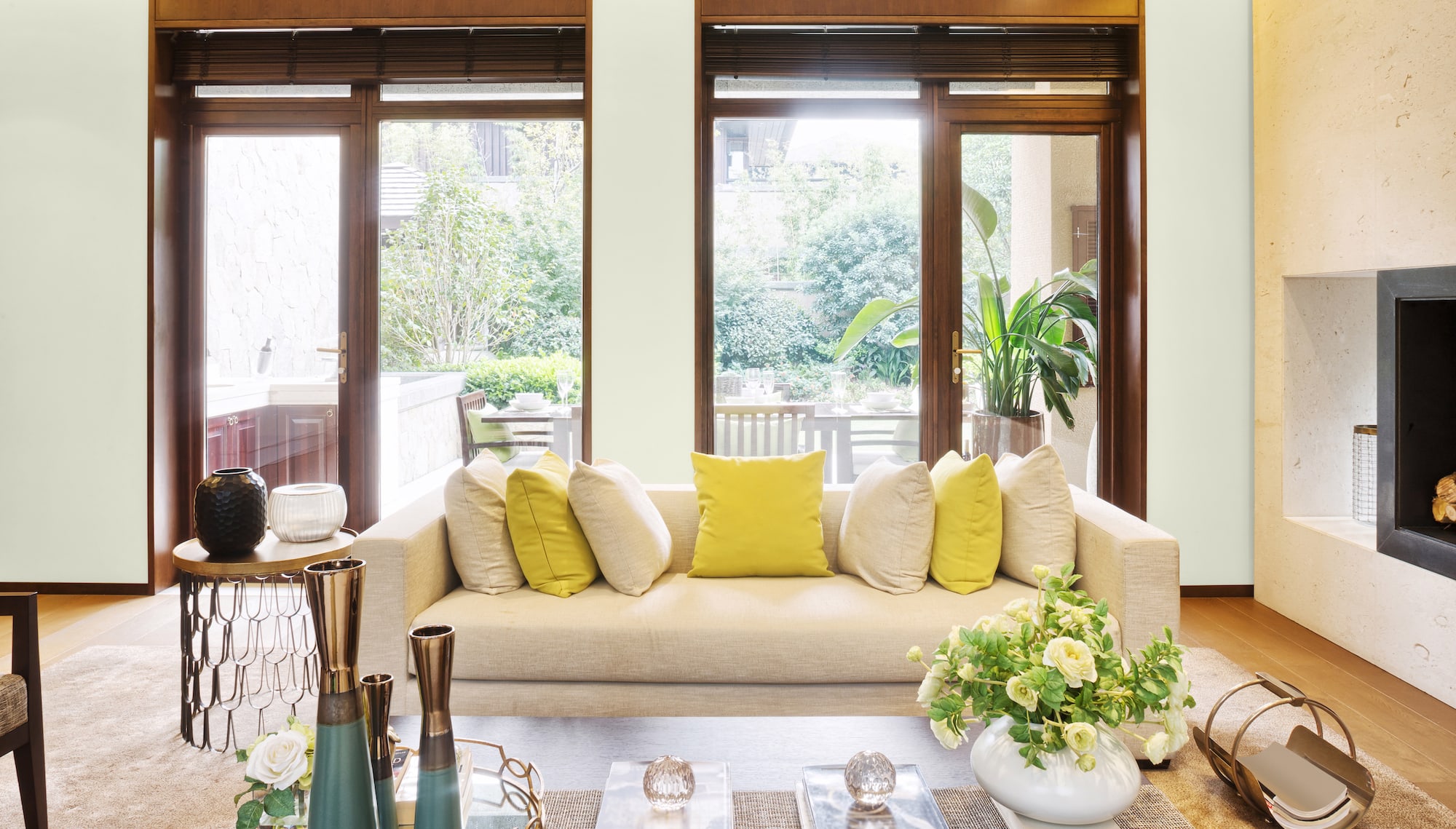 Sagey is a green-based neutral that can give your room a light earthy feel that can also work for any design and color palette. 
This color has a mix of green, gray, brown, and tan blended to create a balanced low-pigmented, cool greige. Dark wood trim adds to the neutral natural look to give the color more flavor.
Nearly Peach by Sherwin Williams
Nearly Peach is a warm, pink-tinted tan that will give your walls a touch of pigmentation that can look darker with the richness of dark wood trim.
You can use this neutral for a minimalistic zen vibe. Or go bold with your accents in turquoise, corals, and whites.
Upper West Side by Benjamin Moore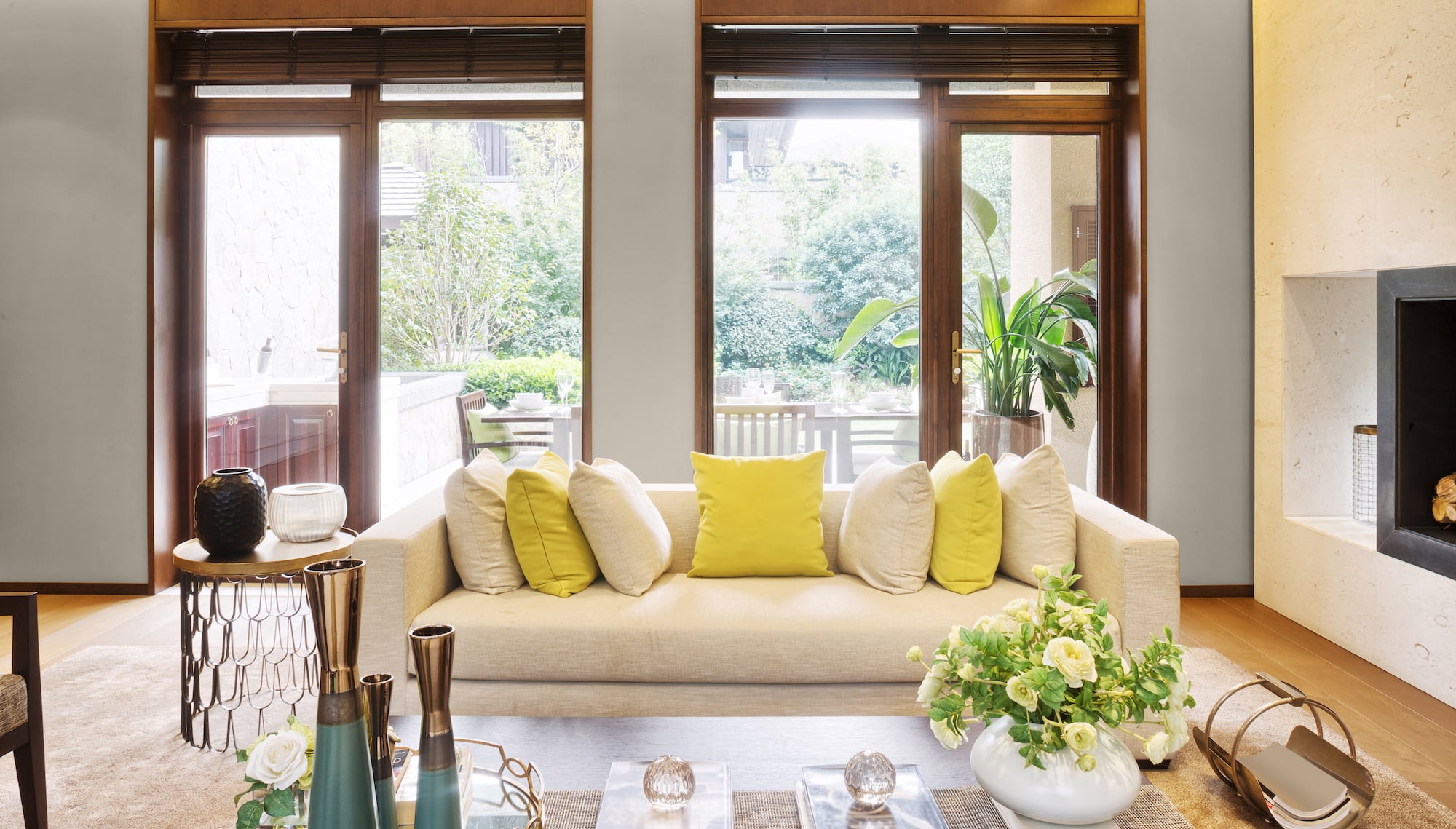 Upper West Side is a dark-based gray with heavy mauve touches that look brown. When you use this densely pigmented color with dark wood trim, the color turns to a smoky gray.
Darker colors like this are a great choice in rooms with lots of natural light. But it can make dark rooms feel cramped and closed off.
Vintage Pewter by Benjamin Moore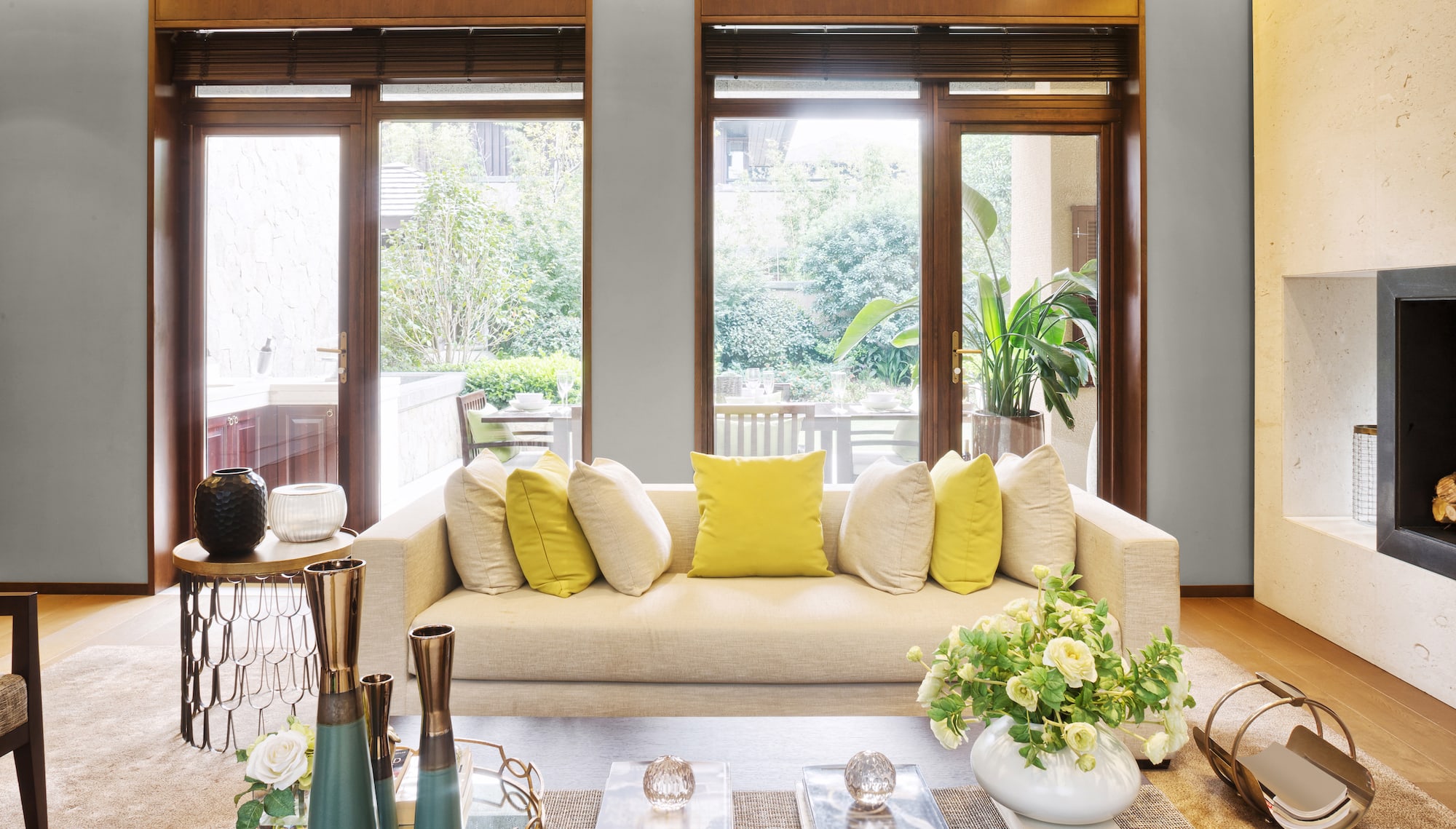 Vintage Pewter is a medium-toned gray that pairs well with dark wood trim. The intensity of the color can change based on the lighting and accents in the room.
Many windows and dark wood trim left in their glorious natural state can give this heavy dark gray a breath of fresh air to lighten the look.
Yucca White by Behr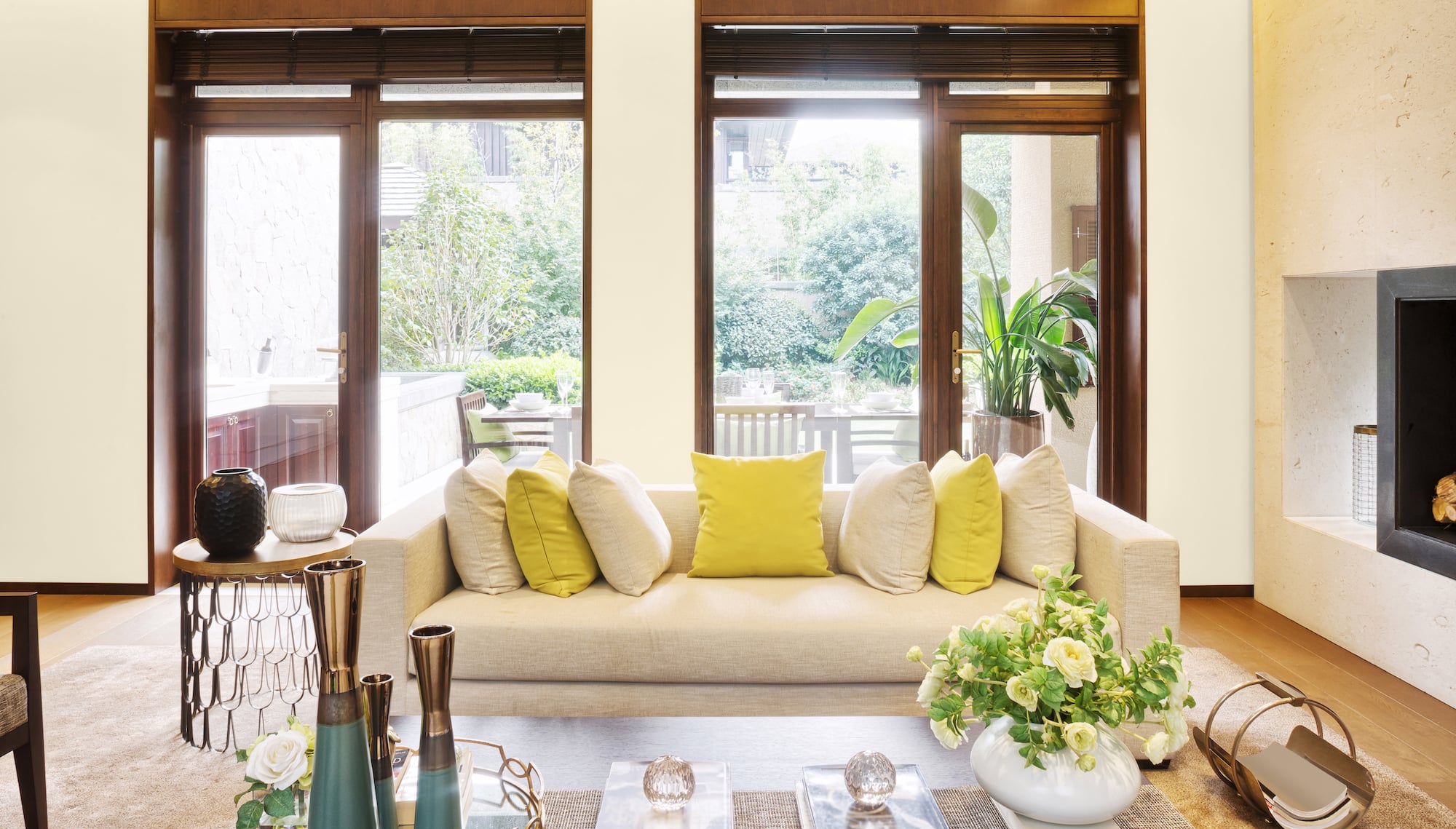 Yucca White is a yellow-tinted white with a smoky overlay to give it an aged vintage appeal. The faint gray undernotes turn this white into an earthy base that's versatile and timeless.
Dark wood can bolden the shadows, making it look faded yellow. However, a mid-high LRV of 82 keeps this color bright and refreshing.
Charismatic Sky by Behr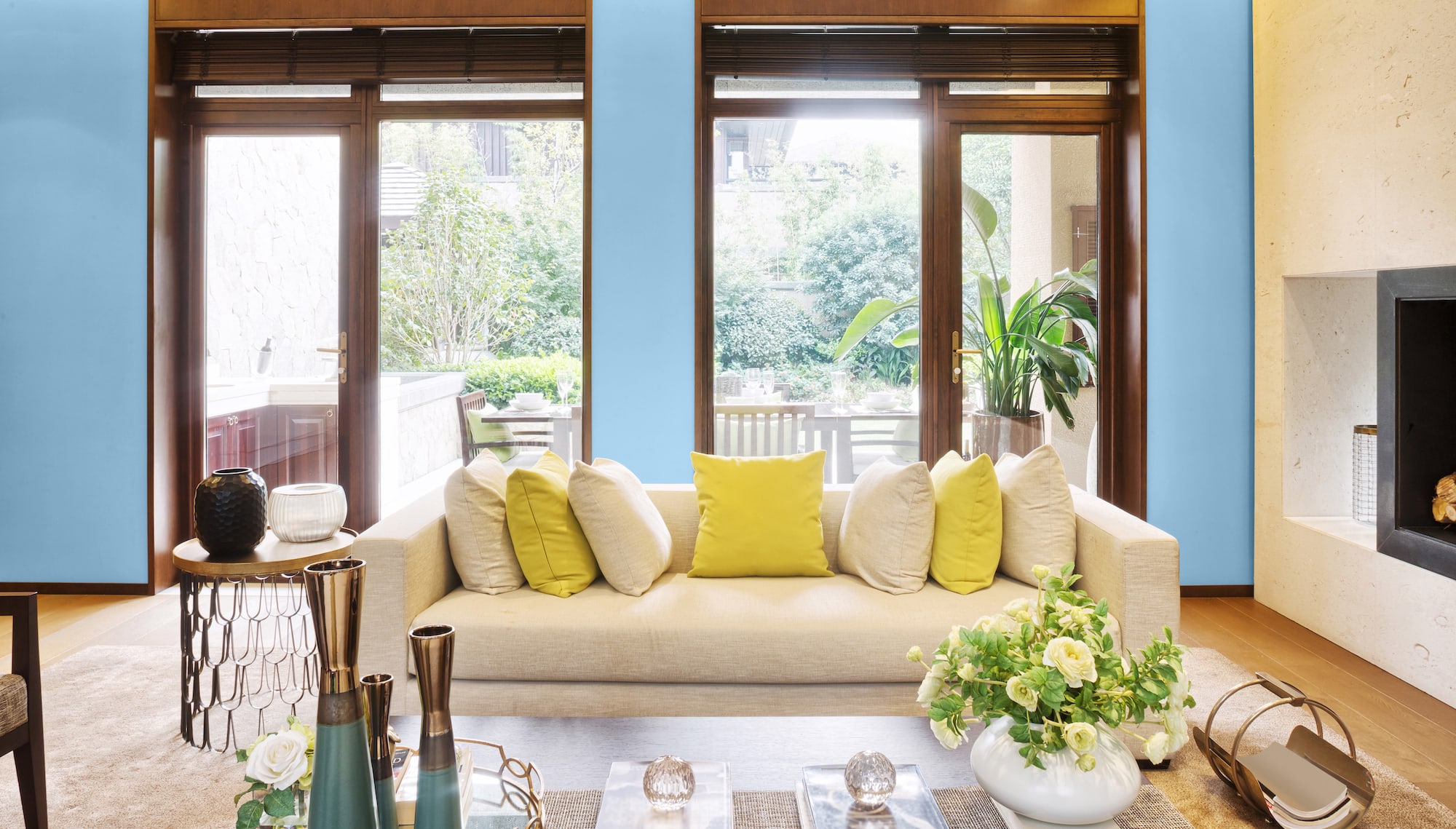 Having wood trim doesn't mean you have to choose a neutral non-color. Instead, try something bold like blue to go with light wood trim. 
Charismatic Sky is a darker earthy blue that can give your room a beautiful, refreshing dose of color. Use this color for a rustic or natural look or make it modern, contemporary, boho, or traditional.
Breakfast Room Green by Farrow & Ball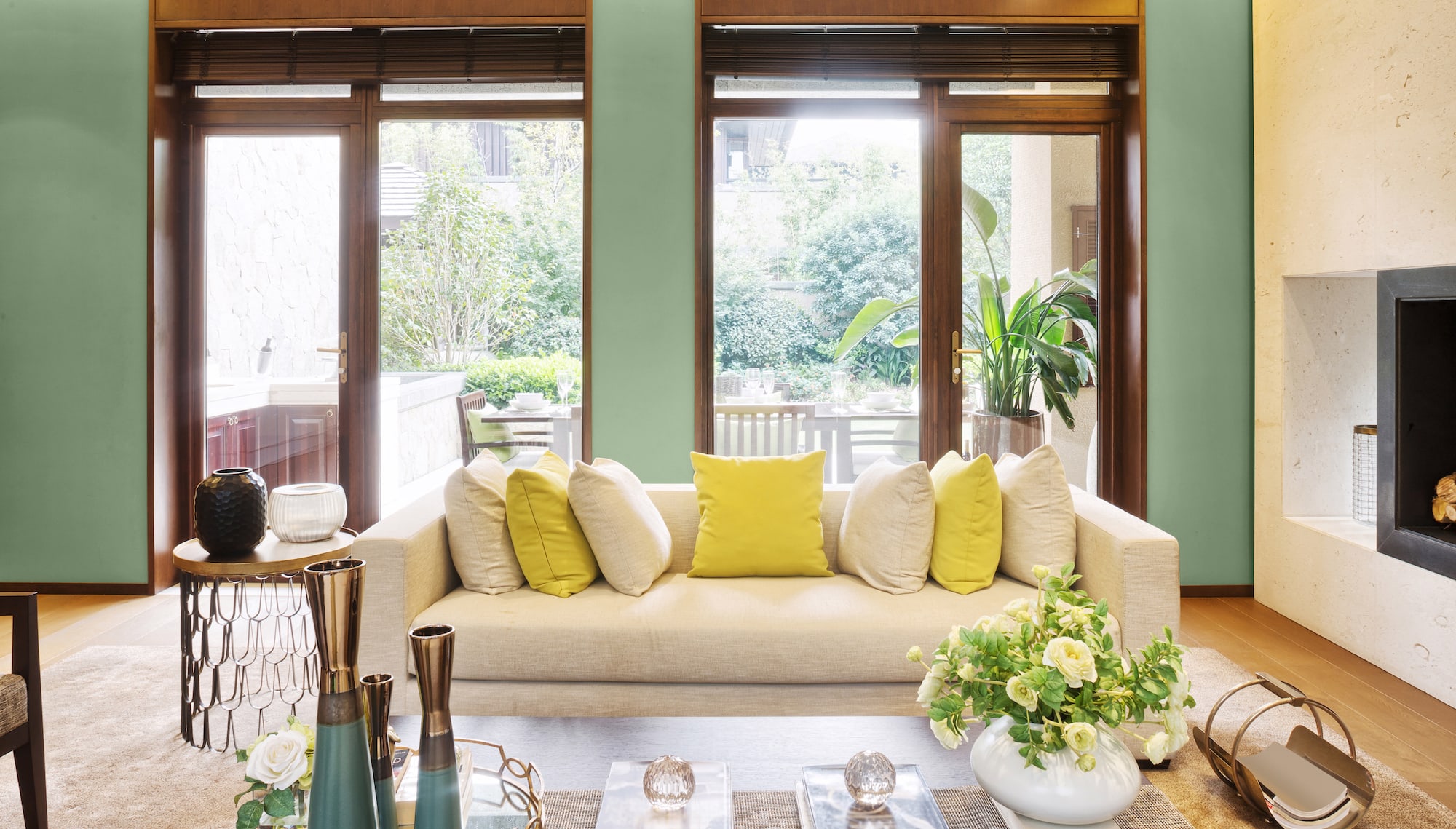 For a cheerful color choice to go with light wood trim, try a green like Breakfast Room. This bold earthy green suits soft inner lighting or bright natural sunlight.
A mid-toned balance between dark sage and forest green with some gray shadow tints mixed in for effect, this color has everything you could want.
Blackened by Farrow & Ball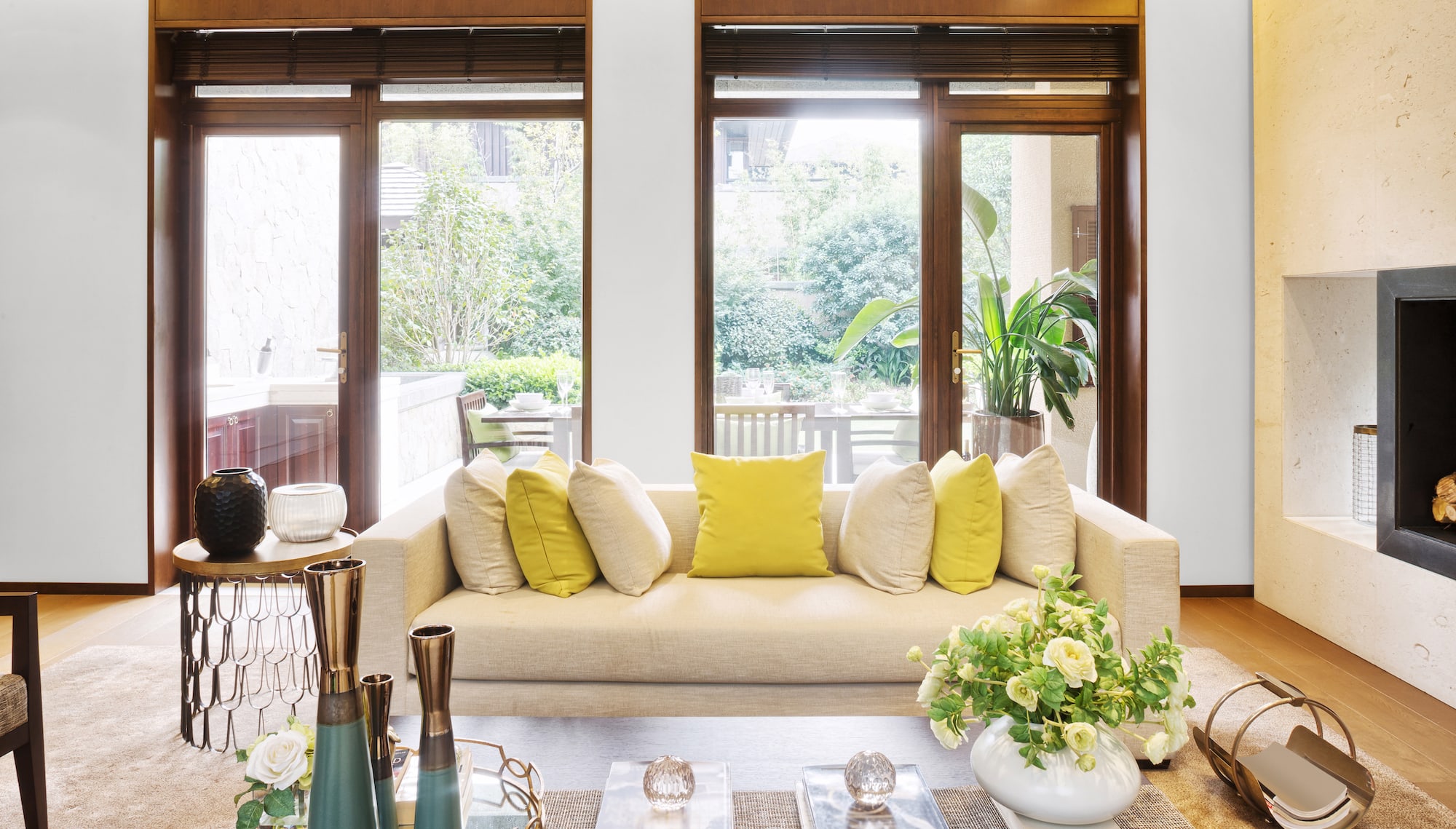 For a crisp, cool white with the faintest smoky gray notes, try Blackened. This cool white gets inspiration from how antique white walls get tinted with smoke from an oil lamp.
The faint traces of gray in the white give Blackened enough shadow to make an incredible color for industrial, minimalistic, and contemporary nuances.
Light Wood Trim
When you're choosing wall colors to go with light wood trim, start with neutrals like whites, grays, and off-whites. But you can also go with rich colors like blues and greens.
Reserved White by Sherwin Williams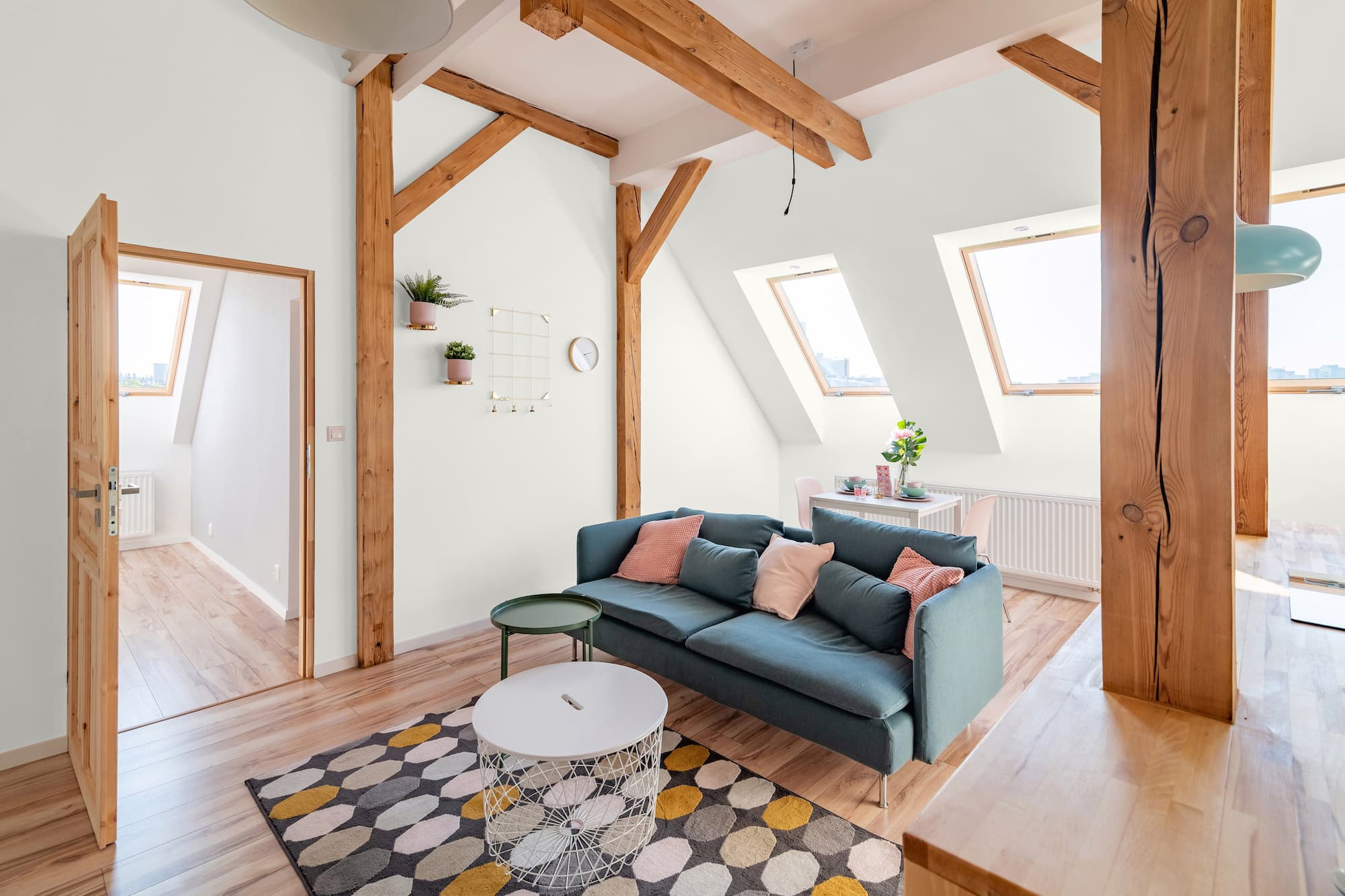 Reserved White is another soft neutral with a chilly attitude that can pair well with dark or light wood trim. However, this shade of white has cool gray shadows that give it a mysterious air of danger.
Using this grayed white gives you brightness to keep your space feeling open and bright. But the faintly tinted nuance also gives your walls just enough personality to keep the color from feeling flat.
Steamed Milk by Sherwin Williams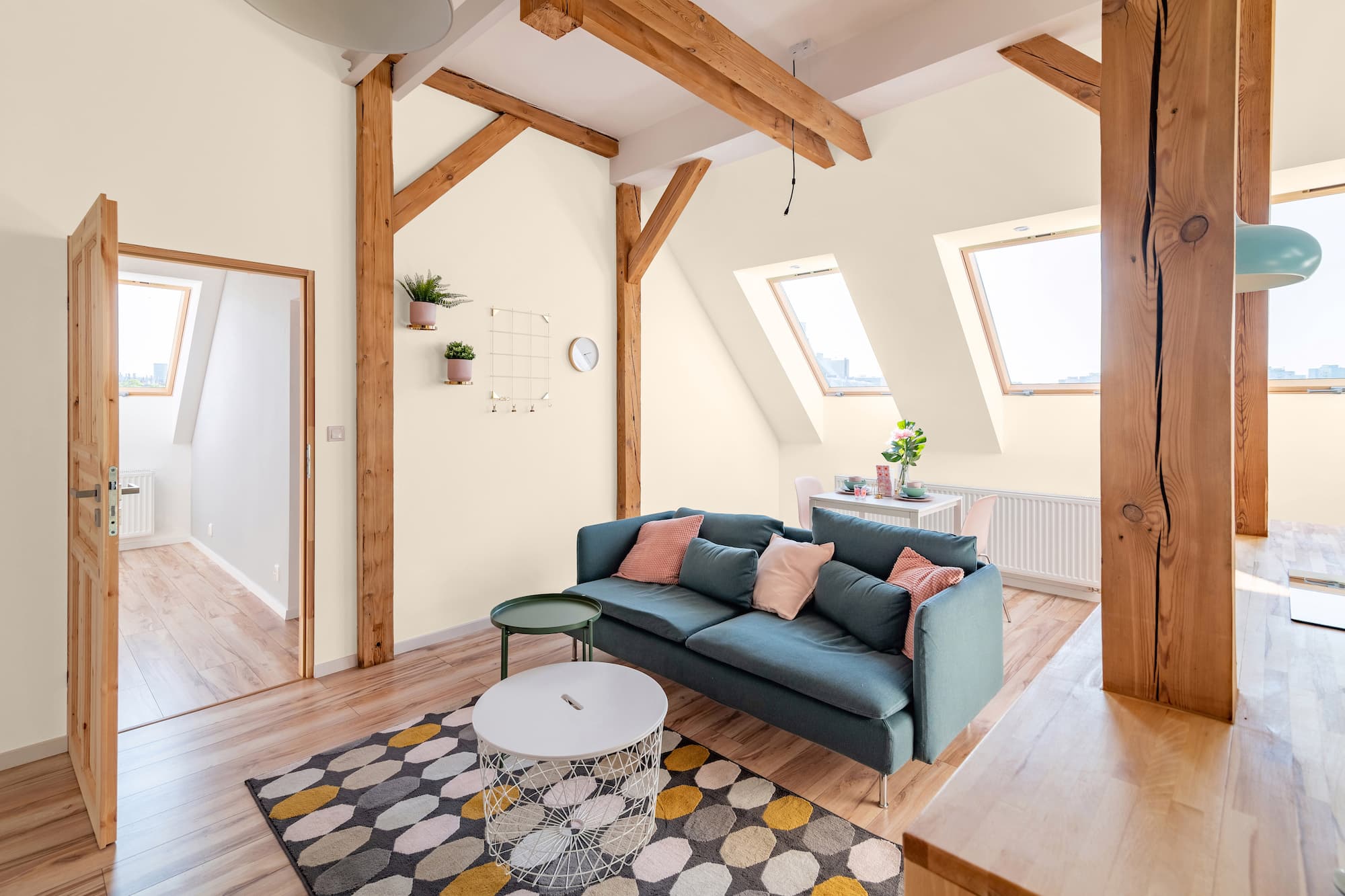 Steamed Milk is a warm-toned neutral off-white that packs quite a punch when put against light wood trim. This shade of light tan has slight brown nuances that can stand out from the tone of soft brown trim.
But you can also do some magic to make this cream put out some barely-there touches of pink. It's an incredibly versatile color for any room and looks, from traditional to modern, and all the designs in the middle.
Lace Handkerchief by Benjamin Moore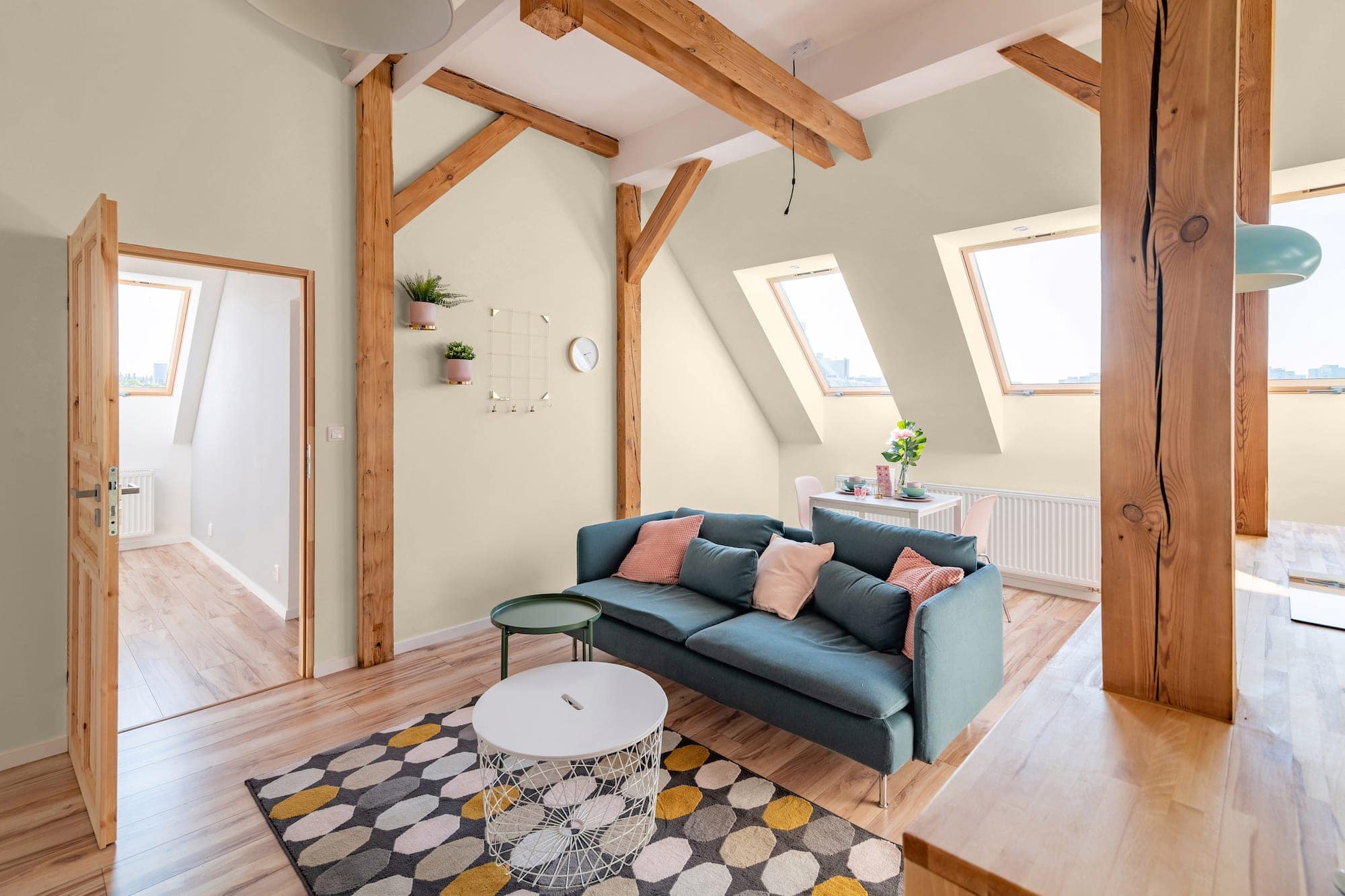 Lace Handkerchief is a gray-brown that adds depth and dimension to walls with light wood trim. This medium-intensity shade gives you a traditional pigmented coating without limiting what you can do with accent colors.
You can use this shade for color as a dark neutral in any room. And it can work for all of your design styles, making it a one-size-fits-all color choice.
First Crush by Benjamin Moore
First Crush is an off-white neutral tan with faint gray highlights. It does wonders for lightening up a room. Adding it next to light wood trim can pull out honey and yellow undertones.
When used for wall color, you get a refreshing, bright atmosphere. With a few simple changes to your accent colors and decor pieces, you can feel zen, energized, modern, country chic, or European fancy.
Breezeway by Behr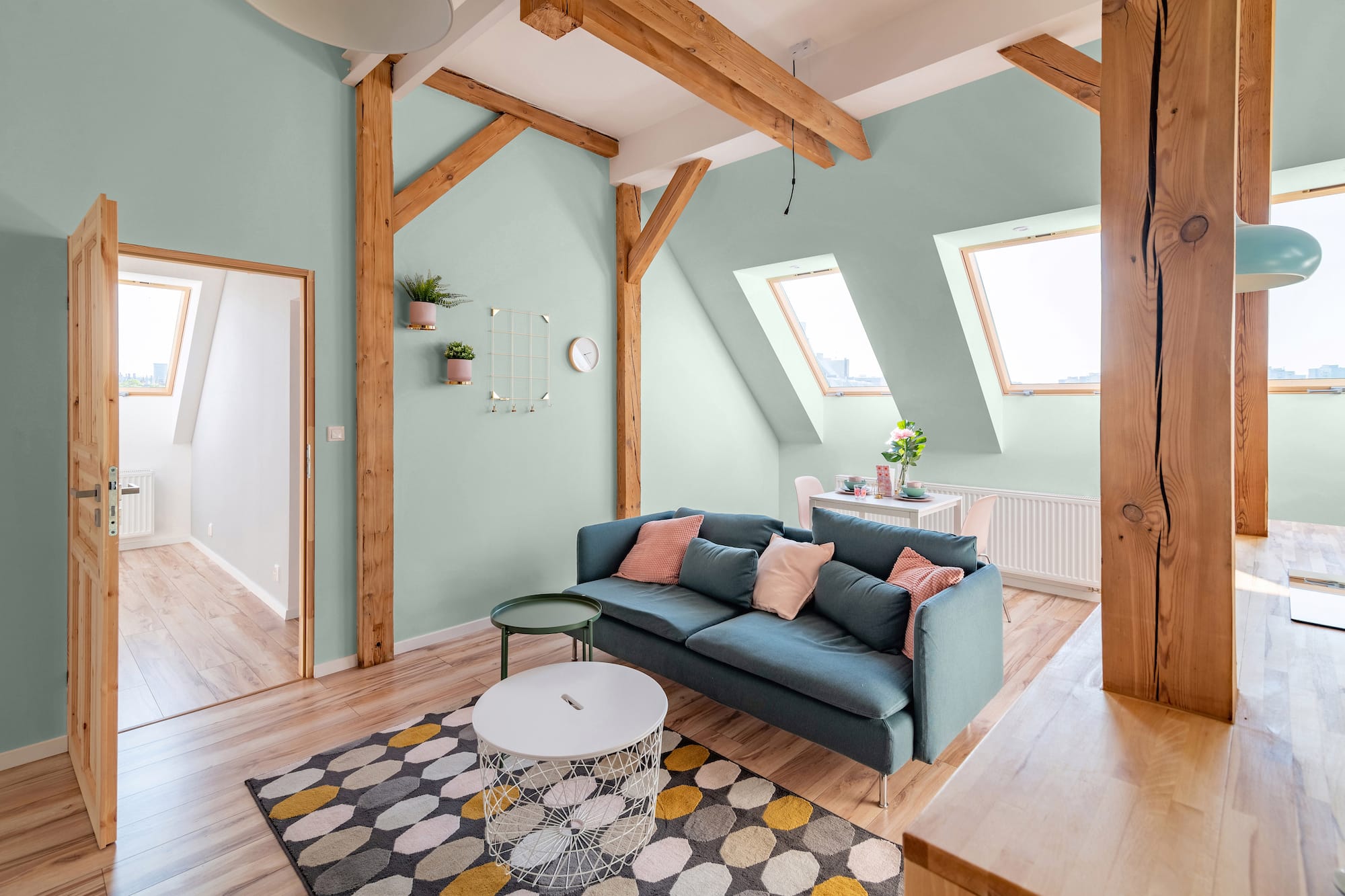 Breezeway – Behr's 2022 Color of the Year – is a cool, refreshing sea glass green with low gray undertones that add depth.
Painting your walls this color with light wood trim can inspire you to feel tranquil and relaxed. A few pillows in cheerful yellows and pinks can feel like a spring masterpiece. Or try blue, gray, and sand for a beachy vibe.
Ash Blue by Behr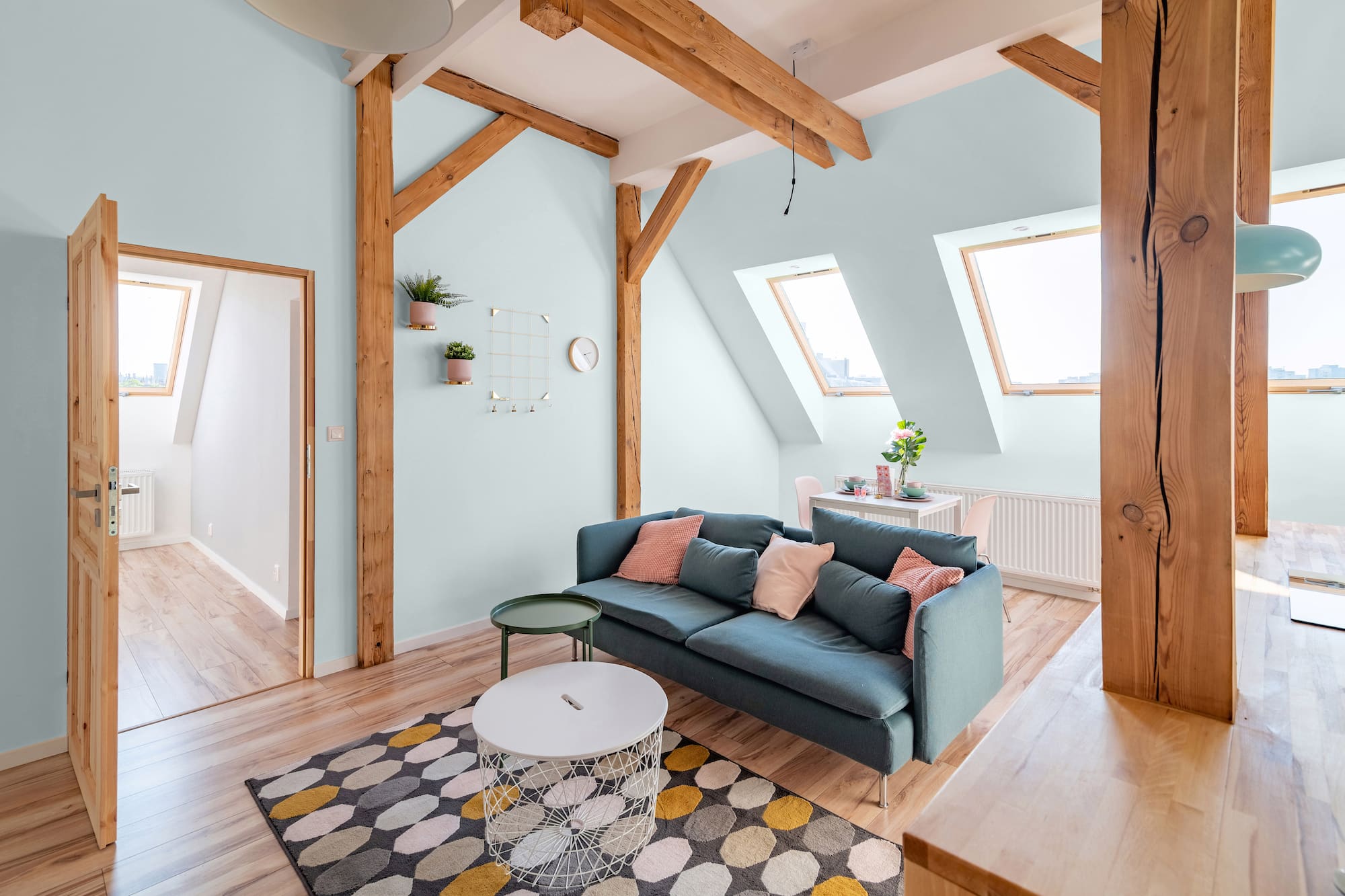 For a fun way to go with light gray walls with wood trim, check out the appeal of Ash Blue. This pale gray has stormy blue undernotes that add pizzaz to your room.
The cool low-toned gray has traces of mauve and blue that become a bit darker and more pronounced when put next to wood trim.
Palm by Farrow & Ball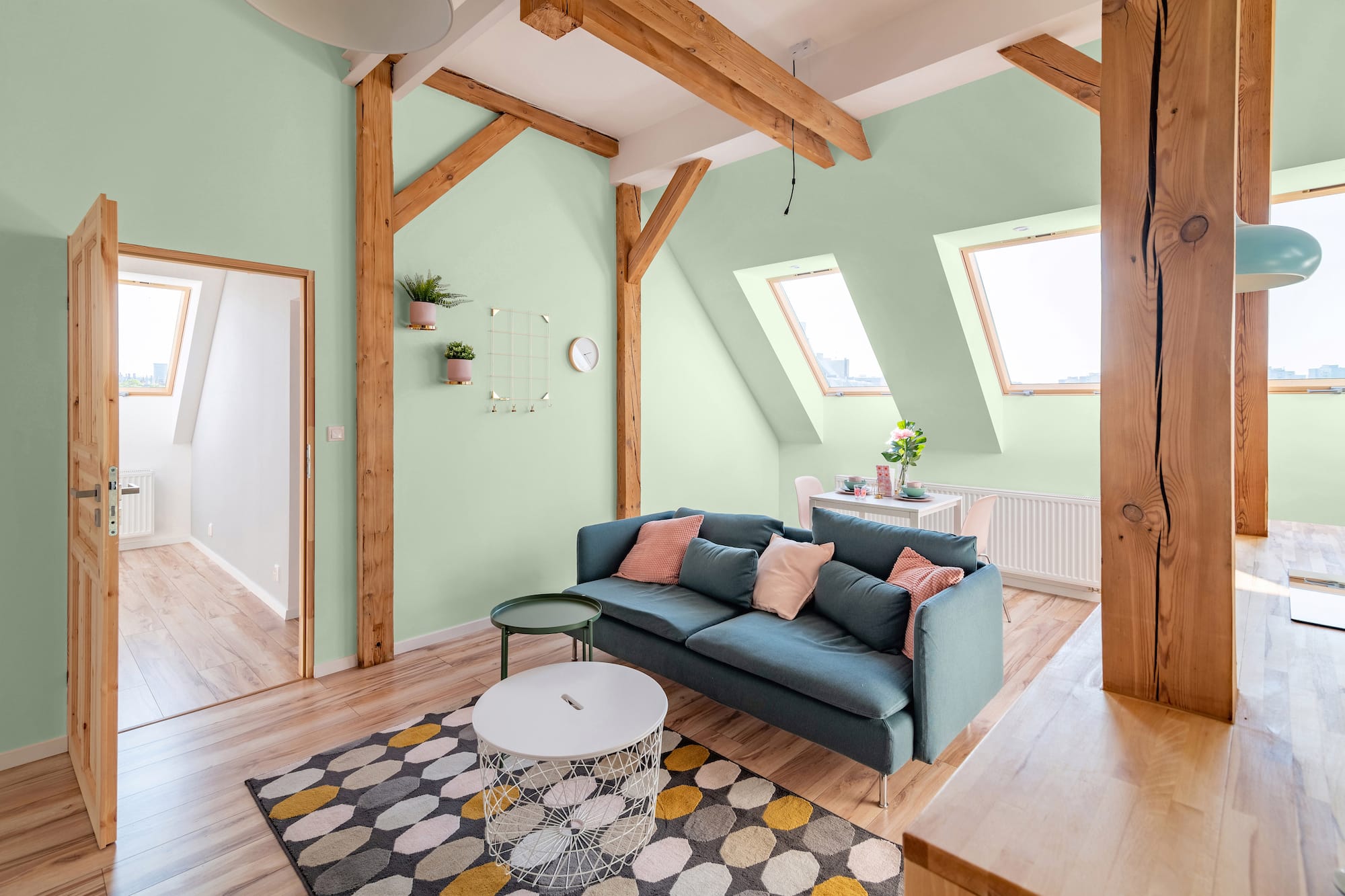 Palm is a cool fresh beachy green that can light up your room with inspiration from Mother Nature. This palm green has barely-there traces of gray that infuse the air with happiness and carefreeness.
This color is for when you're looking for a soothing color for your bedroom or a serene shade for a bathroom spa retreat. Or even an energetic vibrancy to help you get in sync with the outdoors.
Tallow by Farrow & Ball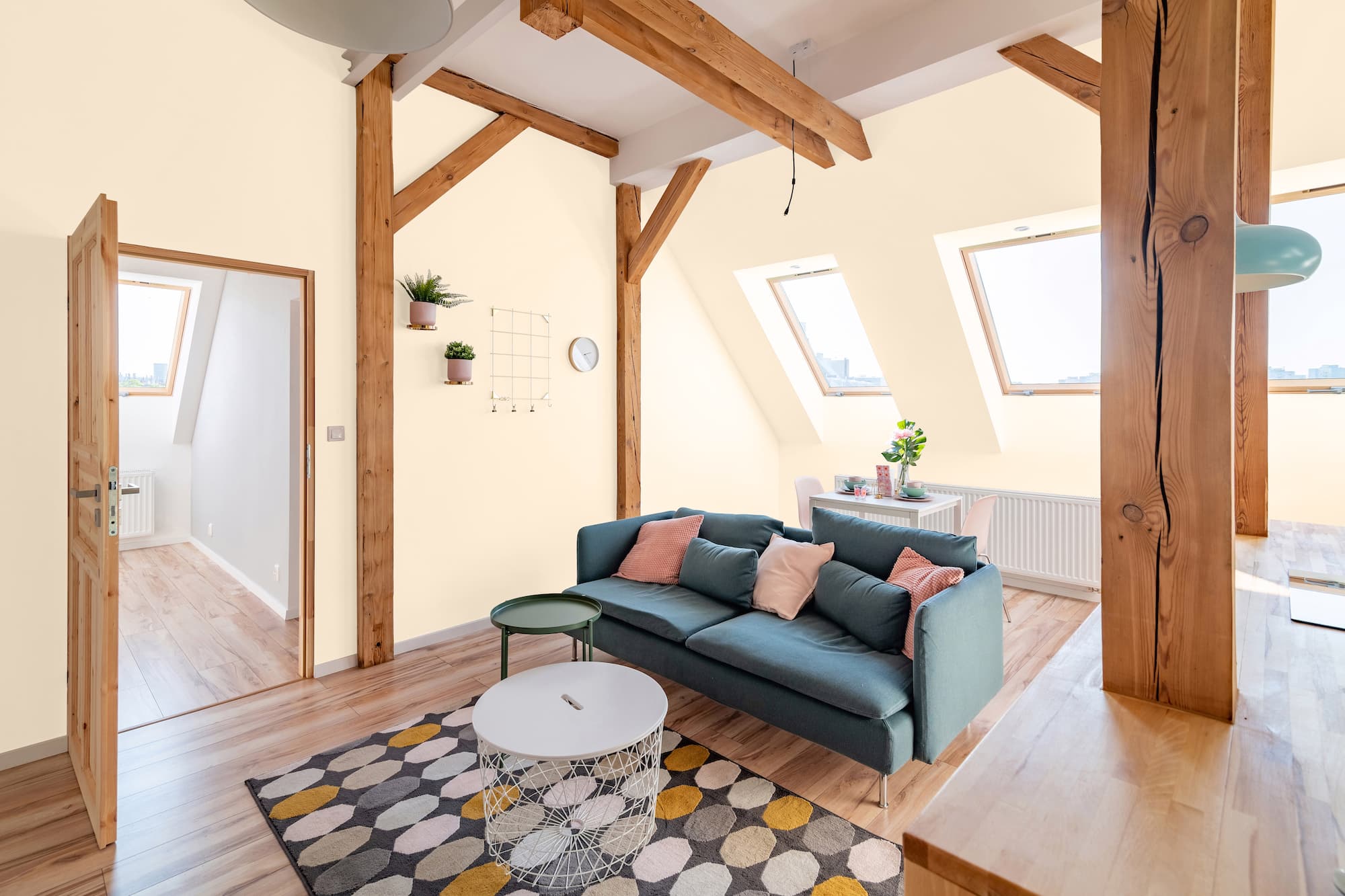 Tallow is one of the best paint colors with light wood trim for small rooms with low light. This neutral is a pale cream with warm waxy accents.
Named for the material used to make candles, the symbolism is obvious when you see how your tight room feels more spacious and open with Tallow on the walls. Light wood trim targets the yellow and pink pigments that change throughout different lightings.
Final Words
Many people may think you get a better look by painting your light or dark wood trim. But leaving your wood trim in its natural state can give you a stunning aesthetic when paired with the right wall colors. The tone of the wood should be the main consideration when narrowing down your preferred wall colors.