Decorated Life is reader-supported. When you buy through links on our site, we may earn an affiliate commission. Learn More
What Curtains Go With White Walls – 20 Ideas
If you want to create a bright, clean look, you can't go wrong with white walls, and there are so many beautiful shades of white to choose from depending on the look you want to create.
The great thing about having white walls is that you can use the other elements of your decor to add color (or not) to your room. Today we're going to be sharing the best curtains to go with white walls, to help you achieve a variety of different looks.
Let's dive in!
White on White for a Classic, Elegant Look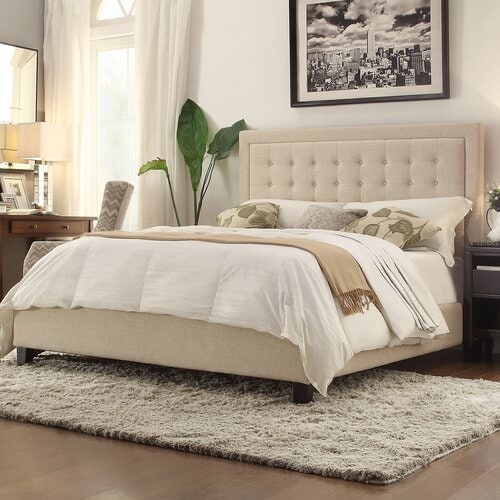 To create a bright and airy feel in your room, choose white curtains to go with your white walls. This creates flow around the room, allowing your eyes to simply skim across the area.
Sheer white curtains allow the light to filter through, even when they are closed, creating a soft glow in the room, whilst allowing privacy when the curtains are drawn. For a bedroom try using white blackout blinds behind the curtains to give complete darkness at night.
Hydrangea Blue Velvet on White Walls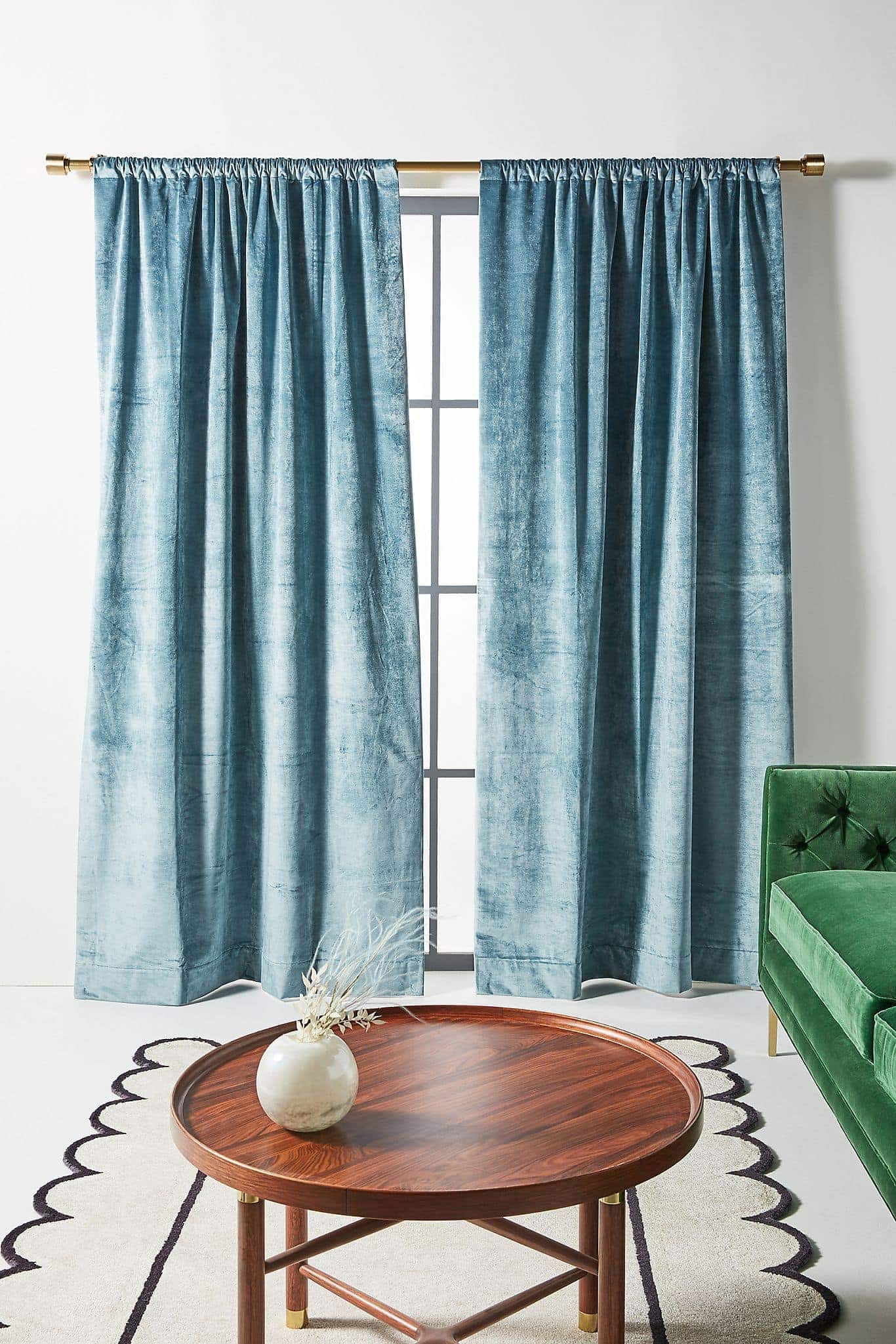 These light blue velvet curtains look incredible with white walls. The clean white walls allow the curtains to shine as a feature in the room, and the matte velvet material of the curtains adds a touch of luxury.
Since these curtains are made from a light blocking fabric, they would also be an ideal choice for use in a bedroom, giving you complete darkness while drawn.
Navy Blue Curtains With White Walls for a Smart Look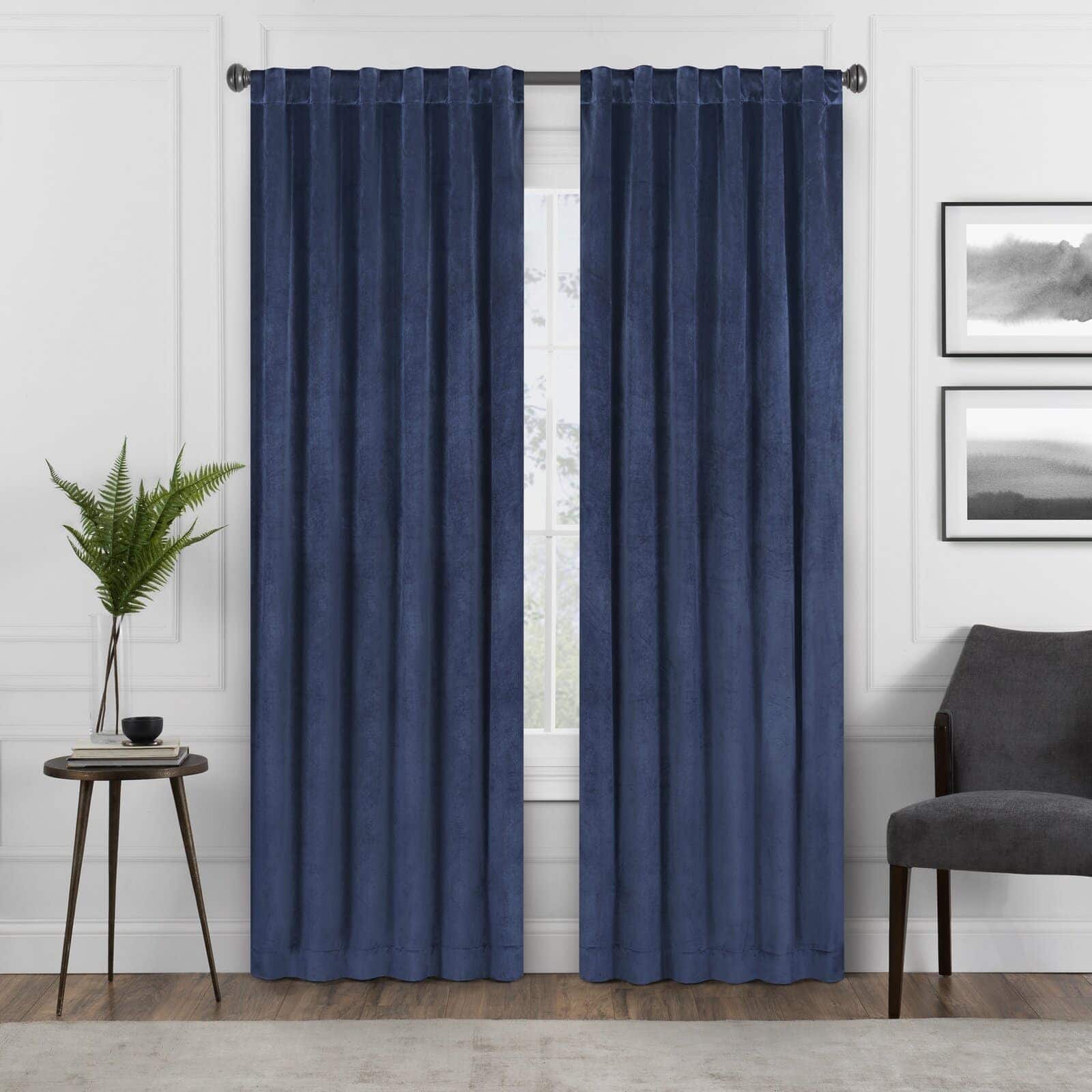 If you want to create a smart and sophisticated look in your living room, then navy blue curtains with white walls are the way to go. The navy blue stands out creating a strong contrast with the white walls and framing the window area nicely.
These curtains hang beautifully, creating clean lines which complete the smart and stylish look in this interior. As they provide 100% blackout, they would work well in a bedroom too.
Mauve Curtains With White Walls for a Touch of Luxury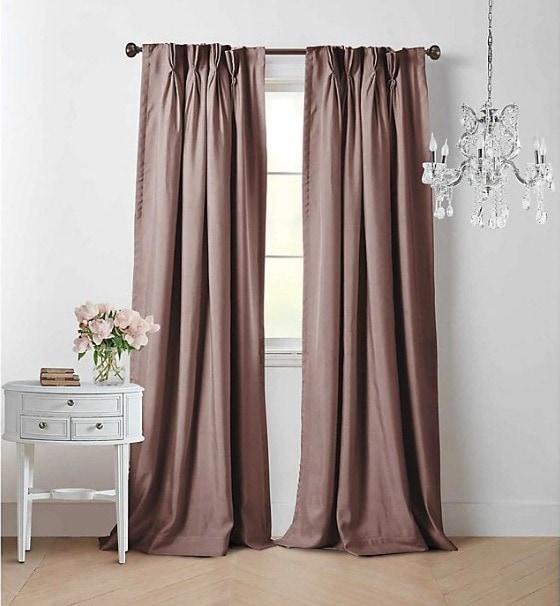 These beautiful mauve silk curtains will work well anywhere where you want to add a touch of luxury. Mauve and white together create a very elegant look, and the silk material of the curtains reflects the light creating beautiful shadows in the folds of material.
The semi sheer fabric, allows some light to filter through, creating a lovely warm glow. They have been designed to be slightly too long, allowing them to puddle on the floor for an opulent feel.
Dusty Pink and Tulle Curtains With White Walls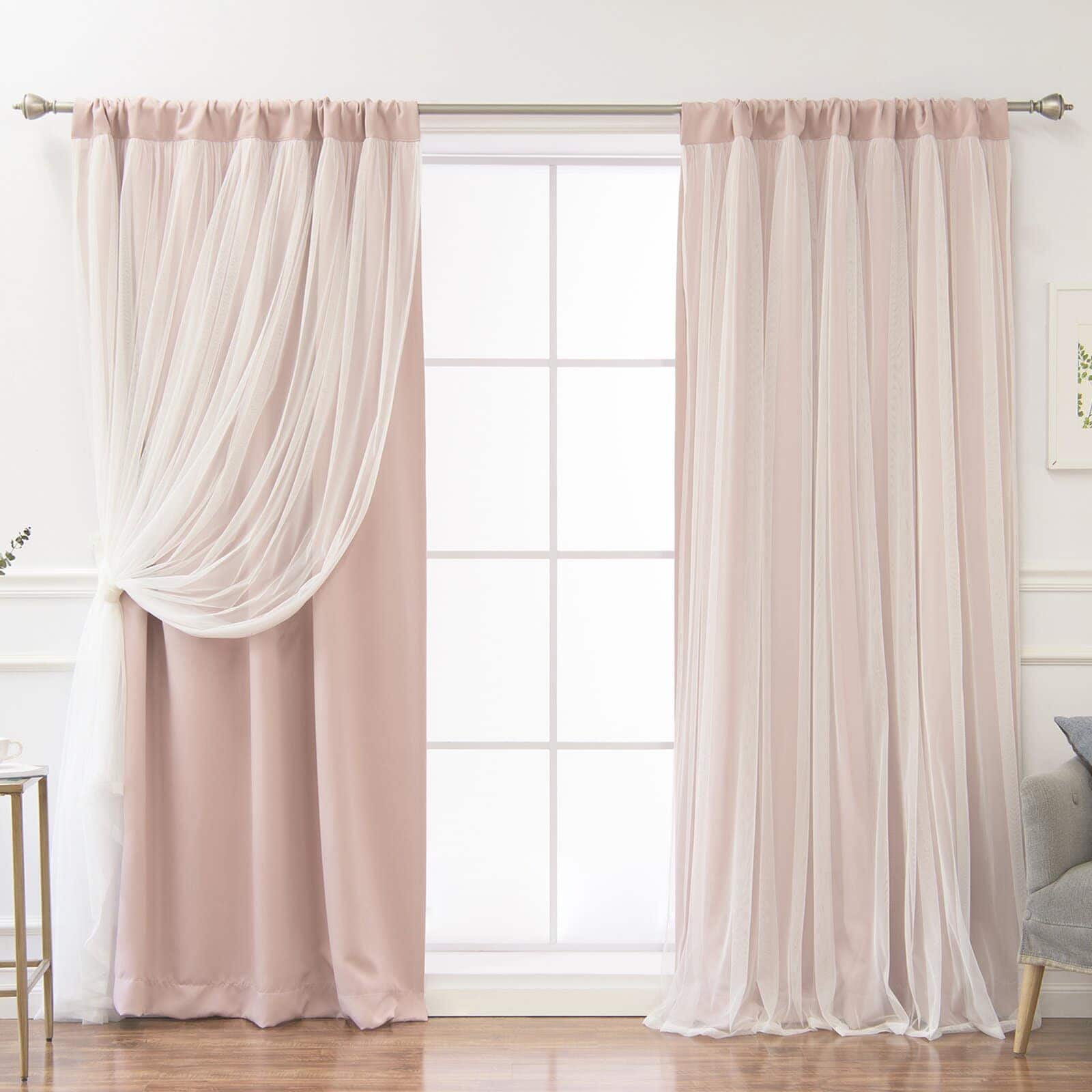 For the perfect mix of function and elegance, try these dusty pink curtains with white walls. The pink thermal fabric is layered with a delicate white tulle, giving a soft, feminine feel.
These effortlessly stylish curtains are suitable for both bedrooms and living rooms, since they provide 100% blackout, as well as keeping the heat in when it's cold.
Create a Beachy Look with Palm Leaf Print Curtains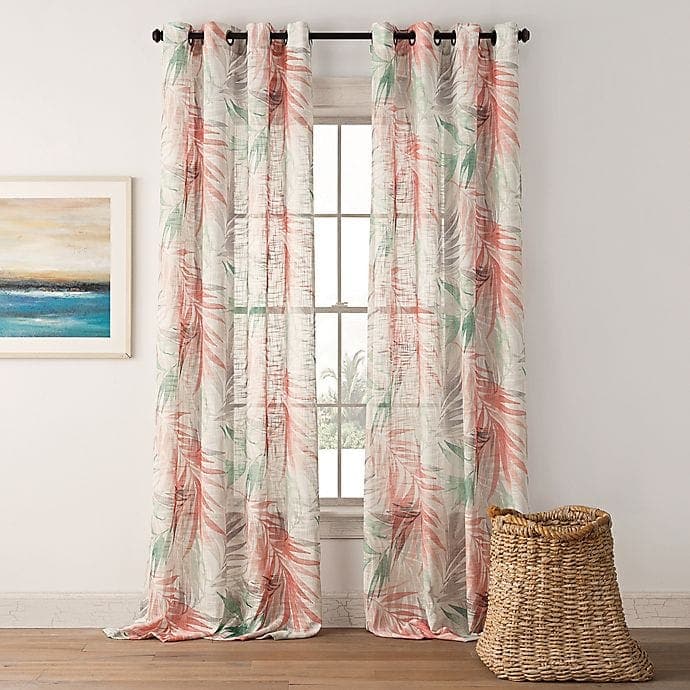 Create a fun, tropical vibe in your living room or bedroom with these palm leaf print curtains. These beautiful coral and green curtains will work well against white walls, providing a bright and airy feeling with a splash of color.
The sheer material will let light filter through, creating a lovely glow in the summer whilst still providing privacy from passers by. Complete the look by choosing natural materials for your accessories such as woven baskets or a jute rug.
White and Grey Striped Curtains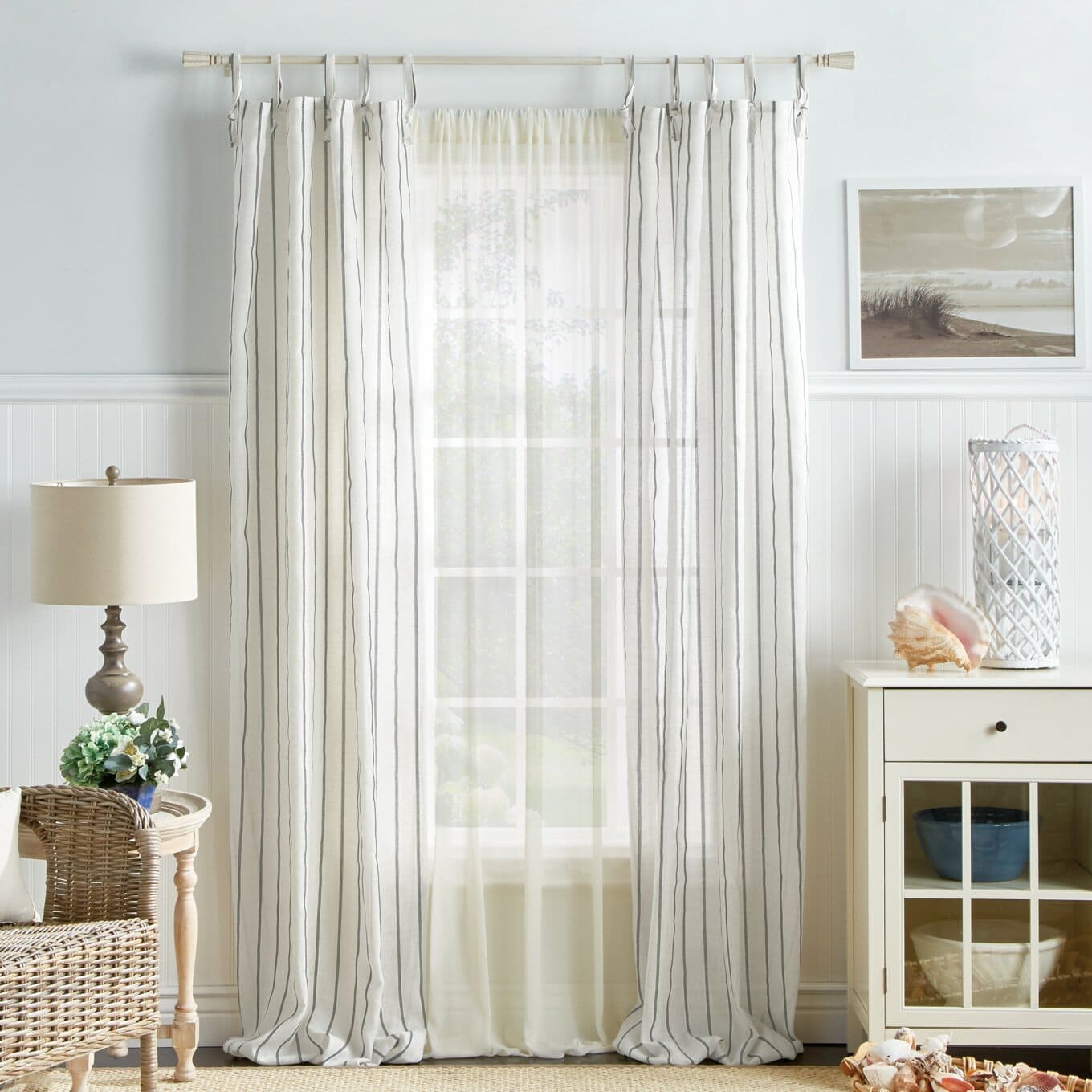 For a touch of coastal charm, try these white curtains with delicate grey stripes against while walls. The subtle stripes draw attention to the window area, without being overpowering, and give the space a laid back feel.
These curtains are semi sheer, allowing light to filter through whilst providing privacy from the outside world. These curtains would look great in a living room, and would suit most decor styles.
Navy Blue Curtains With Pink Tassels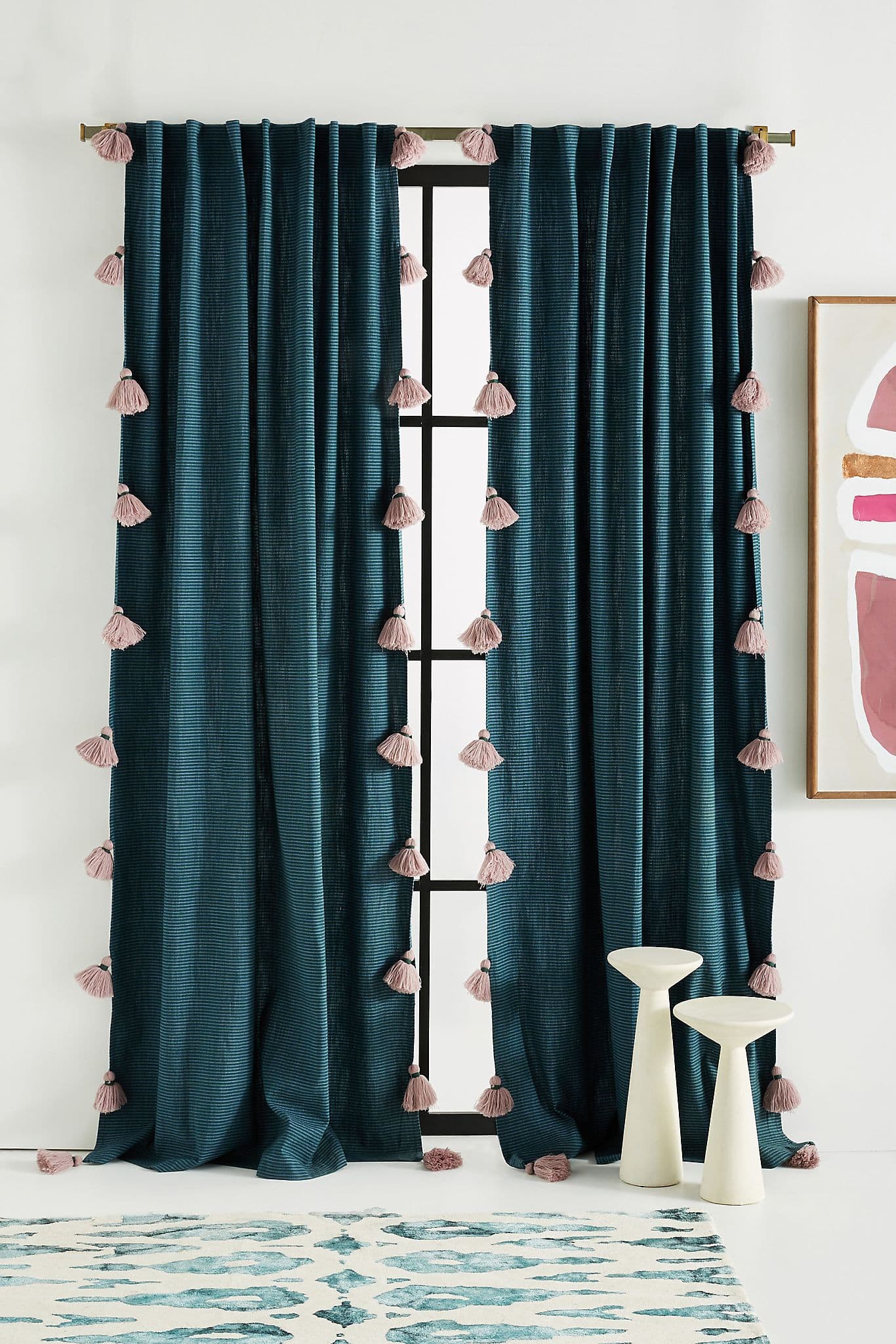 For a chic, fun look, then try these playful navy blue curtains with pink tassels for just the right amount of function and playful charm.
These curtains are 100% cotton and you can tell by the look and feel of the fabric that they are high quality. The mix of dark navy blue and light pink tassels creates a wonderful contrast, and would work well in any modern interior, for anyone that is young at heart!
Light Grey Patterned Curtains For a Simple, Chic Look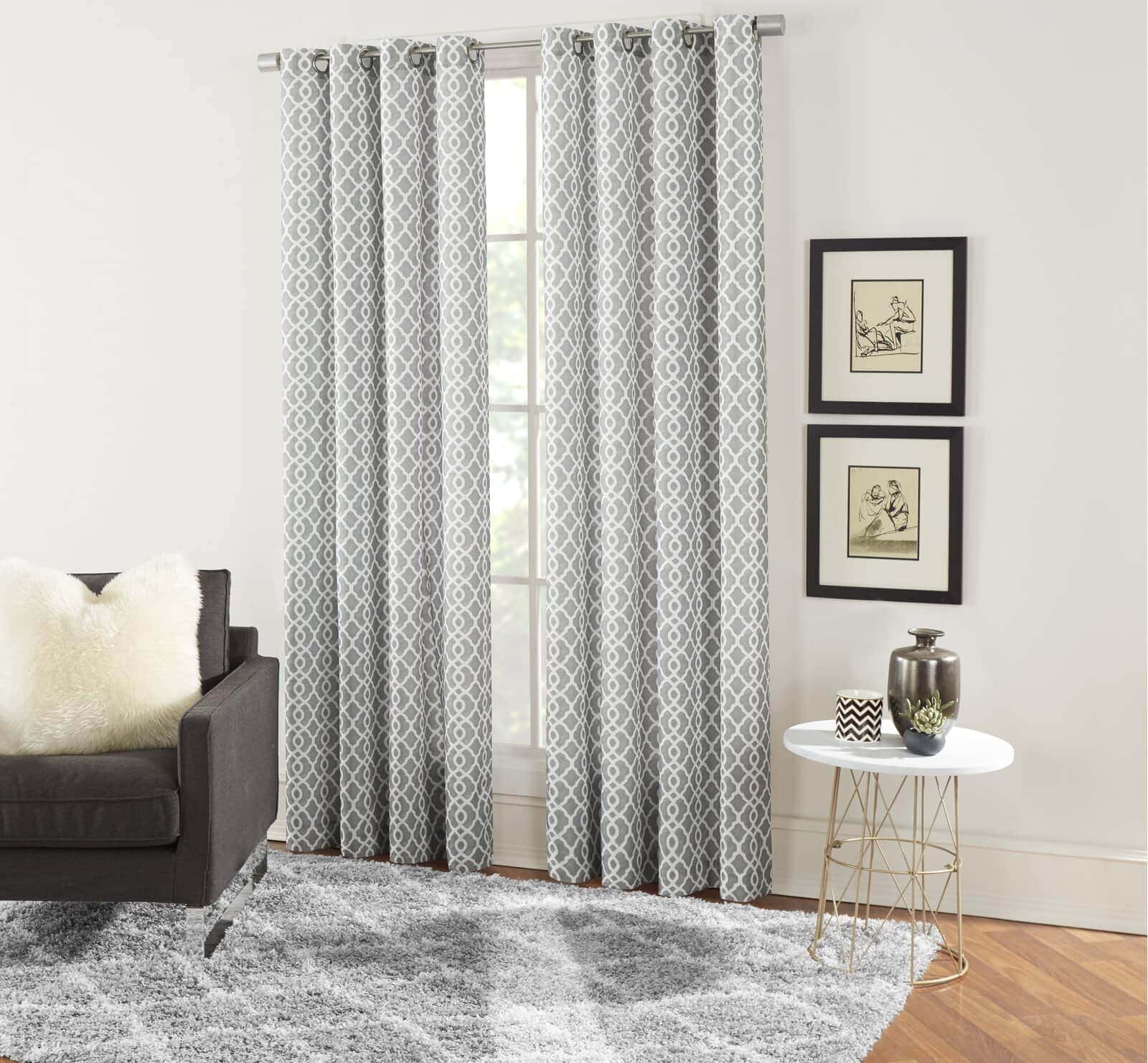 To achieve a simple yet chic look, try these light grey trellis patterned curtains with white walls. The light grey is subtle against the white, but the trellis pattern adds interest and draws your eye to the window area.
These curtains look perfect in this modern interior, mirroring the trellis pattern on the rug to create a perfect sense of balance in the room.
Bright Floral Curtains With White Walls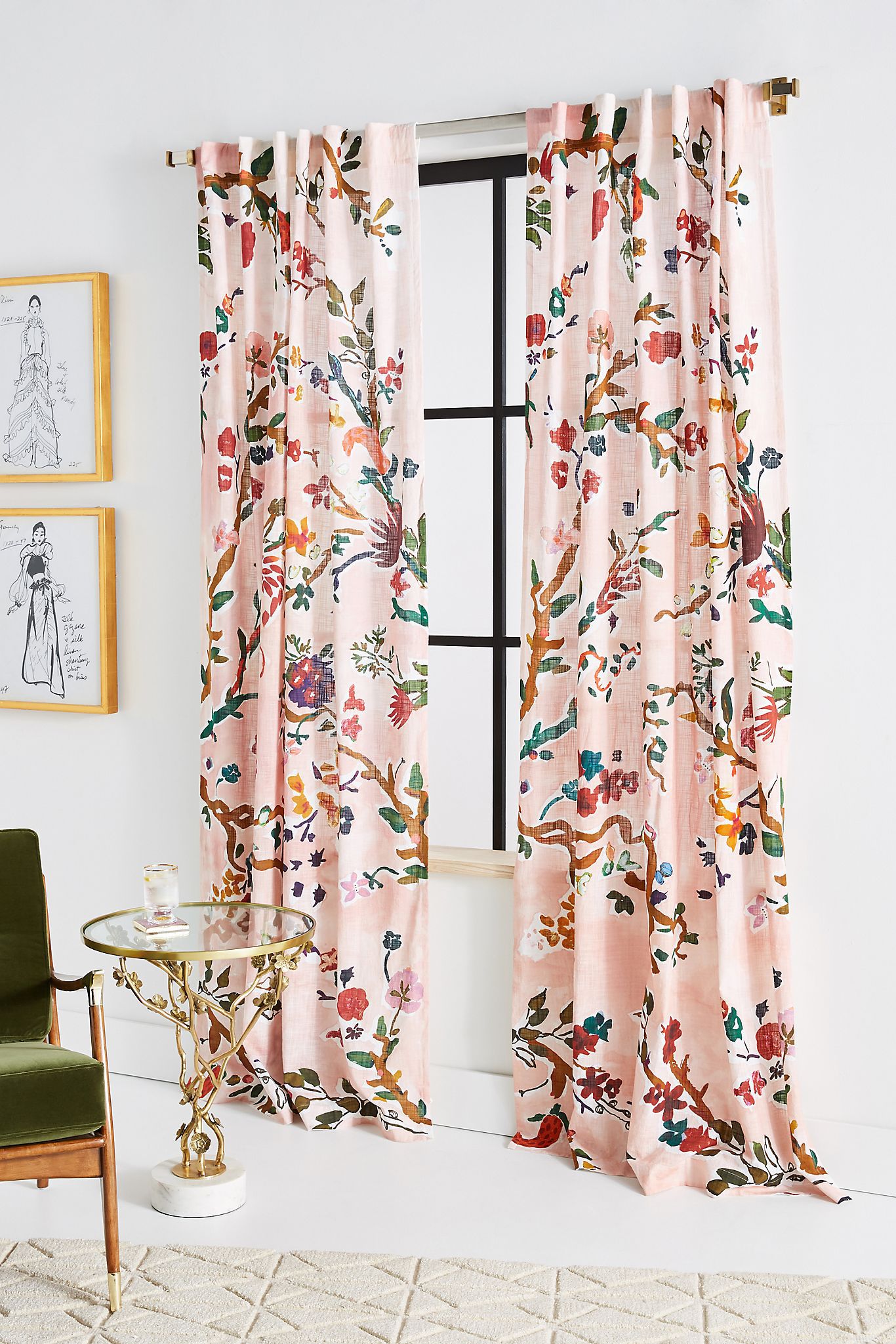 Bring the outside in with these gorgeous floral curtains. Birds and flowers against a blossom pink background make these the perfect choice of curtain to bring some spring joy to any interior.
The warm, bright colors will look stunning against white walls, and the floral design is the perfect feminine finishing touch to your room. These curtains are also available in a jade color palette which works just as well but offers a slightly less feminine look.
Champagne Luxe Panels on Off-White Walls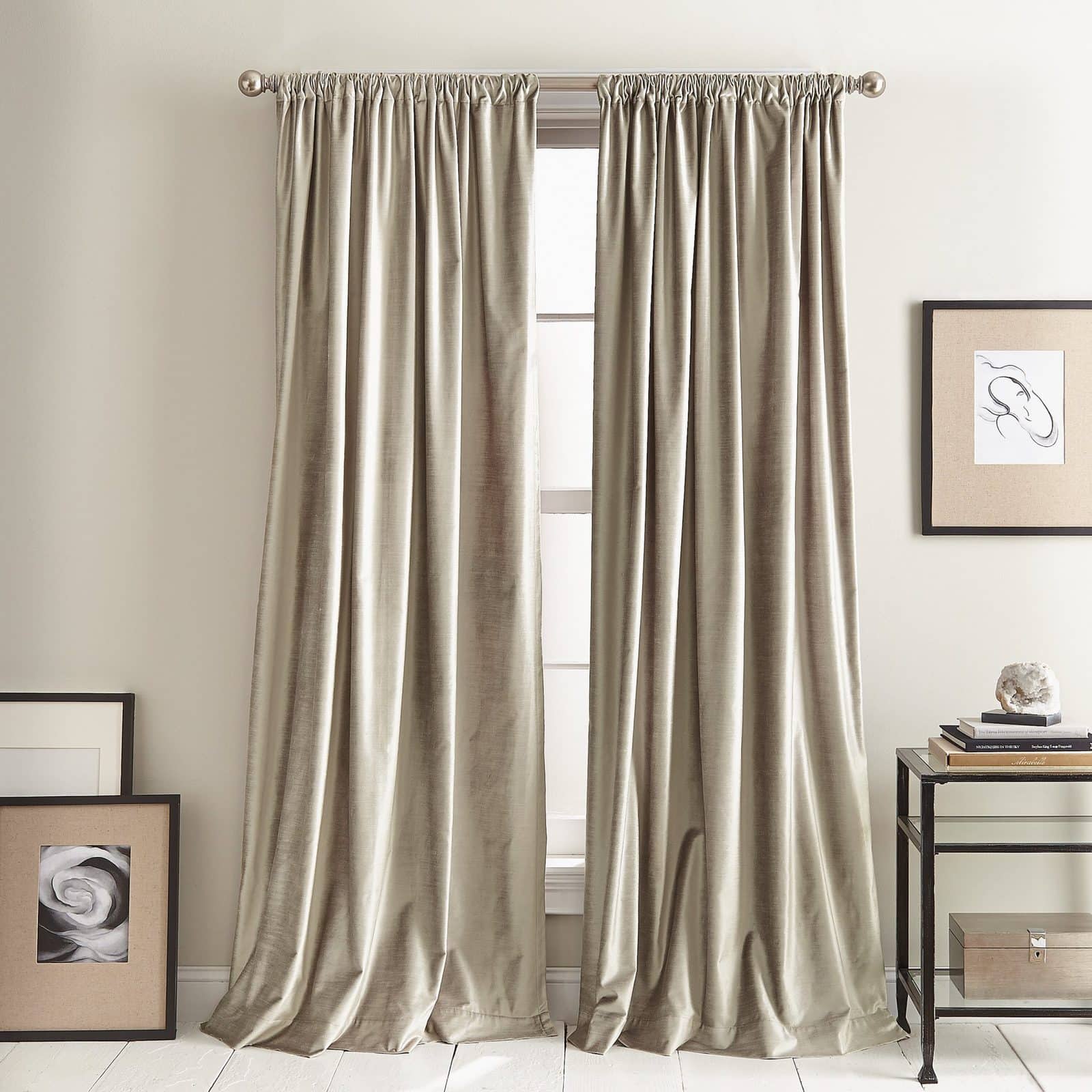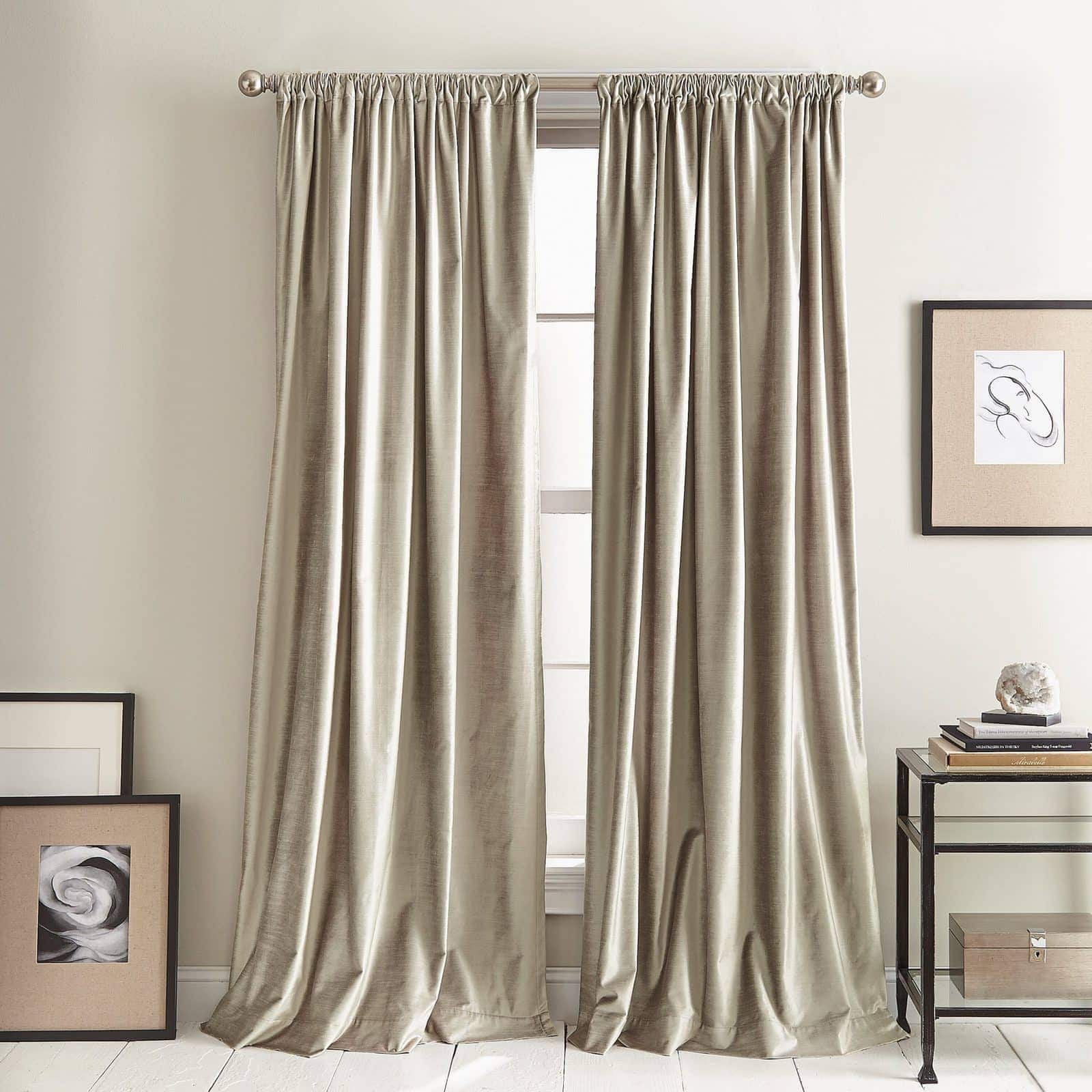 For an elegant look, try these champagne knotted cotton blend room darkening curtains against slightly off-white walls. The material of these curtains catches the light beautifully, and they are designed to puddle gently on the floor for an opulent look.
Since these curtains are very neutral in color, they will work well with most interior decor styles, but they work particularly well with the modern minimalist style in the image shown, with black accents for a striking and sophisticated look.
Black Curtains on White Walls For a Striking Contrast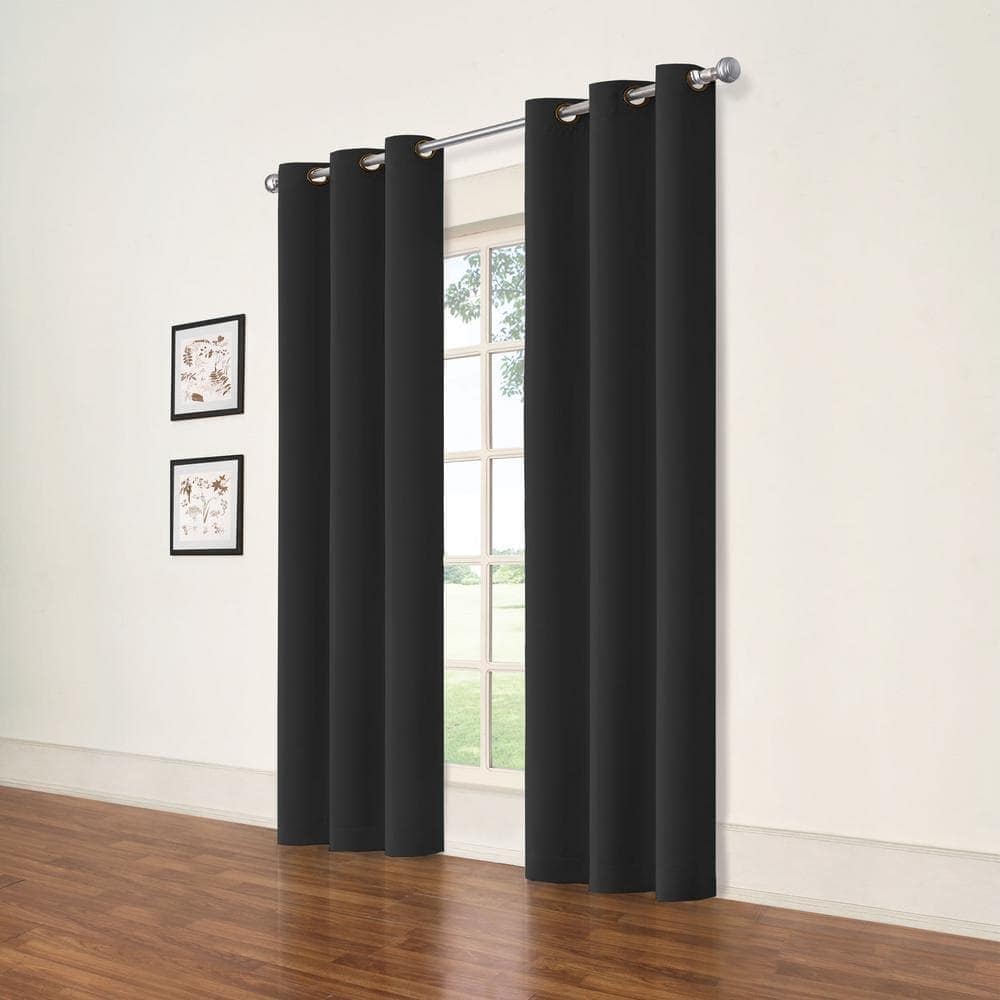 If you want to create a really contrasting look, then go for black curtains against white walls. These black curtains frame the window area perfectly, and really stand out against the clean white walls.
Black curtains are well suited to a minimal interior, and you can tie your design together by using other black accents in the room, such as in the furniture, art and accessories for a cohesive look.
Botanical Green and White Curtains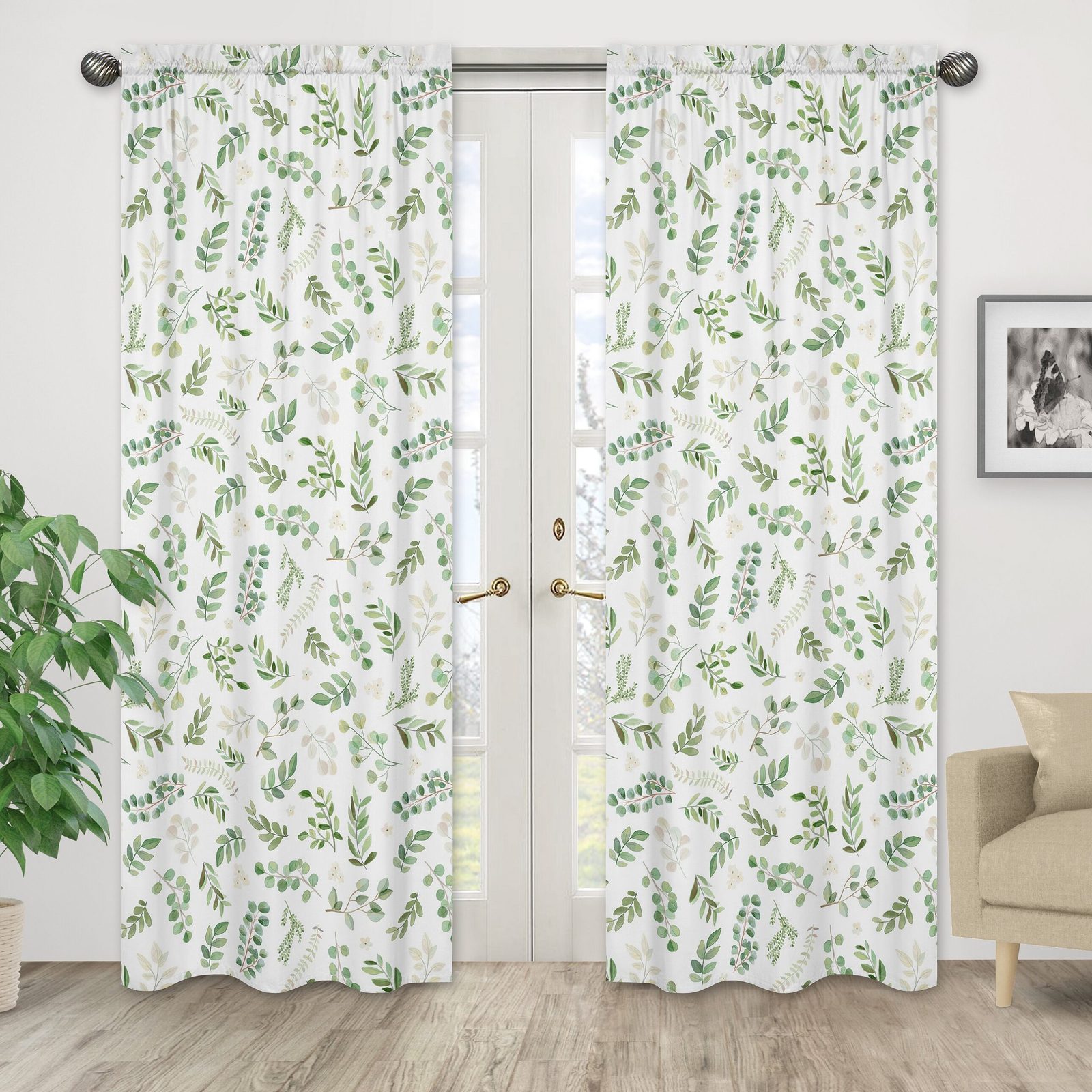 For a fresh, bright, modern interior, you can't go wrong with these beautiful botanical curtains. The fresh green printed leaves bring the outside into your home, creating a calm and relaxed feeling.
In color psychology, green represents purity, health, freshness, relaxation, and tranquility, all feelings that are ideal for a relaxing living room! The design of the leaves on the fabric is a soft watercolor style creating a really stylish design.
Vibrant Floral Curtains With White Walls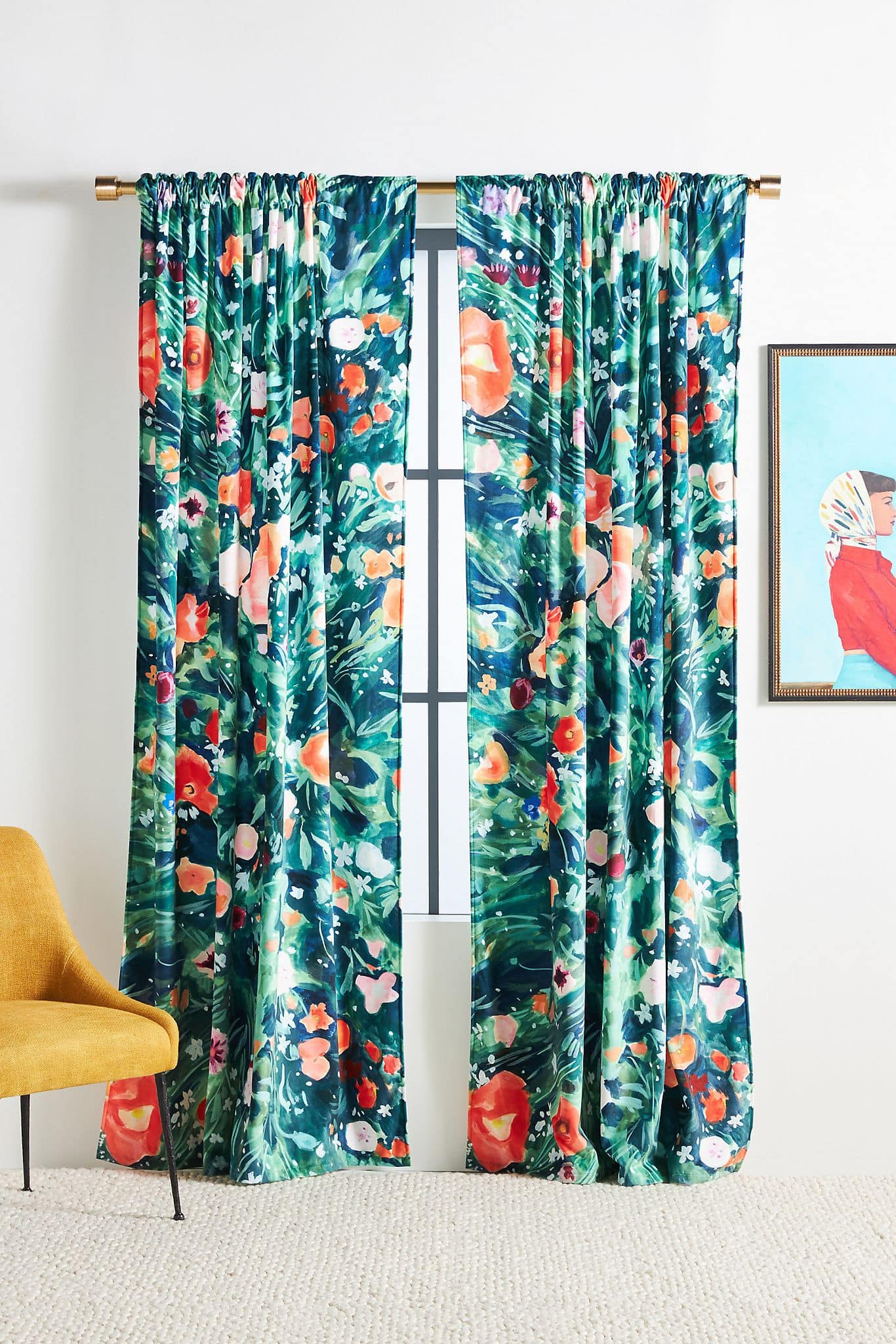 If you want to bring a splash of color to your home, then these vibrant floral curtains are the way to go! They feature a beautiful design of lush green grass and bright colorful flowers to brighten even the cloudiest day.
The bold colors contrast well against plain white walls, drawing your attention to the window area and standing out as an eye catching feature in the room.These curtains are the perfect way to bring joy to your interior!
Teal Heavyweight Velvet Curtains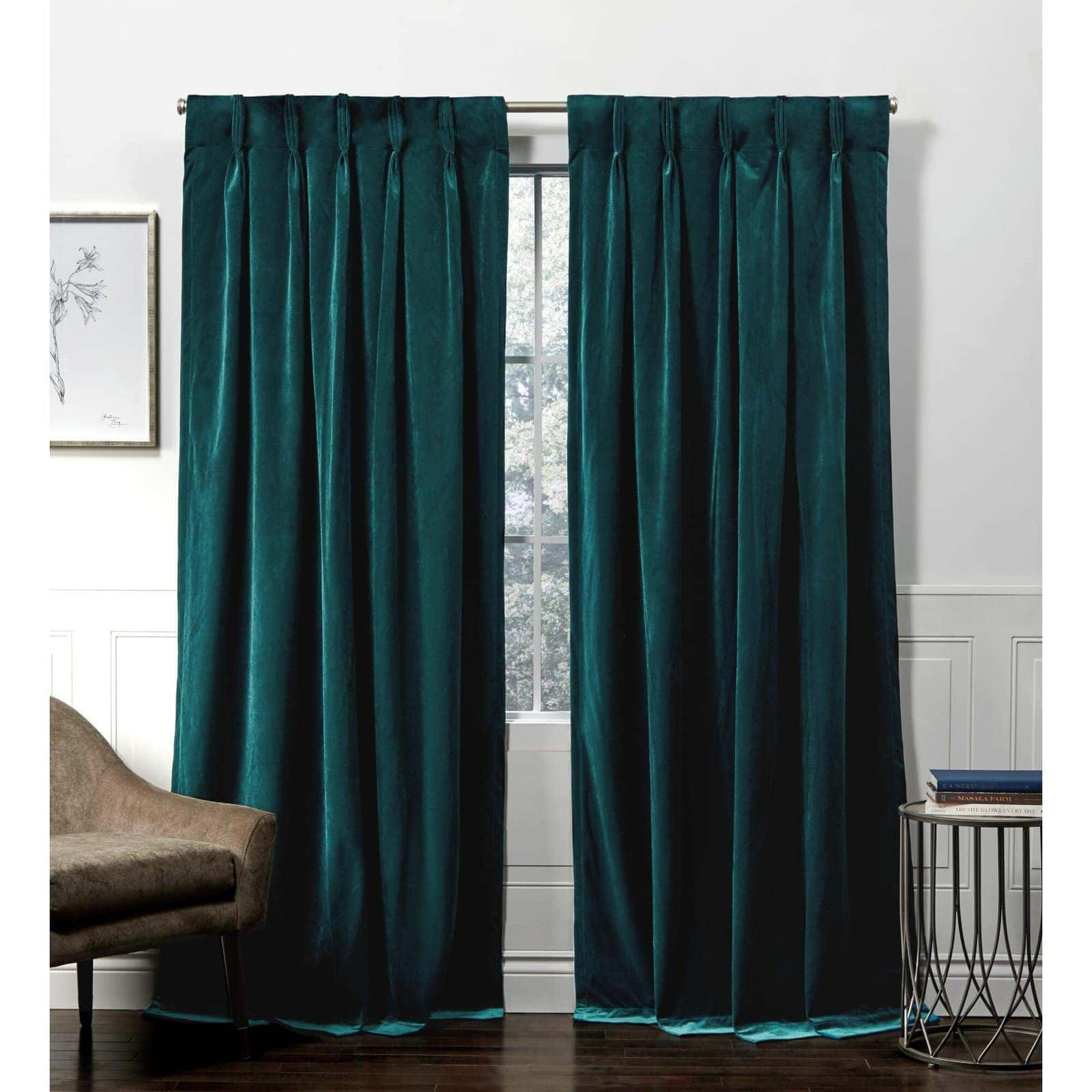 Go bold with these teal velvet heavyweight curtains. If you're wondering what color goes with white walls and brown furniture: this is it! These gorgeous curtains feature a pinch pleat heading for a sophisticated look, and the velvet material hangs beautifully.
These room darkening curtains are suitable for living rooms, as well as bedrooms giving you darkness and privacy when you need it.
Light Filtering Lilac Curtains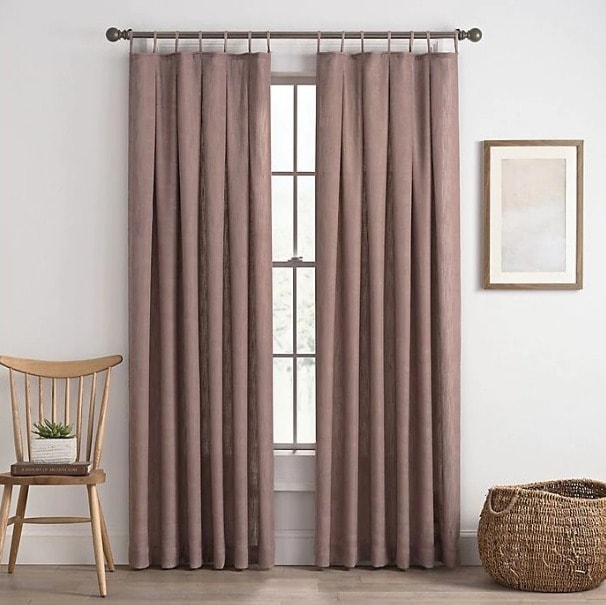 It can be tricky choosing curtains colors for white walls, but these light filtering lilac curtains are a great choice. The mused lilac color of the material works well with the natural tones of the wood and the woven basket pictured.
The pinch pleats add a sophisticated touch to the simple material, and the skinny tabs make them easy to hang, giving them a delicate, elegant look, and making them an ideal choice of curtains for white room.
White Embroidered Curtains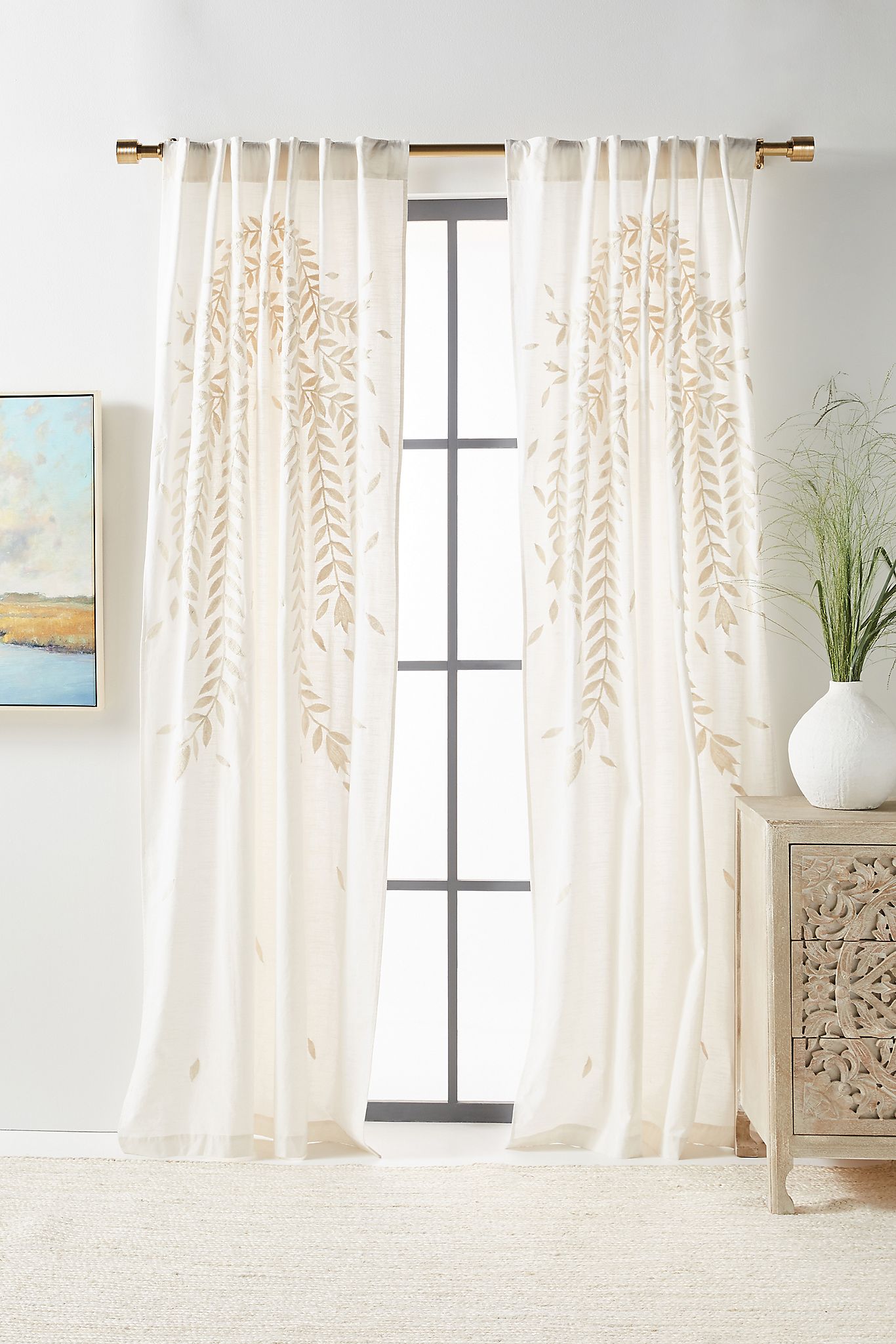 These white embroidered curtains are the ultimate in elegant simplicity. A subtle leaf motif has been embroidered onto each panel, perfect for creating a romantic, soft feminine style in a living room or bedroom.
The motif is subtle, until the sunlight shines through when it really stands out. These are truly unique, and an unusual find, snap them up quickly while they are still available!
French Country Chic: Grey Embellished Curtains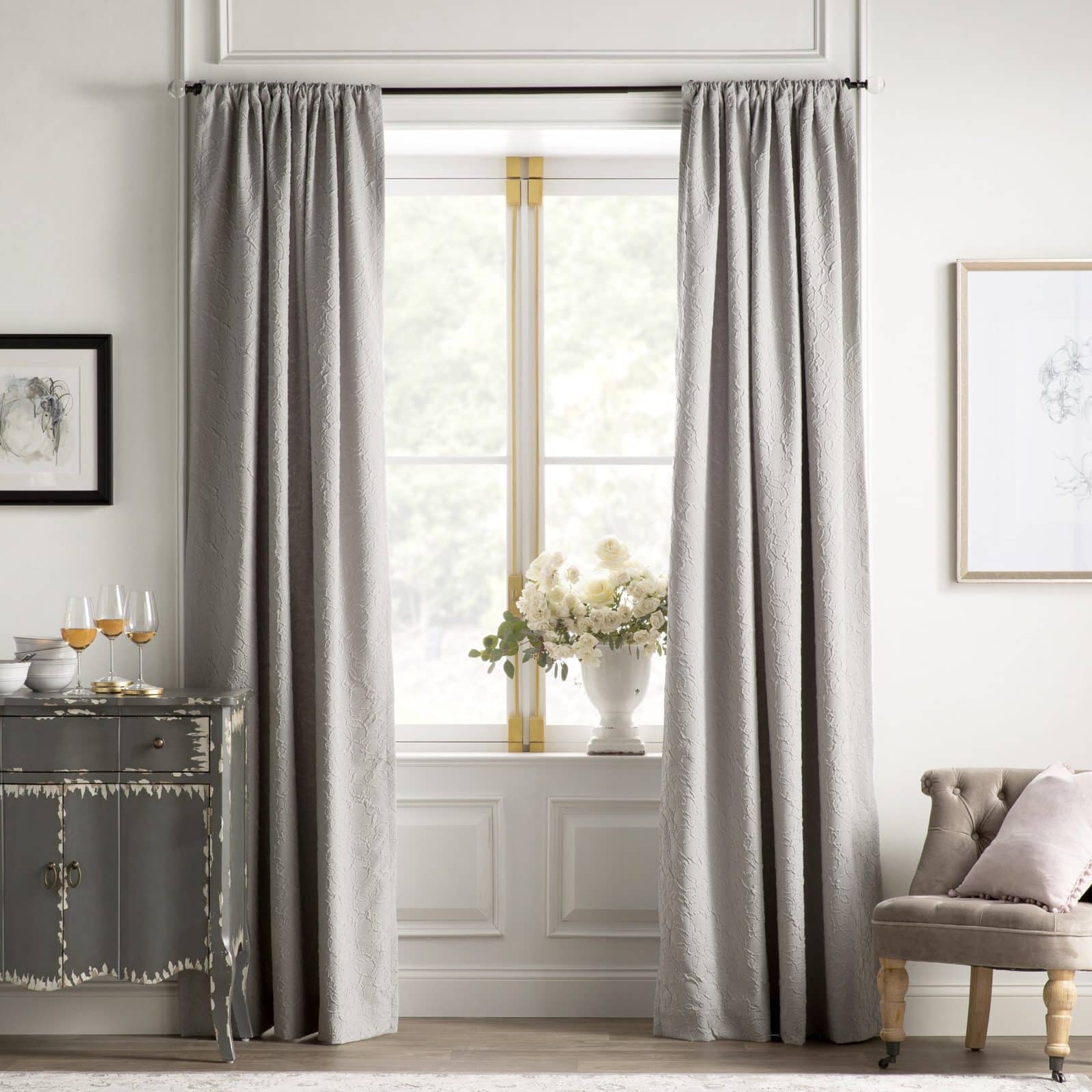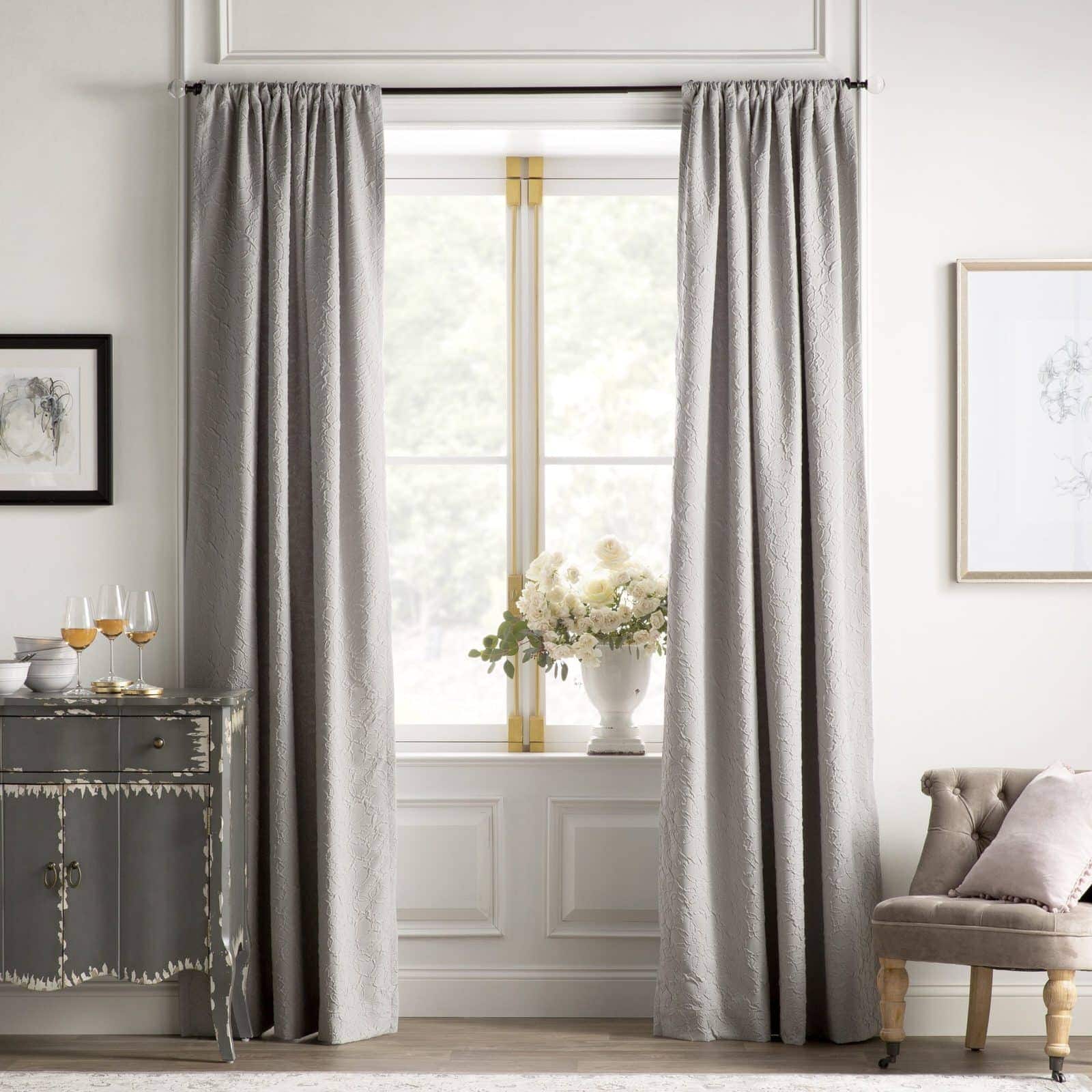 If you like the French country chic look, then these grey embellished curtains should fit the bill! These beautiful light grey curtains are embossed with a delicate floral pattern, giving them a touch of french feminine elegance – perfect for both living rooms, and bedrooms, thanks to their room darkening capabilities.
They are also noise reducing, so a great option if you live near a road and like a bit of peace and quiet when you are sleeping!
Go Bright and Bold With Yellow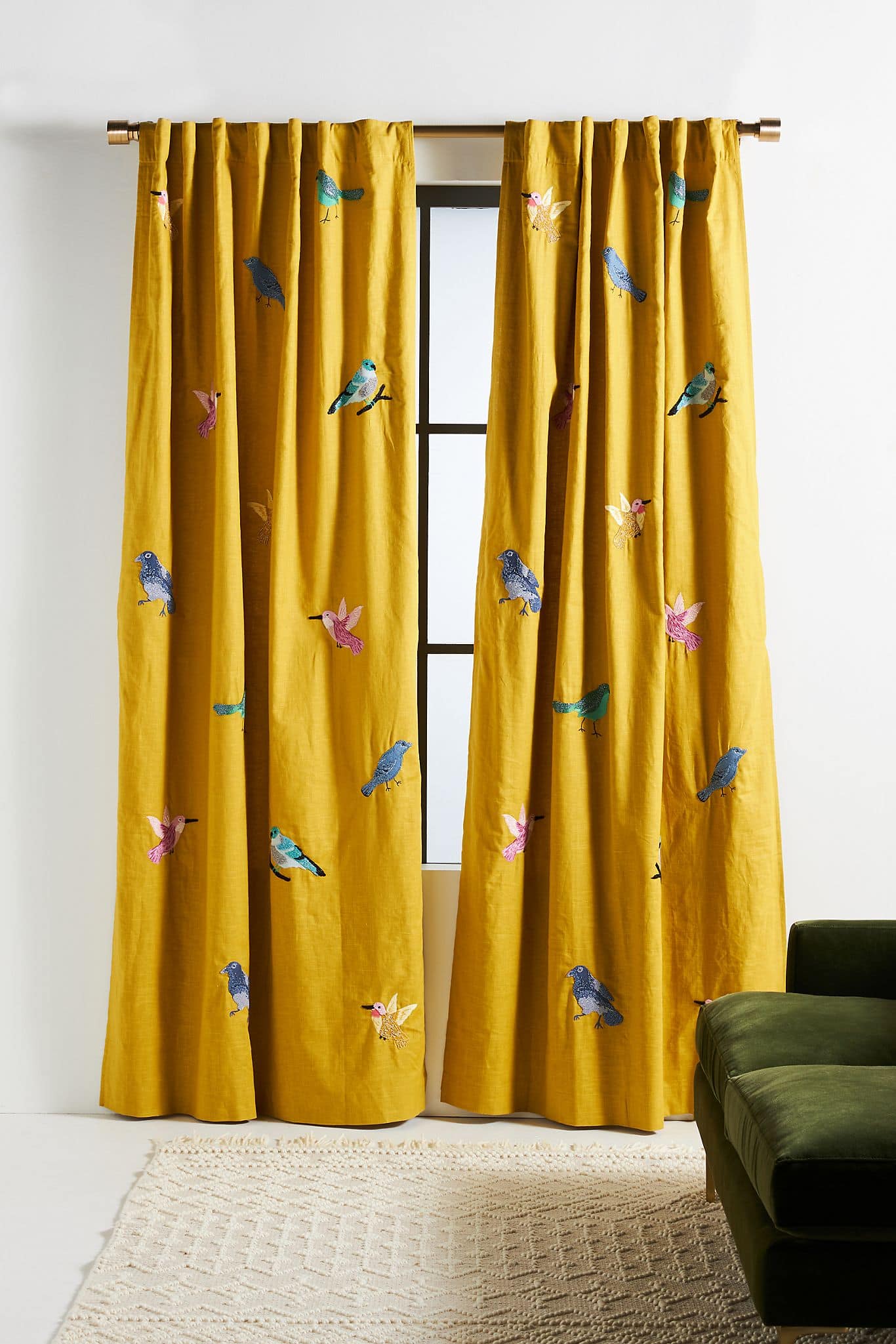 These beautiful, bold curtains are perfect for anyone who likes to make a statement! Each panel has been embroidered with an array of colorful birds, each adorned with delicate beads. The bold ochre yellow stands out against white walls perfectly, and brings warmth and excitement to any room.
The cotton/linen blend looks fresh and timeless, while the colors lend these curtains to more of a modern bohemian style, perfect for anyone who loves color!
A Touch of Whimsy With White Lace Overlay Curtains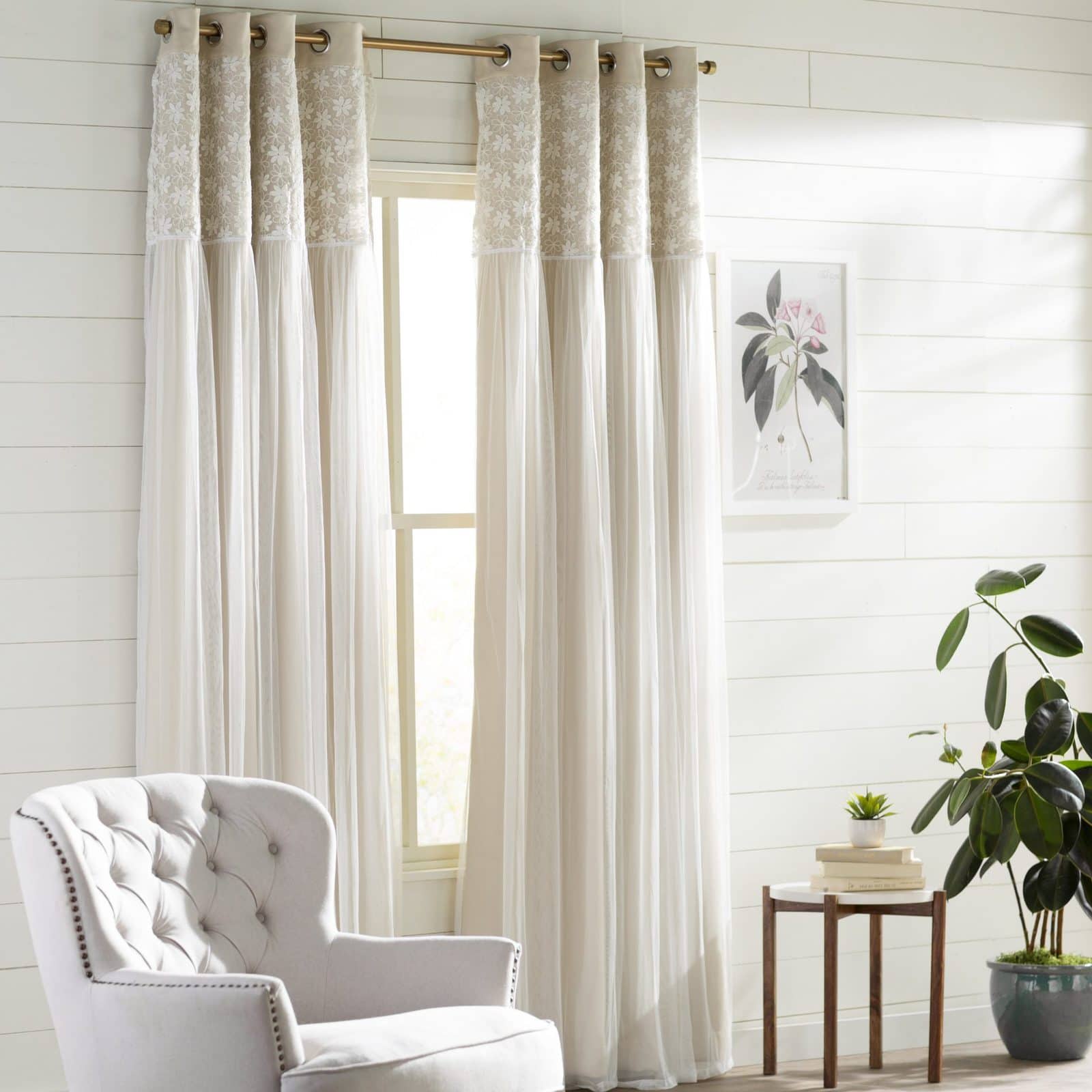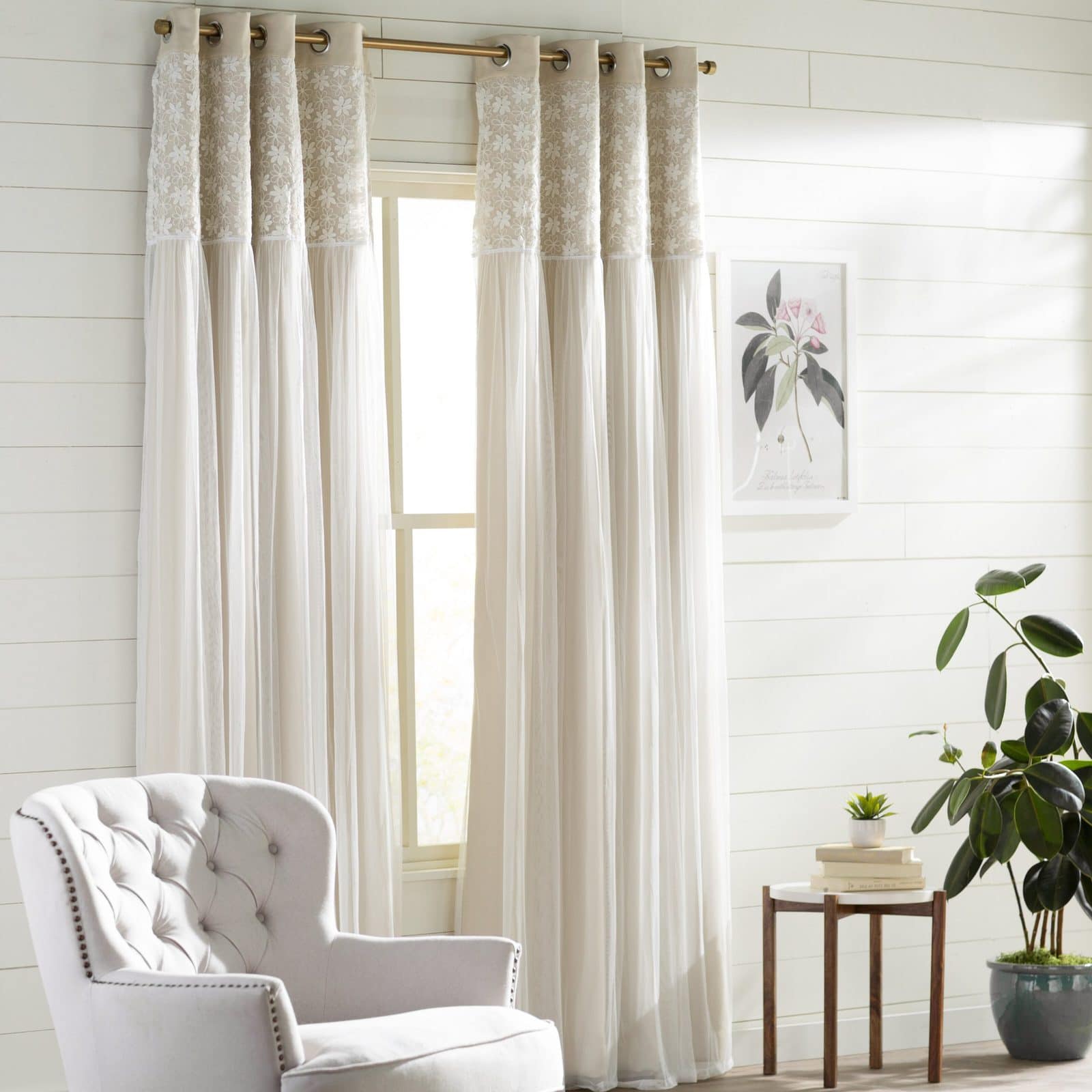 Add a whimsical feel to any room with these pretty white lace overlay curtains. These curtains look light and floaty, but they provide complete blackout which is important for sleep, so you could use them in a bedroom as well as a living room.
They also provide thermal insulation and are machine washable, so although they may look high maintenance, they are actually very practical – ideal for any family home!
Summing it Up…
If you've been wondering what color curtains go with white walls, hopefully this article has helped you to find some inspiration! There are lots of great options, so remember to take into account the rest of your furniture and accessories so you can choose curtains that will help tie everything together for a cohesive look.
If you're choosing curtains for a bedroom, look for curtains with room darkening or blackout capabilities, and even better if they are noise reducing for a perfect night's sleep!
BUT… Don't worry if the curtains you have chosen for a bedroom are sheer, you can solve this problem by adding blackout blinds behind your curtains in the same shade as your walls. Simple!