What's the Best Color Temperature for Your Kitchen?
If you're planning on installing a new kitchen, you'll need to plan the lighting to accompany your new look. Lights are important in creating ambience as well as functionality.
With a variety of bulbs, lampshades and LED lighting, check out what's available and make sure you get the right style of light fitting as well as the best temperature color for your home.
LED lighting creates mood and an aesthetic. That's why it's important to know which color temperature works best for your home kitchen.
Back to Basics
The light unit you'll see on bulb packaging is Kelvin (K) which refers to the coolness or warmth of the light. The Kelvin rating refers to the shade of white given off by the LED lighting.
So if you think about the sun, in the morning and the evening you have a pink or orange light, whereas in the middle of the day it would give off a white or pale blue color.
LED lights come in a bigger range of color temperatures and can shine light in a specific direction. They also emit little heat so will use less energy than older style bulbs.
Color Chart
This handy chart shows the kinds of Kelvin ranges you would expect to get from LED lights as the natural light according to time of day. Around the 5,000K mark would give you a steady, bright light.
The higher the Kelvin rating, the cooler the lighting will appear. A white or light blue hue has a temperature color between 4,100K and 6,500K. A light that is higher than 6,500K will give off light in deeper shades of blue.
Picking Your Color Temperature
You'll want to think about the kinds of atmosphere you can create with your LED lighting, as well as practical uses.
Daylight LEDs of 6,500K give off an energized and alert feeling. Color temperatures in this range are closest to sunlight and make them ideal for growing. If you have a very dark space, this might be a good choice for your kitchen.
White Lights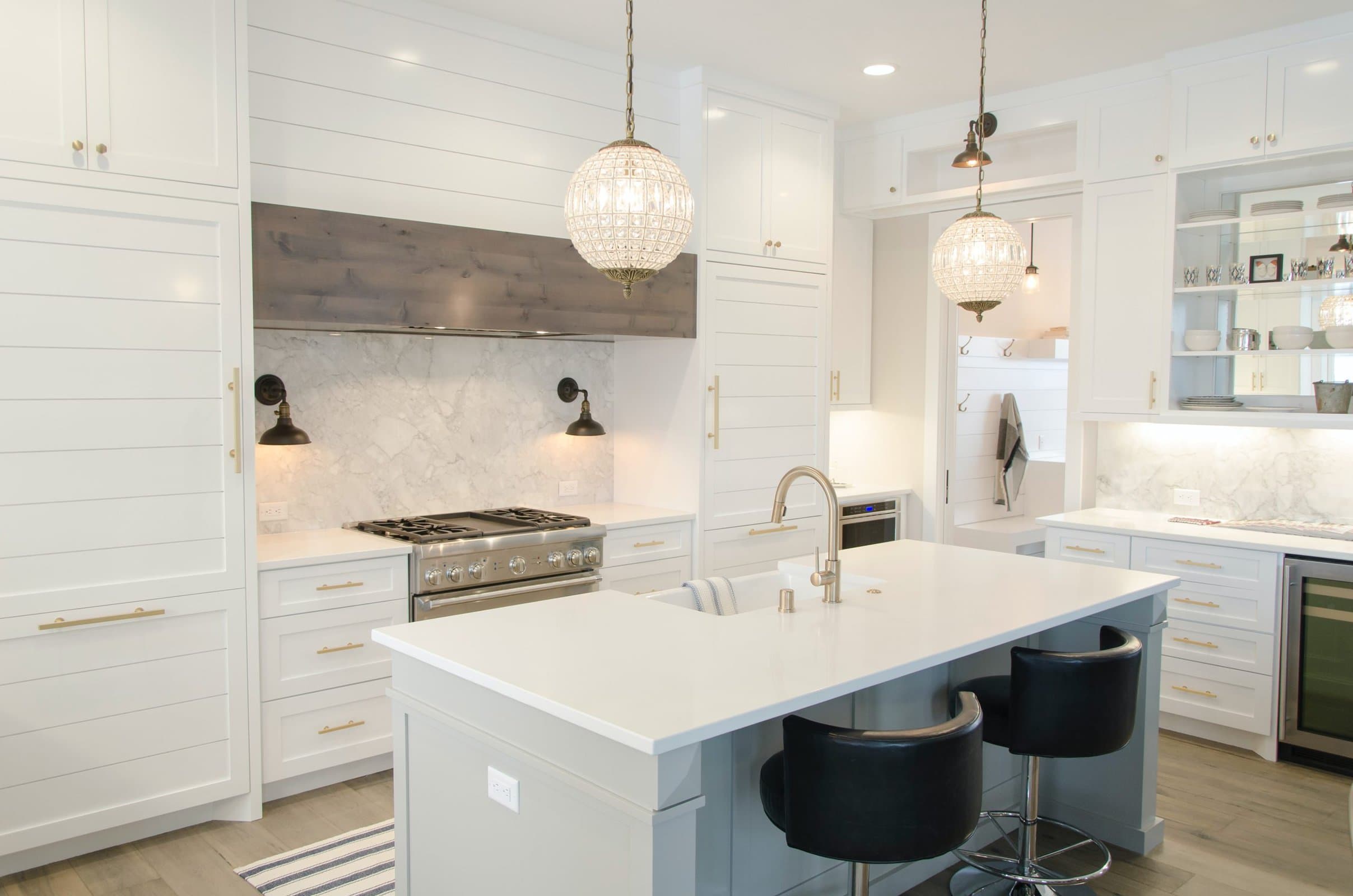 Lights in the range of around 5,000K are crisp and vibrant. These are good for those who like clean and minimal, even clinical. Perfect for working at your island or for those who have dreams of being a professional chef.
4,100K is more of a cool white. This temperature range gives off a clean, focused feeling. This is a good choice if you have color details in your scheme that you want to pop.
Neutral Whites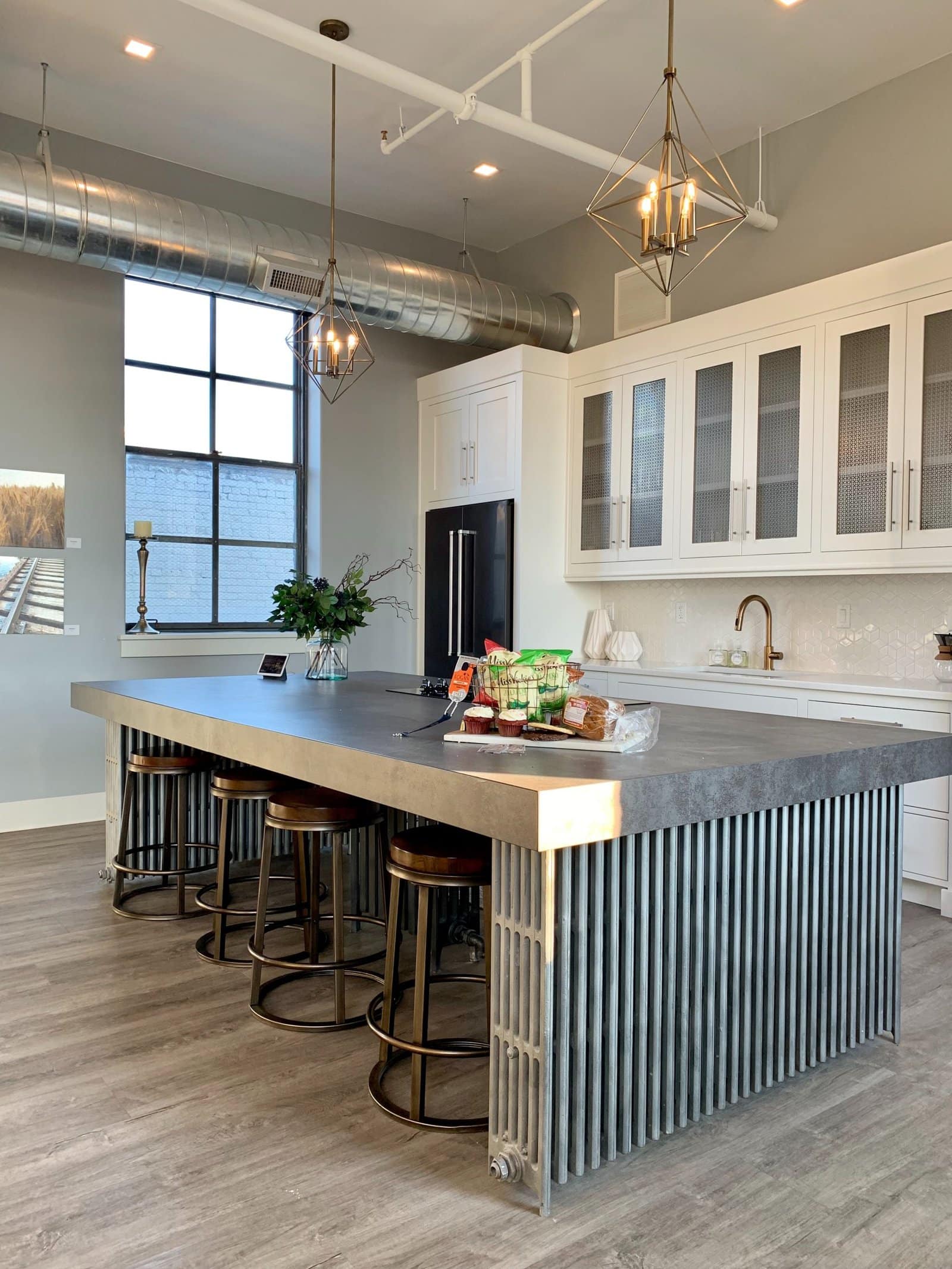 Around 3,500K is a neutral warm, white light that has an inviting but balanced feel. It is also a flattering kind of light so this could be a good choice if you are entertaining your neighbors or if you feel like a romantic dinner for two.
Go a little lower to 3,000K, and these lights are soft white in color and are used in kitchens where bright light isn't needed. You'll feel calm and warm in this color temperature range, so if you like family entertaining, this is a great pick.
Warm White
This is a warm white of around 2,700K and is used where people like to relax. These lights give off an intimate, cozy feel. So if you like a restaurant atmosphere in the evening, this is the perfect Kelvin range for you.
If you're wanting to inspire with a dash of light, this strip lighting against a rustic wall can add coziness and warmth.
Factors When Choosing the Brightness of Your Lighting
If you have a large room you're going to need a lot of fittings or strip lights. Whereas a smaller kitchen, particularly with good natural light will not need as many lights.
If you have opted for white on walls and on cabinets then you will not need a lot of light if you like to keep it bright. With a darker color scheme then you'll need to consider additional lighting and higher lumens, that is, light output.
Think also about the kind of shade you choose. One that is opaque will restrict some of the light where a clear glass shade or plain bulb will allow maximum light from the fitting.
Different kinds of light fittings give off different amounts of light. One bright bulb in the center may shed a lot of light, where wall lights will be more contained.
Round bulbs are more traditional or retro in style. Where strip lights give you more lines and angles. They also have a different kind of light quality that you'll need to take into account with the overall lighting scheme.
Where to Fix Your LED Lights for You Color Temperature
Shelving Lights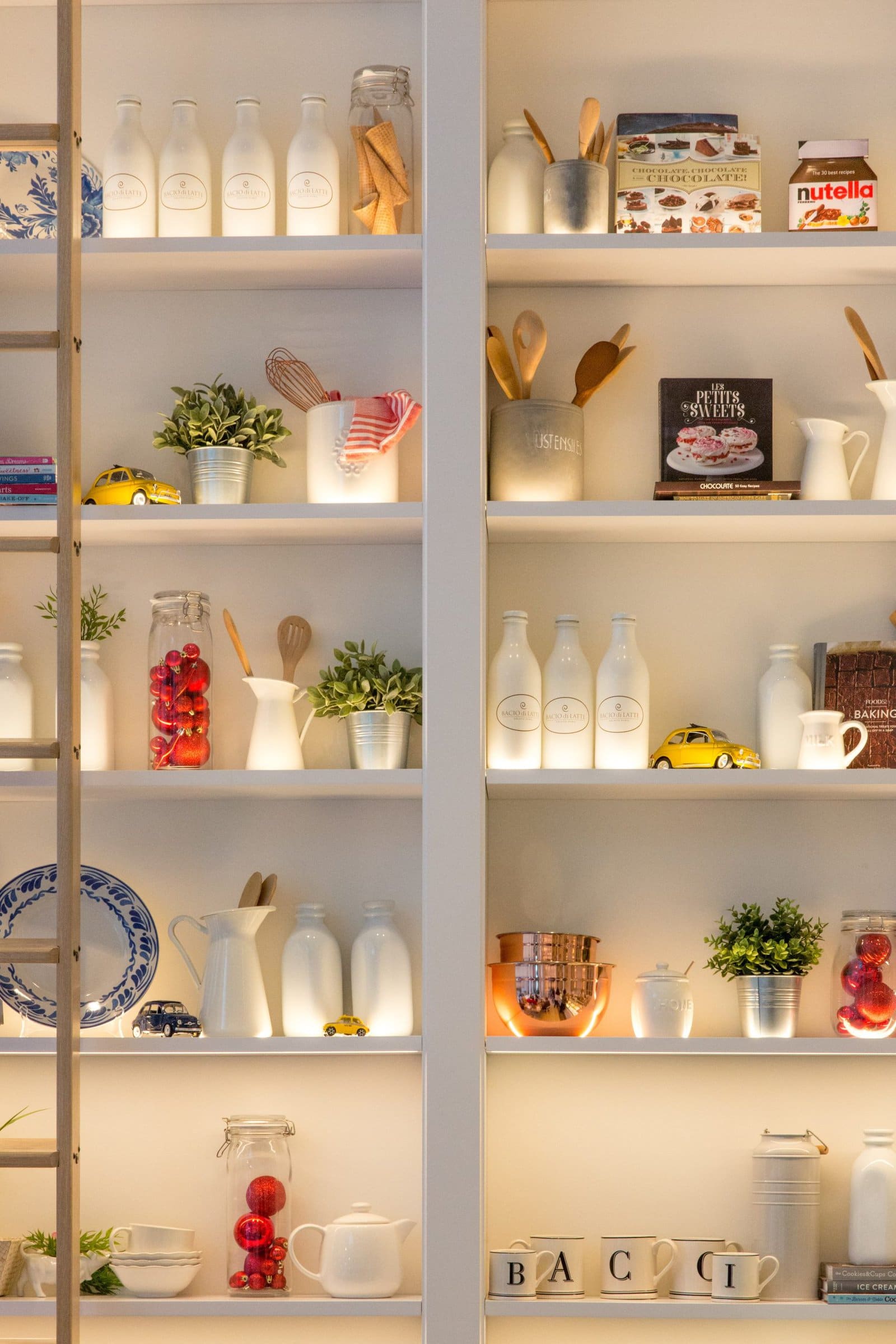 Attaching strip lighting to exposed shelves not only adds interest but also a designer look. If you've selected pieces you want to show off then light up your shelving.
Easy to fix on with a range of easy DIY choices available, this can be so simple yet so effective, your friends will think you used a designer. These will give you a lovely glow at night, giving off a warm color temperature.
Under Cabinet Lighting
You can buy rechargeable or battery operated lights with magnets. Such a cheap solution gives an expensive finish to your kitchen cabinets and can increase or decrease the color temperature.
Fix the lighting unit under the cabinet toward the backsplash. You'll find that not only do you have extra working light for those countertop chores but that you have some mood lighting when you turn off the main lights. Perfect for relaxing.
Light Up Your Kitchen Cabinets
You can add strip lighting along the kick-toe of your kitchen cabinets or island. This is such a modern look and hints to sophistication and expense.
Used without the main lighting, this can give a cooler look in the summer if you choose a cool light tone or in the higher Kelvin range you'll have a warm look for winter.
Recessed Lights
Recessed, or can, lights are often used in kitchens and have been seen in homes for more than twenty years. They are modern and generally bright so use in sleek styles and space aged designs.
Under the Spotlight
This style works for a more traditional, cozy look but is also practical as you can adjust where you aim the light. The casing design will add a little warmth as they go with a cozy aesthetic, and they will work best with warm light ranges.
Mood Lighting
For more unusual effects with your lighting, you can mix lighting with your colors to add impact.
This bright orange backsplash is made even more vivid by the under cabinet lighting. It's sending out all the right cool, young and funky vibes. It will give you a color temperature that is seriously hot!
Dark and Moody
This serene, elegant look is created by recessed and strip lighting. It picks out detail in the large space and looks set for a great drinks party or casual dining.
The colors are kept cool with lighting that is spacious, dotted to layer lighting from above, and under cabinets.
Cool, Cool Blue
Another factor in color temperature is the color of the bulbs. This electric blue lighting is as cold as ice. If you're a trendsetter you may want to add some color to your kitchen.
Go bold adding extra colors to colored cabinets or add a color accent to a white kitchen. You can add warmth to a white kitchen with yellow or orange lighting.
In Conclusion
When considering lighting for your kitchen you'll want to think about the ambience you want to create and the practical uses of your kitchen space.
If you read up and understand the Kelvin ratings, you can choose the brightness for the look you want to achieve. There are many lightbulbs from round to strip lighting and light fittings from recessed lighting to neat under the cabinet fixes you can buy cheaply.
LED lighting enables you to accurately choose the color temperature for your kitchen once you've taken into account position and lighting style.