Decorated Life is reader-supported. When you buy through links on our site, we may earn an affiliate commission. Learn More
Whitetail by Sherwin Williams Paint Color Review
If you spend some time in the white section of a paint chip display, you'll discover a veritable kaleidoscope of shades, tints, and blends that all take white–and thus your home–in a slightly different direction.
Whitetail is one interesting little gem out of that kaleidoscope. It's bright enough to shimmer, but colorful enough to make an impression. If you're looking for a white with a hint of personality, Whitetail might be for you.
What Color is Whitetail?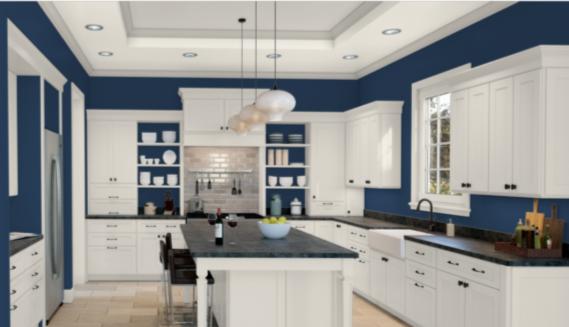 Whitetail is a creamy off-white that's much brighter than your average off-white. Its beige side prevents it from ever being a completely clean white, but it's bright enough for its undertones to be subtle ones.
LRV of 86
Whitetail has a light reflectance value (LRV) of 86. Light reflectance value is a scale designed to measure how bright a color is, and ranges from absolute black at 0 to sheer white at 100. The higher the number, the lighter the color.
Off-white colors typically range from about 73 to 82, with numbers above 82 being true whites. Whitetail, at 86, is bright enough to qualify as a true white.
However, its noticeable undertones set it apart from true whites. Even under bright lighting, Whitetail looks a little creamy.
What Undertones Does Whitetail Have?
Whitetail has creamy beige undertones that tend towards yellow. Thanks to Whitetail's brightness, these undertones are not strong, but they never completely disappear either.
Is Whitetail a Warm Color or a Cool Color?
Whitetail is a warm white. Its creamy, beige side and yellow undertones bring that warmth to everything Whitetail does, even under strong light or outdoors.
Where Can You Use Whitetail?
Whitetail, like all white paints, can be used anywhere in the home. It's lighter than some of the clean whites out there, so while you can't completely ignore its creamy undertones, they're certainly not going to dominate a room.
If you favor an all-white look, Whitetail can bring some body and coziness to that style while remaining crisp against contrast colors. It's a favorite choice for the ever-popular white farmhouse kitchen. It's also a great option for highlighting cabinets and vanities.
Whitetail partners well with natural materials, and can contribute to a neutral-natural style that favors bare wood and undyed fabrics.
Let's take a look at Whitetail in home spaces to get a feel for how it works.
Exterior
Whitetail retains its creamy body under the strong light of the great outdoors.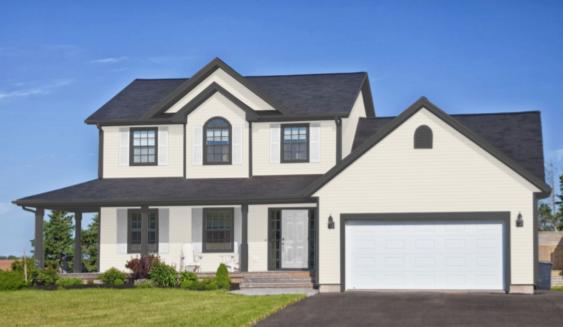 Moody Peppercorn gives a deep contrast to creamy Whitetail on this home exterior.
Kitchen
Whitetail cabinets look bright and crisp against creamy kitchen walls.
Warm wooden floors and black countertops stand out in an all-white kitchen in Whitetail.
Living Room
The creamy side of Whitetail stands out against the rich red brick of the hearth in this living room.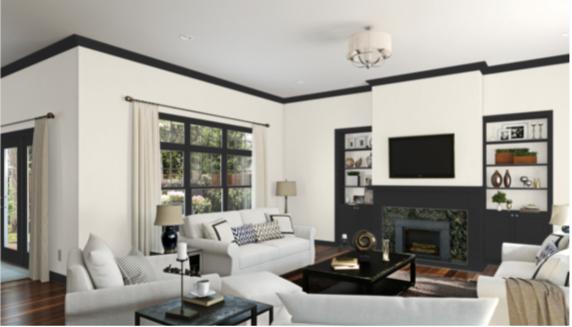 Black Magic trim pairs up with Whitetail on the walls to create a modern feel in this living room.
Hallway
Whitetail's creamy undertones are a cozy complement to natural wood.
Bedroom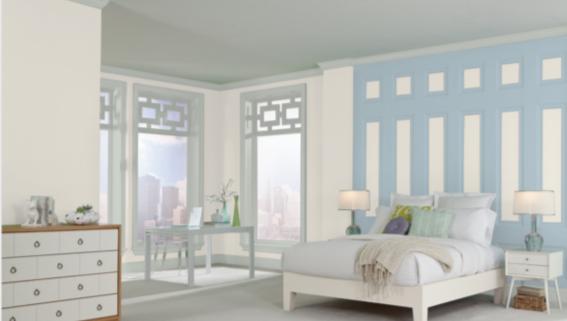 Whitetail provides a cozy backdrop for this coastal-styled bedroom, accented with Sea Salt and Sleepy Hollow.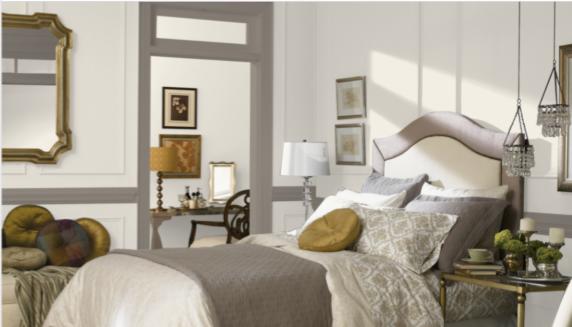 Whitetail offers a luxurious glow against a mix of neutrals and jewel tones in this plush bedroom, trimmed with Elephant Ear.
Bathroom
Comforting coffee tones blend with Whitetail like your favorite latte in this bathroom of warm neutrals.
Whitetail is a fresh choice for this bathroom vanity.
Coordinating Colors for Whitetail
Whitetail has a warm side that figures in to its coordinating color options, but it still has lots of potential playmates. Just keep that yellow-beige undertone in mind when you're creating your palette.
An easy place to start is with the neutral family. Warm neutrals bring out Whitetail's beige side. Consider sandy tones, coffee shades, and chocolate browns.
On the cool side of the spectrum, you can find a refreshing contrast to Whitetail with blues or greens. Navy blues are almost required! But light, watery blues and wispy seaglass greens are also great choices.
Black and white is a classic combination that won't ever go out of style. You can substitute a dark charcoal or slate gray for the black, and you can add a lighter gray as a third color.
Black and white also look sophisticated next to gold hardware, which is the perfect choice for Whitetail because of its warmth.
Whitetail can go in virtually any direction, so you might want some inspiration to start your palette. Here are some coordinating color ideas for Whitetail:
How Does Whitetail Compare with Other Colors?
Whitetail vs Alabaster by Sherwin Williams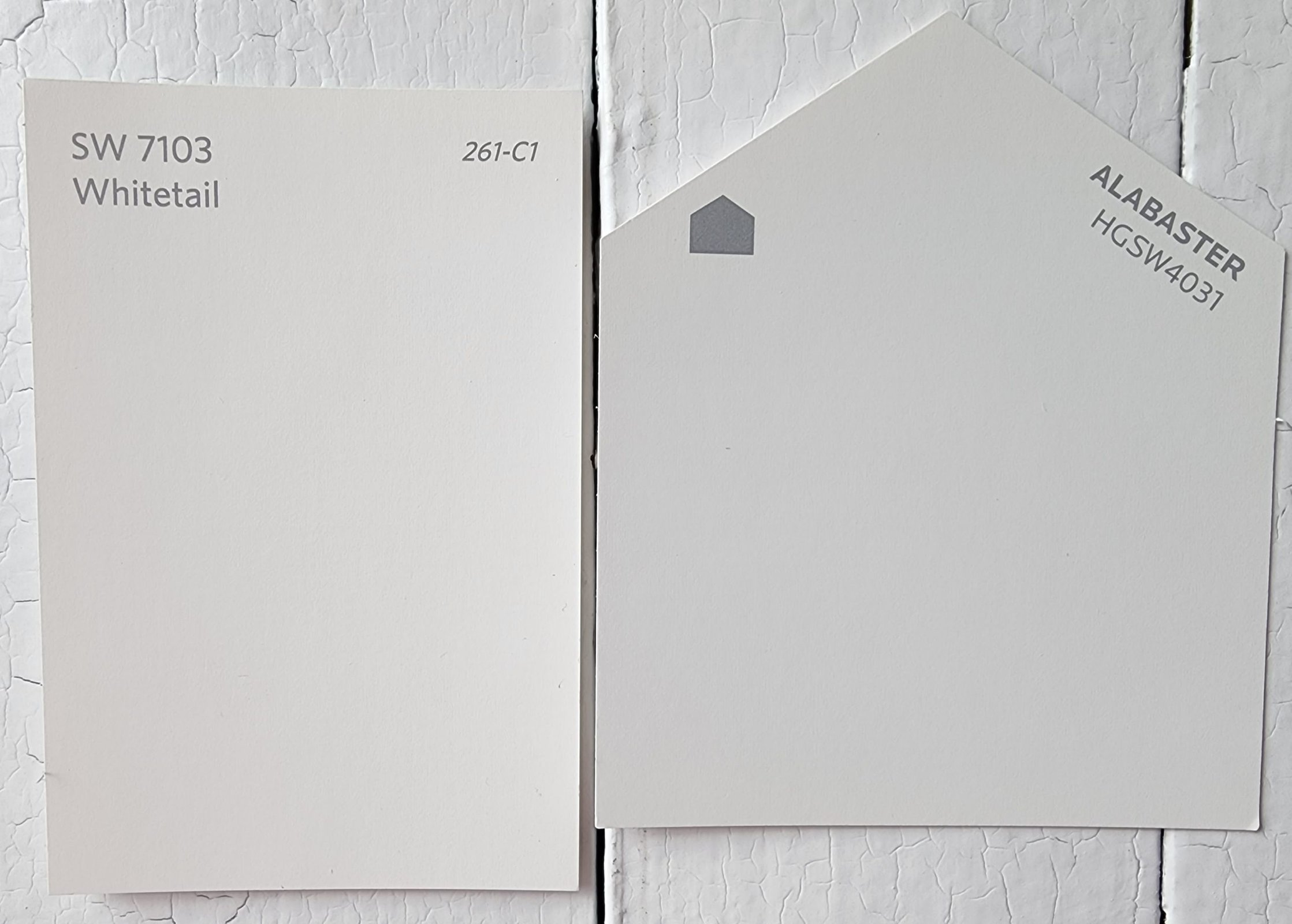 These two colors are extremely similar, and even with the paint chips together, it can be extremely difficult to tell them apart. Whitetail is a little warmer and creamier, and a few points brighter, with a LRV of 86 to Alabaster's 82. Alabaster looks a little grayer next to Whitetail.
Whitetail vs Creamy by Sherwin Williams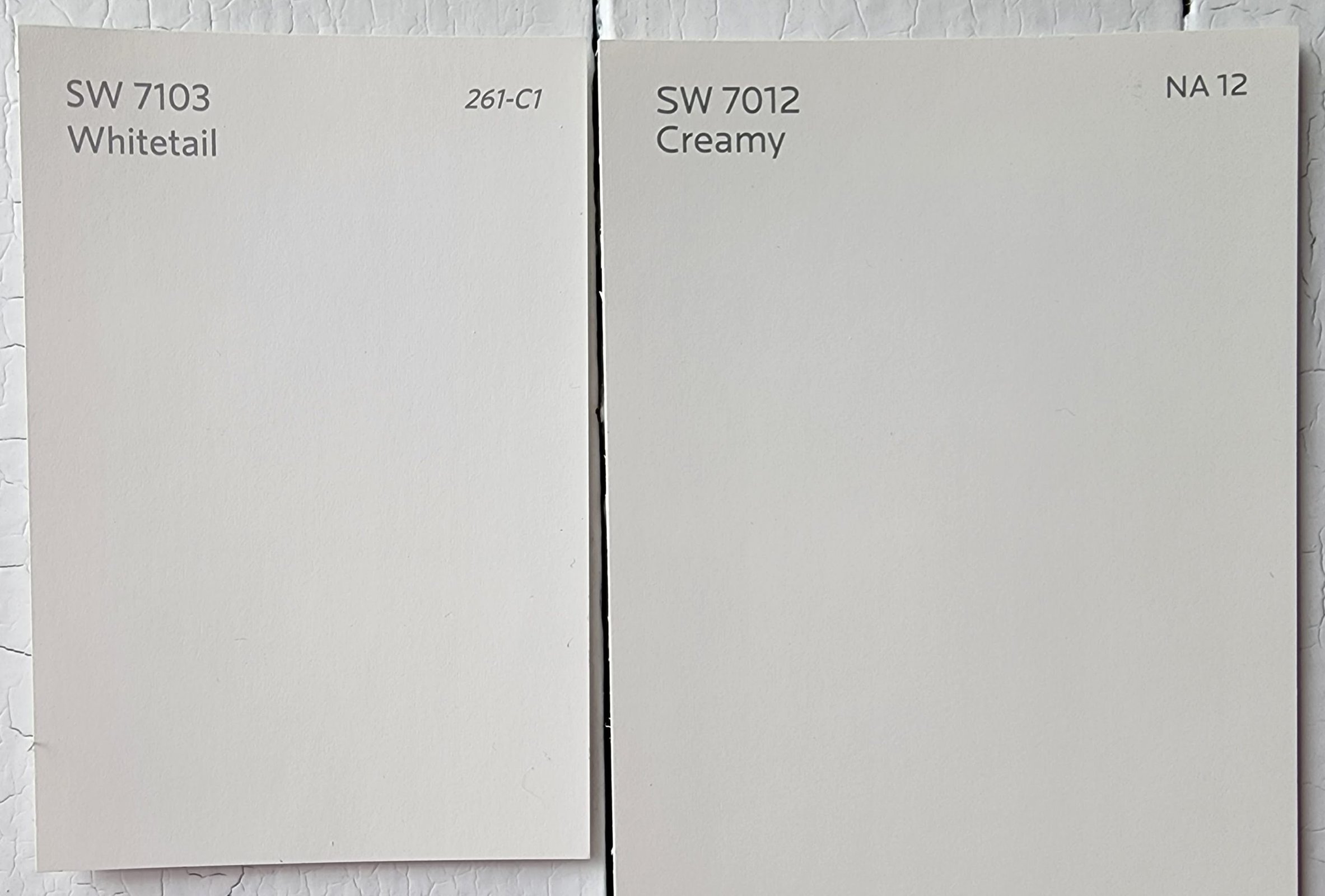 Creamy is warmer than Whitetail, with more yellow in its makeup. It's a few points below Whitetail on the LRV scale, at 81. You'll notice more color present in Creamy, and it's more of a true off-white than Whitetail is.
Whitetail vs Pure White by Sherwin Williams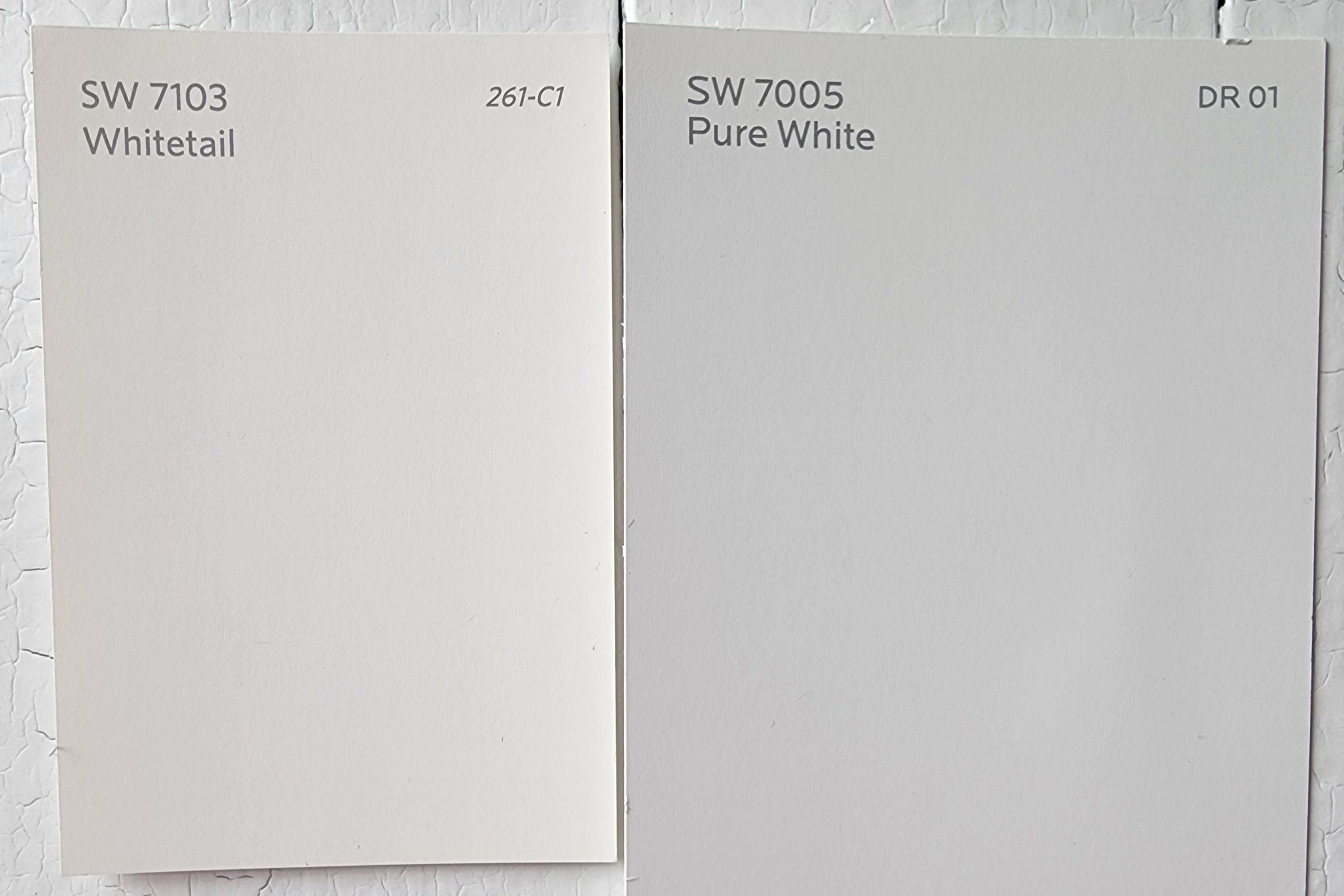 Pure White is really, well, white! Put it next to Whitetail and it's easy to see. Whitetail is warm and creamy next to clean and crisp Pure White. But believe it or not, Whitetail is actually the brighter white here! Pure White has a LRV of 84.
Whitetail vs White Heron by Sherwin Williams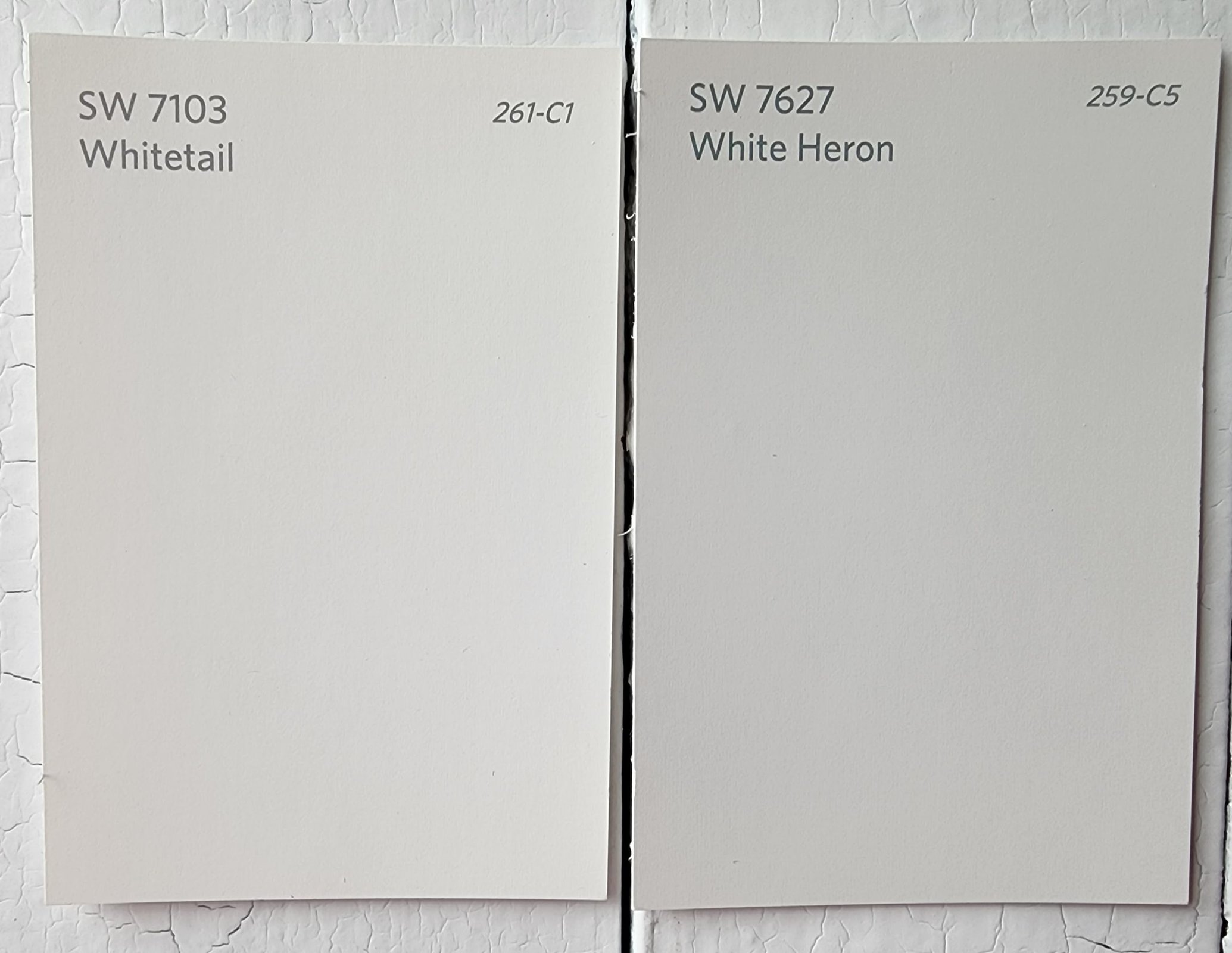 White Heron has some significant greige undertones that show up against bright and creamy White Heron. With a meaningful 10 point gap on the LRV scale between these two colors, it's easy to see a contrast. White Heron has a LRV of 76 to Whitetail's 86.
Whitetail vs White Dove by Benjamin Moore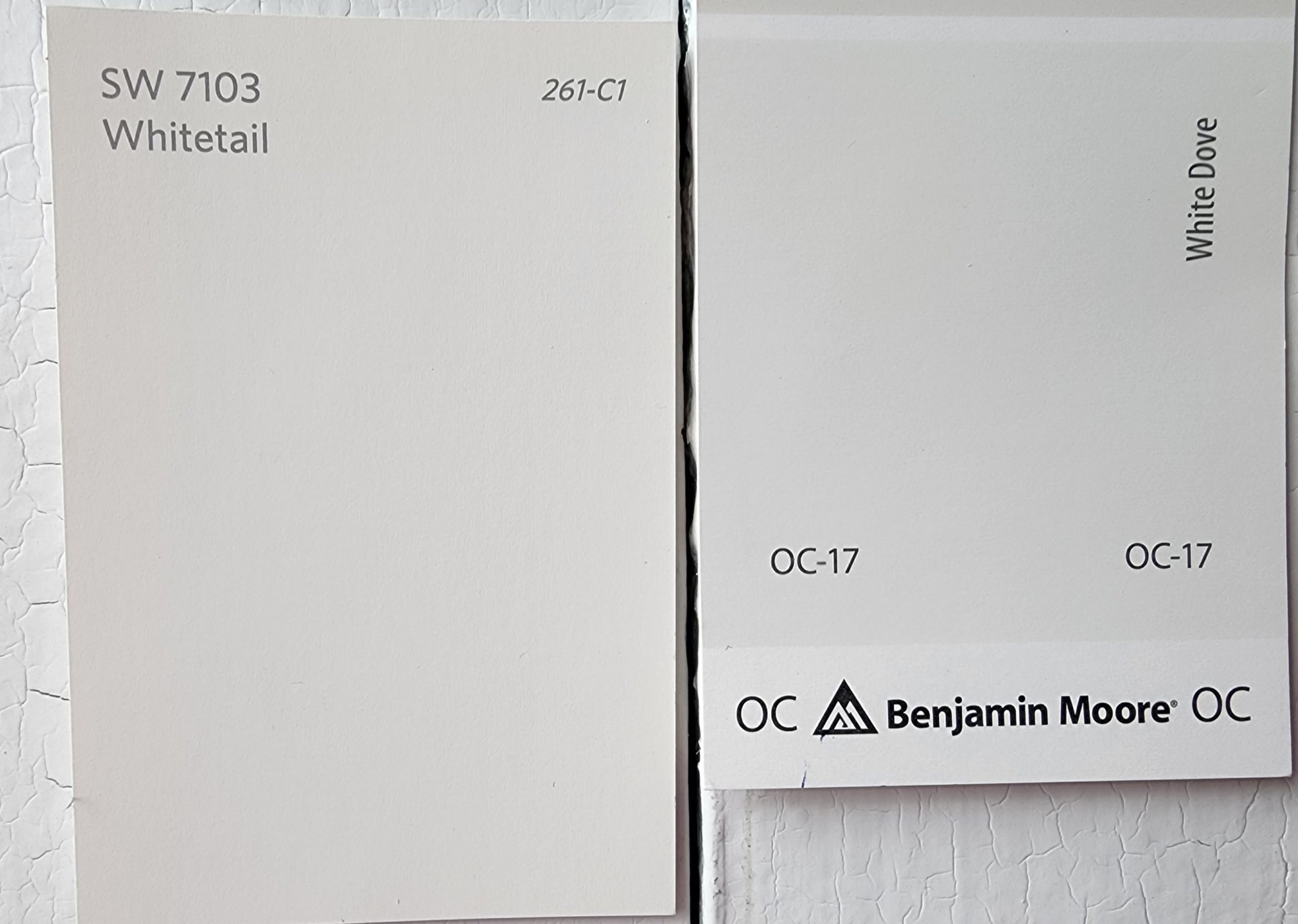 If you had to find a Sherwin Williams match for White Dove, Alabaster is probably the closest. So it's not surprising that Whitetail and White Dove are pretty close too. But you can see a more creamy tone in Whitetail and a slight gray in White Dove. They are comparable in brightness. White Dove has a LRV of 85.38.
Final Thoughts
Whitetail offers a light touch of creamy beige without venturing too far into the yellow realm. It's a delicate off-white that brings a sense of warmth and coziness to a room without ever threatening to overpower it. There's too much color here for it to ever read completely white, but it's bright enough to do the job of a white. Is Whitetail right for your next project?